Photo credit: Food & Water Watch Marlyand / Twitter
For the record, I'm against Hydraulic fracturing or fracking for short.
I'm against people who are for and do Hydraulic fracturing.
Reason: People have a right to clean air and clean water. (PERIOD)
Ban Fracking Now! #DontFrackMD All Power to the People!!! @HipHopCaucus https://t.co/WQO4R5AYAR

— Rev Yearwood (@Rev Yearwood)1488480562.0
This is not about Republican or Democrat it's about humanity and putting people before profits. Climate change is a public health and a civil rights issue that affects the communities that I support and work for, particularly African-Americans and low-income families. They are often hit the hardest by climate change and carbon pollution.
But, while many of us in the climate movement have been protesting, the fossil fuel industry has been busy playing the legislative game. And in many respects they are winning. Former Exxon CEO, Rex Tillerson, now the secretary of state for the Trump administration, shows they have been able to successfully infiltrate all levels of government and advance policy that makes it easier to expand dangerous practices.
5 Reasons Rex Tillerson Is Unfit to Be Secretary of State https://t.co/9al0sd2DhH @Greenpeace @Earthjustice

— EcoWatch (@EcoWatch)1485990617.0
In many ways, the fossil fuel industry is only doing what we allow. Protesting is very demanding. Many movements become stalled because the primary focus is turning people out to protest, march or boycott, while overlooking the greater need for policy to support the demands of progress. It is critical that the climate movement largely pivot towards legislation and policy change, otherwise we are setting ourselves up for a whole lot of frustration and fatigue. While we're in the streets protesting we must know that there are power players who understand the policy game, how to fund it, make the rules and get ahead.
If the climate movement is to be successful we must look to examples like what is happening in Maryland where 200 health professionals, 170 local businesses and 160 groups are calling for a ban on fracking. Don't Frack Maryland has focused locally on the policy necessary to stop fracking from entering their state with Senate and House bills. This campaign has brought together the science, education and climate advocacy to demand change. We must affect policy. Now is the time to organize locally.
#DontFrackMD March happening now in #Annapolis https://t.co/MdxR3JBIcV

— Senator Ron Young (@Senator Ron Young)1488478971.0
Demonstration without legislation leads to frustration.
The days of frustration are over!
The climate movement must be in the streets, suites and state house (in every state).
Ban fracking now!
EcoWatch Daily Newsletter
seed.com
You can't discount the importance of your gut health. Research shows that the microbiome within your digestive system has a disproportionate impact on how well your whole body functions.

Unfortunately, bad diets, the overuse of antibiotics, and other stressors mean many of our digestive systems are in trouble. Probiotic supplements claim to solve this problem by replenishing your gut with the healthy bacteria it needs for optimal functioning. Here, we'll analyze the popular probiotic brand Seed to determine whether its supplements are worth taking.
How We Review Probiotics
Whenever we review a probiotic supplement, we evaluate six specific categories.
Number of active strains - How many types of bacteria are included?
AFU (Active Fluorescent Units)/ CFU (Colony Forming Units) - These units of measurement tell you how many billions of bacteria are estimated to be within each supplement dose.
Storage Requirements - Some probiotics are shelf-stable, while others require refrigeration.
Ingredient Transparency – does the company disclose where it sources its active strains and provide clinical research for their efficacy?
Value - How are the probiotics priced? Can you purchase them without an auto-ship program?
Sustainability - Does the company show ways its supplements are better for the environment through sustainable ingredient sourcing or packaging?
Let's evaluate these criteria for Seed.
About Seed Probiotics
Seed is an e-commerce supplement brand with a single product—the DS-O1 Daily Synbiotic probiotic. The company got its start in 2018 when cofounders Ara Katz and Raja Dhir determined that the current probiotic supplements available weren't hitting the mark.
Katz's experiences of pregnancy and breastfeeding as a new mom led her to develop a deeper appreciation of the body's microbiome and its role in overall health. She joined forces with Dhir, who had the scientific experience to understand what could be improved within the probiotic industry.
Together, they strove to create a supplement that "raised the bar on bacteria" by giving the body what it needed for all its systems to operate most effectively. They collaborated with a large team of entrepreneurs, artists, and scientists to develop a probiotic known as DS-01 Daily Synbiotic.
The Seed DS-01 Daily Synbiotic
seed.com
Active Strains - 24
AFU - 53.6 billion AFU
Storage Requirements - Shelf-stable for 18 months after opening
Ingredient Transparency - Clinical data available for each strain
Sustainability - First order ships in reusable glass canisters and subsequent orders arrive in compostable biofilm.
Value - $49.99/60 supplements (30-day supply subscription)
The DS-01 Daily Synbiotic is a broad-spectrum probiotic that combines 24 probiotic strains with a non-fermenting prebiotic concentrate of Indian pomegranate for better delivery. Of these strains, 23 are human-derived, and one is isolated from fruit and added to promote healthy cholesterol levels.
These strains work synergistically to support the 38 trillion bacteria that make up your microbiome. They will purportedly help the body digest food, minimize inflammation, and better synthesize nutrients.
This supplement contains four distinct probiotic blends:
Digestive Health/ Gut Immunity/ Gut Barrier Integrity: 37.0 Billion AFU
Dermatological Health: 3.3 Billion AFU
Cardiovascular Health: 5.25 Billion AFU
Micronutrient Synthesis: 8.05 Billion AFU
(See strain-specific studies here)
How It Works
With these multiple strains, the company claims to take a 'Microbe-Systems Approach' through microbes that impact specific physical functions beyond the digestive system. These include skin and heart health, better immune system functioning, and micronutrient synthesis.
In other words, DS-01 goes beyond digestive issues to support full-body health. The company claims it's even one of the first probiotic formulations able to synthesize folate and increase its production.
Seed's DS-01 Daily Synbiotic probiotic also stands out with its delivery system. The supplement utilizes "nested capsule technology" along with a patented algae delivery system. This two-in-one capsule design houses the probiotic formula within a prebiotic casing made from Indian pomegranate to ensure these fragile bacteria survive both sitting on store shelves and the perilous journey through stomach acid to your colon.
Through this method, Seed claims to average a 100% delivery rate of the probiotic's starting dose to your colon. According to internal testing, DS-01 probiotics will exceed the living cell counts listed on the label even after ten days of constant 100º F exposure.
Usage Instructions
Adults can take two Seed probiotic supplements per day, preferably at the same time. It's best you do so on an empty stomach to limit the capsule's exposure to digestive enzymes that start to break it down. However, those with sensitive stomachs may want to eat something first. While you'll get optimal results from taking the supplements daily, it's not a problem if you occasionally skip one.
If you're new to probiotics, start by taking one per day for the first three days and then increasing your dosage to two per day. You may feel its effects on your digestive system within 48 hours, though long-term improvements to the cardiovascular system take more time and might not be noticeable to you.
Seed probiotics don't need require refrigeration. They are shelf-stable for 18 months at temperatures up to 78℉ and are safe to take when expired. Just note that the company can't guarantee their potency at this point.
How to Buy
Seed DS-01 Daily Synbiotic probiotics are only available on a subscription basis. They cost $49.99 per month and ship free throughout the US (international orders include a $10 shipping fee).
You will receive a 30-day supply (60 capsules) when you order through the company website, and the first order includes a reusable glass canister and travel vial. Each subsequent order arrives in compostable biofilm so you can transfer the capsules to the reusable ones.
All first orders are covered by a 30-day risk-free trial, during which you can return the probiotics for a full refund. It's possible to cancel the subscription at any time by contacting customer service at [email protected].
Note: At publication, these probiotics were sold out. They are available for pre-order and expected to ship again in 2-4 weeks.
What We Like About Seed
As a product within the largely unregulated supplement industry, Seed broad-spectrum probiotics earn major points from us for both transparency and abundant clinical research. The company shares detailed information about every bacterial strain within the supplement and links out to the scientific studies highlighting their effectiveness.
Customer reviews on Facebook and other review sites show that Seed probiotics work as described for many users. Some shared they experienced positive improvements in their digestive system within 48 hours and noticed better-looking skin within a month.
Those with allergies or food sensitivities will also appreciate these supplements are soy-free, vegan, gluten-free, dairy-free, corn-free, and free of binders and preservatives.
From a consumer standpoint, Seed makes taking probiotics simple. The shelf-stable formula means you won't have to store them in the fridge, and each 30-day supply is guaranteed to remain viable for 18 months after opening. Likewise, the nested capsule delivery system should improve how many billions of bacteria make it into your digestive system intact.
Equally noteworthy, we love Seed's commitment to environmental sustainability. By sending each customer two reusable glass containers at the start of their subscription, the company minimizes the packaging waste for each subsequent order.
What We Don't Like
Despite these positives, Seed broad-spectrum probiotics have some downsides. To start, they are pricier than many competitors. You will pay $1.66 per day's dose, which is more than some want to pay for supplements.
It's also not possible to try them without committing to a monthly subscription. While it will take several weeks or longer to start noticing their effects, some customers might not want to be locked into an auto-ship program so early in the experimenting process.
Likewise, some customer reviews complained of unexpected side effects such as breakouts and rashes. It's not clear whether these went away for users after a few weeks of use.
Finally, it's currently only possible to pre-order these supplements. If you're dealing with digestive distress today, you may want to try a probiotic brand that's available right now for faster relief.
Seed Safety & Side Effects
Seed DS-01 Daily Synbiotics are considered safe for adults over 18. Each supplement is vegan and free of common allergens like gluten, dairy, soy, and corn. They have undergone extensive third-party testing and adhere to the highest global regulatory standards for safety.
As with all probiotics, you might notice unpleasant side effects when you start taking them. Many people experience bloating, increased gas production, constipation, and other gastrointestinal problems for the first few days.
This can be discouraging, as many users take probiotics precisely to combat these symptoms in the first place. However, your system should adjust to the new bacteria within two weeks, and this digestive distress should diminish accordingly.
The DS-01 Daily Synbiotic is classified as safe for women who are pregnant and breastfeeding, although the company recommends speaking with a medical professional before starting them. As will all probiotics, you should not take these supplements if you have a weakened immune system, recently underwent surgery, or if you have a serious illness. Speak with your doctor before starting any dietary supplement if you have concerns or questions.
Takeaway: Are Seed Probiotics Worth It?
The Seed DS-01 Daily Synbiotic is well-formulated and shows clinical evidence of improving your gut biome for far-reaching health benefits. The company solves the tricky problem of selling a live product with its innovative delivery system that keeps the bacteria within the supplement safe both on the shelf and through the digestive process.
If you are dealing with digestive problems, or are looking for a way to improve your general health, then this broad-spectrum probiotic might be one worth trying.
Just keep in mind that you might feel worse for a few days before the microbes will take full effect in your gut and that giving it a try means you are committing to a monthly subscription.
Lydia Noyes is a freelance writer specializing in health and wellness, food and farming, and environmental topics. When not working against a writing deadline, you can find Lydia outdoors where she attempts to bring order to her 33-acre hobby farm filled with fruit trees, heritage breed pigs, too many chickens to count, and an organic garden that somehow gets bigger every year.
Do you remember where you were 10 years ago? For many of us, we were glued to the television.
We watched in horror as Hurricane Katrina surged to a Category 5 hurricane as it raced across the Gulf of Mexico, wondering when it would touch U.S. ground and fearing the worst.
Hitting the Gulf coast on the early morning of Aug. 29, 2005, Katrina would soon prove to be one of the most catastrophic storms in American history, causing more than 1,800 deaths and $100 billion in damage.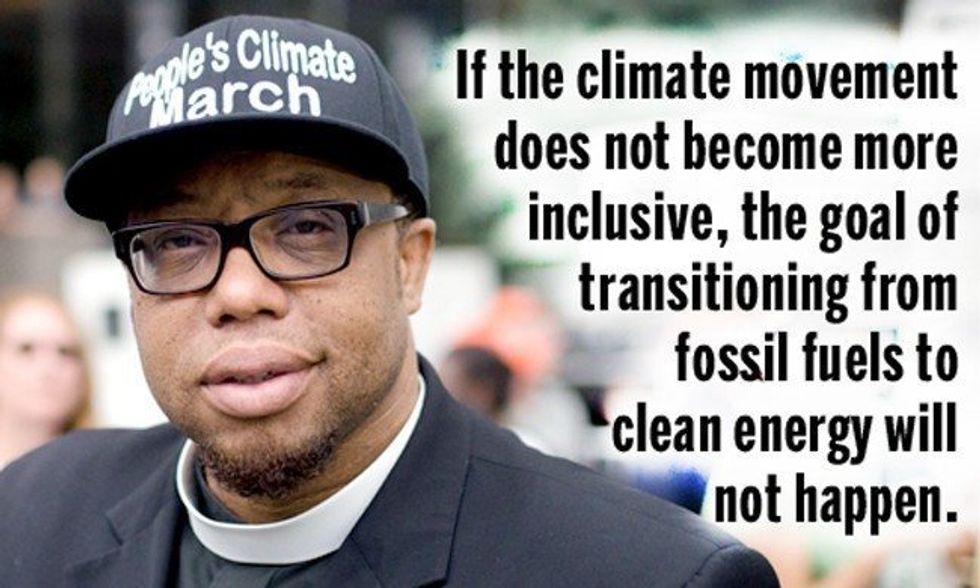 Fast-forward to today and you'll find vastly different opinions on the recovery of New Orleans following Katrina's aftermath. According to a study published this week by Louisiana State University, about four out of five white, Louisiana residents believe the state has mostly recovered from the storm while about three out of five African-American, Louisiana residents believe the opposite—and rightfully so.
Over the past 10 years, only two-thirds of New Orleans' pre-Katrina residents have returned. Thousands of the city's most vulnerable people are permanently displaced from their homes with no way of returning or attempting to rebuild their past. Schools, hospitals and social programs that served and supported these communities were devastated and never reinstated.
What has remained constant and a true barrier to fully rebuilding since Katrina in the face of this tragedy is the ever-looming presence of the fossil fuel industry. We know that African-American families are disproportionately affected by climate change and live closer to the sources of pollution that cause climate change: power plants, highways, drilling sites and factories. They suffer increased health impacts such as heart and respiratory diseases, higher health care costs, missed work and school and difficultly with learning. On top of that, climate change continues to drive more extreme weather events such as Superstorm Sandy and record-breaking heat waves—events to which many people of color and low-income communities are defenseless due to financial instability.
Too many lose their lives to climate change before they should. I've witnessed it far too many times.
As the fossil fuel industry continues to profit at the expense of the most vulnerable and contribute to climate change, we are facing the next greatest economic and racial injustice of our time. Just as my parents fought for equality, I find myself fighting today for existence—not just for access to a particular water fountain but any water fountain with clean water that is free of harmful pollution. We must look at climate change as a serious civil and human rights issue for the health of our world because if we don't solve this now, nothing else will matter.
As leaders like President Obama and former Presidents Clinton and Bush head to New Orleans this week to remember Hurricane Katrina and the lives lost, I hope they hear the cry of the thousands who are still victim to injustices since Hurricane Katrina. I hope they see all that was taken away from these communities and what has yet to be returned. I hope they pursue radical action to prevent such a climate change related disaster from ever happening again.
We need these leaders' support in this fight, as a fossil-free future is the right future for all of us. We must divest from fossil fuels and invest in the transition to a 100 percent clean energy future. We must implement the Clean Power Plan to its fullest extent and beyond. And as world leaders prepare to travel to Paris this December for the United Nations conference on climate change, we must add to the demand for a bold agreement and then hold governments accountable for their commitments.
To rally urban communities and the U.S. public at large in major support of this action, the Hip Hop Caucus is working with allies like 350.org, LCV, NRDC, Earthjustice, Solutions Project and Sierra Club as well as top music artists such as Common, Antonique Smith, Dee 1, Crystal Waters and Malik Yusef to launch the People's Climate Music "Act on Climate" National Bus Tour. This month-long run of concerts, meetings, community events and on-the-ground toxic tours will reach more than a dozen U.S. cities with music and messages that inspire climate change awareness and action, giving a voice to those who cannot be heard.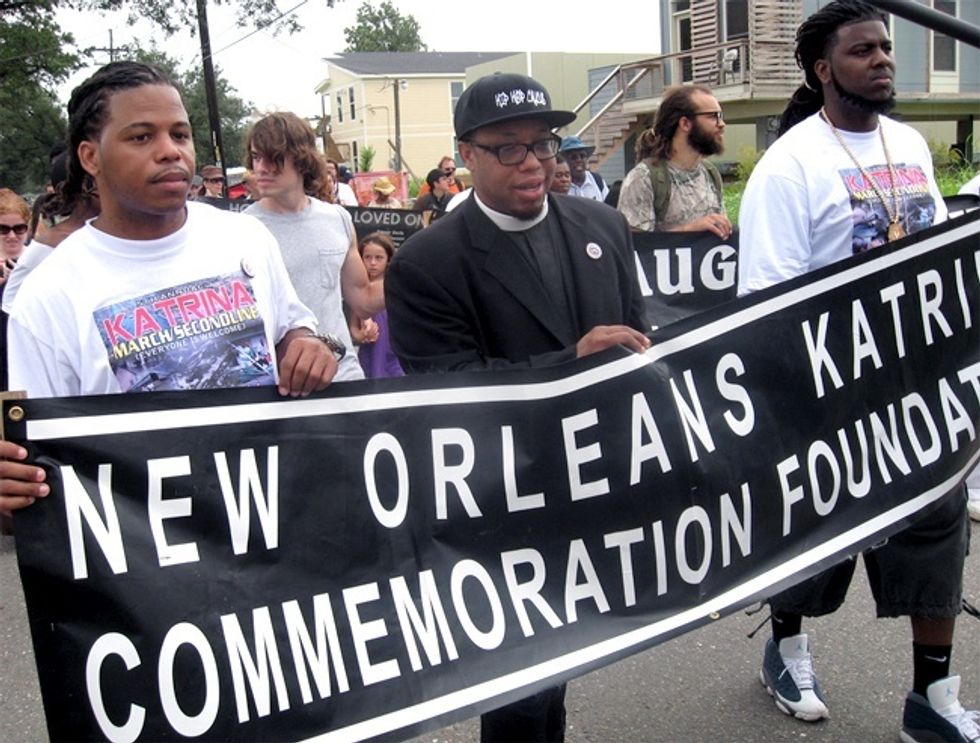 Photo credit: Hip Hop Caucus
We kick the tour off in New Orleans this Saturday on the 10th anniversary of Hurricane Katrina to remember the past and fight for the future. We'll join together in beautiful music, thoughtful discussion and a spirit of advocacy in:
New Orleans—Aug. 29
Ferguson, Mo.—Sept. 2
Chicago—Sept. 3
Detroit—Sept. 4
Philadelphia—Sept. 5-6
Portland, Maine—Sept. 9
New York City—Sept. 10
Hampton and Newport News, Va.—Sept. 11
Charlotte, N.C.—Sept. 12
Charleston, S.C.—Sept. 13
Atlanta—Sept. 14
Birmingham, Ala.—Sept. 15
Washington, DC—Sept. 16-18
Brooklyn, N.Y.—Sept. 19-20
New York—Sept. 21
Baltimore, Md.—Sept. 21-22
Washington, D.C.—Sept. 23-24
Tempe, Ariz.—Sept. 26-27
To catch the announcement of the People's Climate Music "Act on Climate" National Bus Tour and updates on tour activities, follow Hip Hop Caucus on Twitter.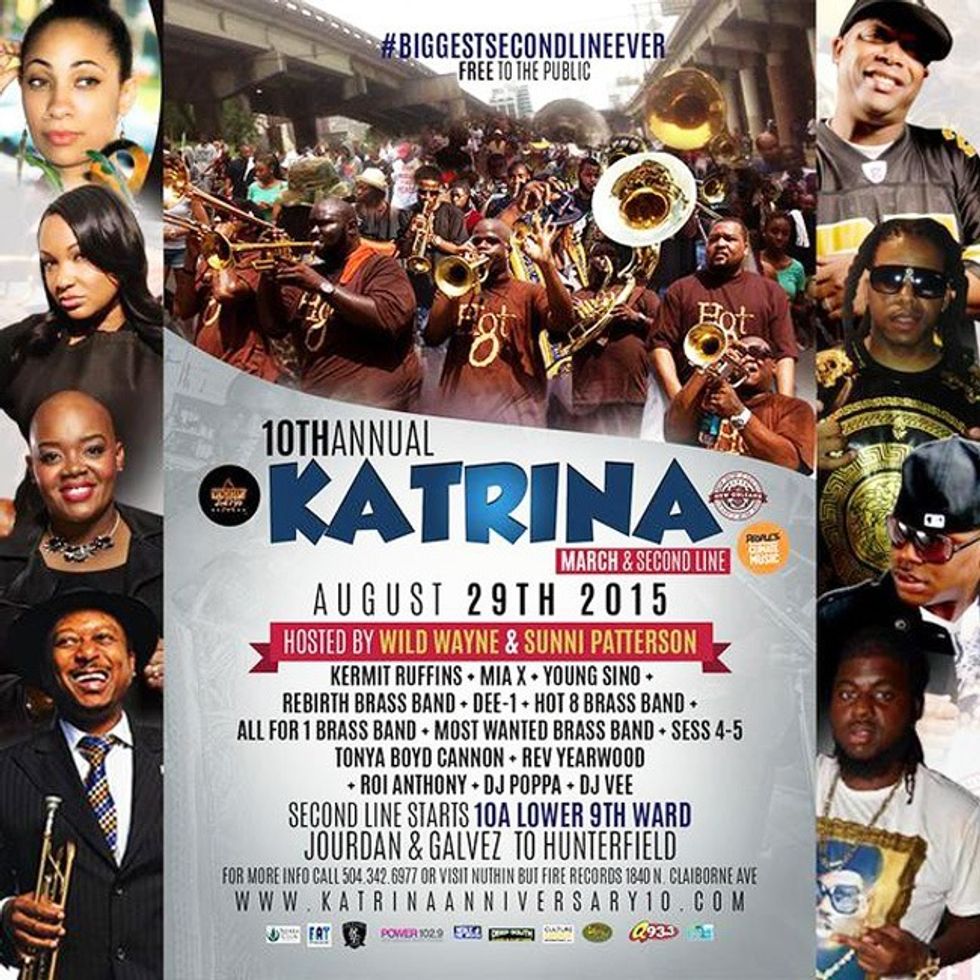 As Saturday approaches and we remember Hurricane Katrina, I extend my deepest condolences to the families of the lives lost, my encouragement to the families still suffering, and my call to global leaders and U.S. citizens of all backgrounds to join the fight against the injustices caused by the fossil fuel industry. We can solve this in our generation, for all future generations. The time is now and I hope you'll join me.
YOU MIGHT ALSO LIKE
The Black Hills Unity Concert: Standing Up for Our Sacred Sites
Hurricane Katrina Proved That If Black Lives Matter, Climate Justice Must Be Top Priority
Last fall, we wrote an article explaining why zero has become the most important number for humanity. Since that time, zero emissions has been embraced as an idea that's time has come by nearly 120 countries, leading European companies, high-profile CEOs, two Pontifical Academies, climate visionaries like Al Gore, mainstream media outlets and, if you can believe it, even the leaders of the G7. We now address the critical issue of timelines.
Currently, the two target dates most commonly cited for achieving zero greenhouse gas emissions are 2050 and 2100. Given the extreme weather weirding we are witnessing at current levels of pollution, we shudder to think what 35 years—let alone 85 years—of continued emissions will bring. Everyone can see that the climate is already on steroids and wreaking havoc.
The urgency of our planetary emergency requires that we transition from fossil fuels to renewables not in decades, but in years. We must move beyond what conventional wisdom views as politically feasible to what this existential crisis truly demands: an all hands on deck societal mobilization at wartime speed.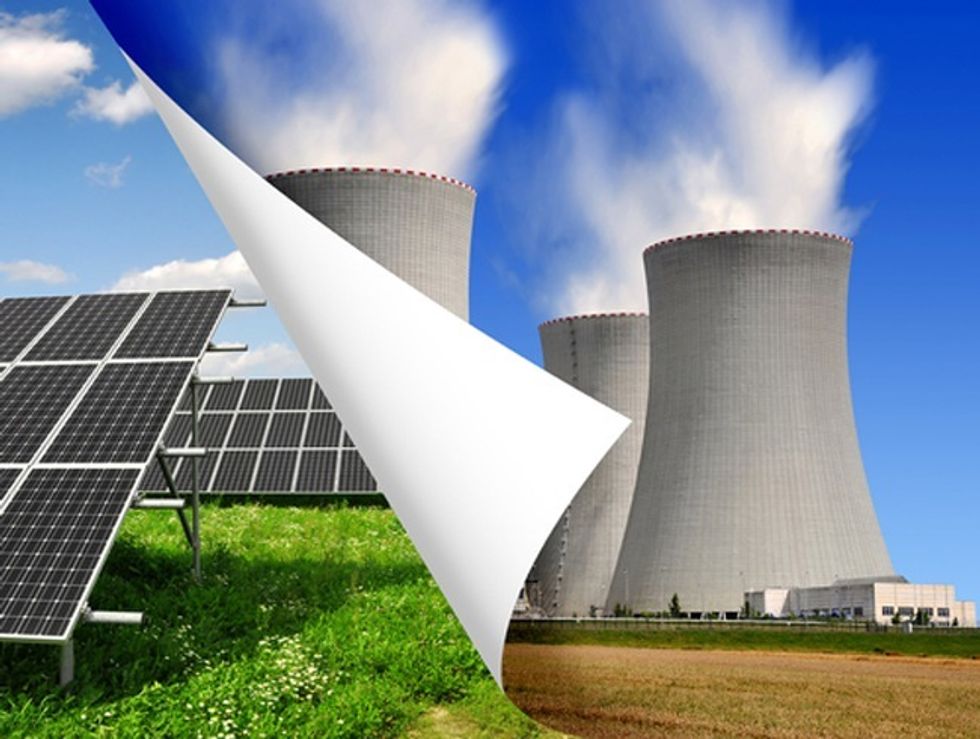 The time for timid visions and baby steps is over. The time for our generational mission is at hand. Zero emissions: because the first step to making things better is to stop making things worse. Photo credit: Shutterstock
To be clear, we are not suggesting ending the use of fossil fuels tomorrow. Decarbonizing our industries, homes, transportation, power generation and food production will take time, probably longer than 2020. Let's hope it doesn't take us until 2030. But we must make this transition as quickly as humanly possible.
In 2011, an unprecedented coalition of planetary protection leaders called on the presidents of the U.S. and China to declare a global climate emergency by launching a wartime-like mobilization to cut carbon emissions 80 percent by 2020. Because that urgent call was not heeded, we have lost precious time in the race to save civilization, and must now set our sights even higher.
To this end, we join with our allies at The Climate Mobilization in calling on Congress and the White House to revitalize our economy and put America back to work by declaring a U.S. goal of net zero greenhouse gas emissions by 2025.
Some will no doubt call this bold national goal unrealistic, but they would underestimate the innovative genius and social conscience of the American people. America has a long and proud history of overcoming seemingly insurmountable odds (consider World War II, Apollo program and Abolitionist movement). What is unrealistic is thinking we can put off for decades action that is desperately needed now to ensure our survival as a species.
We will be reminded of the fragility of our existence this summer when the victims of Hurricane Katrina are honored on the 10th anniversary of that savage storm. We will be reminded again this fall when the victims of Hurricane Sandy are commemorated on the third anniversary of that superstorm's lethal landfall.
Five months from today, delegates from more than 190 nations will gather in Paris for the 21st UN Convention on Climate Change (COP21) to negotiate a global climate accord—this after decades of failed international talks have only watched fossil fuel emissions continue to soar. For the sake of all that we love, we cannot allow COP21 to become yet another climate cop-out.
Intergenerational justice demands that the centerpiece of the Paris agreement be zero emissions, a goal UN Secretary-General Ban Ki-moon calls "ambitious but achievable." Five months is ample time for the nations of the world to draft their legally binding zero emissions commitments for Paris.
In his widely anticipated encyclical, timed to influence the Paris talks, Pope Francis writes, "Reducing greenhouse gases requires honesty, courage and responsibility, above all on the part of those countries which are more powerful and pollute the most." As the nation that historically contributed the most to global climate pollution, and that is in the strongest position to respond, the U.S. has a moral imperative to lead the zero emissions charge at COP21.
The current weak U.S. target of 26-28 percent emissions cuts by 2025 cannot be described as honest, courageous or responsible when what is needed is what the pontiff calls a "cultural revolution" to free ourselves from fossil fuels.
The time for timid visions and baby steps is over. The time for our generational mission is at hand.
Zero emissions: because the first step to making things better is to stop making things worse.
YOU MIGHT ALSO LIKE
10 Iconic Places That May Disappear Due to Climate Change
Dalai Lama Endorses Pope Francis's Encyclical on Climate Change
Satellite Data Shows Underground Aquifers Are Running Out of Water
This upcoming weekend at the University of the District of Columbia Law School, Bill McKibben, Dr. Michael Dorsey, Lester Brown, Professor Mark Jacobson, Mustafa Ali from the U.S. Environmental Protection Agency, Professor Phillip Harvey, Barbara Arnwine, Rev. Rodney Sadler, Jay Nightwolf, Krystal Williams, Joe Uehlein, Ted Glick, Chuck Rocha, Professor Joel Rogers, Nikisha Glover, Mike Ewall, Jeffrey Wolfe, Joel Segal, State Sen. Ben Ptashnik, Jacquelyn Patterson, Terrence Muhammad, Mark Magana, Dr. Gabriela Lemus, Leslie Fields, Andrea Miller and many, many more, will address these two central questions in a convening sponsored by People Demanding Action:

How do we reach the political "critical mass'" to stop climate chaos, and simultaneously tackle poverty and its accompanying social inequities?
The social ills that create poverty and accompanying social inequalities are created by the same mechanisms which thwart the proper response to climate change. How can we change them all together?
The objective of this convening is to build a movement of solidarity which includes climate crisis action and reestablishment of justice.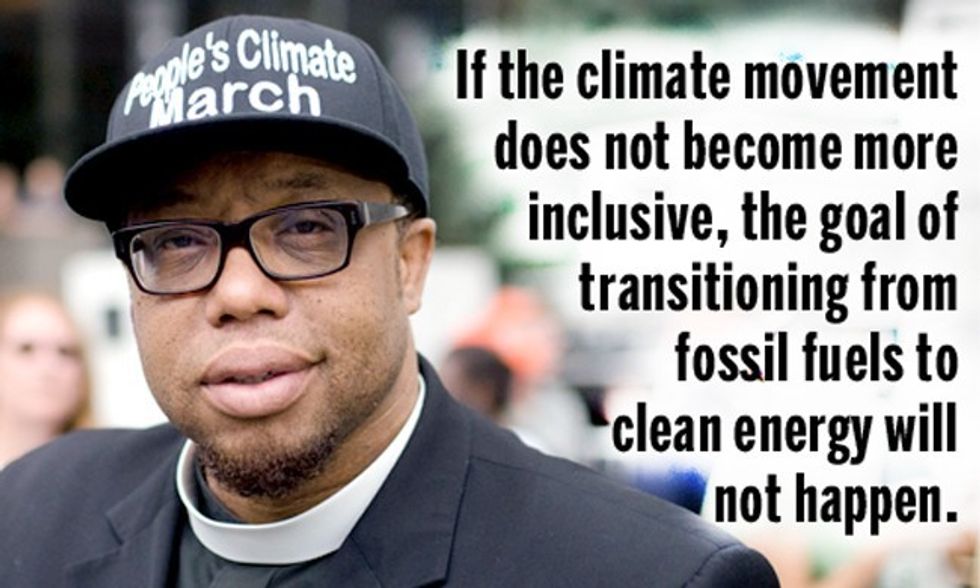 Many in the climate movement will agree that these questions must be answered, but will also wonder silently, why stop and deal with this question of building an inclusive climate movement now, when we are starting to win on so many fronts?
Last year was the biggest year of climate activism ever. More leaders from various sectors—from environmentalists and scientists, to CEOs and business leaders, to faith and moral leaders—are now lending their considerable influence to call for climate action at all levels of government, as well as in civic institutions and corporations.
Yet, to some degree, we are singing to the choir. The next critical step for the climate movement is contending for indelible mainstream cultural relevance. Put plainly, if the climate movement does not become more inclusive, the goal of transitioning from fossil fuels to clean energy will not happen.
This is the key to winning public support and political will for climate action that will meet the demands of science.
The modern environmental movement, some 50 years old, has invested tremendous amounts of resources in predominantly white and predominantly elite communities to fight for clean air, clean water, open space and a sustainable planet for all of us. This movement model has achieved incredible victories for the public good. The reality, however, is that there is not enough power in the environmental community alone to lead a global transition from fossil fuels to clean energy. The movement needs to expand, and to do so we need to re-frame the issue of climate change to make it an everyday, every person issue.
This gathering at UDC School of Law will bring together some of the brightest minds in the progressive, climate, human and civil rights movement to discuss how the climate movement builds an inclusive climate movement to create community power.
This free conference encourages community participation (although space is limited). The conference will work to bring new voices of great value to the climate movement. Through both democratic and economic strategies we are working to empower diverse communities to mobilize for powerful climate solutions.
I'm proud that we can have this ongoing conversation in the climate movement of what following people of color-led work is and means. With each iteration of the conversation we get closer to making fundamental change within our movement, which is a process we must model, because we are fundamentally asking the entire world to make some big and important changes for an equitable, sustainable, 100 percent clean energy future. It's quite simple, we (the climate movement) must be the change we want to see in the world.
YOU MIGHT ALSO LIKE
250,000 People Call for Action on Climate Change and an End to Extreme Poverty
Net Zero Carbon Emissions: An Idea Whose Time Has Come
Watch Obama and Bill Nye Take on 'Climate-Denier Club' in Congress
Fifty-five years ago Jibreel Khazan of the Greensboro Four sat down at the lunch counter inside the Woolworth store on Feb. 1, 1960 with three other classmates from North Carolina A&T University to highlight racial injustices in America.
At that time, Jibreel and his classmates were fighting for equality, and the goal to desegregate the lunch counter across America became central in that fight.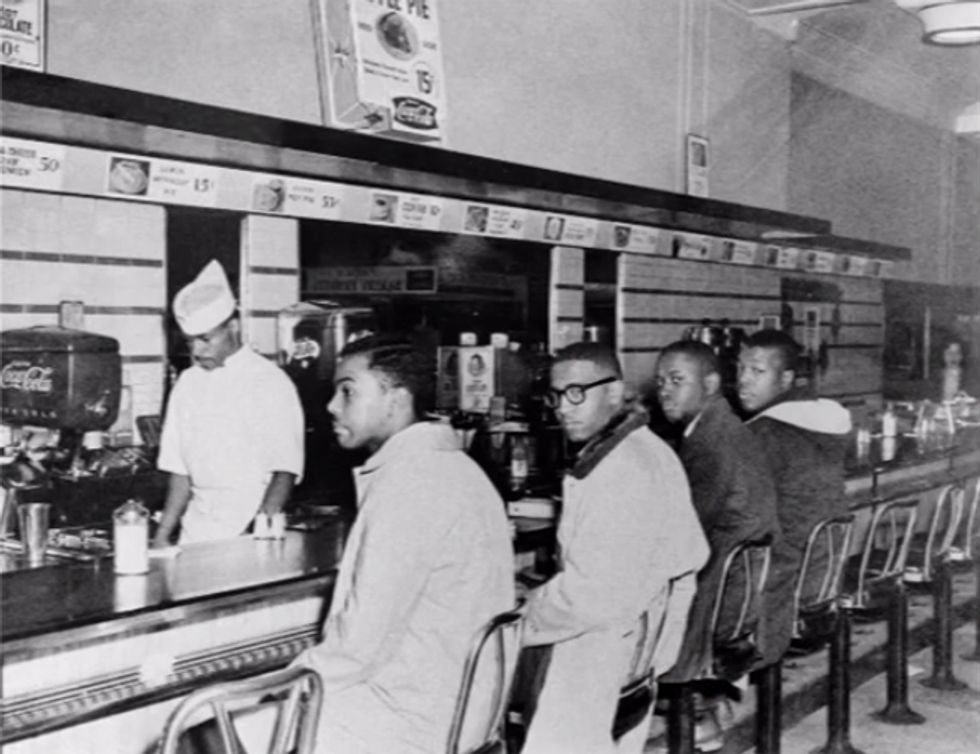 It's the 55th anniversary of the Greensboro sit-ins at the Woolworths lunch counter. Jibreel Khazan, one of the two living of the original group of four North Carolina A&T students who started the sit-in, gave a powerful statement this week about today's 'lunch counter moment.'
Today, while the fight for equality continues, because of climate change it is no longer just about equality, but also existence.
Jibreel Khazan has stated that "climate change is young people's 'lunch counter moment' for the 21st century."
Please watch this video of one of our great elders from the civil rights movement and see where the past intersects with the present and looks to protect the future. Hear the wisdom of one who states that "in the tradition of civil and human rights struggle that young people today are calling for action on climate change. It is the biggest threat to justice and opportunity our planet has ever seen."
YOU MIGHT ALSO LIKE
Climate Justice: A Fight for Equal Opportunity
8 Celebrities Calling for Climate Action
Fifty years ago, Americans facing racial injustice marched the 54 miles from Selma to Montgomery, Alabama, to protest discriminatory voting laws. It was a watershed moment in the Civil Rights Movement, influencing the passage of the Voting Rights Act, and forever redefining and improving our cherished values of freedom and fairness. February marks Black History Month—a time to reflect on past injustice, and refocus efforts on injustices that persist.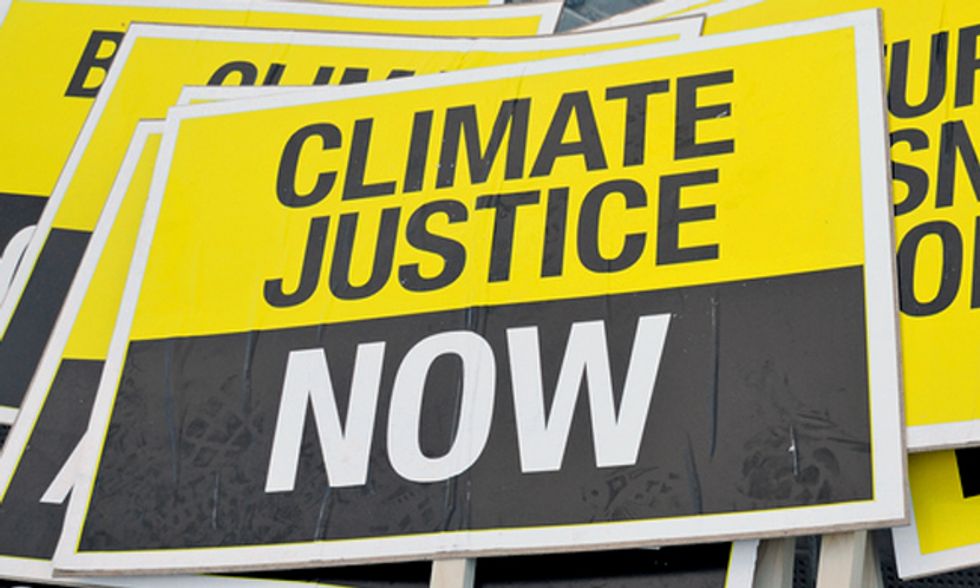 Photo credit: Shutterstock
Today, too often, low-income neighborhoods and communities of color are disproportionately burdened by pollution and health risks. Those same communities are excessively vulnerable to the devastating floods, fires, storms and heatwaves supercharged by climate change. To make matters worse, the carbon pollution fueling climate change comes packaged with other dangerous pollutants that cause chronic disease and chase away local businesses and jobs. Power plants, our biggest source of carbon pollution, are often located in these areas, casting their shadow over communities already vulnerable to environmental health hazards.
Pollution and climate impacts are a barrier to economic opportunity, blocking the path to middle-class security. President Obama calls ensuring America's promise of opportunity for all a defining challenge of our time; however, it's impossible to climb any ladder of opportunity without clean air to breathe, clean water to drink and healthy land to live on.
That's why at the core of U.S. Environmental Protection Agency's (EPA) mission is the unwavering pursuit of environmental justice. The Hip Hop Caucus joined the fight for Environmental Justice after Hurricane Katrina, a disaster that underscored communities facing risks from climate impacts: low-income families and people of color.
With President Obama's leadership, EPA is ramping up efforts to cut air and water pollution, expanding public outreach, enforcing laws to defend public health and holding polluters accountable. And through President Obama's Climate Action Plan, EPA is taking historic action to fight the economic and public health risks of a changing climate by cutting carbon pollution from power plants.
Organizations like the Hip Hop Caucus are critical to climate progress by ensuring at-risk communities are a part of the conversation—and part of the solution. To balance the ledger of environmental disenfranchisement, we must confront today's risks with a focus on communities that need it the most.
We're moved by the words of Jibreel Khazan spoken in Greensboro, NC on the 55th anniversary of the Greensboro Four sitting down at the lunch counter inside the Woolworth store on Feb. 1, 1960:
"Climate change is young people's 'lunch counter moment' for the 21st century. When my three classmates and I sat down at that lunch counter to end segregation we did not know what the outcome would be. We simply knew that we had to act. We had to take bold action for necessary change to come about. It is in the tradition of civil and human rights struggle that young people today are calling for action on climate change. It is the biggest threat to justice and opportunity our planet has ever seen."
Fighting for environmental justice, and climate justice, echoes the spirit of America's great civil rights leaders; it's a spirit fueled by our moral obligation to leave our children a world safer and rich with opportunity. History proves even the most wrenching strains on justice can be unwound, with a committed, diverse and vocal coalition of people calling for change. That's why EPA, the Hip Hop Caucus and organizations around the country are fighting for climate justice—so we can further fairness and opportunity for all.
YOU MIGHT ALSO LIKE
8 Celebrities Calling for Climate Action
I'm Marching for Real Climate Leadership: Stop Fracking California
New Satellite Data Reveals Dramatic Shrinkage of Arctic Ice Cap
After the historic and inspiring People's Climate March and Flood Wall Street actions showed the potential of our growing movement, discussion is taking place about how to put that power into action. The power demonstrated on the streets of New York was a signal that we are big enough and strong enough to take our government out of the grip of the fossil fuel industry. Without question we need to step it up and organize campaigns and actions that are at the scale and boldness needed, including multi-day direct action at specific targets.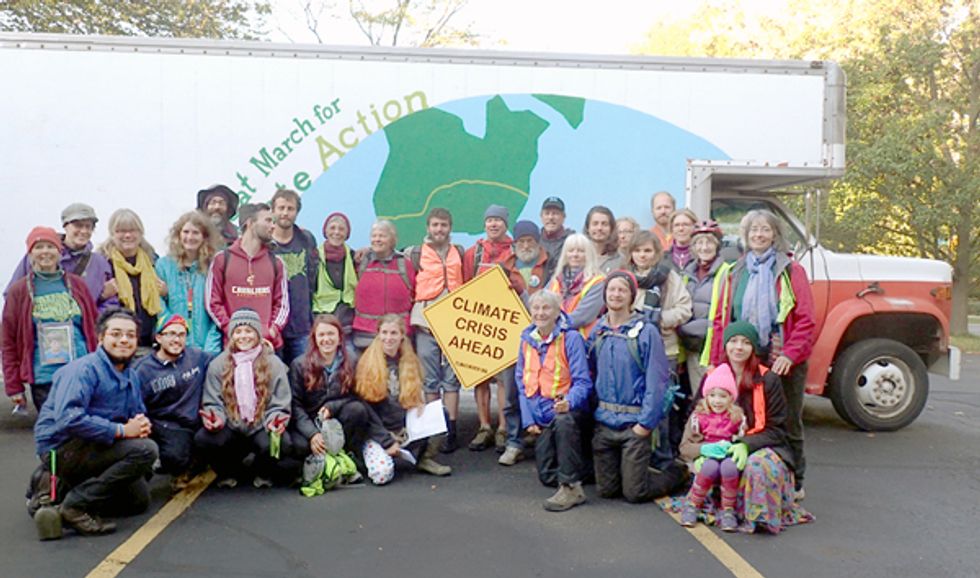 We are writing to urge participation by as many people as possible in one such initiative: a week-long series of confrontational activities in Washington, DC, Nov. 1-7—Beyond Extreme Energy.
By taking these actions during election week, we will be sending a message to both parties in Washington that supporting extreme energy extraction is no longer the path of least political resistance. We recognize that party loyalty is incompatible with political power for a social movement, and we have been taken for granted for too long by politicians who are scared to stand up to the fossil fuel industry. It's time to make it clear that a politician who green lights the fossil fuels industry's attempts to poison our communities and ruin our climate will not get our votes under any circumstances.
The week will begin Saturday, Nov. 1, as The Great March for Climate Action concludes its cross-country walk, which began in early March in Los Angeles. These heroic marchers have inspired us with their determined, day-after-day commitment over what will be eight months when they march into DC.
Then, from Nov. 3-7, following a day of meeting, planning and training on Nov. 2, there will be nonviolent direct actions every morning to block the two entrances to Federal Energy Regulatory Commission (FERC). On July 14, 25 people did this action and were successful in disrupting business-as-usual for two hours until they were arrested. That experience will inform the bigger and stronger actions being planned for November.
There will also be demonstrations at other locations—perhaps the Energy Department, Dominion Resources, the White House, American Petroleum Institute, Democratic National Committee headquarters, and neighborhoods in DC impacted by environmental and racial injustices—in the afternoon, challenging the web of denial throughout the government and industry about the seriousness of the emergency we are in.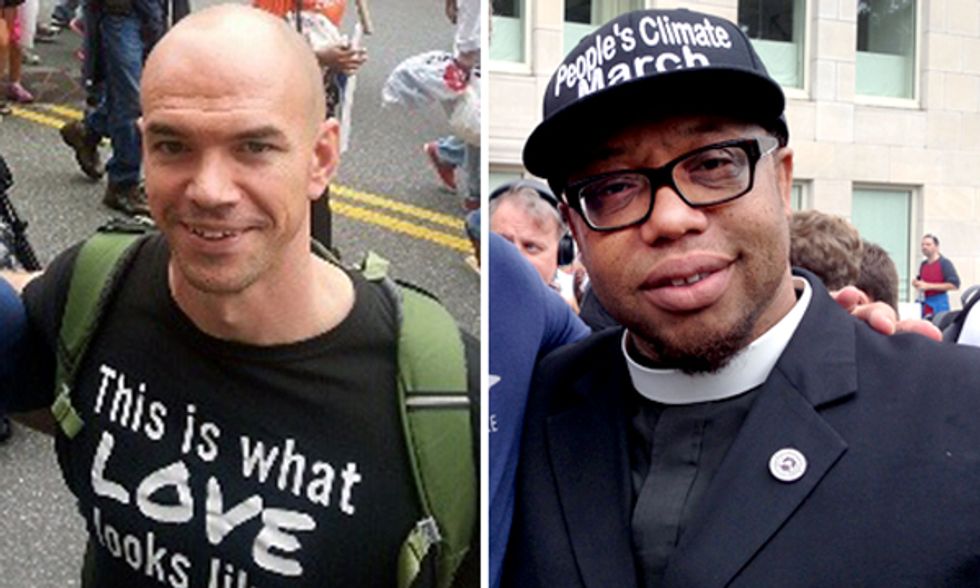 Our invitation to you is this: Join the Beyond Extreme Energy actions for one or more days in Washington DC, Nov. 1-7. Help sound a call for stepped-up multi-day actions and campaigns that commensurate with the scale of escalating fossil fuel extraction, rampant environmental injustices in low-income and people of color communities throughout the world, and the emergencies inherent in climate change. Help model for others what necessary and effective climate action looks like as atmospheric carbon climbs ever faster on its way past 400 parts per million. Help build a movement that is more committed to climate justice than the fossil fuel industry is to profits.
As Ralph Waldo Emerson said, "Oh my friends, there are resources in us on which we have not drawn." Let's engage those vast resources of people power in our struggle for climate justice so we can keep fossil fuels in the ground. We know we have the power to stop extreme energy extraction, and now is the time to use it.
Tim DeChristopher is a co-founder of Peaceful Uprising. His trial and subsequent two year prison sentence for disrupting a 2008 federal auction of oil and gas leases was the subject of the award winning documentary Bidder 70.
The Reverend Lennox Yearwood is the president and CEO of the Hip Hop Caucus, a national nonprofit organization that equips young people to participate in elections, policy analysis and service project.
YOU MIGHT ALSO LIKE
MUST-SEE: Stephen Colbert and Neil Young Sing 'Who's Gonna Stand Up?'
McKibben to Obama: Fracking May Be Worse Than Burning Coal
"Zero emissions is an ambitious but achievable goal." —UN Secretary-General Ban Ki-moon
Zero has become the most important number for humanity. Why?
Any chance of stabilizing the climate hinges on transitioning to zero greenhouse gas emissions as quickly as humanly possible. Simply slowing the rise of emissions will not work. For the first time, the world's leading climate authority, the Intergovernmental Panel on Climate Change (IPCC), has embraced a goal of near zero greenhouse gas emissions or below.
Top military experts and government institutions like the U.S. Department of Defense and National Intelligence Council warn that climate destabilization threatens our national security, yet global emissions just keep going up. Leading biologists like E.O. Wilson warn that the sixth great extinction is now upon us, yet emissions keep going up.
By heating the globe at such a relentless rate, we are playing a deadly game of planetary Russian roulette. In the words of Michael Mann, professor of meteorology at Penn State University: "There is no precedent for what we are doing to the atmosphere. It is an uncontrolled experiment." If you believe your own eyes that climate chaos has already gone too far, the only logical response is to stop making things worse.
We are not suggesting ending the use of fossil fuels tomorrow. Decarbonizing our industries, homes, transportation, power generation and food production will take years of concerted effort and require every ounce of courage, ingenuity, patience and humility we possess. But intergenerational justice demands that we commit ourselves now as a nation to leading this green industrial revolution.
Some will no doubt call this goal unrealistic, saying it cannot be achieved, but they would underestimate the creative genius of the American people. What is unrealistic is thinking we can continue with business as usual and leave a habitable planet for our children. Americans are a supremely resourceful people with a long history of meeting, and exceeding, monumental challenges. While we have never faced anything as daunting as the global climate crisis, there are precedents for the U.S. overcoming seemingly insurmountable odds.
When destiny came knocking during World War II, we initially resisted, then answered by leading the allied forces to victory in three and a half short years.
It took a Civil War to end the scourge of slavery, and a monumental civil rights struggle to outlaw segregation, Jim Crow laws and discrimination, but we not only overcame, we elected a person of color as President of the United States.
When President John Kennedy boldly challenged America to land a man on the moon in less than a decade, our best and brightest responded by accomplishing this seemingly impossible task ahead of schedule.
It is now time for our generation to do something great.
Zero Emissions Bandwagon
It may surprise you to learn that zero emissions has already been embraced as a goal by business leaders as well-known as Bill Gates, and world leaders as prominent as UN Secretary-General Ban Ki-moon; OECD Secretary-General Angel Gurria; UN climate chief Christiana Figueres; Prince Charles; and former President Jimmy Carter, former UN Secretary-General Kofi Annan, and Archbishop Desmond Tutu of The Elders.
Again, even the conservative, consensus-based IPCC supports near zero emissions or below, albeit on a year 2100 timeline that belies the urgency of their August draft report, which warns of "irreversible impacts" from continued emissions.
Major corporations, like Google, have embraced a zero carbon goal. Others like Microsoft and Deutsche Bank are moving in this direction by committing to net zero emissions, or carbon neutrality (using carbon offsets or carbon credits to balance out remaining emissions). 684 college and university presidents (and growing) have taken a similar climate neutrality pledge. And a fossil fuel divestment movement is picking up steam on college campuses (including Stanford University, Sydney University and historically black colleges and universities) and in houses of worship around the world.
Sweden, Iceland, Costa Rica and the Maldives are among the nations vying for carbon neutrality. Denmark is committed to becoming fossil fuel free, with Copenhagen seeking to become the world's first carbon-neutral capital by 2025. In the U.S., cities like Austin and Boulder are striving for carbon neutrality, with San Francisco pledging to generate all of its electricity from renewables by 2020.
Scotland is on track to generate 100 percent of its electricity from renewables by 2020. The Philippines aims to shift the country's fuel system to 100 percent renewables in ten years. The German state of Schleswig-Holstein is set to go 100 percent renewable this year. Munich's goal is 100 percent renewables by 2025. The British Labour Party wants to decarbonize the UK's electricity grid by 2030. And the island nation of Tokelau is already 100 percent renewable.
In stark contrast, neither the U.S. President, nor a single member of the U.S. Congress, has yet publicly called for a zero emissions goal for America.
2ºC Wrong Target
Just because the governments of the world accept 2° Celsius of heating above the preindustrial average as the agreed-upon target does not make it the right target. To the contrary, last December, preeminent climate scientist James Hansen and seventeen co-authors released a study in the scientific journal PLOS ONE revealing the UN-approved 2°C ceiling is based on politics, not science, and would unleash "disastrous consequences" beyond our control.
Dr. Hansen, economist Jeffrey Sachs, and others argue that "morality" demands a rapid and dramatic cut in global carbon emissions to stay as close as possible to a 1°C ceiling (we are already at 0.85°C). Here's what they said about the urgency of dropping from the current level of 400 parts per million (a level not reached in at least 800,000 years) of carbon dioxide (CO2) in the atmosphere to 350 parts per million (ppm), the level many consider the uppermost safe limit for civilization:
"It is instructive to see how fast atmospheric CO2 declines if fossil fuel emissions are instantly terminated. Halting emissions in 2015 causes CO2 to decline to 350 ppm at century's end. A 20 year delay in halting emissions has CO2 returning to 350 ppm at about 2300. With a 40 year delay, CO2 does not return to 350 ppm until after 3000. These results show how difficult it is to get back to 350 ppm if emissions continue to grow for even a few decades."
We're obviously not going to achieve zero emissions by 2015. The point is we need to do it as soon as necessary to avoid catastrophe impacts from global climate change. Every day we delay buries us deeper in the climate hole.
Failure of Moral Leadership
The United Nations, Congress and the White House are all failing in their moral obligation to stem the tide of this gathering storm.
The United Nations is not leading on this issue, as it must. Since 1990, when the IPCC issued its first report, CO2 emissions have increased by approximately sixty percent. Last year in Warsaw, after 19 successive sessions of the UN Conference of the Parties (COP) failed to achieve meaningful emissions reductions, labor and environmental groups walked out after deciding governments were performing so poorly they could no longer legitimize the climate cop-out with their presence.
Congress is not leading on this issue, as it must. Since refusing to ratify the 1997 Kyoto protocol, the U.S. Congress has failed to enact any significant climate legislation. The closest they came was a Wall Street-friendly "cap and trade" bill passed by the Democratic-controlled House of Representatives in 2009. Described as an "unacceptable compromise" by Greenpeace and "a step backwards" by Friends of the Earth, it called for a modest 17 percent reduction of carbon emissions by 2020. Five years later, too few members of the Republican-controlled House of Representatives are even willing to admit humans are changing the climate.
The White House is not leading on this issue, as it must. The EPA's proposed rules to limit carbon pollution from existing coal-fired power plants are a step in the right direction, but President Obama's widely heralded "climate action plan" will be more PR than plan, with no chance of stabilizing the climate, unless the White House takes bold action. In fact, the administration's attempt to please all during this climate crisis with its all-of-the-above energy strategy promises more climate chaos by promoting natural gas fracking; mountaintop removal mining; deepwater and Arctic oil drilling; tar sands mining; and deafening seismic oil and gas exploration off the Atlantic coast. That the President has not yet denounced a scheme as "absurdly reckless" as Keystone XL's northern leg speaks volumes.
Even the renewable energy industry is not leading on this issue, as it must. Four years after it was first pointed out, America's largest wind, solar and geothermal trade associations continue to embrace incrementalism, when the times call for revolutionary change.
Because the climate crisis threatens all life on Earth, it is first and foremost a moral issue. We have already seen how the poor and communities of color bear the brutal brunt of fossil fuel extraction and suffer the most from extreme weather disasters. Three out of four African Americans live within 30 miles of a coal-fired power plant. African-American children have an 80 percent higher rate of asthma, and are nearly three times more likely to die from asthma, than their white peers. The moral urgency of this crisis requires a rainbow coalition of people – reflecting the diversity of our great nation – coming together to solve it.
Alarmingly, latest projections by the U.S. Energy Information Administration have fossil fuels supplying almost 80 percent of the world's energy use through 2040, with carbon dioxide emissions rising 46 percent from 2010 levels. If this perilous trend is not reversed, runaway climate change could cause most of life on Earth to go extinct, testing the survival of humanity itself.
As the nation that historically contributed the most to global climate pollution, and is in the strongest position to respond, the U.S. has a moral imperative to lead this global charge.
Making the Great Transition
It is time for America to unleash its entrepreneurial can-do spirit through a wartime-like mobilization to help save America, and the world. Innovating to zero emissions will not only help ensure our collective survival, it is the key to revitalizing our ailing economy and putting America back to work. But we don't have until 2100, or even 2050, to transition off of fossil fuels. Scientists are calling for deep cuts in emissions now. Leaders showing us how to get there include:
Zero Emissions Mandate
We have solutions. They even have names: conservation; energy efficiency; solar power; wind power; geothermal power; standing forests; organic farms; industrial hemp; electric vehicles; bicycles; mass transit; wave energy; tidal power; zero waste …
Here and there aggressive initiatives are underway. China is developing a single 38,000 MW wind project large enough to electrify a country the size of Poland. Four states in Germany already get more than 50 percent of their electricity from wind power, while in the U.S., Iowa and South Dakota are generating more than 25 percent of their electricity from wind farms. But progress is not being made at anything close to a speed and scale commensurate with the scope of the planetary emergency we face.
On, Sept. 23, a UN Climate Summit is being held in New York City. UN Secretary-General Ban Ki-moon has challenged world leaders to bring their pledges to set the world on a low-carbon path. We entreat Mr. Ban, who calls zero emissions an "achievable goal," to challenge attendees of the UN Climate Summit to bring their zero emissions plans to COP20 in Peru this December and to COP21 in France in 2015. Anything less will show our governments are not serious about solving this existential threat.
Our colleague Bill McKibben, who earlier this year called out the Obama administration for sabotaging the 2009 Copenhagen climate negotiations through NSA spying, has issued a "call to arms" inviting all who "give a damn about the biggest crisis our civilization has ever faced" to gather in New York City on Sept. 21 for a People's Climate March to demand bold climate action at the UN Summit. We ask, what could be bolder than zero emissions?
Earth is the only known habitable planet in the universe, making the climate risks to humanity so great as to warrant the utmost precaution. Now is the time for the climate justice movement to rally around a goal of zero emissions, with the U.S. leading the way by enacting zero emissions policies at the local, state and federal levels. For the love of humanity, and our children, we must act now.
Zero emissions: because the first step to making things better is to stop making things worse.
YOU ALSO MIGHT LIKE
'Irreversible' Damage to Planet From Climate Change Says Leaked IPCC Report
Bill McKibben on Democracy Now!: Obama's Nonbinding Climate Deal, IPCC Report, People's Climate March
Leonardo DiCaprio Narrates Climate Change Films Urging Shift From Fossil Fuels to Renewables