Photo credit: Food & Water Watch Marlyand / Twitter
For the record, I'm against Hydraulic fracturing or fracking for short.
I'm against people who are for and do Hydraulic fracturing.
Reason: People have a right to clean air and clean water. (PERIOD)
Ban Fracking Now! #DontFrackMD All Power to the People!!! @HipHopCaucus https://t.co/WQO4R5AYAR

— Rev Yearwood (@Rev Yearwood) 1488480562.0
This is not about Republican or Democrat it's about humanity and putting people before profits. Climate change is a public health and a civil rights issue that affects the communities that I support and work for, particularly African-Americans and low-income families. They are often hit the hardest by climate change and carbon pollution.
But, while many of us in the climate movement have been protesting, the fossil fuel industry has been busy playing the legislative game. And in many respects they are winning. Former Exxon CEO, Rex Tillerson, now the secretary of state for the Trump administration, shows they have been able to successfully infiltrate all levels of government and advance policy that makes it easier to expand dangerous practices.
5 Reasons Rex Tillerson Is Unfit to Be Secretary of State https://t.co/9al0sd2DhH @Greenpeace @Earthjustice

— EcoWatch (@EcoWatch) 1485990617.0
In many ways, the fossil fuel industry is only doing what we allow. Protesting is very demanding. Many movements become stalled because the primary focus is turning people out to protest, march or boycott, while overlooking the greater need for policy to support the demands of progress. It is critical that the climate movement largely pivot towards legislation and policy change, otherwise we are setting ourselves up for a whole lot of frustration and fatigue. While we're in the streets protesting we must know that there are power players who understand the policy game, how to fund it, make the rules and get ahead.
If the climate movement is to be successful we must look to examples like what is happening in Maryland where 200 health professionals, 170 local businesses and 160 groups are calling for a ban on fracking. Don't Frack Maryland has focused locally on the policy necessary to stop fracking from entering their state with Senate and House bills. This campaign has brought together the science, education and climate advocacy to demand change. We must affect policy. Now is the time to organize locally.
#DontFrackMD March happening now in #Annapolis https://t.co/MdxR3JBIcV

— Senator Ron Young (@Senator Ron Young) 1488478971.0
Demonstration without legislation leads to frustration.
The days of frustration are over!
The climate movement must be in the streets, suites and state house (in every state).
Ban fracking now!
EcoWatch Daily Newsletter
CASEZY / iStock / Getty Images
From lighting up the night when you return home to boosting security, installing solar flood lights is a great way to invest in your home's functionality and safety. Solar flood lights harness their energy from the sun and don't require wiring or electrical work, making installation a breeze even for renters. And thanks to waterproof designs and efficient LEDs, they offer a fix-it-and-forget solution to myriad lighting predicaments.
In this article, we'll recommend four of the best LED solar flood lights and motion-detector lights on the market today.
Best Solar Flood Lights: Our Recommendations
Each product featured here has been independently selected by the writer. Learn more about our review methodology here. If you make a purchase using the links included, we may earn a commission.
Full Reviews of Our Top Picks
How to Choose the Best Solar-Powered Flood Lights
A single doorway doesn't need 2,500 lumens, nor is a single solar-powered flood light sufficient for lighting up a driveway. Before choosing the best solar-powered flood light, consider the following factors:
Brightness: In general, brighter is better, but if you only need to light a small area, you might not have to fork over the extra cash for a higher-output unit. If you want to cover a large area with a single bright light, go for at least 1,600 lumens. Or, install multiple lights with a smaller output.
Features: Today's solar-powered flood lights are ripe with features. Most have multiple brightness settings and weatherproofing as standard features, but consider other important elements such as remote controls, adjustable/modular solar panels, tilt and pan adjustments for lights and sensors, and metal constructions. As always, the more features, the higher the price, but the investment will be worth it.
Durability: All of our picks are waterproof, but you may want a light that's truly built to last. The RuoKid Solar Street Light has an all-metal design and is made to take a beating. Look for weatherproof lights that will hold up through multiple seasons.
Ease of installation: Compared to their wired counterparts, solar-powered flood lights are a breeze to install. Some require more assembly and mounting than others, so if you're not on friendly terms with your toolbox, pick a solar flood light that requires little more than a screw to install.
Frequently Asked Questions: Solar Flood Lights
Do solar flood lights really work?
As long as they have consistent daylight for at least a few hours, solar flood lights work exceptionally well. They utilize the same sensor technology as their wired counterparts but require no wiring and have an overall simpler installation thanks to their built-in solar panels.
What is the brightest solar LED flood light?
TBI Pro Super-Bright Outdoor Solar Lights have an impressive 2,500-lumen output. These are some of the best solar flood lights if brightness is your top priority.
How long do solar-powered flood lights last?
As far as runtime, most solar flood lights provide uninterrupted lighting for 8 to 12 hours. Assuming a solar light has no defects and is installed and used as intended, a solar flood light battery will last 3 to 4 years before needing replacement. Other components of a solar flood light can last up to a decade or more.
What is the most powerful solar security light?
TBI Pro Super-Bright Outdoor Solar Lights are the most powerful solar LED security lights on our list.
Christian Yonkers is a writer, photographer, filmmaker, and outdoor junkie obsessed with the intersectionality between people and planet. He partners with brands and organizations with social and environmental impact at their core, assisting them in telling stories that change the world.
Fifty-five years ago Jibreel Khazan of the Greensboro Four sat down at the lunch counter inside the Woolworth store on Feb. 1, 1960 with three other classmates from North Carolina A&T University to highlight racial injustices in America.
At that time, Jibreel and his classmates were fighting for equality, and the goal to desegregate the lunch counter across America became central in that fight.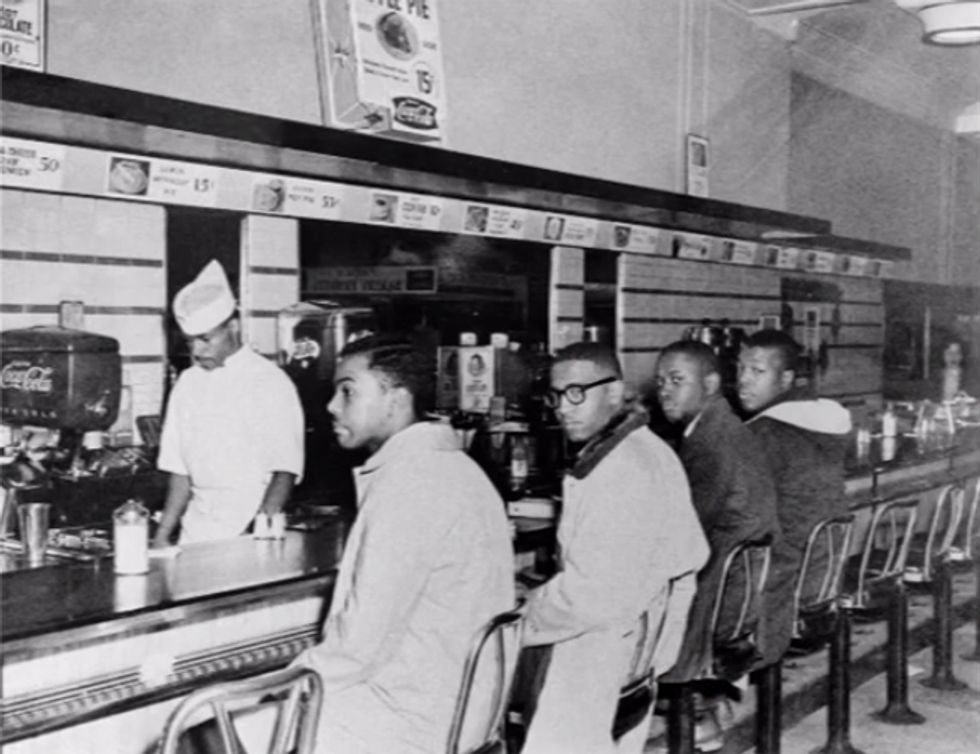 It's the 55th anniversary of the Greensboro sit-ins at the Woolworths lunch counter. Jibreel Khazan, one of the two living of the original group of four North Carolina A&T students who started the sit-in, gave a powerful statement this week about today's 'lunch counter moment.'
Today, while the fight for equality continues, because of climate change it is no longer just about equality, but also existence.
Jibreel Khazan has stated that "climate change is young people's 'lunch counter moment' for the 21st century."
Please watch this video of one of our great elders from the civil rights movement and see where the past intersects with the present and looks to protect the future. Hear the wisdom of one who states that "in the tradition of civil and human rights struggle that young people today are calling for action on climate change. It is the biggest threat to justice and opportunity our planet has ever seen."
YOU MIGHT ALSO LIKE
Climate Justice: A Fight for Equal Opportunity
8 Celebrities Calling for Climate Action