Photo credit: Food & Water Watch Marlyand / Twitter
For the record, I'm against Hydraulic fracturing or fracking for short.
I'm against people who are for and do Hydraulic fracturing.
Reason: People have a right to clean air and clean water. (PERIOD)
Ban Fracking Now! #DontFrackMD All Power to the People!!! @HipHopCaucus https://t.co/WQO4R5AYAR

— Rev Yearwood (@Rev Yearwood)1488480562.0
This is not about Republican or Democrat it's about humanity and putting people before profits. Climate change is a public health and a civil rights issue that affects the communities that I support and work for, particularly African-Americans and low-income families. They are often hit the hardest by climate change and carbon pollution.
But, while many of us in the climate movement have been protesting, the fossil fuel industry has been busy playing the legislative game. And in many respects they are winning. Former Exxon CEO, Rex Tillerson, now the secretary of state for the Trump administration, shows they have been able to successfully infiltrate all levels of government and advance policy that makes it easier to expand dangerous practices.
5 Reasons Rex Tillerson Is Unfit to Be Secretary of State https://t.co/9al0sd2DhH @Greenpeace @Earthjustice

— EcoWatch (@EcoWatch)1485990617.0
In many ways, the fossil fuel industry is only doing what we allow. Protesting is very demanding. Many movements become stalled because the primary focus is turning people out to protest, march or boycott, while overlooking the greater need for policy to support the demands of progress. It is critical that the climate movement largely pivot towards legislation and policy change, otherwise we are setting ourselves up for a whole lot of frustration and fatigue. While we're in the streets protesting we must know that there are power players who understand the policy game, how to fund it, make the rules and get ahead.
If the climate movement is to be successful we must look to examples like what is happening in Maryland where 200 health professionals, 170 local businesses and 160 groups are calling for a ban on fracking. Don't Frack Maryland has focused locally on the policy necessary to stop fracking from entering their state with Senate and House bills. This campaign has brought together the science, education and climate advocacy to demand change. We must affect policy. Now is the time to organize locally.
#DontFrackMD March happening now in #Annapolis https://t.co/MdxR3JBIcV

— Senator Ron Young (@Senator Ron Young)1488478971.0
Demonstration without legislation leads to frustration.
The days of frustration are over!
The climate movement must be in the streets, suites and state house (in every state).
Ban fracking now!
EcoWatch Daily Newsletter
AdamRadosavljevic / Getty Images
A good backup generator can help you keep your home running smoothly, even in the event of a major power outage. And, when you choose a solar generator, you can power your home using clean, renewable energy from the sun. By contrast, gas and diesel generators burn fossil fuels, and are extremely loud and spew harmful emissions into the atmosphere. Here are the best solar power generators available today that can provide a cleaner alternative for home generators.
Our Picks for the Top Solar Generators
Each product featured here has been independently selected by the writer. You can learn more about our review methodology here. If you make a purchase using the links included, we may earn commission.
How We Reviewed the Best Solar Generators
There are a number of factors we considered when choosing which solar power generators to recommend, including:
Battery capacity. Battery storage capacity is an important ranking factor. A greater battery capacity means the generator can store more energy, which ultimately means it will last longer without requiring a recharge. This is measured in watt-hours (Wh).
Power output. When your generator is up and running, it will put out a certain amount of energy, measured in watts. It's important to select a generator that offers enough watts for you to power your essential home appliances.
Inverter rating. The inverter is a critical part of any backup power generator. Basically, this is the component that turns solar energy into AC (alternating current) electricity. Inverter rating, along with battery capacity, determine how much power you can get from your home backup generator.
Expandability. In order for your backup generator to function, you'll need some way of charging it. And if you plan to rely on solar energy, that means using solar panels. Expandability means that you can add solar panels to your generator as needed, making it easier to absorb more sunlight for energy.
Number of outlets. How many devices or appliances do you need to charge? The functionality of your backup generator will be determined by how many outlets or ports are available.
Price. Of course, as you look for the best home backup generator, one of the most crucial considerations of all is your budget. We've sought to emphasize generators that offer maximum value.
Based on these criteria, we've determined the solar backup generators that offer the most consumer value.Check out our complete list of recommendations below. You can also read our complete review of the best solar energy companies for rooftop home solar systems.
The Best Solar Energy Generators
How Does a Solar Generator Work?
Solar generators capture energy from the sun using photovoltaic solar panels, and store it in a built-in battery. Note that in order to absorb the sun's energy, your portable generator will need solar panels. These are typically sold separately, or as a package with the unit, so you'll need to factor in this additional cost. Solar panels contain solar cells, which are typically made of monocrystalline or polycrystalline silicone that acts as a semiconductor.
Once the sun's energy is stored in the battery, it is converted into AC energy. This happens via a component known as an inverter. AC power is required for most of your household appliances, as well as for charging devices like your phone, laptop, or tablet that normally require a wall charger or AC outlet.
Can a Solar Generator Power My Whole House?
Generally speaking, a rechargeable solar generator won't be able to power your entire house if you lose power. With that said, even a smaller generator can be used to power key devices or appliances, sometimes for days at a time depending on its power consumption. For instance, you can keep your refrigerator up and running, and/or ensure plenty of sustained use for medical devices, like CPAP machines.
With an especially robust generator, you may also be able to connect to core circuits, running multiple appliances at one time.
So, while having an emergency power supply from a solar generator may not mean that you can go about your life just like you would normally, you can at least keep the lights on at home, run your air conditioner, or ensure your perishable food items remain fresh until your electricity comes back on.
What are the Benefits of a Solar Generator?
There are a number of advantages you can anticipate from an emergency generator, especially when you choose to go solar. Consider:
You can minimize the disruption of a power outage.
Again, inclement weather can cause power outages that last for hours, sometimes even days. During that time, you can use a backup generator to keep your essential appliances and devices up and running. This level of preparedness can offer ample peace of mind.
Solar generators offer a clean alternative to other energy sources.
Most generators are powered by fossil fuels, which means they emit a lot of noxious emissions. If you want a clean power source and a minimal environmental footprint, these solar solutions are just the ticket. They are also much quieter than traditional gas or diesel generators.
They can be very cost-effective in the long run.
While the initial purchase price of a solar generator may seem steep, keep in mind that sunlight is free. You don't have to worry about buying fuel or any additional expenses associated with your solar unit.
Find the Solar Generator That's Best for You
Disaster preparedness begins by identifying a reliable power source, and if you want that power source to be clean and renewable, solar generators are ideal. Take a moment to explore the options and find the generator that's right for you.
Josh Hurst is a journalist, critic, and essayist. He lives in Knoxville, TN, with his wife and three sons. He covers natural health, nutrition, supplements, and clean energy. His writing has appeared in Health, Shape, and Remedy Review.
Fifty-five years ago Jibreel Khazan of the Greensboro Four sat down at the lunch counter inside the Woolworth store on Feb. 1, 1960 with three other classmates from North Carolina A&T University to highlight racial injustices in America.
At that time, Jibreel and his classmates were fighting for equality, and the goal to desegregate the lunch counter across America became central in that fight.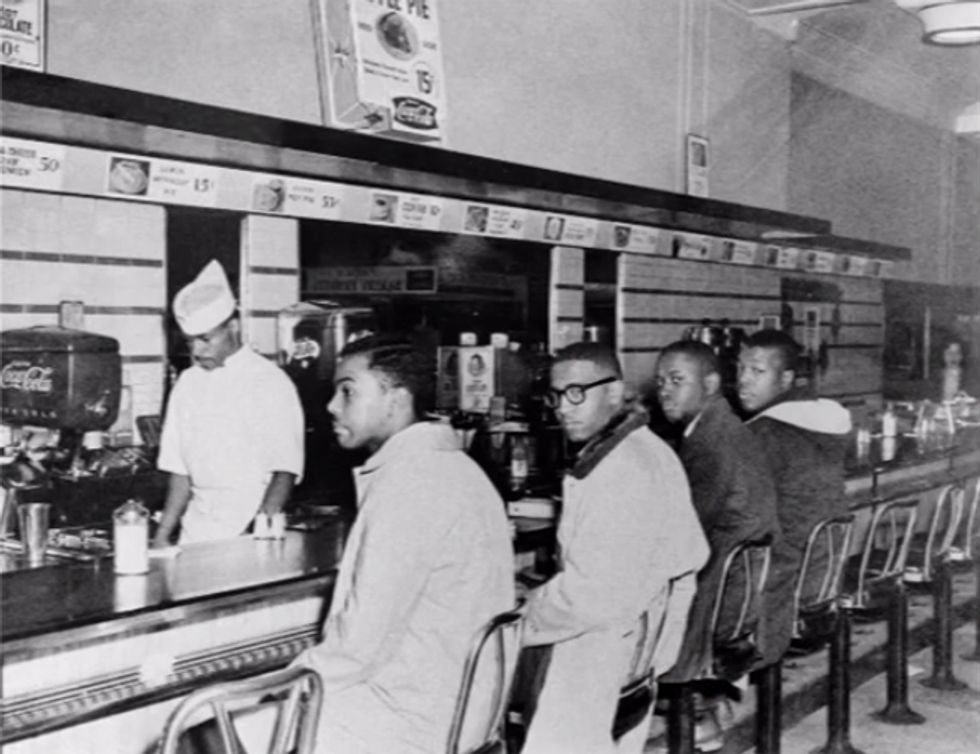 It's the 55th anniversary of the Greensboro sit-ins at the Woolworths lunch counter. Jibreel Khazan, one of the two living of the original group of four North Carolina A&T students who started the sit-in, gave a powerful statement this week about today's 'lunch counter moment.'
Today, while the fight for equality continues, because of climate change it is no longer just about equality, but also existence.
Jibreel Khazan has stated that "climate change is young people's 'lunch counter moment' for the 21st century."
Please watch this video of one of our great elders from the civil rights movement and see where the past intersects with the present and looks to protect the future. Hear the wisdom of one who states that "in the tradition of civil and human rights struggle that young people today are calling for action on climate change. It is the biggest threat to justice and opportunity our planet has ever seen."
YOU MIGHT ALSO LIKE
Climate Justice: A Fight for Equal Opportunity
8 Celebrities Calling for Climate Action