Nisqually Tribal Council Member Hanford McCloud lights sacred fire to open up 17th Protecting Mother Earth conference. Rudi Tcruz
By Jade Begay and Ayşe Gürsöz
Even as the Trump administration rolls back regulations meant to protect Americans from pollution, the EPA recently released a report that finds that people of color are much more likely to breathe toxic air than their white counterparts. The study's basic findings—that non-whites bear a higher burden in terms of pollution that leads to a range of poor health outcomes—is supported by other similar studies, and underpins the issue of environmental injustice that impacts many politically marginalized communities.
It's these communities that are hardest hit by the climate crisis––even though they are the least responsible for causing it. In addition, these communities, by design, are most imperiled by environmentally devastating extractive industries like coal mining, tar sands, fracked gas and more. Let's be clear: Climate change isn't just a scientific issue—it's an issue of racial inequity, economic inequity and cultural genocide.
Indigenous peoples around the world are quickly becoming the generation that can no longer swim in their own waters, fish in their rivers, hunt their traditional foods or pick their traditional medicines. The climate isn't just changing the landscape—it's hurting the culture, sovereignty, health, economies and lifeways of Indigenous peoples around the world. Yet despite the immense impacts climate change and fossil fuel industries have on Indigenous cultures and ways of life, Indigenous communities are tremendously resilient.
This was strikingly clear at the 17th Protecting Mother Earth conference, where tribal leadership and environmental activists called for a unified front to help find solutions. Hosted by the Indigenous Environmental Network, the Nisqually Indian Tribe and Indigenous Climate Action, the conference provided a space for hundreds to come together to share lessons, celebrate victories and build stronger alliances to defend and protect land, water, the climate and Indigenous rights.
"We Native people will always be here, standing up to protect the land and water," said Nisqually Tribal Councilman Hanford McCloud during the conference's opening ceremony. "We will always be the voice of those on the frontlines who continue to fight against the violation of Indigenous treaty rights, self-determination, environmental justice, and climate change."

It's essential to note that Indigenous vulnerability and resilience to climate change cannot be detached from the context of colonialism, which created both the economic conditions for climate change and the social conditions that continue to limit the capacity for Indigenous resistance and resilience. Both historically and in the present, climate change itself is thoroughly tied to colonial practices. Greenhouse gas production over the last two centuries hinged on the dispossession of Indigenous lands and resources.
Since the fracking industry began on Casey Camp-Horinek's reservation in Ponca, Oklahoma, tribal members have experienced a spike in cancer. She says that since fracking began there, her small community averages a death per week. The water wells on her reservation are now too toxic to drink. "They need to understand that what they call resources, we call life sources. We all know that water is life. The years of fish kills related to the fracking and injection wells amount to environmental genocide."
Eriel Deranger leads a panel, "Belly of the Beast," featuring Indigenous frontline land defenders fighting extractive industries. Casey Camp-Horinek consoles Cherri Foytlin as she expressed the corporate and governmental opposition she faces fighting the Bayou Bridge pipeline. Rudi Tcruz
Eriel Deranger, executive director of Indigenous Climate Action, expressed during a press conference that the U.S. and Canada, by further investing in dirty energy projects that infringe on Indigenous rights of Free, Prior and Informed Consent (like Kinder Morgan's Trans Mountain pipeline, Energy Transfer Partners' Bayou Bridge pipeline, Enbridge's Line 3 pipeline, and TransCanada's Keystone XL pipeline, to name a few) are making decisions and policies that move society further away from a climate-stable future. "They aren't adhering to international climate commitments," said Deranger, who is a member of the Athabasca Chipewyan First Nation. "This is an indication that we the people, Indigenous peoples, must be prepared to take real action on climate change and be the leaders for the protection of Mother Earth."

The conference was held in an especially significant location: Frank's Landing, named after the late Billy Frank Jr., who led the historical stronghold where the Nisqually Tribe stood up in non-violent direct action during the 1960s and '70s to defend their way of life and their inherent treaty rights to hunt, fish and gather. The Fish Wars stand today as one of the most important civil rights moments for Indigenous rights in the Pacific Northwest. "We watched our elders get beat up right here. Hauled off," said Don McCloud Jr., father of Hanford, and the oldest son of Don McCloud Sr., a central leader of the Fish Wars. "We suffered many things. But we're not here to complain. The struggle still goes on. The battle is still here. We might have won one fight, but we're here continuing the fight for Mother Earth."
Don McCloud, who grew up during the Fish Wars, shares memories on a boat ride during the PME. Ayşe Gürsöz
The event, which ran from June 28 through July 1, included plenary sessions with key speakers and break-out sessions addressing themes ranging from Just Transition, Climate Justice, Environmental Health, Rights of Mother Earth and more. One particular session, which featured a delegation from Alaska, demonstrated just how dramatic an impact climate change is having on the landscape and traditional lifeways.

Adrienne Blatchford, a member of the Inupiaq Tribe living in Unalakleet, Alaska, said:
"The cost of development is the land. And that right there is so profound to me, because no amount of oil money can pay to relocate our villages or subsidize any kind of living in the way that we have done since time immemorial, it can't compensate for that. Indigenous people are connected to the food and to the land. Without it we get sick. It's genetic. It's something we have to have to provide for ourselves through the land. There is a spiritual connection that we have to these animals and what it provides."
Adrienne Blatchford of the Inupiaq Tribe from Unalakleet, Alaska. Ayşe Gürsöz
According to Blatchford and her team at Native Movement, climate change is drastically changing the landscape, which translates to major disruptions of deeply rooted cultural traditions. There are fewer moose, beavers and salmon, which are traditional sources of food. In the fall and winter, due to starvation, wolves began to attack dogs and people. The rapidly melting permafrost is causing trees to fall down, and fewer trees mean less shade, which causes more melting. Even flowers that are supposed to be pink and blue are now turning up white. Blatchford's colleague Misty Nickoli, a member of the Denaá and Tsimshian tribes, adds that "those details are important because it's everything. From our land to animals to our weather to our water. When all those things are upset, the people, our health, gets out of balance and we get sick too. And when we don't have our food to take in as our medicine, we stay sick and we get sicker."

Indigenous communities around the world have struggled to maintain their cultural identity and cultural practices through initial and ongoing periods of colonialism, genocide and forced assimilation. A USDA report, Climate Change and Indigenous Peoples: A Synthesis of Current Impacts and Experiences, notes that "this history has provided many indigenous communities with valuable adaptation experience to inform climate-change adaptation, resilience and resistance."
Once such instance is the Black Mesa Water Coalition, which first formed in 2001 to address issues of water depletion, natural resource exploitation and public health within Navajo and Hopi communities. "Our emphasis is on healing and decolonization––as individuals, communities and as our culture," said Jihan Gearon, a member of the Diné nation and Executive Director of Black Mesa Water Coalition, during a plenary presentation. "How can we transition our economy to reflect those things? We have a term 'Just Transition.' We know the situation we're in right now is bad, and we know where we want to go. Culture revitalization. Healthy communities, lands and water. Just Transition means how do we get from A to B."
Jihan Gearon stands in front of solar panels powering the PME conference. Ayşe Gürsöz
Even the seemingly groundbreaking Paris agreement neither includes human rights in its text nor acknowledges Indigenous rights—even though lands and waters stewarded by Indigenous communities make up 80 percent of the world's biodiversity. What we need is for climate policy and the overall climate movement to address problems of inequality, because climate change is just as much a social issue as it is an environmental issue.

We need to ask ourselves what kind of world we want to live in. And who is going to lead us into that world? Sadly, we cannot count on the Trump administration. We also can't look to so-called climate heroes such as California's Gov. Jerry Brown, whose climate policy leans on the market-based carbon trading systems, which are widely criticized as false solutions that further exploit Indigenous lands and peoples.
From Standing Rock to the pipeline fights happening across the U.S. and Canada, Indigenous peoples are leading the resistance to extreme fossil fuels. We all need to stand with them and call for grassroots solutions that center Indigenous traditional knowledge. Our next opportunity to do this is in September during the Global Climate Action Summit, where grassroots groups from across the nation and world will host a week of action to counter the false solutions being celebrated there.
PME conference attendees. Ayşe Gürsöz
Jade Begay (Diné and Tesuque Pueblo) is a multimedia artist working with the Indigenous Environmental Network (IEN) as the Communications and Digital Director and the Senior Producer at Indigenous Rising Media, a media project of IEN. Prior to IEN, Jade worked with 350.org as the Multimedia Producer and with Resource Media, as the Justice and Sustainability Communications Fellow. Jade is a graduate of Naropa University (MA Environmental Leadership) and Columbia College Chicago (BA Film and Video). Currently, Jade is co-directing "Blood Memory Experience," a VR/AR project that explores the connections between identity, land and storytelling.

Ayşe Gürsöz is a multimedia producer working at the intersection of climate change, human rights and corporate accountability. Ayşe is the Communications Manager for Rainforest Action Network's Climate and Energy team and volunteers with Indigenous Rising Media, a media project of the Indigenous Environmental Network. In the past, Ayşe has worked with Al Jazeera's AJ+ as a News Producer and with Public Advocates as a Digital Strategist. Ayşe is a 2017 Media Consortium fellow of the New Economies Reporting Project and her photography has been featured in ColorLines, the Amplifier Foundation's "We The People" campaign, and the film "Awake: A Dream From Standing Rock."
EcoWatch Daily Newsletter
Sumatran elephant. Paul Hilton / Wildlife Conservation Society
Between Aug. 21 and Sept. 5, conflict palm oil grower PT. Tualang Raya cleared another 18 hectares of critical lowland rainforests inside the Leuser Ecosystem. This rogue actor has continued razing forests with impunity despite Rainforest Action Network exposing its ongoing destruction since September 2015.
PT. Tualang Raya is clearing in disregard of a government moratorium on forest clearing for palm oil development. According to satellite imagery analysis, PT. Tualang Raya has cleared a total of 205 hectares of forest since June 2016 when a government circular letter demanded that palm oil companies halt forest clearance.
Satellite analysis shows 18 hectares of critical elephant habitat was cleared by PT. Tualang Raya between Aug. 21 and Sept. 5, 2017.
The PT. Tualang Raya palm oil concession is located in a region of the Leuser Ecosystem called Aceh Timur, an area containing the world's best remaining habitat for some of the last populations of Sumatran elephants, a species that is on the brink of extinction.

Ancient elephant migratory paths run through this region and are being disrupted by palm oil expansion. Herds rely on these paths to find food and water, and when destroyed, elephants often stray onto cleared lands and come into direct contact with communities and plantation workers, increasing human-elephant conflict. If these key lowland rainforests continue to be destroyed, we will lose sufficient, viable habitat needed for the survival of this critically endangered species.
A critically endangered Sumatran elephant calf found sick after having been separated from his mother in a palm oil plantation in East Aceh.Nanang Sujana / RAN
PT. Tualang is also beginning to develop its own palm oil mill; this facility will only further drive the destruction of critical forests in the region.

Urgent action and intervention is needed by the Indonesian government to stop this destruction. PT. Tualang Raya's violation of the moratorium warrants revocation of its permit in order to halt further expansion into these irreplaceable forests.
While PT. Tualang Raya is not yet selling palm oil fruit, the destruction of the rainforests found in its concession is driven by the global demand for palm oil. Major brands like PepsiCo feed this demand by sourcing conflict palm oil. All brands must enforce a moratorium on forest destruction in their supply chains, including all palm oil companies with operations inside the Leuser Ecosystem.

Satellite imagery showing forest clearance in the PT. Tualang Raya concession from April to August 2017:
As consumers become more aware of issues like ocean plastics and overflowing landfills, many are looking for ways to cut down on their environmental footprints. An easy way to make your home more sustainable is to switch from heavy-duty plastic trash can liners to biodegradable garbage bags. While they aren't a perfect solution, they have a few key advantages over their traditional counterparts.
Whether you're looking for tall kitchen trash bags or a smaller option to line your countertop compost bin, in this article, we'll review five of the best biodegradable garbage bags on the market today.
Our Picks for the Top Biodegradable Garbage Bags
Each product featured here has been independently selected by the writer. Learn more about our review methodology here. If you make a purchase using the links included, we may earn a commission.
Why Switch to Biodegradable Garbage Bags?
According to the Center for Biological Diversity, a plastic bag takes 1,000 years to degrade in a landfill. And when bags do decompose, they can leach toxins and microplastics into the environment. It's difficult to completely abandon plastic, but we can take simple steps toward reducing our environmental footprints by switching to products such as biodegradable garbage bags.
Although compostable and biodegradable plastics take longer to break down in a landfill than they would in an open environment, they can still be more eco-friendly than using traditional plastic bags. Below are some reasons you may consider replacing your plastic trash bags with more eco-friendly alternatives:
Biodegradable bags produce fewer greenhouse gas emissions over their lifetime because the plants they're made from (often corn or sugarcane) absorb carbon while growing. This offsets the carbon they produce when breaking down. One study even found that switching to corn-based bioplastics could cut U.S. greenhouse gas emissions by up to 25%.
Biodegradable and compostable trash bags break down up to 1,000 times faster than regular garbage bags in the right environments. Biodegradable bags start their decomposition process when exposed to moisture or organisms such as bacteria and fungi. Compostable bags break down at a faster rate than conventional bags as well, but they usually require high heat to break down, so they should be disposed of at commercial composting facilities.
Compostable bags will break down fully and will not turn into microplastics like traditional plastics and the bioplastics in some biodegradable plastic bags will.
There are also some downsides to bioplastics. For example, they require more land, water and pesticides to grow the crops that are turned into the bioplastics. They can also be much more expensive and can release methane if not exposed to enough oxygen during the decomposition process. However, most modern landfills in the U.S. are air-locked to prevent these and other harmful gasses from entering the atmosphere.
Considering both sides of the coin, is it worth switching to biodegradable garbage bags? According to Kartik Chandran, a professor in the Earth and Environmental Engineering Department at Columbia University, compared to traditional plastics, "bioplastics are a significant improvement." But the choice is ultimately up to you.
Of course, the most sustainable option would be to produce less waste in the first place, tossing your garbage in a bin without a liner and washing the bin after you dump your loose trash. Composting food scraps is another way to reduce your landfill contribution whether you're in a house or an apartment.
5 Best Biodegradable Trash Bags
If you decide to purchase biodegradable trash bags, it's important to note that not all biodegradable trash bags actually break down within a reasonable amount of time. Depending on its material, the claim that a bag is biodegradable can be little more than greenwashing.
In order to provide you with sustainable recommendations, when choosing the top biodegradable garbage bags, we looked at factors including:
Composition: What materials go into the bags themselves? Are they plant-based? Do they have Environmental Products, Inc. (EPI) chemical additives to accelerate plastic degradation?
Certifications: Are the bags certified to American Society for Testing and Materials (ASTM) standards for composting and biodegrading?
Decomposition rate: How long does each company's bags take to decompose? (This can range from six months to over a year, depending on the brand.)
Durability: Do the bags have the same strength as traditional trash bags? Or do they tear or leak easily?
Packaging: Do the products have compact and recyclable packaging?
Customer satisfaction: Are customers satisfied with the products? (We look at verified reviews as well as have conducted our own independent reviews on select products).
www.unni.world
UNNI garbage bags are our best overall choice because they are 100% biodegradable and compostable. The eco-friendly bags are also certified by the Biodegradable Products Institute and OK Compost Home and are BPA-free. They are made entirely from corn starch and other plant starches and contain no polyethylene. Within 180 days, the bags will degrade into organic compounds such as CO2 and O2. The brand also makes drawstring waste bags and small trash bags for home composting and pet waste.
Customer Rating: 4.5 out of 5 stars with over 4,400 Amazon ratings
Why Buy: These compostable trash bags come in plenty of sizes and styles, so whether you need to dispose of dog poop or food scraps, you can find an eco-friendly bag from UNNI.
shopreli.com
Trusted for over 30 years, the bright green Reli. biodegradable garbage bags are designed for ease of use and durability. They have a star-sealed bottom to prevent breakage and are made with a high-density blend of plant-based materials and EPI chemical additives. The company sells compostable bags as well for those who have access to a composting facility, and the 13-gallon bags come in a compact cardboard box that can be recycled.
Customer Rating: 4.4 out of 5 stars with over 250 Amazon ratings
Why Buy: These biodegradable trash bags are eco-certified to ASTM D6954 standards and include EPI additives to ensure a faster degradation process. You can also lower your carbon footprint even more by buying in bulk and purchasing an 800-count package for $50.
www.biobagusa.com
BioBag Compostable Countertop Food Scrap Bags are made up of a bioplastic resin blend called Mater-Bi®, which uses non-genetically modified plant-based substances like corn starch and a variety of biodegradable/compostable polymers. BioBags has made a commitment to use as many renewable resources in its products, and its bags are manufactured in the U.S. with resin sourced from Italy. They are stored in a small cardboard package that can be recycled after use.
Customer Rating: 4.7 out of 5 stars with over 3,200 Amazon ratings
Why Buy: These small bags are extremely versatile and can be used for small waste needs all around the home. BioBag's products are certified compostable and biodegradable according to European standard EN 13432, U.S. standards ASTM D6400 and OK Compost Home, and Australian standard AS 4736.
www.hipposak.com
Hippo Sak tall kitchen bags are made in the USA from at least 88% plant-based materials such as sugarcane rather than fossil fuels. These white trash bags are extremely durable with a slightly thicker layer on the bottom to prevent breakage. The kitchen bags also have large handles that make them easy to grip, pick up and replace without the fear of tearing. They are packaged in a small cardboard box with a large tab that makes it easy to pull individual bags out.
Customer Rating: 4.9 out of 5 stars with over 5,700 Amazon ratings
Why Buy:
Hippo Sak garbage bags are USDA Certified Biobased Products, are completely recyclable and are BPA-free. They have an extremely high satisfaction rate and have been said by buyers to be extremely durable.
Envision
The STOUT by Envision EcoSafe Compostable Bags are specifically designed for collecting organic waste. Even though the average decomposition rate for biodegradable and compostable bags can range from six months to a year in an open environment, STOUT bags are said to decompose in 10 to 45 days and biodegrade in a maximum of six months in commercial composting facilities. Much like the other brands, these garbage bags come in compact cardboard packaging for easy recycling. A star seal on the bottom of the bag makes it possible to carry more weight without leaking or ripping.
Customer Rating: 4.7 out of 5 stars with over 500 Amazon ratings
Why Buy: These fast-decomposing bags are made in the U.S. by blind or visually impaired citizens. They're also USCC and BPI certified and meet the requirements of ASTM D6400.
Frequently Asked Questions: Biodegradable Trash Bags
Which garbage bags are biodegradable?
Garbage bags made from bioplastics or other plant-based starches and materials are considered biodegradable. Bioplastics are a mixture of organic materials that mimic the properties of traditional petroleum-based plastics. Some bioplastics include additives to speed up the deterioration process. Some bioplastics are so complex that they aren't considered biodegradable anymore. This is why it is important to make sure your products are not only composed of plant material, but are also certified biodegradable.
Are biodegradable bags better than plastic?
Biodegradable garbage bags produce fewer greenhouse gas emissions than traditional plastic bags. However, it takes more land, water and pesticides to grow the plant materials the bags are made from. Overall, researchers have stated that biodegradable bags are better, but they don't break down significantly faster in landfills.
How long do biodegradable bags take to decompose?
The range for the decomposition of biodegradable bags is different for each brand. Some state that it only takes 180 days for decomposition, while for others it may be up to a year and a half. It also depends on the environment the bag is in — in a commercial composting facility or at home in an open environment, decomposition will be significantly faster than in an air-locked landfill. Generally, no matter the time it takes for biodegradable garbage bags to decompose, it takes traditional garbage bags longer.
A baby elephant nuzzles its mother in the Leuser Ecosystem on the island of Sumatra in Indonesia. Critical elephant habitat is being decimated to make room for palm oil plantations. Paul Hitlon / RAN
By Emma Rae Lierley
The Leuser Ecosystem on the island of Sumatra in Indonesia thrums with life. It is an ancient, 6.5 million acres of lush rainforest and steamy peat swamps, and because of its rich biodiversity, is one of the most important rainforests still standing today.
Its clear rivers provide drinking water for millions of people and its lowland and mountainous rainforests are literally the last place on Earth where Sumatran elephants, orangutans, tigers, rhinos and sunbears still coexist in the wild. Globally, we all depend on it for the climate regulating effects such a large carbon-sink can have.
And yet, the Leuser Ecosystem is being actively destroyed for palm oil and other industries.
A new field investigation released by Rainforest Action Network (RAN) exposes how one company is pumping conflict palm oil—palm oil connected to the clearance of tropical rainforests and the destruction of carbon-rich peatlands—into the global marketplace. The conflict palm oil coming out of the Leuser Ecosystem is shipped to the major brands whose products line store shelves the world over.
One of Sumatra's remaining and critically endangered baby elephants peers out from behind its mother's trunk in the Leuser Ecosystem. Paul Hilton / RAN
Palm oil has quickly become the most widely used vegetable oil in the world. It can be found in every room of the house, in products ranging from potato chips to laundry detergent, ice cream to cosmetics and cookies to cooking oil. The boom in palm oil has been driven, in part, by a demand in Western countries for shelf-stable vegetable oils, used to replace the hydrogenated oils now despised for their transfats.
However, the palm oil industry is rife with issues, and conflict palm oil still dominates the market. Child labor, human trafficking, land grabbing, rainforest deforestation, endangered species habitat destruction and massive forest fires are all connected to the production of conflict palm oil.
PT. Agra Bumi Niaga (PT. ABN) clears forests in the Leuser Ecosystem for more palm oil plantations. RAN
An aerial view of the cleared forests by PT. ABN. RAN
This latest report is the second time RAN has blown the whistle on this company. The palm oil company, PT. Agra Bumi Niaga (PT. ABN), was first outed for clearing rainforest in the Leuser Ecosystem—despite an Indonesian-wide moratorium on forest clearance for new palm oil development—in a RAN field report in February 2017.

In this first report, RAN exposed both PT. ABN, the mill PT. ABN was supplying palm oil to, and the companies buying palm oil from that mill—major palm oil traders that supply many of the world's major snack food brands with the palm oil that is used in their products.
Workers load bunches of palm oil fruit on PT. ABN's palm oil plantation in the Leuser Ecosystem. RAN
This latest field investigation found that PT. ABN continued to clear forests even after it was first exposed, and simply moved its palm oil to a new mill, a few miles up the road from the first. And those major traders supplying palm oil to the rest of the marketplace were buying palm oil from this mill as well.

The palm oil company PT. ABN operates a 2,000-hectare plantation in the Leuser Ecosystem, on land that is known habitat for the Sumatran tiger and the critically endangered Sumatran elephant and orangutan. Indonesia's Environment and Forestry Ministry's own field assessment of the plantation—conducted in June 2016, as the Ministry was officially closing the plantation because it did not have a proper permit—recorded 22 Sumatran elephants living on the plantation itself.
Despite this, satellite images show that PT. ABN has reduced the area covered by forests from 420 hectares in June 2016, to a mere 88 hectares in April 2017.
After its first mill was exposed, PT. ABN switched to supplying palm oil from this concession to a mill called PT. Ensem Sawita, five miles up the road from the previous one. Supplier mill lists and maps published by six of the world's largest palm oil traders—Wilmar, Musim Mas, Golden Agri-Resources (GAR), Cargill, IOI and ADM—show that PT. Ensem Sawita has a track record of supplying palm oil to refineries, including in the U.S., Canada and Europe, which in turn supply all of the world's largest traders and global brands. Just those six traders alone are believed to have a combined palm oil market share of more than 60 percent.
Workers load trucks with palm oil fruit bunches on PT. ABN's plantation. RAN
This latest report shows that the biggest global brands, such as PepsiCo, McDonald's, Nestle, Unilever, Kellogg's, Mars and Procter & Gamble and many more, are connected to this single deforestation event through their sourcing of palm oil from these palm oil traders.

The path the palm oil truck takes, from the plantation to the mill that supplies the rest of the supply chain. RAN
As reported in The Guardian, a representative for the mill, PT. Ensem Sawita, confirmed the findings of the report. Expressing regret for the failure of sourcing from PT. ABN, they claimed confusion over a past name change for the palm oil company, despite the fact that the name change was previously reported as well. Many of the palm oil traders and global brands have corporate policies and commitments in place that are meant to ensure they do not source palm oil connected to deforestation, development on peatlands, or exploitation. Yet time and time again, corporations fail to do the due diligence necessary to ensure conflict palm oil is never a part of the products they sell.

An aerial view of PT. Ensem Sawita's mill, which turns the palm oil fruit bunches into crude palm oil.RAN
Satellite images show that PT. ABN has reduced the area covered by forests from 420 hectares in June 2016 to a mere 66 hectares in June 2017. Sixteen additional hectares were lost in June 2017 alone. Above, deforested areas are shown in red and the map dates are from top to bottom: June 2016 — August 2016; June 2016 — November 2016; June 2016 — January 2017; June 2016 — June 2017.
Palm oil is big business. It's found in half of all packaged goods in the average grocery store. RAN's latest field investigation illuminates the dirty supply chain of palm oil, connecting some of the biggest brands in the world with active bulldozing of endangered elephant habitat in the Leuser Ecosystem. From this one case of ongoing deforestation, plantation company PT. ABN pumped conflict palm oil all over the world, as the graphic below illustrates.

RAN
Some companies are working to solve the problem with palm oil, including those working with the Palm Oil Innovation Group, which demonstrates that truly responsible palm oil is possible. Responsible palm oil is produced without the destruction of rainforests and sensitive peatland areas and also upholds labor and human rights. Through the combined pressure of groups like POIG, international and local NGOs and concerned consumers, the palm oil industry will hopefully reform itself, before it's too late.

One of the remaining herds of the Leuser Ecosystem's critically endangered Sumatran elephants.Paul Hilton / RAN
But companies must do more. RAN's latest report exposes the actors involved in, or profiting from, the destruction of the Leuser Ecosystem. Despite the wave of "No Deforestation" commitments that have been made by countless corporations, the global palm oil supply chain remains tainted with conflict palm oil grown at the expense of the Leuser Ecosystem.

If more immediate action is not taken to enforce "No Deforestation" policies, these brands will be remembered as the corporate giants responsible for the destruction of the last place on Earth where Sumatran elephants, orangutans, rhinos and tigers roamed side by side.
Voice your concern. Tell PepsiCo, Nestlé, Unilever, Mars, Kellogg's, McDonald's and Procter & Gamble to put elephants over profits and end the destruction of the Leuser Ecosystem.
Emma Rae Lierley is the forest communications manager at Rainforest Action Network.
Top of JPMorgan Chase Tower, Dallas, Texas. Joe Mabel / Wikimedia
The report found that 2016 actually saw a steep fall in bank funding for extreme fossil fuels. However, despite this overall reduction, banks are still funding extreme fossil fuel projects at a rate that will push us beyond the 1.5 degrees climate change limit determined by the Paris climate agreement.
In 2014, the banks analyzed in the report funneled $92 billion to extreme fossil fuels. In 2015, that number rose to $111 billion. 2016 was the first full calendar year to be studied since the signing of the Paris climate agreement—and the $87 billion figure represents a 22 percent drop from the previous year. While the drop-off is a move in the right direction, it is vital that this become an accelerating trend and not a blip.
The findings showed that if we are to have any chance of halting catastrophic climate change and reaching the Paris goal of limiting climate change to 1.5 degrees, there must be a complete phaseout of these dangerous energy sources and banks must implement policies against extreme fossil fuel funding.
"Right now, the biggest Wall Street funder of extreme fossil fuels is JPMorgan Chase," said Lindsey Allen, executive director of Rainforest Action Network. "In 2016 alone they poured $6.9 billion into the dirtiest fossil fuels on the planet. On Wall Street they are number one in tar sands oil, Arctic oil, ultra-deepwater oil, coal power and LNG export.
"Even in this bellwether year when overall funding has declined, Chase is funneling more and more cash into extreme fossil fuels. For a company that issues statements in favor of the Paris climate accord, they are failing to meet their publicly stated ambitions."
The report, Banking on Climate Change, is the eighth edition of this fossil fuel finance report card that ranks bank policies and practices related to financing in the most carbon-intensive, financially risky and environmentally destructive sectors of the fossil fuel industry. Those sectors are: extreme oil (tar sands, Arctic, and ultra-deepwater oil), coal mining, coal power and liquefied natural gas (LNG) export.
"There is simply not enough time left for more excuse-making, more fiddling at the policy edges and more egregious bank investments in extreme infrastructure projects like pipelines that transport tar sands oil," said Yann Louvel, BankTrack's climate and energy campaign coordinator. "When we sit in meetings with bank staff, we hear of their revulsion to Trump's stance on climate change and of their support for clean investments, yet their actions of continued investments in extreme fossil fuels demonstrate that they actually side with the Trump approach.
"The climate and profit imperatives for banks can coincide when it comes to clean energy investing, but as they continue to prove with their shortsighted fossil fuel investments, they're at complete odds with the world's long-term climate targets."
The report also explored bank failures when it comes to protecting human rights. The most glaring example of this in 2016 was the financing for the Dakota Access Pipeline (DAPL) and the rampant violations of Indigenous rights associated with that project—which triggered an Indigenous-led defund and divest movement that targets banks that finance dirty energy projects.
"The movement standing up to fossil fuel projects wherever they are proposed has gotten so large that these investments are now not only problematic from a climate and human rights perspective, but they're also risky investments from an economic perspective too," said David Turnbull, campaigns director at Oil Change International. "Our research has shown that any new fossil fuel development runs counter to our climate goals. If banks want to truly be leaders in their field, they need to stop ignoring climate risk and ensure their investments pass the climate test."
In this past year alone, San Francisco, Seattle, WA, and Davis, CA, pulled their money out of Wells Fargo because of the bank's various misdeeds including the funding of DAPL. Caving into public pressure, multiple major banks have announced that they are pulling out of DAPL, which emphasizes the need for proactive bank policies that restrict financing to fossil fuels and the human rights abuses associated with their extraction and transport.
"As the Trump administration continues to make reckless decisions that threaten our climate, it is more important than ever that the public is informed about whether the financial institutions we trust with our money are making investments that will worsen this crisis," said Lena Moffitt, senior campaign director of the Sierra Club's Our Wild America campaign. "The people are watching where and what banks sink their funds into, and they will not back down until every last one commits to investing in a future that benefits their communities, their economies and their health."
A new documentary produced and starring actor and activist Leonardo DiCaprio premieres in Los Angeles today and will be broadcast globally in 45 languages in 171 countries on the National Geographic Channel starting Oct. 30, timed to air in advance of the November elections.
The film highlights the critical role forest destruction plays in driving carbon pollution into Earth's atmosphere and focuses specifically on how the rapid spread of industrial palm oil plantations in Southeast Asia are at the heart of this crisis. The film It is directed by Fisher Stevens who, like DiCaprio, is an Academy Award winner.
Watch the exclusive clip here:
The film captures DiCaprio's visit to the Leuser Ecosystem in Aceh, Indonesia, where extremely high rates of forest clearance have exacerbated the climate change dilemma. Indonesia is now one of the world's top carbon emitting countries, primarily due to the massive deforestation in the region. Before the Flood notes that as it was being filmed in late 2015, man-made fires in Indonesia were spewing more carbon pollution on a daily basis than the entire U.S. economy combined. These illegal fires are an annual occurrence as a method of clearing land for palm-oil plantations. And just more than a week ago, the Indonesian government again declared a national state of emergency due to the severe impacts caused by the out of control fires.

Watch @LeoDiCaprio's #ClimateChange Doc Online for Free https://t.co/F85r0QENAj #BeforetheFlood @NatGeo

— EcoWatch (@EcoWatch)1477407049.0
"This important film brings much needed attention to the destruction of rainforests for palm oil, which is a huge driver of global climate change. We must aggressively address the deforestation crisis in places like Indonesia's Leuser Ecosystem," said Lindsey Allen, executive director of Rainforest Action Network. "With palm oil in roughly half of all packaged goods at the grocery store, it's up to all of us to demand major global brands like PepsiCo finally do the right thing and break the link between their products and tropical forest destruction."

DiCaprio met with Allen during the 2015 Paris Climate Conference (COP21) to discuss the urgent situation facing the Leuser Ecosystem and the critical connection between deforestation and global carbon emissions.
Following his conversation with Allen, DiCaprio's trip to the Leuser Ecosystem caused an international uproar when the Indonesian government briefly threatened him with deportation following his social media posts that drew attention to the deforestation and destruction caused by palm oil expansion. The Leonardo DiCaprio Foundation later committed three years of major funding for local and international efforts to save the Leuser Ecosystem.
Watch the trailer for Before the Flood here:
By Chelsea Matthews
As Conflict Palm Oil companies move into priceless rainforests like Sumatra's Leuser Ecosystem, they are leaving a trail of destruction behind. Chocolate the orangutan is one of the few lucky survivors of this destruction and his is a story of hope.
Racing Extinction, Rainforest Action Network and Wildlife Asia have put together a short video about Chocolate to expose the impact of Conflict Palm Oil.
Chocolate, a Sumatran orangutan, was orphaned at a young age. He was violently ripped away from his mother to be sold into the pet trade after his rainforest home in the Leuser Ecosystem was destroyed to make way for massive industrial palm oil plantations. As the Leuser Ecosystem continues to be destroyed for palm oil, more forests are being fragmented, giving poachers easy access to Sumatran orangutans like Chocolate and other species hunted for trade on the black market.
Chocolate shown as an infant orphan orangutan while being held illegally by wildlife traders in a small village on the outskirts of the Tripa peat swamp in Indonesia's Leuser Ecosystem. Paul Hilton / SOCP
The rainforests of the Leuser Ecosystem are the last place on Earth that can support viable populations of Sumatran orangutans and other critically endangered species. Protecting this extraordinary place is essential if the Sumatran orangutan, tiger, rhino and elephant are going to continue to survive in the wild.

Driving this crisis is Conflict Palm Oil: the world's cheapest vegetable oil which is found in roughly 50 percent of packaged goods, including foods made by snack food giant PepsiCo. The skyrocketing demand for cheap Conflict Palm Oil has driven industrial-scale palm oil plantations deep into the rainforests of Indonesia, including the critically important Leuser Ecosystem.
Chocolate, a critically endangered Sumatran orangutan, is released into the wild after four years in rehabilitation.Paul Hilton / Wildlife Asia
PepsiCo is the largest globally distributed snack food company in the world and uses an immense amount of palm oil: Its annual consumption could fill enough Pepsi soda cans full of palm oil to circle the earth at the equator four times.

Right now, PepsiCo and other mainstream companies are failing to use palm oil in their products that is truly conflict-free. As palm oil is such a pervasive ingredient, boycotting products that contain it would be nearly impossible. This is why there is a growing movement calling for truly responsible palm oil—a benchmark that ensures no deforestation, no species extinction and no human rights abuses for the production of palm oil.
This approach is already proving successful as each year more and more of the companies that buy, sell and use palm oil in their products have adopted responsible palm oil commitments. But PepsiCo has fallen behind its peers by failing to raise its standards to the new global benchmark for responsible palm oil use. PepsiCo must clean up its palm oil supply chain to ensure it is not driving iconic species like the Sumatran orangutan to extinction.

Join the movement. Demand PepsiCo adopt a truly responsible palm oil policy and break its link to the destruction of critical forests like the Leuser Ecosystem.
Although we continue to see destruction for palm oil, there is hope. Every day more people are standing up, fighting back and holding the line against further destruction. Together, we can win for Chocolate, for the Leuser Ecosystem and for all the people and animals who reply on it.
Early this morning, activists with Rainforest Action Network (RAN) scaled the iconic Pepsi sign in Gantry State Park along the East River in Queens and dropped a 100 x 15 foot banner calling on snack food giant PepsiCo to eliminate Conflict Palm Oil from its supply chains.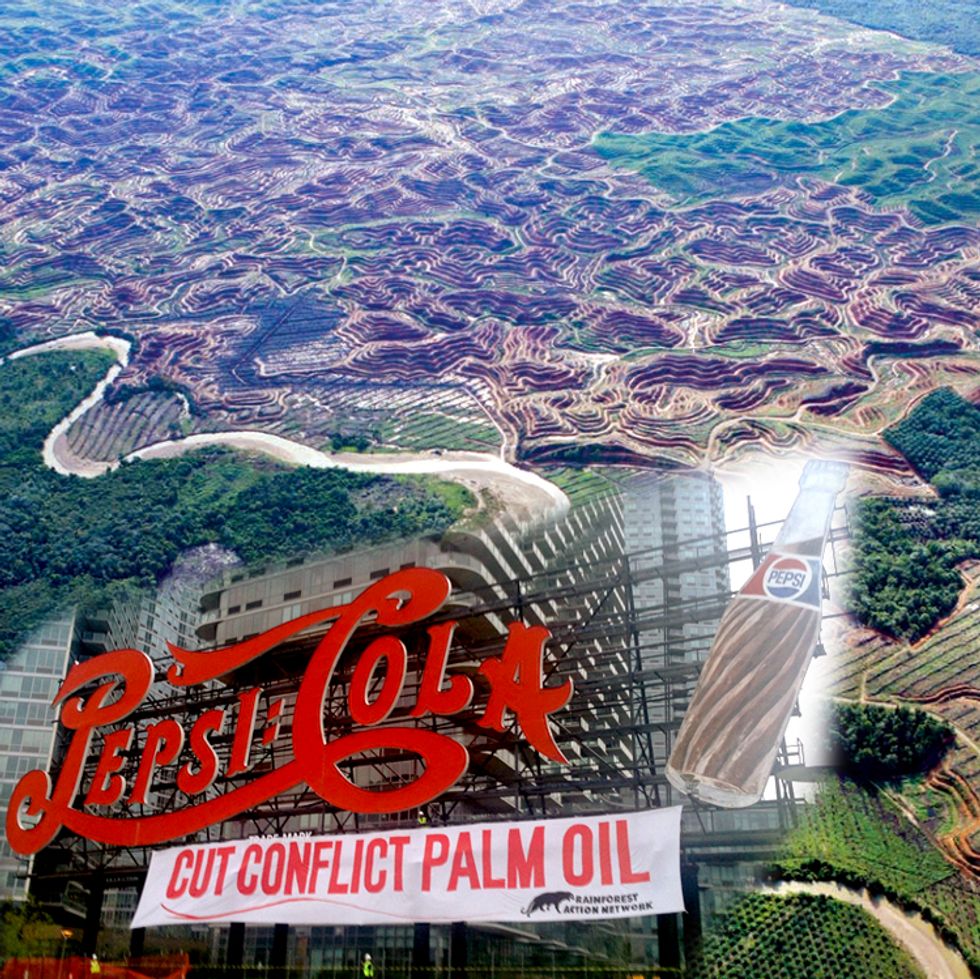 Today's action is the latest escalation in the three-year campaign to pressure the company to address the egregious human rights abuses and deforestation in its palm oil supply chain and commit to using only responsibly produced palm oil for all its globally branded products. While many of PepsiCo's competitors have adopted aggressive timelines to source only responsible palm oil, PepsiCo has continued with a "business as usual" timeline of 2020, positioning the company as a laggard among its peers.
"Pepsi has known for over three years about major environmental and human rights violations in its palm oil supply chain, but the company has fallen short and continues to drag its feet instead of taking the kind of decisive action needed to address this urgent problem," Robin Averbeck, senior campaigner with RAN, said. "Every day Pepsi delays cleaning up its palm oil problem is another day when countless plantation workers continue to suffer under brutal labor conditions, the last Sumatran orangutan and tiger habitat continues to fall and massive carbon emissions continue to pour into the atmosphere from burning rainforests."
[email protected]

: We Must Save Last Place Where Orangutans, Tigers, Rhinos & Elephants Coexist https://t.co/452g3c5kMX https://t.co/VFAfrhvJ7a

— EcoWatch (@EcoWatch)1459266987.0
For nearly 10 years, RAN has been targeting the destruction of rainforests, severe climate impacts and human rights abuses that accompany palm oil plantations. The exponential expansion of these plantations has made Southeast Asia ground zero for deforestation and carbon emissions (from the systematic draining of carbon rich peat swamps and intentional burning of rainforests). RAN launched its Snack Food 20 campaign to highlight some of the largest snack food brands on the planet that have been driving the demand for cheap palm oil and creating this environmental and human rights disaster.
PepsiCo is the world's largest globally distributed snack food company and the biggest remaining brand among the Snack Food 20 that has failed to put forward a comprehensive responsible palm oil policy. PepsiCo's current palm oil policy has a "loophole the size of Indonesia" in that it does not require compliance from its joint venture partner Indofood, which produces all Pepsi branded snack foods in Indonesia.
BREAKING: Activists risk arrest to protest worker exploitation, human rights abuses, deforestation @PepsiCo https://t.co/rBCAn0RUzx

— RAN (@RAN)1461580904.0
"The time for excuses and half measures is over," Ginger Cassady, forest program director at RAN, said. "Pepsi is a globally influential, multibillion dollar brand. It has both the power and the resources to tackle the palm oil crisis head on to drive real change through its suppliers down to the forest floor where it is so desperately needed. All that's needed is the will to do the right thing. Continuing with business as usual is simply no longer acceptable."
YOU MIGHT ALSO LIKE
Researchers Say Only Way to Guarantee Enough Food in 2050 Is if the World Turns Vegan
Can Superfoods Help Boost the Planet's Health, Too?
Watch Racing Extinction: It Will Change the Way You View the World
On the heels of the recent release of the highly acclaimed major film Racing Extinction that dramatically exposes the hidden world of the global extinction crisis, the team behind this groundbreaking project has released a new short video highlighting the critical importance of protecting one of the world's most high priority landscapes for conservation, the extraordinary Leuser Ecosystem.
"Millions of viewers have been moved to tears by the compelling portrayal of Earth's extinction crisis contained in the groundbreaking film Racing Extinction," Heather Rally, a wildlife veterinarian who worked on the film's covert operations, said. "Universally people have left this film asking 'what can we do?' This short film is an answer to that question."
You have likely heard of the Amazon or the Congo, but the lesser-known Leuser Ecosystem in Indonesia is just as biologically diverse, just as important to the continued survival of species including orangutans, tigers, rhinos and elephants. The extraordinary Leuser Ecosystem in Indonesia needs your action today.
"If we lose the Leuser Ecosystem, we quite literally lose the last place on earth where critically endangered Sumatran tigers, orangutans, rhinos, elephants and sun bears live together in the wild," Chelsea Matthews, forest campaigner at Rainforest Action Network, said. "And for what? Cheap vegetable oil? We all have a role to play in this palm oil story and we all have much to lose. Given the scale of the climate and biodiversity crisis, we must act now to stop the bulldozing of the Leuser Ecosystem for palm oil."
6.5M acre Leuser Ecosystem at risk as Conflict #PalmOil continues to destroy it. Speak out > https://t.co/Bro6sQA1hW https://t.co/H69KJ3YnOZ

— Racing Extinction (@Racing Extinction)1453854348.0
Stretching more than 6.5 million acres, Indonesia's Leuser Ecosystem is the last place on Earth that can support, together in the wild, viable populations of rare species like Sumatran tigers, orangutans, rhinos, elephants and sun bears. It provides habitat for at least 105 mammal species, 382 bird species and 95 reptile and amphibian species. Scientists consider Indonesia's Leuser Ecosystem to be among the most important forests left in Southeast Asia yet we're losing it for conflict palm oil.
Palm oil is the cheapest vegetable oil on the planet, found in more than half of all packaged goods in an average local supermarket (such as chips, cookies, instant noodles, ice cream, frozen meals, shampoo, lipstick and pet food). The blind growth in demand for palm oil has recklessly pushed massive, industrial-scale plantations deeper into the heart of Indonesia's rainforests, including the Leuser Ecosystem. If we lose this biodiversity hotspot, we lose many of the unique species that call it home.
There are some places that are just too precious to humanity, too important to the survival of wildlife, to be destroyed for quick corporate profit. The Leuser Ecosystem is high among them. We all have a role to play. We all have something to lose.
YOU MIGHT ALSO LIKE
Slaughter of Up to 900 Wild Bison at Yellowstone Park Sparks Federal Lawsuit to Protect First Amendment Rights
Sri Lanka Is First Country in the World to Apologize for Its Role in Illegal Ivory Trade