This website uses cookies to ensure you get the best experience while browsing it. By clicking 'Got It' you're accepting these terms.
Nisqually Tribal Council Member Hanford McCloud lights sacred fire to open up 17th Protecting Mother Earth conference. Rudi Tcruz
By Jade Begay and Ayşe Gürsöz
Even as the Trump administration rolls back regulations meant to protect Americans from pollution, the EPA recently released a report that finds that people of color are much more likely to breathe toxic air than their white counterparts. The study's basic findings—that non-whites bear a higher burden in terms of pollution that leads to a range of poor health outcomes—is supported by other similar studies, and underpins the issue of environmental injustice that impacts many politically marginalized communities.
Sumatran elephant. Paul Hilton / Wildlife Conservation Society
Between Aug. 21 and Sept. 5, conflict palm oil grower PT. Tualang Raya cleared another 18 hectares of critical lowland rainforests inside the Leuser Ecosystem. This rogue actor has continued razing forests with impunity despite Rainforest Action Network exposing its ongoing destruction since September 2015.
PT. Tualang Raya is clearing in disregard of a government moratorium on forest clearing for palm oil development. According to satellite imagery analysis, PT. Tualang Raya has cleared a total of 205 hectares of forest since June 2016 when a government circular letter demanded that palm oil companies halt forest clearance.
EcoWatch Daily Newsletter
A baby elephant nuzzles its mother in the Leuser Ecosystem on the island of Sumatra in Indonesia. Critical elephant habitat is being decimated to make room for palm oil plantations. Paul Hitlon / RAN
By Emma Rae Lierley
The Leuser Ecosystem on the island of Sumatra in Indonesia thrums with life. It is an ancient, 6.5 million acres of lush rainforest and steamy peat swamps, and because of its rich biodiversity, is one of the most important rainforests still standing today.
Its clear rivers provide drinking water for millions of people and its lowland and mountainous rainforests are literally the last place on Earth where Sumatran elephants, orangutans, tigers, rhinos and sunbears still coexist in the wild. Globally, we all depend on it for the climate regulating effects such a large carbon-sink can have.
And yet, the Leuser Ecosystem is being actively destroyed for palm oil and other industries.
Top of JPMorgan Chase Tower, Dallas, Texas. Joe Mabel / Wikimedia
A new documentary produced and starring actor and activist Leonardo DiCaprio premieres in Los Angeles today and will be broadcast globally in 45 languages in 171 countries on the National Geographic Channel starting Oct. 30, timed to air in advance of the November elections.
The film highlights the critical role forest destruction plays in driving carbon pollution into Earth's atmosphere and focuses specifically on how the rapid spread of industrial palm oil plantations in Southeast Asia are at the heart of this crisis. The film It is directed by Fisher Stevens who, like DiCaprio, is an Academy Award winner.
Watch the exclusive clip here:
The film captures DiCaprio's visit to the Leuser Ecosystem in Aceh, Indonesia, where extremely high rates of forest clearance have exacerbated the climate change dilemma. Indonesia is now one of the world's top carbon emitting countries, primarily due to the massive deforestation in the region. Before the Flood notes that as it was being filmed in late 2015, man-made fires in Indonesia were spewing more carbon pollution on a daily basis than the entire U.S. economy combined. These illegal fires are an annual occurrence as a method of clearing land for palm-oil plantations. And just more than a week ago, the Indonesian government again declared a national state of emergency due to the severe impacts caused by the out of control fires.

"This important film brings much needed attention to the destruction of rainforests for palm oil, which is a huge driver of global climate change. We must aggressively address the deforestation crisis in places like Indonesia's Leuser Ecosystem," said Lindsey Allen, executive director of Rainforest Action Network. "With palm oil in roughly half of all packaged goods at the grocery store, it's up to all of us to demand major global brands like PepsiCo finally do the right thing and break the link between their products and tropical forest destruction."

DiCaprio met with Allen during the 2015 Paris Climate Conference (COP21) to discuss the urgent situation facing the Leuser Ecosystem and the critical connection between deforestation and global carbon emissions.
Following his conversation with Allen, DiCaprio's trip to the Leuser Ecosystem caused an international uproar when the Indonesian government briefly threatened him with deportation following his social media posts that drew attention to the deforestation and destruction caused by palm oil expansion. The Leonardo DiCaprio Foundation later committed three years of major funding for local and international efforts to save the Leuser Ecosystem.
Watch the trailer for Before the Flood here:
By Chelsea Matthews
As Conflict Palm Oil companies move into priceless rainforests like Sumatra's Leuser Ecosystem, they are leaving a trail of destruction behind. Chocolate the orangutan is one of the few lucky survivors of this destruction and his is a story of hope.
Racing Extinction, Rainforest Action Network and Wildlife Asia have put together a short video about Chocolate to expose the impact of Conflict Palm Oil.
Chocolate, a Sumatran orangutan, was orphaned at a young age. He was violently ripped away from his mother to be sold into the pet trade after his rainforest home in the Leuser Ecosystem was destroyed to make way for massive industrial palm oil plantations. As the Leuser Ecosystem continues to be destroyed for palm oil, more forests are being fragmented, giving poachers easy access to Sumatran orangutans like Chocolate and other species hunted for trade on the black market.
Chocolate shown as an infant orphan orangutan while being held illegally by wildlife traders in a small village on the outskirts of the Tripa peat swamp in Indonesia's Leuser Ecosystem. Paul Hilton / SOCP
The rainforests of the Leuser Ecosystem are the last place on Earth that can support viable populations of Sumatran orangutans and other critically endangered species. Protecting this extraordinary place is essential if the Sumatran orangutan, tiger, rhino and elephant are going to continue to survive in the wild.

Driving this crisis is Conflict Palm Oil: the world's cheapest vegetable oil which is found in roughly 50 percent of packaged goods, including foods made by snack food giant PepsiCo. The skyrocketing demand for cheap Conflict Palm Oil has driven industrial-scale palm oil plantations deep into the rainforests of Indonesia, including the critically important Leuser Ecosystem.
Chocolate, a critically endangered Sumatran orangutan, is released into the wild after four years in rehabilitation.Paul Hilton / Wildlife Asia
PepsiCo is the largest globally distributed snack food company in the world and uses an immense amount of palm oil: Its annual consumption could fill enough Pepsi soda cans full of palm oil to circle the earth at the equator four times.

Right now, PepsiCo and other mainstream companies are failing to use palm oil in their products that is truly conflict-free. As palm oil is such a pervasive ingredient, boycotting products that contain it would be nearly impossible. This is why there is a growing movement calling for truly responsible palm oil—a benchmark that ensures no deforestation, no species extinction and no human rights abuses for the production of palm oil.
This approach is already proving successful as each year more and more of the companies that buy, sell and use palm oil in their products have adopted responsible palm oil commitments. But PepsiCo has fallen behind its peers by failing to raise its standards to the new global benchmark for responsible palm oil use. PepsiCo must clean up its palm oil supply chain to ensure it is not driving iconic species like the Sumatran orangutan to extinction.

Join the movement. Demand PepsiCo adopt a truly responsible palm oil policy and break its link to the destruction of critical forests like the Leuser Ecosystem.
Although we continue to see destruction for palm oil, there is hope. Every day more people are standing up, fighting back and holding the line against further destruction. Together, we can win for Chocolate, for the Leuser Ecosystem and for all the people and animals who reply on it.
Early this morning, activists with Rainforest Action Network (RAN) scaled the iconic Pepsi sign in Gantry State Park along the East River in Queens and dropped a 100 x 15 foot banner calling on snack food giant PepsiCo to eliminate Conflict Palm Oil from its supply chains.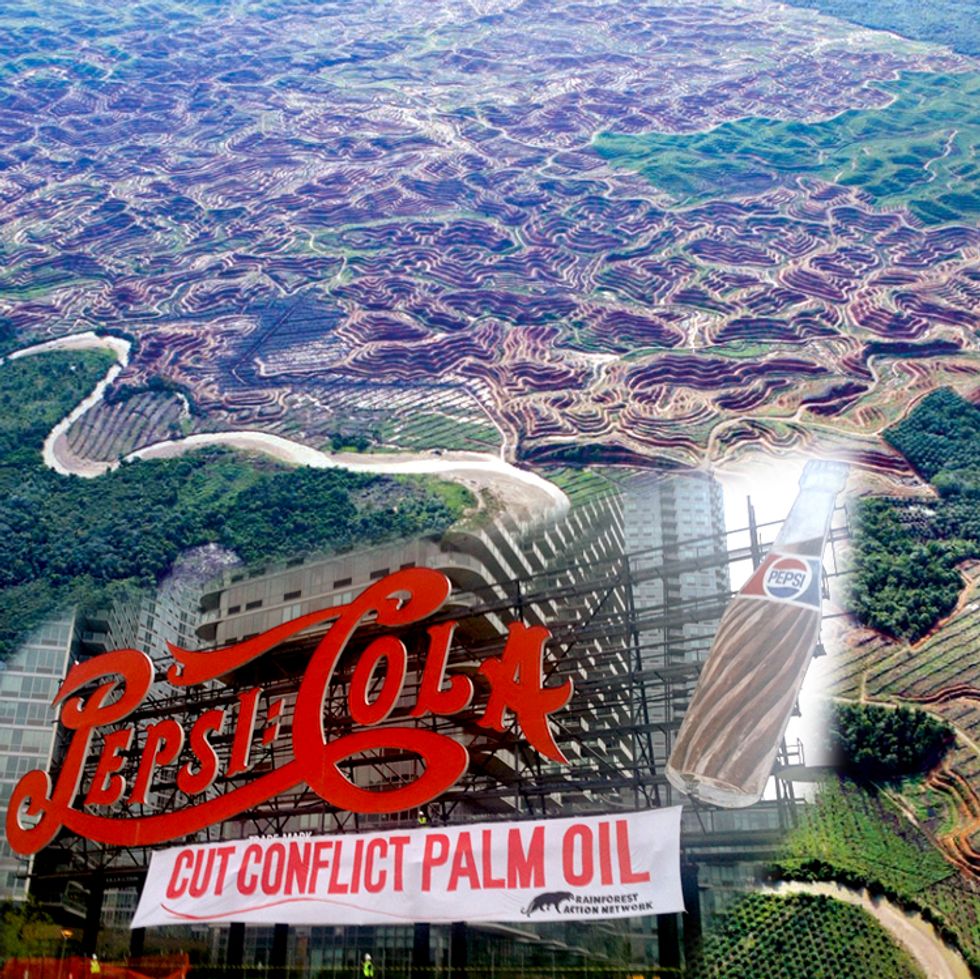 Today's action is the latest escalation in the three-year campaign to pressure the company to address the egregious human rights abuses and deforestation in its palm oil supply chain and commit to using only responsibly produced palm oil for all its globally branded products. While many of PepsiCo's competitors have adopted aggressive timelines to source only responsible palm oil, PepsiCo has continued with a "business as usual" timeline of 2020, positioning the company as a laggard among its peers.
"Pepsi has known for over three years about major environmental and human rights violations in its palm oil supply chain, but the company has fallen short and continues to drag its feet instead of taking the kind of decisive action needed to address this urgent problem," Robin Averbeck, senior campaigner with RAN, said. "Every day Pepsi delays cleaning up its palm oil problem is another day when countless plantation workers continue to suffer under brutal labor conditions, the last Sumatran orangutan and tiger habitat continues to fall and massive carbon emissions continue to pour into the atmosphere from burning rainforests."
For nearly 10 years, RAN has been targeting the destruction of rainforests, severe climate impacts and human rights abuses that accompany palm oil plantations. The exponential expansion of these plantations has made Southeast Asia ground zero for deforestation and carbon emissions (from the systematic draining of carbon rich peat swamps and intentional burning of rainforests). RAN launched its Snack Food 20 campaign to highlight some of the largest snack food brands on the planet that have been driving the demand for cheap palm oil and creating this environmental and human rights disaster.
PepsiCo is the world's largest globally distributed snack food company and the biggest remaining brand among the Snack Food 20 that has failed to put forward a comprehensive responsible palm oil policy. PepsiCo's current palm oil policy has a "loophole the size of Indonesia" in that it does not require compliance from its joint venture partner Indofood, which produces all Pepsi branded snack foods in Indonesia.
"The time for excuses and half measures is over," Ginger Cassady, forest program director at RAN, said. "Pepsi is a globally influential, multibillion dollar brand. It has both the power and the resources to tackle the palm oil crisis head on to drive real change through its suppliers down to the forest floor where it is so desperately needed. All that's needed is the will to do the right thing. Continuing with business as usual is simply no longer acceptable."
YOU MIGHT ALSO LIKE
Researchers Say Only Way to Guarantee Enough Food in 2050 Is if the World Turns Vegan
Can Superfoods Help Boost the Planet's Health, Too?
Watch Racing Extinction: It Will Change the Way You View the World
On the heels of the recent release of the highly acclaimed major film Racing Extinction that dramatically exposes the hidden world of the global extinction crisis, the team behind this groundbreaking project has released a new short video highlighting the critical importance of protecting one of the world's most high priority landscapes for conservation, the extraordinary Leuser Ecosystem.
"Millions of viewers have been moved to tears by the compelling portrayal of Earth's extinction crisis contained in the groundbreaking film Racing Extinction," Heather Rally, a wildlife veterinarian who worked on the film's covert operations, said. "Universally people have left this film asking 'what can we do?' This short film is an answer to that question."
You have likely heard of the Amazon or the Congo, but the lesser-known Leuser Ecosystem in Indonesia is just as biologically diverse, just as important to the continued survival of species including orangutans, tigers, rhinos and elephants. The extraordinary Leuser Ecosystem in Indonesia needs your action today.
"If we lose the Leuser Ecosystem, we quite literally lose the last place on earth where critically endangered Sumatran tigers, orangutans, rhinos, elephants and sun bears live together in the wild," Chelsea Matthews, forest campaigner at Rainforest Action Network, said. "And for what? Cheap vegetable oil? We all have a role to play in this palm oil story and we all have much to lose. Given the scale of the climate and biodiversity crisis, we must act now to stop the bulldozing of the Leuser Ecosystem for palm oil."
Stretching more than 6.5 million acres, Indonesia's Leuser Ecosystem is the last place on Earth that can support, together in the wild, viable populations of rare species like Sumatran tigers, orangutans, rhinos, elephants and sun bears. It provides habitat for at least 105 mammal species, 382 bird species and 95 reptile and amphibian species. Scientists consider Indonesia's Leuser Ecosystem to be among the most important forests left in Southeast Asia yet we're losing it for conflict palm oil.
Palm oil is the cheapest vegetable oil on the planet, found in more than half of all packaged goods in an average local supermarket (such as chips, cookies, instant noodles, ice cream, frozen meals, shampoo, lipstick and pet food). The blind growth in demand for palm oil has recklessly pushed massive, industrial-scale plantations deeper into the heart of Indonesia's rainforests, including the Leuser Ecosystem. If we lose this biodiversity hotspot, we lose many of the unique species that call it home.
There are some places that are just too precious to humanity, too important to the survival of wildlife, to be destroyed for quick corporate profit. The Leuser Ecosystem is high among them. We all have a role to play. We all have something to lose.
YOU MIGHT ALSO LIKE
Slaughter of Up to 900 Wild Bison at Yellowstone Park Sparks Federal Lawsuit to Protect First Amendment Rights
Sri Lanka Is First Country in the World to Apologize for Its Role in Illegal Ivory Trade