Most clothing—including those for children—are made of non-organic cotton that has been sprayed with toxic chemicals.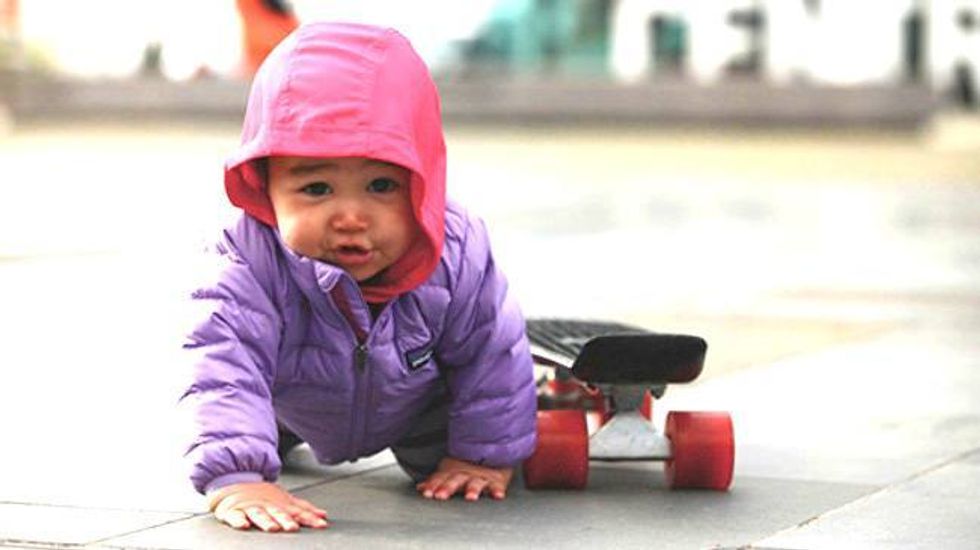 In fact, more than 10 percent of the world's insecticides and 25 percent of pesticides are used in cotton production, according to Green America. While a washing method may remove some pesticides from clothing, many more chemicals are added during processing. Further, pesticides sprayed on cotton plants can harm farm workers who inhale them and the Earth by leeching into the soil and groundwater, according to author Debra Lynn Dadd. Further, the highly toxic pesticide aldicarb is still commonly used on cotton fields in 25 countries including the U.S., according to the Organic Trade Association.
The news isn't any better when it comes to clothing materials other than cotton. Synthetic fibers like polyester and nylon contain petrochemicals that create nitrous oxide, a greenhouse gas that contributes to global warming. Rayon, made from wood pulp, is treated with toxic chemicals such as sulfuric acid, considered a potential skin, organ and muscular-skeletal toxicant by the National Institutes of Health. Further, many conventional fabrics are coated with toxins to make them resistant to stains, fire and wrinkles.
Eco-friendly fabrics, including organic cotton, soy, hemp and those that have been certified as chemical-free, will help protect you, your children and the planet, not to mention farm and factory workers who produce the materials.
You can avoid exposing your children to all of these chemicals by purchasing sustainably made clothing from the companies mentioned below. You can also find a variety of organic and nontoxic kids clothing on digital storefronts including Green Baby Bargains, Green Pages and Ecoplum. Keep in mind that chemical finishes generally fade after washing clothes several times, so be sure to wash new conventionally-made clothes before wearing them.
The Swedish clothing company Hanna Anderson makes a nice selection of organic clothes for children with designs similar to those found at larger, mainstream retailers. You'll find an array of patterns and styles of pajamas and underwear for kids, including Disney PJs with a pattern from the hit film "Frozen" for girls and Star Wars PJs for boys. Children's sizes run from 10 months to age 12, so you can keep coming back for more. The selection for babies is even better—on the company's web site, you'll find onesies, bibs, diaper covers and baby blankets all made with organic cotton.
Patagonia has been manufacturing eco-friendly outerwear for decades. They have been committed to using only organic cotton since 1996. They've expanded their product line to include T-shirts, dresses, bathing suits and swimwear. Their products are made with 100 percent organic cotton, and their collections include items made of recycled polyester, traceable down taken from humanely-treated birds, fair trade certified fabrics and blue design-approved fabrics, which are manufactured using best practices in energy and water efficiency, water and air emissions. Their blue design sun protection tees and hoodies for kids are a great choice for summer wear to protect children from sunburns.
This New-Zealand company designs original clothing items for adults and children using all organic cotton, natural clothing dyes and pure wool sourced locally. Available for purchase on their website are T-shirts, tanks, bottoms, body suits, hats, hoodies and more with neutral tones for babies and children. With locations internationally, including the U.S., China and Europe, Nui Organics products have garnered attention from retailers throughout the world who are supporting their goal of making the clothing industry more environmentally-friendly.
YOU MAY ALSO LIKE
Look Out Cotton, These 3 Fruits Are Shaking Up the Textile Industry
Are You Flushing Your Baby Wipes Down the Toilet? Here's Why You Shouldn't
4 Types of Nontoxic, Eco-Friendly Cookware That's Safe for You and Your Family
EcoWatch Daily Newsletter
An eco-conscious education company and a botanical garden have teamed up to create a futuristic sustainable educational classroom for children in Pittsburgh, Pennsylvania. The thoroughly forward-thinking "living building" model for modular—or portable—classroom design will feature nontoxic materials, solar energy and water conservation.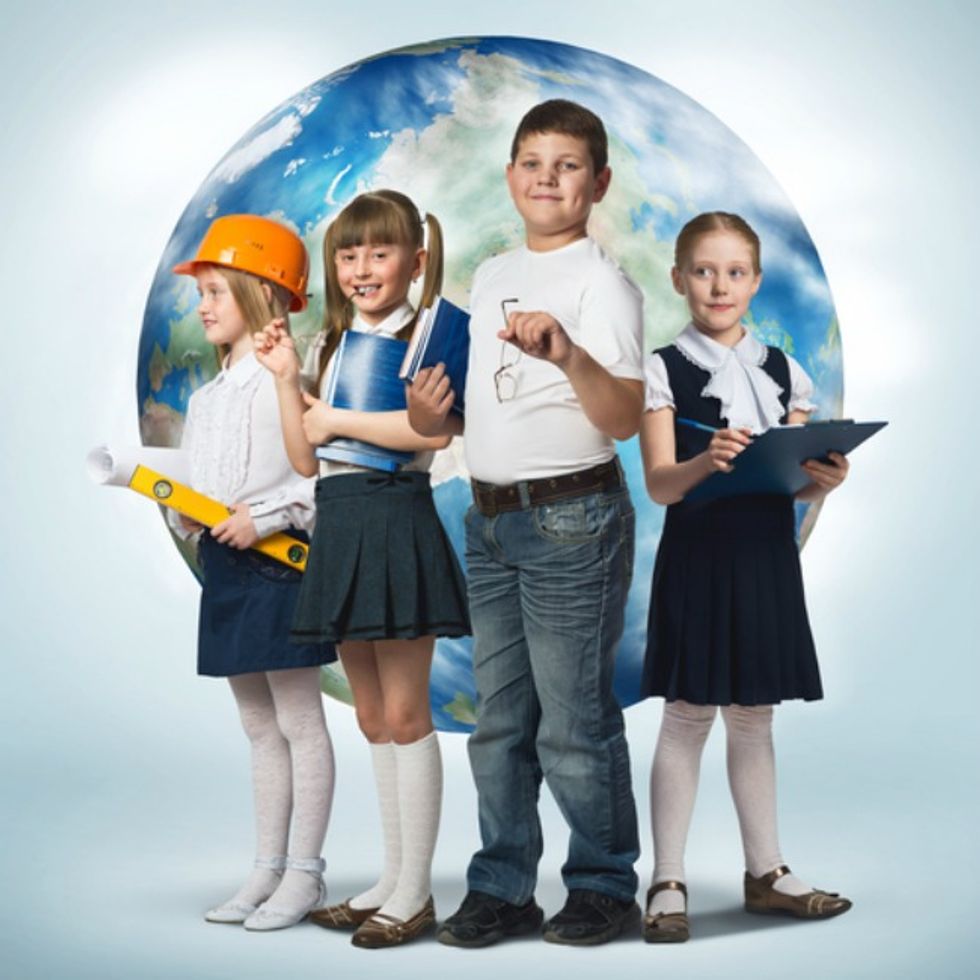 Photo credit: Shutterstock
The project is the brainchild of the Sustainable Education Every Day (SEED) Collaborative, an organization that designs sustainable school rooms for children around the world, and the Phipps Conservatory and Botanical Gardens, a non-profit steel and glass Victorian greenhouse in inner city Pittsburgh that promotes sustainable landscapes.
"We are very excited about our new SEED classroom and the opportunity to expand our programs for children," Phipps executive director Richard V. Piacentini told EcoWatch. "We are equally excited to demonstrate what a healthy learning environment looks like for kids, one free of toxic chemicals and one that provides lots of natural light and ventilation. Because the classroom was designed to meet the living building challenge, it is also net-zero energy and water."
Some of the innovative eco-friendly features include tubular skylights, solar panels, an energy recovery ventilator, a food-producing green wall, monitors that measure energy and water use, hand-pump sink, composting toilet and a cistern inside the building that holds fresh water.
Modular classrooms are becoming more common since they provide a quick building solution to house the growing population of school children. Some 260,000 modular classrooms are in use in the U.S. alone, according to SEED. Many of them are found to pose potential health risks to children due to poor ventilation and lighting, and high levels of toxins such as formaldehyde, flame retardants phthalates and volatile organic compounds in the building materials.
The new classroom model aims to prevent those health risks by providing a safe and educational environment for children to learn, according to SEED Collaborative executive director Stacy Smedley.
"Phipps has demonstrated leadership by being the first on the East Coast to embrace a SEED Classroom," she said in a press statement. "We are excited to be a part of Phipps' continued commitment to educating children and adults on the important role that the built environment should play in restoring planetary and human health. This space will be a hands-on learning laboratory, informing how we think about a Living Building designed classroom as a tool for education and engagement."
The new SEED classroom also has an educational goal: to teach kids more about science and math. In 2009, the U.S. Department of Education developed its signature Science, Technology, Engineering and Mathematics (STEM) in response to a call by educators to improve children's knowledge and test scores in these academic areas. The Phipps Conservatory will host science education programs in the SEED classroom that will teach kids how to operate and maintain the classroom using sustainable energy, water and planting.
Currently, one SEED classroom is in development at the Perkins School in Seattle, Washington, an 80-student independent elementary school for children.
The Rainforest Alliance and Facing the Future offer tips to educators on how to make their current classrooms more sustainable and promote sustainability education.
YOU MAY ALSO LIKE
How to Teach Kids About Sustainability 
Obama Sets Out to Fight Climate Denial in Classrooms, Museums, Bathrooms and Other Places
Installing solar panels is a great option for homeowners who want to reduce their power bills, and the payback period can be just a handful of years with favorable conditions. However, renters and apartment owners cannot use a typical solar power system due to the lack of space, and renters in particular must also negotiate with their landlords. A miniature solar system that is portable and easy to install can be a better option in these cases.
Rooftop solar systems can greatly reduce your electric bills, and you can add solar batteries to store solar energy for use at night. However, because most systems are tied to the power local grid, you must meet many technical requirements and get a permit to put solar on your property. The initial investment and paperwork are not a problem when installing solar panels in a home you own, but they're a limiting factor for renters.
If you don't own your home or apartment, you may have little incentive to invest in improving someone else's property. Even if your landlord gives you permission to install solar panels, the decision only makes sense financially if you plan to rent for a very long time — longer than the solar payback period. Also, consider the following factors:
When your lease ends, your landlord may not be willing to purchase the solar panels you installed.
Moving rooftop solar panels to another home is difficult, and you will need a professional installation and another permit for the new property.
There are many types of miniature solar systems that can be installed without the complex requirements and permitting procedures of more permanent structures. These systems are an excellent option for renters, since taking them to another property is as simple as relocating your TV.
Solar Benefits for Non-Homeowners
Solar panel systems offer a common benefit, regardless of their size: they generate electricity from sunlight, reducing the amount of electricity you must pay your utility company for each month. Solar power also lowers the environmental footprint of your home, especially if you live in a region where most of the grid electricity comes from fossil fuels.
Homeowners get a few extra benefits when they install a traditional solar system, including:
Their property becomes more valuable, and many states don't charge increased property taxes for the portion of home value that corresponds to solar panels.
Homeowners also qualify for the 26% federal solar tax credit as well as any additional incentives from state governments or utility companies.
There are permitting and grid connection requirements to meet, but once the solar PV system starts operating, it provides electricity for decades with minimal maintenance.
While mini solar panel systems may not be eligible for these perks, they have their benefits compared with rooftop systems. For example, they are much easier to install, with no permitting involved, and any maintenance is much simpler. Small-scale solar systems also have a lower price, and they are easily relocated.
The power bill savings achieved by a rooftop solar system are much higher, but that's because they're much larger. Many homeowners use solar PV systems that have capacities at or above 6 kW (6,000 W), while miniature systems often only generate up to 100 W. As you might expect, the corresponding cost of solar panels is very different: A 6 kW solar system can cost around $18,000 (before incentives) to install, while a miniature 100 W system might cost less than $300. However, each dollar invested is earned back multiple times over in both cases.
How to Utilize Solar Energy When You Rent
There are several options for renters who want to use solar power. These include:
Plug-in mini solar systems
Off-grid solar and battery systems
Portable solar panels
DIY solar setups
Appliance-specific solar panels
Plug-in mini solar systems work exactly like rooftop PV systems — they connect to your residence's wiring and synchronize with the voltage and frequency of your grid power — just at a smaller scale. The power generated by a plug-in mini system is usually enough to power several electronic devices and LED bulbs, but not high-power devices like air conditioners and washing machines.
Here are some things to consider when deciding whether a solar plug-in mini system is right for your rental property:
Plug-and-play solar panels are not subject to the permitting requirements and interconnection procedures of a traditional rooftop installation, and they can be simply connected to a suitable power outlet.
NOTE: When using plug-in solar panels, you must make sure that the power outlet used has a circuit with enough capacity to carry the current, as well as an adequate breaker. Otherwise, you can cause an electrical fault.
Because this type of panel connects to the electrical system of the property, you should ask your landlord for permission before investing in one. You should also ask an electrician to check the power outlet you plan on plugging the panels into to make sure it has adequate capacity.
Off-grid solar panels and solar battery systems are completely disconnected from the grid, which makes them a popular option for remote or rural sites with no electric service. In these types of systems, one or more solar panels are used to charge a battery or solar generator with USB charging sockets and power outlets for small appliances. These off-grid systems are also a viable option for renters, because they are entirely self-contained and don't connect to the utility grid.
Portable solar panels are popular for camping, but they can also be used by renters to power small devices. These are some of the smallest solar panels available, and they only have a few watts of capacity. Their main purpose is charging smartphones, tablets and other tiny USB devices, and many of them have built-in LED flashlights.
DIY solar panel setups are also an option. You can shop online for compatible solar panels, inverters, batteries and solar charge controllers, and then build a custom system according to your needs. However, keep in mind that you must have at least basic knowledge about electricity to safely and successfully install a homemade solar system.
Appliance-specific solar panels are also a viable option for renters. You can find many devices with built-in solar panels, which don't depend on a power outlet to operate. For example, you can install solar-powered outdoor lights for your backyard or balcony, or use a solar air conditioning unit or fan to provide extra ventilation during the hottest hours of the day.
Pros and Cons of Small Solar Units
Miniature solar systems have advantages and limitations like any device. They have a lower cost than traditional rooftop systems, plus they are easier to install and relocate. Just keep in mind that they can't power larger appliances, which means their power bill savings are small.
The following table summarizes the pros and cons of the most common types of miniature solar systems:
Renter-Friendly Solar System
Pros
Cons
Typical Price
Plug-in solar system
- Easy to install
- Can be plugged into a normal power outlet

- Can only operate when connected to the grid
- You need a dedicated circuit and breaker of adequate capacity

$1,500 for a 600 W solar system
Off-grid solar system
- Can charge batteries or generators to be used after sunset
- Fully independent from the grid

- Batteries increase the system cost significantly if you want a high energy storage capacity
$400 for a 100 W solar panel with a 24,000 mAh battery
Portable
- Easy to carry
- Can be used for camping and other trips

- Limited use: Charging smartphones and other small devices
$100 or less for a foldable 30 W panel
DIY Solar
- You can create a custom system that meets your needs
- Basic electrical knowledge is needed to set up a safe system
Variable, depending on the components used.
Appliance-specific
- Easy to install
- The solar panel is often included with the price of the device

- You can only use the solar panel to power one appliance or device
Variable, depending on the appliance
Miniature solar power systems are designed for small, low-power devices such as LED bulbs and electronic gadgets. If you're a renter and would like to increase your savings beyond what is possible with small solar kits, you can consider joining a community solar project near you.
These projects normally have two membership options: purchasing a share or paying a monthly subscription.
In both cases, you will be entitled to a portion of the kilowatt-hours produced by the system, and this portion will be subtracted from your bill.
Another advantage of community solar is that you can move freely to another apartment or home. Since the solar panels are not physically located where you live, you can usually re-assign the electricity savings to your new address.
Products to Help Renters Maximize Solar
There are many brands of miniature solar kits, but you should look for a reliable provider like Sunboxlabs. Since you're dealing with electricity, purchasing high-quality products is strongly advised to avoid accidents. Before purchasing any solar panel or a related component, make sure it has an electrical certification mark such as:
UL (Underwriters Laboratories)
ETL (Intertek)
CSA (Canadian Standards Association)
CE (Conformité Européenne)
You can look for a solar kit that includes all components, such as this WindyNation 100 Watt Solar Panel Kit. Alternatively, you can buy compatible parts separately, and build your own system. The following are some recommendations:
Keep in mind that you will also need wiring to connect all components together, and make sure you read all instructions carefully to ensure safety.
This month, the Union of Concerned Scientists (UCS) published an illuminating report—Fries, Face Wash, Forests—that reveals just how committed companies are to using palm oil responsibly in their products.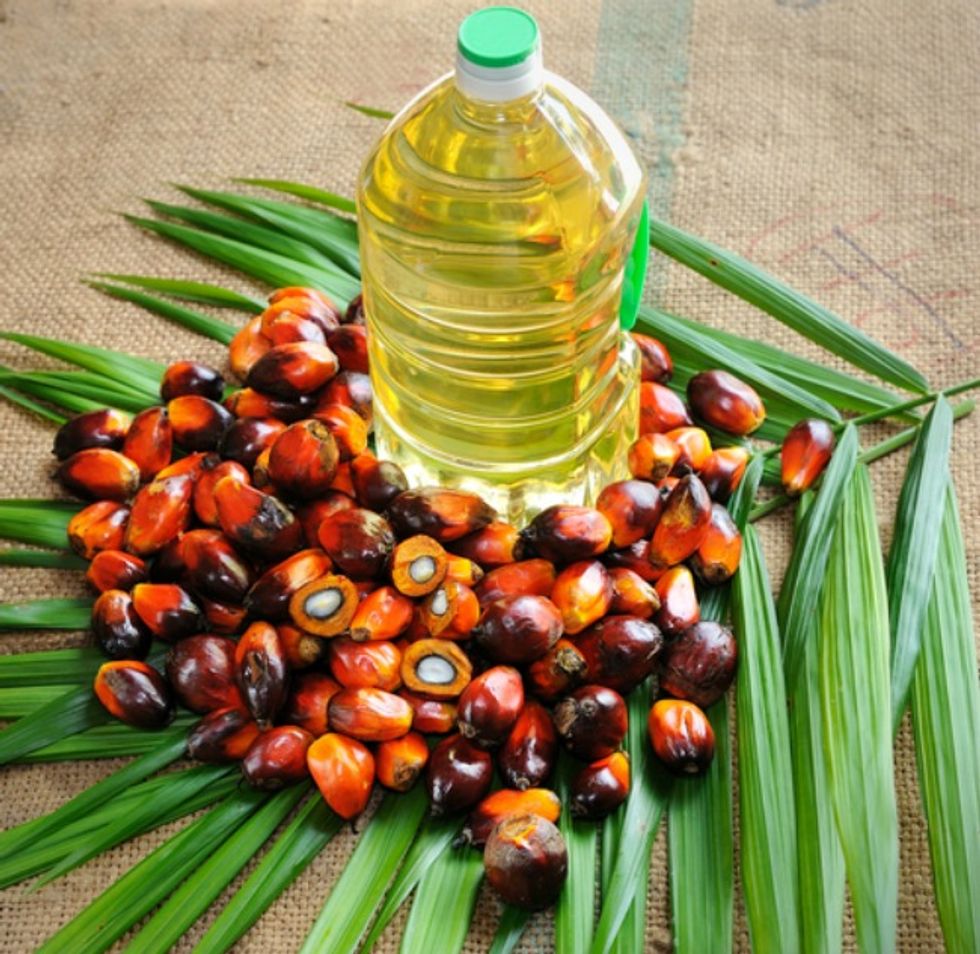 Photo credit: Shutterstock
Palm oil is an edible vegetable oil derived from pulping the fruit of oil palms originally native to Africa. It has been commonly used as cooking oil internationally, and its consumption is on the rise. The recent rise in the use of palm oil by the U.S. food industry has resulted largely from its affordable price and the fact that it does not contain trans fats.
However, palm oil production poses a significant threat to global natural resources. Conventional palm oil "is produced in ways that involve the destruction of tropical forests and peatlands, adding to global warming emissions and reducing habitat for many already threatened species," explained UCS.
"Tropical forests are cut down and carbon-rich swampy areas known as peatlands are drained to establish large plantations of oil palm trees," UCS further stated in their report. "Destruction of these ecosystems devastates endangered species' habitats and contributes to climate change by releasing global warming emissions into the atmosphere. Tropical deforestation—to which expanding palm oil production contributes substantially—accounts for about 10 percent of annual carbon dioxide emissions.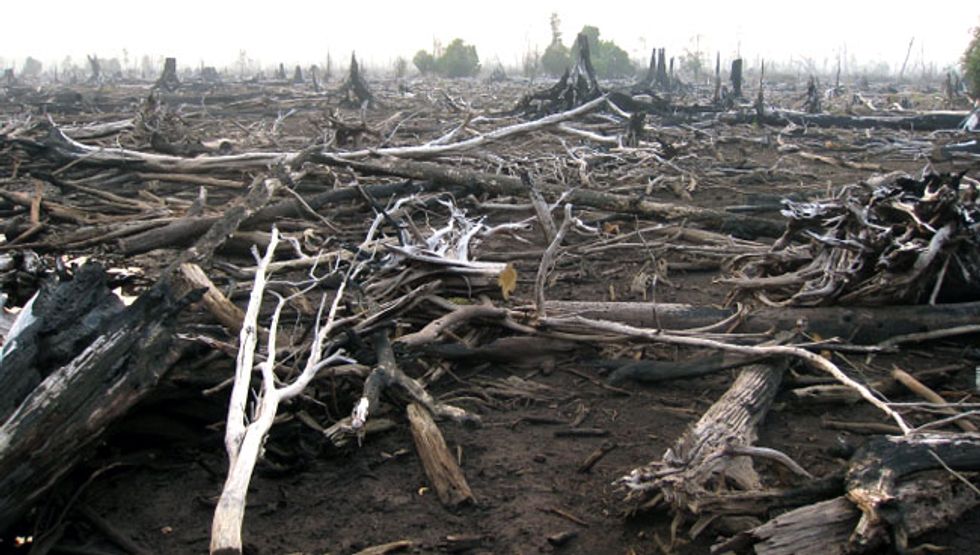 "The good news is that palm oil can be produced without deforestation—and many companies have begun to make public commitments to use deforestation-free palm oil in their products. In fact, 2014 was a historic year for businesses addressing the risks of buy­ing palm oil irresponsibly," the report indicates. "Many companies have already pledged to only purchase palm oil produced using these high­er standards of deforestation-free and peat-free palm oil. These pledges were bolstered by commitments from some of the largest palm oil traders that supply palm oil to large American brands."
Some developments in the past several years include efforts by several industry leaders to use eco-friendly palm oil. Overall, Nestlé received the highest score in the report for the responsible use of palm oil. The companies Col­gate-Palmolive, Henkel, Dunkin' Brands and Safeway have all demonstrated indus­try leadership as well, according to UCS.
All of the companies reviewed in the April 2015 report received one of four color-coded ratings: green for a strong commitment, yellow for some commitment, pink for little commitment and orange for no commitment. The companies were divided into four categories: fast food, store brands, packaged foods and personal care.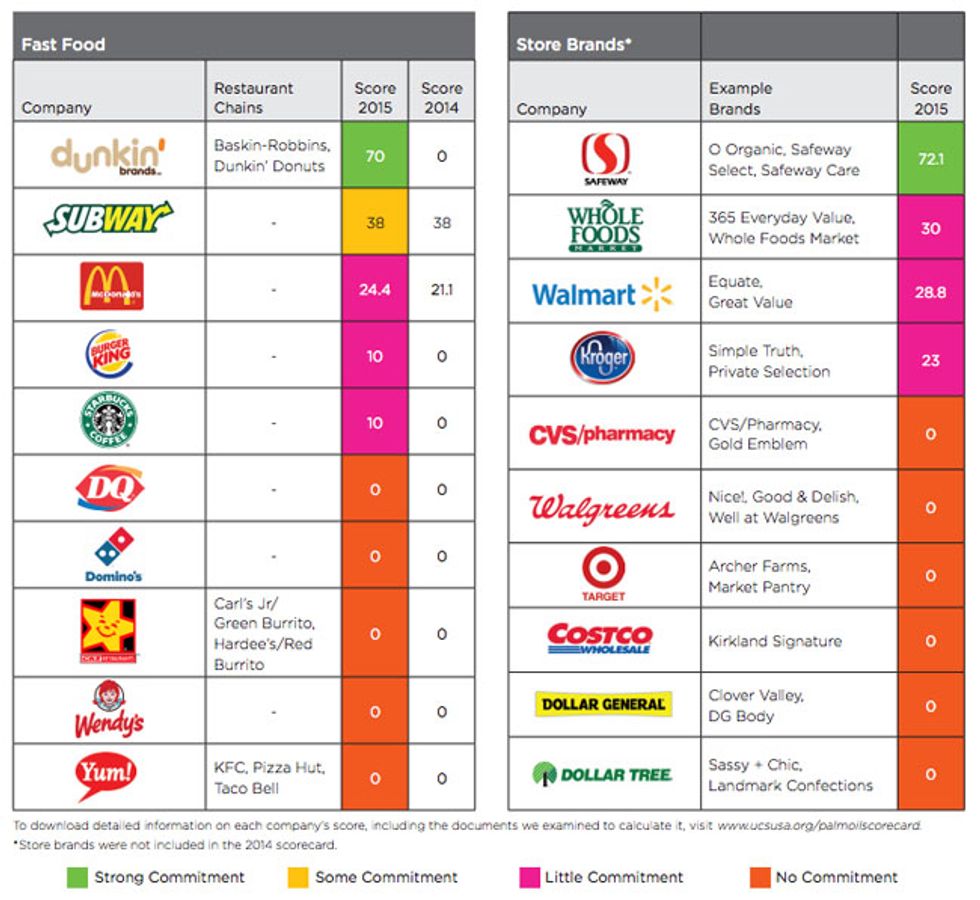 Of the fast food companies, Dunkin' Donuts was the only one to receive a green seal of approval for strong commitment. Similarly, in the store brands category, only Safeway received a strong commitment rating for its "O Organics" in-house brand. Among the packaged food companies, Nestle, Danon, Kelloggs, Unilever, ConAgra Foods, Pepsico and General Mills all received high marks awarding them green ratings that reflected strong commitment. For the personal care category, Colgate-Palmolive, Henkel, L'Oreal, P&G and Reckitt Benckiser received green ratings for making strong commitments to using palm oil that does not contribute to deforestation.
Of the 30 companies included in the analysis, a total of 21 improved their commitment and/or sourcing practices when it comes to using palm oil. Of those 21 companies, eight made full commit­ments to protecting forests and peatlands. As part of that commitment, they are providing full disclosure of their palm oil supply chain. Five other companies said they have pledged to use eco-friendly palm oil in their products, but have not yet followed accountability measures ensuring that their palm oil is in fact produced without contributing to deforestation.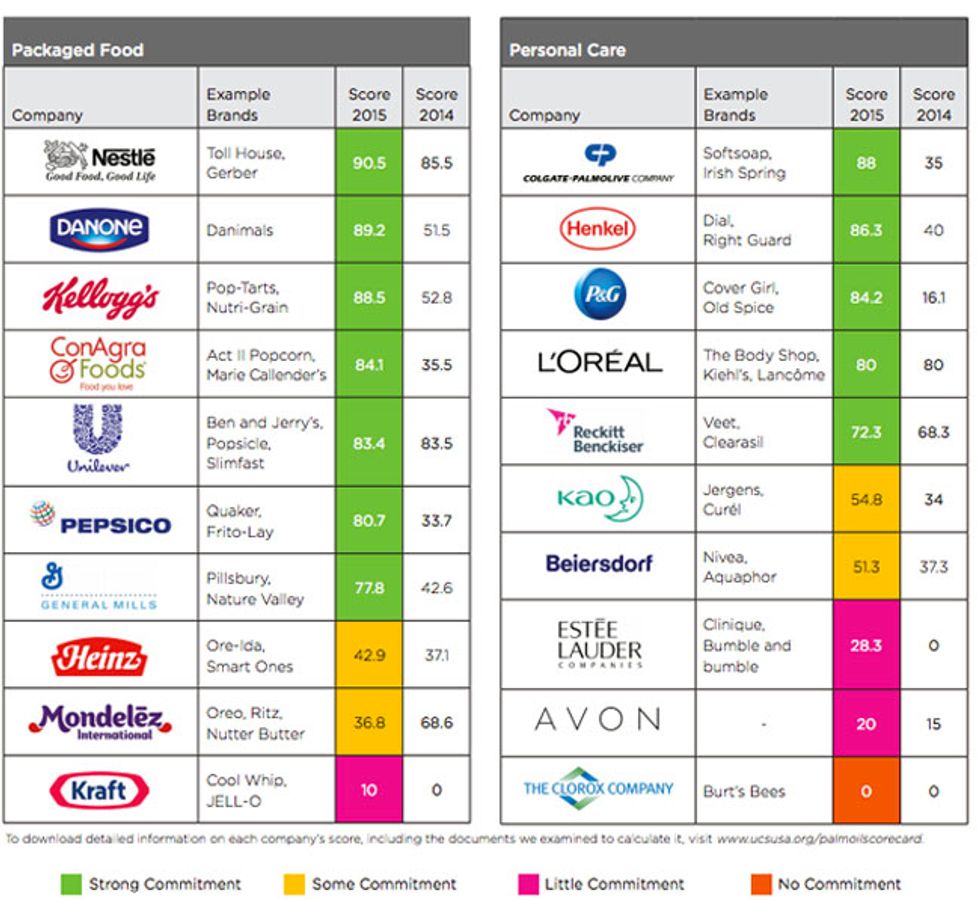 Concerted efforts to raise awareness about palm oil's impacts by UCS, Environmental Defense Fund and other advocacy groups have started to pay off. The New York Declaration on Forests at the UN Climate Summit brought the issue of palm oil deforestation to the attention of governments and companies who have endorsed the goal to end global deforestation by 2030.
However, there is still much work to be done. The majority of American companies that use palm oil "still lack commitments to ensure the palm oil in the prod­ucts they sell is deforestation- and peat-free. Our analysis shows wide disparity among companies, both within and among sectors," according to the UCS.
YOU MAY ALSO LIKE
 Pop-Tart Pledge: Kellogg Rejects Palm Oil From Decimated Rainforests
Easter is a time of celebration on many fronts: a moment to reflect on the meaning of the holiday, an homage to spring, not to mention an excuse for kids to indulge in chocolate eggs and other sugary treats.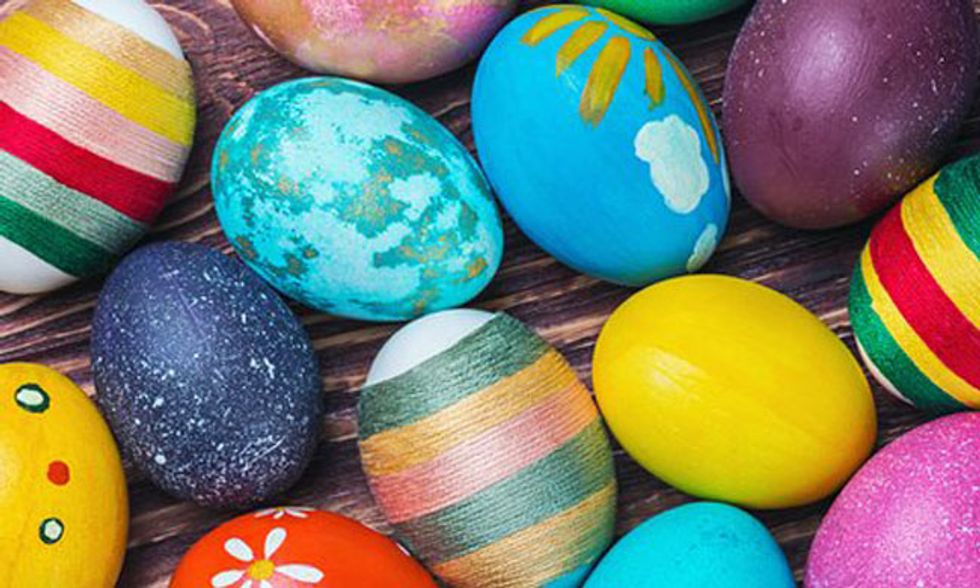 Photo credit: Shutterstock
It's never too late, however, to introduce your children to healthy alternatives to mass produced milk chocolate, jelly beans and other candy that contain lost of sugar, processed ingredients and chemical additives. Below are some ideas for healthy Easter goodies featuring recipes by bloggers.
Healthy Breakfast Pizza
Blogger Chocolate-Covered Katie offers a playful twist on Easter breakfast that will start the day off for your kids with a nutritious meal. The recipe for the "pizza" calls for whole wheat flour, coconut oil, juice or milk and a pinch of sugar or healthy sugar alternative. Top the crust with cream cheese, your child's favorite fruit and nuts for protein. Kids will get a kick out of sprinkling the toppings on the crust, and an even better time eating it.
Healthy Organic Peppermint Patties
This easy recipe for healthy organic peppermint patties was provided by health-conscious mom Halle on her blog Whole Lifestyle Nutrition. The no-bake recipe only uses 6 all-natural ingredients including coconut oil, raw honey and dark chocolate, and takes only 15 minutes to prepare. It can easily be made vegan by using vegan chocolate chips. Replace those milk chocolate eggs in your kids Easter basket with these minty bites for an artificial-free indulgent treat.
Natural Marshmallow Peeps
These adorable bites that blogger Katie posted on her site This Chick Cooks are edible figures made of home-made marshmallows. The recipe does use granulated sugar, but are guaranteed to be free of artificial colors and processed sugars like corn syrup. You can make any shape you desire; Katie made bunnies and eggs. The kids will be sure to gobble these treats up quickly.
Vegan Easter Chocolate Cake Pops
On her blog The Blender Girl, health-conscious Tess provides instructions for making these charming, dairy-free Easter cake pops using nutritious, natural ingredients. Tess, who is committed to eating a healthy diet, was diagnosed with the chronic health condition Epstein-Barr as a teenager, and experienced significantly improved health when she stopped eating gluten, dairy, poultry and red meat. This recipe, like all the others on her blog, is dairy and gluten-free. It uses coconut oil, cocoa powder, xylitol (a plant-based low calorie sweetener), chick pea flour and flaxseeds, a superfood rich in health omega-3 fat. The bird's "nest" on top of the pop is made out of shredded coconut, with natural jelly beans that act as the nest's eggs.
Chocolate/Carob Cocoa Nests
The chocolate cocoa nests featured on the blog Whole New Mom can be made with carob—a healthier option to chocolate that does not contain caffeine. The end result looks like real bird's nests, which will be popular with kids, and are fairly easy to make. The nest part of the recipe calls to combine coconut, coconut butter, either chocolate or carob powder and Stevia, another plant-based low calorie sweetener that can be found in liquid and powder forms. For the eggs, use Whole Food Mom's recipe for home-made fudge. After following the instructions to mold the nests and eggs, refrigerate them for at least one hour for a fun, plant-based Easter treat.
YOU MAY ALSO LIKE
5 Eco-Friendly Subscription Boxes Perfect for Parents and Kids
5 Alternatives to Sugar Your Kids Will Love
4 Types of Nontoxic, Eco-Friendly Cookware That's Safe for You and Your Family
Chronic crying, or colic, is more common in newborns than people might think, and can be very challenging for parents to treat. The reason for colic in babies can be hard to identify, according to Web MD, although physicians state that some of the leading causes include gas, acid reflux or allergic reactions to dairy. More serious causes include medical conditions or illnesses, such as an ear infection. Once a parent has eliminated one of the above mentioned causes, he or she may want to consider using natural approaches or supplements to treat the colic. Some of the following all-natural approaches offer healthy alternatives to pharmaceutical medications when soothing a colicky baby.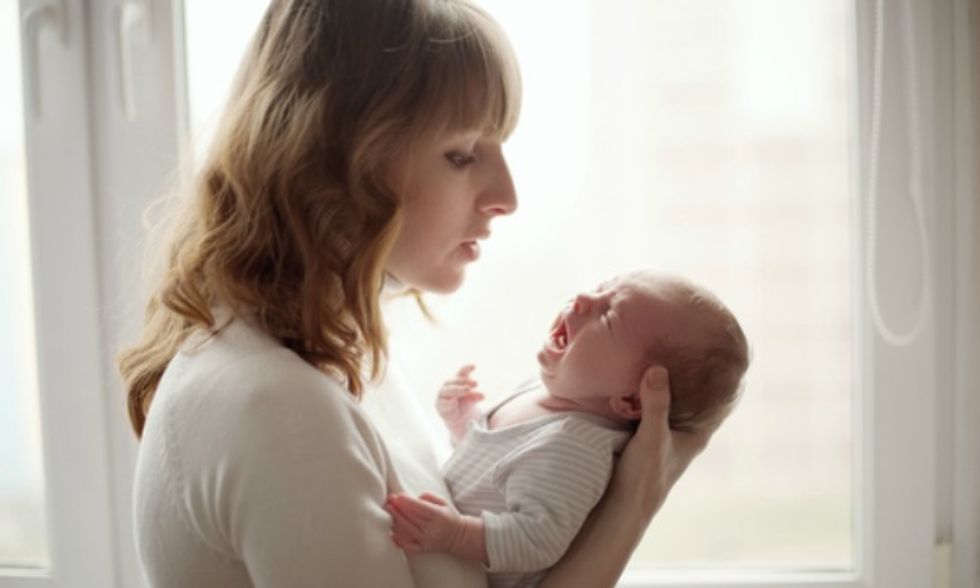 Photo credit: Shutterstock
Physical Calming Techniques
According to doctors at Web MD, physical calming techniques can be very successful at settling a baby that will not stop crying. Swaddling (wrapping a baby snuggly in a blanket) is a true and tried method of comforting babies and helping them to sleep for longer periods of times. Be sure not to cover a baby's face with a blanket when swaddling. Babies are also comforted by movement, so wearing a baby carrier that is strapped around the parent's chest, using an infant swing or giving your baby a ride in a stroller or car may be calming. Experts at Web MD note that you should be sure not to drive when you are sleepy. White noise machines, classical music or a "heartbeat tape" placed next to the crib can also help babies fall and stay asleep longer.
Herbal Supplements
Herbal supplements can temporarily calm infants who are otherwise inconsolable. Over-the-counter teething tablets that can be purchased at local drug stores have safe, low-dosage formulas of herbs that can be given to babies by mouth per the bottle's instructions. Calming herbal tea such as chamomile, fennel or lemon balm can be added to formula to calm a crying baby, according to the University of Maryland Medical Center. Herbs that may also help calm a baby include linden (Tilia cordata), catnip (Nepeta cataria), peppermint (Mentha piperita), and dill (Anethum graveolens), although experts at the University of Maryland Medical Center state clearly that parents should check with their pediatricians before using any of these supplements.
Probiotics
Probiotics such as lactobacillus reuteri are often effective in treating colic that is caused by stomach discomfort, according to Dr. Sears, a pediatrician and expert on infant care. "We use lactobacillus GG for most intestinal upsets," Dr. Sears told Parenting magazine. "Probiotics have been shown to improve intestinal health by feeding the 'good' bacteria in the gut, boosting immunity and enhancing digestion." Klaire Labs Thera-Biotic Infant Formula and Ultimate Flora FloraBaby are two high quality, clinically-studied formulas of infant probotics.
Other Natural Approaches
Dr. Sears recommends being very careful if using homeopathy on newborns to treat colic because the side effects on infants are unknown. He encourages parents to first find the cause of the colic. If colic is attributed to physical discomfort, food allergies or a medical condition, it is important to treat the child's health condition. Use natural remedies once other causes have been ruled out.
YOU MAY ALSO LIKE
3 Ways to Sneak Flaxseeds Into Your Kids' Meals
5 Eco-Friendly Subscription Boxes Perfect for Parents and Kids
In certain parts of the world, children are developing myopia—or near-sightedness—at much higher rates than they have in the past, according to an article published in the esteemed scientific journal Nature.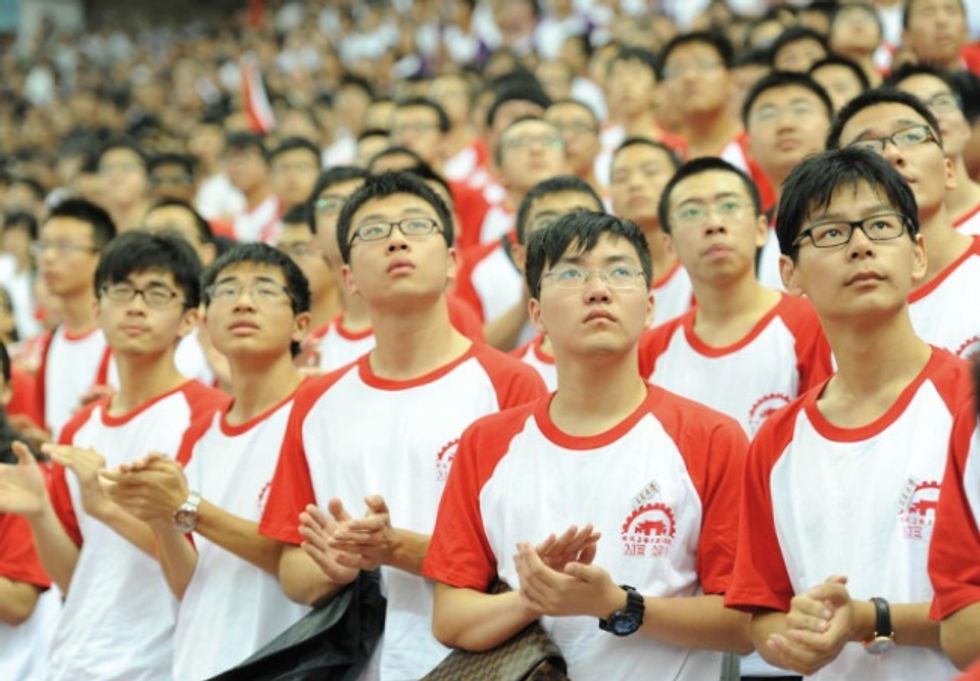 Myopia, which causes blurred vision and requires prescription lenses, is reaching epidemic proportions in some populations; in China, rates have increased from 10–20 percent 60 years ago to as many as 90 percent of young adults today. The rates of myopia in the U.S. and Europe have doubled during the same time period.
According to the Nature article, researchers have explored the many possible reasons for these increases, and have proposed genetics and watching more television as possible explanations.
Several reports published in the last 10 years suggest a related—but very different—reason for the cause. Research at Ohio State University and from Australia found that children who spent less time outside were more likely to develop myopia. Australian researchers then identified the reason why spending more time inside effected eyesight: children's eyes got less exposure to direct sunlight.
Specifically, looking at sunlight less actually changes the shape of the eyeball to become elongated. As a result of an elongated eyeball, light gets focused front of the retina instead of on the retina. This change in where the eye focuses light causes people to see less clearly and have difficultly seeing objects far away.
"We're really trying to give this message now that children need to spend more time outside," Kathryn Rose, head of orthoptics at the University of Technology, Sydney, said in the Nature article.
Ian Morgan, a myopia researcher at the Australian National University in Canberra, stated in the Nature article that children should spend three hours per day under light levels of at least 10,000 lux. This amount of sunlight will protect them from developing myopia. Ten thousand lux would be about the amount of light someone would get from sitting under a shady tree on a bright summer day while wearing sunglasses. A well-lit schoolroom or office provides a much lower amount of lux light—generally less than 500 lux.
In Australia, where three hours of outdoor time is normal, only 30 percent of 17-year olds are nearsighted. In other parts of the world where myopia rates are higher—like the U.S. and Europe—many children don't see more than an hour or two of outdoor time.
"We've got proof of principle that increasing the amount of time children spend outside actually works," Dr. Morgan said in Nature. "The question then is how do we make this work in practice at a level that would have a significant impact?"
Programs and research are in the works to measure the benefits of adding outdoor class time to school schedules. So far, notable improvements in myopia rates are being seen when compared to control groups.
Dr. Morgan is now working on programs to have classrooms made of glass so that children can be exposed to high levels of lux light during school hours.
YOU MAY ALSO LIKE
Obama Initiative Seeks to Get 4 Million Fourth Graders Exploring America's Public Lands
Top 10 Park Systems in the U.S.
Are You Flushing Your Baby Wipes Down the Toilet? Here's Why You Shouldn't
Ceramor
Chances are, you probably own at least one piece of Teflon or other type of toxic non-stick cookware. "Toxic fumes from the Teflon chemical released from pots and pans at high temperatures may kill pet birds and cause people to develop flu-like symptoms (called 'Teflon Flu' or, as scientists describe it, 'Polymer fume fever')," according to Environmental Working Group.
From sauce pans to baking sheets and muffin tins, cooking products with finishes made of perfluorinated chemicals (PFCs) that leach toxins remain the mainstay in many homes across the country. It is a long and costly process for eco-conscious consumers to switch completely from cookware coated with toxic finishes to those that are nontoxic. Do it one step at a time: take inventory of the Teflon and non-stick items in your kitchen, and replace each item with a nontoxic version throughout the year. Keep a list at hand of the following nontoxic products and brands below when shopping for eco-friendly replacements.
Stainless Steel
Stainless steel is a must-have in the kitchen when it comes to boiling, sautéing and baking. Pans made out of this non-toxic metal retain heat so smaller baked items tend to cook evenly. Stainless steel is also easy to clean; scrubbing pans down with steel wool will keep layers of oil from accumulating on the surface. A number of companies are now making solid stainless steel cooking products without PFCs. All Clad makes an extensive collection of high quality stainless steel pots and pans, including roasters, griddles and even a lasagna pan. Fox Run sells a range of stainless steel bakeware at affordable prices, such as muffin tins and baking sheets.
Glass
Glass is totally eco-friendly, nontoxic and durable—a great material to choose when stocking your kitchen with chemical-free cookware. However, you can't use glass pans for everything—certain items like baking tins are hard to find in glass, and some dishes like pies don't always cook evenly in glassware. Glass pans generally work best for savory dishes such as pot pies, baked pasta and quick breads. Some excellent brands include beautifully crafted pieces by Emile Henry, and more affordable pans by Pyrex.
Ceramic
Ceramic is an organic material that has been used for baking dating back to ancient cultures. Today, you can find nicely made ceramic bake and cookware in a variety of colors. Ceramor sells many types of ceramic cookware, including a line of a high quality line of black coated bakeware called Xtrema. Le Creuset makes a wide array of items in numerous styles and colors that are reasonably priced and often carried by large retailers.
Green Non-Stick Cookware
Several businesses have developed new technologies to provide the convenience of nonstick to cook and bakeware without PFCs or other types of toxic coating. One company, Green Pan, uses a patented technology called Thermolon to make their pans non-stick and heat resistant up to high temperatures. Orgreenic makes similar products that have aluminum bases and special coatings made of a combination of ceramic and a newly-developed nonstick material that is apparently eco-friendly.
Sanitary wipes are causing a crisis in sewer processing plants in New York City and urban areas across the country, according to reports from the New York Times, Washington Post and Bloomberg News.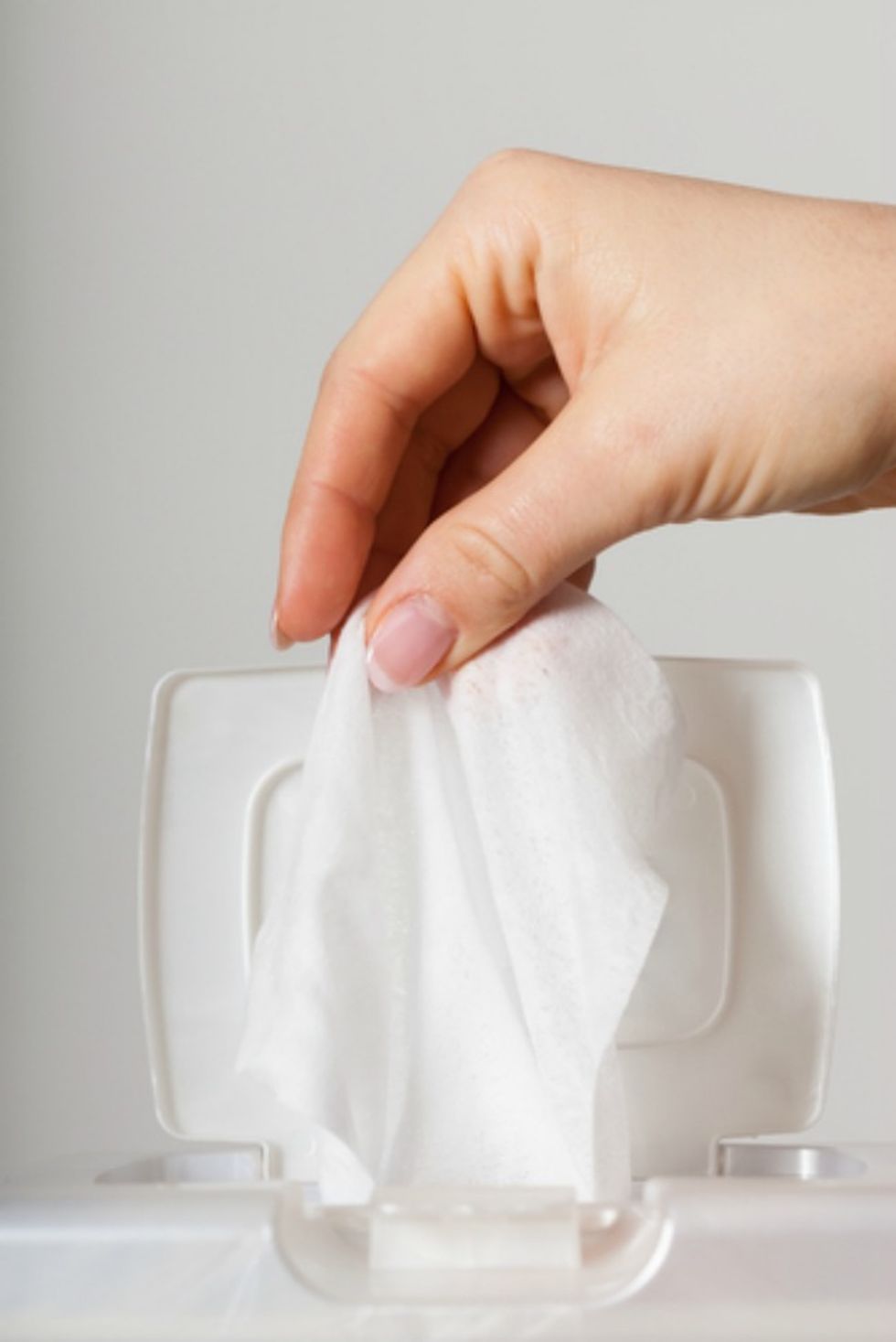 Photo credit: Shutterstock
The wipes, which consumers—especially parents of babies and young children—have been using in increasing numbers in recent years are being flushed down toilets, clogging the sewer system and causing millions of dollars in equipment damage. Reports of damage have been found in some of the most populated areas of the U.S., including New York City, Washington DC, Orange County, California and the San Francisco Bay Area.
City officials are now being forced to use additional grinding machinery to dispose of the waste, and come up with costly measures to change residents' perceptions about how to dispose of sanitary wipes.
In New York City, a bill supported by Mayor Bill de Blasio was introduced in February to stop wipe companies from advertising their products as flushable. The city's environmental staff has also begun a public awareness campaign to inform residents that they should be throwing wipes in the trash.
"A growing number of adults think that if it's good for baby, it's good for them," Vincent Sapienza, deputy commissioner of the city Department of Environmental Protection told Bloomberg News. "Many brands may say they're flushable, but they wind up in our sewer plants fully intact."
"The average consumer believes if a product clears their toilet bowl, it's flushable," Jamie Rosenberg, a Chicago-based household and personal-care analyst for Mintel, told Bloomberg News. "People in their homes have no idea what's going on downstream."
Research suggests that wipes have grown in popularity among adults as well—one report cited in the Bloomberg News article suggests that from 2008 to 2013, sales of the moist flushable wipes had grown 23 percent to $367 million.
Clearer rules about which household products are "flushable" may get federal oversight—according to the Washington Post, officials of the wastewater industry and wipe manufacturers say the Federal Trade Commission recently asked for information as part of an investigation into the "flushable" label.
YOU MAY ALSO LIKE
Watch Bill Gates Drink Water From Human Waste
New Guide to Flame Retardants in Baby Products
Flaxseeds are a powerhouse of alpha-linolenic acid, or ALA, the plant-based source of omega-3 fat.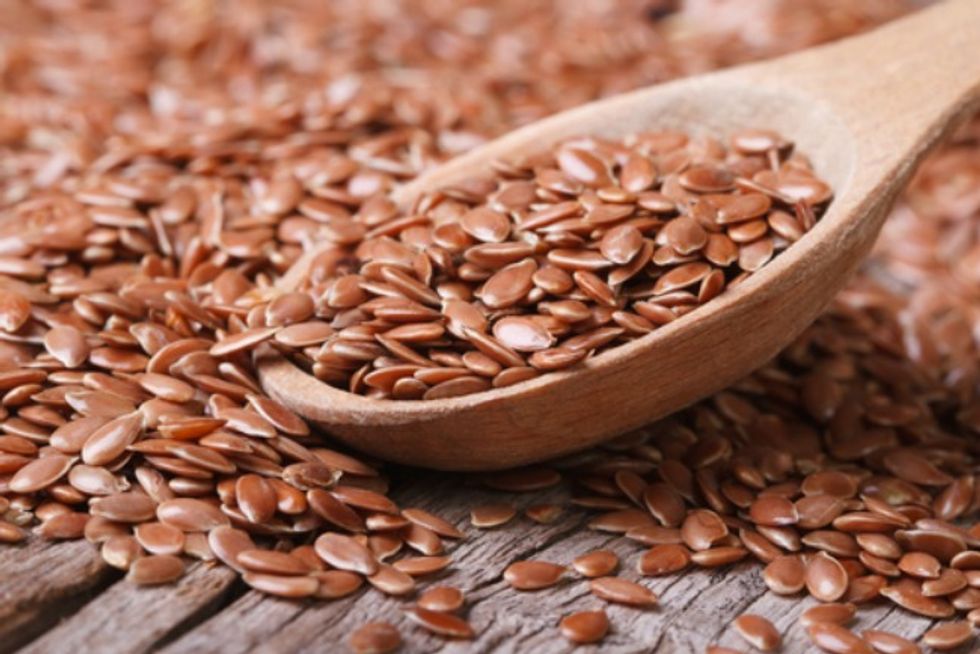 Photo credit: Shutterstock
Omega-3 fat is essential to a child's diet—it not only acts as an antioxidant to prevent disease, but it is used by the body to promote healthy cell growth and brain function. Parents may want to use ground flaxseeds (the seeds can be purchased already ground up) since they are better absorbed in that form.
Of course, no child is likely to happily gobble up a spoonful of plain flaxseeds. Sneaking flaxseeds into meals provides a simple solution to getting children to eat them.
Sprinkle in Sandwiches
Sprinkling ground flaxseeds into sandwiches will surely disguise them, especially for visually picky eaters. Flaxseeds can be easily hidden below ketchup, mustard, mayonnaise, peanut butter or jelly. In terms of how much to use, ¼ of a teaspoon will add 400 mg of omega-3 fat to your child's meal with a flavor that should be masked by condiments, jellies and butters.
Add to Pancakes and Cereal
A pinch of flaxseeds can easily be added to pancake batter, hot cereal such as oatmeal and even cold cereal like corn flakes served with milk. The flaxseeds may be visible and do float in milk. They may also add a slightly nutty flavor—you can experiment with different quantities, such as 1/8 of a teaspoon to see how much added taste from the flaxseeds your child will tolerate.
Include in Baking
Including flaxseeds in muffins and cookies add nutritional value to any baked treat. Ground flaxseeds, which have a brown powder-like consistency, may be noticeable once the goodies are baked. Make the experience of adding the seeds fun—let you child sprinkle the seeds into the batter with his or her fingers or with a measuring spoon.
How Much To Give Children Daily
One tablespoon of ground flaxseeds contains about 1.6 grams of plant omega-3 fat, according to the nutritional value database Nutrition Data.com. According to the U.S. Department of Agriculture, the amount of omega-3 your child should be getting daily depends on his or her age. Babies 0-12 months should receive 500 mg per day, children 1-3 years old should get 700 mg a day, while kids 4-8 should consume 700 mg a day. After the age of 8, the daily recommended amount is different for boys and girls, but ranges between 1 gram and 1.6 grams a day. Keep in mind that most plant foods like grains, nuts and fruit contain some, albiet smaller amounts, of omega 3 fat.
YOU MAY ALSO LIKE
3 Alternatives To Cow's Milk for Kids
Striking Photos Show What Kids Around the World Eat for Lunch
5 Alternatives to Sugar Your Kids Will Love
Wine just got healthier. The African vintner Audacia has invented an all-natural way to preserve red wine using rooibos wood taken from the eponymous tea-producing plant that is native to Africa.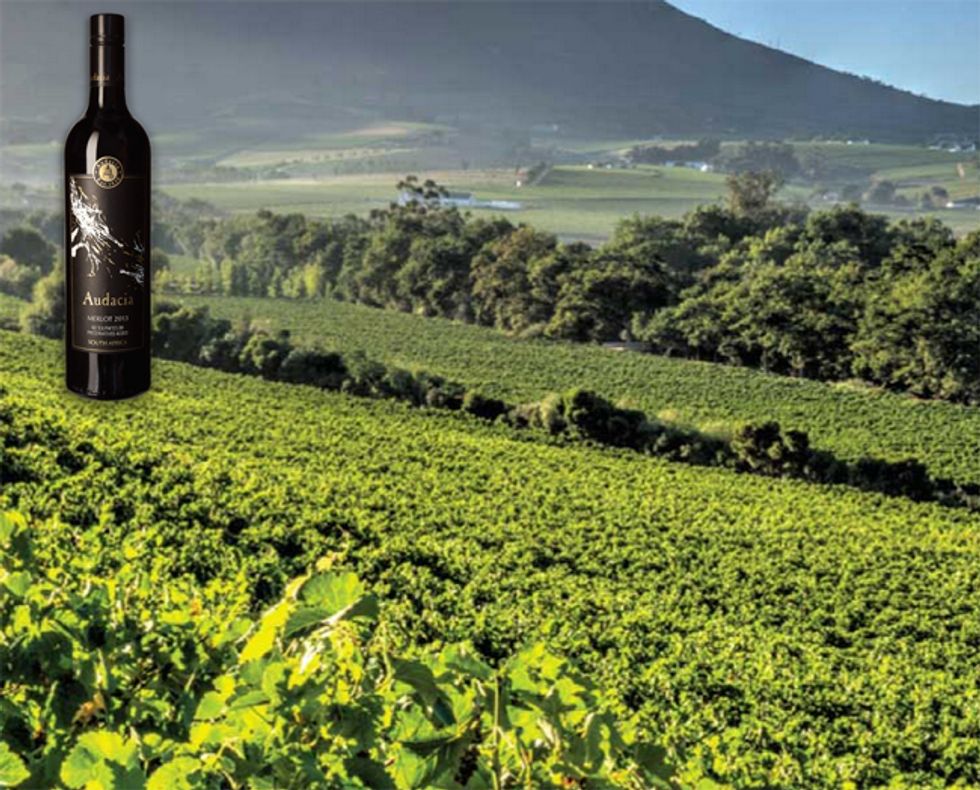 Sulphur dioxide and other synthetic materials are traditionally added to wine to act as preservatives that lengthen the shelf life of the alcoholic beverage. This plant-based preservation method eliminates the need for artificial additives.
"I see it being drunk all over the world," Audaicia owner Trevor Strydom told Reuters. "We registered the patent in 83 jurisdictions worldwide, we are already exporting the wine to China."
Strydom first tried rooibos in the form of tea—rooibos tea has grown in popularity in the past decade as health-minded tea drinkers have discovered its rich, earthy taste that is 100 percent caffeine-free. He began experimenting with the preservation process by putting tea bags in wine, which led to the formation of his rooibos wood preserved Merlot. He now uses rooibos wood chips in the wine making process.
"It's going to have definite effects on the global market because the market looks at competitors and especially not having to add sulphur, there's a huge advantage to the process and that changes the brand, it gives you a new brand that the health conscious world looks at so I'm pretty certain on the back of the rooibos brand that's already around the world you will definitely see traction, but then even as a standalone product because its new its innovative it's got a marketing edge and obviously if they do it cleverly they will get market share quite quickly," Alan Winde, minister of economic opportunities for the Western Cape government, told Reuters.
Rooibos is a healthier alternative to black tea, according to health guru Dr. Weil. But he doesn't tout rooibos as an herbal supplement with notable health benefits.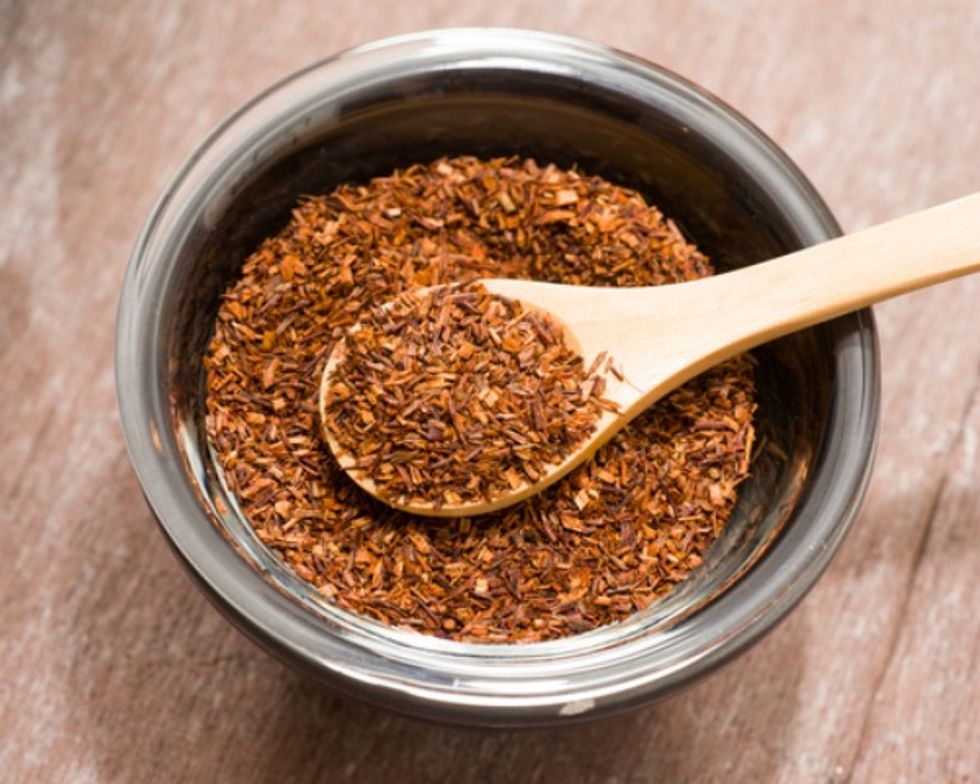 Photo credit: Shutterstock
"Rooibos is being heavily hyped by producers and distributors as a new health beverage," Dr Weil wrote on his website. "Unlike true tea, it is caffeine-free and low in tannins. It contains minimal amounts of calcium, potassium, iron, zinc, magnesium and much less fluoride than found in real teas. Studies have shown that rooibos does contain antioxidants and therefore might have some of the health benefits of green tea, but very little research has confirmed this. I found only 17 scientific studies of rooibos compared to more than 1,000 on green tea. So far, none suggest that rooibos is the health equivalent of green tea."
In the last decade, a handful of winemakers have been using various methods for producing wine without the use of chemicals. Look for "no added preservatives" on wine labels and check with organic wine sellers for brands without sulfur dioxide.
YOU MAY ALSO LIKE
Organic Farmer Taken to Court for Refusing to Spray Pesticides
10 Additives You Don't Want in Your Food
It's now common knowledge that cane sugar is unhealthy—it's known to raise blood sugar in the body and weaken the immune system, which can cause many health conditions such as obesity and type 2 diabetes.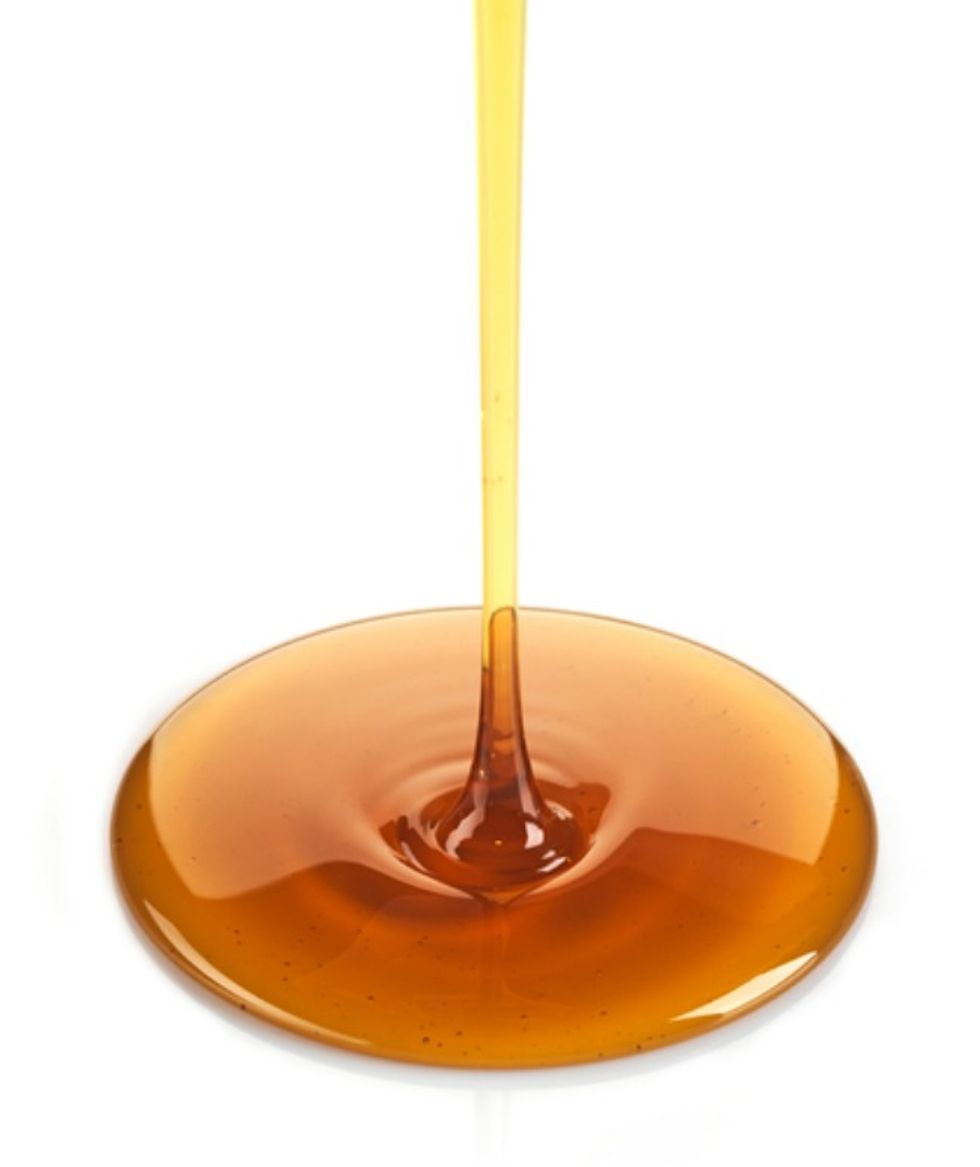 Photo credit: Shutterstock
And, while many processed food products such as ketchup, cereal and crackers are commonly made with cane sugar, parents are seeking out healthier alternatives to give their children. The good news: parents don't need to look far; the following all-natural sweeteners can be purchased at many supermarket chains and online retailers.
Organic Honey
Honey remains the holy grail of natural sweeteners. Extracted from bee hives, honey is not chemically altered from its natural form. When it comes to sweeteners, honey is perhaps the most nutritious—it contains small amounts of a wide array of vitamins and minerals, including niacin, riboflavin, pantothenic acid, calcium, copper, iron, magnesium, manganese, phosphorus, potassium and zinc, according to the National Honey Board. Honey also healing properties, and is used to treat cough, asthma, hay fever, and heal sunburns and sores, according to Web MD. Honey is safe for baking, and is also commonly used to sweeten peanut butter sandwiches, unsweetened yogurt, and breakfast foods like pancakes and smoothies.
Maple Syrup
Many of us have been eating maple syrup since we were children, so it may be easy to forget that this wholesome syrup is an excellent choice for sweetening food. Maple Syrup contains an antioxidant called polyphenols that has been shown in studies to prevent cancer and other diseases. Maple syrup can be used instead of store bought pancake syrup, which is likely processed and contains numerous chemical additives. It can also be used for baking—use equal parts syrup to cane sugar in recipes for cookies and cup cakes. You may need to use less milk or water since the syrup is a liquid, unlike cane sugar that comes in powder form.
Organic Brown Rice Syrup
The less known of the natural sweeteners,Brown Rice Syrup is arguable less "sweet" than the others, with a mild flavor and thick consistency. The milder taste is result from of fact that this syrup is a complex carbohydrate extracted from whole grain rice, so it contains less natural sugar and processes more slowly in the body than honey, maple syrup and even agave. Brown rice syrup has a shelf life of one year, so it should last for a while in the pantry.
Pureed or Mashed Organic Fruit
Another easy fix to replace sugar in baking for kids is to use pureed or mashed fruit. Whole fruit contains the fiber and protein that is removed from fruit juice, so liquefying whole pieces of fruit is a more nutritious option than fruit juice. Bananas, apples or berries can take the place of sugar when making muffins, can be added to pancakes and smoothies, and poured over oatmeal or other hot cereal.
Organic Agave
This raw syrup extracted from the agave plant, which is mainly grown in parts of the Southwest U.S. and in South America, contains a low glycemic index, which means it doesn't make blood sugar in the body to spike as much as cane sugar does. But don't let the low sugar content fool you: agave's pungently flavorful taste will satisfy any child's sweet tooth, and it a great choice when adding sweetener to smoothies, pancakes and cereal. It's important to note health experts recommend that pregnant women do not eat agave since it is raw with unknown bacterial qualities.
Limiting Sugars
Even with natural sweeteners, buying organic is better. It ensures that the sweetener was derived from plants not sprayed with pesticides, and prepared without the use of chemicals. As with cane sugar, healthcare professionals recommend limiting the amount of natural sweeteners in your child's diet. All the above sweeteners are additives that raise blood sugar and cause tooth decay.
YOU MAY ALSO LIKE
How to Limit Sugar in Your Diet
5 Eco-Friendly Alternatives to Sugar
Chemicals found in everyday household items such as furniture, rugs and plastic are causing lower IQ, autism, ADHD and obesity, and costing billions of dollars in healthcare expenses, according to a report published last week.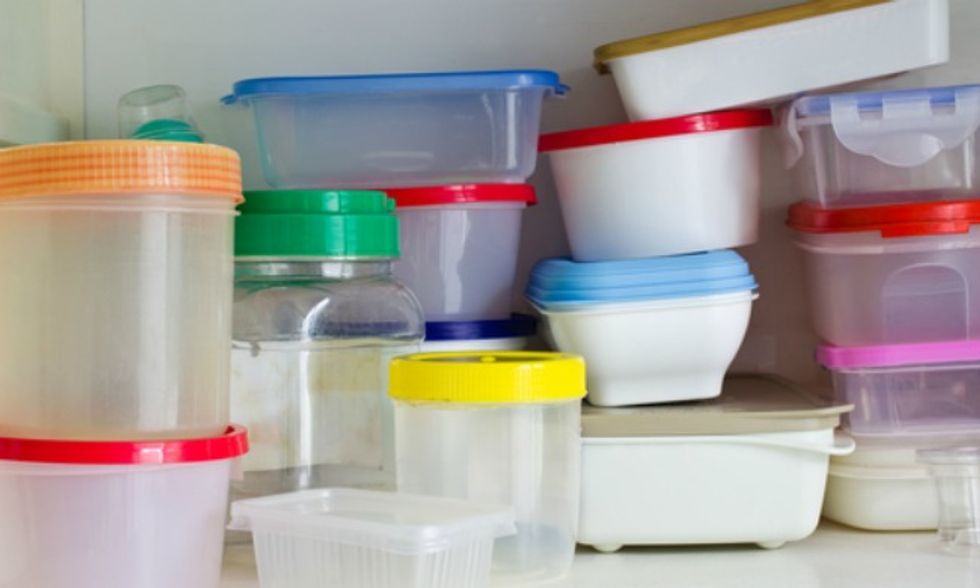 Photo credit: Shutterstock
The study, which was accepted for publication in the Journal of Clinical Endocrinology & Metabolism and posted on the journal's website, found a highly probable association between endocrine-disrupting chemicals (EDCs) and a spate of health burdens and diseases, including lower IQ, autism, attention deficient disorder, infertility and death, among people in Europe. The researchers used statistical analysis to assess the healthcare burden of these conditions among the European population, and concluded that EDCs are likely responsible for some 150 million Euros, or 200 billion dollars, in healthcare expenses.
"The shocking thing is that the major component of that cost is related to the loss of brain function in the next generation," Dr. Philippe Grandjean, one of the study authors, told the UK Guardian.
"Our brains need particular hormones to develop normally—the thyroid hormone and sex hormones like testosterone and oestrogen. They're very important in pregnancy and a child can very well be mentally retarded because of a lack of iodine and the thyroid hormone caused by chemical exposure."
The study authors explain that similar links found between mercury, lead and disease led to stricter regulations about the use of mercury and lead in everyday products like paint and vaccines a decade ago. The same association needs to be made between EDCs and illness now so that harsher restrictions limit the use of these chemicals.
"EDC exposures in the EU are likely to contribute substantially to disease and dysfunction across the life course with costs in the hundreds of billions per year," the team of scientists concluded in their report. "Thus, regulatory action to limit exposure to the most widely prevalent and potentially hazardous EDCs is likely to produce substantial economic benefits. These economic benefits should inform decision-making on measures to protect public health."
The authors call on The World Health Organization and United Nations Environment Programme to initiate the reforms that I needed to limit the use of EDCs.
The research team was led by Dr. LR Trasande at the New York University School of Medicine, and included 12 experts in the area of EDCs at universities in both the U.S. and Europe.  They looked at three factors that revealed links between EDC exposure and illness:
trends in the incidence and prevalence of diseases likely not caused by genetics;

information from genetic studies with similar associations; and

published scientific reports on diseases that measured how certain amounts of EDCs effected the body. Then they compiled the data from 75 different studies to write their report.
EDCs are found in many common household products, including plastic food containers and toys, rugs and furniture, in addition to shower curtains, electrical wires and cosmetic products. The pesticides sprayed on conventional (non-organic) grains, fruits and vegetables also contain EDCs. Some terms for EDCs that you may see on product labels include phthalates and parabens. EDCs cause harm by disrupting and interfering with normal hormonal activity in the body.
Ways you can avoid EDCs: read product labels, purchase certified organic products, and ask manufactures of household items if they use EDCs in the making of their products.
YOU MAY ALSO LIKE
12 Ways to Avoid Hormone-Disrupting Chemicals in Everyday Products
Study Finds Lower Pesticide Levels in People Who Eat Organic Produce