By Daryl Hannah and Phil Radford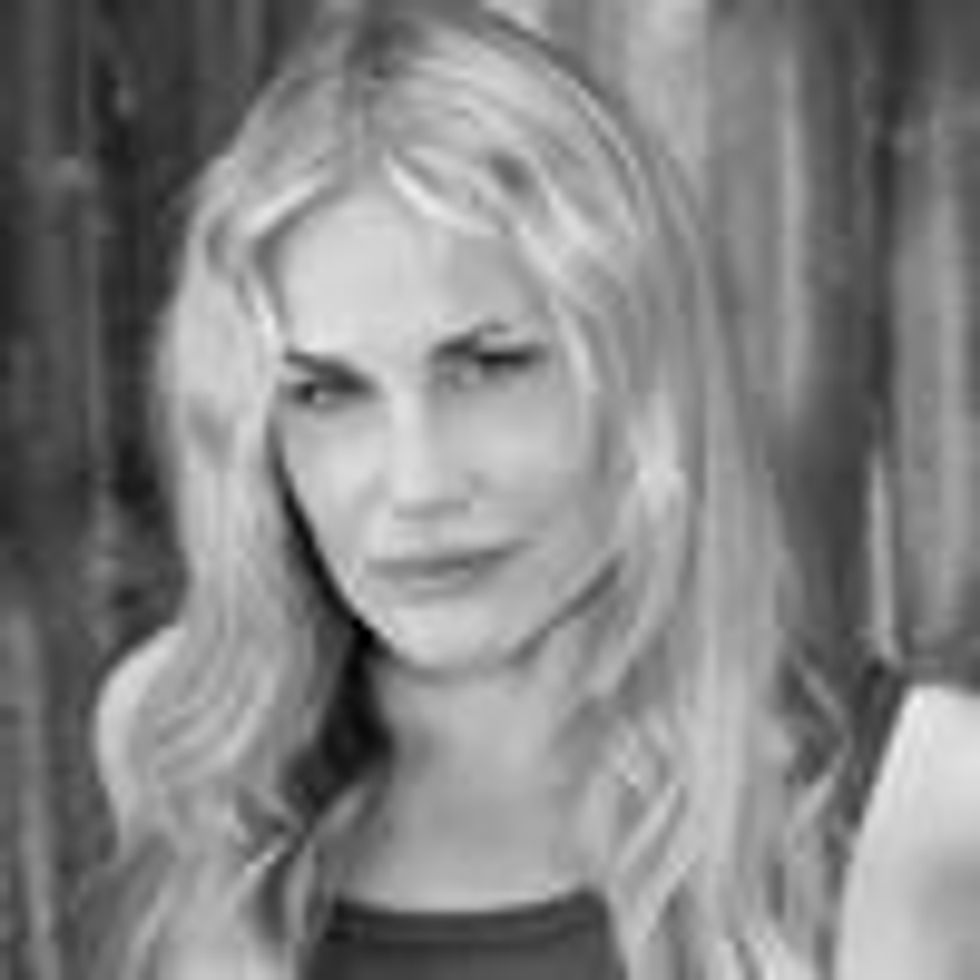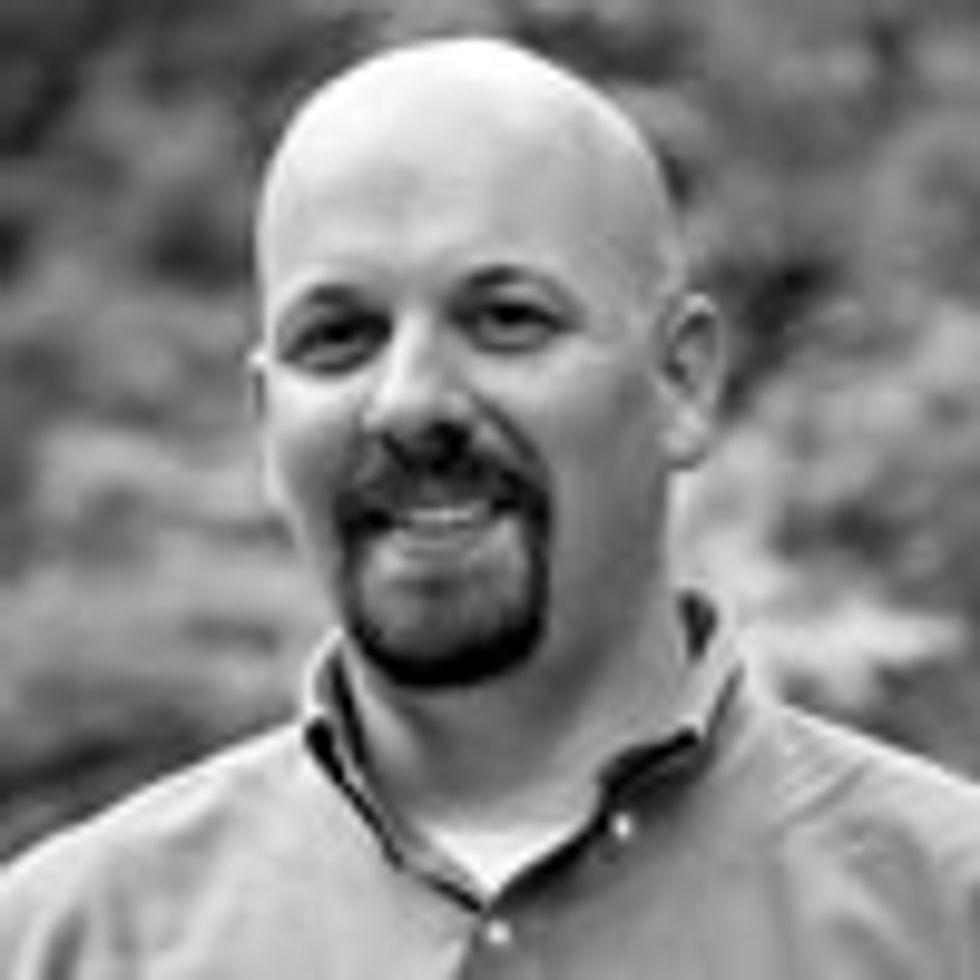 All around the globe, record numbers of people from all walks of life are being thrown into jails because they are standing up to protect the most basic of human needs—uncontaminated water, unpolluted lands and a liveable climate free from the ramifications of extreme fossil fuel extraction. If the greed-driven fossil fuel extraction corporations—and the governments that do their bidding to assure sustained record profits—don't stop endangering our critical and already-compromised life support systems, there is little doubt that the numbers of individuals standing up will grow exponentially.
People are increasingly recognizing the critical necessity to safeguard our communities and our ecosystems, and growing numbers around the world are taking that bold step to engage in the time-honored tradition of peaceful civil disobedience as a means of alerting others to the dangers that threaten us all. This map from The Public Society shows some of the major protests against fossil fuel extraction in the past year alone, and the reach is staggering.
Help Free the Arctic 30 and Stand Up Against Fossil Fuel Extraction Everywhere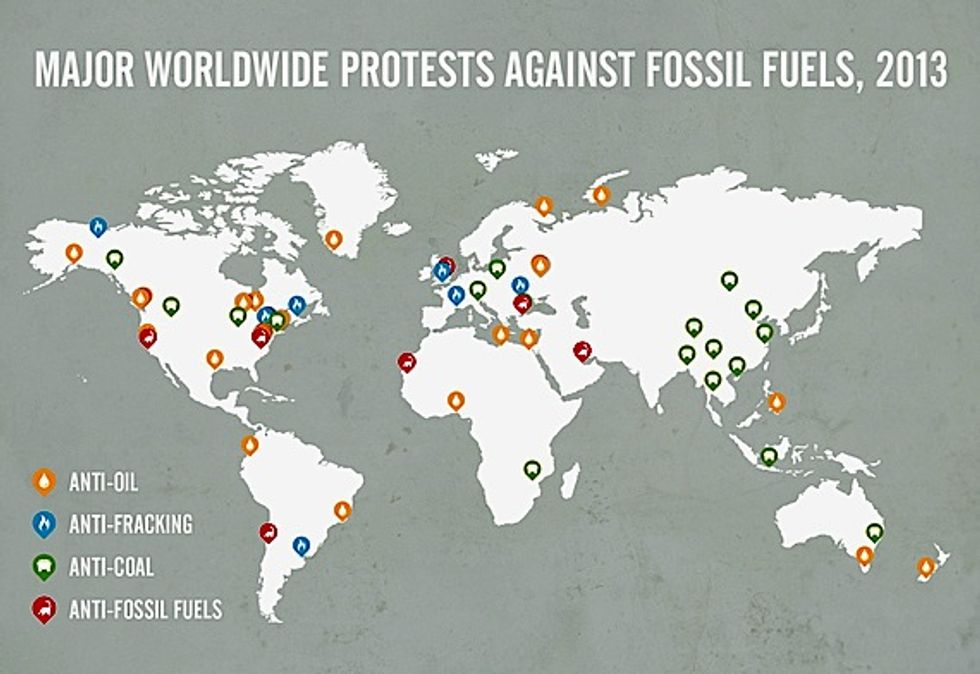 Those of us who choose civil disobedience as a tactic, often of last resort, do so not because they are looking to get away with a crime, but because we are seeking to shine a light on laws that allow for injustice to prevail. No one wants to go to jail. But the history of righting terrible wrongs is first a history of individuals putting their bodies on the line, risking arrest, facing uncertain circumstances and sometimes going to jail (or worse), long before the nation or the world awakens to the realities of what amounts to legalized decimation, injustice and oppression.
There were times in our history here in the U.S. where the law of the land allowed slavery, prohibited women the right to vote, left children unprotected by labor laws and didn't guarantee the civil rights of all citizens. In the U.S.'s many hard-fought movements of great social progress—the abolitionist movement, women's suffrage, labor and civil rights movements, as well as the free speech, peace, and environmental justice movements—there have always been those who were out in front, laying their bodies on the line and leading the way—well before the lawmakers followed with new legislation designed to make this a "more perfect union."
The climate movement is well underway, and thousands of peaceful protesters and interventionists have already put their bodies and freedom on the line. As the world grapples with how to recognize the first of its climate refugees, and as it becomes desperately clear that carbon pollution must be urgently addressed, the quest for more difficult to access and dirtier oil and gas has never been more furious. In the states, lawmakers in the pocket of extraction industry make the pillaging easier and the public health concerns more profound by allowing exemptions from the Clean Water Act, the Clean Air Act, and Safe Drinking Water Act. So, in the U.S. alone, more than 76,000 have pledged to engage in dignified acts of peaceful civil disobedience if the debacle that is the KeystoneXL pipeline is allowed to proceed through our country's heartland.
The third largest threat to our planetary climate—third only to mining nearly all of China and Australia's coal—would be drilling for oil and gas in the Arctic, where oil companies plan to take advantage of melting sea ice in this most sensitive region on earth. If their plan were to succeed, despite the technical obstacles and enormous environmental risks, the drilling would add 520 million tons of carbon pollution to the atmosphere per year, as much as all of Canada's annual global warming pollution.
That's why Greenpeace activists and independent journalists determined to bring this urgent threat to humanity to light journeyed to the Russian Arctic to protest the first ever offshore Arctic oil drilling project. On Sept. 19, consistent with the tradition of peaceful direct action, Greenpeace activists scaled a Gazprom oil platform to hang a banner off of the side. They hoped to bring awareness of the frightening risks of runaway climate change and the devastating effect of oil spills that Arctic drilling could bring to the world.
The Russian Federal Security Services responded with force, firing 11 warning shots into the water just inches away from the Greenpeace small inflatable boats. Two activists were taken by the knife wielding agents, while the other 28 activists and journalists remained on the Greenpeace ship, the Arctic Sunrise.
The next day, in international waters, 15 masked Russian troops rappelled on to the Arctic Sunrise from a helicopter, held all 28 civilians onboard at gunpoint, and seized the ship.
The Arctic 30 have been in Russian custody since.
While even President Putin said the activists and journalists were "obviously not pirates;" the Russian authorities detained and charged all 30 with piracy—a crime that carries a 15 year jail sentence in Russia. A few weeks ago, they added "hooliganism," charges which carry even more disproportionate penalties of up to seven years in jail. The illegal arrests on international waters and the outrageous charges have been condemned by governments and many human rights groups, including Amnesty International, while people in 220 cities from Jakarta to Hong Kong to California marched, calling for the release of the Arctic 30.
The disproportionate Russian response is like unleashing attack dogs on a sit-in.
History has shown us that peaceful activism is vital when all else fails to respond appropriately to the most pressing issues of our time. The great practitioners of non-violent direct action as a means of achieving social change knew this and practiced it only with love in their hearts. Mahatma Gandhi and Martin Luther King, Jr. both said in so many words, "if a law is unjust, it is your responsibility to break it." MLK once said, "injustice anywhere is a threat to justice everywhere." That one profound statement of moral genius succinctly exemplifies why the world must not be silent until the Arctic 30 are once again free.
Stand in solidarity with those who were willing and compelled to go to the front lines on behalf of all future generations. The risks that these activists have taken, and the cost to them personally and to their loved ones, need you to relentlessly demand that Russia free the Arctic 30—and of course that the world move swiftly, urgently and in earnest to a planet powered by clean energy.
Visit EcoWatch's ENERGY page for more related news on this topic.

EcoWatch Daily Newsletter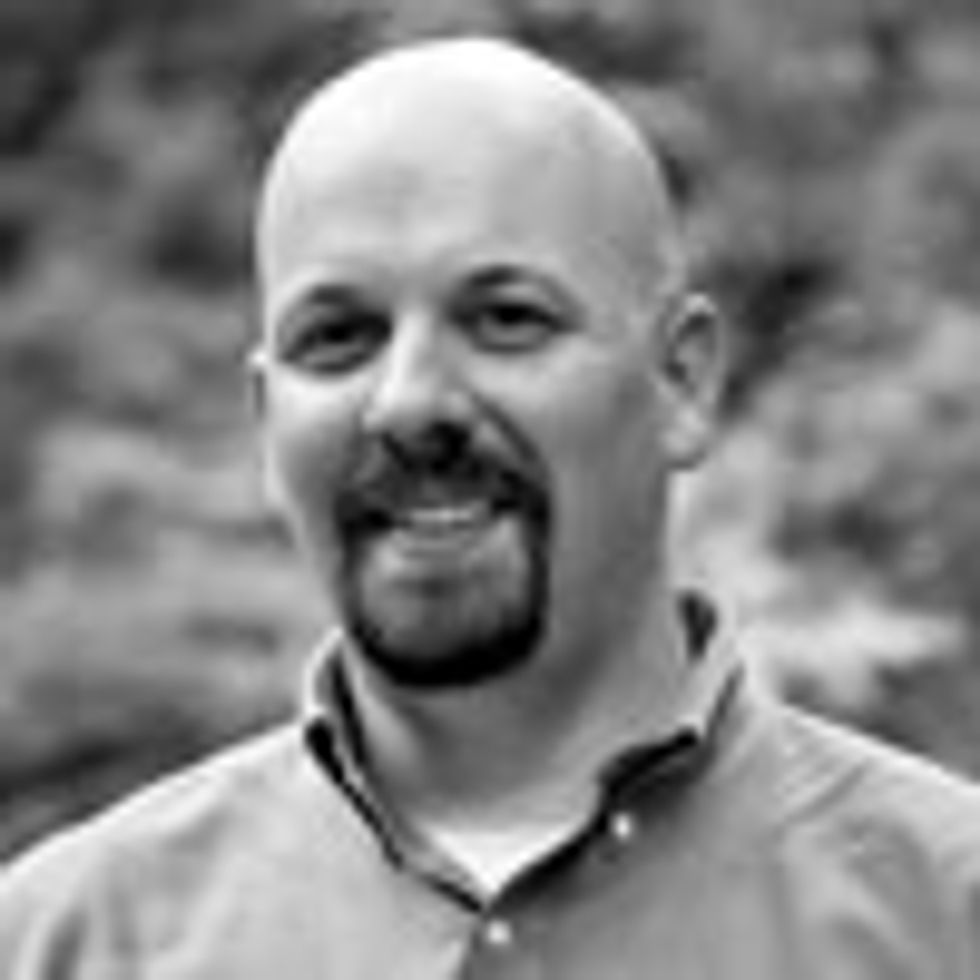 On Sept. 29, Steve Jensen, a farmer in northwest North Dakota, discovered crude oil "spewing and bubbling six inches high" out on his field while he was harvesting wheat. The spewing oil came from a break in Tesoro Corporation's underground pipeline which carries crude oil from Bakken shale formation—fracking for oil—to Columbus, ND. By the time clean up crews made it out to Jensen's field, more than 20,000 barrels of oil had spilled, making this one of the largest spills in state history.
It took nearly two weeks after Jensen first reported the spill for the state to finally make the news public, and as you can see from the exclusive Greenpeace photos below, the damage is extensive.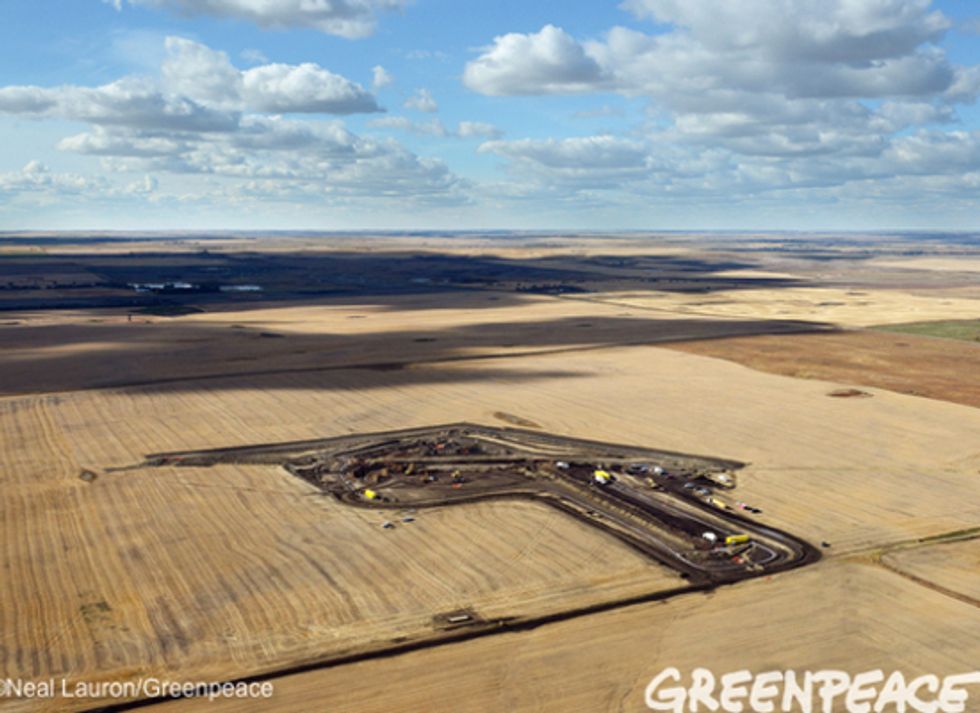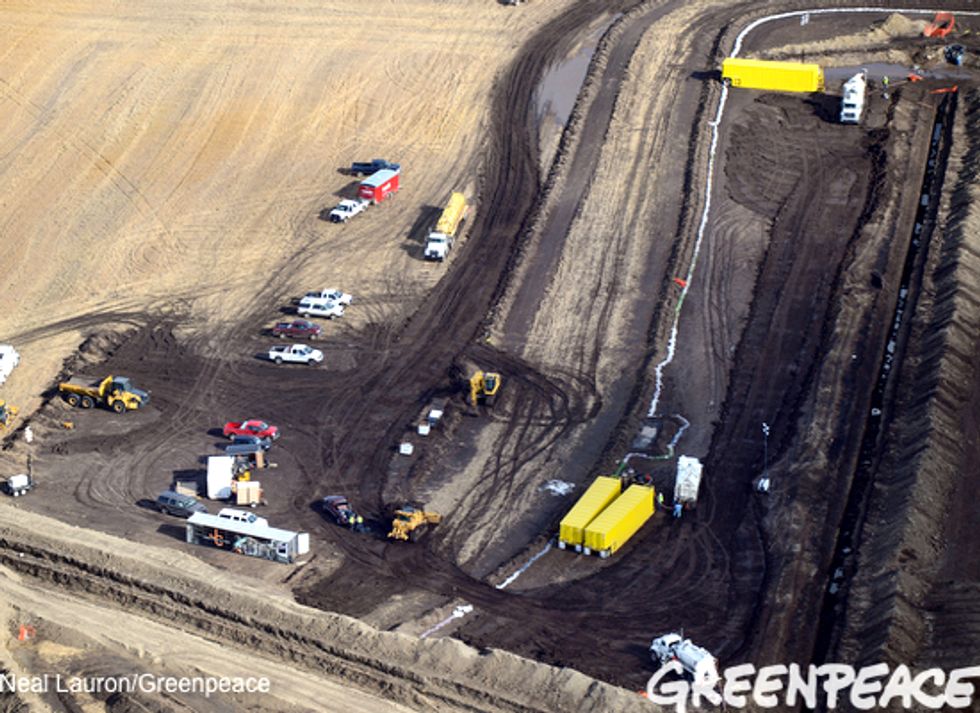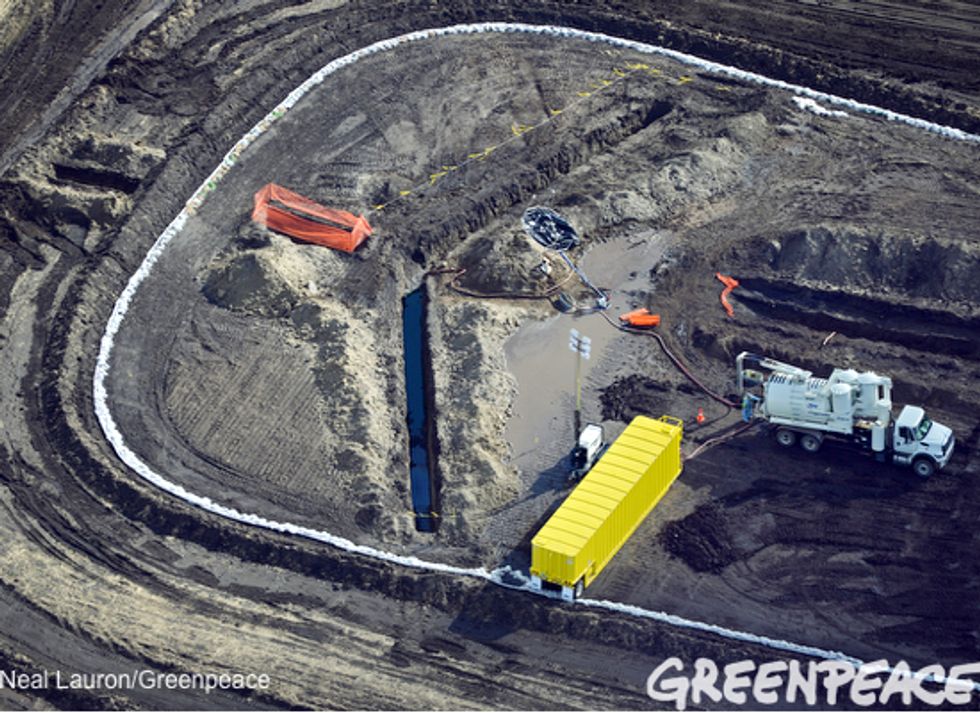 North Dakota and Bakken have become coveted areas for oil executives bent on getting the most extreme and remote fossil fuels out of the ground now that the "easy" reserves are on the decline. As we saw in Mayflower, AR, earlier this year, pipelines spill, and so as long as we let oil companies keep us locked into these forms of extreme fossil fuels, we'll continue to see spills like these.
Visit EcoWatch's PIPELINES page for more related news on this topic.
——–

As consumers become more aware of issues like ocean plastics and overflowing landfills, many are looking for ways to cut down on their environmental footprints. An easy way to make your home more sustainable is to switch from heavy-duty plastic trash can liners to biodegradable garbage bags. While they aren't a perfect solution, they have a few key advantages over their traditional counterparts.
Whether you're looking for tall kitchen trash bags or a smaller option to line your countertop compost bin, in this article, we'll review five of the best biodegradable garbage bags on the market today.
Our Picks for the Top Biodegradable Garbage Bags
Each product featured here has been independently selected by the writer. Learn more about our review methodology here. If you make a purchase using the links included, we may earn a commission.
Why Switch to Biodegradable Garbage Bags?
According to the Center for Biological Diversity, a plastic bag takes 1,000 years to degrade in a landfill. And when bags do decompose, they can leach toxins and microplastics into the environment. It's difficult to completely abandon plastic, but we can take simple steps toward reducing our environmental footprints by switching to products such as biodegradable garbage bags.
Although compostable and biodegradable plastics take longer to break down in a landfill than they would in an open environment, they can still be more eco-friendly than using traditional plastic bags. Below are some reasons you may consider replacing your plastic trash bags with more eco-friendly alternatives:
Biodegradable bags produce fewer greenhouse gas emissions over their lifetime because the plants they're made from (often corn or sugarcane) absorb carbon while growing. This offsets the carbon they produce when breaking down. One study even found that switching to corn-based bioplastics could cut U.S. greenhouse gas emissions by up to 25%.
Biodegradable and compostable trash bags break down up to 1,000 times faster than regular garbage bags in the right environments. Biodegradable bags start their decomposition process when exposed to moisture or organisms such as bacteria and fungi. Compostable bags break down at a faster rate than conventional bags as well, but they usually require high heat to break down, so they should be disposed of at commercial composting facilities.
Compostable bags will break down fully and will not turn into microplastics like traditional plastics and the bioplastics in some biodegradable plastic bags will.
There are also some downsides to bioplastics. For example, they require more land, water and pesticides to grow the crops that are turned into the bioplastics. They can also be much more expensive and can release methane if not exposed to enough oxygen during the decomposition process. However, most modern landfills in the U.S. are air-locked to prevent these and other harmful gasses from entering the atmosphere.
Considering both sides of the coin, is it worth switching to biodegradable garbage bags? According to Kartik Chandran, a professor in the Earth and Environmental Engineering Department at Columbia University, compared to traditional plastics, "bioplastics are a significant improvement." But the choice is ultimately up to you.
Of course, the most sustainable option would be to produce less waste in the first place, tossing your garbage in a bin without a liner and washing the bin after you dump your loose trash. Composting food scraps is another way to reduce your landfill contribution whether you're in a house or an apartment.
5 Best Biodegradable Trash Bags
If you decide to purchase biodegradable trash bags, it's important to note that not all biodegradable trash bags actually break down within a reasonable amount of time. Depending on its material, the claim that a bag is biodegradable can be little more than greenwashing.
In order to provide you with sustainable recommendations, when choosing the top biodegradable garbage bags, we looked at factors including:
Composition: What materials go into the bags themselves? Are they plant-based? Do they have Environmental Products, Inc. (EPI) chemical additives to accelerate plastic degradation?
Certifications: Are the bags certified to American Society for Testing and Materials (ASTM) standards for composting and biodegrading?
Decomposition rate: How long does each company's bags take to decompose? (This can range from six months to over a year, depending on the brand.)
Durability: Do the bags have the same strength as traditional trash bags? Or do they tear or leak easily?
Packaging: Do the products have compact and recyclable packaging?
Customer satisfaction: Are customers satisfied with the products? (We look at verified reviews as well as have conducted our own independent reviews on select products).
www.unni.world
UNNI garbage bags are our best overall choice because they are 100% biodegradable and compostable. The eco-friendly bags are also certified by the Biodegradable Products Institute and OK Compost Home and are BPA-free. They are made entirely from corn starch and other plant starches and contain no polyethylene. Within 180 days, the bags will degrade into organic compounds such as CO2 and O2. The brand also makes drawstring waste bags and small trash bags for home composting and pet waste.
Customer Rating: 4.5 out of 5 stars with over 4,400 Amazon ratings
Why Buy: These compostable trash bags come in plenty of sizes and styles, so whether you need to dispose of dog poop or food scraps, you can find an eco-friendly bag from UNNI.
shopreli.com
Trusted for over 30 years, the bright green Reli. biodegradable garbage bags are designed for ease of use and durability. They have a star-sealed bottom to prevent breakage and are made with a high-density blend of plant-based materials and EPI chemical additives. The company sells compostable bags as well for those who have access to a composting facility, and the 13-gallon bags come in a compact cardboard box that can be recycled.
Customer Rating: 4.4 out of 5 stars with over 250 Amazon ratings
Why Buy: These biodegradable trash bags are eco-certified to ASTM D6954 standards and include EPI additives to ensure a faster degradation process. You can also lower your carbon footprint even more by buying in bulk and purchasing an 800-count package for $50.
www.biobagusa.com
BioBag Compostable Countertop Food Scrap Bags are made up of a bioplastic resin blend called Mater-Bi®, which uses non-genetically modified plant-based substances like corn starch and a variety of biodegradable/compostable polymers. BioBags has made a commitment to use as many renewable resources in its products, and its bags are manufactured in the U.S. with resin sourced from Italy. They are stored in a small cardboard package that can be recycled after use.
Customer Rating: 4.7 out of 5 stars with over 3,200 Amazon ratings
Why Buy: These small bags are extremely versatile and can be used for small waste needs all around the home. BioBag's products are certified compostable and biodegradable according to European standard EN 13432, U.S. standards ASTM D6400 and OK Compost Home, and Australian standard AS 4736.
www.hipposak.com
Hippo Sak tall kitchen bags are made in the USA from at least 88% plant-based materials such as sugarcane rather than fossil fuels. These white trash bags are extremely durable with a slightly thicker layer on the bottom to prevent breakage. The kitchen bags also have large handles that make them easy to grip, pick up and replace without the fear of tearing. They are packaged in a small cardboard box with a large tab that makes it easy to pull individual bags out.
Customer Rating: 4.9 out of 5 stars with over 5,700 Amazon ratings
Why Buy:
Hippo Sak garbage bags are USDA Certified Biobased Products, are completely recyclable and are BPA-free. They have an extremely high satisfaction rate and have been said by buyers to be extremely durable.
Envision
The STOUT by Envision EcoSafe Compostable Bags are specifically designed for collecting organic waste. Even though the average decomposition rate for biodegradable and compostable bags can range from six months to a year in an open environment, STOUT bags are said to decompose in 10 to 45 days and biodegrade in a maximum of six months in commercial composting facilities. Much like the other brands, these garbage bags come in compact cardboard packaging for easy recycling. A star seal on the bottom of the bag makes it possible to carry more weight without leaking or ripping.
Customer Rating: 4.7 out of 5 stars with over 500 Amazon ratings
Why Buy: These fast-decomposing bags are made in the U.S. by blind or visually impaired citizens. They're also USCC and BPI certified and meet the requirements of ASTM D6400.
Frequently Asked Questions: Biodegradable Trash Bags
Which garbage bags are biodegradable?
Garbage bags made from bioplastics or other plant-based starches and materials are considered biodegradable. Bioplastics are a mixture of organic materials that mimic the properties of traditional petroleum-based plastics. Some bioplastics include additives to speed up the deterioration process. Some bioplastics are so complex that they aren't considered biodegradable anymore. This is why it is important to make sure your products are not only composed of plant material, but are also certified biodegradable.
Are biodegradable bags better than plastic?
Biodegradable garbage bags produce fewer greenhouse gas emissions than traditional plastic bags. However, it takes more land, water and pesticides to grow the plant materials the bags are made from. Overall, researchers have stated that biodegradable bags are better, but they don't break down significantly faster in landfills.
How long do biodegradable bags take to decompose?
The range for the decomposition of biodegradable bags is different for each brand. Some state that it only takes 180 days for decomposition, while for others it may be up to a year and a half. It also depends on the environment the bag is in — in a commercial composting facility or at home in an open environment, decomposition will be significantly faster than in an air-locked landfill. Generally, no matter the time it takes for biodegradable garbage bags to decompose, it takes traditional garbage bags longer.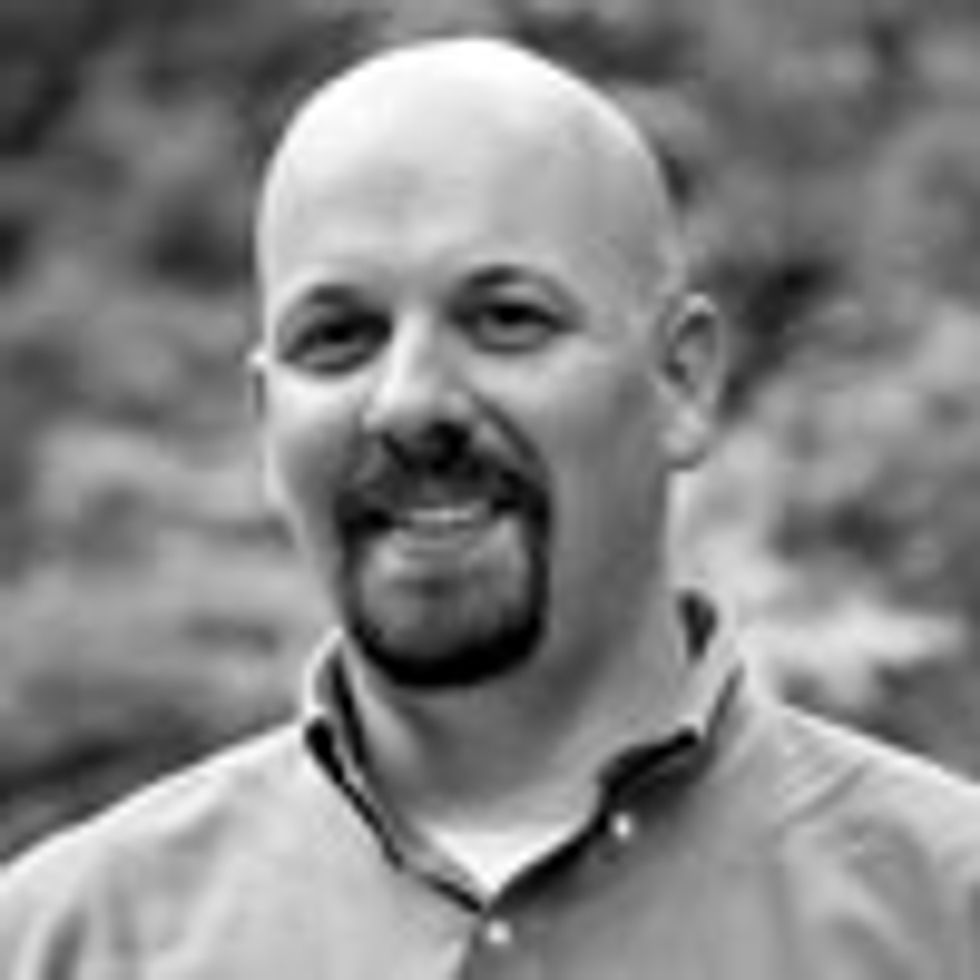 The fossil fuel industry is desperate. They're searching the earth for more and more extreme forms of energy, hoping to get the last of the oil, coal and gas out of the ground before it's all gone.
With this extreme desperation for fossil fuels comes extreme behavior. Russian oil giant Gazprom is trying to get the last of the oil and gas out of the Russian Arctic, an extreme endeavor likely to cause massive disruption to that delicate ecosystem, in addition to fueling catastrophic climate change.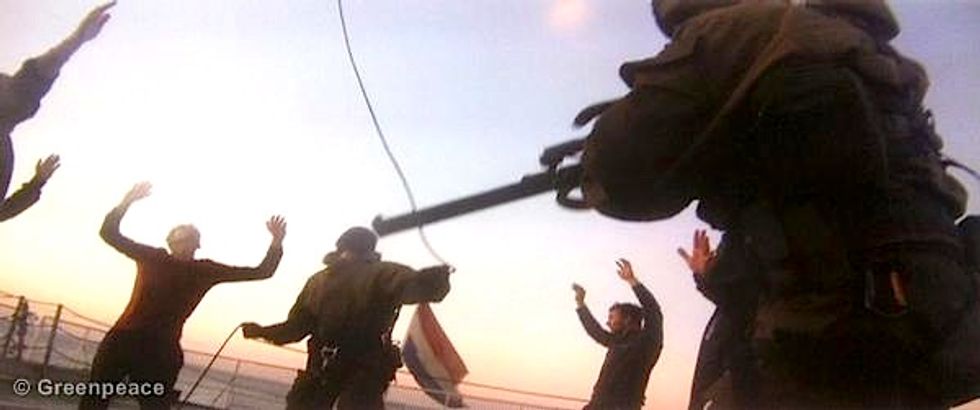 And when Greenpeace activists tried to peacefully demonstrate against this oil giant, these terrifying photos show how the Russian military responded.
With guns, knives and extreme, disproportionate intimidation. And now, today, after the Arctic 30 have been detained for days without charges, we've finally learned that the Russian government has the audacity to charge five of the Arctic 30 with piracy. Look at those photos. Who do you think the pirates are?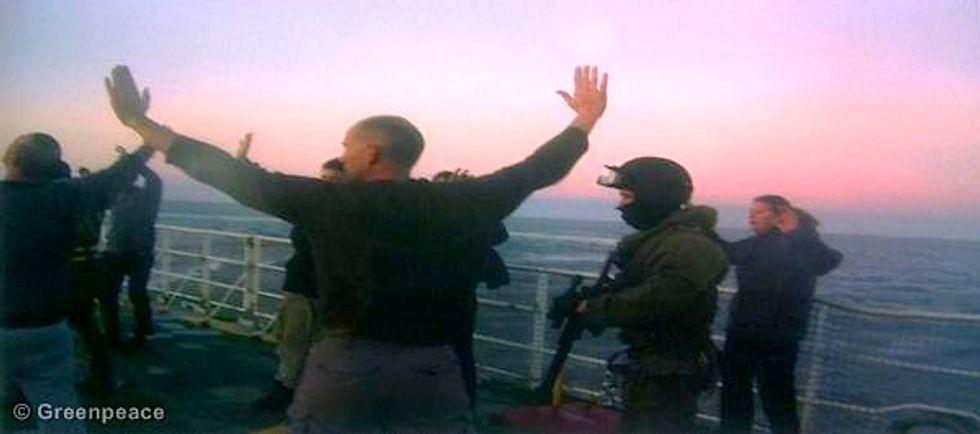 As Kumi Naidoo of Greenpeace International says, this is now the most serious threat to Greenpeace's peaceful environmental activism since agents of the French secret service bombed the Rainbow Warrior and killed our colleague Fernando Pereira because we stood against French nuclear weapons testing in the Pacific. Three decades later the activists of the Arctic Sunrise, including American ship captain Peter Willcox, also took a stand, this time against the powerful vested interests of the oil industry. And they could now face the prospect of up to fifteen years in a Russian jail.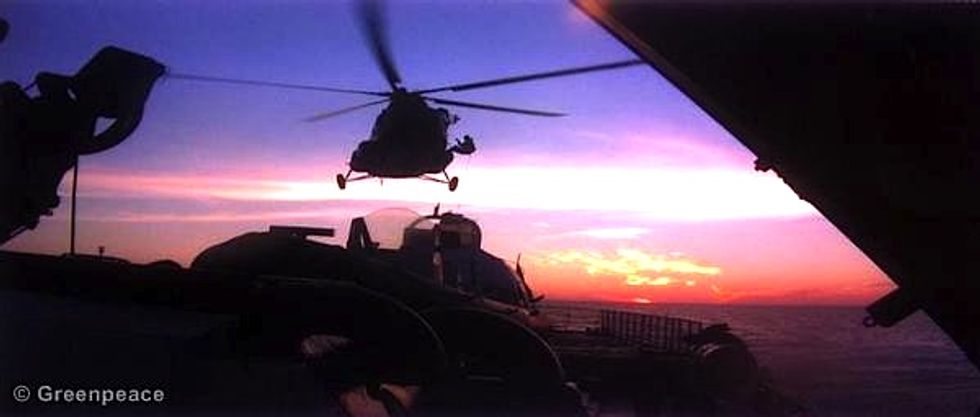 I call on people from across the world, anybody who ever raised their voice in support of something they believe in to stand with us at this moment demand the release of the Arctic 30 and an end to Arctic drilling.
Visit EcoWatch's OFFSHORE OIL DRILLING page for more related news on this topic.
——–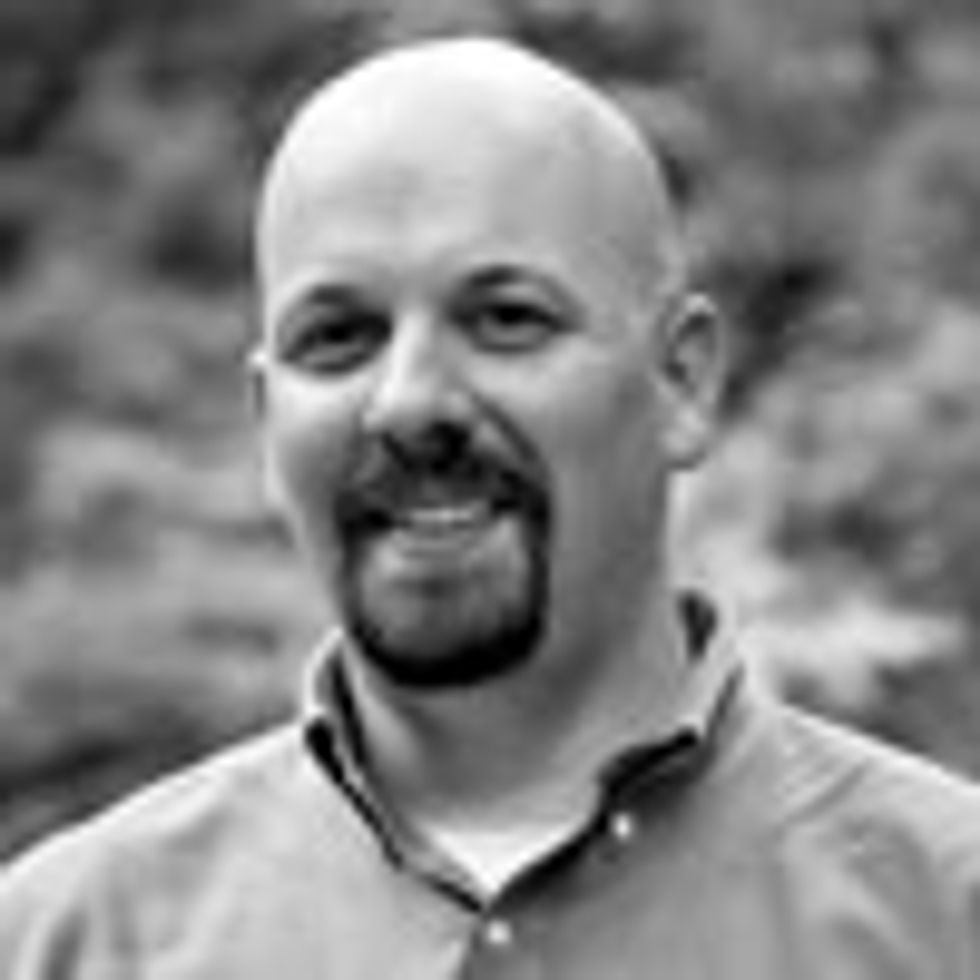 Last Thursday, President Obama issued an Executive Order mandating that the Environmental Protection Agency (EPA) and the departments of Labor and Homeland Security to develop plans for new safety measure at chemical plants like the one in West, TX, that exploded in April, killing 17 people and injuring hundreds.
That West, TX, tragedy was one of many preventable disasters that have happened in the decade since the EPA first proposed using the Clean Air Act to enforce common sense rules for chemical plants. It's been over 10 years, and we're still waiting.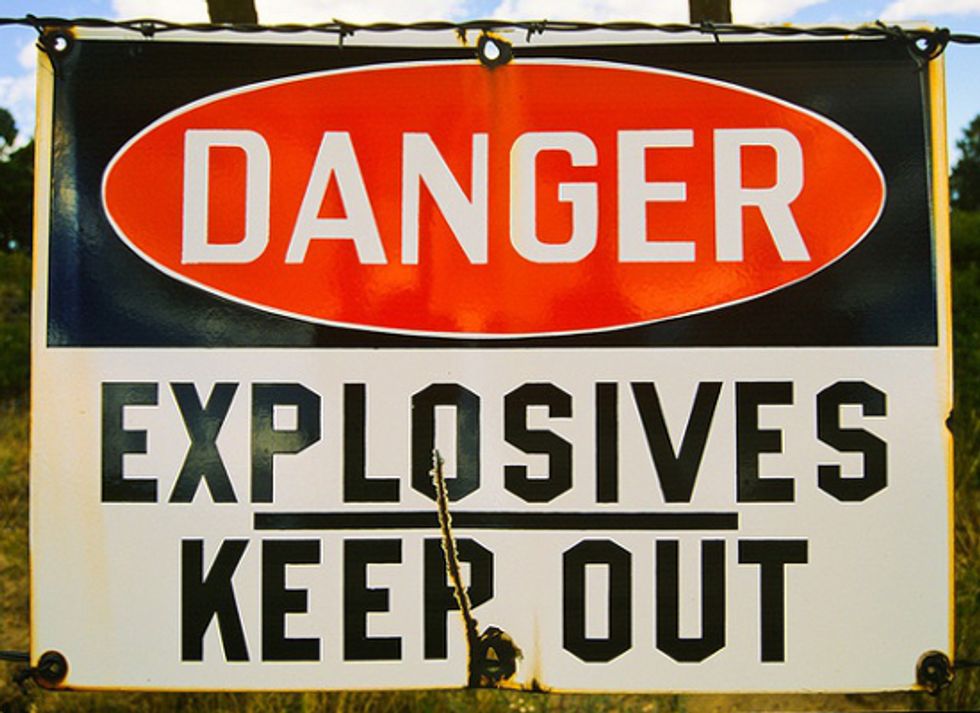 Even in the time since the West, TX, disaster, there have been at least six other serious, preventable chemical accidents around the country. This is a problem we not only should have, but could have, solved years ago, and now, with President Obama's order, the EPA has a clear mandate to do what a wide coalition of organizations have been urging it to do for years: use its existing authority under the law to require chemical plants to use safer processes and chemicals at thousands of facilities across the country. The safety of millions of people depends on it.
At the same time that the President issued his Executive Order, Greenpeace and more than 100 groups such as United Auto Workers, the Sierra Club, UPROSE, Rebuild the Dream, Environmental Defense Fund, National Domestic Workers Alliance, National Peoples' Action, MoveOn, Los Jardines Institute, and Community In-Power and Development Association sent a jointly signed letter to the new EPA chief Gina McCarthy urging her to make chemical disaster prevention a priority in her first 100 days in office. The path forward couldn't be clearer, and the risks of continued inaction couldn't be higher.
Unsecured toxic chemicals needlessly threaten our communities every day. According to the EPA's own data, there are more than 470 chemical facilities that each put 100,000 or more people at risk of injury or death from a sudden poison gas release. In 2004, the Homeland Security Council estimated that an attack on a poison gas facility would result in 17,500 immediate deaths, 10,000 seriously injuries and send an additional 100,000 people to the hospital.
These are astonishing numbers, so much so that it can be hard to understand just how close this problem is to most of us. Greenpeace has set up a quick way for you to find out how near you are to one of these facilities, and by simply entering your zip code here you can find out exactly how this issue affects you. The results might shock you, they certainly shocked me. But luckily, this is a problem with a solution.
Hundreds of chemical facilities, including all Clorox facilities in the U.S., have already taken it upon themselves to adopt safer procedures for their workers and the communities around their plants. As Greenpeace knows well, we can't simply rely on corporations to police themselves. There are still more than one-hundred million people at risk because they live and work inside "vulnerability zones" near the highest risk chemical facilities in major cities across the country.
The EPA needs to act now to ensure the safety of millions of people who who are needlessly endangered by un-secure toxic chemicals. The President has now made clear he is joining our call for action, but it's ultimately up to the EPA to use its existing authority to make our communities safe from toxic chemicals starting today. Safer alternatives and better regulations are the only fool-proof ways we can keep keep tragedies like West, TX, from happening again.
Visit EcoWatch's HEALTH page for more related news on this topic.
——–
Photo courtesy of Greenpeace


The Ninth Circuit Court of Appeals in California is currently weighing whether Shell has the right to preemptively stop Greenpeace from protesting Shell's drilling in the Alaskan Arctic. If the court ultimately rules in Shell's favor, nothing would stop other corporations from taking the same preemptive action against anyone they saw as likely protesters—from neighborhood groups to Amnesty International. The worst of these suits would eventually be overturned on appeal, but with the precedent set by Shell, anyone who wanted to silence protest outside a convention or a disaster site could do so for the duration of whatever activity they wanted to keep secret.

Advocacy groups like Greenpeace adamantly oppose this type of corporate secrecy. We work to bring attention to corporate destruction so people understand the stakes in fights from the Arctic to the Amazon. Our ability to go wherever the planet and its people are in danger is why Greenpeace strikes fear into corporations like Shell, so much so that they will go to extraordinary lengths to stop us from exposing the work it wants to keep secret.
In February 2012, as Shell prepared to begin what became its disastrous attempt to drill in the Arctic, the company filed an injunction against Greenpeace USA. This came the day after activists associated with Greenpeace New Zealand boarded the Noble Discoverer, one of Shell's two Arctic class drill rigs. On March 1, 2012, despite the fact that no Greenpeace USA activists were involved in the New Zealand action, a federal judge granted Shell a temporary restraining order and preliminary injunction prohibiting Greenpeace USA from taking action against "Shell's interests," including any otherwise lawful activity that might happen within a court-mandated "buffer zone."
Greenpeace appealed this action, but through the summer 2012 drilling window in which Shell proceeded to "screw up" (according to Interior Secretary Ken Salazar), the Ninth Circuit Court of Appeals considered the case. So by simply mobilizing its lawyers, Shell was able to use the process to keep lawful protest away from the actions it wanted kept secret. Instead of seeing this as an abuse of the system, the three-judge panel rejected our appeal the day after Shell officially abandoned its plans to drill for 2013.
We have asked for an en banc review (in which a full slate of the circuit judges can hear the case), and we hope the court takes the full implications of what's at stake into consideration.
If we have no plans to engage in civil disobedience, why would we appeal Shell's preemptive legal maneuver? Why not just proceed with legal protests and other advocacy work while the case worked its way through the system? Because allowing a corporation to use its massive financial and legal resources to tie us up in court while it attempts to drill in secret would establish a terrible precedent for American democracy.
Greenpeace fully embraces our First Amendment right to raise our voices. We oppose any effort to take this right away through extraordinary legal means. Our power as citizens lies in our ability to shine a light on actions detrimental to public good. This freedom—this right— is the only thing that puts people power on any kind of scale relative to the power of multibillion-dollar corporations like Shell. Even though it's enshrined in the Constitution and upheld through hundreds of court cases, Shell through extraordinary legal means is trying to take our right to protest away. If they succeed, it will have a devastating effect on protest rights in the U.S.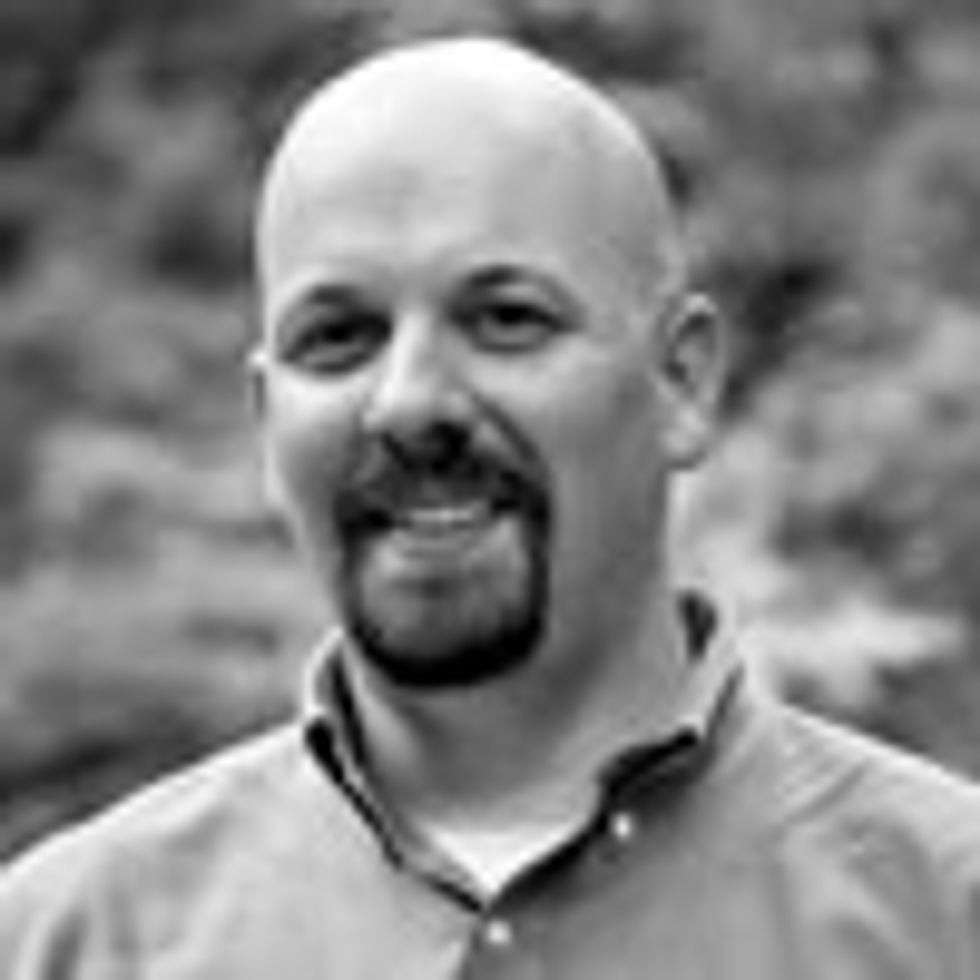 This Sunday, a new environmental movement will arrive in Washington, D.C. Thousands of people will join 350.org, Sierra Club and the Hip Hop Caucus' Forward on Climate rally to call out with one voice and demand Obama keep his promise to future generations.
I will be proud to be there with them.
If you're coming to D.C. this weekend, you won't see your parents' environmental movement here on the Mall. The climate crisis has forged a new, diverse coalition of Americans who have seen the effects of our fossil fuel dependency and want no future with it.
Drought-stricken farmers in Iowa get it. Homeowners from the Jersey Shore get it. Eroding Alaskan native communities get it. Flooded families in New Orleans get it. They will all be part of thousands of people here on Sunday who get it—America's energy past is dead in the ground. Our energy future is in the air, with wind, solar and other renewable energy sources. The Keystone XL pipeline, which would bring dirty tar sands oil from Canada through the U.S. for export, will lead only to further darkness.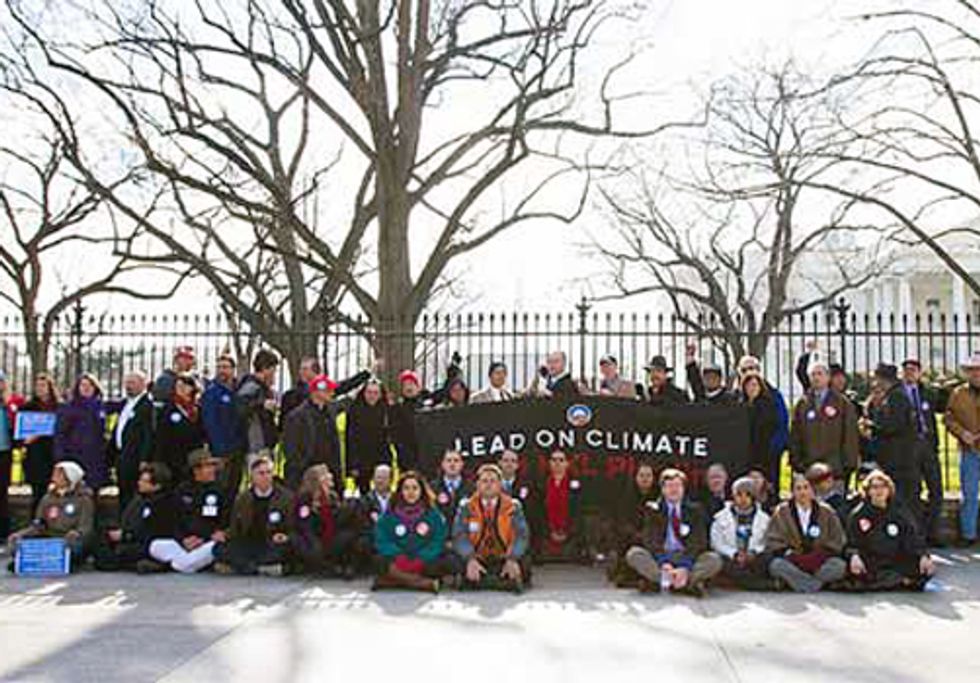 Millions of people around the country have lived the effects of climate change and now share this vision of the future. We all cheered President Obama's spirited call to action in his inaugural address—"We will respond to the threat of climate change, knowing that the failure to do so would betray our children and future generations"—and we hope he keeps his word. But we know that powerful interests want these words to simply be empty rhetoric.
Through the battles of Obama's first four years, progressive groups have learned what works and what doesn't in the fight against corporate power. Our labor, civil rights and environmental partners in the newly begun Democracy Initiative are determined to advance the progressive cause with shared vision. So while green groups fought hard for a climate bill in 2010 and lost, we learned valuable lessons that we can use along with the lessons other progressives learned in their victory with the health care bill. We all know we need public opinion, institutional advocacy, and, perhaps most importantly, grassroots-led peaceful protest to achieve any real change. This Forward on Climate rally is the first, significant step for progressive groups during Obama's second term, the next four years that may well prove to be the most important years we have had yet in the environmental movement.
Why? Because Obama's decision on the Keystone XL pipeline—along with Arctic drilling, coal exports, and the rest of the fossil fuel-based projects in his "all of the above" energy strategy—will determine whether or not the U.S. is locked into a climate death spiral or has a plausible way out. Letting the Keystone project go forward would be a clear, savage betrayal of our children and future generations. We can't let that happen, and we must let Obama know he will be held accountable.
Tar sands oil extraction is just one example of how far down the road we've let corporate power lead us while it pursued dirty energy profits at the planet's expense. For decades, most of America remained relatively oblivious to what was happening, but now that easy access to oil has gone the way of the dinosaur and billion dollar companies must go either to the ends of the earth or to the bowels of hell to get what's left, we're beginning to wake up. We're starting to realize oil companies won't stop until every last drop of fossil fuel is extracted and burned, a process that will destroy the rest of the planet if we don't make this change right now.
Thankfully, America has shown it's ready. This President's Day weekend, I hope you will join me and this new environmental movement in showing Obama that America honors leaders, not politicians. The president's legacy for future generations rests on the climate decisions he can make right now.
Visit EcoWatch's KEYSTONE XL and CLIMATE CHANGE pages for more related news on this topic.
——–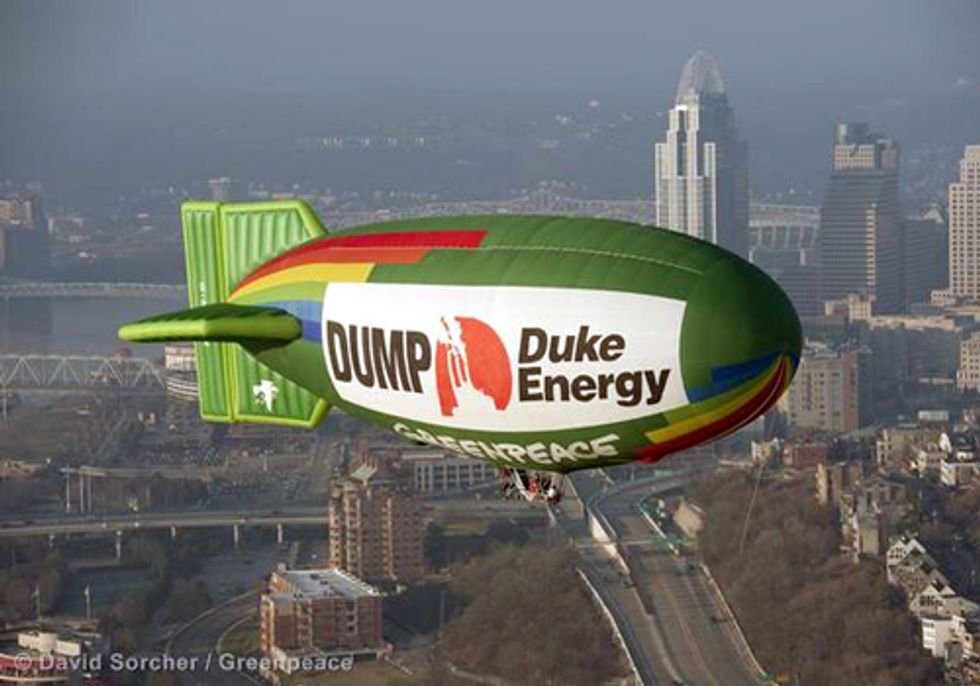 Today, Duke Energy found out that more than 50,000 commercial and residential electricity users in the city of Cincinnati, Ohio are dumping Duke and shifting to 100 percent clean energy.
Cincinnati is a trendsetter: it is the first city in Ohio, and the first of its size in the nation, to go 100 percent green.
The city is part of a much larger trend in which major electricity buyers like Cincinnati and even the social network Facebook are committing to shift from coal to clean energy, and in so doing putting companies like Duke-Progress, which will be the largest utility in the country, on notice.
This is big news.
The announcement is the culmination of a campaign that started last fall, when Ohio Citizen Action and Greenpeace ran a successful ballot initiative to allow the City to bargain for electricity on behalf of its residents. The voters passed the initiative by a resounding 59-41 percent. In February, the coalition was successful in rallying the citizens of Cincinnati to give the city a clear mandate to supply 100 percent renewable energy and no 'fracked' natural gas. The Council responded with resounding approval of the people's demands, unanimously passing a motion asking bidders to include a 100 percent Renewable Energy Credit option (in addition to a lowest cost electricity option).
Last month seven companies placed bids for the electric aggregation contract. First Energy Solutions won, with a proposal to provide power to Cincinnati using 100 percent renewable energy credits. A portion of this green electricity will come from local sources, including solar credits from the Cincinnati Zoo Solar canopy project. Some of the credits will come from outside the local area. According to the City Manager's office, the average eligible household will save approximately $133 per year on their electricity bills.
We hope the efforts of Cincinnati's leaders will result in a shift from the three dirty Duke coal plants surrounding the city to clean energy that will result in far more jobs and clean air for the children of Ohio. It would be a real shame if these three dirty Duke Energy plants sell electricity to other cities, send the profit back to HQ in Charlotte, NC and leave Cincinnatians with health problems from the pollution. That's not a fair deal for the residents of Cincinnati.
Duke Energy needs to be accountable to the people—not their bottom line—and shift their investments from coal to clean energy, phasing out these plants in the near future.
With big buyers like Cincinnati dumping Duke, this may happen sooner rather than later. In fact, this announcement occurred at the same time that Greenpeace ramped up its efforts to persuade some of the biggest electricity consumers—IT giants and internet behemoths such as Apple, Microsoft, and Amazon—to dump dirty coal companies like Duke and join Cincinnati in moving to clean energy. After all, we all deserve to be able to click, like, and share knowing the football field sized buildings that store servers aren't powered by the coal that is causing lung problems in our kids.
So far, nearly 65,000 people have viewed the video introducing iCoal, and 154,000 people have taken action, telling Apple to clean their cloud. Companies like Apple are at the forefront of innovation, and shouldn't be powering the future with dirty coal. If Apple listens to the people, Duke Energy will find its big corporate customers dropping it just like Cincinnati did today.
A renewable energy future for the city of Cincinnati is great news; it is a great first step in the direction we need to go as a nation. It is time to see real, deployed, and distributed renewable energy solutions across America.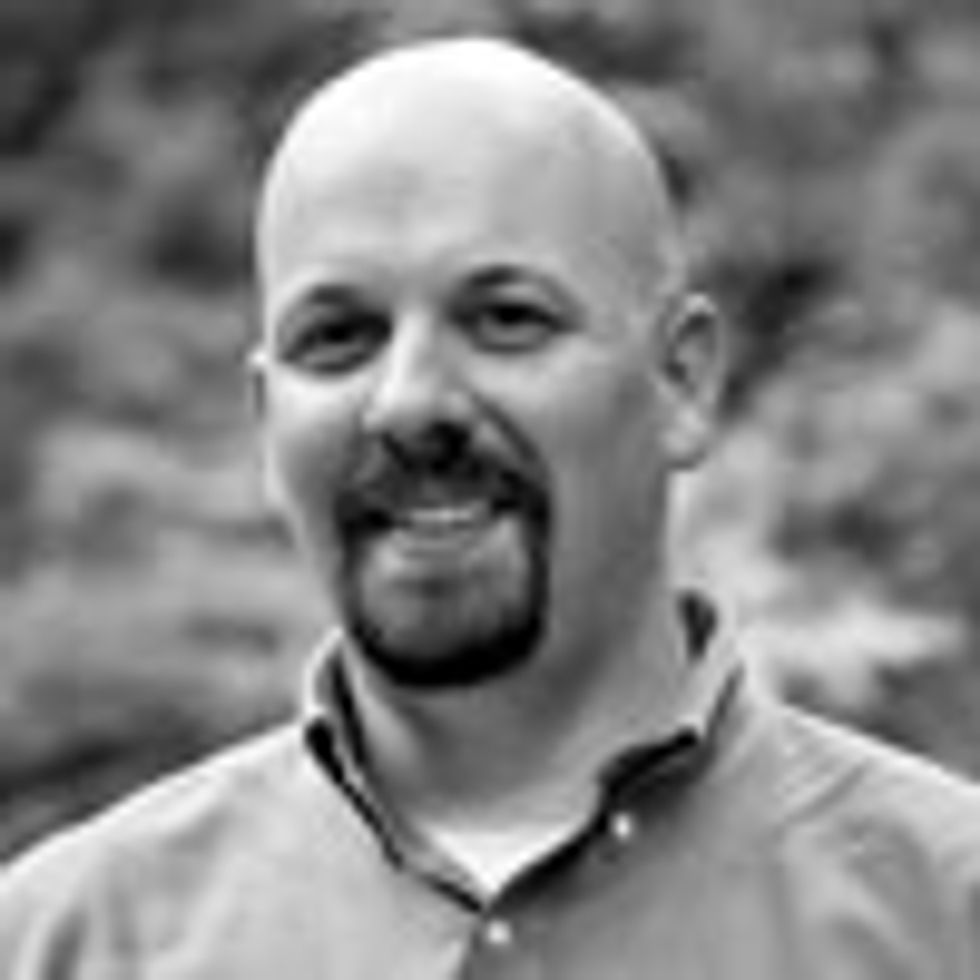 Co-Authored by Phil Radford, executive director of Greenpeace USA and Aaron Viles, deputy director of Gulf Restoration Network
The BP disaster turns two this week. Two years since the nation was reminded that offshore drilling is dirty, dangerous, and deadly. Two years since the slow-motion disaster began changing our region, our communities, our ecosystem.
As we look back and assess where we are today, a troubling picture is emerging from the Gulf.
Throughout the foodchain, warning signs are accumulating. Dolphins are sick and dying. Important forage fish are plagued with gill and developmental damage. Deepwater species like snapper have been stricken with lesions, and their reefs are losing biodiversity. Coastal communities are struggling with changes to the fisheries they rely upon. Hard-hit oyster reefs aren't coming back and sport fish like speckled trout have disappeared from some of their traditional haunts. BP's oily fingerprints continue to mar the landscape and destroy habitats.
With these impacts already here, some scientists are alarmed by what they're finding. Unfortunately their concerns are largely drowned out by BP and the "powers that be" shouting through very large megaphones that "all is fine, BP is making it right, come and spend your money." But the truth is far different. The Gulf of Mexico, our nation's energy sacrifice zone, continues to suffer.
Of course, the Gulf wasn't a pristine ecosystem on April 19, 2010. The coastal wetlands of the Mississippi River delta were in a crisis state, losing a football field-worth of wetlands every hour due to our mismanagement of the river for flood control and dependable shipping lanes. This crisis has been greatly exacerbated by the oil industry being allowed to dredge 10,000 miles of canals through our coastal zone, removing marsh and increasing subsidence.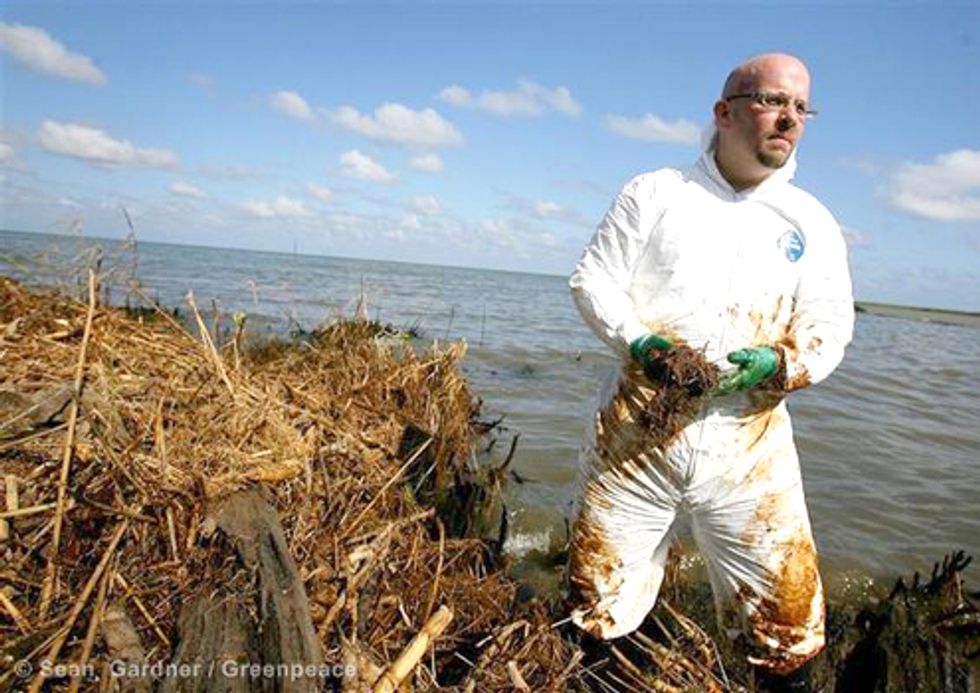 Louisiana's coastal wetlands system is among the fastest disappearing landmasses on earth, diminishing at the rate of 18 square miles every year. The coastal zone is vast however, making up 30 percent of the nation's coastal wetlands but is experiencing 90 percent of the nation's wetlands loss, a total of more than 1,800 square miles since 1932.
These wetlands are absolutely critical to our nation. Supplying $3 trillion annually to the U.S. economy, the Mississippi River and the Gulf coast create an international gateway for products like coffee, grain, seafood, oil and gas. The Gulf coast has historically been the cradle of nearly one-third of the commercial fish and shellfish harvest of the lower 48 states. Critical for migratory birds, the coast is used by up to 40 percent of North America's duck, geese, and eagle populations. Jazz, Funk, Zydeco, and Fats Domino were all born in southern Louisiana.
More importantly, Louisiana's natural storm defenses—such as barrier islands, marshes, and cypress swamps—protect Louisiana's coastal communities. Louisiana's infamous levees need wetlands to survive hurricane-level storms. But in the face of rising sea levels and stronger storms fueled by climate change, rebuilding these wetlands is the only way to make South Louisiana, and all it entails, sustainable.
Listen to the Greenpeace Radio Interview featuring Gulf Restoration Network's Aaron Viles

With an estimated $50 billion price tag to re-engineer the lower reaches of the Mississippi River to reintroduce sediment and freshwater into the marsh to rebuild wetlands, this crisis demands a national commitment. In the face of rising seas, subsiding marsh, and increasing energy costs, coastal scientists estimate we have less than 10 years as a nation to begin the restoration process.
Here's the irony. Despite the horrors the BP disaster has brought to the region, it also presents a unique opportunity to jump start this $50 billion restoration project. BP will be on the hook for an historic fine under the Clean Water Act, as much as $17.6 billion depending on how aggressively and effectively the U.S. Department of Justice pursues the super-polluter. The oil industry (well, one very large corporate representative) might finally be forced to fix what they broke in our ecosystem. Congress is considering a bill that would devote 80 percent of the Clean Water Act fines would go to gulf restoration projects. Congress needs to pass this bill without holding it hostage to anti-environmental legislation.
Two years after the disaster, it's outrageous that this is where we sit. Two years after the Santa Barbara oil spill, Earth Day was born, and helped to launch the modern environmental movement. Two years after the Exxon Valdez spill, the Oil Pollution Act had been passed by Congress, raising the bar on how we deal with oil accidents. Yet two years after the BP disaster, we're faced with horrible political gamesmanship, a vulnerable and threatened ecosystem, and struggling communities.
It's well past time we hold BP accountable, demand better leadership from Washington, D.C., and take significant steps to restore the Gulf, and protect against all future drilling disasters. We hope you'll help. Two years later and misguided politicians are not doing what's needed to fix the Gulf nor are they changing the "energy as usual" policies that got us in trouble in the first place.
—————
Greenpeace submitted nearly 50 Freedom of Information Act requests in the summer of 2010 during the BP Deepwater Horizon disaster for photos and information. These photos have never been released by the government. They were taken as the oil was hitting the coastline and, in many cases, in areas where the Coast Guard and BP were forbidding independent journalists or citizens from doing our own documentation by boat or air.
Greenpeace is still analyzing more than 20,000 images from the US Fish & Wildlife Service. Below is a map with a selection of 300 of never before seen images. Please comment and tag the photos where you can see oil, and birds or other signs of wildlife.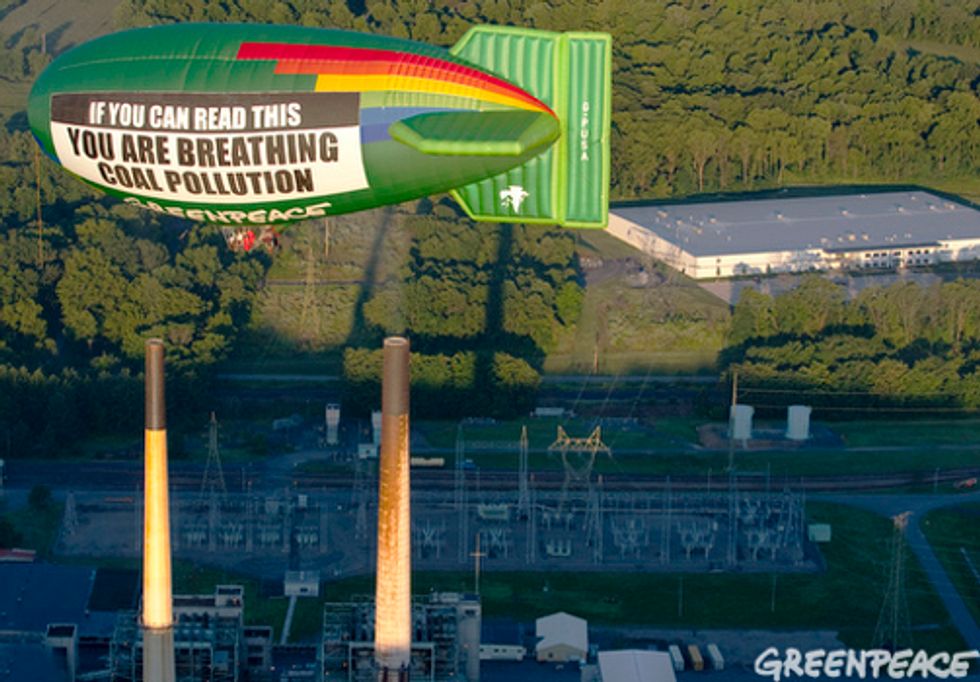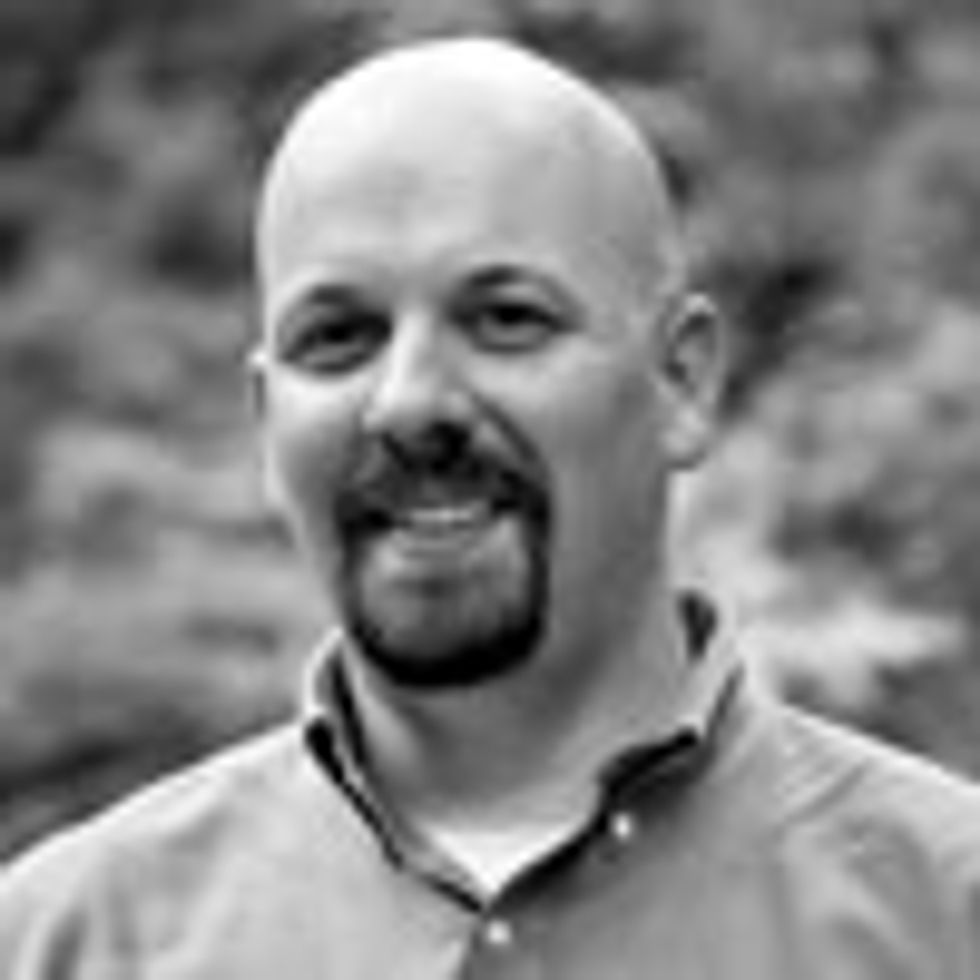 Earlier this week, Edison International announced that they would shut down the Fisk and Crawford coal plants—a victory for the books! After ten years of gritty and determined grassroots work, communities in Chicago triumphed over the corporate polluter in their back yard. On the same day, citizens in Ohio, New Jersey and Pennsylvania celebrated the announcement that Houston-based GenOn would shut an additional seven plants, including the Portland Generating Station where Greenpeace worked with NJ and PA residents to demand clean air for their community
The Chicago Sun-Times sums up the day brilliantly in their editorial, Credit grass-roots effort for victory over pollution.
It was encouraging to see Mayor Emanuel step up and engage in negotiations to shut down Fisk and Crawford. Responding to public pressure, he demonstrated leadership that is all too lacking at all levels of government. Corporate polluters have bought their way into the hearts of congressmen and regulators, leaving the task of holding the coal industry accountable to grassroots organizations across the country.
But it should not have to take a ten-year campaign to close century-old coal plants. People shouldn't be forced to sacrifice their time and energy—let alone their health—to secure clean air and water for their communities.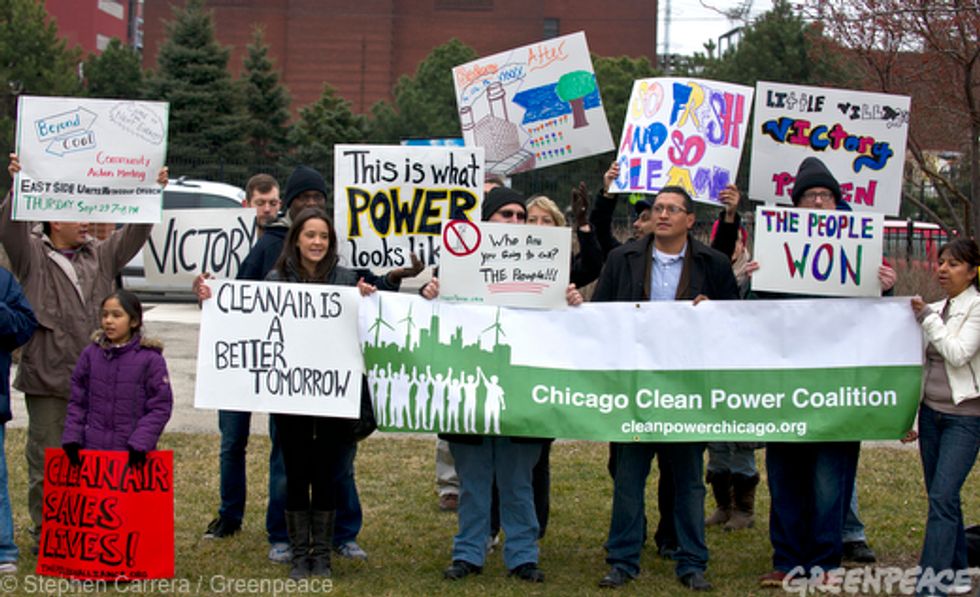 Energy companies like Edison International need to take responsibility for the communities they poison.
Edison International CEO Ted Craver announced the retirement of Fisk and Crawford on an investor call with little fanfare. In agreeing to close the plants, Edison executives are saving 42 lives every year. They are telling local Chicago communities that hundreds of asthma attacks and heart attacks will no longer be triggered by the pollution Fisk and Crawford spew into the air. And yet, the decision was packaged in the language of "financial discipline" and "impairments."
Besides Fisk and Crawford, Edison operates four coal plants in Illinois, as well as the dirtiest coal plant in America, the Homer City Generating Station in Pennsylvania. We hope that the good news on the Fisk and Crawford shutdowns signal a sea change for the company—a chance for them to live up to their own rhetoric on clean energy leadership.
On the investor call, Ted Craver indicated that Waukegan Generating Station and Homer City may not be part of their coal fleet for much longer. That's encouraging news. Now, we need a real commitment from them to shut down those plants and bring clean air to communities throughout Illinois and Pennsylvania.
In the meantime, we'll be celebrating the hard-fought and long-overdue victory in Chicago. When communities come together and demand change, incredible things can happen. This clip from Pilsen resident and Pilsen Environmental Rights and Reform Organization member, Leila Mendez, captures the beauty and sacrifice of this monumental moment.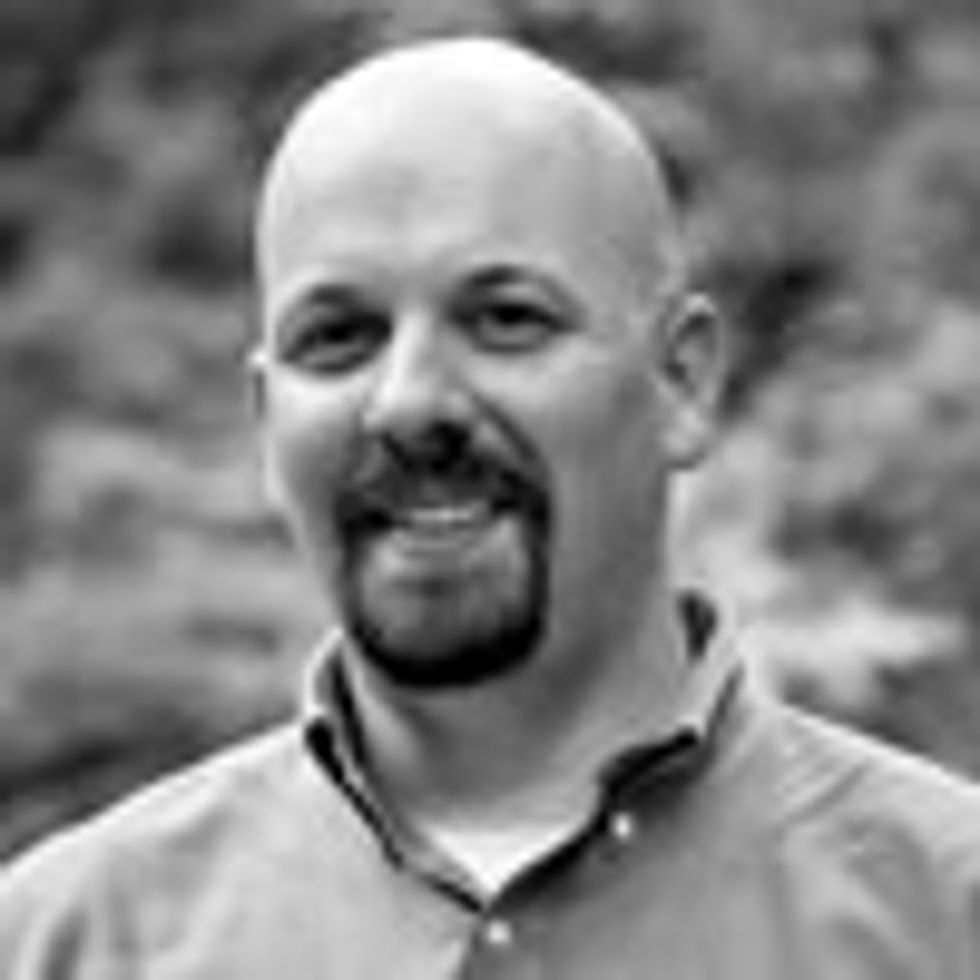 Starting today, we can begin to breathe, eat and drink a bit easier. The U.S. Environmental Protection Agency (EPA) begins enforcement of the Mercury and Air Toxics standard, a 20-year-old mandate that set limits on mercury emissions from coal and oil-fired power plants.
These safeguards are not for show. They reflect a raft of highly credible research proving that mercury, along with other toxic metals including arsenic, chromium and nickel, is spewed in to the air as an insidious byproduct of fossil fuel burning. These metals contaminate waterways, where they infuse the bodies of commercial fish and seafood. It's no surprise that women of childbearing age are urged not to eat salmon and shrimp. High accumulated mercury levels in these and other frequently consumed species can be devastating to the unborn and infants.
That reality gave this effort tremendous momentum—a record-breaking 500,000 Americans reached out to the U.S. EPA in support of the standard, reinforcing the notion that we'd rather have healthy moms and babies than antiquated power plants raining contaminants down on our communities. We salute President Obama and U.S. EPA Administrator Lisa P. Jackson for standing fast against the antiquated interests of Big Coal and Big Oil in order to make this ruling a reality.
Unsurprising, however, has been the utility industry's prolonged, expensive campaign of misinformation— millions of dollars and countless lobbying hours spent trying to convince legislators, and thus the American public, that a little mercury mutating a developing human nervous system was no big deal.
Some utility companies, along with members of Congress swimming in their campaign contributions, made heel-dragging on this issue an art. Their lobbyists are understandably upset, but we're happy to treat them to a seafood dinner if that assuages their grief.
The barrage of tiresome talking points from Republican and industry opposition about how this epitomizes big government's job-killing intrusion on free enterprise is already underway, but let's be as clear as the forthcoming air:
• This rule will save lives. According to the U.S. EPA, the rule will prevent up to 11,000 premature deaths, 4,700 heart attacks, and 130,000 asthma attacks each year, as well as almost 3,000 cases of chronic bronchitis yearly. Emergency room visits will drop by almost 6,000.
• This rule will protect the environment. In 2008, nearly half of all U.S. river-miles and lake-acres were under water contamination advisories. The vast majority of this contamination was due to mercury, including 100 percent of the Great Lakes. Over time, just one gram of mercury per year will contaminate a 20-acre lake.
• This rule will create jobs and boost productivity. EPA estimates that this rule will lead to 46,000 short-term construction jobs and 8,000 long-term utility jobs. Currently only 17 states have established mercury emissions limits on coal plants. That's far from adequate, especially since the states with the largest volume of mercury emissions do not have emissions limits. In addition, we'll avoid 540,000 sick days each year, enhancing productivity while lowering health care costs.
The downside for fossil fuel facilities is negligible at best. A mere eight percent of our nation's coal-generation capability will be taken offline in the years ahead—decrepit, 30-to-50-year-old power plants that even utility companies agree need to be modernized or shut down outright as they have become too costly to upgrade or maintain, let alone operate.
So, let's take a well-deserved deep breath and celebrate the fact that regard for a nation's health and well-being has won out over the interests of a few backward-thinking bribe recipients who don't lose sleep over causing cancer and birth defects.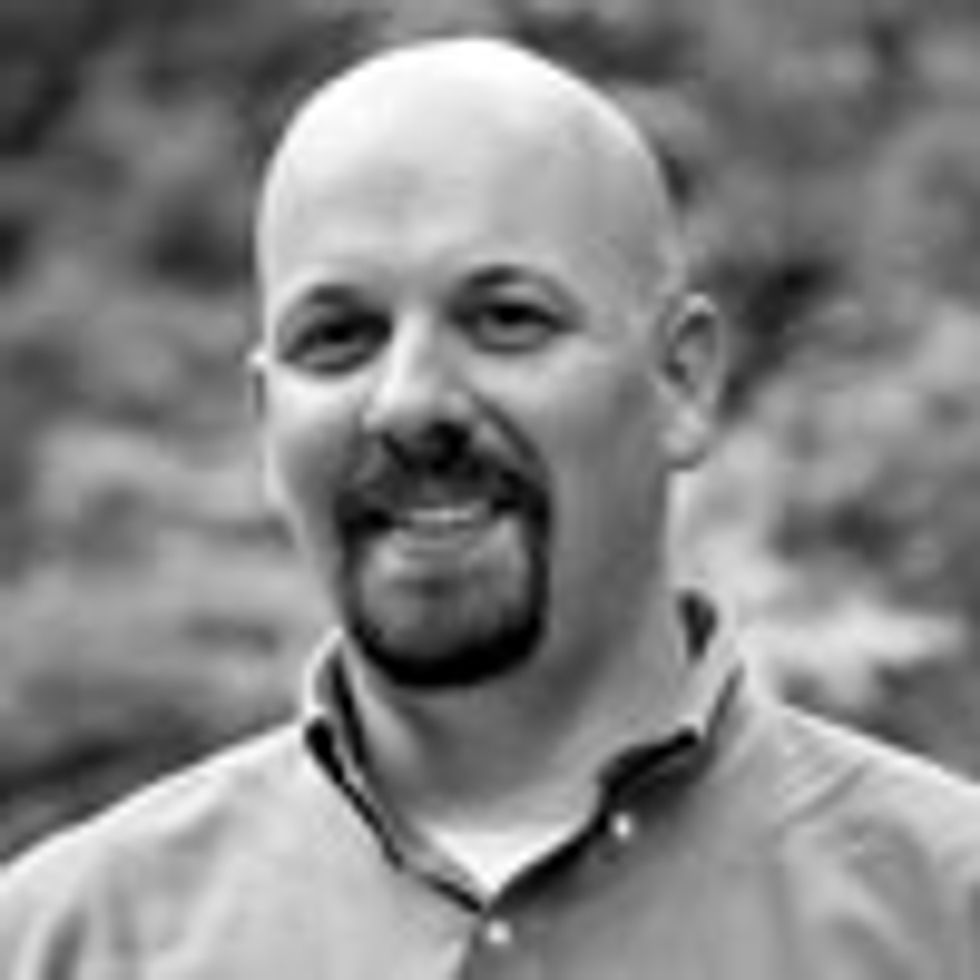 Today is a great day for the future of the IT sector.
Over the past few years, we've campaigned hard against Facebook to get them to commit to clean energy—specifically, we wanted them to change their siting policy—the decisions that they make about how to power their massive football-stadium-sized data centers.
When you go onto Facebook or Twitter or iTunes, your stuff—photos and music, status updates and party invitations—has to be stored somewhere. It's not something we all spend a lot of time thinking about, but that's how we use computers, and how we're going to use them in the future. It's called "the cloud." It's growing fast—right now if the cloud were a country, it would be the fifth largest country in the world in terms of global warming emissions.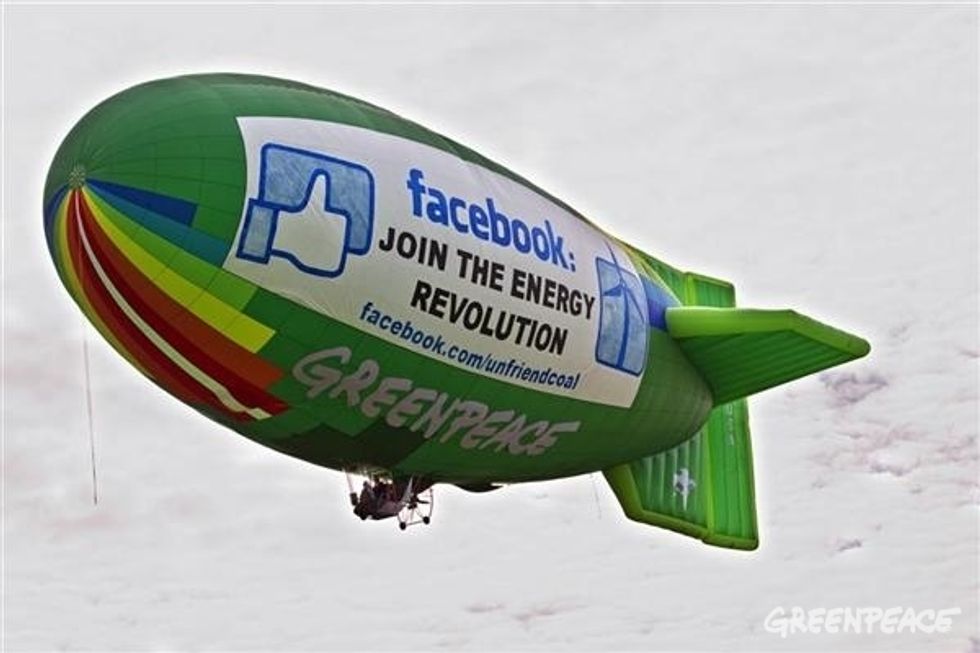 All that information is stored in massive data centers, which look like huge warehouses straight out of the Matrix. And more often than not, those data centers are powered by coal.
Like anyone else, I love Facebook. It's changed the way we can talk to our supporters on the web—I can log in and see how people are engaging with our campaigns, what excites them and what motivates them, and what changes they want to see in the world.
We've won historic victories by relying on the power of Facebook—victories against major brands that happened virtually overnight. On our Facebook campaign, we set the Guinness Record for number of Facebook comments on a page in 24 hours. When I, or any of our activists, use Facebook, we want to know that we're not contributing to the very problems that we're fighting.
What we're asking of corporations like Facebook is actually pretty incredible—we want them to be ambitious. We don't just want them to "do no evil," (as Google says)—we want them to do good. In fact, with the failure of the recent negotiations in Durban and America's inability to pass climate legislation, we're asking companies like Facebook to look far into the future, think about what's good for their business and what's good for the planet.
We're asking them to be champions, and they're stepping up and doing it.
Facebook has raised the bar for everyone, and we're now looking for companies like Apple, Twitter and Microsoft to make their next move. What's even more incredible is now that Facebook is demanding clean energy, utilities, like Duke Energy, are going to have to supply it.
This is the future of campaigning—big business isn't going anywhere, so we want them on our side. We think corporations can be the good guys, if people demand it. We've asked them to step up and they've done it.
Since the beginning of our seafood supermarket campaign, along with other organizations, we've gotten 15 major supermarket chains around the country to improve their sustainable seafood policies. Just this year we've gotten two of the largest toy companies, Hasbro and Mattel, to stop sourcing their paper from Asia Pulp and Paper, a major contributor to Indonesian deforestation. And just this week, GE and Ben & Jerry's were successful in pressuring the U.S. Environmental Protection Agency to make green refrigerants legal in the U.S., a step that will make a huge difference for the climate.
There's so much more to come in 2012—we're working to get the major tuna brands to use better fishing methods. We've got even more planned for the IT sector because we want to be able to use our gadgets, tweet and live our 21st century lives knowing that the cloud is cleaner.
And, as we say at Greenpeace all the time—no permanent allies, no permanent enemies. We're committed to standing up for the truth and pushing corporations to be their absolute best—not just dollar-driven profiteers, but true members of our global community. Sometimes that means flying an airship over their headquarters (yup, we did that with Facebook too!) and sometimes it means standing together to ask for better solutions. So here's to 21st century campaigning and unlikely allies. And thank you Facebook for helping us make history!
Read the agreement between Greenpeace and Facebook by clicking here.