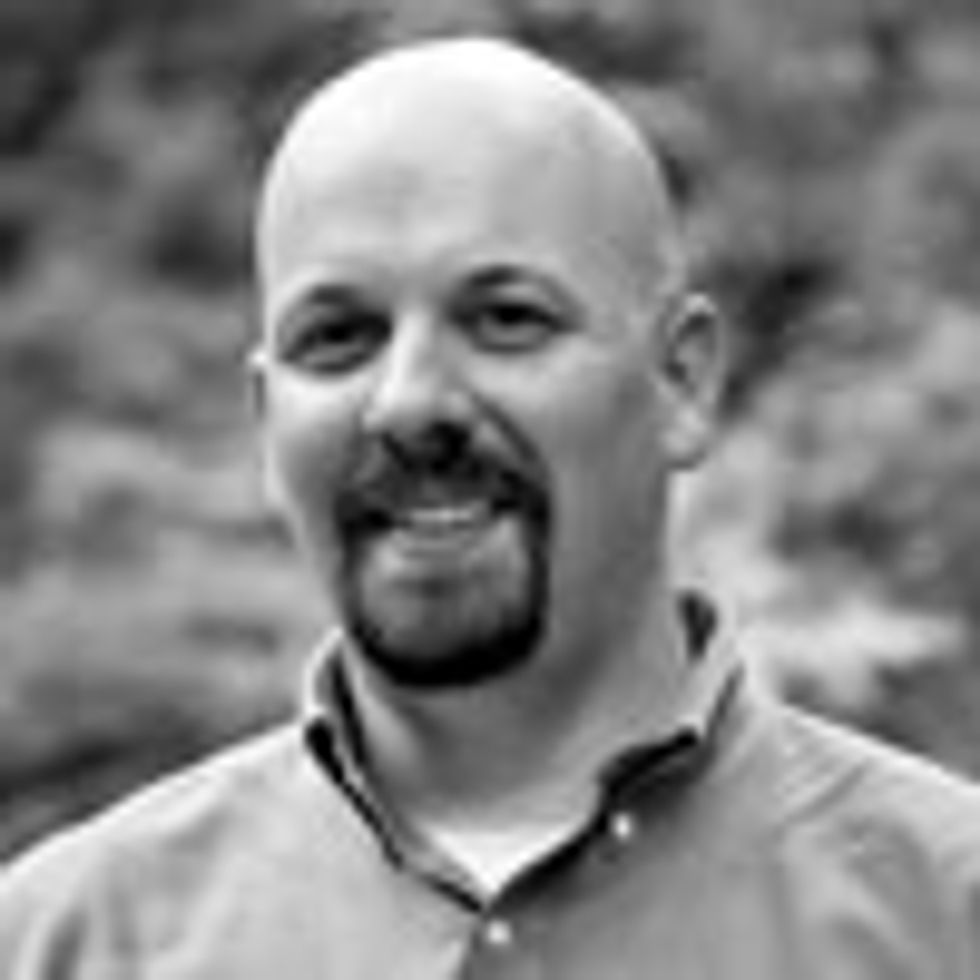 It's easy to see the effects of big corporations on our environment in places like Ohio and North Dakota, where fracking is spoiling farmland, or Arkansas, where the Mayflower oil spill is still causing havoc, or Alaska, where carbon pollution is pushing polar bears to the brink of extinction. It can be harder to see it here in Washington, D.C. But make no mistake, here in D.C., the secret political contributions from the 1 percent of the 1 percent of the 1 percent are doing as much damage to our environment as anything else.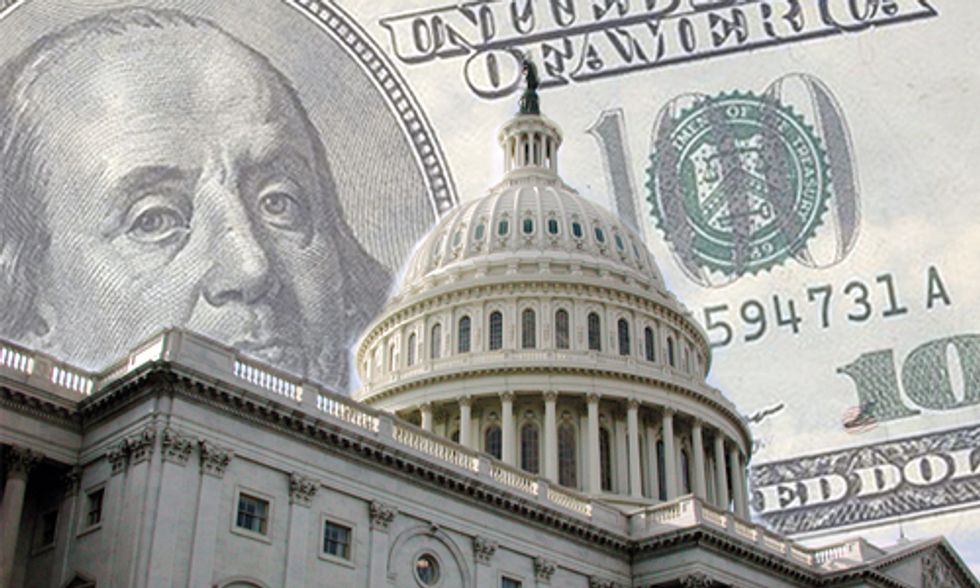 This "dark money" flowing through our political system props up politicians and campaigns that have already helped kill the climate bill and make it so one-quarter of all the votes in the House last year were to gut environmental laws. Dark Money encourages politicians to hamstring necessary governmental functions like overseeing the U.S. Environmental Protection Agency, and it helps make the Koch Brothers agenda of deregulation and corporate anarchy a reality. Dark Money works against all of us who wish to uphold the principles of democracy that America was founded on—transparency and fairness—and it must be stopped. For our democracy to function, voters must know who is paying for what. When our government is so thoroughly captured by corporate interests, this is the only way we can make informed choices. It's time to shine a light on dark money.
There are tools in place to begin to do this right now. One such tool is to have the Securities and Exchange Commission (SEC) require corporations that make political contributions to disclose those donations to their shareholders. In 2011, a bipartisan group of academics concerned by the Supreme Court's Citizens United decision asked the Securities and Exchange Commission to create a rule to require publicly traded companies to do just that.
The rule, once proposed, made a lot of sense to a lot of people. It's a simple, straightforward way for us to keep tabs on our officials, and the corporations who want to buy access and influence. The rule received a record-breaking 700,000 positive comments from retail investors and concerned citizens, as well as pension fund managers and State Treasurers who wanted to know where their hard-earned investments were going. It even made sense to more than 100 leading companies, who began taking the initiative to publicly disclose their political spending as the rule moved forward.
Even with all of this backing, SEC Chairman Mary Jo White removed the rule from the committee's formal long-term agenda. Unbelievable. It appears that special interests groups like the Chamber of Commerce, who desperately want to keep their billions flowing in the dark, won another round because they bet on a cynical public not engaging.
But the fight isn't over.
Everyone from Red States to Blue States wants to see who's paying the piper. According to a recent poll from MFour Research and Tulchin Research and commissioned by Represent. Us, 91 percent of Americans think that our elected leaders should be doing more to get money out of politics. In addition, studies commissioned by the Center for Economic Development and the Center for Political Accountability found a strong majority of business leaders endorsing corporate disclosure of direct and indirect political expenditures. Investors want to know where their money is going just as much as everyday Americans want to know who's calling the shots in our Congress.
This rulemaking deserves action now, and so the agency should make a statement by placing this rule on the agenda for a public hearing. Add your voice to the millions calling for the SEC to shed more light on dark money.
Follow Phil Radford on Twitter.

EcoWatch Daily Newsletter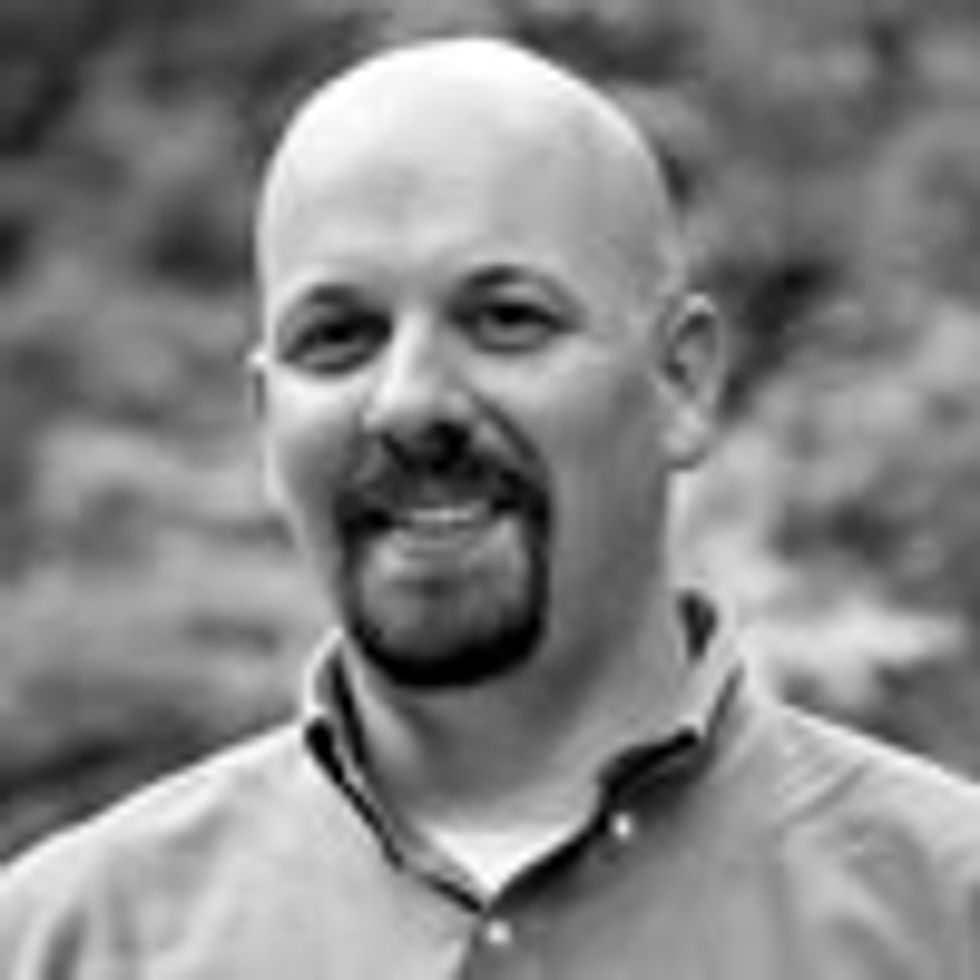 This Thanksgiving, people around the country who have felt some of the most severe impacts of climate change have come together to thank people taking action—in large and small ways—to try to stop the unfolding catastrophe.
This remarkable video shows people from Louisiana to Alaska standing together against the big money fossil fuel companies who are destroying our climate. These are just a few of the people who stand in solidarity with all of those who are risking their lives and freedom to protect the planet. It's a timely reminder that we all have a lot of #ClimateThanks to give, especially as we at Greenpeace welcome our Arctic 30 colleagues as they emerge from two months of "pre-trial" detention in Russian jails for protesting Arctic drilling.
The people in this video aren't NASA scientists or global policy wonks. They aren't necessarily "activists." They're people from coast to coast (and in between) who are living every day under the threat of catastrophic climate disasters, from superstorms like Sandy to unprecedented wildfires in Colorado and California. They're some of the millions of Americans who see the connection between carbon pollution and climate change, and we proudly stand with them.
Thank you!
Visit EcoWatch's CLIMATE CHANGE page for more related news on this topic. 

seed.com
You can't discount the importance of your gut health. Research shows that the microbiome within your digestive system has a disproportionate impact on how well your whole body functions.

Unfortunately, bad diets, the overuse of antibiotics, and other stressors mean many of our digestive systems are in trouble. Probiotic supplements claim to solve this problem by replenishing your gut with the healthy bacteria it needs for optimal functioning. Here, we'll analyze the popular probiotic brand Seed to determine whether its supplements are worth taking.
How We Review Probiotics
Whenever we review a probiotic supplement, we evaluate six specific categories.
Number of active strains - How many types of bacteria are included?
AFU (Active Fluorescent Units)/ CFU (Colony Forming Units) - These units of measurement tell you how many billions of bacteria are estimated to be within each supplement dose.
Storage Requirements - Some probiotics are shelf-stable, while others require refrigeration.
Ingredient Transparency – does the company disclose where it sources its active strains and provide clinical research for their efficacy?
Value - How are the probiotics priced? Can you purchase them without an auto-ship program?
Sustainability - Does the company show ways its supplements are better for the environment through sustainable ingredient sourcing or packaging?
Let's evaluate these criteria for Seed.
About Seed Probiotics
Seed is an e-commerce supplement brand with a single product—the DS-O1 Daily Synbiotic probiotic. The company got its start in 2018 when cofounders Ara Katz and Raja Dhir determined that the current probiotic supplements available weren't hitting the mark.
Katz's experiences of pregnancy and breastfeeding as a new mom led her to develop a deeper appreciation of the body's microbiome and its role in overall health. She joined forces with Dhir, who had the scientific experience to understand what could be improved within the probiotic industry.
Together, they strove to create a supplement that "raised the bar on bacteria" by giving the body what it needed for all its systems to operate most effectively. They collaborated with a large team of entrepreneurs, artists, and scientists to develop a probiotic known as DS-01 Daily Synbiotic.
The Seed DS-01 Daily Synbiotic
seed.com
Active Strains - 24
AFU - 53.6 billion AFU
Storage Requirements - Shelf-stable for 18 months after opening
Ingredient Transparency - Clinical data available for each strain
Sustainability - First order ships in reusable glass canisters and subsequent orders arrive in compostable biofilm.
Value - $49.99/60 supplements (30-day supply subscription)
The DS-01 Daily Synbiotic is a broad-spectrum probiotic that combines 24 probiotic strains with a non-fermenting prebiotic concentrate of Indian pomegranate for better delivery. Of these strains, 23 are human-derived, and one is isolated from fruit and added to promote healthy cholesterol levels.
These strains work synergistically to support the 38 trillion bacteria that make up your microbiome. They will purportedly help the body digest food, minimize inflammation, and better synthesize nutrients.
This supplement contains four distinct probiotic blends:
Digestive Health/ Gut Immunity/ Gut Barrier Integrity: 37.0 Billion AFU
Dermatological Health: 3.3 Billion AFU
Cardiovascular Health: 5.25 Billion AFU
Micronutrient Synthesis: 8.05 Billion AFU
(See strain-specific studies here)
How It Works
With these multiple strains, the company claims to take a 'Microbe-Systems Approach' through microbes that impact specific physical functions beyond the digestive system. These include skin and heart health, better immune system functioning, and micronutrient synthesis.
In other words, DS-01 goes beyond digestive issues to support full-body health. The company claims it's even one of the first probiotic formulations able to synthesize folate and increase its production.
Seed's DS-01 Daily Synbiotic probiotic also stands out with its delivery system. The supplement utilizes "nested capsule technology" along with a patented algae delivery system. This two-in-one capsule design houses the probiotic formula within a prebiotic casing made from Indian pomegranate to ensure these fragile bacteria survive both sitting on store shelves and the perilous journey through stomach acid to your colon.
Through this method, Seed claims to average a 100% delivery rate of the probiotic's starting dose to your colon. According to internal testing, DS-01 probiotics will exceed the living cell counts listed on the label even after ten days of constant 100º F exposure.
Usage Instructions
Adults can take two Seed probiotic supplements per day, preferably at the same time. It's best you do so on an empty stomach to limit the capsule's exposure to digestive enzymes that start to break it down. However, those with sensitive stomachs may want to eat something first. While you'll get optimal results from taking the supplements daily, it's not a problem if you occasionally skip one.
If you're new to probiotics, start by taking one per day for the first three days and then increasing your dosage to two per day. You may feel its effects on your digestive system within 48 hours, though long-term improvements to the cardiovascular system take more time and might not be noticeable to you.
Seed probiotics don't need require refrigeration. They are shelf-stable for 18 months at temperatures up to 78℉ and are safe to take when expired. Just note that the company can't guarantee their potency at this point.
How to Buy
Seed DS-01 Daily Synbiotic probiotics are only available on a subscription basis. They cost $49.99 per month and ship free throughout the US (international orders include a $10 shipping fee).
You will receive a 30-day supply (60 capsules) when you order through the company website, and the first order includes a reusable glass canister and travel vial. Each subsequent order arrives in compostable biofilm so you can transfer the capsules to the reusable ones.
All first orders are covered by a 30-day risk-free trial, during which you can return the probiotics for a full refund. It's possible to cancel the subscription at any time by contacting customer service at [email protected].
Note: At publication, these probiotics were sold out. They are available for pre-order and expected to ship again in 2-4 weeks.
What We Like About Seed
As a product within the largely unregulated supplement industry, Seed broad-spectrum probiotics earn major points from us for both transparency and abundant clinical research. The company shares detailed information about every bacterial strain within the supplement and links out to the scientific studies highlighting their effectiveness.
Customer reviews on Facebook and other review sites show that Seed probiotics work as described for many users. Some shared they experienced positive improvements in their digestive system within 48 hours and noticed better-looking skin within a month.
Those with allergies or food sensitivities will also appreciate these supplements are soy-free, vegan, gluten-free, dairy-free, corn-free, and free of binders and preservatives.
From a consumer standpoint, Seed makes taking probiotics simple. The shelf-stable formula means you won't have to store them in the fridge, and each 30-day supply is guaranteed to remain viable for 18 months after opening. Likewise, the nested capsule delivery system should improve how many billions of bacteria make it into your digestive system intact.
Equally noteworthy, we love Seed's commitment to environmental sustainability. By sending each customer two reusable glass containers at the start of their subscription, the company minimizes the packaging waste for each subsequent order.
What We Don't Like
Despite these positives, Seed broad-spectrum probiotics have some downsides. To start, they are pricier than many competitors. You will pay $1.66 per day's dose, which is more than some want to pay for supplements.
It's also not possible to try them without committing to a monthly subscription. While it will take several weeks or longer to start noticing their effects, some customers might not want to be locked into an auto-ship program so early in the experimenting process.
Likewise, some customer reviews complained of unexpected side effects such as breakouts and rashes. It's not clear whether these went away for users after a few weeks of use.
Finally, it's currently only possible to pre-order these supplements. If you're dealing with digestive distress today, you may want to try a probiotic brand that's available right now for faster relief.
Seed Safety & Side Effects
Seed DS-01 Daily Synbiotics are considered safe for adults over 18. Each supplement is vegan and free of common allergens like gluten, dairy, soy, and corn. They have undergone extensive third-party testing and adhere to the highest global regulatory standards for safety.
As with all probiotics, you might notice unpleasant side effects when you start taking them. Many people experience bloating, increased gas production, constipation, and other gastrointestinal problems for the first few days.
This can be discouraging, as many users take probiotics precisely to combat these symptoms in the first place. However, your system should adjust to the new bacteria within two weeks, and this digestive distress should diminish accordingly.
The DS-01 Daily Synbiotic is classified as safe for women who are pregnant and breastfeeding, although the company recommends speaking with a medical professional before starting them. As will all probiotics, you should not take these supplements if you have a weakened immune system, recently underwent surgery, or if you have a serious illness. Speak with your doctor before starting any dietary supplement if you have concerns or questions.
Takeaway: Are Seed Probiotics Worth It?
The Seed DS-01 Daily Synbiotic is well-formulated and shows clinical evidence of improving your gut biome for far-reaching health benefits. The company solves the tricky problem of selling a live product with its innovative delivery system that keeps the bacteria within the supplement safe both on the shelf and through the digestive process.
If you are dealing with digestive problems, or are looking for a way to improve your general health, then this broad-spectrum probiotic might be one worth trying.
Just keep in mind that you might feel worse for a few days before the microbes will take full effect in your gut and that giving it a try means you are committing to a monthly subscription.
Lydia Noyes is a freelance writer specializing in health and wellness, food and farming, and environmental topics. When not working against a writing deadline, you can find Lydia outdoors where she attempts to bring order to her 33-acre hobby farm filled with fruit trees, heritage breed pigs, too many chickens to count, and an organic garden that somehow gets bigger every year.
By Daryl Hannah and Phil Radford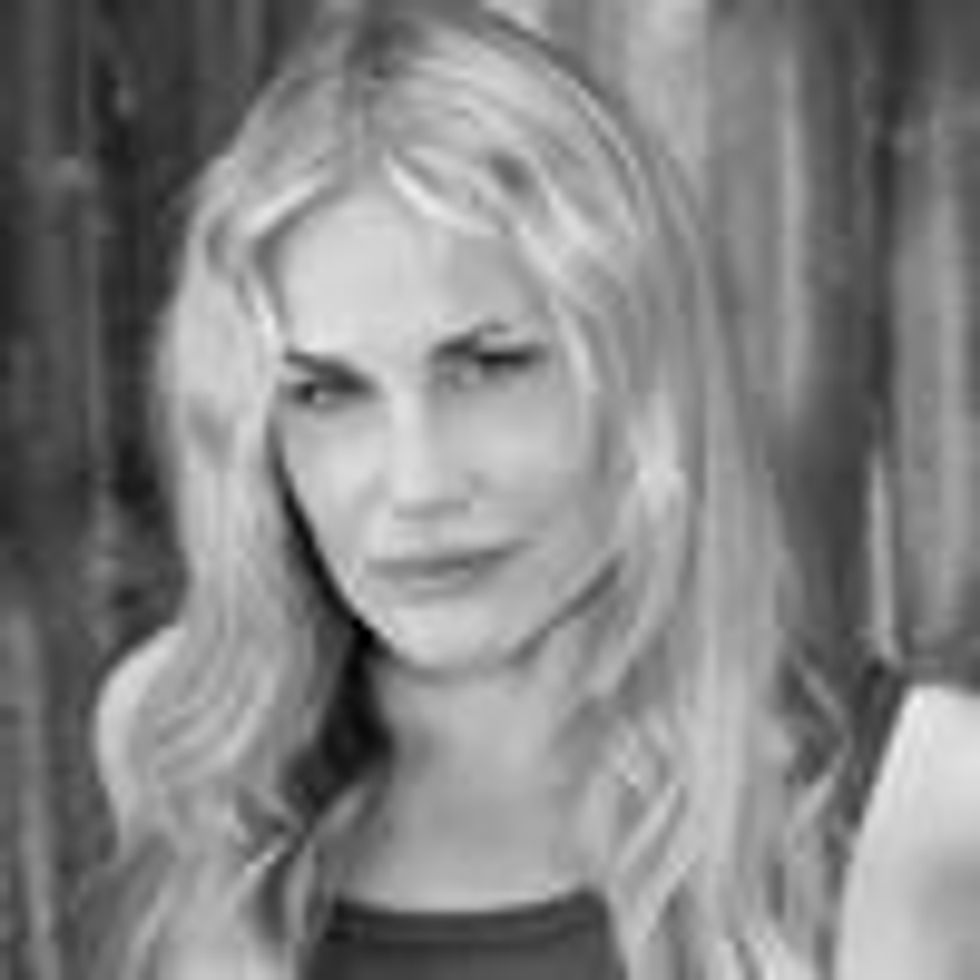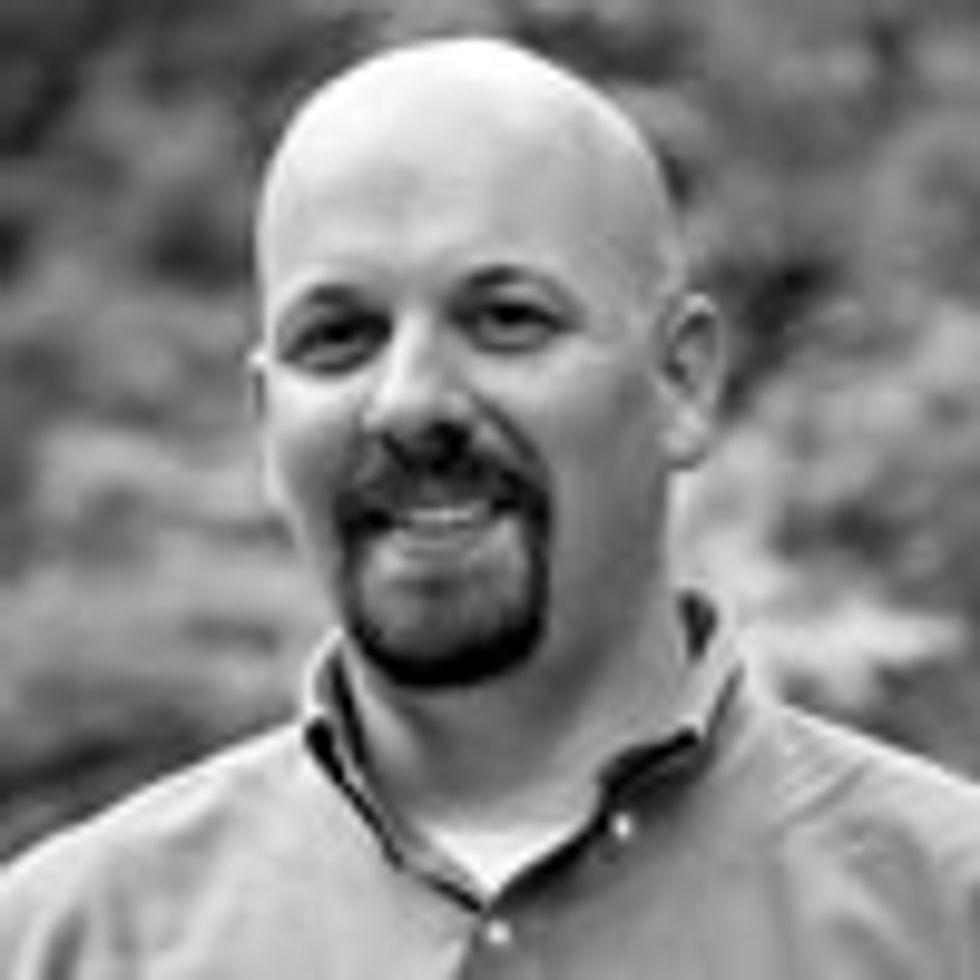 All around the globe, record numbers of people from all walks of life are being thrown into jails because they are standing up to protect the most basic of human needs—uncontaminated water, unpolluted lands and a liveable climate free from the ramifications of extreme fossil fuel extraction. If the greed-driven fossil fuel extraction corporations—and the governments that do their bidding to assure sustained record profits—don't stop endangering our critical and already-compromised life support systems, there is little doubt that the numbers of individuals standing up will grow exponentially.
People are increasingly recognizing the critical necessity to safeguard our communities and our ecosystems, and growing numbers around the world are taking that bold step to engage in the time-honored tradition of peaceful civil disobedience as a means of alerting others to the dangers that threaten us all. This map from The Public Society shows some of the major protests against fossil fuel extraction in the past year alone, and the reach is staggering.
Help Free the Arctic 30 and Stand Up Against Fossil Fuel Extraction Everywhere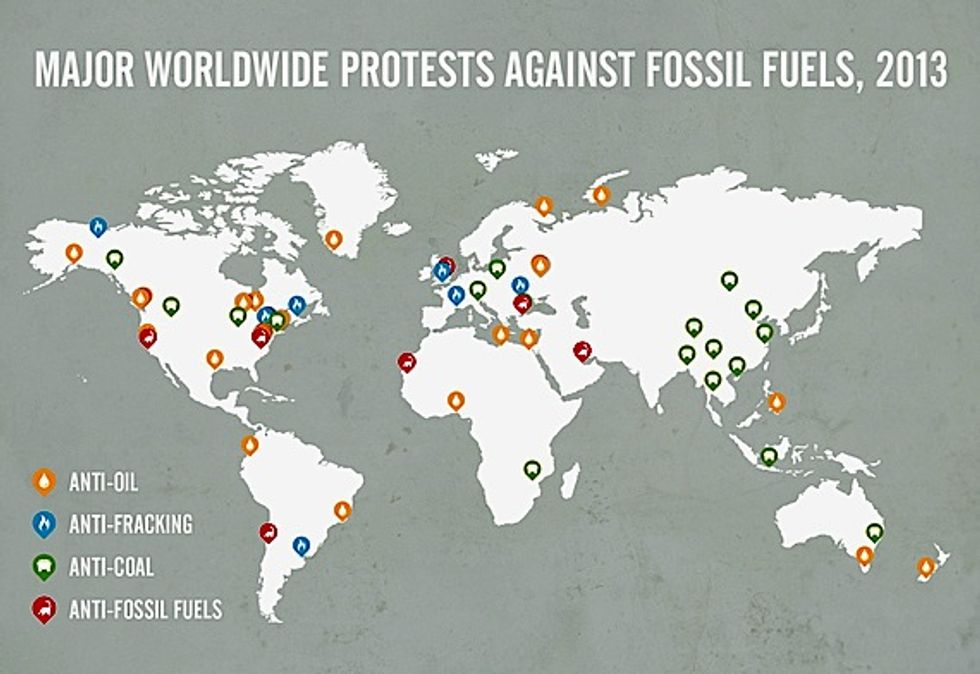 Those of us who choose civil disobedience as a tactic, often of last resort, do so not because they are looking to get away with a crime, but because we are seeking to shine a light on laws that allow for injustice to prevail. No one wants to go to jail. But the history of righting terrible wrongs is first a history of individuals putting their bodies on the line, risking arrest, facing uncertain circumstances and sometimes going to jail (or worse), long before the nation or the world awakens to the realities of what amounts to legalized decimation, injustice and oppression.
There were times in our history here in the U.S. where the law of the land allowed slavery, prohibited women the right to vote, left children unprotected by labor laws and didn't guarantee the civil rights of all citizens. In the U.S.'s many hard-fought movements of great social progress—the abolitionist movement, women's suffrage, labor and civil rights movements, as well as the free speech, peace, and environmental justice movements—there have always been those who were out in front, laying their bodies on the line and leading the way—well before the lawmakers followed with new legislation designed to make this a "more perfect union."
The climate movement is well underway, and thousands of peaceful protesters and interventionists have already put their bodies and freedom on the line. As the world grapples with how to recognize the first of its climate refugees, and as it becomes desperately clear that carbon pollution must be urgently addressed, the quest for more difficult to access and dirtier oil and gas has never been more furious. In the states, lawmakers in the pocket of extraction industry make the pillaging easier and the public health concerns more profound by allowing exemptions from the Clean Water Act, the Clean Air Act, and Safe Drinking Water Act. So, in the U.S. alone, more than 76,000 have pledged to engage in dignified acts of peaceful civil disobedience if the debacle that is the KeystoneXL pipeline is allowed to proceed through our country's heartland.
The third largest threat to our planetary climate—third only to mining nearly all of China and Australia's coal—would be drilling for oil and gas in the Arctic, where oil companies plan to take advantage of melting sea ice in this most sensitive region on earth. If their plan were to succeed, despite the technical obstacles and enormous environmental risks, the drilling would add 520 million tons of carbon pollution to the atmosphere per year, as much as all of Canada's annual global warming pollution.
That's why Greenpeace activists and independent journalists determined to bring this urgent threat to humanity to light journeyed to the Russian Arctic to protest the first ever offshore Arctic oil drilling project. On Sept. 19, consistent with the tradition of peaceful direct action, Greenpeace activists scaled a Gazprom oil platform to hang a banner off of the side. They hoped to bring awareness of the frightening risks of runaway climate change and the devastating effect of oil spills that Arctic drilling could bring to the world.
The Russian Federal Security Services responded with force, firing 11 warning shots into the water just inches away from the Greenpeace small inflatable boats. Two activists were taken by the knife wielding agents, while the other 28 activists and journalists remained on the Greenpeace ship, the Arctic Sunrise.
The next day, in international waters, 15 masked Russian troops rappelled on to the Arctic Sunrise from a helicopter, held all 28 civilians onboard at gunpoint, and seized the ship.
The Arctic 30 have been in Russian custody since.
While even President Putin said the activists and journalists were "obviously not pirates;" the Russian authorities detained and charged all 30 with piracy—a crime that carries a 15 year jail sentence in Russia. A few weeks ago, they added "hooliganism," charges which carry even more disproportionate penalties of up to seven years in jail. The illegal arrests on international waters and the outrageous charges have been condemned by governments and many human rights groups, including Amnesty International, while people in 220 cities from Jakarta to Hong Kong to California marched, calling for the release of the Arctic 30.
The disproportionate Russian response is like unleashing attack dogs on a sit-in.
History has shown us that peaceful activism is vital when all else fails to respond appropriately to the most pressing issues of our time. The great practitioners of non-violent direct action as a means of achieving social change knew this and practiced it only with love in their hearts. Mahatma Gandhi and Martin Luther King, Jr. both said in so many words, "if a law is unjust, it is your responsibility to break it." MLK once said, "injustice anywhere is a threat to justice everywhere." That one profound statement of moral genius succinctly exemplifies why the world must not be silent until the Arctic 30 are once again free.
Stand in solidarity with those who were willing and compelled to go to the front lines on behalf of all future generations. The risks that these activists have taken, and the cost to them personally and to their loved ones, need you to relentlessly demand that Russia free the Arctic 30—and of course that the world move swiftly, urgently and in earnest to a planet powered by clean energy.
Visit EcoWatch's ENERGY page for more related news on this topic.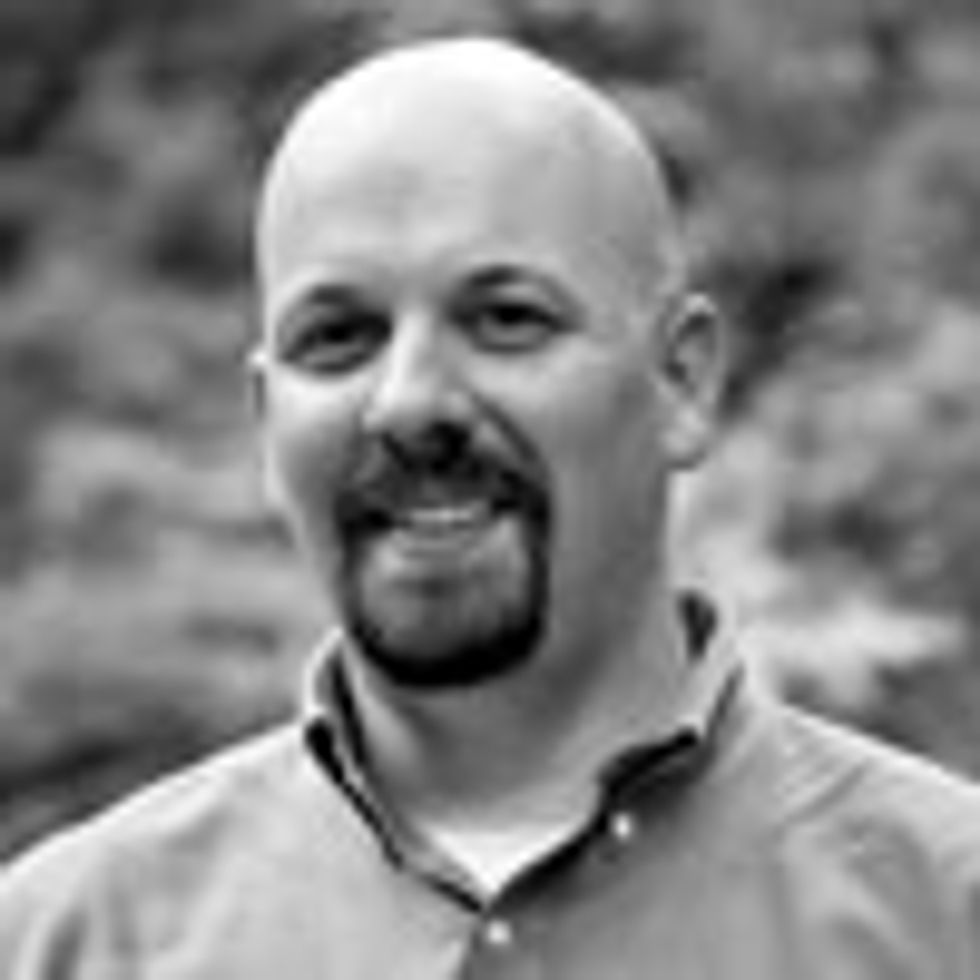 On Sept. 29, Steve Jensen, a farmer in northwest North Dakota, discovered crude oil "spewing and bubbling six inches high" out on his field while he was harvesting wheat. The spewing oil came from a break in Tesoro Corporation's underground pipeline which carries crude oil from Bakken shale formation—fracking for oil—to Columbus, ND. By the time clean up crews made it out to Jensen's field, more than 20,000 barrels of oil had spilled, making this one of the largest spills in state history.
It took nearly two weeks after Jensen first reported the spill for the state to finally make the news public, and as you can see from the exclusive Greenpeace photos below, the damage is extensive.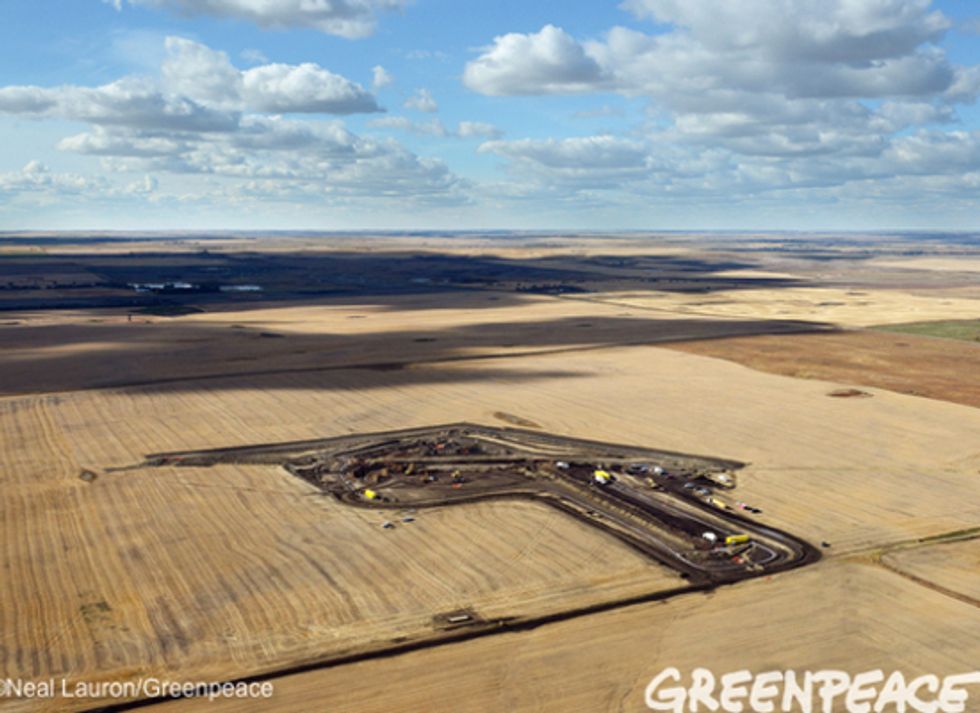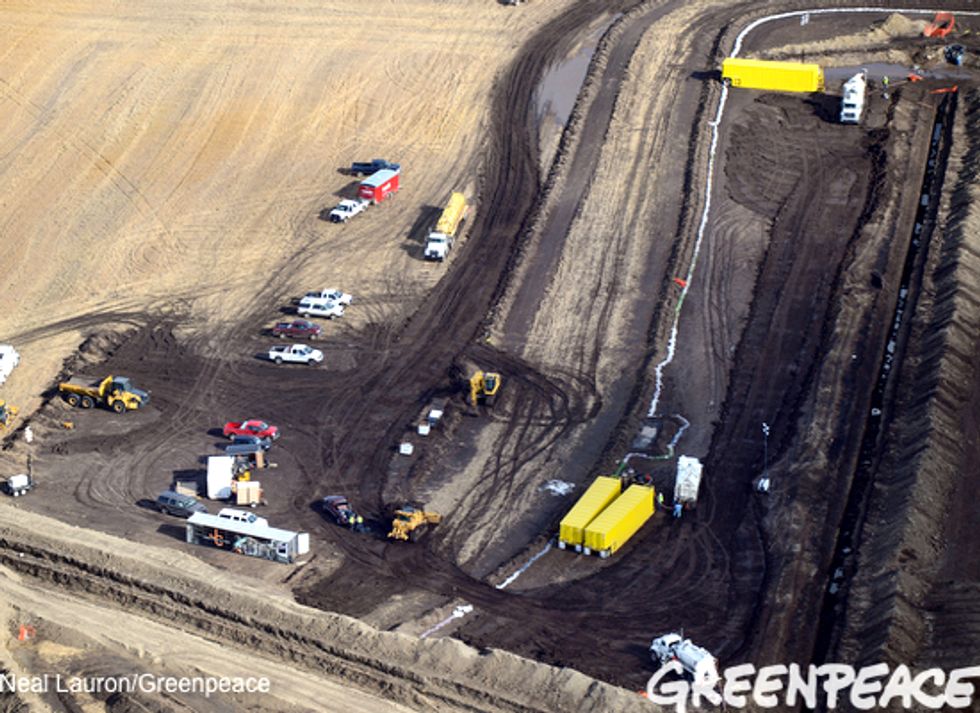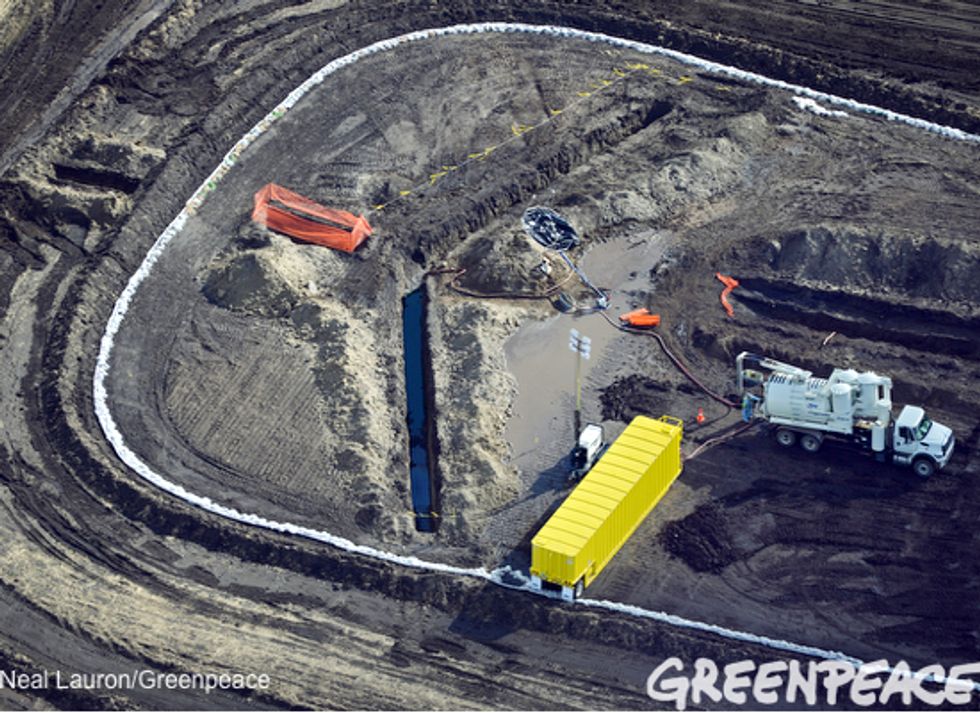 North Dakota and Bakken have become coveted areas for oil executives bent on getting the most extreme and remote fossil fuels out of the ground now that the "easy" reserves are on the decline. As we saw in Mayflower, AR, earlier this year, pipelines spill, and so as long as we let oil companies keep us locked into these forms of extreme fossil fuels, we'll continue to see spills like these.
Visit EcoWatch's PIPELINES page for more related news on this topic.
——–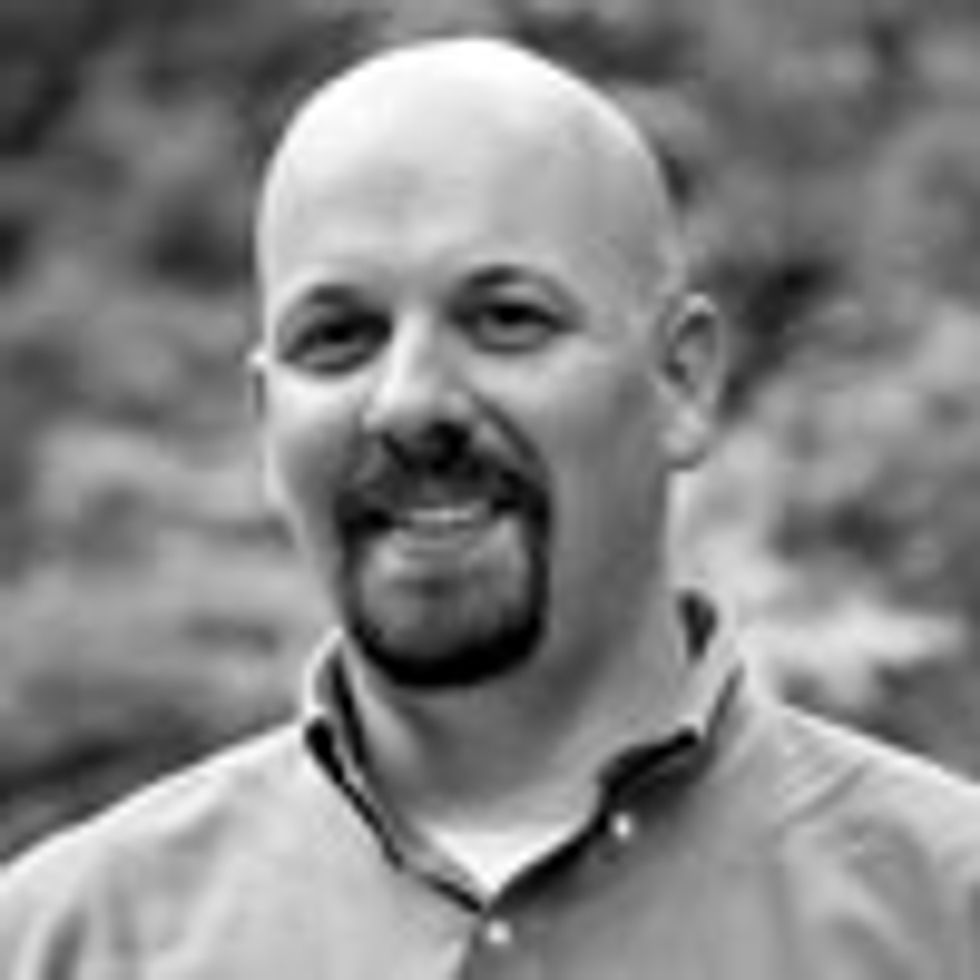 The fossil fuel industry is desperate. They're searching the earth for more and more extreme forms of energy, hoping to get the last of the oil, coal and gas out of the ground before it's all gone.
With this extreme desperation for fossil fuels comes extreme behavior. Russian oil giant Gazprom is trying to get the last of the oil and gas out of the Russian Arctic, an extreme endeavor likely to cause massive disruption to that delicate ecosystem, in addition to fueling catastrophic climate change.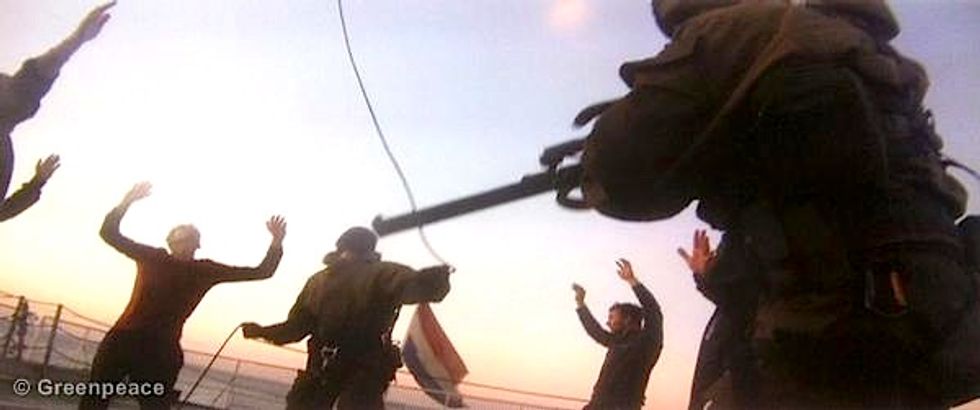 And when Greenpeace activists tried to peacefully demonstrate against this oil giant, these terrifying photos show how the Russian military responded.
With guns, knives and extreme, disproportionate intimidation. And now, today, after the Arctic 30 have been detained for days without charges, we've finally learned that the Russian government has the audacity to charge five of the Arctic 30 with piracy. Look at those photos. Who do you think the pirates are?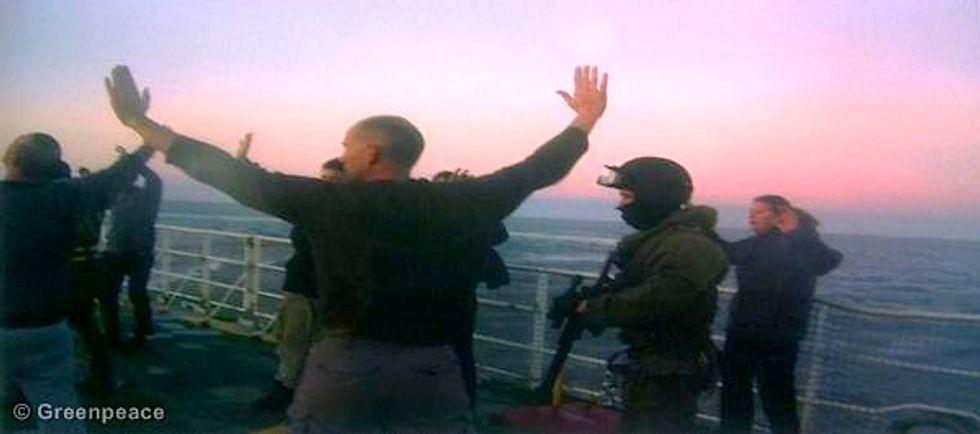 As Kumi Naidoo of Greenpeace International says, this is now the most serious threat to Greenpeace's peaceful environmental activism since agents of the French secret service bombed the Rainbow Warrior and killed our colleague Fernando Pereira because we stood against French nuclear weapons testing in the Pacific. Three decades later the activists of the Arctic Sunrise, including American ship captain Peter Willcox, also took a stand, this time against the powerful vested interests of the oil industry. And they could now face the prospect of up to fifteen years in a Russian jail.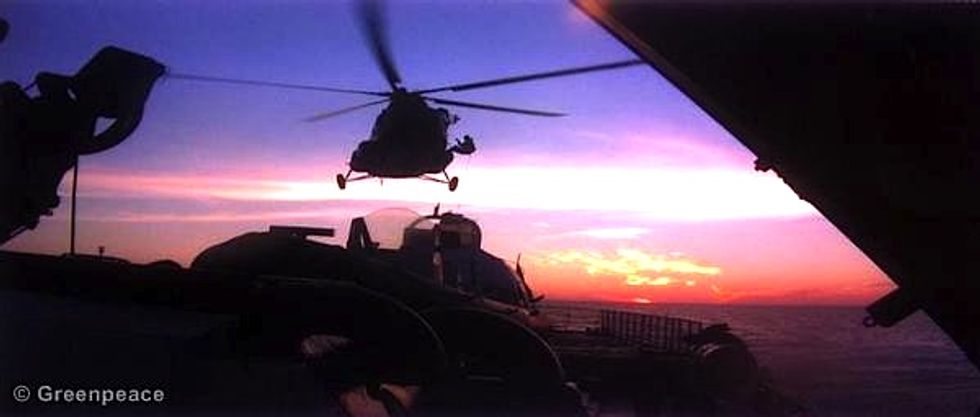 I call on people from across the world, anybody who ever raised their voice in support of something they believe in to stand with us at this moment demand the release of the Arctic 30 and an end to Arctic drilling.
Visit EcoWatch's OFFSHORE OIL DRILLING page for more related news on this topic.
——–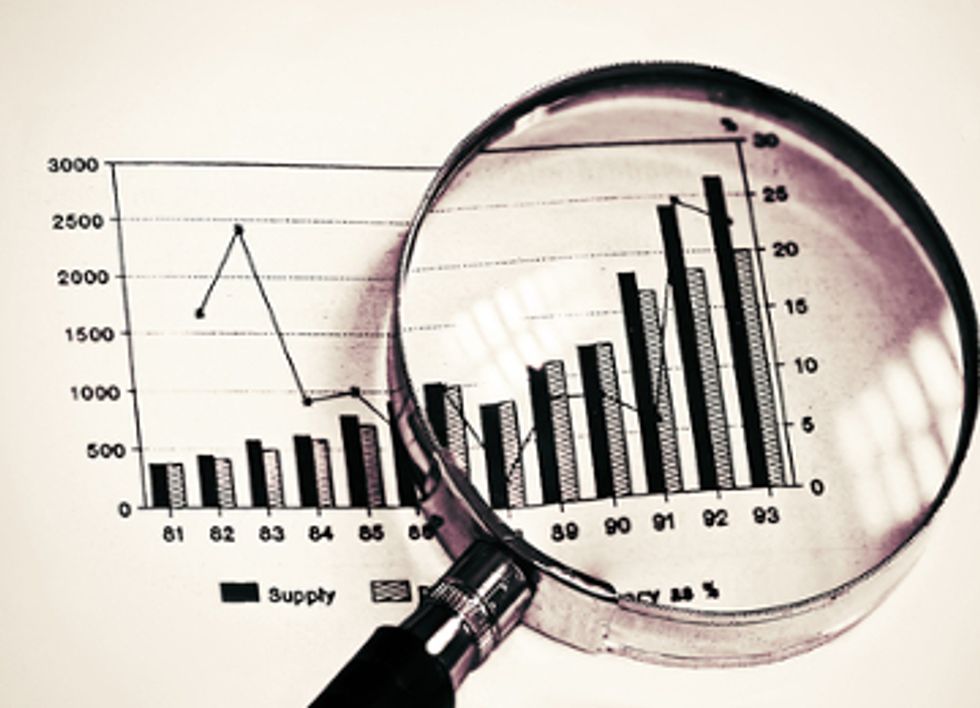 Photo courtesy of Shutterstock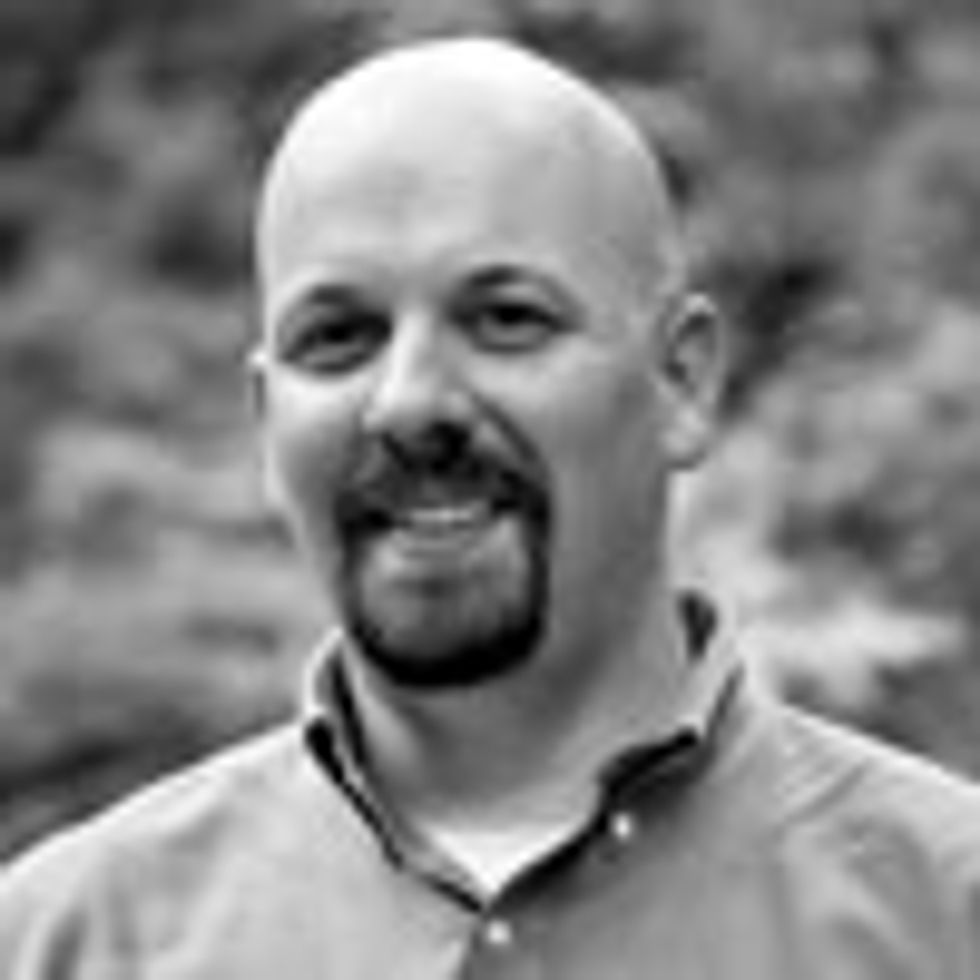 Today, the Center for Energy and Environmental Resources released a study funded by the Environmental Defense Fund (EDF) and the natural gas industry that stated two things: that the sample size it looked at is "not sufficient" to fully understand the methane pollution from fracking, and that the rates of methane pollution from this sample size are nonetheless 10 to 20 times lower than those calculated from more complete measurements in other peer reviewed studies. This discrepancy may be attributable to the fact that industry chose the locations and times of the wells that were studied.
At best this study will be considered an interesting outlier that calls for further research. At worst, it will be used as PR by the natural gas industry to promote their pollution. In fact, methane is 105 times more powerful than carbon pollution as a global warming pollutant, so figuring out its real climate impacts has very real consequences for us going forward.
Methane pollution from fracking is a serious and growing threat to global climate stability, which is why we welcome peer-reviewed studies that examine the climate impact of fracking. Unfortunately, these results seem so far from the results of other studies that the scientific watchdog group Physicians, Scientists, and Engineers for Healthy Energy has called this study "fatally flawed."
Here's the science: A recent study from the National Oceanic and Atmospheric Administration found that wells in the Uintah basin of Utah leaked 60 tons of methane per hour, and studies from Cornell University have found dangerously large methane pollution rates from fracking, showing that gas is not a viable "bridge fuel," and in fact could be worse for the climate than emissions from coal fired power plants.
In this EDF and industry funded study, only 190 well sites were measured out of the over 25,000 wells drilled in the last year alone. As the paper acknowledges, this sample size is "not sufficient" for measuring methane pollution from fracking at a national scale.
So what does this study tell us? Mainly, that we need more peer-reviewed studies that look more seriously into methane pollution from fracking nationwide, not just studies from the industry's best-bet wells.
There's been even more controversy on the people behind this study. Among others, Steve Horn at De-Smog Blog has long been skeptical of EDF's position in the industry studies, and he has a studious critique of this study's funding.
The fossil fuel industry desperately wants to get us hooked to its latest product before we have time to adequately study it. They know that renewable energy technology is here now and ready to be implemented, but they're hoping consumers won't notice, or have the courage to make the switch to the real Energy Revolution that can carry us fully into the future.
Visit EcoWatch's FRACKING page for more related news on this topic.
——–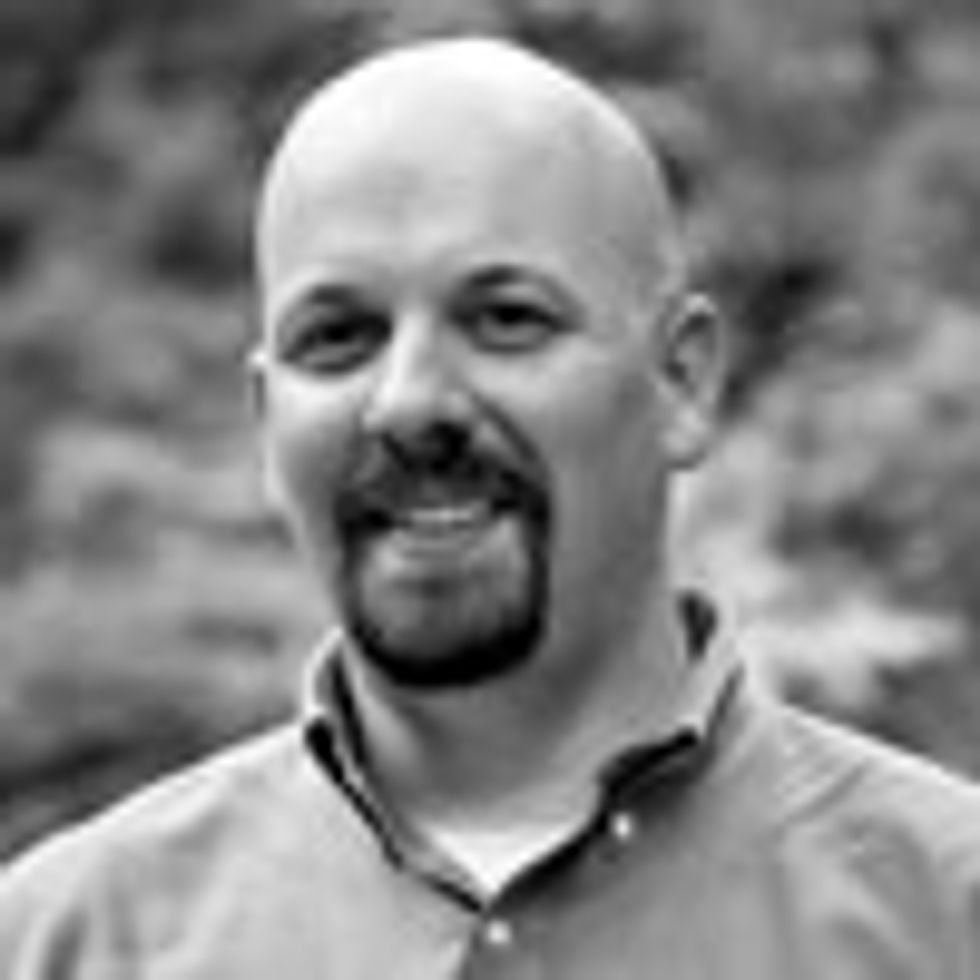 Tomorrow, the progressive movement will stand together to commemorate the 50th anniversary of the March on Washington because we want to protect working families, keep our air and water clean, and ensure justice for every American.
Corporate money is currently flooding our political system and drowning out the voices of everyday Americans. We are gathering together tomorrow in Washington to send the signal that this is still our fight  and we have the momentum to win it now. People from across the country are fighting to tip the balance of power back to the people, and away from big money and bigotry.
We want to realize Martin Luther King Jr.'s dream of America, but we can't do it if we're divided into separate groups.
If you believe in a united vision of government working for all of the American people, share this video to tell the world that "We Are All Connected."
Visit EcoWatch's CLIMATE CHANGE page for more related news on this topic.
——–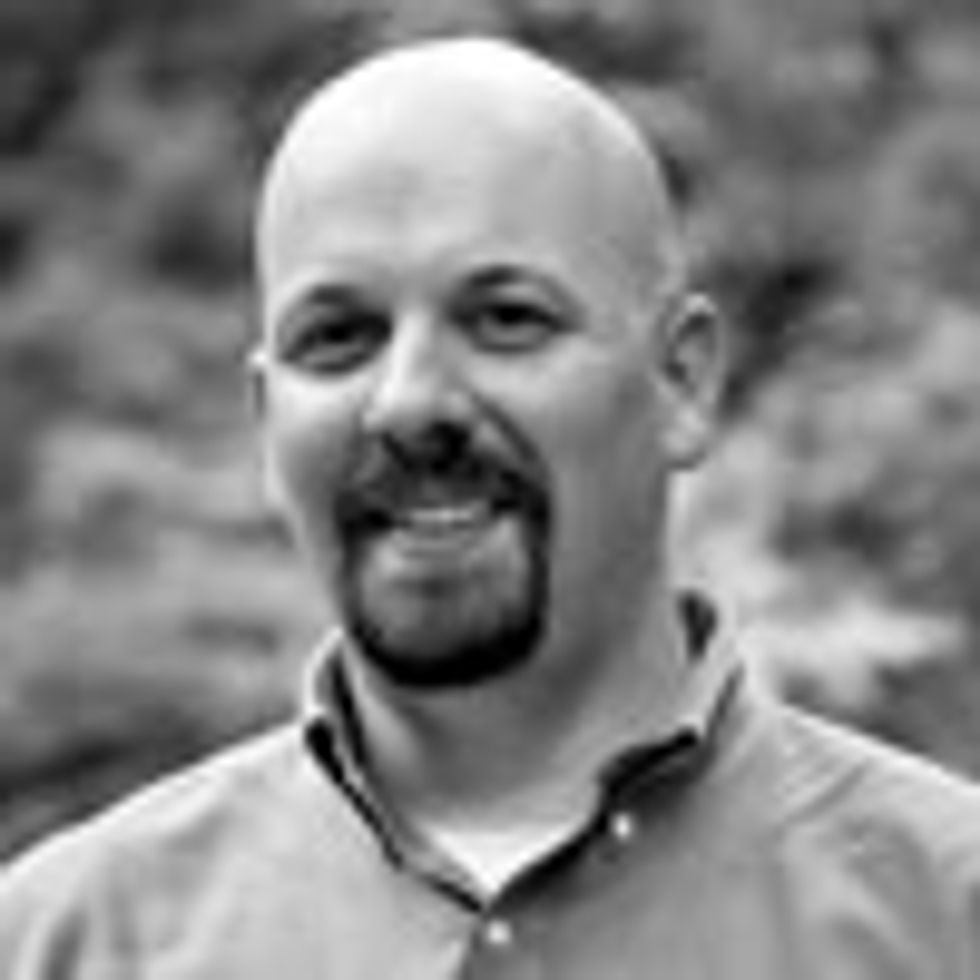 Last Thursday, President Obama issued an Executive Order mandating that the Environmental Protection Agency (EPA) and the departments of Labor and Homeland Security to develop plans for new safety measure at chemical plants like the one in West, TX, that exploded in April, killing 17 people and injuring hundreds.
That West, TX, tragedy was one of many preventable disasters that have happened in the decade since the EPA first proposed using the Clean Air Act to enforce common sense rules for chemical plants. It's been over 10 years, and we're still waiting.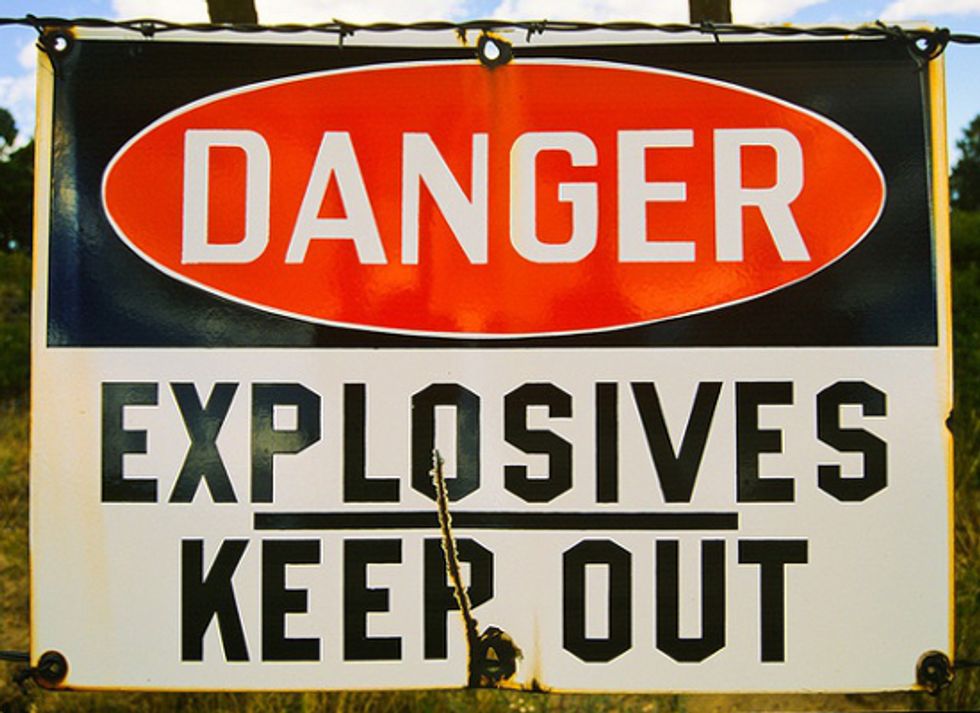 Even in the time since the West, TX, disaster, there have been at least six other serious, preventable chemical accidents around the country. This is a problem we not only should have, but could have, solved years ago, and now, with President Obama's order, the EPA has a clear mandate to do what a wide coalition of organizations have been urging it to do for years: use its existing authority under the law to require chemical plants to use safer processes and chemicals at thousands of facilities across the country. The safety of millions of people depends on it.
At the same time that the President issued his Executive Order, Greenpeace and more than 100 groups such as United Auto Workers, the Sierra Club, UPROSE, Rebuild the Dream, Environmental Defense Fund, National Domestic Workers Alliance, National Peoples' Action, MoveOn, Los Jardines Institute, and Community In-Power and Development Association sent a jointly signed letter to the new EPA chief Gina McCarthy urging her to make chemical disaster prevention a priority in her first 100 days in office. The path forward couldn't be clearer, and the risks of continued inaction couldn't be higher.
Unsecured toxic chemicals needlessly threaten our communities every day. According to the EPA's own data, there are more than 470 chemical facilities that each put 100,000 or more people at risk of injury or death from a sudden poison gas release. In 2004, the Homeland Security Council estimated that an attack on a poison gas facility would result in 17,500 immediate deaths, 10,000 seriously injuries and send an additional 100,000 people to the hospital.
These are astonishing numbers, so much so that it can be hard to understand just how close this problem is to most of us. Greenpeace has set up a quick way for you to find out how near you are to one of these facilities, and by simply entering your zip code here you can find out exactly how this issue affects you. The results might shock you, they certainly shocked me. But luckily, this is a problem with a solution.
Hundreds of chemical facilities, including all Clorox facilities in the U.S., have already taken it upon themselves to adopt safer procedures for their workers and the communities around their plants. As Greenpeace knows well, we can't simply rely on corporations to police themselves. There are still more than one-hundred million people at risk because they live and work inside "vulnerability zones" near the highest risk chemical facilities in major cities across the country.
The EPA needs to act now to ensure the safety of millions of people who who are needlessly endangered by un-secure toxic chemicals. The President has now made clear he is joining our call for action, but it's ultimately up to the EPA to use its existing authority to make our communities safe from toxic chemicals starting today. Safer alternatives and better regulations are the only fool-proof ways we can keep keep tragedies like West, TX, from happening again.
Visit EcoWatch's HEALTH page for more related news on this topic.
——–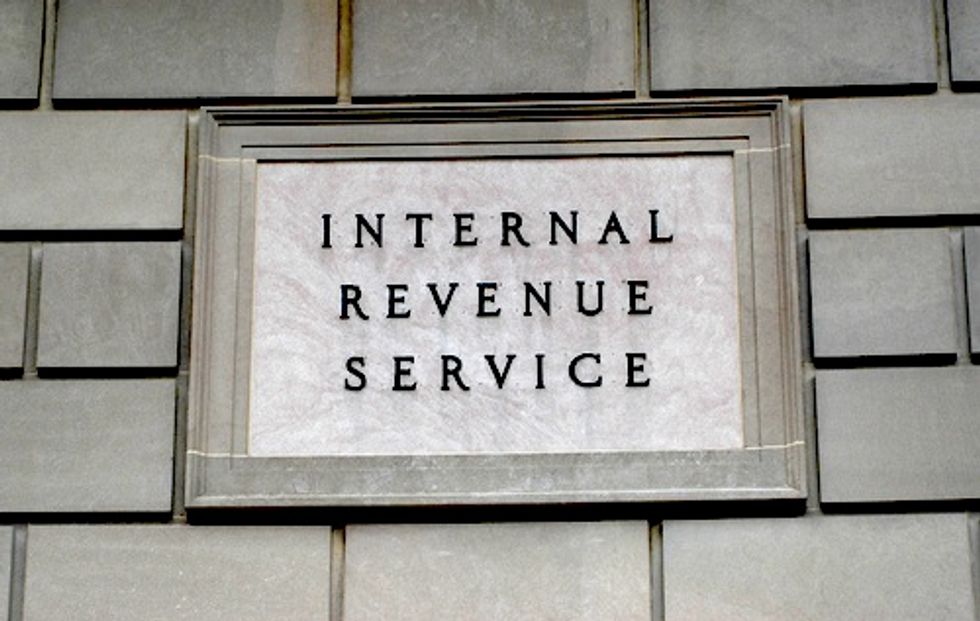 Photo courtesy of Shutterstock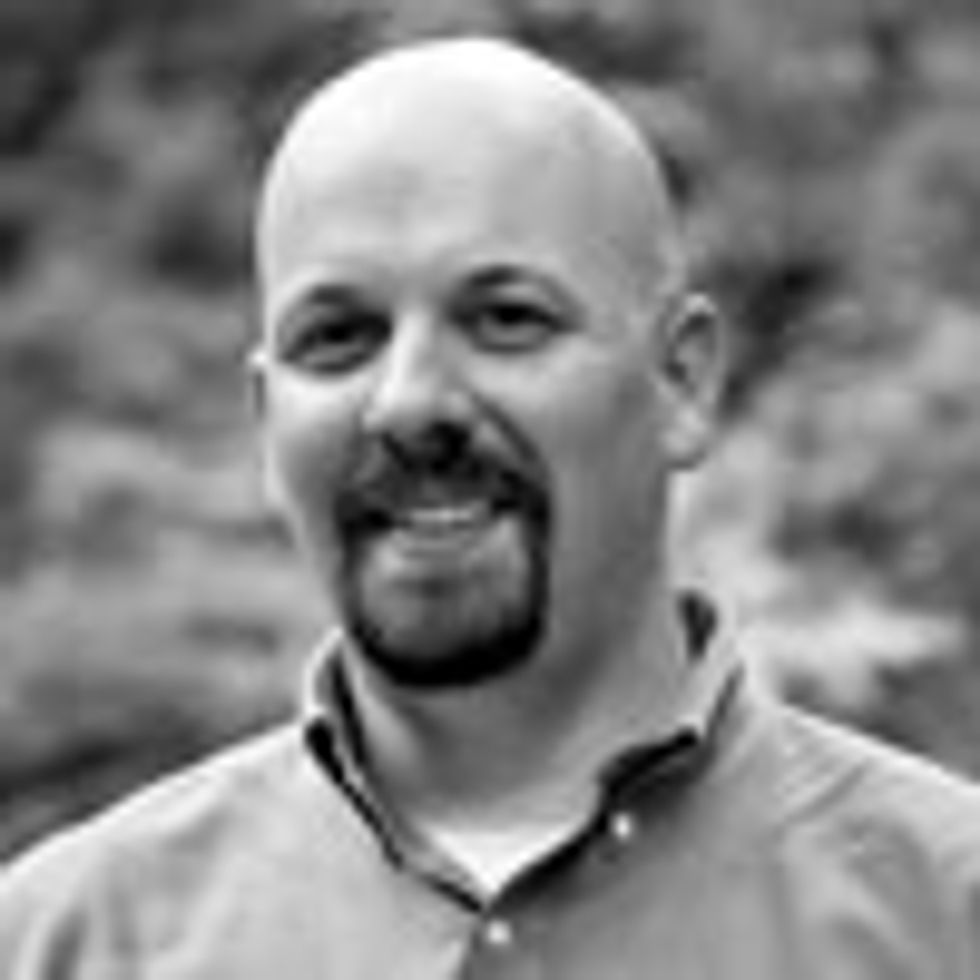 Dear Senator Carl Levin, Senator John McCain, Congressman Elijah Cummings and Congressman Darrell Issa:
Greenpeace has been watching with great interest the unfolding controversy over whether the Internal Revenue Service (IRS) singled out Tea Party groups for special scrutiny. We're pleased to see Attorney General Holder takes this issue seriously enough to open an investigation and believe such an investigation need not be limited to these narrow circumstances. In the past dozen years, Greenpeace, Rainforest Action Network (RAN) and the National Association for the Advancement of Colored People (NAACP) were subject to politically-motivated tax investigations by the IRS and Congress. Greenpeace is offering to testify about being the target of politically motivated audits in 2004, because regardless of which party holds power, these abuses are egregious and must stop.
Greenpeace opposes the use of federal power, in whatever form, to skew the forum of public debate. Greenpeace is devoted to the notion of government of, for and by the people. While we have serious philosophical differences with any number of groups, corporations and organizations on the political spectrum, the place to resolve those differences is in legislatures, courts, executive branch agencies and the public square. Let's all bring ideas and plans for what will lead to a better society and debate them freely and openly without fear of intimidation.
Greenpeace has both 501(c)3 and 501(c)4 entities and we take extreme care to make sure we stay within those boundaries. Greenpeace neither supports nor opposes any candidate, but seeks to improve the environmental policies of all politicians, regardless of affiliation. It's important that all participants in public discussions play by the same set of rules; where the IRS has evidence rules are broken, it should use its authority appropriately. IRS investigations, like any investigations, however, should begin with evidence, not conclusions.
There's compelling (if inconclusive) evidence that the IRS was sent after our organization by our political enemies. In 2003, a group called Public Interest Watch publicly called on the IRS to investigate the finances of Greenpeace USA, implying improprieties. In 2005, we were audited. The day the IRS auditor arrived in our offices, he pointed at a photo of an activist chained to an Exxon gas pump and said, "You guys are engaged in illegal activity and this stuff has got to stop." Chilling words indeed, and ones we took seriously.
We passed that audit with good grades. A recent follow-up IRS audit was recently completed and again, Greenpeace received excellent marks from the IRS. Does this prove Public Interest Watch—at the time, a group obscure to us—goaded the IRS into auditing Greenpeace's books? We might not have thought more about it, but in 2006, the Wall Street Journal reported Public Interest Watch wasn't as obscure a group as we'd thought. Instead, Public Interest Watch received $120,000 of its $124,000 budget from ExxonMobil, the multinational entity Greenpeace has clashed with for years over its drilling, spilling and denial of climate change.
For the record, the IRS has never commented—and until now has had a policy of not commenting—on reasons it selects groups for auditing. If a small group of people angry at Greenpeace calls for an IRS audit, it's one thing; if the richest corporation on Earth, with massive lobbying and influence with all branches of the federal government are behind that small group, it's another.
In 2004, then chair of the House Ways and Means Committee Rep. Thomas (R-CA) subpoenaed 10 years of records from RAN. In a letter to then-RAN Director Michael Brune, Rep. Thomas wrote:
The subcommittee has received reports of tax-preferred organizations that may be operating beyond the scope of their charitable status.
As was the case with Greenpeace, hard scrutiny by the government revealed RAN was acting with propriety.
The same year, the IRS threatened the NAACP with tax penalties, based on statements made at its national convention. In that case, as in the current case, subordinate staffers in a branch office were blamed.
In September 2010, the Department of Justice's Inspector General released a report which found the Federal Bureau of Investigation had improperly extended investigations against a number of public interest and civil rights groups, including Greenpeace. These improper investigations were ongoing at the same time ExxonMobil—via its front group—was calling on the IRS to investigate Greenpeace's tax status.
Given that exhaustive history, we feel well-qualified to weigh in opposing politically motivated investigations of any group.
We applaud the Justice Department's investigation into what the IRS did—or failed to do—in this case, but we urge you to take a closer look at the historical pattern of behavior as well. This investigation provides an opportunity to look at what the government—in all its capacity—has done to suppress voices, not just of the Tea Party, but of any group on any side of an issue. Let's work together to get our government on the track where it belongs—and then let's return to our great debate.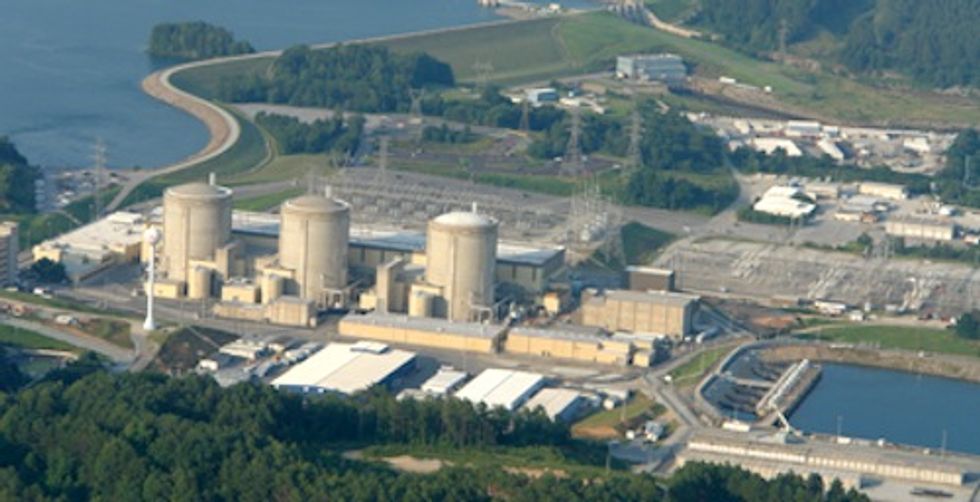 Oconee Nuclear Station is located on Lake Keowee in Oconee County, S.C.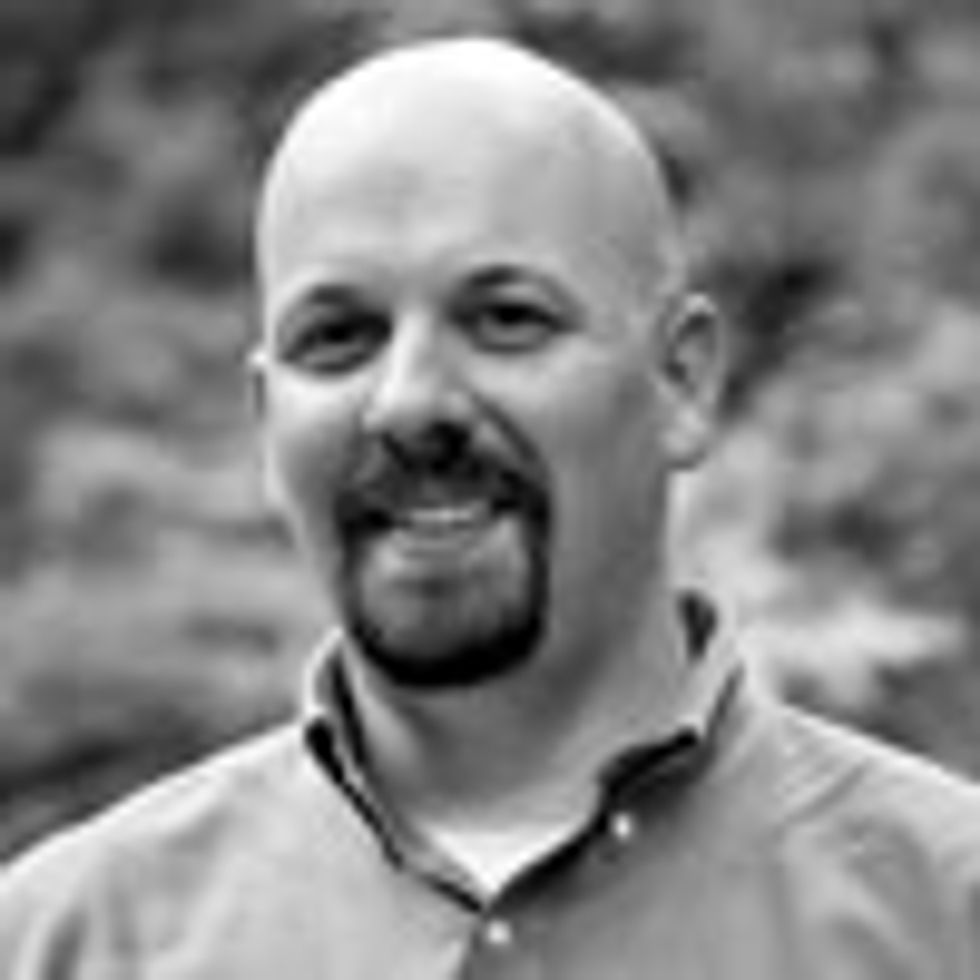 Duke Energy and government regulators have been hiding a not-so-little secret from the people of the Carolinas. Duke's Oconee nuclear power plant—three aged nuclear reactors 30 miles from Greenville, SC—is at risk of a meltdown should an upstream dam fail. If that were to happen, a meltdown of all three reactors on the scale of the Fukushima meltdowns and subsequent containment failure are virtual certainties according to U.S. Nuclear Regulatory Commission (NRC) documents obtained by Greenpeace.
We've also received a tip that the cost to upgrade the Oconee nuclear plant site to address this triple meltdown threat would cost Duke Energy a billion dollars.
A billion dollars.
So at Duke Energy's annual shareholder meeting yesterday in Charlotte, NC, I asked Duke CEO Jim Rogers a question about his company's dangerous nuke plants and the billion dollar cost to protect and upgrade. Tellingly, Jim Rogers did not dispute the billion dollar price tag nor the need to better defend Oconee from flood waters.
Here's Rogers' response (you can listen to it at the 51:35 mark):
With respect to the billion dollar expenditures ... I mean the reality is we're the most capital intensive industry in the country, and what we try to do is—we reinvest and take our nuclear because you're thinking about our Oconee plant and how do you deal with the dam and that situation—that's a—our nuclear fleet because of the investments we make in it—over the last several years—our cheapest electricity—our nuclear fleet is the—provides electricity at a lower price than of other nuclear fleet in the United States. So cost is really important to our consumers—so our ability to invest that money and maintain that fleet is important ...
It's worth noting that Rogers didn't deny the potential billion dollar price tag of the Oconee repairs. Even for Duke, that's a serious amount of money.
I wonder if Duke's shareholders know that the company could end up being on the hook for that kind of a pricey fix?
Greenpeace appreciates Rogers acknowledging the threat to Oconee and the enormous expense of fixing it. If Rogers wants to do the most fiscally prudent thing for Duke's investors, he should retire the reactors. Duke and its regulators have known about this threat for decades and have utterly failed to address it. While regulation of nuclear power can be very complex, the issue at Oconee is pretty simple to understand. According to documents, the potential flood height at Duke Energy's Oconee nuclear plant is well above the height of Oconee's flood walls leaving important safety equipment vulnerable.
Does this sound familiar? It should. In Japan, the nuclear industry knew that the flood wall at Fukushima was too low and did nothing about it there either.
Other nuclear laden electric corporations face steep costs to upgrade old and dangerous reactors. Dominion recently testified that Fukushima fixes would cost their corporation between $30 and $40 million. But the billion dollar price tag to reduce the risks at Oconee is truly staggering. Rather than wasting a billion dollars on old reactors that will never be safe, Duke Energy should invest in renewable energy and efficiency. Wind turbines and solar panels don't threaten the Carolinas with the prospect of nuclear meltdowns.
Visit EcoWatch's ENERGY and NUCLEAR pages for more related news on this topic.
——–
Click here to tell Congress to Expedite Renewable Energy.

Photo courtesy of Greenpeace


The Ninth Circuit Court of Appeals in California is currently weighing whether Shell has the right to preemptively stop Greenpeace from protesting Shell's drilling in the Alaskan Arctic. If the court ultimately rules in Shell's favor, nothing would stop other corporations from taking the same preemptive action against anyone they saw as likely protesters—from neighborhood groups to Amnesty International. The worst of these suits would eventually be overturned on appeal, but with the precedent set by Shell, anyone who wanted to silence protest outside a convention or a disaster site could do so for the duration of whatever activity they wanted to keep secret.

Advocacy groups like Greenpeace adamantly oppose this type of corporate secrecy. We work to bring attention to corporate destruction so people understand the stakes in fights from the Arctic to the Amazon. Our ability to go wherever the planet and its people are in danger is why Greenpeace strikes fear into corporations like Shell, so much so that they will go to extraordinary lengths to stop us from exposing the work it wants to keep secret.
In February 2012, as Shell prepared to begin what became its disastrous attempt to drill in the Arctic, the company filed an injunction against Greenpeace USA. This came the day after activists associated with Greenpeace New Zealand boarded the Noble Discoverer, one of Shell's two Arctic class drill rigs. On March 1, 2012, despite the fact that no Greenpeace USA activists were involved in the New Zealand action, a federal judge granted Shell a temporary restraining order and preliminary injunction prohibiting Greenpeace USA from taking action against "Shell's interests," including any otherwise lawful activity that might happen within a court-mandated "buffer zone."
Greenpeace appealed this action, but through the summer 2012 drilling window in which Shell proceeded to "screw up" (according to Interior Secretary Ken Salazar), the Ninth Circuit Court of Appeals considered the case. So by simply mobilizing its lawyers, Shell was able to use the process to keep lawful protest away from the actions it wanted kept secret. Instead of seeing this as an abuse of the system, the three-judge panel rejected our appeal the day after Shell officially abandoned its plans to drill for 2013.
We have asked for an en banc review (in which a full slate of the circuit judges can hear the case), and we hope the court takes the full implications of what's at stake into consideration.
If we have no plans to engage in civil disobedience, why would we appeal Shell's preemptive legal maneuver? Why not just proceed with legal protests and other advocacy work while the case worked its way through the system? Because allowing a corporation to use its massive financial and legal resources to tie us up in court while it attempts to drill in secret would establish a terrible precedent for American democracy.
Greenpeace fully embraces our First Amendment right to raise our voices. We oppose any effort to take this right away through extraordinary legal means. Our power as citizens lies in our ability to shine a light on actions detrimental to public good. This freedom—this right— is the only thing that puts people power on any kind of scale relative to the power of multibillion-dollar corporations like Shell. Even though it's enshrined in the Constitution and upheld through hundreds of court cases, Shell through extraordinary legal means is trying to take our right to protest away. If they succeed, it will have a devastating effect on protest rights in the U.S.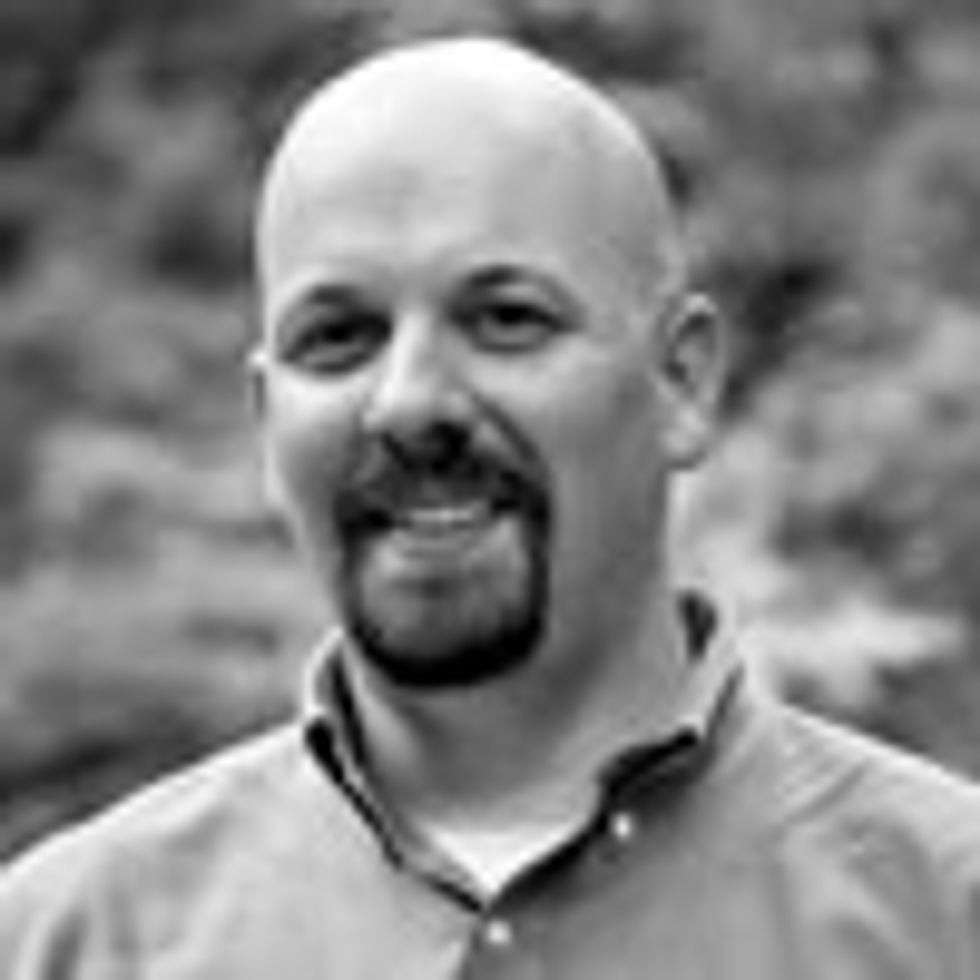 This Sunday, a new environmental movement will arrive in Washington, D.C. Thousands of people will join 350.org, Sierra Club and the Hip Hop Caucus' Forward on Climate rally to call out with one voice and demand Obama keep his promise to future generations.
I will be proud to be there with them.
If you're coming to D.C. this weekend, you won't see your parents' environmental movement here on the Mall. The climate crisis has forged a new, diverse coalition of Americans who have seen the effects of our fossil fuel dependency and want no future with it.
Drought-stricken farmers in Iowa get it. Homeowners from the Jersey Shore get it. Eroding Alaskan native communities get it. Flooded families in New Orleans get it. They will all be part of thousands of people here on Sunday who get it—America's energy past is dead in the ground. Our energy future is in the air, with wind, solar and other renewable energy sources. The Keystone XL pipeline, which would bring dirty tar sands oil from Canada through the U.S. for export, will lead only to further darkness.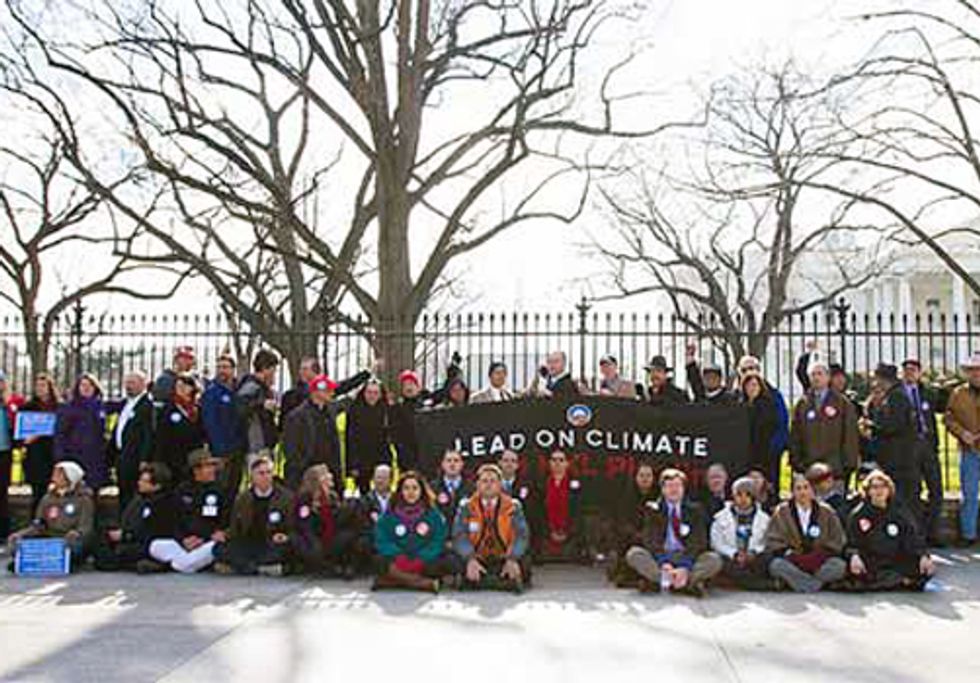 Millions of people around the country have lived the effects of climate change and now share this vision of the future. We all cheered President Obama's spirited call to action in his inaugural address—"We will respond to the threat of climate change, knowing that the failure to do so would betray our children and future generations"—and we hope he keeps his word. But we know that powerful interests want these words to simply be empty rhetoric.
Through the battles of Obama's first four years, progressive groups have learned what works and what doesn't in the fight against corporate power. Our labor, civil rights and environmental partners in the newly begun Democracy Initiative are determined to advance the progressive cause with shared vision. So while green groups fought hard for a climate bill in 2010 and lost, we learned valuable lessons that we can use along with the lessons other progressives learned in their victory with the health care bill. We all know we need public opinion, institutional advocacy, and, perhaps most importantly, grassroots-led peaceful protest to achieve any real change. This Forward on Climate rally is the first, significant step for progressive groups during Obama's second term, the next four years that may well prove to be the most important years we have had yet in the environmental movement.
Why? Because Obama's decision on the Keystone XL pipeline—along with Arctic drilling, coal exports, and the rest of the fossil fuel-based projects in his "all of the above" energy strategy—will determine whether or not the U.S. is locked into a climate death spiral or has a plausible way out. Letting the Keystone project go forward would be a clear, savage betrayal of our children and future generations. We can't let that happen, and we must let Obama know he will be held accountable.
Tar sands oil extraction is just one example of how far down the road we've let corporate power lead us while it pursued dirty energy profits at the planet's expense. For decades, most of America remained relatively oblivious to what was happening, but now that easy access to oil has gone the way of the dinosaur and billion dollar companies must go either to the ends of the earth or to the bowels of hell to get what's left, we're beginning to wake up. We're starting to realize oil companies won't stop until every last drop of fossil fuel is extracted and burned, a process that will destroy the rest of the planet if we don't make this change right now.
Thankfully, America has shown it's ready. This President's Day weekend, I hope you will join me and this new environmental movement in showing Obama that America honors leaders, not politicians. The president's legacy for future generations rests on the climate decisions he can make right now.
Visit EcoWatch's KEYSTONE XL and CLIMATE CHANGE pages for more related news on this topic.
——–