This website uses cookies to ensure you get the best experience while browsing it. By clicking 'Got It' you're accepting these terms.


The best of EcoWatch, right in your inbox. Sign up for our email newsletter!
It is often said that travel broadens horizons. Such was the case when Minneapolis Mayor Betsy Hodges left the City of Lakes for Rome this week. About half-way through her second day at the Vatican, attending an international conference of mayors organized by Pope Francis that began Tuesday, Hodges had an epiphany: climate change isn't up for debate in the rest of the world.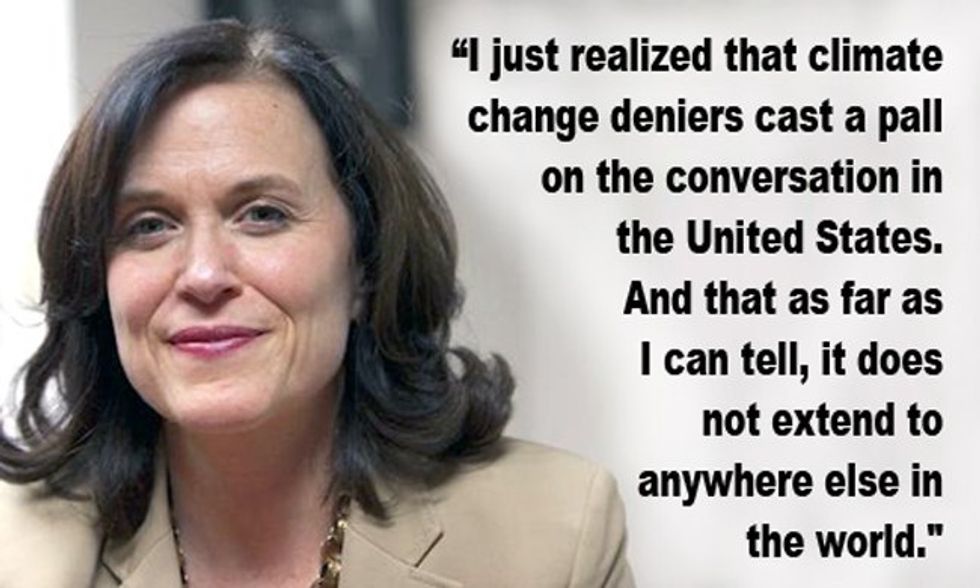 "[I] just realized that climate change deniers cast a pall on the conversation in the United States," Hodges, a Democrat, told the Minneapolis Star Tribune Wednesday. "And that as far as I can tell, it does not extend to anywhere else in the world."
Actually, maybe it does. According to a study published in the journal Global Environmental Change recently, Australia has the largest flock of climate deniers. Seventeen percent of Aussies are doubtful global warming exists while Norway and New Zealand follow—15 percent and 13 percent of their populations respectively are climate skeptics. In the U.S., 12 percent of us don't believe climate change is taking place, according to the study.
Yet figures vary when researchers have focused on likely voters, rather than the population at large. A survey conducted by the Yale Project on Climate Change Communication last year found just 66 percent of U.S. voters thought that climate change was happening.
Doubters in the U.S. are most highly concentrated in the Republican party and their beliefs are reflected in the crowded field of Republican candidates currently running for president, only two of whom—former New York Gov. George Pataki and Ohio Gov. John Kasich, who entered the race Tuesday—acknowledge climate change is real.
After addressing the 60 mayors from around the world who attended the conference Pope Francis signed a declaration stating that "human-induced climate change is a scientific reality and its effective control is a moral imperative for humanity."
Mayor Hodges said she left the conference inspired to take climate action with an emphasis on environmental justice.
"The decisions we make in Minneapolis have an impact on things that happen in Ghana, or happen in Honduras," said Hodges, elaborating in a separate interview with the Tribune. "I really, profoundly understand in a new way that environmental justice is not just a sidebar to climate change action. And that it's not just a sidebar to social justice work."
YOU MIGHT ALSO LIKE
With Pope Francis at the Helm, World's Mayors Pledge to Fight Climate Change
Arnold Schwarzenegger: 'Climate Change Is Not Science Fiction'
James Hansen: 'Emergency Cooperation Among Nations' Is Needed to Prevent Catastrophic Sea Level Rise
Perhaps the Terminator can accomplish what world leaders have failed to do for more than 20 years: forge a comprehensive treaty to tackle climate change. Arnold Schwarzenegger, the former California Governor and star of Hollywood's Terminator franchise, addressed a gathering of world spiritual and philosophical leaders in Paris on Tuesday organized by the French government.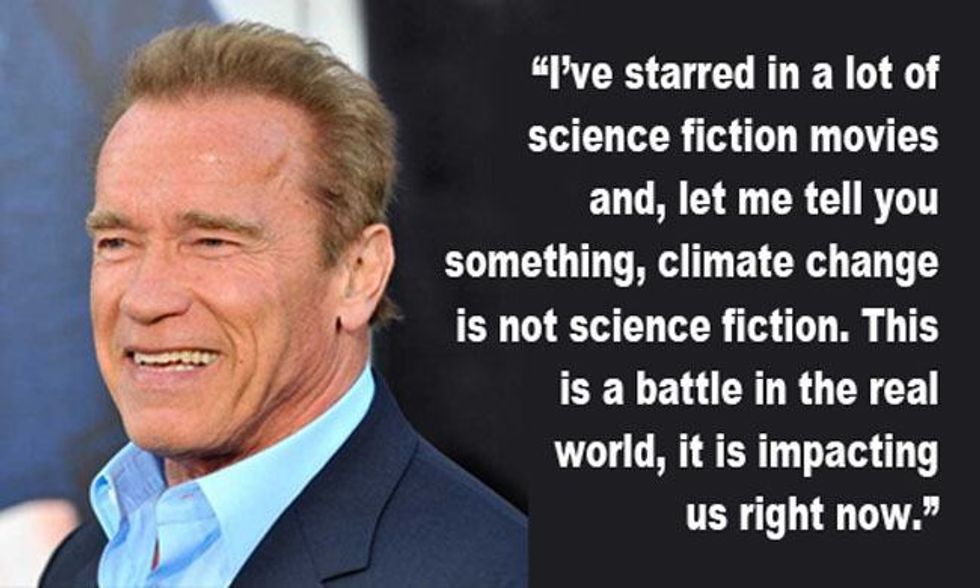 "I've starred in a lot of science fiction movies and, let me tell you something, climate change is not science fiction," said Schwarzenegger. "This is a battle in the real world, it is impacting us right now."
Schwarzenegger's audience, according to the UK Guardian, included "Sheikh Bentounes, leader of the Sufi brotherhood Alawiya" as well as "Daoists, Confucians, shamans, Jesuits [and] Buddhists" who attended the diverse Climate Summit of Conscience in Paris on Tuesday.
"I believe the science is in, the debate is over, and the time for action is now," continued the Austrian-born actor who first achieved fame as a bodybuilder before becoming a movie star and eventually governor of the U.S.'s most populous state. "This is bigger than any movie. This is the challenge of our time. And it is our responsibility to leave this world a better place than we found it, but right now we are failing future generations.
"This year alone we will dump 40 billion tons of carbon emissions into our atmosphere. The World Health Organization says that air pollution causes over 7 million premature deaths every year and all over the world we can see flooding, monster storms, droughts and wildfires that are completely out of control."
Schwarzenegger spoke at the invitation of French President François Hollande whose government organized the conference, the first of its kind. The gathering was intended to build moral momentum ahead of the UN climate negotiations scheduled to take place in Paris beginning Nov. 30.
"The meaning of this meeting is to assemble all of the consciences," said Hollande. "The word 'conscience' impacts every one of us. It's up to every individual to see what he or she can do to save the planet. There are philosophies, there are convictions, there are global diversities that should at a certain point unite, and unite to make decisions."
Despite preliminary climate negotiations held in Bonn, Germany in June, French Foreign Minister Laurent Fabius told journalists Monday that a final climate accord is far off. One major sticking point: developing nations want wealthier countries, like the U.S. who are historically high polluters, to commit more funds to green development and climate preparation.
The Terminator will be back in Paris for UN climate negotiations, again at the invitation of President Hollande.
YOU MIGHT ALSO LIKE
James Hansen: 'Emergency Cooperation Among Nations' Is Needed to Prevent Catastrophic Sea Level Rise
Mayors Flock to Vatican to Sign Pope Francis' Climate Declaration
7 Climate Records Broken in 2014 Indicates Earth Is 'Gravely Ill'
EcoWatch Daily Newsletter
Hillary Clinton fielded questions from voters on Facebook Monday afternoon and many of the queries posed to the Democratic presidential frontrunner centered on environmental issues, including climate change, Keystone XL and fracking. Clinton chose to direct her responses mainly toward economic questions. Nonetheless, the Facebook chat highlights the environmental concerns voters are raising ahead of the 2016 election.
"My biggest concern is the health of our Planet," wrote Jess Barnett, who according to his profile lives in Fort Lauderdale, Florida. "What will your administration do differently [than] those prior? We are already past the tipping point and most of us here would agree we now need to make plans and discontinue the bicker and inaction in Congress over climate change."
"Are you for or against fracking?" inquired Dennis Forsyth, who told the candidate he hails from North Carolina, where the state began accepting fracking permit applications last month.
"What about the Keystone [XL] pipeline?" chimed another Facebook user, Jean-Baptiste Blinet, expressing anxiety over the project, proposed by TransCanada Corp., which would deliver tar sands oil from Alberta, Canada to the U.S. Gulf Coast.
Thousands of potential voters took part in the chat, during which Clinton pledged to reduce the debt load for students, prosecute bad actors on Wall Street, expressed solidarity with Black Lives Matter and joked that she "never met a pantsuit [she] didn't love."
Clinton, however, did not respond to the environmental questions Facebook users raised and her campaign website offers little information on her environmental positions, with the exception of proclaiming that "America must lead the world in developing and deploying new clean energy sources that will power our economy, protect the health of our families and address the global threat of climate change."
Yet, environmentalists are raising concerns over Clinton's opaque environmental stance. While serving as Secretary of State in 2010, Clinton stated she was "inclined" to support the Keystone XL pipeline and in June her campaign hired former TransCanada lobbyist, Jeff Berman as a consultant.
Karthik Ganapathy, a spokesperson for 350.org, told Business Insider last week that Clinton's lack of a clear stance on the Keystone XL was indefensible.
"It's even more indefensible when [Republican presidential candidates] Ted Cruz and Rand Paul have taken a position on it when you, as the Democratic front-runner, have not," he said.
The environmental group staged pickets this month in front of Clinton's campaign headquarters in Downtown Brooklyn, in hopes that they can nudge the favored Democratic presidential nominee into taking a clear stance against the pipeline project and commit to significant greenhouse reduction policies.
YOU MIGHT ALSO LIKE
Sanders Calls Out Clinton's Silence on Keystone XL
Bernie Sanders Draws Biggest Turnout for Maine Democratic Rally in 25 Years
3 Presidential Candidates Say 'No' to Fossil Fuel Funding, Will Hillary Join Them?
The global fishing industry can be a slimy business, and not simply for its slippery product. Commercial boats supplying fish to U.S. supermarkets often operate in international waters, away from legal scrutiny or in countries with few regulations and scant enforcement. Greenpeace's 2015 Carting Away the Oceans report, released Tuesday, finds that major seafood retailers need to do more to combat cruel working conditions and unsustainable fishing practices throughout their supply chain.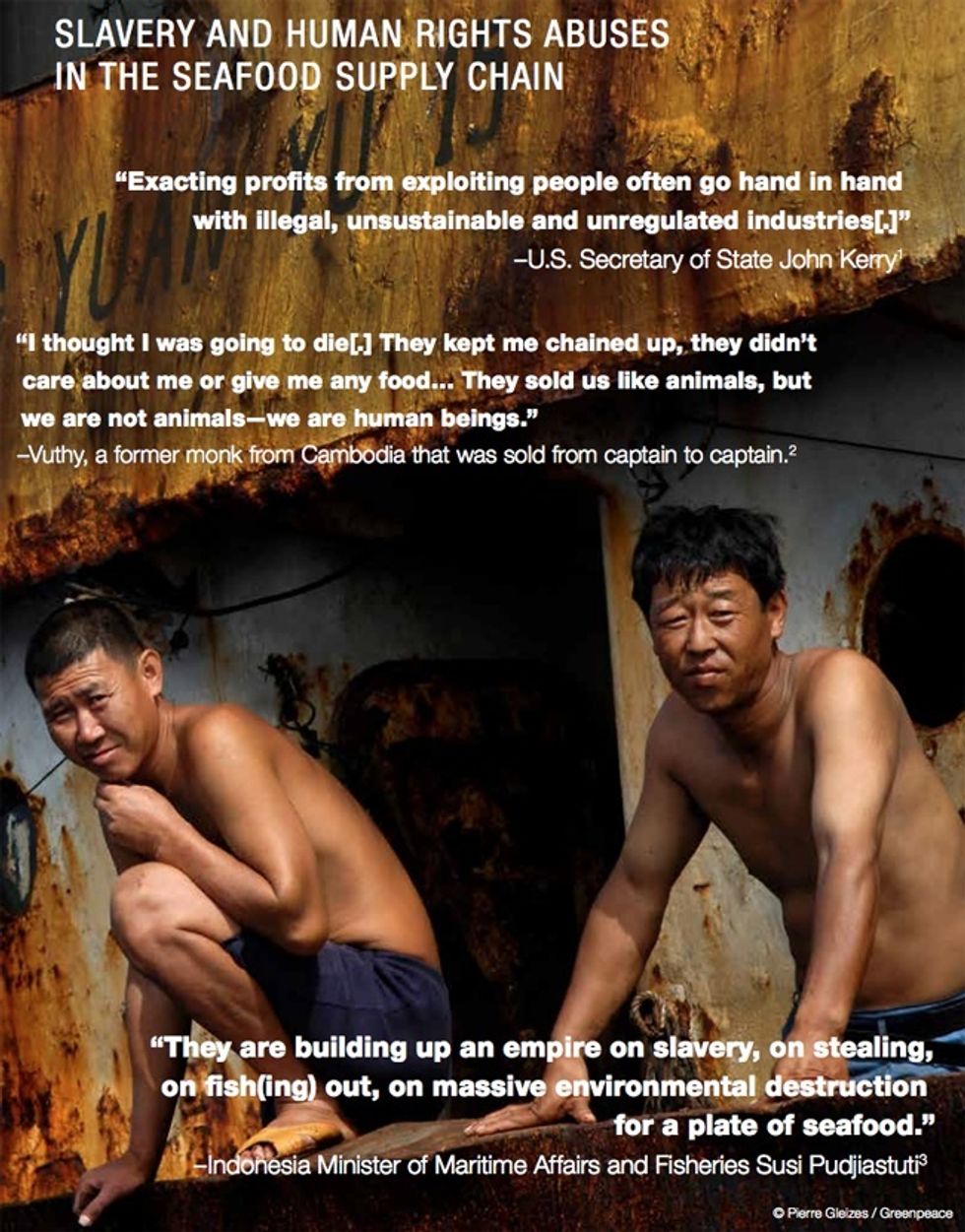 "Investigations continue to reveal that slavery and human rights abuses are widespread problems in the global seafood industry," said Greenpeace Senior Oceans Campaigner David Pinsky. "Ultimately, the buck stops with the supermarkets that sell seafood associated with forced labor or human rights abuses, and it's simply unacceptable that none have made it a priority."
In March, the Associated Press documented the plight of migrant workers from Myanmar who were trafficked through Thailand and forced to fish off the coast of Indonesia. The laborers described working up to 22 hour days, subsisting on mere spoonfuls of rice, receiving little or no pay, and incurring beatings when they complained. The news agency traced the slave-caught seafood to U.S. markets, noting, "entire supply chains are muddied, and money is trickling down the line to companies that benefit from slave labor."
Worker abuse goes hand-in-hand with unsustainable fishing, warns Greenpeace, which has singled out the canned tuna industry as culpable for the most egregious fishing practices. These include the use of large nets that capture and harm vulnerable species such as sea turtles and birds. These animals, known as bycatch, can compose as much as 35 percent of any given net. Sharks caught in tuna nets are often de-finned and thrown back in the ocean.
The Greenpeace report accesses the U.S.'s 25 most popular seafood retailers in terms of steps they have taken to ensure the products they sell are healthy for oceans and are sourced from boats where workers are treated justly. Each of the supermarkets profiled needs to do more according to the report, though Greenpeace placed Whole Foods, Wegmans, Hy-Vee and Safeway in it's "good" category this year.
The advocacy group noted that the four retailers have implemented policies to address illegal, unreported and unregulated fishing, and are working with trade associations and nongovernmental organizations to identify further solutions. Southeastern Grocers, Roundy's, Publix, A&P and Save Mart received a failing grade from Greenpeace, for refusing to ensure that slave labor and unsustainable fishing have been weeded out from the seafood products on their shelves.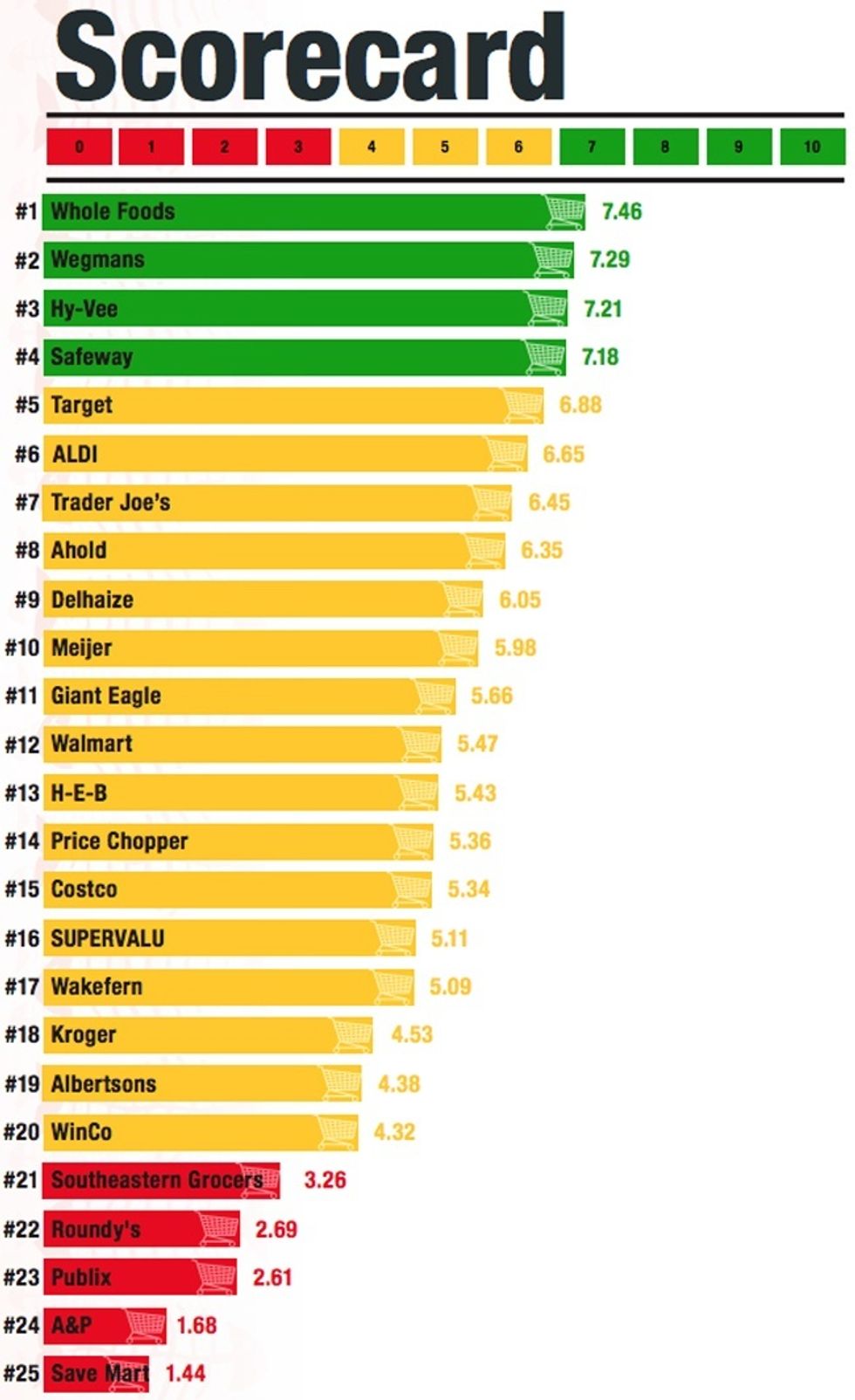 This year's Carting Away the Oceans report comes on the heels of a shoppers guide Greenpeace published in March in which it ranked the fishing practices of 14 leading canned tuna brands. Only three brands—Wild Planet, Ocean Naturals, and American Tuna—were found to be sustainable. Bumble Bee, Chicken of the Sea and Starkist were the worst environmental offenders.
Greenpeace's David Pinksy said supermarkets that carry these brands are complicit in environmentally destructive fishing practices. "Many of those same retailers sell unsustainable tuna under their own brand names, and have either no policy or an inadequate policy to solve this problem," he said.
Retailers who do not offer ocean safe tuna through their house brands include Walmart, Kroger, Albertsons-Safeway, Publix, Delhaize and Meijer. However, Greenpeace notes that since the 2014 annual edition of Carting Away the Ocean, Costco and Target have introduced ocean safe canned tuna lines, and Giant Eagle has instituted a more sustainable canned tuna sourcing policy.

Greenpeace also looked at retailers' support for preserving the Bering Sea, which supplies more than half the seafood consumed in the U.S. but where indiscriminate trawling by industrial boats has reduced populations of crab, perch and pollock to lows that threatening the biodiversity and long-term productivity of the region. Over the past year, Whole Foods, Wegmans, Giant Eagle, Costco, Roundy's and Southeastern Grocers have expressed commitments to protecting the Bering Sea.
The environmental group has called for a national day of action for seafood awareness on July 25. The group intends to target Walmarts nationwide, demanding the world's largest retailer do more to ensure its seafood products are sustainable and that workers are treated respectfully.
The National Fisheries Institute (NFI), a trade association representing about 75 percent of U.S. seafood firms, has defended the bycatch fishing method, insisting that using a pole and a line to catch the fish would increase the industry's carbon footprint by more than four times the amount of fuel per tuna caught and that it would also drive up the cost of the fish for consumers. Gavin Gibbons, the group's spokesman also expressed regret at revelations that slave-caught fish were arriving in U.S. supermarkets. "These type of things flourish in the shadows," he told the Associated Press.
"The tuna industry is particularly destructive—both for industry workers and the oceans we depend on," concluded Pinsky. "For the health of the oceans and the people that bring food to our tables, this must change."
YOU MIGHT ALSO LIKE
Will Seafood Soon Disappear From the Menu?
What's the Beef with the U.S./China Chicken Deal?
10 Foods Banned in Other Parts of the World, But Not in America