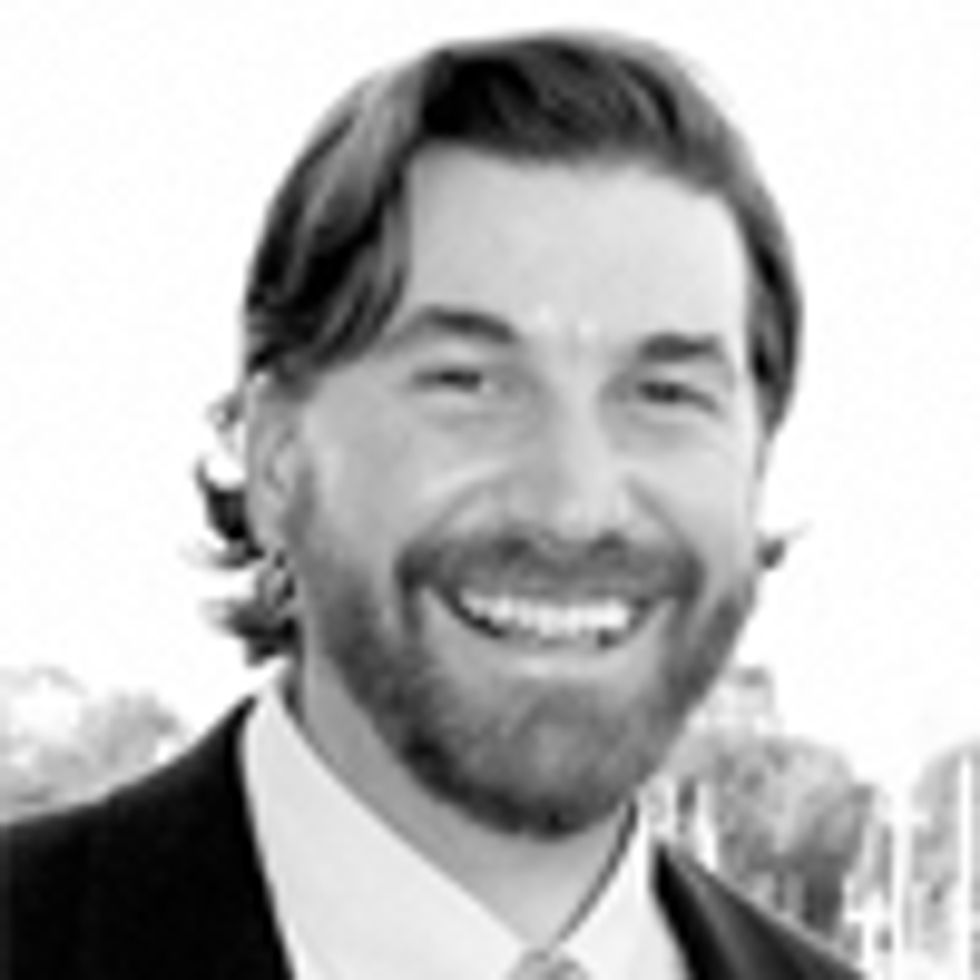 Nature Iraq Foundation, Nature Iraq and Waterkeepers Iraq officially launched the Tigris River Flotilla outside of Hasankeyf, Turkey on Sept. 15. The launch was the first leg in the Flotilla of traditional Mesopotamian boats that will journey down the Tigris River on an historic voyage of celebration, education and data collection to bring awareness to the importance of the Tigris River to the communities of Turkey and Iraq.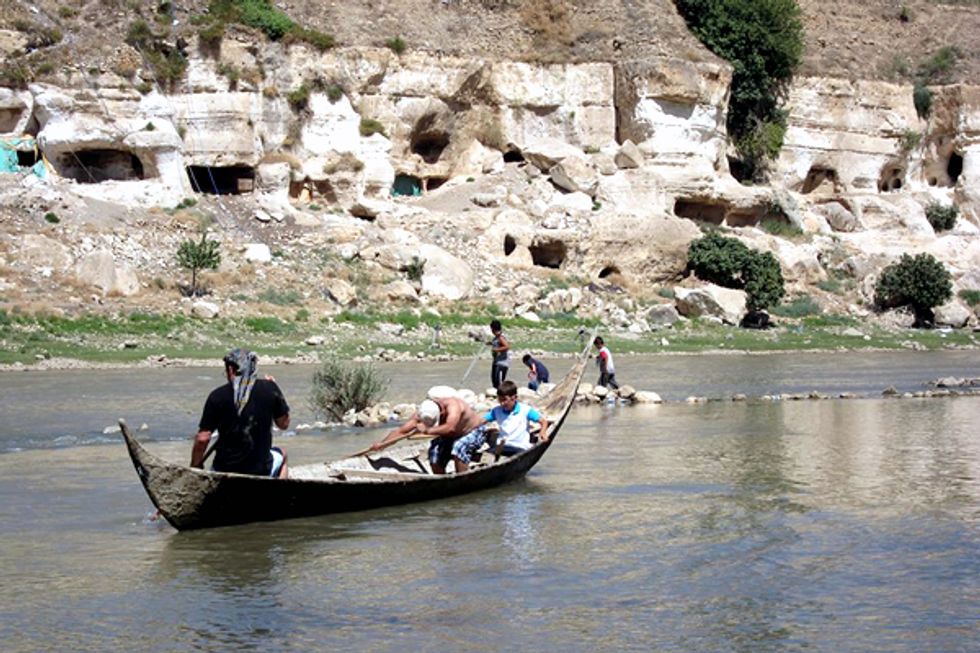 Participants in the launch included local citizens, boat builders and Iraqi Sheiks who made the long journey from Bosra near the southern marshlands of Iraq, an area that relies heavily on the waters of the Tigris for its survival. As the Flotilla entered into the ancient village of Hasankeyf, a city threatened by the construction of a nearby dam, crowds of citizens cheered the participants and admired the traditional boats built specifically for this journey.
 
As the Flotilla continues from Turkey into Iraq, participants from different countries will float down the river using modern and traditional boats. The traditional boats—a tarada, guffa and kalak—were built by local communities in both Turkey and Iraq in celebration of the unique cultural heritage of these communities and unite their people through common tradecraft. Using these traditional boats, Nature Iraq and its partners will host a combination of presentations on water quality and vulnerable ecosystems, environmental clean-up events and community-based art projects to raise awareness about the mounting threats to the Tigris River and the cultural and environmental resources it provides.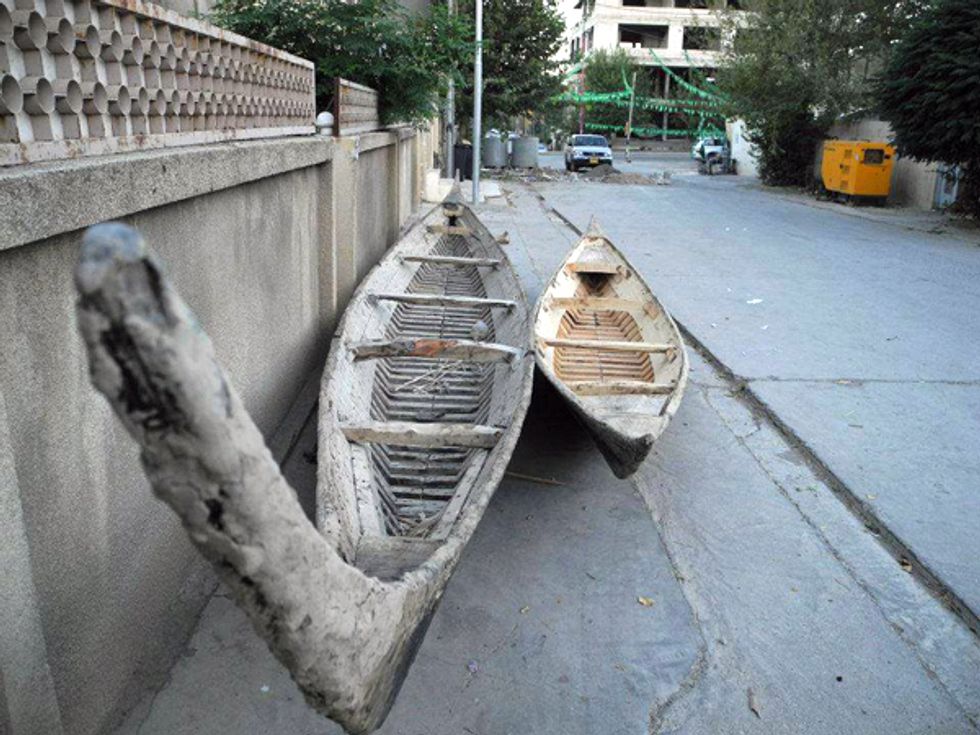 With scheduled events in Hasankeyf, Turkey, and Feys Khabor, Baghdad and Chibaish, Iraq, in the Mesopotamian Marshlands, the Flotilla will connect water conservation issues with local peoples' daily lives and raise global awareness of this endangered ecosystem. Along the way, Nature Iraq and its partners will use local media, interactive maps, Tigris River Flotilla blog, Tigris River Flotilla Facebook page and Nature Iraq Foundation website to bring the world on board for this historic voyage.
Visit EcoWatch's WATER page for more related news on this topic.
——–

EcoWatch Daily Newsletter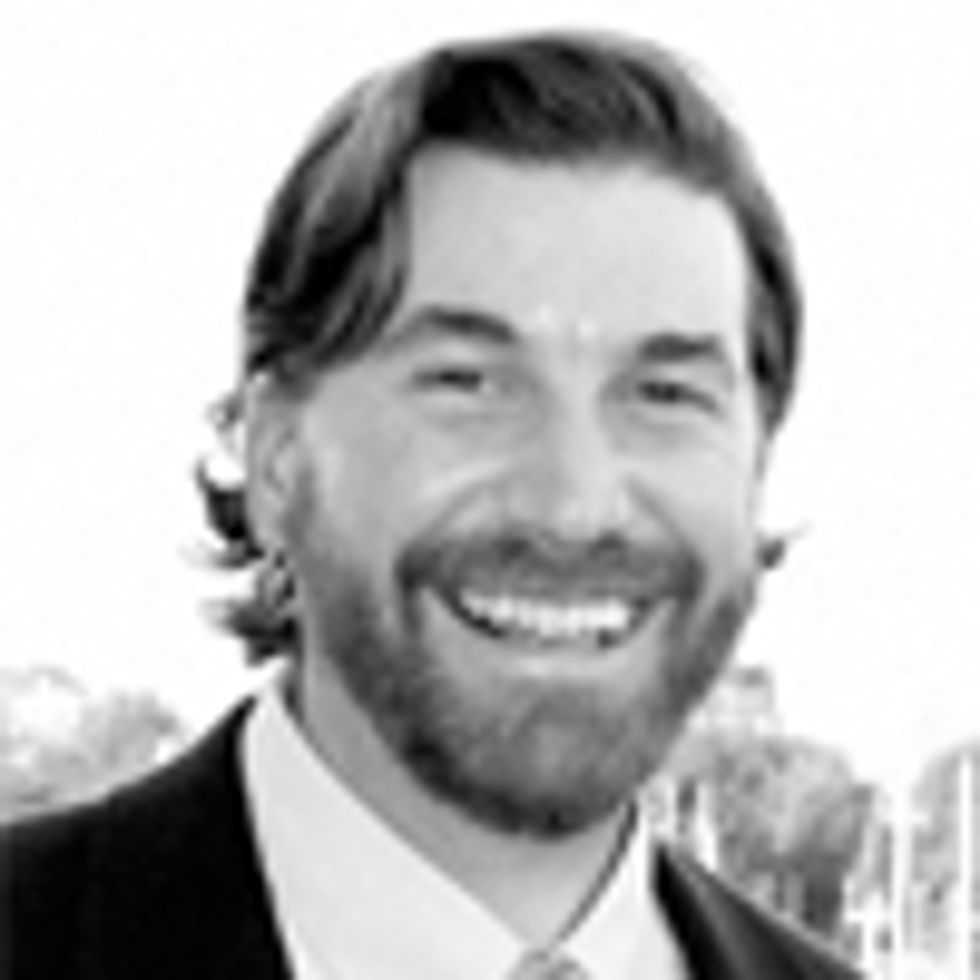 When I first visited Iraq in 2010 to help launch the Upper Tigris Waterkeeper, I never imagined the impact the presence of a Waterkeeper would have on the river that nurtured the cradle of civilization for millennia. The Upper Tigris Waterkeeper has changed the dialogue on water issues throughout the region through community outreach and education, water quality monitoring and assisting the Iraqi government in developing strong water policy.
Now, in the midst of pending turmoil in the Middle East, the Nature Iraq Foundation, Nature Iraq and Waterkeepers Iraq will embark on a historic journey down the Tigris River, starting in southeastern Turkey on Sept. 15 and travelling through Iraq, using traditional boats and vessels to continue to raise awareness of significant water issues impacting the region.
Launching from southern Turkey on Sept. 15, the Tigris River Flotilla will travel down the Tigris River and shed light on the threats facing both the Tigris and the unique cultural heritage of Mesopotamia. This two-month journey, culminating in the marshlands of southern Iraq (an area purported to be the biblical "Garden of Eden") will connect conservation issues with daily life of communities along the Tigris and will empower local communities along the river to take action to protect the quality of life in the cradle of civilization.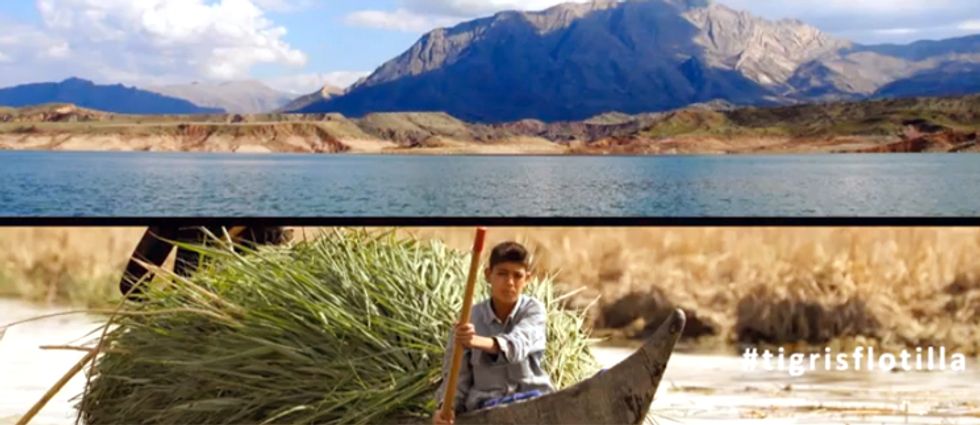 An important goal of the Flotilla is to celebrate Mesopotamian culture by documenting the centuries-old art of traditional Iraqi and Turkish boatbuilding of three vessels—tarada, guffa and kelek—which were built specifically to be part of this journey to recognize role the vital Tigris has played in shaping life and society along its banks.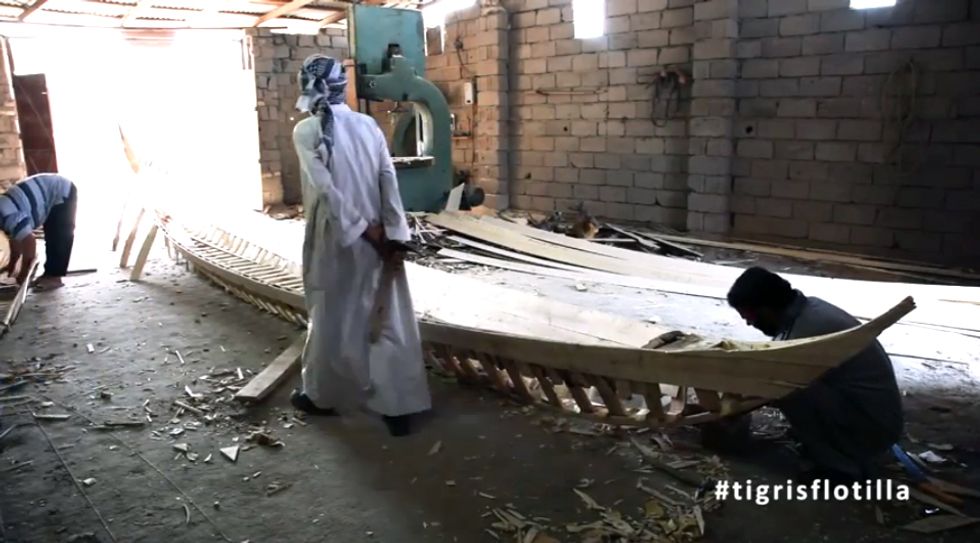 The project is organized by Nature Iraq and Nature Iraq Foundation, but will bring together environmental organizations from both Turkey and Iraq, including Doğa Derneği (Turkey), Iraqi Civil Society Solidarity Initiative (Iraq), The Initiative to Keep Hasankeyf Alive (Turkey) and Civil Development Organization (Iraqi Kurdistan).
To achieve greater awareness about the threats to the Tigris River in Turkey and Iraq, the Flotilla will hold riverside community events at key stopping points along the river. Plans include village presentations, community education and conducting interviews about the importance of the Tigris with local citizens.
Waterkeepers Iraq, a program of Nature Iraq and the international Waterkeeper Alliance, will test the water quality and catalogue observed threats to the Tigris throughout the journey. Universities from Iraq and Turkey will help collect and analyze the water data in order to help build a regional partnership of academics on water issues and policy.
Join us, by following our progress on EcoWatch and visiting the websites of Nature Iraq Foundation, The Tigris River Flotilla and Waterkeeper Alliance.
Visit EcoWatch's WATER page for more related news on this topic.
——–

There are many different CBD oil brands in today's market. But, figuring out which brand is the best and which brand has the strongest oil might feel challenging and confusing. Our simple guide to the strongest CBD oils for pain, anxiety, and sleep will point you in the right direction.
More and more people are looking to boost their health with CBD oil. The rise in CBD's popularity shows that many people are experiencing positive outcomes through the regular use of CBD to help control and improve difficult health issues.
Our guide to the strongest CBD oils will help to point you in the right direction so that you can choose the best, most potent oil for your needs. We will also educate you about the best CBD oils along the way, while also discussing how we chose our top brands and why.
Does Strength of CBD Oil Matter?
The strength of an oil does matter. The more potent a CBD oil is, the stronger effects it will create. To that end, full spectrum oils are the best oils to go with because CBD isolates do not have all of the other vitamins, terpenes, compounds, and phytonutrients that full spectrum oils have. So, not only will you be getting all the positive effects that a strong oil has to offer, you'll also be able to receive the vast therapeutic benefits that the many compounds, terpenes, and phytonutrients bring to the table.
The strength or concentration of a CBD oil is measured in milligrams of CBD, both per bottle and per serving. For many brands, a serving is considered 1 mL of the oil tincture. The best way to evaluate the strength of a CBD oil by how many milligrams of CBD you will get with each 1 mL dropper.
6 Strongest CBD Oil Brands of 2021
Each product featured here has been independently selected by the writer. You can learn more about our review methodology here. If you make a purchase using the links included, we may earn commission.
How We Chose the Strongest CBD Oil Brands
When it comes to choosing a CBD oil brand, you need to take the time and put in the research to ensure that you are getting the strongest, and best quality product you can purchase.
We've put the time and effort into selecting the top brands that we feel have the strongest CBD oil, the best reputation, and the cleanest, most effective products. When it came to selecting our top strongest CBD oils, we looked at six key categories:
Type of CBD - We looked to see whether the CBD oil was full spectrum, broad spectrum, or CBD isolate.
Strength - We compared the oil strength and purity versus other available options. All of our recommendations offer a concentration of at least 50 mg of CBD per serving.
Source - Where does the brand source its hemp from, and is it grown organically?
Flavor - We looked for oil flavors and the ingredients used in the oil.
Transparency - A key consideration is whether a third-party lab was used to test the products and if those results are easy for customers to find
Customer experience - We also read verified customer reviews to see what actual users had to say.
Based on these factors, here are the brands that made our list of strongest CBD oils.
6 Strongest CBD Oils of 2021
Research on CBD Oil and Potency
CBD oil is created when cannabidiol, or CBD, is infused into a fat-based carrier oil such as hempseed oil, coconut oil, grapeseed oil, or olive oil. Carrier oils are usually medium-chain triglycerides that are easily digested by the body. The very basic oils will only have CBD and the carrier oil, however, some can also contain other compounds such as tetrahydrocannabinol, or THC, flavonoids, phytonutrients, and terpenes. Some brands will also infuse various natural flavors or essential oils into the final products.
CBD oil can vary in color, flavor, and consistency depending on its makeup. Likewise, the strength also depends on the oil's formulation. CBD oils can be isolates, broad spectrum, or full spectrum. In CBD isolates, only pure CBD is used. These oils are usually 99 percent pure. CBD isolates are typically made solely from the hemp plant.
Broad spectrum and full spectrum oils, on the other hand, are typically sourced from the cannabis plant and have had minimal processing and purification. These oils have a large amount of cannabinoids, terpenes, nutrients, vitamins, and phytonutrients. The difference between the two is that broad spectrum CBD products contain zero THC.
Along with CBD, one of the main compounds in full spectrum oils is THC. In large amounts, THC causes feelings of euphoria. However, legally, all CBD crafted and sold within the United States must contain less than 0.3% THC. When CBD and THC are combined, an entourage effect occurs. In the entourage effect, the compounds work together to dampen each other's negative side effects while amplifying each other's best qualities. For example, too much THC can cause feelings of nausea or dizziness. However, when THC is combined with CBD, the THC enables those with sleep issues to finally get some rest, and helps those with extreme nausea, due to cancer treatment, finally get some much-needed nourishment by increasing appetite. Put simply, the cannabinoids bind with cell receptors in the human endocannabinoid system to create therapeutic effects.
How to Choose the Right CBD Oil and Potency for You
There are several key factors to take into consideration when choosing the strongest CBD oil for pain, sleep, or anxiety. One of the first things to look at is the concentration of CBD within the product. Next, take a look at the milligrams of CBD that are in a single serving. The best quality products clearly have all the facts and information laid out on their labels. In reading the labels, you should be able to tell exactly how much CBD you are getting per serving. How much CBD you need to be taking depends on how your body reacts to the product over time.
What to Look For
Here are the primary things to look for when comparing the strongest CBD oil options.
CBD Spectrum - Make sure you know whether you are getting a full spectrum, broad spectrum, or CBD isolate oil. This is especially important if you are concerned about THC content.
Concentration - When looking for the strongest CBD oils, you need to be certain of how many milligrams of CBD are contained in each bottle and each 1 mL serving.
Lab Testing - For any CBD product, it's vital that you look for brands who ensure their CBD undergoes independent third-party lab testing for purity and safety.
How to Read Labels
Make sure that you know what to look for on the label of any CBD oil or product. Here are the key things to know.
Type of CBD - The label should clearly indicate the spectrum of CBD in the oil. If it is a broad spectrum or CBD isolate, it will usually say that it is "THC-Free."
Dosage Guide - Some brands include a dosage guide on the label to help you measure the appropriate amount of CBD per serving. This is important with higher potency oils.
Test Results - Look for proof that the CBD has undergone third-party lab testing. Many brands include a QR code or link on the label to the test results for that product.
How to Use
Everyone's body is different, so what works well for one person might not work for another. Smaller individuals might need less CBD than larger individuals based on body size and overall mass. Along with body size, the reason you are taking CBD is another consideration in purchasing strong CBD oil.
Whatever oil strength you choose, you should first start low and go slow when it comes to dosing. For example, begin by taking half of a serving of CBD once a day for one week. If you are not feeling any benefits, then go ahead and take half a dose twice a day. Continue increasing the dosage slowly until you are achieving the desired effects. Always check in with yourself to see how you are feeling along the way. This will help you to determine if you should increase the dosage at all. As with any other medication or holistic supplement, your body will need adequate time to get used to a new CBD dosage, and CBD typically works best as it builds up in your system over time.
Safety & Side Effects
There are very few minor side effects associated with CBD. To date, a great number of studies have been done on CBD showing that it is generally well-tolerated and safe for adults.
Some of the most common side effects associated with CBD include:
Dry mouth
Dizziness
Nausea
Changes in weight
Diarrhea
Drowsiness
Changes in appetite
CBD may also interact with certain prescription medications. If you are on any prescription drugs, or have questions about CBD and your health, be sure to consult with your doctor before taking CBD.
Takeaway
Those suffering from chronic pain or increased stress may benefit from stronger CBD oil tinctures that can provide a more potent dose of cannabinoids. CBD oil can be a great addition to any natural healthcare routine. Just make sure you are putting in the time and effort to find the product and the brand that is best suited to your own unique needs, condition, and lifestyle.
Waterkeeper Helps Sets Up Program Where Saddam Destoyed Vital Wetland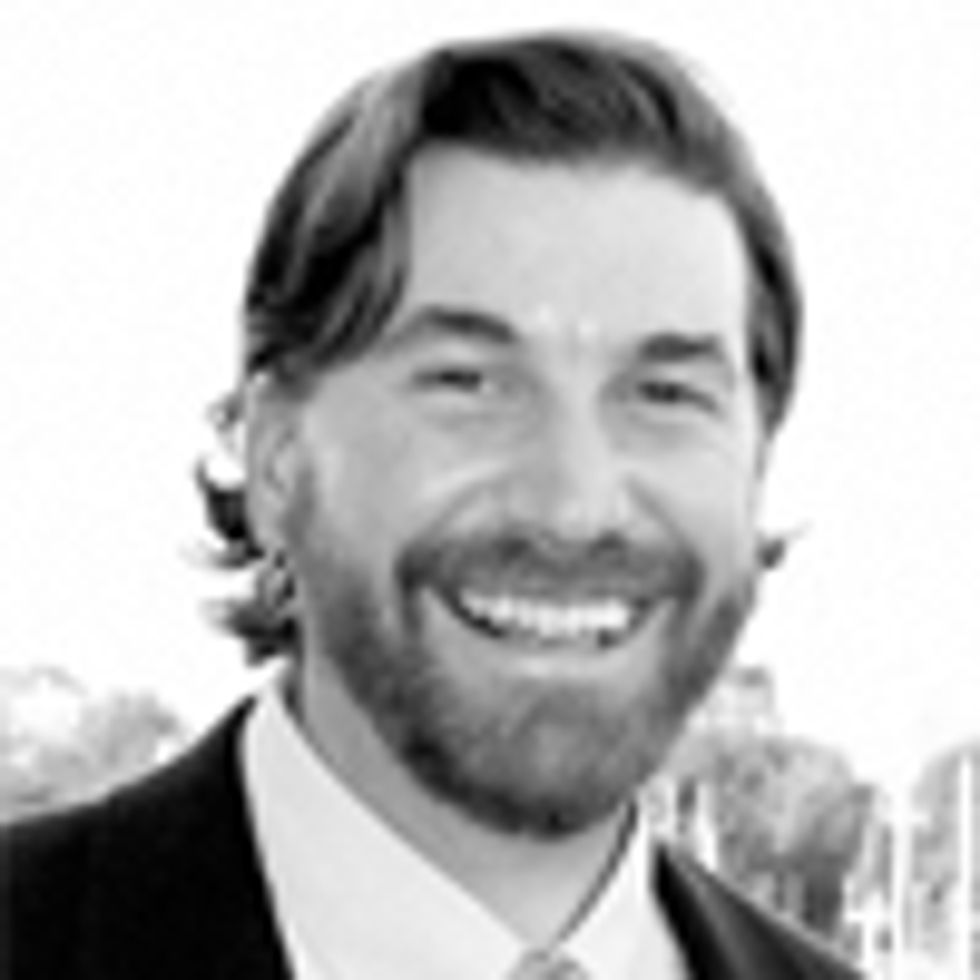 In the fall of 2010, a sleepless night landed me in front of my computer, working as I listened to the radio. The BBC program I had turned to included a report on wetland restoration, which was so inspiring that I realized that I wasn't going back to sleep.  What shook me completely awake was the location of the project: Iraq.
These wetlands on the banks of the Euphrates River in Nasriyah had been drained under Saddam Hussein's rule to create a military barrier, an undertaking that essentially wiped out one of the country's most biologically diverse and historically rich areas. Now, I heard, a native of that area named Azzam Alwash was not only working to re-establish the natural environment, but also promoting eco-tourism along the Tigris River. To me, he sounded like a Waterkeeper.
Environmentalism and eco-tourism in Iraq aren't things we generally hear about, and the uniqueness of Alwash's story convinced me to do something to encourage and support the effort. At the time, as Humboldt Baykeeper in Northern California and a member of the Waterkeeper Alliance board of directors, I felt this was a rare moment for connecting a person who could use some help and an organization that had the help to offer: Waterkeeper Alliance.  So I tracked Alwash down on Facebook and began to discuss with him the possibility of establishing a Waterkeeper program in Iraq, which would be the first of its kind in the Middle East.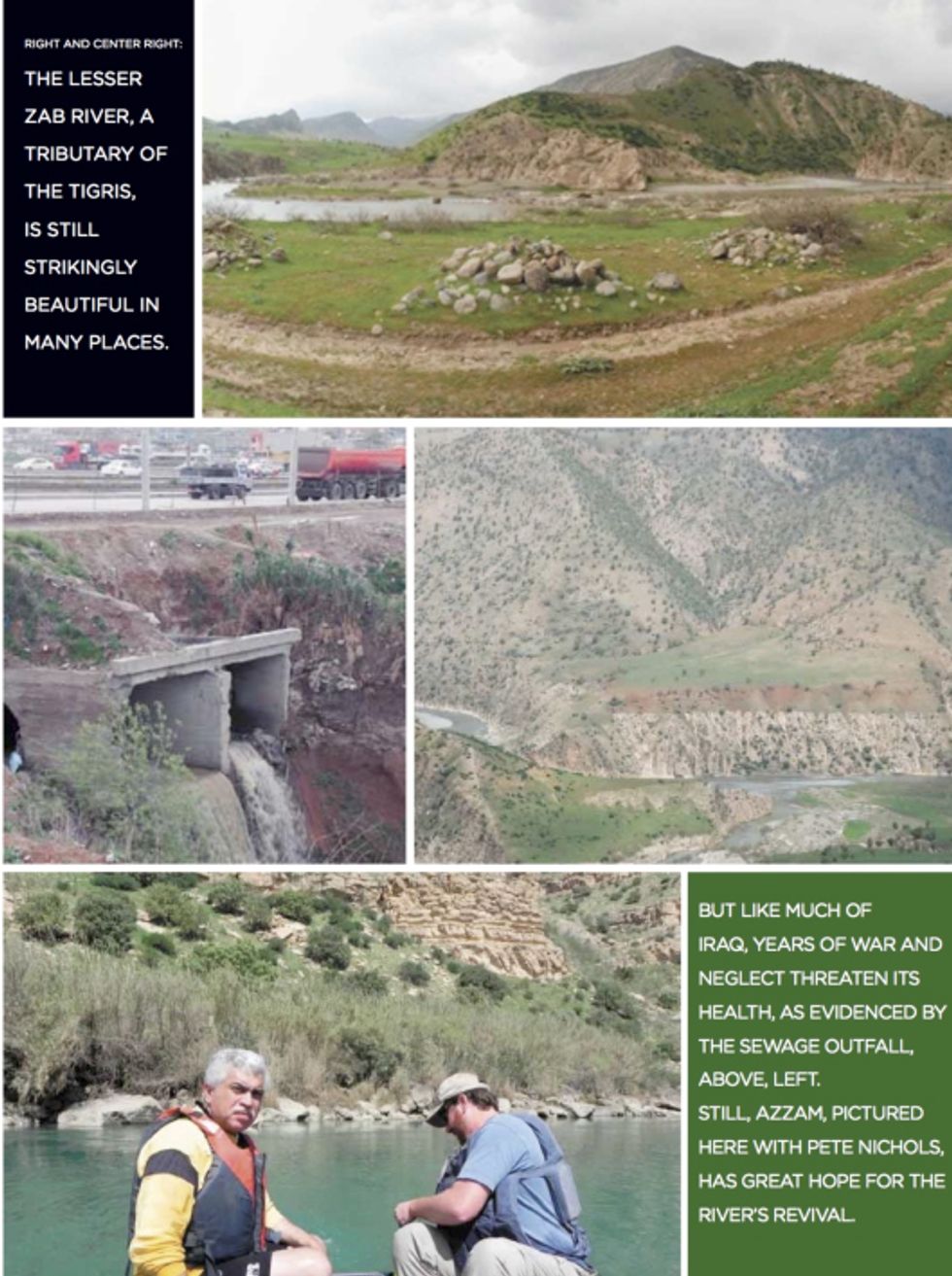 Working together, Waterkeeper members, Azzam and his very sophisticated staff at Nature Iraq developed the proposal for the Iraqi Upper Tigris River Waterkeeper. It was quickly approved, and its successful launch required only a site visit by a Waterkeeper board member to ascertain that the new program contained everything necessary to flourish.  In April 2011, I made the trek to that war-torn country most Americans view as barren and dangerous.
Although Kurdistan in northern Iraq is relatively quite safe, I was a bit nervous as well as excited when I arrived there. But I found little anti-American sentiment and increasing tourism. I then became eager to see the parts of Iraq not usually shown on national news programs: the mountains and rivers, the "cradle of civilization" between the Tigris and Euphrates.
Iraq faces many significant and daunting issues: poor water-quality and infrastructure, lack of planning for a democracy emerging under the undoubted influence of 'westernization'. Quantity of water is also a problem. The headwaters of both the Tigris and Euphrates are located in Turkey, which has invested heavily in dams to stem the flow of the rivers as they enter Iraq. These legendary waterways provide a perfect setting for a Waterkeeper program.
As do the wetlands where Saddam's destruction ruined thousands of people's lives, and where Azzam, Nature Iraq and Upper Tigris Waterkeeper Nabil Musa are relentlessly engaged in the job of restoration. They have seized the right moment to rebuild and protect this great natural resource, and the creation of Upper Tigris Waterkeeper couldn't be better timed.
Over the next 10 years, Iraqi citizens will have the chance to develop and frame environmental regulations, and the Upper Tigris Waterkeeper and Nature Iraq are in a position to establish an environmental voice early in their emerging democracy. Creating an advocacy program such as theirs will help ensure that environmentalists have a seat at the table when relevant laws and policies are developed.
I hope to return to Iraq soon to work further with Azzam and the Upper Tigris Waterkeeper staff. When I returned to the U.S., I helped to start a philanthropic vehicle, the Nature Iraq Foundation, to raise funds for environmental work throughout the region. The Foundation's mission is to tackle the many environmental issues that will inevitably face Iraq in the decades to come, including such critical steps as educating the Iraqi people about the value of clean water, arranging a 'water summit' with Turkey to discuss water-quantity issues, implementing water-conservation practices, and developing infrastructure to block the flow of pollutants, from raw sewage to toxics.
As I reflect on the adventurous and inspirational work of Azzam and his colleagues to reclaim nature from the awful legacy of a tyrant, I really believe that there is great hope for the environment of Iraq. I see great potential for additional Waterkeeper programs along the Euphrates and other rivers in Iraq—and throughout the Middle East.
Protecting and restoring the waters that in legend nurtured the Garden of Eden, that enabled the rise of agriculture and the invention of the wheel, and formed the ancient base of civilization, is a challenge ideally suited for a Waterkeeper, and I am proud to help move that vision forward.
——–
Reprinted with permission from Waterkeeper Magazine. To read the winter issue of the Waterkeeper Magazine, click here.
Celebrating 40 Years of Clean Water and Healthy Communities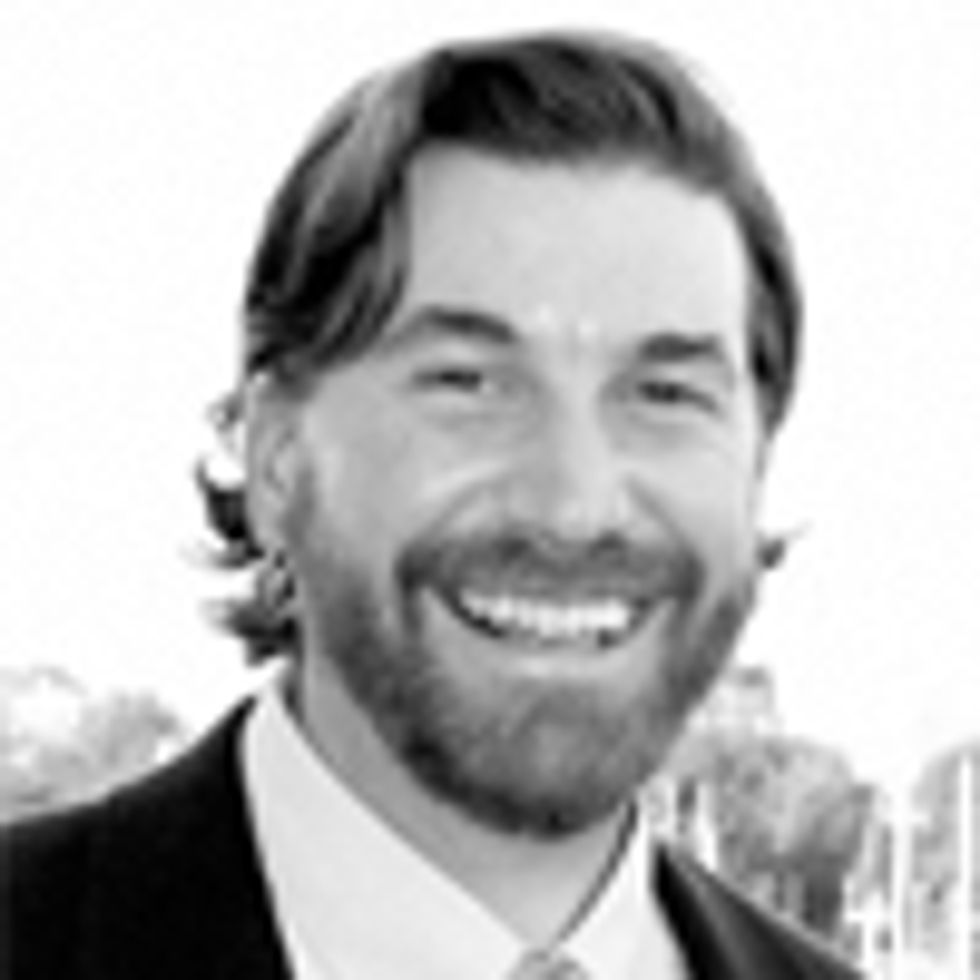 Nearly 40 years ago, Congress signed into law a historic piece of legislation that would turn the tide of our polluted waterways and hold big polluters accountable for their actions and attacks on the health of our communities. Prior to the Clean Water Act's enactment, the Cuyahoga River was so polluted that it was literally in flames, the majestic Hudson River's fishery was gone and Lake Erie was declared all but dead. This bold legislation put forward by visionaries in Congress returned control of our nation's waterways to the citizens of the United States as part of the public trust. However, today the concept of the public trust, the commons, is being quickly eroded by corporate polluters and their cronies in Congress who are determined to return to the era of using out nation's waterways as open sewers, toxic dumps and landfills.
Despite the fact that the Clean Water Act has been responsible for providing millions of Americans with opportunities to swim, drink and fish in clean water, every branch of our federal government—the  legislative, executive and judicial—has taken aim at the Act. The courts have worked to narrow the definition of "waters of the United States," and Congress has made efforts to continually chip away at the Act. Many states have even joined the party, cutting clean water enforcement budgets every time they face a fiscal challenge. Now, as we celebrate 40 years of clean water protections, our Congress is launching the most aggressive, nefarious attacks on our right to clean water in history.
As the Clean Water Act moves into its 40th year, it faces a midlife crisis not of its own doing, but by members of Congress who put the interest of the public aside to do the bidding of the corporate polluters that fill their campaign coffers. If their efforts succeed, they will cripple contemporary American democracy and undermine the most extraordinary body of environmental law in the world. We, as the voices of clean water, cannot allow that to happen.
Most recently, in the latter months of 2011, a myriad of bills before the U.S. House of Representatives have been laden with extraneous amendments and anti-environmental 'riders' that seek to dismantle our environmental protections piecemeal, or, as in the case of one of these bills, the cynically named Clean Water Cooperative Federalism Act of 2011 (H.R. 2018), which would seek to take a sledgehammer to the very foundation of the Clean Water Act.
The bill takes aim at the Clean Water Act, which has become a global model for water protection. Seeking to strip the federal government's authority to regulate water quality standards and weaken U.S. Environmental Protection Agency's power to enforce the law when states fail to protect waterways, this approach will start a race to the bottom as shortsighted and self-interested state politicians dismantle their clean water laws as payback to their supporters, including the nation's worst polluters. These bills, amendments and budget riders propose to gut the Clean Water Act and jeopardize the environmental health of our waterways and the lifeblood of our communities across the country, all without public debate.
In 2012 and beyond, Waterkeeper Alliance, River Network and our partners will work to remind Americans, and the world, that we have indeed come a long way from 1969 when the Cuyahoga River was burning. But we still have a long way to go to protect all of our waterways and attain Congress' 1972 goal to have eliminated all discharges of pollutants into navigable waters by 1985, a goal that clearly has not been achieved.
Campaign Goals
On the 39th Anniversary of the Clean Water Act, the Waterkeeper Alliance officially launched its Clean Water Act (CWA) 40 Campaign. The goal of CWA 40 is to bolster the imperiled Act through implementing a strategic series of coordinated efforts to celebrate, activate and advocate around the central tenets of the Act: swimmable, drinkable, fishable waters for all.
To make the most of this opportunity, the campaign will not only educate the public about the importance of the Act, but also activate and empower our coalition to influence national leaders from a policy and enforcement perspective. We will not stand for any attacks on our communities that undermine the clean water protections that our streams, rivers, lakes and estuaries have been afforded over the past 40 years.
Strategies & Tactics
The three central components of the initiative will employ a variety of strategies and tactics that seek to attract diverse participation from clean water advocates across the country.
1. Celebrate: A series of Swimmable, Drinkable and Fishable Water Action Days will celebrate the victories enabled by the Act and the basic fundamental right to clean water through high profile events around the nation and "virtual marches" on Washington, wherein we will target support for specific measures that will strengthen these three essentials. These Action Days will culminate in a major "Swim, Drink, Fish Rally" on the National Mall in October 2012, to celebrate the 40th anniversary of the signing of the Clean Water Act.
2. Activate: Waterkeeper Alliance will activate a national alliance of environmental groups that work to protect clean water and develop a network of "Waterkeeper Clubs" on college campuses to engage young people in this effort. In addition, we will be working simultaneously with Waterkeepers and volunteers in communities across the country to educate citizens about the importance of clean water to the environment and the health of our communities.
In May of 2012, Waterkeeper Alliance is joining forces with River Network to hold the largest gathering of water advocates to date: River Rally 2012. More than 600 people will join together in Portland, Oregon to enhance their water-related technical skills, learn how to build the capacity of their organizations, share best practices for watershed protection and receive training on advocating for the Clean Water Act in their watersheds.
Waterkeeper Alliance plans to develop advocacy toolkits to aid in the education of River Rally attendees so they can return to their watersheds and educate members of their communities on the value of clean water and the need to protect that right for all. By doing so, we will build a grassroots constituency that is rarely engaged in public policy, but are critical to protecting the Clean Water Act at a time when it remains under attack.
3. Advocate: Strategic regional and community-based advocacy is the most effective tool to turn back the rising tide against the Clean Water Act. Waterkeeper, and our partners, will organize and provide the tools for our coalition to push back against rollbacks to the Clean Water Act, while highlighting the critical need for continued and expanded protections within the Act, the most effective tool we have against water pollution.
While advocating for clean water and healthy communities has been the primary mission of Waterkeeper Alliance since its inception, the Clean Water Act's 40th Anniversary provides a unique opportunity for Waterkeeper Alliance and partners to focus on the success of the Act thus far, develop and deploy strategies for strengthening the Act and ensure the Act endures for another 40 years and beyond.
Please join us in this effort. Visit Waterkeeper Allaince's website and follow us on Twitter to learn more, or contact Pete Nichols, Western Regional Director of Waterkeeper Alliance at [email protected].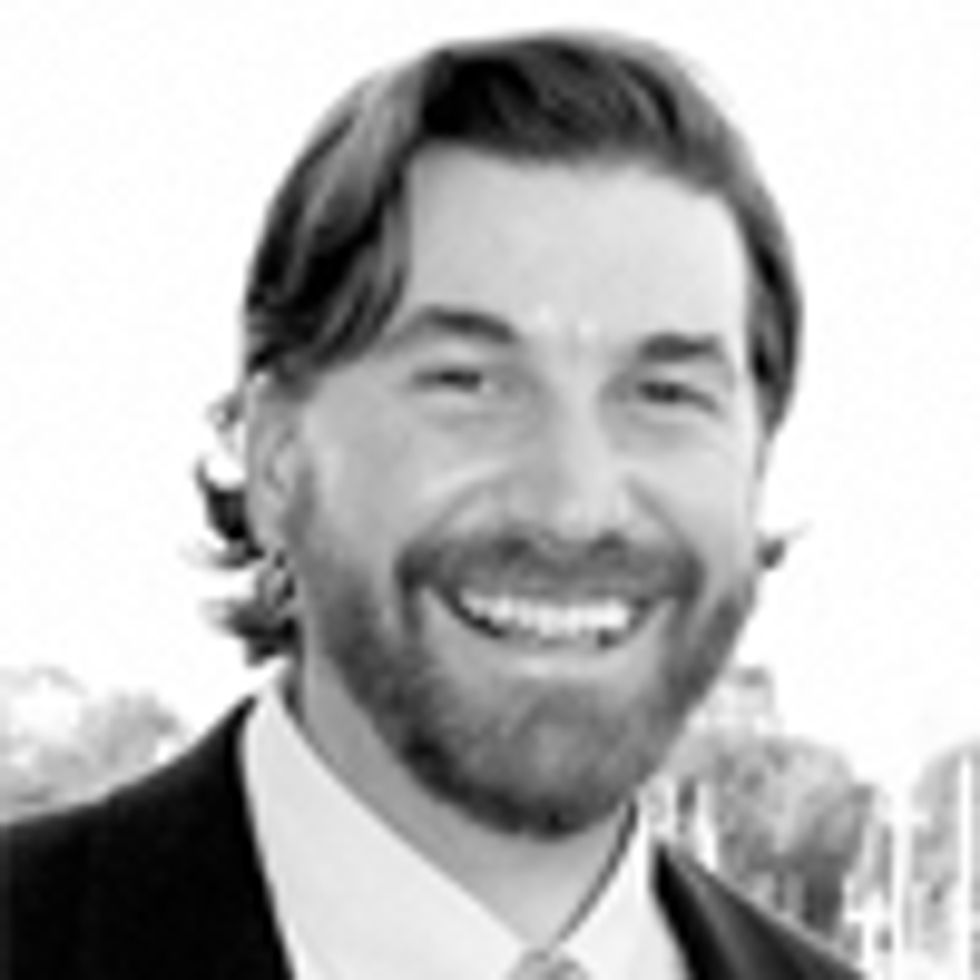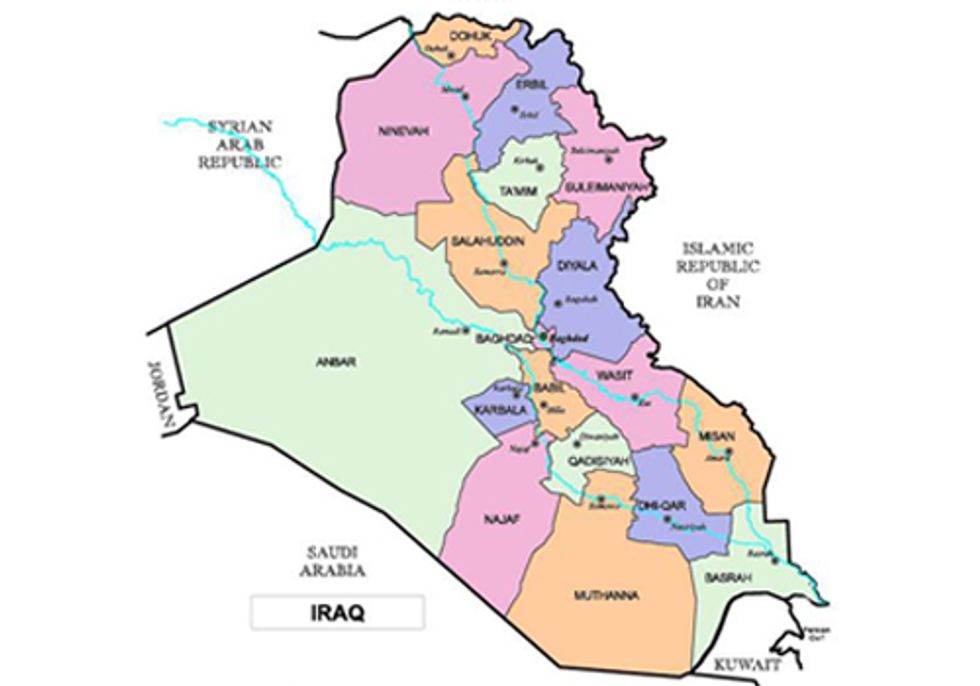 Iraq is a country clearly in a state of transition. Iraqis have endured nearly 10 years of fierce fighting and civil war and, before that, decades of ruthless totalitarian rule. Now, as a tenuous peace settles over their land and a democratic society begins to emerge in what we know as the cradle of civilization, these resilient people are starting to turn their attention to the elements of their culture that have for centuries, offered not only survival, but quality of life. At the top of this list is water quality and quantity, which for millennia has nurtured the land where agriculture and modern civilization were born. Conflict, neglect and other problems have led to a critical shortage of clean water in Iraq.
Devoted members of the first Waterkeeper in the Middle East, the Iraqi Upper Tigris Waterkeeper, have been working closely with the Iraq Ministry of Environment to update and improve their laws, and with "environmental police" to aid in the enforcement of said laws. The central legal framework supporting water quality in Iraq focuses on preventing the dumping of waste and wastewater into common waterways. The framework uses regulatory mechanisms such as water quality standards, discharge permits, mandatory waste treatment and compulsory utilization of best available technologies very similar to those that emerged from the passage of the Clean Water Act (CWA) in 1972 here in the U.S.
The CWA has helped protect the waterways of the U.S. since 1972, just shy of four decades. However, while the Iraqis look to our system of environmental protection as a shining example to emulate, members of our own government are doing the bidding of corporate polluters and trying to cripple core provisions of the CWA.
One example is the Clean Water Cooperative Federalism Act, also known as H.R. 2018, which has passed the House of Representatives and is now pending before the Senate. This legislation proposes to gut the CWA, jeopardizing the environmental health of waterways across the country and the communities that rely upon them. Should it become law, the bill will undermine National Water Quality Standards by—among other limitations—restricting the U.S. Environmental Protection Agency's (EPA) ability to revise existing water quality standards or promulgate new ones, unless the state in question concurs. Under this proposed legislation, the U.S. EPA will be prohibited from rejecting a water quality certification granted by a state. Additionally, the bill would prohibit the U.S. EPA from objecting to a state's issuance of a National Pollution Discharge Elimination System permit that it believes does not comply with Water Quality Standards.
Thus, if Clean Water Cooperative Federalism Act becomes law, American citizens will be at the mercy of their state representatives in matters of clean water, without any federal oversight. If, or more accurately when, those officials should become influenced by corporate polluters and engage in a race-to-the-bottom, the affected residents, both in that state and in any downstream states, will have none of the protections granted by the federal government, as the U.S. EPA will have little recourse in the face of errant state lawmakers' decisions. The CWA's balance of state and federal oversight has helped clean up waterways for almost four decades—clearly, the only reason to dismantle the law is corporate greed. The nominal costs of keeping our water clean for swimming, drinking and fishing get in the way of stuffing a few more bills into a fat cat's pocket.
Additionally, as we speak, there are ongoing efforts in the U.S. Senate to utilize the appropriations process to insert "riders"—a backdoor method of advancing legislation without process—to further weaken the Clean Water Act only to benefit polluters. It is truly disheartening to think that the Clean Water Act, landmark legislation that began almost 40 years ago and cleaned up the waters of the Hudson and Cuyahoga Rivers, and countless others, is now under the threat of being made obsolete by those in Congress whose duty it is to protect the citizens of this country. Perhaps we can re-learn the value of our own ideals as we watch the Iraqis begin to follow in our once sure-footed steps. Clean water should be the right of every citizen. We as a nation must stand up and demand our rights.
Take action by clicking here and asking your Senators to stand up for your basic right to swimmable, drinkable and fishable waters.