By Paul E McGinniss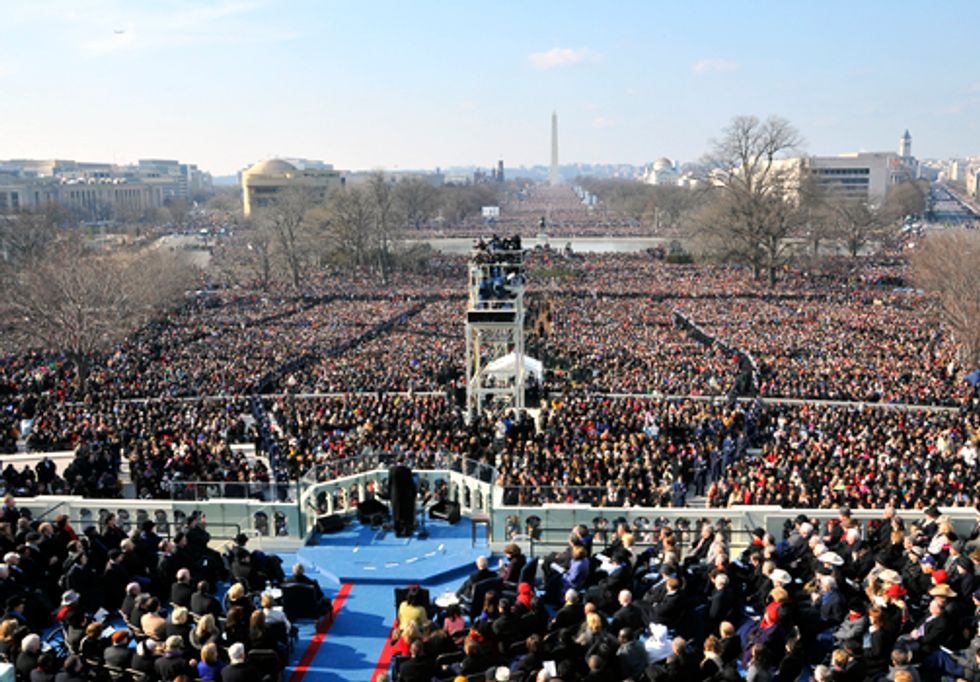 President Obama today in his second inaugural address gave a rallying cry for Americans to join together and make the changes we need to create a healthier, more prosperous country.
President Obama said:
"For now decisions are upon us, and we cannot afford delay."
A major part of President Obama's rousing speech addressed climate change:
"We, the people, still believe that our obligations as Americans are not just to ourselves, but to all posterity. We will respond to the threat of climate change, knowing that the failure to do so would betray our children and future generations. Some may still deny the overwhelming judgment of science, but none can avoid the devastating impact of raging fires, and crippling drought, and more powerful storms. "
President Obama stressed the importance of renewable energy:
"The path towards sustainable energy sources will be long and sometimes difficult. But America cannot resist this transition; we must lead it. We cannot cede to other nations the technology that will power new jobs and new industries—we must claim its promise. That is how we will maintain our economic vitality and our national treasure—our forests and waterways; our croplands and snow capped peaks. That is how we will preserve our planet, commanded to our care by God.  That's what will lend meaning to the creed our fathers once declared."
President Obama is asking all Americans to let their voices be heard:
"You and I, as citizens, have the power to set this country's course."
"You and I, as citizens, have the obligation to shape the debates of our time—not only with the votes we cast, but with the voices we lift in defense of our most ancient values and enduring ideals."
Like the President said:
It is time to take action.
Take action today by signing up for EcoWatch's Top News of the Day and stay engaged on the leading environmental issues.
Sign the petitions on EcoWatch and get engaged on these issues:




-------
Paul E McGinniss is The New York Green Advocate. He is a green building consultant and real estate broker in New York. He is pretty much obsessed with all things environment and has lately become a resiliency addict. Follow McGinniss @PaulEMcGinniss.
EcoWatch Daily Newsletter
Paul E McGinniss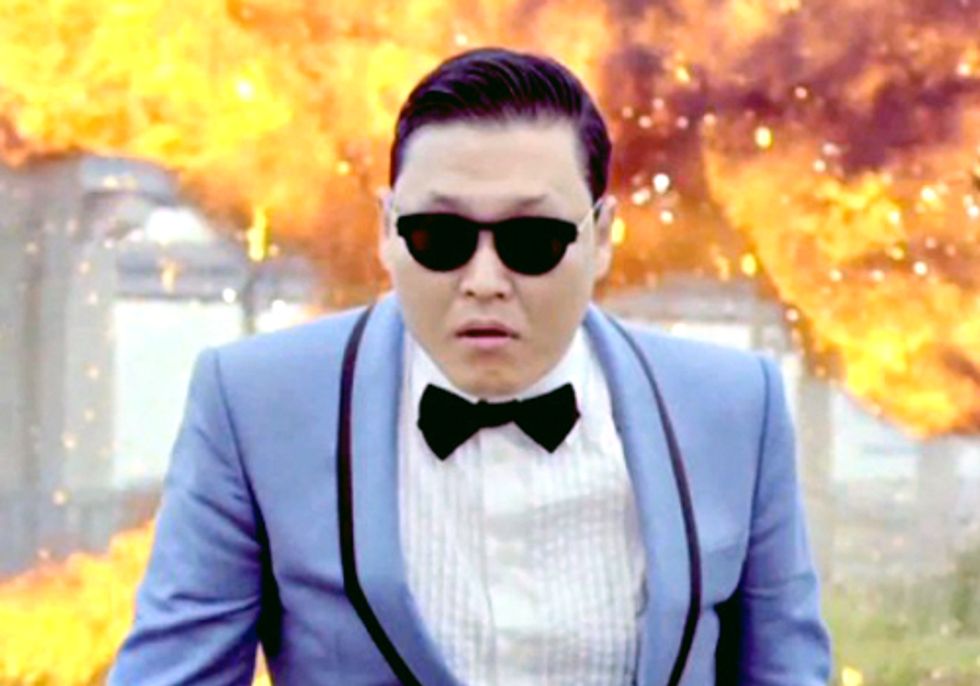 Wow! A music video by Korean pop star Psy is watched worldwide by more than one billion people. Imagine if a billion plus people joined forces to help solve the world's most pressing problems.

Think it's possible? Recently, I co-organized a community screening of Chasing Ice, a 
mesmerizing film about global warming and the melting arctic. During
 post screening discussions about the frightening implications of 
climate change, everyone, young to old, right to left, had similar 
questions.
How do we address climate change? What steps can individuals, 
businesses and world leaders take to address the most pressing and
 often interrelated problems facing us, such as water and energy 
challenges?


Chasing Ice producer, Paula DuPre' Pesmen, Skyped in from Boulder,
 Colorado. Live on screen, she spoke with our engaged audience, all of
 whom were blown away by the film and hungry for dialog.


In answer to the questions on how to address our pressing challenges, Pesmen said something simple yet profound: "We all need to take what we are
 best at and apply that talent to solving the world's problems."

Within six degrees of separation, our mutual networks can inspire and 
build momentum. It's already happening. My editor at EcoWatch, Stefanie Spear, is media savvy 
and a passionate advocate so she started a grassroots environmental
 media platform inspiring millions to take action to protect the environment. Actor Matt Damon found it unacceptable that so many people
 lacked access to clean water so he started a charity, Water.org, which has transformed communities in Africa, South Asia and Central America by providing access to safe water and sanitation. After witnessing deplorable conditions at a Nigerian hospital, including sporadic electricity which impaired  maternity and surgical care, Dr. Laura Stachel and her husband, Hal Aronson, co-founded WE CARE Solar to bring off-grid electric solar systems to hospitals in regions without reliable electricity.
What we need ASAP in pursuit of a "collective seoul"—pun intended—is to manifest a worldwide "Psy
 of Relief." Unified, we need to save the world Gangnam Style. Create a phenomena—of us—to viral out everywhere and break into a global dance of action to change the world in a rave that never stops and never disappears.
I'm thinking of putting an ad on Craigslist to find our "Psy of Relief.":
Desperately Seeking World Savior. 
Looking for undiscovered ecowarrior entertainer with Gangnam Style to
 engage world collective seoul (sic). Must travel to refugee camps, stay composed and look fashionable under extreme weather situations. Have understanding of world energy needs, water issues, dance and sing at least a bit, and tweet like there's no tomorrow.
If you've got the right EcoSwag and my ad sounds like you, please
 email. Remember, YOLO. There's a great job waiting for you. In fact, if 
anyone is interested in solving the world's challenges, there's more 
than one job open. Anyone who takes the time to apply themselves, the 
job is yours.

--------
Author's note: This post is entered in the Masdar "Engage: The Water-Energy Nexus blogging contest. Please vote for me with 5 Stars on the competition web site.  You can also help by liking and tweeting this post above. The contest winner will be invited to Abu Dhabi to cover Abu Dhabi Sustainability Week.
Paul E McGinniss is The New York Green Advocate. He is a green building 
consultant and real estate broker in New York. He is pretty much
 obsessed with all things environment and has lately become a resiliency 
addict. Follow McGinniss @PaulEMcGinniss.
RoschetzkyIstockPhoto / iStock / Getty Images
By installing solar panels, homeowners can curb their dependence on traditional utilities, reducing their monthly electric bills while also minimizing their environmental impact. Of course, solar energy is more viable in some places than in others; it's best suited for homeowners who live in areas that get ample sun exposure. And the Lone Star State is certainly on that list.
In fact, a report from the Solar Energy Industries Association, or SEIA, shows that Texas installed the second-most solar in 2020 and the most in the first quarter of 2021. And some municipalities have gone especially heavy on solar power. So, what are the top cities for solar in Texas? Let's find out if your city made our top 10 list.
Top 10 Cities for Solar in Texas
To rank the top cities for solar in Texas, the EcoWatch team took into account reports furnished by the SEIA, the National Renewable Energy Laboratory's solar irradiance maps, and Environment America's most recent Shining Cities report among other data points.
Based on our findings, these we've determined the following cities to be Texas' top 10 solar energy hubs:
San Antonio
Austin
El Paso
Houston
Fort Worth
Dallas
Plano
Round Rock
Bruceville-Eddy
Tyler
San Antonio

San Antonio is a sun-soaked city, so it makes sense that local home and business owners have invested heavily in harnessing the sun's power. We rate San Antonio as No. 1 among the top cities for solar in Texas, and there's plenty of evidence to back that up. In terms of total installed solar capacity, San Antonio ranks first in the state and fifth in the nation, according to Environment America. (First in the nation? Los Angeles.) It also boasts more than 50 watts of solar energy per person, one of just 38 cities in the nation to earn this distinction.
Austin
The Austin community is well-known for environmental activism and advocacy, and with residents' investments in solar energy, they're really putting their money where their mouth is. Like San Antonio, Austin boasts more than 50 watts of solar energy per person.
El Paso
Thanks to its average of 302 days of sunshine annually, El Paso is nicknamed the "Sun City" — and it's taking advantage of its weather with over 54 MW of solar capacity installed. A lot of this comes down to significant solar installations built into the city's municipal infrastructure, including solar arrays on the main library and other government buildings.
Houston
A sprawling metropolitan area with ample exposure to sunlight, Houston has an impressive commitment to solar power. In terms of total installed solar energy capacity, the city is in the top 20 for the entire nation, falling just behind New Orleans and just in front of Boston in Environment America's latest Shining Cities report.
Fort Worth
Fort Worth is home to some of the state's top solar companies, making it easy and relatively affordable for local homeowners to make the jump to solar power. The general Dallas-Fort Worth area tends to be a standout solar power hub, both at state and national levels.
Dallas
Likewise, Dallas boasts an impressive level of solar investment. In the Shining Cities report of the nation's most prolific solar builders, Dallas ranks at No. 43 in the nation, just behind Cincinnati.
Plano
Located north of Dallas, Plano is in prime "Sun Belt" position. The city boasts a solid (and growing) solar infrastructure, earning it a place on our list. According to NREL's solar irradiance maps, Plano has some of the highest potential for residential roof-mounted solar power generation in the state.
Round Rock
This central Texas town just north of Austin is one of the fastest-growing cities in the nation. As the population expands, so does its commitment to clean, renewable energy. NREL maps show Round Rock is located in a part of the state with above-average annual solar power generation potential and a high number of buildings suitable for solar installation.
Bruceville-Eddy
Though it's not as sizable as some of the other municipalities on our list, Bruceville-Eddy has a surprisingly robust solar infrastructure, allowing homeowners to harness the renewable energy of the sun. In fact, in the latest Shining Cities report, Bruceville-Eddy was reported as No. 1 in the state for per capita photovoltaic solar installation.
Tyler
Rounding out our list is Tyler, located east of Dallas near the Texas-Louisiana border. Homes in Tyler represent a not-insignificant portion of the state's solar energy potential, according to NREL. The area has a high number of solar-suitable buildings and high roof-mounted solar potential in terms of both capacity and generation.
Where Solar Panels Work Best
There are a few different factors that can make a city particularly well-suited for solar energy. One is exposure to sunlight; consistent, year-round solar exposure is common throughout Texas, which explains why the Lone Star State has so many major solar-producing and solar-ready hubs.
Average Texas Electricity Costs
Another factor to consider? High energy costs. As a general rule, when local electrical costs are higher, the value of solar power increases. By contrast, if electrical costs are already low, the benefits of going solar tend to be more modest.
In 2019, the average monthly electric bill in Texas was just over $134, according to the EIA. This is considerably higher than surrounding states, including Louisiana, Arkansas, and Oklahoma. The relatively high cost of electrical power makes Texas well-positioned for maximum solar benefits. Also note that the average monthly electric consumption was 1,140 kWh; again, this is higher than in neighboring states.
Texas Solar Tax Incentives
One reason some cities stand out over others for solar installations is that local utility companies offer rebates to help with the cost of solar panels. In addition to the federal tax rebate, which we'll explain in a moment, Texas homeowners should to aware of the following incentives:
| Solar Energy Incentive | Details |
| --- | --- |
| Statewide Property Tax Incentive | State law includes a property tax exemption for solar installations. Basically, this means installing solar panels increases the value of a home without increasing property taxes. |
| City-Specific Utility Incentives | Local utilities offer additional savings opportunities to residents of many cities across the state. |
Net Metering in Texas
Net metering programs allow solar users to take any excess energy their panels produce and sell it back to a local utility company. Currently, there is no statewide net-metering program in Texas, though some municipalities offer it to local utility users.
Homeowners are encouraged to check with their utility companies to see if they can get energy credits for any surplus solar energy they feed back into the electrical grid. Most of the best solar companies in Texas will also help you identify and apply for any tax breaks and rebates you're eligible for.
Federal Solar Tax Credits
As for federal programs, there is currently a 26% tax credit available for homeowners who install solar panels before 2023. In 2023, that incentive is set to lower to 22%, and it is scheduled to drop off completely in 2024.
Texas Solar Regulations
Statewide regulations also play a part in how and where Texans can install residential solar panel systems.
One regulation relevant to solar installation is Texas HB-362, which states that homeowners associations cannot ban solar panels within their community outright. However, homeowners must still go through their HOA's normal architecture review approvals process.
The Texas Property Code gives HOAs some specific grounds on which they can prohibit homeowners from installing solar panels, including:
Instances where the solar installation is a threat to health or safety
Installations that impede on public property or common areas
Installations that extend higher than the roofline
Installations that are ground-mounted but extend above the fence line
Final Thoughts: Top Cities for Solar in Texas
Did your city make our list of the 10 top cities for solar energy in Texas? If you want to raise your area's solar profile, one of the best ways is to install a solar panel system on your roof. You can also contact your local and state legislators to urge for ambitious city- and statewide renewable energy goals that will drive Texas toward more solar power in the future.
By Paul E McGinniss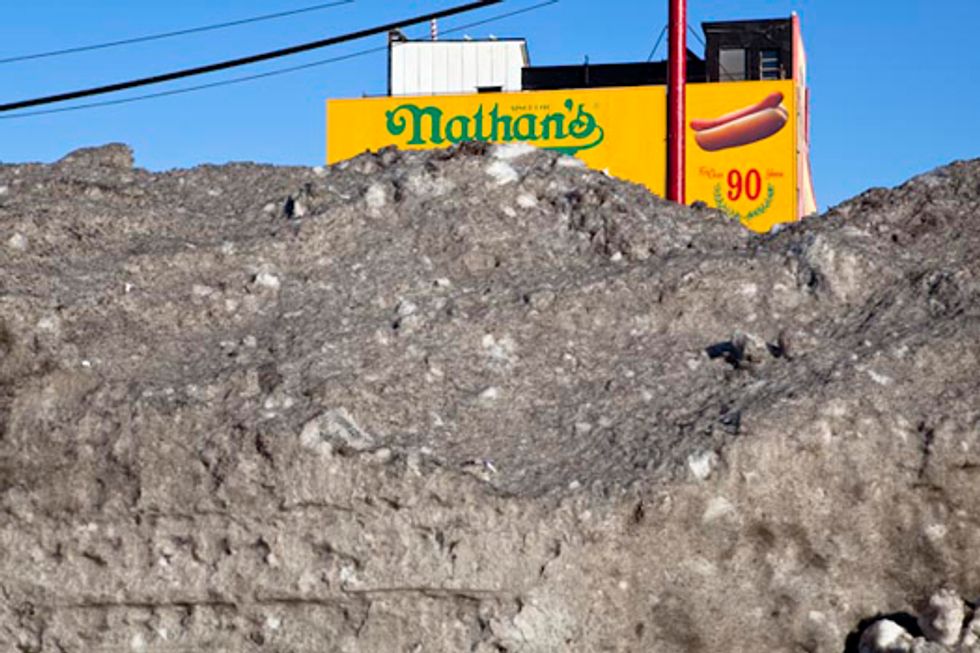 Dirty, soot covered snow in Cony Island, New York. Photo courtesy e-arcades.com
As a native New Yorker, I know soot. Talk to anyone in NYC and they will tell you they've wiped soot off their faces, window sills, car windows and picnic tables.
Fortunately, on Dec. 14, the U.S. Environmental Protection Agency (EPA) announced new clean air standards which will reduce harmful soot in the atmosphere by putting limits on emissions of fine particulate matter or PM2.5, one of the deadliest and most dangerous forms of air pollution. The new standard will reduce soot pollution by 20 percent. Soot pollution causes thousands of premature deaths every year across the U.S. through a variety of cardiovascular and respiratory illnesses.
And certainly the U.S. is not alone. A report out today by Greenpeace East Asia, estimated 8,572 premature deaths occurred in four major Chinese cities in 2012, due to high levels of PM2.5.
Even the Arctic is suffering from the world's high soot levels. James Balog and his Extreme Ice Survey Team, who bravely captured the Arctic glaciers disappearing as a result of global warming in the must see film, Chasing Ice, probably feels somewhat relieved that the U.S. EPA mandated new soot standards. Soot, also known as black carbon, is a significant contributor to climate change which Balog talks about in his film. According to a 2010 study by Dr. Mark Jacobson of Stanford University in the Journal of Geophysical Research, reducing black carbon emissions in the next 15 years could be the best and only way to save the Arctic ice from warmer temperatures.
Check out this video of Dr. Jacobson talking about his study Soot Is Second Leading Cause of Global Warming:
Clearly the U.S. EPA Administrator Lisa P. Jackson understands the value of stronger clean air standards. She said in a statement:
"These standards are fulfilling the promise of the Clean Air Act. We will save lives and reduce the burden of illness in our communities, and families across the country will benefit from the simple fact of being able to breathe cleaner air.
However, some industry groups acting like dinosaurs from ages long past, such as the National Association of Manufacturers (NAM) and the American Petroleum Institute (API), oppose these tougher emissions restrictions.
Dinosaur-in-Chief, NAM President and CEO Jay Timmons, stated in a press release:
"With the fiscal cliff only a few weeks away and so much hanging in the balance, the EPA displayed a staggering level of shortsightedness by dropping another harsh regulation on America's job creators."
But is protecting the health of Americans and our environment really shortsighted and a cost that businesses can't afford?
The API, another, shall we say, "not progressive" trade group representing an industry experiencing record profits, thinks businesses can't afford to protect the environment or the health of Americans, including their own employees.
Howard Feldman, API director of Regulatory and Scientific Affairs, said about the EPA's new standards:
"The collective impacts of these and other potential new regulations at a time when 12 million Americans are still unemployed would be a blow to our economy as it struggles to recover and put Americans back to work. It makes no sense to risk economic harm when the public health necessity of these regulations is ambiguous at best."
Fortunately, many American businesses don't buy the jobs vs. the environment ploy and believe that a strong, sustainable economy is only achievable when you have healthy people and a healthy planet.
Grain Processing Corporation (GPC) in Muscatine, Iowa, is demonstrating that they can stay in business while meeting the tougher new environmental standards. Janet R. Sichterman, corporate spokesperson for GPC, told EcoWatch today by email:
"Grain Processing Corporation has an ongoing commitment to the health and safety of our community. We are well on our way to reducing our environmental impact with the construction of a new $100 million dryer house.
"Operational in 2015, this new dryer house alone will enable GPC to reduce total emissions by 72 percent in less than three years and by 82 percent by 2020.
"This $100 million environmental renovation will allow GPC to slash emissions and achieve the new air quality standards set by the Environmental Protection Agency long before they take effect."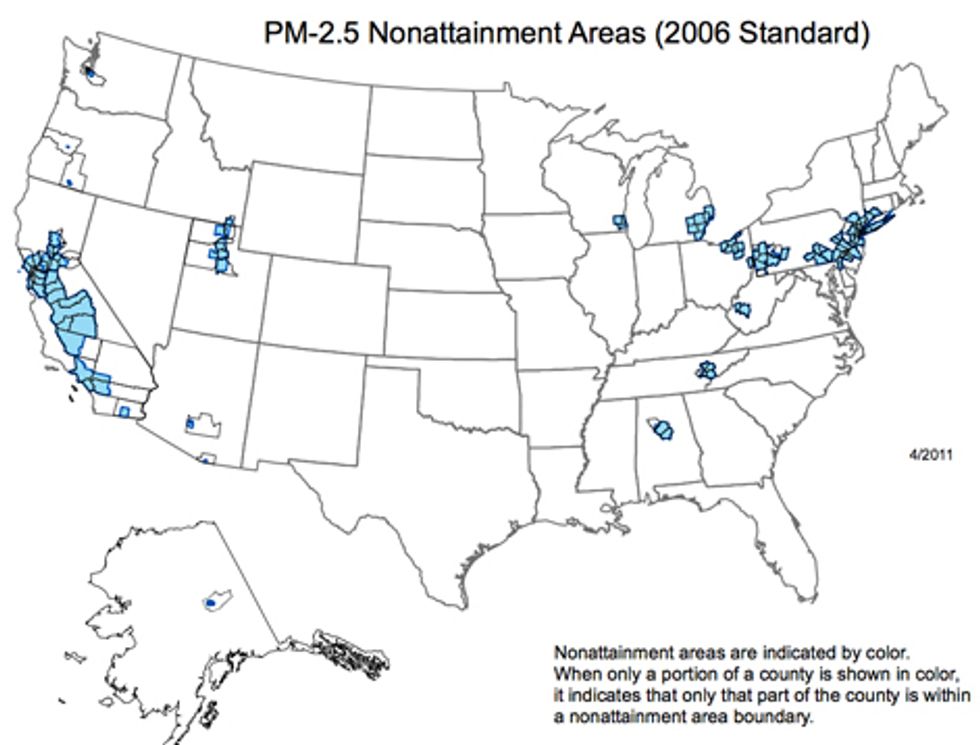 Of course it will take time to see progress from these new regulations, especially considering that 66 counties in the U.S. haven't even reached the air quality required by the old soot standard. If you live in greater Cleveland, Ohio, or the New York City metro region including New Jersey, Connecticut and Long Island, or one of the many parts of California as shown in the map to the right, you breathe air every day that is classified as non-attainment air quality.
Is it too much to ask for the snow falling on NYC to stay white for longer than a New York Minute?
Visit EcoWatch's AIR and COAL pages for more related news on this topic.
--------
Paul E McGinniss is The New York Green Advocate. He is a green building consultant and real estate broker in New York. He is pretty much obsessed with all things environment and has lately become a resiliency addict. Follow McGinniss @PaulEMcGinniss.
By Paul E McGinniss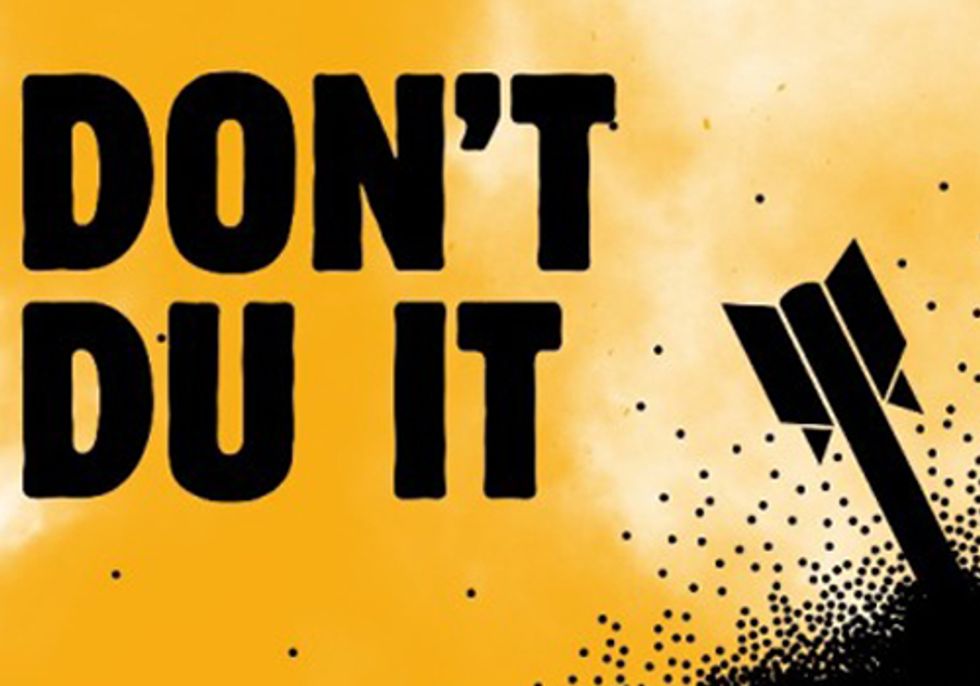 We all should be aware of the dangers posed by the world's stockpile of nuclear weapons. The eight countries known to possess nuclear weapons have 10,000 plus nuclear warheads. And, especially post-Fukushima, we now understand firsthand the potential danger of nuclear power plants, many which are aging and highly vulnerable to natural disasters. As of August 2012, 30 countries are operating 435 nuclear reactors for electricity generation. Sixty-six new nuclear plants are under construction in 14 countries.
But how many of us know about the current manufacturing and active use of depleted uranium (DU) weapons? DU (Uranium 238) is a radioactive waste by-product of the uranium enrichment process. It results from making fuel for nuclear reactors and the manufacturing of nuclear weapons.
In a frightening adaptation of the "Cradle to Cradle" philosophy in manufacturing, which seeks to use waste in the manufacturing process to create other "useful" products, militaries around the world have come up with the "brilliant" idea of taking DU and making "conventional" weapons with it.
According to BanDepletedUranium.org, approximately 20 countries are thought to have DU weapons in their arsenals. Nations known to have produced these weapons include UK, U.S., France, Russia, China and Pakistan.
DU is well liked by armed forces because it is twice as dense as lead and when fused with metal alloys it can be made into highly effective armor piercing weapons such as the M242 gun mounted on the U.S. Army's Bradley Fighting Vehicle. DU is also used in armor plating to protect vehicles such as the U.S. Army's Abrams Tank.
DU ordnance has been employed in the 1991 Gulf War and in conflicts in Bosnia, Serbia, Afghanistan and Iraq.
In a twisted way, use of DU makes perfect sense. After all, DU is plentiful, and with so much radioactive waste stored around the globe, and no safe place to store it, DU is a ready and cheap source of material for the ordnance of war.
The problem is, when DU armor piercing projectiles penetrate their targets, they become incendiary spewing radioactive dust.
The Physicians for Social Responsibility said in a brief about depleted uranium:
"The fact that DU is aerosolized on impact with its target and is transformed into small dust particles capable of being carried by the wind may threaten air, ground and water resources, which all may become long-term repositories for DU. Long term impact is especially important considering the 4.5 billion year half life of DU."
The International Coalition to Ban Uranium Weapons, an alliance of non-governmental organizations and some countries are seeking a worldwide ban on the production and military use of depleted uranium weapons. But other countries around the world, some of which also have DU weapons in their arsenal, downplay or deny the hazards to DU and claim there is no proven long-term hazard to the use of DU weapons.
Unfortunately, the U.S. Military, just as it did when using Agent Orange during the Vietnam war, has denied that DU weapons pose any significant hazard to civilian populations where they are used or American and allied soldiers who deploy these weapons.
In the 2003 article, The War Against Ourselves, Major Doug Rokke, former director of the U.S. Army's Depleted Uranium Project and active in the Gulf War in 1991, said:
"We didn't know anything about DU when the Gulf War started. As a warrior, you're listening to your leaders, and they're saying there are no health effects from the DU ... The U.S. Army made me their expert. I went into the project with the total intent to ensure they could use uranium munitions in war, because I'm a warrior. What I saw as director of the project, doing the research and working with my own medical conditions and everybody else's, led me to one conclusion: uranium munitions must be banned from the planet, for eternity."
In 2004, Juan Gonzalez reported in his New York Daily News story, The War's Littlest Victim, that National Guardsman, Gerard Darren Matthew, returned from Iraq suffering from mysterious illnesses and tested positive for uranium contamination. Shortly after his return, his wife, Janice, became pregnant and gave birth to a baby girl who was missing three fingers on her left hand and most of her right hand.
In 2006, Associated Press documented the case of soldier Herbert Reed who returned from Iraq very ill. As reported in U.S. Soldiers Are Sick of It, since Reed left Iraq, his gums bleed, there is blood in his urine and in his stool. Bright light hurts his eyes. A tumor has been removed from his thyroid. The Associated Press disclosed:
"About 30 percent of the 700,000 men and women who served in the first Gulf War still suffer a baffling array of symptoms very similar to those reported by Reed's unit. Depleted uranium has long been suspected as a possible contributor to Gulf War Syndrome ... "
In Depleted Uranium Weapon Use Persists, Despite Deadly Side Effects, Truthout reported:
"In 2010, a BBC correspondent interviewed medical staff at the new Falluja General Hospital ... Iraqi physicians reported that excess cases of severe birth defects were increasing yearly since the 2004 siege of the town. The reporter visited the pediatric ward and described being stunned by the horrific number of birth defects he witnessed and their shocking severity: children born with multiple heads; others, paralyzed, seriously brain damaged, missing limbs, and with extra fingers and toes."
And if you think the radioactive dust that has poisoned soldiers and populations, and permeated the ecosystems of the war-torn countries far away from America is not your problem, listen up. DU weapons have been tested by U.S. military at proving grounds and firing ranges in Arizona, Maryland, Indiana and Vieques, Puerto Rico.
Disturbingly, in the bucolic town in Concord, Massachusetts—birthplace of the American Revolution, famous for the "shot heard round the world," and home of Henry David Thoreau and Walden Pond—hosts one of the nastiest Superfund sites in the country. The toxic nightmare resulted from the manufacture of DU weapons.
The Environmental Magazine reported on the Concord Superfund site in 2004:
" ... few know about the nuclear waste dump at 2229 Main Street. But this shady burg of 15,000 residents quietly struggles with its legacy as the maker of depleted uranium slugs for the U.S. military's latest wars. The soil more than a mile from the nuclear dump is radioactive. A 1993 epidemiological study found the town's residents suffered higher rates of cancer than the state average."
As of November 2012, the U.S. EPA reported the Superfund site located in Concord on a 46.4 acre site of the former Nuclear Metals, Inc. (NMI) facility, after almost a decade of clean up efforts, is still not completed. Conveniently, NMI went bankrupt before cleaning up the site, leaving U.S. tax payers responsible for cleaning up the mess.
The radioactive mess in Concord pales in comparison to the horrific radioactive pollution at the 586 square mile, U.S. Department of Energy Hanford Nuclear facility in central Washington State. In August 2102, Environment News Service reported a million gallons of radioactive waste has already leaked into the soil and groundwater, threatening the entire region and nearby Columbia River. In August 2012, a memo from U.S. Department of Energy inspectors to the Washington State Department of Ecology detailed new leaks of radioactive waste coming from double shell storage tanks that were supposed to last another forty years.
The U.S. and the other countries producing nuclear waste have no safe, long-term strategy for dealing with the thousands of tons of radioactive waste accumulating each year. The majority of this dangerous material is stored onsite at nuclear power stations that are vulnerable to hurricanes, tsunamis, earthquakes and other potential disasters.
Despite pressure from the highly-subsidized nuclear industry, and the push to build more nuclear plants around the world, there is a growing anti-nuclear movement and support for alternatives to nuclear power. Famous anti-nuclear environmental advocate, Dr Helen Caldicott, said in a May 2012 Huffington Post interview:
"I've got the cure to global warming, which is a study that I commissioned called Carbon-Free and Nuclear-Free. Download it at www.ieer.org. You've got enough renewable energy right now, right now—integrated forms supply all the energy you need, right now—well, by 2030—but get going and you'll employ millions of people and it will be terribly exciting. And lead the world towards a carbon-free nuclear-free future."
Visit EcoWatch's RENEWABLE ENERGY and NUCLEAR POWER pages for more related news on this topic.
--------
Paul E McGinniss is The New York Green Advocate. He is a green building consultant and real estate broker in New York. He is pretty much obsessed with all things environment and has lately become a resiliency addict. Follow McGinniss @PaulEMcGinniss.

By Paul E McGinniss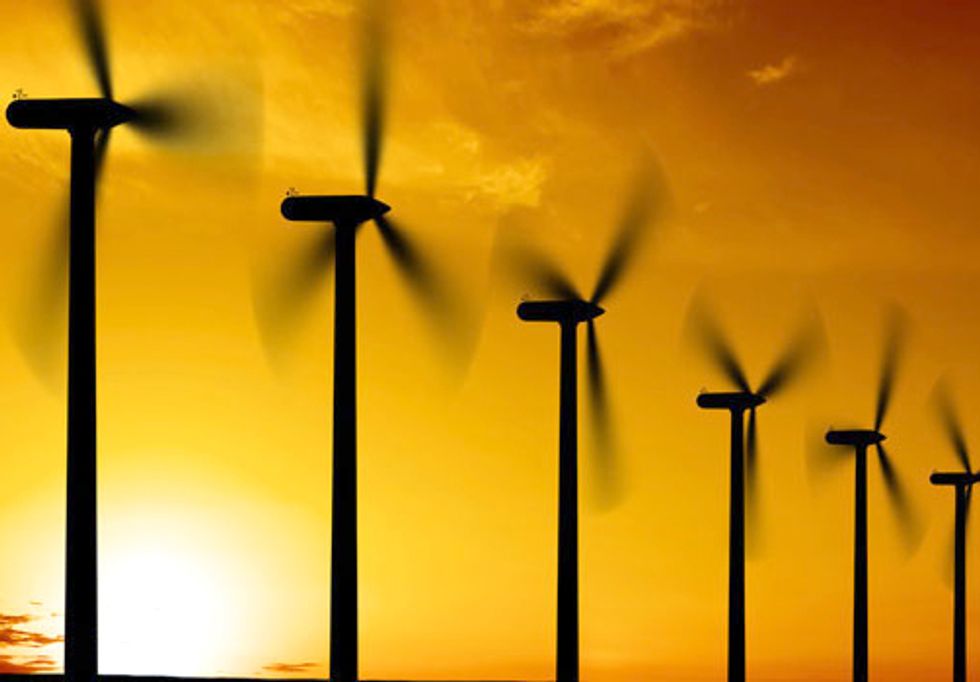 Morocco was the first country in the world to recognize the fledgling American Republic in 1777. Now, they are seeking clean energy independence and asking the world to join them in a green revolution.
This North African country, a constitutional monarchy about the size of California, has recently set a royal goal to ensure that 40 percent of its electricity demand is met from renewable energy sources by 2020. This is an extremely aggressive goal considering more than 90 percent of its current energy use is fossil fuel based and imported.
Astoundingly, with the cooperation of European and worldwide partners, Morocco has even grander plans to power itself entirely by renewable energy and potentially, in cooperation with other Northern African countries, export excess clean energy to Europe.
With these aggressive goals, it shouldn't be surprising that King Mohammed VI of Morocco isn't afraid of what anyone thinks when he talks about the reality of climate change. And talk he does.
In a message to world participants at the September 2102 conference in Morocco, Energy Challenges in the Euro-Mediterranean Region, King Mohammed said:
"Convinced of the vital importance of protecting and preserving the environment, and having realized at an early stage—thanks to its geographical location—the potential impact of climate change, my country resolutely opted for sustainable development which, needless to say, goes hand in hand with human development."
In 2009, King Mohammed announced at a ceremony attended by U.S. Secretary of State Hillary Clinton a $9 billion solar project with the target of creating 2,000 megawatts of renewable power by 2020. According to the Moroccan Minister of Energy and Mining at the time, Amina Benkhadra, the "massive project" will combine economic and social development with environmental protection and efforts to tackle climate change. "The project will reduce energy imports by saving the equivalent of a million tonnes of oil per year and help protect the environment by cutting carbon dioxide emissions by 3.7 million tonnes annually," said Benkhadra."
Morocco's foray into its green future started small, with encouragement of individual solar systems on homes, especially in remote areas with no power. The country rightly understood the importance of localized sources of power generation and micro grids. It was only in 2007 when Morocco installed its first, small 50 kilowatt photovoltaic power plant in Tit Mellil. Then things got on a roll. In 2007, Morocco installed 200,000 square meters of solar water heating panels. In 2008, a combined cycle solar and thermal plant of 427 megawatts was established. But, all this was just the tip of a huge wave of renewable activity which has positioned Morocco to be a major geopolitical player in renewable energy.
In 2010, the largest wind farm in Africa, consisting of 165 turbines, was inaugurated in northern Morocco.
Clean Technica reported in October 2012, that a new memorandum of understanding was signed between the Moroccan government and the Desertec Foundation, a German based entity, to strengthen plans to build a massive series of solar power plants in the northern part of Morocco. These plants will supply not only power for Morocco, but also feed clean energy to Europe via high voltage direct current transmission lines.
"Morocco is a not just a visionary in the region, but also a successful pioneer in the global transition to renewables," said Dr Thiemo Gropp, director of the Desertec Foundation.
In a Clean Technica article, Morocco Stays Renewable Energy Course Amidst Arab Spring, it notes that, "also vital to the renewable energy/energy efficiency strategy's success and job creation, Morocco is investing in building out a modern electricity grid and distribution lines. These are key to the government's plans to export green energy to Europe."
The green headway Morocco is making shows the vital importance of strong leadership.
A Forbes article, Is Morocco the Mediterranean's Green Energy Savior?, states that Fouad Douiri, Morocco's newly appointed Minister of Energy, Mines, Water and the Environment, cited a series of laws passed in 2009. The legislation provided the foundation and grid support for the country's renewable efforts, including the creation of the National Agency for Renewable Energy Development and Energy Efficiency and the Moroccan Agency for Solar Energy.
King Mohammed and his government understand that being energy independent is not just about national security, it's also about bettering the lives of the citizens in the process, protecting a fragile environment, creating jobs and educating the youth.
With an eye toward protecting air and water quality and not just developing energy security, in 2010 Morocco introduced a "green tax" for polluters.
"Although the cost of solar energy is still high, this source of renewable energy opens up promising, strategic prospects since state-of-the-art technologies in this field are readily available ... In addition to generating electricity, this energy sector provides a basis for green growth in addition to contributing to economic and social development. It should also enable our country to sharpen its industrial competitive edge and help us encourage development-oriented scientific research and technological innovations, sensitize our young people about civic environmental values and promote optimal use of alternative energy sources," explains King Mohammed.
On Nov. 12, the Moroccan King announced the creation of a "green city" which has at its heart a university which includes a focus on sustainable development and clean technology. This creative and bold initiative is similar to the visionary green city cum university, Masdar, that is in the works in Abu Dhabi, United Arab Emirates.
Granted, Morocco, unlike the U.S. and some of the neighboring, oil rich countries like Libya, is not blessed with fossil fuel riches. So, obviously, they are not able to develop an energy security plan that relies on fossil fuels. Nonetheless, they are showing larger, wealthier and more powerful countries that with vision and leadership they can modernize and develop themselves sustainably, without fossil fuels.
The fact that Morocco, a country with a GDP of 100.22 billion dollars, an economy much smaller than the state of California—$1.9 trillion economy, the 8th largest GDP in the world), has manged to move so far so fast is a lesson for us all.
Interestingly, many thought California's renewable energy mandates were unrealistic when in 2011 it set a goal of achieving renewable electricity generation of 33 percent by 2020. The LA Times reported after Governor Jerry Brown signed the legislation, "the new law, known as a renewable portfolio standard, is the most aggressive of any state. Several attempts to introduce a federal version have stalled in a divided and preoccupied Congress."
But, the naysayers who doubted that California could do what it set out to accomplish are being proved wrong. The Natural Resources Defense Council reported in California Utilities Exceed Renewable Power Goals, "at a time when there's plenty of disheartening news about the environment, yesterday's report that California is continuing to make rapid progress toward its goals for clean, renewable power generation is reason to cheer. The California Public Utilities Commission's progress report shows that the state's three largest private electric utilities—Pacific Gas & Electric, Southern California Edison and San Diego Gas & Electric—have met the renewable portfolio Sstandard goal of 20 percent of renewable energy from 2011-2013—and are on track to surpass that milestone this year en route to achieving the mandated one-third share by 2020."
Disappointingly, the U.S. government, unlike Morocco and an increasing number of other countries around the world, has not passed a federal renewable portfolio standard. However, most U.S. states across the country are moving in the direction of clean energy with 38 states setting Renewable Portfolio Standards or at least having renewable energy goals.
According to Reuters, the Chancellor Angela Merkel of Germany said this month that the German government remained committed to expanding its renewable energy capacity and would strive to coordinate policies better with the country's 16 states. Further, Merkel and state leaders told reporters that better coordination would help Germany achieve its goal of getting 40 percent of its electricity from renewable sources by 2020, up from 25 percent currently.
With Morocco managing to address local environmental concerns, develop a resilient energy security program and connect to a larger world energy strategy in such a short time, hopefully it will inspire policy makers around the world. The accomplishments in Morocco are especially important for American politicians to consider as they weigh the merits of continued extreme fossil fuel extraction, including approving the Keystone XL tar sands pipeline, fracking and offshore oil drilling.
America should recognize Morocco's achievements and join them on a path toward a clean, peaceful green energy world.
Check out this Al Jazeera English video from 2010, Going Green in Morocco:
Visit EcoWatch's RENEWABLES page for more related news on this topic.
--------
Paul E McGinniss is The New York Green Advocate. He is a green building consultant and real estate broker in New York. He is pretty much obsessed with all things environment and has lately become a resiliency addict.
By Paul E McGinniss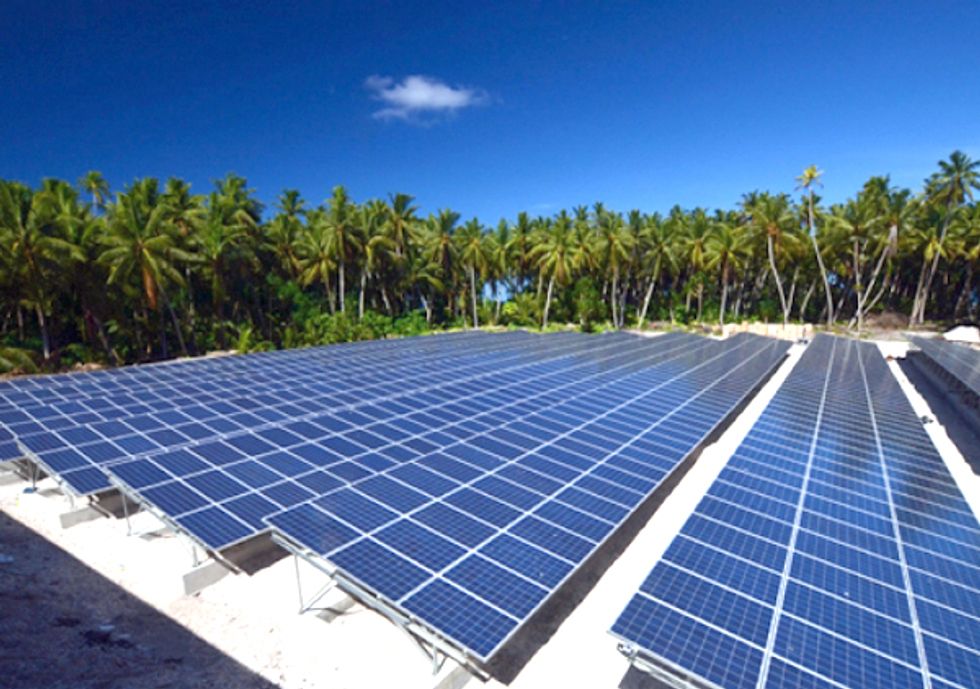 Goodbye diesel generators, hello sunshine and coconuts! The remote Pacific island nation of Tokelau, which lies midway between New Zealand and Hawaii and was settled over a thousand years ago, is the first country on the planet to give up fossil fuels and power itself solely by renewable resources.  
Tokelau's three atolls, which are territory of New Zealand,  now have independent renewable energy systems comprised of solar Photovoltaic (PV) panels and coconut biofuel powered generators. Each renewable power plant has battery back up installed and produce enough clean energy to supply 150 percent of the countries current demand.
Previously the island country powered itself by shipping in thousands of barrels of dirty diesel fuel. According to PowerSmart, the New Zealand based company which  installed the Tokelau Renewable Energy Project, diesel generators were burning around 200 liters of fuel daily on each of Tokelau's three atolls, meaning more than 2,000 barrels of diesel were used to generate electricity in Tokelau each year, costing more than $1 million NZD.  Money saved from diesel fuel costs will now be put toward social programs.
Minister of Foreign Affairs for New Zealand, Murray McCully said in a statement: "Until now, Tokelau has been 100 percent dependent upon diesel for electricity generation, with heavy economic and environmental costs."
PowerSmart Managing Director Mike Bassett-Smith says the company is proud to be leading the project because of the impact it will have on the well-being of the people of Tokelau:
"All across the Pacific there are clear issues with the current and expected future costs of electricity generated using diesel, not to mention the environmental costs and risks of unloading diesel drums on tropical atolls. ... Energy costs underpin the economic and social development of these nations and making a positive impact on these issues is the single most important reason we started this business."
New Zealand is now working with the pacific nations of Tonga and the Cook Islands to develop renewable energy. And the renewable energy project in Tokelau has generated much interest in renewable energy from New Zealanders as well.
Many countries around the world are announcing aggressive plans for renewable energy development. Saudi Arabia just announced plans to go 100 percent renewable with Mecca working toward becoming the first city in Saudi Arabia to operate an entire power plant from renewable energy sources.
Scotland has set a goal of 100 percent renewable energy by 2020.
In India a climate change movement against fossil fuels has rallied many to embrace clean energy, including the remote village of Sompeta in the state of Andhra Pradesh, to adopt widespread installation of solar PV.
Despite enormous pressure from the heavily subsided, powerful fossil fuels industry, the U.S. has made great strides in developing renewable resources. According to the Renewable Energy Policy Network for the 21st Century, as of 2011 the U.S. was number one in geothermal energy capacity in the world and second in wind power. And we are the fifth largest producer of power from solar PV.
But we have a long way to go if we want to be 100 percent renewable. According to the U.S. Energy Information Agency, approximately 8 percent of U.S. power is now generated by renewable resources. And the U.S. is the second largest consumer of energy, after China, which recently surpassed American energy consumption.
There is an urgent need to combat climate change and get off fossil fuels. Bill McKibben, founder of 350.org, pointed out in his feature piece for Rolling Stone Magazine, "We have five times as much oil and coal and gas on the books as climate scientists think is safe to burn. We'd have to keep 80 percent of those reserves locked away underground to avoid that fate. Before we knew those numbers, our fate had been likely. Now, barring some massive intervention, it seems certain." McKibben is working hard to get these facts out to Americans during his Do the Math Tour.
Fortunately, there's reason for hope. Think Progress reported that renewable electricity nearly doubled under the first Obama administration. And in 2011, global investments in renewable energy surpassed investments in fossil fuels for the first time. Since 2004, one trillion dollars have been invested in the global clean energy sector.
Let's keep the momentum building and keep steady pressure on world leaders, as well as our state and federal governments to push for 100 percent clean energy. Sign EcoWatch's petition today, telling Congress to expedite renewable energy.
Visit EcoWatch's RENEWABLES page for more related news on this topic.
--------
Paul E McGinniss is The New York Green Advocate. He is a green building consultant and real estate broker in New York. He is pretty much obsessed with all things environment and has lately become a resiliency addict.
By Paul E McGinniss
I watched the astounding film about global warming and the world's melting glaciers, Chasing Ice, at the Woodstock Film Festival last month. Part of the jaw-dropping documentary about National Geographic explorer and environmental advocate, James Balog, was filmed in breathtaking Greenland—the largest island in the world, and a self-ruling overseas territory of Denmark.
Greenland's vast, pristine, virtually-untouched terrain is becoming a hotbed for resource extraction. The Arctic is melting at an unprecedented rate, making Greenland's natural resources, including high demand commodities such as oil, gas, gold, iron, copper and rare earth metals, more accessible. Insatiable international oil, gas and mining conglomerates are now aggressively vying to control access to the riches glaciers once denied.
"This is not just a region of ice and polar bears," Prime Minister of Greenland, Kuupik Kleist, told Reuters in the capital Nuuk, formerly known by its Danish name Godthab. "Developing countries are interested in a more political role in opening up of the Arctic. Greenland could serve as a stepping stone."
Greenland has less than 60,000 people living in an 836,109 square mile area. Comparatively, Greenland is almost a quarter the size of the continental U.S. Until recently, the country was regarded by strategists as barren wasteland with little political or economic import. But now this once overlooked arctic island is being targeted by government and politically connected entities, anxious to extract what lies beneath the glacier ice sheet. The powerful and deep-pocketed interests include China, the U.S., Russia and the European Union.
Many in Greenland are excited about the attention the remote island nation is attracting and are happy to have world powers courting Greenland looking to strike it rich. Greenlanders are hoping they too will get rich along with the foreign investors.
Henrik Stendal, head of the geology department at Greenland's Bureau of Minerals and Petroleum, a Dane who has worked in Greenland since 1970, told the U.K. Guardian in July:
"We have shown that we have huge potential—it has been an eye-opener for the mining industry. The EU has shown a lot of interest and that's been very good—we believe this could be very valuable for Greenland. There could be benefits for everyone—at present most of our income is from fishing and a little bit of tourism, so the government really wants another income."
In addition to oil and gas, and perhaps even more attractive to industry, are rare earth metals that lie beneath the ground in Greenland that are essential components in new technologies, including computer hard drives, cell phones and flat screen devices. The world is consuming these rare earth metals at a voracious rate. For instance, in the first weekend of sales, the 4G iPad mini sold four million units. Our appetite for these devices and the rare metals required seems unending.
Rare earth metals are also essential elements to military guidance systems and other defense related technology. Most of the rare earth metals are currently sourced in China. Now, the world's nations are considering Greenland's resources not just from an economic point of view, but, perhaps more importantly, a strategic perspective. There is a national security imperative when looking at availability of these resources and who controls them.
The New York Times reported in September:
"Western nations have been particularly anxious about Chinese overtures to this poor and sparsely populated island, a self-governing state within the Kingdom of Denmark, because the retreat of its ice cap has unveiled coveted mineral deposits, including rare earth metals that are crucial for new technologies like cellphones and military guidance systems. A European Union vice president, Antonio Tajani, rushed here to Greenland's capital in June, offering hundreds of millions in development aid in exchange for guarantees that Greenland would not give China exclusive access to its rare earth metals, calling his trip 'raw mineral diplomacy.'"
"In the past 18 months, Secretary of State Hillary Rodham Clinton and President Lee Myung-bak of South Korea have made debut visits here, and Greenland's prime minister, Kuupik Kleist, was welcomed by President José Manuel Barroso of the European Commission in Brussels."
Yet another extremely important and complicated aspect to the race for riches in the Arctic is that the rare earth metals buried under the ice are also a vital component in green technologies. For example, neodymium is necessary to fabricate the super efficient magnets essential to electric cars and wind turbines. Clearly, access to rare earth minerals is key to manifesting a clean energy future.
It's maddening to think that corporate leaders and world government officials are more in a frenzy to protect their self interests and exploit natural resources as opposed to slowing global warming.
The race for natural resources in the Arctic highlights the importance of energy conservation and recycling.
In the article, Peak Minerals: Shortage of Rare Earth Metals Threatens Renewable Energy, Professor Chris Rodes said:
"In the face of resource depletion, recycling looks increasingly attractive. In this stage of development of the throw-away society, now might be the time to begin 'mining' its refuse. While recycling of base-metals from scrap is a mature part of an industry worth $160 billion per year, current efforts to recover and recycle rare-metals are far less well advanced. Ultimately, recycling needs to be deliberately designed into an integrated paradigm of extraction, use and reuse, rather than treating it as an unplanned consequence."
For more information watch the New York Times video Race is On as Ice Melt Reveals Arctic Treasures.
--------

Paul E McGinniss is The New York Green Advocate. He is a green building consultant and real estate broker in New York. He is pretty much obsessed with all things environment and has lately become a resiliency addict.
By Paul E McGinniss
[Editor's note: On Tuesday, California's Proposition 37—a measure that would have required genetically engineered (GE) foods to be labeled—was defeated. The labeling law lost because large agricultural chemical companies like DOW and Monsanto spent more than $45 million on misinforming voters on the potential health risks associated with eating and growing GE foods. The post below outlines how this industry is gearing up to spread even more toxic pesticides and herbicides across America as part of its farming regime. In addition to the potential danger of eating GE foods, the potential fallout from the toxic chemicals used in GE farming is incalculable.]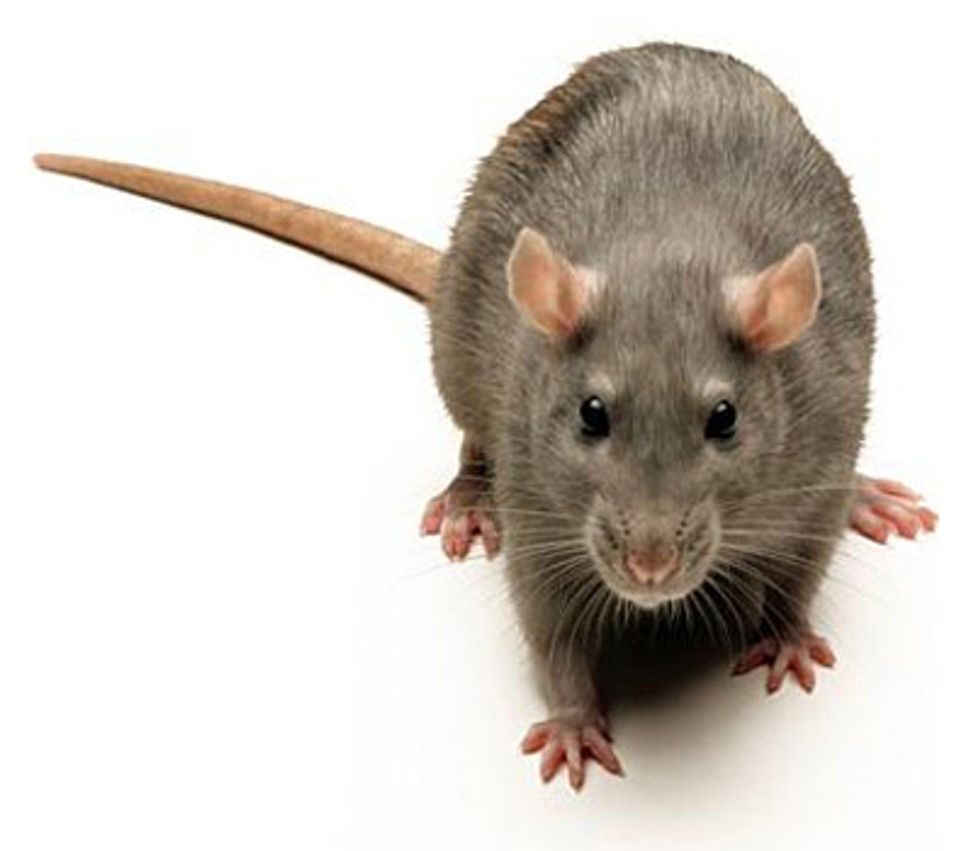 Just when I thought the new super weeds invading the Earth (you know, those hard-to-kill, terminator-like weeds which have become immune to toxic herbicides like Monsanto's Roundup) were scary enough, now I learn about super rats, which, like super weeds, have become immune to the poisons designed to kill them.
An ongoing study by Dr. Dougie Clarke, head of biological sciences at the University of Huddersfield's School of Applied Sciences, UK, has shown that widespread use of rodenticides has led to rats becoming resistant to previously effective, commonly used rat poisons. Over time, in areas treated with these poisons, the rat population will evolve exclusively into the Super Rat type that pass the resistance gene to their offspring.
And, it gets worse. Australian Museum naturalist Martin Robinson reported, "A lot of suburban rats have become immune to the poison baits. And that when they become immune to the bait, they can actually become addicted to it."
In order to combat the rodents, stronger poisons are being introduced that are deadly, even to the Super Rats. But, there is worry that Super Rats could potentially become genetically resistant to these stronger poisons as well.
Like herbicides and pesticides used widely on farms and throughout the country, rodenticides can pose a high risk to humans, animals and wildlife.
According to Beyond Pesticides, "The American Association of Poison Control Centers annually receives between 12,000 and 15,000 reports of children under the age of six being exposed to these types of products, with black and Hispanic children living below the poverty line being disproportionately affected." The U.S Environmental Protection Agency (EPA) reported that these rodenticides "are, by far, the leading cause of [pesticide-related] visits to health care facilities in children under the age of six years and the second leading cause of hospitalization."
The rise of the super rat parallels the rise of the super weed. Studies show that Genetically Modified Crops Have Led to Pesticide Increase. A report by Charles Benbrook, a research professor at the Center for Sustaining Agriculture and Natural Resources at Washington State University, shows that U.S. farmers are using more hazardous pesticides than ever before to kill weeds and insects because genetically modified crop technologies have sparked the rise of "super weeds" and "super bugs" that have become immune to the poisons currently used to kill them.
Ironically, one of the purported benefits of Genetically Modified Organisms (GMO) technology was that the genetically modified plants, which were made resistant to the insecticides and herbicides sold along with them, would reduce the use of herbicides and pesticides. In fact, according to Charles Benbrook and other scientists, new weed species have become resistant to glyphosate, the main ingredient in Roundup, causing farmers to use increasing amounts of glyphosate and other weed killing chemicals to try to control the so-called "superweeds."
And, according to Benbrook, the introduction of genetically modified "Bt" corn and cotton crops, which are engineered to be toxic to certain insects, has triggered the rise of "super bugs" which are now resistant to the crops with the spliced-in genetic toxin.
There is much evidence that GMO crops and the herbicides used with them are poisoning the world's drinking water.
According to the U.S. Geological Survey, 88,000 tons of Roundup were used in the U.S. in 2007 alone. In a groundbreaking study published last year in the journal Analytical and Bioanalytical Chemistry, evidence surfaced that glyphosate, the active ingredient in Monsanto's patented herbicide, Roundup, is polluting the groundwater in areas where it is being applied.
In 2011, the journal Environmental Toxicology and Chemistry, published a study which found Roundups's glyphosate was in 60-100 percent of all air and rain samples tested, indicating that glyphosate pollution and exposure is now omnipresent in the U.S. Accumulating evidence indicates that glyphosate is also resistant to biodegradation. 
A new and alarming study published in the journal Neurotoxicology and Teratology, supports the emerging connection between glyphosate and the emergence of neurodegenerative conditions including Parkinson's disease and Parkinsonian disorders. Human epidemiological studies have found an association between Roundup exposure and miscarriages, birth defects, neurological development problems, DNA damage and certain types of cancer.
But, the big agricultural-chemical companies do not seem to have learned from their past mistakes. They have taken the approach, as with the battle against the super rat, that the way to solve the problem of super weeds and super bugs is to spray even more toxic poisons to kill the very invasive species caused by their dangerous experiments on the environment and our health.
Clearly, Dow and Monsanto have joined forces to poison America's Heartland. They have partnered to reintroduce the use of the herbicide 2,4-D, one half of their infamous defoliant, Agent Orange, in support of a weed management program to kill super weeds. These even-more-toxic herbicides are to be sold in tandem with a corn that is genetically engineered to be immune to the poison. This modified corn has been dubbed "Agent Orange Corn."
With this Orwellian approach to farming, there is a predicted doubling of harmful herbicide use in America's corn belt over the next decade.
Visit EcoWatch's GENETICALLY MODIFIED ORGANISM page for more related news on this topic.
--------
Paul E McGinniss is The New York Green Advocate. He is a green building consultant and real estate broker in New York. He is pretty much obsessed with all things environment and has lately become a resiliency addict.
By Paul E McGinniss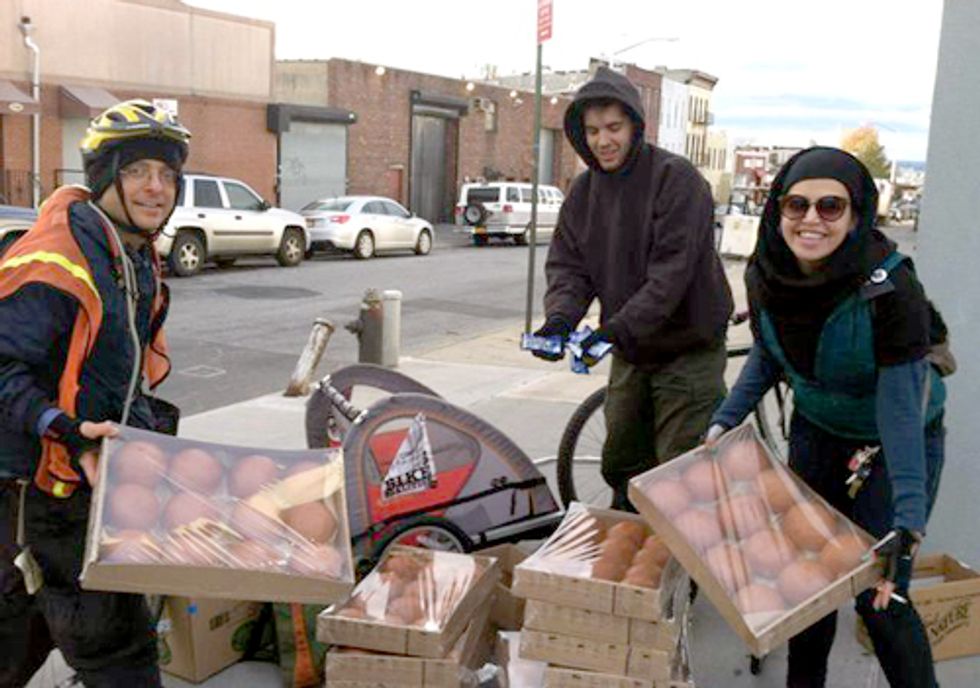 Occupy Sandy (OS), NYC's instantaneous grassroots emergency relief network, is the essence of resiliency. Shortly after superstorm Sandy hit NYC and wreaked unbelievable havoc, OS coordinated more than three thousand volunteers to offer emergency relief to New Yorkers not receiving timely, much needed assistance.
Within days, this grassroots coalition, spawned by Occupy Wall Street (OWS), had distributed tens of thousands of meals and other relief items to a struggling populations without power, food and water. 
Dana Balicki, an organizer with OWS, described how OS was launched with the help of neighborhood, citywide and national groups including 350.org and Recovers.org. While we talked, Dana was standing atop 1,000 cases of donated bottled water housed inside one of their emergency response centers—the transformed St. Jacobi Church in Sunset Park, Brooklyn, one of the NYC neighborhoods hardest hit by Sandy.
"Occupy Sandy was built on the history of OWS. It did not come out of nowhere. It was built out of the networks of activists, community groups and national organizations that worked with OWS to fight for economic justice," said Balicki.
Balicki emphasized that OS  is meant to be part of the overall network of help inside the region working to assist NYC residents, including the Red Cross and other groups. Because of the open source nimbleness of the Occupy Network, it allows them to move fast.
"FEMA is not a first responder. And, OS does not want to be disparaging of the city's response. What we are here to do is fill in the gaps. We have the ability to immediately mobilize based on the networks we built in the past year with OWS," said Balicki. "OS is just one of many efforts. It could not exist without all the other community, city and national groups and their networks. People from all over are being pulled in and all the groups working together is much bigger than the sum of its parts."
No matter what you might think about OWS, witnessing the remarkable genesis of OS and quick implementation of emergency efforts, it's not a stretch to imagine that OS could play an important role in future crisis relief operations across the country, especially as extreme weather continues to impact our planet.
Its clever open-source, peer-to-peer, on-the-ground emergency relief coordination is a model easily adapted for cities and communities all over the world when confronting severe weather or other natural disasters. OS is lend-a-hand, low-tech-meets-hi-tech SOS crisis response in action. It's the perfect combination of social media and social activism. Reddit meets the Red Cross or Facebook meets FEMA.
Indeed, the team behind OWS knows full well that OS has legs and those legs are made for walking. "The hope is, after the initial emergency response now in effect, we will do more long-term work with the community groups and reinforce the power of our interconnected networks. This is not the last time we will have these storms," said Balicki.
Hopefully, OS will remain a force for community building that will endure long after some sense of normalcy returns to the affected region. 
As we ended our conversation, Dana confirmed Occupy Sandy's long term commitment to the community. "After the power is turned back on in all of NYC and food, water and heat is not an issue for those upended by Sandy, there is still much work to be done."
Dana pointed out that "water pollution and mold will be an issue for many homeowners" and OS hopes to assist affected citizens in dealing with the continuing after affects of hurricane Sandy. With plans to expand their efforts, Balicki notes, "And, Staten Island has gone largely unrecognized and Occupy Sandy hopes to strengthen our connections to this borough and other parts of the city that need help now and might need help in the future."
What OS and other relief groups and their volunteers are accomplishing in the aftermath of superstorm Sandy is proof that people do have the power and nothing can stop us from overcoming any difficulty if we are willing to roll up our sleeves, get our hands dirty, open up our hearts and minds, share our social media networks and truly work together to overcome any adversity, quickly and efficiently.
Occupy Sandy has set up a "wedding registry" on Amazon for anyone who wants to donate supplies.
Occupy Sandy isn't the only instantaneous grassroots emergency relief network that formed following Sandy. Check out this great video from Reuters TV highlighting the community groups that are working to rebuild after Sandy's devastation:
Visit EcoWatch's HURRICANE SANDY page for more related news on this topic.
--------
Paul E McGinniss is The New York Green Advocate. He is a green building consultant and real estate broker in New York. He is pretty much obsessed with all things environment and has lately become a resiliency addict.
By Paul E McGinniss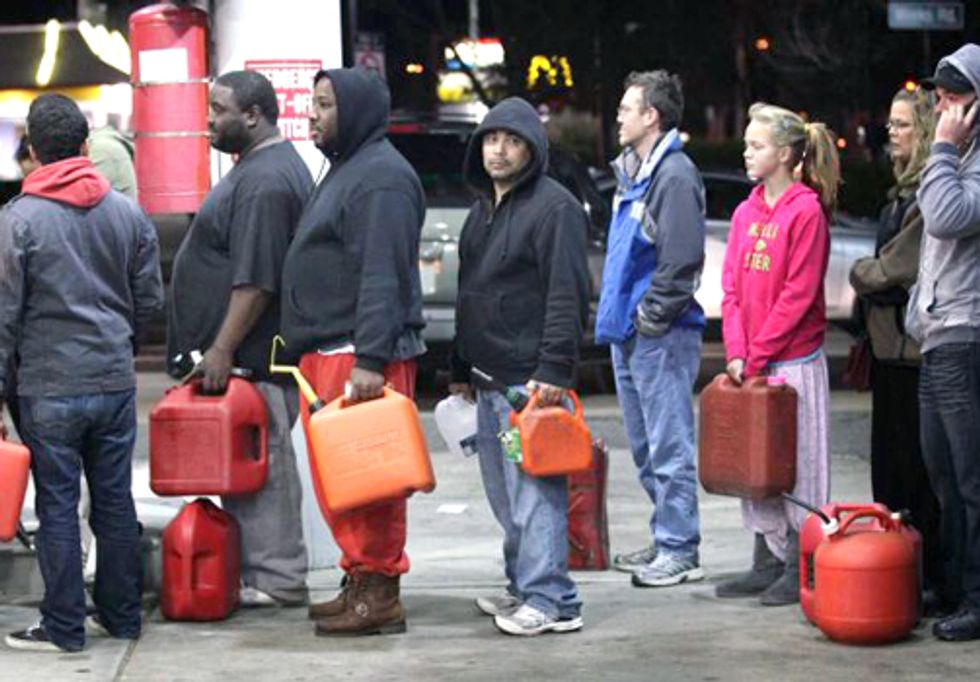 Only days before the 2012 election, tempers are flaring as thousands of New Yorkers and New Jerseyans wait in line to get their chance to fill up at the pump. Police have been summoned to quell violence at gas stations all over the region.
Clearly, our heavily subsidized fossil-fuel-dominated energy infrastructure is not designed to withstand a superstorm. Incredulously, the post-Sandy gas crisis is not caused by flooding and damage to facilities, rather by power outages that have disabled storage terminals and gas stations preventing distribution of this liquid gold.
The post-Sandy mayhem erupting at gas stations magnifies American's addiction to oil. We are truly carbon junkies! It took only two days after the storm for people to turn desperate. Baseball bats wielded, even guns drawn, to defend positions in a gas line. Who among us is ready to die over a few gallons of gas?
Not having gas to drive your car is one thing. Not having access to water is another. Can you imagine what storm-ravaged communities would be like if they were fighting for clean drinking water?
According to the film, Last Call at the Oasis, fresh water is soon to be recognized as more valuable than oil. Unfortunately, most of us in this country still take for granted clean drinking water.
Today, many believe that extreme weather like superstorm Sandy is going to be the new normal.
My colleague and fellow New Yorker, Stephen Del Percio, founder and publisher of gbNYC, wrote eloquently about Sandy and the ensuing crisis:
"The unprecedented damage Hurricane Sandy inflicted on the New York City area should be an urgent reminder to our elected officials that the local impacts of global climate change—whatever you believe is causing them—are real. It's also an important opportunity to reflect on the general lack of leadership from the federal government on this critical issue and a renewed chance to demand that Congress take strategic, systemic, and long-term remedial action with appropriate input from states and municipalities."
Are Americans so complacent, short-sighted and unenlightened that we don't immediately demand pragmatic, scientifically-based leadership from our politicians on the issue of climate change?
According to a Huffington Post piece by Michael Moore, there are up to 90 million people who are not planning to vote in this election.
I hope you're not one of them. Because as Annie Leonard from the Story of Stuff says, Vote darn it!
Visit EcoWatch's WATER and CLIMATE CHANGE pages for more related news on this topic.
——–
Paul E McGinniss is The New York Green Advocate. He is a green building consultant and real estate broker in New York. He is pretty much obsessed with all things environment and has lately become a resiliency addict.
By Paul E McGinniss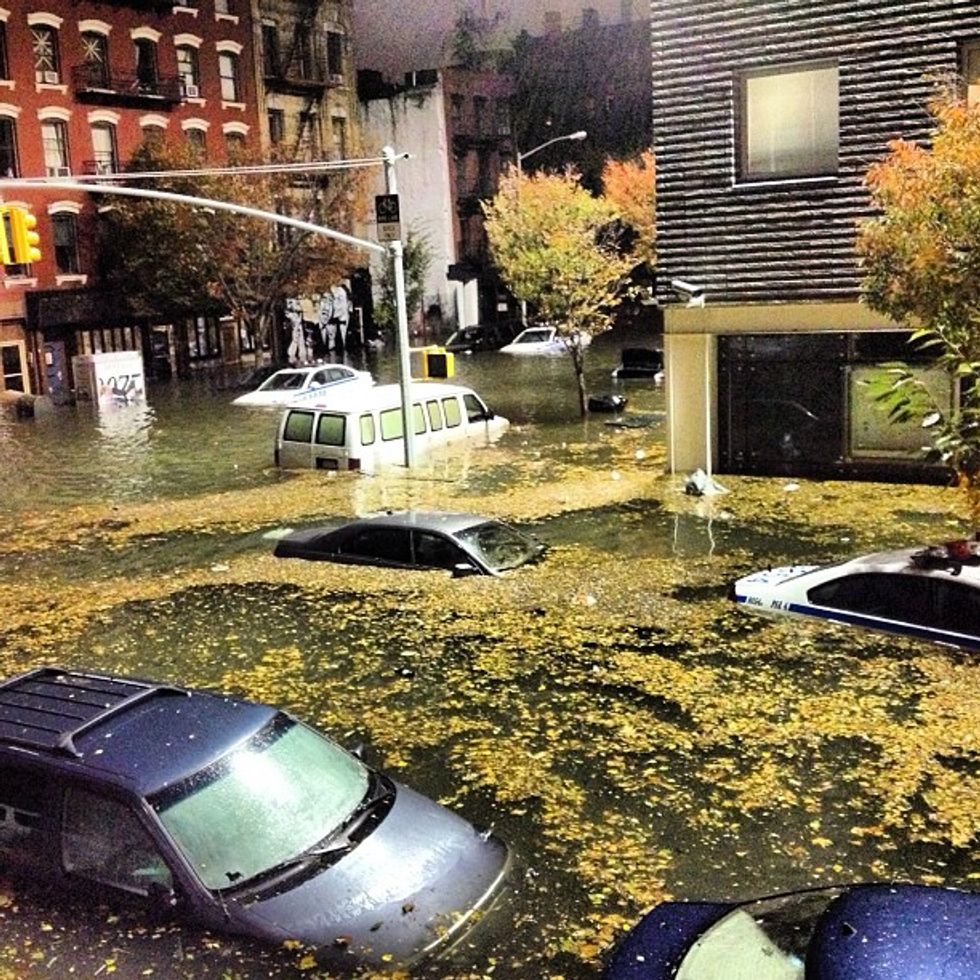 In addition to the many lives lost, houses burned, buildings flooded, coastlines ravaged and families displaced, there's a toxic brew of chemicals polluting local waterways.
On Monday night, it was reported that 350,000 gallons of diesel fuel spilled into Arthur Kill, a waterway that separates Staten Island, New York and New Jersey. The spill occurred after a storage tank burst at a Woodbridge, New Jersey facility owned by Motiva Enterprises LLC, a joint venture of Shell and Saudi Refining Inc.   
The AP states, and NY/NJ Baykeeper Debbie Mans confirmed, that secondary containment [walls and berms] around the tanks seems to have captured much of the spill, so apparently only a portion of it went into the Arthur Kill, not all of it. According to the AP, Woodbridge, New Jersey environmental officials report 336,000 gallons of diesel fuel spilled after a storage tank was lifted and ruptured by superstorm Sandy's surge.
The Coast Guard says all the spilled oil is believed to be contained by booms put in the water. Coast Guard spokesman Les Tippets says a secondary tank caught most of the oil and that the liquid that escaped moved into the Arthur Kill.
New Jersey Department of Environmental Protection spokesman Larry Ragonese says the company reported the spill and hired contractors to clean it up.
 
"While secondary barriers and quick Coast Guard response appear to have captured much of the spill, Shell and Saudi Refining must now be held responsible for the cleanup and any environmental damage to the Arthur Kill. Once cleanup and recovery efforts from this storm are complete,  New York and New Jersey must make it a priority to expand protections at storage facilities like this, to deal with the ever-increasing risk of similar spills in the future," said Paul Gallay, Hudson Riverkeeper.
It's not just the Arthur Kill waterway that has been affected by toxic spills from Sandy. The entire region is seeing a toxic fallout, just like New Orleans experienced when more than 11 million gallons of oil were spilled after Katrina.
"The impact of Sandy's storm surge is enormous, causing widespread pollution of the Hudson River and New York Harbor by a variety of toxic chemicals, including petroleum and fluids from cars and boats; contaminants from flooded subways, roads, parking lots and tunnels; and contaminants washed from shoreline industrial sites, as well as commercial and residential buildings," said Gallay. "Oil sheens and debris have been observed—everything from 55-gallon drums and quart-sized containers of transmission fluid to wrecked boats and swamped vehicles with leaking fuel tanks."
Filmmaker Josh Tickell, director of The Big Fix and New Orleans native, said today, "At the time of Katrina, no one wanted to admit how much oil had been spilled. Official estimates now are maybe only 11 million gallons, but many estimate the total oil spilled because of Katrina at the same amounts as the Exxon Valdez. Most have forgotten that oil spilled during Katrina, and most will forget the oil spilled from Sandy. They will continue to forget until it is in their backyard."
Amy Mall from the Natural Resources Defense Council (NRDC) brings up yet another major concern when it comes to super storms and water contamination. How safe are fracking and wastewater disposal sites when hit by severe storms?
Toxic fracking wastewater is often stored in open air pits close to homes. Pursuant to the Clean Water Act, these facilities are required to prepare, amend and implement spill prevention plans. But, the NRDC reports in Big Storms and Fracking: What's at Stake, that in Fiscal Year 2011, the U.S. Environmental Protection Agency officials visited 120 oil and gas development sites and found 105 were out of compliance with the law. A whopping 87.5 percent of sites are an accident waiting to happen.  
"This is all increasingly terrifying as Sandy bear[ed] down on the Marcellus region, where there are many open pits filled with fracking and related waste. Because the oil and gas industry is also exempt from our hazardous waste laws, no one knows exactly how dangerous the waste at any particular site might be," says Mall.
"Now that the initial storm has passed, New York and New Jersey are dealing with the dangerous consequences of polluted waterways from raw sewage and industrial chemicals," said Marc Yaggi, excutive director of Waterkeeper Allinace. "Clearly our cities are not ready for this type of superstorm as climate change is leading to more extreme weather than we are prepared to deal with."
It's time our elected officials prioritize climate change and pass the policies that will protect our water, transition our country to relying on clean, renewable energy, and reverse the impacts of global warming.
Visit EcoWatch's WATER and CLIMATE CHANGE pages for more related news on this topic.
——–
Paul E McGinniss is The New York Green Advocate. He is a green building consultant and real estate broker in New York. He is pretty much obsessed with all things environment and has lately become a resiliency addict.
By Paul E McGinniss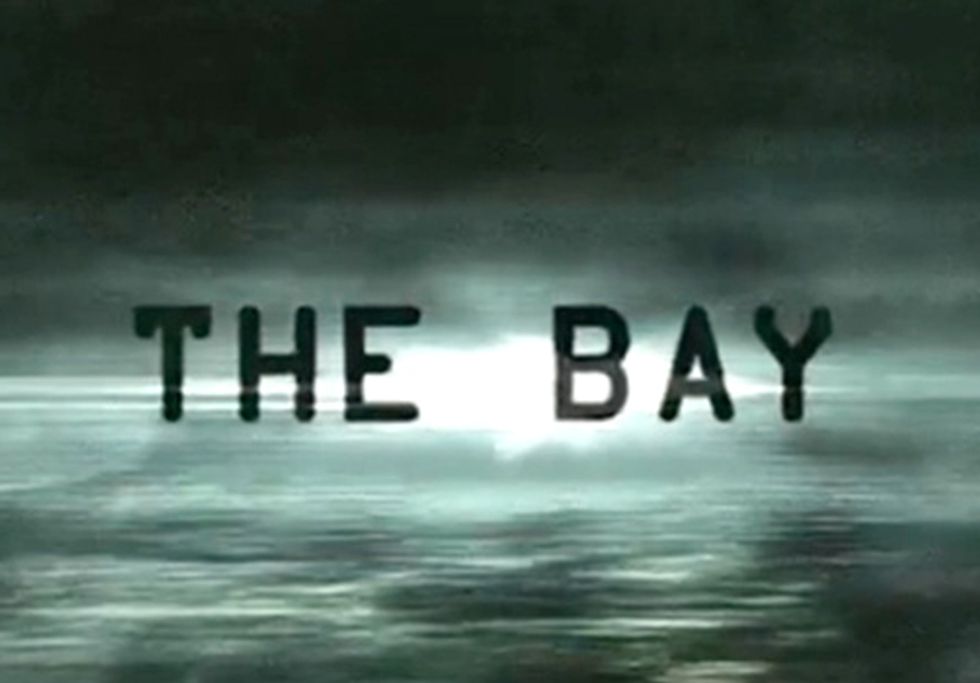 911. What are you reporting?  There's something really wrong. Help me!
Fourth of July. A quaint, idyllic, small town on the Chesapeake Bay, the largest inlet on America's Atlantic coast, prepares for annual Independence Day festivities. Little does the quintessential American town know something is seriously wrong with the water. First there are dead fish floating everywhere in the bay as isopod parasites eat the fish from the inside out. 
Next the isopods get into the towns drinking water supply, and swimmers and people drinking the water start getting infected. Suffice it to say, the rest of the story isn't pretty.
The Bay, Oscar-winning director Barry Levinson's new film inspired by the plight of the Chesapeake Bay opening in theaters tomorrow, lies somewhere between the mesmerizing horror film 28 Days and AMC's The Walking Dead. It echoes Steven Soderbergh's realistically haunting, nowhere is safe film Contagion, and makes the audience think, yes, this could happen to us.
Importantly, the creative genesis of the film was when Levinson was asked to direct a documentary about the environmental crisis affecting the Chesapeake Bay, which as a local Baltimore, Maryland native he knows well. But, instead of making a documentary, Levinson thought making an eco-horror film might have more of an impact on raising consciousness about the fragile health of the Chesapeake Bay. Despite wanting to entertain as a filmmaker, the acclaimed director is not hiding his eco-agenda: a title card in The Bay states that the Chesapeake Bay is 40 percent lifeless.
While The Bay is certainly an exaggeration meant to frighten people, like any good horror flick should, the water we swim in, fish in or drink from can make people sick. Levinson says 85 percent of the film is drawn from scientific facts.
"We certainly don't think the conditions described in the film are within the realm of possibility," said William C. Baker, president of the Chesapeake Bay Foundation in a New York Times article. "But they are a literary exaggeration of real issues that the Bay does confront."
The Chesapeake Bay is the largest estuary in the U.S. and the third largest in the world. Its watershed encompasses the District of Columbia, as well as six states, including Delaware, Maryland, New York, Pennsylvania, Virginia and West Virginia. Massive pollution in the Chesapeake Bay is seriously degrading the environment and adversely impacting the health of people and other species in the region. Pollution comes from industrialized agriculture and urban sprawl. Besides run off from roads, pesticide and herbicide laden lawns, toxic manure waste from factory farms leech into the environment containing a foul mixture of pathogens, antibiotics, cleaning fluids, heavy metals and pesticides.
The movie is presented as a whistle blower documentary depicting the town being infected by the flesh eating organisms which take control of the inhabitants minds and bodies. The horrific story unfolds as pieces of information are strung together from digital recordings, cell phone videos, voice mails, surveillance cameras, police dash-cams and footage from a young journalist, all of which was confiscated by the government in attempts to cover up the incident.
The trailer of The Bay ends with the words of a character saying: "I am going to show the world what happened here. If you find this tape, please get it out."
In a way, Levinson might have meant these words as a message about revealing the truth and showing the world we must clean up the grossly polluted Chesapeake Bay. 
Visit EcoWatch's WATER page for more related news on this topic.
--------
Paul E McGinniss is The New York Green Advocate. He is a green building consultant and real estate broker in New York. He is pretty much obsessed with all things environment and has lately become a resiliency addict.