By Paul E McGinniss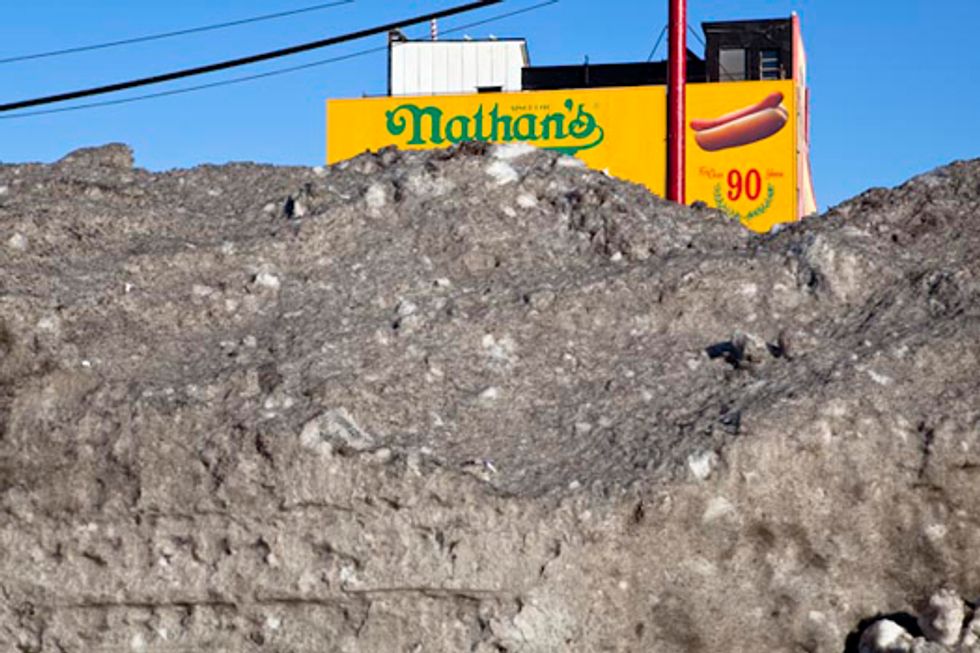 Dirty, soot covered snow in Cony Island, New York. Photo courtesy e-arcades.com
As a native New Yorker, I know soot. Talk to anyone in NYC and they will tell you they've wiped soot off their faces, window sills, car windows and picnic tables.
Fortunately, on Dec. 14, the U.S. Environmental Protection Agency (EPA) announced new clean air standards which will reduce harmful soot in the atmosphere by putting limits on emissions of fine particulate matter or PM2.5, one of the deadliest and most dangerous forms of air pollution. The new standard will reduce soot pollution by 20 percent. Soot pollution causes thousands of premature deaths every year across the U.S. through a variety of cardiovascular and respiratory illnesses.
And certainly the U.S. is not alone. A report out today by Greenpeace East Asia, estimated 8,572 premature deaths occurred in four major Chinese cities in 2012, due to high levels of PM2.5.
Even the Arctic is suffering from the world's high soot levels. James Balog and his Extreme Ice Survey Team, who bravely captured the Arctic glaciers disappearing as a result of global warming in the must see film, Chasing Ice, probably feels somewhat relieved that the U.S. EPA mandated new soot standards. Soot, also known as black carbon, is a significant contributor to climate change which Balog talks about in his film. According to a 2010 study by Dr. Mark Jacobson of Stanford University in the Journal of Geophysical Research, reducing black carbon emissions in the next 15 years could be the best and only way to save the Arctic ice from warmer temperatures.
Check out this video of Dr. Jacobson talking about his study Soot Is Second Leading Cause of Global Warming:
Clearly the U.S. EPA Administrator Lisa P. Jackson understands the value of stronger clean air standards. She said in a statement:
"These standards are fulfilling the promise of the Clean Air Act. We will save lives and reduce the burden of illness in our communities, and families across the country will benefit from the simple fact of being able to breathe cleaner air.
However, some industry groups acting like dinosaurs from ages long past, such as the National Association of Manufacturers (NAM) and the American Petroleum Institute (API), oppose these tougher emissions restrictions.
Dinosaur-in-Chief, NAM President and CEO Jay Timmons, stated in a press release:
"With the fiscal cliff only a few weeks away and so much hanging in the balance, the EPA displayed a staggering level of shortsightedness by dropping another harsh regulation on America's job creators."
But is protecting the health of Americans and our environment really shortsighted and a cost that businesses can't afford?
The API, another, shall we say, "not progressive" trade group representing an industry experiencing record profits, thinks businesses can't afford to protect the environment or the health of Americans, including their own employees.
Howard Feldman, API director of Regulatory and Scientific Affairs, said about the EPA's new standards:
"The collective impacts of these and other potential new regulations at a time when 12 million Americans are still unemployed would be a blow to our economy as it struggles to recover and put Americans back to work. It makes no sense to risk economic harm when the public health necessity of these regulations is ambiguous at best."
Fortunately, many American businesses don't buy the jobs vs. the environment ploy and believe that a strong, sustainable economy is only achievable when you have healthy people and a healthy planet.
Grain Processing Corporation (GPC) in Muscatine, Iowa, is demonstrating that they can stay in business while meeting the tougher new environmental standards. Janet R. Sichterman, corporate spokesperson for GPC, told EcoWatch today by email:
"Grain Processing Corporation has an ongoing commitment to the health and safety of our community. We are well on our way to reducing our environmental impact with the construction of a new $100 million dryer house.
"Operational in 2015, this new dryer house alone will enable GPC to reduce total emissions by 72 percent in less than three years and by 82 percent by 2020.
"This $100 million environmental renovation will allow GPC to slash emissions and achieve the new air quality standards set by the Environmental Protection Agency long before they take effect."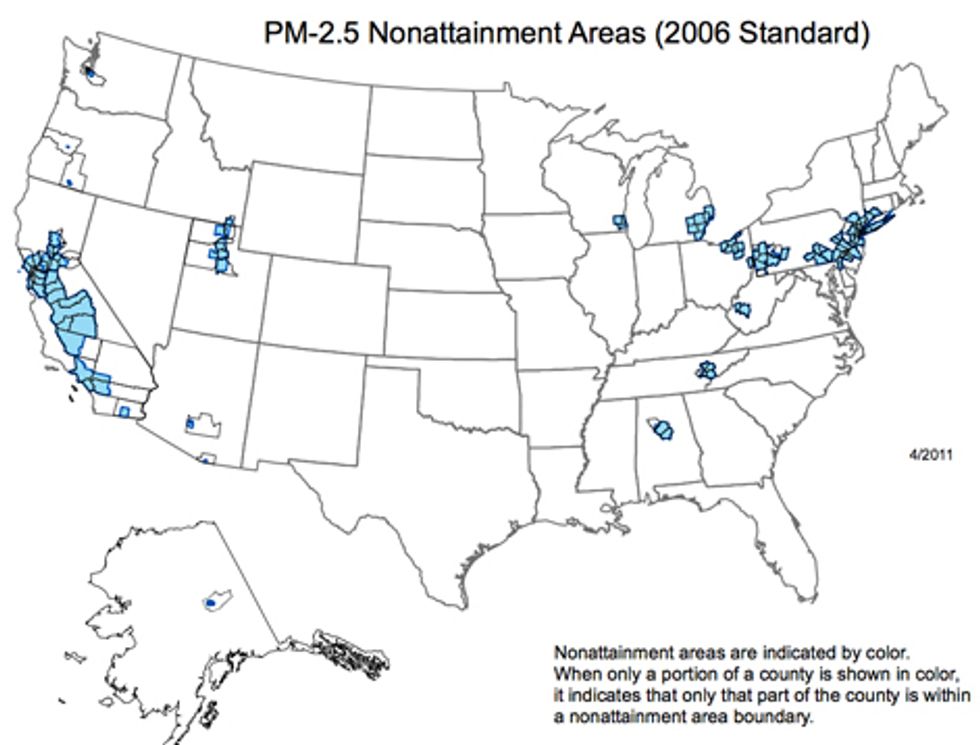 Of course it will take time to see progress from these new regulations, especially considering that 66 counties in the U.S. haven't even reached the air quality required by the old soot standard. If you live in greater Cleveland, Ohio, or the New York City metro region including New Jersey, Connecticut and Long Island, or one of the many parts of California as shown in the map to the right, you breathe air every day that is classified as non-attainment air quality.
Is it too much to ask for the snow falling on NYC to stay white for longer than a New York Minute?
Visit EcoWatch's AIR and COAL pages for more related news on this topic.
--------
Paul E McGinniss is The New York Green Advocate. He is a green building consultant and real estate broker in New York. He is pretty much obsessed with all things environment and has lately become a resiliency addict. Follow McGinniss @PaulEMcGinniss.
EcoWatch Daily Newsletter
By Paul E McGinniss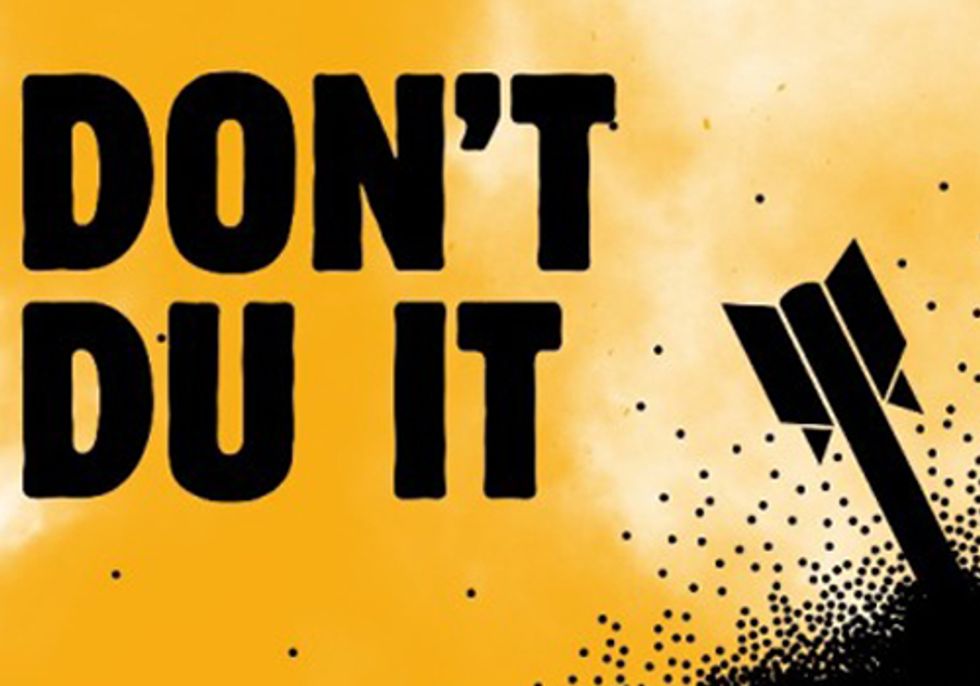 We all should be aware of the dangers posed by the world's stockpile of nuclear weapons. The eight countries known to possess nuclear weapons have 10,000 plus nuclear warheads. And, especially post-Fukushima, we now understand firsthand the potential danger of nuclear power plants, many which are aging and highly vulnerable to natural disasters. As of August 2012, 30 countries are operating 435 nuclear reactors for electricity generation. Sixty-six new nuclear plants are under construction in 14 countries.
But how many of us know about the current manufacturing and active use of depleted uranium (DU) weapons? DU (Uranium 238) is a radioactive waste by-product of the uranium enrichment process. It results from making fuel for nuclear reactors and the manufacturing of nuclear weapons.
In a frightening adaptation of the "Cradle to Cradle" philosophy in manufacturing, which seeks to use waste in the manufacturing process to create other "useful" products, militaries around the world have come up with the "brilliant" idea of taking DU and making "conventional" weapons with it.
According to BanDepletedUranium.org, approximately 20 countries are thought to have DU weapons in their arsenals. Nations known to have produced these weapons include UK, U.S., France, Russia, China and Pakistan.
DU is well liked by armed forces because it is twice as dense as lead and when fused with metal alloys it can be made into highly effective armor piercing weapons such as the M242 gun mounted on the U.S. Army's Bradley Fighting Vehicle. DU is also used in armor plating to protect vehicles such as the U.S. Army's Abrams Tank.
DU ordnance has been employed in the 1991 Gulf War and in conflicts in Bosnia, Serbia, Afghanistan and Iraq.
In a twisted way, use of DU makes perfect sense. After all, DU is plentiful, and with so much radioactive waste stored around the globe, and no safe place to store it, DU is a ready and cheap source of material for the ordnance of war.
The problem is, when DU armor piercing projectiles penetrate their targets, they become incendiary spewing radioactive dust.
The Physicians for Social Responsibility said in a brief about depleted uranium:
"The fact that DU is aerosolized on impact with its target and is transformed into small dust particles capable of being carried by the wind may threaten air, ground and water resources, which all may become long-term repositories for DU. Long term impact is especially important considering the 4.5 billion year half life of DU."
The International Coalition to Ban Uranium Weapons, an alliance of non-governmental organizations and some countries are seeking a worldwide ban on the production and military use of depleted uranium weapons. But other countries around the world, some of which also have DU weapons in their arsenal, downplay or deny the hazards to DU and claim there is no proven long-term hazard to the use of DU weapons.
Unfortunately, the U.S. Military, just as it did when using Agent Orange during the Vietnam war, has denied that DU weapons pose any significant hazard to civilian populations where they are used or American and allied soldiers who deploy these weapons.
In the 2003 article, The War Against Ourselves, Major Doug Rokke, former director of the U.S. Army's Depleted Uranium Project and active in the Gulf War in 1991, said:
"We didn't know anything about DU when the Gulf War started. As a warrior, you're listening to your leaders, and they're saying there are no health effects from the DU ... The U.S. Army made me their expert. I went into the project with the total intent to ensure they could use uranium munitions in war, because I'm a warrior. What I saw as director of the project, doing the research and working with my own medical conditions and everybody else's, led me to one conclusion: uranium munitions must be banned from the planet, for eternity."
In 2004, Juan Gonzalez reported in his New York Daily News story, The War's Littlest Victim, that National Guardsman, Gerard Darren Matthew, returned from Iraq suffering from mysterious illnesses and tested positive for uranium contamination. Shortly after his return, his wife, Janice, became pregnant and gave birth to a baby girl who was missing three fingers on her left hand and most of her right hand.
In 2006, Associated Press documented the case of soldier Herbert Reed who returned from Iraq very ill. As reported in U.S. Soldiers Are Sick of It, since Reed left Iraq, his gums bleed, there is blood in his urine and in his stool. Bright light hurts his eyes. A tumor has been removed from his thyroid. The Associated Press disclosed:
"About 30 percent of the 700,000 men and women who served in the first Gulf War still suffer a baffling array of symptoms very similar to those reported by Reed's unit. Depleted uranium has long been suspected as a possible contributor to Gulf War Syndrome ... "
In Depleted Uranium Weapon Use Persists, Despite Deadly Side Effects, Truthout reported:
"In 2010, a BBC correspondent interviewed medical staff at the new Falluja General Hospital ... Iraqi physicians reported that excess cases of severe birth defects were increasing yearly since the 2004 siege of the town. The reporter visited the pediatric ward and described being stunned by the horrific number of birth defects he witnessed and their shocking severity: children born with multiple heads; others, paralyzed, seriously brain damaged, missing limbs, and with extra fingers and toes."
And if you think the radioactive dust that has poisoned soldiers and populations, and permeated the ecosystems of the war-torn countries far away from America is not your problem, listen up. DU weapons have been tested by U.S. military at proving grounds and firing ranges in Arizona, Maryland, Indiana and Vieques, Puerto Rico.
Disturbingly, in the bucolic town in Concord, Massachusetts—birthplace of the American Revolution, famous for the "shot heard round the world," and home of Henry David Thoreau and Walden Pond—hosts one of the nastiest Superfund sites in the country. The toxic nightmare resulted from the manufacture of DU weapons.
The Environmental Magazine reported on the Concord Superfund site in 2004:
" ... few know about the nuclear waste dump at 2229 Main Street. But this shady burg of 15,000 residents quietly struggles with its legacy as the maker of depleted uranium slugs for the U.S. military's latest wars. The soil more than a mile from the nuclear dump is radioactive. A 1993 epidemiological study found the town's residents suffered higher rates of cancer than the state average."
As of November 2012, the U.S. EPA reported the Superfund site located in Concord on a 46.4 acre site of the former Nuclear Metals, Inc. (NMI) facility, after almost a decade of clean up efforts, is still not completed. Conveniently, NMI went bankrupt before cleaning up the site, leaving U.S. tax payers responsible for cleaning up the mess.
The radioactive mess in Concord pales in comparison to the horrific radioactive pollution at the 586 square mile, U.S. Department of Energy Hanford Nuclear facility in central Washington State. In August 2102, Environment News Service reported a million gallons of radioactive waste has already leaked into the soil and groundwater, threatening the entire region and nearby Columbia River. In August 2012, a memo from U.S. Department of Energy inspectors to the Washington State Department of Ecology detailed new leaks of radioactive waste coming from double shell storage tanks that were supposed to last another forty years.
The U.S. and the other countries producing nuclear waste have no safe, long-term strategy for dealing with the thousands of tons of radioactive waste accumulating each year. The majority of this dangerous material is stored onsite at nuclear power stations that are vulnerable to hurricanes, tsunamis, earthquakes and other potential disasters.
Despite pressure from the highly-subsidized nuclear industry, and the push to build more nuclear plants around the world, there is a growing anti-nuclear movement and support for alternatives to nuclear power. Famous anti-nuclear environmental advocate, Dr Helen Caldicott, said in a May 2012 Huffington Post interview:
"I've got the cure to global warming, which is a study that I commissioned called Carbon-Free and Nuclear-Free. Download it at www.ieer.org. You've got enough renewable energy right now, right now—integrated forms supply all the energy you need, right now—well, by 2030—but get going and you'll employ millions of people and it will be terribly exciting. And lead the world towards a carbon-free nuclear-free future."
Visit EcoWatch's RENEWABLE ENERGY and NUCLEAR POWER pages for more related news on this topic.
--------
Paul E McGinniss is The New York Green Advocate. He is a green building consultant and real estate broker in New York. He is pretty much obsessed with all things environment and has lately become a resiliency addict. Follow McGinniss @PaulEMcGinniss.

We'll help you narrow down the best installer for your home.
Reviews
Looking for energy freedom in the Free State? There are plenty of installers to choose from, but in this article, we'll help you narrow down your options by recommending nine of the best solar companies in Maryland.
On track to increase its Renewable Portfolio Standard (RPS) target from 25% to 50% by 2030, Maryland has quadrupled its solar capacity since 2015. One of the biggest drivers of this has been its statewide programs that support residential, commercial and community solar projects. Maryland residents also have access to some of the best solar companies in the nation, offering exceptional value for generating clean energy.
For many readers, the decision of which solar installer to hire comes down to cost. To start getting free quotes from the best solar companies in Maryland, you can use this tool or fill out the form below.
Our Picks for Top Maryland Solar Installers
Lumina Solar
Solar Energy World
SunPower
Celestial Solar Innovations
Edge Energy
Trinity Solar
American Sentry Solar
Energy Select
Maryland Solar Solutions
Comparing the 10 Best Solar Companies in Maryland
How We Chose the Best Solar Companies in Maryland

Our company selection process includes researching the product portfolios, solar services, financing options, customer feedback and industry reputations of every major Maryland installer. Looking at metrics in these categories, we rated and ranked each company to narrow down our list of the nine best solar companies in Maryland. See our solar methodology for more information.
Choosing the Best Solar Installer for Your Home
There's a great deal that goes into determining the best solar installer for your home, including your region, utility company, electric bills, roof space, energy consumption and more. The following factors might help you consider what to prioritize when choosing the best Maryland solar installer for your home or business.
Services Offered
Solar installation companies in Maryland will vary in service offerings and specializations. For instance, Maryland Solar Solutions chooses to focus strictly on solar panels, while companies like Edge Energy prioritize efficiency and home energy upgrades and use panels only to supplement your home's energy system. Think about what makes your home or business unique — then find a company that prioritizes those needs. Other things to consider might be whether you need roofing work, EV chargers or backup power systems.
Installation Process
Before you sign a contract, make sure you're confident in your understanding of the installation process. Here are a few questions you'll want the answers to:
How long does permitting take in my area?
What is my utility company's net metering policy?
Will any add-ons be installed along with the solar?
How long will the entire process take?
Permitting and interconnection can vary from city to city, so it's best to be sure you have realistic expectations.
Solar Pricing and Financing
Home solar is a great investment — especially in Maryland. Solar's payback period can vary anywhere from 5 to 12 years (on average), so think about whether you might need special financing options to fit solar into your budget. Maryland is full of experienced solar installers familiar with the difficulties of high up-front costs, so be sure to ask about flexibility in financing options.
Industry Affiliations
It's a good idea to hire a company that maintains industry credentials, such as membership in the Solar Energy Industries Association (SEIA), a B Corp certification or affiliation with other professional associations. Memberships and certifications are a great indicator of the company's professionalism, workmanship, reputation and reliability.
Types of Panels
Some types of solar panels are better than others, and each installer will offer a differing portfolio of products. Small homes in confined areas will likely need high-efficiency solar panels, while commercial projects with more space can prioritize the most affordable solar panels. It can only help to ask what brands of panels your company is certified to sell and install. Certifications from some of the best solar panel brands like Tesla, Panasonic, LG or REC might also be a good indicator of legitimacy.
Incentives, Rebates and Tax Credits
Maryland offers some of the best solar incentives in the country. Though effective, these incentives can be difficult to navigate, and finding a solar installer with experience securing the best value from these incentives may provide the best return on investment in the long run. It pays to think locally. Does the company you're looking at have plenty of experience in your community?
Warranty
Most warranty issues with solar don't stem from the panels themselves, but instead from the workmanship of the installer. As a result, we recommend choosing a solar provider with a robust workmanship or all-in-one warranty to avoid any issues to your roof or home that may emerge months to years after installation. Most reputable solar companies will offer at least a 10-year warranty that covers workmanship.
Cost of Solar in Maryland
As of 2022, our market research and data from solar brands conclude the average cost of solar in Maryland is around $2.77 per watt. This means a 5-kW system would cost around $10,261 after the federal solar tax credit is applied. Keep in mind that a 5-kW system is about the minimum size you'll need for your home.
Luckily for those in Maryland, the state offers a number of helpful incentives (in addition to the federal tax credit) to help reward residents who switch to clean energy. Visit the DSIRE database for more information on incentives in your area.
| | |
| --- | --- |
| Maryland Solar Incentive | Maryland Solar Incentive Overview |
| | Maryland rewards its residents with SRECs for contributing to the state's renewable portfolio standard. SRECs are certificates earned for every MWh of clean energy generated that can be sold through the SREC market to help offset the cost of solar. |
| | A much simpler incentive to understand than SRECs, Maryland's residential clean energy grant program sends you a direct $1,000 rebate for installing a solar energy system of at least 1 kW. |
| | Solar installations in the Free State are exempt from paying both the sales and property taxes associated with your solar purchase and added property value. |
| | Maryland has a statewide net metering program that allows you to sell excess solar energy back to the grid in exchange for credits that go toward any future utility bills. |
How to Find the Best Solar Installer in Maryland
Maryland's renewable energy incentive structure makes it unique in the solar market, focusing on SRECs, grants, tax exemptions and more. As stated before, these can be very effective but intimidating and difficult to navigate. This is why we stress the importance of finding a solar company with experience applying for these incentives and with a proven history of maximizing its customers' solar investments.
If you're ready to take the first step, we recommend comparing quotes from some of Maryland's top solar installers. From there, you can see which company offers the best rates and ask more specific questions about incentives, experience and more.
To start getting free quotes from the best solar companies in Maryland, you can use this tool or fill out the form below.
FAQ: Best Solar Companies in Maryland
Who is the most reputable solar company in Maryland?
The most reputable solar company in Maryland may be SunPower, due to its size and national acclaim. However, there are plenty of reputable local companies as well, including Lumina Solar and Solar Energy World.
Is there a solar tax credit in Maryland?
Though there is no statewide tax credit, Maryland offers direct payments of $1,000 to homeowners that install solar via its residential clean energy grant program. The federal solar tax credit is also available to residents of Maryland, along with SRECs, net metering, and sales and property tax exemptions.
How do I find a reputable solar company?
If you're looking for a reputable solar company in Maryland, you're in the right place. We recommend starting with this list, narrowing in on your region, and gathering free quotes from the providers available to service your energy needs. From there, you can compare quotes to find the best value and speak with representatives to pinpoint which offer seems best for you.
Karsten Neumeister is a writer and renewable energy specialist with a background in writing and the humanities. Before joining EcoWatch, Karsten worked in the energy sector of New Orleans, focusing on renewable energy policy and technology. A lover of music and the outdoors, Karsten might be found rock climbing, canoeing or writing songs when away from the workplace.
By Paul E McGinniss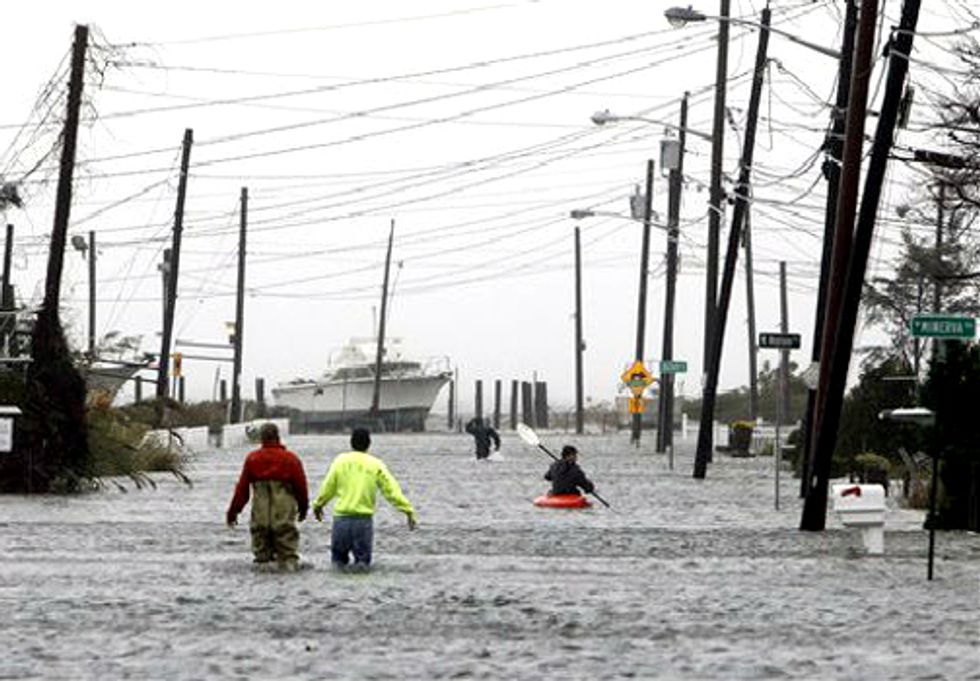 I was blown away this morning after seeing how Sandy wreaked havoc on the East Coast
With kudos to colleagues from "the cloud," here is a post-Sandy round up of what is being said on the heels of yet another freak weather event. Common themes included resiliency, Sandy's impact on the election and, of course, the elephant in the china closet—climate change. At EcoWatch, we're even more energized to get the dialog going on how to move America off fossil fuels and on renewable energy.
These voices offer a glimpse of what needs to be done to achieve a sustainable energy future:
Ten Low-Tech Responses to Storms and Emergencies via Transition Voice
If you don't already know about the Transition movement, you need to get up to speed. They are at the forefront of the back to basics—old fashioned, pull yourself up by the bootstraps—approach to dealing with anything Mother Nature can throw our way.
The Weather Reminds Us that It's Time to Get Serious About Resilient Design via TreeHugger
Lloyd Alter is one of my favorite writers on the Internet. He's one of the leading voices on combining going green and being environmentally friendly with resiliency.
Election in Sandy's Shadow - via Politico
Like the tons of CO2 in the atmosphere, there's tons of news today about how freak Sandy will affect the election. What's amazing about this discussion is that we're even talking about how our national election will be impacted by the weather. Thus, the much needed conversation about the impact of climate change on the world is brought up despite fearful politicians maneuvering to avoid the subject. Seems like the real storms and the political storms are meeting whether they want to or not.
Must See: Climate of Doubt - via SustainableBusiness
This PBS Frontline special documents how a handful of organizations have successfully prevented action on climate change in the U.S. Editor of SustainableBusiness, Rona Fried, says in her blog today: "While it may be great news to some that the U.S. could soon be the world's dominant producer of oil and gas, I'd much rather see the headline, 'U.S. Turns the Page Toward Renewables, Leaves Oil, Gas In the Ground.'"
Climate-Change Denying Senator James Inhofe Wins 2012 Rubber Dodo Award via EcoWatch

Read about Senator James Inhofe who thinks global warming is some kind of liberal conspiracy. Inhofe and fellow climate change deniers backed by the fossil fuel industry should be apologizing to Mayor Bloomberg today as they continue to allow corporations to put short-term profits before human health and the environment. Bloomberg and Governor Cuomo stressed today, the need to prepare for climate change. Continuing to deny climate change and global warming while encouraging America's addiction to fossil fuels is the real threat to our country.
Let's keep motivated and insist that our politicians embrace renewable energy once and for all. You can get started right now by signing EcoWatch's petition telling Congress to expedite renewable energy.
Visit EcoWatch's CLIMATE CHANGE page for more related news on this topic.
——-
Paul E McGinniss is The New York Green Advocate. He is a green building consultant and real estate broker in New York. He is pretty much obsessed with all things environment and has lately become a resiliency addict.
The Big Fix Opens in NYC Dec. 2 - 8 at AMC Lowes Village 7
A Wide Coalition of Environmental Advocates will Gather for 7 Nights of Awareness and Talk with the Filmmakers and Audience after each 6 p.m. Screening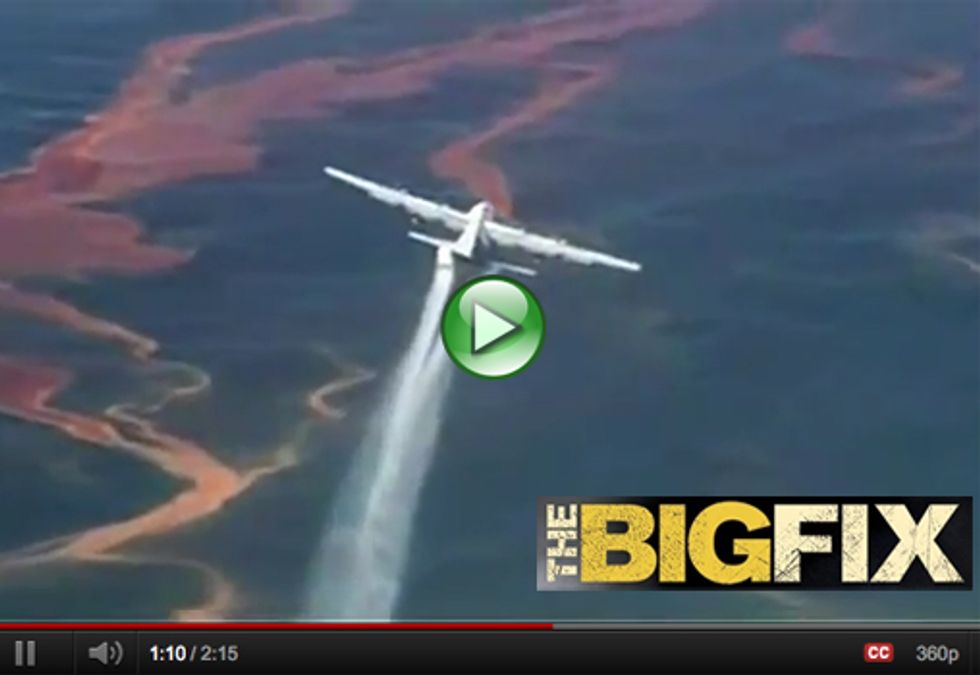 by Paul E. McGinniss
The BP Deepwater Horizon rig exploded on April 20, 2010. Most of us thought the spill was cleaned up and the problem went away. Unfortunately, to a large extent, the event has been supplanted in the media and mass consciousness by other news stories and events from around the world.
After watching the documentary The Big Fix, it is hard to conclude that things are so rosy down in the Gulf. In fact, the bottom line message from this well-documented film, produced and directed by Josh Tickell and Rebecca Harrell-Tickell, is that the BP oil spill in the Gulf never went away and the oil is still spilling. And to top it off, the chemical dispersant, Corexit, which is still being used to clean up the oil, is an extremely toxic substance. The film reports that Corexit is wreaking havoc on the health of the people and marine life in the Gulf.
When you watch how the the Gulf residents captured in The Big Fix have been affected by Corexit and the spill, beware, it is both heart wrenching and frightening. When you see Gulf residents driven to tears by this environmental tragedy, you want to cry with them. Rebecca, herself, was seriously sickened by Corexit during their filming in the Gulf.
When you listen to eco-activist, Jean-Michel Cousteau, son of champion of the seas Jacques-Yves Cousteau, state so emotionally in the film, "We're being lied to," you realize the truth about the Gulf oil spill is being covered up.
When Josh and Rebecca emailed me to say they were opening The Big Fix in NYC at the AMC Loews Village 7, 66 3rd Ave., on Dec. 2 - 8 and wanted to create 7 Nights of Awareness in the theater, I immediately jumped on board. The purpose for the 7 Nights of Awareness is to divulge the truth about what's going on in the Gulf, in addition to stimulating a dialog that will foster positive action and create solutions which will help our planet become less dependent on fossil fuels and sustainable.
Despite the negative events depicted in the film, the filmmakers make a point to highlight an endearing bayou local. He wears a yellow t-shirt and dons a Mardi Gras-like necklace across his tanned neck while installing solar panels on the metal roof of his modest home. Tickell narrates at the end and urges the audience to "unite and take a stand" and deal with the truth, and get on with implementing clean energy solutions that are at hand. Tickell concludes the film by asking, "In a struggle for true justice and a better world, where do you stand?"
To date, the inspiring and passionate people and groups that have come on board for the 7 Nights of Awareness which happens each night after the 6 p.m. screening, include, NYC-based Fabien Cousteau, grandson of Jacques and son of Jean-Michel Cousteau, and founder of Plant A Fish; Rocky Kistner, Natural Resources Defense Council; Stefanie Penn Spear, founder and executive director of EcoWatch.org; Justin Bloom, Marc Yaggi and colleagues from Waterkeeper Alliance; Dan Miner, founder of Beyond Oil NYC; New Orleans native and NYC-based architect, Drew Lang; Paul Mankiewicz, The Gaia Institute; Margaret Lydecker, Green Drinks NYC; Denise Katzman, EcoEdifier and Anti-Fracking activist; Stephen Del Percio, GreenBuildings NYC; Lyna Hinkel, 350.org NYC; Peter Fleischer, Empire State Future; David Braun, co-founder of United for Action and the National Grassroots Coalition, and a key member of the Gasland team; Clare Donohue, Sane Energy Project; Hilary Baum, Director of Baum Forum and founding Coordinating Director of Food Systems Network NYC; Leah Barber, Interdependence Movement, and Pamela Lippe, Earth Day NY.
For more information about the 7 Nights of Awareness, email me at [email protected]. Visit TheNewYorkGreenAdvocate.com where this review was originally posted.

For more information about the film, click here.