EcoWatch Daily Newsletter
In 2007, when Hillary Clinton was New York's junior senator, she sagely observed that a "steady drumbeat of problems has eroded public confidence in Indian Point," the twin-reactor nuclear power plant just outside New York City.
In the time since Clinton left New York to become Secretary of State, Indian Point has become far more dangerous and the supply of energy available to replace it has grown sufficiently to enable its safe and affordable closure. Against this backdrop, when Sec. Clinton was asked recently what to do about Indian Point, she cited her long-standing concerns on plant safety and call for a "careful, thoughtful" approach.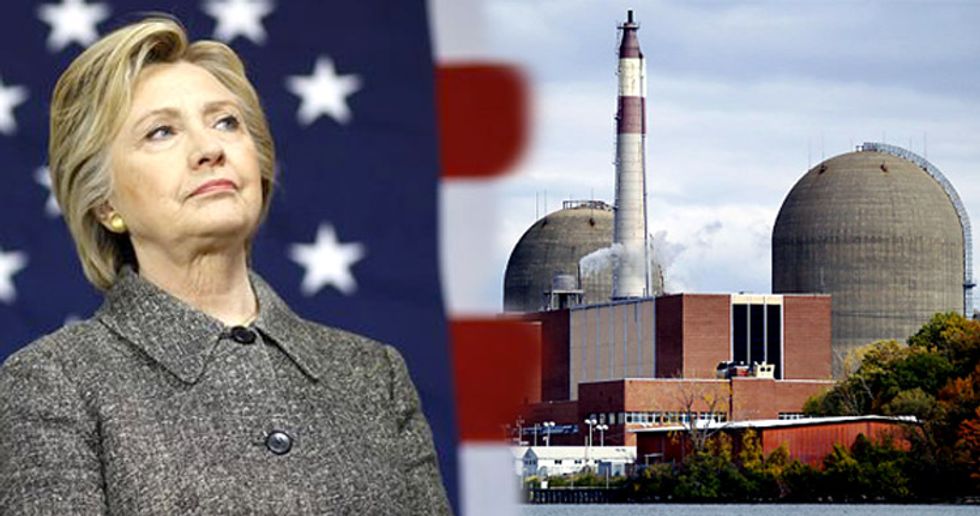 Given the facts on the ground, the careful, thoughtful approach to Indian Point is to close it.
New York's Governor, Andrew Cuomo, recently put it best when he observed that Indian Point can no longer operate "in a manner that protects public safety and the environment." The record of accidents, malfunctions and mishaps at Indian Point in just the last year is astonishing and unprecedented.
Late last month, 227 of the 832 bolts that hold the inner walls of the reactor core together were found to be missing or damaged. The plant's owner, Entergy, in a report to the U.S. Nuclear Regulatory Commission (NRC) admitted this to be a condition that "significantly degrades plant safety." Indeed, this damage to Indian Point Reactor 2's core is four times worse than any similar problem ever seen at any other American nuclear reactor and experts believe that it could result in a lack of structural stability in the reactor.
And, we're just getting started, folks. In February, radioactivity in the groundwater near the plant spiked more than 100,000 percent after a leak from a refueling system. Also in February, the same reactor with all those degraded bolts temporarily lost cooling capacity, due to a series of electrical problems.
Other problems since May 2015: a transformer explosion and major oil spill; a water pump failure, which set off one of the plant's seven unplanned shutdowns in the past 12 months; a blocked drain, causing temporary flooding in the "switchgear" room that contains key plant safety equipment; and, a power failure affecting control rods in Reactor 3, caused by bird droppings shorting out a power line at the plant.
The NRC has reported that one of Indian Point's reactors has the highest risk of all the country's reactors of being damaged by an earthquake and a study commissioned by the U.S. Department of Defense shows that Indian Point is incredibly vulnerable to acts of terrorism. Tens of millions of people live within the reach of an Indian Point nuclear disaster. An evacuation would be practically impossible and emergency responses have been found to be largely futile.
We understand that malfunctions can happen at any power plant, but they are happening with disturbing frequency at Indian Point. Its age is problematic and the licenses for its two reactors expired in 2013 and 2015; the NRC is still weighing whether to renew them. This is the same NRC that Barack Obama, in 2007, called a "moribund agency" that was a captive of the industry it regulated.
It still looks that way today. The NRC apparently accepts the word of Indian Point's operator, Entergy, that basic safety and environmental cleanup measures aren't necessary, even after the latest mishaps. The commission even permits Indian Point to evade its own safety standards requiring that the electrical cables that control emergency reactor shutdowns have insulation that would last 60 minutes in a fire—giving the plant an exemption after finding that this insulation lasted just 27 minutes.
In view of the astonishingly bad track record Indian Point has compiled, it's no surprise that a 2015 poll in the Lower Hudson Valley found that a majority of respondents do not trust the plant's safety or its operator, despite the thousands of supportive votes that were sent right from Entergy's own computer server.
The good news is: we have enough power capacity to permit the immediate closure of Indian Point. Indian Point is able to generate just more than 2,000 megawatts of electricity or about 10 percent of peak summer demand in the New York metropolitan area. In the past two years, we've added an additional 1,500 megawatts of energy capacity from other sources: existing electricity surpluses in New York State, recently restored power generation from plants in the Hudson Valley and New York City, together with transmission improvements in the power grid in the lower Hudson Valley and targeted energy efficiency gains by Con Edison.
And, according to the New York Independent System Operator, a nonprofit agency charged with managing the state's electricity market, downstate load forecasts for this summer have dropped by about 500 megawatts, since previous estimates in 2015, due to increases in solar power installations, energy efficiency and demand-side management.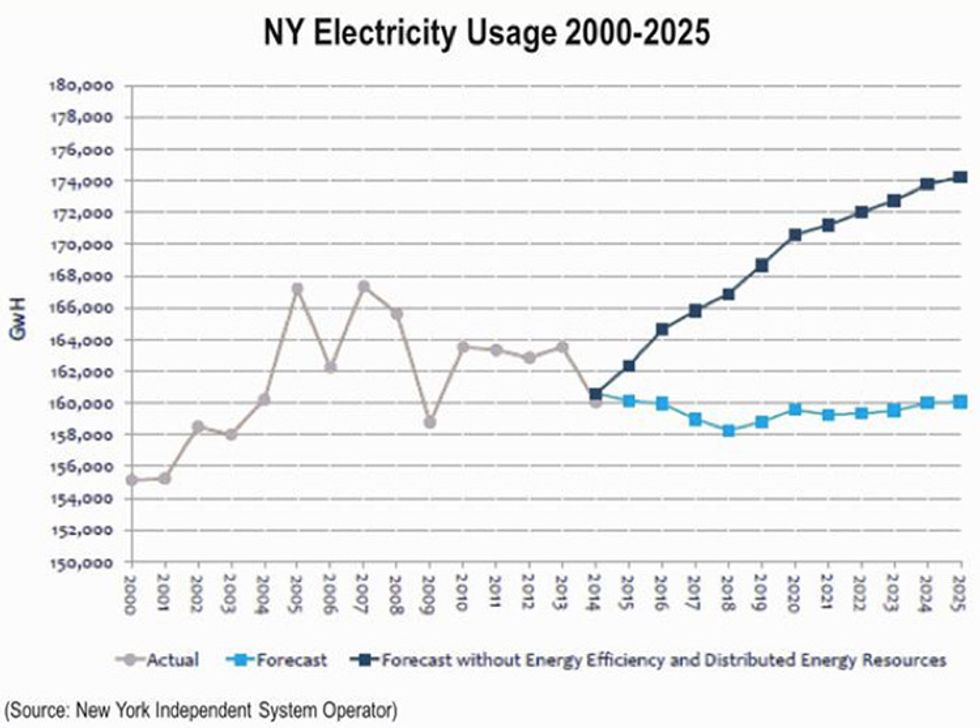 Projections for future electricity demand have declined sharply in recent years.
In short, we can close Indian Point now and reliably keep the lights on. In the future, new efficiency and renewable energy projects will drive still greater savings, thanks to $5 billion in planned energy investments by the state.
And, the cost will be minimal. In 2012, we reported that it would cost the average household less than $15 per year to transition to safe, sustainable energy. Last month, Con Edison Solutions contracted to supply up to 90,000 homes in Westchester with wind, solar and hydropower at prices that will be at least $21 per year lower than what these homes are currently paying for nuclear or fossil fuel energy.
As with her evolving position on fracking, it's time for Secretary Clinton to get tougher on Indian Point. In view of just how dangerous Indian Point has become and how readily available replacement energy has become, closing Indian Point is just the "careful, thoughtful" thing to do.
YOU MIGHT ALSO LIKE
20 Cities Leading America's Solar Revolution
Hundreds Rally Asking Gov. Cuomo to Deny the Constitution Pipeline
How Much Money Has Hillary Clinton's Campaign Taken From the Fossil Fuel Industry?
John Oliver Slams Donald Trump for Unfathomable Comments on Nuclear Weapons
zstockphotos / iStock / Getty Images
With well over one million solar installations throughout the state, California has long been a leader in the U.S. solar industry. Recent legislation mandating that all new homes in the state must be built with solar panels likely leaves residents wondering about the cost of solar panels in California.
With ample sunshine, unnaturally high energy costs, ambitious climate goals and progressive leadership, California is ripe with solar potential. The preexisting availability of local solar providers in California allows solar customers the valuable opportunity to gather a large number of competing quotes, sometimes generating several thousand dollars worth of savings in the process.
You can start getting free, no-obligation quotes from top solar companies in your area by filling out the form below.
How Much Do Solar Panels Cost in California?
As of 2021, our market research and data from top brands shows the average cost of solar panels in California is around $2.73 per watt. This means a 5-kW system would cost around $10,101 after the federal solar tax credit is applied.
Here's how that price looks when applied to other system sizes:
| Size of Solar Panel System | California Solar Panel Cost | Cost After Federal Tax Credit |
| --- | --- | --- |
| 5kW | $13,650 | $10,101 |
| 6kW | $16,380 | $12,121 |
| 7kW | $19,110 | $14,141 |
| 8kW | $21,840 | $16,162 |
| 9kW | $24,570 | $18,182 |
| 10kW | $27,300 | $20,202 |
It may surprise some readers that the cost of solar in California isn't as low as in many other states, but keep in mind that the real value of solar comes relative to the price of energy in the state (and California's is the highest in the country). All in all, solar energy provides excellent value to California residents.
Knowing the average solar panel cost in California is $2.73 per watt, a savvy solar customer can compare quotes against this figure to ensure they receive the best value possible. You may find that popular national brands don't have the lowest prices.
What Determines Solar Panel Prices?
The cost of solar panel installations in California largely depends on a homeowner's location and energy needs. In most cases, areas with higher local electricity rates offer more value from solar panels. Here are other factors that influence installation costs.
Solar Equipment Costs
Similar to most modern technology, solar products and system costs vary greatly based on their quality, scale and included features. Some customers may be satisfied with a modest array of affordable solar panels and inverters, while others may prefer a system with premium panels, full-home backup power and an electric vehicle charger.
Solar Financing
The overall cost of solar depends significantly on whether a customer chooses to finance or purchase their system in cash. Paying upfront provides the best return on investment and fastest solar panel payback period, as there are no fees or interest charges associated with it.
The two most common solar financing options include taking out a loan and leasing solar panels. If paying with a solar loan, be careful of high interest rates and early repayment penalties and other fees. Homeowners who lease their panels or sign power purchase agreements (PPAs) enjoy little to no upfront costs, but solar leases provide the least amount of overall value.
Solar Installation Costs
With nearly 2,500 solar companies throughout California, prices can range significantly based on the installer. Larger solar providers like Sunrun offer the advantage of solar leases and quick installations. Local providers looking to get a leg up on their competition may offer lower prices to undercut the biggest names in the industry.
Solar Panel Cost After Incentives, Rebates and Tax Credits
California's progressive leadership has done good work in spurring investment in renewable energy. All homeowners are eligible for the federal solar tax credit, and the state offers several incentive programs and solar rebates aimed at further increasing access to reliable, affordable solar panels. However, given the state's ambitious climate targets and the energy burden on most of its population, it could probably do more.
Let's take a closer look at the solar incentives available to California residents.
Federal Solar Tax Credit
All California residents are eligible for the federal solar investment tax credit, or ITC, for installing PV solar panels and any other eligible solar equipment. Any reputable solar installer will assist in the process of claiming the ITC on your federal tax returns. Claiming the ITC deducts 26% of the total cost of your solar installation from the taxes you owe.
To be eligible for the solar tax credit, homeowners must own the solar energy system, either having paid for it in cash or by taking out a solar loan. Homeowners who lease solar panels are not eligible to claim the ITC.
California Net Metering Programs
Net energy metering (NEM), or net metering, allows customers to feed the surplus energy generated by their solar panels back to their local power grid in exchange for energy credits from their utility company. As most solar energy systems generate more energy than can be used during the day, this incentive provides homeowners additional savings on their electricity bills and lowers the demand for grid-supplied electricity in the region.
California currently offers a statewide net metering incentive for residents generating electricity with solar panels. Exact credit values will vary based on your utility company.
California Solar Tax Incentives and Rebate Programs
There are also a handful of California solar incentives to help lower the cost of solar for residents. Some of these include rebates, loans and property tax exemptions. Though any quality solar company will be knowledgeable about the local incentives in your area, it's always worth doing some independent research. We recommend using the DSIRE solar incentive database to find money-saving opportunities in your area.
FAQ: Average Cost of Solar Panels in California
Is it worth going solar in California?
One of the sunniest climates in the country makes California one of the best states in the U.S. for generating energy with solar power. The ample sunshine, generous net metering policies and pre-existing availability of solar installers provide a great deal of value for solar customers in California.
How much does it cost to install solar panels in California?
As of 2021, the average cost of solar panels in California is $2.73 per watt. This means a 5-kW system would cost around $10,100 after the solar tax credit. Heavy investment in renewable energy has lowered the cost of solar in the state significantly, and this cost offers great value relative to high local energy prices. The best way to assess how much solar would cost you is to consult local providers near you for free estimates.
Do solar panels increase home value in California?
Solar panels increase home value everywhere, but mostly in areas with generous net metering policies and solar rebates. As such, the areas in California where solar panels increase home value the most correspond with the areas that have the most solar-friendly policies. It's worth noting that even if your home's value increases, California has laws in place to ensure your property taxes don't rise as the result of a solar installation.
How much do solar panels cost for a 2,500-square-foot house?
Though knowing the size of a house is helpful in determining how many solar panels could fit on its roof, the energy use of the house is a more important factor in determining solar panel cost in California. The higher the energy costs in your home, the greater your cost of solar will be.
Karsten Neumeister is a writer and renewable energy specialist with a background in writing and the humanities. Before joining EcoWatch, Karsten worked in the energy sector of New Orleans, focusing on renewable energy policy and technology. A lover of music and the outdoors, Karsten might be found rock climbing, canoeing or writing songs when away from the workplace.
We must face facts regarding the Indian Point nuclear plant. It's infrastructure is aging, its safety is dubious and most everyone knows it. What many people don't know is that it can be replaced at little cost to ratepayers—and energy technologies taking its place would create new economic opportunities for New York.
Indian Point—just 38 miles north of New York City—is vulnerable to terrorism, has 2,000 tons of radioactive waste packed into leaking pools and relies on an unworkable evacuation plan. While some argue that transformer accidents—such as the one that occurred last month—can happen at any power facility, they happen with astonishing frequency at Indian Point. Its age is problematic: You wouldn't rely on a 40-year-old appliance, why extend this trust to a nuclear plant? Moreover, the Nuclear Regulatory Commission (NRC) says Indian Point 3 has the highest risk of earthquake damage of all the nation's reactors. About 20 million people live within 50 miles of Indian Point. If a catastrophic accident occurred, the consequences would be unimaginable.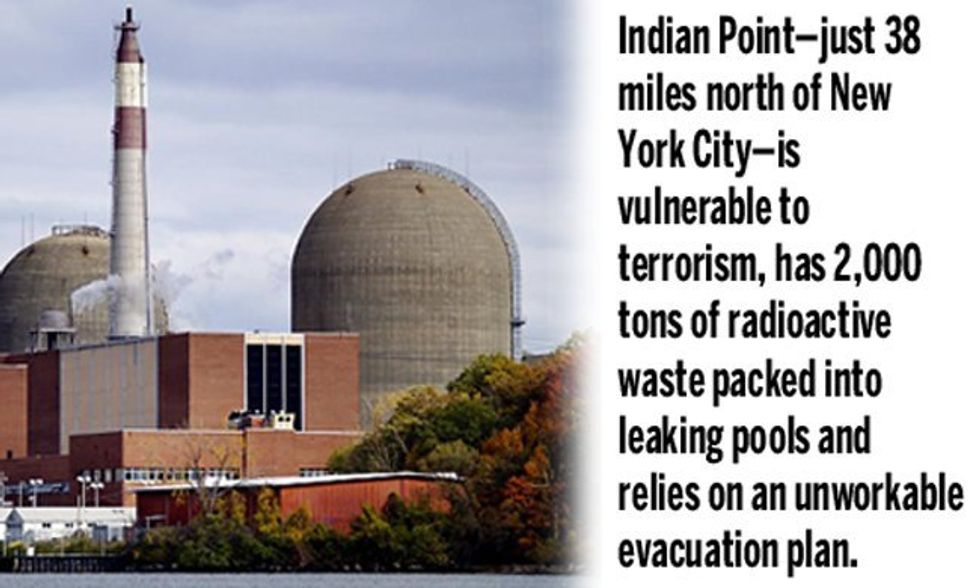 The NRC permits Indian Point to evade its own safety standards requiring that electrical cables controlling emergency reactor shutdowns have insulation that lasts 60 minutes in a fire. When the NRC found that the plant's insulation lasted just 27 minutes, it gave Indian Point an exemption. Your own home likely has more insulation on its electrical cables than does the plant.
Entergy and nuclear-industry groups make spurious claims that skyrocketing energy costs would result from Indian Point's closure. Actually, it can be retired without undermining the state's electric grid. Planning is under way for better efficiencies and cleaner energy sources. The cost to ratepayers will be minimal when compared to the risks, and homeowners could actually see savings in a few years—especially if they make their homes more energy efficient.
Right now, three efficient transmission projects could potentially save as much as 600 megawatts, and combining hydropower, wind, solar and other renewables could eventually make up the difference.
Closing Indian Point was pronounced doable by New York state in 2013, and it would bring economic opportunities and create jobs. SolarCity's manufacturing plans in Buffalo are just one signal of the potential.
And then there's the slaughter of Hudson River fish to consider: Indian Point kills more than a billion fish eggs and larvae each year through its cooling systems. The radiological contamination it leaks violates the Clean Water Act and has devastating effects on the river's ecology. Closing it would be a step toward restoration of species in decline.
It's no longer a question of whether Indian Point can be shut down, it certainly can. This aging nuclear power plant in a densely populated and ecologically fragile region is inherently problematic, threatening river life and human life. It no longer has a place in New York's energy landscape.We must close it before it closes us.
YOU MIGHT ALSO LIKE
How Pope Francis's Climate Encyclical Is Disrupting American Politics
Monsanto Fires Back at Neil Young's Scathing New Album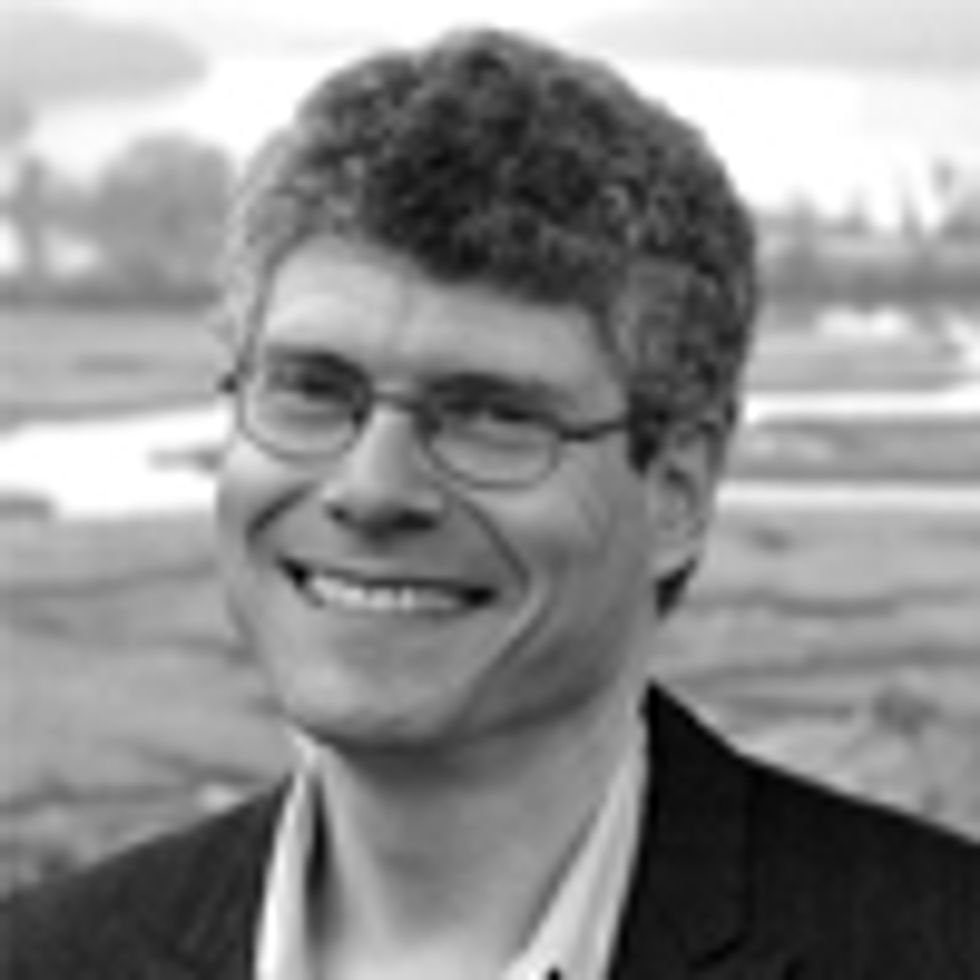 Last Call at the Oasis, a fine new film on water issues by Oscar-winner Jessica Yu, has more than its share of "uh-oh" moments. Screening audiences gasp audibly as Las Vegas runs out of water, fracking chemicals turn Texas swimming pools a nasty green and frogs change sex due to pesticide exposure.
Later in Last Call, we learn how to prevent still more horrible damage to our water resources. Conservation is an obvious first step. How about being honest with ourselves about the effects of chemical contamination in our communities? And, there's the possibility that one day we'll be going toilet-to-tap for drinking water, an idea floated in the film by a deadpan, lab-coated Jack Black, holding a beta test bottle of "Porcelain Springs."
Doubt the seriousness of the water issue? Think it's a plot by doomy environmentalists or tax-and-spend liberals? Not according to Bush Senior's EPA Administrator, William Reilly, who warns that 117 million Americans still lack proper access to safe drinking water. And, as many as 3.5 million Americans are being sickened each year because of bacteria in poorly-treated wastewater.
Reilly should know, as he served at the EPA during the beginning of the end for clean water investment. During the 1970s and the 1980s, the feds put more than $60 billion into building public wastewater treatment systems. President Reagan and Congress ended that program in 1987, abandoning true conservative values like thrift and investment in the future to help pay for tax cuts. Thus began an epic decline in conditions at our water treatment plants, which are now in such bad condition that the American Society of Civil Engineers assigned them a grade of D- in 2009.
America's neglect for its infrastructure now translates into major public health problems. Hundreds of thousands of New Yorkers swim and fish in the Hudson River—even drink from it—assuming that we're taking the necessary steps to keep the river clean. Riverkeeper's water quality testing reveals the truth: bacteria levels in the Hudson exceed federal safe swimming guidelines over 20 percent of the time. After it rains, that number can be as high as 56 percent. Roughly a quarter of New York's sewage systems are decades overdue for replacement or rehab.
Granted, water treatment is only one of many problems we've let worsen in recent years, but it's only common sense to pay paramount attention to the stuff we and our families drink, cook with and bathe in. And, every year we wait, fixing the problem becomes more costly. In 1986, when the feds were still spending on water infrastructure, capital investment needs for clean water were about $80 billion. Now, they're over $250 billion.
Whether you consider yourself an environmentalist or not, it's time to speak up for clean, safe water. You may not think the politicians will listen, but try it and see. Here in New York, grassroots groups won approval for key infrastructure investments in the City of Beacon, and on the Sparkill Creek in Rockland County, too. In New York City, the "SWIM Coalition" is driving multi-billion dollar investments in reducing storm-related sewer overflows—investments that will not only improve conditions in local waterways, they'll also beautify city neighborhoods and save New Yorkers money in the long run.
Last Call at the Oasis is an essential film that deftly balances entertainment, information and a call for action, a hallmark of its production company, Participant Media. It's also a compelling and long-overdue wake-up call that we need to answer now by ending America's 35-year drought in clean water investment.