USDA
Buying "green" can be confusing! Many products claim to be "natural," "eco-friendly" and "biodegradable." But what in the world does that mean? Unfortunately, because there's no standardized definition for any of these words, they're actually meaningless. In fact, many companies intentionally use vague words like these to market their products as if they're better for you and the environment than they actually are.
Here are 13 of the most reliable eco-labels in the market. What makes them so good? They've been defined by independent institutions or nonprofit organizations that have set meaningful criteria that companies must prove they've met in order to use the eco-label in question. When you shop for anything from produce to mattresses, look for these "third party" certifications to back up the claims a company makes regarding the environmental and human health benefits of their products.
1. Organic
The U.S. Department of Agriculture (USDA) collaborated with scientists, consumer groups, environmentalists and the agriculture industry to set standards for the meaning of the word "organic." Products labeled "100 percent organic" must contain only organically produced ingredients. Products labeled "organic" must consist of at least 95 percent organically produced ingredients. Products meeting either set of requirements may display the USDA Organic seal on their packaging. Processed products that contain at least 70 percent organic ingredients may use the phrase "made with organic ingredients," but may not use the organic seal. Processed products that contain less than 70 percent organic ingredients may not use the term organic other than to identify the specific ingredients that are organically produced in the ingredients statement. Overall, when it comes to food, the organic label, while not perfect, is the best indicator that no or minimal pesticides, hormones and antibiotics were used for growing and processing.
For more than 25 years, this nonprofit, science-based organization has developed certification standards to minimize the environmental and health impacts related to cleaning products, coffee, paint, windows, even sticky notes. To earn the Green Seal, a product must meet rigorous evaluation and testing objectives, as must the facility where it is manufactured.
SCS certifies environmental claims related to recycled content, certified organic ingredients, water efficiency and sustainable forestry. SCS certifications meet international environmental labeling standards as well as guidelines issued by the U.S. Federal Trade Commission for responsible environmental marketing.
FSC sets standards to ensure that forests are being managed in an environmentally responsible way, and that products like timber, paper and furniture are made sustainably.
The Leadership in Energy and Environmental Design (LEED) label represents a green building rating system for the design, construction and operation of high-performance green buildings. A program of the U.S. Green Building Council, LEED promotes a whole-building approach to sustainability by recognizing performance in five key areas of human and environmental health: sustainable site development, water savings, energy efficiency, materials selection and indoor environmental quality.
This label, overseen by the U.S. Environmental Protection Agency, indicates homes and buildings, plus appliances, computers, lightbulbs, copiers, printers, furnaces and many other products that meet strict energy-efficiency guidelines that help save energy and money and protect the environment.
Developed by SCS (see above), this label is awarded to flower growers who do not use "extremely hazardous" or "highly hazardous" agrochemicals. The Veriflora label also indicates that growers are converting to organic and sustainable crop production practices. The standard contains extensive water and ecosystem protection measures to ensure that farmers are not damaging surrounding wildlife or habitats. In addition, it requires growers to provide a fair, equitable and safe workplace for their farmers.
This label demonstrates that the farmers and workers behind Fair Trade goods were paid fair wages and have opportunities for better health care, housing and education. The Fair Trade label is attached to coffee, chocolate, cocoa, tea, fruit, rice, sugar, spices and a variety of clothing and crafts produced in developing countries.
This label provides independent verification that the care and handling of livestock and poultry on farms enrolled in the program meet high-quality, humane animal care standards. These include access to clean and sufficient food and water; sufficient protection from inclement weather; and enough space to move about naturally.
Leaping Bunny is the certification program of the Coalition for Consumer Information on Cosmetics. The mark certifies that companies have not tested their products on animals during any stage of development. The company's ingredient suppliers make the same pledge. Look for the Leaping Bunny label on cosmetics and personal care, household and cleaning products.
11. Marine Stewardship Council
The Council's eco-label indicates seafood that comes from certified sustainable and well-managed fisheries. Look for it on fish and shellfish.

12. Demeter
This label represents the Demeter Farm Standard, which indicates that a farm is organically farmed, GMO-free and also operated to promote soil fertility, animal welfare, conserve water, protect biodiversity and managed to follow the cycles of nature. Look for it on wine, tea, juice, pasta, sauces and many other foods.
13. NON-GMO Project Verified
This label indicates that products bearing it have been produced according to the best available practices for avoiding genetically-modified organisms (GMOs). It does not promise that a product is "GMO free" because there is always some risk that seeds, crops, ingredients and products have been exposed to GMOs somewhere along their growing or production cycle. It does, however, create a powerful incentive to seed breeders, farmers, processors and manufacturers to adopt practices that reduce use of GMOs while giving consumers a way to limit their exposure.

EcoWatch Daily Newsletter
Reposted with permission from Rodale News.
"Brush three times a day!" You probably grew up hearing that conventional oral-hygiene wisdom, but unfortunately, doing so today could pose an unnecessary threat to your health, thanks to certain bad-actor ingredients cropping up in popular toothpaste brands. The kicker? Some of the worst ingredients don't even help keep your teeth cleaner. "Does the risk outweigh the benefits?" asks Linda A. Straub-Bruce, BS Ed, RDH, author of Dental Herbalism. "It's what I always ask my patients to consider."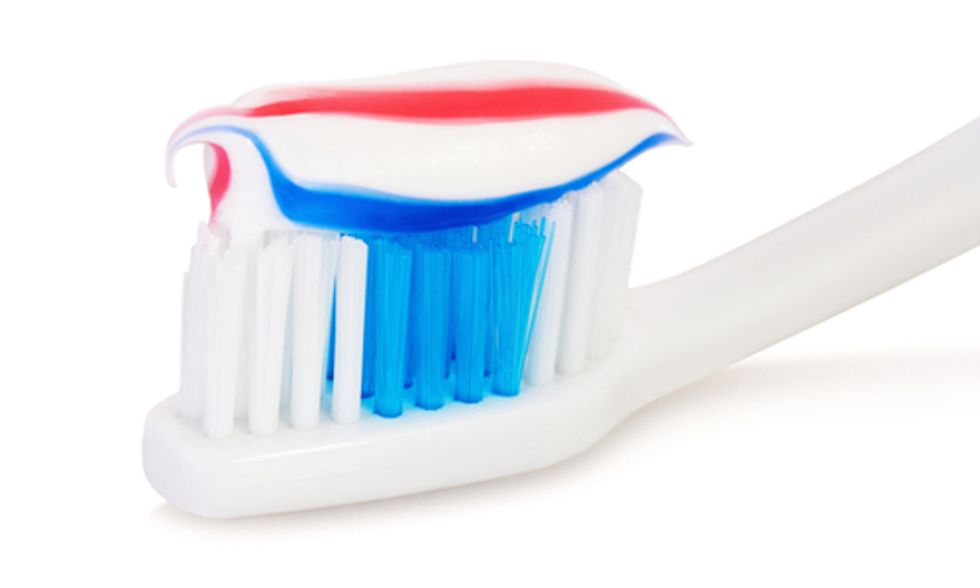 The "benefit" of these dyes is pretty obvious: They color the toothpaste. That's it. Photo courtesy of Shutterstock
She recommends avoiding these six ingredients that just aren't worth the risk:
1. Sodium Laurel Sulfate (SLS)
SLS seems to fuel canker sores. Researchers have linked SLS to higher numbers of canker sore outbreaks. As if that's not enough, SLS also seems to cause more frequent outbreaks that last longer, too, Straub-Bruce says. She also points out that there is a definite correlation with cold sensitivity as well. No one likes canker sores or sensitive teeth, so manufacturers must have a really good reason to justify its inclusion, right?
Nope.
"All it does is foam," explains Straub-Bruce. "There is no other viable purpose other than the experience. This doesn't translate into better health or lower microbial load, but people associate foaming with clean." In fact, she suggests that you get more cleaning power from the scraping action of brushing or flossing (or even just eating a carrot) than you do from SLS.
2. Triclosan 
"About 15 years ago, triclosan came to oral care because it fights the bacteria in plaque for up to 12 hours," says Straub-Bruce. Unfortunately, research is now showing that, much like BPA, triclosan is a hormone disruptor.
"And now that it's been out for a long time and it's been going down the drain, we're starting to see the environmental impacts," says Straub-Bruce. She points out that not only is it a hormone disruptor for people, but it's also a food-chain disruptor because it affects algae.
3. Blue #1 and #2
The "benefit" of these dyes is pretty obvious: They color the toothpaste. That's it. Unfortunately, the fun color is offset by some pretty serious health concerns. "When swallowed it's a respiratory irritant, digestive tract irritant, and there have been correlational studies between blue #1 and behavioral problems in children," says Straub-Bruce.
4. Flavoring
Sure, we love the minty-fresh taste, but what do the toothpaste companies add to make their pastes palatable? "No matter what it says on the front, you have to read the back," says Straub-Bruce. It's important to watch out for flavoring agents like aspartame.  If you're making the jump to natural herbal rinses and need help getting used to the new taste, she recommends looking for natural sweeteners like xylitol or stevia.
5. Hydrated Silica 
This chemical is used for stain removal, but Straub-Bruce explains that it doesn't break down over time. "This means that it can damage your enamel," she says. She recommends using baking soda instead. You'll get sparkling teeth—without destroying them.
6. Alcohol
Straub-Bruce points out that alcohol is a false friend when it comes to mouth rinses: "Alcohol is an antimicrobial, but it's also a drying agent," she says. "So while it freshens your breath initially, it flips back twofold later because the bacteria thrive in a dry mouth."
Instead, Straub-Bruce suggests making a tea of herbs (and letting it cool) as a rinse. To freshen your breath, try brewing a 2:1:1:0.5 ratio of cardamom, cumin, fennel and orange peel in water. After it's cooled, rinse as you would with your regular mouthwash.
Want to control what's going into your toothpaste? Try making it yourself.
You Might Also Like
What to Avoid in Toothpaste, and How to Make Your Own
Fluoride, Deemed Toxic by Harvard Doctor, Under Fire in U.S. Federal Court
andresr / E+ / Getty Images
From bamboo utensils to bamboo toothbrushes, household products made from bamboo are becoming more popular every year. If you have allergies, neck pain or wake up constantly to flip your pillow to the cold side, bamboo pillows have the potential to help you sleep peacefully through the night.
In this article, we'll explain the benefits of bamboo pillows and how they can help you on your journey to better sleep. We'll also recommend a few of the best pillows on the market so you can choose new bedding that's right for you.
Our Picks for the Top Bamboo Pillows
Each product featured here has been independently selected by the writer. Learn more about our review methodology here. If you make a purchase using the links included, we may earn a commission.
Why Switch to Bamboo Pillows?
Bamboo may be thought of as a tree-like structure because of its resilience, but it's actually classified as grass, which can be spun and woven in a soft, spongy material much like cotton. The pillows are made with a bamboo-based outer sleeve and stuffed with foam pieces in order to mold to your head position. Bamboo is considered naturally hypoallergenic and doesn't attract pests, bacterias or other fungi like most other plants.
Bedding materials such as cotton and silk don't have the concise cellulose structure that bamboo does. The material's cell structure allows more oxygen circulation, which keeps it lightweight and breathable so your pillow stays cooler longer.
Other than the sleeping benefits of the pillows, bamboo is considered an extremely sustainable material through production. The adaptable plant works as a great renewable resource, as it can thrive in any soil type and it is considered one of the fastest-growing plants in the world. As the bamboo is grown, it produces more oxygen than its calculated carbon emissions. And the cultivation of bamboo doesn't require fertilizer or pesticides, so ecosystems around the bamboo farms can be left unharmed.
Although bamboo itself is a completely natural and sustainable material, it has to undergo a strong chemical process in order to become a textile. Bamboo viscose, which is a type of rayon, is controversial among environmentalists because of this process, but overall, bamboo derivatives still produce lower carbon emissions than traditional polyester bedding. New bamboo textile processes are also being developed to be much more eco-friendly.
Full Reviews of Our Top Picks
When choosing our top recommended bamboo pillows, we looked at factors including:
Comfort: Quality comes first when choosing bedding. The bamboo pillows chosen contain soft and snug adjustable filling to adapt to your preferred firmness.
Materials: Most traditional pillows are stuffed with synthetic foam that contains VOCs, also known as volatile organic compounds. We ensure both the bamboo fabric and foam used in our picks are toxin-free.
Cost: Bamboo pillows are usually a little more expensive than regular polyester or feather pillows because of their superior comfort and eco-friendly properties. It's important that the product you spend your money on is worth the cost and will hold up long-term.
Customer reviews: We look at real and verified reviews in order to make sure each product is genuinely beneficial to customers' sleep.
As the UK cleans up after being lashed by the remnants of Hurricane Bertha, which brought summer flooding and travel disruption, it is also reaping the benefits of a boost to the country's wind industry brought by the storm, with output hitting near record highs.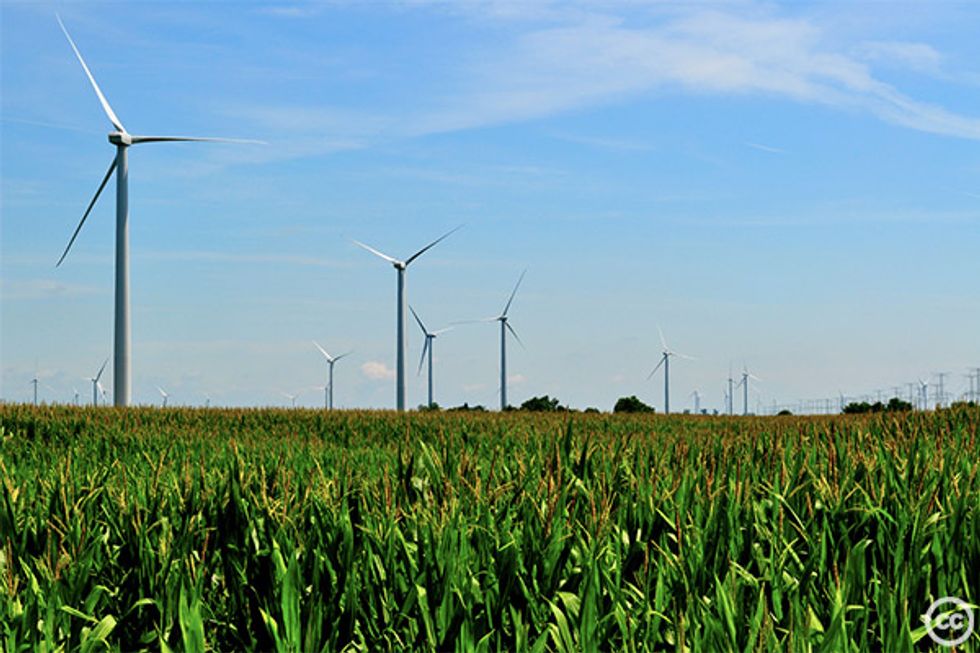 A surge in wind power say clean energy outstrip coal in the UK. Creative Commons: Tom, 2010
Wind power met almost 16 percent of the UK's power demand on Monday morning, and 13.1 percent of demand over the preceding 24 hours.
The strong performance meant wind power output exceeded coal power—which accounted for 11.3 percent, according to trade body EnergyUK.
It also took output to levels close to the record set during last December when wind energy met 10 percent of electricity demand throughout the month and peaked at 17 percent of demand.
The UK has broken a series of wind records over the past 12 months, and last week new government figures confirmed that 2013 had seen around 15 percent of electricity in the country come from renewables—7.9 percent of which was provided by onshore and offshore wind turbines.
The plentiful supply of wind energy is also helping to pick up the slack this week as French energy companies EDF was forced to shut down four nuclear reactors in the UK.
The reactors are expected to remain closed for eight weeks—after a fault was found in a boiler unit—but National Grid have said the closures should not affect the UK's energy supply.
It told the Financial Times:
Demand is low at this time of year, and a lot of wind power is being generated right now.
This is an ironic turn of events, with critics of renewables arguing that surges in output caused by weather conditions create problems as renewable energy can not provide a reliable supply.
They argue such sources of energy will also fail to deliver the needed steep emissions reductions as back-up power capacity is still needed.
But the National Grid has said it can manage high levels of variable renewables, and this week's events have shown that large reactors and generators can also suddenly go offline with no warning.
As recent government figures have show, in 2013 the load factors from onshore and offshore wind actually exceeded or equaled that of gas at nearly 28 percent.
You Might Also Like
How Doubling Renewable Energy Worldwide Could Save $740 Billion per Year
Germany's Windiest State Set to Achieve 100-Percent Renewable Energy
Vaida Lilionyte-Manthos holds a B.A. in History and Anthropology from Vilnius University and Master's degree in Political Science from West Virginia University (WVU). Originally from Vilnius, Lithuania, she lives in Shepherdstown, West Virginia with her husband David. Mrs. Manthos is pursuing her doctorate in political science, also from WVU.
Growing up in Lithuania I had the impression that environmental problems do not exist in the U.S., or at least they were not as severe as they are in countries like mine that were once occupied by the mighty Soviet Union. I became interested in environmental problems around 1998 when the Lithuanian statesman Valdas Adamkus returned to Lithuania to run for president. Adamkus had worked for U.S. Environmental Protection Agency in the U.S. for many years, and upon coming back to Lithuania he made caring for the environment one of his priorities.
As a teenager I truly believed that America is the perfect country where everyone cares for their environment and uses all their natural resources wisely. However, my opinion changed radically when I came to Western Maryland and then West Virginia to study. I could not understand why some of the streams are so suspiciously orange and without any fish or aquatic plants; but soon I learned that this "suspicious color" comes from the acidic drainage of old coal mines.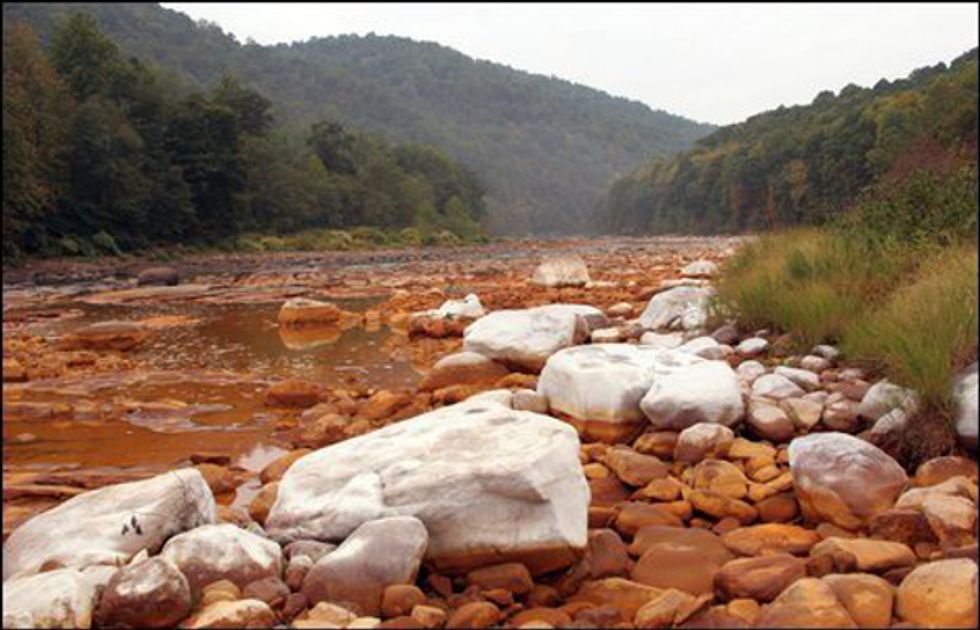 The Cheat River in North Central WV, though significantly improved now, ran rust-red for years after a mine blowout in the 1990s.
I was surprised to learn Appalachia was plagued by a wide range of environmental issues and problems which have never been properly addressed. Failing to learn from history, the region loses its iconic ridges to mountaintop removal strip mining and suffers from a resurgence of black lung disease while disasters keep repeating year after year: from the Upper Big Branch Mine disaster that claimed 29 lives in 2010 to the Elk River chemical spill in 2014 that poisoned the water supply of 300,000 people in nine counties.
I study Political Science at West Virginia University and once I moved to West Virginia I realized how important the coal industry had been to this state, at least in the peoples' mind and their rhetoric. It seems that any anti-coal speech in WV equates to political suicide. Natalie Tennant, the Democratic nominee for U.S. Senate understands this, and in a recent TV ad, she defends the coal industry by threatening to figuratively cut off power to the White House and accusing Obama of not supporting hard working coal miners. This West Virginia Democrat's accusation is strange because President Obama, who is pushing for stronger coal-fired power plant regulations, is also a Democrat.
Recent numbers show that the coal industry only employs about 87,000 people, while clean energy industries employ about 360,000 nationwide (Nesbit, US News; June 3, 2014). Additionally, coal only accounted for 18.1 percent of the total domestic power supply in 2013 (US Energy Information Administration; June 2, 2014), meaning that coal is no longer the main energy source in the U.S., and it has cleaner and safer alternatives.
The question arises why people in coal-producing states are so supportive of this industry despite the fact that coal does not create as many jobs as it claims? As a political scientist I could suggest that this support of the coal industry is related with the strong legacy of natural resource extraction or big industries lobbying influential politicians. However, I believe that the tendency to hold onto the past is much stronger than the actual legacy of natural resource extraction.
I was born and raised under the Soviet Union and I remember what quality of life we had then: empty stores, scarcity of necessary goods, only four car models to choose from, and you had to get permission from the local government to buy one! People did not have the right to free speech, were not allowed to travel abroad, nor could they proclaim religion without consequences. Buying a simple one-room (literally, one room; not just one bedroom!) apartment could be a great challenge, and my list could go on and on. Surprisingly, despite all the hardships under Communist rule, some people in Lithuania and other post-communist countries wish the Soviet Union would come back.
Their explanation is simple: under Soviet rule everyone had a job, regardless the pay, quality or necessity of these jobs. The government controlled every aspect of life. People lived in their little low quality apartment and fought for better food in the stores, but their lives were stable. However, the situation changed once Lithuania became an independent country. Many people were not able to adjust to a changing world, learn new skills or adapt to the free market, so they refuse to accept the collapse of the Soviet Union.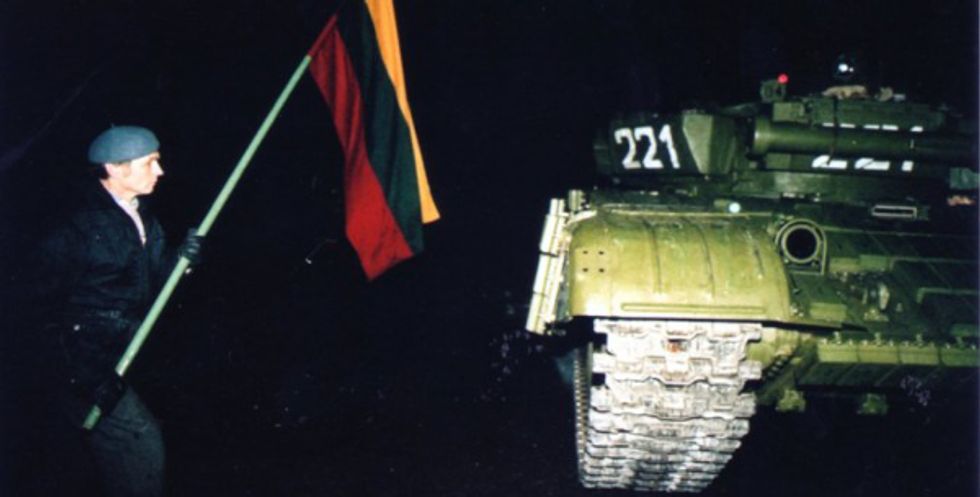 Lithuanian protestor in front of a Soviet tank in the final days of our struggle for independence. But not everyone agrees this was progress. Image: Wikipedia
In a similar way, I think people in coal-producing states hold on to the memories of the great industries that coal supported and the days when jobs were bountiful. Notwithstanding the lives lost in the coal mines, lungs turned black from coal dust and the air and water polluted by the mines and power plants; coal provided stable jobs and a way of life. And just as many believe that coal made America great, there are still people who believe that the Soviet era was Lithuania's "Golden Age."
I believe that just because coal or the Soviet Union did some "good" in the past does not mean that we can ignore the harm. It was only after the fall of the Soviet Union that we understood the harm which had been done by the Communist regime. In a similar way, thanks to science, new technologies, research and environmental organizations, we have a better understanding of the consequences of mining and burning coal, for streams, rivers, for public health and for the climate. We should look forward for new ideas and technologies, which brings real progress, instead of pining for the past.
You Might Also Like
5 Things You Need to Know About Obama's Clean Power Plant Rule
Another Coal Chemical Spill Pollutes Public Waterway, This Time in Kentucky
Supreme Court Rejects Coal Industry Lawsuit, Defends EPA Veto of Mountaintop Removal Mine
Half of newborns in a Brooklyn-based study were exposed in the womb to triclosan, a germ-killing chemical widely used in consumer products, researchers reported Sunday at an annual meeting of chemists.
"Our study suggests that expectant mothers may be highly exposed to these compounds, which have endocrine-disrupting capabilities," said study coauthor Laura Geer, an environmental health scientist at SUNY-Downstate Medical Center in New York.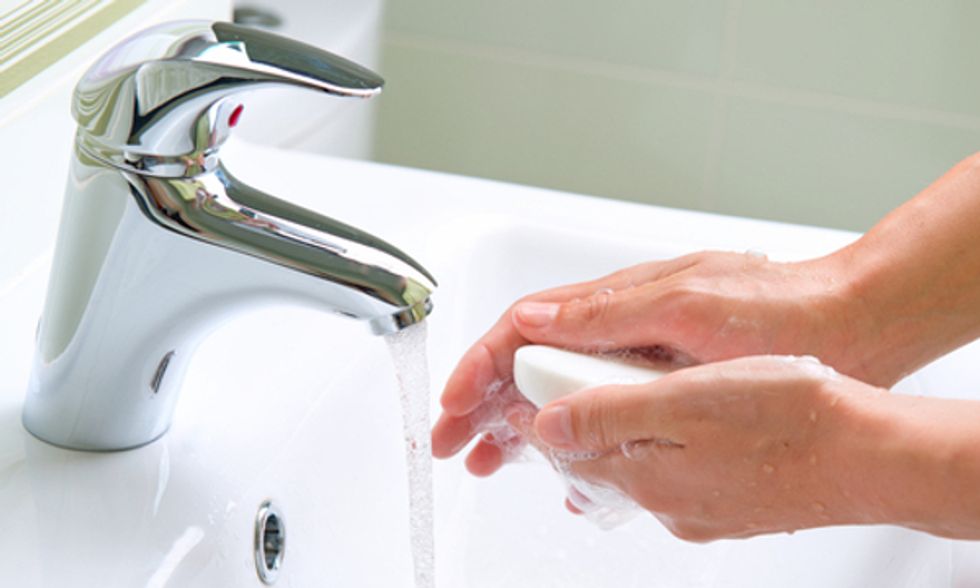 Triclocarban is found in some bar soaps. Photo courtesy of Shutterstock
In addition to triclosan, about one-quarter of the newborns were exposed to traces of triclocarban, another germ-killing chemical in some bar soaps.
The researchers also reported that pregnant women with higher levels of butylparaben, a cosmetics germ-killing preservative, gave birth to shorter babies than women with lower levels. It's not clear what health effects, if any, the shorter lengths would have on a child, Geer said. Those findings are preliminary and have not yet been published, so Geer declined to reveal details on the length differences.
"Shifts in birth size may be an indication of endocrine disruption," she said. "We hope to address the question of adverse health outcomes associated with these chemicals in future research."
The findings are being presented at the American Chemical Society's annual meeting in San Francisco. They add to growing debate about the safety of antimicrobial chemicals in consumer products. Triclosan and triclocarban are used in more than 2,000 items, including some toothpastes, liquid soaps, detergents, clothing and toys.
Last year, the U.S. Food and Drug Administration (FDA) announced that antibiotic hand soaps and body washes containing the two chemicals were no more effective than regular soap and water. The FDA is reviewing their safety and possible health effects, with a ruling expected in 2016. Earlier this year, Minnesota became the first state to ban triclosan in some household products.
Studies have reported that triclosan and triclocarban may add to the spread of antibiotic-resistant bacteria, disrupt development of the brain and reproductive system and accumulate in plants and animals. Parabens, identified as estrogen mimics, have been linked to reproductive problems in lab animals, as well as allergies and skin irritation.
In the Brooklyn study, all of the 184 pregnant women tested had traces of triclosan in their urine, while 86 percent had triclocarban, according to the study by Geer and Arizona State University researchers. Umbilical cord blood from 33 of the women was tested. It was the first time triclocarban had been studied in pregnant women and fetuses.
The women had higher levels of the chemicals, on average, than the general U.S. population. Most of the women tested were black.
"If you cut off the source of exposure, eventually triclosan and triclocarban would quickly be diluted out, but the truth is that we have universal use of these chemicals, and therefore also universal exposure," Rolf Halden, the study's lead investigator and director of Arizona State's Center for Environmental Security, said in a statement.
Paul DeLeo, an associate vice president of the American Cleaning Institute, which represents the U.S. cleaning products industry, said the traces found are too small to have any effect.
"Everything around us gets into us. But the levels they are finding are extremely small. There's a wide margin of safety between these levels and the levels deemed unsafe based on standard toxicology testing," he said.
However, experts say that standard toxicological tests do not detect many effects, especially ones related to hormone disruption.
Geer said pregnant women who want to reduce their exposures should scan the active ingredients listed on the back of products. "Avoid products labeled 'antimicrobial,' since these products likely contain triclosan or triclocarban as active ingredients," she said.
Big-name manufacturers Proctor & Gamble and Johnson & Johnson have announced they are phasing out triclosan from their products. Many cosmetics companies market paraben-free products.
You Might Also Like
Antibacterial Agent Triclosan Linked to Growth of Breast Cancer Cells
Dateline TV Producer Tested for Chemicals—What She Finds Will Shock You!
A friend of mine calls lavender the "Swiss Army Knife" of essential oils because you can use it in so many ways. I prefer to think of it as the perfect way to start and end my day. From fresh lavender bouquets to dried lavender petals to essence of lavender oil, Mother Nature has created a seemingly endless way to incorporate this delicate plant into our lives. Here are some of my favorites.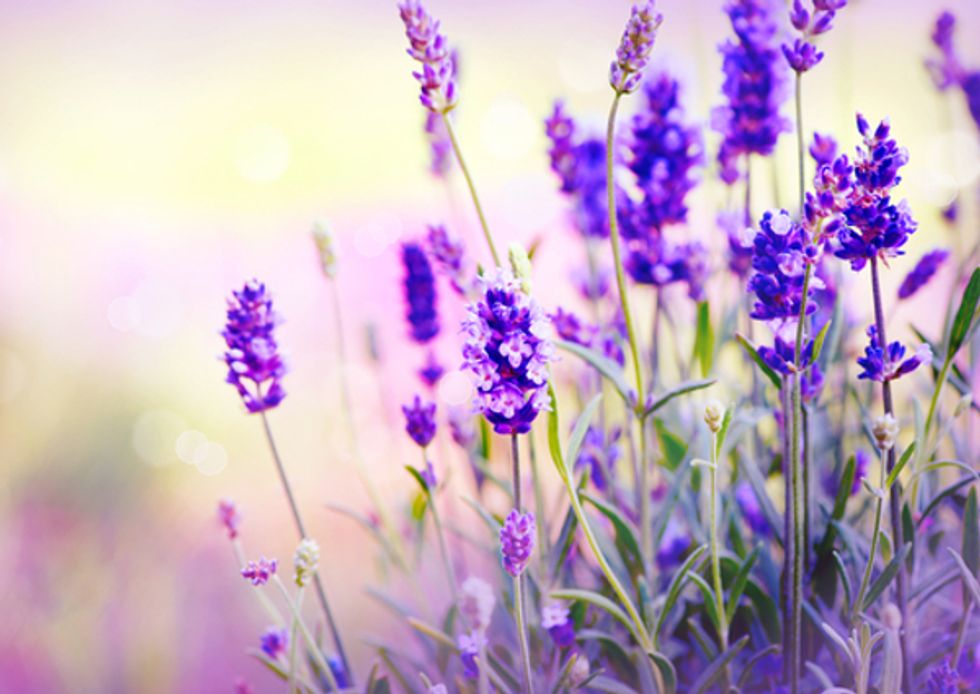 Add lavender oil to ointment you use to relieve aches and pains. Photo courtesy of Shutterstock
1. Mosquito Repellent – Add 10-12 drops of essence of lavender oil to an 8oz spritzer bottle filled with water, and spray.
2. Perfume – Dab a drop of lavender oil behind each ear, on the inside of each wrist and on the nape of your neck. You don't want the scent to be overpowering, just present enough to smell special.
3. Bath Oil – Add several drops of lavender oil to a warm bath. Soak, and relax. I like to add the oil right under the running water to diffuse the scent a bit more. If you don't have oil at hand, you'll easily be able to find lavender-infused soap.
4. Laundry Freshener – Put a few drops of lavender oil on a towel and then toss the towel in with other laundry to dry. What a natural way to skip dryer sheets.
5. Reduce Swelling and Sore Muscles – Add lavender oil to ointment you use to relieve aches and pains. Some moms I know dab a little lavender oil on swollen lips.
6. Deodorant – My favorite deodorants are baking soda-based, then infused with lavender oil.
7. Bouquets – Fill small vases with fresh sprigs of deep purple lavender in bloom to add texture and cheer to any room. Dry bouquets of lavender flowers and leaves, then add them to other dried blooms and thistles for a dried arrangement full of color and texture.
8. Overall Aromatherapy – Dry lavender flowers, then mound them in a small bowl or basket in your bathroom, laundry room or bedroom. Every now and then, crumple the flowers a bit to release their wonderful smell. You can also fill small mesh bags with dried lavender and tuck them in your sock drawers or among your lingerie, or let them dangle off the head rest facing the back seat in your car. Put diffuser sticks in small bottles of lavender oil to let the scent infuse living room, family room or office. Sprinkle a few scant drops on your pillowcase for greater ease in drifting off to sleep. Choose lavender-scented soy candles.
9. Tea and Chocolate – Lavender is showing up in tea, chocolate, cookies, mints and more.
Lavender is certainly one of the best essential oils. What's your favorite use for lavender?
You Might Also Like
3 Herbal Recipes for Beautiful Hair
Make Your Own Exfoliating Scrubs Instead of Using Products With Plastic Microbeads
For quinoa fanatics tired of eating quinoa burgers, quinoa pasta and quinoa porridge, fonio may be the answer. It's been called the grain you've never heard of and yes—it may even knock quinoa out of its throne.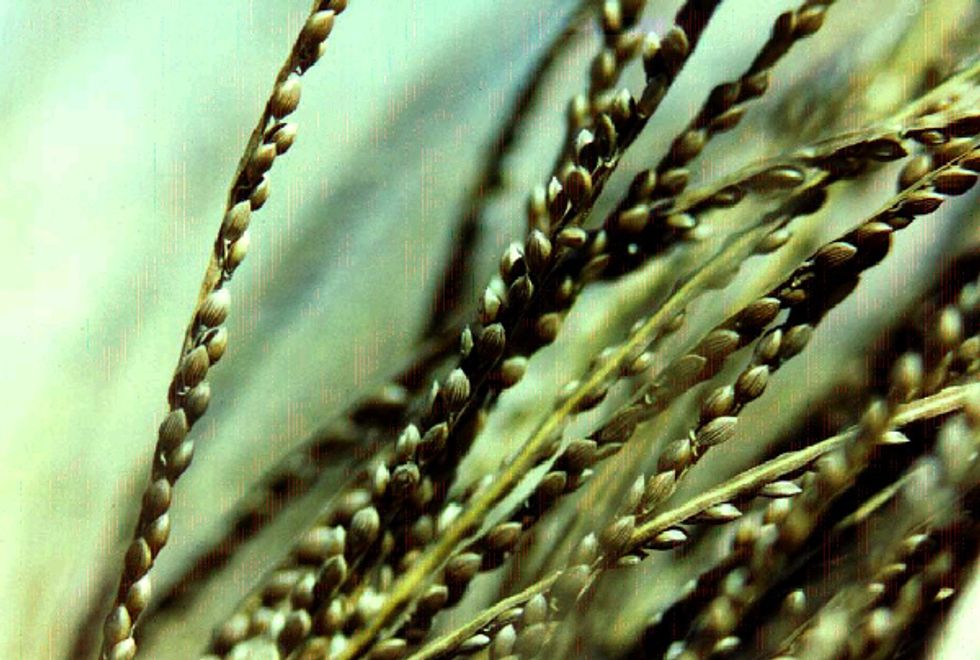 Fonio grains. Credit: fonio-bio.com
Fonio, an ancient West African cereal, closely resembles a type of millet. It's rich in amino acids like methionine, cysteine and leucine and because it's low in sugar it's popular among diabetics (some studies show it's an excellent grain for treating diabetes). It's also high in iron and contains no gluten. 
New York chef Pierre Thiam is hoping with a few marketing adjustments, fonio will be as popular as quinoa. Thiam was recently profiled in The Guardian for his efforts to launch fonio into American cooking. In 2009 he published Yolele! Recipes from the Heart of Senegal, and in 2011 he launched the AfroEats festival to celebrate Senegal's rich food culture. He hopes he can popularize Senegalese cuisine the way Mario Batali did for Italian food or Bobby Flay did for Mexican and Southwest cuisine. West Africans eat fonio for breakfast as porridge, or mix it in with vegetables like we do with couscous.
While some farmers are trying to grow quinoa in the U.S., fonio crops in the U.S. are practically non-existent. Fonio is primarily grown in West African countries like Mali, Guinea, Burkina Faso and Senegal. It's a desert grass that can resist high heat and desert storms and can be cultivated in poor soils, making it a great crop to fight hunger in drought-ridden nations. It requires no pesticides, making it organic as well.
Still there are some who worry a surge in fonio's popularity could cause problems. In "The Dark Truth Behind The Popular Superfood, Quinoa" Jill Richardson writes that quinoa's popularity "spawned a growing source of controversy, following reports that high global quinoa prices put the crop out of reach for the people who grow it." Tanya Kerrsen, a Bolivia-based researcher for Food First, told Richardson, "… whichever way you press the lever (buy more/buy less) there are bound to be negative consequences, particularly for poor farmers in the Global South."
It's possible fonio could have a similar problem. But Thiam has already begun the process of importing fonio for mainstream markets by the end of this year, and says his business is fair trade in the sense that "They trust me and I trust them."
While Thiam works on bringing fonio to a mainstream consumer base, today's customers will still need to visit a specialty store specializing in West African foods or order fonio online.
Although some varieties can grow in a short growing cycle (70–85 days) the harvesting is labor intensive and can take hours to process by hand, with women typically carrying the brunt of de-husking fonio. One gram of fonio contains roughly 2,000 grains. Two hours of work results in roughly 5 pounds of fonio.
Because the small grain takes hours to harvest by hand, fonio fell out of favor with African locals for years. Many in the city would instead eat rice or wheat. Then engineer Sanoussi Diakite invented a de-husking machine in the 1990s. His invention could de-husk 11 pounds of fonio in eight minutes. In 2013, he was awarded the African Innovation Prize for his service. Diakite's machine has provided jobs to the local economy in terms of making the machine but also in processing fonio, where in some cases now "demand far outstrips supply."
Regardless of fonio's growth in the natural foods aisle, its potential as a driver of local economies and a crop that can feed hunger-stricken countries is paramount. 
The Environmental Development Action in the Third World is attempting to expand fonio in Sub-Saharan Africa. Meanwhile, the U.S. African Development Foundation awarded a $190,000 grant to Koba Club, a group of female fonio producers who are "well-positioned to become large-scale agro-processors of pre-cooked fonio in Senegal's economy."
Other FONIO initiatives can be found with UCODAL and CIRAD.
You Might Also Like
10 Indigenous Foods You Should ​Be Eating
10 Best Ingredients to Include in Your Superfood Smoothies
For the oil industry, business comes first. After years of preparation, on Saturday ExxonMobil began drilling a $700 million well in the Kara Sea in Russia's Arctic. It is Russia's most northerly well.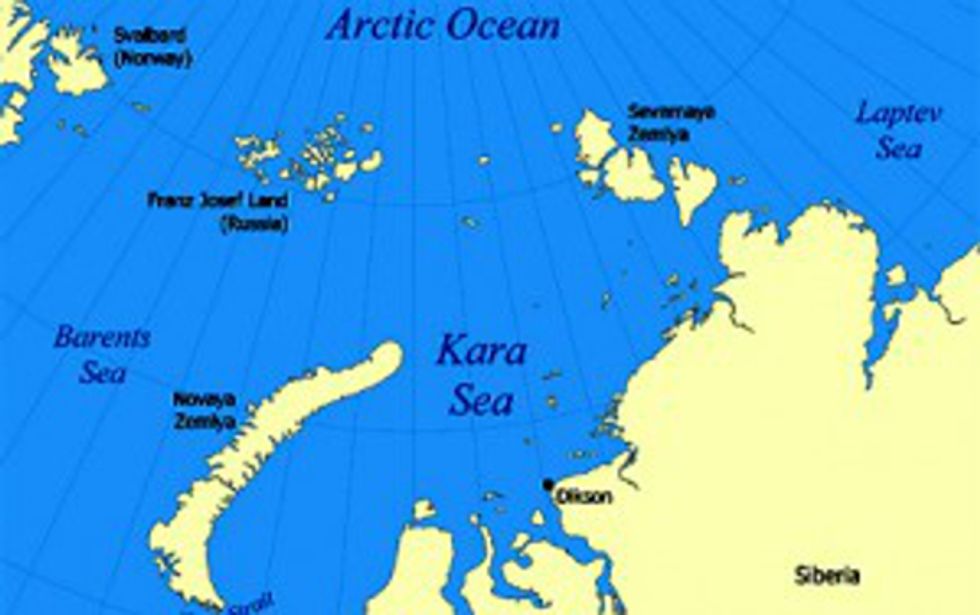 In doing so, the oil giant has ignored growing concerns over Russia's role in the Ukrainian conflict, and the sanctions imposed on its business partner, Rosneft, which is run by a close associate of Putin, Igor Sechin, who is also personally blacklisted.
Indeed, the go ahead shows just how ineffectual the sanctions against Russia really are. Exxon's excuse is that the contract to hire the rig was signed before sanctions were announced, but the oil giant is still working with Putin's blacklisted inner circle.
Exxon has also ignored huge questions over whether an oil spill in the region could be contained. And of course it has totally disregarded the issue of climate change and the need to disinvest from fossil fuels in the most ecologically sensitive areas, such as the Arctic.
Not surprisingly, the start of drilling was praised by President Putin, who many people feel has blood on his hands over Ukraine. Putin sang the praises of Exxon, calling it "Russia's old and reliable partner."
He also labelled the joint venture as a model of "efficient international cooperation" which Russia was "open to expand."
Putin added "businesses, including Russian and foreign companies, perfectly realize that and despite certain current political difficulties, pragmatism and common sense prevail, and we are pleased to hear that."
Rosneft is certainly excited by the Kara Sea drilling. The well, known as Universitetskaya, is the first of as many as 40 offshore wells the Russian company plans to drill in the Arctic by 2018.
Igor Sechin calls the drilling of the Kara Sea well the "most important event of the year for the global oil and gas industry. As a result of this work we are planning to discover a new Kara sea oil province. Developing of the Arctic shelf has a huge multiplicative effect on the whole Russian economy."
Sechin brags about the so-called vast reserves of the region arguing that "The volume of resources exceeds the oil and gas resources of the Gulf of Mexico, the Brazilian shelf, the shelf of Alaska and Canada, and it will be comparable to the resource base of Saudi Arabia."
Exxon for its part said it was keen to carry on investing in Russia. "Our cooperation is a long-term one," a spokesperson said. "We see big benefits here and are ready to work here with your agreement."
Many environmentalists are outraged by Exxon's Arctic plans. Gustavo Ampugnani, an Arctic campaigner at Greenpeace, argues that "The West Alpha platform is fast becoming the most controversial oil rig in the world. He added that Exxon and Rosneft's plan "to drill in the ecologically sensitive Arctic is nothing less than absurd."
You Might Also Like
Must-See Video: Arctic Emergency, Scientists Speak
Federal Study Warns Oil Industry Nowhere Near Prepared for Spill in Arctic
China announced its latest step in the "war on pollution" this week, with a Beijing Municipal Environmental Protection Bureau official declaring a ban on coal power and the sale of coal in Beijing by the end of 2020, due to its acute health and environmental impacts.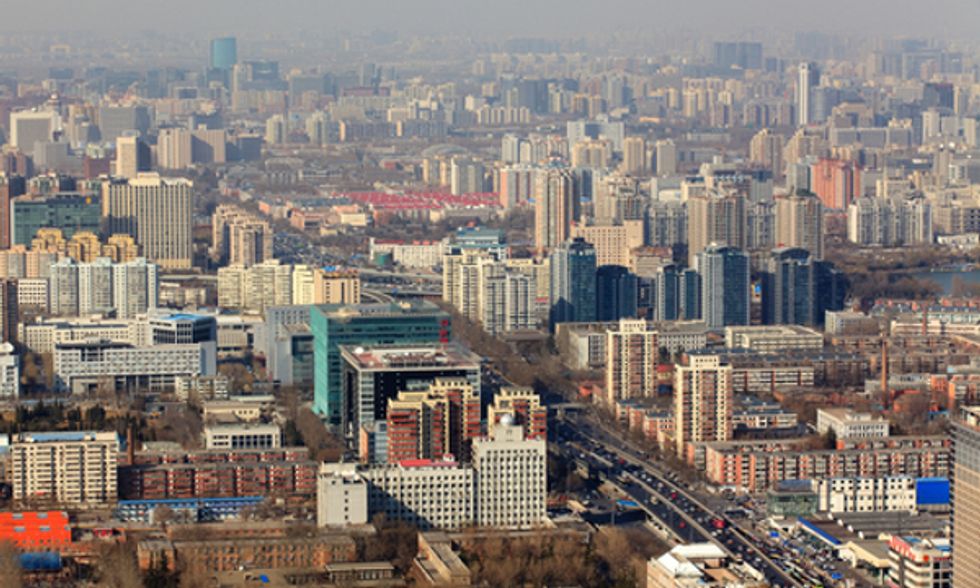 Haze over Beijing. testing / Shutterstock.com
While it constitutes a relatively small portion in China's annual coal use, analysts expect neighboring provinces to follow suit.
According to official statistics, coal use accounted for 25.4 percent of the capital's energy consumption in 2012. The figure is expected to shrink to less than 10 percent by 2017.
The move spells even more woe for the country's struggling coal industry, given 70 percent of coal mining companies are already facing losses and solar makers are gaining ground on widespread distributed solar.
The move also shows—once more—that China is willing to act on climate change.
Since the beginning of this year alone, China has promised "significant" domestic action on climate in meetings with the European Union, launched its seventh and final pilot carbon market, signed eight climate partnership pacts with the U.S. and hinted at a possible absolute cap on carbon emissions.
As the critical 2015 Paris climate talks grow ever closer, China's recent climate blitz has buoyed at least some observers previously unconvinced of the country's commitment to cutting greenhouse gas emissions.
You Might Also Like
9 Chinese Cities Exceeded Beijing's Abysmal 2013 Air Pollution Levels
National Geographic Photojournalist Captures Images of Critical Pollution Problems Worldwide
Chinese Government to Pay Cities $1.6 Billion to Reduce Air Pollution
Shining. Soaring. Skyrocketing. Solar is so exciting, we're running out of adjectives.
The what, the why and the where-to of America's solar power revolution are the subjects of a new Union of Concerned Scientists (UCS) report and infographic. It's a story worth celebrating.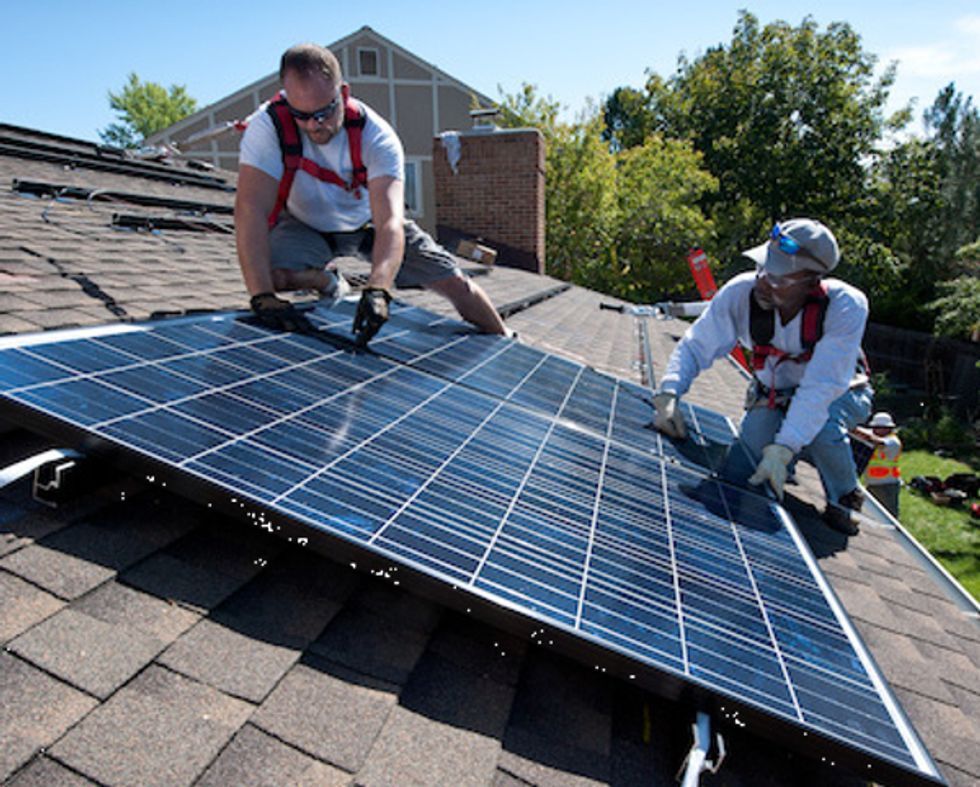 Rooftop solar is now on 400,000 homes, 13 times more than in 2006 (Credit: National Renewable Energy Laboratory)
The 4 Ps of rooftop solar
The story of solar, as told in UCS's new Solar Power on the Rise report, is full of great news, such as:
The amount of solar power installed in the U.S. by 2013 was more than five times 2010's level.

Our country has enough solar to power some 2.4 million typical U.S. households.

In June California set a one-day solar record, with solar meeting 8 percent of its overall electricity needs.
Rooftop solar, the photovoltaic (PV) panels dotting the roofs of a rapidly growing number of homes and businesses, is one big piece of the charge, worthy of a closer look.
And one way to consider its progress is to borrow business types' "4 Ps" of marketing, for our own 4 Ps of solar—Product, pricing, place and policy.
Product: Rooftop solar is one to watch
Rooftop solar is the most visible piece of America's clean energy revolution, and a shining star in the energy firmament.
Rooftop solar in this country has grown an average of more than 50 percent per year, with its installed capacity tripling from 2010 to 2013.

PV now adorns some 400,000 homes, 13 times the number just eight years ago.
Pricing: Solar is getting more accessible all the time
One exciting driver behind the surge in rooftop systems has been the plummeting costs of solar, along with the innovative ways people are getting solarized.
From 2010 to 2013, the price of a typical household system dropped by almost 30 percent.

A typical system that might have cost $32,000 in 2010 may now cost $23,000, even before tax credits and other incentives; in leading states, the total final cost could be less than $10,000.

Leasing or power-purchase arrangements may make it even easier; two-thirds of new residential systems are third party-owned, often with low or no up-front payments.
Place: Solar works all over
One fact that isn't always obvious (including to those of us in foggy and cloudy climates) is how widespread the solar resource is. When it comes to PV, to a great extent solar is an equal-opportunity renewable energy, as the resource map below shows.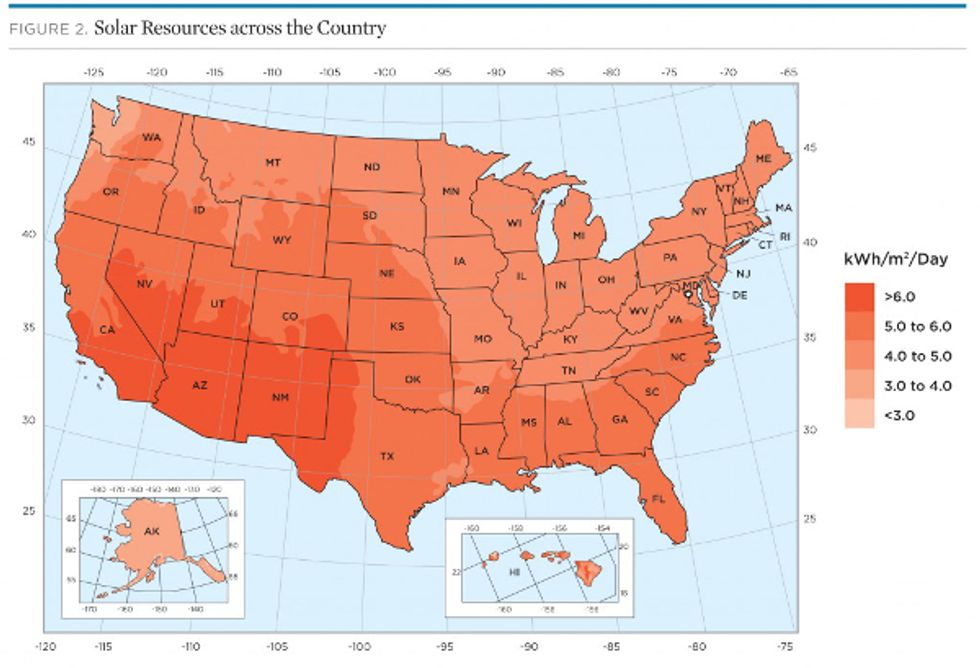 Sunlight for PV generation is a powerful resource across the country. A system in Portland, Maine, for example, on average generates 85 percent of what it would in Los Angeles, and 95 percent of what it would in Miami. The system in Maine would generate 6 percent more electricity than in Houston. (Source: www.ucsusa.org/solarpowerontherise)
The near ubiquity of solar means that the U.S.'s 6,000 solar companies and 140,000 solar workers are spread across all 50 states.
Policy: Smart solar policies make a difference
What's driving all this progress? Along with prices (and sunlight), it's policies—from net-metering and value-of-solar tariffs, to state renewable electricity standards and solar carve-outs, plus tax incentives (federal, state and local)—all creating demand and helping solar capture value. Forward-looking locales are putting it all together to great effect.
The revolution scales up
Another great thing about the exciting solar story is that it isn't just about rooftop PV. Large-scale PV and concentrating solar power (CSP) have their own amazing stories to tell.
Electricity from new large PV projects in 2013 is half as expensive as in 2010, and installed costs are 60 percent lower than rooftop solar's.
And CSP is set to have its best year ever; 2014 has already seen the world's largest solar facility turn on, and more is on the way.
¡Viva la Revolución!
Keeping the solar revolution going will take determination and attention. Good investments. Smart policy decisions. Things like:
Maintaining strong renewable electricity standards and making sure solar plays a strong role in state plans to meet the EPA's proposed power plant carbon standards

Sustaining the key support that solar has gotten from the 30 percent federal investment tax credit

Continuing to invest in building scale and improving technologies, including around energy storage

Helping utilities and regulators figure out new business models to let solar do what we need it to and know it can
Some of the great developments in rooftop solar are most easily seen in UCS's exciting new solar infographic, which highlights:
The incredible drop in costs in recent years

Where rooftop solar might be poised to beat utility-supplied electricity (Hint: In more than half the states, now or in the very near future)

Solar's growth trajectory, and what 2020 might bring (Hint: Millions of homes)

Just the beginning
Solar Power on the Rise concludes with this:
From rooftops to landfills to large open spaces, harnessing the full power of solar energy will be a key part of our nation's transition to clean, reliable and affordable electricity that can safeguard our environment, protect our health and power our economy.
That's how the report ends. But the solar revolution? No end in sight.
We may need to come up with some more adjectives.
You Might Also Like
Top 10 States Leading the U.S. in Solar Energy Growth
Solar Industry's Sizzling Start to New Year Could Lead to More Broken Records
German Solar Experience Offers Critical 'Lessons Learned' for America
On Aug. 4, an approximately 580 acre impoundment failed at a Canadian gold and copper mine near Likely, British Columbia. The breach at Imperial Metal's Mt. Polley mine dumped an estimated 1.3 billion gallons of toxic mine waste into the surrounding environment. On Aug. 5, Landsat 8 acquired an image of the mine showing that grey sludge from the tailings dam has entered Polley Lake, saturated the entire length of Hazeltine Creek and entered Quesnel Lake more than five miles downstream of the failed impoundment.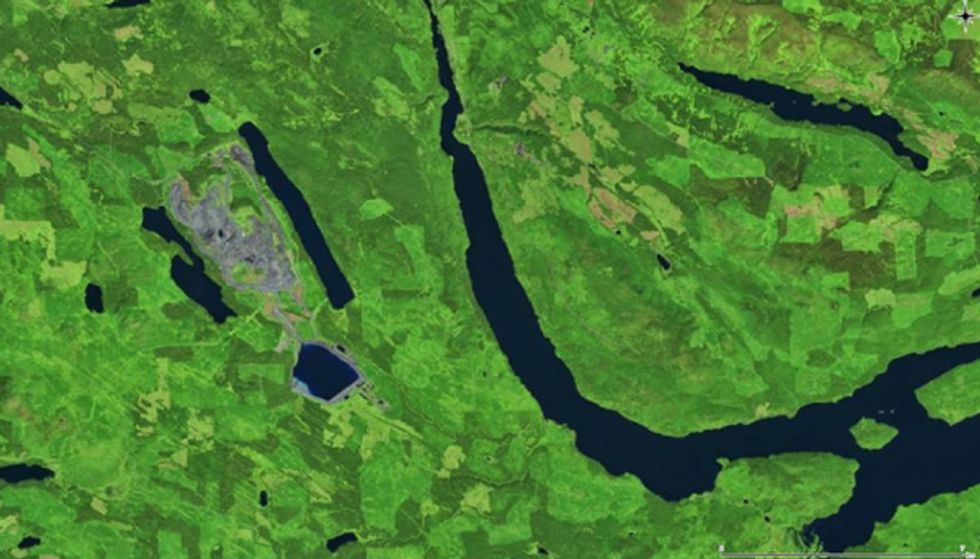 BEFORE: Mt. Polley Mine and Quesnel Lake, British Columbia, Canada: A Landsat 8 satellite image acquired July 29 shows the pond intact and Hazeltine Creek barely visible. Source: USGS/Landsat
The spill has prompted drinking water bans throughout the region, since the pond contains a slurry laden with arsenic, lead, mercury, selenium and other toxic metals and compounds.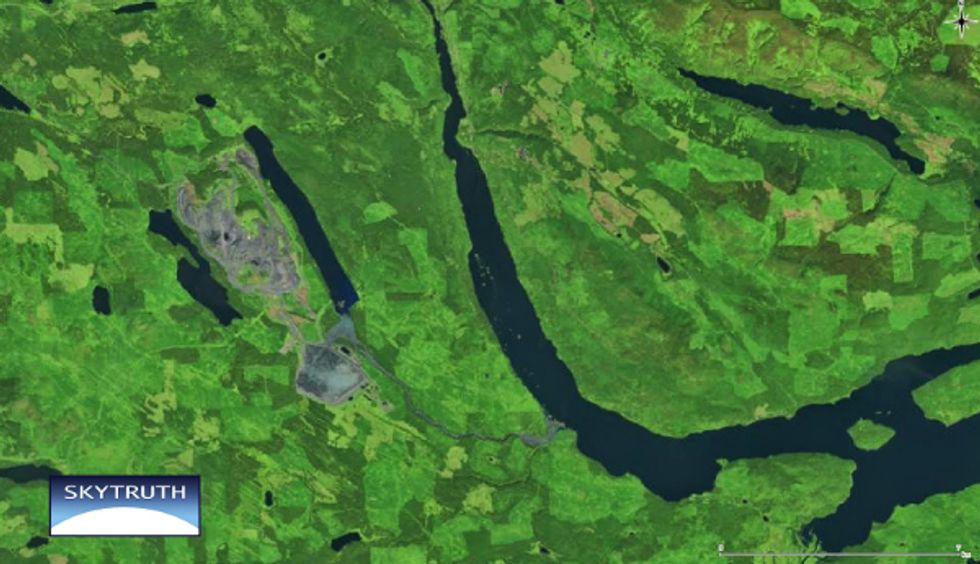 AFTER. The pond has breached and grey mine waste can be seen entering Quesnel Lake over five miles away. Credit: USGS via SkyTruth
The president of Imperial Metals, Brian Kynoch, claims that the water in the tailings pond is "near drinking water quality" and expressed disbelief that the impoundment could fail so catastrophically, despite the fact that Canadian officials had issued multiple warnings to Imperial Metals for exceeding water quality standards for effluent and exceeding the permitted wastewater levels in the pond.
Local citizens anticipating the arrival of a salmon run now fear the worst for the environment and tourism, especially as they begin to document dead fish in Quesnel Lake. 
Environmental groups across North America will be watching this story closely given the similarities to the proposed Pebble Mine in Alaska's Bristol Bay watershed, the world's most productive wild salmon fishery. Tailings ponds at Pebble mine would cover a surface area 13 times larger than the Mt. Polley impoundment and would have similar earthen dams taller than the Washington Monument.
You Might Also Like
Take Action to Protect Bristol Bay and Largest Wild Salmon Fisheries on Earth
Another Developer Pulls Investment From Controversial Pebble Mine Project
Salmon vs. Gold at Alaska's Pebble Mine
A case going before the Ohio Supreme Court could have a major impact on distributed generation in the state, while raising questions about corporate separation and possible conflicts of interest for regulated utilities.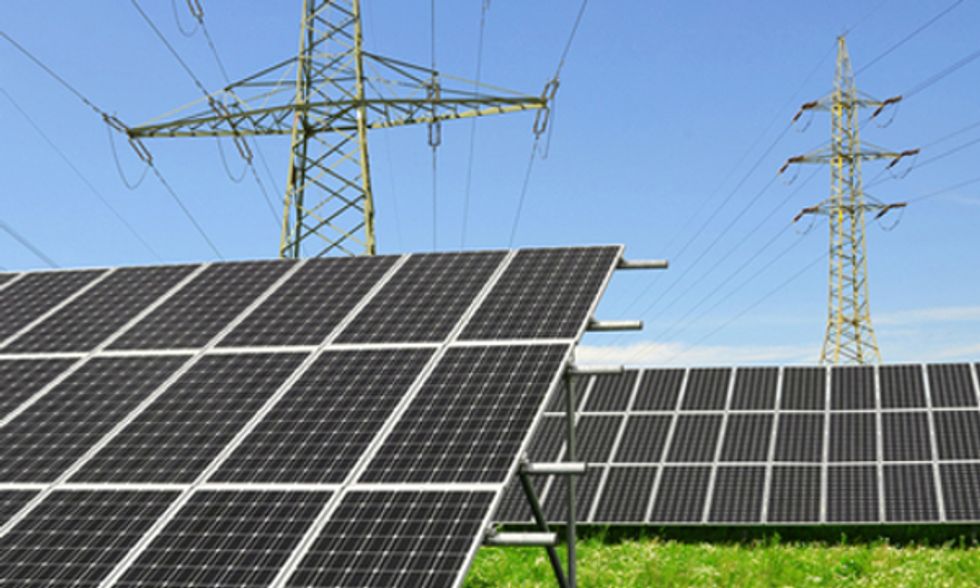 The PUCO's recent decision holds that customers who provide excess electricity to the grid are entitled to the full value that would be charged under the electricity part of their bills. Photo courtesy of Shutterstock
The Public Utilities Commission of Ohio (PUCO) recently confirmed that net-metering customers are entitled to the full value of the electricity they feed back into the grid from renewable energy and other distributed generation technologies.
However, FirstEnergy and American Electric Power (AEP)'s Ohio utilities are trying to reduce the amounts customers will get for that excess electricity. The utilities, along with Dayton Power & Light and Duke Energy, also raised other objections to the rules.
On July 23 the PUCO denied FirstEnergy's third request for rehearing. AEP's Ohio Power Company has already appealed the case to the Supreme Court of Ohio. FirstEnergy has not yet announced whether it will appeal as well.
Power in and power out
Net metering is a way for customers who produce some or all of their power to avoid overcharges for electricity they do not need. Those customer-generators may have solar panels, wind turbines, certain types of combined heat and power systems or other types of on-site generation.
Net metering also provides a way for those customers to get compensation for any excess electricity they feed into the grid. In those cases, Ohio law says customers are entitled to the value of "that electricity."
The big question in the PUCO case is what that value is.
Because of a 1999 deregulation law in Ohio, customers have a choice of which company provides their electricity. Electric distribution utilities are still regulated monopolies, however.
The regulated utility handles all the billing, but customers' bills have two main parts: distribution and generation.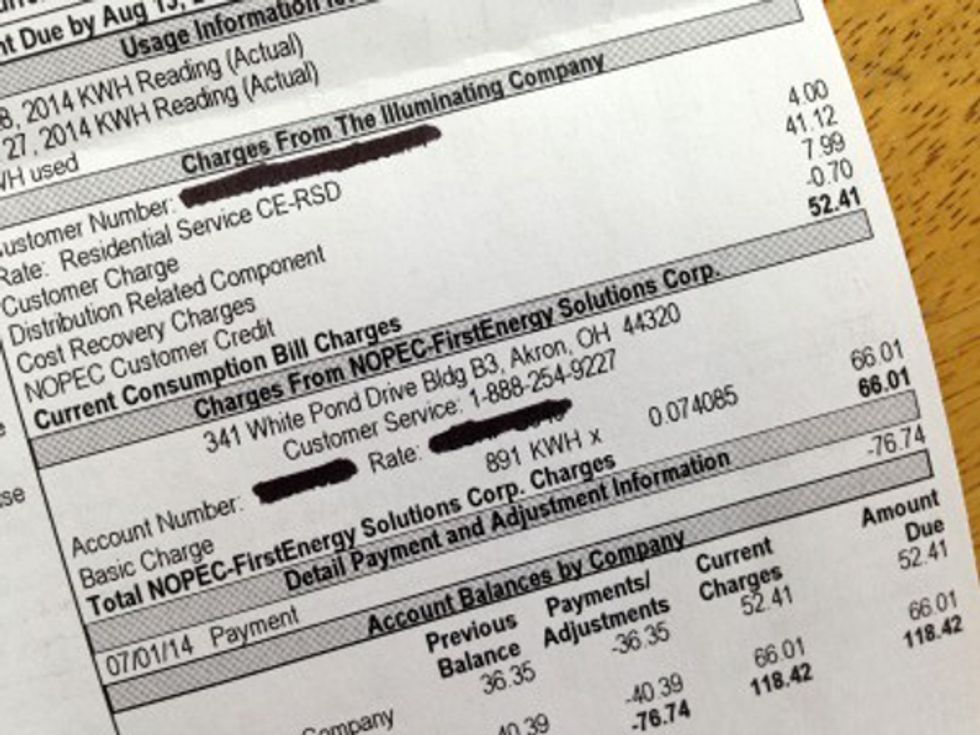 Ohio customers' electric bills have two main parts: distribution and generation. Image by Kathiann M. Kowalski.
Distribution includes the equipment and work the utility does to carry and deliver electricity to its customers.
The other main part of customers' bills covers electricity generation. If the utility is not the generation provider, it transmits payment to the electrical services company.
The PUCO's recent decision holds that customers who provide excess electricity to the grid are entitled to the full value that would be charged under the electricity part of their bills.
Most of that charge depends on the market value of energy, which fluctuates. The rate also reflects a fixed "capacity" price, which is determined from annual auctions by the grid operator, PJM.
"It's about 15 percent of the generation portion of the customer's electric bill," said FirstEnergy spokesperson Doug Colafella.
The utilities say customers producing excess electricity should only get the energy part of the electricity rate, and nothing for capacity. That's how things have been handled so far, Colafella said. "We're saying let's follow the original rules that were put in place."
"If a customer generates excess power, essentially they would be credited just for the energy that they produced and didn't need," Colafella explained. Including capacity would require larger payments.
"The PUCO is now saying that we would have to credit that kind of customer an average of about 15 percent more," Colafella observed.
Utility company filings cite a 2002 Ohio Supreme Court case, which held that customers providing excess electricity to the grid should not get reimbursed for amounts covered by the distribution portion of the bill.
"The court stated that the net-metered customer did not contribute to the cost of PIPP [low-income support] charges, transmission, distribution, etc.," explained Dan Sawmiller at the Sierra Club's Beyond Coal campaign. "Inasmuch as the Court holding said that customers were entitled to the full generation rate, that would include capacity and energy."
The PUCO said that its rulemaking decision complies with both the 2002 court case and the Ohio statute.
"[E]lectricity supplied to a customer-generator includes components such as capacity, demand, and energy," the PUCO wrote. Its July decision confirmed rulings on the issue in January and May.
The PUCO also noted that Ohio law bars utilities from charging higher retail rates to net-metering customers than they would pay without their own generation.
Not compensating for part of the electricity charge could result in a different rate.
"The net metering rules require utilities to provide net metered customers compensation for electricity delivered to the grid at the same price that the utility would charge (including capacity and energy) for delivering electricity to the customer," said Lawrence Friedeman, vice president for regulatory affairs and compliance at IGS Energy in Dublin, Ohio. The company promotes the development of distributed generation projects.
"IGS supported the Commission's net metering rules because they provide reasonable compensation to distributed generation resources and enable them to compete on more level footing with traditional power plants," Friedeman said.
Encouraging distributed generation with reasonable compensation for electricity going into the grid is "good public policy," Friedeman stressed. "Distributed generation projects are on-site, reliable and local, energy efficient, and are cleaner than traditional power plants."
Potential windfalls
Both camps in the net metering dispute see the other side gaining an unfair advantage if their position prevails.
"For most customer-generators there is no way to ascertain whether they have contributed to a reduction in capacity costs," Colafella said. "If they don't provide capacity, they should not be paid for capacity."
On the flip side, any excess electricity fed into the grid can be sold to other customers. Those other customers would almost certainly pay the full generation rate, without getting any discount for capacity.
"There's certainly the potential for a windfall" to utilities, said Martin Kushler, a senior fellow at the American Council for an Energy-Efficient Economy (ACEEE).
Conflicts of interest
Indeed, Ohio's four large electric utilities have unregulated affiliates that sell electricity.
"It creates this very direct conflict of interest," said Kushler.
The less customers can get for electricity they put into the grid, the longer it takes to pay off the capital costs for their own generation. Less financial incentive to choose those technologies would reinforce demand from existing electricity suppliers.
"This seems to get into even more issues of corporate separation—yet another attempt by an Ohio distribution utility to make its generation affiliate more profitable," Sawmiller agreed.
Similar reasoning explains why FirstEnergy and other utilities supported the recent rollback of Ohio's energy efficiency standard, Kushler said. "Arguably, at least under traditional regulation, the utility would have some obligation to minimize costs to their customers."
However, that's not what happened with Ohio Senate Bill 310, he says. The new law, signed by Gov. John Kasich (R) in June, freezes the renewable energy and energy efficiency standards for two years and then scales them back significantly.
"Energy efficiency was saving electricity at about 2 cents a kilowatt-hour—far cheaper than any source of supply—and yet the vested interests were successful in decimating Ohio's energy efficiency policy," Kushler said.
So far, three of Ohio's four electric distribution utilities have said their energy programs will continue for at least part of the freeze period under SB 310. FirstEnergy is the exception.
"At this point we have not made any decision as to whether we're going to make any changes to our current plan," Colafella said.
"I would be totally shocked if they do anything but cancel those programs," said Rob Kelter, an attorney with the Environmental Law and Policy Center. "It would negatively affect FirstEnergy customers, but it would help their unregulated affiliate sell more electricity."
Meanwhile, on the federal level, FirstEnergy's ongoing FERC challenge aims to exclude demand response from the results of May's capacity auction for 2017-2018.
"We believe that removing these demand resources from the capacity market is going to provide vital compensation for essential physical assets like nuclear, coal, [and] gas base load plants," Colafella said. "It's going to help foster properly functioning capacity markets."
"Demand response presents absolutely zero reliability concerns," Sawmiller noted. "It won't freeze like a coal plant did during the polar vortex. In addition, it's incredibly cheap. This applies downward pressure to capacity prices, lowering electric bills for all customers."
"If FirstEnergy is able to reduce the amount of demand response that goes into these auctions, it will raise prices for customers," Sawmiller added.
"Having demand response bid in lowers the price for all the generators that bid in," Kushler agreed. Conversely, keeping demand response out would raise the auction's closing price. In Kushler's view, FirstEnergy's attempt to exclude it is yet another "classic conflict of interest."
ACEEE, the Sierra Club, and the Environmental Law & Policy Center are members of RE-AMP, which publishes Midwest Energy News.
You Might Also Like
Ohio Becomes First State to Roll Back Renewable Energy Mandate
ALEC Attacks Ohio Renewable Energy Standard, Local Newspapers Fail to Show Fossil Fuel Connection
Ohio State Researchers Show How Renewable Energy Standards Reduce Carbon Emissions