Many pundits were caught off-guard by the transpartisan fury over America's trade policy rocking the presidential primary season. But it's no surprise to me. I grew up in a working class family in Kenosha, Wisconsin. So I know why Americans have had enough of shiny promises, job-killing trade deals and Wall Street bailouts that propel ordinary people into an economic nose dive.
Hard working Americans of all political stripes recognize when the rules have been rigged against them, because they live day-to-day with the results. No doubt revolutionary change is an appealing alternative.
Since the North American Free Trade (NAFTA) and World Trade Organization agreements in the mid-1990s, America has lost more than five million manufacturing jobs net. Millions of service sector jobs also have been offshored.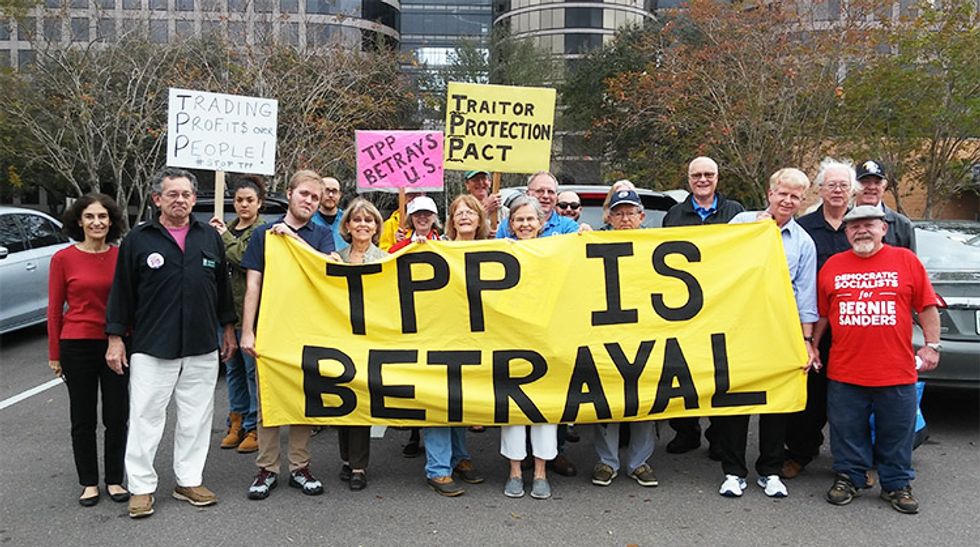 During the NAFTA era, my home state lost 68,000 manufacturing jobs—one out of seven in the state. Just one example: After Chrysler received billions in a 2009 bailout, it shut its Kenosha Engine facility, cut the last 800 jobs and moved operations to Mexico.
The damage extends beyond those who lose their jobs. They compete for non-offshorable service sector jobs, pushing down wages economy-wide, hurting communities coast to coast.
From Flint to El Paso and points beyond, Americans have been slammed by the trade double whammy: Firms and their well-paying jobs go away. Then just when assistance is most needed, tax bases shrivel so basic services get cut and infrastructure crumbles.
Bernie Sanders' primary victories have finally forced the mainstream media to mention the millions of middle class livelihoods destroyed by trade policies. Now it's time to face up to a second disastrous risk: These trade deals pose a direct frontal attack on a livable environment.
Pacts like the recently-signed Trans-Pacific Partnership (TPP), currently sidelined without sufficient congressional support for passage, contain thousands of pages of enforceable rules that would fuel climate chaos and empower corporate polluters to challenge environmental laws across the globe.
And if the TPP were approved, the Department of Energy would be required to automatically approve all natural gas exports to the 11 other TPP countries, eliminating our government's ability to make decisions about our energy future and incentivizing a boom in dangerous fracking. The extreme secrecy of TPP negotiations allowed the Obama administration to claim it was the greenest deal ever. But when the TPP text was finally disclosed late last year, environmental groups that the White House claimed supported it, such as NRDC and Defenders of Wildlife, joined the Sierra Club, Greenpeace, 350.org and scores of others in opposition.
Consider just one feature that sounds like the plot of a disaster movie. The TPP would empower foreign investors to drag the U.S. government to private international arbitration tribunals whenever they claim that our environmental, energy or climate policies violate expansive new TPP foreign investor privileges. Corporations can demand unlimited taxpayer compensation based on future profits ostensibly thwarted by the policy. There is no outside appeal.
If approved, the TPP would double U.S. exposure to this "investor-state dispute settlement" (ISDS) regime. Overnight 9,500 Japanese manufacturing and Australian mining giants, among other firms, could skirt our courts and laws to attack critical public interest safeguards.
It's not hypothetical. Under similar NAFTA provisions, TransCanada is now demanding $15 billion in U.S. taxpayer compensation because our government (rightly) opposed construction of the Keystone XL pipeline.
More than half of past ISDS suits have concluded with the government losing or settling. Billions have been paid to foreign companies. Already half of the new ISDS cases filed in recent years seek to enforce corporate rights to mine, extract gas and oil and generate energy no matter the consequences to us and our environment.
Expanding this system through the TPP would block worldwide environmental and social progress while empowering corporations to undermine existing climate and environmental policies.
Remarkably, the TPP not only omits the word "climate" from its text, but does not require TPP signatories to comply with their United Nations Framework Convention on Climate Change commitments. This despite all TPP countries being climate convention signatories.
The bottom line: Our failed trade policies imperil both Americans' livelihoods and the health of our planet—two reasons why the more people learn, the less they like them.
The bipartisan American trade revolt now underway demonstrates that we need to scrap these bad deals and demand real change. This is no time for half measures, bland reassurances or waiting games.
EcoWatch Daily Newsletter
It started with the founding fathers. In America's very first election, in 1788, the government officially barred all women, all people of color and any man without land from voting.
This was American democracy in the 18th century.
Almost 90 years later, the 15th amendment officially removed "race, color or history of servitude" as a barrier to the vote, but women remained wholly disenfranchised.
This was American democracy in the 19th century.
Then, 50 years after that, the 19th amendment gave women the right to vote, but poll taxes, literacy tests and other calculated means kept the unofficially disenfranchised from exercising their rights as citizens.
This was American democracy in the 20th century.
And now, what is American democracy in the 21st century?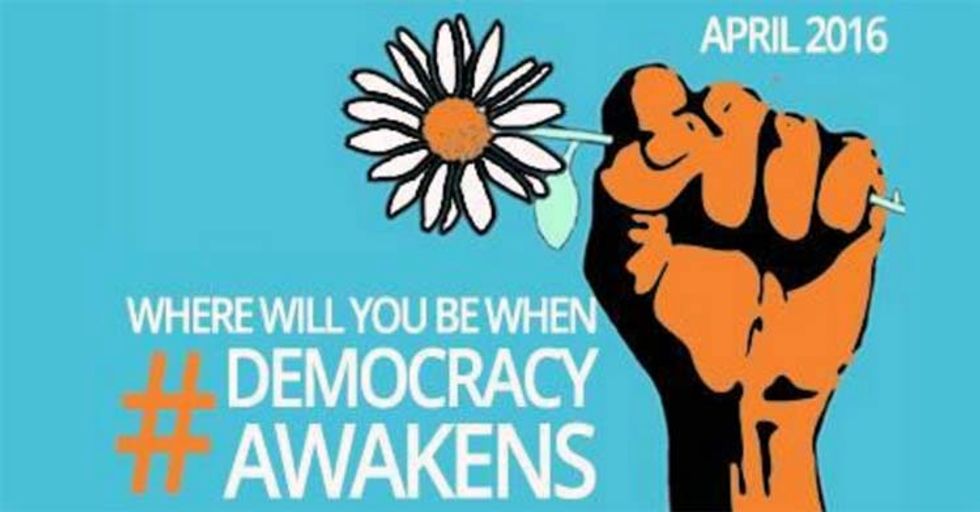 2016 will be the first American presidential election since 1965 with major new voting restrictions—photo identification requirements, cuts to early voting and the elimination of same day voting registration are just a few of the roadblocks thrown up by special interests in 15 states. Not only that, but once voters overcome these obstacles to actually vote, the candidates they have to choose from will be largely self-selected from the economic elites, looking out for banks like Goldman Sachs instead of everyday people. Rather than a government of the people, by the people and for the people, we have a government of super-PACs and dark money, by the 1% and for corporate interests.
From the Flint water crisis to inaction on climate change, from gun control to massive student loan debt, we see the will of the people distorted by a government that does not represent us. And in a year when so many Americans—especially people of color, the LGBTQ community, immigrants and women—face urgent issues that need governmental action, it's shockingly even harder to vote for some groups than it was 50 years ago.
This is not progress. This is not democracy. It's no wonder that Princeton scholars who studied more than 1,800 different policy initiatives from 1981 to 2002 found that the United States can no longer plausibly be called a democracy. "Elites prevail." Oligarchy.
But once again in American history, an incredible movement is rising across the country to overcome this corruption, to demand a fair and just system for everyone. We have in 2016 a chance to begin building a truly representative government. But it's going to take commitment.
We know what democracy looks like—residents rising up in Flint to demand accountability, kayaktivists in the Pacific Northwest saying no to fossil fuels, moms and dads and cousins and brothers standing up across the country to say black lives matter. We can see the future of democracy. Now, we just have to work together to make it happen.
Next month, thousands of people and more than 170 organizations will join together in Washington, DC, to demand that our lawmakers and political leaders take action to fix our democracy. Called the Democracy Awakening, this event reflects an unprecedented movement to demand a democracy that works for all Americans, one in which everyone has an equal voice and elected officials are accountable to the people, not corporate interests or the wealthy.
The Democracy Awakening will use the tools of nonviolent direct action that so many who have fought for social, economic and environmental justice have used before us from Civil Rights leaders to the women's suffrage movement to the fight for marriage equality.
The challenge to build a better democracy has always been there. This isn't hearkening back to some better age; this is a new beginning, and your voice is crucial. Now is the time to claim our democracy from the 1% and corporate power, and finally make American democracy in the 21st century a reality.
This op-ed was originally published in TIME.
YOU MIGHT ALSO LIKE
7 Arrested at 'Pancakes Not Pipelines' Protest at FERC
Rockefeller Fund Divests From Fossil Fuels, Slams Exxon
Bill McKibben: Fracking Has Turned Out to Be a Costly Detour
James Hansen: Dangerous Sea Level Rise Will Occur in Decades, Not Centuries
This weekend I have the pleasure and honor of coming to London for the British Academy of Film and Television Arts awards for Spotlight, a film honoring the victims of a terrible injustice and celebrating exceptional journalism that brought the story to light.
I'm also taking this opportunity to lend my voice to residents of Lancashire who are fighting to prevent another kind of injustice, drilling and fracking in their neighborhoods. Fracking is an extreme form of oil and gas extraction that leads to water contamination, air pollution, earthquakes, illness, exacerbates climate change and turns communities upside down.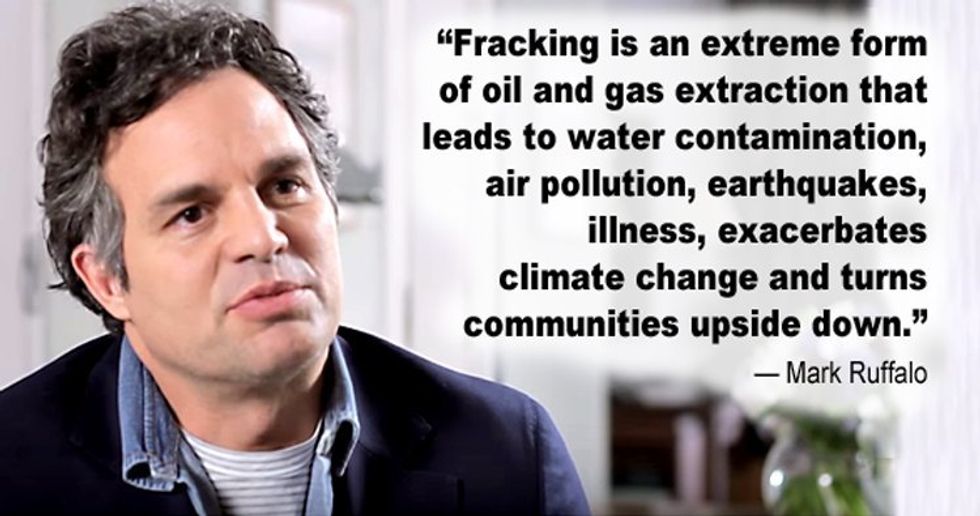 I've seen it firsthand in the state of Pennsylvania, where hundreds and of families have had their water turn brown and toxic. Nosebleeds are common. So are persistent rashes, trouble breathing, headaches, vomiting, hair loss and much more.
At first in 2008 and 2009 when I first visited affected residents these symptoms were anecdotal; now more than five-hundred scientific studies confirm the harms of drilling and fracking.
The United Kingdom has only tried fracking once—in Lancashire back in April 2011. That one well suffered structural failures—a common problem that leads to water contamination—and caused two earthquakes.
Lancashire County Council has since rejected two fracking applications, through long democratic processes that included many public consultations and expert testimony. As is common, the more people learn about fracking, the more they're against it, and now the people of Lancashire decisively oppose fracking.
Unfortunately prime minister, David Cameron, supports fracking. Yet he vowed that "local people would not be cut out or ignored" and that fracking "decisions must be made by local authorities in the proper way." In June 2015, Lancashire County did just that and decided: No fracking!
Then in November, Cameron indicated he would break his promise, announcing that the central UK government would make the final decision about whether fracking should go ahead in Lancashire. Instead of listening to local voices as promised, his ministers in London will have the final say, and will likely make a decision about Lancashire in the next month or two.
When this was announced, more than 30,000 people quickly signed Friends of the Earth's petition calling on Cameron not to overturn Lancashire's decision to reject fracking.
This week, I joined them, issuing a short video calling on him to respect Lancashire's decision, and saying that supporting fracking is an enormous mistake.
The British people agree. Polls show significant opposition to fracking and once again find that the more people know about fracking, the more they are against it.
That held true in my home state of New York, where the Department of Health performed the first public health review of fracking, along with an environmental study, and concluded that fracking poses serious public health and environmental risks. New York Gov. Andrew Cuomo rightly banned fracking, and has turned the state into a national leader on clean energy solutions that will create long-term jobs and prosperity.
Today we are at the precipice of a renewable energy revolution, the cusp of a new economy that not only promises wealth and jobs but is also crucial to addressing climate change. The time for the UK to seize the clean energy future is now, not to develop dirty fossil fuels.
Along with New York and the states of Maryland and Vermont, France, Bulgaria, Germany, Netherlands, Ireland, and parts of Canada, Spain and Switzerland, Scotland and Wales have all banned or suspended fracking while the risks are examined.
The only way fracking could go forward in Lancashire now is against the wishes of the people who live there, a terrible injustice. I urge Cameron to keep his word and let their decision to reject fracking stand. And I invite you, prime minister, to join the anti-fracking majority and join us in building the renewable energy future.
This op-ed originally appeared in The Guardian.
YOU MIGHT ALSO LIKE
Fighting Fracking in Brazil: Images From an Ongoing Struggle
California Farmers Irrigate Crops With Chevron's Oil Wastewater in Drought-Stricken Central Valley
Pennsylvania Fracking Water Contamination Much Higher Than Reported
Gov. Brown's Cozy Ties to Oil & Gas Is a Threat to California's Coast and Democracy
For the past two years, the 100,000 residents of Flint, Michigan, drank, cooked and bathed with lead-contaminated water. Rates of lead poisoning—which can impair brain development and cause other serious health ailments—among the area's children have skyrocketed, from 5 percent before the water turned bad to 16 percent today.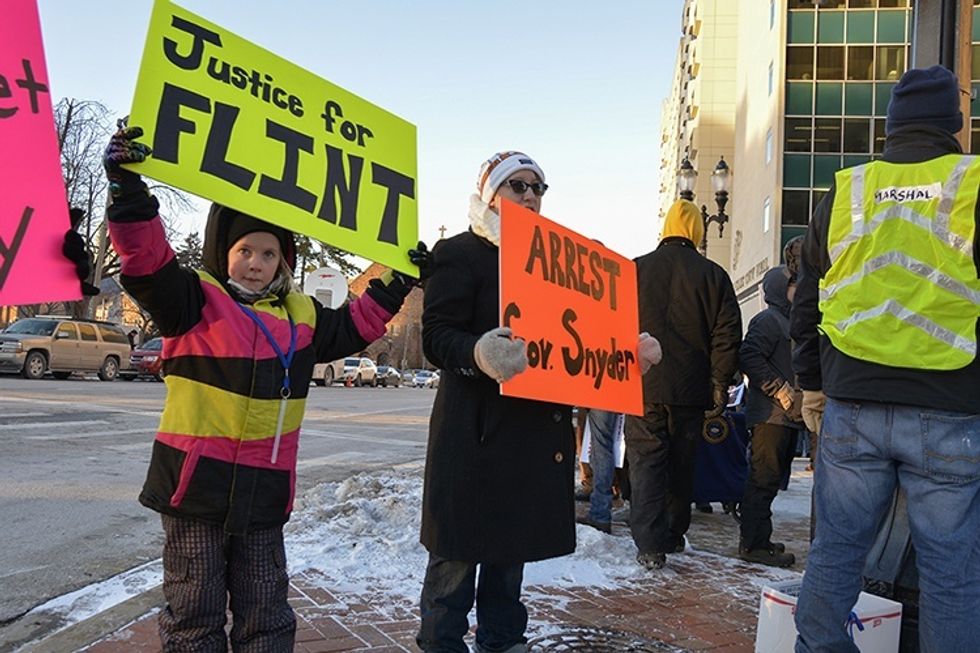 Residents have long reported brown, bad-tasting and foul-smelling water and unexplained sicknesses. Almost a year ago, water tests showed dangerous levels of lead. Yet state, local and federal officials did nothing. Worse, they assured residents that the water was safe. In recently released emails, state officials demonstrated indifference and even contempt toward the complaints that came mostly from poor, black residents. Furthermore, according to some witnesses and media reports, state officials diluted water samples or took incomplete "slow drip water samples" to game results and claim that the water was safe.
Flint's man-made water disaster is an outrageous tragedy and a human health crisis. And unfortunately, it's not an isolated case. It's one instance in a pattern of government failures to take water testing seriously and respond to evidence of water pollution.
In 2009, federal data revealed that water being delivered to tens of millions of Americans contained illegal concentrations of dangerous chemicals. That contamination has led to widespread ill-effects such as rashes and elevated risk of various diseases and hundreds of thousands of Clean Water Act violations. At congressional hearings that year, Environmental Protection Agency (EPA) officials pointed to failed political leadership under the Bush administration. President Obama promised to turn a new leaf.
Sadly, there have since been numerous high-profile cases of contamination, such as in Toledo, Ohio, in 2014, where agricultural runoff and crumbling infrastructure led to an algal bloom in Lake Erie that made the city's drinking water unsafe. Also in 2014, in West Virginia, a chemical spill contaminated the Elk River, the tap water supply for hundreds of thousands of people. This past August, 3 million gallons of contaminated water were released into the Animas River in Colorado, resulting in lead levels 3,500 times normal and arsenic levels 300 times normal, affecting many communities and farms.
Must-read piece by Michael Moore on #FlintWaterCrisis https://t.co/dIOlmBI8sj @mmflint @ErinBrockovich @MarkRuffalo https://t.co/TYQGI5nsFM

— EcoWatch (@EcoWatch)1454162960.0
Then there are the horrific, under-reported cases of water contaminated by drilling and fracking for natural gas and oil, another ongoing man-made disaster where politics has trumped providing safe drinking water.
In spite of concrete evidence of water contamination, Obama's politics—support for natural gas and fracking, particularly around his 2012 reelection—have dictated the EPA's actions. Case in point: Three EPA investigations into drinking water contamination since 2010, in Dimock, Pennsylvania; Pavillion, Wyoming and Parker County, Texas.
In Parker County, the EPA issued an emergency order—much like one they just issued in Flint—compelling fracking company Range Resources to provide drinking water to affected families. Then, in 2012, the EPA cut a deal with the fracking company to shut down the investigation and withdraw the emergency order in exchange for participating in the EPA's national fracking study. Affected residents were left with nothing but polluted water.
My piece in @washingtonpost: #Flint isn't an anomaly. We're heading toward a national water crisis. https://t.co/cZwVgRovlR #fracking @potus

— Mark Ruffalo (@Mark Ruffalo)1454701523.0
The other cases are equally disturbing. Despite evidence of dangerous water contamination, the EPA dropped investigations and issued rosy news releases that everything was okay. Residents report being told by regional EPA officials, off the record, not to drink their water.
This past year, the EPA released a draft of its national fracking drinking water study with a headline that they did not find evidence of widespread, systemic contamination. Scientists and advocates cried foul, as the substance of the report contradicts that claim and in fact shows many instances and mechanisms of contamination. Now the EPA's independent science advisory body has forcefully echoed that criticism and called for detailed accounting and inclusion of the three investigations.
These cases, along with Flint and many others, demonstrate an epidemic of credibility and trust that is putting people at greater and greater risk.
It's time to acknowledge the national water pollution crisis we face, which will only get worse with climate change wrought by fossil fuels extraction and consumption responsible for fouling so much of our precious water in the first place. Obama should direct his EPA to do its job to help people across the country with water contaminated by drilling and fracking.
Flint must be a clarion call for a new era of routine water testing, full transparency and a commitment to ensuring that all citizens have safe drinking water. Renewed federal investment in our crumbling, lead-ridden drinking water systems is also necessary to help ensure that the tragedy taking place in Flint isn't replicated elsewhere. Residents there and all Americans deserve nothing less.
This op-ed originally appeared in The Washington Post.
YOU MIGHT ALSO LIKE
America's Lead Poisoning Problem Is Everywhere
Erin Brockovich: Porter Ranch Gas Leak Is 'the BP Oil Spill on Land'
Pennsylvania Fracking Water Contamination Much Higher Than Reported
Flint Water Crisis Keeps Getting Bigger and More Shocking Each Day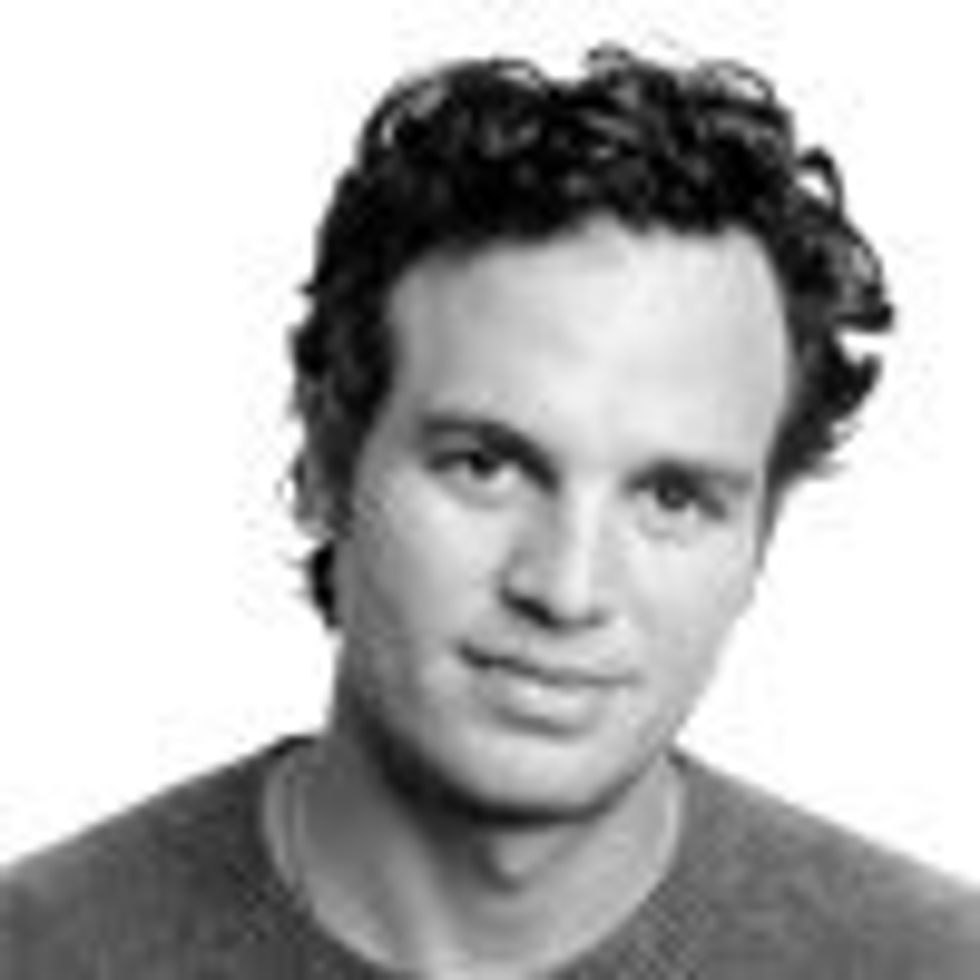 The climate agreement reached in Paris is provoking a flurry of caveats, criticisms and cautions. Many of those criticisms are warranted and there's a lot of work ahead to make sure countries live up to their promises. But we should not miss a chance to celebrate a historic turning point.
World leaders finally made commitments to clean, renewable energy that will help to ensure a safer, healthier and more prosperous future for us all. The agreement signals that the age of fossil fuels is coming to a close and the age of renewable energy is dawning.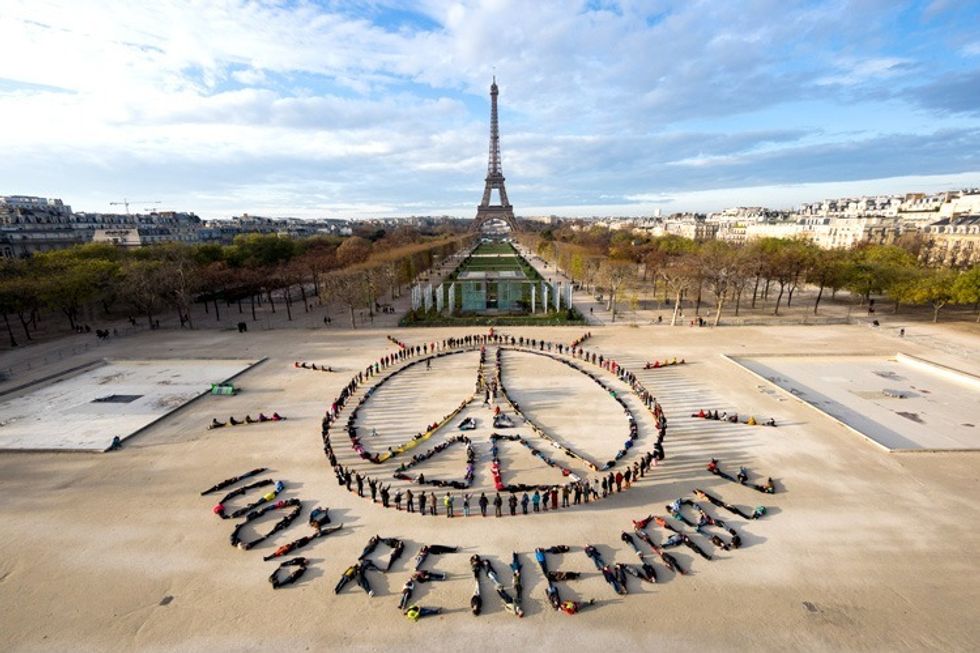 In many ways, the Paris deal is the mother of all market signals. To deliver on the promises world leaders made, we will need to leave coal and oil in the ground and move toward a complete reliance on clean energy. Let's not miss the writing on the wall: fossil fuels are a losing bet, while renewables offer economic opportunity.
This is true for all segments of society—from energy investors to individual households that can save money on their energy bills by switching to rooftop solar power.
The Paris pact ratifies an ongoing renewable energy revolution spreading across the globe. Each year since 2013, the world has added more power-generating capacity fueled by renewable sources than from coal, natural gas and oil combined. Global investment in renewable energy hit $310bn last year, according to Bloomberg New Energy Finance. And major companies are pledging to go 100 percent renewable, too.
Much of that growth in clean, renewable energy has come from the subnational movement, in which cities, states and regions are banding together and leading even if their national governments are lagging. This bottom-up approach—one that so many people around the world are already part of—is what was most alive about Paris.
It is what drove so many people to COP21 this year and is the driving force that makes so many hopeful. In my home state of New York, for example, we have a robust movement to ban fracking, courageously embraced by Gov. Andrew Cuomo and we support his leadership on renewable energy. We have found a new way of approaching this problem. Whole towns, communities and cities are racing to a full reliance on renewable energy, despite the gridlock in Washington, DC. This is where so many sense real hope coming out of Paris.
Meanwhile, cities from London to Los Angeles, from Jakarta to Rotterdam, are pioneering innovative approaches to cutting their own carbon footprints. Momentum is growing, too: following the meeting, Republicans and Democrats in San Diego, America's eighth largest city, unanimously agreed to transition to 100 percent clean energy.
What cities are doing, countries can do, too. As my co-founder at The Solutions Project, Stanford professor, Mark Jacobson, told the U.S. Congress last month, transitioning to 100 percent clean energy is not only good for the environment, human health and the economy, it is doable. His team has developed roadmaps showing exactly how 139 countries can each completely transition to renewable energy by 2050 using technology we have right now.
The Paris climate agreement brings that vision—of a world where all people have access to 100 percent clean energy—closer to reality. Much more has to go right if nations are to fulfill their promises over the coming years. But finally, the wind is at our backs.
The voices of people gathered in Paris—from big-city mayors intent on making urban life better, to indigenous people and small island countries fighting for their right to live in some of Earth's most unspoiled places—echoed hundreds of millions of voices, all around the world, demanding action.
In response to those demands, world leaders have finally agreed to steer us away from a climate disaster. This is a moment of real hope. It is a recognition, at long last, that we're all in this together.
And as negotiators in Paris acknowledged, some countries will need financial help to move to renewable energy. But the payoff for investing in them—through mechanisms such as the UN's Green Climate Fund—will be tremendous. Just as poorer nations skipped landline phones for mobile telephones, they can skip generations of coal-fired power plants for clean, renewable power.
In wealthy nations we benefit from the switch to renewables, too. The U.S. has tripled wind and solar capacity since 2008 and last year, we installed as much solar-generating capacity every three weeks as we did in all of 2008. That translates into job growth—the solar industry already employs more people than the coal industry, by some measures—as well as cleaner and healthier air.
Critics of the Paris deal are right to point out that it cannot "solve" climate change on its own. Countries will have to work hard to fulfill the promises they made last week and set even more ambitious targets in the future. And the people of the world must stay engaged, doing their part to tackle climate change while holding political and economic leaders accountable.
There is much to be done. But after years of walking in circles, Paris was a giant step in the right direction. Now the renewable energy race is on and we need to run—not walk—to the finish line.
YOU MIGHT ALSO LIKE 
Interactive Map of the Paris Climate Agreement
High-Powered Public-Private Partnerships Essential to Expediting Renewable Energy
400 Businesses, 120 Investors, 150 Cities Launch Paris Pledge for Climate Action
3 Communities Transition Away From Fossil Fuels to Run on 100% Renewables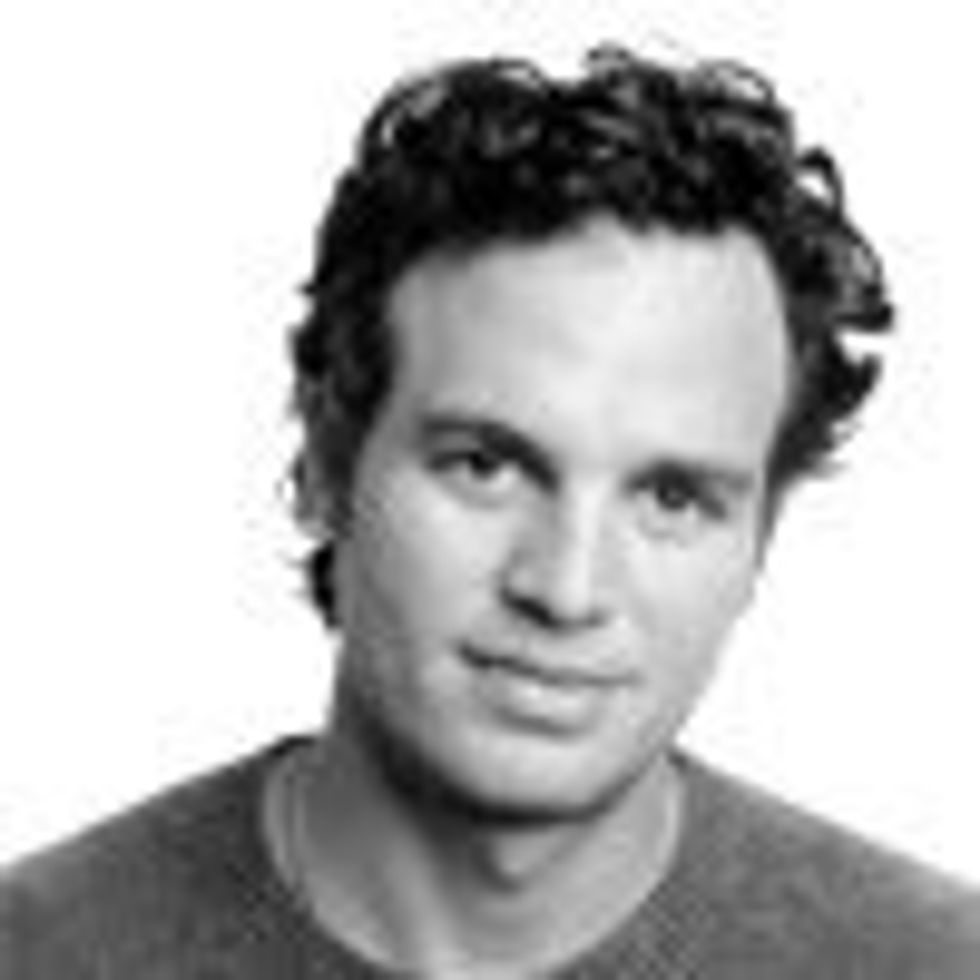 Monsanto chief is horrible ... And I got to tell him that to his face after his interview on CBS This Morning.
Approaching someone like this isn't really my thing. But being so well behaved all the time doesn't seem to be helping people. It made me really uncomfortable to do it. But that's how we change. We must become uncomfortable. We must act out of our comfort zones for things to change. We must call out the people who are doing horrible things when they do them.
Hugh Grant (Monsanto CEO not the actor) must be made to feel uncomfortable for what he allows his company to do in the world. That is why I told him what I did and why I am sharing it with you.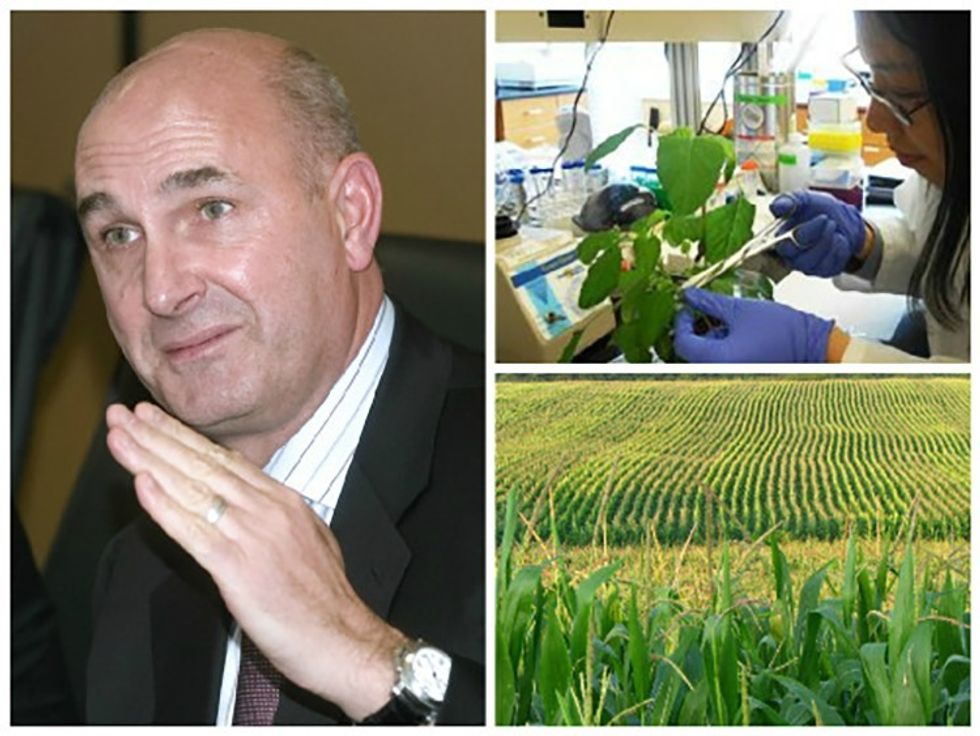 Before a segment I was doing for the movie Spotlight with Mike Rezendes on Dec. 2, I was waiting in the green room watching Grant worm his way through the strong questions he was getting from the CBS team. His handlers clearly have been working very hard with him to give him every slippery non-answer to every question he was asked. I was beside myself watching this guy who is responsible for so much misery and sickness throughout the world slime his way through his interview. I could not hold my tongue. He came through the Green Room door ready to do high fives with his press agent and I simply told him this:
"You are wrong. You are engaged in monopolizing food. You are poisoning people. You are killing small farms. You are killing bees. What you are doing is dead wrong."
A bead of sweat broke out on his head. "Well, what I think we are doing is good," Grant replied.
"I am sure you do," I told him.
When people get paid the kind of money he gets paid their thinking becomes incredibly clouded and the first thing to go is their morality.
He says Monsanto needs to do a better job with their messaging.
Hugh, it's not your messaging that makes you and your company horrible. It's the horrible stuff you guys do that makes you and your company horrible. People don't walk around making horrible stories up about good companies because they got nothing else better to do with their time. People like you and your company are horrible because … you are horrible. No matter how much jumping around you do on morning shows (where no one can really nail you down for the horrible stuff you do), you will still always be horrible and people will always greet you the way I did, when you go around trying to cover up the fact that you are horrible.
Want to know more about the real Monsanto and Hugh Grant? Watch this:
There is a lot more horrible stuff to look at here:
Monsanto's greatest hit jobs.
In 2003, Monsanto settled a lawsuit for $700 million with 20,000 Anniston, Alabama residents who claimed that a Monsanto plant contaminated local rivers, lakes, soil and air with polychlorinated biphenyls (PCBs). Plaintiffs reported a range of health issues including cancer, birth defects and neurological disorders.
New York Times: $700 Million Settlement in Alabama PCB Lawsuit
CBS News: Toxic Secret: Alabama Town Never Warned of Contamination
In 2012, Monsanto settled a lawsuit with tens of thousands of plaintiffs in West Virginia for $93 million. Residents of Nitro, West Virginia claimed they had been poisoned by decades of contamination from cancer-causing chemicals used in the manufacturing of Agent Orange produced in a Monsanto plant.
The Guardian: Monsanto Settles 'Agent Orange' Case with US Victims
In March 2015, the International Agency for Research on Cancer (IARC), an arm of the World Health Organization, concluded in a study that glyphosate, the active ingredient in Monsanto's widely used weedkilling product Roundup, was "probably carcinogenic to humans."
Shortly after the IARC's study was made public, France took steps to limit the sale of Roundup. France has also banned the cultivation of genetically modified crops.
Reuters: Frances Bolsters Ban on Genetically Modified Crops
Newsweek: Frances Bans Sale of Monsanto's Roundup in Garden Centers After UN Names it Probable Carcinogen
In September 2015, a French appeals court in Lyon upheld a decision that held Monsanto liable for poisoning a French farmer. The grain farmer, Paul Francois, developed neurological damage after inhaling Monsanto's weedkilling product Lasso.
Reuters: French Court Confirms Monsanto Liable in Chemical Poisoning Case
Le Monde: Monsanto Condamné pour L'Intoxicite d'un Agriculteur Francais
In September 2015, two U.S. farm workers filed suit against Monsanto claiming that exposure to Roundup caused them to develop cancer.
Reuters: U.S. Workers Sue Monsanto Claiming Herbicide Caused Cancer
You can find reports of Monsanto products being linked to cancer and other health issues all over the world, for example:
Argentina is the world's third largest soy-producing country.
According to Mother Jones, nearly 100 percent of the soy crop is genetically altered and Monsanto's Roundup is very widely used. As the use of pesticides and herbicides in Argentina has increased, cancer clusters have begun to develop around farming communities. A 2010 study at the University of Buenos Aires also found that injecting glyphosate (the active ingredient in Roundup) into chicken and frog embryos caused the same sort of spinal defects that doctors have found to be increasingly prevalent in communities where farm chemicals are used.
Mother Jones: Argentina is Using More Pesticides than Ever. And Now It Has Cancer Clusters
On Monsanto suing small farmers:
The Guardian: Monsanto Sued Small Farmers to Protect Seed Patents
Vanity Fair: Monsanto's Harvest of Fear
YOU MIGHT ALSO LIKE
China to Clone 1 Million Cows a Year to Meet Country's Rising Demand for Beef
90% of American Moms Want Labels on GMO Food
27 Examples of Journalists Failing to Disclose Sources as Funded by Monsanto
EPA Asks Court to Revoke Approval of New Weed Killer for Genetically Engineered Crops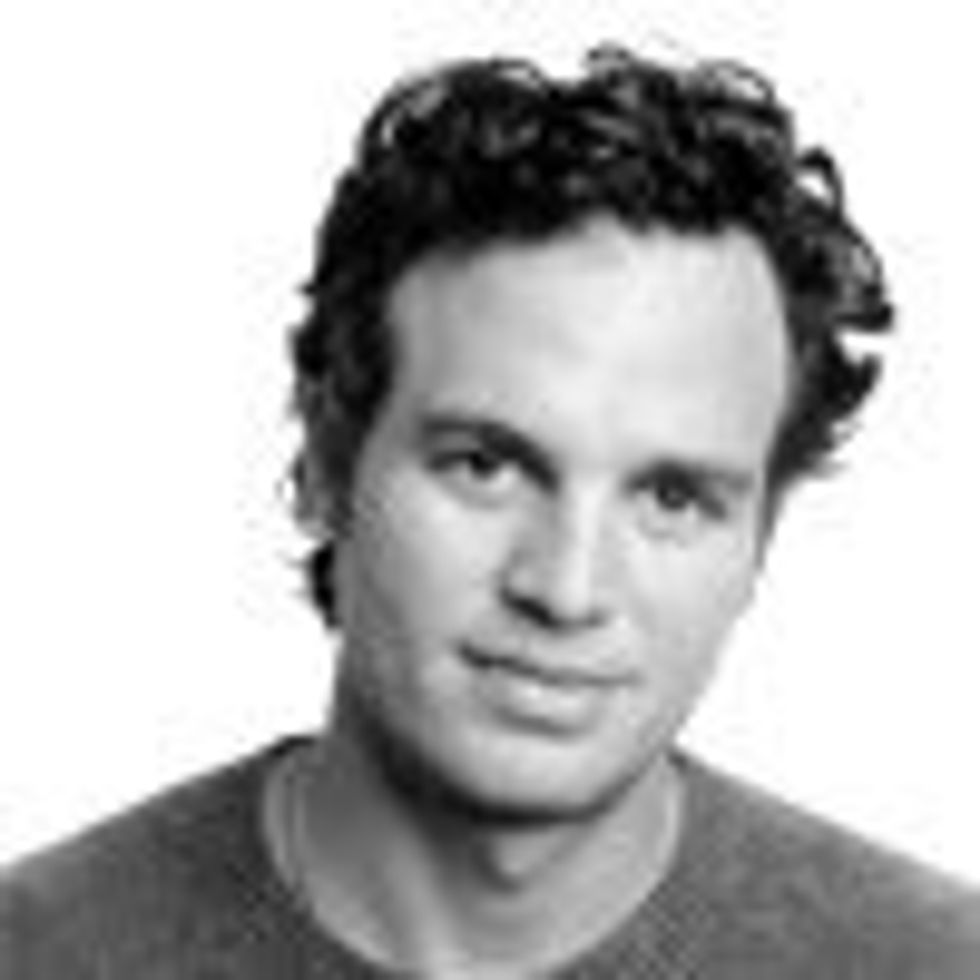 Fast Track would railroad the Trans-Pacific Partnership (TPP) through Congress. Thanks to leaks, we know that the TPP includes provisions that would harm the environment and accelerate climate change. A provision was even added to the Fast Track legislation forbidding climate issues from being included in U.S. trade pacts for the next six years.
After six years, TPP negotiations are almost completed but the text remains secret from the public and press and Congress only has limited access. But 500 official U.S. trade advisors mainly representing corporate interests have had special access to the negotiations and text and now want to use Fast Track to impose through the TPP an anti-environmental agenda that could not withstand open public debate.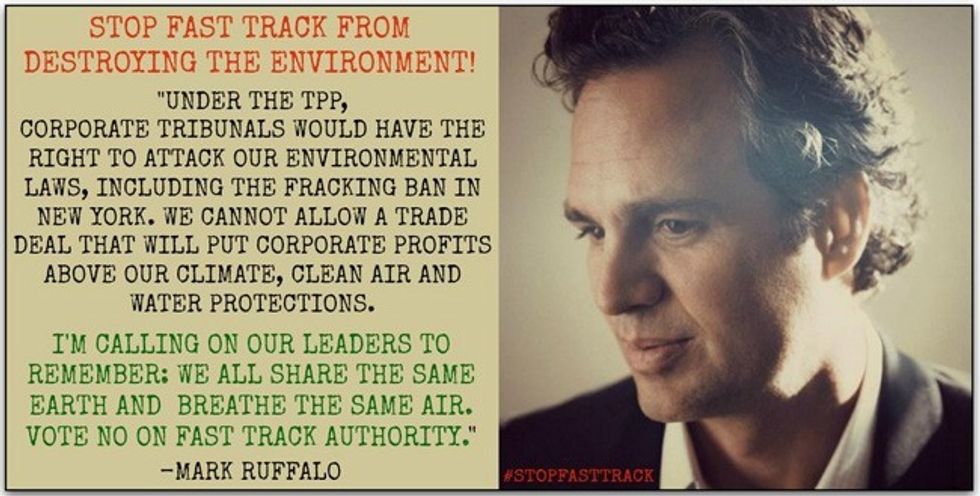 Thanks to leaks, we know that the TPP would empower foreign corporations to challenge our sovereign laws that protect the environment and our citizens by dragging the U.S. government to tribunals where corporate lawyers serve as "judges." These tribunals would be empowered to order the U.S. government to pay corporation that claim our laws violate their new TPP rights unlimited taxpayer compensation for their lost future profits.
In my own state of New York, where hundreds of thousands of people worked together to get a ban on fracking, we could be sued for billions of dollars for protecting our communities. This is not a hypothetical threat: already under a narrower version of these rules, the Lone Pine Corporation sued Canada demanding hundreds of millions in compensation for a moratorium on fracking under the St. Lawrence Seaway.
If the TPP is Fast Tracked into place, overnight 9,000 additional foreign firms would have the rights to attack U.S. environmental policies. The European pact now being negotiated would quadruple our liability to these attacks—almost 40,000 new firms could newly use the tribunals to attack U.S. laws passed by Congress and state legislatures that our domestic courts have said were just fine.
Even more insidious, Representative Paul Ryan, a climate science denier, added language to the Fast Track Authority that would block any action on climate change in trade agreements.
We cannot allow a trade deal that will put corporate profits above our climate, clean air and water protections. I'm calling on our leaders to remember: We all share the same Earth and breath the same air. Vote no on Fast Track Authority.
YOU MIGHT ALSO LIKE
House Kills TPP Fast-Track, Huge Blow to Corporate-Friendly Trade Agenda
What Is the TPP and Why Is it so Bad?
Mark Ruffalo to Jon Stewart: We Have a 50-State Plan to Power America on 100% Renewable Energy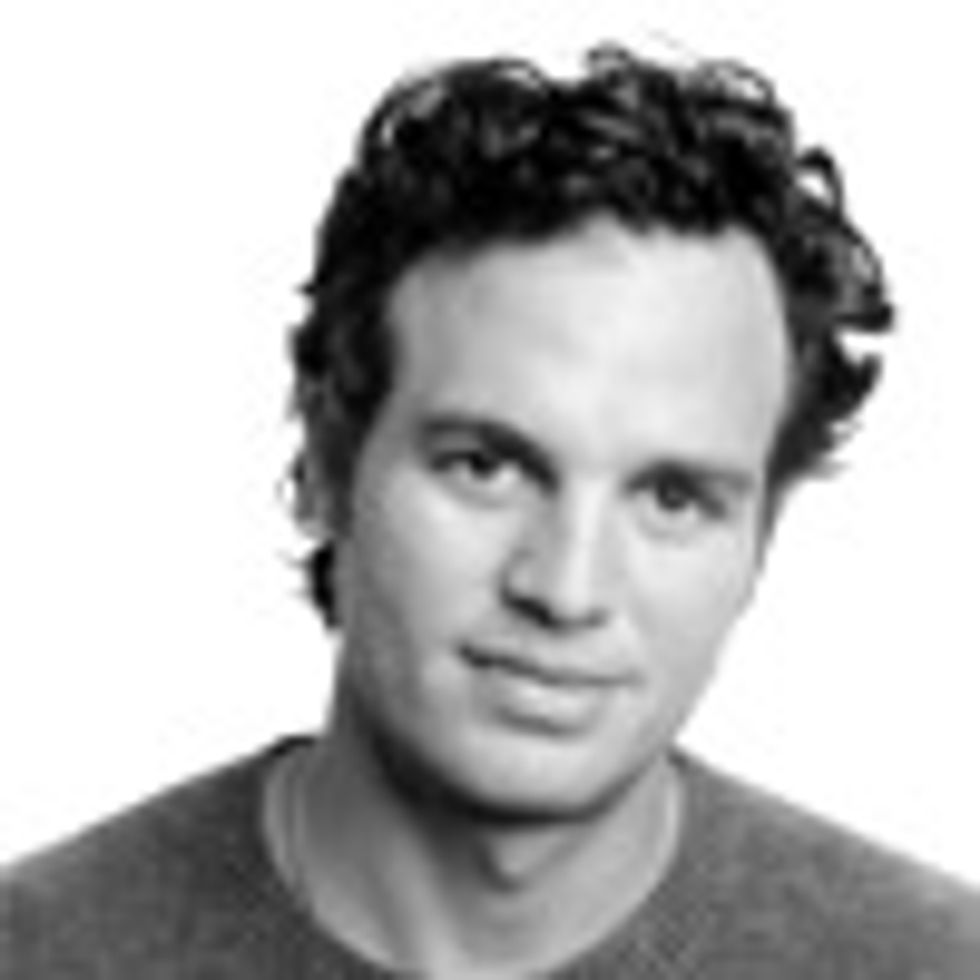 I am writing to tell you about a brave 11-year-old boy named Itzcuauhtli (eat-squat-lee). I first saw him in videos with his brother Xiuhtezcatl (shoe-tez-cot), performing hip-hop inspired by their love for the Earth and their indigenous roots. In September, I had an opportunity to meet him at the People's Climate March in New York City, and I was impressed by his passionate voice.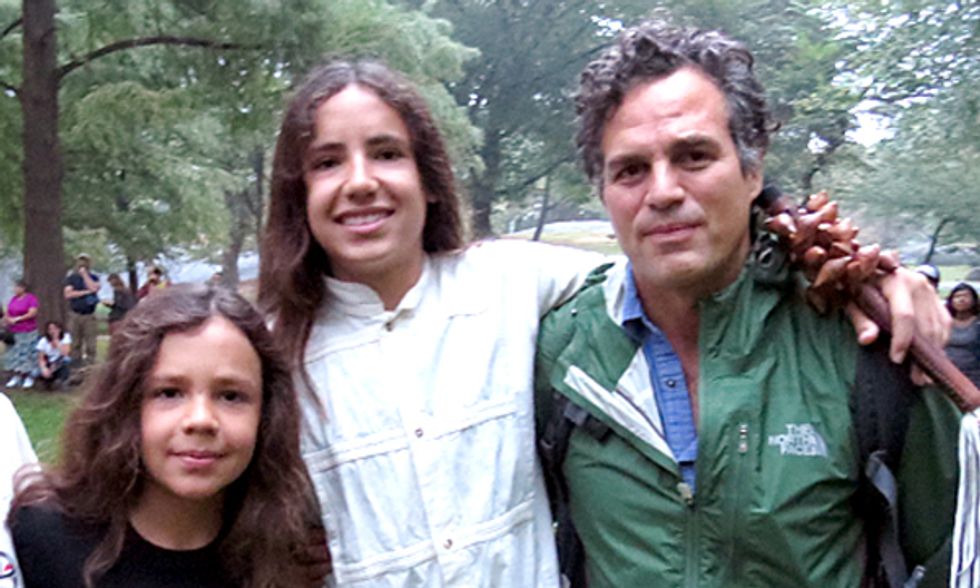 A few weeks later, after performing at a conference with his group Earth Guardians, Itzcuauhtli became overwhelmed by the grave scientific predictions about climate change and the lack of action from world leaders.
On Oct. 27, 2014 he made a bold choice. He decided he would not speak again until world leaders took significant action to stop climate change. My first reaction was concern—No 11-year-old should be sacrificing his voice in hopes of ensuring an habitable planet for his future. As a father I worry about the other children around the globe who feel that same weight.
Here's the thing: Itzcuauhtli could have gone into despair when he thought about his future, but he didn't—he took action. And by doing so he believes we will take action too. When he writes of world leaders, he isn't just talking about heads of state, he's talking about you and me. Every one of us will be affected by climate change and we all have the ability to take a leadership role in bringing about the solutions.
This is why I am helping Itzcuauhtli spread his message. He's asking that people everywhere join him in an at least 1 hour of silence on Dec. 10. From that silence he is counting on us to launch into a wave of action so loud it can turn the tide. I am hoping that our actions will inspire him to lift his voice again and that from our collective silence we will hear the voices of youth all over the world calling out for climate action now!
Here are two ways you can join me in supporting Itzcuauhtli's message:
1: Sign the Pledge to join Itzcuauhtli as a world leader for climate action and join him in 1 hour of silence on Dec. 10.
2. Share the Silent to Be Heard video with the hashtags #silenttoheard and #earthguardians.
3. Wear a green band as a symbol of climate leadership. Then join others around the world by sharing a picture on social media with the hashtags #SilentToBeHeard #ClimateSilenceNow and #EarthGuardians.
Thank you for your leadership!
YOU MIGHT ALSO LIKE
Obama Tells Colbert: Keystone XL Could Be 'Disastrous'
6 Must-See Videos From Lima Climate Talks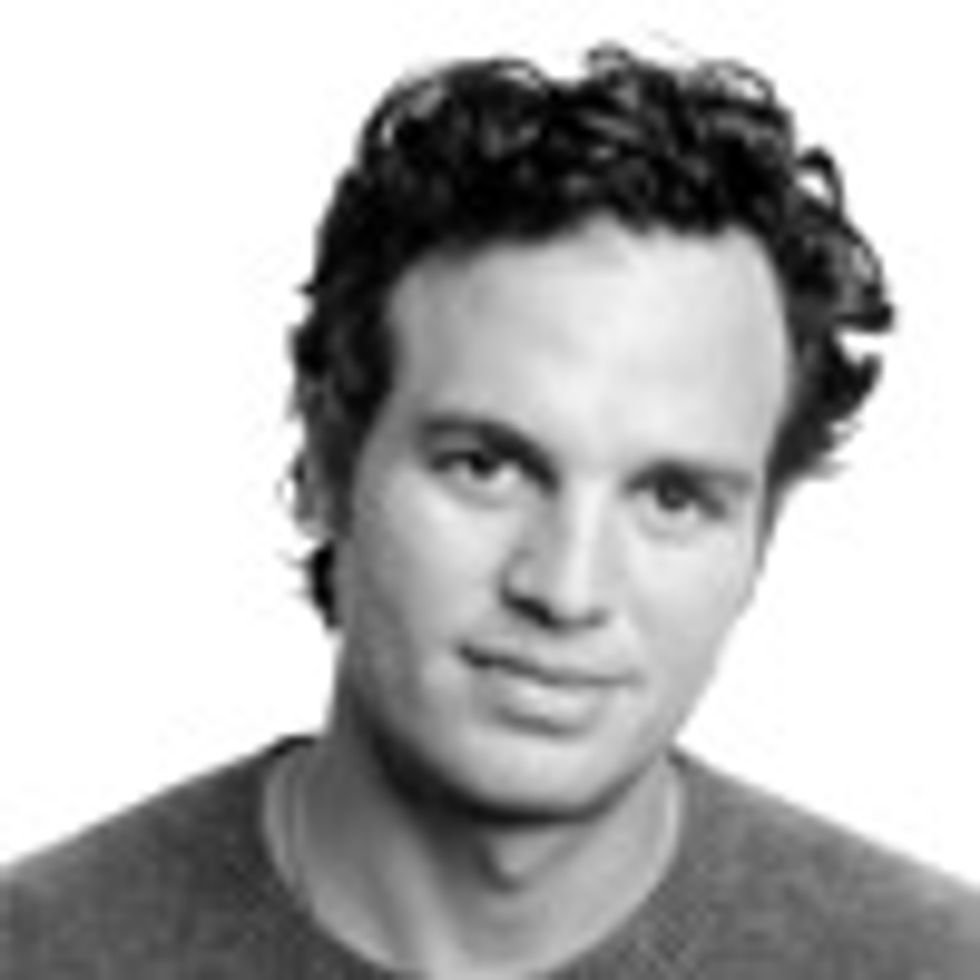 Across the nation, American businesses, families and communities are embracing clean, renewable energy that is homegrown, healthy, and can never run out. By finding alternatives to fossil fuels that pollute our air and disrupt our climate, they are showcasing the single most practical way to tackle climate change, starting now.
Companies including General Motors, Walmart, Apple, Johnson & Johnson, Crayola and Google are putting in solar and wind farms to run operations, and finding that clean energy is good for business.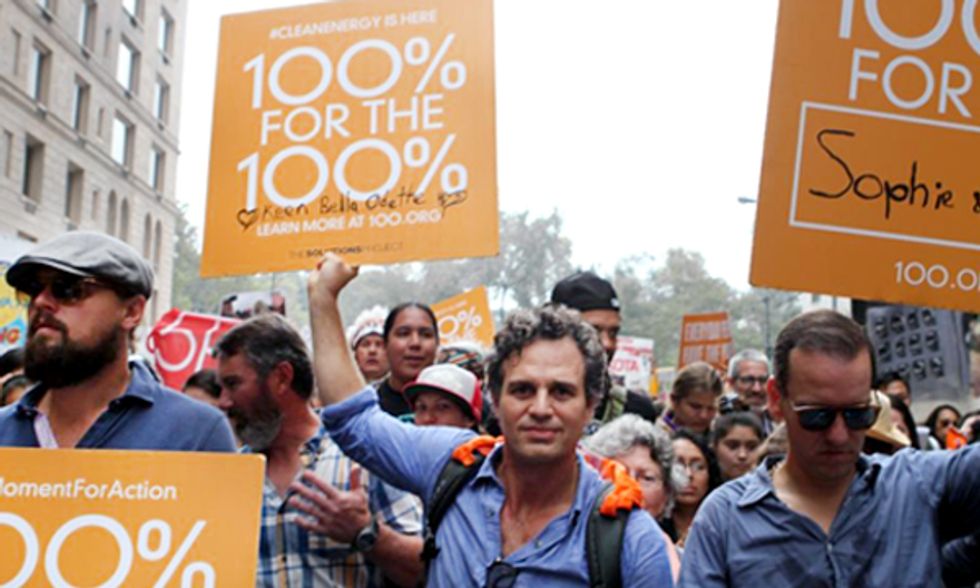 Schools from Virginia to Nebraska to Alaska are generating their own clean renewable energy, saving money while helping young people in their communities breathe more easily.
Ninety-one communities in Illinois have made the switch to 100 percent renewable electricity. Iowa and South Dakota are producing more than a quarter of their electricity from wind power. And while Houston, Texas might be the oil capital of the country, it's powering half of its municipal operations with renewable energy.
Keep these real-world success stories in mind next week, as heads of state from around the world gather at the United Nations for the Climate Summit. Embracing clean, efficient energy is a practical, flexible, adaptable solution for 100 percent of America, from rural families to multinational corporations and all of us in between.
At the Solutions Project, we see tremendous economic opportunity in a clean-energy future. We rely on the work of dozens of researchers at Stanford University, U.C. Davis and Cornell, who have found that embracing energy efficiency and moving to 100 percent renewable energy could double the number of energy-related jobs in the U.S., while saving every American thousands of dollars a year in health and utility costs.
The researchers found converting our country to 100 percent renewables would eliminate about 60,000 premature air-pollution-related deaths in the U.S. every year, saving people who suffer from cardiovascular diseases and respiratory illnesses. It would also save enormous amounts of money—about 3.3 percent of U.S. GDP—due to lower insurance rates, lower taxes, lower workman's compensation rates, fewer lost work and school days and fewer emergency room visits and hospitalizations.
Going renewable would also stabilize energy prices in the long run, researchers found, because the fuel cost of wind, water, and solar electricity is fixed at zero. Forever. It's not volatile like the price of oil, coal, or natural gas. Real-world experience supports this analysis: the cost of electric power in the 11 states with the highest fraction of their electricity generated from wind power decreased 0.4 percent from 2008-2013, while the cost in the remaining states increased by 8 percent.
That's why Apple, WalMart, Illinois, Iowa and all those other states, companies, communities and families are eagerly moving to a clean energy future. And it's why heads of state talk about climate change at the U.N. Climate Summit yesterday and 400,000 people from all walks of life marched in New York City, calling for action.
A stronger economy. Healthier families. A more secure future. These are 100 percent American goals, and clean energy will help us get there.
YOU MIGHT ALSO LIKE
We Can Run the Planet on 100% Renewable Energy
You Must See This Movie: Pump the Movie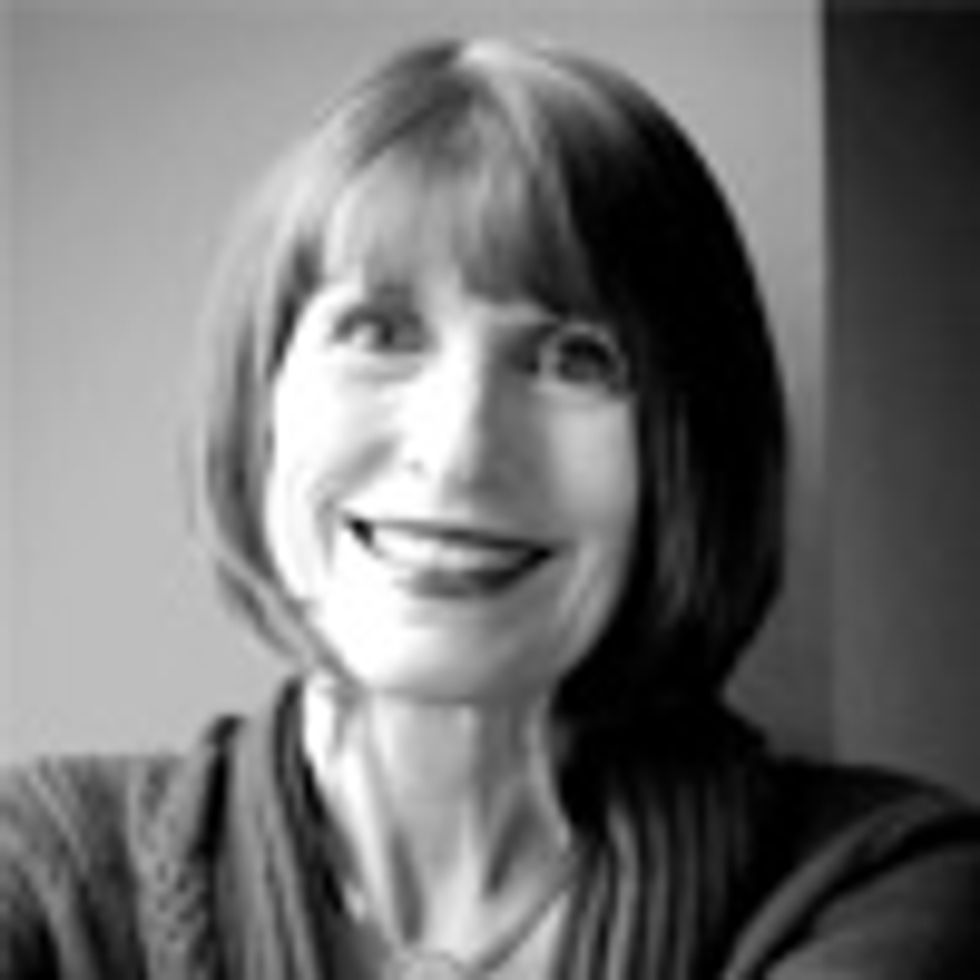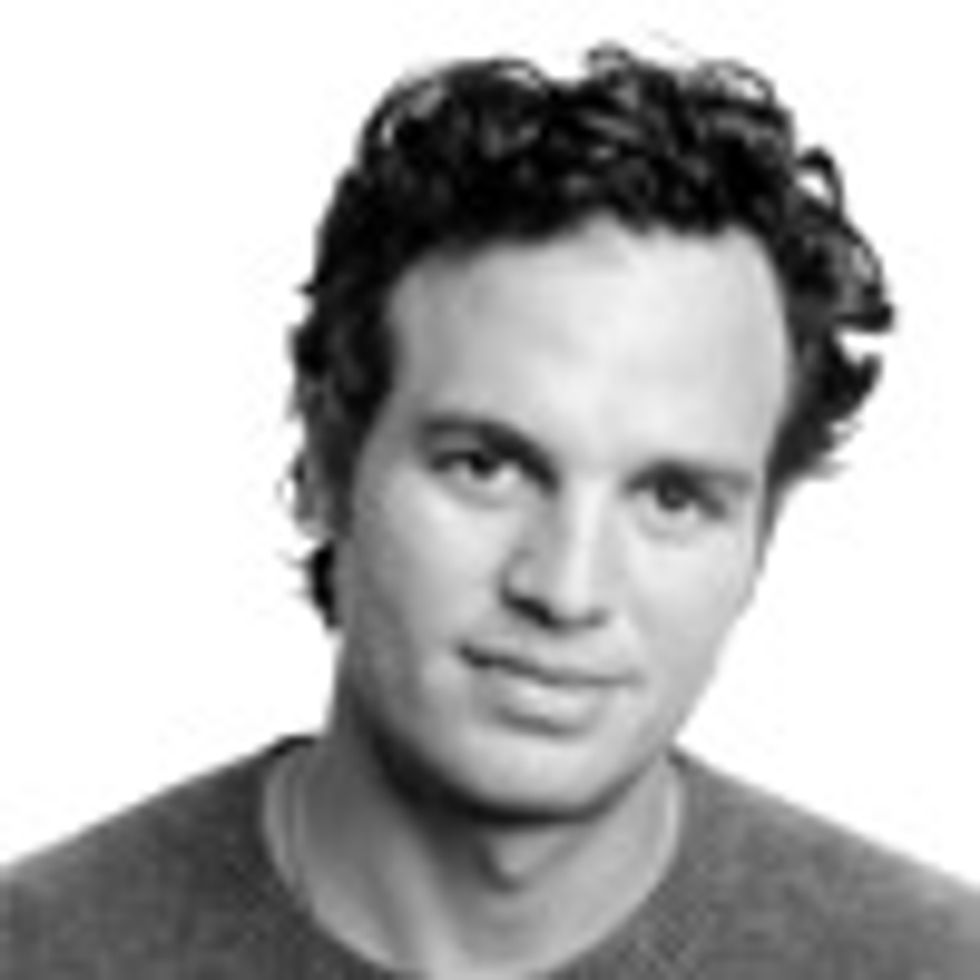 Last month, thirty Senate Democrats—members of the "climate caucus"—stayed Up All Night on the Senate floor to speak out about climate change. This was an important moment to highlight the most critical environmental issue of our time. What was not mentioned however, was the massive threat to our planet posed by exporting liquefied natural gas (LNG) extracted through the increasingly controversial process known as fracking. Yet legislation authored by one of their own—Sen. Mark Udall (D-CO) and a House bill by Congressman Cory Gardner (R-CO), would tear down barriers to the export of LNG, potentially spurring a massive increase in fracking, exacerbating the problems the senators spoke out against.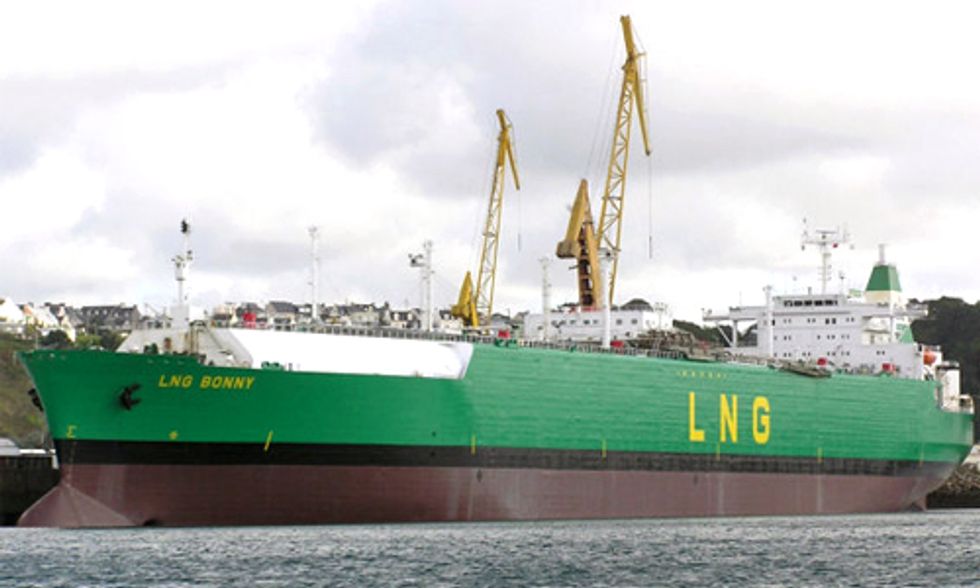 Ever since the crisis in Ukraine erupted, the oil and gas industry and its friends in Congress have been pushing exports of gas. While many justifications have been offered to explain this push for LNG exports, in reality, this has nothing to do with lofty foreign policy objectives and everything to do with the oil and gas industry using a crisis to ram its agenda through Congress—shock doctrine style. It calls to mind the Bush Administration's use of the tragedies of Sept. 11 to justify invading Iraq, and the Obama administration's use of the mortgage crisis to bail out the financial sector.
But let's be clear about three things.
First, this push for exports has nothing to do with the crisis in Ukraine. Even if LNG exports approvals are fast tracked, there is currently no infrastructure to export the gas until at least 2016. This push reflects an industry agenda that existed before the crisis erupted in Ukraine, and under no circumstances can LNG exports help alleviate it.
Second, once the infrastructure is built, U.S. LNG exports will likely go to Asia, where industry can fetch the highest price, not to Europe. The legislation under discussion would deem all exports in the public interest if the gas is sent to a member nation of the WTO. This includes most countries in the world, including China, India, Japan, Brazil and, ironically, Russia. The oil and gas industry wants these export approvals to drive up their profit margins by selling gas overseas, which ultimately will increase the price of gas for U.S. consumers.
Third, exports will drive additional drilling and fracking and exacerbate climate change. The International Panel for Climate Change recently released a report highlighting the dire consequences yet to come from climate change if action is not taken. Last fall, the IPCC found that methane is even worse for the climate than previously thought: Over a 100-year time scale, methane is 34 times more potent in the atmosphere than CO2; over 20 years, 86 times more potent. We know that methane is emitted during oil and gas drilling, fracking and distribution. Climate scientists warn that we must leave fossil fuels in the ground and aggressively transition to renewable energy to avert catastrophic climate change. The energy policy of exporting U.S. fracked gas all over the world will further contribute to climate change
The move to export LNG is not about national security, but rather politics and oil and gas industry profits. In Colorado, this issue has become entwined with state politics and the battle over control of the Senate. The House bill to open up exports is authored by Rep. Cory Gardner, a Republican who is running for Senate from Colorado. Sen. Mark Udall, who is defending his seat against Gardner, authored the Senate bill. Republicans want to use this issue to their benefit in Colorado, and some Democrats hope the bill will protect Udall's seat, despite the strong and growing movement to protect communities against fracking in Colorado.
But climate change, water pollution and the health and vitality of American communities should not be treated as a political football. There are many in Congress who have spoken out forcefully about climate change, but we are at a point of crisis, and we need more than talk. Senate leader Harry Reid and members of the Senate should take a stand against big oil and gas interests and for communities across the U.S. They should say "no" to fracking and "no" to exports, and instead focus on investing in a truly renewable energy future.
Tell your member of Congress to oppose LNG exports here.
——–
YOU ALSO MIGHT LIKE
Large LNG Explosion Displaces Hundreds in Washington
Congress to EPA: Investigate and Address Water Contamination From Fracking
Feds Greenlight LNG Exports From Controversial Jordan Cove Project in Oregon
——–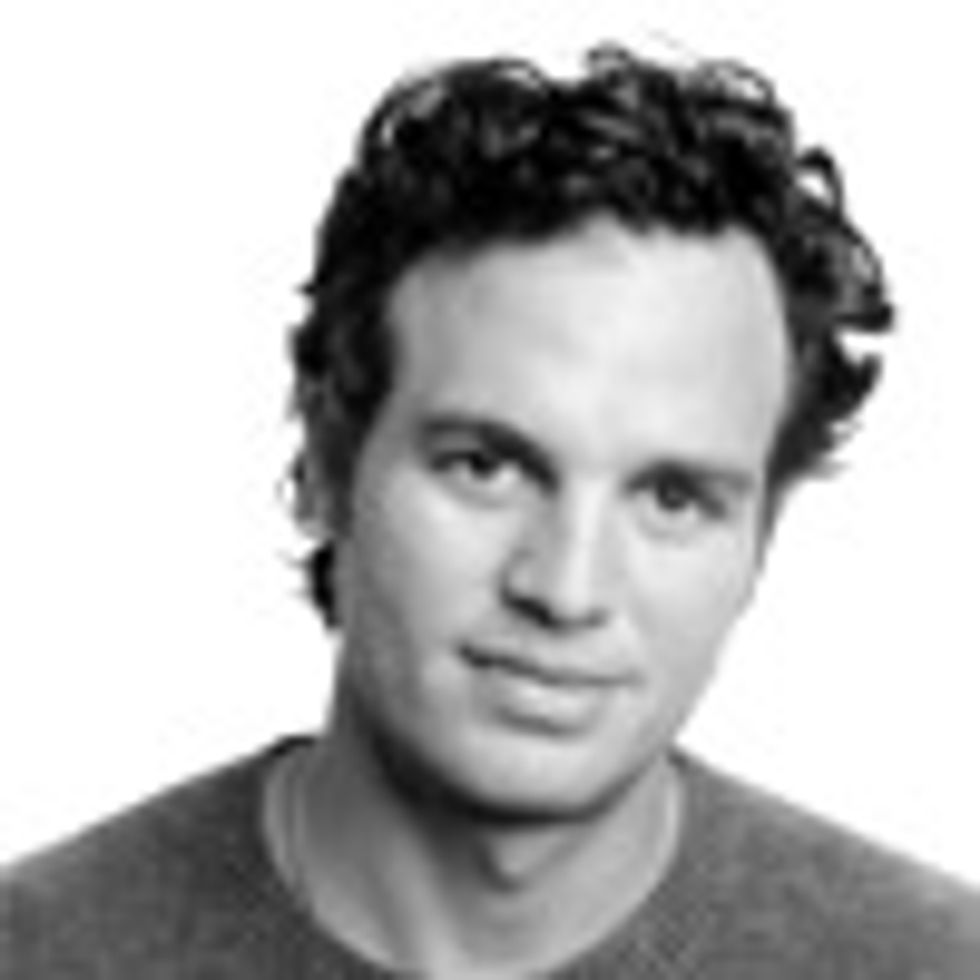 The spinmeisters for the oil and gas industry sure earned their money this week. A natural-gas drilling rig in the Gulf of Mexico has a catastrophic blowout, erupts into uncontrolled flames for days, and most of the media buys the industry's line that we should simply be glad that this disaster wasn't as serious as that other accident in the Gulf a couple of years ago. That would be the Deepwater Horizon blowout and spill, which killed 11 workers and dumped millions of barrels of crude oil into the Gulf.
Seriously, is this the new bar the fossil-fuel industry has set for itself—not to surpass the worst environmental disaster in U.S. history?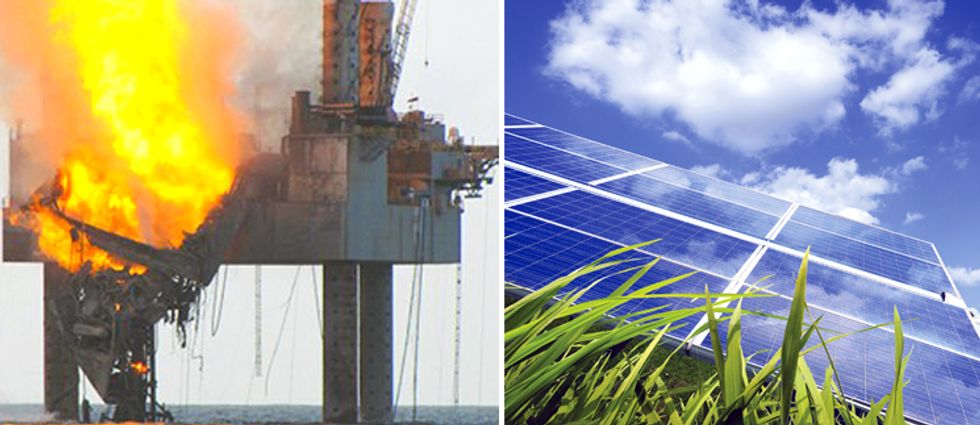 The scary thing is that the Deepwater Horizon disaster probably will be surpassed, because coal, oil and gas producers have no problem embracing risk. After all, they're not the ones who stand to lose when things inevitably go south.
Here's the real lesson we should take from what happened in the Gulf this week: As long as we continue to encourage a shortsighted pursuit of extreme dirty-fuel sources, we can expect a steady litany of disasters ranging from oil spills and gas leaks to runaway climate disruption. Even worse is what will keep happening outside the headlines, every day, as ordinary people suffer cancer, respiratory failure, birth defects and other personal tragedies that are part of the price we pay for dirty energy.
After more than 100 years of fossil-energy gluttony, we find ourselves in an era where extreme drilling and mining practices have become the new norm for finding dirty fuels. The coal industry is blowing the tops off mountains in Appalachia. The oil industry is already drilling in deep waters like the Gulf, tearing up Canadian forests to extract tar sands bitumen and eager to exploit the Arctic seas. And, of course, the natural-gas industry has run amok with fracking wells that blight entire landscapes and communities, threaten irreplaceable drinking-water supplies and pollute our atmosphere with methane that is 70 times more potent a climate disruptor than CO2.
It's insane. What compounds the madness is that we know how to do better. We could, as a nation, go "all in" on clean, renewable energy and energy efficiency. Within decades, we could take ourselves off the dirty-fuel treadmill.
What stands in our way are politically entrenched special-interest groups that will spend whatever it takes to protect their status quo. In the long run, I know they will fail, but the damage they can do in the meantime by delaying the transition to sensible energy is beyond calculation.
Anatole France wrote that nature "makes no distinction between good and evil." Perhaps not, but human beings do. There are real people behind the companies that are perpetrating the fracking, the drilling and the mining, and they need to know that what they do is amoral. Climate disruption alone takes hundreds of thousands of lives every year—primarily among the planet's poorest and most vulnerable populations—and those numbers will rise even faster than the average temperatures.
What's more, any "all of the above" energy policy is an amoral energy policy because it makes no distinction between good and evil. The same is true of a "drill at home" energy policy. Petroleum doesn't equal patriotism—the real way to put America first is to put bad energy last.
Enough is enough. We need to end taxpayer handouts to these amoral corporations and begin phasing out these dangerous methods of fossil-fuel extraction. It is time that we move beyond dirty fuels and hand our children a world that is fit to live and breathe in.
You can help by signing the Sierra Club petition to move Beyond Natural Gas.
Visit EcoWatch's ENERGY page for more related news on this topic.
———