This website uses cookies to ensure you get the best experience while browsing it. By clicking 'Got It' you're accepting these terms.
Roundup being sprayed on a soybean field. David Steen / Flickr
By Zen Honeycutt
A California federal judge ruled on Tuesday that the public does not need a warning label to inform us that cancer-causing and harmful chemicals in glyphosate herbicides are in our food or products, temporarily relieving manufacturers from the responsibility of being honest with their customers. At a time when more and more American families are struggling with diseases and their high cost, one man decided that it was an injustice to the chemical companies to have to tell us about the presence of their chemicals.
By Zen Honeycutt
Shortly after the release of a report showing 14 beers testing positive for glyphosate in Germany, a concerned supporter of Moms Across America approached me at a convention with disturbing news. He said he had test results from Microbe Inotech Lab of St.Louis showing 10 different wines, from large and small vineyards, contained the chemical glyphosate, the active ingredient in Monsanto's Roundup weedkiller, including wine made with organic grapes.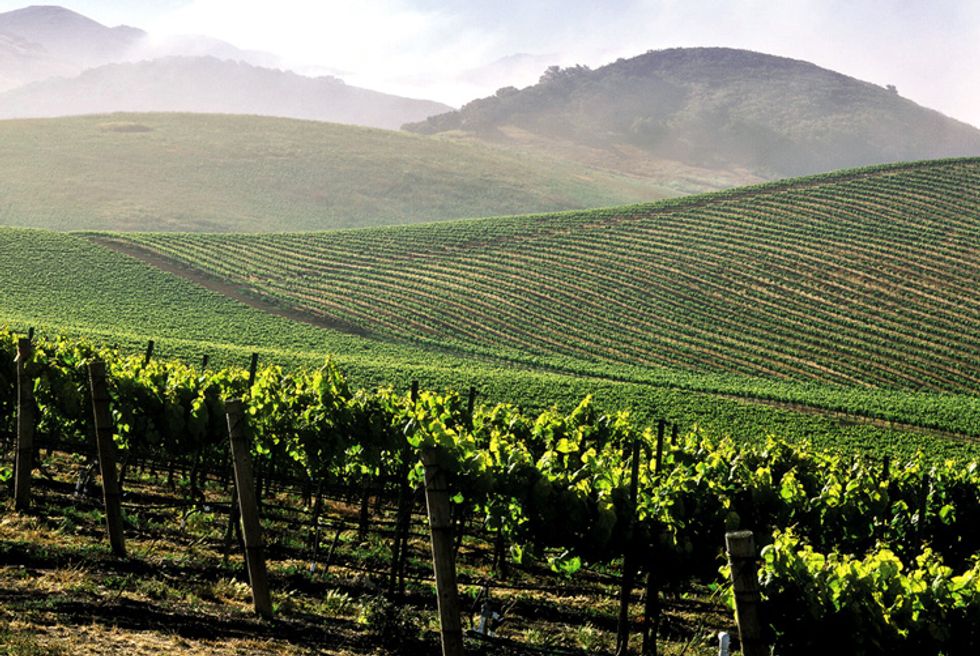 The contamination of conventional wine was 28 times higher than organic wine, with levels ranging from 0.659 ppb in organic to 18.74 ppb in conventional wine.
The wines tested came from Napa Valley, Sonoma and Mendocino counties in California. The brand names of the wines were not revealed, and frankly, the brands are not the issue. The real issue is the widespread contamination of glyphosate based herbicides in consumer products.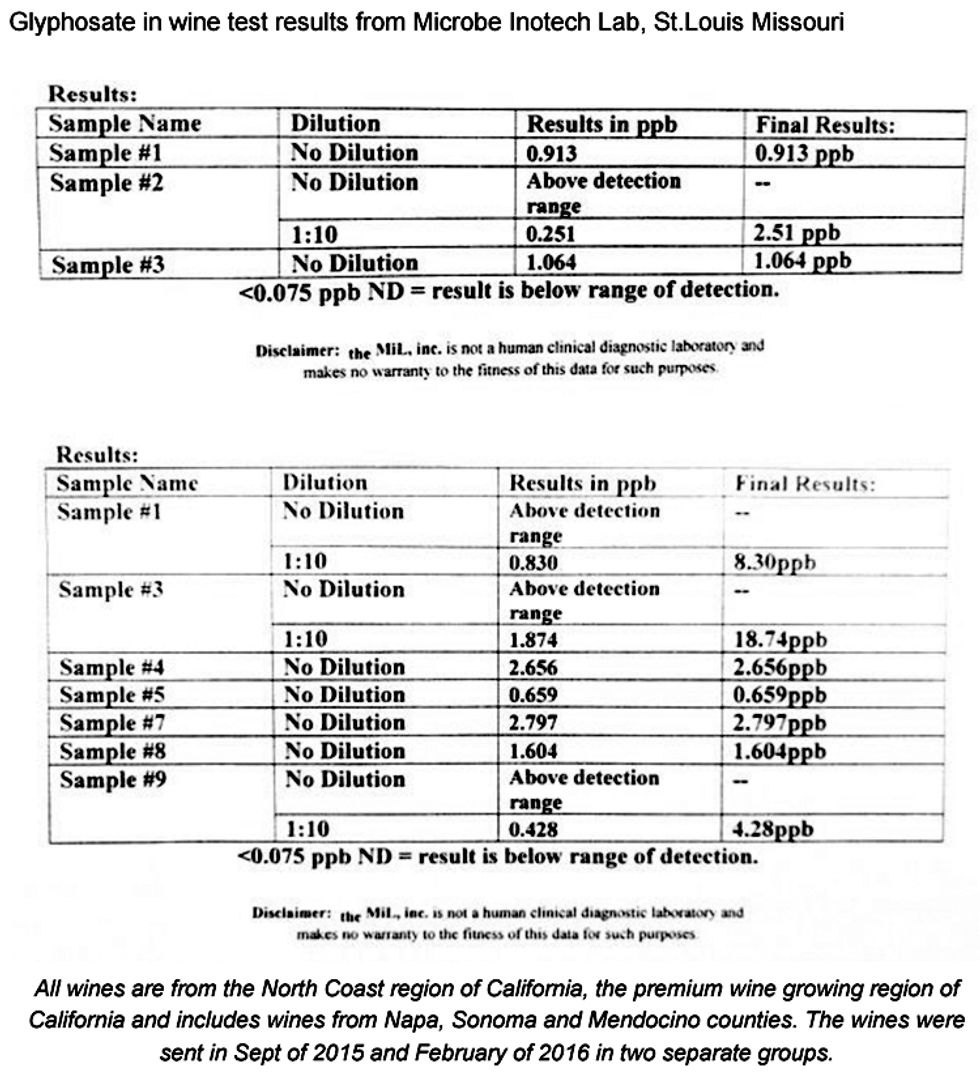 Here are my five reasons why Roundup/glyphosate should never be sprayed on any crops, including vineyards:
1. According to farmers like John Kempf of AdvancingEcoAg.com, glyphosate based herbicides are showing up in irrigation water, are likely present in manure/fertilizer from animals fed genetically modified grains and drift from spraying. Glyphosate residues have been detected in many foods, cotton products, breast milk, beers and wines.
2. Wine growers of conventional farms report that their family businesses use to be able to harvest from their vines for 100 years. Today, with chemical farming, vines are lasting 10-12 years. Glyphosate is a chelator, which makes the vital nutrients and minerals of any living thing it touches unavailable. Taking the risk of depleting the vitality of important crops is not a good long term decision for farmers of any kind. Instead, Regenerative agriculture enriches the soil, supports longevity of the farm and does not use toxic chemicals.
3. Glyphosate has been deemed a probable carcinogen by the World Health Organization. Even the small amount of 0.1ppt of glyphosate has been shown to stimulate the growth of breast cancer cells. According to the California Department of Health, breast cancer rates in the Sonoma, Napa and Mendocino counties are 10 to 20 percent higher than the national average. There are many pending lawsuits against Monsanto for the connection between non-Hodgkin's lymphoma and Roundup.
4. The pig study by Pedersen and Krueger showed a repeated 30 percent increase of birth defects and stillborn with the introduction of glyphosate-sprayed grains. The infertility and sterility in America is exactly correlated to the pig study results, at 30 percent, the highest in recorded U.S. history.
5. French scientist Gilles-Éric Seralini and his team have discovered that the co-formulants of Roundup are 1,000 times more toxic than glyphosate and are hormone disruptors, which can lead to breast cancer, miscarriages, birth defects and many other health issues.
YOU MIGHT ALSO LIKE
Is Bill Gates Right About GMOs?
Big Food Says They Will Label GMOs … But Is There More to the Story?
Huge Victory: Senate Rejects the DARK Act
Read This if You Love Eating Fish But Worry Your Getting Too Much Mercury Exposure
EcoWatch Daily Newsletter
By Zen Honeycutt
The Senate Ag Committee sent a bill to the Senate floor last week which, if passed, will eliminate mandatory GMO labeling, preempt state rights, go against what 90 percent of American citizens want and require the U.S. Department of Agriculture to spend taxpayer dollars to educate the public about the supposed "benefits" of GMOs.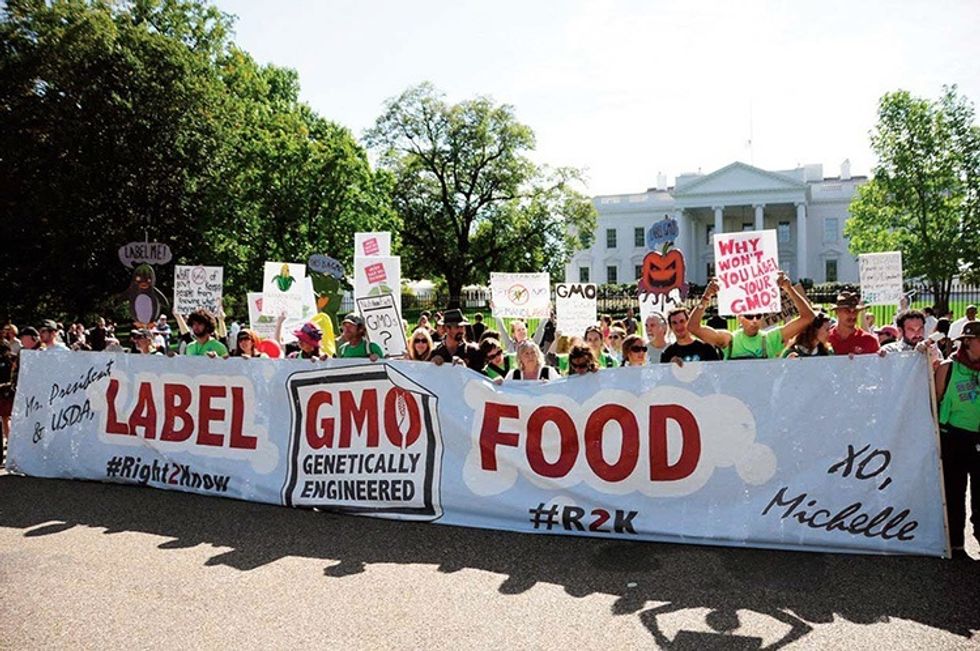 Here are seven reason why the U.S. government can't afford to pass the Safe and Accurate Food Labeling Act, otherwise known as, the Denying Americans the Right to Know Act or DARK Act:
1. GMOs are in our food. Food is the number one factor of the condition of our health.
Whether you believe GMOs are safe or not, everyone has a right to decide for themselves or their family how much or how often they eat something which may or may not be safe. Alcohol for instance, has a warning label because it is considered unsafe in large quantities and is not allowed under a certain age due to health risks. Aspartame and high fructose corn syrup have numerous studies showing harm, many report adverse effects and they are clearly labeled. At least consumers have a choice. The responsibility is on them to decide.
2. There are more than 1,000 studies and papers regarding harm from GMOs and related pesticides.
To ignore these studies and to continue to allow Americans, the sickest population in the developed world, with the most expensive health care, to eat this food unknowingly, is contrary to the government's role in building a successful nation. The cost of diabetes alone will bankrupt the U.S. health care budget in 11 years if swift action is not taken to turn around the health crisis we have in America today. A major factor of diabetes has been directly linked to the fact that glyphosate, sprayed on GMOs, destroys the body's ability to make serotonin, which regulates insulin. Diabetes in teens has quadrupled in the past 10 years, the same time period in which 70 percent of all the glyphosate which has ever been sold, has been used.
3. Eighty percent of GMOs are engineered to withstand toxic pesticides and herbicides.
Numerous new studies nullify the 40-year-old science which claims these chemicals are safe. These studies show that glyphosate, atrazine, 2,4-D and many more chemicals are neurotoxins, destroy the gut bacteria which is where 70 percent of the immune system lies, cause liver and kidney damage, cause organ damage, increase antibiotic resistance, cause placental cell death and breast cancer cell growth. They have also been shown to be endocrine disruptors, causing birth defects, miscarriages, sterility and infertility. We currently have the highest rate of infertility in recorded history.
We also have 50 percent more babies that die on the first day of life than all of the industrialized nations combined. With GMOs being in 85 percent of our processed foods and glyphosate, an acknowledged "reproductive effector" by the U.S. Environmental Protection Agency (EPA), allowed on 160 of U.S. foods, the Senate Ag Committee decision to continue to dis-allow citizens to at least self-regulate the amount of GMOs they eat, means the responsibility for the loss of these infants, if proven to be connected to these chemicals as indicated by the EPA, falls upon the government's shoulders.
4. The technology of GMO foreign proteins is recognized by world renowned scientists to be unpredictable, uncontrollable and have unforeseeable effects.
Numerous reports of prions causing diseased crops, increased loss of livestock to the tune of 40 million GMO fed chickens, primarily in Iowa last year and hundreds of millions of dollars lost in sales to exports due to concern about contamination, make GMO crops unsafe. If a crop contaminates other nearby crops, making them less valuable in the marketplace, that is a dangerous crop to the American economy. If something has genetic manipulations performed in a lab which have shown to have unpredictable effects within the organism and for future generations of that or nearby species, that organism is unsafe for the environment and consumers. The science that claims that GMOs are safe is unfoundedly based on short term studies produced by the companies who stand to benefit from them.
The fact that RNAi GMOs have promoters and "silencers" that silence the function of genes should be of grave concern to everyone. How do you know that those promoters are not "waking up" rare disease genes or silencers are not "silencing" the functioning of organs in your loved ones which could fight rare diseases? The problem is that we will never know, because we cannot retroactively prove that the bite of GMO corn led to the "waking up" of a rare disease gene in your child.
5. New research shows that GMO crops, with heavy herbicide use, destroy the microbiome of the soil, reduce the nutritional content of the food (organic food is more nutritous) and leave higher residues of chemicals on the food. This means that GMOs are substantially different and warrant labeling.
6. GMOs and related pesticides have been wrongly classified a process, not an additive, to intentionally get around the requirement that additives are safety tested and labeled on the package. When a herbicide classified as a probable carcinogen is sprayed on your food and it does not dry off, wash off for cook off, you might want to know that it is there and be given the choice to buy that food or not.
7. Religious sanctifications include that followers know if they are eating certain animals and avoid them.
With mandatory GMO labeling stricken down by Senators, in the future, Jewish people for example, would not know if fish, fruit or vegetables were genetically engineered with species which are not kosher. This is tantamount to a violation of their religious freedom.
The fact is that GMOs in our food need to be labeled because they are a factor of our health. GMO labeling has and always been and will always be, a health and safety issue first.
If citizens are not allowed to be responsible for their own health then the responsibility falls on the government. With 1 out of 2 males and 1 out of 3 females expected to get cancer in America today, 1 out 2 children with a chronic illness and 1 out of 2 children born 18 years from now expected to be diagnosed with autism, our elected officials have an obligation to make it a priority to protect the health of the American people, not chemical companies. The skyrocketing illnesses and rising healthcare costs in America make it evident that we simply cannot afford to not label GMOs.
We call on the Senate to give the American people the freedom to chose their food by voting no on the bill to stop mandatory GMO labeling and give us federal, mandatory, clear labeling on the package.
We citizens will vote for Senators at the next election which allow for personal freedom and health.
YOU MIGHT ALSO LIKE
France, Sweden, Italy and the Netherlands Rebel Against Relicensing of Monsanto's Glyphosate
Why Is Glyphosate Sprayed on Crops Right Before Harvest?
The Shocking Consequences of the World's Meat Addiction
DARK Act Heads to Senate, Bill Would Block Mandatory GMO Labeling
Three generations of women attended Monsanto's shareholder meeting Friday and presented multiple reasons why Monsanto should mitigate risks from Roundup, support labeling of genetically-engineered foods and change the direction of their business.
Anne Temple, mother and midwest leader of Moms Across America representing John Harrington of Harrington Investments, went to the meeting with Rachel Parent, 16-year-old and founder of Kids Right to Know from Canada who representing Moms Across America, and Beth Savitt, grandmother and president of the Shaka Movement of Maui representing and As You Sow.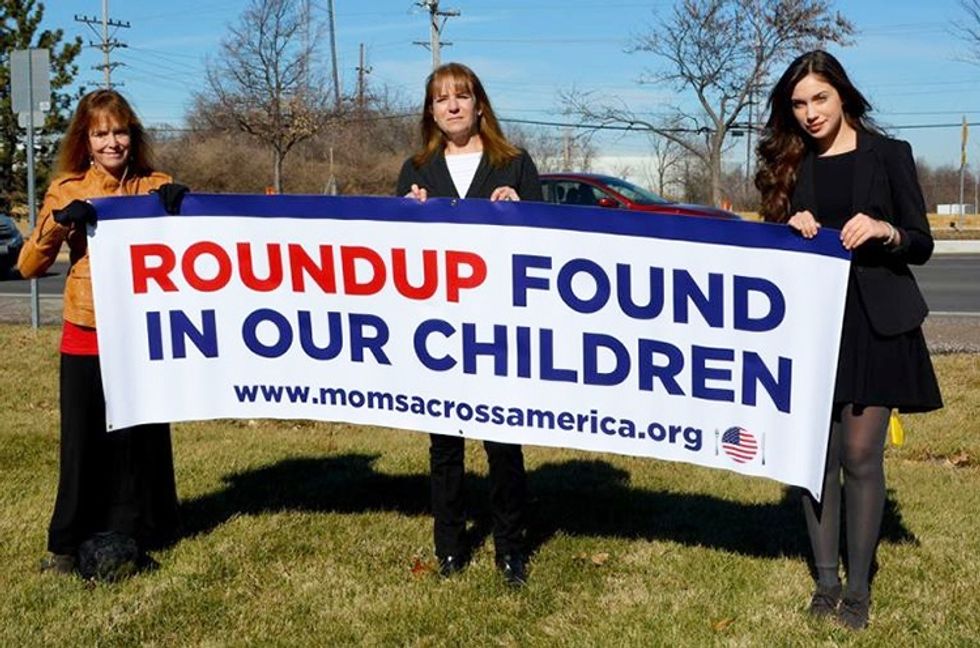 "Our loved ones are getting sick and dying at alarming rates," Temple said at the shareholder meeting. "We find however that our families' health improves when they eat organic to avoid GMOs and toxic chemicals."
In fact, Moms Across America posted this billboard in west St. Louis County, Missouri, in Creve Coeur, near Monsanto headquarters, stating just that: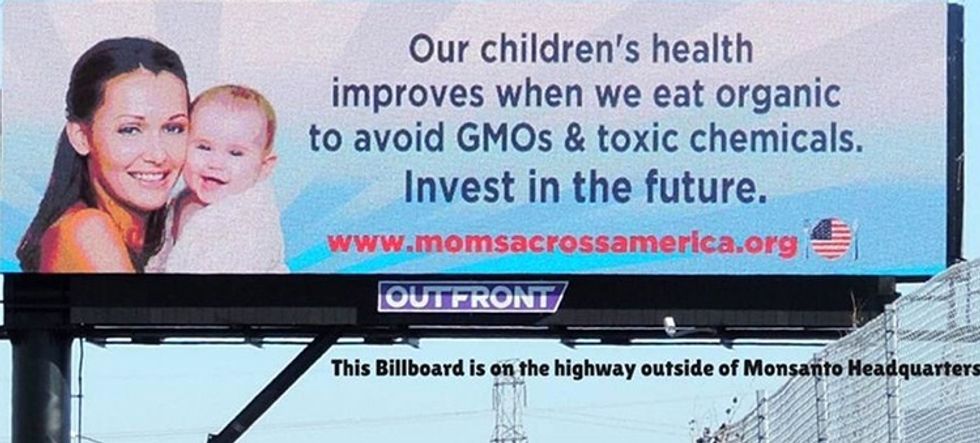 At the shareholder meeting, Parent explained that "nearly two decades after genetically engineered crops have been incorporated into our food, no long-term human health studies have been performed. However, feeding studies have been done on animals and the results are sobering: organ damage, digestive disorders, tumors, infertility and stillbirths."
Then Savitt pointed out that "the president's cancer panel of 2008 recommended the precautionary principle in relation to pesticides. Can we stop and test? Can we practice the hippocratic oath and first do no harm? That's all we are asking for."
Savitt's Shaka Movement passed a GMO moratorium in Maui, requiring that the planting of GMOs stop until safety testing is concluded that shows the chemical combinations used were safe. Monsanto spent more than $9 million to fight the passing of the moratorium, far more than would have been spent on the testing. The moratorium passed anyway, but a local judge overturned the law. Currently, an appeal is in process. The concern by the three women is that in the meantime, Monsanto is allowed to continue to poison our food, water and planet.
Savitt insists, "Maui is an open air experiment and the land and people are paying a price, our health. We assert our right to health."
John Harrington of Harrington Investments said, "It's truly amazing to me that Monsanto is allowed to continue endangering public health and safety."
The choices of Monsanto are not without repercussions, however. Monsanto has experienced heavy losses over the past year due to several factors including:
1. The increase of more than 250 super weeds on 300 million acres resisting Roundup
2. The World Health Organization's declaration that glyphosate in Roundup is a probable carcinogen
3. Growing consumer resistance
Since Zen Honeycutt of Moms Across America spoke at last year's shareholder meeting, there has been a 34 percent drop in stock value and 16 percent of the workforce will be laid off.
Although considered safe for nearly 40 years, serious evidence regarding the health risks of glyphosate in Roundup has recently surfaced, including the destruction of the gut bacteria which leads to a weakened immune system, neurotoxicity, hormone disrupting effects which can lead to endocrine disruption (birth defects and miscarriage) at very low levels, non Hodgkin's Lymphoma, breast cancer cell growth and placental cell death.
These three women went to the shareholder meeting because they do not see how Monsanto can ignore the risks associated with Roundup and knowingly continue down a path that will lead to decreased profit margins and job loss.
During the shareholder meeting, Monsanto CEO and board chair Hugh Grant extolled the virtues of GMOs and glyphosate, declaring them safe and the tools needed to solve the problem of feeding a hungry world.
Parent, who has been speaking up for GMO labels since she was 11 years old, said, "If you truly believe your GM technology is safe, if you truly believe it has the potential to feed the world, why are you treating it like a dirty little secret that can't be shown on food labels? Why, if it's such proven technology, are you fighting it, rather than promoting it?"
Grant went on to say that Monsanto is for voluntary GMO labeling and supports QR codes.
Temple pointed out that the QR code option is "discriminatory because not everyone can afford a smartphone."
Listen here to the full recording of the meeting:
YOU MIGHT ALSO LIKE
Monsanto's Glyphosate Most Heavily Used Weed Killer in History
Cancer Prevention Needs Attention Too: What if We Weren't Exposed to 80,000 Toxic Chemicals Every Day?
The Inside Story of How a University Professor Quietly Collaborated With Monsanto