I need one of you to help me. It might get dangerous. It may get us in trouble. But we're running out of time. We must act. It's our patriotic duty.

From the time you opened this letter to the time you get to the bottom of it, there's a decent chance that our president will have violated the constitution, obstructed justice, lied to the American people, encouraged or supported acts of violence or committed some horrible mistake that would've ended any other politician's career (or sent you or I to jail). And just like all the times he's done so in the past, he will get away with it.
Donald Trump thinks he's above the law. He acts like he's the above the law. He's STATED that he's above the law. And by firing Sally Yates, Preet Bharara and James Comey (3 federal officials with SOME authority to hold him accountable) he's taken the first few steps to make it official.
And yet, we keep hearing the same reaction to President Trump that we heard with candidate Trump after every new revelation or screw up: "He's toast!" "He can't survive this!" "He's finished!"

Make no mistake—Donald J. Trump has NO intention of leaving the White House until January 20, 2025. How old will you be in 2025? That's how long he plans to be your president. How much damage will have been done to the country and the world by then?
And that is why we must act.
As I've said since the election, we need a four-front strategy to end this carnage:
1. Mass Citizen Action
2. Take Him To Court Nonstop
3. YOU Run for Office
4. An Army of Satire
I'm doing everything that I can, publicly and privately, to aid this effort and I know that you are, too. And while quietly working on my new movie, I came across an old video that inspired me to write you today to ask for help.
In this video, a former congressman is passionately testifying about the importance of whistleblowers and need to protect the First Amendment. He stated:
"Enshrined in the First Amendment of the Constitution, we all know, are these words: Congress shall make no law abridging the freedom of speech, or of the press. The freedom of speech and the press form the bedrock of our democracy by ensuring the free flow of information to the public. Although Thomas Jefferson warned that, 'Our liberty cannot be guarded but by the freedom of the press, nor that limited without danger of losing it,' today this freedom is under attack."
The young congressman went on to decry the harassment, legal threats and even jailing of American journalists. He continued:
"Compelling reporters to testify, and in particular, compelling reporters to reveal the identity of confidential sources, intrudes on the newsgathering process and hurts the public. Without the assurance of confidentiality, many whistleblowers will simply refuse to come forward, and reporters will be unable to provide the American public with the information they need to make decisions as an informed electorate. But with all this focus on newsgathering, it is important that we state clearly: Protecting a journalist's right to keep a news source confidential is not about protecting reporters; it is about protecting the public's right to know."
Indeed, the power and the importance of whistleblowing is part of the American tradition and as old as the republic itself. On July 30, 1778, the Continental Congress voted unanimously for the first whistleblower legislation in the U.S.:
"Resolved, That it is the duty of all persons in the service of the United States, as well as all other the inhabitants thereof, to give the earliest information to Congress or other proper authority of any misconduct, frauds or misdemeanors committed by any officers or persons in the service of these states, which may come to their knowledge."
This legislation came in response to the first known act of whistleblowing in our country's history, when in 1777, 10 revolutionary sailors decided to blow the whistle on a powerful naval officer who participated in the torture of captured British soldiers. The sailors paid a price. They were sued and jailed for their courageous actions. But in the end, our Founding Fathers agreed that the sailors were doing their patriotic duty by reporting this crime. They made sure their legal fees were covered, protected them from retaliation and unanimously passed the 1778 whistleblower protection law.
Since then, courageous American men and women have put their careers, their freedom and even their lives on the line to report government and corporate wrongdoing. From Karen Silkwood (nuclear safety), Sherron Watkins (Enron) and Jeffrey Wigand (tobacco) in corporate America to Daniel Ellsberg, Chelsea Manning and Edward Snowden revealing government lies, the American whistleblowing tradition remains strong, despite constant attempts to intimidate and stifle these truth tellers.
And this is where I need one of you to help me.
Today, I'm launching TrumpiLeaks, a site that will enable courageous whistleblowers to privately communicate with me and my team. Patriotic Americans in government, law enforcement or the private sector with knowledge of crimes, breaches of public trust and misconduct committed by Donald J. Trump and his associates are needed to blow the whistle in the name of protecting the United States of America from tyranny.
We've put together several tools you can use to securely send information and documents as well as photographs, video and/or audio recordings. While no form of digital communication is 100 percent secure, the tools we're using at TrumpiLeaks provide the most secure technology possible to protect your anonymity (and if you don't require anonymity, you can just email me here).
I know this is risky. I knew we may get in trouble. But too much is at stake to play it safe. And along with the Founding Fathers, I've got your back.
As for the former congressman quoted above, he's moved on to bigger and better things. His name is Michael Richard Pence, the vice president of the United States. Who knows, he might even back you up on this, too ...
EcoWatch Daily Newsletter
News of the poisoned water crisis in Flint has reached a wide audience around the world. The basics are now known: the Republican governor, Rick Snyder, nullified the free elections in Flint, deposed the mayor and city council, then appointed his own man to run the city. To save money, they decided to unhook the people of Flint from their fresh water drinking source, Lake Huron, and instead, make the public drink from the toxic Flint River.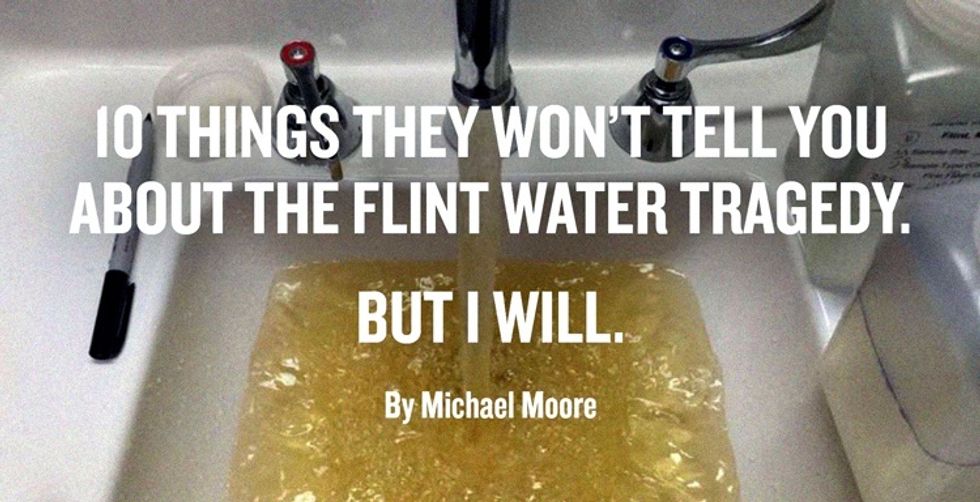 When the governor's office discovered just how toxic the water was, they decided to keep quiet about it and covered up the extent of the damage being done to Flint's residents, most notably the lead affecting the children, causing irreversible and permanent brain damage. Citizen activists uncovered these actions, and the governor now faces growing cries to resign or be arrested.
Here are 10 things that you probably don't know about this crisis because the media, having come to the story so late, can only process so much. But if you live in Flint or the State of Michigan as I do, you know all to well that what the greater public has been told only scratches the surface.
1. While the Children in Flint Were Given Poisoned Water to Drink, General Motors Was Given a Special Hookup to the Clean Water.
A few months after Gov. Snyder removed Flint from the clean fresh water we had been drinking for decades, the brass from General Motors went to him and complained that the Flint River water was causing their car parts to corrode when being washed on the assembly line. The governor was appalled to hear that GM property was being damaged, so he jumped through a number of hoops and quietly spent $440,000 to hook GM back up to the Lake Huron water, while keeping the rest of Flint on the Flint River water. Which means that while the children in Flint were drinking lead-filled water, there was one—and only one—address in Flint that got clean water: the GM factory.
Long before helping Flint, Michigan officials were shipping clean water to their own workers https://t.co/wbrKxkVAvo https://t.co/OCZfVgQXBM

— Mother Jones (@Mother Jones)1454123714.0
2. For Just $100 a Day, This Crisis Could've Been Prevented.
Federal law requires that water systems which are sent through lead pipes must contain an additive that seals the lead into the pipe and prevents it from leaching into the water. Someone at the beginning suggested to the governor that they add this anti-corrosive element to the water coming out of the Flint River. "How much would that cost?" came the question. "$100 a day for three months," was the answer. I guess that was too much, so, in order to save $9,000, the state government said f*** it—and as a result the State may now end up having to pay upwards of $1.5 billion to fix the mess.
3. There's More Than the Lead in Flint's Water.
In addition to exposing every child in the city of Flint to lead poisoning on a daily basis, there appears to be a number of other diseases we may be hearing about in the months ahead. The number of cases in Flint of Legionnaires Disease has increased tenfold since the switch to the river water. Eighty-seven people have come down with it, and at least ten have died. In the five years before the river water, not a single person in Flint had died of Legionnaires Disease. Doctors are now discovering that another half-dozen toxins are being found in the blood of Flint's citizens, causing concern that there are other health catastrophes which may soon come to light.
4. People's Homes in Flint Are Now Worth Nothing Because They Cant Be Sold.
Would you buy a house in Flint right now? Who would? So every homeowner in Flint is stuck with a house that's now worth nothing. That's a total home value of $2.4 billion down the economic drain. People in Flint, one of the poorest cities in the U.S., don't have much to their name, and for many their only asset is their home. So, in addition to being poisoned, they have now a net worth of zero. (And as for employment, who is going to move jobs or start a company in Flint under these conditions? No one.) Has Flint's future just been flushed down that river?
5. While They Were Being Poisoned, They Were Also Being Bombed.
Here's a story which has received little or no coverage outside of Flint. During these two years of water contamination, residents in Flint have had to contend with a decision made by the Pentagon to use Flint for target practice. Literally. Actual unannounced military exercises—complete with live ammo and explosives – were conducted last year inside the city of Flint. The army decided to practice urban warfare on Flint, making use of the thousands of abandoned homes which they could drop bombs on. Streets with dilapidated homes had rocket-propelled grenades fired upon them. For weeks, an undisclosed number of army troops pretended Flint was Baghdad or Damascus and basically had at it. It sounded as if the city was under attack from an invading army or from terrorists. People were shocked this could be going on in their neighborhoods. Wait—did I say "people?" I meant, Flint people. As with the governor, it was OK to abuse a community that held no political power or money to fight back. BOOM!
The majority of all Texas residents live in a deregulated energy market. This means every day, people have the freedom to switch to a different provider in their service area to save money. Competition helps keep prices down, and Texas energy rates are below the national average.
The average Texas residential electricity bill is 13% lower than the national average.
The average Texas commercial electricity bill is 4% lower than the national average.
Texas leads the nation in wind and ranks fifth in the nation for solar electricity generation.
Texas legislators, however, are actively campaigning against renewable energy solutions.
Consumers in Texas can use their power of choice to demand smarter energy solutions.
In this article we'll talk about energy options in your service area and discuss the pros and cons of energy deregulation.
But as we have discussed at EcoWatch, deregulation and a race to the bottom of prices also creates risk. Infrastructure falls into disrepair and when the grid fails, customers and legislators point fingers.

This article is designed to talk about the best energy companies in Texas, show how rates vary across the state, and give you some clarity on how Texas energy works. If you searched for other websites for info about "Texas energy" you probably encountered plenty of properties whose sole aim is to sell your information to an energy company. This is not one of those pages. This is meat to be informative. Our goal is to paint a picture of the landscape and talk in-depth about the green energy plans available in Texas.
Why Trust EcoWatch to Talk About Energy
An energy plan is something you have to have. Lights aren't optional for most people. For more than a decade we have written about the importance of renewables. Lately, through both legislation and media attacks, renewables have come under fire. We want to bring energy choice to the forefront, and center the conversation around renewables.
Independent journalists. Our team of journalists covers renewable energy, solar power, and electricity rates to help consumers understand the energy landscape.
Local perspective. We regularly source customer opinions, installation experts for quotes, and state-by-state data to better understand the energy landscape.
Simple education process. Like all our product-focused content, our mission is to help people buy things they were already going to buy in a way that helps the planet.
What is "energy deregulation" in Texas?
In most states, consumers get their electricity from a local utility company. The Texas energy market is different. In Texas the market is deregulated, meaning people and businesses have the power to shop a marketplace of electricity providers.
Renewable and "green" electricity in Texas
Texas leads the nation in wind energy generation. It's also a top five states for solar power. This means, despite being closely associated with oil, Texas consumers can pick from green energy plans. The hard part is finding specifics on what makes a plan "green."
To find the specifics of your Texas electricity plan, you have to look at your Electricity Facts Label. If your local Texas electricity provider is unclear about their renewable energy sources, try looking at the green energy plans from Rhythm, Gexa Energy, Chariot Energy, and Green Mountain Energy.
Finding the right energy plan in a deregulated market is hard. You have to research each electric provider, their energy rates, and then pass a credit check. The most important things to consider are (1) am I lowering my monthly bill, and (2) am I moving my home toward a more renewable source of power.
Types of electric plans in Texas
Fixed-rate plans
You pay the same rate every month, regardless of season or changes in the energy market. A fixed-rate electricity plans may require a contract with an annual commitment. An early termination fee can be charged if you leave the contract early. This plan may be right for you if you don't plan to move for a while.
Variable-rate plans
Variable-rate plans change based on the energy market. If demand goes up, so do your prices. We saw the consequences of variable-rate plans in the recent Texas energy crisis. When demand shot up, so did prices for energy customers.
Green energy plans
A green energy plan will rely on wind, solar, and other renewable resources. This is the plan for you if you want to offset 100 percent of your home or office emissions
Prepaid plans
Your credit score has an impact on how much you pay—as it's supposed to be a predictor of how likely you are to pay your bills. Prepaid energy plans allow people with poor credit to acquire power on a prepaid basis.
Texas electricity rates chart
Texas deregulated its energy market in 2002. Since then, consumers have been able to shop for the best rate in their area. It has also brought about a steady increase in competition since the marketplace opened. This means more choices and more for consumers to learn about the process of switching providers.
Source: eia.gov
Best Green Energy Plans in Texas
Here's a chart outlining some of the 100% renewable energy plans available in Texas. We're currently sourcing customer reviews for each company plan and will update this page regularly with new information.
| | | |
| --- | --- | --- |
| Plan | Term (months) | Rate (¢/kWh) |
| Gexa Saver Deluxe 12 | 12 | 6.9 |
| Gexa Saver Supreme 12 | 12 | 7.3 |
| Gexa Saver 12 | 12 | 7.8 |
| Gexa Saver Save Select 12 | 12 | 9.0 |
| Gexa Saver Value 12 | 12 | 12.1 |
| Gexa Saver Freedom 12 | 12 | 12.2 |
| Gexa Saver Freedom 36 | 36 | 12.2 |
| Gexa Saver Premium 12 | 12 | 13.5 |
| Gexa Saver Premium 24 | 24 | 13.5 |
| Gexa Superb Saver 12 | 12 | 14.8 |
| Green Mountain Pollution Free e-Plus 12 | 12 | 11.1 |
| Green Mountain Pollution Free e-Plus 24 | 24 | 11.3 |
| Lone Star Green 12 | 12 | 11.9 |
| Lone Star Green 24 | 24 | 11.6 |
| Lone Star Green 36 | 36 | 11.2 |
| Rhythm Texas Breeze 12 | 12 | 11.3 |
| Rhythm Texas Breeze 24 | 24 | 10.6 |
| Rhythm Texas Breeze 36 | 36 | 10.2 |
Energy shopping checklist
Download the Electricity Facts Label before signing any contract to be sure you understand the price you're paying for power; the percent of your power coming from renewable sources; and any fees (like early termination fees) attached to moving or changing your plan.
Texas Electric Companies FAQs
What if I own a business in Texas?
Texas commercial energy rates were the third-lowest in the nation in 2020. Texans who own companies can shop the same electricity market for their best electricity plan. Pricing info is available with each provider. Cheap electricity rates are also available for companies who work off-hours, and may include some free nights.
Is there a cheap energy rate in my area?
The U.S. Energy Information Administration (EIA) tracks average retail electric rates in Texas. The season, your energy usage, and your provider may impact your rate.
When you use the power can also effect your rate. Customers who use power at an off-peak time can get a lower rate.
What is the difference between a Utility and an Energy Provider?
Utilities are in charge of the operation and maintenance of the energy grid. Utilities are focused on the hardware and infrastructure that runs the grid. Texas utilities include Oncor and Centerpoint Energy.
How do I switch energy plans in Texas?
All a consumer has to do is (1) compare Texas electric providers, (2) switch your electric provider using an online service or form, and (3) verify your lower rate and green energy plan details using the Electricity Facts Label before completing the necessary paperwork.
What is Power to Choose Texas?
Power to Choose is the website managed by the Public Utility Commission of Texas (PUC). It lists energy plans for consumers to compare. It does not list commercial electricity rates.
How do I find the best Texas energy plan?
Most of the searchable energy rates are attached to a zip code, so you'll need to find the best rate for your area. A Texas energy plan can vary dramatically—so the most important thing is, again, the Energy Facts Label.
You have the power, as a Texan, to push your state toward more renewable energy consumption by switching your home to a green energy plan.
How much can I lower my electric bill?
Find the right plan for your home and lifestyle is key to controlling your energy costs. Electricity companies are competing for customers, which is an advantage for the homeowners.
Deregulation also means there are power outages related to mismanagement and lack of oversight. Every time you look to lower your electric bill, think of the quality of electricity company you are partnering with. How will they impact your wallet, your power supply, and the planet?
What is the best energy provider in Texas?
The top providers in Texas are TXU Energy, Reliant Energy, Direct Energy, and TriEagle Energy.
Electricity companies focused on renewable energy sources and green energy plans include Gexa Energy, Chariot Energy, Green Mountain Energy, and Rhythm.
Gexa Energy is also one of the cheapest electricity providers in the marketplace. They offer a number of affordable electricity plans that are all 100% green.
Many of you have contacted me wanting to know how you can help the people of Flint with the two-year long tragedy of drinking water contaminated by the radical decisions made by the Governor of Michigan. The offer is much appreciated by those who are suffering through this and who have not drank a glass of unpoisoned water since April of 2014.
Unfortunately, the honest answer to your offer of help is, sadly, you can't.
My NEW letter on Flint. "Do Not Send Us Bottles Of Water. Instead, Join Us In A Revolt." https://t.co/hfvJFk6p9Y RT! https://t.co/9iwIYSpzmV

— Michael Moore (@Michael Moore)1453907609.0
You can't help.
The reason you can't help is that you cannot reverse the irreversible brain damage that has been inflicted upon every single child in Flint. The damage is permanent. There is no medicine you can send, no doctor or scientist who has any way to undo the harm done to thousands of babies, toddlers and children (not to mention their parents). They are ruined for life and someone needs to tell you the truth about that. They will, forever, suffer from various neurological impediments, their IQs will be lowered by at least 20 points, they will not do as well in school and, by the time they reach adolescence, they will exhibit various behavioral problems that will land a number of them in trouble and some of them in jail.
That is what we know about the history of lead poisoning when you inflict it upon a child. It is a life sentence. In Flint, they've already ingested it for these two years and the toll has already been taken on their developing brains. No check you write, no truckloads of Fiji Water or Poland Spring, will bring their innocence or their health back to normal.
It's done. And it was done knowingly, enacted by a political decision from a governor and a political party charged by the majority of Michigan's citizens who elected them to cut taxes for the rich, take over majority-black cities by replacing the elected mayors and city councils, cut costs, cut services, cut more taxes for the rich, increase taxes on retired teachers and public employees and, ultimately, try to decimate their one line of defense against all this, this thing we used to call a union.
The amount of generosity since the national media finally started to cover this story has been tremendous. Pearl Jam sent 100,000 bottles of water. The next day the Detroit Lions showed up with a truck and 100,000 bottles of water. Yesterday, Puff Daddy and Mark Wahlberg donated 1,000,000 bottles of water! Unbelievably amazing. They acknowledged it's a very short-term fix and that it is.
Flint has 102,000 residents, each in need of an average of 50 gallons of water a day for cooking, bathing, washing clothes, doing the dishes and drinking (I'm not counting toilet flushes, watering plants or washing the car). But 100,000 bottles of water is enough for just one bottle per person—in other words, just enough to cover brushing one's teeth for one day.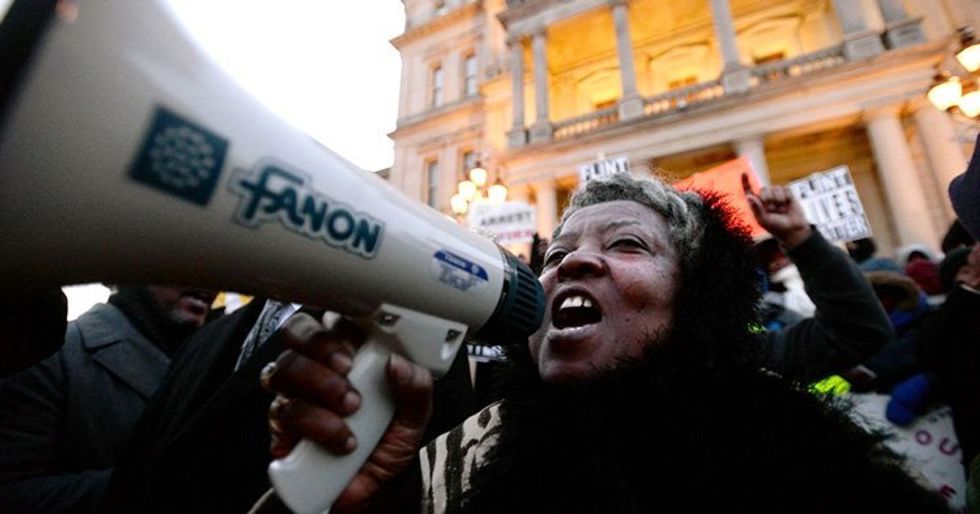 You would have to send 200 bottles a day, per person, to cover what the average American (we are Americans in Flint) needs each day. That's 102,000 citizens times 200 bottles of water—which equals 20.4 million 16oz. bottles of water per day, every day, for the next year or two until this problem is fixed (oh and we'll need to find a landfill in Flint big enough for all those hundreds of millions of plastic water bottles, thus degrading the local environment even further). Anybody want to pony up for that? Because that is the reality.
This is a catastrophe of unimaginable proportions. There is not a terrorist organization on Earth that has yet to figure out how to poison 100,000 people every day for two years—and get away with it. That took a governor who subscribes to an American political ideology hell-bent on widening the income inequality gap and conducting various versions of voter and electoral suppression against people of color and the poor. It was those actions that led Michigan's Republican governor to try out his economic and racial experiment in Flint (and please don't tell me this has nothing to do with race or class; he has removed the mayors of a number of black cities.
This and the water crisis in Flint, never would have been visited upon the residents of Bloomfield Hills or Grosse Pointe—and everyone here knows that). We have now seen the ultimate disastrous consequences of late-20th century, neo-conservative, trickle down public policy. That word "trickle," a water-based metaphor, was used to justify this economic theory—well, it's no longer a metaphor, is it? Because now we're talking about how actual water has been used to institute these twisted economic beliefs in destroying the lives of the black and the poor in Flint, Michigan.
So, do you still want to help? Really help? Because what we need in Flint—and across the country—right now, tonight, is a nonviolent army of people who are willing to stand up for this nation and go to bat for the forgotten of Flint.
Here's what you and I need to do:
1. Demand the removal and arrest of Rick Snyder, the Governor of Michigan.
When the police have an "active shooter" situation in a building, they must first stop the shooter before they can bring aid to the victims. The perp who allowed the poisoning to continue once he knew something was wrong—and his minions who cooked the evidence so the public and the feds wouldn't find out—must be removed from office ASAP. Whether it's via resignation, recall or prosecution, this must happen now because he is still refusing to take the aggressive and immediate action needed. His office, as recently as this past Thursday, was claiming the Environmental Protection Agency (EPA) had no legal authority to tell him what to do. You know the EPA—that federal agency every Republican politician wants eliminated? Governor Snyder is not going to obey the law. He has covered up the crime and I submit he has committed an act of voluntary or involuntary manslaughter. Last month I posted a meme of me holding a pair of handcuffs with the hashtag #ArrestGovSnyder:
Attorney General needs to arrest Gov. Rick Snyder for poisoning Flint. https://t.co/thcWQWmJlw #ArrestGovSnyder https://t.co/DFnbxrwn6l

— Michael Moore (@Michael Moore)1452127724.0
It went viral, so I posted a petition (link) to U.S. Attorney General Loretta Lynch asking her to arrest the governor—and asking President Obama to send help to Flint immediately. As each day brought a new revelation of the Governor's corruption or incompetence and with Rachel Maddow on a nightly tear, the momentum built. MoveOn.org and Democracy For America joined me in circulating our petition. We are now on our way to having a half-million signatures! Then Bernie Sanders became the first candidate to call for the Governor's removal. That same day, President Obama issued his first emergency order for Flint. The next night, Hillary Clinton fiercely called out the racist actions of the Governor.
You want to help? Sign the petition—and get everyone you know to sign it. Now. Another half-million signatures could become the tipping point we need. All eyes are on Flint.
2. Make the State of Michigan pay for the disaster that the State of Michigan created.
The governor wants the president to declare Flint a federal disaster zone and have him send federal money to fix the problem. Not so fast. All relief aid for Flint currently coming from the federal government to Michigan is going through the Governor's office to disburse. That is literally paying the fox to fix the chicken coop he destroyed.
As a Michigan resident and voter, I think that the people who elected Gov. Snyder must show some of that personal responsibility they're always lecturing about to the poor. The majority of my fellow Michiganders wanted this kind of government (they elected him twice), so now they should have to pay for it. This year the state treasury posted nearly a $600 million surplus. There is also another $600 million in the state's "rainy day fund." That's $1.2 billion—just about what Flint's congressman, Dan Kildee, estimates it will cost to replace the water infrastructure and care for the thousands of poisoned children throughout their growing years.
And before there is any talk of federal tax dollars being used (and, yes, they will be needed), the state legislature must remove the billion-dollars' worth of tax cuts the Snyder administration gave the wealthy when he took office. That will go a long way to helping not just Flint but Michigan's other destitute cities and school districts.
3. The federal government must then be placed in charge.
The state government cannot be trusted to get this right. So, instead of declaring a federal disaster zone, President Obama must declare the same version of martial law that Gov. Snyder declared over the cities of Flint and Detroit. He must step in and appoint a federal emergency manager in the state capitol to direct the resources of both the state and federal government in saving Flint.
This means immediately sending in Federal Emergency Management Agency (FEMA) in full force. It means sending in the Center for Disease Control (CDC) to determine the true extent of not just the lead poisoning in the water, but also the latest outbreak that has been discovered in Flint—a tenfold increase in the number of Flint people who've contracted Legionnaires Disease. There have now been 87 cases since the switch to the Flint River water and ten people have died. The local hospital has also noted sharp increases in a half-dozen other toxins found in people's bodies.
We need the CDC. The EPA must take over the testing of the water and the Army Corps of Engineers must be sent in to begin replacing the underground pipes. Like the levees in New Orleans, this will be a massive undertaking. If it is turned over to for-profit businesses, it will take a decade and cost billions. This needs to happen right now and Obama must be in charge.
4. Evacuate any and all Flint residents who want to leave now.
They've suffered long enough and, until the water is truly safe, no one should have to stay there who doesn't want to. The state and FEMA should move people into nearby white townships that are still hooked up to Lake Huron water.
5. For those who choose to stay in Flint, FEMA must create a temporary water system in each home.
One idea that has been suggested is to deliver two 55-gallon drums to every home in Flint. Each day water trucks will arrive to fill them with fresh clean glacial water from Lake Huron. The drums will have taps attached to them. People can't be expected to carry jugs of water from buildings that are miles away.
In the end, we will need to create a new economy and bring new employment to this town that created the middle class, that elected the first black mayor and that believed in and created the American Dream. They deserved more than to be poisoned by their own Governor—a Governor who thought that, because the people in the town were politically weak, he could get away with this unnoticed and without a fight. He figured wrong.
A crime against humanity has been committed against the people of Flint, making them refugees in their own homes. Tell me honestly: if you were living in Flint right now and you learned that your children had been drinking lead-filled water for two years and then you discovered that the Governor knew this and the state lied about it—tell me, just how fast would your head be spinning? With your children now poisoned and with the poisoning continuing ... is the word "nonviolence" dominating your thoughts right now? Are you absolutely, stunningly amazed how peaceful the people in Flint have remained? Are you curious how much longer that can last? I hope it does.
If you want to help Flint, sign the petition, demand that the federal government take action and then get involved yourself, wherever you live, so that this doesn't happen to you—and so that the people we elect know they can no longer break the law as they rule by fiat or indifference. We deserve much better than this.
YOU MIGHT ALSO LIKE
Seattle Sues Monsanto Over PCB Contamination, Becomes 6th City to Do So
Another Lead Water Poisoning Scandal Has Erupted, This Time in Ohio
Opposition Grows to Fracking and Fracking Infrastructure Projects
Matt Damon Slams Michigan Governor Over Flint Water Crisis: 'At the Very Least He Should Resign!'
Dear President Obama,
I am writing this to you from the place where I was born—Flint, Michigan. Please consider this personal appeal from me and the 102,000 citizens of the city of Flint who have been poisoned—not by a mistake, not by a natural disaster, but by a governor and his administration who, to "cut costs," took over the city of Flint from its duly elected leaders, unhooked the city from its fresh water supply of Lake Huron and then made the people drink the toxic water from the Flint River. This was nearly two years ago.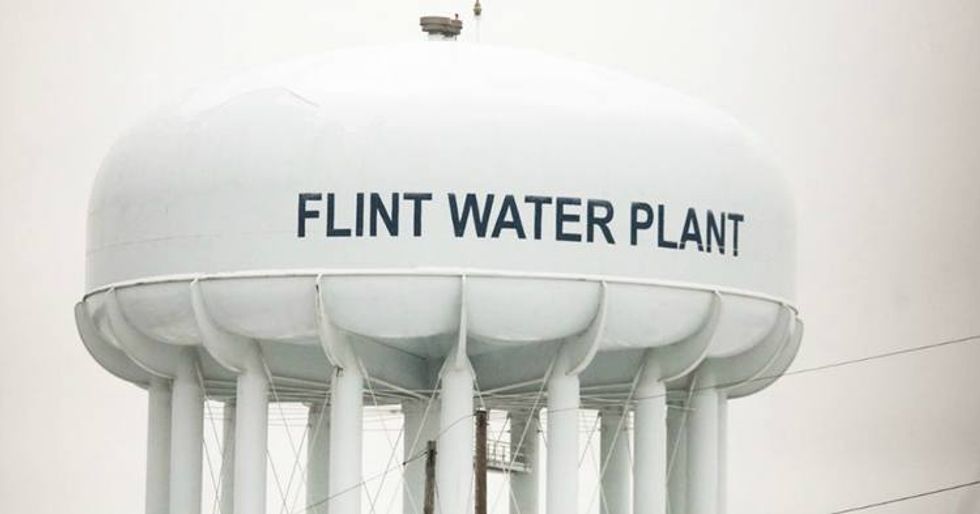 This week it was revealed that at least 10 people in Flint have now been killed by these premeditated actions of the Governor of Michigan. This governor, Rick Snyder, nullified the democratic election of this mostly African-American city—where 41 percent of the people live below the "official" poverty line—and replaced the elected Mayor and city council with a crony who was instructed to take all his orders from the governor's office.
One of those orders from the state of Michigan was this: "It costs too much money to supply Flint with clean drinking water from Lake Huron (the 3rd largest body of fresh water in the world). We can save a lot of money doing this differently. So unhook the city from that source and let them drink the water known as 'General Motors' Sewer'—the Flint River."
And, lo and behold, the Governor was right. It was a lot cheaper! Fifteen million dollars cheaper! And for saving all that money, it is now estimated that to repair the damaged water system in Flint, it will cost at least $1.5 billion. Someone had suggested to the governor, before he did this, that the river contained many toxins. He ignored that. One of his own people said maybe they should add a safe-to-drink "corrosive protector" to the water so that the toxins in said water wouldn't leach the lead off the aging water pipe infrastructure and into the drinking water. "How much will that cost?" asked the governor's office.
"Just $100 a day for only 3 months," the governor was told. Oh, $100 a day?! That's too much!, came the reply from the governor. Don't worry about the lead. "Lead is a seasonal thing," he would later explain to the public. "Heck, there's lead in everything!" Just let them drink the river water.
This is a city full of poor black people, a city where half the population (including myself) found a way to escape the misery and the madness (the crime rate is so bad, we've lead the country in murders for most years—and just to get an idea of what that means, if New York City had the same murder rate as Flint last year, more than 4,000 New Yorkers would have been killed, instead of the 340 who actually were).
"Mr. President, we need your help—today. 100,000 people have no water to drink, to cook with or to bathe in."
My city has been pummeled by General Motors, Wall Street and the state and federal governments. It's no surprise that the Republicans who control our State Capitol in Michigan didn't have to worry about any push-back from the residents of Flint because, to them, that's just a bunch of eviscerated black people who have absolutely no power, "don't vote for us any way" and have no means to fight back.
And now, after every single child in Flint has been poisoned with lead-filled water that the state knew a year ago was in that water, we learn that the governor's office sought to cover it up, hiding it not just from the defenseless African Americans they secretly fear and despise, but also hiding it from you and the federal government! (Link)
And, as if things couldn't get any worse, the news of 87 people with Legionnaires Disease happened this week. Ten Flint residents have been killed by this disease which is caused by tainted water. Not by gun violence, not in Afghanistan, but by an act of racism and violence perpetrated by the—I'm sorry to say—white, Republican governor of Michigan who knew months ago the water was toxic.
All fingers from the doctors and scientists point to the filthy, toxic Flint River as the cause of this Legionnaires Disease outbreak. Ten human souls deceased. In an average year, Flint already had an astounding eight cases (and rarely a death) of people contracting Legionnaires Disease. Since the citizens of Flint were forced to use the water from the Flint River, 87 cases of Legionnaires Disease have happened! And 10 deaths! And the number is expected to rise.
President Obama—the people of Flint are crying out to you for help. Our Congressman, Dan Kildee, has called the federal government for assistance. But he's been told that it's a "state issue" and that "the state of Michigan has to be the one asking the feds for the help."
No! The state is the one who caused this! That's like asking the fox if he could repair the chicken coop. No, Mr. President, we need your help—today. One hundred thousand people have no water to drink, to cook with or to bathe in.
This week, you are coming to Michigan to attend the Detroit Auto Show. We implore you to come to Flint, less than an hour's drive north of Detroit. Do not ignore this tragedy taking place every day. This may be Gov. Snyder's Katrina, but it will become your Bush-Flying-Over-New Orleans Moment if you come to Michigan and then just fly away. I know you don't want that image of flying over us as you "fake-sad" look down on Flint just as Bush did in that never-to-be-forgotten photo-op over New Orleans. I know you are going to come to the rescue here in Flint. I can't imagine any other scenario.
We need:
1. The Centers for Disease Control and Prevention here at once to truly assess all of the disease and damage that has been forced upon the people of Flint.
2. Federal Emergency Management Agency has to supply large water containers in every home in Flint—and they must be filled by water trucks until the new infrastructure is resolved.
3. The U.S. Environmental Protection Agency must take over matters from the state (can the governor be removed and replaced like he did to the mayor of Flint?). Immediately.
4. You must send in the Army Corps of Engineers to build that new water infrastructure. Otherwise, you might as well just evacuate all the people from Flint and move them to a white city that has clean drinking water—and where this would never happen.
President Obama, I'm counting on you to give us a response. Can we expect to see you, in Flint, in the next few days?
Yours,
Michael Moore
Filmmaker
Flint native
YOU MIGHT ALSO LIKE
Obama Declares Flint Water Crisis a State of Emergency
Hillary Clinton Demands Action on Flint Water Crisis at #DemDebate
Porter Ranch Methane Leak Spreads Across LA's San Fernando Valley
Trevor Noah on Flint Water Crisis: 'If Water Is Browner Than Me, I Don't Drink It'