This website uses cookies to ensure you get the best experience while browsing it. By clicking 'Got It' you're accepting these terms.


The best of EcoWatch, right in your inbox. Sign up for our email newsletter!

Texas National Guardsmen assist residents affected by flooding caused by Hurricane Harvey onto a military vehicle in Houston, Aug. 27. Army National Guard / Lt. Zachary West
Tom Toles
By Michael E. Mann, Susan Joy Hassol and Tom Toles
It is easy to understand why advocates for climate action have become somewhat dispirited in recent months. In the space of less than a year, we've seen the U.S. go from playing a leading role in international climate negotiations to now being the only nation in the world to renege on its commitment to the 2015 Paris climate accord.
EcoWatch Daily Newsletter
It's an honor to address this group of distinguished faculty, proud parents, supportive family members and friends.
We're gathered here in this idyllic location to celebrate the accomplishments of these young adults as they successfully complete one great challenge and prepare for others to come.
So please join me in congratulating Green Mountain College's (GMC) Class of 2017.
I coined the term "Serengeti Strategy" in my 2012 book The Hockey Stick and the Climate Wars. It's meant to describe how industry special interests and their patrons in power single out individual researchers or teams of scientists for attack, in much the same way lions of the Serengeti single out an individual zebra from the herd. In numbers, after all, there is strength, while individuals and small groups are far more vulnerable—and the purpose is two-fold: to undermine the credibility of wider scientific consensus and to discourage other researchers from sticking out their necks and participating in the public discourse over matters of policy-relevant science.
When it comes to attacks on climate scientists specifically, this strategy follows a familiar script. On the eve of a critical Congressional vote, hearing or climate policy summit, a late-breaking "scandal" suddenly erupts. Individual scientists are typically charged with claims of misconduct, fraud or data manipulation and soon enough, right-wing blogs, climate-denying websites and the conservative establishment media are trumpeting the accusations. In time, more objective media outlets are forced to cover the uproar, lending it credibility and oxygen, even as it is responsibly dissected.
With the public conversation hijacked, meaningful progress on climate policy is blunted and the vested interests seeking to maintain our current addition to fossil fuels prevail.
The latest example of this strategy began unfolding earlier this month when David Rose, an opinion writer for the British tabloid The Daily Mail—known for misrepresentations of climate change and serial attacks on climate scientists—published a commentary attacking Tom Karl, the recently retired director of the National Centers for Environmental Information at the U.S. National Oceanic and Atmospheric Administration (NOAA) and a scientist for whom I have deep respect. Rose accused Karl and his co-authors of having "manipulated global warming data" in a 2015 study published in the journal Science. These charges were built entirely on an interview with a single disgruntled former NOAA employee, John Bates.
Rose's charges and Bates' allegations have since withered under scrutiny by journalists—and by the wider scientific community, which quickly noted that the findings of the 2015 Science paper have been independently and repeatedly, verified by other researchers. Bates' secondary claims that data from the Science paper had not been properly archived and that it was "rushed" to publication, have also fallen apart.
Still, the mission of this latest disinformation campaign has been accomplished and with its mooring in technical details too remote for casual news consumers to fully investigate, the headlines will nonetheless create additional drag on any well-meaning efforts to address climate change.
As a climate scientist, I should know. I've found myself at the center of such episodes more than once, as a result of what's become known as the iconic "hockey stick" diagram that my co-authors and I had published in the late 1990s—a graphic display of the data that made plain the unprecedented rate of global warming. While the hockey stick is hardly the basis of the case for human-caused climate change, the visually compelling character of the graphic has made it—and indeed me—a target of climate change deniers for years.
A version of the so-called hockey-stick diagram, made famous by the author—and attacked by his critics.
In the fall of 2003, just days before a critical U.S. Senate resolution to acknowledge the threat of human-caused climate change, an article in the journal Energy & Environment—regarded by many as a haven for climate skeptics —engaged in unsubstantiated attacks of the hockey stick. A group with ties to the fossil fuel industry published an op-ed trumpeting those criticisms in USA Today on the morning of the Senate vote. Sen. James Inhofe, the Oklahoma Republican who has described climate change as "the greatest hoax ever perpetrated on the American people," gleefully read the article aloud during the Senate floor debate. While the critique on the hockey stick would soon be summarily dismissed, it served the short-term purpose of hijacking the discussion and the bill did not pass.
In just a matter of weeks, we will be confronted with a critical decision. It is not mere hyperbole to assert that we are facing a make-or-break election as far as climate change is concerned.
My co-author Tom Toles (the Pulitzer-winning editorial cartoonist for the Washington Post) and I put it this way in the concluding chapter of our new book, The Madhouse Effect: How Climate Change Denial Is Threatening Our Planet, Destroying Our Politics and Driving Us Crazy.
In the current presidential contest, we could not have a more stark choice before us, between a candidate who rejects the overwhelming evidence that climate change is happening and a candidate who embraces the role of a price on carbon and incentives for renewable energy.
If you care about the planet, the choice would seem clear.
If the appropriate catch-phrase for the 1992 election was "It's The Economy Stupid!," then this time around it ought to be "It's the PLANET stupid!."
A Toles cartoon used in the Madhouse Effect conveys the point masterfully:
Preventing dangerous climate change remains a daunting challenge, but we've made some real progress in the past few years. Global carbon emissions are actually on the decline, renewable energy is dramatically on the rise, and we achieved a monumental international agreement in Paris last December that promises to help steer us onto a path that just may avert dangerous 2C planetary warming.

A pair of Toles cartoons from the Madhouse Effect conveys both the auspicious nature of these developments and their fragility in the current political environment:
In this next election, we need to decide whether we are going to build on the successes of the Obama administration—which has used a combination of bold executive actions and international diplomacy to achieve action on climate change even in the presence of intransigence, denial and outright hostility from congressional republicans—or whether we are going to retreat back into the energy-equivalent of the stone age, continuing to degrade our planet through the profligate burning of increasingly dangerous fossil carbon even as the rest of the world moves forward, embracing the renewable energy revolution destined to be the hallmark of the 21st century.
Once again, the decision comes down to a single election that is now just weeks away. In the first presidential debate, though the moderator disappointingly failed to ask a question about was is arguably the single most critical issue facing human civilization today—human-caused climate change—the Democratic nominee for President, Hillary Clinton, forced the issue herself by calling out Donald Trump for his denial of climate change, noting that he, for example, in a past tweet dismissed climate change as a hoax perpetrated by the Chinese (indeed Trump has posted at least a half-dozen climate change-denying tweets over the past few years).
Seemingly recognizing how self-discrediting it is to deny a phenomenon that people are now witnessing in their everyday lives, Trump denied having made the claim. But realizing that the damning evidence was available for everyone to see (via a tweet that remains in Trump's twitter feed), his campaign sought to quickly clarify the next day that, despite what he might have stated in the past, he no longer believes climate change to be a hoax. Progress, right? Unfortunately not. Consider, for context, this Toles cartoon from the book:
The Trump campaign, it turns out, simply gave us a bait-and-switch, attempting to pivot from one patently absurd climate change denial talking point ("it's not happening!") to a seemingly more palatable, albeit equally indefensible one ("it's natural, not human-caused!").To be clear, Donald Trump and his campaign still firmly rejects the scientific evidence that climate change is human-caused, opposing the only action (a reduction of fossil fuel burning) that can save us from ever-more dangerous climate change impacts. A cartoon drawn exclusively for the Madhouse Effect captures the Trump worldview:
History will judge us by what we chose to do at the crucial moment in time. A group of scientists, including myself, have consequently decided that we must speak out about the irreparable harm that would be done by a climate change-denying, anti-science-driven Trump presidency. We have encouraged other members of the scientific community to join us:
It would nevertheless be a mistake to consider the problem to be limited to the Republican standard-bearer. It penetrates far more deeply. Whether to even accept the overwhelming evidence that climate change is real and human-caused has become a partisan political issue, thanks in large parts to the efforts of bad actors like the Koch Brothers to poison both our atmosphere and our public discourse. In the toxic environment that exists in today's Republican party, even the most conservative Republican incumbents are subjected to well-funded primary challenges if they choose to admit that climate change is real and an issue we must contend with.
The one thing that every American voter can do to try to change that is to (a) vote in the upcoming election, and (b) vote CLIMATE, not just at the top of the ticket, but all the way down.
The future of this planet could quite literally lie in the balance.
Earlier this month, my co-author Tom Toles (the Pulitzer-winning editorial cartoonist for The Washington Post) and I published our new book, The Madhouse Effect: How Climate Change Denial Is Threatening Our Planet, Destroying Our Politics, and Driving Us Crazy.

Some great early reviews of the book can be found here, here, here, here, here, here and here.
Tom and I had a commentary excerpting parts of the book in Sunday's The Washington Post. In addition to calling out the most prominent current climate change denier of them all—Donald Trump, we profiled eight other leading climate change deniers in the world of politics, individuals whom—as the commentary notes—have been responsible for "clouding the climate change debate" and stalling action by participating in "a campaign of deliberate misinformation."
The Washington Post
Among the rogues gallery of leading climate change deniers are (from left to right, top to bottom): Congressman Joe Barton (R-TX), fossil fuel shill Steve Milloy, media mogul Rupert Murdoch, self-styled "Skeptical Environmentalist" Bjorn Lomborg, scientist-turned-denier-for-hire Fred Singer, the inimitable Sarah Palin, conservative funders Charles and David Koch (aka the Koch Brothers), and "swift-boat" architect Marc Morano.
Among other notable honorable mentions is U.S. Sen. James Inhofe (R-Okla.). Though Inhofe didn't make the rogues gallery above, he gets the attention he deserves in book.

From Chapter 6 of the book, "Hypocrisy, They Name is Climate Change Denial":
Consider Republican Senator James Inhofe of Oklahoma, a recipient of extensive funding over the years from the fossil fuel interests including ExxonMobil and the Koch Brothers. He is perhaps best known for declaring that climate change is the "greatest hoax ever perpetrated on the American people" and for introducing a snowball on the U.S. Senate floor as ostensible proof against global warming.
And Inhofe, of course, gets the full TTT (Tom Toles Treatment):
Tom Toles
When it comes to hypocrisy and irony, Inhofe is truly king. Under the heading of "you can't make this stuff up," there is, for example, this particular episode that we recount in the book:

Back in July 2011, Inhofe was selected as keynote speaker at the Heartland Institute's annual global warming denier "conference." He had to cancel out at the last minute however. He had grown ill swimming in a lake back in his home state of Oklahoma. The lake was suffering from an algal bloom as a result of the unprecedented heat and drought that Oklahoma experienced that summer—an event that scientists have determined was tied to climate change.
Though he quipped afterward, "the environment strikes back," he was obviously undeterred in his climate change-denying ways, remaining one of the most prominent advocates for fossil fuel interests in the U.S. Senate.
Which, finally, brings us to Inhofe's hometown newspaper, The Oklahoman, named the "Worst Newspaper in America," by the Columbia Journalism Review (CJR) for "conformance to the right-wing political views" of the paper's owners and its "alleged racist hiring practices" among other things.
The Oklahoman has an unusually atrocious record on all things environment. As CJR notes:
Where else can you find a big-city editorial page—run by a Christian Coalition devotee plucked from Washington D.C.'s right-wing Free Congress Foundation—that not only demonizes ... environmentalists ...
And it hardly comes as a surprise that The Oklahoman, like Inhofe, is a major promoter of climate change denialism, acting as thinly veiled advocates for the fossil fuel lobby that dominates their state rather than a conduit of objective news for their readers.
So how low could they go, you might ask? This is how low.
Stan Glantz has been called the "Ralph Nader of the anti-tobacco movement." He has led the effort to expose how tobacco interests hid the detrimental effects of their product on human health from the public and has advocated staunchly for policies to reduce smoking.
Glantz has explicitly likened the fossil fuel industry's campaign to deny the science of human-caused climate change to the earlier campaign by the tobacco industry to deny the adverse health impacts of their product. Same modus operandi, even some of the same paid deniers-for-hire, like Fred Singer listed in the rogues gallery above.
Just last week, Glantz published a new high-profile study in the Journal of the American Medical Association (JAMA) exposing how yet another industry tried to hide the adverse health impacts of their product. Glantz and colleagues found internal documents revealing that the junk food industry paid scientists to "play down the link between sugar and heart disease and promote saturated fat as the culprit instead."
So, how does The Oklahoman cover this development? You guessed it: by turning the entire matter on its head, attempting to use it as an opportunity to blame the government rather than the powerful corporate interests who were exposed by Glantz's research. And, for good measure, they attempt to use the episode to attack the science of climate change!
Indeed, they attack me specifically, resurrecting untruthful climate change denier talking points about the the discredited 'climategate' affair, and the widely debunked attacks on the famous "hockey stick" curve my co-authors and I published in the late 1990s (if you want to learn the truth behind all of this, consider reading my previous book The Hockey Stick and the Climate Wars).

It is possible that such a twisted viewpoint, wherein an obvious example of industry malfeasance is used to attack the scientific community, including climate scientists specifically, could arise purely from profound ignorance, rather than cynicism and malice. Yes, anything is possible.
But in the end, we see that Hypocrisy: Thy Name is Truly Climate Change Denial. Thy Nickname might just be The Oklahoman.
Michael Mann is Distinguished Professor of Atmospheric Science at Pennsylvania State University and author of The Hockey Stick and the Climate Wars, Dire Predictions: Understanding Climate Change, and just out in September, The Madhouse Effect, with The Washington Post editorial cartoonist Tom Toles.
Several weeks ago, on June 17, I provided testimony about the threat of human-caused climate change to the Democratic Party Platform drafting committee in Phoenix, Arizona. Fittingly, my testimony was just one day before record heat struck Phoenix.
At the beginning of my testimony, I made the point, using slightly lofty language appropriate for the occasion, that the impacts of climate change are now so profound that we no longer need sophisticated signal-detection machinery to see them:

I am a climate scientist and have spent much of my career with my head buried in climate model output and observational climate data, trying to tease out the signal of human-caused climate change.
What is disconcerting to me and so many of my colleagues is that these tools that we've spent years developing increasingly are unnecessary because we can see the impacts of climate change playing out in real time on our television screens in the 24 hour news cycle.
Regardless of how you measure the impacts of climate change—whether it be food, water, health, national security, our economy—climate change is already taking a great toll. And we see that tool in the damage done by more extreme floods, like the floods we've seen over the past year in Texas and in South Carolina. We see it in the devastating combination of sea level rise and more destructive hurricanes which has led to calamities like "Superstorm" Sandy and what is now the perennial flooding of Miami beach. We see it in the unprecedented drought, like that which continues to afflict California, a doubling in the area of wildfire, fire burning in the western U.S. and indeed, in the record heat we may see this weekend in phoenix.
The signal of climate change is no longer subtle. It is obvious.
My point—that we don't need sophisticated techniques to identify the human fingerprint present in e.g. the doubling of extreme heat or the tripling (in fact) of western wildfire that we have seen in the U.S. in recent decades, ought to be clear to any honest observer.
It would be absurd to conclude that I was arguing that climate models and climate data are no longer necessary in climate science, especially given that they continue to form the bread and butter of my own scientific research (I've published over a dozen scientific articles using climate models and climate data during the past year alone).
So you can imagine my shock—yes, shock—that climate change deniers and conservative media outlets that serve as mouthpieces for them, would seek to convince their readers of just that.
It is an instructive ontological exercise to follow this particular affair—from its inception through the latest developments, sort of like observing a deviant version of the game "telephone" (or "Chinese whispers" for British readers) wherein the participants are actually trying to distort the message as it is passed along from one person to the next.
It all started on Monday, June 27 with Steven J. Milloy and his outlandishly untruthful claim "Michael Mann says there is no need for statistics."
Milloy, who actually calls himself the "junk man" with no apparent sense of irony, is a denier-for-hire who happily takes money from tobacco interests, chemical interests and of course fossil fuel interests to do their dirty work, attacking seemingly any scientist whose findings threaten their financial bottom line.
Milloy frequently publishes columns in the notorious Washington Times. Which brings us to the next stage of the affair ...
Later that same day, the Washington Times—a paper founded by Rev. Sun Myung Moon of the Unification Church, ran a piece by one Valerie Richardson entitled Michael Mann, scientist: Data 'increasingly unnecessary' because 'we can see climate change.'
Somehow "tools" have become "data." It almost seems like they're going out of their way to misrepresent my statements, doesn't it?
Almost as if to demonstrate that they too have absolutely no sense of irony, the Washington Times referred to me in the piece as a "Leading climate doomsayer" (the Unification Church, you see, is often considered a doomsday cult). The Washington Times also happens to be closely tied to ALEC—a Koch Brothers-funded organization that promotes climate change denialism and subverts efforts to incentivize renewable energy.
Next up at bat, Tucker Carlson's The Daily Caller, which later that day pushed the egregiously false headline Famed Climate Scientist Claims Data Now 'Unnecessary' To Measure Global Warming.
Understand that we have now gone all the way from what I actually said (that climate change impacts have become so profound now that we often don't need fancy techniques to see them) to something so patently absurd I couldn't possibly have said it (that we don't need data to measure global warming).
The Daily Caller, incidentally, is so fully immersed in Koch cash that is is listed as a "partner organization" of the Charles Koch Institute.
Witness now, after a two week hiatus, the hand-off from the Koch Brothers to the Scaife Foundations, the Pittsburgh Tribune-Review, to be specific, which was founded by the now-deceased Richard Mellon Scaife. On July 13, the Tribune-Review perpetuated the smear with a climate change-denying editorial containing the farcical howler "[Mann] says facts no longer are necessary to substantiate the climate change story line." Just when you thought the distortion couldn't get more egregious ...
One day later, on July 14, the execrable Tribune op-ed was republished on the right wing website GOPUSA, a website connected to—you guessed it—Richard Mellon Scaife (though a bit of detective work is required to connect the dots).
Oil baron Richard Mellon Scaife and his empire were behind what Hillary Clinton famously referred to as the "vast right-wing conspiracy" to take down her husband, President Bill Clinton (for the record, she was correct).
Certainly, you're thinking, it must be a coincidence that nearly every player in this latest episode seems to be tied in some way to either the Koch Brothers or Scaife Foundations.
Or maybe not so much ...
Richard Mellon Scaife and the Scaife Family Foundations are, along with the Koch Brothers, the greatest private funders of climate change denialism, having stepped up their funding in recent years as fossil fuel corporations like ExxonMobil have come under increased scrutiny for their funding of climate change denial.
As I discuss in my book The Hockey Stick and the Climate Wars about the attacks against me by climate change deniers looking to discredit the iconic "Hockey Stick" graph my co-authors and I published in the late 1990s (p. 64):
Wealthy privately held corporations and foundations with close interests in, or ties to, the fossil fuel industry, such as Koch Industries and the Scaife Foundations, have become increasingly active funders of the climate change denial campaign in recent years. Unlike publicly traded companies such as ExxonMobil, these private outfits can hide their finances from public view, and they remain largely invulnerable to outside pressure. In recent years, as ExxonMobil has been pressured by politicians on both sides of the aisle to withdraw from funding the climate change denial movement, Koch and Scaife have stepped up, contributing millions of dollars to the effort.
Koch funding played a major role in the faux scandal known as "climategate" which involved the misrepresentation of scientists based on out-of-context quotes (sound familiar?) taken from emails of theirs that had been stolen off a university computer server in the UK (p. 220):
One report showed that twenty or so organizations funded at least in part by Koch Industries had "repeatedly rebroadcast, referenced and appeared as media spokespeople" in stories about climategate.
Meanwhile, the Scaifes funded many of the personal attacks intended to discredit me and the "Hockey Stick" (p. 228):
In mid-January 2010, a group known as the National Center for Public Policy Research (NCPPR), which receives funding from the Scaife Foundations, led a campaign to have my NSF grants revoked. The perverse premise was that I was somehow pocketing millions of dollars of "Obama" stimulus money simply because I was a coinvestigator on several recently funded NSF grants. These absurd distortions were--no surprise--promoted by Glenn Beck, Rush Limbaugh, and others of similar persuasion.
and (p. 229):
Two Scaife-funded groups.. the Southeastern Legal Foundation and the Landmark Legal Foundation, had swung into action. The latter had already sued the University of Massachusetts and University of Arizona to obtain copies of my personal e-mails with my two hockey stick coauthors, while in May 2010 the former demanded extensive information from the NSF regarding grants that had been made to me as well as to several of my colleagues at Penn State, the University of Chicago, the University of Washington, the University of Arizona, and Columbia University.
It began to strike me as curious that so many of the demands that I be investigated could be traced back to organizations with ties to the Scaife Foundations. The Commonwealth Foundation, a Pennsylvania organization that is the recipient of considerable Scaife largess, for example, had been pressuring Penn State University to fire me since climategate broke in late November 2009. It managed to get the sympathetic Republican chair of the Pennsylvania state senate education committee to threaten to hold Penn State's funding hostage until "appropriate action is taken by the university against associate [sic] professor Michael Mann." Indeed, it was the Commonwealth Foundation attacks that essentially forced Penn State to launch its initial inquiry into the various allegations against me in December 2009 (similar inquiries and investigations of CRU scientists were initiated in the United Kingdom). The Commonwealth Foundation kept the pressure on for months through a barrage of press conferences and press releases attacking me personally and criticizing Penn State for its supposed "whitewash" treatment of any number of supposed offenses. It also ran daily attack ads against me in our university newspaper The Collegian for an entire week in January and helped organize a protest rally against me on campus. It is likely that these attacks forced Penn State's hand yet again, leading it, following the completion of the initial inquiry in February 2010, to move to a formal investigation, despite having found no evidence of misconduct in the initial inquiry phase.
What is the take-home message here?
As we head into the 2016 presidential election, it is clear that polluting interests and other bad actors are mobilized. They are doing their best to continue the attacks on science and scientists whose findings threaten their bottom line, to distract the public, to promote climate change denial propaganda and to support politicians who will support their agenda of denial and inaction.
The best defense is to study the positions of the candidates and make sure that climate action is at the top of your agenda when you go to the voting booth this fall.
Fossil fuel companies have been misleading the public and policymakers about the risks of their products for decades. These corporations should obviously be held accountable.
It's odd that we aren't able to discuss this straightforwardly. After all, accountability is common for other industries. When companies mislead the public about the health effects of the drugs they market, for instance, we hold them accountable.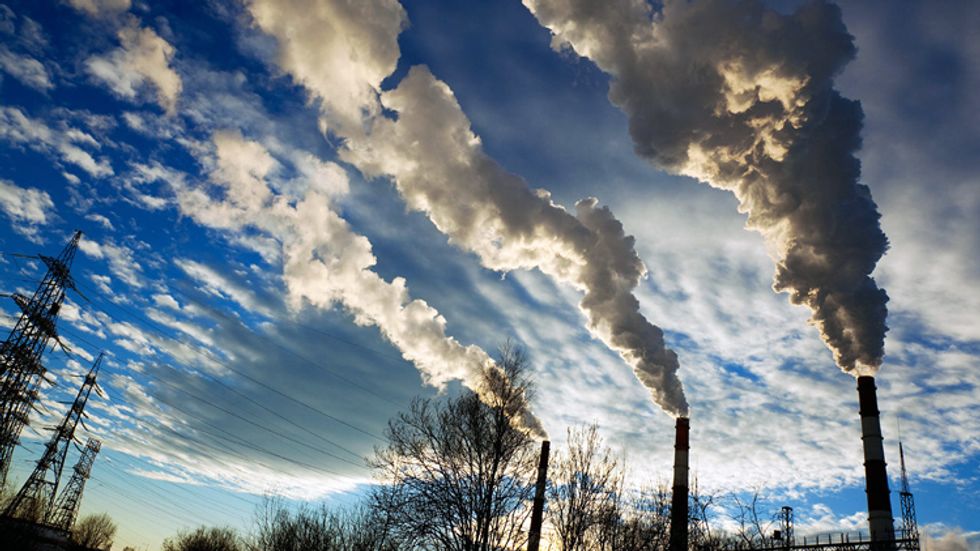 Similarly, when asbestos manufacturers misled the public about the cancers their product caused, they were held accountable. When Enron misled its customers and shareholders, it was held accountable. And when we learned that Volkswagen cheated consumers by secretly embedding an emissions control "kill switch" in it's diesel vehicles, citizens and government officials swung into action to hold the company accountable.
Most significantly, when we discovered that the tobacco industry hid information about the addictive nature and deadly toll of cigarettes and systematically engaged in a decades-long campaign to misinform the public, we held the industry accountable.
Given this history, let's be clear about what we now know regarding the fossil fuel industry's history of deception on climate change.
As early as the late 1970s, executives at fossil fuel companies were well aware that burning oil, gas and coal could cause irreversible and dangerous climate change. Indeed, as early as 1981, ExxonMobil was weighing whether or not to develop carbon-intense gas reserves off the coast of Indonesia because of the climate risks associated with the project.
ExxonMobil and other fossil fuel companies chose, however, to suppress what its own scientists knew. From 1979 to 1983, the American Petroleum Institute operated a scientific task force to study climate change. According to a researcher who worked on the project, it was taken out of scientists' hands and quickly buried—and forgotten—until reporters rediscovered it just last year.
Public agencies and university scientists were also tracking climate change around this same, of course, and the first high-profile climate hearings in the U.S. Congress occurred around 1988. That's when fossil fuel industry lobbyists and executives started pouring more money into front groups and advocacy campaigns aimed at spreading doubt about climate science and blocking action to reduce emissions.
Leonard Bernstein, an ExxonMobil scientist who advised one of the industry's public policy groups in the mid-1990s attempted to set the companies straight on climate science. He was rebuffed.
Despite executives' claims to the contrary, many oil and coal companies continue to support groups like the American Legislative Exchange Council (ALEC), which spreads misinformation about climate science to state legislators, but denies that it denies climate science. And in the past few months, we've learned that now-bankrupt coal giant Alpha Natural Resources was funding a lawyer who has carved out a niche for harassing climate scientists.
If any other industry took such drastic steps to hide obvious risks from its products, would they find such ready defenders in the editorial pages of Rupert Murdoch's Wall Street Journal (WSJ)?.
Consider in this regard the deeply deceptive recent WSJ op-ed by David B. Rivkin Jr., who writes for the National Review and is a principal attorney in the fossil fuel industry attacks on the Environmental Protection Agency clean power plan, and Andrew M. Grossman, who represents the Competitive Enterprise Institute (CEI), an organization with long-established ties to both the fossil fuel industry and the tobacco industry before it, including its ongoing affiliation with Chris Horner, the very lawyer Alpha was funding to attack climate scientists.
The main defense Rivkin and Grossman muster in the face of calls to hold companies accountable for funding deceptive campaigns about their products is that under the First Amendment, the government cannot prevent them or the groups they work with from speaking out.
No doubt. But when state and U.S. prosecutors successfully sued the tobacco companies for systematically misleading the public about the risks their products caused, no one's free speech rights were infringed. Instead, tobacco companies agreed to pay states for health care costs associated with their products, just as Volkswagen will have to pay its customers and other people who suffered from its deceptions.
The fossil fuel industry can and should be held accountable in the same way. And indeed, thousands of Americans are calling on state attorneys general and the Department of Justice to act.
Rivkin and Grossman also peddle falsehoods about me specifically. For example, they launder a popular myth in climate change denier circles that the famous "Hockey Stick" curve which my co-authors and I published sixteen years ago is "an artifact of [our] statistical methods." The claim is flatly untrue.
Our key finding, that the recent warming trend is unprecedented over at least the past 1,000 years, has not only been overwhelmingly affirmed by more than a dozen subsequent studies, but has been vastly strengthened. There is now widespread consensus in the scientific community that recent warmth is unprecedented over an even longer time frame (for the full story behind fossil fuel industry-funded attacks on me and the hockey stick, read my book The Hockey Stick and the Climate Wars).
Perhaps more to the point, Rivkin and Grossman completely mislead readers about why CEI and the National Review are being sued by me. The lawsuit is not about their political stances or even their feelings or beliefs about climate policy or climate science. It focuses instead on their clients false, defamatory and libelous accusations that my work is fraudulent.
Indeed, given their affiliations with groups that have regularly attacked climate scientists, it's quite galling to see Rivkin and Grossman compare themselves to Galileo Galilei, the famous Italian scientist who bravely insisted that the Earth orbited the Sun and not the other way around. Such ironic attempts by climate change deniers, anti-vaxxers and other science critics to usurp the mantle of legitimate scientific skepticism is so commonplace it has a name—the Galileo Gambit.
So let's be clear about the facts: Galileo had the courage to speak truth to the powerful interests of his day in the Roman Catholic Church, just as two generations of scientists have tried to speak truth about climate change to executives and lobbyists in the fossil fuel industry.
The Catholic Church declared Galileo a heretic and placed him under house arrest. Oil industry lobbyists don't have that kind of power, thankfully, so they merely suppressed internal climate research and started funding groups like CEI to publicly attack independent climate researchers, instead.
If he were alive today, Galileo would be appalled to witness industry shills attempt to wrap themselves in his legacy. He would not be on the side of powerful fossil fuel interests who fund attacks on scientific research; perhaps this time, ironically, he would be on the side of his Pope and the scientists whose council he regularly seeks, who respect facts and evidence and recognize the reality we live in for what it is.
Michael Mann is Distinguished Professor of Atmospheric Science at Pennsylvania State University and author of The Hockey Stick and the Climate Wars: Dispatches from the Front Lines and the recently updated and expanded Dire Predictions: Understanding Climate Change.
YOU MIGHT ALSO LIKE
Rockefeller Fund Divests From Fossil Fuels, Slams Exxon
Bill McKibben: Fracking Has Turned Out to Be a Costly Detour
SEC Forces Exxon to Bring Climate-Friendly Accounting to Shareholder Vote
In the wake of the COP 21 UN climate summit in Paris, a number of important questions still remain unanswered. Take for example the commitment reached by the 197 participating nations to limit warming below the "dangerous" level of 2C relative to pre-industrial time (neglecting for the time being the aspirational goal of a substantially lower 1.5C limit acknowledged in recognition of the danger posed to low-lying island nations). The question immediately arises: How much time do we have until we reach the danger zone? How close are we to the 2C warming limit?
It has been widely reported that 2015 will be the first year where temperatures climbed to 1C above the pre-industrial. That might make it seem like we've got quite a ways to go until we breach the 2C limit. But the claim is wrong. We exceeded 1C warming more than a decade ago. The problem is that here, and elsewhere, an inappropriate baseline has been invoked for defining the "pre-industrial." The warming was measured relative to the average over the latter half of the 19th century (1850-1900). In other words, the base year implicitly used to define "pre-industrial" conditions is 1875, the mid-point of that interval. Yet the industrial revolution and the rise in atmospheric CO2 concentrations associated with it, began more than a century earlier.
Unfortunately, even the Intergovernmental Panel on Climate Change (IPCC) has fallen victim to this problematic convention in their latest (5th) assessment report. The key graphic (Fig. 1 below) in the Summary for Policy Makers ("SPM") of the report measures net anthropogenic (i.e. human-generated) carbon emissions and the resulting warming that can be expected. Both the emissions and warming and measured relative to an 1870 baseline.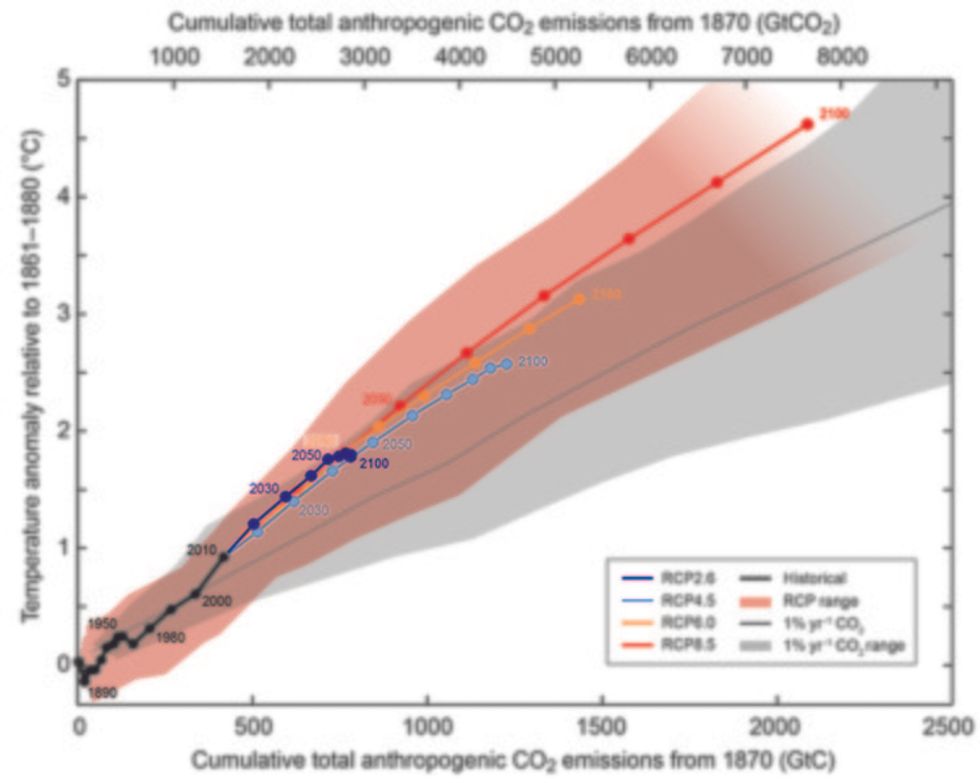 The various future emissions scenarios are called "RCP"s (for "Representative Concentration Pathways") and they reflect varying assumptions regarding our future efforts to limit carbon emissions. The "RCP 2.6" scenario (dark blue), the most aggressive of the scenarios (from the standpoint of ramping down carbon emissions), corresponds to limiting net carbon emissions to about 3000 Gigatons (3 trillion tons) of CO2. We've already burned through about 2,000 Gigatons, i.e. we have expended two thirds of our apparent "carbon budget."
Achieving those limits in emissions would in turn limit maximum atmospheric CO2 concentrations to just under 450 parts per million ("ppm"). Pre-industrial levels were about 280 ppm. Current levels are just above 400 ppm and increasing by about 2.1 ppm per year. At that rate, we'll reach 450 ppm in a little over two decades. So obviously we need to reduce our carbon emissions rather rapidly if we are to avoid crossing the 450 ppm threshold.
The IPCC graphic suggests that keeping net CO2 emissions below 3 trillion tons—and thereby stabilizing maximum CO2 concentrations below 450 ppm—would likely keep warming below the "dangerous" 2C limit. Unfortunately, that conclusion is overly optimistic because, once again, it relies on the use of an artificially warm, too-recent baseline for defining the pre-industrial period.
To better understand the problem, consider this graph (Fig. 2 below) from an article my colleagues and I published in the American Meteorological Society's Journal of Climate back in 2013.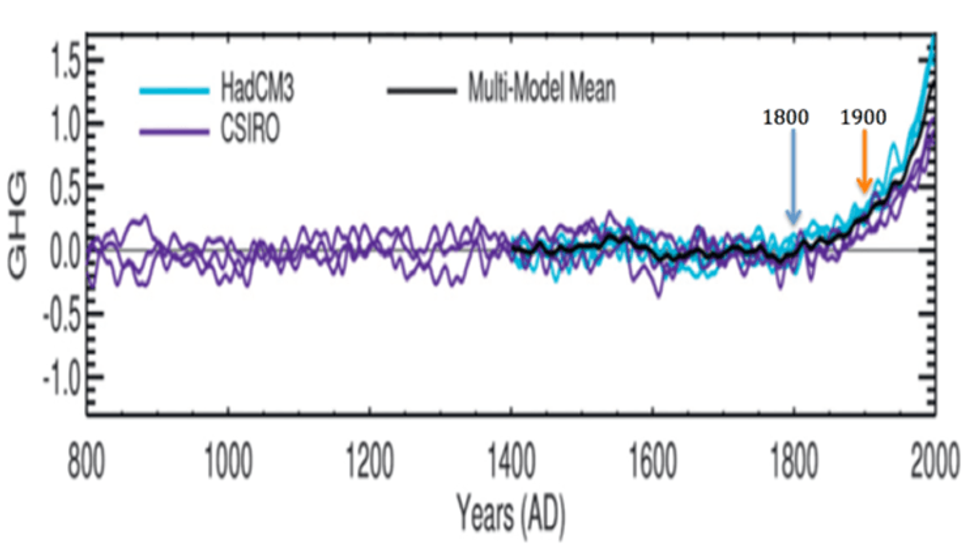 Source: Schurer et al (2013)
The graph shows the warming of the Northern Hemisphere (in degrees C) due to human-generated greenhouse gases ("GHG") alone, as estimated by the various climate models used in the IPCC 5th assessment report (the black curve—the "multimodel mean" is the average over all of the climate model simulations that were done). The graph has been annotated to indicate the warming observed by 1800 and 1900. It is evident that roughly 0.3C greenhouse warming had already taken place by 1900, and roughly 0.2C warming by 1870. While that might seem like a minor amount of warming, it has significant implications for the challenge we face in stabilizing warming below 2C, let alone 1.5C, as we shall see below.
Thanks to a months-long investigation by the Pulitzer-prize winning InsideClimate News, we learned last week that ExxonMobil's own scientists had secretly confirmed the science behind human-caused climate change as early as the late 1970s.
Yes—this is the same ExxonMobil that has funded efforts to attack the science of climate change for more than two decades. As I recount in The Hockey Stick and the Climate Wars, I found myself at the center of those attacks because of the iconic Hockey Stick graph my co-authors and I published back in the late 1990s. The graph highlighted, in an easily understandable way, the unprecedented nature of modern global warming. As a result, it proved greatly inconvenient for vested interests, like ExxonMobil, who are opposed to regulation of carbon emissions—from the burning of fossil fuels—that are behind the warming of the globe and the associated changes in climate.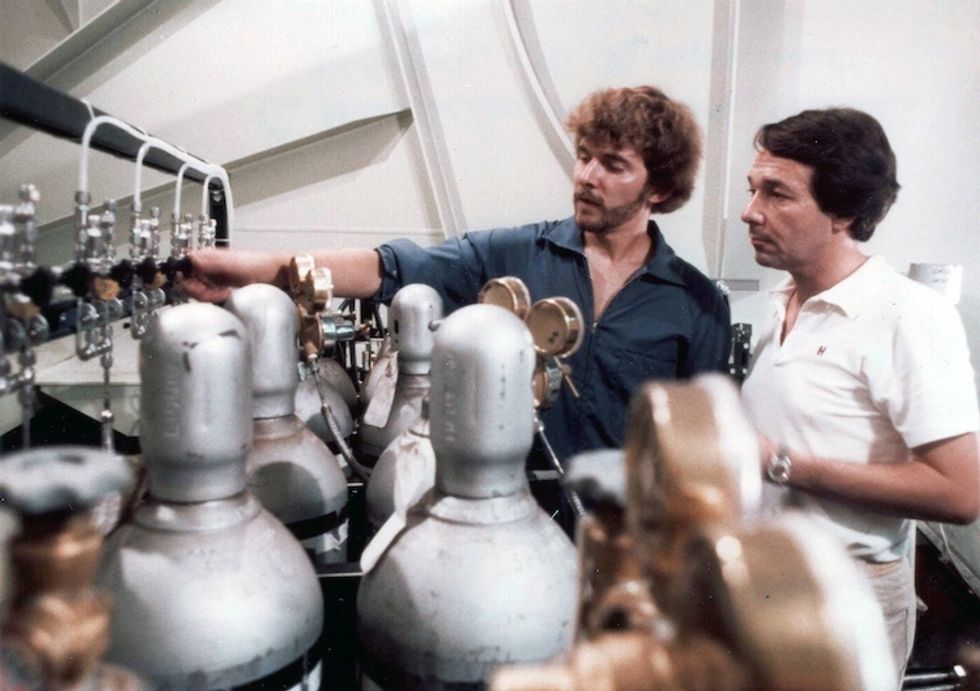 The parallels with the tobacco industry, which knew about—and hid from the public—the health dangers of cigarette smoking, are staggering. Indeed, the industry-funded climate change denial campaign, as I discuss in The Hockey Stick and the Climate Wars, has its roots in the earlier tobacco industry disinformation campaign.
In their blockbuster new article, InsideClimate News details how key senior Exxon scientists had warned top executives about the reality and threat of continued fossil fuel burning and the associated warming of the planet and changes in climate "well before most of the world had heard of the looming climate crisis." They describe a rather prescient presentation made by one of Exxon's senior scientists as far back as July 1977:
At a meeting in Exxon Corporation's headquarters, a senior company scientist named James F. Black addressed an audience of powerful oilmen. Speaking without a text as he flipped through detailed slides, Black delivered a sobering message: carbon dioxide from the world's use of fossil fuels would warm the planet and could eventually endanger humanity.
"In the first place, there is general scientific agreement that the most likely manner in which mankind is influencing the global climate is through carbon dioxide release from the burning of fossil fuels," Black told Exxon's Management Committee, according to a written version he recorded later.
ExxonMobil, we learn from InsideClimate News, chose as a result to fund an internal research effort over the next few years to assess the threat posed by climate change:
Exxon budgeted more than $1 million over three years for the tanker project to measure how quickly the oceans were taking in CO2. It was a small fraction of Exxon Research's annual $300 million budget, but the question the scientists tackled was one of the biggest uncertainties in climate science: how quickly could the deep oceans absorb atmospheric CO2? If Exxon could pinpoint the answer, it would know how long it had before CO2 accumulation in the atmosphere could force a transition away from fossil fuels.
They even worked closely with outside climate researchers, ultimately reaching the conclusion that the potential threat was indeed great (emphasis added):
Exxon also hired scientists and mathematicians to develop better climate models and publish research results in peer-reviewed journals. By 1982, the company's own scientists, collaborating with outside researchers, created rigorous climate models—computer programs that simulate the workings of the climate to assess the impact of emissions on global temperatures. They confirmed an emerging scientific consensus that warming could be even worse than Black had warned five years earlier.
ExxonMobil executives were informed in no uncertain terms, by their own science division, that climate change impacts could be "catastrophic" and potentially "irreversible" unless there were major reductions in fossil fuel burning:
Exxon's research laid the groundwork for a 1982 corporate primer on carbon dioxide and climate change prepared by its environmental affairs office. Marked "not to be distributed externally," it contained information that "has been given wide circulation to Exxon management." In it, the company recognized, despite the many lingering unknowns, that heading off global warming "would require major reductions in fossil fuel combustion."
Unless that happened, "there are some potentially catastrophic events that must be considered," the primer said, citing independent experts. "Once the effects are measurable, they might not be reversible."
ExxonMobil scientists, furthermore, recognized that the company had an ethical obligation to come forward with what they had learned. Staff scientist Roger Cohen stated as much in a September 1982 memo described by InsideClimate News:
He warned that publication of the company's conclusions might attract media attention because of the "connection between Exxon's major business and the role of fossil fuel combustion in contributing to the increase of atmospheric CO2."
Nevertheless, he recommended publication.
Our "ethical responsibility is to permit the publication of our research in the scientific literature," Cohen wrote. "Indeed, to do otherwise would be a breach of Exxon's public position and ethical credo on honesty and integrity."
A good faith effort on their part to acknowledge and communicate the scientific basis and the risks involved would, their own researchers argued, grant them legitimacy when it comes to the honest debate that is to be had about policy prescriptions for dealing with the climate change problem. According to InsideClimate News:
In the early 1980s Exxon researchers often repeated that unbiased science would give it legitimacy in helping shape climate-related laws that would affect its profitability.
So let's be clear. ExxonMobil chief executives could have heeded that advice. They could have gone down in history as heroes who helped save the planet from the ravages of climate change.
But that was not to be.
InsideClimate News quotes me at the end of the article:
Michael Mann, director of the Earth System Science Center at Pennsylvania State University, who has been a frequent target of climate deniers, said that inaction, just like actions, have consequences. When he recently spoke to InsideClimate News, he was unaware of this chapter in Exxon's history.
"All it would've taken is for one prominent fossil fuel CEO to know this was about more than just shareholder profits, and a question about our legacy," he said. "But now because of the cost of inaction—what I call the 'procrastination penalty'—we face a far more uphill battle."
Economic pressures, InsideClimate News notes, led Exxon to dissolve their climate research division by the late 1980s. In his famous July 1988 congressional testimony, NASA scientist James Hansen had meanwhile announced to the world that human-caused climate change had arrived, and that the cause was the burning of fossil fuels. ExxonMobil had to make a decision: would they choose to be part of the solution, or part of the problem? InsideClimate News lays out the answer for us:
Exxon helped to found and lead the Global Climate Coalition, an alliance of some of the world's largest companies seeking to halt government efforts to curb fossil fuel emissions. Exxon used the American Petroleum Institute, right-wing think tanks, campaign contributions and its own lobbying to push a narrative that climate science was too uncertain to necessitate cuts in fossil fuel emissions.
Perhaps nothing better conveys the dramatic shift in ExxonMobil's attitude toward climate change than the subsequent activities of the aforementioned staff scientist Roger Cohen, who had once warned of the potentially "catastrophic" future impacts of climate change and had expressed concern about the implications for Exxon's "honesty and integrity" were it not to come forward with it's knowledge that human-caused climate change is real and a threat. You see, Cohen went on to work for industry front groups like the George C. Marshall Institute that advocate for fossil fuel interests like Exxon by denying the reality and threat of climate change. Austin is one of a small fringe group of scientists who sought to sabotage the American Physical Society's position statement affirming the science of human-caused climate change. One is reminded of the famous Upton Sinclair quote "It is difficult to get a man to understand something, when his salary depends on his not understanding it."
One might think that the latest revelations about ExxonMobil and their tobaccoesque decades-long effort to hide the findings of their own scientists, would end climate change denialism for good. If you're a hardcore climate change denier, after all, it must be rather demoralizing to learn that ExxonMobil's own scientists expressed contempt for your views behind your back. If you've lost ExxonMobil's own scientists, you've lost the scientific debate.
But let's remember that climate change denial isn't actually about the science. That was settled long ago—including by Exxon's own scientists no less. Climate change denial is about opposition to regulation. It is about science-denying front groups, industry shills, bought-and-sold politicians, and other bad faith actors who continue to provide cover for corporate polluters like ExxonMobil by fooling the public.
By any reasonable measure, just about every conceivable climate change denier talking point had been shot down by 2007 (and arguably much earlier). As I explained in chapter 12 ("Heads of the Hydra") of The Hockey Stick and the Climate Wars:
The complete or near collapse by 2007 of the pillars of defensible climate change skepticism represented a critical juncture in the debate over the science. Would climate change contrarians throw in the towel and at least concede the reality of human-caused climate change? Would they engage constructively in the discourse, focusing their efforts on the legitimate remaining uncertainties, such as the uncertain nature of climate change projections and the worthy debate to be had regarding what to do about the problem? Or would they retrench and continue to contest the ever-accumulating evidence supporting the reality of the climate change problem? The question is of course rhetorical; we already know the answer.
As we know, of course, the climate change disinformation campaign simply ratcheted the denial machine up a notch. Attack dogs doubled down in their campaign of denial and deceit, and so we soon got the ironically-termed "climategate" campaign, wherein climate scientists emails were stolen, combed through, cherry-picked, and misrepresented through out of context quotations in an effort to call the scientific evidence for climate change into question on the eve of the December 2009 Copenhagen climate summit (read chapter 14, "Climategate: The Real Story" of The Hockey Stick and the Climate Wars for further details).
The irony, of course, is that rather than uncovering any wrongdoing or indiscretion by climate scientists, the "climategate" affair simply revealed that climate change deniers were now more than willing to engage in criminal behavior in their efforts to misrepresent the science and scientists and deceive the public. Like Watergate before it, the real scandal was the criminal theft, not the content of the stolen materials—a fact that was oddly lost on many media organizations who readily bought into the denialist framing of the matter. As I note in the epilogue of The Hockey Stick and the Climate Wars:
While the campaign did have the immediate impact of casting doubt over climate science, it also marked a critical juncture, and indeed potentially a turning point, in the climate change debate. Perhaps "climategate" was the moment when the climate change denial movement conceded the legitimate debate, choosing instead to double down on smear and disinformation, a tacit acceptance that an honest, science-based case for denying the reality of human-caused climate change and the threat it presents could no longer be made. Maybe it was the moment when the seamy underbelly of the climate change denial movement became exposed for all to see.
So one might well wonder as we head toward the critical December 2015 climate summit in Paris, have the latest revelations about ExxonMobil caused climate change deniers to see the light, to reconsider their position? And one might well suspect the answer.
Since the ExxonMobil story broke, the "merchants of doubt" have instead engaged in a campaign of misdirection, presumably hoping they can distract the public and policymakers from the stunning new revelations. Among other things, we have seen these events unfold in the few days since the story broke:
The right-wing Canadian newspaper

National Post

engaged in a reprehensible personal attack against climate advocate Naomi Klein and her opposition to mining the Canadian tar sands (something James Hansen has warned would be "game over for the climate"). The piece included a false and libelous allegation of "fraud" against yours truly. It is worth noting that the

National Post

has previously

lost a defamation suit

brought by a climate scientist. It is also worth noting that the columnist who penned the piece, Conrad Black, is

best known

for having served a prison term for

actually

committing fraud. Chalk one up for chutzpah.

Conservative commentator George Will, known for his

serial distortions

when it comes to the matter of climate change, has

attacked

Pope Francis for his efforts to raise awareness about the threat of climate change. Though Will's commentary is filled with half-truths, falsehoods and innuendo, what is most cynical and pernicious about the piece is the pretense of concern that acting on climate change "would devastate the poor" when

precisely

the opposite

is

known to be true

.

Professional climate smearmonger

Marc Morano

joined with

Koch Brothers-funded

attack dog

John Hinderaker

and others in the conservative media and blogosphere

accusing

climate scientists of wanting to "arrest climate skeptics". As with just about anything that comes out of the climate denialosphere, the allegation is of course completely untruthful. The reality is that a small group of climate scientists

recently suggested

that the department of justice investigate the possibility that certain fossil fuel companies (not individuals) might be subject to civil Racketeer Influenced and Corrupt Organizations ("RICO") charges. Civil RICO seeks the payment of fines (not imprisonment of any individuals) by corporate entities that knowingly hid the damages done by their product. That is precisely what happened with big tobacco, and the same Department of Justice lawyer who successfully brought a civil RICO suit against tobacco companies more than a decade ago

has recently argued

that Exxon and other fossil fuel companies might suffer similar liability given the latest revelations over what they knew about the dangers of climate change, and when they knew it.
As the curtain continues to be lifted on the climate change denial machine and its deceitful tactics, we must assume that the smears and distortions will simply grow more desperate, the misdirection and distraction more brazen. Expect the worst as the 2015 Paris climate summit—potentially the last opportunity to reach an international agreement that will stave off dangerous and irreversible changes in climate—approaches. Bad faith actors have shown they will do anything they can—including engaging in criminal actions—in their efforts to sabotage global agreements aimed at limiting carbon emissions.
Let's not allow their cynical efforts to be successful. Call out climate change disinformation when you encounter it, and do what you can to correct the record. Explain to your family, friends, coworkers and classmates the importance of stabilizing greenhouse gas concentrations below dangerous levels. And most of all, keep your eye on the prize—a binding international treaty to reduce carbon emissions later this year in Paris.
Michael Mann is Distinguished Professor of Meteorology at Pennsylvania State University and author of The Hockey Stick and the Climate Wars: Dispatches from the Front Lines and the recently updated and expanded Dire Predictions: Understanding Climate Change.
YOU MIGHT ALSO LIKE
Koch Brothers: Apocalyptical Forces of Ignorance and Greed, Says RFK Jr.
Exxon Advertised Against Climate Change for Decades After Top Executives Knew Burning Fossil Fuels Would Warm the Planet
It's Official: Summer 2015 Hottest Ever in Recorded History