British-Canadian adventurer John Beeden completed his 7,400-mile solo row across the Pacific Ocean on Saturday. He is the first to have rowed across the Pacific, from the Northern to Southern Hemisphere, without stopping.
After spending almost six months at sea in his 20-foot boat, Beeden set foot on the Australia mainland at 10 a.m Australian Eastern Standard Time. He departed from San Francisco 209 days prior.
Arrived at 10am local time. Happy to be on land have some ginger nuts. #solopacificrow #adventure #cairns #australia https://t.co/3tdDfrK5Lc

— John Beeden (@John Beeden)1451179464.0
He completed his final day of rowing on just two hours of sleep. Prior to his expedition, which he calls the Solo Pacific Row, 53-year-old Beeden trained by rowing up to 15 hours per day, Reuters reported.
Beeden initially intended for his journey to end in mid-November, but inclement weather added about one month to his estimated arrival to Cairns, Australia.
"Didn't think I could go on and had to dig deep and getting pushed back hundreds of miles that you have already rowed and you have to row it all again," Beeden told the Australian Broadcasting Corporation.
His boat, Socks II, uses 12v batteries, which are powered by solar panels. He documented his journey in a progress log, which includes stats on daily times and distances rowed.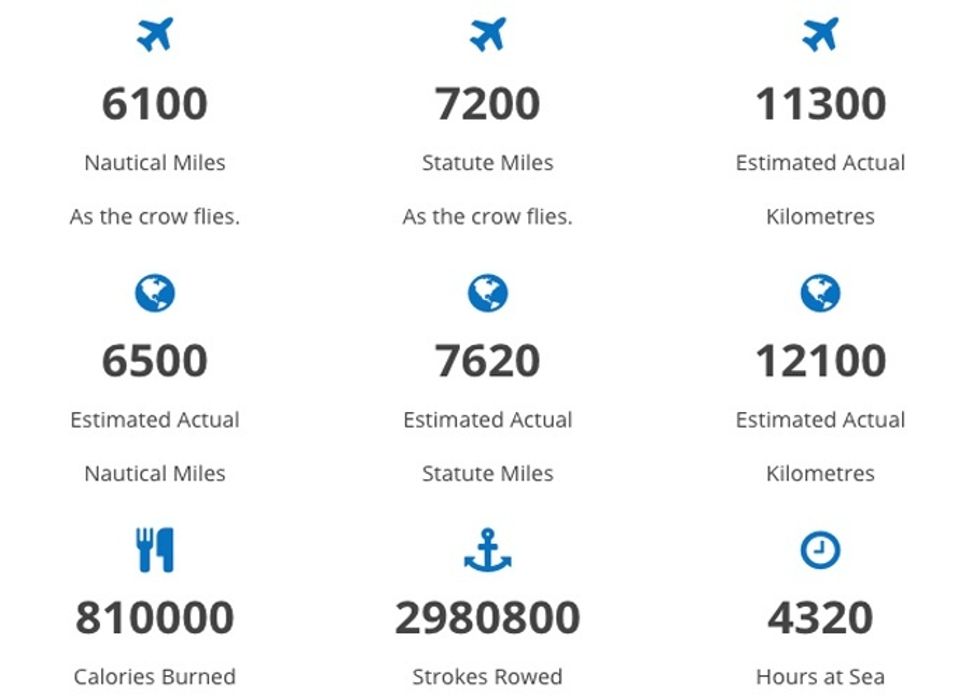 As Beeden explains on his website, in his view, a true cross-ocean rower "should have to row continent to continent otherwise you have only completed a partial Ocean crossing or a passage." He completed his travels alone out of necessity per his goal of becoming an "unassisted" record breaker.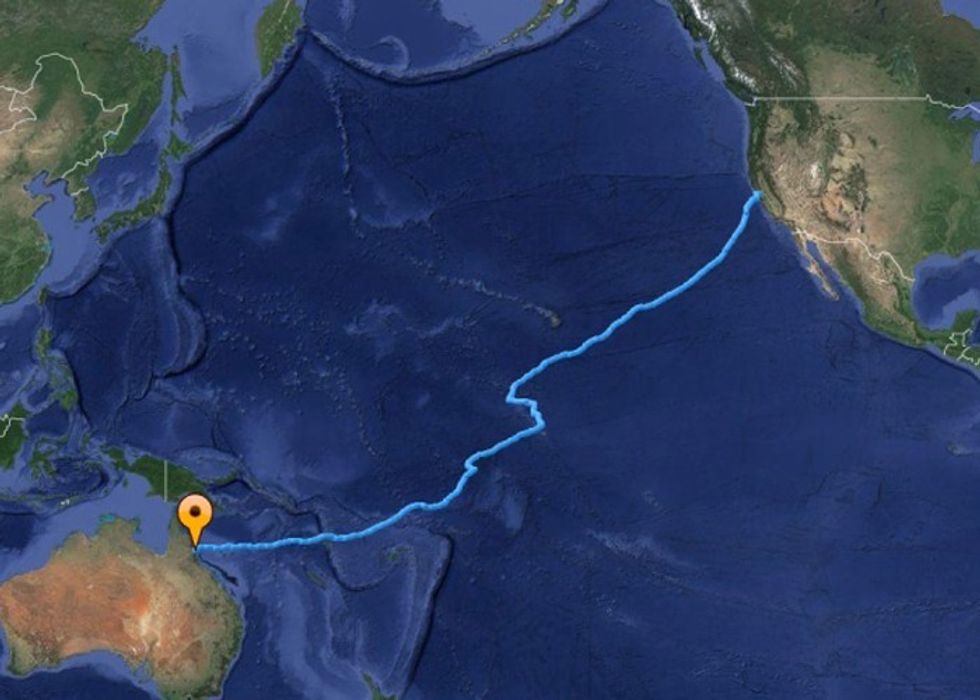 Beeden was promptly greeted by a teary wife and two daughters upon his arrival. A crowd of reporters and interested civilians watched as he stepped onto land, presenting his passport to Australian customs officials.
Though the Solo Pacific Row was his first record-breaking row, this is not Beeden's first time successfully rowing across an ocean by himself. His trip across the Atlantic Ocean, the Solo Atlantic Row, took more than 53 days to complete. After departing from the Canary Islands in Nov. 2011, he set foot on solid ground in Jan. 2012.
On his website, Beeden explains his motivation for these long, lonely travels:
"The quest to prove worthy of an almost inconceivable challenge is our greatest reward. To us it is not the final result that matters but how we measure up to our self-imposed task to confront and do battle with Nature at its rawest. And those who die in the attempt do not die in defeat; quite the opposite, their death is, in many ways, a triumph, the symbol of that indomitable human spirit that will break before it bends. To test what we are made of, that is our pursuit."
His travels were entirely self-funded. Any money raised was donated to his chosen charities, Prostate Cancer UK and Breast Cancer Care.
Still feels a bit strange to be on solid ground. Here's a photo of my first few steps yesterday! #solopacificrow https://t.co/fan9IywzjQ

— John Beeden (@John Beeden)1451256597.0
YOU MIGHT ALSO LIKE
Yogurt Cups, Food Wrappers and a Shoe Found in Stomach of Dead Orca
Dead Humpback Calf Found Entangled in Illegal Gillnet
One Woman's 2,000 Mile Paddle From the Big Apple to the Big Easy
10 Spectacular Hikes to Consider for Your Next Outdoor Adventure
EcoWatch Daily Newsletter
Rio de Janeiro's newest attraction, Museu do Amanhã, or the Museum of Tomorrow, opened to the public Saturday. The $54 million museum focuses on the relationship between human activity and environmental health. Exhibits cover hot topics in science and technology, ranging from the cosmic origins of life on Earth to humanity's role in climate change.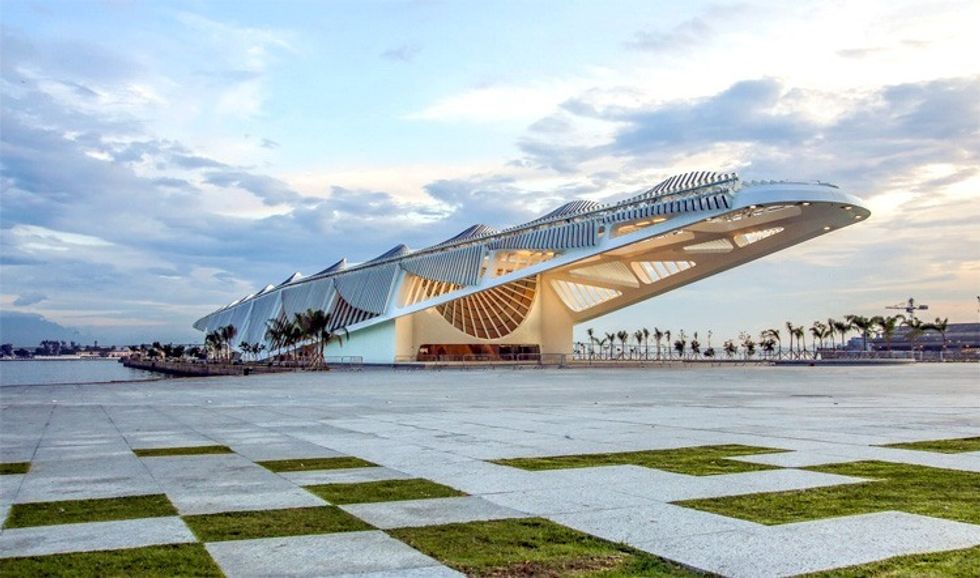 "If we have different choices, different tomorrows are going to be built," Leonardo Menezes, the museum's content manager, told NPR reporter Lourdes Garcia-Navarro. "Are those going to be sustainable or not? It's up to us."
In one exhibit, museum-goers can enter a virtual reality time machine to watch the evolution of man. Another features large totems inspired by Stonehenge that are covered in "startling" statistics and "jarring" images of the environment, Garcia-Navarro reported. She visited the museum, calling it an "emotional journey," one that dives deep into human history and our impact on the Earth.
Lauded for making waves in sustainable architecture, the building uses 40 percent less energy, with 9 percent of that total being derived from solar panels that move throughout the day to garner as much power as possible. It's cooled using deep water from nearby Guanabara Bay. And the museum is pursuing LEED Platinum certification, the highest status available, which is pending approval from the Green Building Council of Brazil.
Listen to the full NPR report here:
YOU MIGHT ALSO LIKE
Erin Brockovich: Porter Ranch Gas Leak Is Worst Environmental Disaster Since BP Oil Spill
Mark Ruffalo: The Renewable Energy Race Is On
4,000 Bottles of Fresh Air Shipped to China, Company Struggling to Keep Up With Demand
seed.com
You can't discount the importance of your gut health. Research shows that the microbiome within your digestive system has a disproportionate impact on how well your whole body functions.

Unfortunately, bad diets, the overuse of antibiotics, and other stressors mean many of our digestive systems are in trouble. Probiotic supplements claim to solve this problem by replenishing your gut with the healthy bacteria it needs for optimal functioning. Here, we'll analyze the popular probiotic brand Seed to determine whether its supplements are worth taking.
How We Review Probiotics
Whenever we review a probiotic supplement, we evaluate six specific categories.
Number of active strains - How many types of bacteria are included?
AFU (Active Fluorescent Units)/ CFU (Colony Forming Units) - These units of measurement tell you how many billions of bacteria are estimated to be within each supplement dose.
Storage Requirements - Some probiotics are shelf-stable, while others require refrigeration.
Ingredient Transparency – does the company disclose where it sources its active strains and provide clinical research for their efficacy?
Value - How are the probiotics priced? Can you purchase them without an auto-ship program?
Sustainability - Does the company show ways its supplements are better for the environment through sustainable ingredient sourcing or packaging?
Let's evaluate these criteria for Seed.
About Seed Probiotics
Seed is an e-commerce supplement brand with a single product—the DS-O1 Daily Synbiotic probiotic. The company got its start in 2018 when cofounders Ara Katz and Raja Dhir determined that the current probiotic supplements available weren't hitting the mark.
Katz's experiences of pregnancy and breastfeeding as a new mom led her to develop a deeper appreciation of the body's microbiome and its role in overall health. She joined forces with Dhir, who had the scientific experience to understand what could be improved within the probiotic industry.
Together, they strove to create a supplement that "raised the bar on bacteria" by giving the body what it needed for all its systems to operate most effectively. They collaborated with a large team of entrepreneurs, artists, and scientists to develop a probiotic known as DS-01 Daily Synbiotic.
The Seed DS-01 Daily Synbiotic
seed.com
Active Strains - 24
AFU - 53.6 billion AFU
Storage Requirements - Shelf-stable for 18 months after opening
Ingredient Transparency - Clinical data available for each strain
Sustainability - First order ships in reusable glass canisters and subsequent orders arrive in compostable biofilm.
Value - $49.99/60 supplements (30-day supply subscription)
The DS-01 Daily Synbiotic is a broad-spectrum probiotic that combines 24 probiotic strains with a non-fermenting prebiotic concentrate of Indian pomegranate for better delivery. Of these strains, 23 are human-derived, and one is isolated from fruit and added to promote healthy cholesterol levels.
These strains work synergistically to support the 38 trillion bacteria that make up your microbiome. They will purportedly help the body digest food, minimize inflammation, and better synthesize nutrients.
This supplement contains four distinct probiotic blends:
Digestive Health/ Gut Immunity/ Gut Barrier Integrity: 37.0 Billion AFU
Dermatological Health: 3.3 Billion AFU
Cardiovascular Health: 5.25 Billion AFU
Micronutrient Synthesis: 8.05 Billion AFU
(See strain-specific studies here)
How It Works
With these multiple strains, the company claims to take a 'Microbe-Systems Approach' through microbes that impact specific physical functions beyond the digestive system. These include skin and heart health, better immune system functioning, and micronutrient synthesis.
In other words, DS-01 goes beyond digestive issues to support full-body health. The company claims it's even one of the first probiotic formulations able to synthesize folate and increase its production.
Seed's DS-01 Daily Synbiotic probiotic also stands out with its delivery system. The supplement utilizes "nested capsule technology" along with a patented algae delivery system. This two-in-one capsule design houses the probiotic formula within a prebiotic casing made from Indian pomegranate to ensure these fragile bacteria survive both sitting on store shelves and the perilous journey through stomach acid to your colon.
Through this method, Seed claims to average a 100% delivery rate of the probiotic's starting dose to your colon. According to internal testing, DS-01 probiotics will exceed the living cell counts listed on the label even after ten days of constant 100º F exposure.
Usage Instructions
Adults can take two Seed probiotic supplements per day, preferably at the same time. It's best you do so on an empty stomach to limit the capsule's exposure to digestive enzymes that start to break it down. However, those with sensitive stomachs may want to eat something first. While you'll get optimal results from taking the supplements daily, it's not a problem if you occasionally skip one.
If you're new to probiotics, start by taking one per day for the first three days and then increasing your dosage to two per day. You may feel its effects on your digestive system within 48 hours, though long-term improvements to the cardiovascular system take more time and might not be noticeable to you.
Seed probiotics don't need require refrigeration. They are shelf-stable for 18 months at temperatures up to 78℉ and are safe to take when expired. Just note that the company can't guarantee their potency at this point.
How to Buy
Seed DS-01 Daily Synbiotic probiotics are only available on a subscription basis. They cost $49.99 per month and ship free throughout the US (international orders include a $10 shipping fee).
You will receive a 30-day supply (60 capsules) when you order through the company website, and the first order includes a reusable glass canister and travel vial. Each subsequent order arrives in compostable biofilm so you can transfer the capsules to the reusable ones.
All first orders are covered by a 30-day risk-free trial, during which you can return the probiotics for a full refund. It's possible to cancel the subscription at any time by contacting customer service at [email protected].
Note: At publication, these probiotics were sold out. They are available for pre-order and expected to ship again in 2-4 weeks.
What We Like About Seed
As a product within the largely unregulated supplement industry, Seed broad-spectrum probiotics earn major points from us for both transparency and abundant clinical research. The company shares detailed information about every bacterial strain within the supplement and links out to the scientific studies highlighting their effectiveness.
Customer reviews on Facebook and other review sites show that Seed probiotics work as described for many users. Some shared they experienced positive improvements in their digestive system within 48 hours and noticed better-looking skin within a month.
Those with allergies or food sensitivities will also appreciate these supplements are soy-free, vegan, gluten-free, dairy-free, corn-free, and free of binders and preservatives.
From a consumer standpoint, Seed makes taking probiotics simple. The shelf-stable formula means you won't have to store them in the fridge, and each 30-day supply is guaranteed to remain viable for 18 months after opening. Likewise, the nested capsule delivery system should improve how many billions of bacteria make it into your digestive system intact.
Equally noteworthy, we love Seed's commitment to environmental sustainability. By sending each customer two reusable glass containers at the start of their subscription, the company minimizes the packaging waste for each subsequent order.
What We Don't Like
Despite these positives, Seed broad-spectrum probiotics have some downsides. To start, they are pricier than many competitors. You will pay $1.66 per day's dose, which is more than some want to pay for supplements.
It's also not possible to try them without committing to a monthly subscription. While it will take several weeks or longer to start noticing their effects, some customers might not want to be locked into an auto-ship program so early in the experimenting process.
Likewise, some customer reviews complained of unexpected side effects such as breakouts and rashes. It's not clear whether these went away for users after a few weeks of use.
Finally, it's currently only possible to pre-order these supplements. If you're dealing with digestive distress today, you may want to try a probiotic brand that's available right now for faster relief.
Seed Safety & Side Effects
Seed DS-01 Daily Synbiotics are considered safe for adults over 18. Each supplement is vegan and free of common allergens like gluten, dairy, soy, and corn. They have undergone extensive third-party testing and adhere to the highest global regulatory standards for safety.
As with all probiotics, you might notice unpleasant side effects when you start taking them. Many people experience bloating, increased gas production, constipation, and other gastrointestinal problems for the first few days.
This can be discouraging, as many users take probiotics precisely to combat these symptoms in the first place. However, your system should adjust to the new bacteria within two weeks, and this digestive distress should diminish accordingly.
The DS-01 Daily Synbiotic is classified as safe for women who are pregnant and breastfeeding, although the company recommends speaking with a medical professional before starting them. As will all probiotics, you should not take these supplements if you have a weakened immune system, recently underwent surgery, or if you have a serious illness. Speak with your doctor before starting any dietary supplement if you have concerns or questions.
Takeaway: Are Seed Probiotics Worth It?
The Seed DS-01 Daily Synbiotic is well-formulated and shows clinical evidence of improving your gut biome for far-reaching health benefits. The company solves the tricky problem of selling a live product with its innovative delivery system that keeps the bacteria within the supplement safe both on the shelf and through the digestive process.
If you are dealing with digestive problems, or are looking for a way to improve your general health, then this broad-spectrum probiotic might be one worth trying.
Just keep in mind that you might feel worse for a few days before the microbes will take full effect in your gut and that giving it a try means you are committing to a monthly subscription.
Lydia Noyes is a freelance writer specializing in health and wellness, food and farming, and environmental topics. When not working against a writing deadline, you can find Lydia outdoors where she attempts to bring order to her 33-acre hobby farm filled with fruit trees, heritage breed pigs, too many chickens to count, and an organic garden that somehow gets bigger every year.