British-Canadian adventurer John Beeden completed his 7,400-mile solo row across the Pacific Ocean on Saturday. He is the first to have rowed across the Pacific, from the Northern to Southern Hemisphere, without stopping.
After spending almost six months at sea in his 20-foot boat, Beeden set foot on the Australia mainland at 10 a.m Australian Eastern Standard Time. He departed from San Francisco 209 days prior.
Arrived at 10am local time. Happy to be on land have some ginger nuts. #solopacificrow #adventure #cairns #australia https://t.co/3tdDfrK5Lc

— John Beeden (@John Beeden)1451179464.0
He completed his final day of rowing on just two hours of sleep. Prior to his expedition, which he calls the Solo Pacific Row, 53-year-old Beeden trained by rowing up to 15 hours per day, Reuters reported.
Beeden initially intended for his journey to end in mid-November, but inclement weather added about one month to his estimated arrival to Cairns, Australia.
"Didn't think I could go on and had to dig deep and getting pushed back hundreds of miles that you have already rowed and you have to row it all again," Beeden told the Australian Broadcasting Corporation.
His boat, Socks II, uses 12v batteries, which are powered by solar panels. He documented his journey in a progress log, which includes stats on daily times and distances rowed.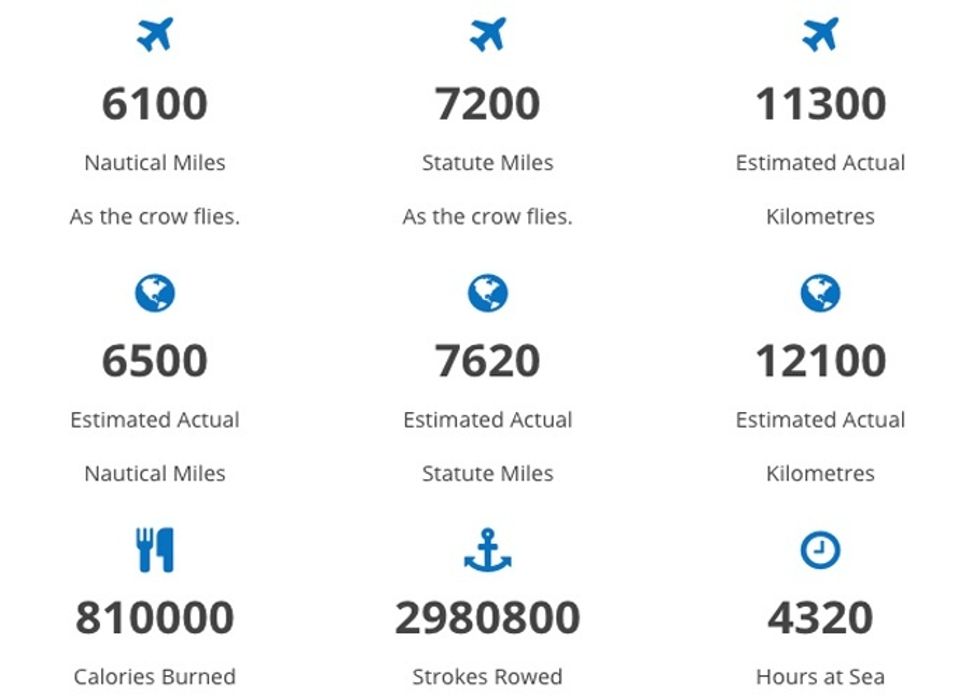 As Beeden explains on his website, in his view, a true cross-ocean rower "should have to row continent to continent otherwise you have only completed a partial Ocean crossing or a passage." He completed his travels alone out of necessity per his goal of becoming an "unassisted" record breaker.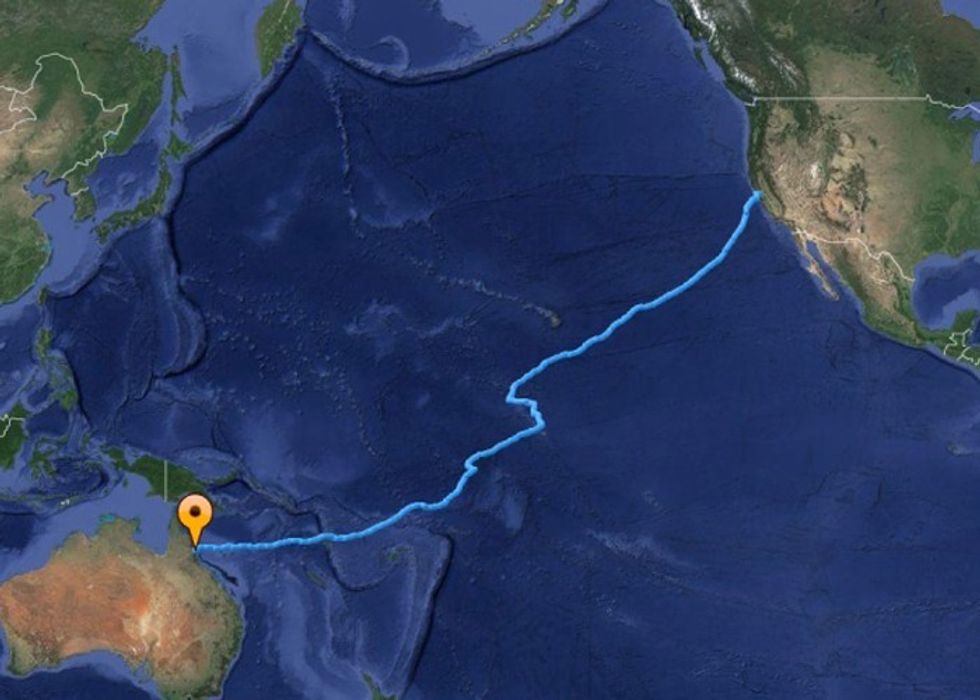 Beeden was promptly greeted by a teary wife and two daughters upon his arrival. A crowd of reporters and interested civilians watched as he stepped onto land, presenting his passport to Australian customs officials.
Though the Solo Pacific Row was his first record-breaking row, this is not Beeden's first time successfully rowing across an ocean by himself. His trip across the Atlantic Ocean, the Solo Atlantic Row, took more than 53 days to complete. After departing from the Canary Islands in Nov. 2011, he set foot on solid ground in Jan. 2012.
On his website, Beeden explains his motivation for these long, lonely travels:
"The quest to prove worthy of an almost inconceivable challenge is our greatest reward. To us it is not the final result that matters but how we measure up to our self-imposed task to confront and do battle with Nature at its rawest. And those who die in the attempt do not die in defeat; quite the opposite, their death is, in many ways, a triumph, the symbol of that indomitable human spirit that will break before it bends. To test what we are made of, that is our pursuit."
His travels were entirely self-funded. Any money raised was donated to his chosen charities, Prostate Cancer UK and Breast Cancer Care.
Still feels a bit strange to be on solid ground. Here's a photo of my first few steps yesterday! #solopacificrow https://t.co/fan9IywzjQ

— John Beeden (@John Beeden)1451256597.0
YOU MIGHT ALSO LIKE
Yogurt Cups, Food Wrappers and a Shoe Found in Stomach of Dead Orca
Dead Humpback Calf Found Entangled in Illegal Gillnet
One Woman's 2,000 Mile Paddle From the Big Apple to the Big Easy
10 Spectacular Hikes to Consider for Your Next Outdoor Adventure
EcoWatch Daily Newsletter
Rio de Janeiro's newest attraction, Museu do Amanhã, or the Museum of Tomorrow, opened to the public Saturday. The $54 million museum focuses on the relationship between human activity and environmental health. Exhibits cover hot topics in science and technology, ranging from the cosmic origins of life on Earth to humanity's role in climate change.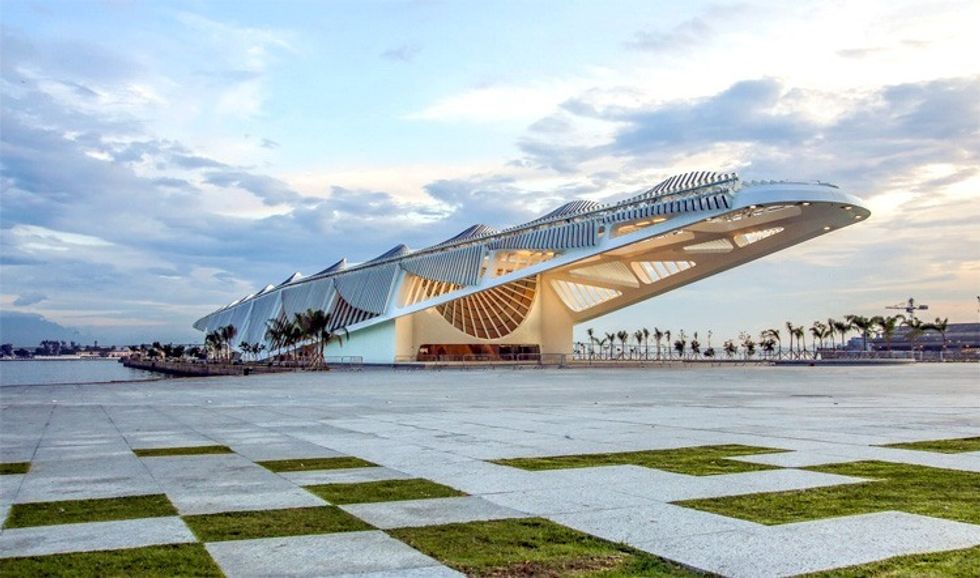 "If we have different choices, different tomorrows are going to be built," Leonardo Menezes, the museum's content manager, told NPR reporter Lourdes Garcia-Navarro. "Are those going to be sustainable or not? It's up to us."
In one exhibit, museum-goers can enter a virtual reality time machine to watch the evolution of man. Another features large totems inspired by Stonehenge that are covered in "startling" statistics and "jarring" images of the environment, Garcia-Navarro reported. She visited the museum, calling it an "emotional journey," one that dives deep into human history and our impact on the Earth.
Lauded for making waves in sustainable architecture, the building uses 40 percent less energy, with 9 percent of that total being derived from solar panels that move throughout the day to garner as much power as possible. It's cooled using deep water from nearby Guanabara Bay. And the museum is pursuing LEED Platinum certification, the highest status available, which is pending approval from the Green Building Council of Brazil.
Listen to the full NPR report here:
YOU MIGHT ALSO LIKE
Erin Brockovich: Porter Ranch Gas Leak Is Worst Environmental Disaster Since BP Oil Spill
Mark Ruffalo: The Renewable Energy Race Is On
4,000 Bottles of Fresh Air Shipped to China, Company Struggling to Keep Up With Demand
Robert Ingelhart / iStock / Getty Images
Solar power represents one of the best, most reliable forms of renewable energy. Homeowners who install solar panels can harness the sun's energy and convert it to usable electric current. In the process, they can curb or even eliminate their dependence on utility companies, and dramatically scale back their ecological impact.
Solar energy tends to be most advantageous in states that get consistent sun exposure year-round, such as Utah. Naturally, communities throughout the Beehive State have shown an admirable commitment to solar power. According to the Solar Energy Industries Association, Utah installed the tenth-most solar of any state in 2020, and the ninth-most during the first quarter of 2021. But what are the top cities for solar in Utah? Let's investigate.
Top 10 Cities for Solar in Utah
When narrowing down the 10 cities leading Utah's charge toward clean energy, we looked at sources including solar power generation data from the Energy Information Administration, maps from the National Renewable Energy Laboratory and the latest Shining Cities report from Environment America.
Based on this data, the following are the top cities for solar in Utah:
Salt Lake City
Provo
Park City
St. George
Ogden
Alta
Castle Valley
Orem
Springdale
Logan
EcoWatch
1. Salt Lake City
According to the Shining Cities report, Salt Lake City is one of the brightest "solar stars" in the nation. The report ranks the city No. 11 in the country for per-capita solar installation, or watts of DC current per person. It's also one of more than two dozen Utah municipalities that have pledged to use net-100% renewable energy by the year 2030.
2. Provo
Provo, south of Salt Lake City, is consistently ranked as one of the best places to live in the entire U.S. — and it's certainly a good place for solar enthusiasts. NREL maps show that consistent year-round sun exposure makes Provo well-suited for residential solar installation.
3. Park City
Park City is another municipality that has pledged to use 100% renewable energy by the year 2030, and it has a separate goal of using 100% renewable electricity for all city operations by 2022. To incentivize homeowners to go solar, the city has waived all building permit and site inspection fees for new solar installations.
4. St. George
Located close to the Arizona border, St. George is a city filled with sand dunes, desert vistas and, of course, plenty of sunlight to keep solar panels humming. In fact, the city gets an average of 255 sunny days per year — 50 more days than the average U.S. city.
5. Ogden
This ski hub and outdoor mountain town is another municipality taking steps toward solar adoption. Ogden City Council recently voted to enter Utah's program to transition to 100% renewable energy by 2030.
6. Alta
Another snowy, ski-lovers paradise, Alta is also part of the pledge to use net-100% renewable energy by the year 2030. It has already installed nearly 100 solar panels on ski patrol structures, ski shops and government buildings.
7. Castle Valley
Castle Valley, just east of Utah's iconic Arches National Park, is another solar leader. In 2017, Castle Valley became the first city in the state to use 100% renewable energy, generating all of its electricity through solar panels and renewable energy credits from Rocky Mountain Power.
8. Orem
Orem is home to the corporate headquarters of Blue Raven Solar, one of the top solar companies not only in Utah, but in many other parts of the U.S. as well. As a municipality, it has also pledged to use 100% renewable energy by 2030.
9. Springdale
The gateway to Zion National Park, Springdale is a more tourist-driven town. But it has signed on as a participant in Utah's program to transition to 100% renewables by 2030. Inside the park, photovoltaic panels have already been installed on the south-facing roof of the visitors center, and the Zion Lodge has a solar array and a thermal solar water heater installed as well.
10. Logan
Logan, located in the northern part of the state, has its own net metering program that residents are able to enroll in after installing solar panels. It also has a Green Power Program, which allows Logan City Light & Power customers to purchase "green blocks" of renewable energy at a rate of $2 per 100 kWh.
Where Solar Panels Work Best
There are a few factors that can make a city particularly well-suited for solar installation. Of course, the most important factor is the amount of sunlight the city gets from season to season. Utah's cities tend to fare pretty well in this regard, even the more mountainous and snowy locations.
Something else that makes a city well-suited for solar power is high energy costs. If a city has expensive electricity, then homeowners tend to save more money by switching to solar. By contrast, if utilities are already low, solar savings will be more modest.
Average Utah Electricity Costs
The average household monthly consumption of electricity is 727 kWh in Utah, while the average monthly residential electric bill is $75.63. This is by far the lowest rate of any state in the region, well behind neighboring states such as Arizona ($126.09 per month), Nevada ($106.83) and even New Mexico ($80.04).
Utah Solar Tax Incentives
Utah residents have a number of financial incentives for investing in solar power beyond their month-to-month utility savings. Specifically, Utah offers a residential solar tax credit. However, this credit is phasing out, which means the value of the credit isn't as high as it used to be.
For installations completed in 2021, the maximum tax credit will be $1,200. In the year to come, the tax credit will be capped at $800. In 2023, it will go down to $400. After that, unless the state's legislature extends the credit, the program will be phased out completely.
Also note that Utah offers net metering, which means that if your solar panels generate more electricity than you really need, you can feed it back into the power grid in exchange for credits.
Federal Solar Tax Credits
In Utah, as in the rest of the country, homeowners can also claim a 26% tax credit when they install a residential solar system. This credit exists to make solar installation more affordable and more widely accessible.
Utah Solar Regulations
Though Utah does not have a ton of solar regulations to be aware of, there are a couple that are worth noting:
Senate Bill 154 limits the power of homeowners associations to restrict solar installations within their communities.
Utah also has laws to protect solar easements, which are written agreements between property owners to protect long-term access to sunlight.
Final Thoughts: Top Cities for Solar in Utah
Utah is a city leading the charge toward solar in the U.S., but there's always room for improvement. If your city didn't make our top list of solar stars in Utah, there are a few ways to raise your area's solar profile. These include:
Installing a solar PV system on your own roof
Educating your neighbors about the benefits of solar energy
If your city has not already joined Utah's commitment to 100% renewable energy, contact your elected officials to urge for stricter goals