Eleven-year-old Itzcuauhtli Roske-Martinez is proving to the world that sometimes the most powerful thing you can say is absolutely nothing.

Today marks Day 22 of the indigenous eco-rapper's silent strike demanding science-based climate action. His T-shirt explains, "I am taking a vow of silence until world leaders take action on climate change." After classmates suggested that one sixth grader in Colorado couldn't influence leaders, Itzcuauhtli added, "When I say world leaders, I'm talking about us."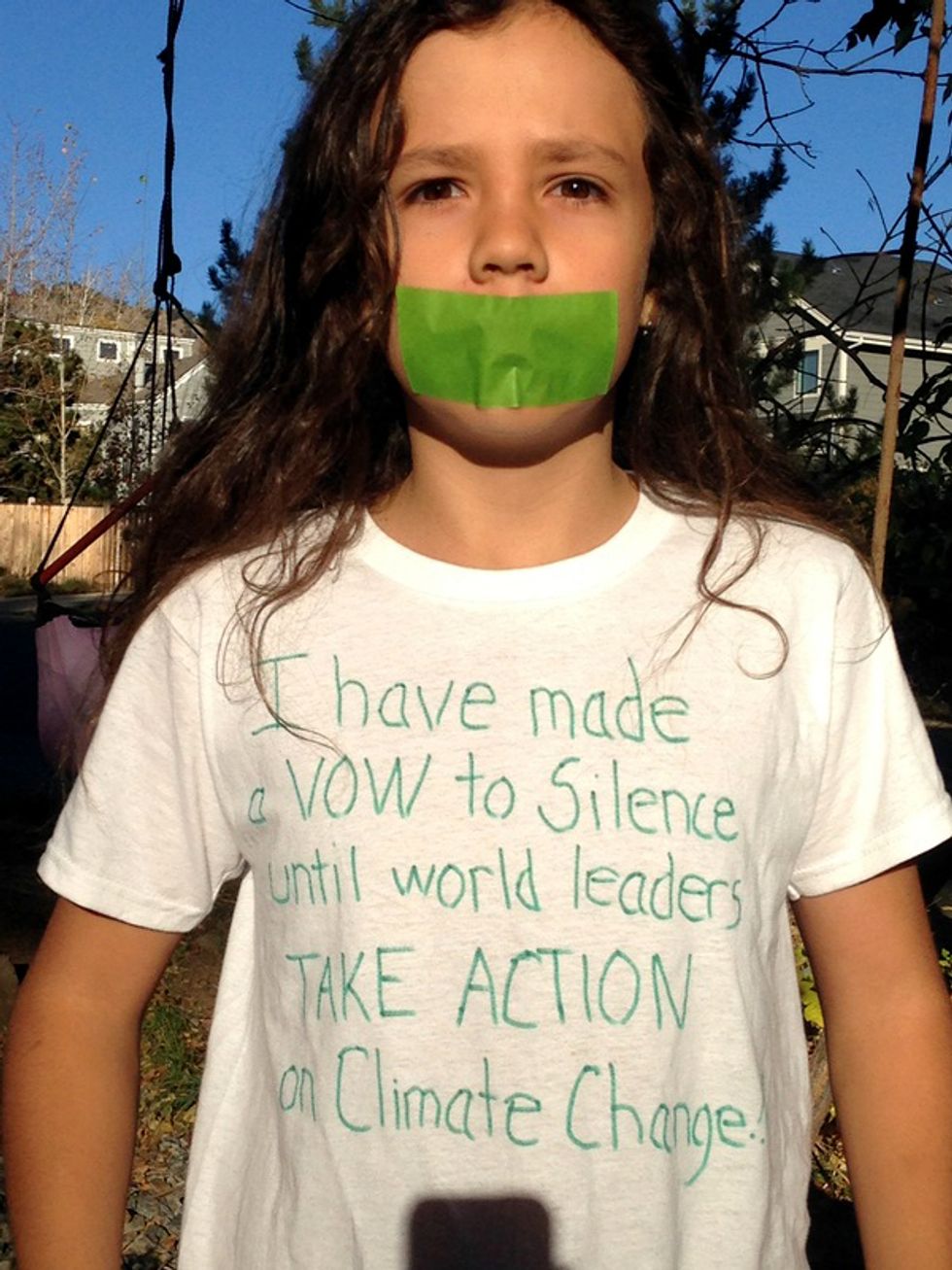 Accusing "so-called 'leaders'" of failing, Itzcuauhtli (pronounced "eat-squat-lee") asks why his generation should "go to school and learn all this stuff if there is not going to be a world worth living in? Maybe it's up to youth. Maybe each one of us has to be a world leader."
Judging by the hundreds of thousands of hits his site is getting, kids worldwide agree. Several classmates even tried to join his campaign, only to be forbidden by parents certain it wouldn't change anything.
"He was so disappointed," his mother, Tamara Roske, said. "He cried silent tears. It was heartbreaking." Itzcuauhtli, who will begin homeschooling after Thanksgiving, is bolstered by "overwhelming" international support, especially since actor and father-of-three Mark Ruffalo called the boy's campaign "brave and thoughtful."
Itzcuauhtli's greatest champion, however, is 14-year-old brother Xiuhtezcatl, director of Earth Guardians and a co-plaintiff in a youth climate lawsuit, the Supreme Court will consider Dec. 5. The brothers, raised in the Earth-honoring ceremonies of their father's Aztec culture, perform a passionate eco-rap and count Trevor Hall, Robert F. Kennedy Jr. and Michael Franti among their fans. They rocked Brazil's 2012 climate summit and, more recently, were part of the 400,000-strong at the People's Climate March in New York City.
After the march, though, Itzcuauhtli despaired when people insisted it was too late to avoid an apocalyptic future. On the white board he now communicates with, he writes, "I felt desperate. I had to do something drastic to change the outcome of our future. I decided I wasn't going to speak again until there was concrete action on climate change."
He looks hopefully toward the 2015 Paris UN conference, where leaders could agree on meaningful—and binding—recovery plans.
When asked why last week's historic U.S.-China climate deal didn't prompt him to resume the boisterous jokes his family misses, Itzcuauhtli responds, "It's not strong enough. [Former director of NASA's Goddard Institute] James Hansen says we have to cap carbon in the next year. If we wait another 15 years, which is when China said they would cap carbon, it's going to be too late.
Itzcuauhtli will resume speaking when he sees "we're moving together in the right direction." That means applying a planetary "prescription" written by 18 top climate experts, who outlined a recovery plan based on science, not politics—the same remedy demanded in his brother Xiuhtezcatl's lawsuits against state and federal governments. To achieve the six percent global carbon cuts necessary for a livable planet, Itzcuauhtli invites children and adults to "join me in this vow until world leaders:
Agree on and implement a Global Climate Recovery Plan to get us back to a safe zone of 350 ppm
Massively reforest the planet to help absorb our excess carbon
Support renewable energy solutions to replace the dirty fossil fuel industry"
Roske wonders when she'll hear her "little comedian" talk again. "Next month's climate gathering in Peru on Dec. 10 would be first day he'd break his silence. As a mom, I prefer he start talking before that." But, she acknowledges, she may have to wait more than a year. "That 2015 Paris climate summit will determine these guys' future on some level."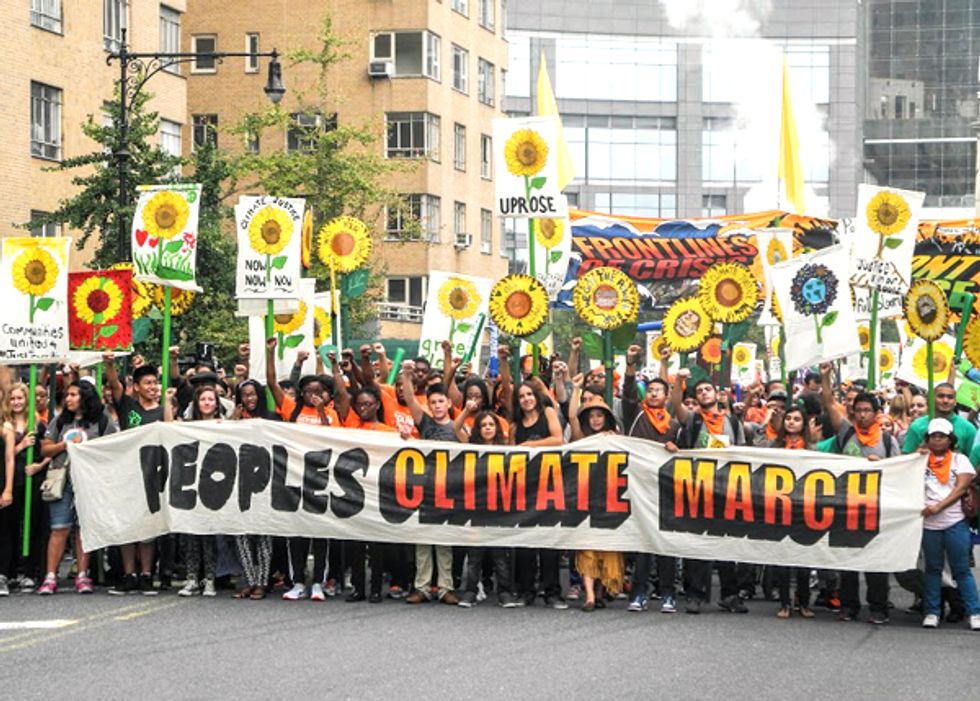 Itzcuauhtli vows to continue as long as he must, despite calling his strike "the hardest thing I have ever done." While he still laughs and finds ways to communicate with peers, he expresses special gratitude for friends old and new who support him or, better yet, join his campaign to "amplify the voices of children everywhere."
"One person alone can start the revolution. It takes all of us to be the revolution."
Visit ClimateSilenceNow to join Itzcuauhtli's silence "even for an hour!"
Mary DeMocker writes about climates of all sorts and is cofounder of 350 Eugene. Visit her website for more of her work.
EcoWatch Daily Newsletter
There are many different CBD oil brands in today's market. But, figuring out which brand is the best and which brand has the strongest oil might feel challenging and confusing. Our simple guide to the strongest CBD oils for pain, anxiety, and sleep will point you in the right direction.
More and more people are looking to boost their health with CBD oil. The rise in CBD's popularity shows that many people are experiencing positive outcomes through the regular use of CBD to help control and improve difficult health issues.
Our guide to the strongest CBD oils will help to point you in the right direction so that you can choose the best, most potent oil for your needs. We will also educate you about the best CBD oils along the way, while also discussing how we chose our top brands and why.
Does Strength of CBD Oil Matter?
The strength of an oil does matter. The more potent a CBD oil is, the stronger effects it will create. To that end, full spectrum oils are the best oils to go with because CBD isolates do not have all of the other vitamins, terpenes, compounds, and phytonutrients that full spectrum oils have. So, not only will you be getting all the positive effects that a strong oil has to offer, you'll also be able to receive the vast therapeutic benefits that the many compounds, terpenes, and phytonutrients bring to the table.
The strength or concentration of a CBD oil is measured in milligrams of CBD, both per bottle and per serving. For many brands, a serving is considered 1 mL of the oil tincture. The best way to evaluate the strength of a CBD oil by how many milligrams of CBD you will get with each 1 mL dropper.
6 Strongest CBD Oil Brands of 2021
Each product featured here has been independently selected by the writer. You can learn more about our review methodology here. If you make a purchase using the links included, we may earn commission.
How We Chose the Strongest CBD Oil Brands
When it comes to choosing a CBD oil brand, you need to take the time and put in the research to ensure that you are getting the strongest, and best quality product you can purchase.
We've put the time and effort into selecting the top brands that we feel have the strongest CBD oil, the best reputation, and the cleanest, most effective products. When it came to selecting our top strongest CBD oils, we looked at six key categories:
Type of CBD - We looked to see whether the CBD oil was full spectrum, broad spectrum, or CBD isolate.
Strength - We compared the oil strength and purity versus other available options. All of our recommendations offer a concentration of at least 50 mg of CBD per serving.
Source - Where does the brand source its hemp from, and is it grown organically?
Flavor - We looked for oil flavors and the ingredients used in the oil.
Transparency - A key consideration is whether a third-party lab was used to test the products and if those results are easy for customers to find
Customer experience - We also read verified customer reviews to see what actual users had to say.
Based on these factors, here are the brands that made our list of strongest CBD oils.
6 Strongest CBD Oils of 2021
Research on CBD Oil and Potency
CBD oil is created when cannabidiol, or CBD, is infused into a fat-based carrier oil such as hempseed oil, coconut oil, grapeseed oil, or olive oil. Carrier oils are usually medium-chain triglycerides that are easily digested by the body. The very basic oils will only have CBD and the carrier oil, however, some can also contain other compounds such as tetrahydrocannabinol, or THC, flavonoids, phytonutrients, and terpenes. Some brands will also infuse various natural flavors or essential oils into the final products.
CBD oil can vary in color, flavor, and consistency depending on its makeup. Likewise, the strength also depends on the oil's formulation. CBD oils can be isolates, broad spectrum, or full spectrum. In CBD isolates, only pure CBD is used. These oils are usually 99 percent pure. CBD isolates are typically made solely from the hemp plant.
Broad spectrum and full spectrum oils, on the other hand, are typically sourced from the cannabis plant and have had minimal processing and purification. These oils have a large amount of cannabinoids, terpenes, nutrients, vitamins, and phytonutrients. The difference between the two is that broad spectrum CBD products contain zero THC.
Along with CBD, one of the main compounds in full spectrum oils is THC. In large amounts, THC causes feelings of euphoria. However, legally, all CBD crafted and sold within the United States must contain less than 0.3% THC. When CBD and THC are combined, an entourage effect occurs. In the entourage effect, the compounds work together to dampen each other's negative side effects while amplifying each other's best qualities. For example, too much THC can cause feelings of nausea or dizziness. However, when THC is combined with CBD, the THC enables those with sleep issues to finally get some rest, and helps those with extreme nausea, due to cancer treatment, finally get some much-needed nourishment by increasing appetite. Put simply, the cannabinoids bind with cell receptors in the human endocannabinoid system to create therapeutic effects.
How to Choose the Right CBD Oil and Potency for You
There are several key factors to take into consideration when choosing the strongest CBD oil for pain, sleep, or anxiety. One of the first things to look at is the concentration of CBD within the product. Next, take a look at the milligrams of CBD that are in a single serving. The best quality products clearly have all the facts and information laid out on their labels. In reading the labels, you should be able to tell exactly how much CBD you are getting per serving. How much CBD you need to be taking depends on how your body reacts to the product over time.
What to Look For
Here are the primary things to look for when comparing the strongest CBD oil options.
CBD Spectrum - Make sure you know whether you are getting a full spectrum, broad spectrum, or CBD isolate oil. This is especially important if you are concerned about THC content.
Concentration - When looking for the strongest CBD oils, you need to be certain of how many milligrams of CBD are contained in each bottle and each 1 mL serving.
Lab Testing - For any CBD product, it's vital that you look for brands who ensure their CBD undergoes independent third-party lab testing for purity and safety.
How to Read Labels
Make sure that you know what to look for on the label of any CBD oil or product. Here are the key things to know.
Type of CBD - The label should clearly indicate the spectrum of CBD in the oil. If it is a broad spectrum or CBD isolate, it will usually say that it is "THC-Free."
Dosage Guide - Some brands include a dosage guide on the label to help you measure the appropriate amount of CBD per serving. This is important with higher potency oils.
Test Results - Look for proof that the CBD has undergone third-party lab testing. Many brands include a QR code or link on the label to the test results for that product.
How to Use
Everyone's body is different, so what works well for one person might not work for another. Smaller individuals might need less CBD than larger individuals based on body size and overall mass. Along with body size, the reason you are taking CBD is another consideration in purchasing strong CBD oil.
Whatever oil strength you choose, you should first start low and go slow when it comes to dosing. For example, begin by taking half of a serving of CBD once a day for one week. If you are not feeling any benefits, then go ahead and take half a dose twice a day. Continue increasing the dosage slowly until you are achieving the desired effects. Always check in with yourself to see how you are feeling along the way. This will help you to determine if you should increase the dosage at all. As with any other medication or holistic supplement, your body will need adequate time to get used to a new CBD dosage, and CBD typically works best as it builds up in your system over time.
Safety & Side Effects
There are very few minor side effects associated with CBD. To date, a great number of studies have been done on CBD showing that it is generally well-tolerated and safe for adults.
Some of the most common side effects associated with CBD include:
Dry mouth
Dizziness
Nausea
Changes in weight
Diarrhea
Drowsiness
Changes in appetite
CBD may also interact with certain prescription medications. If you are on any prescription drugs, or have questions about CBD and your health, be sure to consult with your doctor before taking CBD.
Takeaway
Those suffering from chronic pain or increased stress may benefit from stronger CBD oil tinctures that can provide a more potent dose of cannabinoids. CBD oil can be a great addition to any natural healthcare routine. Just make sure you are putting in the time and effort to find the product and the brand that is best suited to your own unique needs, condition, and lifestyle.