Sutton coal ash spill, Sept. 21. Jo-Anne McArthur / Waterkeeper Alliance / Flickr / CC BY-NC-ND 2.0
As people in North and South Carolina continue to confront flooding and other massive damage from Hurricane Florence, it's heartbreaking to watch them have to deal with yet another hazard: the toxic coal ash leaked from coal ash ponds and landfills in the region. Even more infuriating is the denial coming from the company responsible for that pollution in the first place—Duke Energy in North Carolina.
On Sept. 19, Duke Energy activated a high-level emergency alert at the retired L.V. Sutton coal-fired power plant in Wilmington, North Carolina, as Hurricane Florence–related flood waters from the nearby Cape Fear River overtook an earthen dike and Sutton Lake. That same day, the Neuse River flooded all three of Duke's coal ash ponds at the retired H.F. Lee coal plant in Goldsboro.
On Sept. 21, Duke reported that dams at both the north and south end of Sutton Lake had been breached by floodwaters from Florence. In addition, floodwaters have overtopped a retaining wall between the lake and one of the unlined coal ash dumps at the site. Coal ash was observed in the lake, and Duke acknowledged it's possible that coal ash is flowing into the Cape Fear River.
Our friends at the Waterkeeper Alliance took photos and videos of coal ash in several waterways. Yet, in the wake of Hurricane Florence, Duke Energy has repeatedly downplayed the dangers of its ash ponds, hiding behind the fact that coal ash which contains toxins including arsenic, lead, mercury, selenium, aluminum and chloride—is not designated as a hazardous waste.
Jo-Anne McArthur / Waterkeeper Alliance / Flickr / CC BY-NC-ND 2.0
Duke Energy spokesperson Paige Sheehan claimed in a recent statement that, "It is a very common misconception that ash is toxic, but routine toxicity tests on our basin water continue to demonstrate it's not."

You have got to be kidding me. It's jaw dropping and infuriating to me that utility executives are still claiming coal ash is harmless after all the disasters of recent years—from massive coal ash spills, to the health problems plaguing workers who cleaned them up, to the hundreds of other communities home to coal ash sites where families living with polluted air and water are paying the ultimate price for this tired old lie. The public health hazards and environmental threats to nearby communities from unsafe coal ash dumping have been known for many years, including increased risk of cancer, learning disabilities, neurological disorders, birth defects, reproductive failure, asthma and other illnesses.
The Sierra Club and our allies have worked for years to force cleanup of these sites, both by pushing for stronger federal and state safeguards, and through litigation and organizing at the local level. Represented by our friends at the Southern Environmental Law Center, we even secured a Clean Water Act settlement that required Duke to move its ash from unlined pits at the Sutton plant to a lined landfill. Unfortunately, that work wasn't completed fast enough to prevent some of the damage—and even the lined landfill was also breached by the hurricane, underscoring that while some methods of storing coal ash are better than others, the only true solution is to generate power with clean energy and stop creating coal ash altogether.
Carolina residents have long warned Duke Energy, state officials, and the public about these coal ash landfills being a disaster waiting to happen—and many of the ash sites had already leaked several times long before Florence came ashore. The coal ash sites are frequently near low-income communities and communities of color, as CityLab's Brentin Mock documents in these two powerful articles about Hurricane Florence and the long-time environmental justice fights in the Carolinas.
There is no completely safe way to store toxic coal waste, or to mine and burn coal, that doesn't threaten communities, our waterways, and our climate. Knowing all the problems that coal ash causes, Duke needs to stop burning coal and retire all of its coal plants soon. Duke Energy should also take greater advantage of the abundant and affordable clean, renewable energy sources and phase out its use of unnecessary fracked gas plants. And the EPA should strengthen our federal coal ash safeguards, rather than gutting them as the Trump administration is now doing.
Hurricane Florence should be Duke Energy's wakeup call to remove its ash from all of its unlined, leaking coal ash pits next to waterways and take the necessary steps to ensure that all of its landfills are secure as possible and won't contaminate communities—not only when there are massive storms but also from everyday leaching into our groundwater.
EcoWatch Daily Newsletter
[Editor's note: President Trump signed another executive order on Friday aimed at eliminating regulations.]
The Washington Post has reported that the Trump administration may announce a number of executive orders in the coming days.

The rumored targets—the Clean Power Plan, the Clean Water Rule and the federal coal leasing moratorium—protect our air and water, save lives and take action to stop climate disruption. By the numbers, here's what's at stake if Trump attacks these vital safeguards and reforms.
The Clean Power Plan
First Ever: On June 2, 2014, as part of President Obama's Climate Action Plan, the U.S. Environmental Protection Agency (EPA) proposed the Clean Power Plan, our nation's first-ever protections from carbon pollution from power plants. The plan puts states in the driver's seat to hasten their shift to clean energy and reduce carbon pollution. It will also help reduce other forms of dangerous air pollution, helping to keep our children healthier.
Three Times: The Clean Power Plan has a solid legal foundation in the Clean Air Act. On three separate occasions, the U.S. Supreme Court has upheld the EPA's authority and responsibility under the Clean Air Act to protect human health and welfare by limiting carbon pollution.
Up to 6,600: The Clean Power Plan will lead to significant climate and public health benefits for all. The EPA has estimated that, by 2030, the Clean Power Plan will prevent 150,000 asthma attacks and up to 6,600 premature deaths annually.
$93 Billion: The Clean Power Plan also provides great opportunities for economic growth and sustainable development. Investing in clean energy will create jobs and fuel economic growth in our country. The EPA estimates the Clean Power Plan will deliver annual benefits of up to $93 billion by 2030.
37 Percent: Fossil-fuel fired power plants are the largest source of carbon pollution in the U.S. and therefore a major contributor to climate change. Carbon emissions from power plants represent 37 percent of the total CO2 emissions emitted in the U.S.
97 Percent: 97 percent of all the generating capacity added in the U.S. in December 2016 was either wind or solar energy, according to SNL Energy.
The Clean Water Rule
In March 2014 the U.S. Environmental Protection Agency and the Army Corps of Engineers proposed a long-overdue Clean Water Act rule to end the confusion over which streams and wetlands are protected by the law.
The health of our nation's rivers, lakes and bays depends on the network of small streams and wetlands that flow into them. Here's what's at stake:
117 Million: The Clean Water rule provides protections for the drinking water sources for more than 117 million Americans. One in three Americans get drinking water from public systems that rely on headwater and seasonal streams.
20 million: The Clean Water rule also safeguards 20 million acres of wetlands that provide flood protection, recharge groundwater supplies, filter pollution and provide essential wildlife habitat.
Coal Leasing Moratorium: The Cost of Coal Under a Broken System
President Obama initiated a coal leasing moratorium on federal lands while the Department of the Interior reviewed the outdated coal leasing program, which has been shortchanging taxpayers while benefiting coal executives for decades.
Say Goodbye to Coal-Free Streams https://t.co/Om1Wsb3WIl @ukycc @FoEAustralia @ZeroCarbonWorld

— EcoWatch (@EcoWatch)1487508605.0
Sorely in need of reform, under the outdated program the Department of the Interior has been issuing leases to coal companies on the cheap for coal on lands belonging to the American people, giving them a sweetheart deal that has flooded the market with subsidized coal at below-market prices, while damaging our climate and our public lands.
41 cents: 40 percent of all coal burned in the U.S. comes from our federal leases on public lands. Under the existing system, up to 90 percent of bids in the Powder River Basin received only a single bidder, resulting in sales far below what companies typically paid for on private lands. You could buy one ton of federal coal for less than a packet of M&Ms—just 41 cents.
~$28.9 billion: Local taxpayers are not getting a fair return for the use of their public lands with royalty rates set unreasonably low. Under this system, American taxpayers are losing hundreds of millions of dollars each year, totaling an estimated $28.9 billion in revenues in the Powder River Basin alone over the 30 years since the federal government last overhauled its coal leasing program.
11 percent: Mining and burning coal from public lands accounts for approximately 11 percent of annual U.S. greenhouse gas emissions.
Trump is rolling back critical public health and environmental standards so his buddies in the fossil fuel industry can continue to pad their pockets at our expense. The Sierra Club will be fighting these rollbacks every step of the way and Americans nationwide will continue to resist—join us.
PavloBaliukh / iStock / Getty Images
Through net metering programs, homeowners who have installed solar energy systems can get utility credits for any electricity their panels generate during the day that isn't used to power home systems. These credits can be "cashed in" to offset the cost of any grid electricity used at night.
Where net metering is available, solar panels have a shorter payback period and yield a higher return on investment. Without this benefit, you only save on power bills when using solar energy directly, and surplus generation is lost unless you store it in a solar battery. However, net metering gives you the option of selling any excess electricity that is not consumed within your home.
Generally, you will see more home solar systems in places with favorable net metering laws. With this benefit, going solar becomes an attractive investment even for properties with minimal daytime consumption. Homeowners can turn their roofs into miniature power plants during the day, and that generation is subtracted from their nighttime consumption.
What Is Net Metering?
Net metering is a billing arrangement in which surplus energy production from solar panels is tracked by your electricity provider and subtracted from your monthly utility bill. When your solar power system produces more kilowatt-hours of electricity than your home is consuming, the excess generation is fed back into the grid.
For homeowners with solar panels, the benefits of net metering include higher monthly savings and a shorter payback period. Utility companies also benefit, since the excess solar electricity can be supplied to other buildings on the same electric grid.
If a power grid relies on fossil fuels, net metering also increases the environmental benefits of solar power. Even if a building does not have an adequate area for rooftop solar panels, it can reduce its emissions by using the surplus clean energy from other properties.
How Net Metering Works
There are two general ways net metering programs work:
The surplus energy produced by your solar panels is measured by your utility company, and a credit is posted to your account that can be applied to future power bills.
The surplus energy produced by your solar panels is measured by your home's electricity meter. Modern power meters can measure electricity flow in both directions, so they tick up when you pull from the grid at night and count down when your solar panels are producing an excess amount of electricity.
In either scenario, at the end of the billing period, you will only pay for your net consumption — the difference between total consumption and generation. This is where the term "net metering" comes from.
How Does Net Metering Affect Your Utility Bill?

Net metering makes solar power systems more valuable for homeowners, as you can "sell" any extra energy production to your utility company. However, it's important to understand how charges and credits are managed:
You can earn credits for your surplus electricity, but utility companies will not cut you a check for the power you provide. Instead, they will subtract the credits from your power bills.
If your net metering credit during the billing period is higher than your consumption, the difference is rolled over to the next month.
Some power companies will roll over your credit indefinitely, but many have a yearly expiration date that resets your credit balance.
With all of this in mind, it is possible to reduce your annual electricity cost to zero. You can accumulate credit with surplus generation during the sunny summer months, and use it during winter when solar generation decreases.
You will achieve the best results when your solar power system has just the right capacity to cover your annual home consumption. Oversizing your solar array is not recommended, as you will simply accumulate a large unused credit each year. In other words, you cannot overproduce and charge your power company each month.
Some power companies will let you pick the expiration date of your annual net metering credits. If you have this option, it's wise to set the date after winter has ended. This way, you can use all the renewable energy credits you accumulated during the summer.
Is Net Metering Available Near You?
Net metering offers a valuable incentive for homeowners to switch to solar power, but these types of programs are not available everywhere. Net metering laws can change depending on where you live.
In the U.S., there are mandatory net metering laws in 38 states and Washington, D.C. Most states without a mandate have power companies that voluntarily offer the benefit in their service areas. South Dakota and Tennessee are the only two states with no version of net metering or similar programs.
If net metering is available in your area, you will be credited for your surplus energy in one of two ways:
Net metering at retail price: You get full credit for each kilowatt-hour sent to the grid. For example, if you're charged 16 cents per kWh consumed, you'll get a credit of 16 cents per kWh exported. This type of net metering is required by law in 29 states.
Net metering at a reduced feed-in tariff: Surplus electricity sent to the grid is credited at a lower rate. For example, you may be charged 16 cents per kWh for consumption but paid 10 cents per kWh exported. Feed-in tariffs and other alternative programs are used in 17 of the states where retail-rate net metering is not mandatory.
Note: This is just a simplified example — the exact kWh retail price and solar feed-in tariff will depend on your electricity plan.
The Database of State Incentives for Renewables & Efficiency (DSIRE) is an excellent resource if you want to learn more about net metering and other solar power incentives in your state. You can also look for information about solar incentives by visiting the official websites of your state government and utility company.
Other Financial Incentives for Going Solar

Net metering policies are one of the most effective incentives for solar power. However, there are other financial incentives that can be combined with net metering to improve your ROI:
The federal solar tax credit lets you claim 26% of your solar installation costs as a tax deduction. For example, if your solar installation had a cost of $10,000, you can claim $2,600 on your next tax declaration. This benefit is available everywhere in the U.S.
State tax credits may also be available depending on where you live, and they can be claimed in addition to the federal incentive.
Solar rebates are offered by some state governments and utility companies. These are upfront cash incentives subtracted directly from the cost of your solar PV system.
In addition to seeking out solar incentives available to you, you should compare quotes from multiple installers before signing a solar contract. This will ensure you're getting the best deal available and help you avoid overpriced offers and underpriced, low-quality installations. You can start getting quotes from top solar companies near you by filling out the 30-second form below.
Frequently Asked Questions: Solar Net Metering

Why is net metering bad?
When managed correctly, net metering is beneficial for electricity consumers and power companies. There have been cases in which power grids lack the capacity to handle large amounts of power coming from homes and businesses. However, this is an infrastructure issue, not a negative aspect of net metering itself.

In places with a high percentage of homes and businesses using solar panels, surplus generation on sunny days can saturate the grid. This can be managed by modernizing the grid to handle distributed solar power more effectively with load management and energy storage systems.

How does net metering work?
With net metering, any electricity your solar panels produce that isn't used to power your home is fed into your local power grid. Your utility company will pay you for this power production through credits that can be applied to your monthly energy bills.
Can you make money net metering?
You can reduce your power bills with net metering, using surplus solar generation to compensate for your consumption when you can't generate solar power at night and on cloudy days. However, most power companies will not pay you for surplus production once your power bill has dropped to $0. Normally, that credit will be rolled over, to be used in months where your solar panels are less productive.
On very rare occasions, you may be paid for the accumulated balance over a year. However, this benefit is offered by very few electric companies and is subject to limitations.
Lately, I've been finding strength in the things I'm thankful for and I wanted to share some of those with you for the Thanksgiving weekend. Many of us are carrying sadness, worry and fear in our hearts in the wake of the election, and some are dreading political talk around the Thanksgiving table.
iStock
If you need help with those tense holiday dinner table conversations, check out this great blog of practical tips from my Sierra Club colleagues. And if you need help for your weary spirit, I offer these five things I'm thankful for this season that give me hope for the next four years and beyond:

1. Courageous grassroots leaders are standing strong.
From the water protectors fighting to stop the Dakota Access Pipeline to the community leaders standing up to super polluter coal plants in the heartland, I'm so grateful for the ordinary people who are stepping up to lead the fight for justice and our future.
David can beat Goliath. I've seen it happen hundreds of times as director of the Beyond Coal Campaign, as I've stood with grassroots leaders who have won campaigns to retire 243 polluting coal-fired power plants. If there's one thing I've learned over the past decade, it's that people power can overcome impossible odds to win. It's also what will keep us moving forward over the next four years.
2. Climate pollution keeps falling—and we aren't going backwards.
Donald Trump may have vowed to try and dismantle our climate policies, including the Clean Power Plan, but he can't stop our progress in reducing climate pollution. As Politico reported on Nov. 18, the U.S. is already on track to meet the carbon reduction goals of the Clean Power Plan before it has even gone into effect—that's the policy to reduce climate pollution from power plants that was the centerpiece of the U.S. climate commitment in Paris (an agreement that 71 percent of Americans support, it turns out).
The Clean Power Plan is important and we'll fight to defend it. But no matter what happens, we can meet its climate targets. We'll make that progress by phasing out coal and ramping up renewable energy, which was the number one new source of electricity in the U.S. last year. Those trends aren't going backwards—and neither are we.
3. Coal can't stop clean energy.
Donald Trump may have promised to bring back the coal industry, but as many news outlets have reported, that was an empty campaign promise he won't be able to deliver. The industry will have friends in high places, but they won't be able to stop the market forces and grassroots pressure working against coal. Here's exhibit A—less than two weeks after the election, Baltimore's C.P. Crane coal plant became the 243rd U.S. coal plant to announce retirement after 55 years of operating in an urban area without scrubbers, contributing to lots of asthma attacks and other health problems.
Thanks to a decade plus of advocacy that included stopping 184 proposed coal plants, here's the reality on the ground—we aren't building any new coal plants in the U.S., almost half of existing U.S. coal plants have announced retirement, more retirements will follow as the remaining plants get older every day, and renewable energy is now cheaper than fossil fuels in many parts of the U.S., for the first time in history. Plus, we've created almost 250,000 new solar and wind jobs in the process. These are deep structural changes in how we power America that Donald Trump can't reverse.
Why Trump, or Anyone for That Matter, Can't End the War on Coal https://t.co/Tzc3zbTNHE @foeeurope @globalactplan

— EcoWatch (@EcoWatch)1479466214.0
4. The fight for justice and our planet are interconnected.
One thing the 2016 election has laid bare is that our work for justice and sustainability are inextricably connected. If we try and address climate change, pollution and land protection without addressing inequality, racism and injustice, we will always end up taking one step forward and two steps back.
I'm thankful that my fellow environmental advocates are increasingly making these connections, which have long been at the heart of the environmental justice movement and that Sierra Club will be standing alongside diverse partners—advocates for women, immigrants, Muslims, people of color, the LGBTQ community and working Americans—in the fight for our future. That includes working to diversify the economy in coal communities and bringing real progress, rather than empty promises, to the places that powered our country for the past century, like my home state of West Virginia.
5. States, cities and communities will keep driving our energy future.
The decisions about where U.S. electricity comes from are made largely in states and cities, not in Washington, DC. From utility commissions to state houses to city councils, these local venues have the final word on how much coal, gas and clean energy we use. These are also the places where the Sierra Club and our allies have built strength for two decades and that's where we will double down.
100 Solutions Show How Cities Are Blazing Path Towards Climate Action - EcoWatch https://t.co/RgzyHdqMbu https://t.co/nw8DKvCwCQ

— World of Nature (@World of Nature)1479673408.0
Of course we'll be defending against attacks in Washington, DC on our clean air, water and climate protections, with everything we've got. But we'll also be pushing cities to commit to 100 percent clean energy, campaigning for a clean energy transition in every possible local venue and looking to the states for leadership—and I'm sure we'll find it there.
More than anything, I'm thankful for my family and friends, for this beautiful planet that sustains us all, and for the opportunity I have, every day, to be a force for good in this world and build a better future for my six-year-old daughter. Take heart, my friends. We are all in this together. And we have so much to be thankful for, it turns out. Happy Thanksgiving.
This is big—for our climate, for clean air and water, for our future. It's also big because the U.S. government is honoring its treaty obligations. After a five-year struggle that engaged hundreds of thousands of people, the U.S. Army Corps of Engineers issued a landmark decision Monday to deny federal permits for the biggest proposed coal export terminal in North America—the SSA Marine's proposed Gateway Pacific Terminal, a coal export facility at Xwe'chi'eXen (also known as Cherry Point), Washington.
In January 2015, the Lummi Nation asked the Army Corps to reject the project because it would violate U.S. treaty obligations to project the tribe's fisheries and ancestral lands. This is a huge win for the Lummi Nation and its Northwest community allies over the coal companies.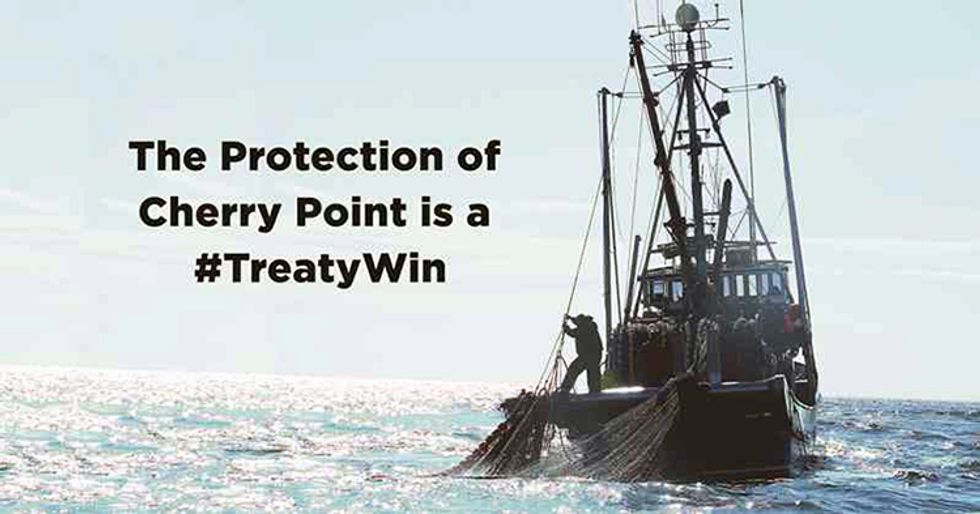 The Army Corps made the right choice and did its duty by upholding treaty rights and honoring the U.S. government's commitment to those treaties. Time and again, Pacific International Terminals has shown disregard for the Lummi Nation and its allies, who have for years voiced concerns about the project's public health, economic and environmental impacts.
I have had the great honor of joining tribal leaders in the Northwest and the Power Past Coal coalition over the many years of this struggle. The Sierra Club is proud and honored to stand in solidarity with these Tribal Nations and community partners in the fight against coal exports in the Pacific Northwest. I've been inspired and electrified by the hundreds of thousands of activists across the region who have spoken out at public hearings, written letters, submitted comments and rallied for clean energy instead of coal exports.
It's encouraging to see this fossil fuel project that poses great risks and harm to communities, the environment and local economies, receiving the thorough scrutiny it deserves. Northwest families deserve and will accept nothing less than this kind of leadership that protects our health, safety, local economy and climate.
YES! Lummi Nation defeats coal export terminal in Cherry Point, WA! https://t.co/GnckoyK91B #TreatyWin @lummicomms @ClarkWDerry @Sightline

— UBCIC (@UBCIC)1462845729.0
This decision comes on the heels of the recent bankruptcy of Peabody Coal and the news last week that the U.S. crossed the milestone of 100,000 megawatts of coal plant retirements since 2010. Peabody was banking on this project as a major customer for its coal and this announcement deals another blow to promises by coal executives that they have a revival on the horizon—claims that we recently challenged in this open letter to the coal industry and industry analysts.
This is a historic win, but there is a lot more work to do. We will continue to fight until our communities are no longer threatened by these dangerous coal export proposals. Specifically, we will maintain our opposition to this project as long as the developers continue pursuing it and we will leave no stone unturned in our opposition to Millennium Bulk Logistics in Longview, which will have public hearings and a comment period this month and the Fraser Surrey project in British Columbia.
We will continue to fight Arch Coal, Cloud Peak, Peabody Energy and other coal companies that would jeopardize our health, safety, local economies and natural resources—like Lighthouse Resources', Millennium Bulk Terminals, which wants to force a coal export facility into Longview.
These dirty and dangerous projects will not move forward and we will strive to pursue pathways for justice for all communities as justice was upheld today.
YOU MIGHT ALSO LIKE
Record-Breaking Wildfire Rages On in Canada's Oil Sands Region
People Power Over Corporate Power = Canceled Pipeline Projects
Elon Musk: We Must Revolt Against the Unrelenting Propaganda of the Fossil Fuel Industry
This week, a giant that had been teetering for many months finally fell, as Peabody Coal officially declared bankruptcy. For market watchers around the globe, this was a decisive movement in the long decline of an industry that once seemed invincible—the New York Times called it "Wall Street's retreat from King Coal." For those of us who live and work in Appalachia, this is the IMAX version of a movie we've seen many times before, one where coal company executives take the money and run, attempting to leave communities and taxpayers holding the bag for ruined communities, workers, mountains and rivers.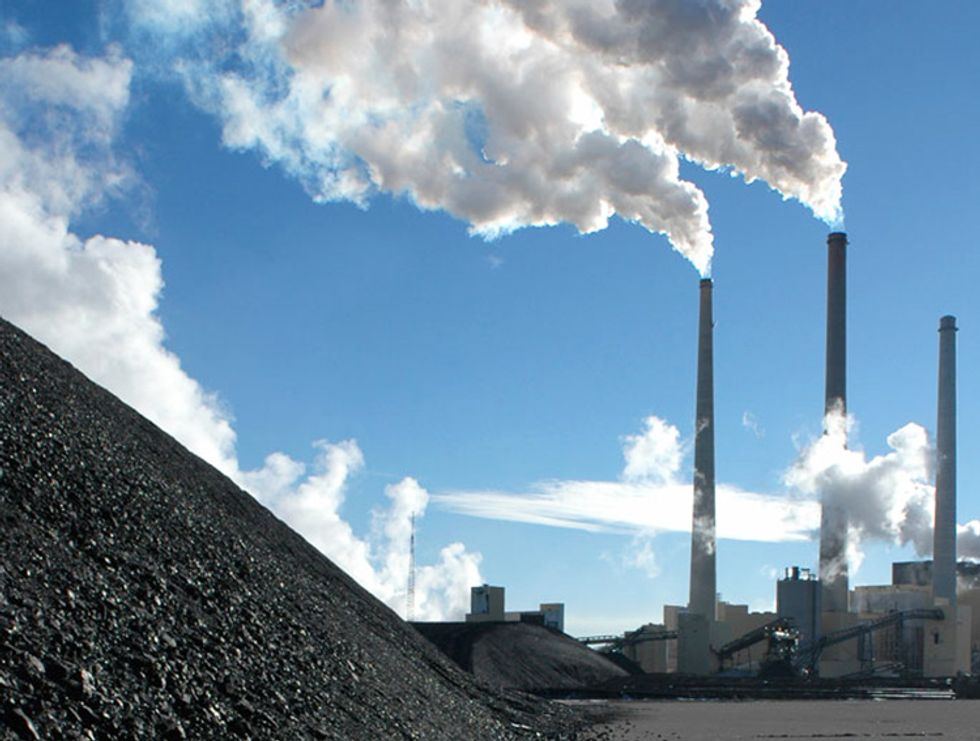 This time, we can't let them get away with it. There's way too much at stake.
The transition away from polluting coal to clean energy is essential to protecting the health of our communities and our climate and the Peabody bankruptcy is one of the clearest signs that there's no reversing that trend. Thanks to to the grassroots leaders who stopped the construction of 184 coal plants, secured the retirement of one-third of U.S. coal plants (232 and counting) and secured enough clean, renewable energy to replace that coal, the U.S. energy landscape has changed in a profound, irreversible way. Coal was providing half of U.S. electricity just five years ago and in 2015 that dropped to a historic low of 34 percent.
Let's be clear—with 300 U.S. coal plants still chugging along, thousands of Americans still suffering health problems from coal pollution and a climate on the brink of collapse, this transition is far from over. But it is underway, with a lot more work ahead of us. And as we make this shift, we can't leave behind the communities and families that have long relied on the coal industry.
That's why the Beyond Coal Campaign has always pushed for policies that will help transition coal communities to new economic opportunities and pressed lawmakers to fully fund initiatives that shore up coal workers' livelihoods as they move to new jobs. These initiatives also include guaranteeing that coal workers receive the healthcare and pension benefits they've earned.
So when the news hit this week that Peabody Energy declared bankruptcy, we joined a chorus of groups calling for the company to not do as so many others have—use the bankruptcy to shed their responsibilities to their workers, retirees and the lands near their old mines.
Peabody, once regarded as a titan in the American energy industry, is just the latest in a string of at least 50 coal industry bankruptcies since 2012. Just two months ago Arch Coal, the nation's second largest coal producer, filed for Chapter 11 protection; and Alpha Natural Resources, the fourth largest coal producer in the U.S., declared itself insolvent last August.
Peabody has more than $2 billion in mine cleanup liabilities, nearly $1.5 billion of which are unfunded, including nearly $900 million in Wyoming alone. This puts the company in a difficult financial situation, which understandably makes us nervous that it will bail on coal communities to satisfy its executives and creditors. It doesn't help that Peabody has a history of spinning off its responsibilities into smaller companies that seem like they are built to fail; leaving taxpayers holding the bag. Exhibit A is Patriot Coal, a subsidiary company that Peabody spun off to dump many of its Appalachian commitments—including mountaintop removal sites and worker pensions. When Patriot predictably failed, Peabody was nowhere to be found.
We can't let this happen again. Peabody needs to step up and take care of the communities responsible for its past success by guaranteeing that it will fulfill its obligations while sorts through its bankruptcy. Peabody isn't the only institution that needs to do the right thing, however. Coal communities across the country need Congress to step up as well.
The federal representatives of coal communities need to push Congress to invest in economic redevelopment and diversification, help shore up health care and pension plans for coal workers and their families, and ensure toxic mining sites are cleaned up and reclaimed. Fortunately, there are strong plans on the table—specifically the Obama Administration's Power+ Plan, which aims to provide billions of dollars to revitalize coal communities and Congress Hal Rogers' bipartisan RECLAIM Act, which will put $200 million a year for five years into land reclamation and economic redevelopment in areas struggling due to coal's decline.
Though these policies are a good start, nothing near the scale of what is needed has been enacted yet. We must push forward with more effort and more funding to guarantee that these communities aren't left behind in our growing clean energy economy. Peabody's bankruptcy underscores the urgency of making these plans a reality. It's time to stand and fight for a thriving, sustainable, prosperous future—together. Join us.
YOU MIGHT ALSO LIKE
Peabody Energy Should Be in Criminal Court, Not Bankruptcy
World's Largest Coal Company Files for Bankruptcy
400 Arrested on Capitol Steps Protesting Big Money in Politics
Is the World Bank Snatching Climate Defeat From the Jaws of Victory?
We just got some great news for clean energy—today, the U.S. Department of Energy (DOE) decided to participate in the Clean Line transmission project, which will bring a game-changing amount of low-cost, high-quality wind from Oklahoma and the Texas panhandle to the Southeastern U.S. Because I grew up in Tennessee, I'm especially excited to see this big step forward for a project that is poised to bring a massive amount of clean, renewable wind energy into the South.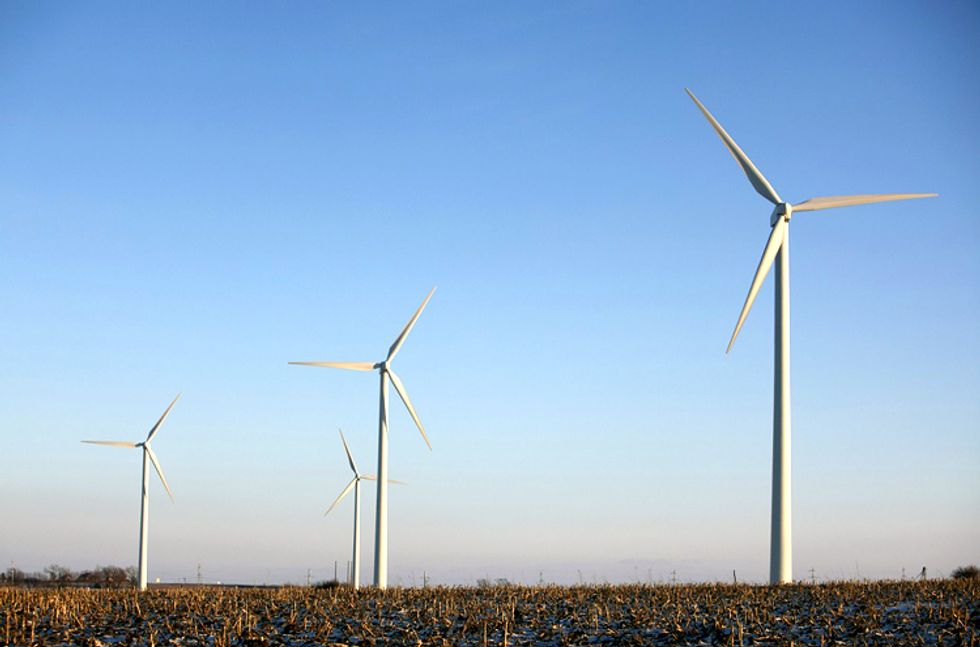 The Clean Line will deliver more than 4,000 megawatts of affordable wind power to more than 1.5 million homes and businesses in Tennessee, Arkansas and other Southern states. It will be one the biggest leaps forward for clean energy in the country, and it will deliver all kinds of benefits, from creating jobs, to sparking innovation and economic development, to helping ensure the U.S. meets the carbon reduction commitment that we made at the Paris climate summit last December.
The decision comes after five years of review by DOE, and means the federal government will step in to help secure the transmission route, if and only if the developer can't reach agreement with a state (Oklahoma and Tennessee have already endorsed the project). It's a decisive step forward for this project, one that we hope will soon be delivering clean power to the Volunteer State and beyond. As Scott Banbury of Sierra Club's Tennessee chapter put it, "this isn't just about a transmission project. It's about the Tennessee Valley modernizing its economy, saving communities and customers millions of dollars in utility bills, and building a prosperous clean energy future."
Here's how one of my Sierra Club colleagues in Arkansas described today's news:
"The Sierra Club is celebrating today's decision, which is a giant step toward bringing clean energy to our state and region," said Glen Hooks, director of the Arkansas Sierra Club. "Putting thousands of megawatts of clean wind energy onto the grid—including 500 megawatts for Arkansas—will undoubtedly lead to less dirty coal and gas being burned for electricity. We are on our way to cleaner air, healthier citizens, and a booming clean energy economy."
The Sierra Club applauds today's decision by DOE. In our race against to clock to avert a climate crisis, save lives from air and water pollution, and scale up clean energy, this project is an important part of the solution.
YOU MIGHT ALSO LIKE
Renewable Energy Investments Set New Record, Twice That of Coal and Gas
Musk, DiCaprio and Rive Talk the Future of Solar at Tesla Gigafactory
Worldwide Shift to Renewable Energy Played 'Critical Role' in Stalling Carbon Emissions
3 Cities Disrupting the Local Electricity Market With Innovative Renewable Energy Projects
Let's make one thing perfectly clear—while the Supreme Court's decision to put a temporary hold on the Clean Power Plan was disappointing, it won't revive the fortunes of the coal industry, slow the transition to clean energy or cripple progress toward meeting the climate commitment the U.S. made in Paris last year.
Tuesday's decision means the Supreme Court is temporarily pausing the Clean Power Plan from going into effect, while the courts consider the merits of the case. As that legal process unfolds, likely into 2017, something else will continue unfolding as well—the steady progress of the Sierra Club and our allies to retire coal plants and replace them with clean energy. As we outlined in a report released late last year, our strategy gives us a pathway to meet our climate targets, even as the Clean Power Plan makes its way through the courts.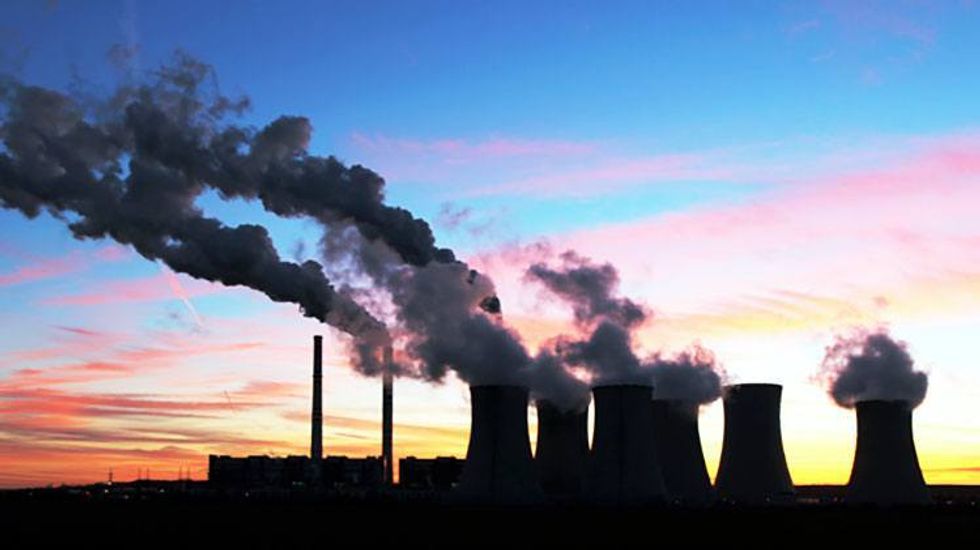 Thanks to coal retirements and the rise of clean energy, U.S. carbon emissions are at their lowest level in two decades and are continuing to fall. In 2015, the U.S. got just 34 percent of our electricity from coal, the lowest level in recorded history and experts don't see a reversal of that trend. Since 2010, we've won retirement of 231 coal plants that make up one-third of the U.S. coal fleet and we're just warming up, with the goal of securing retirement of half the U.S. coal fleet no later than 2017.
The momentum behind clean energy keeps growing and this pause of the Clean Power Plan won't slow it down. In 2015 renewable energy—like wind and solar—was our biggest source of new power on the grid, making up 65 percent of all new electricity generation and eclipsing gas for the very first time. As we outlined in that report last year, all this progress has the U.S. already halfway to meeting the 2030 Clean Power Plan carbon reduction requirements, five years before the rule even takes effect.
With grassroots power and market forces on our side, the U.S. will remain on track to meet our Paris commitments in the electric sector, but there is still more the U.S. and Obama Administration must do to avert a climate crisis, including adopting strong standards to reduce methane pollution from all sources in the oil and gas sector.
While the Supreme Court stay is a disappointing development, we are confident that the courts will ultimately uphold the Clean Power Plan, just as they have upheld the U.S. Environmental Protection Agency's responsibility to address climate pollution under the Clean Air Act many times before. And in the meantime, we are fortunate to have a proven, resilient, grassroots strategy that ensures we will keep making progress on clean air and water, climate change and clean energy. We're not taking a break—we're stepping on the accelerator.
YOU MIGHT ALSO LIKE
17 House Democrats Introduce 'Keep It In the Ground Act' to Prohibit New Fossil Fuel Extraction on Public Lands
8 Things California Gov. Brown Doesn't Want You to Know
Michael Moore: My New Movie Will Change America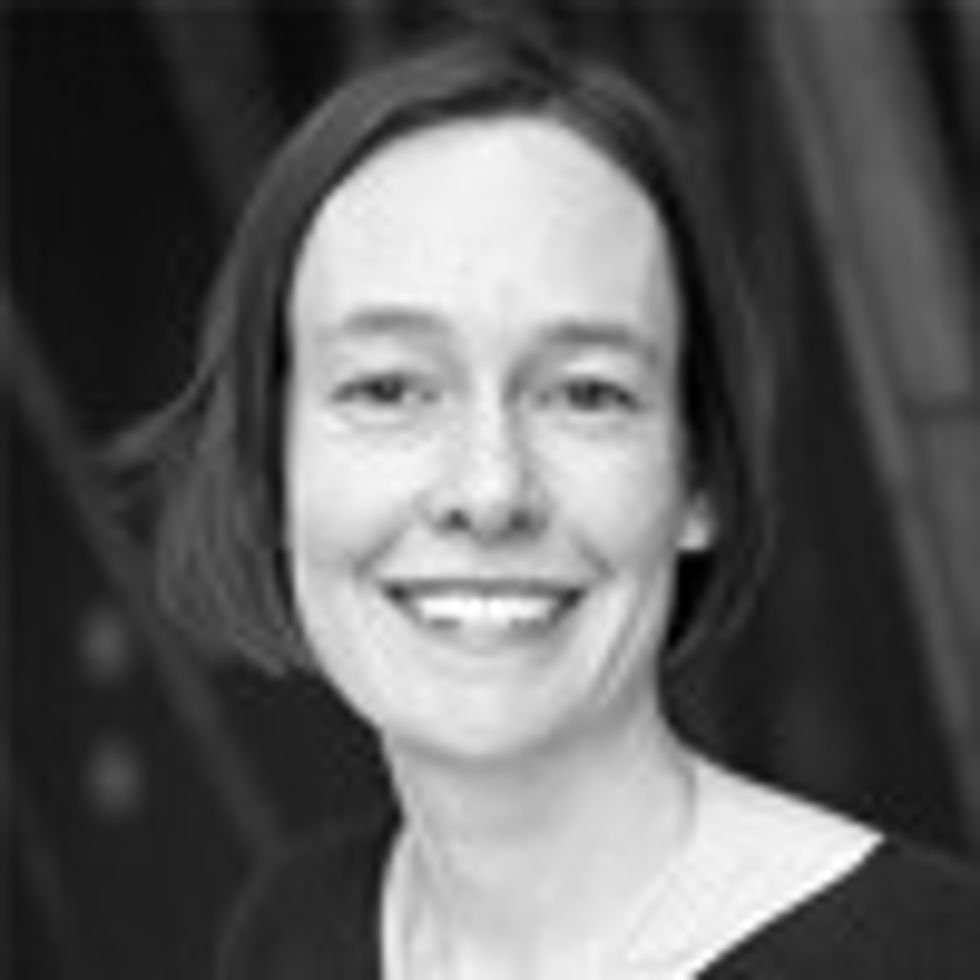 The San Francisco Bay might be the last place that comes to mind when you think of dangerous coal projects. But as it turns out, there's a big coal export proposal in Oakland, intended to ship coal to Asian markets from our nation's biggest coal reserves, in the Western U.S. And the project is facing massive resistance. Last week hundreds of activists and community leaders gathered in Oakland, California, for a rally against the proposed coal export facility and also for a teach-in about the alignment of the campaign to block coal exports with struggles for social, economic and racial justice.
The San Francisco Bay Sierra Club united with SEIU Local 1021, No Coal in Oakland, Fight for 15 and Black Lives Matter for the events. Activists have been working for months to convince the Oakland City Council to block the proposed coal export terminal slated for a former Army base in Oakland. The Oakland City Council had committed to voting on this issue by Dec. 8, but then delayed their vote to February.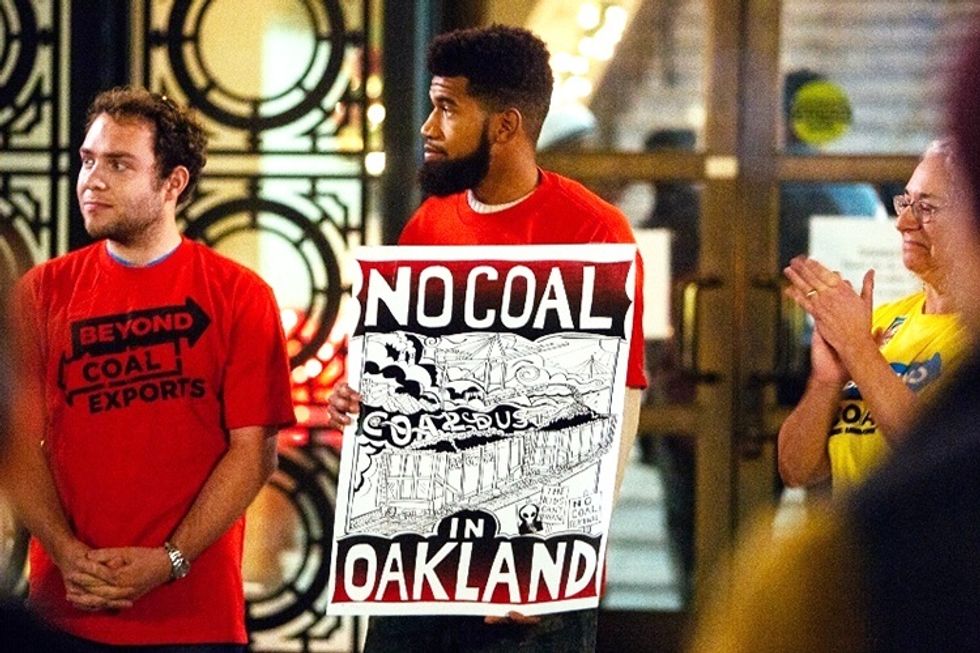 Activists gathered at city hall on Tuesday, Dec. 8, to make their voices heard and gather for a community teach-in that brought together a broad intersection of Oakland activists.
"If Oakland Bulk and Oversized Terminal is allowed to store coal on City of Oakland-owned land, it will greatly impact the lives and lungs of people in the Oakland flatlands, who are the most vulnerable members of our community," said Margaret Gordon, co-founder of West Oakland Environmental Indicators Project. "The developer never proposed coal as a commodity until after agreements were signed with the city. Even now, the developer doesn't have the funding together to make this terminal a reality without the cooperation of state and local government. The City of Oakland should take the strongest possible stance in opposing the storage of coal at the Oakland Bulk and Oversized Terminal."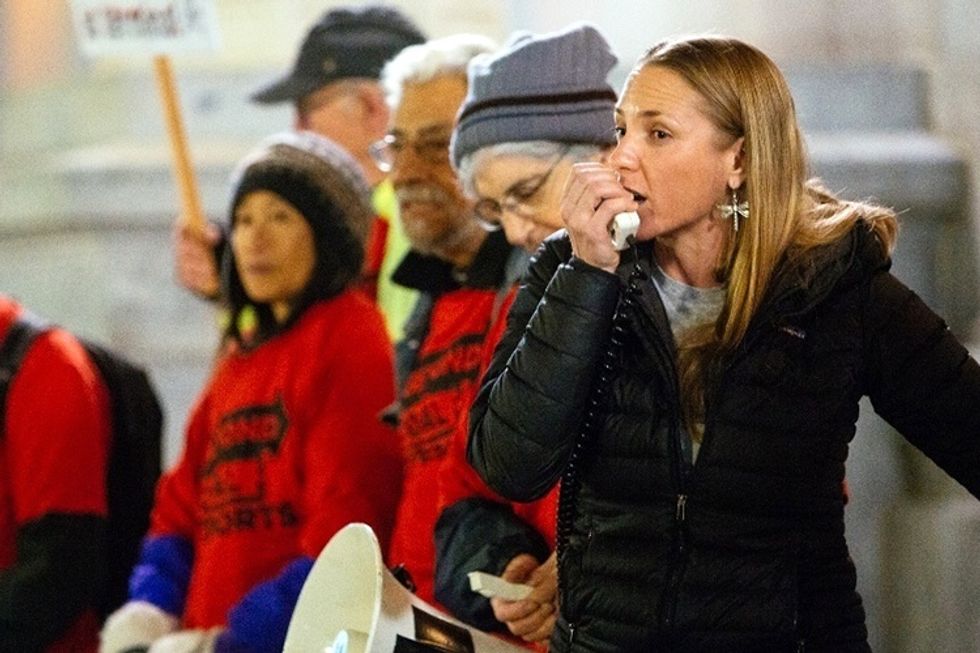 CCIG, the developer of the proposed export facility, promised not to include coal as a commodity handled by the terminal, but is now soliciting a partnership with four Utah counties that could allow the terminal to export up to 10 million tons of coal from their mines each year. A Utah funding body approved $53 million to buy space at Oakland Bulk Terminal for these exports. This deal is being conducted behind the backs of the Oakland City Council and the Port, both of which oppose coal as a commodity for shipping in Oakland. While the Mayor, members of the council and residents have demanded a stop to this backroom deal, the developer has yet to abandon the plans.
Those opposing the plan to export coal through Oakland have voiced concerns over how this decision will affect the community's safety, the environment and public health.
"Low-income communities of color disproportionately overburdened by pollution are on the front lines of potential train derailment in West and East Oakland," said Ernesto Arevalo, East Oakland environmental justice and housing advocate. "The transportation of coal is another burden to these communities that are already facing other environmental risks and displacement."
This deal will also undermine California's strong commitment to cutting carbon pollution,  as the state continues to suffer from extreme drought, forest fires and other signs of climate disruption.
With U.S. coal use in sharp decline, thanks to nationwide grassroots advocacy over the past decade, mining companies are looking to Asian markets as their last hope. But they can only expand coal exports from our nation's largest reserves—in the Western U.S.—if large new port facilities are opened up on the West Coast. Those proposals have consistently met a massive wall of opposition from local residents and elected officials concerned about clean air and water, public health and climate change.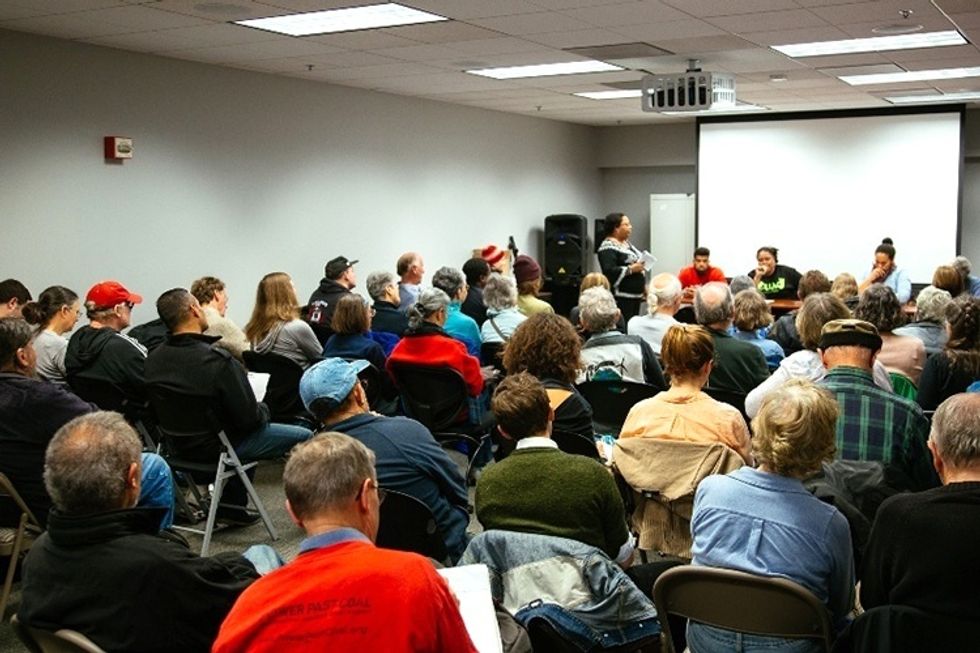 "We believe it is so important that there be no coal in Oakland because of profound health concerns of residents," said Dominic Ware and Chris Higgenbotham of Black Lives Matter Bay Area in a joint statement. "We've already seen the impacts of gentrification in West Oakland. Now we're being exploited in another way by coal companies who want to pollute our communities."
The community leaders and coalition vowed at the teach-in to keep up the fight against the coal export plan as long as it takes—they are united in their opposition and working together for sustainable opportunities for the area. The speakers explored ways that environmental justice intersects with economic and racial justice. For example, for workers without access to sick days, asthma triggered by air pollution can mean losing their jobs, which in turn can lead to displacement from communities like Oakland that are experiencing an affordable housing crisis.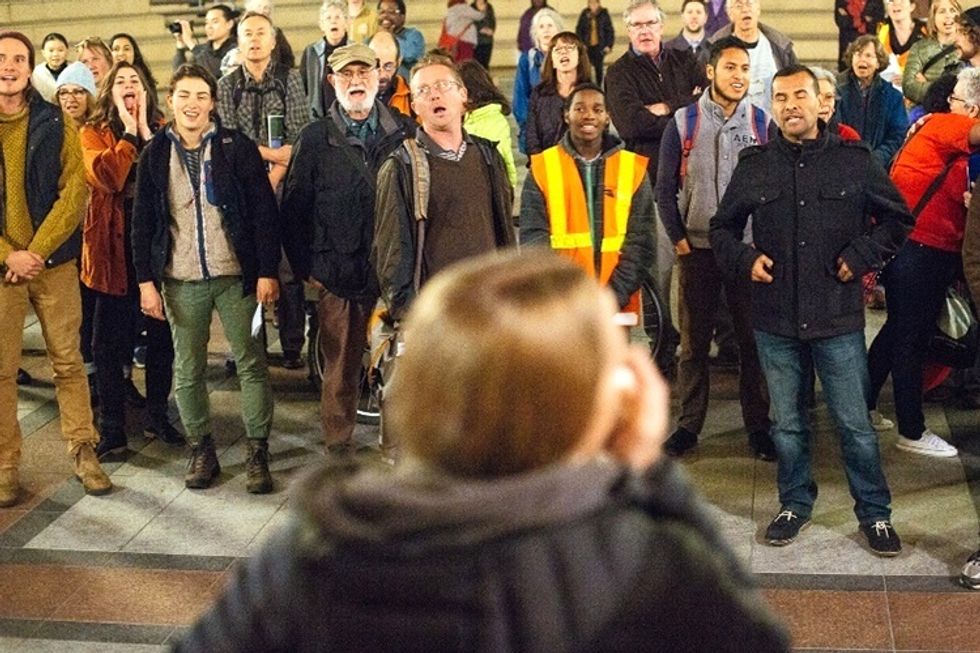 Here's one short presentation from International Longshore and Warehouse Union Local 10 in Oakland about their opposition to the coal export plan.
"What does social justice look like?" said Shonda Roberts, activist with Fight for 15. "To me it looks like a livable wage, a clean environment and safe communities. The only way that would be attainable is solidarity."
"The City Council can delay all they like, but we're not going anywhere," said Brittany King of the SF Bay Chapter of the Sierra Club. "So much is at stake here, from our global climate to the health of the West Oakland community. This week concerned Oaklanders from many different struggles came together to speak with one voice: We say no to coal exports in Oakland."
YOU MIGHT ALSO LIKE
The End of Fossil Fuels is Near
5 Things Bill Nye Wants for Christmas
Neil Young, Willie Nelson, Dave Matthews, John Mellencamp: Help Us Stop the DARK Act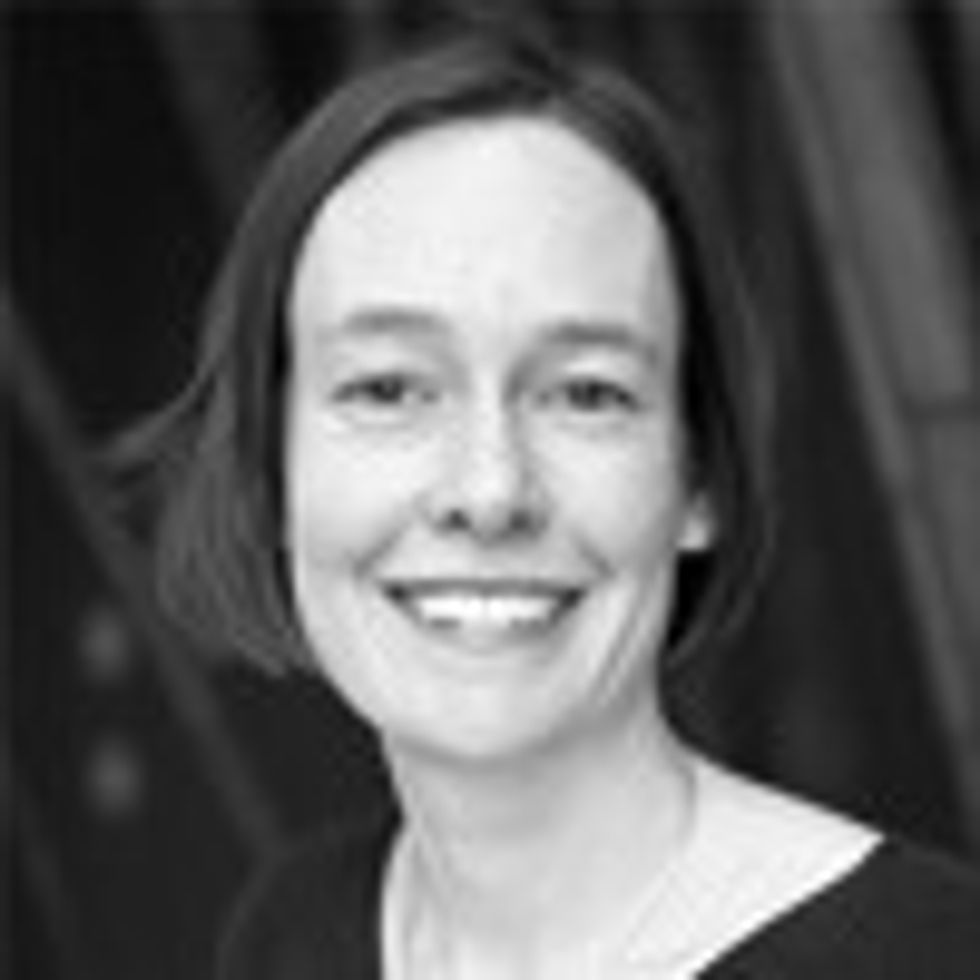 Seven years ago, I found myself on a two-person airplane flown by Doug Tompkins, as he gave me an aerial tour of one of the protected areas he and his wife Kris had preserved in Chilean Patagonia. I remember the plane being tiny and almost as transparent as Wonder Woman's and I remember it was perhaps the most breathtaking place I'd ever seen.
I'd come to Patagonia to work with Doug and his team on one of his famous coffee table books about environmental issues, this one on mountaintop removal coal mining, Plundering Appalachia. He'd approached me about doing the book after seeing me give a Google Earth virtual flyover of mountaintop removal. Soon after that, I found myself in the wilds of Patagonia, staying with Doug and Kris, enjoying their legendary hospitality, meeting an ever-changing cast of visitors (I was told I'd just miss Julia Roberts and her family by a day) and working long days and nights on the book with Tom Butler, George Wuerthner and Doug.
Thank you, Doug Tompkins, for inspiring us to find beauty in everything. Our thoughts are with @thenorthface family. https://t.co/sUWJMnT0go

— GORE-TEX Products NA (@GORE-TEX Products NA)1449684752.0
Doug was involved in selecting and editing every image and word in that book and I got the impression he approached everything that way, a combination of vast, far-reaching vision with precise attention to the smallest detail. He was both a lofty intellectual and a very practical, hands-on maker of things—businesses, national parks, films, coffee table books. While he wasn't afraid of public opinion, he was also very focused on shifting it, hence the books and his large publishing operation at the Foundation for Deep Ecology. And somehow his politics seemed simultaneously radical and pragmatic, not just putting forward grand, seemingly impossible ideas, but actually bringing them to life and making them a reality.
North Face Co-Founder Dies in Kayaking Accident https://t.co/kTqfEctJqz @bruneski @sierraclub @greenpeaceusa @350 https://t.co/CpKypQRzoC

— EcoWatch (@EcoWatch)1449755490.0
Most importantly though, he fiercely loved this planet and the people who were fighting for it. On my visit to Chile, Patagonia founder Yvon Chouniard was also there—they were in their sixties by then and about to embark on another big climb for the film 180 Degrees South, which retraces Doug and Yvon's now-legendary 1968 journey to Patagonia. Doug lived the slogan that he's credited with developing for North Face—"never stop exploring."
Many of you knew Doug much better than I, but I feel fortunate to have spent a little of my time here on Earth with him. Farewell to one of the greats.
YOU MIGHT ALSO LIKE
North Face Co-Founder Dies in Kayaking Accident
Adidas Unveils 3D-Printed Shoe Made From Plastic Ocean Waste
Watch the Film of the Year: Racing Extinction
7 Ultimate Hikes From Around the World That Should Be on Your Bucket List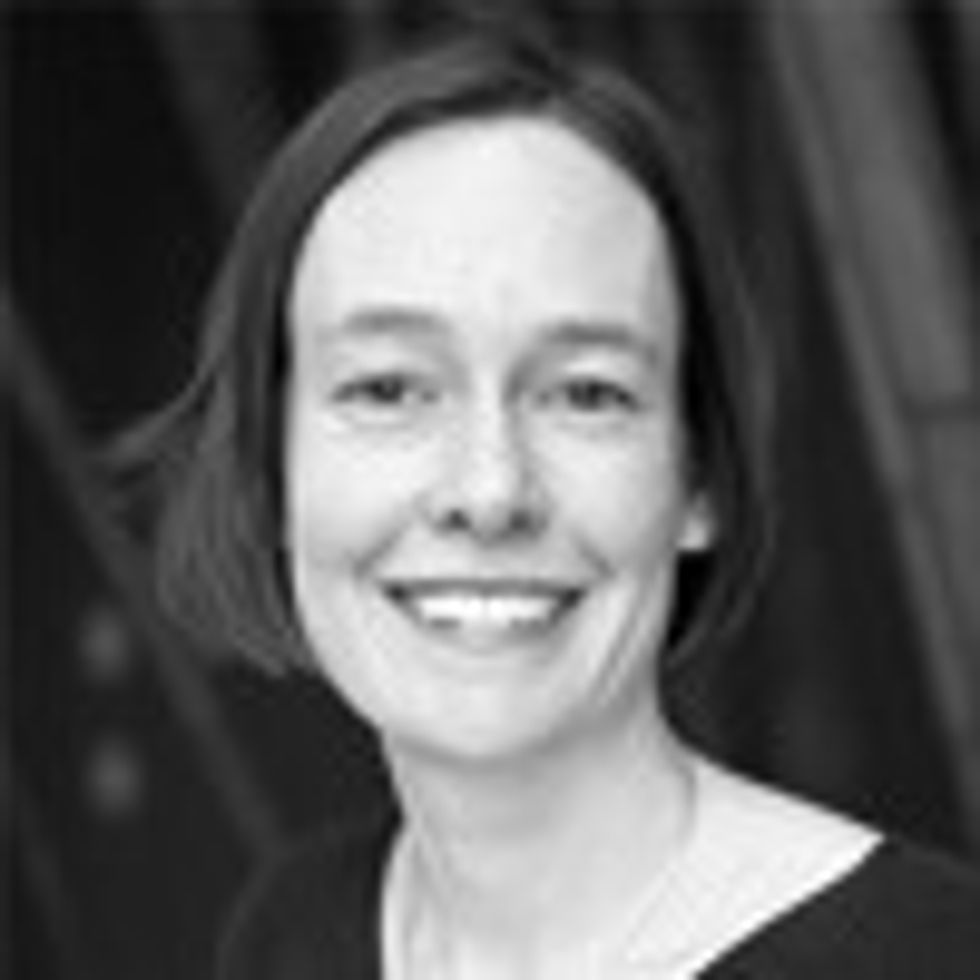 Google announced this week that it will be opening its newest data center—which will be 100 percent powered by renewable energy—at the site of a soon-to-be retired Tennessee Valley Authority (TVA) coal plant in Alabama that is being phased out thanks to the advocacy of Sierra Club and many others. It's one of the most powerful, inspiring examples yet of the energy transformation that we're driving all across this nation, and if done right, it could also provide an economic boost for Widows Creek workers and the local community.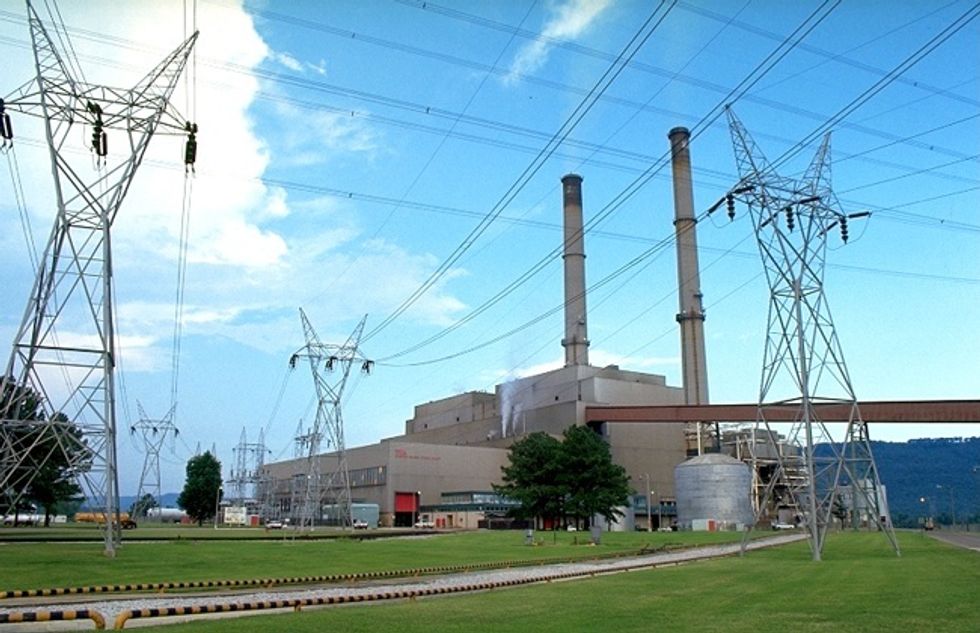 "It's exciting to see Tennessee Valley Authority (TVA) working with the state and regional economic agencies to repurpose this old, polluting coal plant in a way that will jumpstart green industry growth, renewable power and job creation in Alabama," said Jonathan Levenshus, a senior Beyond Coal campaign representative in the region.
This is especially timely, as news is just breaking today that the U.S. Environmental Protection Agency (EPA) and Alabama Power have reached an agreement to phase out coal at several units and crack down on air pollution from the remaining units.
Sierra Club activists and allies were instrumental in securing retirement of the Widows Creek coal plant, pointing to its serious air, water, and climate pollution and urging the TVA to retire and it create a responsible transition program for its workers. After a decade of advocacy and litigation, the Sierra Club and others reached an agreement with TVA in 2011 that was one of the most sweeping clean air victories in Southeastern history. It required retirement of 18 TVA coal units, including phasing out Widows Creek units 1 - 6 between 2013 and 2015 (most coal plants contain multiple units, or boilers). Then, as part of TVA's energy planning process, we pushed hard for retirement of all the remaining units at Widows Creek, which TVA's board voted to do at a meeting this May.
The Sierra Club had started a conversation with TVA's board chair and the regional economic development agency in Jackson County earlier this year about a responsible transition. Now that this news has broken, it's important that Google and TVA ensure this transition provides good, union jobs to workers from Widows Creek and the local community, to ensure the economic benefits of this project go to those who most need them. That includes the many jobs this project promises to create in construction, renewable energy development, and energy efficiency projects.
The project provides a welcome example of redevelopment with clean energy. As a Google official noted:
"The idea of repurposing a former coal generating site and powering our new facility with renewable energy—especially reliable, affordable energy that we can count on 24/7 with the existing infrastructure in place—was attractive," said Gary Demasi, Director of Data Center Energy and Location Strategy for Google.
Google officials added that they will continue to work with the TVA to develop more clean energy as well. "Thanks to an arrangement with Tennessee Valley Authority, our electric utility, we'll be able to scout new renewable energy projects and work with TVA to bring the power onto their electrical grid," said Patrick Gammons, Google's Senior Manager for Data Center Energy and Location Strategy. "Ultimately, this contributes to our goal of being powered by 100 percent renewable energy."
Levenshus said TVA has a great track record of helping its employees when coal plants retire, and this decision is no different. "It's gratifying that TVA has chosen to work with Google to redevelop the site and bring new construction, renewable energy and high-tech jobs to this rural community, which has relied on the coal plant for the last 60 years. Building this new data center in Jackson County will strengthen the regional economy and will help move Alabama forward."
He added that this decision offers a model to other utilities nationwide when exploring how to redevelop coal plant sites. And Google's clean energy leadership continues to be an inspiration.
"Google's commitment to clean energy is good for the environment, business, and our economy," said Levenshus. "It demonstrates that using renewable power is not merely a goal for big tech companies, but an expectation going forward."
I look forward to seeing more economic and clean energy redevelopment at former coal sites across the U.S.—it's an excellent way to truly move beyond coal to clean energy, bring good jobs to communities, and ensure America remains an innovation leader in the twenty-first century.
YOU MIGHT ALSO LIKE
Google to Build Data Center Powered by 100% Renewables at Soon-to-Be Closed Alabama Coal Plant
5 Seismic Shifts Shaking Up World's Energy Use, According to Bloomberg's NEO
Ditching Fossil Fuels and Switching to 100% Renewables No Problem, Says Stanford Study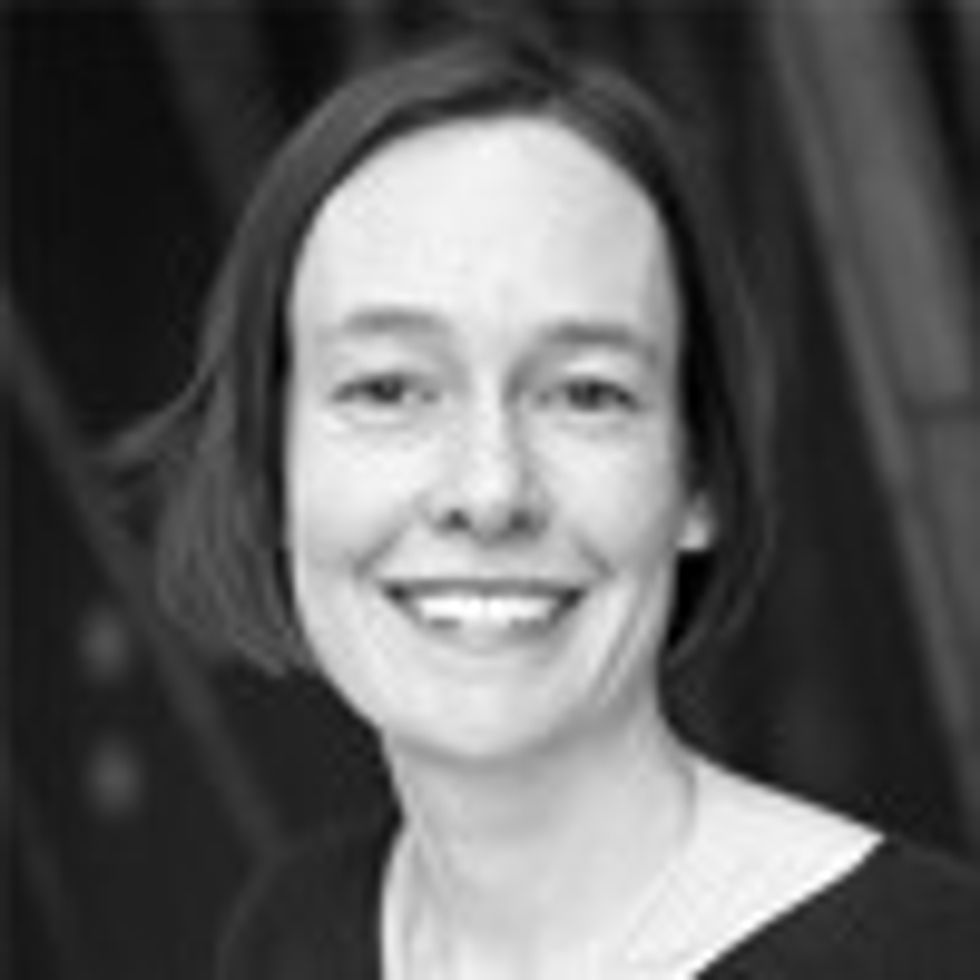 Spring time means baseball season for so many—a nice evening out at the ballpark with a hot dog, peanuts and a cold beverage. We all love a home run, except when it's against our team, of course. So we here at the Sierra Club decided to mix baseball and politics to make it clear just who's playing on the polluters' team and who's on the side of clean air and clean water protections.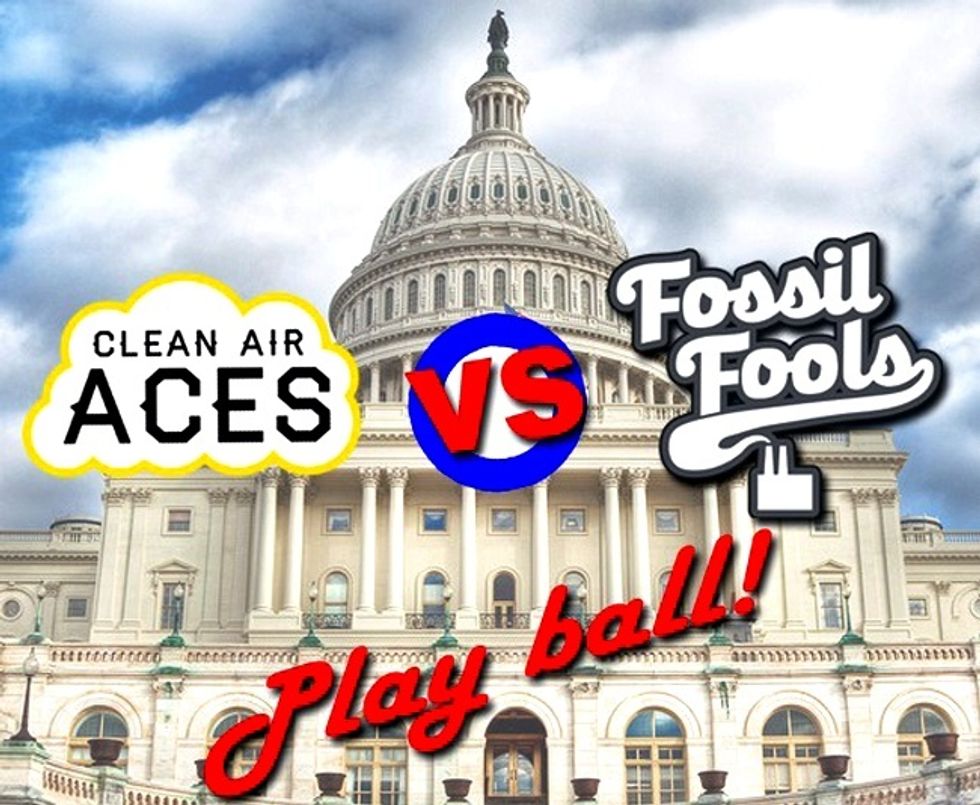 In Sierra Club's scouting report, U.S. senators were divided into two teams: Clean Air Aces and Fossil Fools.
In "Scouting the 114th Congress: Polluters Are Out Of Their League,"  we scout the best in Congress. We've even made individual baseball cards for the senators featured in the report to make it clear which team they're playing for. The season in Washington is young, but we've already seen way too many attacks on our clean air and clean water, as big polluter-backed politicians are throwing beanballs at critically important public health safeguards meant to protect our families and our communities.
After all, poll after poll shows that Americans from both red and blue states didn't vote for dirty air, dirty water or dirty energy last November. Unfortunately, since then members of Congress have cast lots of votes that could threaten our air, water and climate—so we're breaking down the box scores with this new report.
From the report:
Half the fun of baseball is getting to spend time outdoors (you can guess that we're not big fans of domed stadiums), but what's the point when the air is too dangerous to breathe or the water in the dugout is contaminated? Fossil fuel companies and their political allies aren't good sports, and they're pushing an agenda that lets them pollute with impunity. If they had their way, asthma inhalers might end up being part of the uniform for little leaguers across the country.

Here's what a win for American families would be: communities that are safe, healthy places where we can live and raise our children, with clean air and clean water, and free from the dangers of toxic pollution—but the pro-polluter agenda of the new Republican-led Congress is blocking the plate.
Senators were divided into teams: The Fossil Fools, sponsored by big polluters and going to bat for dirty fuels, dirty air and dirty water every game; the Clean Air Aces, who are lining up with the American public to score the clean energy, clean air and climate action that our families and communities deserve; and finally, those players that are on the radar, who we're watching because they aren't firmly in either team's dugout just yet.
Check out our special scouting report for the 114th Congress, see how your Senator's playing and who has been sponsoring their work in the big leagues, and find out what you can do to help win the game for healthy families and a healthy planet.
Play ball!
YOU MIGHT ALSO LIKE
25 Most and Least Polluted Cities in America
This Public Utility Is Waging an All-Out War on Renewable Energy
Cleveland Rocks: From 'Mistake on the Lake' to 'Green City on a Blue Lake'