The whole world held its breath in awe on Friday watching the Opening Ceremony for the 2016 Olympic Games in Rio de Janeiro. A day later I arrived back in the city that has become my second home while Mayor Eduardo Paes has been C40's chairperson for the last two and a half years. As I sit writing this article while enjoying the extraordinary new space in Porto Maravilha, though many have criticized the city for its Olympic preparations, it's impossible not to be moved by the significance of the first-ever Olympics to be held in South America.
Olympic cities are always criticized while under the world's microscope. Though there are some shortcomings here—mostly in areas that were the responsibility of the state or federal government—it's impossible not to be impressed by the transformation in sustainable transport and public space the mayor has instigated as a direct result of taking on the challenge of hosting the world's single greatest international contest.
The promise of the Olympics has been on the horizon since current C40 Cities Climate Leadership Group (C40) Chair and Rio Mayor Eduardo Paes was elected mayor in 2008. He has worked tirelessly throughout the intervening years not only to produce an event worthy of the global stage, but also to invest in and develop long-term legacy projects that will benefit the city and its inhabitants for years to come. Indeed, Mayor Paes has followed the advice of former Barcelona (also a C40 city) mayor and Olympic host Pasqual Maragall: The Olympics must serve the city, not vice versa.
Mayor Paes speaking at a press conference at Paris City Hall with C40 Mayors in 2015.C40 / Flickr
Mayor Paes has stayed true to that principle: For every one real invested in the Olympics, the city has invested five Reais in sustainable infrastructure and legacy projects. The city's ambitions for the Olympics have always been high and under Mayor Paes' leadership it has made powerful and lasting improvements for the city and its people that will endure far beyond when the last athletes have left town.
There has been a major expansion of the city's public transit systems, including an incredibly rapid development of bus rapid transit that means the proportion of residents using public transport has risen from under 20 percent to more than 60 percent in just 8 years, a brand new light rail system and more than 450 kilometers of cycle paths (as well as the new subway line, built by the state but for which the mayor has been a major advocate).
The city has completed a major renovation and revitalization of the Porto Maravilha, the city's historic birthplace. They redesigned the area in terms of mobility to make it more friendly to human-scale transit—removing the brutalist perimetral highway (indeed the first time I met Mayor Paes he apologized for being late with the excuse that he had been blowing up the very same road), adding a light vehicle tram, closing streets to cars, creating facilities for pedestrians and building the arrestingly beautiful Museum of Tomorrow.
Mayor Paes inaugurated the Rio Operations Center, a digital nerve center of the city in which critical services—from waste management to emergency response and traffic control—are monitored to improve the city's efficiency and emergency response. It is a model that has captured the attention of other cities across the world.
Though the failure to clean up the Guanabara Bay—which has been a contentious location in the lead-up to the games—falls outside the jurisdiction of the Mayor, the city has invested in a new West Zone Wastewater Treatment Plant that will benefit 430,000 people and treat 65 million liters of sewage that would otherwise be dumped in the bay. This is another fulfilled Olympic commitment and it brings better quality of life for thousands of people.
More than 70 percent of Olympic facilities were built by converting existing structures and some Olympic venues, like the Handball Stadium, are designed to be converted into community projects, like public schools, after the games.
Hosting an Olympics Games is no mean feat for any mayor, but it is particularly challenging when taking into consideration the political and economic turmoil Brazil has been facing over the past 12 months. Rather than criticizing what has not been done in Rio (and there are still many areas that require improvement and investment), those who care about sustainability should be praising Mayor Paes for delivering an impressive raft of infrastructure improvements, while the rest of the country has been at a virtual standstill.
Moreover, in addition to his job as mayor, Mayor Paes has also been the energetic chair of C40 since December 2013 and has been instrumental to engaging more than 20 new member cities from China, India, the Philippines, Africa and the Middle East, such that we now have a majority of members from the global south.
Under his leadership, Mayor Paes and C40 joined partners in launching the Compact of Mayors, creating a new global standard for urban emissions reporting and creating a program of effective "city determined commitments" to mirror the INDCs being pledged by nation states. Mayor Paes led from the front and Rio became the first city to be compliant with the Compact of Mayors. Rio was also the first Brazilian city to complete a study of its climate vulnerabilities and has mandated emissions cuts of 20 percent by 2020.
It has also been through Mayor Paes' personal leadership that we have created the C40 Finance Facility, to address the the startling omission of most of the world's green funds to finance city government's low carbon projects. Starting from initial generous support from the German government, Mayor Paes aims for the facility to unlock up to $1 billion worth of sustainable infrastructure in cities across low and middle-income countries by 2020.
In part because of Mayor Paes' leadership, Latin America is a focal point for city climate action this year: C40 is looking forward to hosting our flagship event, the C40 Mayors Summit in Mexico City at the end of November. Mexico City Mayor Mancera and Mayor Paes will host this gathering where mayors, urban experts, business people and celebrities from around the world will come together to continue positioning cities as a leading force for climate action around the world.
It is with extreme gratitude that we at C40 thank Mayor Paes for his leadership and passion. And is with great excitement that today in Rio we announced the new C40 chair: Paris Mayor Anne Hidalgo.
From left to right: Eduardo Paes, Mayor of Rio de Janeiro and Chair of C40 Cities Climate Leadership Group and Anne Hidalgo, Mayor of Paris.C40 / Flickr
The C40 Steering Committee voted unanimously to elect Mayor Hidalgo, who has maintained a steadfast commitment to urban sustainability throughout her tenure thus far, emphasizing walkability in Paris, spearheading calls to better air quality across Europe and hosting the Climate Summit for Local Leaders alongside the COP21 climate negotiations in Paris last December. She will be an inspiring champion for city voices around the world, leading by example as the C40 chair-elect. She will take over from Mayor Paes after the C40 Mayors Summit in Mexico City later this year.
It is no coincidence, too, that Paris is currently bidding to host the 2024 Olympics, more than half of the cities that have hosted the Olympics are also C40 member cities. And, given that the International Olympic Committee has outlined a commitment to a sustainable future, it's no surprise that C40's member cities—which represent the most powerful and innovative cities in the world—are not only great places to live, work and prosper, but are also make supremely competent Olympic hosts.
Mayor Paes has been an exceptional leader for the last several years and Rio has set an example for other cities around the world seeking a clean development pathway. We look forward to Mayor Hidalgo carrying that charge forward for the critical years to come.
EcoWatch Daily Newsletter
The contents of our mattresses are often an afterthought. That's a mistake, as research shows that the quality of your sleeping surface can significantly impact your health.
As consumers gain awareness about the health effects of sleeping on potentially toxic compounds, mattress companies are responding with new beds made from better materials. Today, you can choose from a broad range of mattresses made from all-natural components, including organic wool, cotton, and latex. Here's a summary of the best non-toxic, eco-friendly mattresses available today and how to decide between them.
Why You Should Choose an Organic Mattress
Traditionally, mattresses contain trace amounts of chemicals known as volatile organic compounds (VOCs) that act as flame retardants and coatings on plastic components. While the popular view is that these VOCs are found in too low of concentrations to be concerning, a 2019 study published in Environmental Science and Technology indicates that body heat may transform them into toxic vapors that you breathe in through the night.
That's a reason for concern, as according to the US Environmental Protection Agency, the potential health effects of VOC exposure include headaches and eye, nose, and throat irritation. In extreme cases, they may trigger cancer cell development or organ damage.
8 Top-Rated Organic and Natural Mattress Brands
Each product featured below has been selected by the writer. You can learn more about our
review methodology here
. If you make a purchase using the included links, we may earn a commission.
How We Chose These Products
When comparing the best natural mattress options, we looked at several specific factors to determine which ones stand out. Here are some of the distinguishing features.
Organic Materials
The best non-toxic mattress brands today exclusively use certified organic textiles like cotton and wool.
Certifications
Is it certified GOLS (Global Organic Latex Standard) or GOTS (Global Organic Textile Standard)? As the leading natural certifications for textiles and latex materials, GOLS and GOTS-certified products meet stringent requirements for responsible social and environmental practices.
Delivery
The best nontoxic mattresses are compressed into boxes for shipping and then expand to full size once you unpack them. Environmentally speaking, smaller packages mean less fuel wasted on transportation. Others are sent in pieces or in full form and require a delivery team for installation.
Give Back Programs
The best eco-friendly mattress brands also support nonprofit programs that benefit the environment. We like brands where a percentage of your purchase may go towards a worthwhile cause.
Manufacturing
Many of the best organic mattresses are handcrafted in the United States, which shrinks their environmental footprint by keeping production and transportation within a smaller area.
Return Policy
Standard practice in the mattress industry is to offer sleep trial testing periods. These range from three months to a year or longer.
Direct to Consumer
Direct-to-consumer mattress companies are increasing in popularity. They tend to be less wasteful than traditional retailers because the brand isn't putting resources towards maintaining showrooms.
9 Best Natural and Organic Mattresses of 2021
avocadogreenmattress.com
Materials – 100% GOTS certified cotton and wool, 100% natural latex, steel support coils
Manufacturing – Handmade in USA
Delivery – Mattress arrives compressed in a box
Certifications – GREENGUARD Gold, Rainforest Alliance, eco-INSTITUT®, and Formaldehyde-Free certified, OEKO-TEX® Standard 100 certified wool, GOTS and GOLS certified materials
Sleep Trial/Warranty – 100-night sleep trial, 25-year warranty
This mattress-in-a-box brand doesn't compromise its eco-friendly principles for low cost or convenience. The Avocado Green mattress boasts a gentle latex support system for balanced firmness that's ideal for larger people and those who sleep on their back or side.
Why buy: Avocado is a leading brand for affordable mattresses made from natural materials. The Green mattress makes this list for its affordable price point and five-zone support system with up to 1,400 pocketed steel support coils. Equally impressive, Avocado maintains control over its whole supply chain and employs strict social and environmental standards for every product.
ghostbednatural.com
Materials – Natural wool, GOLS certified Dunlop & Talalay latex, USDA organic and GOTS certified cotton
Manufacturing – Manufactured in the USA
Delivery – Mattress arrives vacuum sealed in a box
Certifications – USDA organic, Control Union certified, OEKO-TEX® certified, GOLS and GOTS certified materials
Sleep Trial/Warranty – 101 night sleep trial, 25-year warranty
The GhostBed Natural mattress offers five layers of natural comfort materials. Each mattress is made from natural wool, genuine Dunlop and Talalay latex, and organic cotton for solid support and air-flow cooling. This is an eco-friendly mattress made for comfort, cooling, and support.
Why buy: The GhostBed Natural mattress is a great option if you tend to get hot when you sleep, as it includes both a naturally cooling latex core and cooling airflow coil technology to help you sleep better. We also love that it is made in the United States with organic and natural materials like sustainably-sourced latex and USDA organic cotton.
plushbeds.com
Materials – GOLS certified latex, GOTS certified cotton and wool
Manufacturing – Handcrafted in California
Delivery – Delivered in two boxes, the customer must assemble
Certifications – GOLS certified latex, GOTS certified cotton and wool, GreenGuard Gold Certified, OEKO-TEX® Standard 100 Certified, eco-INSTITUT® certified, Control Union Certified, Forest Stewardship Council Certified
Sleep Trial/Warranty – 100-night sleep trial, 25-year warranty
Plushbeds mattresses are handcrafted in the US from certified organic materials. Orthopedic specialists recommend them for their buoyant support and pressure point relief, along with an organic latex core you can customize.
Why buy: With Plushbeds' Botanical Bliss mattress, you get a non-toxic, hypoallergenic sleeping surface that keeps you cool through the night. This bed is dust mite resistant to eliminate most home's primary allergy problems and includes an organic cotton cover for comfort.
saatva.com
Materials – Certified organic cotton, all-natural Talalay latex, 100% organic New Zealand wool
Manufacturing – Made in USA within 19 independent factories
Delivery – Purchase comes with free white glove delivery and setup, including old mattress removal
Certifications – OEKO-TEX® Standard 100, eco-INSTITUT®, Rainforest Alliance, and Cradle to Cradle certified
Sleep Trial/ Warranty – 180-day sleep trial, 20-year warranty
The Saatva Zenhaven mattress is naturally hypoallergenic and made using environmentally responsible practices. The manufacturing process is entirely water-based and produces minimal byproducts. Even the certified organic cotton cover is protected by a proprietary nontoxic botanical antimicrobial treatment. Rather than using traditional flame retardants, the mattress contains a protective layer of organic New Zealand wool.
Why buy: As Saatva's premium mattress, the Zenhaven is made for low back support and a cooling, comfortable night's sleep. This 100% Talalay latex mattress contains durable materials for supported rest and boasts a flippable design for two firmness levels. This is the best option for a luxurious yet eco-friendly mattress.
mygreenmattress.com
Materials – GOTS certified cotton, GOLS certified Dunlop latex
Manufacturing – Handcrafted in a certified organic factory in Illinois
Delivery – White glove delivery service available for $199 for setup and old mattress removal.
Certifications – GreenGuard Gold Certified, GOTS Certified cotton, GOLS certified Dunlop latex
Sleep Trial/Warranty – 120-night sleep trial, 20-year warranty
The Natural Escape mattress boasts a responsive zoned pocketed coil spring system covered with GOLS certified Dunlop latex for breathability. With an adaptive support system that conforms to the contours of your spine, the company recommends it for couples with opposite body types or who prefer different sleeping positions from each other. The mattress itself is button tufted to pull the layers together without the use of any potentially toxic adhesives or VOCs.
Why buy: The Natural Escape mattress from My Green Mattress delivers stellar lumbar support and proper spinal alignment—all underneath a comfortable organic cotton cover. It also provides limited motion transfer thanks to an upgraded innerspring system, making it a great option for couples as you won't disturb your partner when you move.
happsy.com
Materials – Organic cotton filling, organic wool, certified latex
Manufacturing – Handmade in USA
Delivery – Ships compressed in a single box
Certifications – GOTS-certified cotton, Certified Made Safe, GOLS-certified latex, Forest Stewardship Council Certified, Rainforest Alliance Certified, GreenGuard Gold Certified, Underwriters Laboratories verified formaldehyde-free, Green America Certified Business
Sleep Trial/Warranty – 120-night sleep trial, 20-year warranty
Happsy's mattresses combine comfort, the latest technology in certified organic mattress design, and premium earth-friendly materials for a bed you can feel good about from every angle. In fact, the included zipper lets you peek inside to see what you're really sleeping on. The mattress utilizes a breathable coil system designed to wick moisture away to keep you cooler at night than sleeping on heat-trapping synthetic foams.
Why buy: Happsy is a small mattress brand focused on making mattresses with a conscience — meaning that all materials are chosen for being easy on the environment. The company forgoes all glues and adhesives in favor of its own pocketed spring design that keeps the mattress supportive, but never "bouncy."
birchliving.com
Materials – Organic cotton, wool, birch wool, natural latex, steel coils
Manufacturing – Handmade in USA
Delivery – Ships compressed in a box
Certifications – GreenGuard Gold Certified, GOTS Certified, OEKO-TEX®Standard 100, Eco INSTITUT® Tested Product, Wool Integrity NZ, Fair Trade Certified Factory
Sleep Trial/Warranty – 100-night sleep trial, 25-year warranty
Birch by Helix makes a range of natural bedding options constructed in ways that support the environment. Each mattress is made from premium materials that together work to relieve your body's pressure points, no matter how you prefer to sleep. The company claims this premium product has natural flexibility that allows it to retain its shape to provide enough softness for coziness while still offering full-body support.
Why buy: We love that all Birch mattress wool comes from New Zealand sheep farms that meet Wool Integrity NZ standards, which ensures the animals are treated ethically at every stage of production. Plus, the cotton within each mattress is Fair Trade certified, making this a responsible sleep option.
ecoterrabeds.com
Materials – 100% natural latex foam rubber, organic wool, organic cotton
Manufacturing – Designed and handcrafted in Los Angeles, CA
Delivery – Free standard delivery across the US, White Glove delivery available for an extra cost
Certifications – OEKO-TEX® Standard 100 certified, GOTS Organic wool, GOTS organic certified cotton
Sleep Trial/Warranty – 90-day sleep trial, 15-year warranty
Eco Terra offers a budget-friendly latex hybrid mattress that includes natural materials, unobtrusive pocket support coils, and a 90-day sleep trial. Eco Terra's latex mattress is available in both a medium and medium-firm firmness level to support a wide range of sleepers. The bed is free of synthetic foams and VOCs, favoring a three-inch-thick layer of Talalay latex instead.
Why buy: Eco Terra offers a more budget-friendly option than other latex hybrid brands, making this mattress an excellent choice for comfortable sleep without compromising on natural materials. One thing to note is that this latex isn't GOLS-certified, though the other materials are GOTS certified.
awarasleep.com
Materials – Dunlap latex, organic New Zealand wool, organic cotton, steel coils
Manufacturing – Made in China
Delivery – Arrives compressed in a box
Certifications – Rainforest Alliance certified latex, certified organic wool, certified organic cotton
Sleep Trial/Warranty – 365-night sleep trial, Forever Warranty (lifetime guarantee against sagging and manufacturing defects)
Awara features premium Sri Lanka latex and wrapped coil springs to provide contour and a touch of bounce for supportive sleep throughout the night. At the core of this mattress are nine-inch pocketed coils that are thicker than standard. This gives the bed a firmer, more responsive feel that minimizes the sense of sinking when you reach the outer edge, so it's suitable for back, side, and stomach sleepers alike.
Why buy: Awara's natural latex mattress stands out for being slightly firmer than some other options. The mattress itself is made from quality materials with GOLS, GOTS, and Rainforest Alliance certification. Awara also partners with Trees for the Future to support forest systems throughout Africa. Every purchase funds the planting of ten trees throughout Kenya, Senegal, Uganda, or Tanzania.
Takeaway

The best night's sleep takes place on a mattress that won't make you or the environment sick. Today, there are more options than ever for finding the best organic and nontoxic mattress for your family. Seek out brands that use certified organic materials and that guarantee each bed is free from VOCs to rest easy every night.
Lydia Noyes is a freelance writer specializing in health and wellness, food and farming, and environmental topics. When not working against a writing deadline, you can find Lydia outdoors where she attempts to bring order to her 33-acre hobby farm filled with fruit trees, heritage breed pigs, too many chickens to count, and an organic garden that somehow gets bigger every year.
When UN Secretary-General Special Envoy for Cities and Climate Change Michael R. Bloomberg suggested creating a Compact of Mayors to mirror the UN program for national commitments on climate change, it was not possible to guess how central the idea would become to putting mayors at the heart of global climate action. But it turned out to be a game changer.
Just five months on from the "Abu Dhabi Ascent" conference where we first discussed the idea, in September 2014 at the UN Secretary General's Climate Summit in New York City, three global city networks, C40, ICLEI and UCLG joined forces to help activate the compact. We hoped to better quantify the collective magnitude and potential for cities and towns to deliver emissions reductions. Working quickly, decisively and collaboratively under the compact, the networks helped to inspire ambitious commitments from more than 500 cities of all sizes around the globe; just as nation states registered commitments to emissions reductions in the lead up to the COP21 climate summit.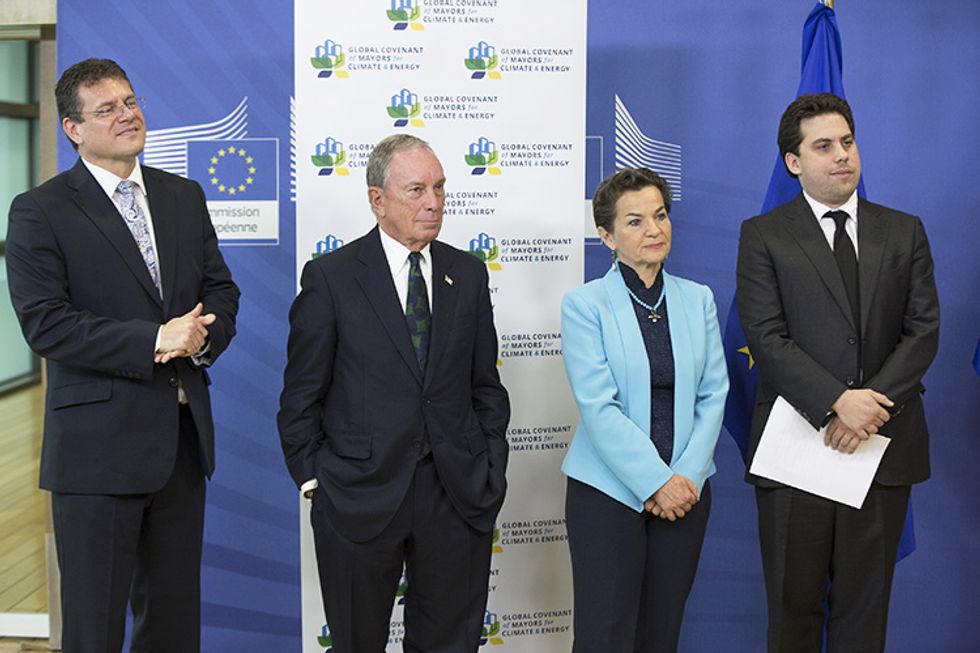 The effort demonstrated the unprecedented scope and degree to which local governments were already engaged in meaningful, collaborative climate action and, importantly, gave a voice for them at a high level in the UN, through the leadership of Special Envoy Bloomberg and engagement of the Local Government and Municipal Authorities (LGMA) constituency. As a result, cities were crucial in shaping and advocating for a strong Paris agreement on climate change—and city leaders will be crucial in delivering on its ambition going forward.
Now cities are making another great and historic stride: bringing together the Compact of Mayors and the EU Covenant of Mayors to form a new Global Covenant of Mayors for Climate & Energy, announced Wednesday in Brussels. This new initiative will be even more important for its ability to unify existing commitments at all levels, including thousands of European towns and villages and hundreds of major global metropolises—altogether more than 7,100 cities from 119 countries and six continents and representing more than 600 million residents, more than 8 percent of the world's population.
To give a sense of the magnitude of the impact these cities can have: as of December 2015, cities and towns signed on to the Compact of Mayors had already made commitments that could deliver half of the global urban potential greenhouse gas (GHG) emissions reductions available by 2020. At the same time, actions by EU Covenant of Mayors signatories accounted for 15 percent of the EU-28 CO2 emissions reduction 2020 target. Under one unified banner, these city climate leaders will demonstrate the vast power of cities to effect global change.
Aligning efforts will allow for greater collaboration between cities across the world to tackle the biggest challenge humanity has ever faced, bridging gaps and building connections, as well as increasing funding to support and empower cities to do more. The merger will harness the convening power and investment of the European Union and the UN Secretary General Special Envoy for Cities and Climate Change, generously supported by Bloomberg Philanthropies—critical ingredients to unlocking the potential of cities to take action. We hope many other donors will follow suit to support local climate action that can be scaled up, with support of the city networks. Moreover, a merged initiative will ensure more consistent and comparable data—giving investors the ability to see that the actions cities have been taking are having lasting and verifiable impact.
As city networks, we have long been committed to the principle that working together helps cities go farther, faster. We therefore welcome the Global Covenant of Mayors for Climate and Energy. We look forward to engaging new partners and a broader coalition of city leaders committed to taking concrete, measurable and transparent action on climate change. United, we can lead the drive to peak global emissions by 2020 and enhance climate change adaptation and resilience in our communities.
YOU MIGHT ALSO LIKE
Koch Brothers Continue to Fund Climate Change Denial Machine, Spend $21M to Defend Exxon
Obama Visits Yosemite, Warns of Risks From Climate Change
Stockholm Divests From Coal, Oil and Gas
Methane Emissions From Onshore Oil and Gas Equivalent to 14 Coal Plants Powered for One Year
C40 released a report Monday that provides a roadmap for specific climate action that cities should take in 2016 and beyond. C40 and partner Arup released the report, Potential for Climate Action, at an event at Le Bourget alongside the COP21 climate negotiations.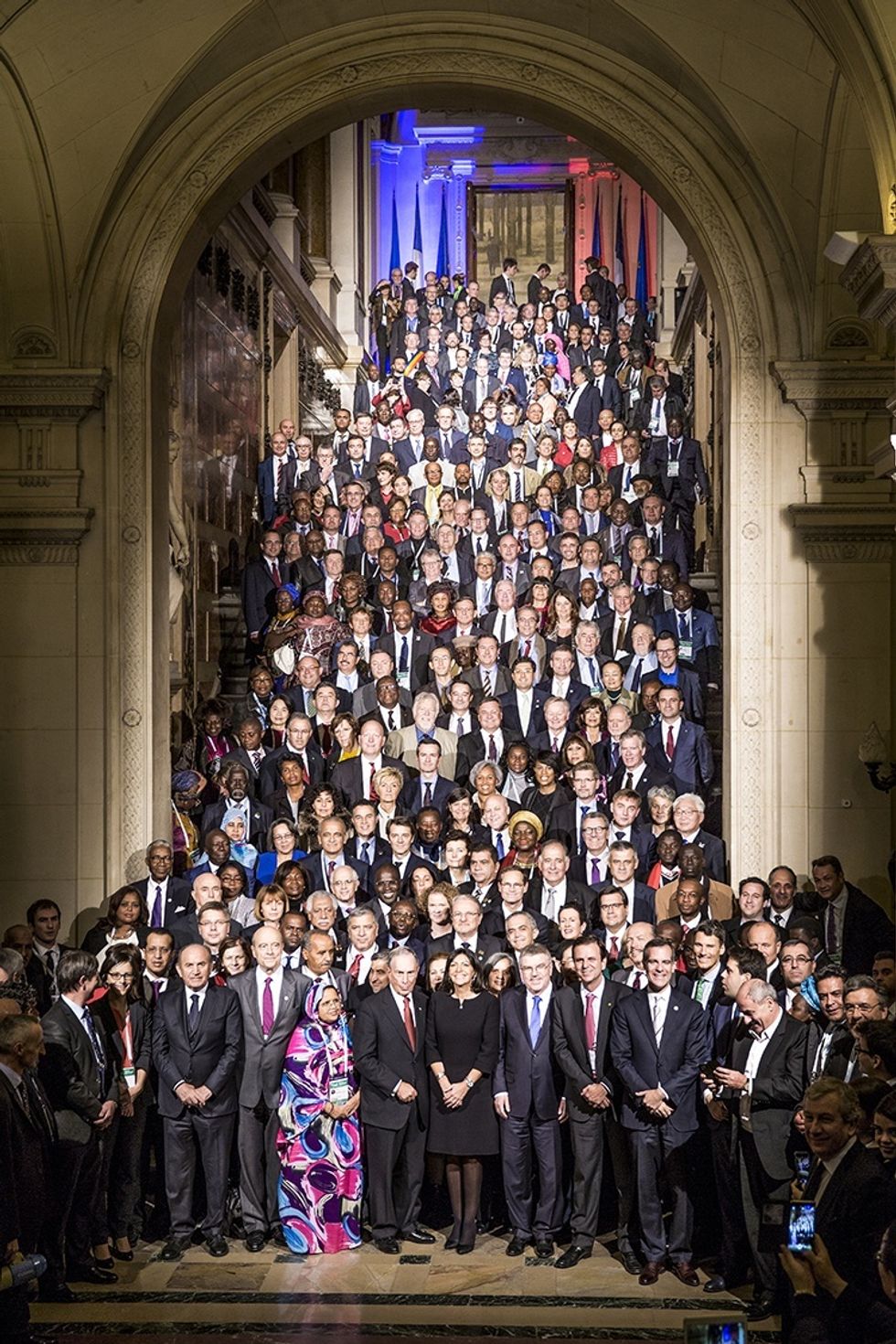 This report is significant because it both analyzes the most important specifications that major cities can take to cut carbon emissions and it identifies the barriers that need to be removed if mayors are to achieve them. The member cities of the C40 represent a combined population of more than 600 million people and a quarter of world economic output. What happens in these cities will significantly dictate whether or not the world can tackle climate change.
The key findings are that, while C40 cities have already taken 10,000 climate actions between Copenhagen COP15 in 2009 and Paris COP21 in 2015, the potential for further delivery is much greater—a pool of 27,000 actions. The report analyzes each of these potential actions against three factors, the opportunity learn from their peers (ie has another city already done it), having mayoral power to deliver and scale of potential GHG reduction impact. This allows us to identify 2,300 priority actions which, if fully implemented, will cut GHG emissions by 450Mt CO2 in the next few years and will cost $6.8 billion to catalyze. This is a relatively modest sum, but this analysis shows that access to funding is the single biggest obstacle to cities delivering greater climate action.
Thanks to our speakers & panelists @MayorOfTshwane @ArronWood @mpencharz @paula_kirk #RoadFromParis #COP21 https://t.co/VXt4XhrdzX

— C40 Cities (@C40 Cities)1449579541.0
The report finds that fully three-quarters of the barriers to taking these potential actions require city leaders to partner with other actors—chiefly national/regional governments or private companies. It provides further evidence that a collaborative approach is essential to tackling climate change—the essence of C40's work. Finally, it will serve as a building block from which we can engage many other partners in this endeavor. Published against the backdrop of the crucial COP21 talks, it provides a positive reminder of the significant potential for climate action in addition to that which the Paris agreement will, hopefully, unlock.
YOU MIGHT ALSO LIKE
Bernie Sanders Unveils 'People Before Polluters' Climate Plan
Come December, all eyes will be on Paris for the COP21 climate negotiations, which will determine our post-2020 climate future. But what about the next five years?
New research released today from my organization—C40 Cities Climate Leadership Group (C40)—and Stockholm Environment Institute (SEI) shows that cities hold the key to ensuring we don't exceed the world's remaining safe carbon budget: in fact, urban policy decisions before 2020 could determine a third of the remaining global carbon budget that is not already "locked-in" by past decisions.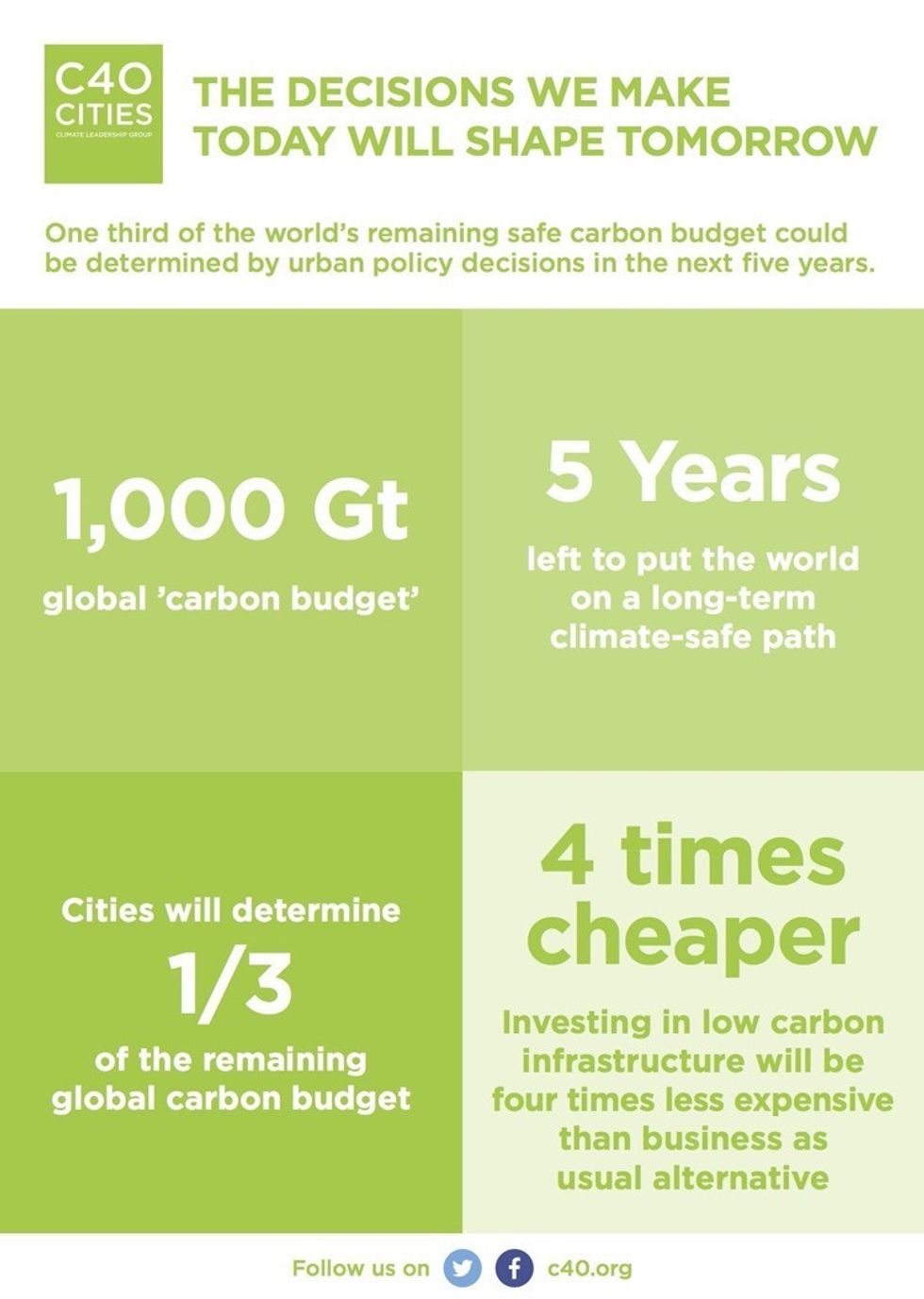 This is cause for great hope. Instead of leaving our global future to be determined by intricate international policy negotiations, we now know that mayors and local leaders in office today have the opportunity—and the responsibility—to help determine whether or not we have a realistic path to a climate safe world.
And these decisions have positive economic implications as well: previous research has shown that investing in low carbon infrastructure in the next five years will be four times less expensive than making the wrong decision now and having to replace carbon-intensive infrastructure in the future.
The report calculates that if cities around the world pursue low carbon urban development over a business as usual scenario, we could save 45 Gt CO2 by 2030, or roughly eight times the current annual emissions of the United States.
For context, scientists have previously calculated that we can emit a "carbon budget" of just 1,000 Gt CO2 without creating an unacceptable risk of run-away climate change, and that much of this budget may be locked-in by infrastructure investments that have already been made.
Previous research also suggests that decisions about the remaining infrastructure will happen by 2020. Fortunately, our new analysis shows that a third of the decisions will be made in cities, many of which are already demonstrating leadership on climate change.
More than half of C40's 80 member cities, for instance, have committed to the Compact of Mayors, a global platform where cities publish their current emissions inventories and commit targets and action plans to cut future emissions. Hundreds more cities around the world—representing nearly 300 million people—are following suit and making ambitious commitments.
Even though cities are taking decisive action to combat climate change, this report highlights the need for national governments to support climate action at a local level, such as the Our Cities, Our Climate international exchange program in the United States, a joint effort between the U.S. Department of State and C40 partner Bloomberg Philanthropies.
For more on how C40 cities are leading the charge against global climate change, visit the C40 blog and follow @c40cities and @MarkWatts40 on Twitter.
YOU MIGHT ALSO LIKE
World's Oceans Face Worst Coral Die-Off in History, Scientists Warn
Why Isn't Big Ag's Huge Contribution to Climate Change on the Agenda at COP21?