EcoWatch Daily Newsletter
A long-standing fight for the public's right to their land and waterways came to an end April 22 when Gov. Cuomo's New York State Department of Environmental Conservation denied the Clean Water Act Section 401 Water Quality Certification for the proposed Constitution Pipeline. The pipeline was proposed to run for 124 miles and require the destruction of nearly 700,000 trees.
Further, the pipeline would have carried fracked natural gas through the Hudson River estuary, crossing 289 waterbodies, multiple public drinking water sources and three watersheds. There was no expected public benefit from the pipeline. While the pipeline's proponents alleged they would ship the fracked gas to New England, it was clear that the gas pipes leaving the pipeline's terminus are all constrained, leaving no other option but to ship the gas to a Nova Scotia LNG facility before ultimately shipping it to Europe and Asia. Thankfully, New York State recognized the applicant's failure to demonstrate how they would mitigate or avoid impacts to the state's waterways.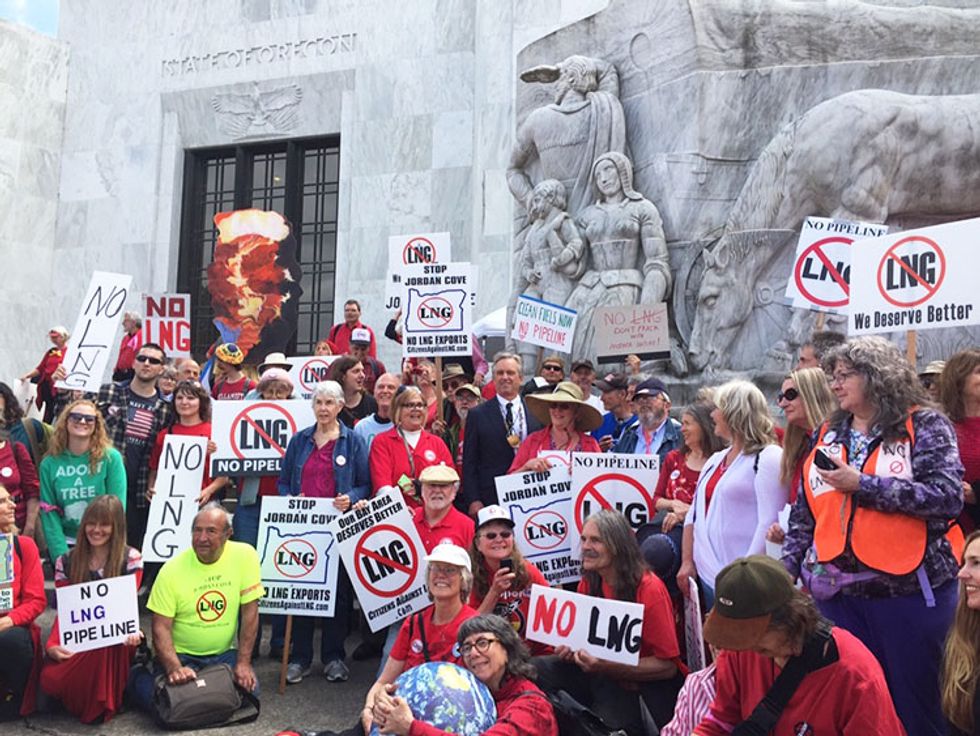 This landmark decision in New York was the latest in a flurry of victories over pipeline projects across the country within the past two months. In Oregon, a proposed liquified natural gas (LNG) terminal in Warrenton and the Jordan Cove Energy project were defeated. The Jordan Cove project would have crossed nearly 400 waterbodies, a number of which are critical habitat for endangered coho salmon. Further, the Jordan Cove LNG terminal would have become Oregon's largest greenhouse gas emitter. Kinder Morgan pulled the plug on its Northeast Energy Direct pipeline and its Palmetto Project. And in Georgia, the legislature moved to block easements for the Sabal Trail Pipeline and Gov. Nathan Deal approved a moratorium that prohibits eminent domain for pipeline companies through July 2017.
The common denominator of these victories was the galvanized communities who mobilized and used the power of democracy to subjugate Big Energy's greed. These communities took back the rights that had been stolen from them when the Federal Energy Regulatory Commission transferred the sacred authority of eminent domain through its outrageous rubber-stamping of permits for expansion of the gas industry. As these pipeline projects threatened to bulldoze land, pollute waterways and destroy communities, people raised their collective voices and used the law to bring about action, proving yet again that democracy is the best safeguard for our water, air and land resources.
This is the beginning of a new era. It is a time when the people will demand more for their future, by exerting their collective democratic power and forcing politicians to do the right thing to reclaim our natural resources from the hands of big business. It is this grassroots power that is catalyzing action against climate change. It is this movement that is driving our energy future away from dirty fossil-fuel projects to clean renewables. This is a shift that is imperative if we are to save our home from the destructive impacts of a fossil-fuel carbon overload in the Earth's atmosphere.
These defeated pipeline projects are a testament to the power of the growing bottom up movement for change. They are stories of communities galvanizing around the notion that we must leave polluting fossil fuels in the ground and invest in a clean energy future. Not only are these inspiring tales of David versus Goliath, they are examples of people power over corporate power that we will see repeated time and time again on the road to victory for our climate and and our planet.
YOU MIGHT ALSO LIKE
Exxon, First Amendment Doesn't Give You Right to Commit Fraud
Wind and Solar Outpaced Fossil Fuels Again Even in Republican-Led States Fighting Climate Action
Fracking in Bakken Oilfield Largely Responsible for Global Rise in Ethane
PavloBaliukh / iStock / Getty Images
Through net metering programs, homeowners who have installed solar energy systems can get utility credits for any electricity their panels generate during the day that isn't used to power home systems. These credits can be "cashed in" to offset the cost of any grid electricity used at night.
Where net metering is available, solar panels have a shorter payback period and yield a higher return on investment. Without this benefit, you only save on power bills when using solar energy directly, and surplus generation is lost unless you store it in a solar battery. However, net metering gives you the option of selling any excess electricity that is not consumed within your home.
Generally, you will see more home solar systems in places with favorable net metering laws. With this benefit, going solar becomes an attractive investment even for properties with minimal daytime consumption. Homeowners can turn their roofs into miniature power plants during the day, and that generation is subtracted from their nighttime consumption.
What Is Net Metering?
Net metering is a billing arrangement in which surplus energy production from solar panels is tracked by your electricity provider and subtracted from your monthly utility bill. When your solar power system produces more kilowatt-hours of electricity than your home is consuming, the excess generation is fed back into the grid.
For homeowners with solar panels, the benefits of net metering include higher monthly savings and a shorter payback period. Utility companies also benefit, since the excess solar electricity can be supplied to other buildings on the same electric grid.
If a power grid relies on fossil fuels, net metering also increases the environmental benefits of solar power. Even if a building does not have an adequate area for rooftop solar panels, it can reduce its emissions by using the surplus clean energy from other properties.
How Net Metering Works
There are two general ways net metering programs work:
The surplus energy produced by your solar panels is measured by your utility company, and a credit is posted to your account that can be applied to future power bills.
The surplus energy produced by your solar panels is measured by your home's electricity meter. Modern power meters can measure electricity flow in both directions, so they tick up when you pull from the grid at night and count down when your solar panels are producing an excess amount of electricity.
In either scenario, at the end of the billing period, you will only pay for your net consumption — the difference between total consumption and generation. This is where the term "net metering" comes from.
How Does Net Metering Affect Your Utility Bill?

Net metering makes solar power systems more valuable for homeowners, as you can "sell" any extra energy production to your utility company. However, it's important to understand how charges and credits are managed:
You can earn credits for your surplus electricity, but utility companies will not cut you a check for the power you provide. Instead, they will subtract the credits from your power bills.
If your net metering credit during the billing period is higher than your consumption, the difference is rolled over to the next month.
Some power companies will roll over your credit indefinitely, but many have a yearly expiration date that resets your credit balance.
With all of this in mind, it is possible to reduce your annual electricity cost to zero. You can accumulate credit with surplus generation during the sunny summer months, and use it during winter when solar generation decreases.
You will achieve the best results when your solar power system has just the right capacity to cover your annual home consumption. Oversizing your solar array is not recommended, as you will simply accumulate a large unused credit each year. In other words, you cannot overproduce and charge your power company each month.
Some power companies will let you pick the expiration date of your annual net metering credits. If you have this option, it's wise to set the date after winter has ended. This way, you can use all the renewable energy credits you accumulated during the summer.
Is Net Metering Available Near You?
Net metering offers a valuable incentive for homeowners to switch to solar power, but these types of programs are not available everywhere. Net metering laws can change depending on where you live.
In the U.S., there are mandatory net metering laws in 38 states and Washington, D.C. Most states without a mandate have power companies that voluntarily offer the benefit in their service areas. South Dakota and Tennessee are the only two states with no version of net metering or similar programs.
If net metering is available in your area, you will be credited for your surplus energy in one of two ways:
Net metering at retail price: You get full credit for each kilowatt-hour sent to the grid. For example, if you're charged 16 cents per kWh consumed, you'll get a credit of 16 cents per kWh exported. This type of net metering is required by law in 29 states.
Net metering at a reduced feed-in tariff: Surplus electricity sent to the grid is credited at a lower rate. For example, you may be charged 16 cents per kWh for consumption but paid 10 cents per kWh exported. Feed-in tariffs and other alternative programs are used in 17 of the states where retail-rate net metering is not mandatory.
Note: This is just a simplified example — the exact kWh retail price and solar feed-in tariff will depend on your electricity plan.
The Database of State Incentives for Renewables & Efficiency (DSIRE) is an excellent resource if you want to learn more about net metering and other solar power incentives in your state. You can also look for information about solar incentives by visiting the official websites of your state government and utility company.
Other Financial Incentives for Going Solar

Net metering policies are one of the most effective incentives for solar power. However, there are other financial incentives that can be combined with net metering to improve your ROI:
The federal solar tax credit lets you claim 26% of your solar installation costs as a tax deduction. For example, if your solar installation had a cost of $10,000, you can claim $2,600 on your next tax declaration. This benefit is available everywhere in the U.S.
State tax credits may also be available depending on where you live, and they can be claimed in addition to the federal incentive.
Solar rebates are offered by some state governments and utility companies. These are upfront cash incentives subtracted directly from the cost of your solar PV system.
In addition to seeking out solar incentives available to you, you should compare quotes from multiple installers before signing a solar contract. This will ensure you're getting the best deal available and help you avoid overpriced offers and underpriced, low-quality installations. You can start getting quotes from top solar companies near you by filling out the 30-second form below.
Frequently Asked Questions: Solar Net Metering

Why is net metering bad?
When managed correctly, net metering is beneficial for electricity consumers and power companies. There have been cases in which power grids lack the capacity to handle large amounts of power coming from homes and businesses. However, this is an infrastructure issue, not a negative aspect of net metering itself.

In places with a high percentage of homes and businesses using solar panels, surplus generation on sunny days can saturate the grid. This can be managed by modernizing the grid to handle distributed solar power more effectively with load management and energy storage systems.

How does net metering work?
With net metering, any electricity your solar panels produce that isn't used to power your home is fed into your local power grid. Your utility company will pay you for this power production through credits that can be applied to your monthly energy bills.
Can you make money net metering?
You can reduce your power bills with net metering, using surplus solar generation to compensate for your consumption when you can't generate solar power at night and on cloudy days. However, most power companies will not pay you for surplus production once your power bill has dropped to $0. Normally, that credit will be rolled over, to be used in months where your solar panels are less productive.
On very rare occasions, you may be paid for the accumulated balance over a year. However, this benefit is offered by very few electric companies and is subject to limitations.
Today, the Bureau of Ocean Energy Management (BOEM) released a draft five-year plan for 2017-2022 that closes the Atlantic Ocean for oil and gas drilling leases, citing strong local opposition along with market dynamics and conflicts with military and commercial use. The plan also proposes 10 new leases in the Gulf of Mexico and three in the Arctic Ocean, but says that a no-lease option will be possible for the Arctic Ocean in the final plan.
Along with its new proposal, BOEM also released a Draft Environmental Impact Statement that examines the program's potential impacts on the environment. The five-year plan will be open for comment until June 16 and the Draft Environmental Impact Statement, which will be released March 18, will be open for comment until May 2.
New proposed 5-year offshore plan supports energy dev & protects our 🌎 for future gens https://t.co/UjUxUcFso0 https://t.co/372JTergU2

— US Dept of Interior (@US Dept of Interior)1458060885.0
We are pleased that President Obama responded to concerns of businesses and residents along the East Coast by removing the Atlantic Ocean from the areas open to offshore drilling. This is wonderful news for the Atlantic coast economy and millions of Americans who want to keep treasured beaches from Florida to Virginia oil free. That said, to avoid catastrophic climate change, we need to keep a vast majority of fossil fuel reserves in the ground. This requires decisive action, including stopping offshore drilling in the Gulf of Mexico and Arctic Ocean.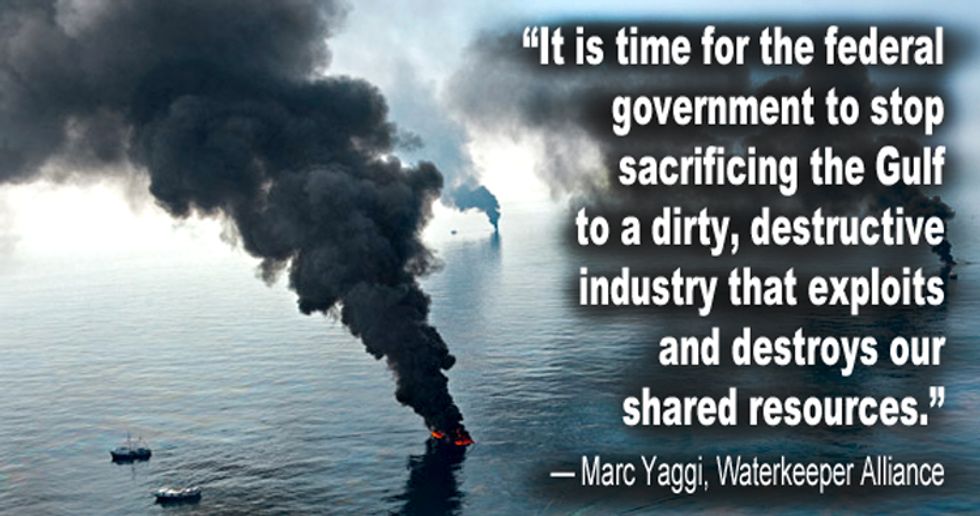 The five-year plan would still allow drilling in the Gulf and the Arctic. This endangers the fragile Arctic ecosystem and subjects the already battered Gulf coast to further risk from fossil fuel disasters. How can President Obama allow more oil and gas drilling when we have a decade-long ongoing oil spill that the government won't force Taylor Energy to fix and are still struggling to recover from the damages that Deepwater Horizon inflicted on our waters, wildlife and economy? It is time for the federal government to stop sacrificing the Gulf to a dirty, destructive industry that exploits and destroys our shared resources.
YOU MIGHT ALSO LIKE
Obama to Limit Arctic, Atlantic Offshore Oil Drilling as Part of New Five-Year Plan
People Power: Virginians Say No to Offshore Oil and Gas Drilling
Is Fracking Industry Too Wounded to Respond as Oil Prices Bottom Out?
'Monsanto Rider' Would Shield Chemical Giant From Liability for Injuries Caused by PCBs in Public Schools
In 2014 alone, there have been a series of unprecedented disasters on our waterways. A climate of lax government regulations including the recent weak rule for the disposal of toxic coal ash from coal-fired power plants by the U.S. Environmental Protection Agency, makes it critical for us to find a way to protect communities and the integrity of our waterways when a water emergency strikes.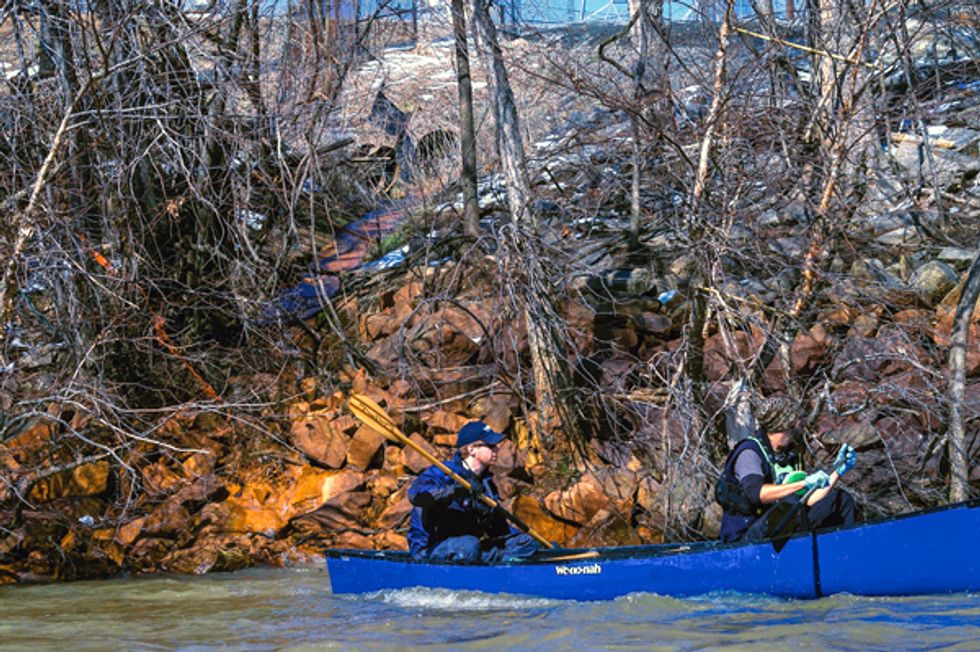 When a chemical used to wash coal (4-methylcyclohexane methanol, or MCHM) leaked into the Elk River in West Virginia from a storage facility in January 2014, more than 300,000 residents were suddenly left without water to drink. As MCHM is not listed in EPA's public database of toxic chemicals and is not federally regulated, this incident showcased just how vulnerable we all are to facing a similar fate.
The rapidly increasing volume of toxic, volatile crude oil by rail and barge has upped the ante on the risk of future accidents even more.
And this past February, a collapsed stormwater pipe released 140,000 tons of toxic coal ash sludge and wastewater into the Dan River in North Carolina, a public drinking water supply for downstream communities like Danville, Virginia. State regulators and Duke Energy, the company responsible for the spill, waited more than 24 hours before notifying the public that it had happened. And just weeks after this catastrophic spill, Waterkeeper Alliance discovered that Duke Energy had deliberately and illegally dumped 61 million gallons of coal ash into the Cape Fear River.
Waterkeeper Alliance is taking action to be part of the solution by launching a rapid response program based on its proven protocol in responding to and remediating some of the nation's worst waterway disasters. Waterkeeper Alliance staff and local Waterkeepers provided on-the-ground support, water quality testing, and advocacy for the Dan River incident and in Lynchburg, Virginia, when a train carrying volatile Bakken crude oil derailed and exploded, spilling an estimated 50,000 gallons of oil into the James River. In past years, Waterkeepers have responded to Hurricanes Floyd and Sandy and the BP oil disaster in the Gulf of Mexico.
Deploying a highly-trained team of advocates and experts by boat and aircraft to assess a situation, test the water, document the impact and rapidly share information with the media and the public allows Waterkeeper Alliance to work quickly to amplify the voice of affected communities, dispersing the truth about the impacts and dangers in real time and ensuring that polluters and government officials don't have the opportunity to downplay or cover up the threat. The response team then advocates for the waterway and affected communities until a cleanup plan is implemented. This requires a myriad of advocacy actions, including filing lawsuits and pursuing legislative remedies.
As a result of rapid response work by Waterkeeper Alliance and North Carolina Waterkeepers on the Dan River, Duke Energy has agreed to clean up not only the spill site but also three other sites with leaking coal ash ponds in Asheville, Charlotte and Wilmington.
Throughout history, the biggest wins for our environment have been the result of citizens advocating for their rights. As always, people are the last line of defense when communities are under assault from polluters. Please join us in helping to defend communities across the country and around the world.
When was the last time you heard the following story on national news: today, a truck transporting solar panels overturned on a highway spilling them into a river? I'm pretty sure the answer is never. That is because, at most, it would be a local news story for causing a traffic jam. The conclusion of that story would be that crews pulled the solar panels out of the river, dried them off, and took them to their destination, where they provided clean, free energy to a neighborhood for many years to come.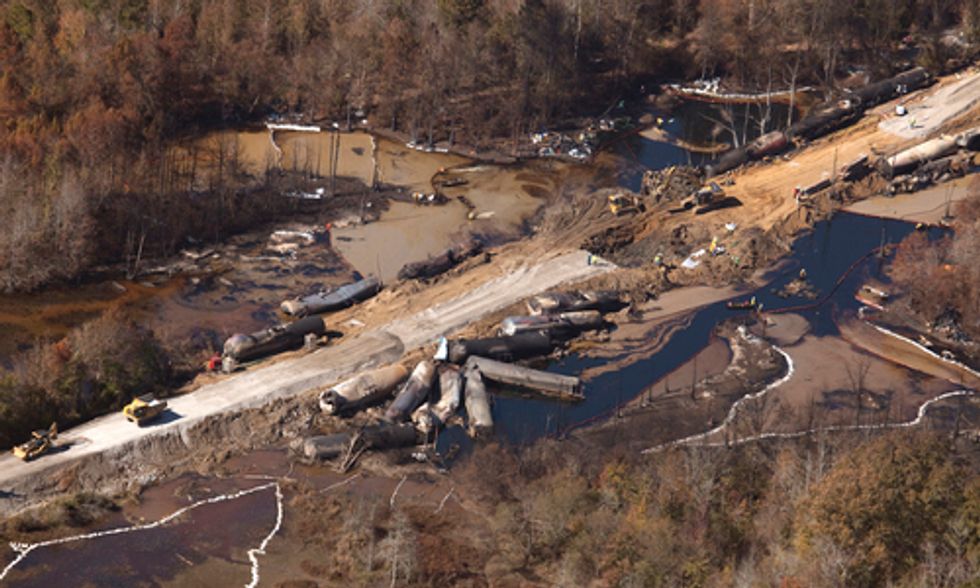 Aliceville train derailment disaster (Waterkeeper Alliance/John L. Wathen)
The story is very different when it comes to fossil fuels, which, in addition to being dirty during extraction, combustion and disposal, can violently disrupt our communities during transport. Over the past year, we have seen a remarkable increase in fossil fuel transport disasters. And when fossil fuel transport goes wrong, it goes wrong in a big way. Quite often, these disasters involve crude oil that is extremely dangerous and volatile and that is transported via railways that run next to or over our nation's waterways. This unnecessarily threatens drinking water supplies, recreational resources and the health and safety of our communities.
Recent examples abound: In July 2013, a train carrying oil from North Dakota lost control in Quebec and the resulting explosion killed 47 people. In November 2013, a tanker train hauling 2.9 million gallons of Bakken crude oil derailed into a west Alabama swamp, devastating the community of Aliceville. Shortly after that, a train derailed in Casselton, ND, prompting a "strongly recommended" evacuation of residents. In April 2014, a train carrying Bakken crude derailed into the James River, causing hundreds of people to be evacuated from downtown Lynchburg, VA. That is just a small sampling of how the fossil fuel industry puts our communities at grave risk transporting such dangerous, explosive cargo. According to Politico, there were 132 oil train incidents from 2009 to 2012; 118 incidents in 2013; and already 70 just through the first five months of 2014.
Even as these disasters become more frequent, the industry pushes for increased oil transport, including a proposal in New York to turn the Hudson River Valley into a virtual pipeline of crude oil transport by rail and vessel. Why should our communities be forced to allow these DOT-111 "bomb trains"—so called by rail workers due to their inadequate safety measures combined with crude oil's volatility—to go through their communities by rail? The answer is, they shouldn't. After the Exxon Valdez disaster, and despite industry protest, the Oil Pollution Act of 1990 required oil tanker ships to be double-hulled. While double hulling may not have prevented the Valdez disaster, it likely would have dramatically reduced the amount of oil spilled. The National Research Council estimated that double hulls would reduce spills from groundings by 85 percent and from collisions by 50 percent. The acceptable level should be 100 percent; fortunately, we haven't had a major tanker spill since the double hull requirement.
However, we now allow dangerous bomb trains to run right through our communities, without the adequate precautions from the agencies that are supposed to be looking out for our public interest. As a result, disasters like those referenced above are increasing in frequency. The National Transportation Safety Board has acknowledged that DOT-111s are easily ruptured during accidents. After the Quebec disaster, the Canadian government ordered 5,000 DOT-111 trains to be removed from service and for 65,000 other cars to be either removed or retrofitted within three years. The U.S. Department of Transportation (DOT) also acted in May 2014, but with too little, too late. The Agency's emergency order requiring railroads to notify state emergency management officials before moving large shipments of crude oil through their state only applies to trains carrying 35 cars or more of Bakken crude oil. A requirement covering all rail transport of crude oil would be more transparent and best protect first responders, the general public and the environment. Even better would be a mandatory removal of DOT-111 "bomb trains" from service, until the industry proves it can transport oil safely.
As it stands now, the order does not do enough to reduce the risk of future derailments. Of the 92,000 bomb train cars currently used to transport flammable liquids, only 14,000 meet the latest safety standards. It cannot be acceptable to have 85 percent of train cars in service not meeting the latest safety standards.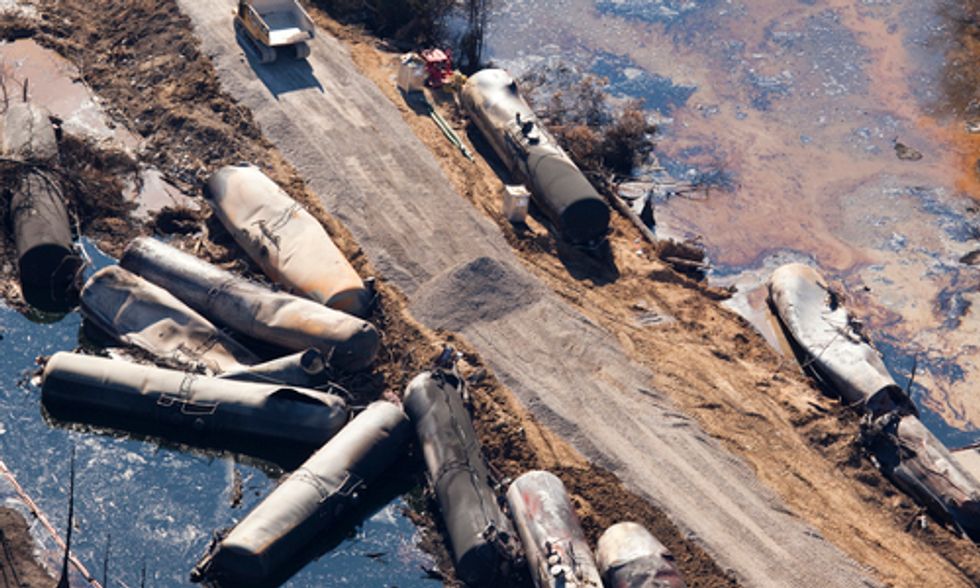 Bakken crude oil train derailment in western Alabama (Waterkeeper Alliance/John L. Wathen)
These bomb trains need to be stopped until the industry makes essential safety improvements. This transport of crude oil puts at risk our communities and the waters we use for swimming, drinking and fishing. The railways need to learn from the Exxon Valdez spill and put in place preventive measures to protect the environment before we see the rail equivalent of a Valdez disaster. Congress and regulatory agencies like the DOT need to step in and stand up for communities and waterways to protect them from these disastrous bomb trains. I encourage you to contact your elected officials and demand the oversight that we all deserve—and that we desperately need.
You Might Also Like
Fiery Oil Train Crash in Raging Shale Oil Boom State of North Dakota
Oil Train Disaster Anniversary Kicks Off Week of Action and 'Blast Zone' Mapping Tool
Transporting Fossil Fuels: Rail vs. Pipeline is the Wrong Question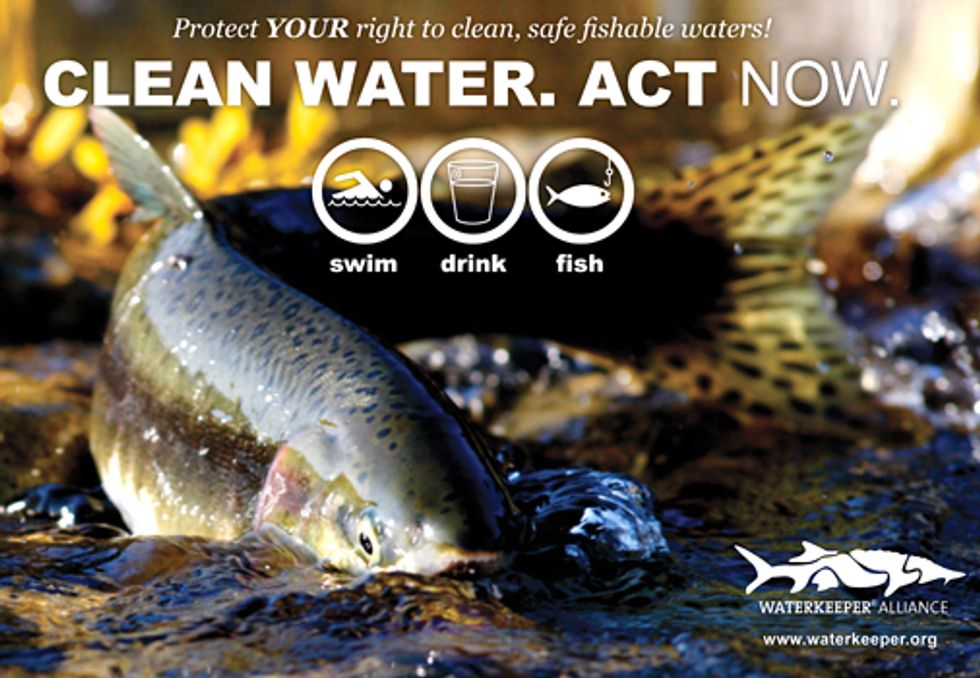 The Clean Water Act turns 40 today. As many know, a 40th birthday can be a momentous occasion for some, an "it's all downhill" moment for others and just another year for the indifferent. We have many successes to celebrate for the Clean Water Act's 40th, but our industry-controlled Congress is making it awfully hard to feel good about blowing out the candles.
After a year of kowtowing to big polluters with piecemeal attempts to gut the Act, last month, House Republicans decided to go whole hog and try to pass a super polluter bill—the "Stop the War on Coal"—which more properly belongs on the pages of Mad magazine. Unfortunately, some members of Congress are dead serious on threatening your right to clean air and water. The bill included attacks on the Clean Water Act, Clean Air Act, the Surface Mining Control Act and U.S. EPA, among other things, including rejecting the science on climate change.
Let's review where we've gotten with the Clean Water Act since 1972:
Forty years ago the Hudson River was more of an industrial waste conveyance than a great waterway. Today, thanks to the Clean Water Act and citizen action from groups like Hudson Riverkeeper, who stood up to polluters and gave meaning and force to the Clean Water Act, the Hudson River is a model of ecosystem revitalization.
Using the Clean Water Act, Puget Soundkeeper forced the City of Bremerton, Washington, to reduce the volume of its combined sewer overflows by 99 percent, which directly led to the reopening of nearby commercial shellfish beds in Puget Sound. These shellfish beds, which had been closed for more than 40 years, are culturally and economically important to the Suquamish Tribe, who now can harvest their ancestral fishing grounds once again.
Clean Water Act successes are by no means limited to the Hudson River and Puget Sound, and there are hundreds of advocates using the Act to fight for your right to clean water. Waterways across America have been brought back from the perilous brink they had reached 40 years ago.
At the same time, many of our waterways remain in decline or have suffered at the hands of greedy polluters. Just ask the citizens of Pike County, Kentucky, whose drinking water would catch fire, turn black or orange, and burn their skin after it was contaminated by the coal industry. Or talk to surfers in Malibu, California, and you're sure to find someone who became sick—some with life-threatening illnesses—after coming into contact with raw sewage and runoff.
Many dirty water horror stories across the country are the result of state and federal agencies abdicating their responsibility to properly implement and enforce the Clean Water Act, along with court decisions and agency guidance documents that are gutting the Clean Water Act's jurisdiction over our waters.
On the Clean Water Act's 40th birthday, here are a few wishes for its future:
1. The U.S. Environmental Protection Agency finally requires closed-cycle cooling for power plants, which now consume more than 70 trillion gallons of water a day, kill billions of fish and vomit hot water back into our rivers destroying ecosystems even further. Closed cycle cooling—a technology already in use—would reduce water withdrawals and fish kills by about 95 percent.
2. The U.S. EPA provides clear information about the location and activities of industrial factory farms, requires states to issue meaningful permits to the factories and enforces the permits.
3. The U.S. EPA convinces the White House to change the chant of "Clean Coal" to "Coal Kills," ends mountaintop removal coal mining, announces a rule to regulate coal ash and stops the export of coal from the U.S. to Asia.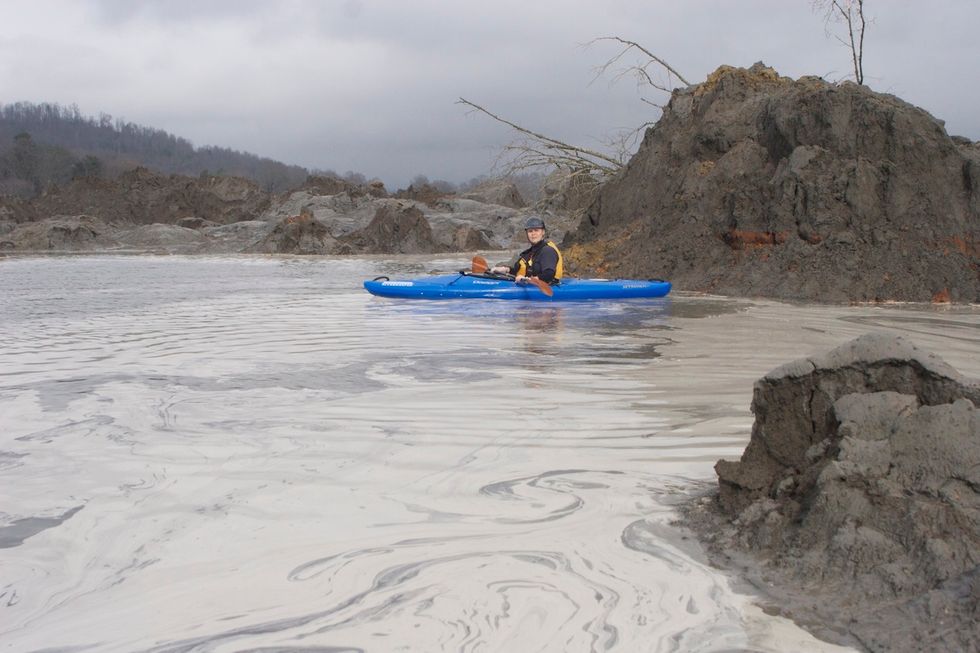 Watauga Riverkeeper Donna Lisenby takes water samples on December 27, 2008 while paddling between giant ash bergs created by the 1 billion gallon TVA Kingston coal ash spill into the Emory River in Tennessee. Photo credit: John Wathen, Hurricane Creekkeper
4. The U.S. Supreme Court affirms every American's right to clean water by upholding NEDC v. Brown, which ruled that polluted stormwater from logging roads is subject to Clean Water Act regulation, and by upholding L.A. County Flood Control District v. NRDC, which requires Los Angeles County to clean up its polluted stormwater. And while we are on stormwater, the EPA promulgates a national stormwater rule that provides for objective performance standards for polluted stormwater, one of the greatest threats to water quality in the U.S. Such a rule would drive innovative green infrastructure techniques to capture polluted runoff on development sites, preventing it from destroying our waterways. It would reduce energy consumption, create jobs, increase property values and much more.
5. Congress passes the "End Polluter Welfare Act" (H.R. 5745), a bill introduced by Sen. Bernie Sanders of Vermont and Rep. Keith Ellison of Minnesota. The fossil fuel industry is the biggest water polluter on earth. Ending more than $110 billion in tax payer subsidies to this toxic industry is the best thing we could do for water and American tax payers.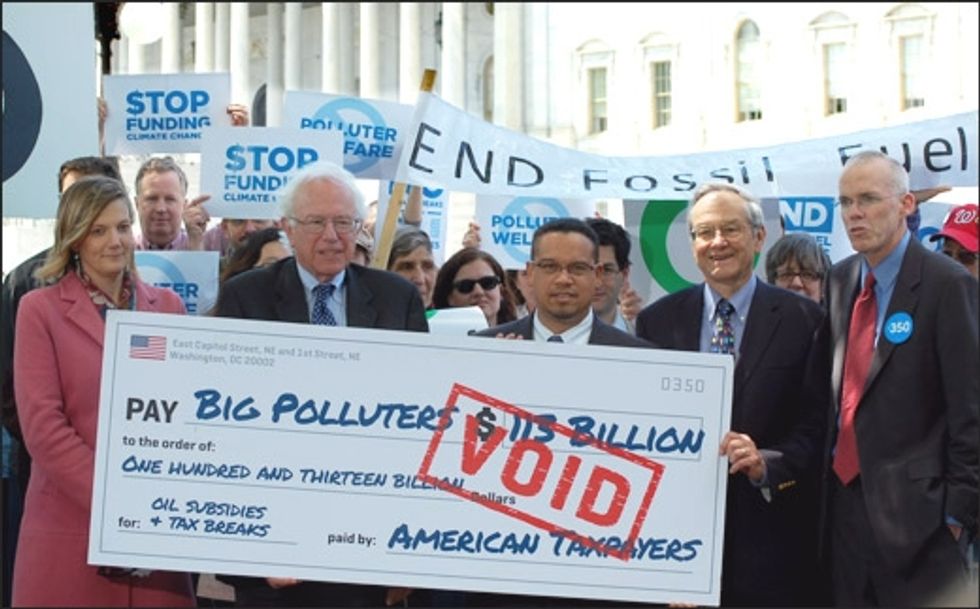 Sen. Bernie Sanders of Vermont and Rep. Keith Ellison of Minnesota introduce "End Polluter Welfare Act" (H.R. 5745) at a press event on Capitol Hill on May 10.
While we reflect on the Clean Water Act's achievements, as well as the threats it faces, we should remember this: the Act's great promise of swimmable, drinkable, fishable waters is not a wish list but a delineation of every American's inalienable right to this precious resource, water.
Happy birthday Clean Water Act—we are grateful to you and will continue to fight for you.
Visit EcoWatch's CLEAN WATER ACT page for more related news on this topic.
--------
WHAT DO YOU WISH FOR THE CLEAN WATER ACT THIS YEAR?
COMMENT BELOW: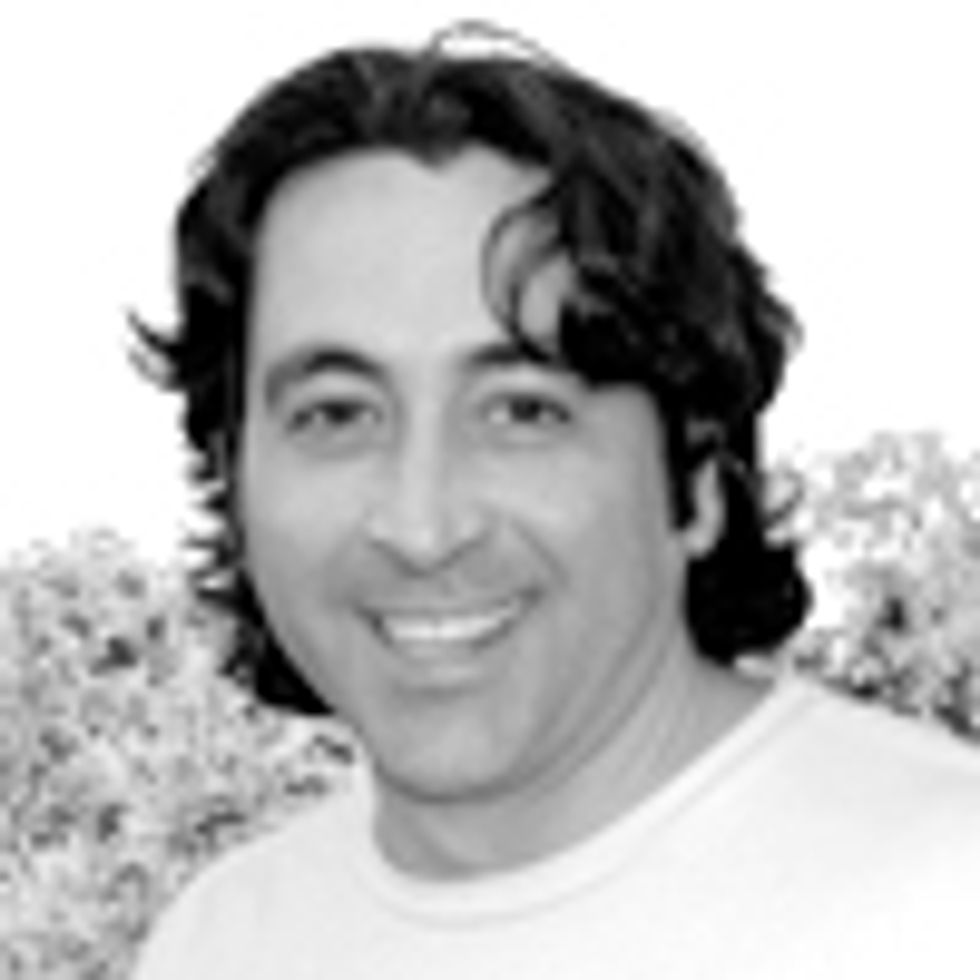 When was the last time you went all day without a drink of water? Humans can't survive one week without water. Or, when was the last time you got sick from drinking water out of your faucet? There are 1.1 billion people on earth who don't have regular access to clean and safe drinking water.
If it took you a long time to think about the answers to either of these questions, consider yourself lucky. Water scarcity is rapidly becoming one of the defining issues of the 21st century. In fact, unless we act fast, it is only a matter of time before more wars are started over water than over oil.
Many places across the globe are running out of drinking water, and countless water bodies are now undrinkable. In Dhaka, Bangladesh, rapid population growth and industrial pollution have made the Furigana River undrinkable. The capital city has had to resort to groundwater to satisfy its growing thirst. Unfortunately, the groundwater levels have plummeted, jeopardizing the population's ability to sustain itself.  
Many experts predict that the capital city of Sana'a in Yemen will run out of water in six years. Unsustainable agricultural practices and rampant unlicensed extractions of water are the main sources of the problem. And according to the same experts, Yemen could be the world's first country to run out of water.
Here in the United States, those who live in areas infested by irresponsible oil and gas industry operations often lack access to clean and safe drinking water. In Dimock, PA, drinking water was contaminated after fracking companies injected a poisonous brew of chemicals underground to stimulate natural gas production. Irresponsible industry practices and failed regulatory oversight have devastated this community.   
In Appalachia, many communities have had their water supplies destroyed by coal mining operations. From Boone County, West Virginia to Pike County, Kentucky residents have had their water contaminated with a long list of deadly, cancer causing pollutants like arsenic, barium, lead, manganese and other chemicals at concentrations federal regulators say is unsafe to drink. As a 2009 New York Times investigative report and a 2011 video of a flaming water well by Waterkeeper Alliance Board Member Donna Lisenby, shown below, illustrates, the drinking water of Appalachian families was so polluted it burned their skin when they had to bathe in it because they had no other source of water. 
The western United States also faces significant water issues, particularly with respect to water quantity. The mighty Colorado River no longer reaches the Gulf of California. And cities such as Las Vegas and Los Angeles are running out of water. It is less known that places like San Antonio and San Francisco also are facing serious water crises. The need for access to clean and abundant water will have a profound impact on the future of the United States and on many nations across the globe. 
Nearly everyone has a clean water story. Some are lucky enough to live in pristine locations where they don't give a second thought to turning on the tap or jumping in a lake, although by now they probably realize the need to protect their water resources. Others can't go for a swim without worrying about getting sick; turn on the tap without wondering if the water is contaminated; or catch and eat a fish without worrying whether they are jeopardizing their health or the health of their family. 
I grew up in north central Pennsylvania, where I swam every summer in creeks, rivers, ponds, and lakes. I never thought twice about jumping into one of the waterways near my home. But my personal clean water story was profoundly impacted by a trip I made to Hann Bay village in Senegal, where the villagers wanted to start Africa's first Waterkeeper organization. Thirty years ago, Hann Bay was one of the most pristine bays in the world and one of Senegal's most important fisheries. Today, however, the bay suffers from raw sewage discharges from the capital city of Dakar, numerous industrial discharges, illegal dumps, and more. I witnessed children swimming and bathing in the polluted bay, less than 50 yards from a pipe coming from an oil and gas facility. I saw an uncovered canal of raw sewage meandering past village homes and through the fish market. Despite this situation, I left feeling more hope about the fight for clean water than I had ever felt before:  A small group of villagers was starting a Waterkeeper organization to fight for their community's right to clean water. They continue to inspire me in my work every day.
This year, we celebrate World Water Day on March 22. As global citizens, we need to take a look in the mirror, acknowledge that simply maintaining the status quo is unconscionable, and commit to taking action that will ensure everyone's right to clean and safe water. We aren't quickly approaching a global water crisis; we are in a global water crisis. 
Everyone has a clean water story. Stand with your fellow citizens and make your voice heard:  Clean water is a human right. Please take action today by signing and sharing this petition and by submitting a 30-second video of your clean water story to www.facebook.com/waterkeeper. 
Don't stop just at March 22; our right to clean water is worth protecting every day.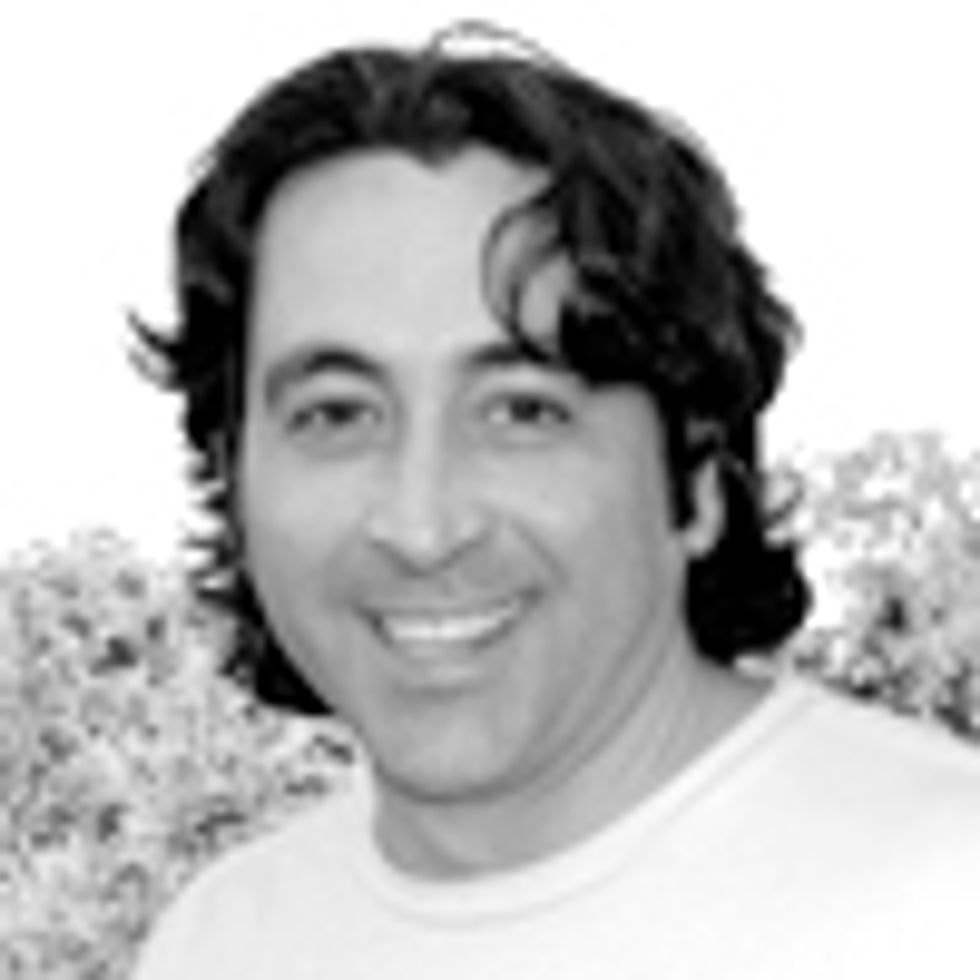 In his State of the Union address, President Obama discussed changes that he made to a regulatory scheme to declassify milk from being considered an oil, which required dairy farms to implement containment measures to prevent spills. Many people might question how seemingly benign substances like milk could have an adverse impact on our environment. Essentially, it is a case of too much of anything can be a bad thing. Discharges of milk into waterways can have a devastating impact on fish and aquatic life. When a substance like milk is discharged into a waterway, naturally occurring bacteria in the water will use the milk as food. The process of breaking that food down strips oxygen from the waterway-oxygen that fish and aquatic biota need to survive.
While the President was making a point about streamlining regulations, we need to turn his attention to an even larger issue related to our food system, family farms, and our waterways that went unmentioned. What we really need from our federal government is a laser-like focus on the implementation and enforcement of our nation's clean water laws, particularly with respect to the daily discharges of raw animal waste from industrial agriculture. Corporate giants like Perdue, Tyson, and Smithfield Foods, for example, are strangling our food systems with their burgeoning monopolies and devastating our nation's waterways.
In the Cape Fear River basin in North Carolina, there are roughly 300 million chickens, 16 million turkeys and 5 million hogs living in factory farms. The fecal waste generated by these operations exceeds that of 70 million people. The world's largest swine slaughterhouse, located on the Cape Fear River at Tar Heel North Carolina, slaughters more than 30,000 hogs per day. The massive amount of waste from these industrial facilities regularly ends up in the local waterways negatively impacting aquatic life and local communities.  
Working with our Cape Fear Riverkeeper, Waterkeeper Alliance currently is investigating several factory farms along Cape Fear. Extensive monitoring from the ground and utilizing the resources of several volunteer pilots has identified numerous facilities that are not managing their factory farms in compliance with the Clean Water Act. Moreover, pollutants like arsenic, nitrogen, phosphorus and bacteria have been detected in water leaching from waste piles and monitoring data shows very high levels of nutrients and bacteria being discharged to surface waters.
This problem is not limited to North Carolina alone. In the Chesapeake Bay region and Eastern Shore of Maryland, Perdue and a handful of other industrial poultry conglomerates are getting away with polluting waterways with nearly a billion pounds of chicken waste per year. The pollution from poultry production facilities is one of the biggest threats to the health and economic viability of the Eastern Shore and Chesapeake Bay.
Unfortunately, our states are abdicating their duty to protect our waterways and the communities that rely on them. Although discharges of animal waste from these enormous, industrialized animal feeding operations have been prohibited for more than 35 years, the U.S. Environmental Protection Agency (EPA) reported in 2011 that 58 percent of the largest facilities had not obtained permits as required by the Clean Water Act. There are large animal feeding operations operating without the required permits in 43 states across the country. For example, in North Carolina, only 14 of the estimated 1,222 regulated operations have obtained permits and, in Arkansas, none of the state's estimated 2,100 regulated operations have obtained permits.  
As a result, EPA reports that states have consistently reported that agricultural activities, including these large concentrated animal feeding operations, are the leading source of pollutants like nutrients and pathogens that are polluting waters across the United States. Illegal discharges of animal waste adversely impacts human health and water quality resulting in fish kills, algal blooms, fish consumption advisories, contamination of drinking water, and transmission of bacteria and parasites associated with food and waterborne diseases. The problem is compounded by the fact that high concentrations of these facilities have been documented in rural areas where children may be particularly susceptible to potential adverse health effects from contaminated waterbodies and drinking water.
This year marks the 40th anniversary of the Clean Water Act—our most successful modern environmental law. Despite the Act's successes, nearly 40 percent of our nation's waterways are not safe for swimming, drinking or fishing. Issues like factory farm waste need to be at the forefront of discussions to ensure clean water for current and future generations. Join us as we celebrate, activate, and advocate for the Clean Water Act, so that we can achieve clean water now and for the next 40 years.
The Clean Water Act is 39 years old this month. We all have a lot to celebrate. Since its enactment in 1972, the Clean Water Act (CWA) has cleaned up many of our waterways. However, throughout the last decade, we have seen the U.S. Supreme Court narrow the jurisdiction of the CWA, federal administration issue guidance to further narrow the court's ruling and state agencies dramatically cutting their clean water enforcement budgets. And now, the 112th Congress seems to be having its own midlife crisis by issuing a slate of reckless bills to render the CWA ineffective. Instead of trying to relive its youth, U.S. legislators have sided with polluters and lobbyists, and decided to take an irresponsible joyride at the expense of our right to swimmable, drinkable and fishable waters. Throughout the next year, leading up to the CWA's 40th birthday, we need to show our elected officials that as a civil society we are not going to stand for their attempts to gut one of the most successful environmental laws in U.S. history. Congress needs a lesson from the 1971 S.E. Hinton novel, That Was Then, This Is Now. That Was Then:  Even after the construction of a sewage treatment plant in 1947, the City of Bremerton, Washington, still discharged millions of gallons of raw sewage into Puget Sound. Its antiquated combined sewer system was overwhelmed during rain events, and overflowed hundreds of times every year contaminating the Sound and forcing closures of local shellfish beds. This Is Now:  Using the CWA, Puget SoundkeeperAlliance recently completed an 18-year federal consent decree with the City of Bremerton. As a result of Puget Soundkeeper's action, the city has reduced the volume of its combined sewer overflows by 99 percent, which directly led to the reopening of nearby commercial shellfish beds in Puget Sound. These shellfish beds, which had been closed for more than 40 years, are culturally and economically important to the Suquamish Tribe who now can harvest their ancestral fishing grounds once again. That Was Then:  In the 1960s, the Hudson River was a national laughingstock due to raw sewage, oil from Penn Central Railroad and other industrial pollutants that turned the river into a toxic stew. This Is Now:  After decades of CWA implementation and enforcement from groups like the Hudson Riverkeeper, the Hudson River has regained its status as a gem. Though the river still remains under threat, many of the industries and municipalities have stopped vomiting toxic chemicals into the river. Instead, residents and visitors flock to the river for recreation and celebrate its revitalization. That was then:  Dams on the Yadkin River in North Carolina starved the river of oxygen for years, leading the river to a slow death. This is now:  Using the CWA and showing evidence that Alcoa was withholding information about whether their dam upgrades would allow the river to meet water quality standards for dissolved oxygen, Yadkin Riverkeeper was able to block Alcoa's certification renewal for a license to operate the dams for the next 50 years. That was then:  In 1927, the Portland City Club described the Willamette River as "ugly and filthy" and construction workers refused to work on riverside projects because conditions were intolerable. The river continued to be one of our nation's dirtiest, but fortunately national attention, in the late 60s and early 70s, enabled a significant leap forward in water quality. This is now:  While continuing to face threats from stormwater runoff and combined sewer overflows, the river has seen significant improvements in water quality due to the CWA and groups like Willamette Riverkeeper. The river is now one of the most heavily used recreation rivers in the U.S. These are just a few examples of success stories thanks to the CWA and organizations working to promote clean water. However, water quality problems still remain. Stormwater continues to poison our waters, mountaintop removal coal mining is destroying waterways throughout the Appalachian region, and the oil and gas industry is wreaking havoc on our natural resources. Now is the time to strengthen the CWA, not gut it. Clean water creates jobs and reduces health care costs. We should be cleaning our waterways, not polluting them. It's time for us stand up and fight for our right to clean water. Let Congress know you support the Clean Water Act. With your support, hopefully we won't, like the main character Byron in Hinton's young adult novel, find ourselves longing for a time when clean water was something we valued as a civil society.