Already the Flim4Climate Global Video Competition has more than 250 entries from 100 countries and counting. Each video is telling a story of how skyrocketing carbon emissions and the activities that feed those emissions are having impacts across the globe. More videos are being submitted every day.
Each story is its own. Some films focus on the individual, others focus on groups, a few focus on countries as a whole and others don't focus on humans at all—instead choosing to examine animals, plants or oceans. Individually, these films leave a viewer with a unique experience, but collectively these films combine to create a wonderful mosaic of some of the biggest issues related to climate change today.

We have one week left to the deadline for video submissions (enter your story before Sept. 15) and it is already clear that the stories told through Film4Climate hit the big issues and draw light on the often under told implications of the climate crisis.
Here are three takeaways from the submissions we've received so far and reasons why you should submit your climate story today:
Take 1: Consumption Junctions
If you were to blindly click on the part of the Film4Climate website where all the videos are displayed (vote for your favorite), there's a good chance you would find a film addressing consumption habits. Perhaps this increased emphasis on the electricity we use, the food we eat and the water we require, is indicative of a "post-Paris" climate movement that is beyond merely making noise directed at heads of state and obscure United Nations committees and is instead focused on actions that drive the transition away from fossil fuels.
Of course, meeting the targets agreed upon at Paris will require governments and heads of state to keep stepping up, but as seen in so many of the Film4Climate entries, it's the individual who really holds the power, especially when it comes to consumption. The film entries relating to electricity usage and the consequences our diets have on the planet, talk as much about the food and electricity that we don't use as much as the food and electricity we do use. And for good reason.
When it comes to electricity use, there are a few films that simply emphasize the difference in use by telling the stories of a few people. In the developed world there are huge differences when it comes to personal energy use. In the U.S. and Canada, for example, the average person uses about 4,500 kWh each year while a person in the UK or Germany will come in way under that by using under 2,000 kWh each year.
But variations don't just exist in the developed world, emerging economies show wide ranges in energy use. The average person in Brazil, Mexico and China uses about 500 kWh, but in Brazil residential use per person has been the same for almost 20 years, while in Mexico it is up 50 percent and in China it has increased 600 percent. There are film submissions from all these countries devoted to consumption habits.
Of course there are a number of positive stories of innovation that lead to smarter ways of consuming electricity and energy. Many of these films are incredibly inspiring and focus on very local solutions. When it comes to reducing pollution, being smarter about energy and rethinking our diets, there are a number of films highlighting champions that we can all learn from.
Beyond energy there is a major emphasis on food in the Film4Climate competition. Again, the films are complimented well by the facts on the ground. In the U.S. alone, approximately 40 percent of food goes to waste. Globally, about one third of the food produced for human consumption every year—approximately 1.3 billion tons—gets lost or wasted.
Unsurprisingly, much of the food-focused films in this contest so far are devoted to exposing the damage caused by the global meat industry. The World Resources Institute studied the impact of meat consumption on the planet and found that, "reducing heavy red meat consumption—primarily beef and lamb—would lead to a per capita food and land use-related greenhouse gas emissions reduction of between 15 and 35 percent by 2050." According to that same World Resources Institute report, "Beef uses more land and freshwater and generates more greenhouse gas emissions per unit of protein than any other commonly consumed food."
The Shocking Consequences of the World's #Meat Addiction https://t.co/sY0LsFmUmU @VICE @HBO @EWG #VICEonHBO https://t.co/O2fyxRyJcT

— EcoWatch (@EcoWatch) 1457107057.0
A growing global beef industry requires more land for grazing and that has resulted in massive clear cutting of the world's largest rainforest. Thus, the beef consumption issue is a deforestation issue. Which brings us to...

Take 2: Deforestation Flicks
For any environmentalist and for what is probably a large part of the population, seeing trees and forests cut down evokes a real and tangible emotion. The destruction of a living thing, that is a habitat for so many other living things and provides the oxygen all earthly things carries weight.
For any environmentalist and for what is probably a large part of the population, seeing trees and forests cut down evokes a real and tangible emotion.Mahmoud El-Kholy
It can manifest with a flinch that accompanies the screech of revved up chainsaw or the internal hollowness that radiates like tree rings from one's stomach when a giant tree thuds helplessly on the forest floor. Maybe these images, these sounds these feelings are the reason so many films in the Film4Climate contest highlight the deforestation issue.
While forest-related stories come from all parts of the world, Brazil is a common setting. Over the last thirty years, the Amazon rainforest has has lost about a fifth of its trees. There are a number of causes for this but the largest, as indicated above factor is cattle ranching. Trees are cut and the land is converted into a pasture for cattle grazing at such a staggering rate in Brazil that between 1996 and 2004, the total export value of Brazilian beef increased tenfold from $1.9 million to $1.9 billion. Brazil is now the largest beef exporter in the world. In other parts of the world, where cattle grazing persists so to does deforestation.
But it's not all cattle. Often, deforestation is the result of increased development or in other cases, deforestation is the result of a quest for palm oil, used in many household, cooking and cosmetic goods. A whopping 85 percent of all palm oil in the world is produced and exported from Indonesia and Malaysia.
Be it beef production, palm oil or other factors, the world lost an estimated 129 million hectares of forest, an area the size of South Africa, between 1990 and 2015. This trend is a real life horror plot as forests are the largest holder of carbon, but deforestation is the largest source of carbon dioxide emissions after fossil fuel burning, causing 15 percent of global greenhouse gas emissions.
Of course not all the films focused on the negative of deforestation. Within every genre of film submitted so far to the contest, there are a number of solutions based films related to deforestation. In fact a common theme running through the positive deforestation films was one of rethinking our personal relationships with nature and how adjusting our mindset to when it comes to diet and development can make a difference.
Whether it's the positive or the negative, deforestation story needs to be told and I encourage any filmmaker out there working on the issue to enter their story.
Take 3: Water, Water Everywhere
Water runs through everything on this planet, so perhaps it's no surprise that water is a theme that runs rapidly through the Film4Climate competition.
Videos already sent in to this competition focus on subjects like the food we get from the ocean (spoiler alert: it's fish), the freshwater habitats that are at risk to climate change and the irreversible damage we are doing to our reefs thanks to ocean acidification. Higher temperatures and a shift in extreme weather patterns affect availability and distribution of rain, snow, river flows and groundwater and further deteriorate water quality.
Videos already sent in to this competition focus on subjects like the food we get from the ocean.Stephanie Rabemiafara
The films devoted to these impacts, whether they tell a story of remote villagers that must now travel farther for sketchier sources of water for their family or they document the growing number of vanishing species resulting from vanishing habitats, underscore the connectivity that comes with the water challenge.

Many of the water films are incredibly positive stories as they tend to focus on localized solutions and individuals who are determined to make water access easier for their communities. Through a number of the positive heroic actions the water struggle is explained by focusing on the heroes instead of the villains.
But if there it's villains you are into then look no further than the issue of ocean acidification. Ocean Acidification, the result of warming water and subsequent chemical reactions, has a dramatic impact on calcifying species like oysters, clams, shallow water corals and deep sea corals along with a number of other creatures under the sea.
Above the sea, more than a billion people worldwide rely on food from the ocean as their primary source of protein and a huge number are employed by getting those creatures on dinner tables around the world. The films dealing with ocean acidification all touch on the food aspect, as well as the fact that acidification is already taking hold on some of the world's most vibrant habitats like the Great Barrier Reef.
If you have a story about better caring for or preserving our water resources in times of climate change, please enter your film.

With more than 200 films entered in the Film4Climate contest and each one of those containing a real story about how the climate crisis is taking hold around the world, there's a lot for any film fanatic to take in.
I hope that when the submission deadline hits in September we have many more stories to watch and more inspiration for action to take on climate change. After all, we should all be working towards a happy ending on climate change.
EcoWatch Daily Newsletter
Lucia Grenna heads the unit specializing in Communication for Climate Change at the World Bank operational communication division, where she has been working since 1999.
While to many the climate debate may seem remote from daily life, the small decisions that we all can make—how much water we use, the products we buy, how we vote—are personal and possible. And they become easier the more we are aware of the consequences.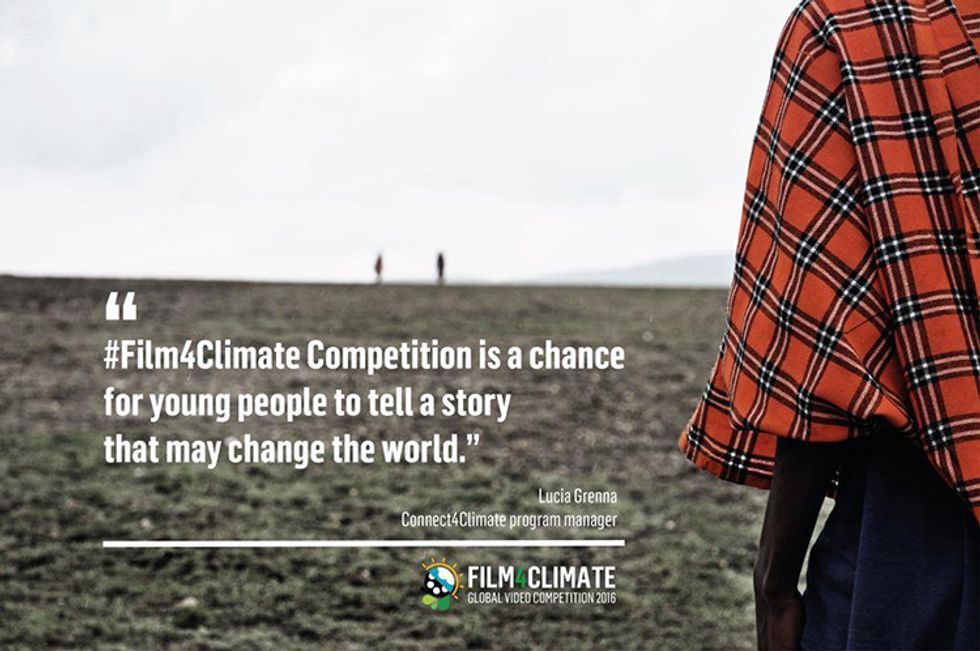 Already much of society is choosing to engage in a climate-friendly economy, to invest in renewables, conserve energy and promote climate-smart agriculture and resource conservation. Cities and the private sector are shifting their behavior, building resilience to climate impacts and putting a price on carbon pollution.But the poorest in the world do not even have the luxury of choice. For them, climate change is an immediate, life-threatening danger. Striking images and personal stories help us understand the need for immediate action—by all of us, at all levels.
The World Bank Group's Connect4Climate program, with the direct support of Vulcan Productions, the Italian energy company Enel and The Global Brain, is offering filmmakers the chance to tell these stories and to create messaging that will impact us all and spur action. Partnering with the United Nations and the government of the Kingdom of Morocco, the climate solutions and actions depicted in these films will be celebrated at the United Nations COP22 Climate Summit in Marrakesh in November.
[youtube https://www.youtube.com/watch?v=b9B9l_XIRq0&feature=youtu.be expand=1]
The Film4Climate Global Video Competition is open to all, between the ages of 14-35, to submit a short film up to 5 minutes in length or a public service advertisement up to 60 seconds long anytime between June 20 and Sept. 15. Submissions are accepted through film4climate.net or through Connect4Climate's Facebook page.
"Climate change is a real and global threat affecting people's wellbeing, livelihoods, the environment and economies," Sheila Redzepi, vice president of external and corporate relations for the World Bank Group, said. "Communication is a powerful tool in furthering understanding of its impact and inspiring action to tackle it."
An elite panel of film industry producers, directors and writers chaired by Bernardo Bertolucci will choose the winning entries. They will be distributed globally as examples of how society is embracing the climate challenge and taking actions to transition to a low-carbon resilient future.
Renowned film director Fernando Meirelles will again join the jury for this competition. "Climate change is the biggest challenge humankind will face in the next century and what has to be done to mitigate the effects of climate change must start with us, from bottom to top," Meirelles remarked.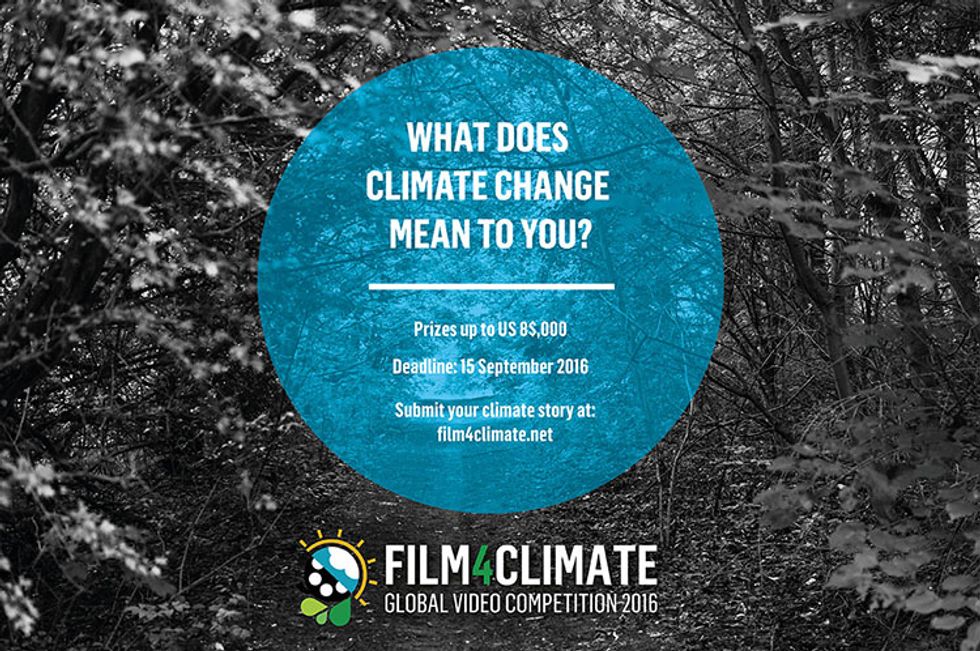 Throughout history when young people have finally had enough of excuses and failure from the older generation, they have gathered together or voted together to demand change. It is often said that this generation is the first to end poverty and the last to tackle climate change. The Film4Climate Global Video Competition aims to show how that change will take place.
The competition is a chance for young filmmakers to let their voices be heard in an impactful way. To vividly illustrate the type of actions that need to be taken immediately and to show us the sort of world they want to be living in and to leave for their children.
"So often youth are sidelined or silenced or made into photo-ops," Connect4Climate youth leader and filmmaker Slater Jewell-Kemker said. "It is important to remember that we are more than just the smiling, happy youth of tomorrow. We are the inheritors of this planet and we need to be listened to."
The limiting factor of the climate decision-making process is not necessarily the unwillingness of policy makers, rather the lack of political and social capital. Leaders need to feel supported and empowered by citizens and the younger generation in order to make the right, bold climate decisions.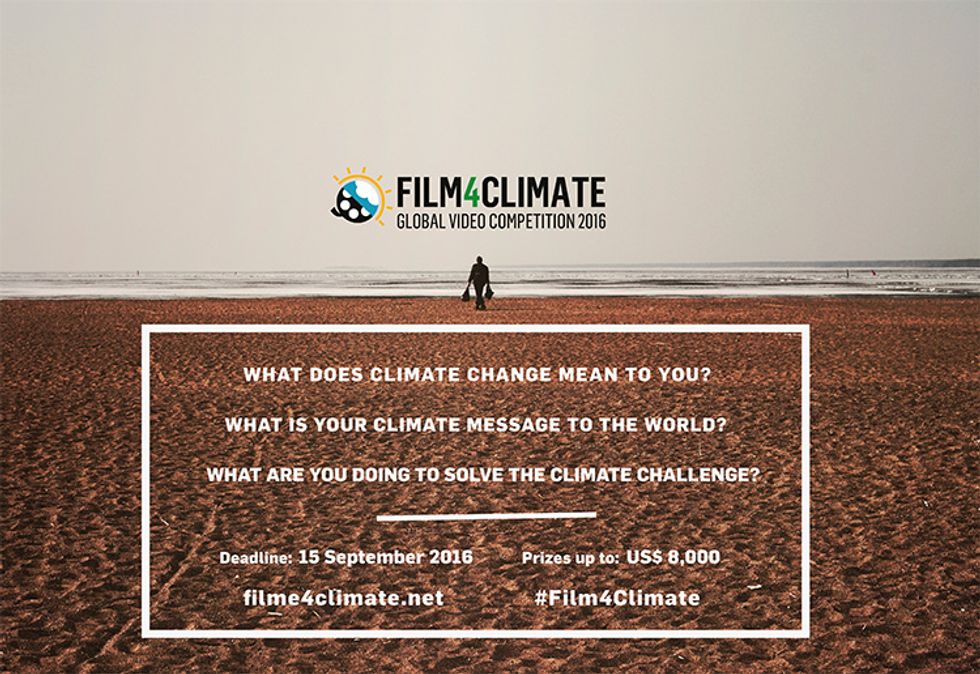 Youth have the ability to see beyond boundaries and into the heart of the matter, which is that we are all human, connected and only together will we make the climate crisis into the greatest opportunity for this generation.
Films have the power to inspire. Young people have the energy. The Film4Climate competition aims to bring together these two vital ingredients to build the socio-political capital for climate action and highlight climate solutions around the world.
To find our more about the competition and download flyers and the social media kit see this article on the Connect4Climate site.
Watch here for more information:
[youtube https://www.youtube.com/watch?v=GKKhmTkgz8s&feature=youtu.be expand=1]
YOU MIGHT ALSO LIKE
The Link Between Climate Change and Drought
GOP Blocks Pentagon Climate Plan
7,100 Cities From 119 Countries Join Together in Historic Collaboration to Accelerate Climate Action
185 Environmental Activists Across 16 Countries Were Killed in 2015
CASEZY / iStock / Getty Images
From lighting up the night when you return home to boosting security, installing solar flood lights is a great way to invest in your home's functionality and safety. Solar flood lights harness their energy from the sun and don't require wiring or electrical work, making installation a breeze even for renters. And thanks to waterproof designs and efficient LEDs, they offer a fix-it-and-forget solution to myriad lighting predicaments.
In this article, we'll recommend four of the best LED solar flood lights and motion-detector lights on the market today.
Best Solar Flood Lights: Our Recommendations
Each product featured here has been independently selected by the writer. Learn more about our review methodology here. If you make a purchase using the links included, we may earn a commission.
Full Reviews of Our Top Picks
How to Choose the Best Solar-Powered Flood Lights
A single doorway doesn't need 2,500 lumens, nor is a single solar-powered flood light sufficient for lighting up a driveway. Before choosing the best solar-powered flood light, consider the following factors:
Brightness: In general, brighter is better, but if you only need to light a small area, you might not have to fork over the extra cash for a higher-output unit. If you want to cover a large area with a single bright light, go for at least 1,600 lumens. Or, install multiple lights with a smaller output.
Features: Today's solar-powered flood lights are ripe with features. Most have multiple brightness settings and weatherproofing as standard features, but consider other important elements such as remote controls, adjustable/modular solar panels, tilt and pan adjustments for lights and sensors, and metal constructions. As always, the more features, the higher the price, but the investment will be worth it.
Durability: All of our picks are waterproof, but you may want a light that's truly built to last. The RuoKid Solar Street Light has an all-metal design and is made to take a beating. Look for weatherproof lights that will hold up through multiple seasons.
Ease of installation: Compared to their wired counterparts, solar-powered flood lights are a breeze to install. Some require more assembly and mounting than others, so if you're not on friendly terms with your toolbox, pick a solar flood light that requires little more than a screw to install.
Frequently Asked Questions: Solar Flood Lights
Do solar flood lights really work?
As long as they have consistent daylight for at least a few hours, solar flood lights work exceptionally well. They utilize the same sensor technology as their wired counterparts but require no wiring and have an overall simpler installation thanks to their built-in solar panels.
What is the brightest solar LED flood light?
TBI Pro Super-Bright Outdoor Solar Lights have an impressive 2,500-lumen output. These are some of the best solar flood lights if brightness is your top priority.
How long do solar-powered flood lights last?
As far as runtime, most solar flood lights provide uninterrupted lighting for 8 to 12 hours. Assuming a solar light has no defects and is installed and used as intended, a solar flood light battery will last 3 to 4 years before needing replacement. Other components of a solar flood light can last up to a decade or more.
What is the most powerful solar security light?
TBI Pro Super-Bright Outdoor Solar Lights are the most powerful solar LED security lights on our list.
Christian Yonkers is a writer, photographer, filmmaker, and outdoor junkie obsessed with the intersectionality between people and planet. He partners with brands and organizations with social and environmental impact at their core, assisting them in telling stories that change the world.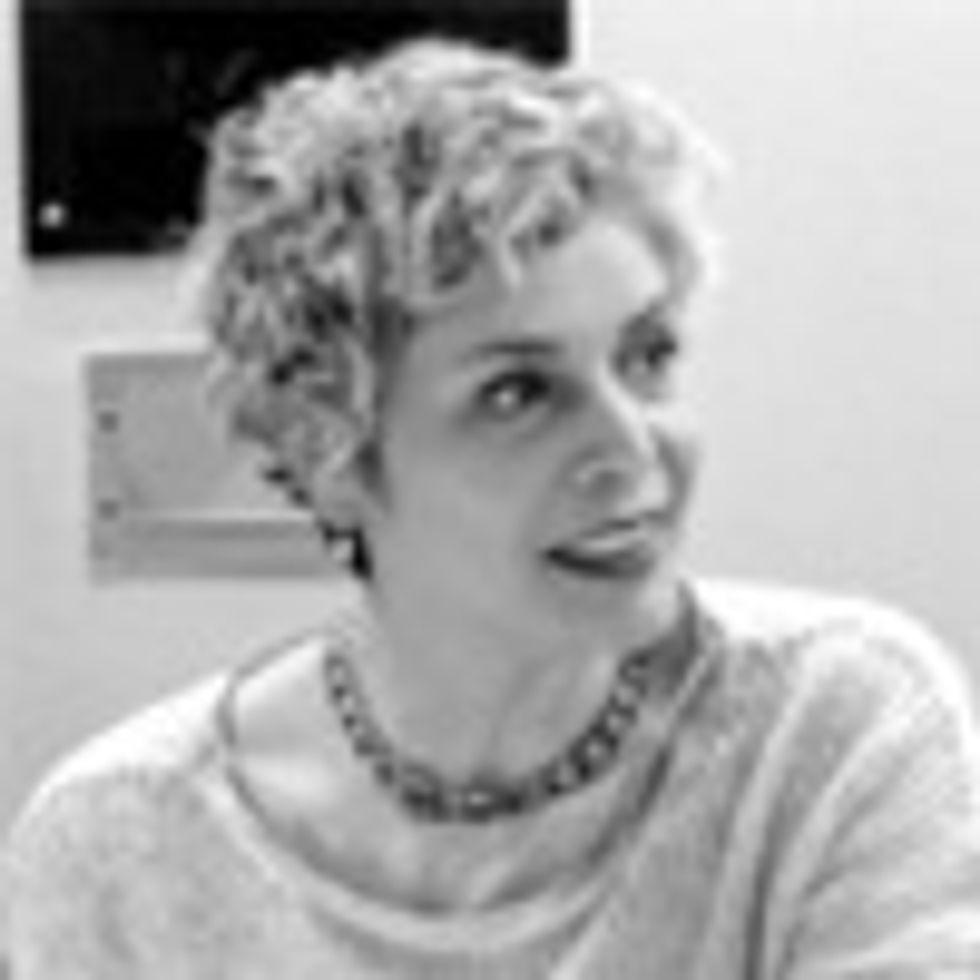 I'm always amazed at how a good story can move people. I was reminded of this again while watching the world premiere of Chloe & Theo, a film in which a homeless girl befriends an Inuit who travels to New York City from his tiny village in the Arctic to deliver an important message: "My world is melting. Please help us." (Look for the film in August at a theater near you).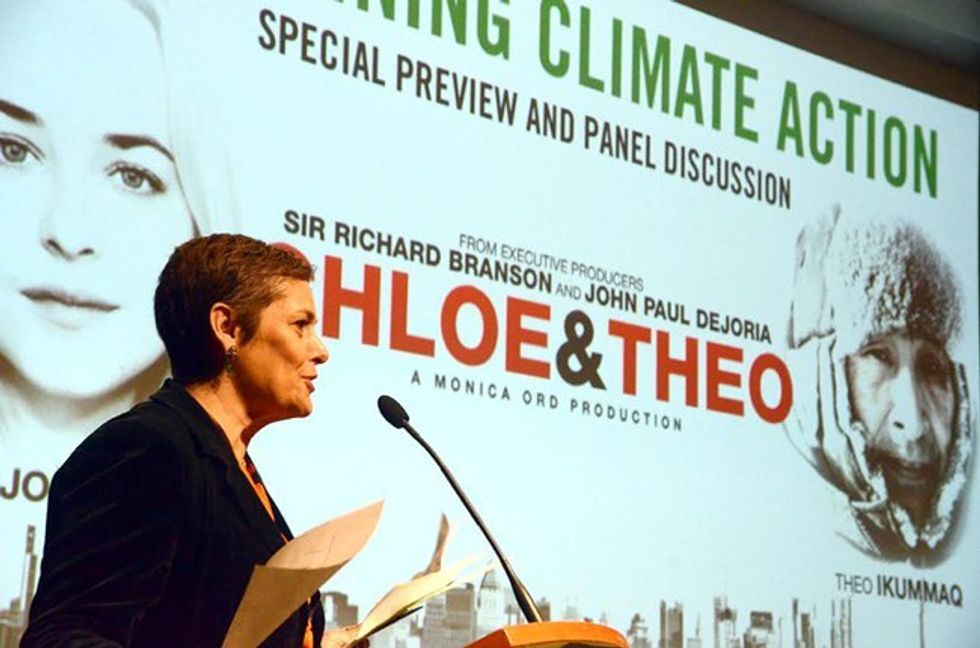 Theo's story is a true one. He does leave his vast, white and silent world on the Canadian coastline where he was born (in an igloo!) and he did go to U.S. to try to meet with world leaders. His help came in the form of Monica Ord, an entrepreneur who was committed to helping HIV/AIDS victims and finding cancer cures. She heard Theo's story and asked how she could help. She had no background in film making, but she did know Richard Branson, founder of the Virgin Group, and told him about Theo's story. Three months later, she and Sir Richard were on a dog sled traveling through the Arctic to see what Theo meant.
The rest, as they say, is history.
On a budget so small, the crew took only half their pay, Monica succeeded in making an engaging, and often funny, movie about Theo Ikummaq's journey, in which he plays his charming self. Dakota Johnson insisted on playing Chloe, Theo's guide; Mira Sorvino also costars. We experience Theo's physical journey from the North, as well as his emotional journey through the layers and personalities of New York City.
We get invested in the Story of the Angry Sun, which Theo's Inuit elders use to explain what's happening to their slowly melting village. We empathize when Theo mourns that people have separated from their world, and that things are changing way too fast. We have a responsibility to what we've been killing, he says, his soulful deep brown eye projecting innocence and truth. The result is a simple, and entirely complicated, beautifully-told story.
Theo just wants to get his message heard, because he wanted his world to stay frozen, snow covered and remain on sacred "cathedrals of ice." And so do we in the climate change communication business. We want to make sure our messages about our changing world are heard. But maybe we've been trying to do this in all the wrong ways, by telling people the facts, when what they want to hear is a good story.
The willingness to enter another's world, as Monica Ord did, and be a witness to his story, his life, his plights and concerns is, to me, the very beginning of communication. Telling those stories in a way which allows others to experience a world they never would have otherwise changes people. It has the power to change their perspectives, opinions and hearts.
YOU MIGHT ALSO LIKE
World Premiere of Chloe & Theo and Its Extraordinary Behind-the-Scenes Story
How One Person Can Make a Big Difference
The OceanMaker: An Animated, Post-Apocalyptic Film You Don't Want to Miss