Leonardo DiCaprio's address to the United Nations at the Paris climate agreement signing ceremony in New York City on April 22.
Thank you, Mr. Secretary General, for the honor to address this body once more. And thanks to the distinguished climate leaders assembled here today who are ready to take action.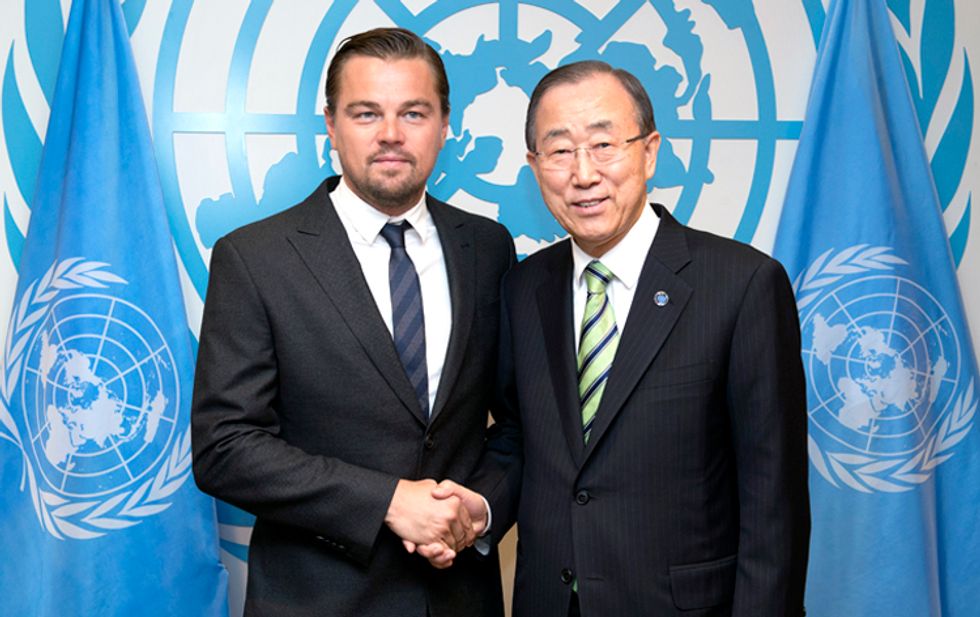 President Abraham Lincoln was also thinking of bold action 150 years ago when he said:
"The dogmas of the quiet past are inadequate to the stormy present. As our case is new so we must think anew and act anew. We must disenthrall ourselves and then we shall save our country."
He was speaking before the U.S. Congress to confront the defining issue of his time—slavery.
Everyone knew it had to end but no one had the political will to stop it. Remarkably, his words ring as true today when applied to the defining crisis of our time— climate change.
As a UN Messenger of Peace, I have been traveling all over the world for the last two years documenting how this crisis is changing the natural balance of our planet. I have seen cities like Beijing choked by industrial pollution. Ancient Boreal forests in Canada that have been clear cut and rainforests in Indonesia that have been incinerated. In India I met farmers whose crops have literally been washed away by historic flooding. In America I have witnessed unprecedented droughts in California and sea level rise flooding the streets of Miami. In Greenland and in the Arctic I was astonished to see that ancient glaciers are rapidly disappearing well ahead of scientific predictions. All that I have seen and learned on this journey has terrified me.
There is no doubt in the world's scientific community that this a direct result of human activity and that the effects of climate change will become astronomically worse in the future.
I do not need to throw statistics at you. You know them better than I do, and more importantly, you know what will happen if this scourge is left unchecked. You know that climate change is happening faster than even the most pessimistic of scientists warned us decades ago. It has become a runaway freight train bringing with it an impending disaster for all living things.
Now think about the shame that each of us will carry when our children and grandchildren look back and realize that we had the means of stopping this devastation, but simply lacked the political will to do so.
Yes, we have achieved the Paris agreement. More countries have come together to sign this agreement today than for any other cause in the history of humankind—and that is a reason for hope—but unfortunately the evidence shows us that it will not be enough.
Our planet cannot be saved unless we leave fossil fuels in the ground where they belong. An upheaval and massive change is required, now. One that leads to a new collective consciousness. A new collective evolution of the human race, inspired and enabled by a sense of urgency from all of you.
We all know that reversing the course of climate change will not be easy, but the tools are in our hands—if we apply them before it is too late.
Renewable energy, clean fuels and putting a price on carbon pollution are beginning to turn the tide. This transition is not only the right thing for our world, but it also makes clear economic sense, and is possible within our lifetime.
But it is now upon you to do what great leaders have always done: to lead, inspire and empower as President Lincoln did in his time.
We can congratulate each other today, but it will mean nothing if you return to your countries and fail to push beyond the promises of this historic agreement. Now is the time for bold unprecedented action.
My friends, look at the delegates around you. It is time to ask each other—which side of history will you be on?
As a citizen of our planet who has witnessed so much on this journey I thank you for all you have done to lay the foundation of a solution to this crisis, but after 21 years of debates and conferences it is time to declare no more talk. No more excuses. No more 10-year studies. No more allowing the fossil fuel companies to manipulate and dictate the science and policies that effect our future. This is the only body that can do what is needed. You, sitting in this very hall.
The world is now watching. You will either be lauded by future generations, or vilified by them.
Lincoln's words still resonate to all of us here today:
"We will be remembered in spite of ourselves. The fiery trial through which we pass will light us down, in honor or dishonor, to the last generation... We shall nobly save, or meanly lose, the last best hope of Earth."
That is our charge now—you are the last best hope of Earth. We ask you to protect it. Or we—and all living things we cherish—are history.
Thank you.
YOU MIGHT ALSO LIKE
Scientists Share Why Keeping Warming Under 1.5 Degrees Celsius Is Crucial
Celebrating John Muir's Incessant Study That Saved Yosemite National Park
Scientists Confirm: 93% of Great Barrier Reef Now Bleached
Bill Nye vs. Sarah Palin on Climate Change: Who Do You Believe?
EcoWatch Daily Newsletter
Chiradech / iStock / Getty Images
Portable generators allow you to power your devices and certain appliances, even away from home or when your primary power source is taken offline. These devices are also perfect for camping or outdoor adventures. A portable solar generator can give you the power you need with a smaller ecological footprint by using solar panels. In this article, we'll outline some of the top options available in 2021.

Our Picks for the Best Portable Solar Generators
Each product featured here has been independently selected by the writer. If you make a purchase using the links included, we may earn commission.
How We Reviewed Portable Solar Generators
A good portable generator will offer you backup power in a convenient and reliable way. We have reviewed some of the top models on the market today, and arrived at a few that we think stand out from the rest.
To rank the best solar generators, we considered the following criteria:
Size and weight. Smaller, more lightweight units offer much greater ease of use. We sought portable solar generators that aren't too challenging to lug around your home, or take with you when you go camping.
Battery storage capacity. While your generator absorbs light through a solar panel, that energy is ultimately stored in a battery. The battery storage capacity, measured in watt-hours (Wh) determines how long you can use the generator before it requires a recharge.
Inverter rating. Basically, inverter rating refers to the total number of watts that the solar generator can extract at any given time. Inverter rating, along with battery capacity, determine the wattage and power output of your generator.
Expandability. Some generators come with a predetermined number of solar panels, while some allow you to add more solar panels as needed. This is an important feature to consider when looking for generators.
Price point. Naturally, when looking for a new solar generator, staying on budget is always going to be a factor. We chose generators that are competitively priced.
The Best Portable Solar Generators
With these ranking factors in mind, here are our picks for the best portable solar generators available in 2021.
What Types of Batteries Do Solar Generators Use?

It's important to note that solar power generators may employ different kinds of batteries. The most common option is the lithium-ion battery. These tend to be more expensive than lead-acid batteries, at least on the front end. With that said, a lithium-ion battery will prove more durable, which usually makes it the smarter investment in the long run. Solar generators include charge controllers, which regulate the volts of energy coming from the solar panels to the battery to make sure the battery isn't overcharged and damaged.
The energy stored in the battery is converted from DC power into AC power using an inverter or adapter.
What Can You Power With a Portable Solar Generator?
There are different types of solar generators. A backup generator is primarily used to power your home, should your electricity go out. In this article, we focused on portable generators, which are mostly used for hiking and camping. With that said, a portable generator can also be really useful during power outages, potentially keeping your lights, electronic devices, and small devices or appliances on for several hours. Depending on the watts of power your solar system generator kit can support, you can use it to power things like phones, tablets, laptops, TVs, coffee makers, a mini-fridge, certain medical devices, and most anything you would plug into a car charger.
Some of the generators we've listed here can be charged by solar energy or via other sources, including vehicles and power outlets. These different charging solutions make a generator more versatile, though of course, solar energy is what you'll want to use if staying away from fossil fuels is your goal.
What are the Benefits of a Portable Solar Generator?
There are a number of reasons why you might consider a portable solar generator:
These units are ideally suited for camping and hiking. The ones on our list range in weight from under 10 pounds to over 50, but they are all fairly easy to cart around as needed, or to keep in your camper or RV.
Though they are not primarily intended to be emergency backup generators, they can certainly be used in that capacity. In particular, they can provide emergency power to important medical devices as well as phones and computers.
Unlike gas generators, portable solar generators offer power without making a lot of noise or creating a lot of fumes. This makes them much more appealing for campsites.
Portable solar generators are better for the environment, since they don't rely on gas or diesel fuel to run.
Using a solar generator is ultimately more cost-effective as you will never need to purchase fuel to recharge it.
Solar Power Can Take You Further
Solar power is one of the best options for dependable, renewable energy. Not only can it help power your house, but you can use these portable generators to carry that power with you, wherever you may go.
There are clearly lots of options on the market today. We hope our guide is helpful to you as you assess our own backup power needs, and as you determine which portable solar generator will give you the greatest value. Note that you can find many of these solar power options through third-party retailers like Amazon. Do your due diligence as you seek the perfect, portable solar solution for you and your family.
Josh Hurst is a journalist, critic, and essayist. He lives in Knoxville, TN, with his wife and three sons. He covers natural health, nutrition, supplements, and clean energy. His writing has appeared in Health, Shape, and Remedy Review.