EcoWatch Daily Newsletter
If you go into any pharmacy, there are dozens of different types of deodorants. Ones that smell like ocean breeze, or vanilla bean, or man. Ones that make you smell less bad, ones that reduce sweating, ones that eliminate sweating, ones that make your armpits lighter, or softer … the list goes on and on. The point is that there are so many choices because everyone's body is different which means that different types of deodorant work better or worse for different people.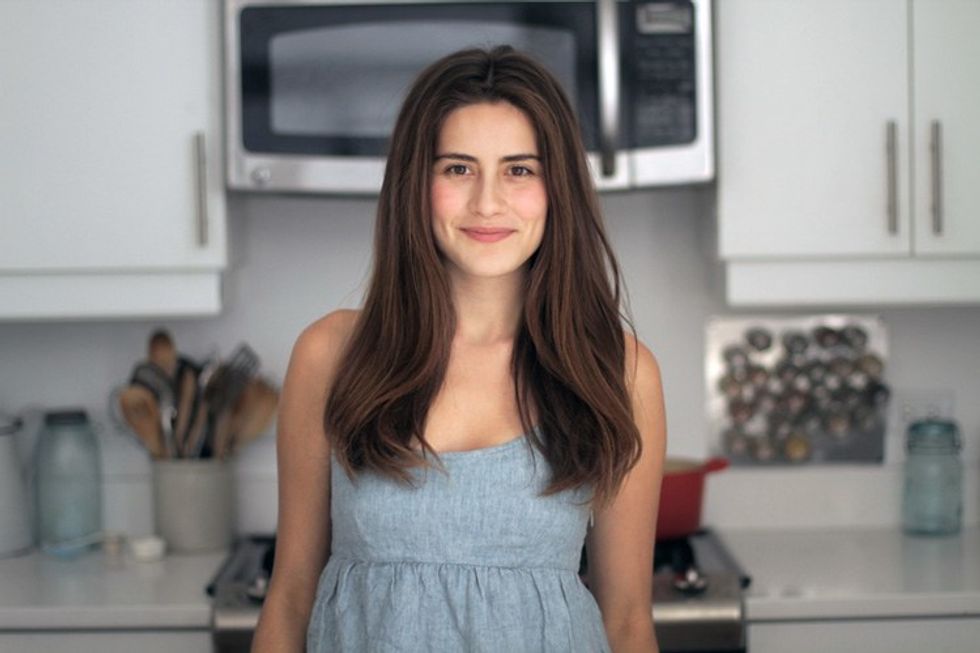 The deodorant I make is different from conventional/store bought deodorant because it is free of chemical elements like aluminum which have been linked to cancer and Alzheimer's, propylene glycol which can damage the central nervous system, and parabens which are carcinogenic and environmentally disruptive.
When I was using conventional (aka store bought chemically deodorant) I was always switching brands. It seemed like after a while one would just stop working, like my body changed, and I had to find something new. I would try brands that worked well for my friends, but they didn't work for me, and vice-versa.
When I transitioned to a plastic free and zero waste lifestyle I stopped using store bought deodorant. This was for many reasons but the main reasons were the packing, the ingredients and the fact that the natural version was less expensive and worked really well.
The Packaging:
Conventional deodorant comes packaged in a plastic container with a plastic or foil (probably lined with plastic) protective thingie, and a plastic lid. Making your own deodorant you can prevent all of that waste from being created because you can buy your ingredients package free and keep reusing the same container over and over. I love to put my deodorant in a small mason jar. I also make a pocket sized version by re-using a glass ounce sized makeup container. It is perfect for when I'm on the go.
The Ingredients:
The deodorant I make is different from conventional/store bought deodorant because it is free of chemical elements like aluminum which have been linked to cancer and Alzheimer's, propylene glycol which can damage the central nervous system, and parabens which are carcinogenic and environmentally disruptive. All in all, no fun.
I have played with so many recipes. Ones that were runny, ones that were firm, ones that smelled like lavender … I realized that the best way to make the perfect deodorant was to listen to my body. That means making adjustments here and there, but overall the recipe in this video is the one that has kept my armpits happy over the past few years.
BUT OHMAGOSH IF THIS DEODORANT DOES NOT WORK FOR YOU PUH-LEAZE DO NOT GIVE UP ON NATURAL DEODORANT! TRY AGAIN!
I can not emphasize this enough. There are so many toxins in conventional deodorant and, again, everyone's body is different. So if this recipe does not work for you, try another recipe. Play with the amount of each ingredient, leave ingredients out, change the essential oil, and most importantly, give your body time to adjust.
I recommend testing each ingredient on your wrist to ensure there are no allergic reactions (for instance, some people do not react well to baking soda). If that is the case, leave it out. Also, if you shave your underarms, like with any deodorant, I'd wait a few minutes before applying.
Switching to natural deodorant has been amazing for so many reasons: I save money, I do not use any single use packaging, I can adjust the scent and ingredients to make it perfect for my body, and I am not exposing myself to any toxic chemicals.
Watch how to make it here:
Follow Lauren Singer on Twitter @Trashis4Tossers or visit here website Trash is for Tossers.
YOU MIGHT ALSO LIKE
25 Most Livable Cities in the World
Christie Brinkley Slams Monsanto and GMOs, Says 'We're Guinea Pigs'
7 Ultimate Hikes From Around the World That Should Be on Your Bucket List
The contents of our mattresses are often an afterthought. That's a mistake, as research shows that the quality of your sleeping surface can significantly impact your health.
As consumers gain awareness about the health effects of sleeping on potentially toxic compounds, mattress companies are responding with new beds made from better materials. Today, you can choose from a broad range of mattresses made from all-natural components, including organic wool, cotton, and latex. Here's a summary of the best non-toxic, eco-friendly mattresses available today and how to decide between them.
Why You Should Choose an Organic Mattress
Traditionally, mattresses contain trace amounts of chemicals known as volatile organic compounds (VOCs) that act as flame retardants and coatings on plastic components. While the popular view is that these VOCs are found in too low of concentrations to be concerning, a 2019 study published in Environmental Science and Technology indicates that body heat may transform them into toxic vapors that you breathe in through the night.
That's a reason for concern, as according to the US Environmental Protection Agency, the potential health effects of VOC exposure include headaches and eye, nose, and throat irritation. In extreme cases, they may trigger cancer cell development or organ damage.
8 Top-Rated Organic and Natural Mattress Brands
Each product featured below has been selected by the writer. You can learn more about our
review methodology here
. If you make a purchase using the included links, we may earn a commission.
How We Chose These Products
When comparing the best natural mattress options, we looked at several specific factors to determine which ones stand out. Here are some of the distinguishing features.
Organic Materials
The best non-toxic mattress brands today exclusively use certified organic textiles like cotton and wool.
Certifications
Is it certified GOLS (Global Organic Latex Standard) or GOTS (Global Organic Textile Standard)? As the leading natural certifications for textiles and latex materials, GOLS and GOTS-certified products meet stringent requirements for responsible social and environmental practices.
Delivery
The best nontoxic mattresses are compressed into boxes for shipping and then expand to full size once you unpack them. Environmentally speaking, smaller packages mean less fuel wasted on transportation. Others are sent in pieces or in full form and require a delivery team for installation.
Give Back Programs
The best eco-friendly mattress brands also support nonprofit programs that benefit the environment. We like brands where a percentage of your purchase may go towards a worthwhile cause.
Manufacturing
Many of the best organic mattresses are handcrafted in the United States, which shrinks their environmental footprint by keeping production and transportation within a smaller area.
Return Policy
Standard practice in the mattress industry is to offer sleep trial testing periods. These range from three months to a year or longer.
Direct to Consumer
Direct-to-consumer mattress companies are increasing in popularity. They tend to be less wasteful than traditional retailers because the brand isn't putting resources towards maintaining showrooms.
9 Best Natural and Organic Mattresses of 2021
avocadogreenmattress.com
Materials – 100% GOTS certified cotton and wool, 100% natural latex, steel support coils
Manufacturing – Handmade in USA
Delivery – Mattress arrives compressed in a box
Certifications – GREENGUARD Gold, Rainforest Alliance, eco-INSTITUT®, and Formaldehyde-Free certified, OEKO-TEX® Standard 100 certified wool, GOTS and GOLS certified materials
Sleep Trial/Warranty – 100-night sleep trial, 25-year warranty
This mattress-in-a-box brand doesn't compromise its eco-friendly principles for low cost or convenience. The Avocado Green mattress boasts a gentle latex support system for balanced firmness that's ideal for larger people and those who sleep on their back or side.
Why buy: Avocado is a leading brand for affordable mattresses made from natural materials. The Green mattress makes this list for its affordable price point and five-zone support system with up to 1,400 pocketed steel support coils. Equally impressive, Avocado maintains control over its whole supply chain and employs strict social and environmental standards for every product.
ghostbednatural.com
Materials – Natural wool, GOLS certified Dunlop & Talalay latex, USDA organic and GOTS certified cotton
Manufacturing – Manufactured in the USA
Delivery – Mattress arrives vacuum sealed in a box
Certifications – USDA organic, Control Union certified, OEKO-TEX® certified, GOLS and GOTS certified materials
Sleep Trial/Warranty – 101 night sleep trial, 25-year warranty
The GhostBed Natural mattress offers five layers of natural comfort materials. Each mattress is made from natural wool, genuine Dunlop and Talalay latex, and organic cotton for solid support and air-flow cooling. This is an eco-friendly mattress made for comfort, cooling, and support.
Why buy: The GhostBed Natural mattress is a great option if you tend to get hot when you sleep, as it includes both a naturally cooling latex core and cooling airflow coil technology to help you sleep better. We also love that it is made in the United States with organic and natural materials like sustainably-sourced latex and USDA organic cotton.
plushbeds.com
Materials – GOLS certified latex, GOTS certified cotton and wool
Manufacturing – Handcrafted in California
Delivery – Delivered in two boxes, the customer must assemble
Certifications – GOLS certified latex, GOTS certified cotton and wool, GreenGuard Gold Certified, OEKO-TEX® Standard 100 Certified, eco-INSTITUT® certified, Control Union Certified, Forest Stewardship Council Certified
Sleep Trial/Warranty – 100-night sleep trial, 25-year warranty
Plushbeds mattresses are handcrafted in the US from certified organic materials. Orthopedic specialists recommend them for their buoyant support and pressure point relief, along with an organic latex core you can customize.
Why buy: With Plushbeds' Botanical Bliss mattress, you get a non-toxic, hypoallergenic sleeping surface that keeps you cool through the night. This bed is dust mite resistant to eliminate most home's primary allergy problems and includes an organic cotton cover for comfort.
saatva.com
Materials – Certified organic cotton, all-natural Talalay latex, 100% organic New Zealand wool
Manufacturing – Made in USA within 19 independent factories
Delivery – Purchase comes with free white glove delivery and setup, including old mattress removal
Certifications – OEKO-TEX® Standard 100, eco-INSTITUT®, Rainforest Alliance, and Cradle to Cradle certified
Sleep Trial/ Warranty – 180-day sleep trial, 20-year warranty
The Saatva Zenhaven mattress is naturally hypoallergenic and made using environmentally responsible practices. The manufacturing process is entirely water-based and produces minimal byproducts. Even the certified organic cotton cover is protected by a proprietary nontoxic botanical antimicrobial treatment. Rather than using traditional flame retardants, the mattress contains a protective layer of organic New Zealand wool.
Why buy: As Saatva's premium mattress, the Zenhaven is made for low back support and a cooling, comfortable night's sleep. This 100% Talalay latex mattress contains durable materials for supported rest and boasts a flippable design for two firmness levels. This is the best option for a luxurious yet eco-friendly mattress.
mygreenmattress.com
Materials – GOTS certified cotton, GOLS certified Dunlop latex
Manufacturing – Handcrafted in a certified organic factory in Illinois
Delivery – White glove delivery service available for $199 for setup and old mattress removal.
Certifications – GreenGuard Gold Certified, GOTS Certified cotton, GOLS certified Dunlop latex
Sleep Trial/Warranty – 120-night sleep trial, 20-year warranty
The Natural Escape mattress boasts a responsive zoned pocketed coil spring system covered with GOLS certified Dunlop latex for breathability. With an adaptive support system that conforms to the contours of your spine, the company recommends it for couples with opposite body types or who prefer different sleeping positions from each other. The mattress itself is button tufted to pull the layers together without the use of any potentially toxic adhesives or VOCs.
Why buy: The Natural Escape mattress from My Green Mattress delivers stellar lumbar support and proper spinal alignment—all underneath a comfortable organic cotton cover. It also provides limited motion transfer thanks to an upgraded innerspring system, making it a great option for couples as you won't disturb your partner when you move.
happsy.com
Materials – Organic cotton filling, organic wool, certified latex
Manufacturing – Handmade in USA
Delivery – Ships compressed in a single box
Certifications – GOTS-certified cotton, Certified Made Safe, GOLS-certified latex, Forest Stewardship Council Certified, Rainforest Alliance Certified, GreenGuard Gold Certified, Underwriters Laboratories verified formaldehyde-free, Green America Certified Business
Sleep Trial/Warranty – 120-night sleep trial, 20-year warranty
Happsy's mattresses combine comfort, the latest technology in certified organic mattress design, and premium earth-friendly materials for a bed you can feel good about from every angle. In fact, the included zipper lets you peek inside to see what you're really sleeping on. The mattress utilizes a breathable coil system designed to wick moisture away to keep you cooler at night than sleeping on heat-trapping synthetic foams.
Why buy: Happsy is a small mattress brand focused on making mattresses with a conscience — meaning that all materials are chosen for being easy on the environment. The company forgoes all glues and adhesives in favor of its own pocketed spring design that keeps the mattress supportive, but never "bouncy."
birchliving.com
Materials – Organic cotton, wool, birch wool, natural latex, steel coils
Manufacturing – Handmade in USA
Delivery – Ships compressed in a box
Certifications – GreenGuard Gold Certified, GOTS Certified, OEKO-TEX®Standard 100, Eco INSTITUT® Tested Product, Wool Integrity NZ, Fair Trade Certified Factory
Sleep Trial/Warranty – 100-night sleep trial, 25-year warranty
Birch by Helix makes a range of natural bedding options constructed in ways that support the environment. Each mattress is made from premium materials that together work to relieve your body's pressure points, no matter how you prefer to sleep. The company claims this premium product has natural flexibility that allows it to retain its shape to provide enough softness for coziness while still offering full-body support.
Why buy: We love that all Birch mattress wool comes from New Zealand sheep farms that meet Wool Integrity NZ standards, which ensures the animals are treated ethically at every stage of production. Plus, the cotton within each mattress is Fair Trade certified, making this a responsible sleep option.
ecoterrabeds.com
Materials – 100% natural latex foam rubber, organic wool, organic cotton
Manufacturing – Designed and handcrafted in Los Angeles, CA
Delivery – Free standard delivery across the US, White Glove delivery available for an extra cost
Certifications – OEKO-TEX® Standard 100 certified, GOTS Organic wool, GOTS organic certified cotton
Sleep Trial/Warranty – 90-day sleep trial, 15-year warranty
Eco Terra offers a budget-friendly latex hybrid mattress that includes natural materials, unobtrusive pocket support coils, and a 90-day sleep trial. Eco Terra's latex mattress is available in both a medium and medium-firm firmness level to support a wide range of sleepers. The bed is free of synthetic foams and VOCs, favoring a three-inch-thick layer of Talalay latex instead.
Why buy: Eco Terra offers a more budget-friendly option than other latex hybrid brands, making this mattress an excellent choice for comfortable sleep without compromising on natural materials. One thing to note is that this latex isn't GOLS-certified, though the other materials are GOTS certified.
awarasleep.com
Materials – Dunlap latex, organic New Zealand wool, organic cotton, steel coils
Manufacturing – Made in China
Delivery – Arrives compressed in a box
Certifications – Rainforest Alliance certified latex, certified organic wool, certified organic cotton
Sleep Trial/Warranty – 365-night sleep trial, Forever Warranty (lifetime guarantee against sagging and manufacturing defects)
Awara features premium Sri Lanka latex and wrapped coil springs to provide contour and a touch of bounce for supportive sleep throughout the night. At the core of this mattress are nine-inch pocketed coils that are thicker than standard. This gives the bed a firmer, more responsive feel that minimizes the sense of sinking when you reach the outer edge, so it's suitable for back, side, and stomach sleepers alike.
Why buy: Awara's natural latex mattress stands out for being slightly firmer than some other options. The mattress itself is made from quality materials with GOLS, GOTS, and Rainforest Alliance certification. Awara also partners with Trees for the Future to support forest systems throughout Africa. Every purchase funds the planting of ten trees throughout Kenya, Senegal, Uganda, or Tanzania.
Takeaway

The best night's sleep takes place on a mattress that won't make you or the environment sick. Today, there are more options than ever for finding the best organic and nontoxic mattress for your family. Seek out brands that use certified organic materials and that guarantee each bed is free from VOCs to rest easy every night.
Lydia Noyes is a freelance writer specializing in health and wellness, food and farming, and environmental topics. When not working against a writing deadline, you can find Lydia outdoors where she attempts to bring order to her 33-acre hobby farm filled with fruit trees, heritage breed pigs, too many chickens to count, and an organic garden that somehow gets bigger every year.
Through living a zero waste lifestyle, I have learned to make all of my everyday beauty products myself. This has resulted in a much more minimalistic approach to my daily beauty routine. Instead of having 20+ products, I now only use five that I make by hand: one bar of soap for my hair, body and face, toothpaste, deodorant, face moisturizer and body moisturizer. My recipes have changed over time as I learned to be more confident trying new ingredients and techniques. No other product showcases this evolution more than my zero waste body butter.
For a long time I used nothing but coconut oil on my body which worked really well and smelled great, but I missed the sensation of a thick lotion. That is when I started playing around with body butters which are thicker than just using an oil because of the diversity of fats in them.
At first I made a simple one of coconut oil, shea butter and cocoa butter by melting them down and cooling them in the freezer. It worked, but I had to use my nail at times to scrape it and sometimes the shea butter would bead up which wasn't as nice as a smooth lotion. Then I learned of the magic of whipping a body lotion and it changed the game for me. It went from a thick oil to a luxurious whipped butter.
It could not be easier to make and at the end you can store it in your favorite upcycled glass jar making this not only a sustainable product because of the simple organic ingredients, but a waste free one too! Learn how to make this lotion by checking out my video here:
YOU MIGHT ALSO LIKE
23-Year-Old Hasn't Produced Any Garbage in Two Years
8 Health Foods That Can Harm You If You Eat Too Much of Them
12 Universities Leading the Charge in Serving Locally-Sourced Food
I haven't purchased toothpaste in years, and yes, I brush my teeth! How is this possible? I make it myself!
When I transitioned to a zero waste lifestyle more than two years ago, toothpaste was the first product I stopped buying and started making. The ingredients are simple and easy to find at almost any store: baking soda, organic coconut oil and organic essential oils. It takes no more than 2 minutes to combine these three ingredients, and the toothpaste leaves my mouth feeling so incredibly fresh—way fresher than store ­bought toothpaste. In fact, when I used my friend's store bought toothpaste a week ago, I couldn't believe the difference!
But let's take a step back ... why did I make the switch from "conventional" packaged toothpaste to one that I make myself?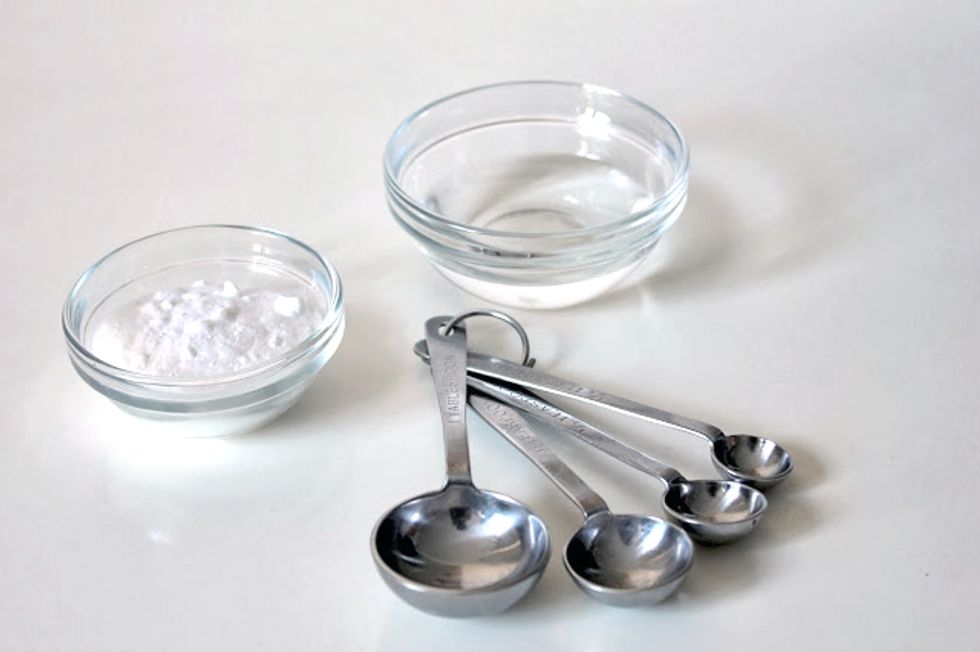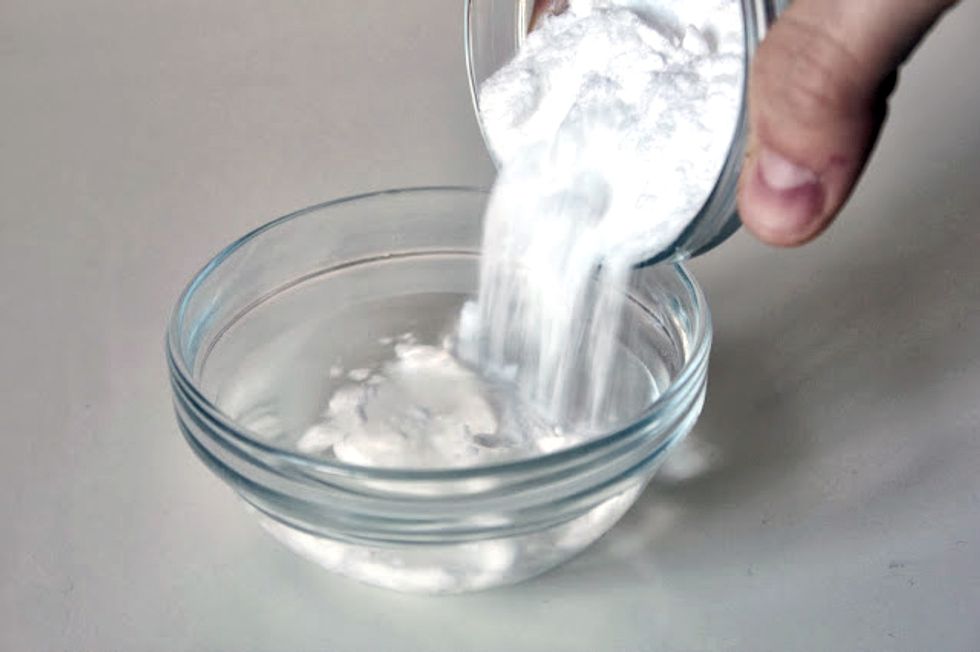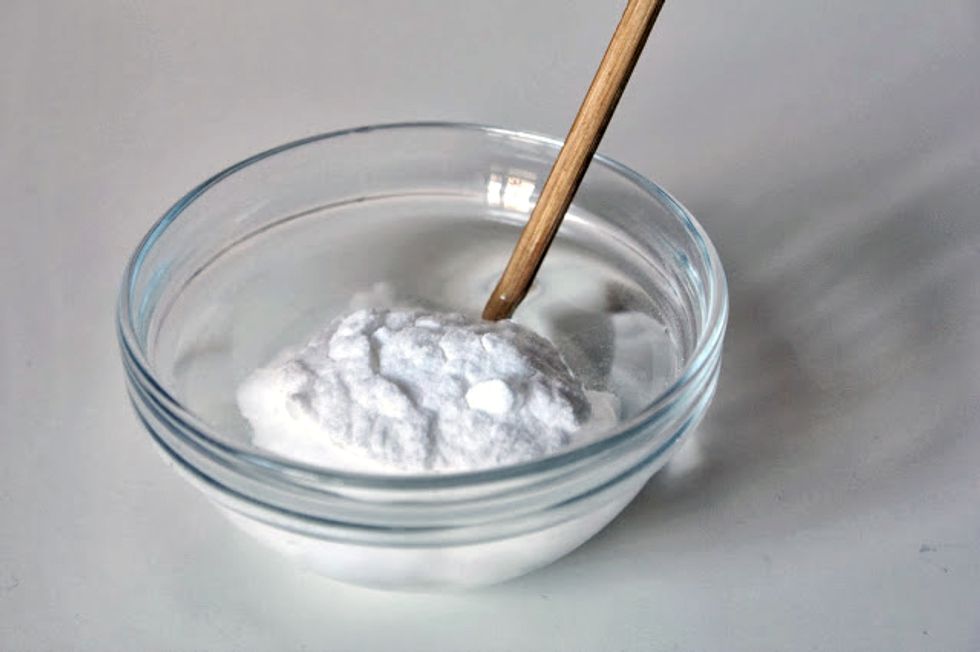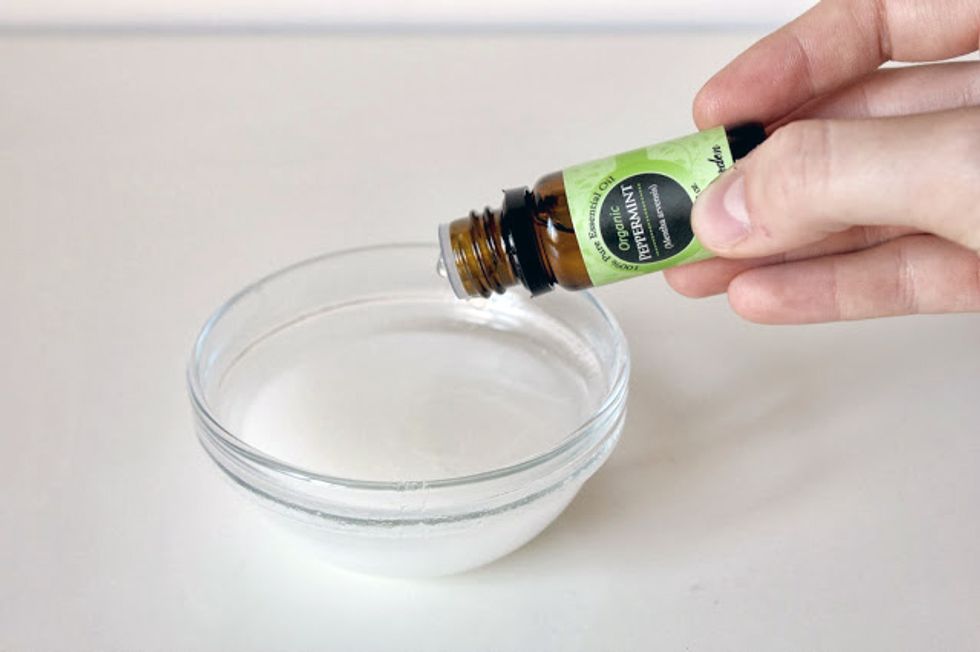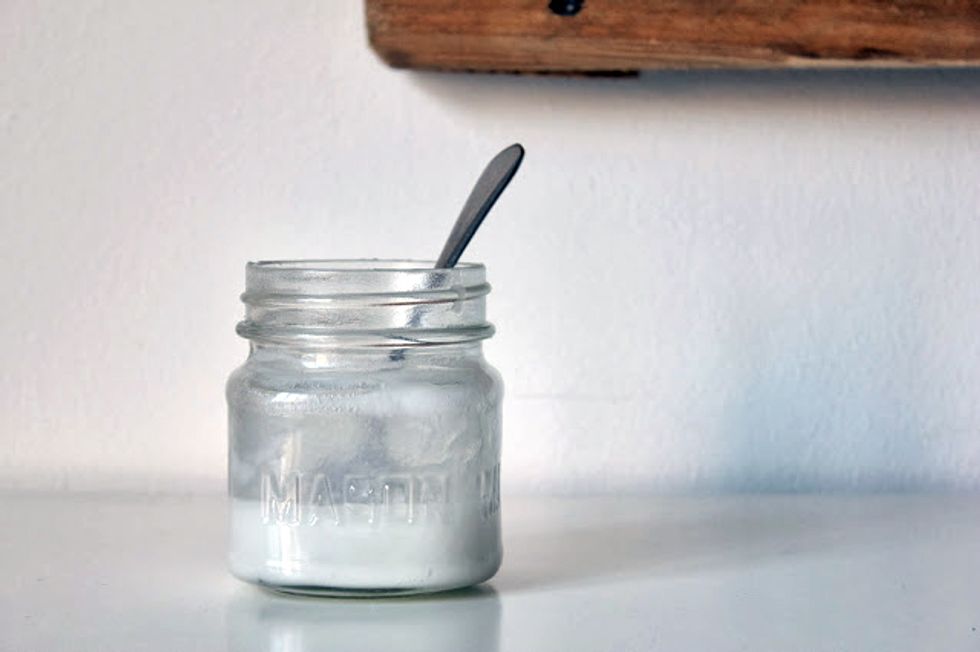 The Packaging:
For starters, I live a Zero Waste lifestyle and toothpaste tubes are totally wasteful. They are typically sold with not just the tube, but a box as well. While the box is recyclable, the tube is very difficult or impossible to recycle and will most likely end up in a landfill. The benefit of making my own toothpaste is that I can put it in a glass jar that I can wash and reuse infinitely. No plastic tubes, no trash, no landfill.
The Ingredients:
I like to have control of what I am putting on and in my body. There is a lot of controversy around the ingredients that are in conventional toothpaste. Two that I will focus on are triclosan and sodium lauryl sulfate, but conventional toothpaste also contains fluoride, propylene glycol and sodium hydroxide, all of which are controversial because they are linked to cancer and a long list of other ailments.
Triclosan: A chemical added to many products to reduce bacterial contamination which is also used in toothpaste to prevent gingivitis,according to the FDA and toothpaste manufacturers. In addition, it has been said to be potentially carcinogenic and have negative effects on the endocrine system in animals. It is banned in certain applications in Europe and in 2011, some of Colgate's soap products were reformulated without the chemical, but not their toothpaste. The ecotoxicology of the ingredient is still under heavy scrutiny and EWG rates it to have a moderate/high health hazard. That's all I needed to hear to make the decision to stay clear of it for good.
Sodium Lauryl Sulfate (SLS): SLS is surfactant (a foaming agent that lowers the tension between two liquids or a liquid and a solid) used in toothpaste to evenly disperse the ingredients and help with effective rinsing and removal of mouth debris. It also promotes foaming. Many studies on SLS show that it is contaminated with 1,4 dioxane, a byproduct of the manufacturing process, which is also a possible carcinogen. SLS is also said to aggravate gums. No, thank you.
If something has a supposed risk, I will avoid it until I have concrete evidence that it is safe. This is why I choose to make my own toothpaste with just three ingredients that I trust and buy package­free: baking soda, organic coconut oil and organic essential oils.
The Savings:
Toothpaste can cost anywhere between $1 and ­$8 for a 6oz tube depending on the brand you are buying and where you are purchasing it from. In my experience (purchasing ingredients in NYC), I have spent at most $.60 for 6oz of toothpaste. All aside, the cost savings alone are worth it!
With so much to gain and not much to lose, making your own toothpaste makes sense! It's cheaper to make, tastes better, feels better in your mouth and is better for you. See for yourself, to learn how to make my zero waste toothpaste by checking out this video.