YouTube
According to Einstein "Not everything that counts can be counted."
This is one of Dr. Lise Van Susteren's favorite quotes. I can see why as it perfectly encapsulates her work and presentation during the 2017 Climate and Health Meeting. Dr. Van Susteren's presentation has stayed with me, and continues to touch me deeply. She is a practicing general and forensic psychiatrist, and deeply committed environmental activist. I encourage you to check out her impressive bio. Her environmental work centers around the effects climate change have on mental health, some that can be measured and some that can not. According to Dr. Van Susteren everything related to climate change can carry with it an emotional toll.
For example, according to the New York Times, "for each one standard deviation change in climate toward warmer temperatures or more extreme rainfall, the median effect was a 14 percent increase in conflict between groups, and a 4 percent increase in conflict between individuals." This holds true for all ethnicities and all regions. This means more assaults, murders, suicides and general societal unrest.
As air pollution is forming more readily at higher temperatures with particulate matter crossing into the brain via the olfactory nerve we are seeing higher incidents of mental and neurological problems. There is greater cognitive decline in all age groups and the rise in diseases like Alzheimer's, Parkinson's and ALS.
Furthermore, according to the American Psychological Association, children exposed in utero to air pollution are more likely to experience attention problems and symptoms of anxiety and depression. The widespread chemicals found in air pollution are a byproduct of burning fossil fuels.
These are among the effects that can be counted, but what of the insidious states that don't lend themselves to precise numbers like fear, anger and trauma.
According to Dr. Van Susteren, "People come into my office every day with anxiety that they are not conscious of, or if they do know, they may not know why they feel anxious. Anxiety is like a dark pool in the brain, draining from all sorts of hidden, nameless crevices. Climate change isn't the only source of anxiety, but it has a terrible "multiplier effect". I don't have the slightest shred of a doubt that all of us to some extent are suffering from climate anxiety. People are familiar with PTSD; that is the psychological wounding that takes place after a traumatic event (symptoms include intrusive thoughts about the event accompanied by fear and anxiety, difficulty experiencing joy, problems sleeping, nightmares, and even panic). Many people now have similar symptoms because of what they know or envision as future trauma from climate disasters. I have begun referring to this as pre–TSD."
Mental health professionals all over the world are seeing a full range of psychiatric disorders like Post-traumatic stress disorder (PTSD), generalized anxiety, as well as a rise in drug and alcohol abuse, violence, especially against women, and child abuse.
When we see melting glaciers, dead coral reefs or desertification the cost of climate change is easy to measure. But how often do we pause to consider the toll on humanity as a whole? There is no quantifiable way to measure the cascading impact of watching others suffer, or the knowledge of impending crisis.
I'll leave you with Dr. Van Susteren's metaphor "Many may have had this experience as a kid ... you may have walked into the house and knew, although you couldn't say exactly why, that Mom was mad about something. What a sense of unease it brought. Right now, we know on a very primitive, raw level, Mother Nature is not happy. Whether people can identify it as climate or are willing to identify it as climate, is another story. On some level, I believe we are all experiencing this."
Watch Dr. Lise Van Susteren's presentation here (starts at 49 minutes):
EcoWatch Daily Newsletter
Adventure travel supports wildlife and local communities but can also be an invigorating and healthy vacation.
I was shocked when I found out the travel industry generates nearly 10 percent of the world's GDP and rising each year. People are travelling and travelling more often. Tourism employs 1 of every 11 people in the world.
Along with economic impact, travel presents opportunities for growth, learning and the exchange of ideas. Travel and tourism are critical in maintaining our economy and this is especially true in developing countries. On global and local levels tourism is essential for sustainable development. As a result, the travel industry has become a sector where you can see shining examples of environmentally-conscious principles put into action that protect the planet and lift up the world's peoples.

What is sustainable tourism? As defined by the United Nations, it is that which takes full account of its current and future economic, social and environmental impacts, addressing the needs of visitors, the industry, the environment and host communities.
The UN has declared 2017 as the International Year of Sustainable Tourism. According to the Secretary-General of the World Travel Organization, Taleb Rifai, this is "a unique opportunity to advance the contribution of the tourism sector to the three pillars of sustainability—economic, social and environmental, while raising awareness of the true dimensions of a sector which is often undervalued."
Tourism is directly associated with three of the 17 UN's 2030 Sustainable Development Goals:
Goal 8: Promote sustained, inclusive and sustainable economic growth, full and productive employment and decent work for all.
Goal 12: Ensure sustainable consumption and production patterns.
Goal 14: Conserve and sustainably use the oceans, seas and marine resources for sustainable development.
We have to alleviate poverty and provide people with basic healthcare, food to eat and fresh water. However, this becomes impossible if we continue to erode the natural systems that support all life. Thankfully, nature travel and learning about cultural heritage are among the world's fastest growing tourism sectors. In order to save the rhinos, elephants and tigers you have to help those that depend on the same land and resources. Tourism focused on wildlife ensures those animals become more valuable alive than dead. Fortunately, adventure tourism, which is focused on nature, wildlife and cultural experiences, has grown 65 percent year over year since 2009. Soon it will surpass $300 billion in annual revenues, reports George Washington University in their annual Adventure Tourism Market Report.
According to Booking.com's 2015 survey of more than 32,000 global travelers in 16 countries, 52 percent of adult travelers said they are more likely to choose travel based on destinations that reduce environmental impact or ensure that tourism has a positive impact on the local community. And Americans (53 percent) are among the world's top sustainable-minded travelers. With this sharply growing trend hospitality and travel companies that do not keep up with sustainable travel will lose out.
Since 2014, I have been participating as a judge for National Geographic's World Legacy Awards, which honors companies, organizations and destinations-ranging from airlines to hotels, from communities to countries driving the positive transformation of the tourism industry, showcasing leaders and visionaries in sustainable tourism best practices. Costas Christ, chairman of the awards, is credited with defining the term ecotourism which has now been standardized globally by the UN. Costas also serves as the director of sustainability for Virtuoso and moderated a panel I was on this year at the Virtuoso Travel Week conference. Virtuoso Travel Week is an intense five days where preferred luxury travel agents and providers come together to do hundreds of millions of dollars of business, as well as recognize industry leaders in sustainable tourism as the market continues to become more aware of the need to drive a sustainable strategy. It's about the triple bottom line—people, profit and planet.
You can stay at Ted Turner's formerly private residence on endless acres of pristine nature at Ladder Ranch with Ted Turner Expeditions.
Land and biodiversity conservation is one of my family's most beloved passions. My father launched Ted Turner Expeditions (TTX) in 2015 with three properties in New Mexico. My father, a well known leader in conservation, has worked to restore the overgrazed habitat of these grand ranches to their former pre-cattle glory. Having a passion for bison since his childhood, dad has made sure this iconic species is an important part of the restoration. There has also been a commitment to preserving and enhancing biodiversity.
Through the work of the Turner Endangered Species Fund biologists and other partner organizations have been working to increase the numbers of imperiled and endangered species, among them the Mexican Gray Wolf, Bolson Tortoise and Chiricahua Leopard Frog. Visitors can stay on one of a number of properties, including some of my father's formerly-private residences and immerse themselves in an incredible American landscape that has been dubbed by some as the American Serengeti. As visitors enjoy the beauty of these natural landscapes they are also becoming more aware of the importance of conserving the land and species for many generations to come. Two TTX ranches, the Armendaris Ranch and Ladder Ranch, are located in one of two of the most critically important biodiversity hotspots in North America. With TTX, my father has created a model for other private land and business owners that you can manage these landscapes for profit and conservation and the two are not mutually exclusive.

With my family as we explore Iceland and their green energy economy.
As you begin to plan your 2017 vacation, consider destinations and accommodations that employ environmentally sustainable best practices. You can not imagine how much good your visit can do for the local people and animals. My favorite trips have been transformative experiences in nature, topping the list are the Arctic circle, the Amazon river basin and the Galapagos. I always come away restored and more committed than ever to work to make sure these special places are available for our children and future generations. On my bucket list are the Antarctic, the awe-inspiring Sandhill crane migration along Nebraska's Platte River and central Mexico to see the wintering grounds of the imperiled Monarch butterflies.

10 Eco-Destinations in North America to Add to Your Bucket List https://t.co/fXak7JqLSv @earthship_HQ @ClayoquotResort

— EcoWatch (@EcoWatch)1464123917.0
Here are 10 of the best ecolodges, according to National Geographic:

1. South Africa: Bushmans Kloof Wilderness Reserve
2. Indonesia: Misool Eco Resort
3. Peru: Inkaterra Reserva Amazónica
4. Australia: Great Ocean Ecolodge
5. Greece: Milia Mountain Retreat
6. Nicaragua: Jicaro Island Ecolodge
7. China: Yangshuo Mountain Retreat
8. Sri Lanka: Jetwing Vil Uyana
9. Poland: Eco-Frontiers Ranch
10. Namibia: Damaraland Camp
PavloBaliukh / iStock / Getty Images
Through net metering programs, homeowners who have installed solar energy systems can get utility credits for any electricity their panels generate during the day that isn't used to power home systems. These credits can be "cashed in" to offset the cost of any grid electricity used at night.
Where net metering is available, solar panels have a shorter payback period and yield a higher return on investment. Without this benefit, you only save on power bills when using solar energy directly, and surplus generation is lost unless you store it in a solar battery. However, net metering gives you the option of selling any excess electricity that is not consumed within your home.
Generally, you will see more home solar systems in places with favorable net metering laws. With this benefit, going solar becomes an attractive investment even for properties with minimal daytime consumption. Homeowners can turn their roofs into miniature power plants during the day, and that generation is subtracted from their nighttime consumption.
What Is Net Metering?
Net metering is a billing arrangement in which surplus energy production from solar panels is tracked by your electricity provider and subtracted from your monthly utility bill. When your solar power system produces more kilowatt-hours of electricity than your home is consuming, the excess generation is fed back into the grid.
For homeowners with solar panels, the benefits of net metering include higher monthly savings and a shorter payback period. Utility companies also benefit, since the excess solar electricity can be supplied to other buildings on the same electric grid.
If a power grid relies on fossil fuels, net metering also increases the environmental benefits of solar power. Even if a building does not have an adequate area for rooftop solar panels, it can reduce its emissions by using the surplus clean energy from other properties.
How Net Metering Works
There are two general ways net metering programs work:
The surplus energy produced by your solar panels is measured by your utility company, and a credit is posted to your account that can be applied to future power bills.
The surplus energy produced by your solar panels is measured by your home's electricity meter. Modern power meters can measure electricity flow in both directions, so they tick up when you pull from the grid at night and count down when your solar panels are producing an excess amount of electricity.
In either scenario, at the end of the billing period, you will only pay for your net consumption — the difference between total consumption and generation. This is where the term "net metering" comes from.
How Does Net Metering Affect Your Utility Bill?

Net metering makes solar power systems more valuable for homeowners, as you can "sell" any extra energy production to your utility company. However, it's important to understand how charges and credits are managed:
You can earn credits for your surplus electricity, but utility companies will not cut you a check for the power you provide. Instead, they will subtract the credits from your power bills.
If your net metering credit during the billing period is higher than your consumption, the difference is rolled over to the next month.
Some power companies will roll over your credit indefinitely, but many have a yearly expiration date that resets your credit balance.
With all of this in mind, it is possible to reduce your annual electricity cost to zero. You can accumulate credit with surplus generation during the sunny summer months, and use it during winter when solar generation decreases.
You will achieve the best results when your solar power system has just the right capacity to cover your annual home consumption. Oversizing your solar array is not recommended, as you will simply accumulate a large unused credit each year. In other words, you cannot overproduce and charge your power company each month.
Some power companies will let you pick the expiration date of your annual net metering credits. If you have this option, it's wise to set the date after winter has ended. This way, you can use all the renewable energy credits you accumulated during the summer.
Is Net Metering Available Near You?
Net metering offers a valuable incentive for homeowners to switch to solar power, but these types of programs are not available everywhere. Net metering laws can change depending on where you live.
In the U.S., there are mandatory net metering laws in 38 states and Washington, D.C. Most states without a mandate have power companies that voluntarily offer the benefit in their service areas. South Dakota and Tennessee are the only two states with no version of net metering or similar programs.
If net metering is available in your area, you will be credited for your surplus energy in one of two ways:
Net metering at retail price: You get full credit for each kilowatt-hour sent to the grid. For example, if you're charged 16 cents per kWh consumed, you'll get a credit of 16 cents per kWh exported. This type of net metering is required by law in 29 states.
Net metering at a reduced feed-in tariff: Surplus electricity sent to the grid is credited at a lower rate. For example, you may be charged 16 cents per kWh for consumption but paid 10 cents per kWh exported. Feed-in tariffs and other alternative programs are used in 17 of the states where retail-rate net metering is not mandatory.
Note: This is just a simplified example — the exact kWh retail price and solar feed-in tariff will depend on your electricity plan.
The Database of State Incentives for Renewables & Efficiency (DSIRE) is an excellent resource if you want to learn more about net metering and other solar power incentives in your state. You can also look for information about solar incentives by visiting the official websites of your state government and utility company.
Other Financial Incentives for Going Solar

Net metering policies are one of the most effective incentives for solar power. However, there are other financial incentives that can be combined with net metering to improve your ROI:
The federal solar tax credit lets you claim 26% of your solar installation costs as a tax deduction. For example, if your solar installation had a cost of $10,000, you can claim $2,600 on your next tax declaration. This benefit is available everywhere in the U.S.
State tax credits may also be available depending on where you live, and they can be claimed in addition to the federal incentive.
Solar rebates are offered by some state governments and utility companies. These are upfront cash incentives subtracted directly from the cost of your solar PV system.
In addition to seeking out solar incentives available to you, you should compare quotes from multiple installers before signing a solar contract. This will ensure you're getting the best deal available and help you avoid overpriced offers and underpriced, low-quality installations. You can start getting quotes from top solar companies near you by filling out the 30-second form below.
Frequently Asked Questions: Solar Net Metering

Why is net metering bad?
When managed correctly, net metering is beneficial for electricity consumers and power companies. There have been cases in which power grids lack the capacity to handle large amounts of power coming from homes and businesses. However, this is an infrastructure issue, not a negative aspect of net metering itself.

In places with a high percentage of homes and businesses using solar panels, surplus generation on sunny days can saturate the grid. This can be managed by modernizing the grid to handle distributed solar power more effectively with load management and energy storage systems.

How does net metering work?
With net metering, any electricity your solar panels produce that isn't used to power your home is fed into your local power grid. Your utility company will pay you for this power production through credits that can be applied to your monthly energy bills.
Can you make money net metering?
You can reduce your power bills with net metering, using surplus solar generation to compensate for your consumption when you can't generate solar power at night and on cloudy days. However, most power companies will not pay you for surplus production once your power bill has dropped to $0. Normally, that credit will be rolled over, to be used in months where your solar panels are less productive.
On very rare occasions, you may be paid for the accumulated balance over a year. However, this benefit is offered by very few electric companies and is subject to limitations.
We've all heard the saying "You are what you eat." If you eat unhealthy foods, you'll inevitably be unhealthy. I'd like to take it one step further. It's not just what food you eat, but how it ended up on your plate.
Laura Turner Seydel shares Captain Planet Foundation's best practices based curriculum program Project Learning Garden at EAT Stockholm Food Forum 2016.EAT 2016 Johan Lygrell
Is the apple you're eating sprayed with pesticides? An apple is a great choice for a nutritious snack, but grown with the help of a chemical cocktail, repeated consumption could have harmful effects on your body, and those same pesticides contribute to the mass decline of pollinators and other environmental harm.
As we know food is a cornerstone of life and our existence relies upon it. The way we grow our food affects the natural systems that support all life which produces that food. Naturally we care about how our bodies will look, develop and function.
On one end of the scale we have the obesity epidemic in the U.S. and other countries that consume Western diets, where the average person is consuming excessive amounts of sugar on a daily basis, leading to rampant diabetes and other associated chronic diseases. On the other end, in developing nations, communities are starving, where lack of resources and devastating effects of climate change, lead to widespread poverty, malnutrition and death.
In a global economy, the manufacture, marketing, transportation and consumption of food is intricately tied. Co-founder and president of EAT Foundation, Dr. Gunhild Stordalen, opened the EAT Stockholm Food Forum 2016 in June with these facts:
In the next 10 minutes, the world will welcome 2,500 new citizens.
Almost 300 new citizens, more than 10 percent, will not have enough food for a healthy life.
Almost 1,000 new citizens are expected to grow up overweight—and their biggest killer will be food.
Food is the leading cause of the global health crisis and at the heart of the environmental catastrophe facing the planet, responsible for nearly one-third of greenhouse gas emissions. And food is the single overwhelming cause of lack of biodiversity.
Jamie Oliver discusses his Food Revolution and takes questions from the audience.EAT 2016 Johan Lygrell
The EAT Stockholm Food Forum is the only global initiative bringing together experts from politics, science and business solely focused on the issue of food. I was honored to participate this year, giving a keynote on the work of Captain Planet Foundation (CPF) and our Project Learning Gardens.

By 2050, the world's estimated population will be 9 billion people and 80 percent of those will live in cities. Currently, more than 2 billion of the world's 7.4 billion are undernourished and 1.3 billion of our population works in agriculture.
According to Johan Rockström, executive director of Stockholm Resilience Centre, and Pavan Sukhdev, founder and CEO of the GIST Advisory, approximately 40 percent of the world's land is used in food production. If there was no change in our agricultural system, we'd need 70 percent of the planet's land to meet the needs of 2050. In addition, food production consumes 70 percent of the world's fresh water. Clearly, in order to feed the world's population in 2050, just one generation away, we need to make some big changes.
But it's not just the immediate issue of feeding the future. Food, it's production and consumption, is intrinsically tied to meeting the United Nations Sustainable Development Goals (SDGs). Revolutionizing the world's food systems is key to realizing these goals, moving the world to a more just, safe and prosperous future.
Adopted in September 2015 by the UN, the SDGs are 17 aspirational goals with 169 targets designed to address the world's greatest issues, like poverty, climate change and hunger.
For example, Goal 5 is Gender Equality. Throughout much of the developing world the overwhelming majority of farmers are women. These duties, in addition to those within the home, make educational opportunities minimal.
Climate change induced disasters, erosion and changes in temperature now require replanting of fields two or three times, where once was sufficient. Lack of education and malnutrition lead to higher violence, inequality, mortality rates and poverty.
Mary Robinson, first woman president of Ireland and former UN High Commissioner for Human Rights, shared a recent study from Tanzania. In countries such as Zambia, Malawi and Ethiopia where women and girls are responsible for collecting fresh water, collection can take longer than 30 minutes for a quarter of the population. This study showed a 12 percent increase in school attendance when water was only 15 minutes away. A greater increase in education opportunities leads to greater economic opportunities. This creates a virtuous cycle impacting present and future communities. Educated women are less likely to die in childbirth and have children later in life. They have better employment opportunities and a mother's education improves childhood nutrition.
Dr. Gunhild A. Stordalen is co-founder and chair of the EAT Foundation and Stordalen Foundation.EAT 2016 Johan Lygrell
In order to solve the looming problems associated with food production, it's critical that we work holistically. As Dr. Anthony So, director of the Center for a Livable Future, Johns Hopkins Bloomberg School of Public Health, points out, policy changes will not be enough. Developing new technologies is key!
Imagine technology that could be used by any farmer that crowdsources data the world over, providing critical information and keeping everyone accountable. Feeding the seven billion and growing people on Earth is one of the major challenges of the day and to do so we must move toward more sustainable solutions.
School gardens and eating veggie rich diets will dramatically improve obesity and diabetes. Cities in particular can develop direct practical level solutions. It is critical that we develop effective methods of growing food in urban centers. With fresh water sources in decline in many parts of the world it is important to consider how this precious resource is used and conserved.
It is true that our planet faces dire and compounding issues, but it's important to not lose yourself in the doom and gloom. As Her Royal Highness Crown Princess Mette Marit of Norway reminds us, solving climate change is not about scary phrases and overwhelming statistics, it's about mountain air, buzzing bees and coral reefs. It's about the beautiful and vast biosphere and the quality of life of all the world's people.
You can learn more about issues surrounding food by visiting the Eat Food Forum website and watching presentations from some of today's most innovative thinkers. Speakers came from a range of backgrounds—from Small Island Developing States to cities—including CEOs of leading food producers to consumer activists.
What if I told you there was an entire underground world below you right now? The frogs you may see in your backyard are a tiny portion of the amphibian world surrounding you.
According to Mark Mandica, amphibian conservation coordinator at the Atlanta Botanical Garden (ABG), "If you weighed all the spotted salamanders they'd weigh more than all the mammals and birds combined in a healthy ecosystem." Some salamanders on average live 50-51 weeks underground, until they emerge for their breeding season. Frogs and salamanders come in many shapes, sizes and colors and are critically important to ecosystems around the world.
Toughie is the last known Rabbs' Fringe-Limbed Tree Frog in existence. He is named after George Rabb, one of the world's most eminent herpetologists.Mark Mandica
Unfortunately, amphibians are dying off in huge numbers in a global mass extinction. Reasons are varied, but chief among them are habitat loss and the chytrid fungi. In the mid-90's, then amphibian conservation coordinator of ABG, Ron Gagliardo, started what is now one of the oldest amphibian conservation programs in the U.S. He and several botanists started working with frogs as a way to illustrate plant and animal relationships at the garden. From there the program gained momentum and started safeguarding rare amphibians.
Their work reached a crisis level in 2005 when the chytrid fungus was sweeping through South and Central America. Gagliardo from ABG and Joe Mendelson, director of Herpetological Research at Zoo Atlanta, swooped in urgently ahead of the fungus and collected as many frogs as possible. After the collection, that same year the fungus killed up to 85 percent of amphibians in the region.
Famed National Geographic photographer and creator of the Photo Ark, Joel Sartore, likened this to rescuing precious items from a burning house. Thank goodness they did because the frogPOD at ABG is now home to some of the world's rarest frogs. Shortly after Gagliardo and Sartore returned from their rescue mission I took my three young children to observe the magnificent menagerie. Laura Elizabeth, my then 9 year-old daughter was truly moved. She befriended Gagliardo and Sartore and wrote a children's book with their help, Our Friends the Frogs. It was important to her to educate others on the tragic plight of the amphibians and offer pointers on how anyone can help. Laura Elizabeth is now 18 and, sadly, the crisis still looms large.
My then nine year-old Laura Elizabeth with Ron Gagliardo visiting the frogs for her book, Our Friends the Frogs.
The Atlanta Zoo and ABG's conservation programs are centered around Captive Assurance Colonies which are collections of endangered animals kept safely in captivity and bred with the hope they may one day be returned to the wild. For some like Toughie, the last Rabbs' Fringe-limbed Tree Frog known in existence, this will probably never be a reality. For other species at the frogPOD there is hope, but currently it is still not safe to re-release.
The chytrid fungus still remains in the area, with no known method of eradication and growing in lethality. According to Mandica, "The more out of balance an ecosystem, the more lethal the disease can become." Prof. Tyrone Hayes, UC Berkeley, released a study in 2006 positing agricultural chemical drift and specifically the most popular herbicide worldwide, atrazine, is compounding the problem. Amphibians exposed to common pesticide mixtures suffer suppressed immune systems, making them more susceptible to the chytrid fungus, among other disorders.
In the U.S. and specifically Georgia, amphibians are becoming increasingly endangered from habitat loss. Georgia is second behind North Carolina for the largest number of amphibian species. For eight years ABG has collaborated with Zoo Atlanta, the University of Georgia and Georgia Department of Natural Resources on a head-start program for their rarest frog, the Gopher Frog. They collect eggs every year, raise the tadpoles up through metamorphosis and release the baby frogs in protected habitats in South Georgia. Their habitat, the longleaf pine ecosystem, has been reduced by 97 percent. Other animals adversely affected by this reduction are the Gopher Tortoise, Indigo Snake and Mandica's favorite, the Flatwoods Salamander.
The Frosted Flatwoods Salamanders, native to Georgia, are critically endangered.Pierson Hill
The Flatwoods Salamander is a peculiar species that has never been kept successfully in captivity. But Mandica and his team are trying to change that. They currently have three adult salamanders which they collected and raised from larvae last year. This season, they acquired 15 more as recently metamorphosed baby salamanders. Flatwoods Salamanders live underground until they emerge to return to the same small pond they were born in to breed. They have not been detected in South Carolina for six years, very few last year in Georgia and none this year. Fortunately a broad coalition is working to restore their habitat. ABG's plant and amphibian conservation efforts have targeted this endangered ecosystem and partnered with the U.S. Fish and Wildlife Service, U.S. Geological Survey, San Antonio Zoo, University of Missouri, Virginia Tech, Florida Fish and Wildlife Conservation Commission and others.
Visiting the Atlanta Botanical Garden's frogPod with Mark Mandica, Suzanne Barnes, Joel Sartore and Cole Sartore.
Conserving amphibians is important for many reasons. Here in the South, we should be especially grateful for their voracious bug consumption and even better, spotted salamanders are mosquito eating experts! Mandica says a mere 1,000 amphibians can eat five million bugs a year! Due to amphibian's highly sensitive skin they are the first to show imbalances in the ecosystem. At ABG frogs can only be sprayed with filtered "frog water" because if common, highly-treated tap water were used, they would all die. There are some very important lessons there! Amphibians are also a critical part of the food chain as popular prey and bug-eating predator. To humans, amphibians can have big health implications. For example, a pharmaceutical study revealed a compound in the skin of the endangered Phantasmal Poison Frog is 200 times more effective than morphine and non-addictive.

Locals and out-of-town visitors alike can learn more about amphibian conservation from exhibits in the ABG conservatory every day at 11 a.m. They can also join Mandica's hugely popular Metro Atlanta Amphibian Monitoring Program. He gives workshops on how to identify and monitor frogs and salamanders in your backyard. On the website, maamp.us, Mandica has information, call recordings and pictures of each life stage of all 28 species we have in Atlanta. Outside the Southeast, you can visit AmphibianArk.org to learn more about amphibian conservation.
On Dec. 2, 2015, Discovery Channel premiered Louis Psihoyos' new film, Racing Extinction, in 220 countries around the world. This riveting film covers the planet's sixth and currently ongoing mass extinction, named the Anthropocene Extinction, which is largely the result of mankind. Psihoyos details what many scientists and experts believe are the causes behind this vast dying off of the world's species—the international wildlife trade and the fossil fuel industry. His goal is to unveil the horrific events damaging our planet's health and wildlife, but boiled down to digestible bites to promote education and action.
Psihoyos won an Oscar for his 2009 film, The Cove, a feature-length documentary that goes undercover to expose the yearly killing of dolphins in Taiji, Japan. In order to document the dolphin hunt, they had to employ tactics and technology never before used in a documentary. The film sparked worldwide reaction, but most importantly, Taiji's annual cull of 23,000 dolphins is believed to have dropped to 6,000. This was the first film for Psihoyos' Oceanic Preservation Society, which he cofounded in 2005.
In their second film, Racing Extinction, special focus is brought to marine life again but on a wider scale, exposing China's shark fin and manta ray gill trade as well as the greater threat of oceanic acidification, the evil twin of climate change, contributed to by the burning of fossil fuels. In order to uncover the truth behind the wildlife trade, he and his team go undercover in life-threatening situations, using covert-operations and false identities to infiltrate an enormous Chinese seafood wholesaler and to bust a Los Angeles restaurant for illegally selling whale meat. In a more hopeful scene, we are shown how change can happen, when a small Indonesian village is taught how to capitalize on a more lucrative tourism-driven economy, as opposed to the devastating hunting of manta ray to supply China's appetite for animal parts that are falsely believed to have medicinal benefits.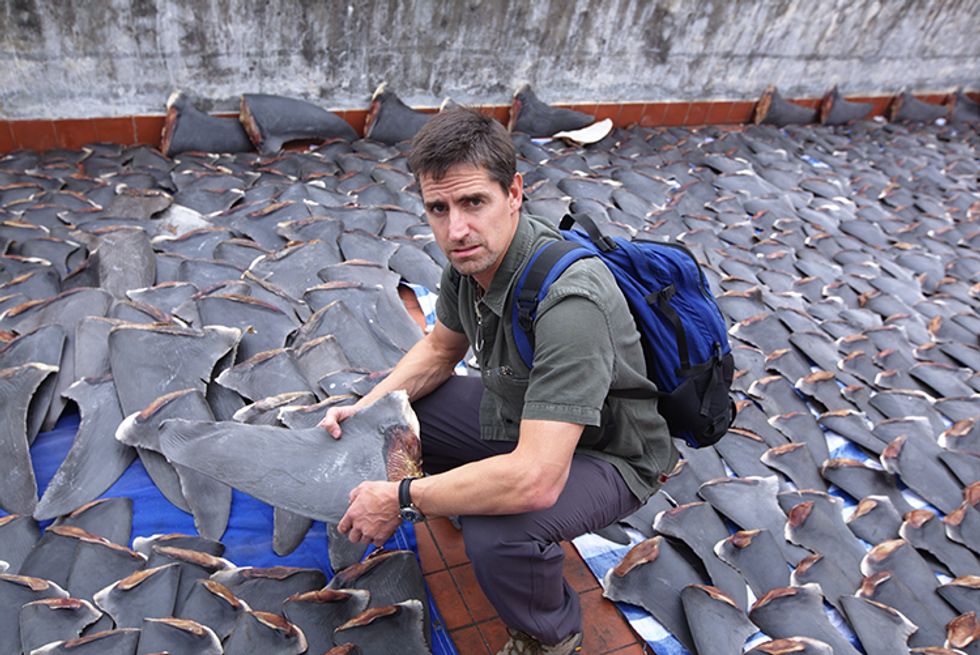 In addition to the wildlife trade, manmade global warming from greenhouse gas emissions is contributing to a breakdown in the natural systems that support all life. Racing Extinction features interviews with prominent scientists like Dr. Stuart Pimm, a conservation ecologist at Duke University, warning us that half of all species will be extinct within 100 years if humanity does not change its ways. Wildlife simply cannot adapt to unprecedented changes in not only temperature, but weather, ocean chemistry and atmospheric composition. To illustrate the enormity of this problem, the team drives through Los Angeles with a specially-designed high-definition FLIR camera making carbon dioxide and methane emissions visible to the general public for the first time.
Racing Extinction is full of cloak-and-dagger eco-activist operations, stunning visuals from iconic photographer Joel Sartore and features a one-of-its-kind Tesla driven by race-car driver Leilani Munter. Sartore, a National Geographic photographer, has captured on film 5,500 of the world's most endangered species in captivity for his Photo Ark. Combining this incredible group of highly-skilled people with an action-packed approach, Psihoyos seeks to break barriers in the documentary genre and reach new audiences.
Interviewed by EcoWatch's Stefanie Spear, Psihoyos describes that "with a film you can have a chance to change somebody's heart and that's what we want to do. The science shows that you don't change behavior by getting people to think differently, you change people's behavior by getting them to feel differently. That's what we're doing with this film, first we break people down, get people to have a little bit more compassion for other species and then build it up from there so they internalize that hey I'm responsible for this."
Louie Psihoyos' passion is palpable and it's impossible to not be infected with it in his presence. He photographed for National Geographic for 17 years, sending him around the world dozens of times. During his tenure there, he produced four stories for National Geographic Magazine on extinction, most notably about dinosaurs. He went on to write and photograph the book Hunting Dinosaurs with John Knoebber.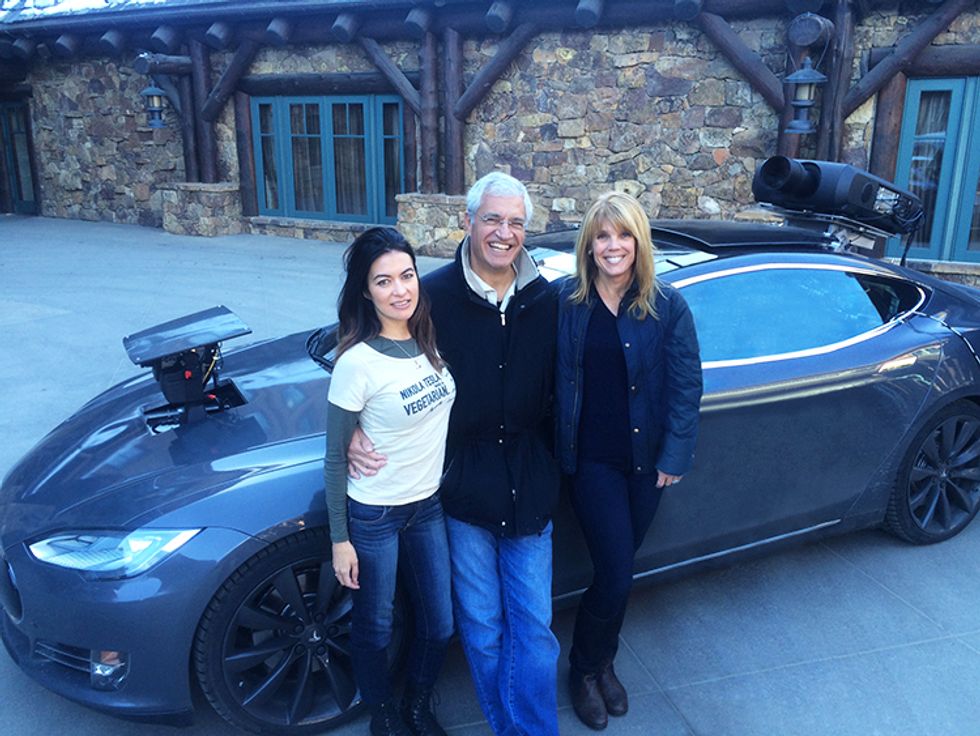 Leading up to the premiere, Psihoyos and his team engaged in an educational campaign to bring awareness by projecting images of critically endangered species onto public buildings including the Empire State Building, UN Headquarters and the Vatican. Featured in this campaign, is Toughie, a Rabbs fringe-limbed tree frog, who is sadly believed to be the last of his kind. Toughie actually lives at the Atlanta Botanical Garden in a special containment area called the "frogPOD." By sharing pictures of Toughie and other endangered animals he hopes to lift the curtain and show people how dire the situation has become for many of the Earth's creatures.
Combined with this educational effort is his #StartWith1Thing social media campaign. I love this approach because I'm often asked the very question which #StartWith1Thing is trying to answer—"The problem is so big, what can I possibly do?" Change starts with each one of us where we live and big change happens with the accumulation of many small actions.
Many people who grew up with the Captain Planet cartoons have told me that's where they learned to take responsible actions to make our communities better like recycling, conserving energy and water, restoring endangered species habitats and using less harmful chemicals. Instilling intentional mindfulness is key to becoming a steward of the environment, because it's not enough to just be concerned, you have to do something. RacingExtinction.com offers clear and easy resources on where to start with your one thing and there's something for everyone. You can learn how to find green power in your state, download the Seafood Watch app to make smarter choices or learn how to protect endangered species. I often tell people reducing resource consumption especially disposable items like straws, is a great place to start with your one thing.
Don't worry if you missed Racing Extinction in theaters or the world premiere on Discovery, there are still plenty of ways to watch this must-see film. It's available on DVD, iTunes, Amazon, Google Play, local Screenings, or you can sign up to host a House Viewing Party. Just go to RacingExtinction.com for links and information on how to watch.
Each and every one of Earth's creatures are precious. Even those that are covered in scales, have eight legs or are as small as a thumbnail. We saw the world's uproar in 2015 when Cecil the Lion was killed illegally by a trophy hunter. But it does not matter whether majestic and beloved or forgotten about and slimy, half of the world's plant and animal species will soon be threatened by extinction.
Each time we lose a species, we don't just lose a curious sight, we lose opportunities for medical research and a greater understanding of ourselves, we lose a link in the chain of our fragile ecosphere that protects our food, our water and our air. Issues around endangerment and extinction are complicated and often polarizing. It is far easier to turn a blind eye than to care about the last remaining frog of it's kind halfway around the world. Often times though it is not willful ignorance that causes inaction, but just simply not knowing. How can you know, care and connect to an animal that you may not have known existed or have never seen before?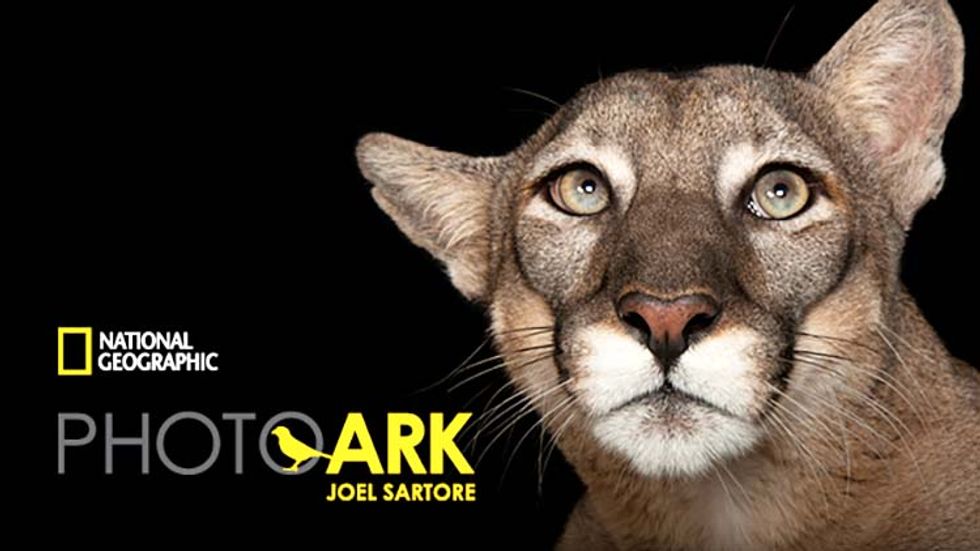 In 1995, from his home in Lincoln, Nebraska, National Geographic Photographer Joel Sartore embarked on a mission to solve this problem with his Photo Ark. His mission is to photograph all of the world's captive species, roughly 12,000 and he's now nearly halfway there. "I want people to care, to fall in love and to take action," Joel said.
Last week, while in Washington, DC, I made sure to visit the National Geographic Museum to see the Photo Ark Exhibit. This exhibit allows you to follow Joel around the world in nearly 5,000 photographs of different animal species. In a word, it's fantastic! I strongly encourage everyone to go if you get a chance, the exhibit will only remain on display for less than a month, closing April 10.
While nothing beats viewing these images in person, you can follow Joel Sartore's instagram, purchase a print from his website or buy his book RARE: Portraits of America's Endangered Species.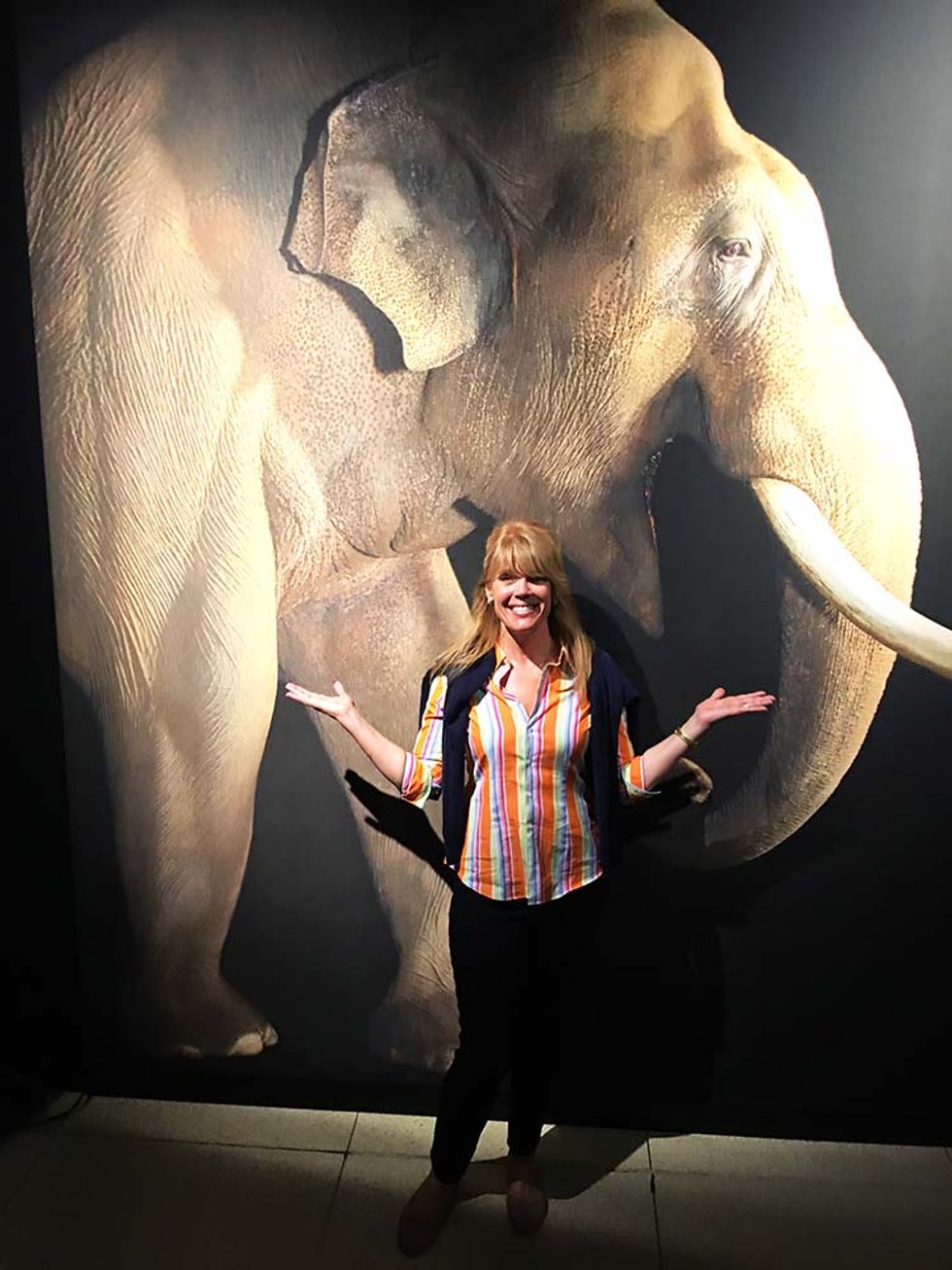 National Geographic has also featured 10 different images from Photo Ark on multiple covers of their April 2016 issue. A first for National Geographic, the issue will go on sale in late March.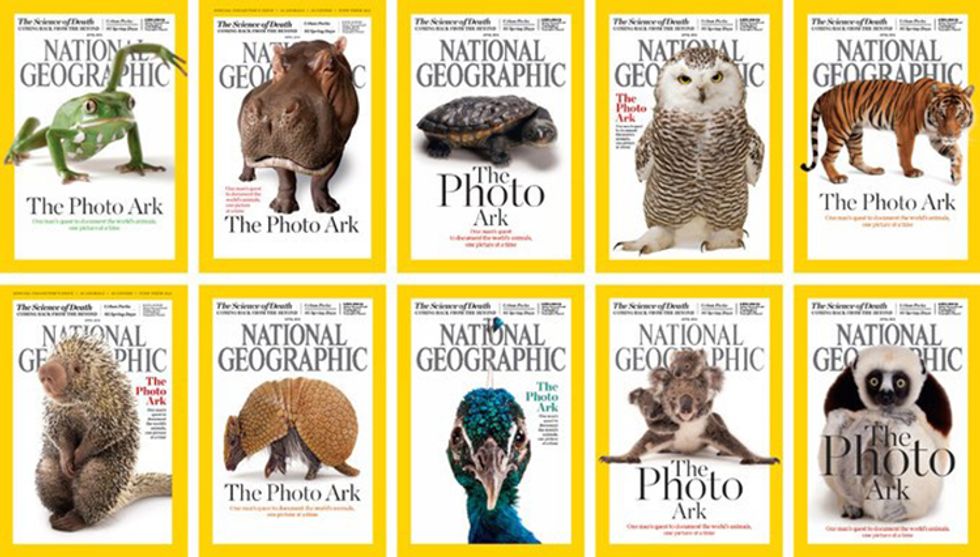 I had the privilege of joining Joel on a visit to see Toughie, the loneliest frog in the world, this past December at a truly cool place called the frogPOD at the Atlanta Botanical Garden.
The frogPOD houses the captive breeding program for species of frogs that were endemic to Panama, including the Crowned Tree Frog, Blue Glass Frog, Lemur Leaf Frog and Eyelash Marsupial Frog. These frogs are extinct in the wild so the program is critically important to the survival of these species. Toughie, the now famous (because of his cameo in the globally-viewed documentary Racing Extinction) and sadly last-of-his-kind Rabbs' Fringe-limbed Tree frog, will live out his days here. His species is named after our good friend and former fellow board member of Defenders of Wildlife, the world famous herpetologist, George Rabb. Joel was also photographing the newest resident at the center, a rare species native to Georgia, the Frosted Flatwoods Salamander.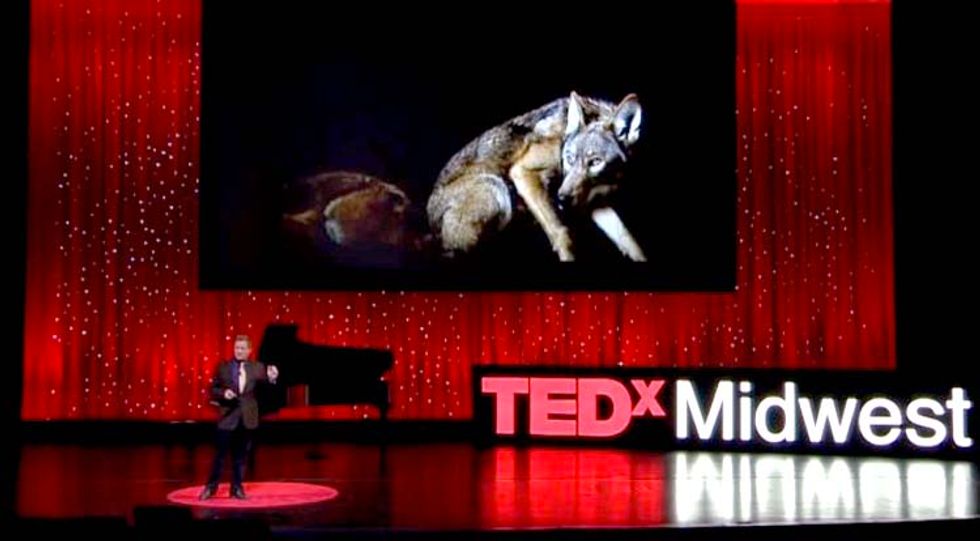 Joel hopes his Photo Ark will connect people to these precious animals by bringing you face to face with the many dying wonders of our planet. It is in great hope that many of these captive animals will be encouraged to breed bringing back the population to viable numbers. But we all have to help and do our part.
Learn more about what you can do to create change in the world that will help not only our children but also the incredible biodiversity and web of life that our lives are intrinsically tied to. You can follow Joel on social media @joelsartore and follow Mark Mandica, amphibian conservation coordinator at the Atlanta Botanical Garden @frogsneedourhelp for some of the world's rarest frogs.
YOU MIGHT ALSO LIKE
Eastern Monarch Butterflies at Risk of Extinction Unless Numbers Increase
Great Bear Landmark Agreement Protects World's Largest Temperate Rainforest
First New Butterfly Species Found in Alaska in 28 Years: Is it an Ancient Hybrid?
Love Wildlife? Check Out These 11 Stunning Photos From Yellowstone National Park
Ecological activism has been a way of life for myself and my family as a native Atlantan. I inherited a passion for environmental stewardship from my dad which has been passed down to my children. Together, we've remained committed to protecting our planet and the local Atlanta community through the years.
This is why I'm proud of the vital work the city of Atlanta is doing to tackle climate change. Our mayor, Kasim Reed, was one of several U.S. mayors that stepped up as a key advocate for climate change action at the COP21, 2015 Paris climate conference.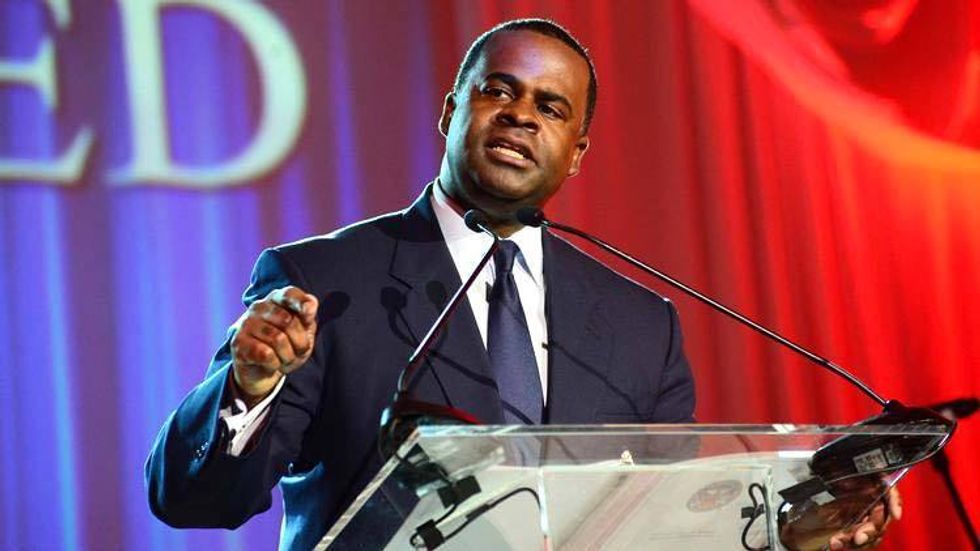 The goal of COP21 was to achieve a legally binding and universal agreement on climate, with the aim of keeping global warming below 2 C. And for the first time in more than 20 years of UN negotiations, global consensus was reached. The Paris accord unites all of the world's nations in a single agreement on tackling climate change for the first time in history.
I was in Paris with my dad and son, John R., to attend events held in tandem with the international talks. I was inspired to see the world's leading mayors playing such a pivotal role at the conference. Cities are vitally important to the success of this agreement.
The activities of cities alone account for more than 70 percent of energy-related carbon dioxide emissions. Roughly 54 percent of the world's 7.3 billion people currently live in cities and by 2050, that number is expected to rise to around 70 percent of the world's population. If the world is to avoid catastrophic climate change, we need our cities to continue to lead by developing and implementing concrete initiatives that improve the health, well-being and economic opportunities of citizens.
At the conference, leading mayors shared examples of how innovative, local solutions are playing a critical role in addressing these challenges. Mayor Reed emerged as a critical voice at the Paris talks as Atlanta is one of the top-tier sustainable cities in the U.S.
"This is the most important set of meetings on climate action since the Kyoto Protocol," Mayor Reed said in an interview with Bloomberg during the Paris climate talks (see below). "I felt that it was important as one of the leading cities in America and the leading city in the Southeast, to be a part of this conversation."
Mayor Reed is not only considered among the leading city executives in the U.S. on sustainability, but he's catapulted Atlanta to an international stage as an exemplary city tackling climate change. Some of Atlanta's key sustainability initiatives include: a project to increase the city's reserve water supply by turning the Bellwood Quarry into a reservoir; the Solar Atlanta initiative that will install solar panels on 28 fire stations and recreation centers while aiming to reduce energy usage at city buildings; and The Atlanta Beltline, a cornerstone sustainability initiative that's setting a national standard for transformative investment, sustainable growth and equitable development. Atlanta is also one of the leading metropolitan markets for electric vehicle sales, thanks to favorable income-tax credits.
The city of Atlanta's local solutions under Mayor Reed's leadership are a reminder that transitioning to a clean energy economy will not only enhance the quality of life for citizens, but put us on a path to prosperity by driving economic growth for decades, creating well-paying jobs and increasing household incomes. According to researchers, the cost of not acting on climate change could be $44 trillion dollars by 2060.
Mayor Reed participated in a number of panel discussions with world leaders during the climate talks, including a "Buildings Day" session focused on ways to reduce the energy consumption and carbon footprint from commercial buildings. He discussed Atlanta's national leadership in the Better Buildings Challenge, a public-private partnership to reduce energy and water consumption by 20 percent by the year 2020. Atlanta leads the nation with more than 100 million square feet of commercial building space committed to the challenge.
Mayor Reed and fellow U.S. mayors also joined the Climate Summit for Local Leaders, hosted by Michael Bloomberg and Paris Mayor Anne Hidalgo. The goal of the summit was to ensure that the voices of local leaders were heard and city efforts around the world were recognized. During his address, French President Francois Hollande admitted that even with a global agreement, "National governments can provide funding, but increasingly cities and regions will be the key player." Mayor Reed also participated in a session, Cities and Regions, Leading from the Front with Equity and Inclusion, to share opportunities and challenges of leading equitable and inclusive climate and clean energy policies.
Outside of the Atlanta community, there are inspiring initiatives happening across the world that give me great hope. To highlight a few, the city of Boston was recently recognized in Paris at the C40 Cities Awards as a climate leader for its work on Greenovate Boston. And Oakland's mayor, Libby Schaaf, took part in the climate talks to highlight the significant climate action change taking place in Oakland.
Cities are showing the world that by working together, we can transition to a clean energy economy while averting the most devastating effects of global warming, improving the health of citizens and redefining the economy of the 21st century.
YOU MIGHT ALSO LIKE
All Hands on Deck for Climate Action in 2016
Germany's Superhighway for Bikes Could Take 50,000 Cars Off the Road Every Day
Meet the World's First Climate Refugees
10 Extreme Weather Events in 2015 That Sound the Alarm on Climate Chaos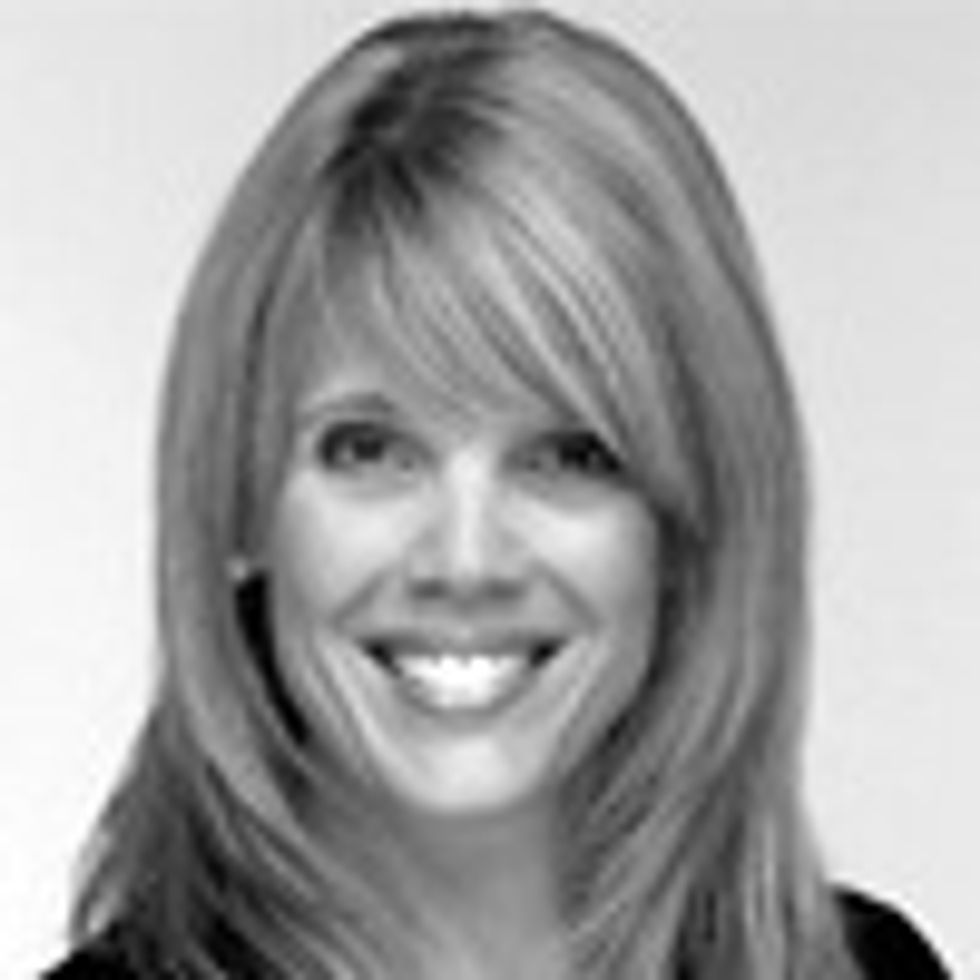 In my entire life I have never breathed in purer air, drank cleaner water or felt so naturally energized. My family and I recently visited Iceland on a mission to encounter the country's vast wonderland of geological extremes, and see firsthand how Iceland rose to become the largest clean energy producer per capita in the world. The small island nation's energy use is impressively state-of-the-art, and their commitment to harnessing renewable energy resources is inspirational. A mere seven years ago, the country was on the brink of environmental and financial catastrophe.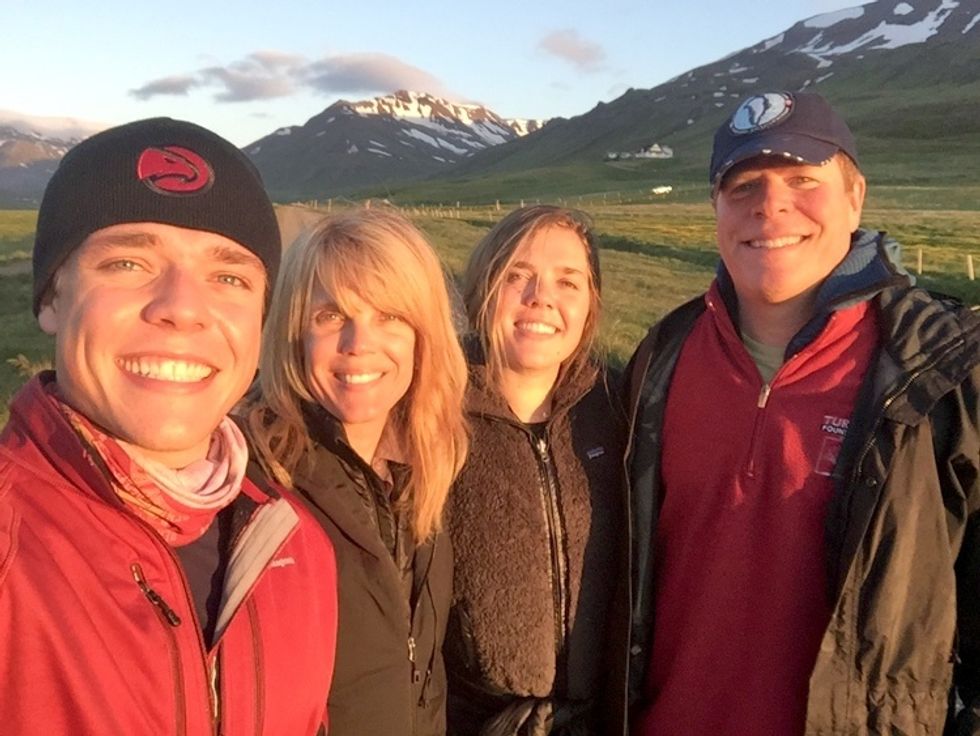 Until the 1970s, Iceland was classified as a developing country by the United Nations Development Program. For centuries it was among the poorest in Europe, a nation dominated by sheep farming, fishing and a dirty energy mix of fossil fuel, imported oil and coal.
In the decades that followed, Iceland radically transformed its energy system to one that relies on domestic renewable sources. Today, all of Iceland's electric power is generated by hydropower and geothermal energy, and about 95 percent of the nation's heating demands are warmed by geothermal means. This was accomplished through localized, profit-driven initiatives led by communities, small villages and individual entrepreneurs.
Iceland's president, Ólafur Ragnar Grímsson, has had a great deal to do with the country's turnaround during his 19 year tenure. Grímsson has been a tireless advocate of sustainable development and an outspoken leader in climate action. He encourages global discussion that positions the economy at the center.
"It's about the economic transformation of the country to realize that the move from fossil fuel over to clean energy is fundamentally good business—it's fundamentally the road to prosperity and economic achievement," said Grímsson to an audience at Cornell.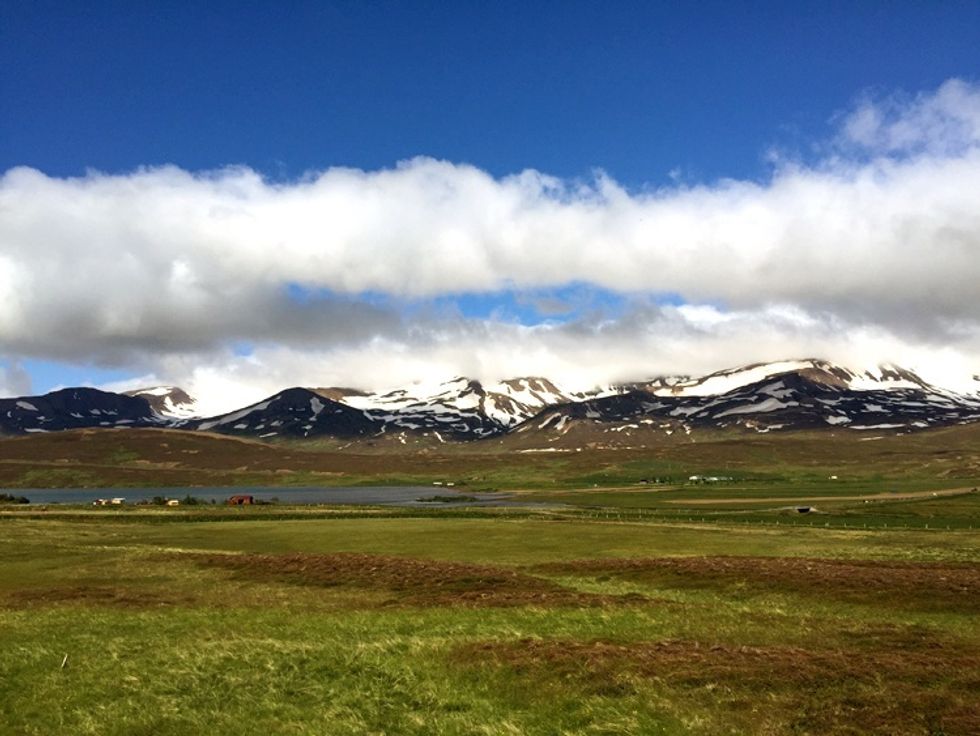 In addition to enhanced quality of life and health of its citizens, Iceland's clean energy economy helped its people survive the banking collapse. Thanks in large part to the cost of heating and electricity for ordinary families, homes and businesses being comparatively very low to other European countries. With the long-term availability of clean energy at fixed prices, Iceland has become highly attractive for foreign investments. Some of the biggest aluminum smelters, data-storage centers, high tech industries and other thriving enterprises are now based in Iceland.
It's no wonder that Icelanders are the happiest people in the world, quite literally! Iceland is ranked the number two country in The Third World Happiness Report, released by the U.N.'s Sustainable Development Solutions Network's international team of economists, neuroscientists and statisticians.
In my role as chair of Mothers & Others for Clean Air, a chapter of the American Lung Association of the Southeast, I've worked tirelessly to fight for clean air and advocate for renewable energy expansion because we're acutely aware that public policy and the health and well-being of the American people are intrinsically linked.
According to U. S. Surgeon General Murthy, climate change presents a "serious, immediate and global threat to human health." I believe that President Obama's Clean Power Plan, the first ever federal rule to clean up carbon pollution from existing power plants, is a strong signal that the U.S. is joining Iceland and leading the world in addressing the threat of climate change at a critical time. While the primary goal of the plan is to reduce the country's outsized contribution to climate change, cleaning up the U.S. electricity sector offers a variety of other critical benefits to public and economic health as well.
By meeting the emissions goals for 2030, the U.S. Environmental Protection Agency (EPA) estimates the U.S. will experience up to 3,600 fewer premature deaths, 90,000 fewer asthma attacks in children, 1,700 fewer hospital admissions and 300,000 fewer missed days of school. The Obama Administration recently furthered its commitment to #ActOnClimate with new proposed standards for methane emissions to reduce pollution and protect public health.
Seeing the majesty of the deep blue icebergs up close during my exploration of Iceland was a stark reminder of just how much is at stake. Aggressive melting of the ice in the Arctic is not only affecting Iceland, but causing extreme weather events in the U.S., Asia and other parts of the world. According to NASA, Greenland and Antarctica are losing three times as much ice each year as they did in the 1990s. Summer sea-ice cover is half as big as it was from 1979 to 2000, and many scientists are predicting an ice-free Arctic by the end of the decade. Fortunately, important climate research has been underway to help us understand what's happening as CO2 levels rise and the planet warms up.
Leading glaciologist, Dr. Jason Box, has been investigating Greenland ice sheet sensitivity to weather and climate as part of 23 expeditions to Greenland since 1994. His time camping on the inland ice exceeds one year. His Dark Snow Project investigates the forces driving the Arctic's ice loss and looks at the causes of surface darkening on the ice sheet that's been observed over the last decade. The Dark Snow Project is important in that it's bridging the communication gap with a wider public, connecting and informing a global audience on the key findings that give us a fuller story on climate change.
You can watch ice maverick Dr. Jason Box on Real Time with Bill Maher.
But this kind of critical climate research and communication needs to be met with action.
This year, the U.S. took on a two-year term as chair of the Arctic Council, the world's primary intergovernmental multilateral forum on the Arctic region. We have a unique opportunity and responsibility to present a vision for addressing the impacts of climate change. Iceland's transformation gives me great hope that we can not only transform our economy domestically and become a thriving clean energy economy, but catalyze climate action globally. The theme of the U.S. Chairmanship of the Arctic Council is a reminder that we're all in this together: "One Arctic: Shared Opportunities, Challenges and Responsibilities."
YOU MIGHT ALSO LIKE
​Sweden to Become One of World's First Fossil Fuel-Free Nation​
Ian Somerhalder and Chris Evans Ask You to Join KNOW TOMORROW
Michael Bloomberg: It's Time to Ramp Up Local Climate Efforts
Obama, Sanders, Kennedy Praise Pope's Call to Action on Climate Change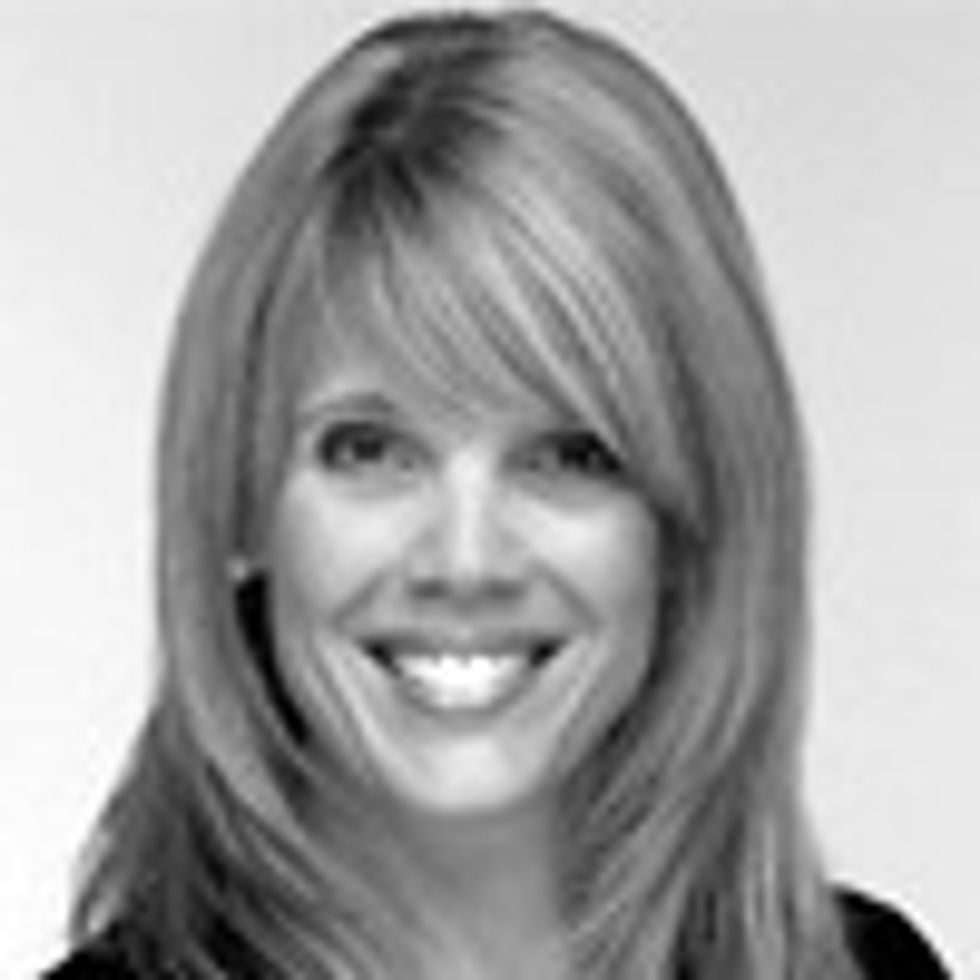 For seven decades, the United Nations (UN) has been a place for people and countries to exchange words instead of weapons and strengthen cooperation to help solve our world's most pressing challenges. In 2015, civil society's ideas, talents and passion are needed more than ever.
The 2015 NGO Conference at the United Nations harnessed civil society's energy while celebrating the 70th Anniversary of the UN. The three-day conference stayed true to its theme: Honoring the Past, Recognizing the Present and Imagining the Future. International civil society constituencies and NGO stakeholders gathered to celebrate their successes and leaders over the years and provide an opportunity to build civil society's capacity to implement the UN's post-2015 agenda of the new sustainable development goals (SDGs). I learned a great deal from each and every speaker and panel.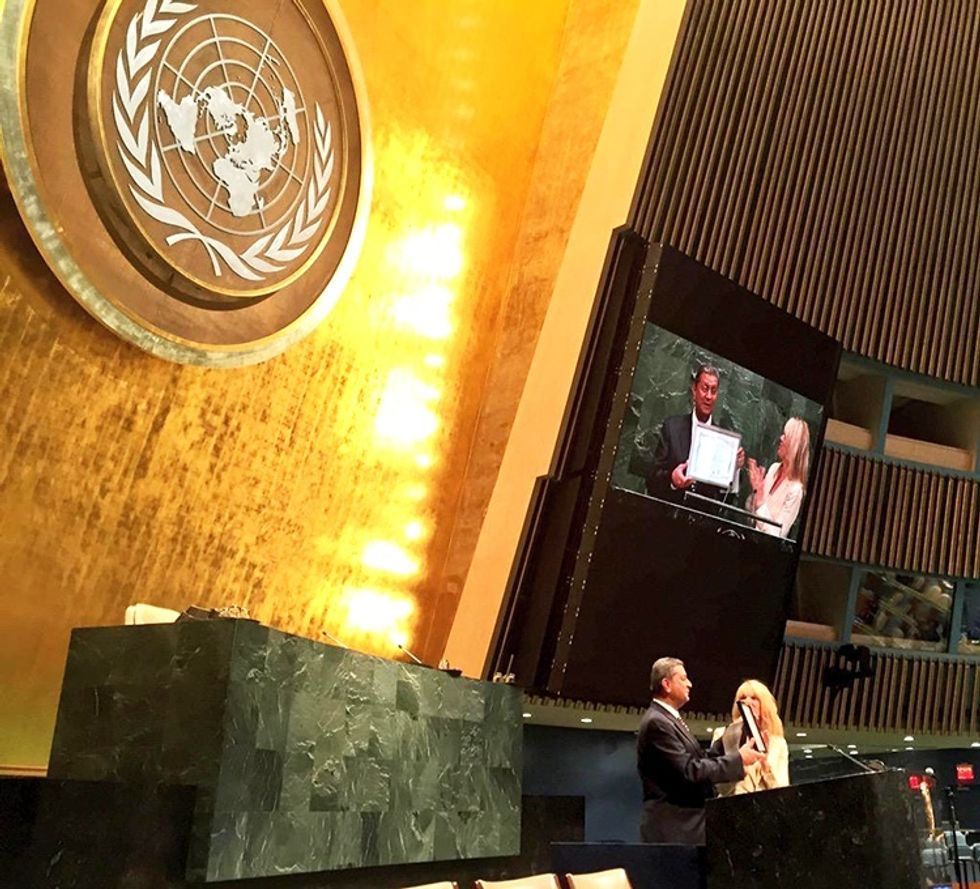 Honoring Amir Dossal at the United Nations 2015 NGO Conference. Photo Credit: John R. Seydel
It was truly a privilege to speak at this important convening of minds; about my father, Ted Turner's, legacy and his continuing support of the United Nations through the years, as well as the ambitious and achievable 2030 SDGs.
On Aug. 2, after a negotiating process that spanned more than two years and featured unprecedented participation of civil society, governments united behind an agenda that features 17 SDGs that aim to end poverty, combat inequalities and promote prosperity while protecting the environment by 2030. I believe this plan for collective action will transform the fate of humanity by addressing the root causes of poverty and inequality, striving to stay in harmony with our planet and meeting the universal need for development that works for all people. It will foster peaceful and just societies, amplify voices around the world and require communication and participation of all governments, stakeholders and people.
My dad has long believed that communication is essential to bring people to higher levels of cooperation and understanding, to elevate people's voices and to advance humanity. That's why in 1997, he announced a one billion dollar gift to the UN and created the United Nations Foundation.
At the conference, I had the great honor of presenting a dear family friend and the Chairman of the Global Partnerships Forum, Amir Dossal, with an award for his many years of public service and partnership building. Amir has served as the UN's chief liaison for my father's donation, which involves 450 programs and projects in the areas of children's health, women and population, climate change and biodiversity. Since joining the UN in 1985, Amir has led a number of global initiatives aiding the efforts to achieve the Millennium Development Goals, which included eradicating extreme poverty, reducing child mortality rates and fighting disease epidemics such as AIDS. Amir also served as the executive director for the UN Office for Partnerships from 2005-2010. My family is deeply grateful for his many years of service and we consider it a blessing to be in his circle of friends.
The conference also cast an eye to the future by recognizing the importance of the bright, innovative minds of younger generations and how we must pass on leadership to our youth. We heard from Girl Rising and Half the Sky ambassador Hadia Sheerazi, who discussed gender equality and the vital role the 1.8 billion youth around the world play and whose voices are not often heard in the General Assembly.
I also (proudly) shared the podium with my son, John R., who spoke to his experience working for the UN Foundation and his thoughts on how technology and youth will play critical roles in advancing the 2030 SDGs. John R. cited the innovative Charity Miles app which makes it easy for everyone to become an everyday philanthropist and give back.
Jonathan Granoff, president of the Global Security Institute, moderated a panel titled: Showcasing Successes and Lessons Learned: Celebrating 70 Years of Civil Society at the UN. Jonathan argued that it's existential that we protect the climate, our oceans' acid and PH balance, our rainforests and reduce the threat of nuclear weapons. These are not lifestyle options, but great threats to the survival of humanity which cannot be solved without global cooperation. His points were particularly poignant and capture the focus of the conference well.
"And those of you working in human rights and those of you working in gender equality and those of you working on poverty elimination and those of you working on the abolition of nuclear weapons and those of you working on balancing the climate," said Granoff. "All of these issues come down to the application of the golden rule: states must treat other states as they want to be treated. The issues will not be led by states. There have to be global advocates. And who are the global advocates? They are civil society—they are us."
YOU MIGHT ALSO LIKE
Robert F. Kennedy Jr: Pope's Call to Tackle Climate Change 'Is a Moral Imperative'
Bill McKibben: Pope's Arrival Brings Minor Miracles on the Climate Front
Senate Democrats Unveil Energy Bill to Signal 'Full-Throated Support' of Obama's 'Aggressive' Climate Plan
Leonardo DiCaprio Pledges to Divest From Fossil Fuels as Movement Grows 50-Fold in One Year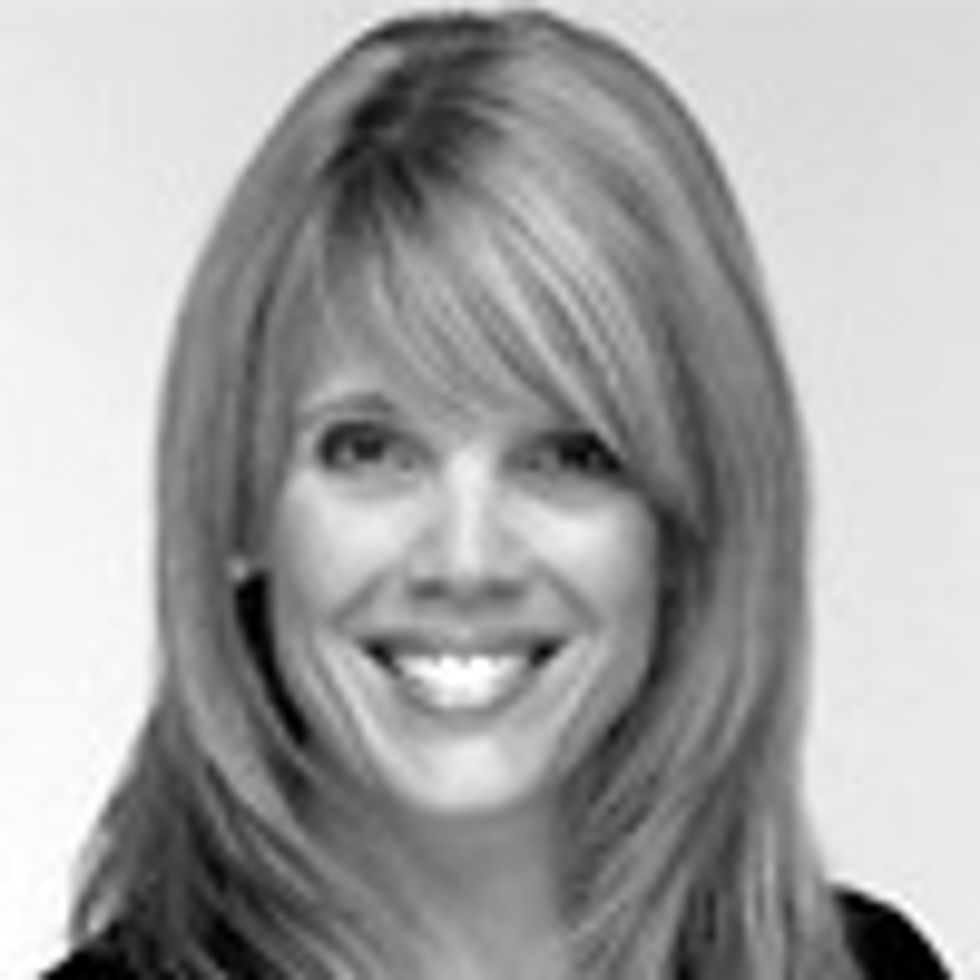 Organic, GMO, Pesticide-free, Fair Trade—what do these really mean, are they just trends and how do they affect our planet? Agriculture is a complex industry which to some extent we are all reliant upon. Understandably, for decades the focus has been on how to increase crop yield more efficiently and at lower and lower costs. At first glance, this seems intuitive. And in large measures the agricultural industry has been able to accomplish this through the widespread use of pesticides and genetically modified crops (GMOs) that are resistant to pests and other external factors. But does more equal better?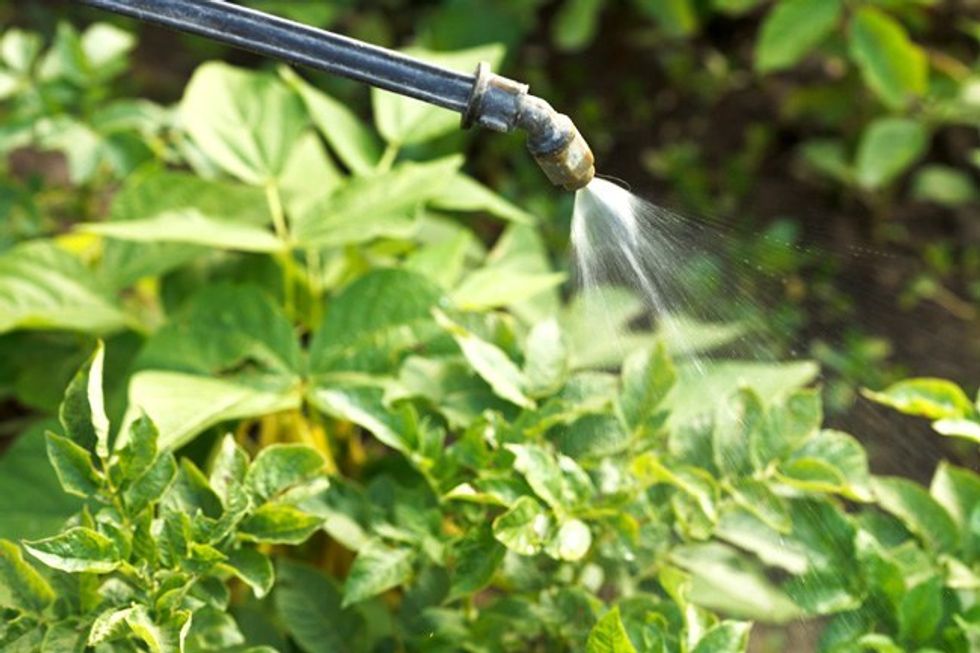 The evidence suggests not. We have sacrificed nutrition for quantity, and we are now ingesting chemicals into our bodies that we were never meant to. In 1974 Monsanto patented glyphosate as an herbicide, aka Roundup, which revolutionized farming practices and as such the use of the herbicide has grown exponentially. This has had not only a profound impact on the food we eat, but also on all the natural support systems that affect all life.
The pervasive use of glyphosate has given rise to "superweeds," more resistant weeds that have evolved in response to the herbicide, resulting in ever larger doses of the chemical being sprayed. Herbicides and pesticides leave residuals on crops, affecting the genetic makeup of the plants, their nutrition, as well as, consumption by humans. A 2014 study by the Arctic University of Norway conducted in Iowa found high levels of Roundup on 70 percent of genetically engineered soy plants. This increase of glyphosate and other chemicals in humans is leading us to numerous health hazards.
As far as thirty years ago, glyphosate has been evaluated by the U.S. Environmental Protection Agency (EPA) for its potential to cause cancer. In an original study done with mice, the EPA found that the chemical may have cancer causing potential, but reversed their decision only six years later in 1991. However, the International Agency for Research on Cancer, an agency of the World Health Organization (WHO), recently declared that glyphosate "probably" causes cancer, drawing from several previous studies on people, animals and cells. Industry leaders, like Monsanto, oppose the decision, citing agendas and cherry-picking of data. The EPA's initial reversal, as well as the controversy surrounding the WHO's declaration, demonstrates the variance of conclusions reached by how each agency analyzes the same data. Although we are still waiting for the WHO's detailed monograph on how they reached their conclusions, what is clear is that glyphosate deserves a second look. As the most widely used herbicide in the world we cannot afford to take risks and ignore the potential harm.
But what about the plants themselves? GMO crops, as well as those excessively treated with herbicides and pesticides, have an altered genetic makeup that severely depletes their nutritional value. One way we are seeing this is in the impact on the quality of soil, which not only affects nutrition but yield. According to The New York Times article "Misgivings About How a Weed Killer Affects the Soil," Robert Kremer, a scientist at the U.S. Department of Agriculture, says "Because glyphosate moves into the soil from the plant, it seems to affect the rhizosphere, the ecology around the root zone, which in turn can affect plant health." To ward off disease and improve photosynthesis, plants' root systems depend on a complex system of bacteria, fungi and minerals in the soil. Roundup in the soil can actually compete with plants for these nutrients and in some cases change the makeup of bacteria and fungi in the soil, making them more susceptible to pests and pathogens. Simply put, chemicals that are put on soil affect and alter the chemistry and biology of the land, which affects the biology of the crops, which affects the biology of the humans consuming these crops.
A clear example of this is colony collapse disorder, the name given to the ongoing mass die off of our pollinators, primarily bees, but butterflies and other insects as well. Pollinators are responsible for one-third of the food we eat, and this includes some of our most nutritious food, like fruits and vegetables. Although studies are still trying to determine the exact nature of the relationship between colony collapse and pesticides, the relatively new neonicotinoids found in insecticides are thought to be a primary culprit. Honeybee pollination is a major economic engine, according to the Agriculture and Consumer Protection Department of the UN Food and Agriculture Organization. The worth of global crops with honeybee's pollination was estimated to be close to $200 billion in 2005.
As global citizens of the world, we can not afford to keep living with our heads in the sand about pesticides and GMO foods. What can you do? Each time you choose the organic product at the grocery store your dollars are voting against these destructive practices. Whether you choose to buy organic or not, let your grocer know you want food labeling. You can also empower yourself with the Environmental Working Group′s recently launched food scores database. This is a definitive guide that rates food based on nutrition, ingredients and processing scores. You can shop at local markets and refuse to purchase plants treated with neonicotinoids. Also check out these organizations that are doing amazing work: Xerces Society, Pesticide Action Network, Friends of the Earth and Center for Food Safety.
YOU MIGHT ALSO LIKE
If GMOs Are Safe, Why Not Label Them? (64 Other Countries Do)
France Bans Monsanto's Roundup As Environmental Groups Push WHO for Stronger Safety Standards
Pope Francis Condemns Multinational Corporations for Choosing Profit Over People