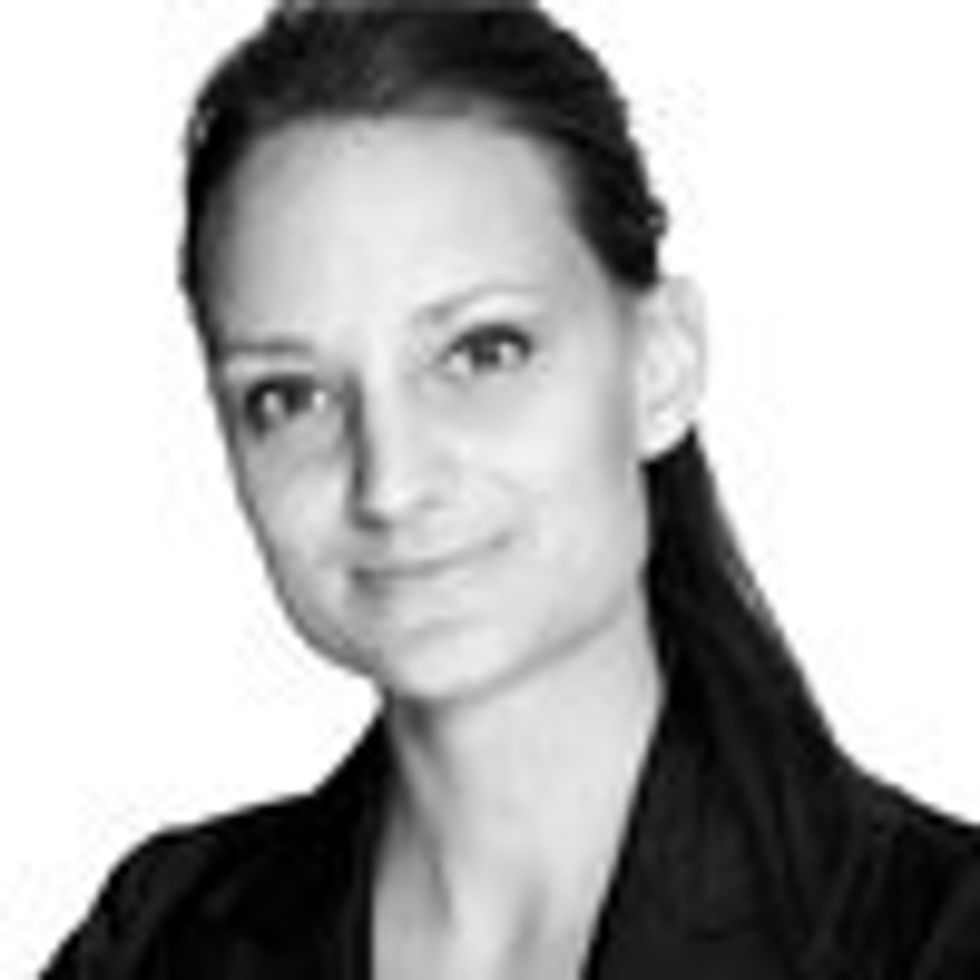 Global food systems are at the root of many man-made challenges, but they could also be the catalysts for creating healthy and sustainable societies. No matter what political ambitions we put forward for the future, real change starts on our plates. Today, we launch the EAT in Sustainia publication that highlights the opportunities and solutions outlining the food systems of tomorrow.
2015 is a year filled with hope for political action on the world's biggest challenges. A week ago, the UN adopted the Sustainable Development Goals, which range from eradicating poverty and hunger, to protecting our land and oceans, to limiting climate change. In December this year, the COP21 political negotiations in Paris offer an opportunity for the world's heads of state to agree on an ambitious and binding agreement on emission targets. And today is World Food Day, which urges the global community to realize the connection between food and rural poverty.
Climate change, hunger, inequality, poverty, protection of land and oceans, reduction of global emissions. While these seem like disconnected challenges, there is one key thread that connects them and offers an entry point for change: food!
By now, it is an established fact that our current food systems are unsustainable for our planet, our health, and our economics. The food and agriculture sector is responsible for up to 29 percent of global greenhouse gas (GHG) emissions and its share could increase an additional 30 percent by 2050.
Moreover, our food systems are failing at one of their most basic jobs: keeping us healthy. In 2015, approximately 795 million people do not have enough food, 1.9 billion are consuming too much, and 2 billion suffer from micronutrient deficiencies. The World Health Organization (WHO) has determined that dietary factors account for at least 30 percent of all cancers in Western countries and up to 20 percent in developing countries.
This is putting a strain on global economies and the loss of biodiversity and the costs of NCDs are counted in trillions.
Looking ahead, we risk scaling up unhealthy and unsustainable systems to meet the appetites of the 9.7 billion people that will walk this earth in 2050. In order to create truly sustainable societies, food has to become a focus point.
We Can't Create Change on an Empty Stomach
Zooming in on the SDGs we see that many are either directly or indirectly related to food, and thus present us with the opportunity to use sustainable food systems as entry-points to achieving the SDG agenda.
For instance, a goal of creating good jobs and economic growth cannot overlook that farming represents the largest employment sector in the world. Smallholder farmers provide up to 80 percent of the food supply in Asia and sub-Saharan Africa. 
Providing them with better access to resources, innovations, and markets will not only help the individual farmer to secure a more sustainable livelihood, but also create ripple effects for his or her family, and local economy.
If we wish to eradicate poverty, we must remember that the global food crisis of 2007-2008—caused
by soaring food prices—forced 100 million
 people into poverty in low- and middle-income countries.
And if we wish to combat gender inequality, we must realize that rural women in developing countries produce between 60-80 percent of the food in their home nations and are responsible for half of the world's total food production. Yet, women own less than 2 percent of land globally.
Many of the man-made challenges we face are complex and interconnected, but recalibrating our food systems to become healthy and sustainable will catalyze positive change in all areas of society.
Luckily, all over the world, solutions are sprouting within the triple-helix of food, health, and sustainability and these opportunities are outlining the food systems of tomorrow.
The publication EAT in Sustainia gathers some of the best opportunities and solutions within the food sector and offers concrete examples and inspiration of how food can be used to create sustainable societies and healthy lives.
From solar-powered irrigation in Kenya to nudging in Norway, local innovations, technologies and initiatives are proving that better food systems are possible. However, bottom-up change alone isn't enough.
As we go forward with our trying to reach political targets for creating a more sustainable world, collaboration and co-creation between politicians, food producers, farmers, scientists and consumers offers the only viable road to lasting change.
EAT in Sustainia is a collaboration between Sustainia and the global initiative EAT and merges the newest knowledge on health, food and sustainability and ready and available solutions. Download it here free of charge.
YOU MIGHT ALSO LIKE
Scuba Divers' Haunting Photos Show Devastating Impact of Ocean Trash on Marine Life
These 5 Countries Account for 60% of Plastic Pollution in Oceans
10 Greenest Cities in America (and the Worst)
Don't Let Wall Street Leave You Behind: It's Time to Divest From Fossil Fuels
EcoWatch Daily Newsletter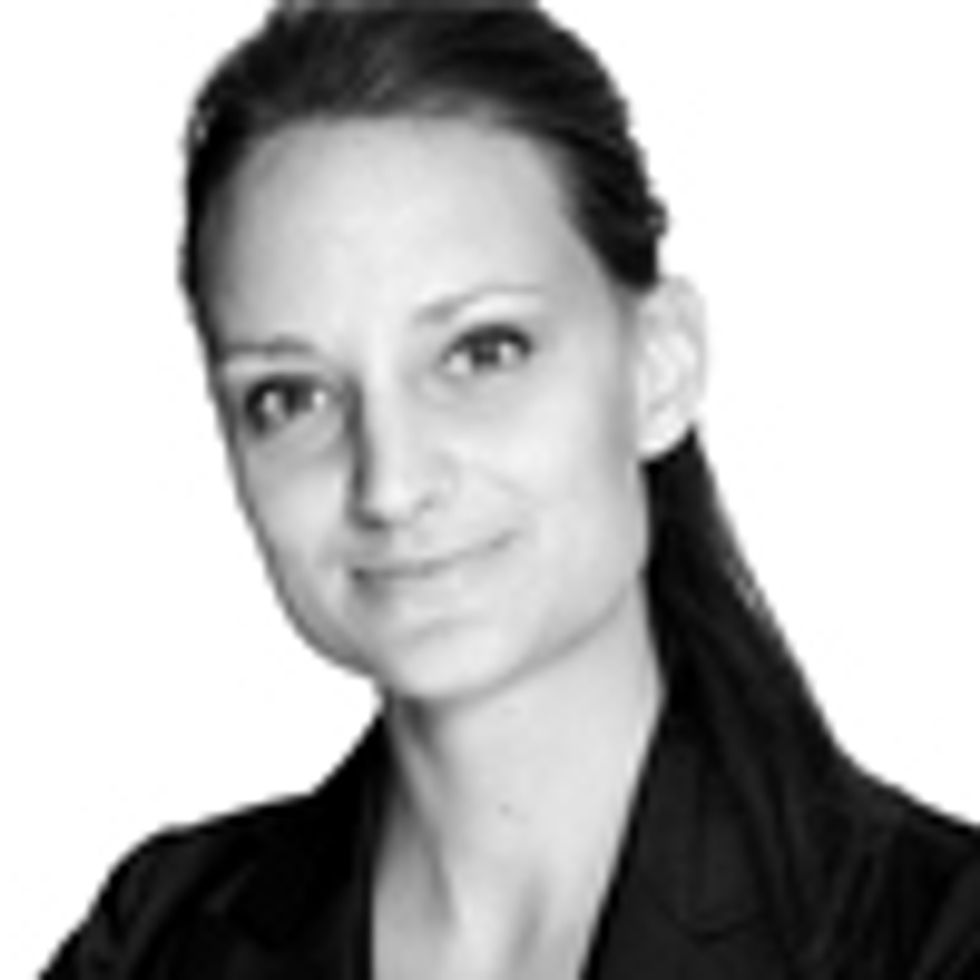 With both China and the U.S. taking crucial steps to limit emissions and develop alternatives to fossil-fueled industries, the hunt for new technologies and solutions has intensified. And it is about time. One of the most serious findings in a new report by the Intergovernmental Panel on Climate Change (IPCC), recently launched in Copenhagen, is that drastic changes in our climate can now be measured on every continent of our planet. It is hugely affecting our raw materials and therefore it is affecting us all—our health, food, water oceans and also businesses' license to operate. We are now at a point where climate change is not a phenomenon that may hit us one day—it has begun hitting us all.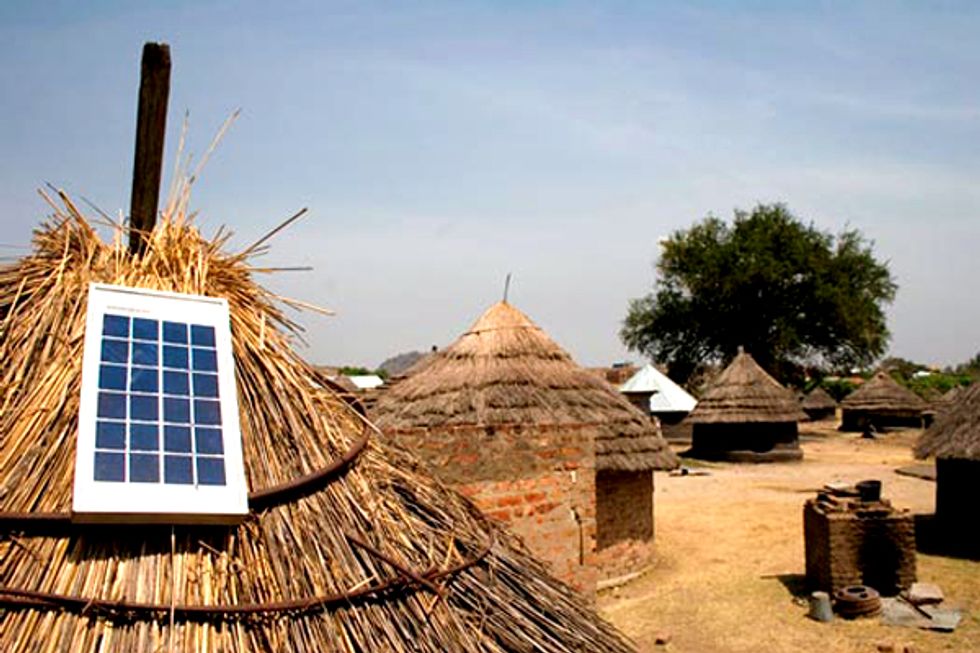 Azuri Technologies has developed solar power products in Africa that make clean energy affordable for low-income communities. Photo credit: Azuri Technologies
Another crucial finding in the report is that there is a 95 percent probability that climate change is caused by humans. Chair of IPCC Dr. Rajendra K. Pachauri put it this way when I spent some time with him last week in Bergen, Norway: this is as close to a 100 percent probability as 600 scientists from 154 countries will ever get.
As Einstein stressed you do not solve problems with the same thinking that created them. New thinking is needed. We need a wide range of solutions addressing the equally wide range of challenges we are facing. We need new ways of lowering emissions, reusing natural resources, bypassing fossil fuels with renewables, and protecting our crops from draught and our communities from flooding.
Though deployment of new solutions is needed quickly, we cannot rush to actions that do not have widespread effects. Climate change ignores borders, and it ignores your income level. Therefore, our solutions must do the same. For too long, the assumption has been that poor people have no purchasing power, and therefore, do not represent a viable market. But as sustainable development has taken a greater interest in developing countries and their growth opportunities, innovative forces are now taking a closer look at how to apply solutions to all segments of the market and still find a business model at the "bottom of the pyramid."
At Sustainia, we have researched thousands of innovative projects over the last three years to find the leading sustainability solutions around the globe. We found that several of them were designed by entrepreneurs in developing countries—creating new markets at the "bottom of the pyramid."
We are seeing several examples of solutions that have managed to deploy sustainability projects to low-income areas in developing countries with a profitable business model. This serves as an important inspiration that sustainable development doesn't end with the innovation; it must also include widespread deployment.
Pedal-powered recycling in Nigeria
In Lagos, Nigeria, the initiative Wecyclers is fueling social and environmental change by enabling people in low-income communities to make money off of the unmanaged waste piling up in their streets. This is first and foremost a response to the local waste crisis, where overburdened municipal governments collect only 40 percent of city garbage and recycle only 13 percent of that.
The Wecyclers initiative has deployed a fleet of cargo bicycles to pick-up, collect and recycle garbage in low-income neighborhoods. Families are encouraged to recycle their bottles, cans and plastics through an SMS-based program. For every kilogram of material recycled, the family receives Wecyclers points on their cell phone. Families can then redeem points for goods, such as cell phone minutes, basic food items or household goods. The SMS-based program also sends collection reminders and instant updates on points, giving instant rewards for participation. Finally, the initiative adds to the local economy by hiring personnel locally to collect garbage. What I really like about this solution is that it engages the local community in tackling a huge health and environmental problem while making money.
Pay-as-you-go for Clean Energy
British company Azuri Technologies has developed and manufactured solar power products for off-grid areas in emerging markets in Africa that make clean energy affordable for low-income communities. With a pay-as-you-go business model, the company has removed high up-front costs and instead designed a pay-off process, where residents buy scratch cards to activate the solar panels. The scratch cards are cheaper than kerosene alternatives to light, but still pay off the solar panels over the course of a year or so. Azuri has distribution networks in markets, such as Kenya, Uganda, South Sudan, Zambia and South Africa.
Every day, thousands of rural, small business owners across Africa are forced to close due to a lack of electricity or choose to remain open by using harmful kerosene lamps or expensive, solar-powered batteries. Same thing goes for private households. Azuri is not only enhancing safety and visibility after dark: the innovations also provide infrastructure to rural business owners who can stay open longer to benefit the community and boost sales.
Nurturing fertile crops in developing countries
Israeli-based company Netafim is behind a low-tech drip solution for small-scale farmers in primarily developing countries. The innovation increases yields while saving on water and costs. The irrigation system drips precise quantities of water and nutrients right at the root zone of crops. An elevated tank distributes the water using only gravity. The big win for farmers is that this simple and effective system minimizes the need for electricity and investments in infrastructure. The UN estimates that 500 million small-scale farmers provide over 80 percent of the food consumed in the developing world. With droughts increasing, irrigation systems are vital to sustain agriculture because they addresses water scarcity and soil erosion. The solution is commercially viable with a payback time of about a year, making it fit for microfinance projects. Today, Netafim is used in 11 countries including Mexico, Kenya and China.
Innovations such as these do not stand alone. Right now, an inspiring development is taking place, where private initiatives are finding new ways to grow business models that can empower communities with the benefits of sustainability. Through visionary innovations such as these, low-income communities can also enjoy the positive health effects of waste management, smarter use of resources and the countless benefits of clean energy.
YOU MIGHT ALSO LIKE
Solar Energy Could Power America 100 Times Over
Stunning NASA Video Illustrates a Year's Worth of Global Carbon Emissions
seed.com
You can't discount the importance of your gut health. Research shows that the microbiome within your digestive system has a disproportionate impact on how well your whole body functions.

Unfortunately, bad diets, the overuse of antibiotics, and other stressors mean many of our digestive systems are in trouble. Probiotic supplements claim to solve this problem by replenishing your gut with the healthy bacteria it needs for optimal functioning. Here, we'll analyze the popular probiotic brand Seed to determine whether its supplements are worth taking.
How We Review Probiotics
Whenever we review a probiotic supplement, we evaluate six specific categories.
Number of active strains - How many types of bacteria are included?
AFU (Active Fluorescent Units)/ CFU (Colony Forming Units) - These units of measurement tell you how many billions of bacteria are estimated to be within each supplement dose.
Storage Requirements - Some probiotics are shelf-stable, while others require refrigeration.
Ingredient Transparency – does the company disclose where it sources its active strains and provide clinical research for their efficacy?
Value - How are the probiotics priced? Can you purchase them without an auto-ship program?
Sustainability - Does the company show ways its supplements are better for the environment through sustainable ingredient sourcing or packaging?
Let's evaluate these criteria for Seed.
About Seed Probiotics
Seed is an e-commerce supplement brand with a single product—the DS-O1 Daily Synbiotic probiotic. The company got its start in 2018 when cofounders Ara Katz and Raja Dhir determined that the current probiotic supplements available weren't hitting the mark.
Katz's experiences of pregnancy and breastfeeding as a new mom led her to develop a deeper appreciation of the body's microbiome and its role in overall health. She joined forces with Dhir, who had the scientific experience to understand what could be improved within the probiotic industry.
Together, they strove to create a supplement that "raised the bar on bacteria" by giving the body what it needed for all its systems to operate most effectively. They collaborated with a large team of entrepreneurs, artists, and scientists to develop a probiotic known as DS-01 Daily Synbiotic.
The Seed DS-01 Daily Synbiotic
seed.com
Active Strains - 24
AFU - 53.6 billion AFU
Storage Requirements - Shelf-stable for 18 months after opening
Ingredient Transparency - Clinical data available for each strain
Sustainability - First order ships in reusable glass canisters and subsequent orders arrive in compostable biofilm.
Value - $49.99/60 supplements (30-day supply subscription)
The DS-01 Daily Synbiotic is a broad-spectrum probiotic that combines 24 probiotic strains with a non-fermenting prebiotic concentrate of Indian pomegranate for better delivery. Of these strains, 23 are human-derived, and one is isolated from fruit and added to promote healthy cholesterol levels.
These strains work synergistically to support the 38 trillion bacteria that make up your microbiome. They will purportedly help the body digest food, minimize inflammation, and better synthesize nutrients.
This supplement contains four distinct probiotic blends:
Digestive Health/ Gut Immunity/ Gut Barrier Integrity: 37.0 Billion AFU
Dermatological Health: 3.3 Billion AFU
Cardiovascular Health: 5.25 Billion AFU
Micronutrient Synthesis: 8.05 Billion AFU
(See strain-specific studies here)
How It Works
With these multiple strains, the company claims to take a 'Microbe-Systems Approach' through microbes that impact specific physical functions beyond the digestive system. These include skin and heart health, better immune system functioning, and micronutrient synthesis.
In other words, DS-01 goes beyond digestive issues to support full-body health. The company claims it's even one of the first probiotic formulations able to synthesize folate and increase its production.
Seed's DS-01 Daily Synbiotic probiotic also stands out with its delivery system. The supplement utilizes "nested capsule technology" along with a patented algae delivery system. This two-in-one capsule design houses the probiotic formula within a prebiotic casing made from Indian pomegranate to ensure these fragile bacteria survive both sitting on store shelves and the perilous journey through stomach acid to your colon.
Through this method, Seed claims to average a 100% delivery rate of the probiotic's starting dose to your colon. According to internal testing, DS-01 probiotics will exceed the living cell counts listed on the label even after ten days of constant 100º F exposure.
Usage Instructions
Adults can take two Seed probiotic supplements per day, preferably at the same time. It's best you do so on an empty stomach to limit the capsule's exposure to digestive enzymes that start to break it down. However, those with sensitive stomachs may want to eat something first. While you'll get optimal results from taking the supplements daily, it's not a problem if you occasionally skip one.
If you're new to probiotics, start by taking one per day for the first three days and then increasing your dosage to two per day. You may feel its effects on your digestive system within 48 hours, though long-term improvements to the cardiovascular system take more time and might not be noticeable to you.
Seed probiotics don't need require refrigeration. They are shelf-stable for 18 months at temperatures up to 78℉ and are safe to take when expired. Just note that the company can't guarantee their potency at this point.
How to Buy
Seed DS-01 Daily Synbiotic probiotics are only available on a subscription basis. They cost $49.99 per month and ship free throughout the US (international orders include a $10 shipping fee).
You will receive a 30-day supply (60 capsules) when you order through the company website, and the first order includes a reusable glass canister and travel vial. Each subsequent order arrives in compostable biofilm so you can transfer the capsules to the reusable ones.
All first orders are covered by a 30-day risk-free trial, during which you can return the probiotics for a full refund. It's possible to cancel the subscription at any time by contacting customer service at [email protected].
Note: At publication, these probiotics were sold out. They are available for pre-order and expected to ship again in 2-4 weeks.
What We Like About Seed
As a product within the largely unregulated supplement industry, Seed broad-spectrum probiotics earn major points from us for both transparency and abundant clinical research. The company shares detailed information about every bacterial strain within the supplement and links out to the scientific studies highlighting their effectiveness.
Customer reviews on Facebook and other review sites show that Seed probiotics work as described for many users. Some shared they experienced positive improvements in their digestive system within 48 hours and noticed better-looking skin within a month.
Those with allergies or food sensitivities will also appreciate these supplements are soy-free, vegan, gluten-free, dairy-free, corn-free, and free of binders and preservatives.
From a consumer standpoint, Seed makes taking probiotics simple. The shelf-stable formula means you won't have to store them in the fridge, and each 30-day supply is guaranteed to remain viable for 18 months after opening. Likewise, the nested capsule delivery system should improve how many billions of bacteria make it into your digestive system intact.
Equally noteworthy, we love Seed's commitment to environmental sustainability. By sending each customer two reusable glass containers at the start of their subscription, the company minimizes the packaging waste for each subsequent order.
What We Don't Like
Despite these positives, Seed broad-spectrum probiotics have some downsides. To start, they are pricier than many competitors. You will pay $1.66 per day's dose, which is more than some want to pay for supplements.
It's also not possible to try them without committing to a monthly subscription. While it will take several weeks or longer to start noticing their effects, some customers might not want to be locked into an auto-ship program so early in the experimenting process.
Likewise, some customer reviews complained of unexpected side effects such as breakouts and rashes. It's not clear whether these went away for users after a few weeks of use.
Finally, it's currently only possible to pre-order these supplements. If you're dealing with digestive distress today, you may want to try a probiotic brand that's available right now for faster relief.
Seed Safety & Side Effects
Seed DS-01 Daily Synbiotics are considered safe for adults over 18. Each supplement is vegan and free of common allergens like gluten, dairy, soy, and corn. They have undergone extensive third-party testing and adhere to the highest global regulatory standards for safety.
As with all probiotics, you might notice unpleasant side effects when you start taking them. Many people experience bloating, increased gas production, constipation, and other gastrointestinal problems for the first few days.
This can be discouraging, as many users take probiotics precisely to combat these symptoms in the first place. However, your system should adjust to the new bacteria within two weeks, and this digestive distress should diminish accordingly.
The DS-01 Daily Synbiotic is classified as safe for women who are pregnant and breastfeeding, although the company recommends speaking with a medical professional before starting them. As will all probiotics, you should not take these supplements if you have a weakened immune system, recently underwent surgery, or if you have a serious illness. Speak with your doctor before starting any dietary supplement if you have concerns or questions.
Takeaway: Are Seed Probiotics Worth It?
The Seed DS-01 Daily Synbiotic is well-formulated and shows clinical evidence of improving your gut biome for far-reaching health benefits. The company solves the tricky problem of selling a live product with its innovative delivery system that keeps the bacteria within the supplement safe both on the shelf and through the digestive process.
If you are dealing with digestive problems, or are looking for a way to improve your general health, then this broad-spectrum probiotic might be one worth trying.
Just keep in mind that you might feel worse for a few days before the microbes will take full effect in your gut and that giving it a try means you are committing to a monthly subscription.
Lydia Noyes is a freelance writer specializing in health and wellness, food and farming, and environmental topics. When not working against a writing deadline, you can find Lydia outdoors where she attempts to bring order to her 33-acre hobby farm filled with fruit trees, heritage breed pigs, too many chickens to count, and an organic garden that somehow gets bigger every year.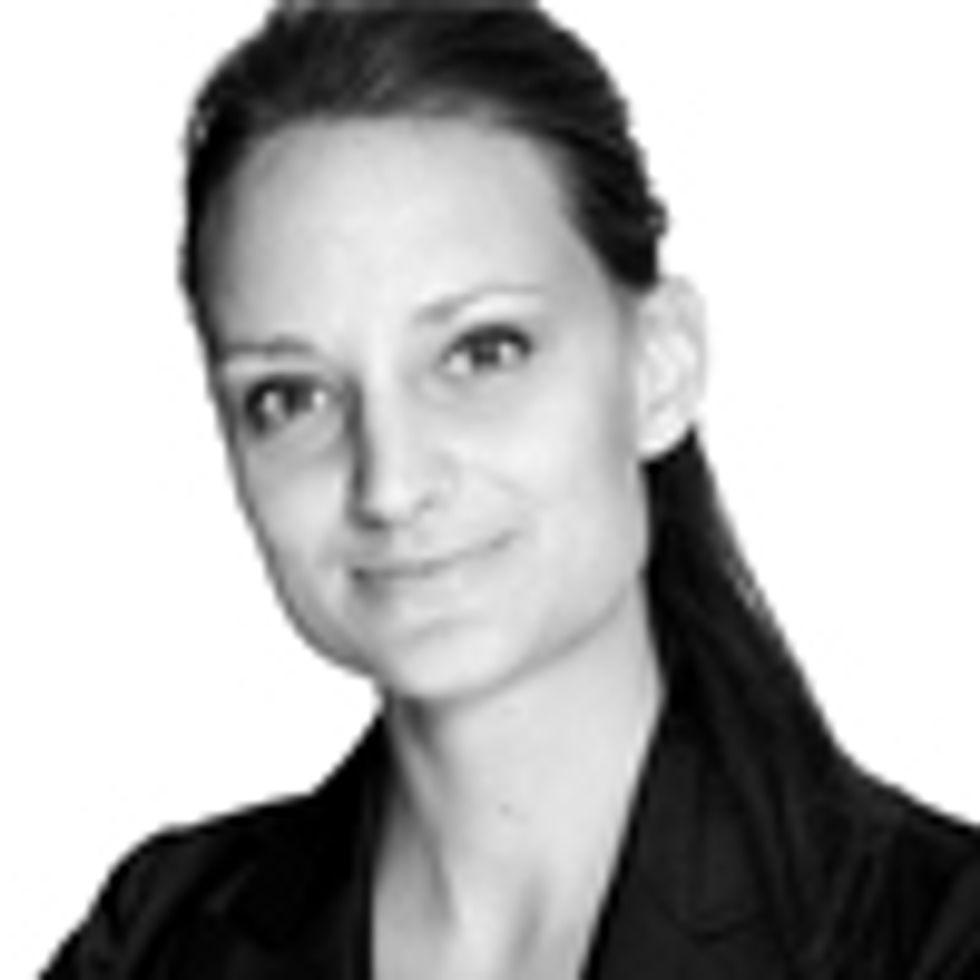 Sustainable fishing farms in Ghana, air-cleaning carpets and software that operate trains to save on energy. These are just some of the surprising headlines from our case study Sustainia100 that EcoWatch was among the first to report on last week.
Over the last six months, we have researched more than 900 innovations, technologies and projects from more than 70 countries on nearly all continents. Why? To pinpoint where and how innovations are being developed, deployed and put to scale. This will enable companies and consumers to get in on the abundant opportunities sustainability has in store for us.
[blackoutgallery id="338538"]
The released study covers new efforts to turn the fashion and food industries, buildings and transportation systems more efficient and sustainable. And the result is clear: The global markets are currently witnessing a growing diversity in sustainability innovations, which is providing businesses with new market opportunities. From intelligent window glass to big data services monitoring water leaks, sustainable innovation is impacting markets and industries at an incredible pace these years.
When you research your way through this many innovations—developments and popular measures become apparent. Right now, one thing is dominating the green innovation in the market: the notion of a circular economy.
Ashes to ashes—dust to dust
These years, more and more companies are going in circles. And I mean that in a good way. The Sustainia100 study documents how corporations across industries are joining the circular economy by deploying measures to close production loops. A high amount of new products are designed for reuse, recycling, upcycling or even complete biodegradation in order to minimize waste. The end goal is to close the life-cycle of a product by using waste or end-of-use material as resource for new production.
[blackoutgallery id="339031"]
One example is Italian company Bio-on that is replacing petroleum-based plastics with 100 percent biodegradable plastic made from agricultural waste. Made from the byproducts of sugar beet and cane production, this new material is a groundbreaking way to fight the plastic pollution of our oceans and landfills. Another example is Atlantic Leather that is using leftovers from fish-production. Yes, the skin from salmons and cods, which are normally thought of as not valuable, is used for beautiful bags, shoes and jackets. Prada, Nike and Dior are among the loyal customer base.
Return systems: A new business model in itself
A cornerstone in the circular economy is effective return systems that secure used materials and components for recycling. These systems appear in many different shapes in the Sustainia100, but have a common goal of minimizing waste and turning it into a valuable resource to a company. Across the U.S., a novel recycling system is being spread: An eco-ATM. Just like normal ATMs, you go there to get money. But unlike normal ATMs, this machine does not take credit cards. It takes your old tech devices instead. The ecoATMs are put in place across the states, taking old device and compensating the donors in cash. Another example of a very successful return system is I:CO that has created an innovative take-back system for your used jeans, sweaters and footwear. They are deployed in 54 countries and receive 700 tons of used clothing—daily! This material is sorted into 350 different categories that are re-used in the production of new materials, or re-designed as new clothing item. Again, the customer are rewarded with cash for their returned clothes. And I:CO gets a hold of cheap materials that they can re-use. It's a clear win-win. 
[blackoutgallery id="338776"]
Fashion has an eye out for circles
Trailblazing innovations have been developing the circular economy over the last decades making recycling and waste-reduction easier to deploy and even a profitable part of the business. But not only are the innovations becoming better and smarter, they are also broadening their impact.
Over the last years, we have seen how the circular mindset is being taken up by increasingly more industries. An interesting development here is that solutions for the circular economy are seen outside the expected sectors such as food and waste management. Over the last three years of mapping innovation for the Sustainia100 studies, we have been surprised to see especially one industry showing a new appetite for the circular mindset: The fashion industry.
[blackoutgallery id="339264"]
With a long history of troubling issues from workers' right to polluting productions, this industry has a long way to go. However, the first steps are being taken these years. Abundant innovations are now providing the materials, methods and technologies necessary to set new standards throughout the supply chains. 
In Holland, Dutch company Mud Jeans has made a business out of leasing jeans and other clothing. The service provides customers the option of keeping, swapping or returning them after use for recycling, however, MUD keeps the ownership of the materials. And in the U.S., denim company Levi's has along with its suppliers created a water recycling system saving millions of liters by reducing the amount of fresh water used in the finishing process.
Huge savings, new markets, new jobs
In Europe, projections have been made on the potential of circular economy. And the results are interesting. Not just from a sustainability point of view, but also financially.
[blackoutgallery id="339143"]
An advanced circular economy could generate around $700 billion in materials savings each year in the EU. The savings potential is especially prominent in the fast consumer goods industries, where circularity could yield material a saving of 21.9 percent per year. Building out this industry of circularity has a potential of creating 400,000 jobs in the European Union alone.
Just think how many jobs that would translate to on the U.S. market. This is why we must start thinking in circles across countries and markets.
EcoWatch's editor Brandon Baker wrote a six-part series on Sustainia100. Here are parts one, two, three, four, five and six.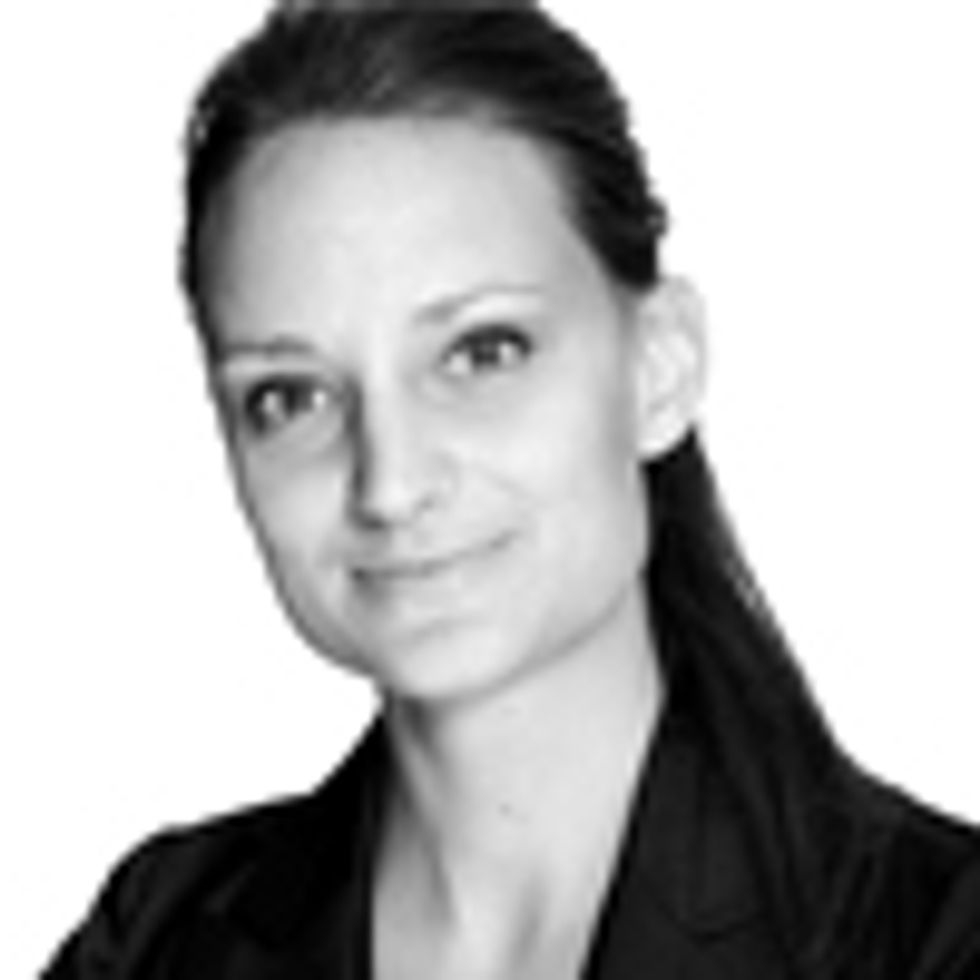 Imagine this.
You are in a not so distant future. From where you are sitting on your couch, your life looks the same. But at a closer look, things have changed a bit. First of all, the couch is not exactly yours. You rent it from a furniture company until you're ready for an update.
Thinking of it, many of my machines and utilities are rented—or borrowed. Owning stuff only drags you down. You would much rather borrow, as you can change your couch or your wardrobe as often as you like without it being shown on your wallet.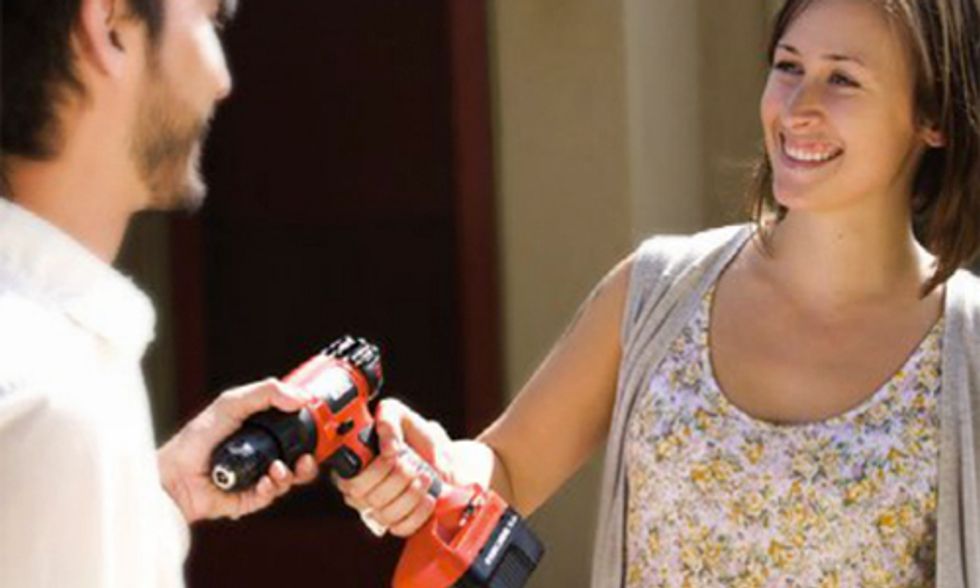 Lately though, you have also started fixing things yourself. As part of a growing online community, you have access to all sorts of repair-manuals that makes it quick and easy to fix the record player or change the smart phone screen. And when you need that power drill you only use once a year you borrow it through another online community service of which you have membership. Here you can borrow stuff from your neighbors—saves on the budget as well as space.  
You don't shop much. As you are part of a local food service, you receive a wooden box of produce from local farms every week. This guarantees you fresh produce with as little transportation as possible. Every Thursday, you eat a festive dinner in your neighborhood, where local members of the service get together and cook meals with leftover food before it goes bad. When you do shop, a sensor-based app on your mobile tells you what is in your fridge. This way you use what you got and buy only what you need. The app also suggests recipes with the supplies in your fridge. A lifesaver in that inspiration-dry shopping hour after a long workday.  
Speaking of work, when you rush out the door in the morning, a driver-less car pulls up at your front door at a scheduled hour and drops you off near the office. It continues straight to the next pick-up saving you the hassle of parking. The best thing about this service though is the priority lanes that guarantee you to glide through traffic at any given hour.
And this is where you can open your eyes and stop imagining. None of these descriptions are science fiction or make believe. Every single part of this resource-friendly scenario is readily available and already happening around us.
Three trends not to miss
The extraordinary solutions that have been shooting up over the last decade are not just minimizing our waste, but also viewing it as a resource with several lives. We are seeing innovation rapidly creating opportunities that we thought impossible years ago. Just think of the possibilities the 3D printer is presenting. Print the things you need instead of buying 30 plugs, when you only need one. Collectively, these solutions have inspired governments and cities to start dreaming of a low waste society. Some even dream of a zero waste society. And since we have the tools, why not?
In order for any city or nation to achieve this vision, three mega-trends in the waste and resource area have to not only scale, but also merge. First, is the way we design our products. We have to become better at creating products for recycling. This means designing devices so parts can easily be taken out and replaced. Often only one or two components are broken, but we throw out the entire device. Everyone who cracked a smart phone screen and ended up with a new model knows what I'm talking about.
We must get in the mindset of not throwing out entire devices, when only a few percent are damaged. We are seeing this trend gain grounds as companies successfully reshape a business model, where returned devices are used fully as production resources, thereby saving on budgets.  
This makes way for the next trend: Supporting, designing and enhancing return systems. They do exist today, but moving forward it should be easier for citizens and corporations to return used devices or the parts of a broken device that are still in good shape. We need to see user-friendly recycling initiatives on more and more services and products. Not just to minimize trash, but also to prolong the life of valuable materials that in time will be exhausted. Imagine if we didn't throw away our IKEA furniture every time we moved or they broke but could return it to the nearest store that then recycled and reused the materials.
The final trend is the sharing economy. The concept of renting and sharing is spreading from the private sphere into the corporate, where it saves on budgets and limits full-scale investments. This sharing economy is creating new and stronger relations between citizens, communities, corporations and public services where everyone benefits from an optimal utilization of resources.
Imagine, for example, that you could buy annual memberships at your favorite clothing store, which allowed you to borrow x number of items a year instead of buying-to-own and over the years stocking up on items you never wear. More people could enjoy each garment, you saved money and the company was guaranteed a fixed revenue stream.
Who is first to go zero waste?
These trends are all in their early stage. It takes a targeted effort to not only grow them, but also start to merge the ideas of design for reuse, gearing systems to value waste as a resource and, on top of this, developing a mentality that is open to sharing the resources, devices, machines, etc. Nevertheless, there lies a new reality in the intersection of the three, where waste will become resources and a means to sustain our daily living.  
There are plenty of benefits in pursuing the implementation and growth of the three trends. As a result, more and more cities and nations are accompanying their low-carbon policies with waste-free initiatives. One of them is my native country of Denmark that has released a roadmap for how to become waste-free. There is hesitation in putting a final year on the achievement, but the milestones are articulated. By 2022, 50 percent of the trash produced in private Danish homes must be recycled. In addition, Scotland, Holland and parts of the U.S. are putting impressive waste management plans in place.
These are necessary, but also realistic, plans. However, they will only succeed if we manage to inspire communities to act and not force new initiatives down their throats. The key to success no doubt lies in creating an inspiring vision we all want to follow. In other words, the first nation to go zero waste will be the one that excites its citizens and corporations, and makes them confident that a zero waste future will be convenient, inspiring and fun.
Be inspired by concrete solutions that will take us to a sharing economy in the Sustainia100, such as Neighborgoods and Real-Time ridesharing app, and by solutions that empower communities to repair broken items, such as iFixit and Clothes Swapping Parties.
——–
YOU ALSO MIGHT LIKE
Beyond 'Reduce, Reuse, Recycle' to a World Without Waste
'Just Eat It': Documentary Explores Food Waste From Farm to Fridge
——–