When a research team set sail on a nine-month, worldwide expedition in 2010 to study the impact of global warming on Earth's oceans, one of their projects was to locate the accumulations of plastic.
They found plenty. They explored the five huge gyres, which collectively contain tens of thousands of tons of plastic. The result was the creation of a compelling, first-of-its-kind map of this debris.

But in the process, they realized that the plastic in the gyres didn't begin to account for the enormous amount of plastic that's been manufactured since the mass production of plastic began in the mid 1940s.
In a National Geographic report, marine biologist Andres Cozar Cabañas, who was part of the Malaspina expedition led by the Spanish National Research Council, said:
"Our observations show that large loads of plastic fragments, with sizes from microns to some millimeters, are unaccounted for in the surface loads. But we don't know what this plastic is doing. The plastic is somewhere—in the ocean life, in the depths or broken down into fine particles undetectable by nets."
While there's been considerable alarm raised about these gyres of floating plastic, the missing plastic could be having negative impacts we don't yet know about. As National Geographic reports, the study of marine plastic debris is new, dating back only to 2004, when British marine biologist Richard Thompson concluded that most ocean debris is, in fact, plastic.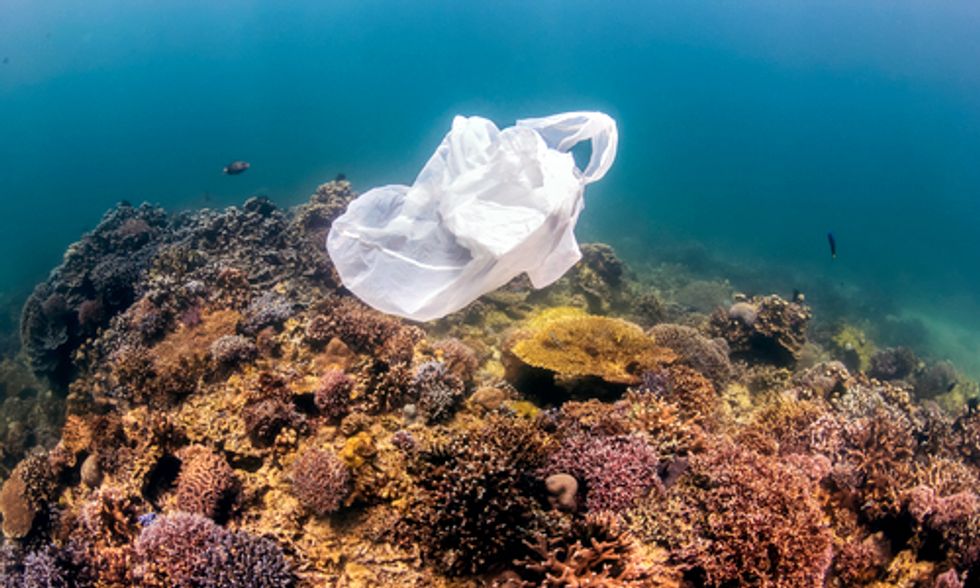 Photo credit: Shutterstock
The discovery of the missing plastic raises a host of questions. Oceanographer Kara Lavender Law of the Cape Cod-based Sea Education Association, part of a team currently researching issues surrounding marine debris, told National Geographic:
"We are at the very early stages of understanding the accounting. If we think ten or a hundred times more plastic is entering the ocean than we can account for, then where is it? We still haven't answered that question. And if we don't know where it is or how it is impacting organisms, we can't tell the person on the street how big the problem is."
Among the possibilities: it's being consumed by small fish that are eaten by larger fish caught for human consumption, such as tuna and swordfish, and ending up in the human food system. Or it could be finding its way into the ecosystem of the world's least explored region, the deep ocean.
"Sadly, the accumulation of plastic in the deep ocean would be modifying this enigmatic ecosystem before we can really know it," said Cozar.
EcoWatch Daily Newsletter
In addition to previous research on the direct impacts of pesticides on pollinators and other beneficials, a recent study published by Dutch scientists establishes an additional indirect link between neonicotinoid use and insect-eating birds. The report, which came out on Wednesday, provides evidence that neonicotinoids, a class of systemic pesticides, are indirectly hurting larger creatures by reducing insect prey populations such as mosquitoes and beetles.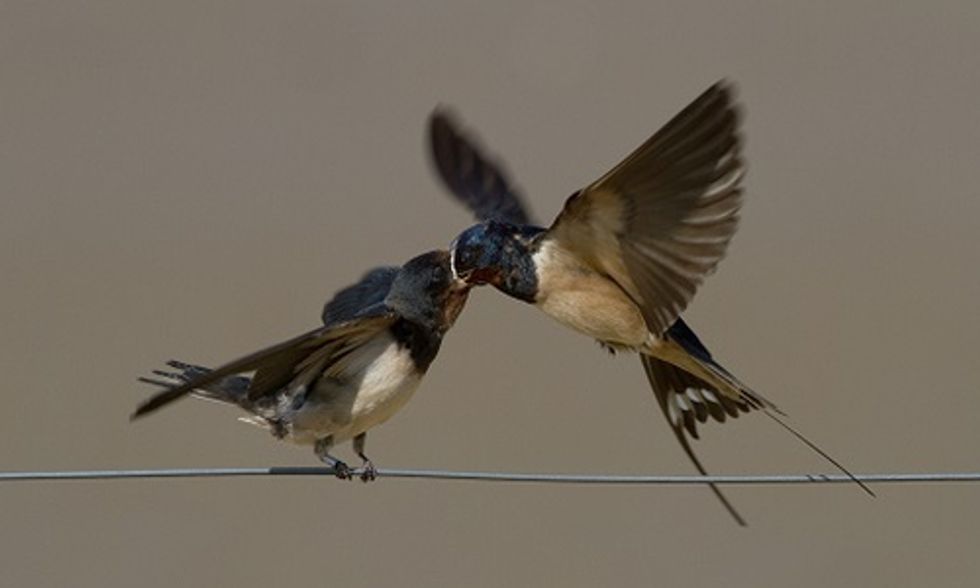 Researchers found that in certain areas of the Netherlands where water is contaminated with high concentrations of imidacloprid, a commonly used neonicotinoid, bird populations tend to decline by an average of 3.5 percent every year. Further analysis found that this spatial pattern of decline appeared only after the introduction of imidacloprid to the Netherlands in the mid-1990s, even after correcting for land-use changes that have been known to affect bird populations in farmland.
"To our surprise we did find a very strong effect on birds", said lead author of the study, Caspar Hallmann, a Ph.D. student from Radboud University in the Netherlands, to Reuters. In fact, according to the study, which was published in the journal Nature, nine of 15 bird species studied only eat insects and all feed insects to their young. Hallmann added, "We cannot say this is proof (that the pesticide causes the decline in bird numbers) but we cannot explain the… decline of birds by any other factors." The study also looked into other possible causes like pollution. 
Bayer CropScience issued a speedy response expressing disagreement with the study findings. The company writes that the study did not "demonstrate that there is a causal link between the use of neonicotinoids and the development of bird populations in Europe." The company went on to say that neonicotinoids "have gone through an extensive risk assessment which has shown that they are safe to the environment when used responsibly according to the label instructions." The company, along with Syngenta, has been accused of forestalling attempts to ban neonicotinoids via the proposal of bee health plans that call for more research, implementing agricultural best management practices and planting new habitat. These solutions fail to address the real problem that their products are highly toxic to bees.
The recent report titled, Worldwide Integrated Assessment (WIA), undertaken by the Task Force on Systemic Pesticides, indicates otherwise. Twenty-nine scientists representing multiple disciplines analyzed more than 800 peer-reviewed publications on the impacts of systemic pesticides. The report emphasizes that neonicotinoids and their metabolites are persistent and harmful, even at very low levels, and that the chemicals have far-reaching impacts on entire ecosystems, from direct exposure to persistence in soil and water. Bees, butterflies, worms and other pollinators and non-target organisms are also put at risk. Scientists concluded that even when neonicotinoids were used according to guidelines on their labels, the chemicals' levels in the environment still frequently exceeded the lowest levels known to be harmful to a wide range of species.
The European Union (EU) began implementation of a two-year moratorium in April on neonicotinoids used on flowering crops stemming from scientific evidence that the chemicals are harmful to bees. The pesticides can still be used legally in the E.U. on non-flowering crops, such as barley and wheat, the scientists said. Germany's Bayer and Switzerland's Syngenta, the two main producers of the pesticides, have contested the moratorium. They suspect that "colony collapse disorder," which has resulted in the large drop in bee populations in Europe, Asia, the Americas and the Middle East, are due to a virus spread by a parasitic mite. Opposition to neonicotinoid use remains strong, however. Syngenta recently withdrew its emergency application to allow the use of neonicotinoids on UK oilseed rape crops (known as canola in the U.S.) in face of public outcry. According to Reuters, more than 200,000 people protested against the request, with around 35,000 more writing to environment secretary Owen Paterson.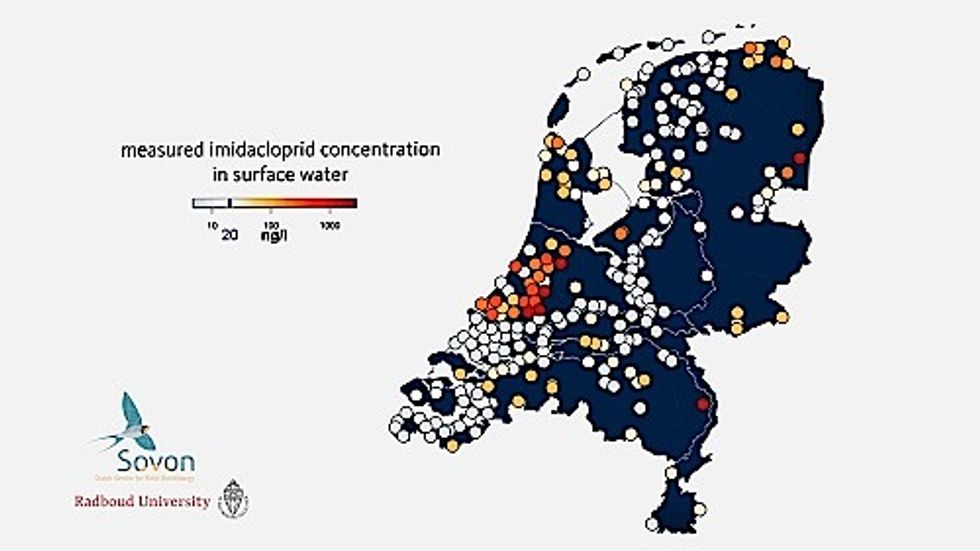 The Dutch study recommends that future legislation consider and take into account the wider impact of pesticides on wildlife. Dave Goulson, Ph.D., of Sussex University, writes in a commentary in Nature that the study was "the first to provide direct evidence that the widespread depletion of insect populations by neonicotinoids has knock-on effects" on larger animals. Goulson has done work on the far-reaching effects neonicotinoids have on biodiversity and ecosystem health; a review of his from last year found that not only are neonicotinoids the most widely used insecticides in the world, but they persist and accumulate in soil, are prone to leaching into waterways, commonly exceed the LC 50 (the concentration which kills 50 percent of individuals) for beneficial organisms, and the consumption of small numbers of treated seeds presents a direct risk of mortality in birds and mammals.
Sound familiar? The link between pesticide use and birds is not a new one. Rachel Carson's book, Silent Spring, chronicled the profligate use of pesticides and their effects on the environment and on birds in particular. While Carson wrote specifically about DDT, an organochlorine pesticide, the message is similar—neonicotinoid pesticides effects have been shown to have widespread consequences on beneficial insects, the environment and birds.
Read more about how neonicotinoids affect non-target organisms, or Pierre Mineau's, Ph.D., in-depth presentation with the American Bird Conservancy on the impact of insecticides on birds. You can also visit our BEE Protective page to learn more about how honey bees and other pollinators are going through rapid population declines, and what you can do to help. 
RoschetzkyIstockPhoto / iStock / Getty Images
By installing solar panels, homeowners can curb their dependence on traditional utilities, reducing their monthly electric bills while also minimizing their environmental impact. Of course, solar energy is more viable in some places than in others; it's best suited for homeowners who live in areas that get ample sun exposure. And the Lone Star State is certainly on that list.
In fact, a report from the Solar Energy Industries Association, or SEIA, shows that Texas installed the second-most solar in 2020 and the most in the first quarter of 2021. And some municipalities have gone especially heavy on solar power. So, what are the top cities for solar in Texas? Let's find out if your city made our top 10 list.
Top 10 Cities for Solar in Texas
To rank the top cities for solar in Texas, the EcoWatch team took into account reports furnished by the SEIA, the National Renewable Energy Laboratory's solar irradiance maps, and Environment America's most recent Shining Cities report among other data points.
Based on our findings, these we've determined the following cities to be Texas' top 10 solar energy hubs:
San Antonio
Austin
El Paso
Houston
Fort Worth
Dallas
Plano
Round Rock
Bruceville-Eddy
Tyler
San Antonio

San Antonio is a sun-soaked city, so it makes sense that local home and business owners have invested heavily in harnessing the sun's power. We rate San Antonio as No. 1 among the top cities for solar in Texas, and there's plenty of evidence to back that up. In terms of total installed solar capacity, San Antonio ranks first in the state and fifth in the nation, according to Environment America. (First in the nation? Los Angeles.) It also boasts more than 50 watts of solar energy per person, one of just 38 cities in the nation to earn this distinction.
Austin
The Austin community is well-known for environmental activism and advocacy, and with residents' investments in solar energy, they're really putting their money where their mouth is. Like San Antonio, Austin boasts more than 50 watts of solar energy per person.
El Paso
Thanks to its average of 302 days of sunshine annually, El Paso is nicknamed the "Sun City" — and it's taking advantage of its weather with over 54 MW of solar capacity installed. A lot of this comes down to significant solar installations built into the city's municipal infrastructure, including solar arrays on the main library and other government buildings.
Houston
A sprawling metropolitan area with ample exposure to sunlight, Houston has an impressive commitment to solar power. In terms of total installed solar energy capacity, the city is in the top 20 for the entire nation, falling just behind New Orleans and just in front of Boston in Environment America's latest Shining Cities report.
Fort Worth
Fort Worth is home to some of the state's top solar companies, making it easy and relatively affordable for local homeowners to make the jump to solar power. The general Dallas-Fort Worth area tends to be a standout solar power hub, both at state and national levels.
Dallas
Likewise, Dallas boasts an impressive level of solar investment. In the Shining Cities report of the nation's most prolific solar builders, Dallas ranks at No. 43 in the nation, just behind Cincinnati.
Plano
Located north of Dallas, Plano is in prime "Sun Belt" position. The city boasts a solid (and growing) solar infrastructure, earning it a place on our list. According to NREL's solar irradiance maps, Plano has some of the highest potential for residential roof-mounted solar power generation in the state.
Round Rock
This central Texas town just north of Austin is one of the fastest-growing cities in the nation. As the population expands, so does its commitment to clean, renewable energy. NREL maps show Round Rock is located in a part of the state with above-average annual solar power generation potential and a high number of buildings suitable for solar installation.
Bruceville-Eddy
Though it's not as sizable as some of the other municipalities on our list, Bruceville-Eddy has a surprisingly robust solar infrastructure, allowing homeowners to harness the renewable energy of the sun. In fact, in the latest Shining Cities report, Bruceville-Eddy was reported as No. 1 in the state for per capita photovoltaic solar installation.
Tyler
Rounding out our list is Tyler, located east of Dallas near the Texas-Louisiana border. Homes in Tyler represent a not-insignificant portion of the state's solar energy potential, according to NREL. The area has a high number of solar-suitable buildings and high roof-mounted solar potential in terms of both capacity and generation.
Where Solar Panels Work Best
There are a few different factors that can make a city particularly well-suited for solar energy. One is exposure to sunlight; consistent, year-round solar exposure is common throughout Texas, which explains why the Lone Star State has so many major solar-producing and solar-ready hubs.
Average Texas Electricity Costs
Another factor to consider? High energy costs. As a general rule, when local electrical costs are higher, the value of solar power increases. By contrast, if electrical costs are already low, the benefits of going solar tend to be more modest.
In 2019, the average monthly electric bill in Texas was just over $134, according to the EIA. This is considerably higher than surrounding states, including Louisiana, Arkansas, and Oklahoma. The relatively high cost of electrical power makes Texas well-positioned for maximum solar benefits. Also note that the average monthly electric consumption was 1,140 kWh; again, this is higher than in neighboring states.
Texas Solar Tax Incentives
One reason some cities stand out over others for solar installations is that local utility companies offer rebates to help with the cost of solar panels. In addition to the federal tax rebate, which we'll explain in a moment, Texas homeowners should to aware of the following incentives:
| Solar Energy Incentive | Details |
| --- | --- |
| Statewide Property Tax Incentive | State law includes a property tax exemption for solar installations. Basically, this means installing solar panels increases the value of a home without increasing property taxes. |
| City-Specific Utility Incentives | Local utilities offer additional savings opportunities to residents of many cities across the state. |
Net Metering in Texas
Net metering programs allow solar users to take any excess energy their panels produce and sell it back to a local utility company. Currently, there is no statewide net-metering program in Texas, though some municipalities offer it to local utility users.
Homeowners are encouraged to check with their utility companies to see if they can get energy credits for any surplus solar energy they feed back into the electrical grid. Most of the best solar companies in Texas will also help you identify and apply for any tax breaks and rebates you're eligible for.
Federal Solar Tax Credits
As for federal programs, there is currently a 26% tax credit available for homeowners who install solar panels before 2023. In 2023, that incentive is set to lower to 22%, and it is scheduled to drop off completely in 2024.
Texas Solar Regulations
Statewide regulations also play a part in how and where Texans can install residential solar panel systems.
One regulation relevant to solar installation is Texas HB-362, which states that homeowners associations cannot ban solar panels within their community outright. However, homeowners must still go through their HOA's normal architecture review approvals process.
The Texas Property Code gives HOAs some specific grounds on which they can prohibit homeowners from installing solar panels, including:
Instances where the solar installation is a threat to health or safety
Installations that impede on public property or common areas
Installations that extend higher than the roofline
Installations that are ground-mounted but extend above the fence line
Final Thoughts: Top Cities for Solar in Texas
Did your city make our list of the 10 top cities for solar energy in Texas? If you want to raise your area's solar profile, one of the best ways is to install a solar panel system on your roof. You can also contact your local and state legislators to urge for ambitious city- and statewide renewable energy goals that will drive Texas toward more solar power in the future.
Here we are, right in the thick of summer—it's hot, it's humid and you break into a sweat the moment you step out of the air-conditioning. I feel for you, friend. But just imagine what it's going to be like as climate change continues to heat things up over the coming decades. Well, now you don't have to! This infograph from Climate Central shows us how much hotter 1,001 U.S. cities are going to be in the summer of 2100.
Ever crave the sweltering summer days of Kuwait? Let's hope so if you live in Phoenix, because 114 degrees Fahrenheit is going to be your new normal. Hey, at least it's that dry, desert heat?
On average, American cities will see temperature increases between seven and 10 degrees. Seattle will be the new SoCal and Harrisburg will feel the southwestern sizzle of San Antonio. Attention, Bostonians: you may want to update your swimwear, because in less than a century, Cape Cod could feel like Miami Beach.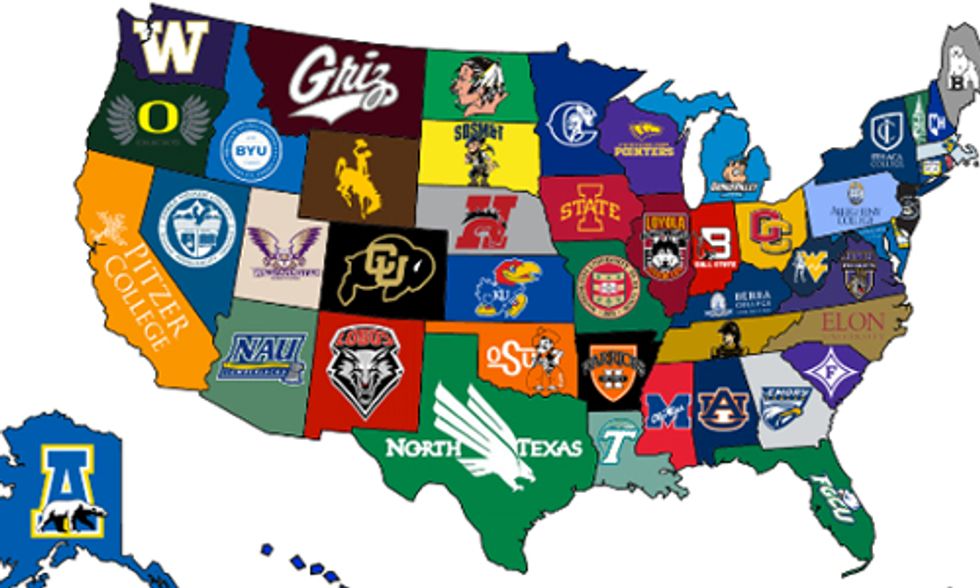 interactive map from Climate Central
So with all this extra heat (and don't forget the sea-level rise that'll come with it), you should start booking your summer timeshares in Saskatchewan now
Because the strong currents in the Straits of Mackinac reverse direction every few days, a rupture of the oil pipeline beneath the channel would quickly contaminate shorelines miles away in both lakes Michigan and Huron, according to a new University of Michigan (U-M) study commissioned by the National Wildlife Federation.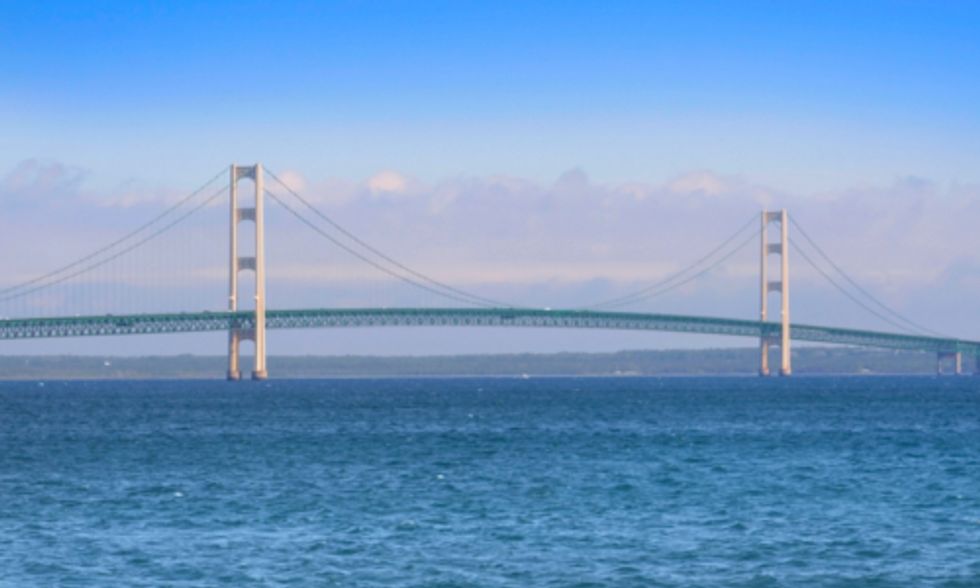 In one scenario examined in the study and accompanying animations, oil from a hypothetical pipeline break reached Mackinac Island and Round Island after 12 hours and Bois Blanc Island after two days. All three islands are in westernmost Lake Huron, just east of the straits.
Within 20 days of a spill in the Straits of Mackinac—which separates Michigan's upper and lower peninsulas and connects lakes Michigan and Huron—oil would spread as far west as Beaver Island in Lake Michigan, a distance of roughly 35 miles, and as far southeast as Rogers City in Lake Huron, a distance of about 50 miles, according to the computer-simulation study released today and conducted by hydrodynamics expert David Schwab of the U-M Water Center.
The area around the five-mile-wide straits is considered ecologically sensitive and is a major tourist draw.
"If you were to pick the worst possible place for an oil spill in the Great Lakes, this would be it," Schwab said. "The currents are powerful and change direction frequently. In the event of an oil spill, these factors would lead to a big mess that would be very difficult to contain."
Just west of the Mackinac Bridge, two 20-inch underwater pipes carry 23 million gallons of crude oil daily through the straits. The 61-year-old pipeline is operated by Enbridge Inc.
Current speeds in the straits can reach one meter per second, transporting volumes of up to 80,000 cubic meters of water per second—more than 10 times greater than the flow over Niagara Falls.
Great Lakes researchers have known since the 1990s that currents in the straits tend to reverse direction every few days. In a 2013 paper in the Journal of Great Lakes Research, Schwab and colleague Eric Anderson of the federal Great Lakes Environmental Research Laboratory in Ann Arbor presented the first three-dimensional, high-resolution hydrodynamic model able to accurately predict those oscillating currents and their effect on lakes Michigan and Huron. They showed that currents in the straits affect flows more than 40 miles away in both lakes.
In his study for the National Wildlife Federation, Schwab used the combined-lake model to simulate the release of contaminants at various locations and depths within the straits. The simulations track the oil for 20 days following a 12-hour release. 
The simulated releases occurred in August and September, months when temperature differences between upper and lower water layers would help disperse the oil. In the August release scenario, the average currents in the straits were initially eastward but changed direction every day or two.
In the September release scenario, average currents were initially westward but changed direction periodically throughout the tracking period. The westward flow carried oil into Lake Michigan during the first 24 hours. After 48 hours, oil released near the southern end of the straits was in Lake Huron and was impinging on the Michigan shoreline from Mackinac City halfway to Cheboygan.
"Any material released into the straits will go into both Lake Michigan and Lake Huron, which would complicate containment efforts," Schwab said. "Hopefully, these simulations and animations will be useful in understanding and preparing for potential impacts."
The National Wildlife Federation said an oil spill in the Straits of Mackinac would devastate the local tourism industry as well as the area's fish and wildlife. The best way to remedy the threat, according to the organization, is to replace the pipeline under the straits.
"An oil spill in the Straits of Mackinac would have devastating consequences for people, fish and wildlife, and the economy. It would be an unparalleled disaster for the Great Lakes," said Andy Buchsbaum, regional executive director of the National Wildlife Federation's Great Lakes Regional Center. "This old pipeline needs to be replaced so that we can protect the Great Lakes from future spills."
The U-M Water Center is a center of the Graham Sustainability Institute, which fosters sustainability through translational knowledge, transformative learning and institutional leadership.
Established in October 2012 with funds from the Fred A. and Barbara M. Erb Family Foundation, the Water Center engages researchers, practitioners, policymakers and nonprofit groups to support, integrate and improve current and future freshwater restoration and protection efforts.
Strewn along beaches in tangled clumps, seaweed tells the fractal tales of tides. Anchored in the water, they are an underwater melody. These algae are not just beautiful but also vital to the ocean's well being; they are the base of the ocean's food web and sea creatures need them for sustenance and protection. It's also the ultimate super food for us.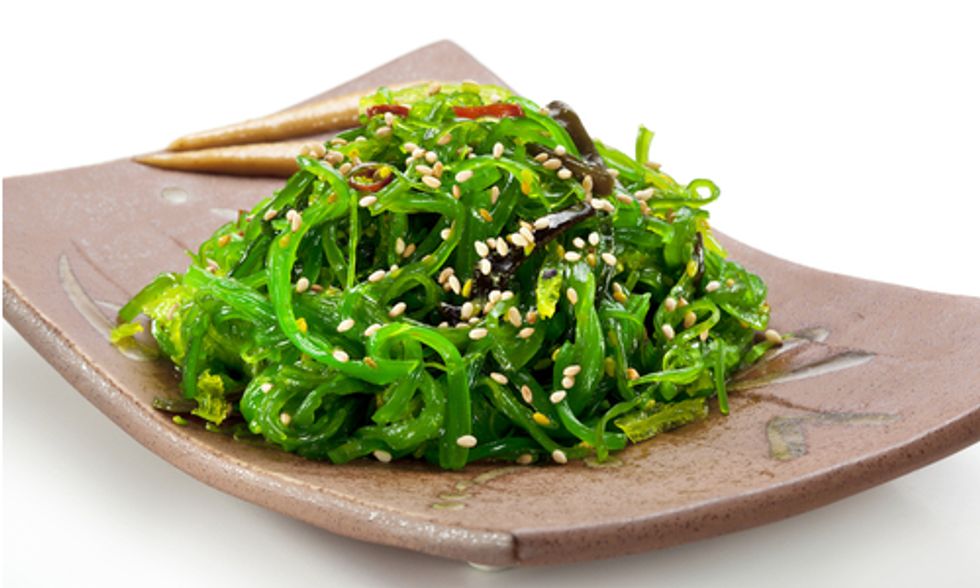 Photo courtesy of Shutterstock
Seaweed is naturally high in many vitamins and anti-oxidants and rich in magnesium, calcium and iron. It has iodine and omega 3's in spades. In fact, it's one of the most nutritious things you can eat. Recent studies show that it even helps with weight loss. Scientists found a compound in common seaweed could stop the body absorbing fat. Another recent study found women who eat seaweed while pregnant, give birth to better future readers.
These saline vegetables have fertilized crops, been used as a growing medium and saved populations from disease and hunger. Yet have been very under-utilized. But now they are coming into their own. Some of the most interesting chefs around are highlighting them on their menus, and using them for everything from cocktails to appetizers, salads, breads and main courses. Seaweed is being touted as the "new kale." People are finding it a delicious way to make creative dishes with an added "umami" or depth.
Some easy ways to use it are creating a stir-fry with sliced seaweed, fresh ginger and sesame oil. For a delicious dashi broth make a simple combination of kombu, bonita flakes and shiitake mushrooms. Use this broth as a base for soups, and braise vegetables or seafood with it. If you ferment, add seaweed to your kimchi or sauerkraut. Mix it with lentils for a veggie burger and put it on a grill. You can make a pesto from seaweed to toss with soba noodles or use as a sauce for squash. On the British Isles, it's used in breads, like lavar and some seaweeds creates the binding agent for puddings. Also, it's pretty amazing mixed with butter. Let them sit together in the refrigerator, and a savory umami flavor infuses through it. Use it to top roasted vegetables or smear it on bread.
So eat your way all the way down the food web, and harvest or buy the sea vegetables swaying in the current. All you need is a low tide and sense of adventure.
New Jersey Governor Chris Christie is doing whatever he can to prevent his state from supporting clean energy jobs and climate action. On Monday, Gov. Christie again took the path of big polluters by pulling New Jersey out of the Regional Greenhouse Gas Initiative (RGGI)—an innovative and proven program in which northeastern states are working together to reduce carbon pollution while boosting the clean energy economy. And it's not the first time Gov. Christie's tried to turn back the clock. In March, an earlier RGGI rollback was slapped down when a court found Gov. Christie's Administration violated the law in attempting to pull the state out of the regional agreement.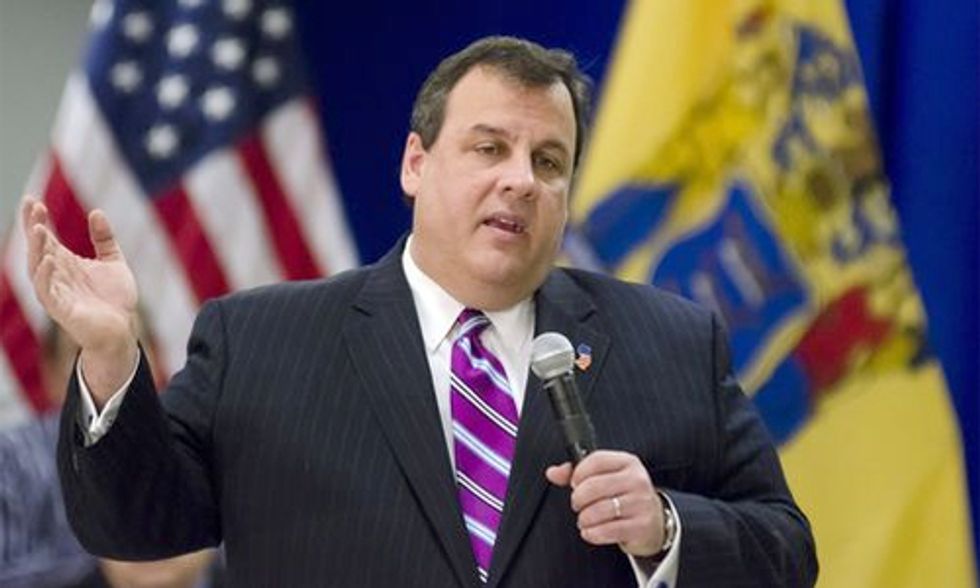 RGGI has already helped create thousands of jobs in New Jersey while curbing carbon pollution from power plants—and it'd be a key way in which the state could meet the new carbon standards established by President Obama's Clean Power Plan.
"People of New Jersey demand action on climate change and want our state to reduce air pollution, for our state to be more resilient, and to support growing our economy through new technology and clean energy jobs," New Jersey Sierra Club Director Jeff Tittel said. "Especially after Hurricane Sandy, the public supports action on climate change. New Jersey needs to reduce greenhouse gases—and RGGI is one of the ways to do it."
During New Jersey's participation in the initiative, the state achieved its greenhouse gas reduction goal of 10 percent within the first three years, boosted the economy by $151 million, and created 1,772 jobs throughout the state. So that begs the question—why would the state pull out in light of its substantial success?
"We believe that the Governor pulled out of RGGI because he cares more about his national political ambition than the environment and people of New Jersey," Tittel said.
As Gov. Christie keeps his eyes on a potential Presidential run in 2016, the big polluters and special interests that back Republican candidates are attacking any and all efforts to create clean energy jobs and act on the climate crisis. Front organizations backed by the oil-rich Koch Brothers have pushed legislators to sign a pledge to refuse climate action while polluter front groups are dumping millions into efforts to smear the Clean Power Plan and its supporters. So, Republicans with national ambitions like Christie are positioning themselves now to be on the side of polluters.
This isn't the first time Gov. Christie has put New Jersey's communities and economy in jeopardy for the sake of his political standing. Since taking office, the Christie Administration has gutted about $1 billion from clean energy funding initiatives. With Christie's support, a New Jersey Clean Energy Fund could have created 5,000 local jobs, billions of dollars in economic activity and cut air pollution by 100 million tons.
"With RGGI we can protect our environment, reduce carbon pollution and move our state forward economically. RGGI is a win-win for New Jersey, and Gov. Christie is a lose-lose when it comes to protecting our environment and reducing the impacts of climate change," said Tittel. "The Governor would rather side with the fossil fuel lobby in Washington than clean energy jobs in New Jersey."
Ohioans are shocked to stumble on a new proposal by GreenHunter, a Texas-based fracking wastewater company, to build a barge off-loading facility on the Ohio River in Meigs County. Barging of liquid frack waste has not been approved by the U.S. Coast Guard, which received 60,000 public comments last December opposing the proposal.
The dock proposal to U.S. Army Corps of Engineers was found by an individual scanning the Federal Register. No notice has been issued in state or local media. The online notice posted by the Corps on June 27, specifies that public comments must be hard copies and received at the Corps' Huntington office by July 28.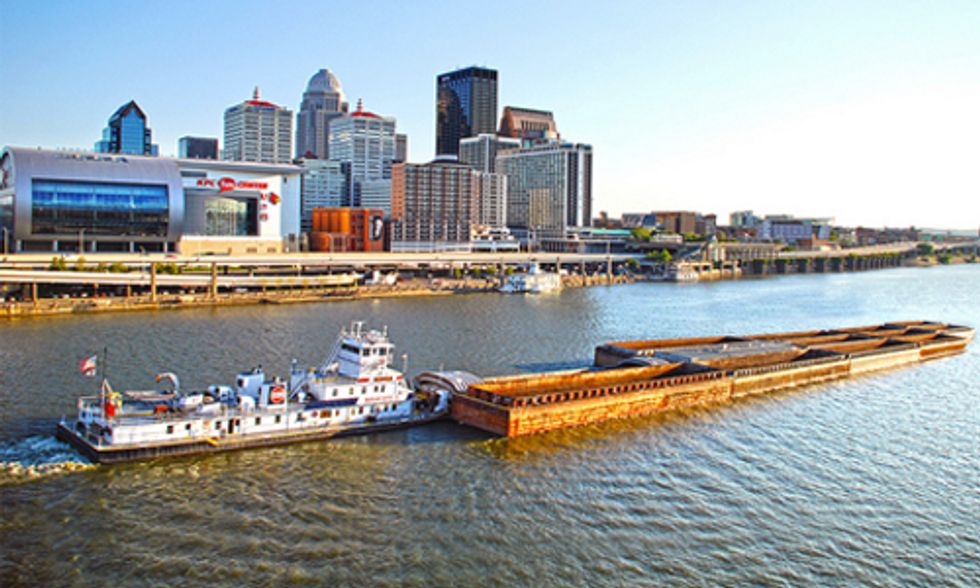 Roxanne Groff, Bern Township (Athens County) Trustee and former Athens County Commissioner, stated:
It is imperative that the Corps allow more time for citizens to become informed and comment knowledgeably on this disastrous project. Most rural elected officials are not yet even aware of the project and only meet once a month. There is no time for discussion by citizens or time to even understand the potential impacts of toxic radioactive waste being offloaded to a facility that does not even have regulations for storage or transport from the river site.
Groff alluded to two June 2014 Ohio fracking explosions and fires, one in Monroe County in which 20 fracking trucks burned for two days and led to a "significant fishkill," according to Ohio Department of Natural Resources, and another in which a frackwaste truck at Envirotank's Belpre facility exploded and burned three men. One of the men, Kevin McClain, 32, remained in critical condition as of July 3. Both explosions involved transfers of hydrocarbon-laden frack liquids. 
"Imagine an explosion from a barge carrying a half-million gallons of frackwaste at a site that is storing hundreds of thousands of gallons of this toxic radioactive waste. Can you imagine, if a spark ignited an off-loading bargeful, what a half-million gallons of flammable frackwaste would do to the riverside and downstream communities?" Groff asked.
Groups, including Athens County Fracking Action Network, People's Oil & Gas Collaborative-Ohio, Center for Health, Environment & Justice, Freshwater Accountability Project and Southwest Ohio No Frack Forum are urging Ohioans to promptly email Corps Project Manager Teresa Spagna at [email protected] to request an extension of the comment period to Oct. 31 and ask the Corps to hold a public hearing (include RE: LRH 2013-848-OHR in the e-mail subject line).
"The summer months are a time when many people are on vacation," said Athens County Fracking Action Network member Heather Cantino. "Is GreenHunter purposely trying to sneak this through without any public scrutiny?" 
Athens County Fracking Action Network members Cantino, Groff and former Athens County Children's Services Director Andrea Reik met with Athens County Commissioners on Tuesday. The commissioners passed a unanimous motion to call on the Corps for an extension of the comment period and a federal public hearing. They also agreed to contact and inform their Meigs County peers.
Joanne Gerson, of Cincinnati's Southwest Ohio No Frack Forum, stated:
Each of the 5 million people who get their drinking water from the Ohio River need to know that the Army Corps of Engineers is considering granting permission to a Texas company to build barge docks along the Ohio River to receive millions of gallons of toxic, cancer-causing, radioactive, flammable fluid. Much more difficult to clean up than spills on land, fracking fluid spills and barge accidents will affect our drinking water supply and may permanently damage the ecosystems that keep our water supply healthy.
Cincinnati and other Ohio River city water officials are well aware of the risks after the Elk River chemical spill, which recently sickened West Virginia residents for months and alarmed residents throughout the region.
"Most people aren't aware that no Environmental Impact Assessment or Statement has been conducted by a nonbiased third party group," said Kari Matsko, director of People's Oil & Gas Collaborative-Ohio. "With at least five endangered species known to be in the area, it is reckless to depend only on the results of a study commissioned by the corporation itself, GreenHunter."
The proposal specifies that a dock will be built to accommodate two barges simultaneously and receive approximately 105,000,000 gallons of frackwaste annually. This quantity is not regulated so does not indicate an actual limit. The waste will be stored in aboveground tanks and trucked to any of Ohio's more than 200 injection wells.
More than half of the more than 686 million gallons of frack waste dumped in Ohio injection wells last year came from out-of-state. Unlike its neighbors, Ohio runs its own injection well program, which does not conform to U.S. Environmental Protection Agency (EPA) permitting requirements. Nearby states, which must comply with U.S. EPA stricter and more time-consuming permitting requirements have only a handful of injection wells. Pennsylvania has ten.
Further, Ohio charges fees only on the first 500,000 gallons per year. "Some Ohio wells take in double or triple that amount in a year," commented Teresa Mills of Center for Health, Environment & Justice. "This proposal would give a green light and a 'dump for free here' card to guarantee that Ohio becomes the Waste Capital of the Nation. And this company will be able to just punch holes and dump anywhere it wants in the state, given ODNR's unwillingness to ever say 'no' to an injection well permit application." 
While the majority of frack waste dumped in Ohio currently comes from Pennsylvania and West Virginia, if GreenHunter's requests to the U.S. Coast Guard and Army Corps are approved, the company may ship waste from Texas and Louisiana up the Mississippi and Ohio Rivers as well. The groups that have come together to fight the dock proposal are among hundreds nationwide that earlier opposed the Coast Guard proposal to permit barging liquid frack waste on the nation's waterways.
"The Corps is providing minimal information to the public about this massive plan to make Ohio the dump of it all," said Lea Harper, managing director of Freshwater Accountability Project. "The public must weigh in quickly and demand more time and a public hearing by the Corps so that the public is informed and our concerns can be heard."
Oil giant Shell is back in the firing line this week as it is accused of "Orwellian doublethink" in its attitude to climate change and of failing to adequately addressing the "carbon bubble" and its threat to the company's profits and shareholders.
The carbon bubble concept is based on the idea that more than two-thirds of fossil fuels must be left in the ground to avoid dangerous climate change and how tighter emissions legislation and emerging clean technologies could result in stranded fossil fuels assets.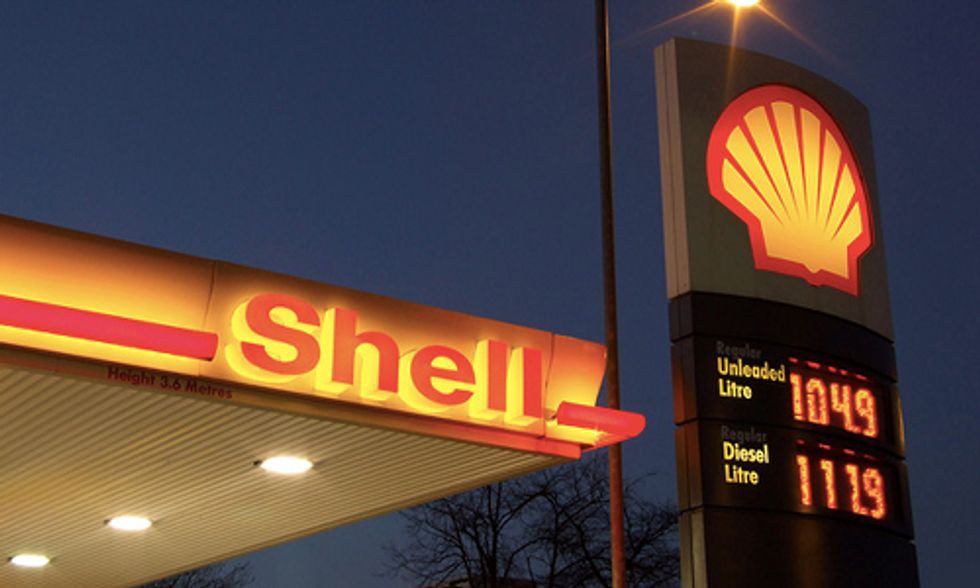 Earlier this year, Shell dismissed a report from the Carbon Tracker Initiative (CTI)—the NGO that pioneered the carbon bubble hypothesis—labeling the concept as "alarmist."
The analysis, released in May, warned oil companies they are poised to water $1.1 trillion of investors' money through to 2025 on expensive and uneconomic projects which will never see a return in the carbon constrained world.
This week, CTI hit back, accusing the company of failing to comprehensively explain the risks involved, and of misquoting parts of the Intergovernmental Panel on Climate Change's latest report.
Anthony Hobley, CEO of CTI said:
With this combative stance, Shell has missed an opportunity to explain to its shareholders how its capital expenditure plans are resilient to the impending energy transition.
Acknowledging the seriousness of the climate challenge whilst at the same time asserting no effective action be taken until the end of the century is as classic a case of Orwellian doublethink as you are likely to find.
The organization points out that while acknowledging the need for urgent climate action, Shell's reassurances to shareholders is based on the assumption that governments will fail to deliver such action.
CTI is accusing Shell of misrepresenting the latest warning from the IPCC, citing the reports claim that "there is a high degree of confidence that global warming will exceed two degrees Celsius by the end of the twenty-first century" but failing to put this into the context of other possible outcomes detailed in the reports series of scenarios.
In a detailed rebuttal of Shell's argument, CTI said the company had selectively focused on its proven reserves, and failed to acknowledge its growing portfolio of unconventional deep-water projects, which involve higher capital costs, longer lead times and longer payback periods.
Over the next 10 year, the CTI says Shell could invest $77 billion in high cost, high-risk projects, which would need a $95 a barrel oil price to pay off. It is these projects, which are most at risk from becoming stranded, argue CTI.
But it appears that Shell is not the only fossil fuel company wilfully ignoring the risk of climate change to their operations.
An analysis from UK based Carbon Brief, identified a trend of companies acknowledging climate risk, while at the same time failing to acknowledge the threat that climate action could place on their business models.
Of 76 oil, gas and coal companies, only seven responding to the survey, of which six came from major oil companies on the Fortune 500 list.
BP, Shell, ExxonMobil, ConocoPhillips, Statoil and MOL all said climate change as real and that climate policy posed a risk to their business—to an extent—as well as agreeing that regulations to curb emissions should be more stringent over time. Yet no company asked saw climate action as a threat to their business in the coming decades.
Mounting Pressure Against Shell and Friends
CTI's analysis is not the only source of pressure being placed on Shell this week. It comes as Greenpeace is mounting a growing campaign for toy manufacturer Lego to break ties with the oil major.
The group argues that Lego is contradicting its own efforts to be environmentally sustainable—investing in wind power and taking steps to reduce the impact of its plastic blocks—but continuing to advertising with Shell and allowing the companies branding on its toys.
A new video highlighting the campaign went viral this week, receiving more than 1 million views in just 24 hours.
It shows an Arctic scene made of Lego being destroyed by an oil spill—highlighting Shell's continued pursuit of oil in the fragile environment. 
A study from researchers at the U.S. Geological Survey (USGS) published this month provides strong new evidence that mountaintop removal coal mining in Appalachia is devastating downstream fish populations.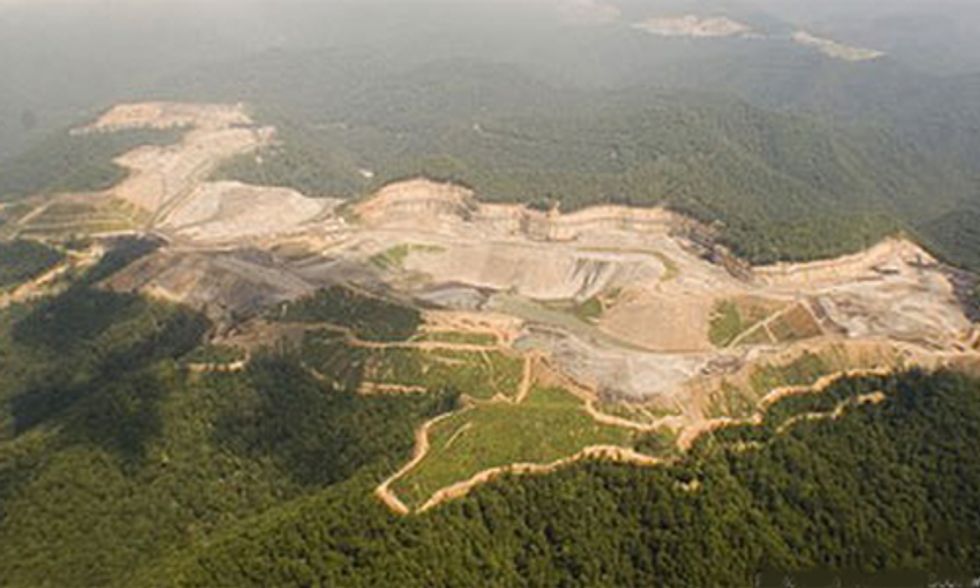 That's hardly news for long-time followers of the controversy surrounding mountaintop removal, a coal mining practice that involves blowing off the tops of mountains to access thin seams of coal and dumping the waste into valleys below. In 2010, a group of 13 prestigious biologists published a paper in Science, the nation's premier scientific journal, that found:
"Our analyses of current peer-reviewed studies and of new water-quality data from WV streams revealed serious environmental impacts that mitigation practices cannot successfully address… Clearly, current attempts to regulate [mountaintop removal mining] practices are inadequate."
The authors of the study published last week found a 50 percent decline in the number of fish species and a two-thirds decline in the total number of fish in streams below mountaintop removal mines in West Virginia's Guyandotte River drainage. They made this important contribution to the science by using rigorous methodology to isolate several types of water pollution most likely to have caused these staggering declines.
But a more important contribution of the study may be that it draws the focus of water pollution impacts away from mayflies and other aquatic insects and onto a far more popular and charismatic organism that not only is important to rural people's way of life, but supports a multi-billion dollar sportfishing industry in Appalachia.
Tellingly, industry spokespeople contacted by local reporters did not dispute the science as they typically have in the past. Those that didn't dodge reporters entirely were quick to change the subject to the purported benefits of mountaintop removal to create more flat land for industrial and commercial development (in a region where less than 10 percent of the more than 1 million acres of mountains that have already been flattened has been used for economic development).
This muted response is in stark contrast to the coal industry's response to previous science linking mountaintop removal to the loss of aquatic insects downstream from mine sites. The "EPA [U.S. Environmental Protection Agency] puts mayflies ahead of jobs" or "pests over people" became the rallying cries of coal industry supporters when the EPA first began bringing science back into the permitting process in 2009.
One suspects that the coal industry knows it isn't likely to win a "jobs vs. fish" debate with America's 33 million anglers.
Widespread damage to fish populations could also be important from the pocketbook perspective that political leaders in Kentucky and West Virginia take seriously. According to data from the American Sportfishing Association, recreational fishing creates a lot more jobs than mountaintop removal does in the states where it occurs: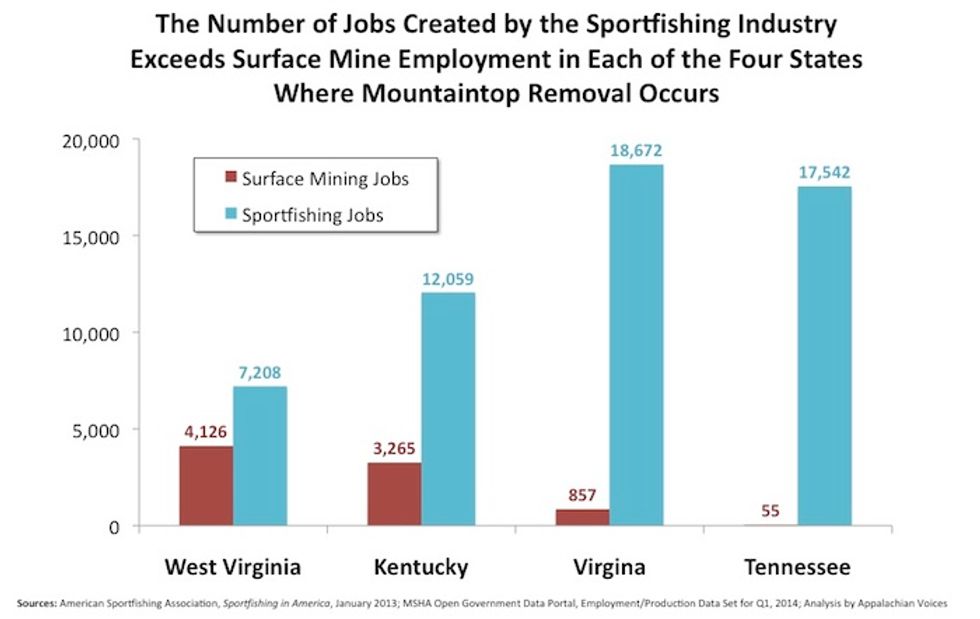 In fact, sportfishing accounts for more than 12,000 jobs in Kentucky, which is more than the entire coal mining workforce in the state, including all underground and surface miners, coal preparation plant workers and industry office workers combined. Moreover, unlike coal, sportfishing is a growing industry in Appalachia—the number of jobs it created in West Virginia more than tripled between 2001 and 2011.
Of course, even if "jobs vs. fish" were a popular argument, it would be just as false a narrative as "pests over people." Declines in populations of both fish and aquatic insects are important indicators of declining health of an ecosystem on which all organisms depend, including people. The "ecological indicator" theory is consistent with the dozens of scientific studies published in the last few years that show communities near mountaintop removal mines suffer poor health outcomes ranging from high rates of cancer, respiratory illness, heart disease and birth defects to low life expectancies that are comparable to those in developing nations like Iran, Syria, El Salvador and Vietnam.
Thus, the USGS study is an important contribution to the debate about mountaintop removal for anyone concerned about recreational fishing, human health or the economy of Appalachia. Hopefully that's everybody.
It's also a very timely contribution because it turns out that the EPA and other federal agencies are right now grappling with important rules to protect streams that will determine whether the pollution that leads to the kinds of declines in fish populations seen by the USGS researchers will be allowed to continue.
The study found that waters downstream from mountaintop removal mines contained elevated levels of two forms of pollution that the researchers believe could account for the declines in fish populations: conductivity and selenium. Conductivity is a measure of metals and salts in water, and elevated levels are toxic to aquatic life. Selenium has caused grotesque deformities in larval fish ranging from s-curved spines and double-headed larvae to fish with both eyes on the same side of their heads.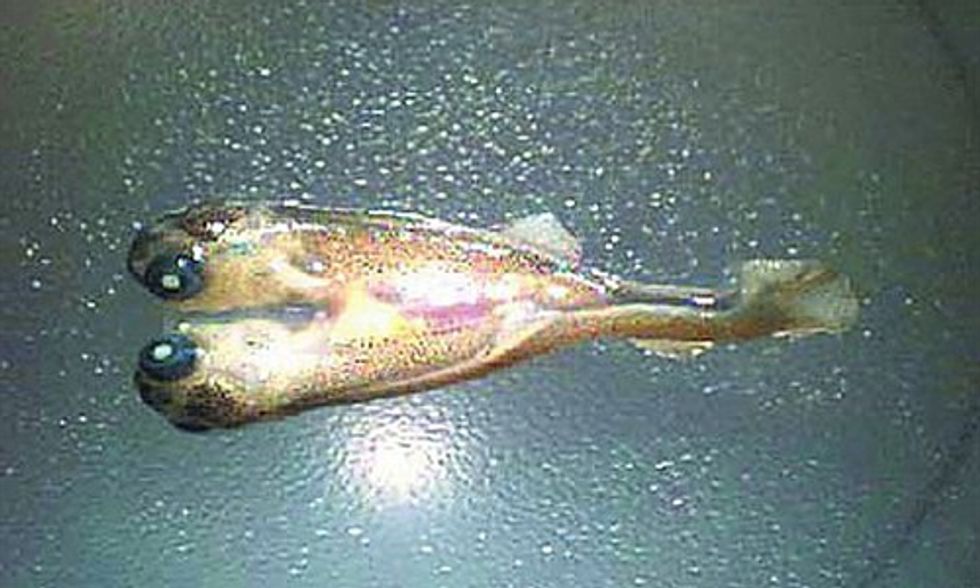 This study should serve as a wake-up call to federal regulators that have been steadily backsliding from the Obama administration's initial commitment to put science first in agency decision-making and to rein in the widespread damage from mountaintop removal mining. That backsliding has been particularly evident at the EPA's Region 4 headquarters in Atlanta, which oversees Clean Water Act permitting for a number of southeastern states including Kentucky.
Enforcement officials at Region 4 have not incorporated the science and recommendations developed by the EPA for the guidance on conductivity since it was announced by previous EPA Administrator Lisa Jackson in 2010. At the time, Jackson predicted the new guidelines would allow "few, if any, valley fills" to be permitted. Since then, valley fills—debris piles composed of the soil and rock that formerly made up the mountaintops of Central Appalachia—have continued to be approved by Region 4, including a massive new mountaintop removal permit with six valley fills that was approved last year.
Region 4 officials also recently approved a weakening of Kentucky's standards for chronic selenium levels in streams, allowing the state to permit levels high enough to cause reproductive failure in some fish. Worse, at the federal level, the EPA recently released a draft revision to its nationwide selenium rule that is likely to be all but impossible to enforce. That's a particular problem in states like Kentucky that have proven time and again to be incapable of enforcing rules on the politically powerful coal industry without citizen groups intervening. Here's what the Lexington Herald-Leader had to say about the state's "failure to oversee a credible water monitoring program by the coal industry":
"In some cases, state regulators allowed the companies to go for as long as three years without filing required quarterly water-monitoring reports. In other instances, the companies repeatedly filed the same highly detailed data, without even changing the dates. So complete was the lack of state oversight it's impossible to say whether the mines were violating their water pollution permits or not."
Fortunately, the administration has an opportunity to take meaningful action to protect Appalachian streams this winter, when the Office of Surface Mining is scheduled to release a draft Stream Protection Rule to replace the outdated Stream Buffer Zone rule promulgated more than 30 years ago.
The message for the Obama Administration from all this is that they are doing nobody any favors by taking half-measures to protecting water quality in Appalachia. When important recreational fish populations, a growing sector of the Appalachian economy and the health of Appalachian people clearly depend on strong water quality protections, the president's spirit of compromise should not extend to compromising on science.
Here's what you can do: tell President Obama to instruct his agencies to draft a strong Stream Protection Rule that will prohibit mining near streams and protect the health of people, fish and the economy of Appalachia. Take action here.
Oil Change International released a comprehensive report today on fossil fuel exploration and production subsidies in the U.S.—Cashing in on All of the Above: U.S. Fossil Fuel Production Subsidies Under Obama—which demonstrates that at a time when we need urgent action on climate change, the U.S. government is channeling huge and growing amounts of money to increasing discovery and production of oil, gas and coal. These federal and state subsidies totaled $21.6 billion in 2013.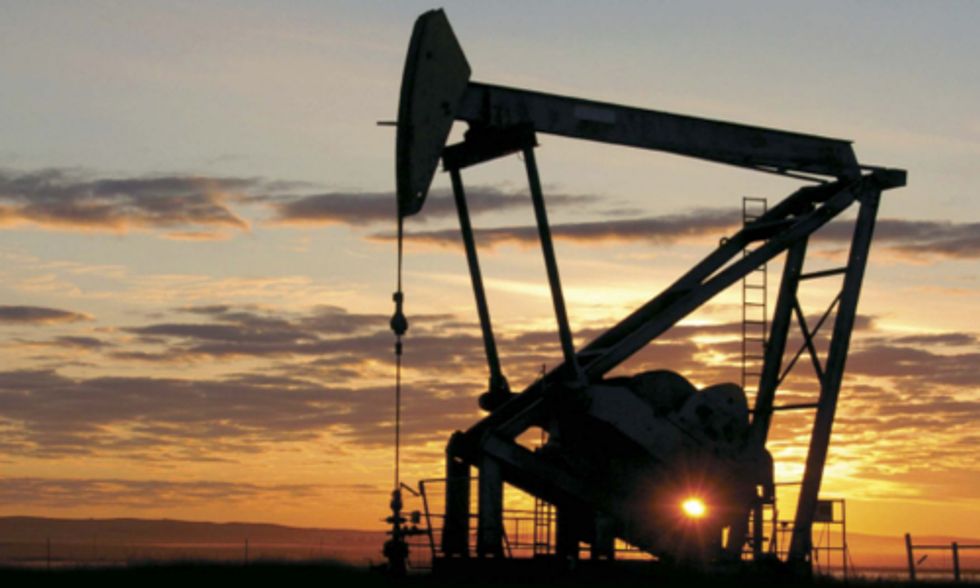 Subsidies that promote fossil fuel exploration are particularly harmful and hypocritical. The world's preeminent scientific institutions working on climate and energy have determined that the majority of the world's existing fossil fuel reserves need to be left in the ground in order to avoid catastrophic climate impacts. In 2012, the International Energy Agency (IEA) warned that "no more than one-third of proven reserves of fossil fuels can be consumed prior to 2050 if the world is to achieve the two degree Celsius goal." The Intergovernmental Panel on Climate Change (IPCC) reached a similar conclusion in its 2013 climate assessment.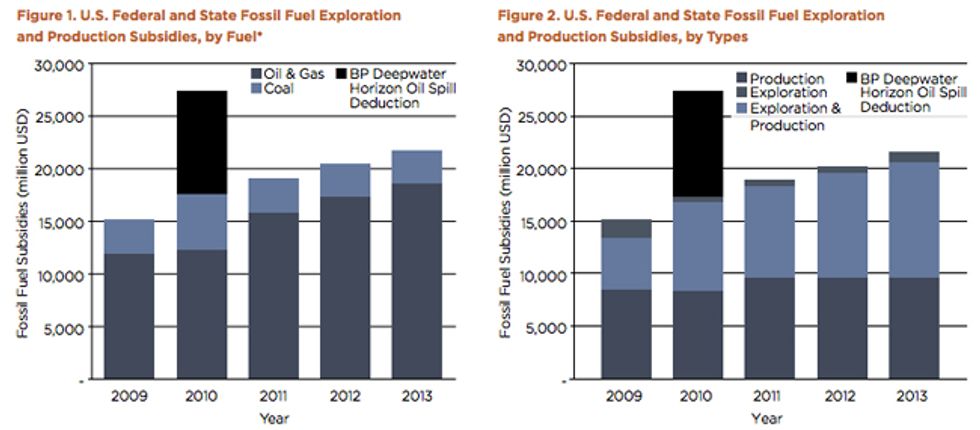 "The 'All of the Above' energy strategy is not only climate denial—it's climate denial that is funded with more than $20 billion in taxpayer support each year." said Steve Kretzmann, executive director of Oil Change International. "Until our representatives in Washington and around the country find the courage necessary to put people's interests ahead of rich polluters, this theft of our tax dollars is likely to continue. The next step for saving the climate should be clear: stop funding fossils."
Fossil fuel exploration subsidies are in direct conflict with these calls to restrict fossil fuel production and use. Rather than finding ways to curtail fossil fuel production in line with the demands of climate science, the U.S. federal government, under President Obama's "All of the Above" energy strategy, is currently channeling more than $5 billion each year in exploration subsidies to actually expand proven reserves, leading to the discovery of fossil fuels that we know we should never burn.
Shakuntala Makhijani, the report's author, added, "The science is clear that at least two-thirds of proven fossil fuel reserves need to stay in the ground to avoid catastrophic climate impacts—it is time for the U.S. government to show leadership and immediately end the massive subsidies that encourage their production."
Oklahoma has had a whole lot of shaking going on during the last six years. Seismic activity in the state has risen dramatically, from just more than a dozen earthquakes recorded back in 2008 to more than 100 in 2013. And here we are only halfway through 2014, and already the number of Oklahoma quakes with a magnitude of 3.0 or higher has surpassed the number of such earthquakes in California—a state famous for its big temblors.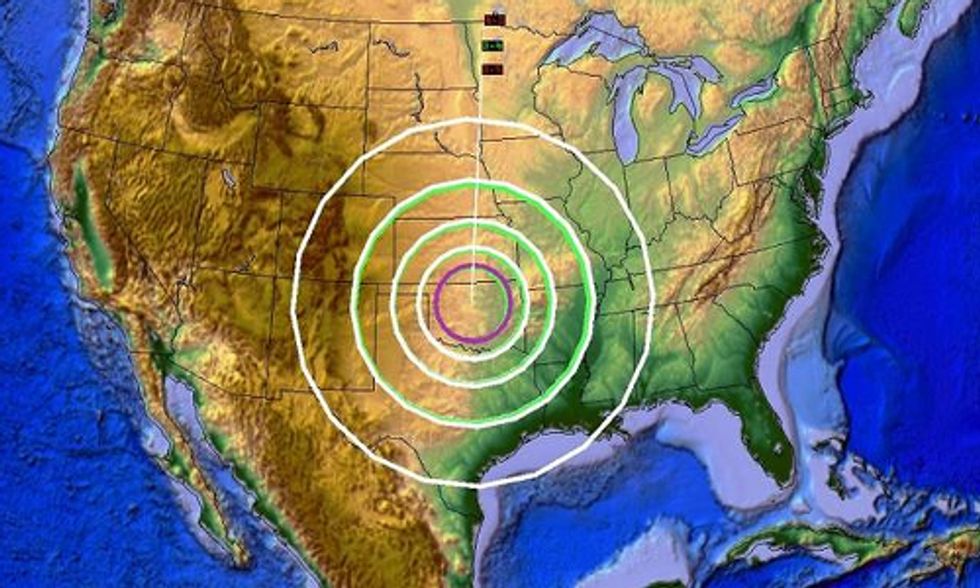 What on Earth (or under it) could be causing the Sooner State to rumble like this? A new study, published last week in the journal Science, suggests that a common byproduct of oil and gas drilling may be to blame.
In the process of extracting oil and gas, energy companies also end up extracting a lot of underground water: for every quart of oil yielded, in fact, as much as a gallon of water gets sucked up out of the ground. Because this wastewater is salty, drillers can't simply dump it into the nearest freshwater stream; instead, they typically inject it back into the formation, via deep wells that can extend anywhere from one to three miles below ground. Unfortunately, the study's authors have found, these wastewater injections can agitate long-dormant faults, causing them to slip—and trigger an earthquake.
A number of previously published studies (you can read a few here, here and here) have shown strong correlations between wastewater injection wells and increased seismic activity. But by synthesizing the most sophisticated hydrological models with the latest seismological data, the authors of this most recent study have arrived at our clearest understanding yet of how, exactly, the act of injecting water into the ground might physically result in an earthquake.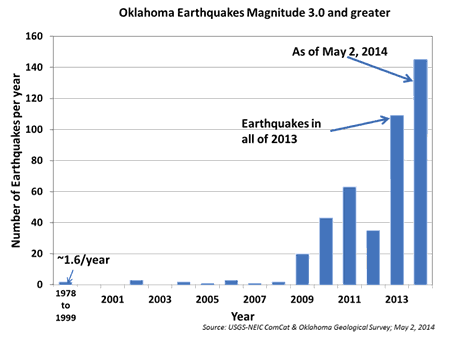 According to the researchers, only a handful of Oklahoma's 10,000 wells—roughly 90 of them where drillers have routinely been pumping wastewater below the surface—may account for the state's biggest cluster of earthquakes. (Within 25 miles of these well sites, more than 100 earthquakes have been recorded.) Although the study doesn't prove, conclusively, that the wells induced those earthquakes, the data does strongly support that suspicion.
"The main purpose of this study was to try to understand the physics of the system better, particularly the linkage between wastewater injection and observed seismicity," says co-author Shemin Ge, a hydrogeologist at the University of Colorado, Boulder. Through this understanding, she and her partners are hoping to identify and promote best practices—such as making sure that a site isn't too close to a fault before any drilling begins, or limiting the amount of water injected into a well.
The size of Oklahoma's oil and gas industry has nearly doubled since 2004. But it's not the only state where earthquake activity is rising at same time that oil and gas development are surging: Colorado, Texas, Arkansas and Ohio have also been feeling the Earth move a lot more than usual. Even so, nearly half of all the earthquakes that took place in the central and eastern U.S. between 2008 and 2013 occurred in Oklahoma.
The quakes have cracked foundations and buckled highways. Last October, the state's insurance commissioner began encouraging homeowners to buy earthquake insurance—a purchase that, up until now, has probably made a lot more sense to residents of Temecula than Tulsa. Now some nervous Oklahomans are calling for a moratorium on wastewater injection wells, taking a cue from their neighbors in Arkansas, who in 2011 issued a ban of their own on any underground wastewater disposal within 1,150 square miles of a major geologic fault.
"We don't fully understand what the hazard implications of [wastewater injection] are," says Bill Ellsworth, a U.S. Geological Survey geophysicist who knows a thing or two about earthquakes. (He's published more than 100 studies on them—though he wasn't a part of this most recent study). Still, Ellsworth says, "this type of research is an important direction for people working in this field to be perusing."
Can't argue with that. In the meantime, Okies, take a few earthquake tips from your friends on the West Coast (and maybe get that insurance).
This article was originally posted in Natural Resources Defense Council's OnEarth. 
Baleen and sperm whales, known collectively as the great whales, include the largest animals in the history of life on Earth. Though large in size, whales have long been considered too rare to make much of a difference in the ocean, and the focus of much marine ecological research has been on smaller organisms, such as algae and planktonic animals. While these small organisms are essential to life in the sea, they are not the whole story. As great whales recover from centuries of overhunting, scientists are beginning to appreciate their roles as ecosystem engineers of the ocean.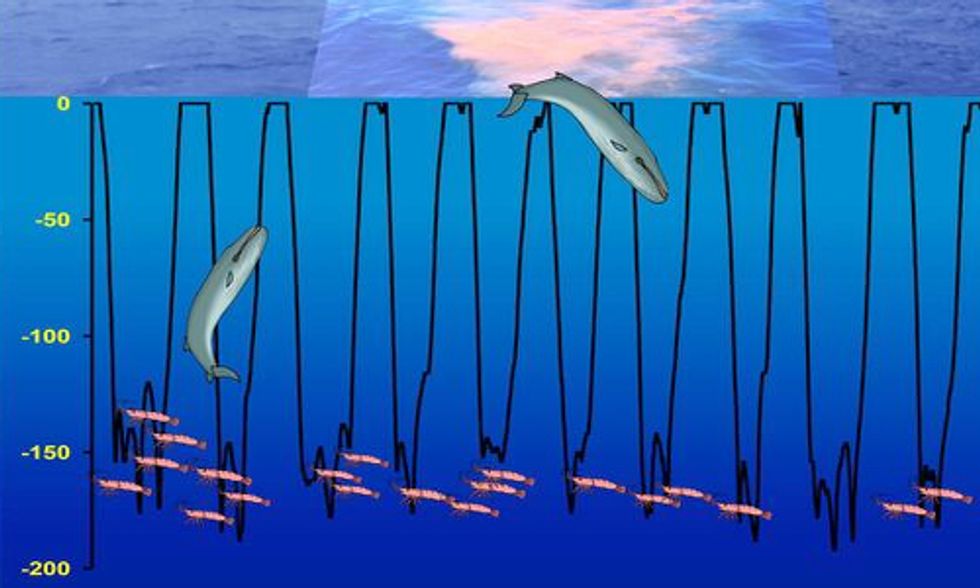 A recent synthesis, published in Frontiers in Ecology and the Environment, evaluates decades of research on the ecological role of great whales. The authors, led by Joe Roman at the University of Vermont, suggest that the influence of these animals has been substantially undervalued because, until now, scientists have underestimated the degree to which the decline in whale population has altered marine ecosystems.
Commercial whaling dramatically reduced the abundance of great whales—by at least 66 percent and perhaps as high as 90 percent, according to some estimates—but recovery is possible, and potentially critical for ocean resiliency.
Among their many ecological functions, whales recycle nutrients and enhance primary productivity, locally and on a regional scale. Whales mix the water column, and after feeding at depth, release surface plumes of fecal material. This "whale pump" supplies iron and nitrogen—essentially fertilizers—to primary producers in the surface ocean. Further, the migrations of baleen whales between highly productive, high-latitude feeding and low-latitude calving grounds are among the longest annual movements of mammals. By fasting in these winter calving grounds near the equator, humpback whales, for example, release nitrogen in the form of urea into comparatively nutrient-poor areas—transporting nutrients nearly 10,000 kilometers on the "great whale conveyor belt."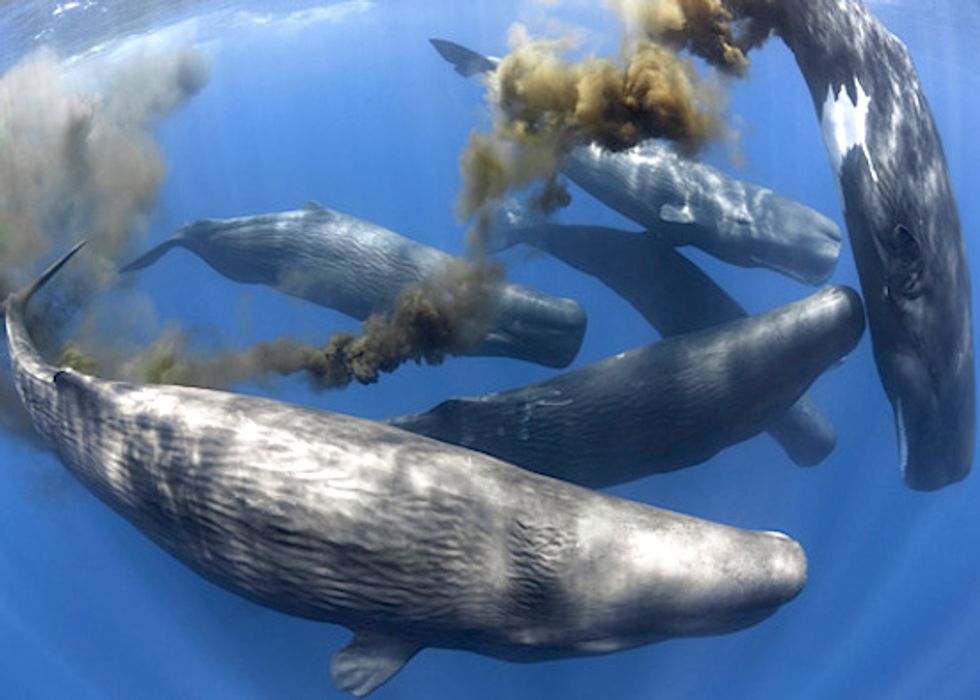 Sometimes, commercial fishermen have seen whales as competition. But this new paper summarizes a strong body of evidence that indicates the opposite can be true: whale recovery "could lead to higher rates of productivity in locations where whales aggregate to feed and give birth," supporting more robust fisheries.
Whales, as one of the longer-lived species in marine systems, can ease the impact of perturbations in climate, predation and productivity. The continued recovery of great whales may help buffer marine ecosystems from destabilizing stresses and could lead to higher rates of productivity in locations where whales aggregate to feed and give birth.
And when they die, many whale carcasses sink to dark depths of the ocean—delivering massive pulses of organic material to a realm that is typically nutrient and energy impoverished. A 40-ton gray whale, for example, provides more than 2,000 times the background carbon flux that would typically rain down on the area underlying the carcass in an entire year.
"Whales appear to harbor a specialized suite of animals in the deep sea, with many species requiring whale falls to complete their life cycles and persist in the ocean," said Craig Smith, co-author and Oceanography Professor at the University of Hawai'i at Mānoa. "When whales were removed from the ocean by whalers, these whale-fall specialists lost their essential habitat."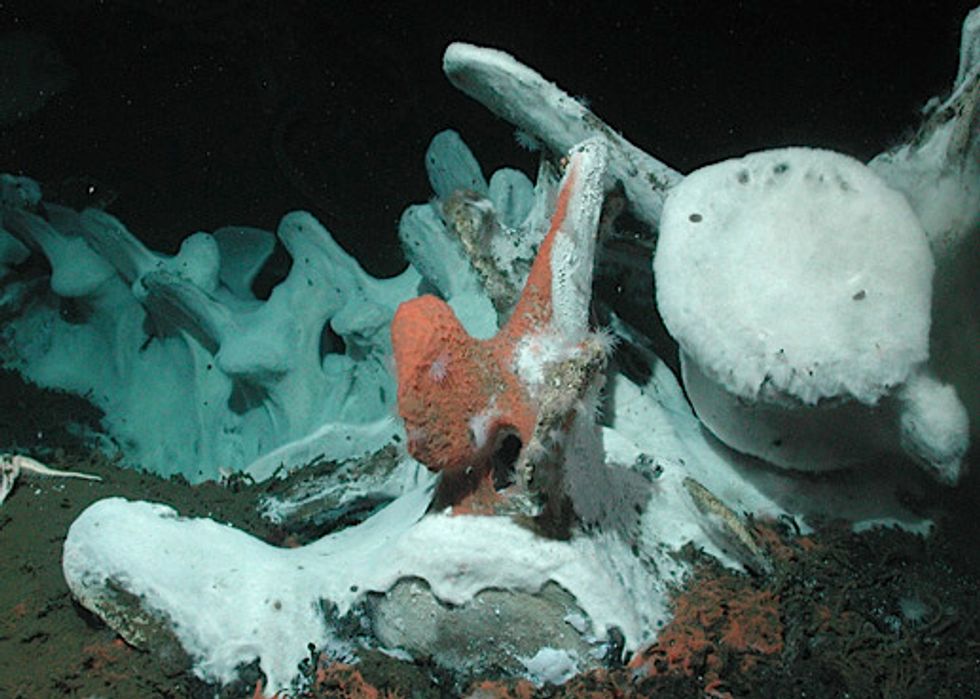 "Our models show that the earliest human-caused extinctions in the sea may have been whale fall invertebrates, species that evolved adaptations to live on whale falls," according to Smith. "As a result of 1,000 years of whaling by humans, many of these whale-fall species may have disappeared before we had a chance to discover them."
Reflecting on the recent synthesis of data, Roman stated, "This warrants a shift in view from whales being positively valued as exploitable goods—or negatively valued because they compete with people for marine fish—to one what recognizes that these animals play key roles in healthy marine ecosystems, providing services to human societies."