Following hundreds of years of oppression under colonial rule and decades as a pawn in a bipolar world, Africa has been left a damaged continent. Here Kumi Naidoo explains this historical context in which a new pan-African civil society initiative is developing, of which he is the start-up director.
Over the past few years the global media has repeatedly referred to the phenomenon of "Africa Rising" to describe the ongoing looting of natural resources and illicit financial outflows from the continent. This confirms that the earlier models of colonization have not ended, but have merely been adjusted and refined and are now conducted and presented behind the veneer of liberation and democracy of African people.

I set out some key historical facts about colonization and what the current effects of colonization are and why, in this context, a discussion arose to establish a new initiative—a broad based African civil society platform. During the many discussions in relation to this new initiative, some consensus points have emerged which are presented here. These are not meant to be understood as fait accompli of the new platform. Instead they are key starting points to show how we are going about establishing such an initiative, what makes the process and outcomes different from previous attempts at civil society unity and how we are going to build consensus around such an initiative that will seek justice, peace and sustainable development on and for the African continent.
Tree of Life.Earth Touch
The African continent draws its modern history from the Berlin Conference held between 1884 and 1885, which sought to legitimize control over the continent, its people and specifically its natural resources. No African was ever consulted in this process. By 1900, European states claimed almost 90 percent of the land mass, ignoring and abolishing local autonomy and self-governance of the African people. The decolonization period post World War II and then the Cold War, saw Africans being used as political and economic pawns by both sides of the ideological conflict.

The effects of having excluded Africans from decision making about their own countries and their continent are starkly manifested in an artificially divided continent, weak and often at war with itself. This was the prime impulse behind the idea of building a movement for a more united continent, starting with civil society as the vanguard of such a process.
Africans remain constrained by these major incidents of political and economic domination of the peoples (and resources) of Africa. Starkly summed up by the pan-Africanist Tajudeen Raheem (1961-2009), when he observed that "Africa is the richest continent underneath the ground and that is precisely why we are one of the poorest continents above the ground," this resource curse and its abhorrent effects remain the daily reality for the majority of Africans. Within this context (and unlike some of their South American and Asian counterparts) individual African countries are unable to stand firm on the global stage in terms of climate change or trade negotiations, despite having proxy representation through South Africa in platforms such as the G20. There is little evidence to show that South Africa has used this proxy role for any substantial continental benefit. Instead, its political leadership has mostly just accepted the negative compromises of these platforms, including the G20, leaving the continent inadequately represented amongst the global economic and political forces.
The imperative to work more urgently and diligently towards a united civil society across the continent is ever greater now that civil protests are more widespread and a frequent feature of life in most parts of the world. The people of the African continent have an opportunity to integrate their struggles into the larger global movements against rising inequality and climate change impacts, standing shoulder to shoulder with their governments on these global stages, while simultaneously pressurizing African governments to perform substantially better than they are doing currently.
Attempts at civil society unity on the continent are not new. Several initiatives have been spawned over the years, including the first Pan African Conference (ironically held outside the continent) as early as 1900, several civil society backed resolutions and the Organization of African Unity (OAU) process to establish more widespread cooperation between non-governmental organizations (NGOs) and civil society organizations (CSOs) in 2003.
Within these broader attempts of unity there have also been several attempts to build civil society networks across the continent. Some were thematically focused, such as the African Association for Literacy and Adult Education (AALAE) and others where more generic such as the Harare Caucus, that sought to bring together regional civil society networks across the continent. A cursory assessment of these initiatives highlights some of the reasons for their limited success:
The impetus for setting them up was external to the continent and they were usually geared towards meeting short-term interests of particular (global civil society) organizations.
There was a lack of adequate resourcing for the initiatives, from human and financial capital to ideological robustness—a long-term strategy is critical to movement building.
Governance failings—the competing interests of individuals heading established and resourced NGOs sometimes goes against the needs of a continent wide movement. Those entrusted with leadership responsibilities of continental networks did not have the dedicated time to exercise proper governance of the management and secretariat.
Civil Society Under Attack
Africa's historical resistance to slavery, economic imperialism and political colonization finds focus in the current struggles by African people for democratic governance, justice, equality and a voice in the international policy arena.
Today we are told that Africa is rising. Yet, when we look closer, it seems that this is based solely on aggregated assessments of national Gross Domestic Product. In these rising African countries the few are becoming fantastically wealthy while the majority remain socially marginalized and economically excluded. In truth, the majority of Africans are not rising and continue to struggle with poverty and the denial of their most basic rights.
Underlying this state-of-affairs is the phenomenon of shrinking political and civic space. We have seen a drastic curtailment of the freedom of association, assembly and expression in far too many countries across the continent. This has been accompanied by heightened levels of corruption and growing levels of inequality. These rights violations have been met by new forms of social organization and leadership leading to partial victories and new forms of popular actions and movements. Civil society in Africa is under assault on many fronts. We are experiencing many restrictions on political space, the erosion of women's rights, increasing inequality and climate change that is already having significant negative human impacts across the continent.
Africa Rising
The current initiative to establish a continent wide social justice platform for civil society actions, solidarity, protection and advancement came about as a confluence of factors at a similar time and operating within the context set out above.
For some years now, Action Aid Denmark has been running the well-regarded Training Centre for Development Cooperation (TCDC) in Arusha, Tanzania. In 2015 Action Aid Denmark handed over the TCDC facility to an African institution in order to further establish the facility as a base of operations for a new Africa wide center for civil society.
In February 2016, I agreed to serve as the start-up director of the new initiative. Upon accepting the role I immediately set about engaging in dialogue with civil society across the continent to gain further insight into perspectives on a move to build greater unity within civil society on the continent. The process included numerous formal and informal consultations with civil society activists, regional and local networks, NGOs, international non-governmental organizations (INGOs), trade unions and faith-based groups across the continent.
This process of bottom-up consultations (which is ongoing) has shown that almost everyone who has participated agreed that African unity—reflected by greater social, political and economic integration—is critical for Africa and its peoples. Individual nation states are far too weak to fight for what they need; be it in negotiations about trade, climate or a host of other pertinent issues.
Secondly, most activists feel we are fighting on two fronts. On the one hand, we are fighting a global system that is unjust, inequitable and is leading us to climate catastrophe that fundamentally threatens our very ability to survive as a species. A system that serves the top 1 percent has to be vigorously opposed. On the other hand, we are facing national governments that have witnessed "state capture" by local and global elites and are often acting against the interests of their own citizens. This leads us to a situation where we need to both defend human rights and democracy at home and also ensure our governments are taking on the obscene injustices that prevail at the global level.
Thirdly, many on the continent feel that we need to have a fundamental rethink as to what constitutes civil society. There is a growing recognition that there is too much dependency on and too much influence of INGOs but also greater acceptance that even local and national NGOs are disconnected from the poorest and most marginalized. While there are, of course, inspirational exceptions to this, there is increasing agreement that the engine of resistance to injustice is not coming from formal and bureaucratized NGOs but is coming from looser, informal and social media driven activism. Some of the most inspiring challenges to power in Africa and globally, in the last decade have not seen the more formal NGOs playing any decisive role.
Lastly, the consultations were unanimous in their focus on a wider initiative as opposed to a specific center. Thus, while the Arusha TCDC facility is likely to be a key convening point for civil society (it already enjoys credibility and success as an NGO management training facility), for the purposes of building the vision of the potential future initiative we want it to be driven by a bottom-up process of consultation that is not focused on a single center but on a range of such convening spaces.
These key discussions were affirmed at a recent strategy workshop organized by the African Civil Society Initiative. Thirty activists, NGOs and networks aligned themselves with the inspirational Rustlers Valley Declaration (2014), thus taking up the challenge for civil society generally and NGOs specifically "to be the change we want to see in the world."
The key consensus points developed in the African Civil Society Initiative process to date represent some significant departures from previous attempts at civil society unity in Africa. Firstly, there is an acceptance that NGOs and INGOs cannot be the sole drivers of the process. The initiative must be much broader than any previous attempts and will make a special effort to be inclusive of social movements, NGOs, peoples and popular social justice movements, intellectuals, artists, sports people, cultural activists and others, across the continent and the African Diaspora. Secondly, a phased approach must continue to be employed, ensuring consensus at each step—no one must be left behind. Thirdly, the eventual organizational structure of the initiative must reflect the lean and agile nature of the initiative itself.
Based on the current feedback from the consultation process, it is likely that the initiative will focus on six key cross-cutting areas that have substantial significance and have gained general consensus, specifically:

Exposing corruption and opposing impunity;
Fighting for full gender equality;
Defending and deepening democratic space generally and civic space specifically;
Working for poverty eradication;
Assertively addressing the challenge of climate change.
These consensus points will most likely be implemented by the nascent initiative in the following ways:
Sparking a major conversation across the continent about the establishment of the initiative—what such an intervention would look like, who would participate, what participants' expectations are and what the objectives of such a platform would be?
Establishing internal and external communications functionality, making as much use of social media platforms to ensure widespread engagement of all who are interested in civil society;
Organizing a Validation Conference in Arusha, Tanzania—the final steps to establish the initiative must have broad public endorsement with people and organizations ready to stand up and be counted in the fight for justice. The conference will deliberate on how the initiative should be established and operate. Should the conference demonstrate the requisite level of support the initiative's operations will commence promptly thereafter.
And lastly, all of this work requires that most basic of needs, the resources to succeed and the current team is busy preparing for the Validation Conference, staff and other related costs.
It is time we speak together and decide what change we wish to see in our countries, across Africa and what we want Africa to be when we celebrate Africa Day in the future. For a long time now, others have been writing our story. Now is the time for us to take a brave step, a giant step for us and start writing (and telling) our own story—a story of a united Africa, at peace with prosperous and healthy people.
We need your voice, ideas, thoughts and action to keep working together to build this initiative. It is not complicated to do your part, tweet to us @helloacsi, write on our Facebook wall or send an email to [email protected].
Together for Africa, for justice, peace and sustainable development.
EcoWatch Daily Newsletter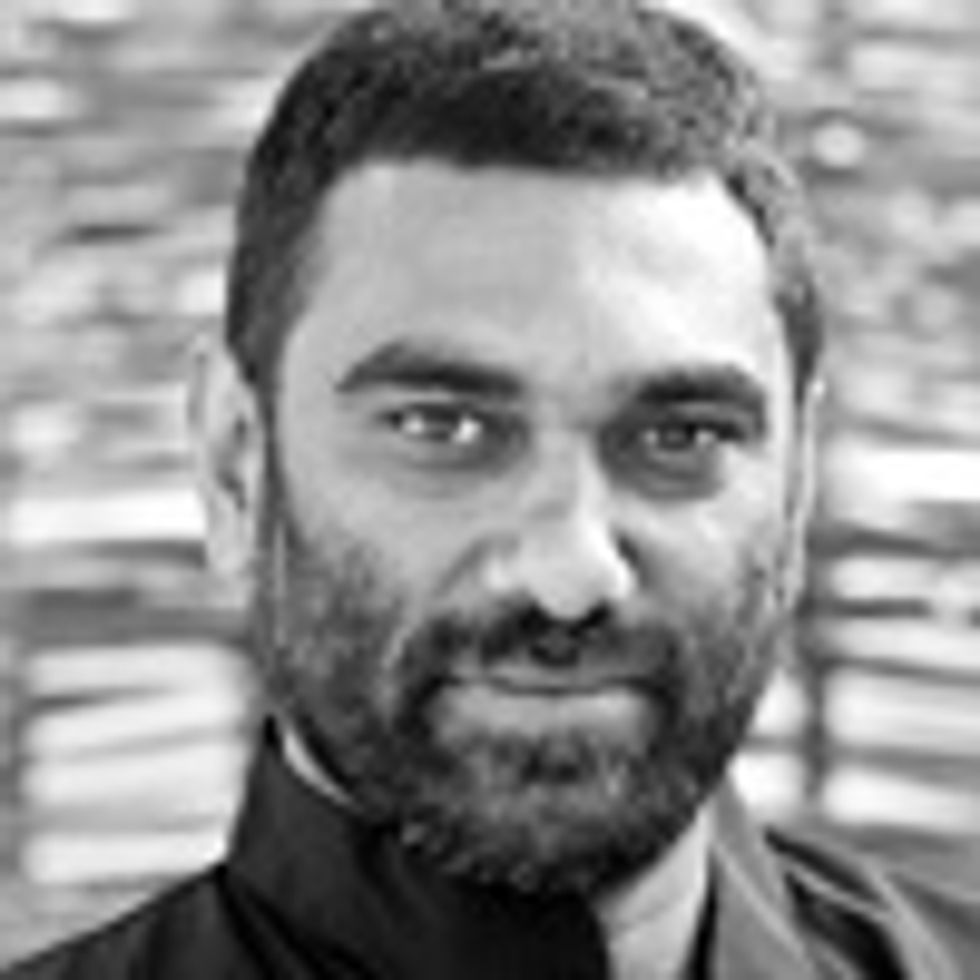 The wheel of climate action turns slowly, but in Paris it has turned. There's much in this deal that frustrates and disappoints me, but it still puts the fossil fuel industry squarely on the wrong side of history.
Parts of this deal have been diluted and polluted by the people who despoil our planet, but it contains a new temperature limit of 1.5 degrees. That single number and the new goal of net zero emissions by the second half of this century, will cause consternation in the boardrooms of coal companies and the palaces of oil-exporting states and that is a very good thing. The transition away from fossil fuels is inevitable.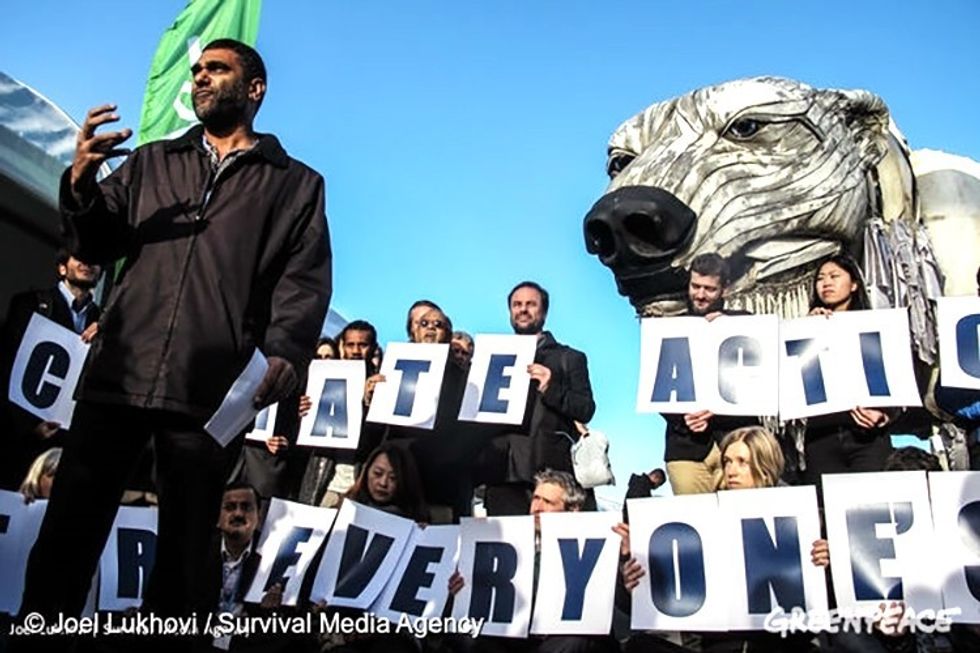 Now comes our great task of this century. How do we meet this new goal? The measures outlined simply do not get us there. When it comes to forcing real, meaningful action, Paris fails to meet the moment. We have a 1.5 degree wall to climb, but the ladder isn't long enough. The emissions targets outlined in this agreement are simply not big enough to get us to where we need to be.
There is also not enough in this deal for the nations and people on the frontlines of climate change. It contains an inherent, ingrained injustice. The nations which caused this problem have promised too little to help the people on the frontlines of this crisis who are already losing their lives and livelihoods for problems they did not create.
This deal won't dig us out the hole we're in, but it makes the sides less steep. To pull us free of fossil fuels we are going to need to mobilize in ever greater numbers. This year the climate movement beat the Keystone XL tar sands pipeline, we kicked Shell out of the Arctic and put coal into terminal decline. We stand for a future powered by renewable energy and it is a future we will win.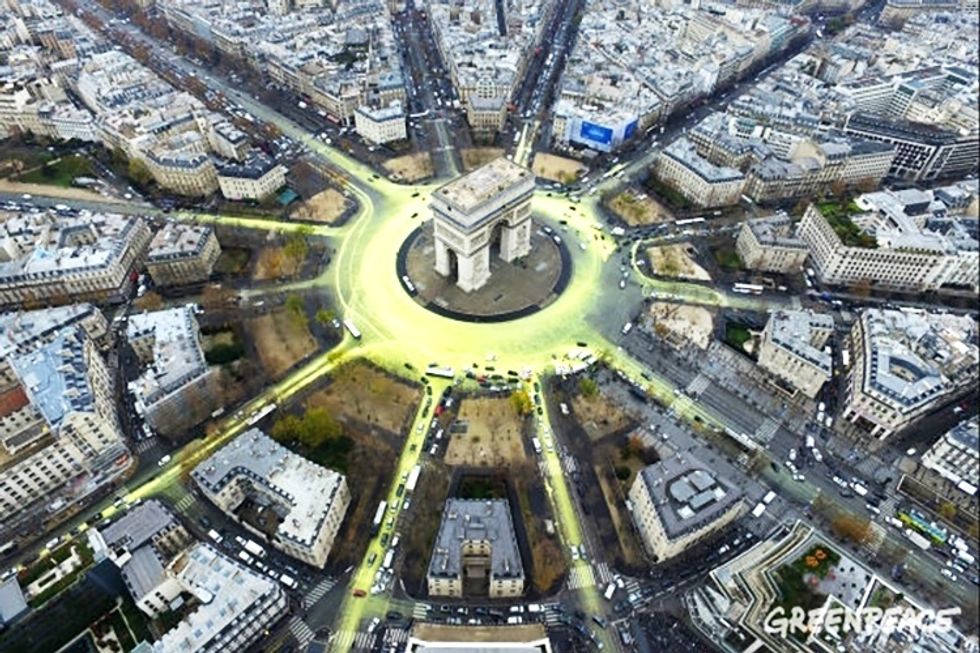 This is why our efforts have never been confined to these conference halls. Just as we've carried our messages of justice, equity and environmental protection into the venues of the climate negotiations and echoed the collective demand to speed the end of fossil fuels to the faces of our leaders, we will continue to raise our voices long after these talks are over.
We came to the COP with hope. Not a hope based on the commitments we wished our leaders would make, but a hope built on movements that we have built together with many others. Together we are challenging the fossil fuel oligarchy, we are ushering in the era of solutions and we are moving the political benchmark of what is possible.
While our political leaders walk, our movements run and we must keep running.
From the High Arctic to Brazil, from the Alberta tar sands to Indonesia's peatlands, from the Gulf of Mexico to the Mediterranean we will stand against those faceless corporations and regressive governments that would risk our children's future.
We will push our beautifully simple solution to climate change—100 percent renewable energy for all—and make sure it is heard and embraced. From schoolyards in Greece, to the streetlights of India, to small Arctic communities like Clyde River in Canada, we will showcase the clean, renewable solutions that are already here and pressure our governments to make them available for everyone, fast.
Finally, we will stand with those communities on the front lines of this struggle. They are the leaders of this movement. They are the ones facing the rising seas, the superstorms and the direct effects of our governments' collective inaction. We will amplify their voices so the world is forced to hear our call for change.
In 2016 we—the entire climate movement—will escalate the fight. Together we will show the world that if our governments won't act to stop the carbon bullies, then we will.
History is waiting in the wings and we're standing on the right side of it.
YOU MIGHT ALSO LIKE
President Obama: Paris Climate Agreement a 'Turning Point for the World'
12 Key Takeaways From the Paris Climate Talks
World Leaders Agree to Historic Global Climate Agreement
10,000+ Took to the Streets in Paris Pledging Escalated Actions in the Fight for Climate Justice
MAXSHOT / iStock / Getty Images
Solar panels allow you to harness the sun's clean, renewable energy, potentially cutting your electric bills as well as your environmental footprint. But do solar panels work on cloudy days, or during seasons of less-than-optimal sun exposure? For homeowners who live outside of the Sun Belt, this is a critical question to consider before moving ahead with solar panel installation.
In this article, we'll go over how solar panels work on cloudy days, whether solar panels work at night, and how to ensure you always have accessible power — even when your panels aren't producing solar energy.
How Solar Panels Work on Cloudy Days
Photovoltaic (PV) solar panels can use both direct and indirect sunlight to generate electrical power. This means they can still be productive even when there is cloud coverage. With that said, solar panels are most efficient and productive when they are soaking up direct sunlight on sunny days.
While solar panels still work even when the light is reflected or partially obstructed by clouds, their energy production capacity will be diminished. On average, solar panels will generate 10 to 25% of their normal power output on days with heavy cloud coverage.
With clouds usually comes rain, and here's a fact that might surprise you: Rain actually helps solar panels work more effectively. That's because rain washes away any dirt or dust that has gathered on your panels so that they can more efficiently absorb sunlight.
Do Solar Panels Work at Night?
While solar panels can still function on cloudy days, they cannot work at night. The reason for this is simple: Solar panels work because of a scientific principle called the photovoltaic effect, wherein solar cells are activated by sunlight, generating electrical current. Without light, the photovoltaic effect cannot be triggered, and no electric power can be generated.
One way to tell if your panels are still producing energy is to look at public lights. As a general rule of thumb, if street lamps or other lights are turned off — whether on cloudy days or in the evening — your solar panels will be producing energy. If they're illuminated, it's likely too dark out for your solar panel system to work.
Storing Solar Energy to Use on Cloudy Days and at Night
During hours of peak sunlight, your solar panels may actually generate more power than you need. This surplus power can be used to provide extra electricity on cloudy days or at night.
But how do you store this energy for future use? There are a couple of options to consider:
You can store surplus energy in a solar battery.
When you add a solar battery to your residential solar installation, any excess electricity can be collected and used during hours of suboptimal sun exposure, including nighttime hours and during exceptionally cloudy weather.
Batteries may allow you to run your solar PV system all day long, though there are some drawbacks of battery storage to be aware of:
It's one more thing you need to install.
It adds to the total cost of your solar system.
Batteries will take up a bit of space.
You will likely need multiple batteries if you want electricity for more than a handful of hours. For example, Tesla solar installations require two Powerwall batteries if your system is over 13 kilowatts.
You can use a net metering program.
Net metering programs enable you to transmit any excess power your system produces into your municipal electric grid, receiving credits from your utility company. Those credits can be cashed in to offset any electrical costs you incur on overcast days or at night when you cannot power your home with solar energy alone.
Net metering can ultimately be a cost-effective option and can significantly lower your electricity bills, but there are a few drawbacks to consider, including:
You may not always break even.
In some cases, you may still owe some money to your utility provider.
Net metering programs are not offered in all areas and by all utility companies.
Is Residential Solar Right for You?
Now that you know solar panels can work even when the sun isn't directly shining and that there are ways to store your energy for times your panels aren't producing electricity, you may be more interested in installing your own system.
You can get started with a free, no-obligation quote from a top solar company in your area by filling out the 30-second form below.
FAQ: Do Solar Panels Work on Cloudy Days?

How efficient are solar panels on cloudy days?
It depends on the panels, but as a rule of thumb, you can expect your solar panels to work at 10 to 25% efficiency on cloudy days.
How do solar panels work when there is no sun?
If there is literally no sunlight (e.g., at night), then solar panels do not work. This is because the photovoltaic effect, which is the process through which panels convert sunlight into energy, requires there to be some light available to convert.
However, you can potentially use surplus solar power that you've stored in a battery. Also note that solar panels can work with indirect light, meaning they can function even when the sun is obscured by cloud coverage.
Do solar panels work on snowy days?
If there is cloud coverage and diminished sunlight, then solar panels will not work at their maximum efficiency level on snowy days. With that said, the snow itself is usually not a problem, particularly because a dusting of snow is easily whisked away by the wind.
Snow will only impede your solar panels if the snowfall is so extreme that the panels become completely buried, or if the weight of the snow compromises the integrity of your solar panel structures.
Will my solar panels generate electricity during cloudy, rainy or snowy days?
Cloudy days may limit your solar panel's efficiency, but you'll still be able to generate some electricity. Rainy days can actually help clean your panels, making them even more effective. And snowy days are only a problem if the snow is so extreme that the panels are totally submerged, without any part of them exposed to the sun.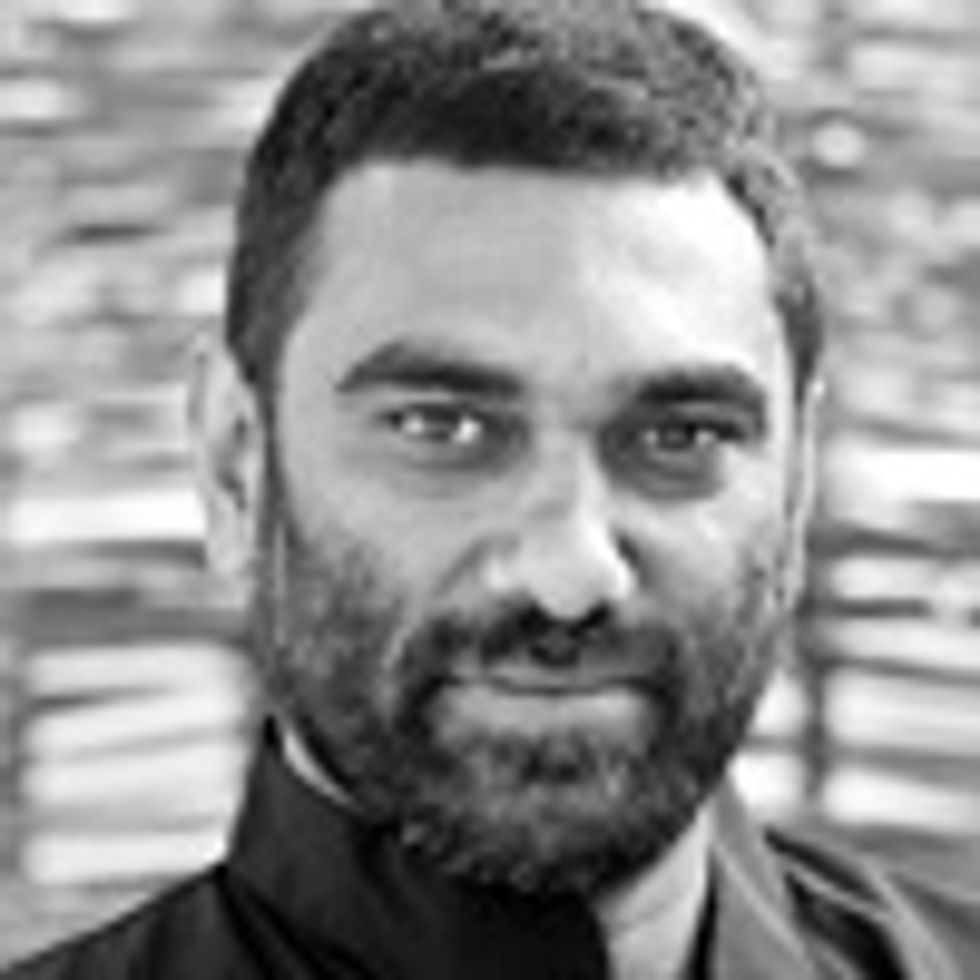 More than most, Japan is a nation whose modern history is tragically linked to the quest to use and tame nuclear power. This nuclear history is not noteworthy for its successes, but for how it reflects humanity's capacity for destruction—and peace.
It has been 70 years since the U.S. atomic bombings of the Japanese cities of Hiroshima and Nagasaki, killing more than 400,000 people and affecting generations more through nuclear radiation. The horror of these bombings has been imprinted on our consciousness, holding at bay the further use of nuclear weapons in warfare.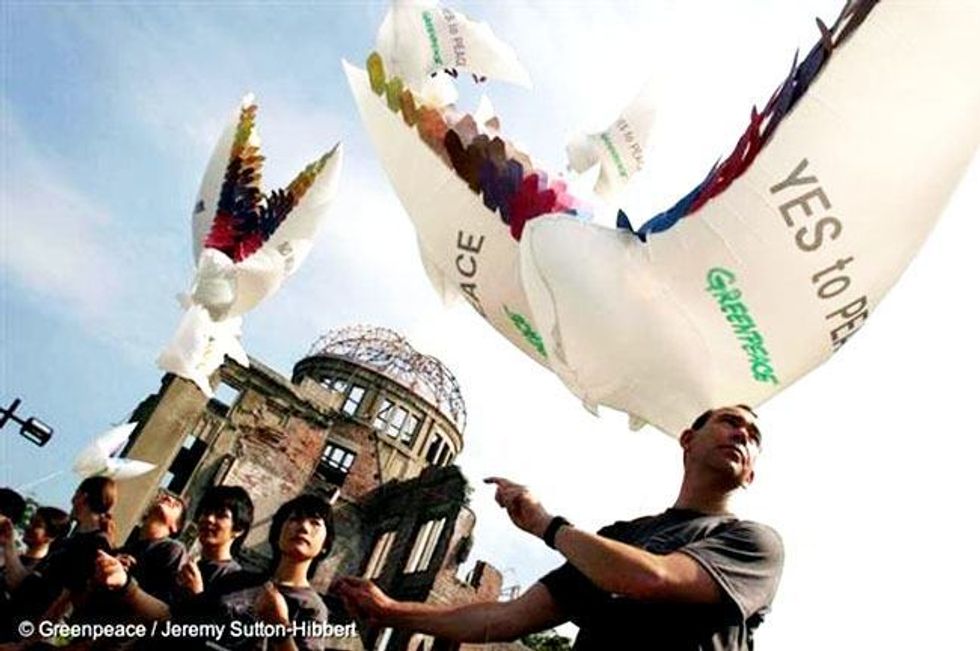 These plans have met overwhelming public opposition, with polls showing the majority of Japanese people are against restarting nuclear reactors. Photo credit: Greenpeace / Jeremy Sutton-Hibbert
These humanitarian catastrophes sparked a powerful peace movement in Japan that has been influential worldwide. It also gave rise to the country's unique 1947 "Peace Constitution," which renounces war and armed forces to resolve conflicts, except in self-defense. This legacy of peace has served Japan well, but it is now under threat. Prime Minister Shinzo Abe is pushing for deeply unpopular legislation to allow Japan to fight in foreign conflicts, effectively rewriting a part of the constitution that has become ingrained in the nation's psyche.
The campaign towards achieving global nuclear disarmament meanwhile remains a long way off. At the start of 2015, some 15,850 nuclear weapons were held in stock by nine states: the U.S., Russia, China, India, Pakistan, Israel, Britain, France and North Korea. Roughly 1,800 of these weapons are on high operational alert, according to the Stockholm International Peace Research Institute. These nine states continue to upgrade their nuclear weapons and research new ones.
We only have to look to the political wrangling over the breakthrough nuclear deal with Iran last month to witness the intractable nature of debates over who gets to wield the threat of nuclear weapons. The lack of political will on achieving disarmament meant no real progress was made in the latest review of the Treaty on the Non-Proliferation of Nuclear Weapons (NPT), held in May; the United Nations itself was forced to admit parties could not agree on substantive parts of the meeting's final document.
Greenpeace itself has a history that is intertwined with nuclear energy: Our organization's foundation campaign was the 1971 attempt by a small group of activists to stop U.S. nuclear tests on the island of Amchitka, Alaska. Forty-four years later, our understanding of the dangers of nuclear weapons proliferation and the attendant threats from nuclear energy, has only deepened, along with our core commitment to see it phased out. Nuclear energy, whether for military or civil purposes, is never peaceful. No nuclear program can ever be considered purely civil and always carries the threat of nuclear weapons development. And as the history of catastrophes in the nuclear energy sector proves, nuclear energy is neither safe, nor clean.
Nuclear energy, with its inherent environmental dangers and high costs, is increasingly unattractive as an alternative to fossil fuels. Instead, interest in renewable energy sources is surging in forward-looking economies and among investors, who know that continued fossil fuel dependence only drives conflict and distorts foreign policies.
#Hiroshima70: Why we must never forget. http://t.co/TqI7nORT9t via @CNNOpinion pic.twitter.com/SO8hD6NV0x

— CNN (@CNN) August 6, 2015
But the threats are still there.
Nearly four and a half years ago, an earthquake sparked a triple-core reactor meltdown in a nuclear power plant in Japan, forcing tens of thousands of people to leave their homes. After investigations, Greenpeace Japan revealed last month that radiation in one of the most contaminated districts is still so widespread and at such a high level that those who were evacuated cannot return home safely, despite decontamination efforts.
Japan's operating reactors are currently shut pending safety checks, but the nation is planning to restart its first nuclear reactor this month. These plans have met overwhelming public opposition, with polls showing the majority of Japanese people are against restarting nuclear reactors. A Greenpeace petition opposing the nuclear restart has gathered tens of thousands of signatures.
At the core of Greenpeace is a conviction that conflict and the ways it manifests in violent struggles over our natural resources, will destroy our planet and all of us. So we have to find better ways to resolve these issues. Our non-proliferation campaign over the decades is part of a global peace movement that aspires to social justice and environmental sustainability. Even as we see setbacks to achieving peace in our time, we are convinced that non-violent resistance and protest will achieve this change. History shows that peaceful opposition is far more effective than violence will ever be.
It should be unthinkable that the horror in Hiroshima and Nagasaki 70 years ago would ever be revisited upon anyone anywhere in our world today. Neither should the trauma felt by Japanese people after the Fukushima accident—and also by thousands of people affected by other nuclear disasters, such as Chernobyl—ever again be endured. Our remembrances for this occasion are also reminders to continue our journey towards peaceful change.
Kumi Naidoo is the International Executive Director of Greenpeace.
YOU MIGHT ALSO LIKE
Photo of 'Mutant Daisies' Near Fukushima Goes Viral
World's Largest Solar Project and Floating Wind Turbine Signal Global Shift to Renewable Energy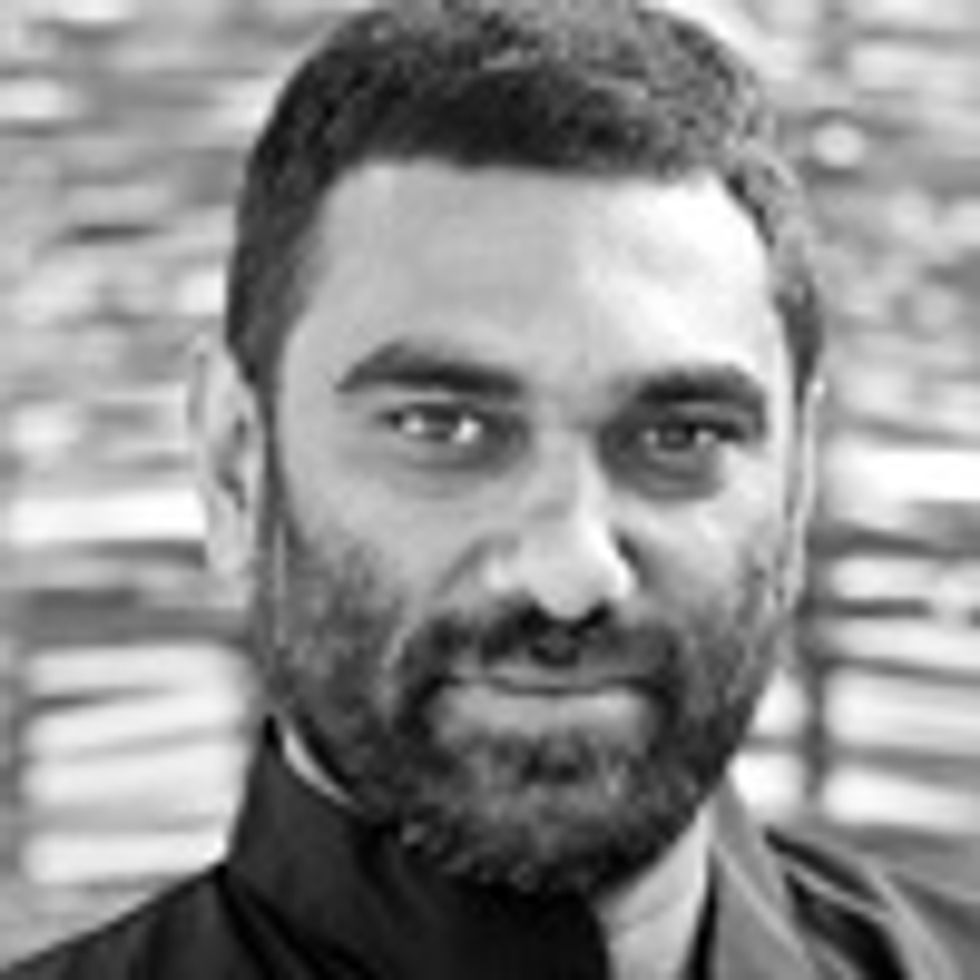 Thirty years ago, groups of individuals in New Zealand were preparing to leave their families, their jobs and their homes to set off in small boats across the Pacific Ocean into a nuclear weapons testing zone. They hoped that their presence there would be enough to stop nuclear bomb tests.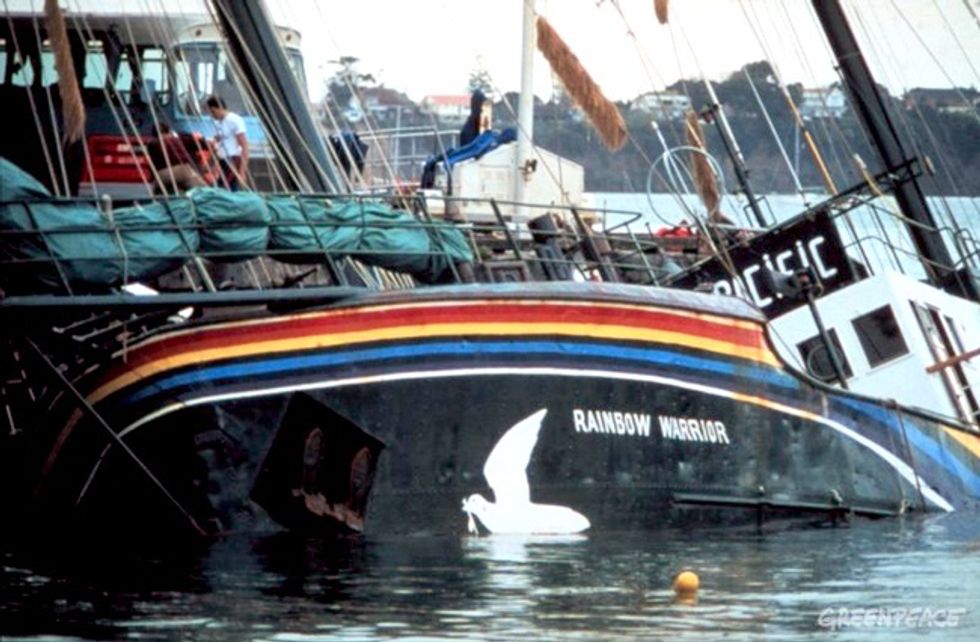 Rainbow Warrior, sunk by two underwater mines placed by agents of the French Government in Marsden Wharf, New Zealand. July 11, 1985 Photo credit: © Greenpeace / Miller
The French Government conducting the tests must have known it could not win against such a show of people power. So a few minutes before midnight on 10 July 1985, French secret service agents struck in Auckland harbour, New Zealand. They bombed and sank the Greenpeace ship Rainbow Warrior, one of the ships that was due to lead the flotilla into the nuclear test zone. The French agents murdered Fernando Pereira, a photographer and crew member.
The government was mistaken if it believed that this would knock the courage out of a movement of millions. One of our supporters said it best: you can't sink a rainbow.
Thanks to public protest, nuclear tests in the Pacific were abandoned. People power made history. Not all of those people clambered into boats. But they all took a stand. Some by writing, some by marching, some by signing a petition. Some volunteered, some donated, some challenged their friends and family. Others changed minds simply by telling people where they stood. Each one of those single acts, by people just like you and me, reached into hearts and minds and ultimately brought an end to nuclear weapons testing.
Today, we all face a different threat: climate change. Just as nuclear weapons threatened global catastrophe 30 years ago, so climate change threatens all of us now. Global warming means more flooding and bigger storms. We see severe weather events hitting the news with greater regularity. Millions of people suffer them at first hand, some losing their homes, livelihoods and even their lives.
It is already undermining security and is set to further exacerbate scarcities and tensions that fuel conflict.
But even as the world's seas are rising, the tide is turning. The ranks of the clean energy revolution are swelling. Between January and May this year, around three-quarters of new electricity capacity in the U.S. was solar and wind.
In Norway, the country's politicians voted unanimously to sell off coal investments from the US$900 billion Government Pension Fund, the largest sovereign wealth fund on the planet.
Just last month, the Pope called on the world's rich nations to tackle climate change, in a 180-page call for action. And, in the Netherlands, 900 Dutch citizens won a stunning legal victory in which the court ordered the Dutch state to cut more carbon pollution in the next five years.
Increasingly, people are standing up to the coal, oil and gas companies whose polluting products are fouling the air we breathe, the seas we fish and swim in, and the habitats on which we depend. It's partly due to the events of 30 years ago, where a wide and diverse group of people showed courage in standing up to the nuclear threat in the Pacific, that we know that people power can win.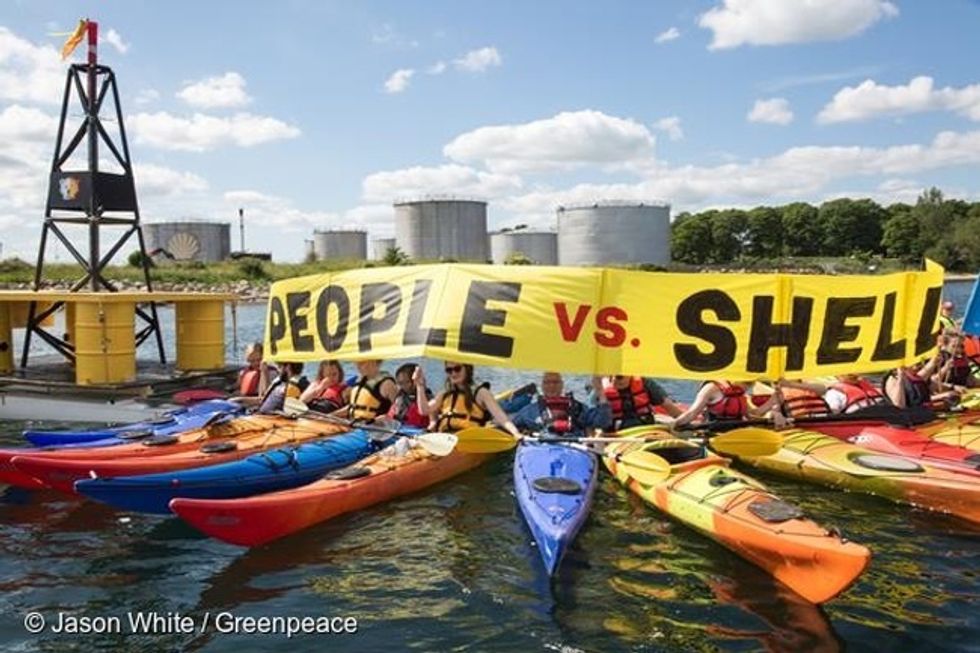 In a few days' time Shell could start drilling for oil in the Arctic. Millions of people are taking a stand to protect this beautiful place and to say 'no' to yet more fossil fuels and yet more global warming. Some people have shown courage by climbing Arctic-bound oil drilling rigs, or by clambering into kayaks and daring to paddle in front of these huge vessels; others by joining marches, writing letters and signing petitions—just as people did 30 years ago to stop Pacific nuclear weapons testing.
People in the Pacific region are also standing up against climate change and the polluters. Filipinos are calling on the country's Commission on Human Rights to investigate the big carbon polluters for human rights violations linked to the impacts of climate change. In Australia people are standing up to protect the Great Barrier Reef. On the 30th anniversary of the bombing of the Rainbow Warrior, the third Rainbow Warrior will be campaigning to protect the reef—the largest living thing on the planet—from the coal industry.
The French Government didn't realise the strength of a people-powered movement. They thought two bombs could blow the movement away. They were wrong.
There are small and large acts that each of us can take to make the world a safer, cleaner, healthier, better place. To end the era of dependence on dirty fossil fuels and usher in the age of renewables, where all the world has access to clean energy. Stand up for what you believe in, in whatever way you can; celebrate those who do the same. It makes us all stronger.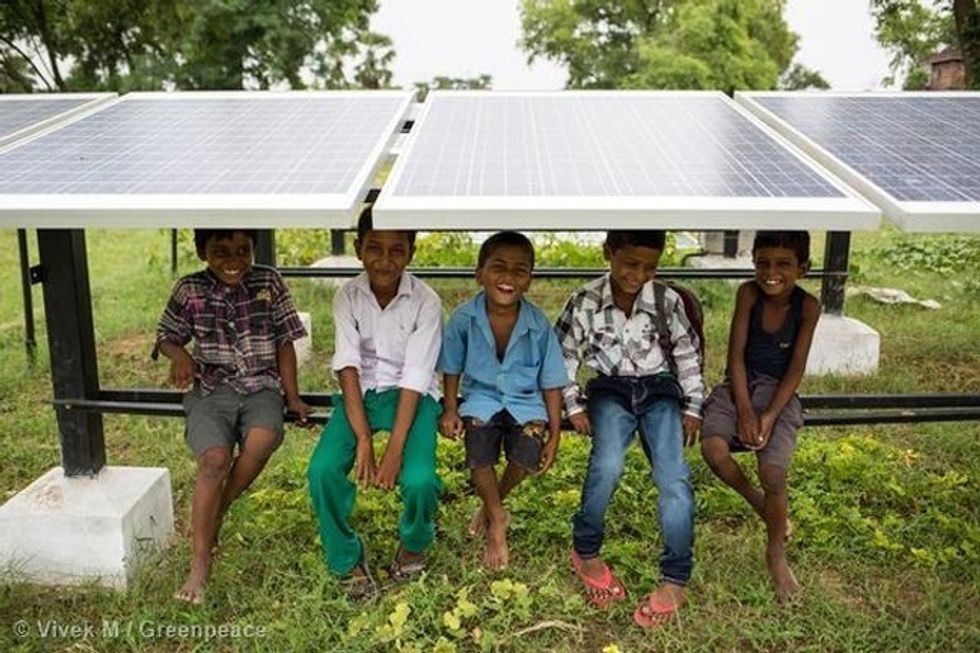 As we remember Fernando Pereira, and dedicate this anniversary to the courage of the crew of that first Rainbow Warrior, we are asking everyone to share their own story of courage to this site.
Read about people just like you and me who oppose injustice and environmental abuse, and who are seized with infectious optimism for change, and a better future.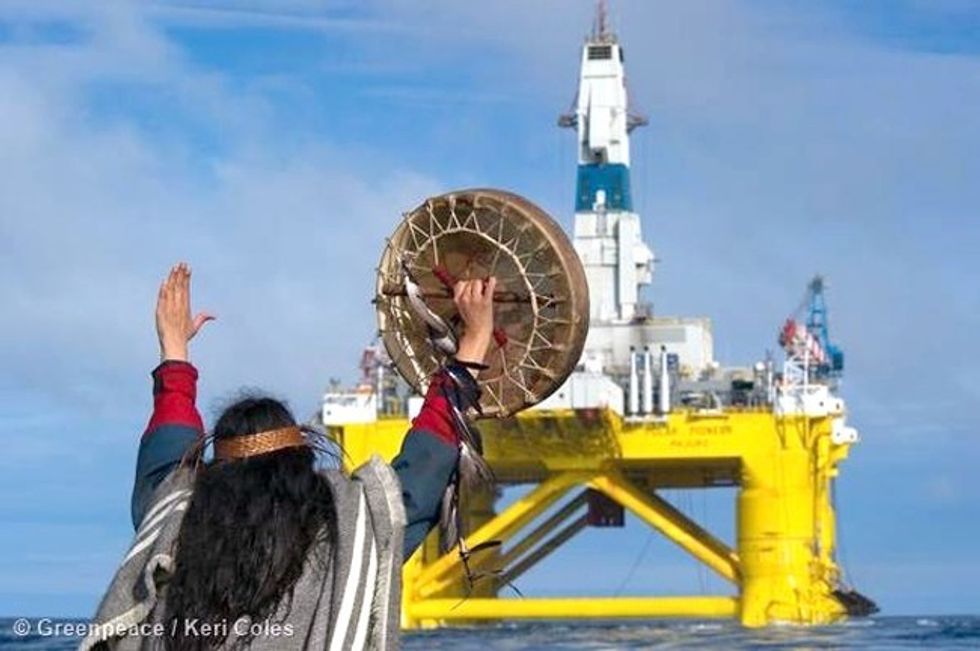 Being courageous is not always easy. But courage is contagious. #CourageWorks and the world has never needed all of us to find the courage to take action as it does now.
YOU MIGHT ALSO LIKE
Pope Francis: Unbridled Capitalism Is 'Dung of the Devil'
3 Presidential Candidates Say 'No' to Fossil Fuel Funding, Will Hillary Join Them?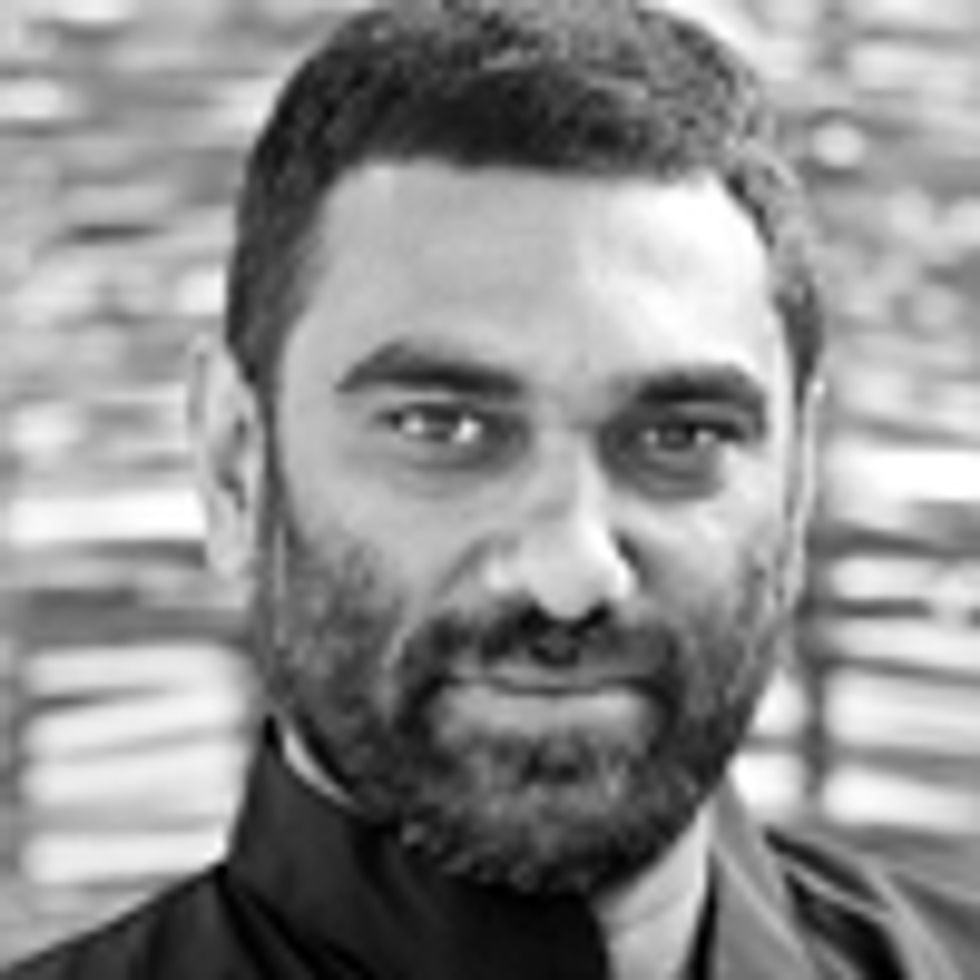 There is an old African proverb that says "If you want to travel fast go alone, if you want to travel far go together." After five and a half years at Greenpeace, I think together we have travelled fast and far. And, we have travelled together. But it is nearly time for me to embark on a new journey.
By the end of this year I will be stepping down as the Greenpeace International executive director. The journey is far from over, and I will stay on it with you. I will then take on my most important role with Greenpeace, as a supporter and volunteer.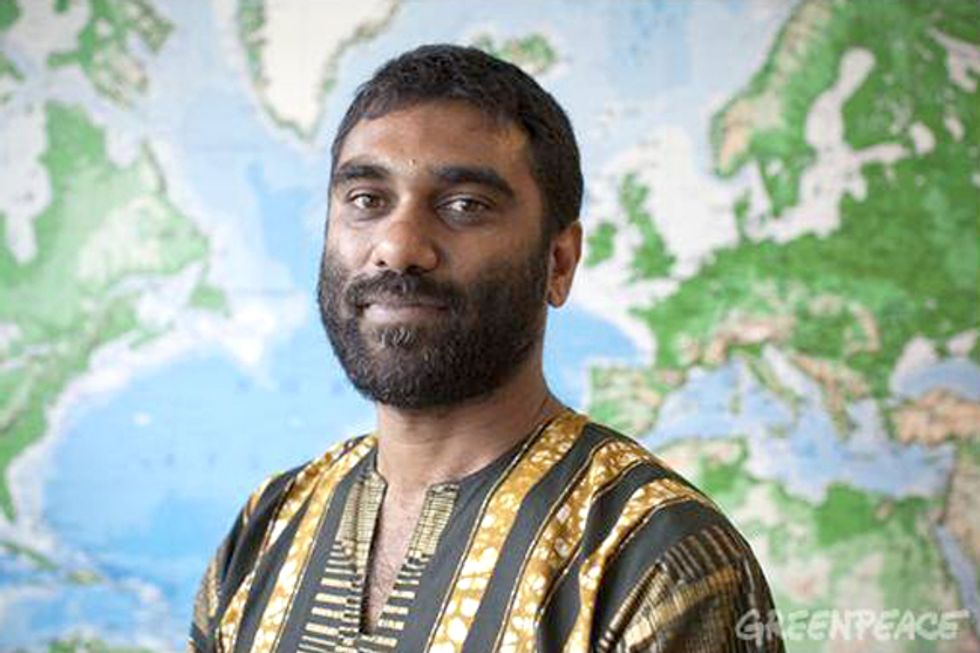 A volunteer on a journey, like those currently aboard the Greenpeace ship Esperanza. Six courageous volunteers, who stand for us all, are making #TheCrossing. Like the tip of an "iceberg" made up of 7 million concerned people, they are following Shell's giant oil rig, the Polar Pioneer, as it makes its way across the Pacific towards the Alaskan Arctic to undertake dangerous Arctic oil drilling.
Why am I sharing this with you now if I won't be leaving for nine months? It's because the Board of Greenpeace International needs to begin the search for its next executive director, and such a search is public and requires extensive consultation. In the coming weeks we will be saying more about it. For the present, we have produced a statement that explains this announcement.
As I say in the statement, this is not a sudden decision for me. It's not that I could not do more here, at Greenpeace International. I'd be happy to continue to work with, or rather for, all of you. But over the last year I have been feeling a strong pull to return home to South Africa. I have been away for 17 years and it feels that the time to return is upon me.
I watch with despair how the South African government, my government, is rolling out plans to spend as much as a trillion Rand (US$ 85 billion) on an absurd deal with Russia to build some seven nuclear reactors.
So, when Greenpeace International has made the smooth transition to new leadership I will be devoting whatever skills I have acquired over the years to the fight for energy justice in South Africa. I believe this to be one of the biggest challenges facing my country since the ending of apartheid.
This struggle is of course about not only about climate change, it's also about development and making sure that the roughly one-in-five South Africans without electricity have access to clean power. It is also about democracy. For more than 60 years we have seen that nuclear power and democracy don't mix.
I want to do what I can to help my country develop based on democratic, 21st century, renewable energy systems. Currently, there is only one nuclear power plant in Africa, at Koeberg, just outside Cape Town. As we said when we hung a banner on it in 2002, during the Earth Summit, it should be the first and last.
It's a tough call, but for every activist there is a battle we must fight, and this is mine.
Over the last few months I have been discussing with the Greenpeace International board chair, Ana Toni, when the best time would be for me to step down. We have discussed how best to ensure the smooth transition I mentioned. As a result, I have agreed to stay on in my current position until the end of the year, at latest, to allow for a successor to be found and the handover to be completed. I will carry on as normal in helping win as many campaign victories as possible.
Greenpeace has come a long way as an organisation in recent years. We've strengthened our links to other groups in civil society and become a strong partner in the broader justice movement. We're including our volunteers and supporters in strategic decisions, we've moved to a more open and "people-powered" approach to campaigning and are more active than ever in the key environmental battlegrounds.
Success or failure in these battlegrounds will decide the fate of our environment and the legacy that we pass on to our children.
I am confident that with the support of so many people we are on the right path to achieve those bigger, and urgently needed campaign victories.
Over the coming months I very much look forward to continuing to work with all of you while the search for my successor gets under way.
They say in any struggle you must lead, follow or get out of the way. In my view, we must all become leaders.
I will continue to follow the development of our fabulous organisation. And, wherever possible, I will join you in getting in the way of the destructive forces that are preventing a just transition to a green and peaceful future.
YOU MIGHT ALSO LIKE
Fighting Dark Money to Restore Our Democracy
Antarctica Records Hottest Day Ever, New Study Finds Rapid Acceleration of Ice Melt
Why Is Climate Denier David Koch on Board of Nation's Leading Natural History Museums?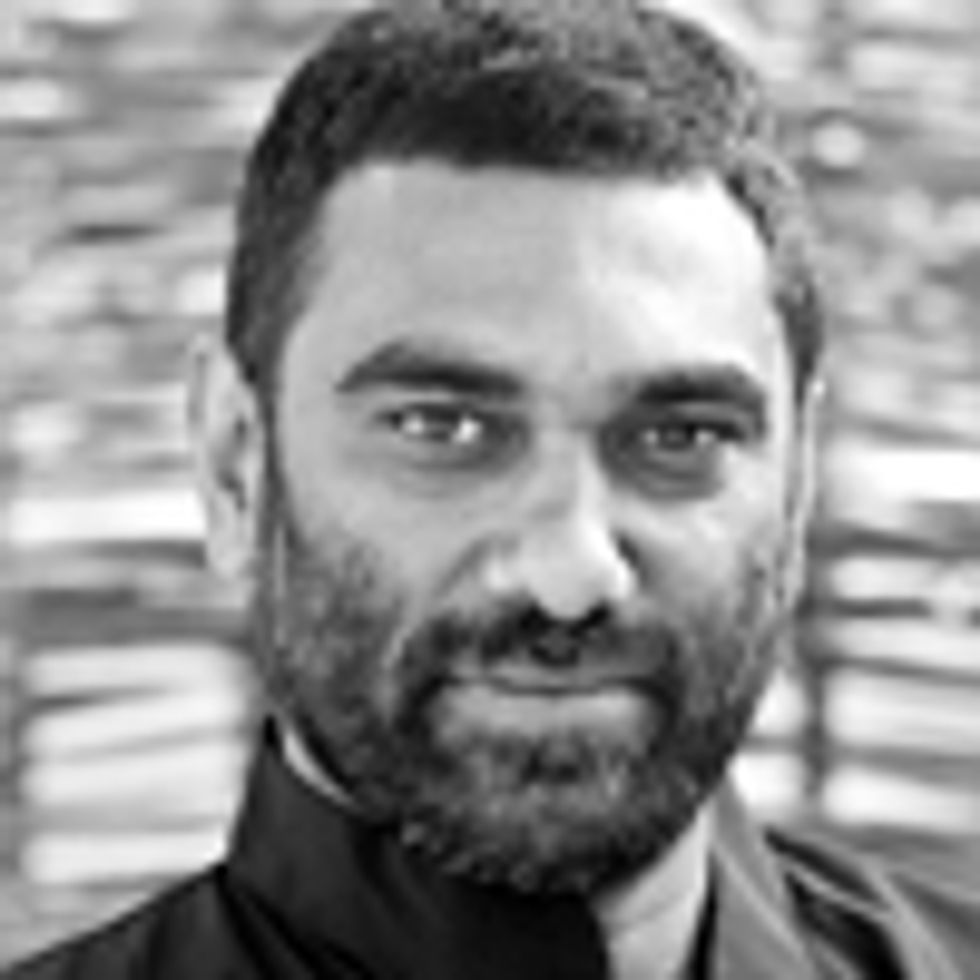 On Saturday I joined a panel at the Munich Security Conference in Germany and talked about global security and energy security. You might be surprised to see Greenpeace at a security conference. The room was full of members of the "strategic community," people who are not the crowd we normally engage with; they are the crowd we have historically challenged with our peace campaigns. However, I appreciated having the opportunity to be a dissenting voice and to talk about what I consider is the path towards true energy security.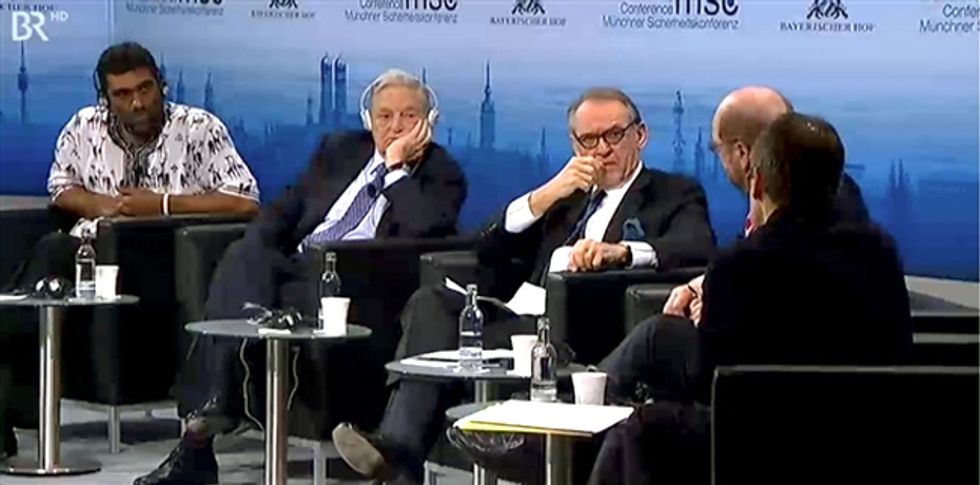 What often dominates discussions about peace and security are questions about solutions—around how conflicts are to be addressed and solved, economic sanctions, peace missions, diplomatic negotiations—these are all the mechanisms we have become accustomed to which dominate the discourse.
I urge you however to think about this from a different perspective—prevention. How could conflicts have been prevented and even more importantly—how can the next conflicts be prevented, or at least how do we mitigate the risks.
When I look back at 2014 and consider the many conflicts that have plagued our planet, there is one fact that I cannot ignore and that is—our addiction to fossil fuels is taking us on the road to nowhere.
It must be made clear—conflict is always driven by a unique set of circumstances and it would be wrong to try to reduce a conflict to one dimension. However, if you look at some of the conflicts that have dominated our news screens this year you will see that fossil fuels—coal, oil and natural gas—have often played a role. Sometimes in the background, sometimes taking center stage. The conflict in the Ukraine, which had partly been triggered by its ongoing energy crisis, has been making headlines. But there were several other conflicts around the world last year, also related to energy issues: in the South China Sea, Iraq and South Sudan, to name just a few.
Energy security was high on the agenda of world leaders in 2014. Governments all over the world are now trying to come up with plans to ensure stable energy supply. I would urge you to consider that our quest for energy security must go hand in hand with the quest for true security. And when embarking on this quest we must insist on finding true solutions. Opt for a system change rather than tweak the existing broken system. For me, true energy security would mean freedom from the geopolitical instability and conflicts triggered by fossil fuels, from the risks to lives, health and the environment, and from some of the threats of climate change.
The conflict in Ukraine has brought the issue closer to home. Gas imports from Russia through Ukraine represent more than 15 percent of Europe's gas supply and last year's threat by Russia to cut off this supply has caused EU leaders to urgently scramble for solutions. Let me be clear—replacing energy supplies from Russia with nuclear energy and fossil fuels from elsewhere, as has been suggested, such as the Middle East or North Africa, is not the answer. We should not be thinking about changing the dealer but instead kick the dirty energy addiction.
We must recognize that Ukraine is only part of the problem. The EU spends about €400 billion a year buying more than half of its energy (53 percent) from abroad. That means Europe spends more than 1 billion euro every day importing more than half of its energy.
The only way forward is choosing energy efficiency and renewables. EU leaders should put greater emphasis on energy saving and renewable energy in order to reduce Europe's dependence on fossil fuel imports and to enhance its energy security. Greenpeace's "Road Map for Europe" explains exactly how this could be done. The citizens of the EU have already made up their mind. According to polls, Europeans overwhelmingly support national targets for renewable energy and strong policies for energy efficiency
This is the only way the EU can set its own course now and forever.
Back in October EU leaders agreed on its 2030 targets for emission cuts, energy saving and clean energy. The bad news—the agreed targets are significantly weaker than those proposed by the European Parliament. And they will slow down clean energy investments. The result—the EU will still have to rely heavily on imported energy. EU leaders have failed to enter this road towards true energy security.
The choice is not between Russia and Saudi Arabia. The choice is between dirty and clean energy providers and between climate chaos and more sustainable living, it's a choice between the past and the future. Fundamentally it is a choice between peace and ongoing and intensifying conflicts. We can choose for a win-win-win for the climate, the economy and people.
Germany is an example: 15 years ago only 6 percent of Germany's electricity was generated by Renewable Energies. Today, 27 percent of Germany's electricity comes from renewables. In another 15 years according to the Government's projections it will be at least 50 percent. German Energiewende (energy transition) is the model for how an industrial country can move towards true energy security.
A report launched at the conference presented a poll according to which more than 8 percent of those asked, and more than 90 percent in some regions, thought there was a leadership crisis in the world today. As long as elected leaders hesitate to take those decisions they were elected for, this will remain the case. Masses of people want change for a just world, fueled by clean energy sources. The year 2015 might be remembered as the year in which this leadership crisis was tackled, in which world leaders turned towards a global Energiewende. Four months from now, Chancellor Angela Merkel will welcome Barack Obama and the other Heads of G7 Governments to Germany to discuss future climate and energy policy. I call on Mrs. Merkel to use this unique opportunity. The G7 summit must give the world a vision for a future energy system without nuclear power, without coal power, based 100 percent on Renewable Energies.
YOU MIGHT ALSO LIKE
Burlington, Vermont Becomes First U.S. City to Run On 100% Renewable Electricity
Look Out Utility Companies: Tesla is Disrupting More Than Just the Auto Industry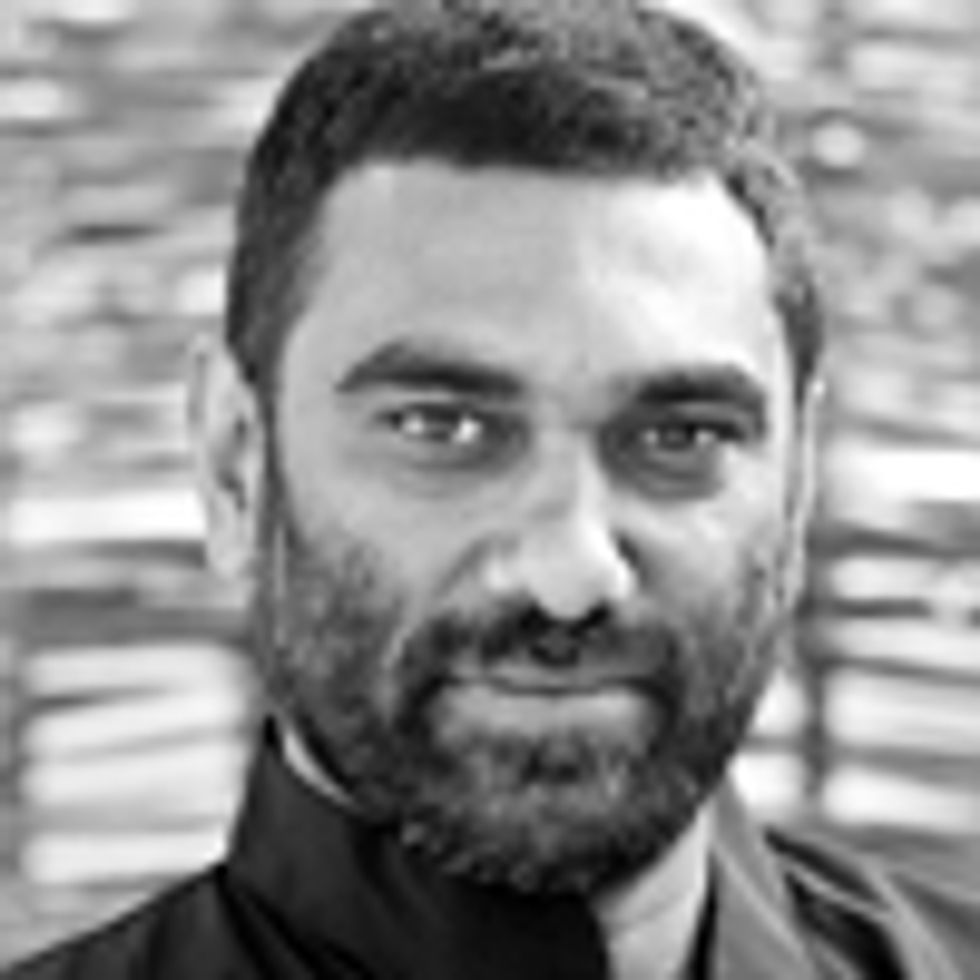 The world has changed since our leaders discussed climate change in 2009. It has become even more evident; ravaging crops in Africa, melting ice in the Arctic, drowning the Philippines and drying-up California. The poor are paying the highest price. But ever since super storm Sandy hit New York, even the rich in industrialized countries know that they can´t hide from devastating climate change in their gated communities.
Climate change is not on its way. It's already here.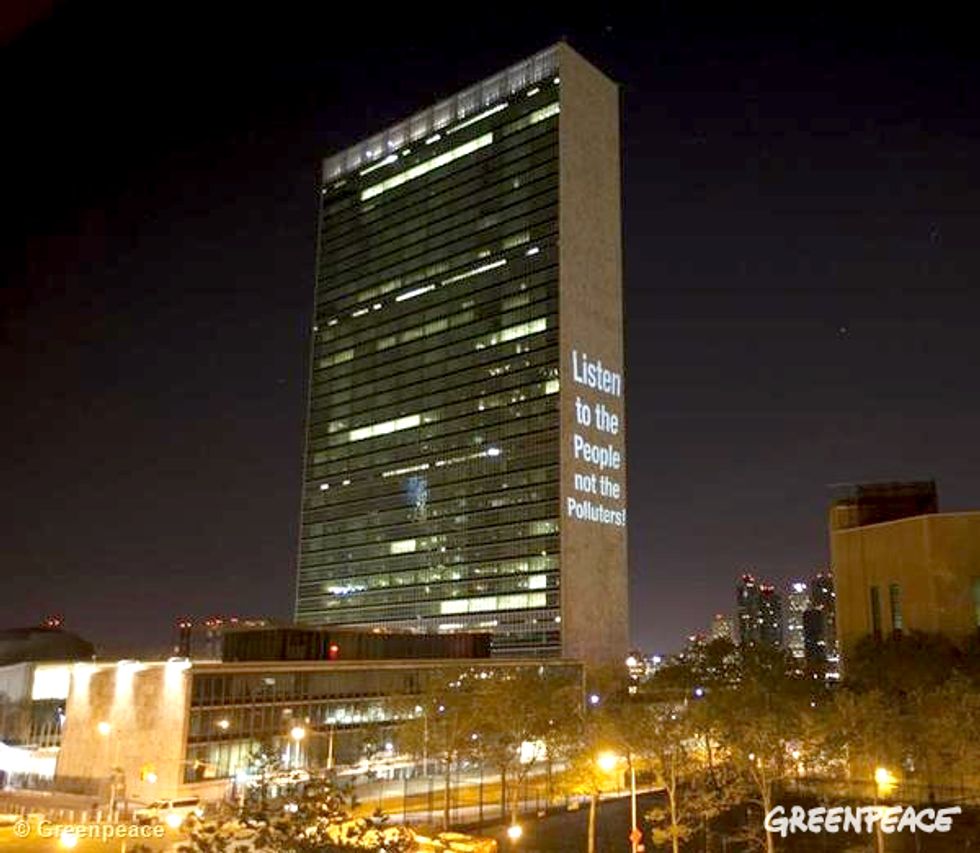 People are standing up to polluters, so we put their message on the side of the UN building in NYC, hours before the UN Climate Summit 2014 started. Photo credit: Greenpeace
Yet, cost-effective, sensible solutions have also made quantum leaps since 2009. Clean, renewable energy is getting bigger, better and cheaper every day. It can provide the answers our exhausted planet is looking for. Renewables are the most economical solution for new power capacity in an ever-increasing number of countries. 100 percent of power capacity added in the U.S. last month was renewable and countries like Denmark and Germany are producing new clean electricity records almost every month. In China, real change is under way, too. Not only is China installing as much solar this year as the U.S. has ever done, but their apocalyptic coal boom which drove up global carbon pollution since 2000 is also coming to an end. Things are rapidly changing and the current economic paradigm is no longer impenetrable—the light of reason is starting to shine through its cracks.
If rationality and economics were humanity's guide to living on this planet, climate action would no longer need summits. The more successful clean energy solutions get, the more they are cutting into the profit margins of those few powerful companies whose business models depends on continued fossil fuel dependency. That's why we agree with UN Secretary General Ban Ki-moon when he says "instead of asking if we can afford to act, we should be asking what is stopping us, who is stopping us, and why?" We would add to this another question: for how long?
Today, it is interests of the fossil fuel industries—not technology nor economics—which are the only obstacle to securing a safe future for us and our children on this planet. And they know it, too. When we talk to people at major energy firms these days, they admit in private that they understand the need to transition towards clean energy. But the coal investments that companies like Duke Energy in the US, and Eskom in South Africa have made are holding them back. Worse, because they fear that their massive investments could become stranded (i.e. wasted) assets they are actively lobbying politicians to slow down the clean, people-powered energy revolution that is under way.
Business lobbies such as ALEC in the U.S. or Business Europe in the EU are fighting tooth and nail to prevent progressive climate policies from being adopted. They claim they do this to "protect jobs." But this is an utter lie. We want workers fully involved in a just transition to a clean energy future. But we also know from Greenpeace Energy Revolution analyses over the past decade that renewables and energy efficiency will deliver more jobs than carrying on with dirty energy business as usual. By implementing a step by step energy ®evolution governments can, for example, help businesses create 3.2 million more jobs by 2030 in the global power supply sector alone. In South Africa, to pick just one country, 149,000 direct jobs could be created by 2030. That's 38,000 more than in the current government plan.
Meanwhile, China's turnaround on coal could also change the dynamics in the global climate debate. At the New York City summit, the Chinese government could end the current "you go first" mentality that has poisoned progress during the UN climate talks. Wouldn't it be wonderful if China, emboldened by its domestic actions, were to lead the world to a new global climate agreement by, for example, announcing in New York a peak in their emissions long before 2030?
It's only these kind of bold, concrete commitments that will be acceptable for the New York climate summit. Progressive business leaders need to—as Ban Ki-moon put it, "push back against skeptics and entrenched interests." They can do so by leaving destructive business lobbies such as ALEC or Business Europe and setting themselves concrete deadlines by which they will run their businesses on 100 percent renewable energy. Governments need to send a clear signal to investors by supporting a phase-out of fossil fuels by 2050.Indeed concrete steps need to be taken now—such as ending the financing of coal fired power plants—to get us there.
The world has changed since 2009. Baby steps are no longer enough. To control runaway climate change, we need to sharply change tack and sail with the wind, not against it with unsustainable fossil fuels.
That's why we marched on the streets of New York, and cities around the world on Sept. 21: to show—alongside tens of thousands of people—that it's time the polluters got out of the way and let us build a green, just and peaceful future for the generations which follow us.
YOU MIGHT ALSO LIKE
We Can Run the Planet on 100% Renewable Energy
To Change Everything We Need Everyone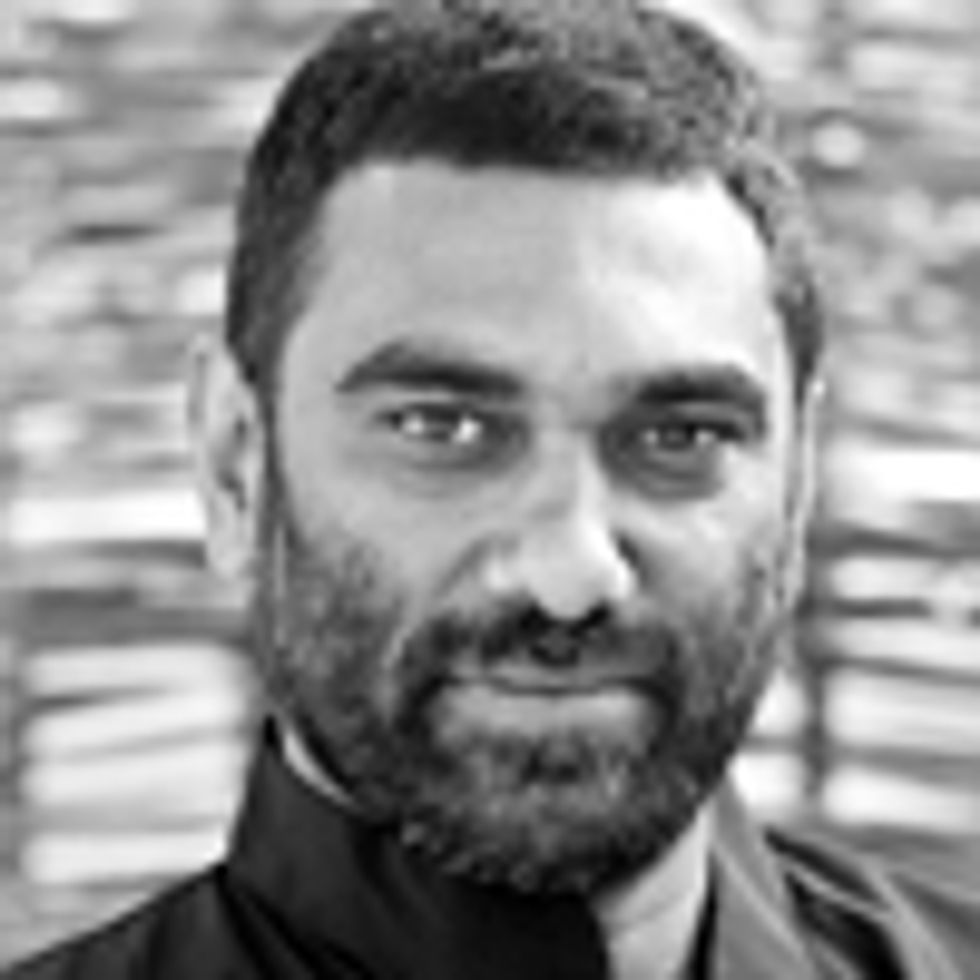 Last week, I joined a panel at the Global Agribusiness Forum in São Paolo (Brazil) to talk about the impacts of climate change on agriculture and food production.
You might be surprised that Greenpeace was at an agribusiness conference. The room was full of agri-business people, who are not the crowd we normally engage with; they are the crowd we normally challenge with our campaigns. However, I appreciated having the opportunity to be a dissenting voice and to talk about how ecological farming is a more resilient and sustainable model to produce diverse and healthy food in the face of erratic climate patterns.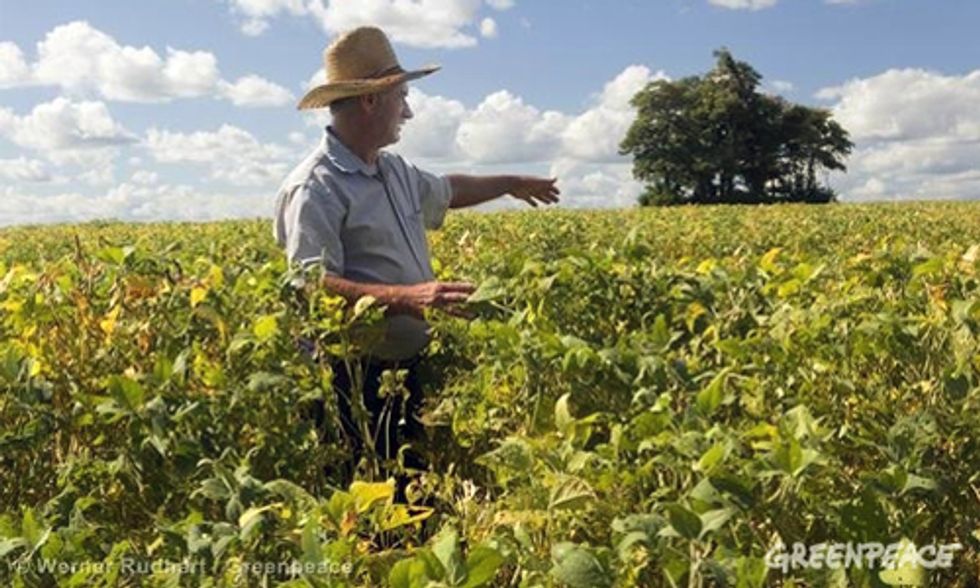 The model of farming we choose can either make us more vulnerable, or help us both to be more resilient to our changing climate and to reduce greenhouse gas emissions. We cannot afford to endlessly discuss the effects of global climate change on agriculture and do nothing about it. In fact, the impacts of climate change—like massive droughts, typhoons and storms—are already appearing and are consistent with climate change scenario predictions. The time for debate is over. Now is the time to tackle the problem head-on with real solutions.
One approach—the one that many of the Global Agribusiness Forum attendees support—is continuing to expand the chemical-intensive industrial agriculture model. Yet, this model has already shown itself to be fundamentally flawed and unable to address the climate challenges the world is already experiencing. In fact, it firstly requires stable climates and optimal growing conditions for highly specialized seeds to achieve high yields. Second, the model relies on vast areas of monoculture (large scale planting of a single crop), which harm biodiversity. Third, this model is also dependent on expensive chemical products (pesticides and fertilizers), which lead to farmer indebtedness, heavily pollute the environment, damage natural biodiversity and are based on fossil fuels. The fossil fuel dependence, in particular, means that as fossil fuel prices rise, food prices rise, causing increased suffering for the world's poor people.
A better approach to ensure food production under challenging climatic conditions is ecological farming, a system based on diversity of nature to produce food for all: the diversity of seeds and plants; the diversity of many different crops grown at the same time in the same field; the diversity of insects which pollinate (like bees) or eliminate pests; the diversity of farming systems mixing crops with livestock. The result is a diverse range of food that is healthy for both people and the planet.
A good example of how ecological farming builds resilience to climate change is growing crops with beans, which are protein-rich and flavorful, but also can help play a role in climate adaptation. Scientists from Wageningen University in the Netherlands recently found that beans greatly improve poor soils, increase productivity of maize when grown with them, and respond well to drought. They also have multiple uses for food, animal feed, and soil fertility. These scientists found that growing maize and beans next to each other increased income by 67 percent without the use of any chemical fertilizers and farmers were interested in adopting it.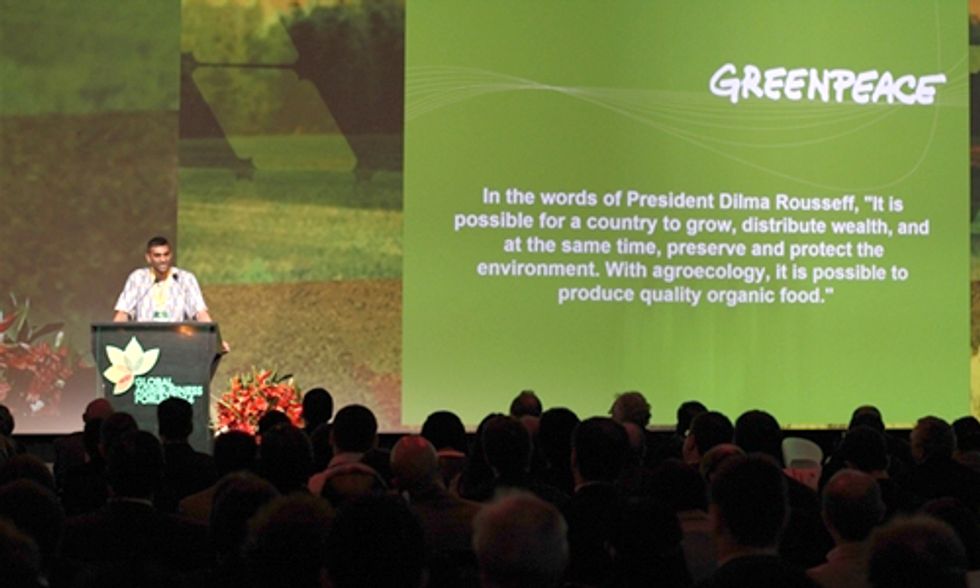 All eyes are now on emerging economies—Brazil, China and India—who together produce and consume the majority of food on the planet. As the Intergovernmental Panel on Climate Change (IPCC) report, released today, points out, our food system is going to be impacted negatively, especially in these countries. It is very possible that climate change will bring the economic development of these crucial regions to a virtual standstill. However, this is not inevitable.
The solutions of ecological farming exist and can be built upon to create a new food future. And, Brazil has a strong ecological farming movement that has already succeeded in achieving a national policy on agroecology (the science of ecological farming). They can help to lead the way. But, alongside the ecological farming model, Brazil is investing heavily in expanding industrial agriculture. Thus, Brazil currently has two parallel models that can not co-exist together: one based on growing food with the diversity of nature, that is healthy for people and the planet; the other based on chemical-intensive monocultures to grow commodity crops for export that mostly feed animals. However, only by shifting financial resources to support widescale uptake of ecological farming will Brazil show global leadership and become a beacon of modern and innovative agriculture.
Other countries are looking to Brazil to share their experiences, especially those in Africa, a region desperately in need of a system that can not only sufficiently feed people but also face the most dramatic manifestations of climate change. As an African, I can tell you that Africa doesn't need or want the chemical-intensive industrial agriculture model. What Africa wants is for Brazil to share its successes with ecological farming and show the entire world that ecological farming is indeed the only path to ensure healthy food for people, protect the environment and cope with climate change. 
Follow Kumi Naidoo on Twitter at @kuminaidoo and on Facebook.
——–
YOU MIGHT ALSO LIKE
Family Farmers + You = A Well Nourished World
Vertical Farming: Feeding Tomorrow's World With Today's Emerging Technologies
Full Planet, Empty Plates: The Geopolitics of Food Scarcity
——–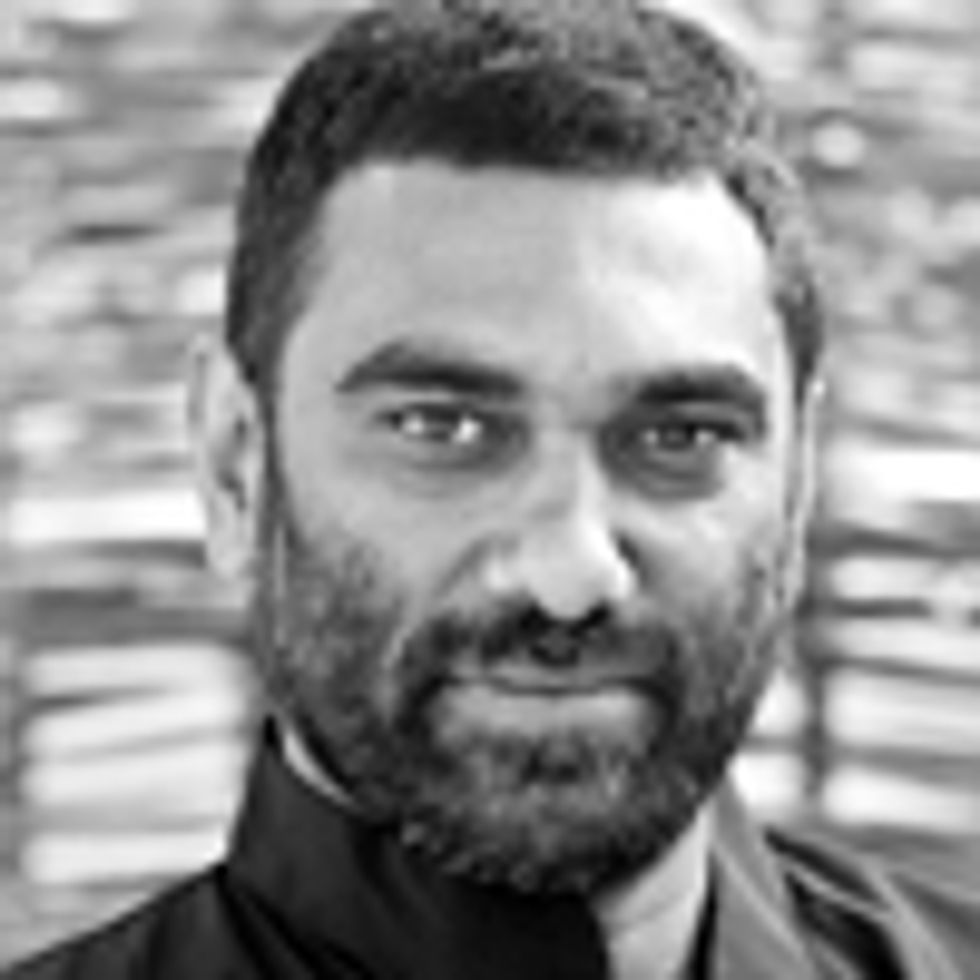 A mind-boggling sum of about $800 for each person on the planet is invested into fossil fuel companies through the global capital markets alone. That's roughly 10 percent of the total capital invested in listed companies. The amount of money invested into the 200 biggest fossil fuel companies through financial markets is estimated at 5.5 trillion dollars. This should be an impressive amount of money for anyone reading this.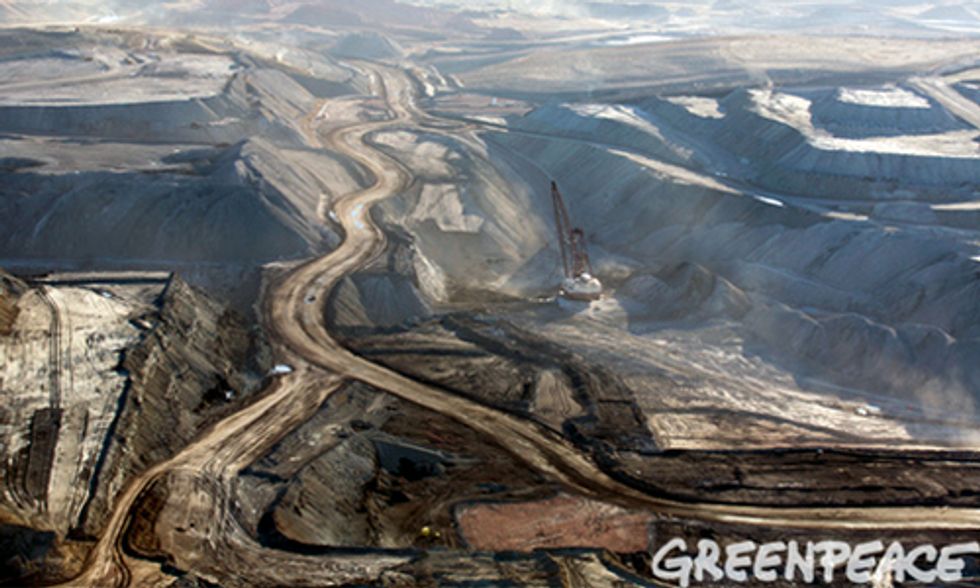 Activities at the Black Thunder Mine outside of Wright, WY. Photo credit: Greenpeace USA
By keeping their money in coal and oil companies, investors are betting a vast amount of wealth, including the pensions and savings of millions of people, on high future demand for dirty fuels. The investment has enabled fossil fuel companies to massively raise their spending on expanding extractable reserves, with oil and gas companies alone (state-owned ones included) spending the combined GDP of Netherlands and Belgium a year, in belief that there will be demand for ever more dirty fuel.
This assumption is being challenged by recent developments, which is good news for climate but bad news for anyone who thought investing in fossil fuel industries was a safe bet. Frantic growth in coal consumption seems to be coming to an end much sooner than predicted just a few years ago, with China's aggressive clean air policies, rapidly dropping coal consumption in the U.S. and upcoming closures of many coal plants in Europe. At the same time the oil industry is also facing slowing demand growth and the financial and share performance of oil majors is disappointing for shareholders. 
Nevertheless, even faced with weakening demand prospects, outdated investment patterns are driving fossil fuel companies to waste trillions of dollars in developing reserves and infrastructure that will be stranded as the world moves beyond 20th century energy.
A good example is coal export developments. The large recent investment in coal export capacity in all key exporter countries was based on the assumption of unlimited growth of Chinese demand. When public outrage over air pollution reached a new level in 2012-2013, the Chinese leadership moved swiftly to mandate absolute reductions in coal consumption, and banned new coal-fired power plants in key economic regions. A growing chorus of financial analysts is now projecting a peak in Chinese coal demand in the near future, which seemed unimaginable just a couple of years ago. This new reality has already reduced market capitalization of export focused coal companies. Even in China itself, investment in coal-fired power plants has now outpaced demand growth, leading to drops in capacity utilization.
Another example of potentially stranded assets is found in Europe, where large utilities ignored the writing on the wall about EU moves to price carbon and boost renewable energy. Betting on old business models and the fossil-fuel generation, they built a massive 80 gigawatts of new fossil power generation capacity in the last 10 years, much of which is already generating losses and now risk becoming stranded assets.
Arctic oil drilling is possibly the ultimate example of fossil companies' unfounded confidence in high future demand. Any significant production and revenue is unlikely until 2030, and in the meanwhile Arctic drilling faces high and uncertain costs, extremely demanding and risky operations, as well as the prospect of heavy regulation and liabilities when (not if) the first major blowout happens in the region. No wonder the International Energy Agency is skeptical about Arctic oil, assuming hardly any production in the next 20 years. Regardless, Shell has already burnt $5 billion of shareholders' money on their Arctic gamble.
Those investing in coal and oil have perhaps felt secure seeing the global climate negotiations proceed at a disappointing pace. However, the initial carbon crunch is being delivered by increasingly market-driven renewable energy development, and by national level clean energy and energy efficiency policies—such as renewable energy support schemes and emission regulation in Europe, or clean air policies in the U.S. and in China. Global coal demand, and possibly even oil demand, could peak even before a strong climate treaty is agreed.
Investors often underestimate their exposure to fossil fuels, particularly indirect exposure through e.g. passively managed pension funds and sovereign debt of strongly fossil fuel dependent states. Assessing exposure, requiring fossil energy companies to disclose and reduce carbon risks, and reducing investments in sunset energy technologies will lead to profitable investment in a world that moves to cleaner and smarter energy systems.
Improving competitiveness of renewable energy, growing opposition to destructive fossil fuel projects, concerns on water shortage and the imperative of cutting global CO2 emissions all point in the same direction: Governments, companies and investors should all be planning for a world with declining fossil fuel consumption—not only because it's the right thing to do, but also because it makes economic sense.  It is the direction the world will be moving to—faster than many yet anticipate.
Follow Kumi Naidoo @kuminaidoo
Visit EcoWatch's ENERGY page for more related news on this topic.