The U.S Food and Drug Administration (FDA) today proposed a federal rule that, if finalized, would remove the potentially hazardous chemical triclosan from antibacterial body washes and hand soaps.
Under the proposed rule, the FDA will require manufacturers to prove their antibacterial soaps and body washes are safe and more effective than plain soap and water. If companies cannot demonstrate the safety and effectiveness of their products, they would have to be reformulated, relabeled or possibly removed from the market.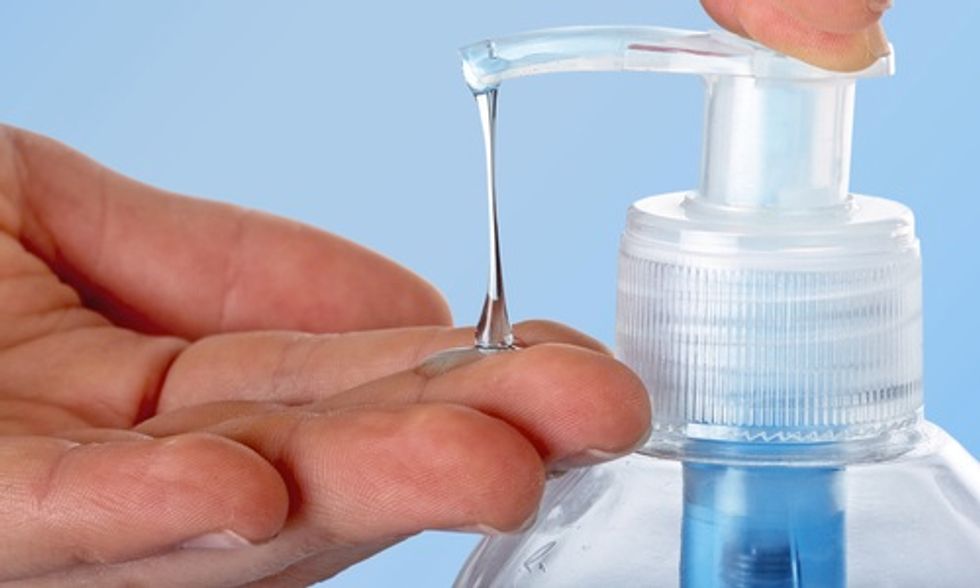 Shutterstock
FDA first proposed to remove triclosan from certain consumer products in 1978. The chemical, a suspected endocrine disruptor, has been linked to reproductive and developmental harm in laboratory studies.
The agency took no final action, however, and triclosan has been widely used in antimicrobial soaps sold in the U.S. In April 2010, the FDA acknowledged soaps containing triclosan offer no additional benefit over regular soap and water. 
In 2010, the Natural Resources Defense Council (NRDC) sued the FDA to force the agency to issue a final rule. As part of a settlement signed last month, the agency proposed a new final rule today and committed to taking final action by 2016.
"This is a good first step toward getting unsafe triclosan off the market," Mae Wu, an attorney in the NRDC health program, said in a media release. "The FDA is finally taking concerns about triclosan seriously. Washing your hands with soap containing triclosan doesn't make them cleaner than using regular soap and water and can carry potential health risks."
The growing use of triclosan in products during the past few decades has led to widespread residues in the environment and in people. Bio-monitoring results found residues of triclosan in 75 percent of Americans older than age of six. The chemical is absorbed through contact with the skin and tests have found it in human blood, urine and even breast milk.
Laboratory studies have shown that triclosan is an endocrine disruptor capable of interfering with hormones critical for normal development and reproduction. Such hormonal interference has the potential to cause long-term health problems including poor sperm quality and infertility and damage to the developing brain leading to poor learning and memory.
Several studies suggest that triclosan also may contribute to the development of antibiotic-resistant bacteria, may exacerbate allergies and may weaken muscle function.
Visit EcoWatch's HEALTH page for more related news on this topic.

EcoWatch Daily Newsletter
The world's largest trader of palm oil recently announced it will launch a No Deforestation, No Peat, No Exploitation policy, a broad environmental and social pact that features a commitment to no deforestation and free, prior informed consent when dealing with indigenous communities.
Wilmar International, the Singapore-based agribusiness company, said it "aims to advance an environmentally and socially responsible palm oil industry" and will "only provide products that are free from links to deforestation or abuse of human rights and local communities."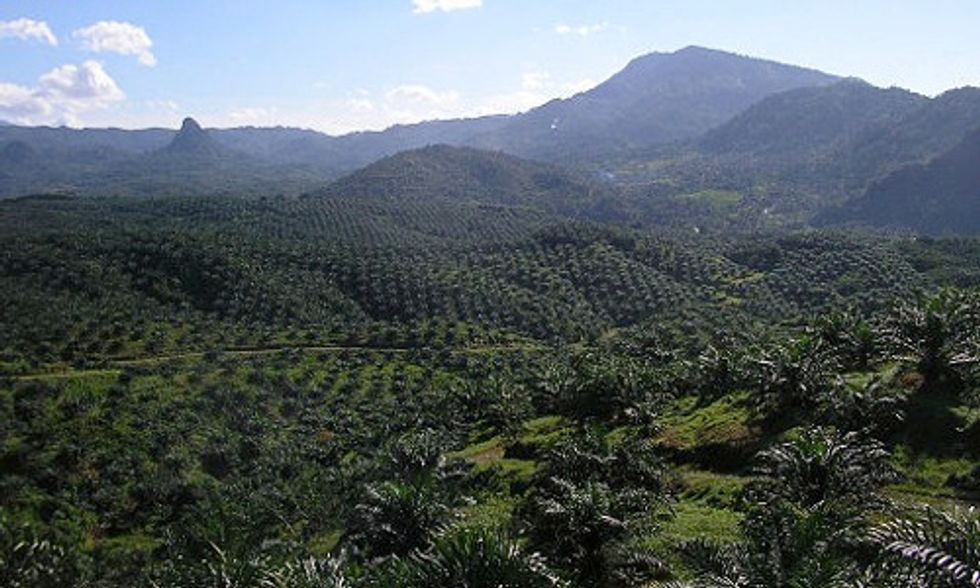 The policy includes measures to "protect high carbon stock and high conservation value landscapes, and to ensure respect for community rights and support for development," says Wilmar, which controls more than a third of the global palm oil trade.
Wilmar also will work with suppliers to immediately move development activities away from high carbon stock, peat and high conservation value lands.
The new policy was the product of months of discussions among The Forest Trust (TFT), Climate Advisers, Wilmar and consumer goods giant Unilever, said a media release.
Palm oil is a $50-billion-a-year commodity that makes its way into half of all consumer goods on the shelves—chocolate, baked goods, soaps, detergents and much more.
U.S. imports have increased almost fivefold over the past decade. Eighty-five percent of palm oil is grown on industrial plantations in Indonesia, Malaysia and Papua New Guinea, home of some of the largest remaining rainforests in the world. Clearing tropical forests for these plantations threatens the world's last Sumatran tigers, as well as orangutans, elephants, rhinos and the tens of millions of people who depend on these rainforests to survive. Because of deforestation, Indonesia is the third-largest emitter of global warming pollution in the world, behind only China and the U.S.
By banning its suppliers from destroying forests and peatlands, Wilmar's policy could be an important step toward transforming the palm oil sector, Bustar Maitar, head of the Indonesia forest campaign at Greenpeace International, wrote on his blog.
"Wilmar has responded to years of pressure from Greenpeace, other NGOs and a growing movement of consumers around the world demanding clean palm oil and an end to forest destruction," Maitar said.  "Wilmar's commitment to No Deforestation has the potential to transform the controversial palm oil industry."
Other organizations have reacted more cautiously based on experience with Wilmar. The company has been accused of violating ethical standards that it has signed as a member of the Round Table on Sustainable Palm Oil and as recipient of funding from the World Bank's International Finance Corporation.
"We are strongly cognizant that Wilmar's commitment to improvement comes in the wake of many years of land-grabbing, fueling of conflicts, destruction of endangered habitat and other abuses—all of which has rewarded Wilmar and its associates with enormous profits and established the company as the world's largest palm oil trader," said a statement from Friends of the Earth. "Friends of the Earth U.S. and Friends of the Earth International will be closely monitoring the implementation of Wilmar's stated commitments to ensure that Wilmar takes immediate steps to fulfill its promise and comply with its policy."
Wilmar's policy comes on the heels of similar recent commitments from other companies. In November, Unilever pledged that 100 percent of the palm oil used in its supply chain would by fully traceable to known sources by the end of next year. Global chocolatier Ferrero also announced it would become a TFT member and work to make sure its supply chain has no link to deforestation by the end of 2014.
In 2010, Nestlé was the first company to commit to eliminate deforestation and exploitation from its supply chain.
Watch this video from Friends of the Earth that looks at the devastation wrought by illegal land grabbing for palm oil plantations in Indonesia.
Visit EcoWatch's FOOD page for more related news on this topic.

Vagengeym_Elena / iStock / Getty Images
With a growing market for vegan makeup and cruelty-free cosmetics, more and more beauty brands are ditching animal ingredients and animal testing. While many luxe animal-friendly companies have high prices, there are a number of cruelty-free makeup brands producing affordable personal care products as well.
In this article, we'll recommend 11 essential beauty products that have drugstore price tags and cruelty-free certifications. An easy switch to make in your day-to-day makeup and skincare routine is to invest in cruelty-free cosmetics that work to protect the most vulnerable among us — animals.
Our Picks for Best Cruelty-free Makeup Products
Each product featured here has been independently selected by the writer. Learn more about our review methodology here. If you make a purchase using the links included, we may earn a commission.
What to Know About Cruelty-Free Makeup
While vegan products are great for the environment, they aren't always cruelty-free — nor are cruelty-free products always vegan. "Vegan" means that the product's formula doesn't contain any animal-derived ingredients, while "cruelty-free" means that it was developed without animal testing.
No product we recommend in this article is tested on animals at any point during the production process. They come from ethical, cruelty-free makeup brands, which can be hard to find in the massive beauty industry.
Full Reviews of Our Top Picks
FAQ: Cruelty-Free Makeup Brands
Is L'Oréal cruelty-free?
L'Oréal is not cruelty-free. Its products are sold in China, where the government requires animal testing for foreign cosmetics.
Is Maybelline cruelty-free?
Like its parent company L'Oréal, Maybelline is not cruelty-free. Its products are sold in China, where the government requires animal testing for foreign cosmetics.
Is Kylie Cosmetics cruelty-free?
Kylie Cosmetics products are not tested on animals, but the brand's parent company,Coty, Inc, is not cruelty-free.
What makeup doesn't test on animals?
There are plenty of makeup brands that don't test on animals. When looking for products, keep an eye out for cruelty-free signals such as Leaping Bunny Certified or PETA Beauty Without Bunnies logos.
Is "cruelty-free" makeup really cruelty-free?
The term "cruelty-free" is currently not regulated by the U.S. government, so you can't trust every product or company that advertises this. Some brands contract other companies to do their animal testing but claim to "not test on animals" because they are not doing the testing themselves. The best way to be certain a company or product is actually cruelty-free is to look for certifications such as Leaping Bunny or PETA Beauty Without Bunnies.
By Dana Frasz
Words such as convoluted, confusing, inconsistent, ineffective, disorienting, ambiguous and dizzying are not terms you want to hear associated with a system you believe is designed to guarantee food safety. Yet those are the adjectives that a recent report uses to describe the current date labeling regime in the U.S. Published by the Natural Resources Defense Council (NRDC) and the Harvard Law School Food Law and Policy Clinic, the report, titled The Dating Game: How Confusing Food Date Labels Lead to Food Waste in America, shows that a bewildering system of date labeling is a major driver of unnecessary food waste.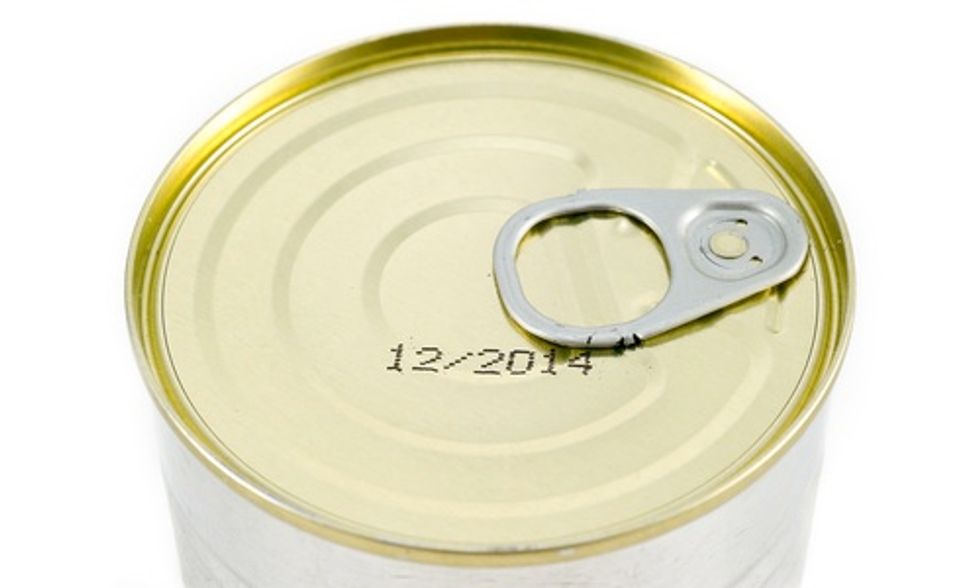 Shutterstock
Date labeling was instituted in the 1970s as a way to give shoppers assurance they were buying fresh food. But labeling hasn't even achieved that modest goal, according to the report. "Ironically, despite the original intention of increasing consumer knowledge about their food, date labeling has become a largely incoherent signaling device for consumers," the report says. That incoherence is costly for shoppers and retailers, bad for the planet and could even be leading to increased health risk.
Each year, an obscene amount of food is wasted in the U.S. and around the world—and confusing and inconsistent food date labels are making the matter worse. According to another NRDC report published last year, 40 percent of all the food produced in the U.S. never gets eaten. That translates to wasted natural resources, wasted money and wasted nutrition.
Here's a quick overview:
Each time food is wasted, all the resources that went into producing, processing, packaging and transporting that food is wasted, too. This means huge amounts of chemicals, energy, fertilizer, land and 25 percent of all freshwater in the U.S. used to produce food are all thrown away.
Americans are throwing out the equivalent of $165 billion each year in food, which costs $750 million annually just for disposal.
Most uneaten food rots in landfills, where it accounts for almost 25 percent of U.S. methane emissions. Methane is a powerful greenhouse gas that is at least 56 times more harmful to the climate than CO2 and is a significant contributor to global warming.
Reducing food losses by just 15 percent would be enough food to feed more than 25 million Americans at a time when one in six Americans lack a secure supply of food.
Look at all of the food wasted globally and you'll see that mismanagement of resources is a major contributor to climate change. According to a recent FAO report, the global carbon footprint of food produced but not eaten is the equivalent of 3.3 gigatons of CO2 annually—which would make food waste the third-largest contributor to climate change, behind the U.S. and China.
Food waste happens for many complex reasons, people's misinterpretation of date labels on foods being just one of them. But it might be one of the easiest food waste causes to fix. Dana Gunders, agriculture specialist at NRDC and one of the authors of The Dating Game, says, "Every entity around the world that has investigated food waste—the United Kingdom, the European Union, the United Nations and NRDC in last year's report—have all highlighted reducing confusion around expiration dates as one of the key 'low hanging fruit' opportunities for reducing food waste. So we set off to seize that opportunity starting with this report."
While many people place a lot of confidence in food date labels, its an ad-hoc system with no oversight and little consistency. The labels are not federally regulated and can vary from state to state. Despite what most people think, the labels don't communicate whether a product has spoiled. "use by" and "best before" are just suggestions determined by the manufacturer to indicate when food is at its peak quality. "Sell by" is the manufacturer's suggestion for when the grocery store should no longer sell the product. There is no uniform criteria for any of those terms.
Dr. Ted Labuza has been working on shelf life testing since the 1970s. He says 65 percent of consumers sort through items at the store to locate the "freshest" product based on the date stamp. "That is no guarantee of safety or quality," he warns. "The newer product could have been sitting on a loading dock for 10 hours."
According to a survey by the Food Marketing Institute, confusion about date labels leads nine out of 10 Americans to needlessly throw away food. This habit isn't cheap: Americans annually spend between $1,365 and $2,275 per household of four on food they never eat. A study in the United Kingdom estimated that 20 percent of food wasted in British households is due to misinterpretation of date labels. The new NRDC report also warns that date labels may fuel a false sense of security when it comes to food safety. Date labels "may be encouraging consumers to ignore the more relevant risk factors affecting food safety, including the importance of time and temperature control along the distribution chain."
The confusion also costs retailers money. A 2001 study estimated that each year, $900 million worth of inventory was removed from the supply chain due to date code expiration and identified the lack of standardization around date coding as one of the factors driving that loss. A survey of grocery store workers found that even some employees themselves do not distinguish between different kinds of dates.
The problem has trickled down to efforts to recover and redistribute food. Anti-hunger organizations around the country often make use of expired or soon-to-expire items. Yet confusion around date labels leads to food unnecessarily being tossed out instead of distributed to people in need. According to the NRDC report, experts in food recovery and food waste say there is widespread confusion among anti-hunger program administrators over the meaning of various date labels. Food safety officers working with anti-hunger organizations "must consequently spend considerable time and effort educating workers about the date labeling system and those workers must in turn educate clients and end-users when they express concerns or uncertainty about the products they are receiving."
Each of U.S. has a role to play in reducing food waste and its horrible impacts. This involves learning how to reduce your waste, understanding date labeling and sharing this knowledge with family, colleagues and friends. According to Labuza, storage temperature is the main factor determining food safety, rather than the amount of time that has passed since the product's creation. Labuza recommends keeping refrigerators at 40 degrees or less (he keeps his at 34) and the NRDC has put together a guide to help you understand how to more effectively use your refrigerator.
The Dating Game has a few recommendations for industry and government:
Make sell-by dates invisible to consumers. These dates are meant to be for business-to-business communication and yet they are confused as safety dates.
Develop reliable, standardized labeling that clearly distinguishes between safety and quality.
Remove dates from non-perishables. Where safety is not a concern, this would encourage people to make judgments about freshness and quality by actively investigating the food instead of relying on an industry-provided label.
Use labels as an opportunity to educate consumers on safe food handling. For example, packaging could include "freeze by" dates to help raise awareness of the benefits of freezing food to extend shelf life.
Retailers can sell past-date products at a discount. This gives thrifty shoppers the option of overlooking the quality standards indicated by a date label in exchange for a reduction in price.
Governments should conduct public education campaigns to educate consumers on the meaning of date labels, proper food handling and ways to determine when food is safe to eat.
Brands and retailers have an opportunity to demonstrate their concern for the environment and the health and finances of their customers by taking action to re-educate shoppers about food safety and labeling. To achieve lasting change, we need to push Congress and federal agencies to change these inconsistent and confusing rules. Congresswoman Nita Lowey (D-NY) has submitted the Food Freshness Disclosure Act to "help establish a consistent food dating system in the United States and protect American consumers." Emily Broad Leib, one of the authors of The Dating Game, says consumers should ask their representatives to sign onto the bill and help push it through to passage.
"Creating a meaningful, standardized system is a crucial way to reduce food and resource waste, save money for consumers who are watching their wallets (particularly in these economic times) and actually improve safety for consumers," Leib says.
Visit EcoWatch's FOOD page for more related news on this topic.

Infants and toddlers are likely becoming exposed to potentially harmful substances called parabens at a higher level than adult women in the U.S. through lotions, shampoos and other personal care products, new research says.
Potential daily skin exposure to parabens by infants and toddlers could be as much as two to three times higher than that for adult women, says the new research, published recently in the the ACS journal Environmental Science & Technology.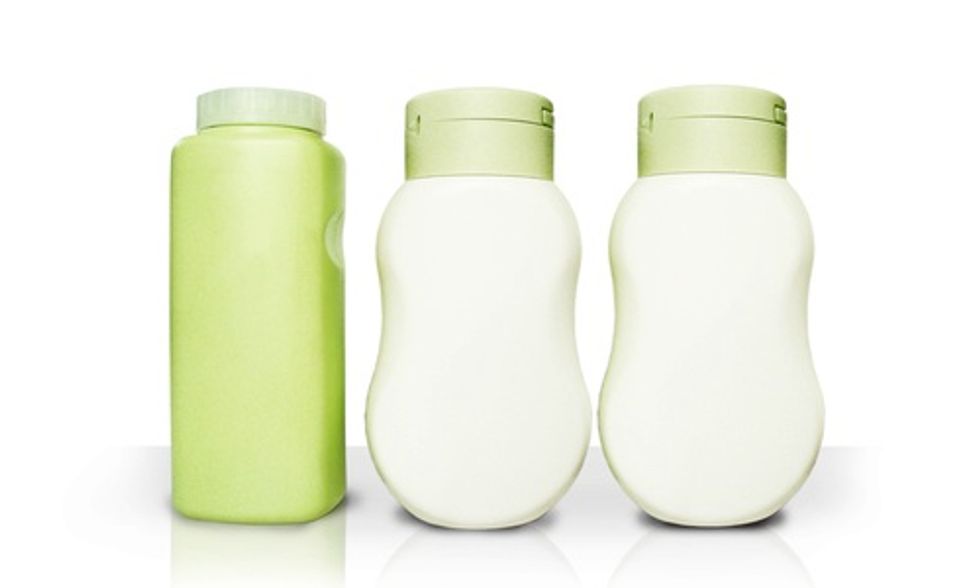 Shutterstock
Increased exposure to parabens has been linked to reproductive and other health issues.
Substances called phthalates and parabens are used in a wide range of products, from medical devices to children's toys, as well as in personal care products. Phthalates hold in moisture; parabens are used as preservatives.
Most people are exposed to these substances every day—for example, data from the U.S. Centers for Disease Control and Prevention suggest that more than 90 percent of the population is exposed to these substances. The body breaks them down quickly, but both have been detected in urine, breast milk and blood.
Research suggests a link between these substances and health issues in animals and people, such as sperm damage, breast cancer and an increased risk for asthma.
In previous studies, the research team led by Kurunthachalam Kannan and Ying Guo found that food and indoor dust contributed to phthalate exposure to varying degrees, but paraben exposure was low. In the most recent research, the team looked at a third route of possible exposure—the use of personal care products.
They collected 170 samples of makeup, lotions, shampoos and other products, including 20 items for babies, and tested them for nine phthalates and six parabens. Both substances were found in the personal care products. While phthalate concentrations were low, parabens were common.
Visit EcoWatch's HEALTH page for more related news on this topic.

A new scorecard created by Food Policy Action (FPA) provides a simple way to find out how your representatives in the U.S. Congress measure up on sound food policy.
FPA, a project of Environmental Working Group (EWG) has released its 2013 National Food Policy Scorecard, which ranks each member of the Senate and House by their votes on food issues.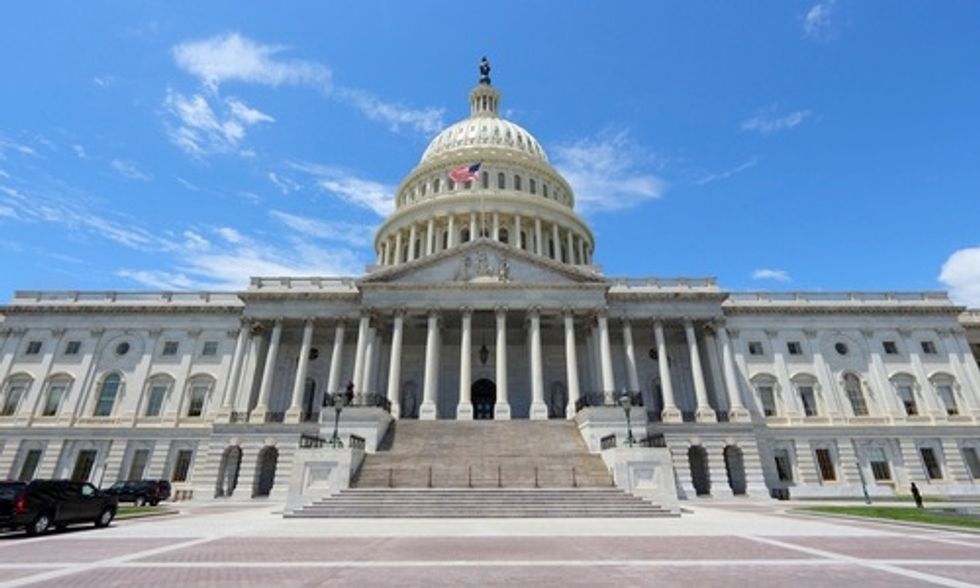 Shutterstock
Senators were graded on six votes and House members on 13 votes related to hunger, food aid, food labels and farm subsidies. An advisory council of food policy experts chose which votes are relevant and should be scored. The FPA board of directors approved those choices.
The scorecard is in the form of an interactive map. Click on a state to see the rankings of each member of Congress. Or enter your ZIP code in the search box. Click on the legislator's name to see how they voted on individual bills, such as an amendment that would have ensured states the right to label any food containing genetically engineered ingredients. Another click provides more information on the bills and how other colleagues voted.
Another part of the scorecard allows you to see all members of Congress, with sorting tools available by party, score, district and other characteristics. Another feature shows House and Senate votes by bill.
FPA compiled lists of what they call Good Food Champions in the Senate and in the House. Eighty-seven members of Congress—73 House members and 14 senators—received perfect scores.
"Few things have as much of an impact on our lives as food," Tom Colicchio, owner of Craft Restaurants and FPA board member, said. "That's especially true for the families who don't have enough to eat. Until now, voters had no simple way to find out whether their lawmakers voted to cut or protect food assistance for the neediest Americans. Thanks to the FPA scorecard, now they know."
Launched last year, FPA is the first national organization to publish an annual scorecard that grades lawmakers on congressional food policy votes. 
"This scorecard, the second FPA has issued, provides compelling evidence that food policy need not be a partisan issue," said Ken Cook, FPA board chair and EWG president. "Many Republicans—including Sens. Lisa Murkowski and Susan Collins—scored better than their Democratic colleagues. There is no question but that food has become more political in 2013. Hardly a day goes by when policymakers aren't debating whether to cut SNAP, the food stamp program, reform farm subsidies, roll back food safety standards, reduce the use of antibiotics, pay food workers a living wage or set standards for the humane treatment of farm animals."
Visit EcoWatch's FOOD page for more related news on this topic.

Looking for nearby food producers and organic growers to supply food for your sustainable holiday feast? 
Check out this interactive map from Local Harvest that can help you locate family farms, community supported agriculture (CSA) groups, farmer's markets and grocery co-ops, among other local or organic food sources.
Simply type in your ZIP code and you can get a map and listing of local food producers in that area. You also can filter for different outlets, such as grocery stores or farmer's market, or products, such as honey or cheese.
Local Harvest maintains an up-to-date public nationwide directory of small farms, farmers markets and other local food sources.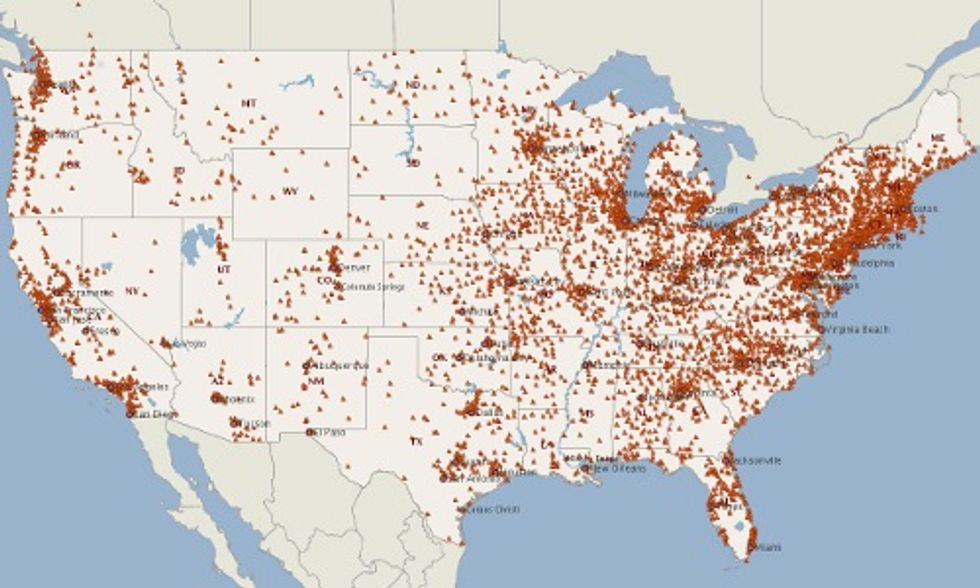 Visit EcoWatch's FOOD page for more related news on this topic.

The synthetic sweetener sucralose, which is sold under the brand name Splenda, releases cancer-causing dioxins in food when baked or heated, says a in-depth study review recently published in the journal of Toxicology and Environmental Health.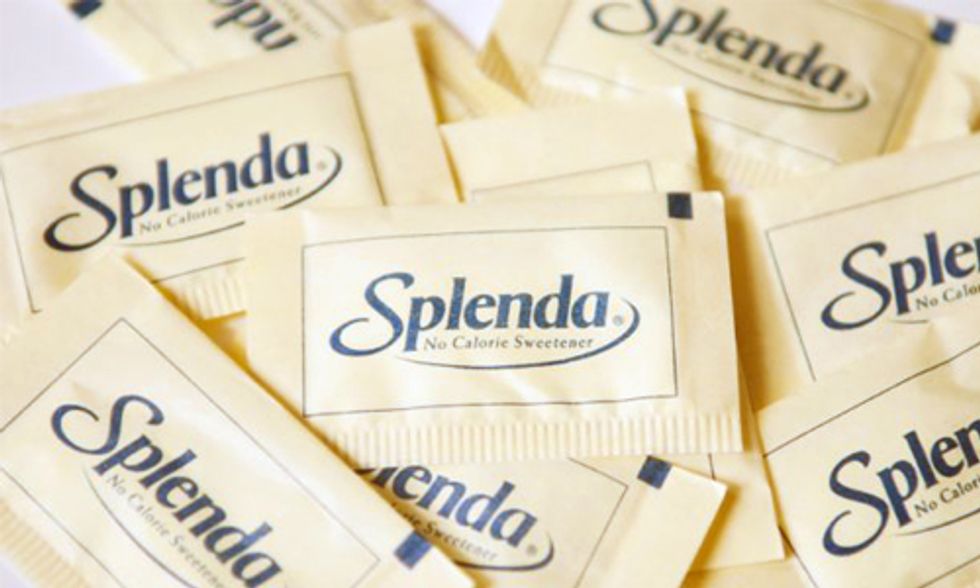 Cooking with sucralose at high temperatures was reported to generate chloropropanols, a potentially toxic class of chemicals that may be linked to a higher risk of cancer, the review says.
The study also disputes earlier studies cited by Splenda manufacturer McNeil Nutritionals that sucralose passes through the digestive tract unchanged. The study suggests instead that some of the ingested sweetener is metabolized. The health effects, if any, of the metabolization is unknown, the study says.
In rats, sucralose alters the microbial composition in the digestive tract, with a high reduction in beneficial bacteria necessary for digestion.
"Taken together, these findings indicate that sucralose is not a biologically inert compound," the study says.
Earlier this year, the Center for Science in the Public Interest (CSPI) downgraded sucralose in its Chemical Cuisine guide to food additives. CSPI had long rated sucralose as safe, but demoted it to the "caution" category pending a review of an unpublished study by an independent Italian laboratory that found that the sweetener caused leukemia in mice. The only previous long-term feeding studies in animals were conducted by the McNeil Nutritionals.
Sucralose was approved in the U.S. in 1998. The sweetener is a synthetic chemical made by chemically reacting sugar (sucrose) with chlorine, according to CSPI. 
CSPI warns that artificial sweeteners are being used more frequently without disclosure on front labels and urges consumers to read ingredient lists carefully.
Visit EcoWatch's FOOD page for more related news on this topic.

The meat industry likes to say that factory farms are modern, efficient and produce cheap food. But in reality, factory farms increase the risk of pathogens like E. coli and salmonella that cause food-borne illness in people.
You might be surprised to find out, in this quiz from the Natural Resources Defense Council (NRDC), the high percentage of supermarket chicken that has E. coli.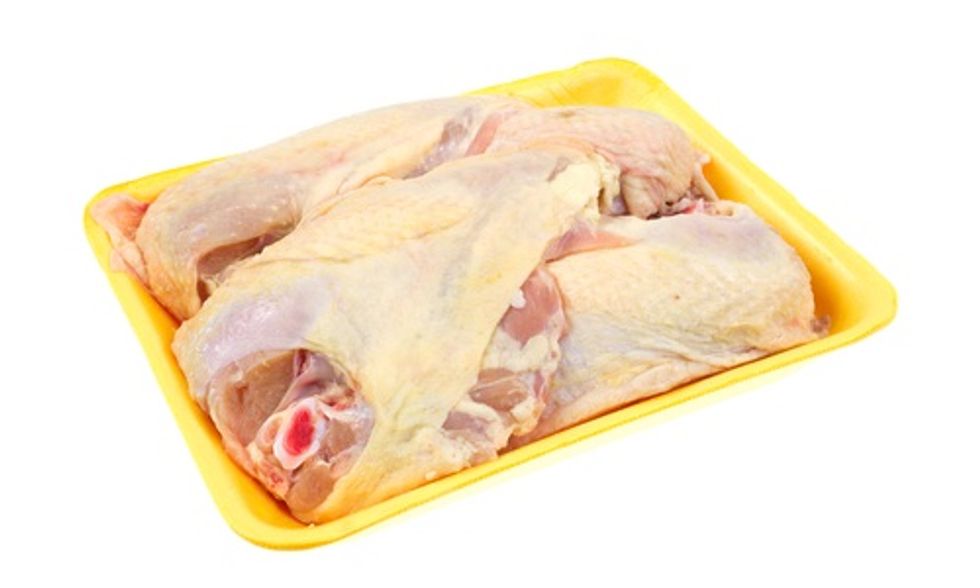 Shutterstock
The bacteria is commonly found in the lower intestine of warm-blooded organisms and, when people eat food contaminated with E. coli, they can develop diarrhea, urinary tract infections, respiratory illness and pneumonia and other illnesses.
You can guard against food-borne illnesses by making sure your food handling practices at home are effective. Here's a list from the U.S Food and Drug Administration of four steps to food safety in your kitchen:
1. Wash hands and surfaces often. Bacteria can spread throughout the kitchen and get onto hands, cutting boards, utensils, counter tops and food.
Wash your hands with warm water and soap for at least 20 seconds before and after handling food and after using the bathroom, changing diapers and handling pets.
Wash your cutting boards, dishes, utensils and counter tops with hot soapy water after preparing each food item and before you go on to the next food.
Consider using paper towels to clean up kitchen surfaces. If you use cloth towels wash them often in the hot cycle of your washing machine.
Rinse fresh fruits and vegetables under running tap water, including those with skins and rinds that are not eaten.
Rub firm-skin fruits and vegetables under running tap water or scrub with a clean vegetable brush while rinsing with running tap water.
Clean canned goods lids before opening. 
2. Separate raw meats from other foods. Cross-contamination can occur when bacteria are spread from one food to another. This is especially common when handling raw meat, poultry, seafood and eggs. The key is to keep these foods—and their juices—away from ready-to-eat foods. 
Separate raw meat, poultry, seafood and eggs from other foods in your grocery shopping cart, grocery bags and in your refrigerator.
Use one cutting board for fresh produce and a separate one for raw meat, poultry and seafood.
Never place cooked food on a plate that previously held raw meat, poultry, seafood or eggs.
Don't reuse marinades used on raw foods unless you bring them to a boil first. 
3. Cook to the right temperatures. Food is safely cooked when it reaches a high enough internal temperature to kill the harmful bacteria that cause illness.
Use a food thermometer to measure the internal temperature of cooked foods. Check the internal temperature in several places to make sure that the meat, poultry, seafood, eggs or dishes containing eggs are cooked to safe minimum internal temperatures as shown in the Safe Cooking Temperatures Chart. Color is not a reliable indicator of doneness.
Cook eggs until the yolk and white are firm. Only use recipes in which eggs are cooked or heated thoroughly.
When cooking in a microwave oven, cover food, stir and rotate for even cooking. Or rotate the dish by hand once or twice during cooking. Always allow standing time, which completes the cooking, before checking the internal temperature with a food thermometer. Food is done when it reaches the safe minimum internal temperature.
Bring sauces, soups and gravy to a boil when reheating. 
4. Refrigerate foods promptly. Cold temperatures slow the growth of harmful bacteria. Do not over-stuff the refrigerator. Cold air must circulate to help keep food safe. Keeping a constant refrigerator temperature of 40 degrees Fahrenheit  or below is one of the most effective ways to reduce the risk of foodborne illness. Use an appliance thermometer to be sure the temperature is consistently at 40 degrees or below and the freezer temperature is zero degrees or below.
Refrigerate or freeze meat, poultry, eggs, seafood and other perishables within two  hours of cooking or purchasing. Refrigerate within one hour if the temperature outside is above 90ºF.
Never thaw food at room temperature, such as on the counter top. Food must be kept at a safe temperature during thawing  : in the refrigerator, in cold water, and in the microwave. Food thawed in cold water or in the microwave should be cooked immediately.
Always marinate food in the refrigerator.
Divide large amounts of leftovers into shallow containers for quicker cooling in the refrigerator.
Use or discard refrigerated food on a regular basis. Follow the recommendations in the USDA's Refrigerator & Freezer Storage Chart.
Visit EcoWatch's FOOD page for more related news on this topic.

Pregnant women in Washington, D.C. experienced an unusually high number of late-term miscarriages during the same time period that lead levels were dangerously high in the city's drinking water and the public was unaware of the problem, a study has found.
Authors of the study, scheduled to be published in the journal Environmental Science and Technology, say the findings do not prove the city's lead crisis caused fetal deaths or miscarriages, but the results show a significant correlation.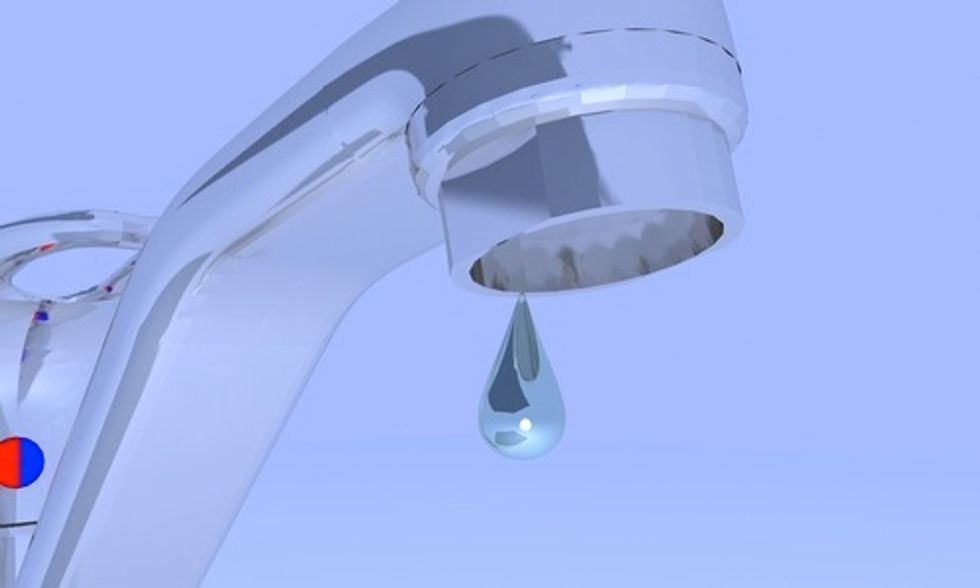 Shutterstock
The study, by Virginia Tech environmental engineer Marc Edwards, examines a time when the city had some of the highest lead spikes in water ever recorded in the U.S. The study tracked miscarriages after 20 weeks and overlaid data marking the period when the city's drinking water had unusually high levels of lead.
The spike occurred in 2000, when the city water and sewer authority made a chemical change in its water treatment that made the water more corrosive on lead pipes and plumbing. As a result, the water coming through the city's faucets carried hazardous levels of lead.
More than three years passed before the public was alerted to the problem through a 2004 story in the Washington Post. The miscarriage rate fell after federal health officials began urging children and pregnant women to instead drink filtered or bottled water and residents began taking other preventive steps. Today, the city's drinking water has historically low lead levels. 
Lead is highly toxic to the developing brain and there is no safe level of exposure, says the U.S. Centers for Disease Control. Adverse effects can include decreased IQ levels, increased ADHD and increased hearing impairment as blood lead levels increase. 
Lead exposure also has been linked to miscarriages. In the early 1900s, lead pills were used to induce abortions, the study said.
Government-led health studies in 2004 largely rejected the idea that the lead-tainted water had harmed public health.
The data seem "to confirm the expectation, based on prior research, that about 20 to 30 extra fetal deaths occurred each year that the lead in water was high," Edwards told the Washington Post.

Organic milk contains significantly higher concentrations of heart-healthy fatty acids compared to milk from cows on conventionally managed dairy farms, a study led by a Washington State University (WSU) researcher has found.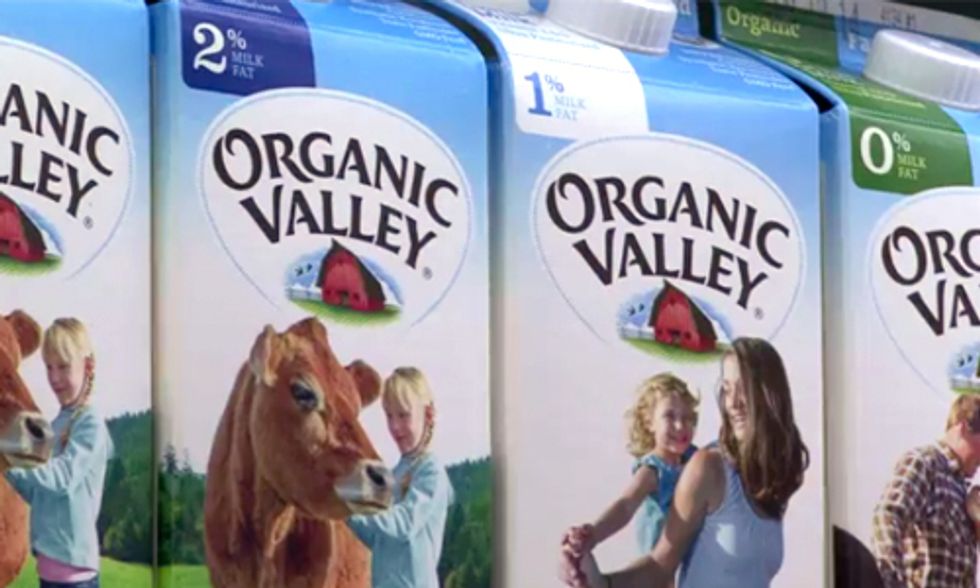 While all types of milk fat can help improve an individual's fatty acid profile, the team concludes that organic whole milk does so even better.
The study is the first large-scale, U.S.-wide comparison of organic and conventional milk, testing nearly 400 samples of organic and conventional milk over an 18-month period.
Conventional milk had an average omega-6 to omega-3 fatty acid ratio of 5.8, more than twice that of organic milk's ratio of 2.3. The researchers say the far healthier ratio of fatty acids in organic milk is brought about by a greater reliance on pasture and forage-based feeds on organic dairy farms.
A large body of research has shown that grass and legume forages promote cow health and improve the fatty acid profile in organic dairy products. Still, said WSU researcher Dr. Charles Benbrook, the study's lead author, "We were surprised by the magnitude of the nutritional quality differences we documented in this study."
After fruits and vegetables, dairy products are the largest category of the growing, $29 billion organic food sector, according to the Organic Trade Association's 2013 Organic Industry Survey.
Organic milk and cream sales were worth $2.622 billion, the survey found. Overall, organic milk accounted for 4 percent of fluid milk sales last year, according to the Milk Processor Education Program.
The consumption of more omega-6 fatty acids than omega-3 fatty acids is a well-known risk factor for a variety of health problems, including cardiovascular disease, cancer, excessive inflammation and autoimmune diseases. The higher the ratio of omega-6 to omega-3, the greater the associated health risk.
Western diets typically have a ratio of about 10-to-1 to 15-to-1, while a ratio of 2.3-to-1 is thought to maximize heart health. The team modeled a hypothetical diet for adult women with a baseline omega-6 to omega-3 ratio of 11.3 and looked at how far three interventions could go in reducing the ratio to 2.3.
They found that almost 40 percent of the needed nine-point drop could be achieved by switching from three daily servings of conventional dairy products to 4.5 daily servings of mostly full-fat organic dairy products. Women who also avoid a few foods each day that are high in omega-6 fatty acids can lower their fatty acid ratio to around 4, 80 percent of the way to the 2.3.
"Surprisingly simple food choices can lead to much better levels of the healthier fats we see in organic milk," Benbrook said.
The team also compared the fatty acids in dairy products to those in fish.
"We were surprised to find that recommended intakes of full-fat milk products supply far more of the major omega-3 fatty acid, ALA, than recommended servings of fish," said co-author and WSU research associate Donald R. Davis.
Conventional milk had about nine times more ALA than fish while organic milk had 14 times more, he said. Organic milk also is a significant source of two other omega-3 fatty acids, EPA and DPA, but not DHA.
The study was published Monday in the online journal PLOS ONE. It analyzed organic milk from cows managed by farmer-owners of the Cooperative Regions of Organic Producer Pools, or CROPP, which markets through the Organic Valley brand. The two organizations helped fund the study but had no role in its design or analysis, which was funded by the Measure to Manage program in the Center for Sustaining Agriculture and Natural Resources at Washington State University.
Check out this video that features an interview with Dr. Charles Benbrook, the study's lead author.
Visit EcoWatch's FOOD page for more related news on this topic.

Big Food giants like Nestlé, Kraft, PepsiCo and others have been buying up more and more of their competitors, big and small. The result is that some of the biggest companies have products on nearly every aisle of the supermarket and dominate the market in many categories.
For example, Kraft not only sells more macaroni and cheese than anyone else, but also makes products as diverse as pickles, nuts, salad dressing and coffee.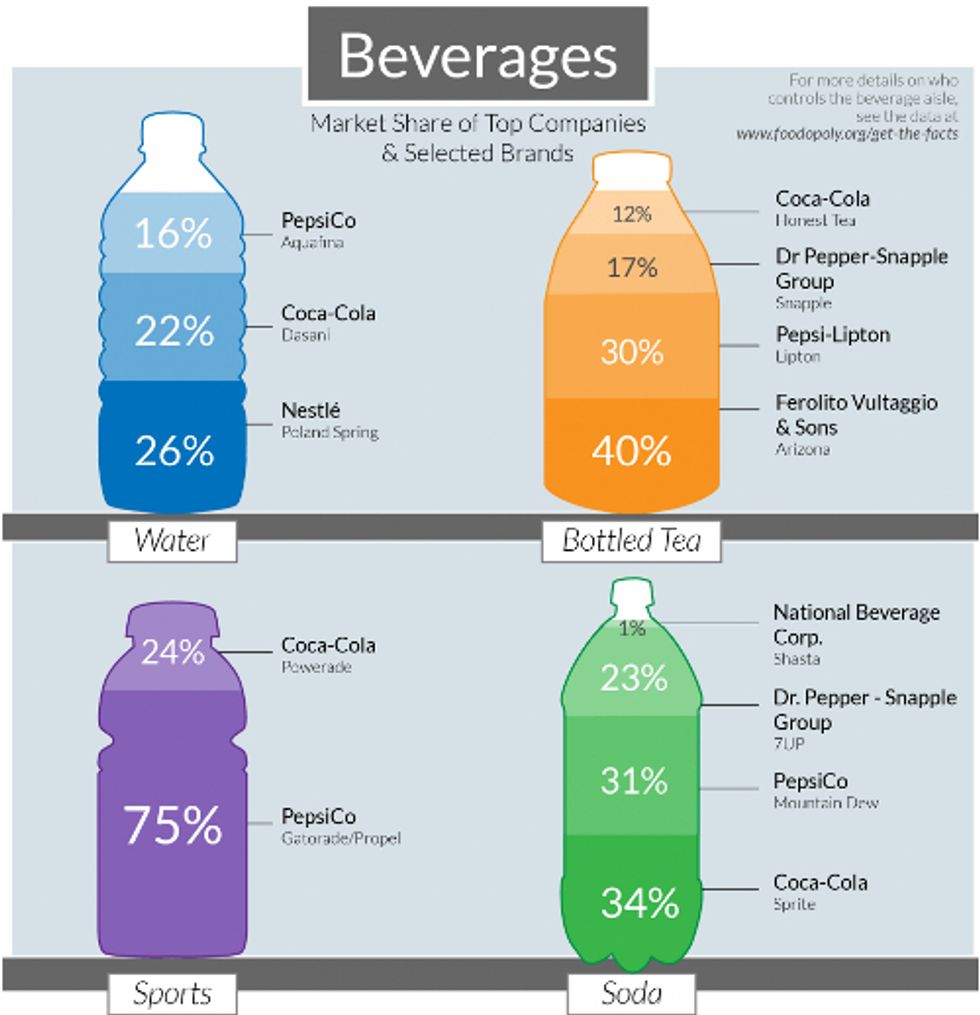 What does that mean for the consumer? When you stand in front of the cereal aisle and marvel at the diverse array of choices, it's all an illusion. While you might see dozens of brands on the shelves, most of them are owned by just a handful of companies, and often, those companies control multiple brands of the same product.
Grocery Goliaths: How Food Monopolies Impact Consumers , a new report by Food & Water Watch, says grocery stores don't want you to know this. They want you to think you have a choice, so they can offer false deals and other psychological tricks to make you spend more money.
The report examines 100 types of grocery products and found that as food companies and supermarket chains have consolidated over the last few years, the illusion of choice among brands has coincided with increasingly expensive grocery bills.
Test your food brand savvy and learn who owns your foods by taking this 10-question quiz presented by Food & Water Watch. At the end of the quiz, you can share your score on Facebook and Twitter.

Eating healthy costs a little bit more every day, a
new study
says. But in the long run, a
healthy diet
costs very little compared to the lifetime cost of treating diet-related chronic diseases, said the study's authors.
The study, published this week in the journal 
BMJ Open, 
analyzed diet and price information from 10 countries. It showed that people who eat a very healthy diet—one that is rich in fruits, vegetables, nuts and fish—would spend about $1.50 more per day than those who eat a less healthy diet comprised of processed foods, meats and refined grains. Over a year, that cost difference would represent about $550.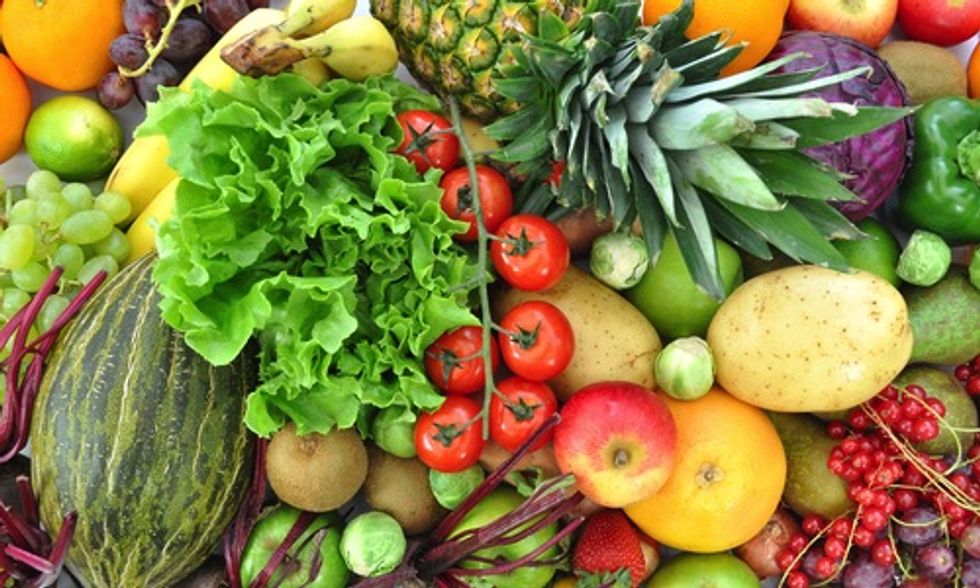 Shutterstock
"This would represent a real burden for some families, and we need policies to help offset these costs," Dr. Dariush Mozaffarian, an associate professor at
Harvard School of Public Health
and senior author of the study, said in a
media release
. "On the other hand, this price difference is very small in comparison to the economic costs of diet-related chronic diseases, which would be dramatically reduced by healthy diets."
The researchers conducted a meta-analysis of 27 existing studies from 10 high-income countries that included price data for individual foods and for healthier versus less healthy diets. They evaluated the differences in prices per serving and per 200 calories for particular types of foods, and prices per day and per 2,000 calories. Both prices per serving and per calorie were assessed because prices can vary depending on the unit of comparison.
The researchers suggested that unhealthy diets may cost less because food policies have focused on the production of inexpensive, high volume commodities, which has led to "a complex network of farming, storage, transportation, processing, manufacturing and marketing capabilities that favor sales of highly processed food products for maximal industry profit."
Creating a similar infrastructure to support production of healthier foods might help increase availability—and reduce the prices—of more healthful diets, the researchers said.
"People often say that healthier foods are more expensive and that such costs strongly limit better diet habits," lead author Mayuree Rao, a junior research fellow in the Department of Epidemiology at Harvard, said in the release. "But until now, the scientific evidence for this idea has not been systematically evaluated, nor have the actual differences in cost been characterized."
Visit EcoWatch's 
FOOD
page for more related news on this topic.