Earlier this year McDonald's announced that its CEO Don Thompson was stepping down after one of the iconic burger chain's worst years on record. The very next day, Shake Shack, a scrappy young burger cart turned global restaurant chain with something of a cult following, announced the value of its initial public offering had increased to $675 million. While Shake Shack's value pales in comparison to McDonald's longstanding multi-billion dollar business, it's a signal of changing restaurant trends, especially among millennial diners.
Shake Shack is one of several emerging "fast-casual" restaurants like Panera, Five Guys and Chipotle that appeal to millennial diners with elevated, healthier, ethical and more sustainable food experiences. Shake Shake and McDonald's both serve burgers, but that's where similarities end.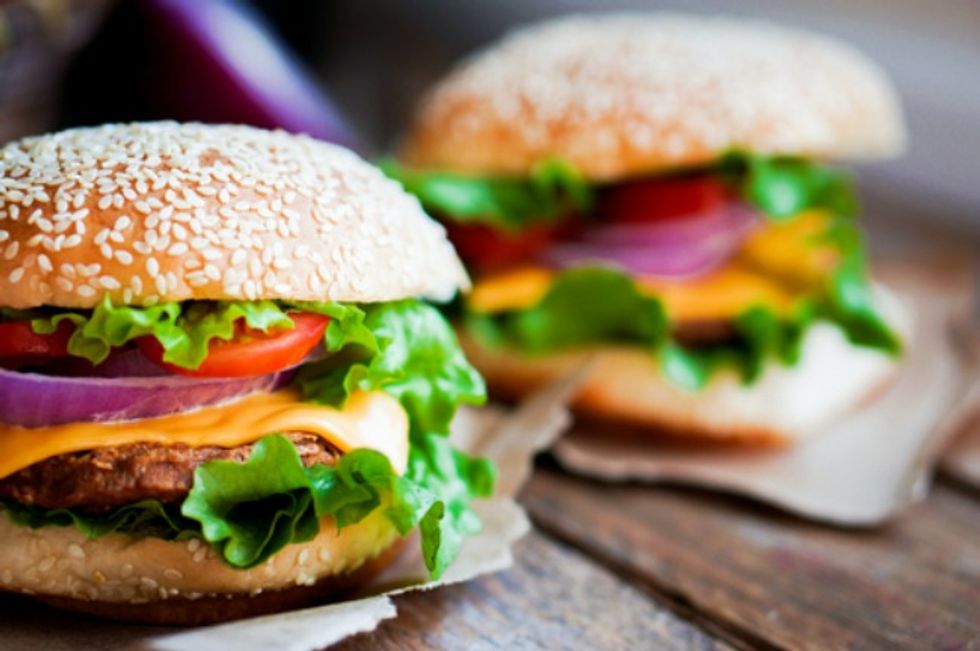 Photo credit: Shutterstock
Shake Shack, for example, prides itself on building eco-friendly restaurants out of recyclable and sustainable materials, paying employees well above minimum wage and serving only hormone-free, vegetarian-fed, humanely-raised beef. Chipotle also sources sustainable food products and recently made waves when it removed pork carnitas from the menu in locations throughout the country because its supplier did not meet the chain's ethical standard.
Meanwhile, traditional fast food and fast-casual restaurants like McDonald's are falling under fire for questionable ingredients, labor issues and antibiotic-ridden chicken. The company launched its transparency campaign in the U.S. (already successfully rolled out in Canada and Australia) to address customers' concerns about what is in their food, but it has been met with skepticism.
Despite attempts to appeal to diners with fresh menus and new marketing campaigns, restaurants like McDonald's are losing footing with millennial diners. In fact, according to NPR, Red Lobster, Olive Garden, TGIFridays, IHOP, Applebee's and Chili's combined are worth less than Chipotle. While it could be a sign of the end for some, other traditional fast food restaurants are trying to pivot to keep pace with front runners like Chipotle.
Taco Bell, for example, is testing its own fast casual concept Taco Co. in California. The restaurant is a far cry from Taco Bell's $0.99 value menu, selling tacos featuring Mahi Mahi, lobster, brisket and more for up to $7 each. Will it work?
We won't likely see any of the major fast food brands slip away any time soon, but they will have to reinvent their offerings to appeal to a new generation of diners. According to restaurant industry experts, the best ways to appeal to millennial diners are to imitate fast casual concepts, provide ample build-your-own customization options, accept mobile payments, offer artisan beer and wine on site, and appeal to their desire to minimize environmental impact by using recycled materials and sustainably sourced ingredients.
YOU MIGHT ALSO LIKE
6 Common Food Additives Used in the U.S. That Are Banned in Other Countries
6 Healthy Chain Restaurants That Your Kids Will Love
McDonald's Is Curbing Use of Antibiotics in Chicken, But Does It Go Far Enough?
EcoWatch Daily Newsletter
The U.S. Food and Drug Administration (FDA) regulates the use of food additives like preservatives, colors, sweeteners, fat replacers, emulsifiers and other ingredients added to food to maintain or improve safety, freshness, nutritional value, taste, texture and appearance. Food additives can be direct (those added for a specific purpose) or indirect (those added in trace amounts due to packaging, storage or handling) and are determined safe for market use only after stringent FDA review.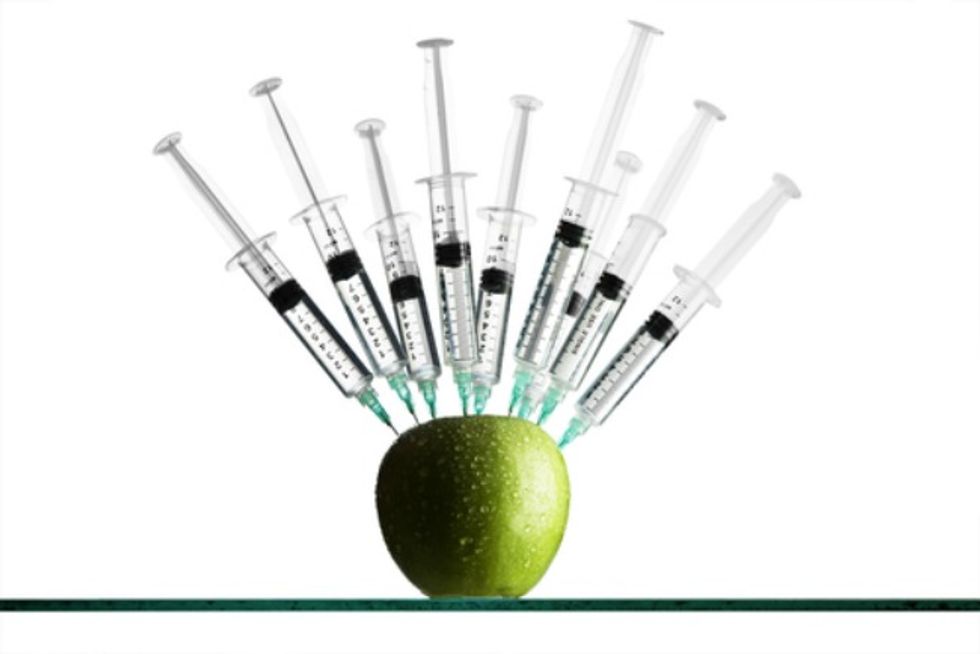 Photo credit: Shutterstock
Due to the FDA's regulation of food additives, most people assume that if food is on grocery store shelves, it must be 100 percent safe for human consumption. Unfortunately, this isn't always the case. As the FDA states: "Because of inherent limitations of science, FDA can never be absolutely certain of the absence of any risk from the use of any substance." In fact, several food additives approved for use in the U.S. by the FDA are banned in other parts of the world.
So if you think everything in your pantry is safe to eat, think again. Here are 6 common food additives found in the U.S. that are banned in other countries.
Azodicarbonamide (ADA)
Use: whitening or bleaching agent for cereal flour and as a dough conditioner in baking; also used to make rubber products like yoga mats and shoe soles

Concerns: During baking ADA breaks down to form new chemicals, one of which, semicarbizide (SEM), is known to increase the incidence of tumors in lab rats.

Banned: European Union
Use: improves gluten content in baked goods to strengthen dough and promote rising

Concerns: Studies dating back to 1982 have found that potassium bromate used in bromated flour causes cancer in lab rats and is "possibly carcinogenic to humans"

Banned: European Union, Canada, Brazil, Peru, China
Brominated vegetable oil (BVO)
Use: added to citrus drinks like Mountain Dew to keep flavor evenly distributed; also used as a flame retardant

Concerns: nervous system depressant, endocrine disruptor, causes reproductive and behavioral problems

Banned: Europe and Japan
Use: fat-free fat replacer in foods like potato chips

Concerns: gastrointestinal distress and diarrhea; interferes with absorption of fat-soluble vitamins

Banned: U.K. and Canada
Recombinant Bovine growth hormone (rBGH)
Use: artificial growth hormone given to cows to increase milk production

Concerns: increased risk of breast and prostate cancer

Banned: European Union, Canada, Japan, Australia
YOU MIGHT ALSO LIKE
McDonald's Is Curbing Use of Antibiotics in Chicken, But Does It Go Far Enough?
Hershey's Most Popular Chocolates Will Go GMO-Free by End of the Year
Could Common Food Additives Be Causing Serious Health Problems?
There are many different CBD oil brands in today's market. But, figuring out which brand is the best and which brand has the strongest oil might feel challenging and confusing. Our simple guide to the strongest CBD oils for pain, anxiety, and sleep will point you in the right direction.
More and more people are looking to boost their health with CBD oil. The rise in CBD's popularity shows that many people are experiencing positive outcomes through the regular use of CBD to help control and improve difficult health issues.
Our guide to the strongest CBD oils will help to point you in the right direction so that you can choose the best, most potent oil for your needs. We will also educate you about the best CBD oils along the way, while also discussing how we chose our top brands and why.
Does Strength of CBD Oil Matter?
The strength of an oil does matter. The more potent a CBD oil is, the stronger effects it will create. To that end, full spectrum oils are the best oils to go with because CBD isolates do not have all of the other vitamins, terpenes, compounds, and phytonutrients that full spectrum oils have. So, not only will you be getting all the positive effects that a strong oil has to offer, you'll also be able to receive the vast therapeutic benefits that the many compounds, terpenes, and phytonutrients bring to the table.
The strength or concentration of a CBD oil is measured in milligrams of CBD, both per bottle and per serving. For many brands, a serving is considered 1 mL of the oil tincture. The best way to evaluate the strength of a CBD oil by how many milligrams of CBD you will get with each 1 mL dropper.
6 Strongest CBD Oil Brands of 2021
Each product featured here has been independently selected by the writer. You can learn more about our review methodology here. If you make a purchase using the links included, we may earn commission.
How We Chose the Strongest CBD Oil Brands
When it comes to choosing a CBD oil brand, you need to take the time and put in the research to ensure that you are getting the strongest, and best quality product you can purchase.
We've put the time and effort into selecting the top brands that we feel have the strongest CBD oil, the best reputation, and the cleanest, most effective products. When it came to selecting our top strongest CBD oils, we looked at six key categories:
Type of CBD - We looked to see whether the CBD oil was full spectrum, broad spectrum, or CBD isolate.
Strength - We compared the oil strength and purity versus other available options. All of our recommendations offer a concentration of at least 50 mg of CBD per serving.
Source - Where does the brand source its hemp from, and is it grown organically?
Flavor - We looked for oil flavors and the ingredients used in the oil.
Transparency - A key consideration is whether a third-party lab was used to test the products and if those results are easy for customers to find
Customer experience - We also read verified customer reviews to see what actual users had to say.
Based on these factors, here are the brands that made our list of strongest CBD oils.
6 Strongest CBD Oils of 2021
Research on CBD Oil and Potency
CBD oil is created when cannabidiol, or CBD, is infused into a fat-based carrier oil such as hempseed oil, coconut oil, grapeseed oil, or olive oil. Carrier oils are usually medium-chain triglycerides that are easily digested by the body. The very basic oils will only have CBD and the carrier oil, however, some can also contain other compounds such as tetrahydrocannabinol, or THC, flavonoids, phytonutrients, and terpenes. Some brands will also infuse various natural flavors or essential oils into the final products.
CBD oil can vary in color, flavor, and consistency depending on its makeup. Likewise, the strength also depends on the oil's formulation. CBD oils can be isolates, broad spectrum, or full spectrum. In CBD isolates, only pure CBD is used. These oils are usually 99 percent pure. CBD isolates are typically made solely from the hemp plant.
Broad spectrum and full spectrum oils, on the other hand, are typically sourced from the cannabis plant and have had minimal processing and purification. These oils have a large amount of cannabinoids, terpenes, nutrients, vitamins, and phytonutrients. The difference between the two is that broad spectrum CBD products contain zero THC.
Along with CBD, one of the main compounds in full spectrum oils is THC. In large amounts, THC causes feelings of euphoria. However, legally, all CBD crafted and sold within the United States must contain less than 0.3% THC. When CBD and THC are combined, an entourage effect occurs. In the entourage effect, the compounds work together to dampen each other's negative side effects while amplifying each other's best qualities. For example, too much THC can cause feelings of nausea or dizziness. However, when THC is combined with CBD, the THC enables those with sleep issues to finally get some rest, and helps those with extreme nausea, due to cancer treatment, finally get some much-needed nourishment by increasing appetite. Put simply, the cannabinoids bind with cell receptors in the human endocannabinoid system to create therapeutic effects.
How to Choose the Right CBD Oil and Potency for You
There are several key factors to take into consideration when choosing the strongest CBD oil for pain, sleep, or anxiety. One of the first things to look at is the concentration of CBD within the product. Next, take a look at the milligrams of CBD that are in a single serving. The best quality products clearly have all the facts and information laid out on their labels. In reading the labels, you should be able to tell exactly how much CBD you are getting per serving. How much CBD you need to be taking depends on how your body reacts to the product over time.
What to Look For
Here are the primary things to look for when comparing the strongest CBD oil options.
CBD Spectrum - Make sure you know whether you are getting a full spectrum, broad spectrum, or CBD isolate oil. This is especially important if you are concerned about THC content.
Concentration - When looking for the strongest CBD oils, you need to be certain of how many milligrams of CBD are contained in each bottle and each 1 mL serving.
Lab Testing - For any CBD product, it's vital that you look for brands who ensure their CBD undergoes independent third-party lab testing for purity and safety.
How to Read Labels
Make sure that you know what to look for on the label of any CBD oil or product. Here are the key things to know.
Type of CBD - The label should clearly indicate the spectrum of CBD in the oil. If it is a broad spectrum or CBD isolate, it will usually say that it is "THC-Free."
Dosage Guide - Some brands include a dosage guide on the label to help you measure the appropriate amount of CBD per serving. This is important with higher potency oils.
Test Results - Look for proof that the CBD has undergone third-party lab testing. Many brands include a QR code or link on the label to the test results for that product.
How to Use
Everyone's body is different, so what works well for one person might not work for another. Smaller individuals might need less CBD than larger individuals based on body size and overall mass. Along with body size, the reason you are taking CBD is another consideration in purchasing strong CBD oil.
Whatever oil strength you choose, you should first start low and go slow when it comes to dosing. For example, begin by taking half of a serving of CBD once a day for one week. If you are not feeling any benefits, then go ahead and take half a dose twice a day. Continue increasing the dosage slowly until you are achieving the desired effects. Always check in with yourself to see how you are feeling along the way. This will help you to determine if you should increase the dosage at all. As with any other medication or holistic supplement, your body will need adequate time to get used to a new CBD dosage, and CBD typically works best as it builds up in your system over time.
Safety & Side Effects
There are very few minor side effects associated with CBD. To date, a great number of studies have been done on CBD showing that it is generally well-tolerated and safe for adults.
Some of the most common side effects associated with CBD include:
Dry mouth
Dizziness
Nausea
Changes in weight
Diarrhea
Drowsiness
Changes in appetite
CBD may also interact with certain prescription medications. If you are on any prescription drugs, or have questions about CBD and your health, be sure to consult with your doctor before taking CBD.
Takeaway
Those suffering from chronic pain or increased stress may benefit from stronger CBD oil tinctures that can provide a more potent dose of cannabinoids. CBD oil can be a great addition to any natural healthcare routine. Just make sure you are putting in the time and effort to find the product and the brand that is best suited to your own unique needs, condition, and lifestyle.
In a story released this week, Keurig K-cup inventor John Sylvan, who sold his shares of the company for $50,000 back in 1997, admits he regrets ever creating the disposable plastic coffee pods that built what is today a $4.7 billion business. With an estimated nine to 13 billion plastic K-cups hitting landfills last year, Sylvan admits, "I feel bad sometimes that I ever did it."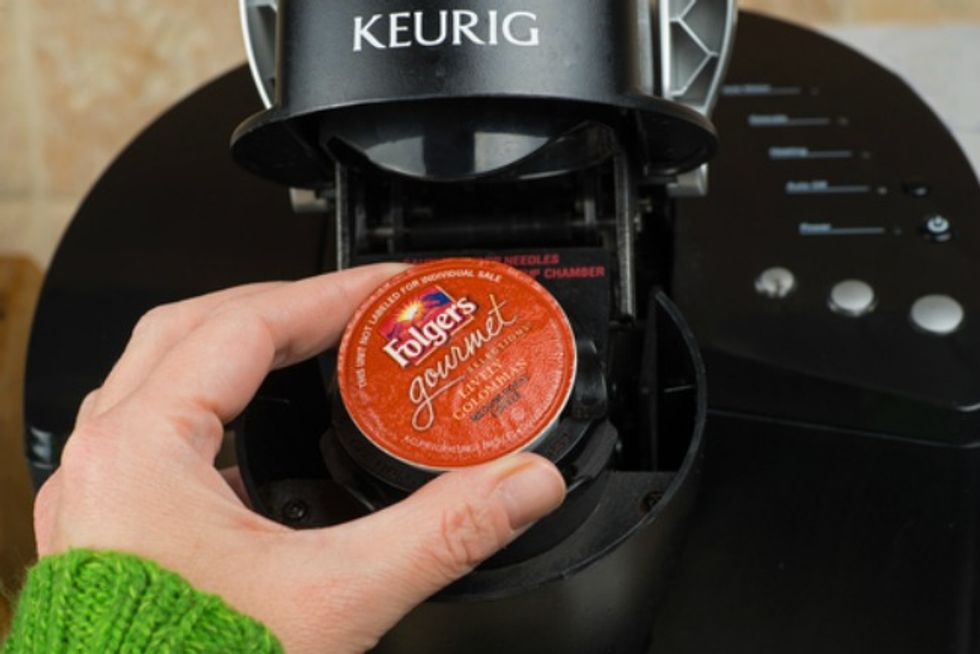 Photo credit: Shutterstock
Pod-based coffee makers like Keurig, designed to create customizable single-serve coffees from plastic pods filled with coffee grounds, can be found in one-third of American households. That pervasiveness is generating a lot of leftover pods that end up in landfills.
Keurig was acquired by eco-friendly coffee producer Green Mountain in 2006, combining names in 2014. While every spin-off coffee pod product produced since the merger (including Vue, Bolt and K-Carafe cups) is recyclable, the company's biggest seller, the original K-cup product made from plastic #7, is not.
When Keurig Green Mountain's design patent on the foil-topped plastic coffee pod expired in 2012, the market was flooded with competing options, many of which are biodegradable or reusable, raising the question: Why won't Keurig Green Mountain follow suit?
According to Keurig Green Mountain's Chief Sustainability Officer Monique Oxender, they're working on it. The company has committed to making all K-cups recyclable by 2020, but concerned citizens say it's not fast enough. A petition set up by the creators of the viral Kill the K-Cup video urges Keurig to expedite the development of their recycling program and has been signed by more than 20,000 people. According to Sylvan, it won't happen any time soon. "No matter what they say about recycling," he said, "those things will never be recyclable."
Supporters of pod-based coffee makers would argue that's not such a bad thing considering the machines require less electricity than traditional brew pots and extract coffee more efficiently from less grounds, saving on the resources required to produce the water-intensive crop.
Coffee is a staple in the American diet and won't be going away any time soon. It offers a slew of health benefits and, most importantly, the jolt of caffeine so many have come to rely on. So what's the most eco-friendly coffee brewing option? According to Murray Carpenter, author of Caffeinated, the answer is, unfortunately, instant coffee.
If abandoning the convenience of your single-serve Keurig for more sustainable instant coffee is out of the question, there are other options. Keurig Green Mountain's Grounds to Grow On program collects used pods turning the grounds into fertilizer and burning the cups for energy. Another company, Terracycle, sells zero-waste boxes where you can collect coffee pods to ship back for recycling.
As for Sylvan, he says he has a solution to Keurig's waste problem but that the company won't listen. As they embark on their own 2020 recycling initiative, he has started a new company Zonbak selling solar panels, in part to offset the negative environmental impact of his K-cup invention.
YOU MIGHT ALSO LIKE
Man Quits Job to Travel in Solar-Powered Home on Wheels
Reducing Food Waste Is Good for Economy and Climate, Report Says
World's First Plantable Coffee Cup to Replenish Rain Forests
Going vegan is growing in popularity. Beyonce's vegan meal delivery service, James Cameron's vegan school and concerns about the impact animal agriculture has on our health and environmental sustainability is drawing main-stream media attention to the animal-free lifestyle.
With increased interest in and curiosity about going vegan, concerns are often raised about giving up foods like baked goods that traditionally rely on butter, eggs and milk for production. Reducing your intake of animal-based foods doesn't have to cramp your cookie consumption. It's actually really easy to make animal-free versions of your favorite cookies, cakes, muffins, brownies and more with some simple recipe substitutions. Here are three dairy substitutes to make yummy vegan desserts.
Milk
Dairy-free milk alternatives abound on grocery store shelves. You can purchase vegan milks made from almonds, cashews, soy, hemp, oats, quinoa, hazelnuts, coconut and other animal-free ingredients or, to avoid unnecessary additives, just make your own at home. Recipes calling for traditional dairy milk can be made vegan by using any non-dairy milk alternative. Note that if a recipe calls for whole milk or cream, it is best to use a higher-fat milk like coconut milk to best replicate the consistency. If you're making a savory recipe, be sure to use unsweetened non-dairy milk to avoid unnecessary added sugar.
Eggs
Eggs are used in baking to add structure, leavening, color and flavor to baked goods. Though it is difficult to replicate an egg's unique molecular structure and properties when baking without animal products, there are several suitable vegan options. Commercial egg replacers made from wheat gluten (like Bob's Red Mill) or tapioca flour (like Ener-G) are designed to substitute eggs in baked goods that require a leavening agent. Silken tofu is another vegan egg alternative with a quarter-cup of tofu replacing the equivalent of one egg. For a less processed whole food option at home, you can make a "flax egg" or "chia egg" by combining 1 tablespoon of ground flax seed (or 1 tablespoon of chia seeds) with 3 tablespoons of water to substitute one egg. The ground flax and chia seeds will absorb water some of the water giving it a gelatinous consistency like an egg white.
Butter
Butter is used to add fat and flavor to baked goods and can easily be swapped out for plant-based oils. Vegan butter-like spreads and sticks (such as EarthBalance) are readily available in most grocery stores and can be substituted for butter. A less processed option is to use coconut oil, which can be used solid at room temperature or melted into a liquid oil depending on what is required by the recipe.
Emulsifiers approved for use by the U.S. Food and Drug Administration are commonly added to processed foods to improve texture, increase shelf life and prevent oils and fats from separating. You'll see them listed on ingredient labels as polysorbate 80, lecithin, carrageenan, polyglycerols, xanthan and other gums in everything from bread and cookies to salad dressings, ice cream, non-dairy milks and more. Emulsifiers are also utilized to reduce or remove trans fats and gluten from low-fat, dairy-free and gluten-free items marketed as "health" foods and can appear in organic and non-GMO labeled foods as well. As pervasive as they are in packaged foods, could emulsifiers be causing health concerns?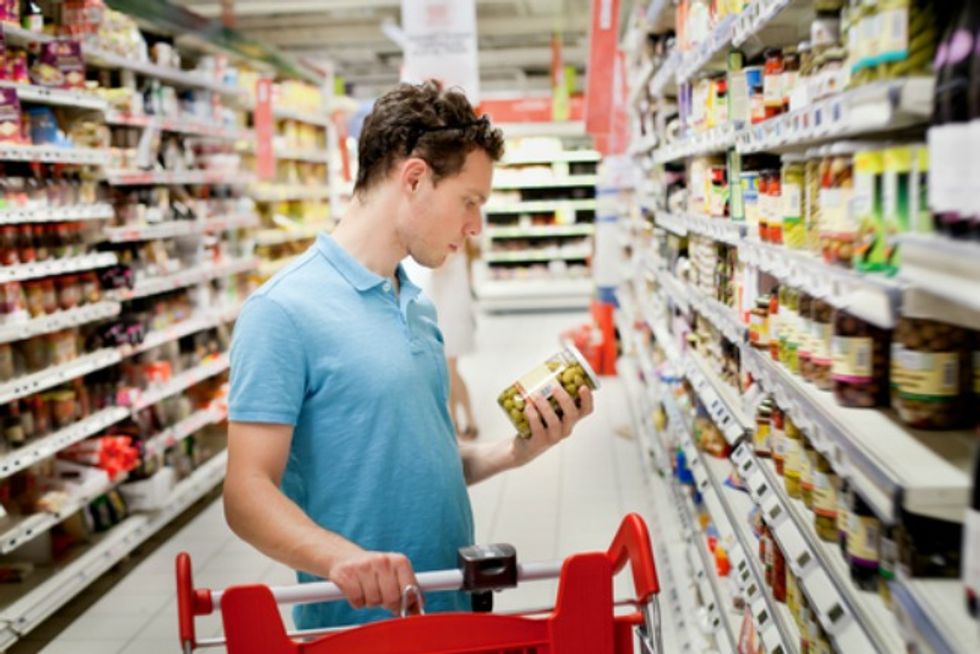 Photo credit: Shutterstock
A recent study concludes that dietary emulsifiers promote inflammatory diseases in mice by interfering with beneficial microbiota in the gut. According to researchers, dietary emulsifiers disrupt the mucus layer separating beneficial microbiota from epithelial cells of the intestinal wall, resulting in increased bacterial translocation and inflammation of the gut.
In the study, mice were administered polysorbate 80 (commonly found in ice cream) and carboxymethylcellulose through food at water at levels comparable to those approved for use in human food. The experiment caused chronic colitis in mice predisposed to the disorder and low-grade inflammation and metabolic syndrome in mice with normal immune systems, which can lead to overeating, obesity, hyperglycemia and insulin resistance.
According to the researchers, while gastrointestinal inflammation caused by consuming dietary emulsifiers is not the sole contributor to the rise in obesity, their increased use in the food supply does roughly parallel the increase in chronic inflammatory diseases that can interfere with satiety and lead to overeating and obesity.
YOU MIGHT ALSO LIKE
Striking Photos Show What Kids Around the World Eat for Lunch
Sugar Beet Leaves Create Vegan Protein Alternative
Americans consume 16 billion quarts of popcorn each year, and with Oscar buzz driving more moviegoers into theaters to see award nominees and winners from last week, expect to see a lot of it consumed in front of the big screen. Although theater popcorn has a long held reputation as an unhealthy junk food (a medium tub of theater popcorn clocks in at 1,200 calories and 60 grams of fat), one company has set out to return popcorn to its rightful place as a healthy whole grain by creating a smarter theater snack option.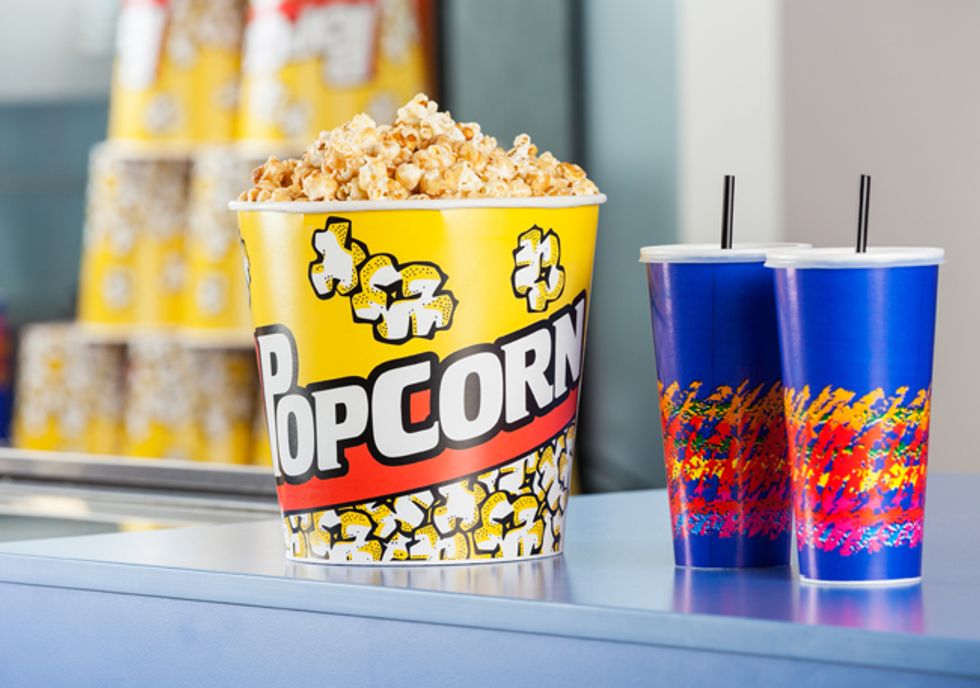 Photo credit: Shutterstock
PoppinOlive was created by Cynthia Vickery who grew up serving popcorn in her father's movie theaters. The product was created as a healthier alternative to concession stand selections and is inspired by her mother's own at-home popcorn recipe.
"I wanted people to have a choice when they went to the movie theaters, a healthy choice," said Vickery in an interview with ABC.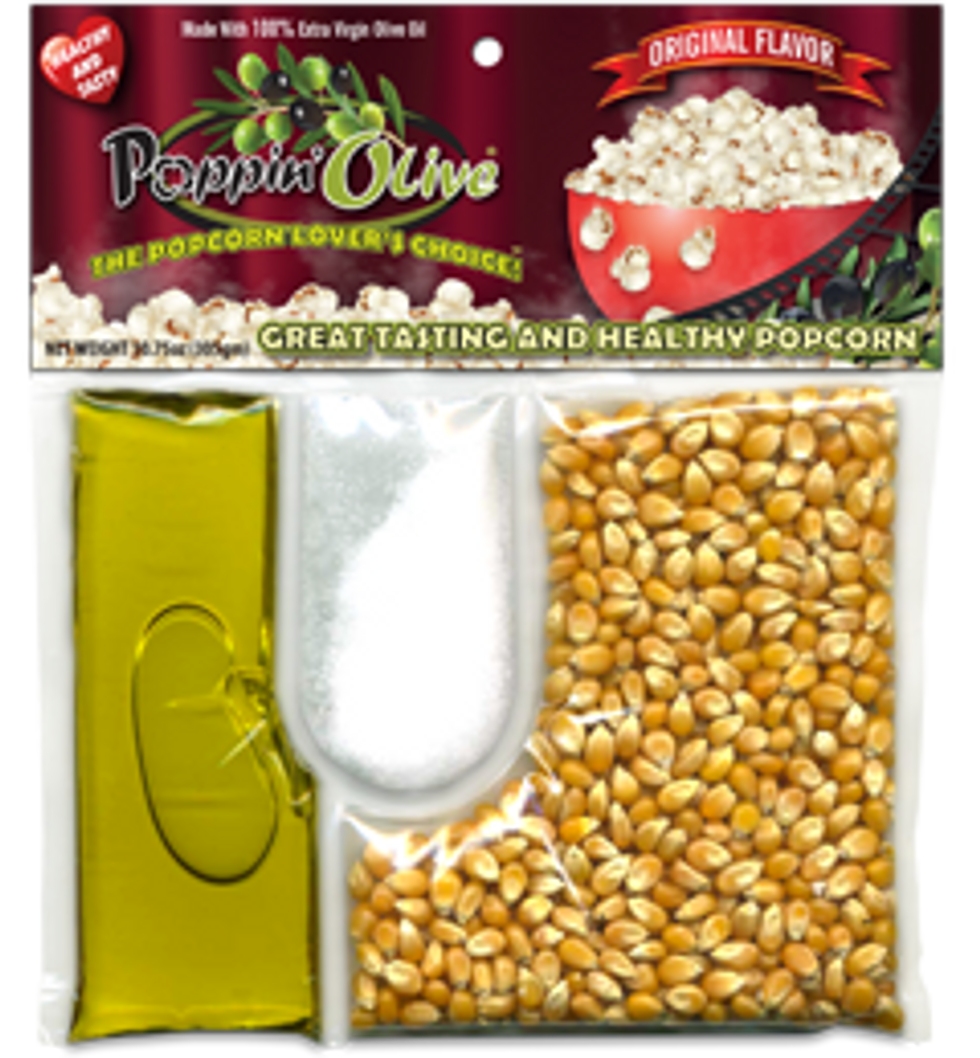 Unlike traditional theater popcorn that's cooked in saturated fat like palm oil (dyed yellow to give the final product its signature bright color) and then topped with an artificial butter-flavored blend of soybean oil that contains diacetyl, PoppinOlive popcorn is popped in a blend of pure extra virgin olive oil imported from Greece and then sprinkled with salt.
Could this healthy alternative to traditional tubs of heart-stopping fat and sodium soon be coming to a theater near you? It's currently available at select theaters throughout Michigan, but Vickery hopes to reach even more locations.
"My goal is really to expand to stadiums, other movie theaters," Vickery told ABC. "I want everyone to enjoy this healthy alternative popcorn where they go."
YOU MIGHT ALSO LIKE
Nestlé to Dump Artificial Colors and Flavors in U.S. Candy, Something It Did in Europe Years Ago
USDA Approves GMO Arctic Apples Despite Opposition
A scientist in the Netherlands is turning plant waste into a potential substitute for environmentally unsustainable proteins like meat, dairy and soy. The Dutch government commissioned Peter Geerdink, a food scientist at TNO, to identify a use for the 3 million tons of beet sugar leaves produced each year and left to rot after the beets themselves are harvested. The result of his work is a vegan gluten-free plant-based protein extracted from the pressed green juice of sugar beet leaves that, according to Geedink, is as versatile as a chicken egg.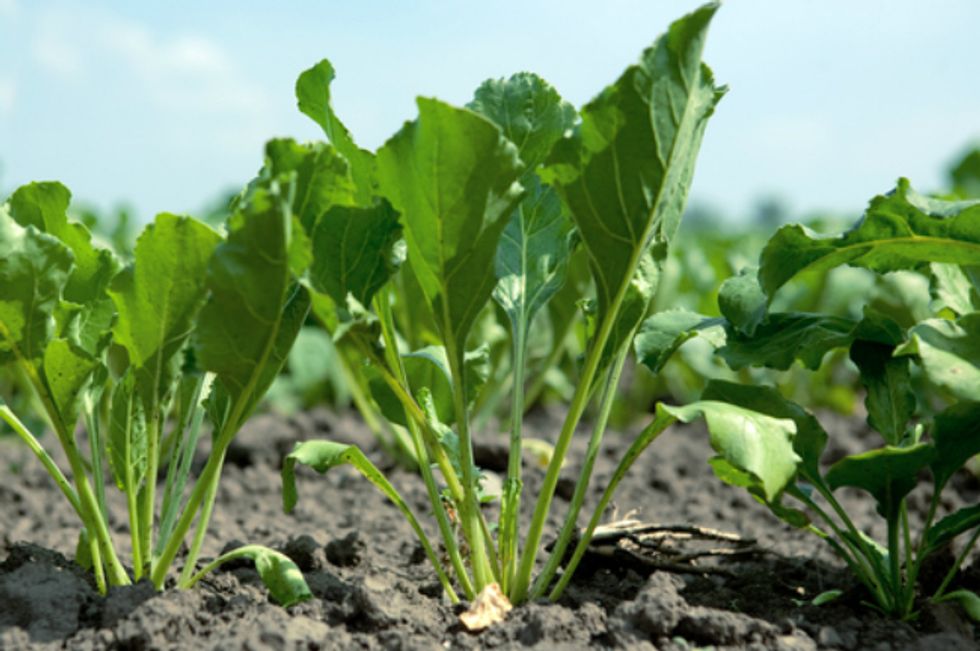 Photo credit: Shutterstock
The amount of land and water required to raise livestock puts a major strain on our air and water quality and ocean health by depleting resources and ramping up greenhouse gas emissions regionally and globally. In fact, eating less meat and dairy has been identified as a factor in curbing climate change.
Joining a number of meat and dairy alternatives on the market today, Geerdink's new sugar beet leaf protein could be processed in many ways as a substitute for animal proteins. "It can be used as a substitute for soy in veggie burgers, for example. But I've also made delicious cookies with it," he said. "There's not much flavor to the protein itself, but the protein adds a texture to veggie burgers that is lacking with soy, and which makes for a much beefier bite."
So will you be seeing sugar beet protein on store shelves in the U.S. any time soon? Geerdink thinks it's unlikely, saying it will be a few years before it even appears in supermarkets in the Netherlands.
What about sugar beets themselves? Here in the U.S. sugar beets are among the top genetically modified crops with 90 percent of sugar beet crops being GMO. While the Dutch sugar beet leaf protein scientist doubts sugar beets are fit for human consumption, they are processed into sugar sold in the U.S.
The highly controversial crop was introduced in 2005 with Monsanto's Roundup-Ready sugar beet seeds which were then banned in 2010 by U.S. District Judge Jeffrey S. White pending a U.S. Department of Agriculture (USDA) study on the potential consequences of the plants. The ban was lifted after Monsanto successful argued before the Supreme Court for the USDA to partially deregulate GMO sugar beets while the study is completed. In 2012, the USDA approved genetically modified sugar beets for agricultural use, and they account for more than half of all sugar production in the U.S. today.
YOU MIGHT ALSO LIKE
12 Fruits and Veggies You Should Avoid (If Buying Non-Organic)
3 Young Entrepreneurs Find Revolutionary Way to Cut Out Food Waste
Contrary to the old adage, an apple a day may not keep the doctor away. According to the Environmental Working Group's (EWG) 2015 Shopper's Guide to Pesticides in Produce, apples topped the list as the most pesticide-contaminated produce for the fifth year in a row. Peaches and nectarines round out the top three "dirtiest" foods while avocados, sweet corn and pineapples are among the cleanest. EWG's annual Dirty Dozen and Clean Fifteen lists rank fruits and vegetables according to pesticide residue levels reported by the U.S. Department of Agriculture (USDA).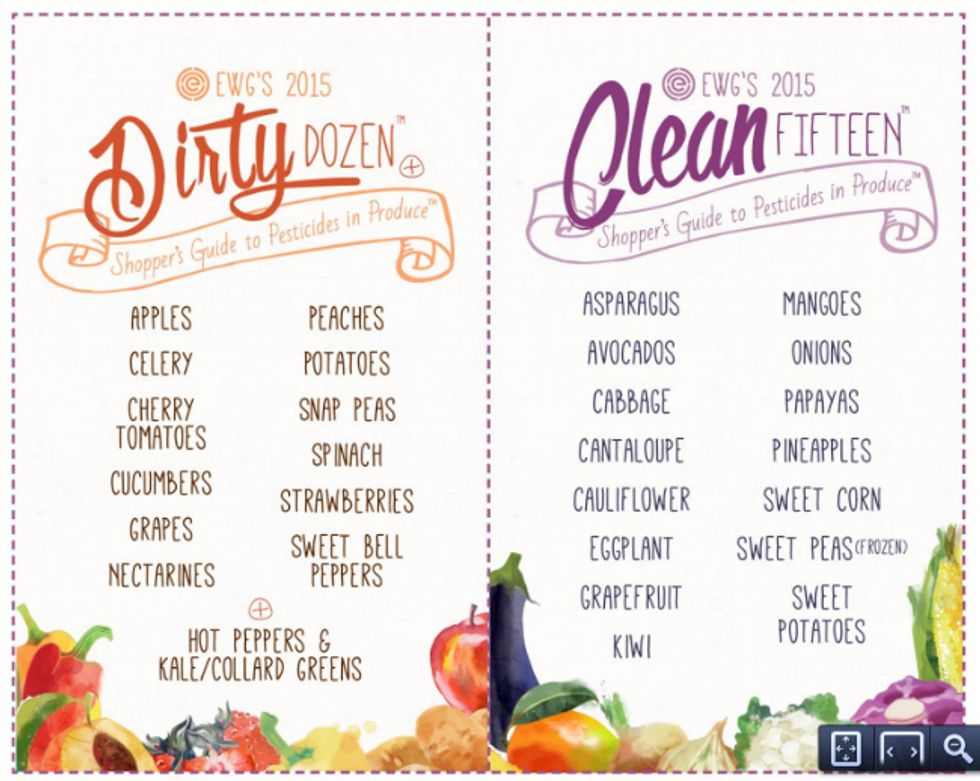 Despite growing consumer demand for pesticide-free fruits and vegetables evident in increased organic food sales, pesticides were found on nearly two-thirds of the 3,015 produce samples tested by the USDA, even in some cases after they had been washed and peeled.
"The bottom line is people do not want to eat pesticides with their fruits and vegetables," said Ken Cook, EWG's president and cofounder. "That's why we will continue telling shoppers about agricultural chemicals that turn up on their produce, and we hope we will inform, and ultimately, empower them to eat cleaner."
165 different pesticides were identified on the USDA food samples with 99 percent of apples, 98 percent of peaches and 97 percent of nectarines testing positive for at least one residue. Cherry tomatoes, grapes, snap peas and potatoes were also among the most contaminated with potatoes averaging more pesticides by weight than any other produce. For the third year in a row, EWG also expanded the Dirty Dozen list with a Plus category to include hot peppers and leafy greens that contain trace amounts of highly hazardous pesticides, including organophosphate and carbamate insecticides. Acephate, chlorpyrifos and oxamyl (highly toxic insecticides) are banned on some crops but still permitted on hot peppers. And although pesticides DDE and dieldrin were banned years ago, residue from agricultural soils is still found on leafy greens grown today.
Pesticides have been linked to a number of negative impacts on the environment and human health, including depression and suicide in farmers, decreasing bee populations and increased risk of Parkinson's disease. A recent study found lower pesticide levels in people who eat organic food, and EWG confirms that the best way for consumers to avoid pesticides in food is to purchase organic produce if possible. If food accessibility or financial restrictions limit access to organic foods, the Clean 15 list highlights produce with the lowest levels of pesticide exposure and is also a good option.
"We are saying, eat your fruits and vegetables," said Sonya Lunder, EWG's senior analyst. "But know which ones have the highest amounts of pesticides so you can opt for the organic versions, if available and affordable, or grab a snack off the Clean Fifteen."
YOU MIGHT ALSO LIKE
How to Get Your Kids to Eat Superfoods
New Dietary Guidelines Healthy for People and Planet
Every five years the U.S. Department of Agriculture Dietary Guidelines for Americans undergo a stringent review before being updated and re-released with new information based on the latest available research. An initial review of the Scientific Report of the 2015 Dietary Guidelines for Americans was released last week with recommendations from a 14-person expert advisory panel and is now open for public comment.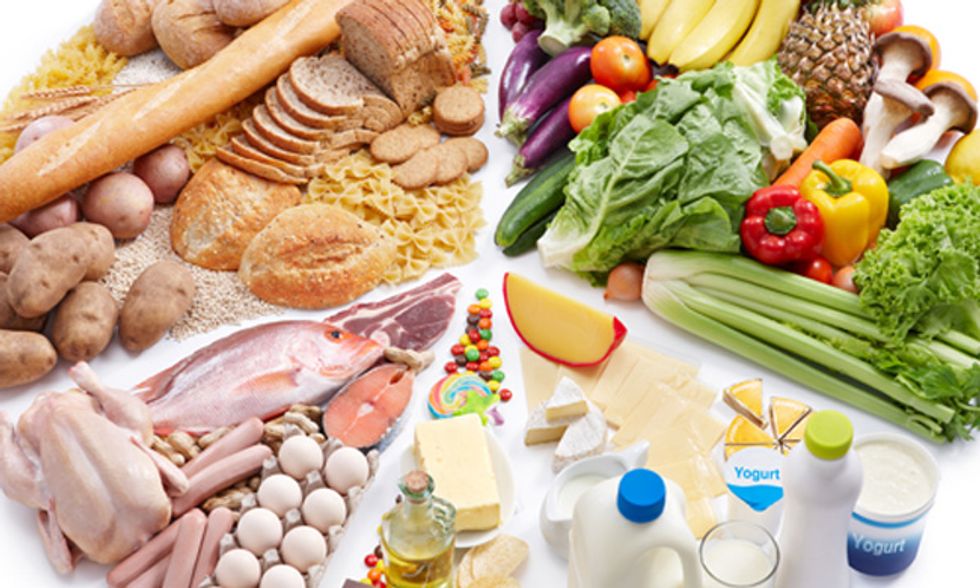 Photo credit: Shutterstock
"For decades, the Dietary Guidelines for Americans have been at the core of our efforts to promote the health and well-being of American families," said Health and Human Services (HHS) Secretary Sylvia Burwell and Agriculture Secretary Tom Vilsack in a joint statement. "Now that the advisory committee has completed its recommendations, HHS and USDA will review this advisory report, along with comments from the public—including other experts—and input from other federal agencies as we begin the process of updating the guidelines."
For the first time since its inception in 1980, the Dietary Guidelines Advisory Committee has proposed landmark recommendations that consider the greater impact of American eating habits on environmental sustainability.
"The environmental impact of food production is considerable and if natural resources such as land, water and energy are not conserved and managed optimally, they will be strained and potentially lost," the committee says in Part D Chapter 5 of the 2015 recommendations. "Meeting current and future food needs will depend on two concurrent approaches: altering individual and population dietary choices and patterns and developing agricultural and production practices that reduce environmental impacts and conserve resources, while still meeting food and nutrition needs."
The report finds that, "A diet higher in plant-based foods, such as vegetables, fruits, whole grains, legumes, nuts, and seeds, and lower in calories and animal-based foods is more health promoting and is associated with less environmental impact than is the current U.S. diet."
The committee highlights standards of environmentally sustainable dietary guidance found in countries like Germany, Sweden, the Netherlands, Australia and Brazil, which focus on "decreasing meat consumption, choosing seafood from non-threatened stocks, eating more plants and plant-based products, reducing energy intake, and reducing waste."
Because the USDA Dietary Guidelines are used to setting nutrition standards for major institutions and schools, this year's added focus on the environmental sustainability of food production and consumption could have a major trickle down impact on American buying behavior.
"The identification of dietary patterns that are sustainable is a first step toward driving consumer behavior change and demand and supply-chain changes," said the committee.
But as Marion Nestle points out in her Food Politics blog, not everyone is happy that the USDA is considering sustainability in its guidelines. Nestle says, "Predictably, this did not go over well with the meat industry or, for that matter, other industries affected by such advice or groups funded by such industries."
For Nestle, the basic advice offered by 2015 Dietary Guidelines Advisory Committee boils down to plain common sense:
Eat plenty of foods from plant sources

Eat foods from animal sources in moderation

Balance calories

Avoid overeating junk food
The Scientific Report of the 2015 Dietary Guidelines for Americans remains open for public comment until April 8, and an oral comment meeting will be held on March 24.
YOU MIGHT ALSO LIKE
Students Compete to Develop Innovative Ways to Feed Future Cities
Can the Planet Sustain 7 Billion People Eating a Paleo Diet?
Ask anyone who eats organic food why they do it and they'll likely have a list of reasons: it's better for your body, better for the planet and arguably better tasting. And now, they'll have a new list to recite: the top 10 most organic cities in America.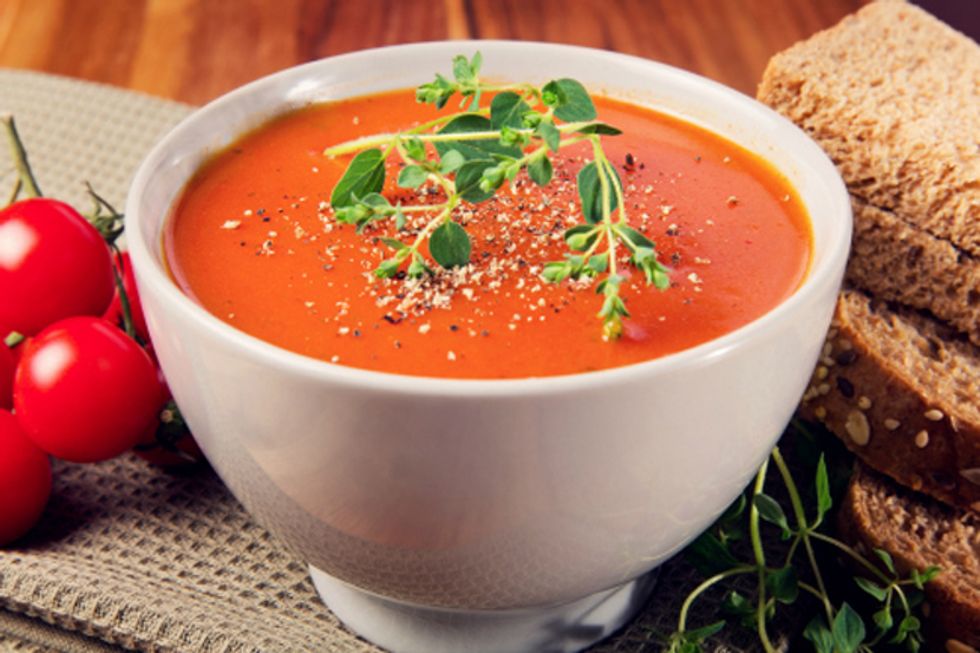 Photo credit: Shutterstock
Campbell Soup Company, in partnership with Sperling's Best Places, announced a list of the top 10 most organic cities in America to promote its new line of six organic soups. According to Dow Jones Business News, "Sluggish sales of canned and boxed foods" resulted in a 6 percent drop in sales for the company's ready-to-eat soups last year. And with 81 percent of American families buying organic foods at least sometimes, Campbell's new organic soup options represent a direct response to consumer demand.
"Organic eating is a priority for many Americans, and we want to make sure that those who choose to eat organic—no matter where they live—have options that are both authentic and delicious," said Leah Dunmore, vice president of soup at Campbell Soup Company. "We've combined high-quality ingredients with the delicious flavor people expect from our products to bring taste without compromise to soup aisles nationwide."
So where exactly is the highest demand for organic food around the country? If visions of vast farmland and amber waves of grain blowing through the heartland come to mind, think again. Eight of the 10 top cities for organic eating are located along the coasts.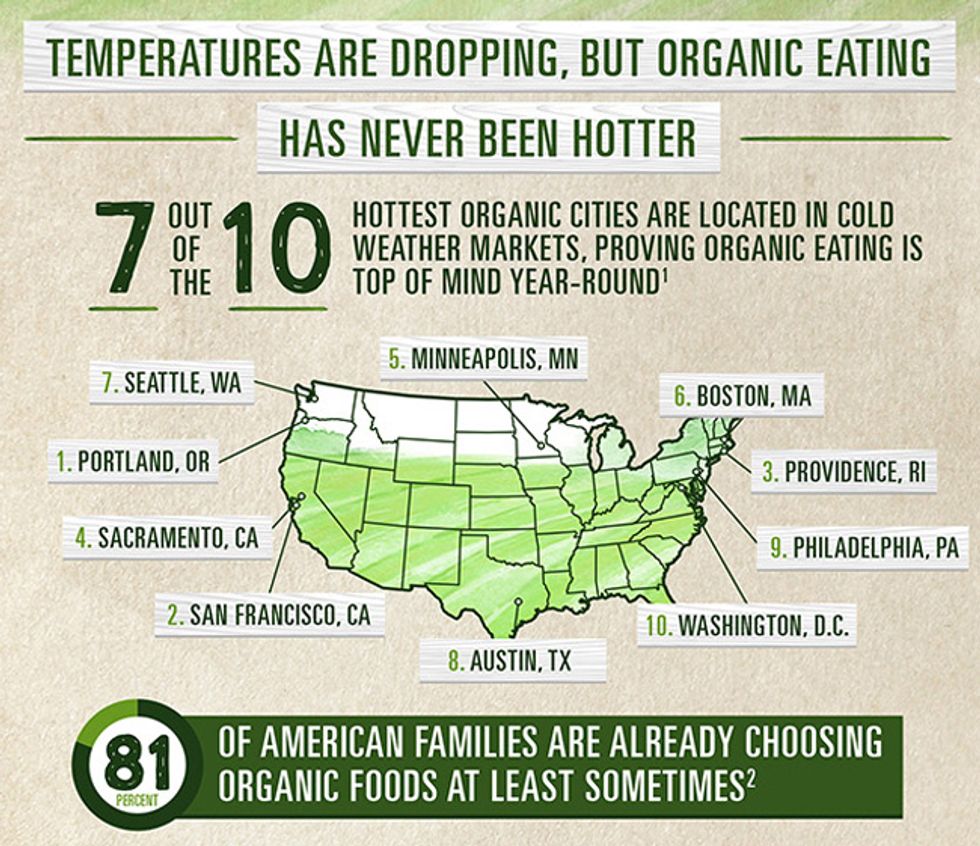 Campbell's used a marketing spin to point out that seven out of the 10 cities are (conveniently) located in cold-weather markets where hot organic soup will be in high demand, but it's also worth noting that half of the cities are listed among the richest cities in America—a reminder that financial restrictions limit access to organic foods.
So did your city make the cut? Here are the top 10 most organic cities in America:
Portland, OR

San Francisco, CA

Providence, RI

Sacramento, CA

Minneapolis, MN

Boston, MA

Seattle, WA

Austin, TX

Philadelphia, PA

Washington, DC
YOU MIGHT ALSO LIKE
6 Mobile Apps for Sustainable and Ethical Food Shopping
Students Compete to Develop Innovative Ways to Feed Future Cities
Study Finds Lower Pesticide Levels in People Who Eat Organic Produce
Since 1990, mandatory nutrition fact labeling on packaged food products in the U.S. has made it easier for consumers to shop for foods based on dietary restrictions and nutritional requirements. But just because a food bears a healthy nutrition label doesn't mean it was ethically or sustainably produced.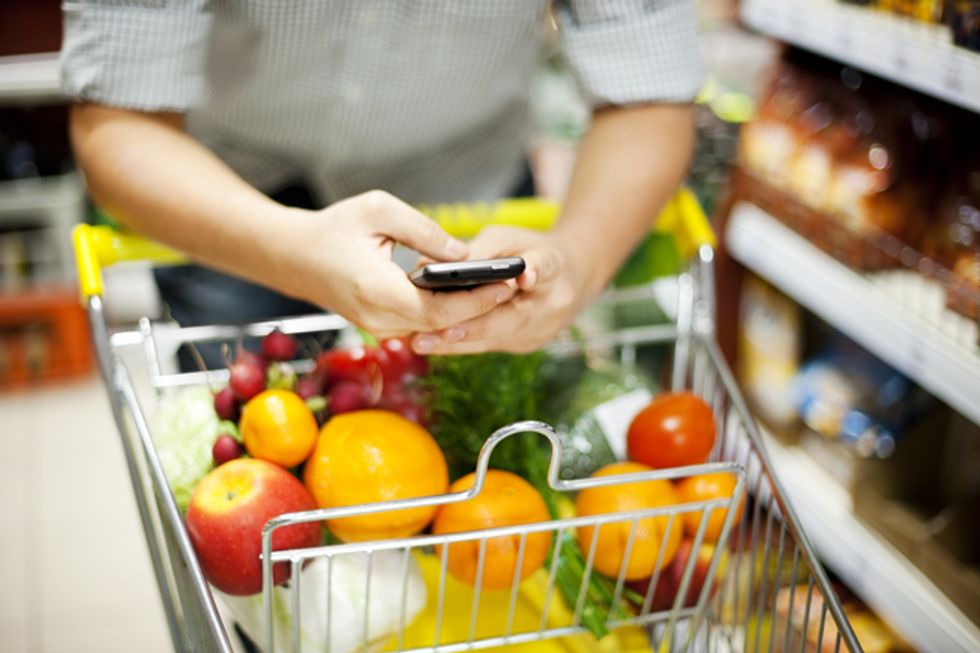 Photo credit: Shutterstock
Currently, the U.S. Department of Agriculture's (USDA) Organic label is the gold standard for identifying foods that preserve natural resources and biodiversity, support animal health and welfare, and do not use genetically modified ingredients. But with three different USDA Organic label designations and another 19 third-party organic labels, discerning what's what is confusing for consumers. And while nearly 75 percent of grocery stores are stocked with organic products, organic foods made up just more than 4 percent of total food sales in the U.S. in 2012, leaving consumers with questions about how to decode what went into the other 96 percent of products that lack the label.
For guidance on what went into packaged food products (beyond just ingredients), consumers can turn to third-party mobile apps to help navigate the grocery aisle. Here are six apps you might want to check out:
Non-GMO Project Shopping Guide: With no government mandated labeling of GMOs in the US, the Non-GMO Project is the only third-party verification that certifies and labels products that are free of genetically modified organisms. With the mobile application, consumers can search verified Non-GMO Project foods by type, brand, product or keyword.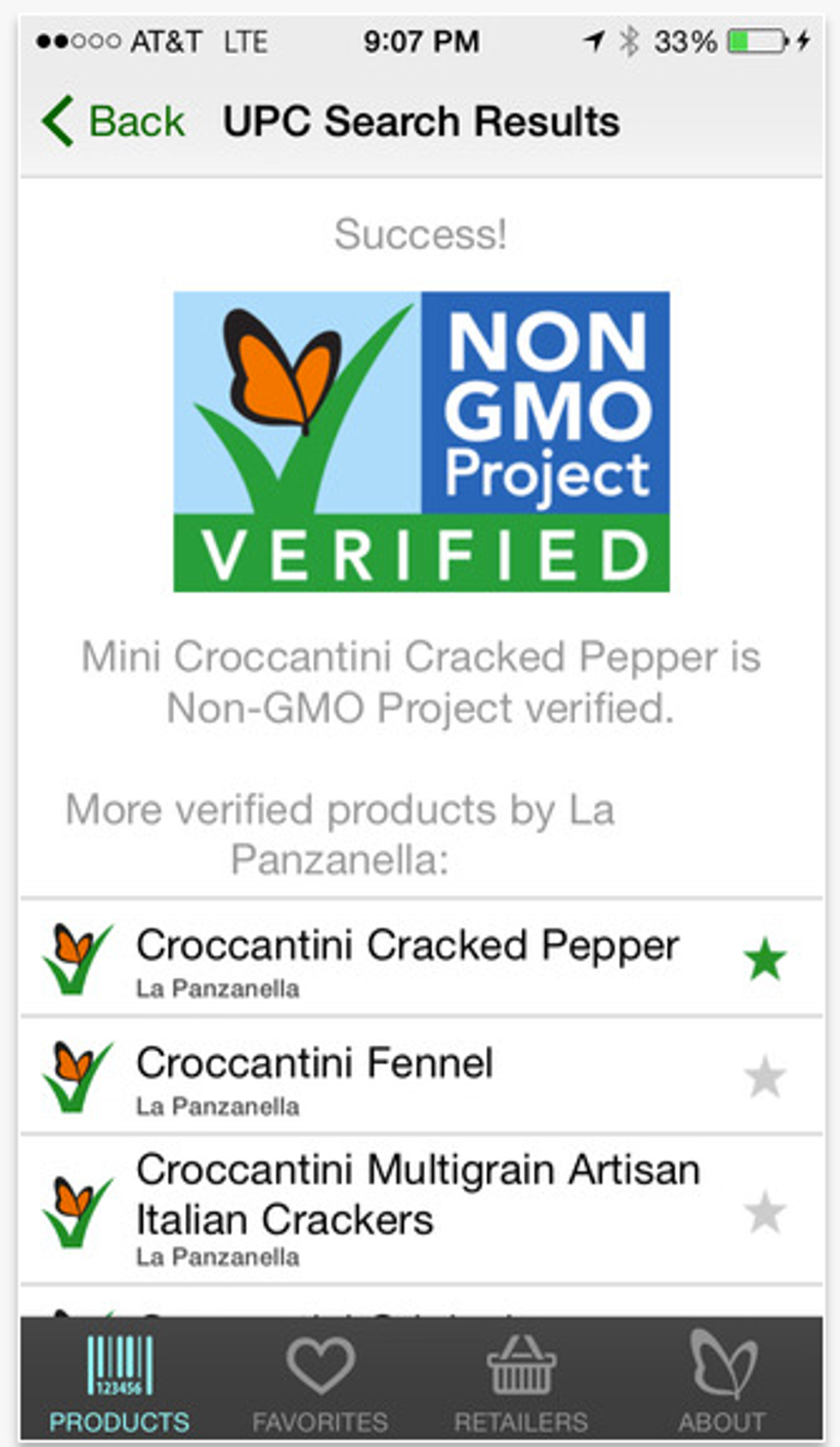 EWG Food Scores: The Environmental Working Group Food Scores app rates products according to nutrition, ingredient and processing, helping consumers identify products that contain pesticides, additives and antibiotics of concern.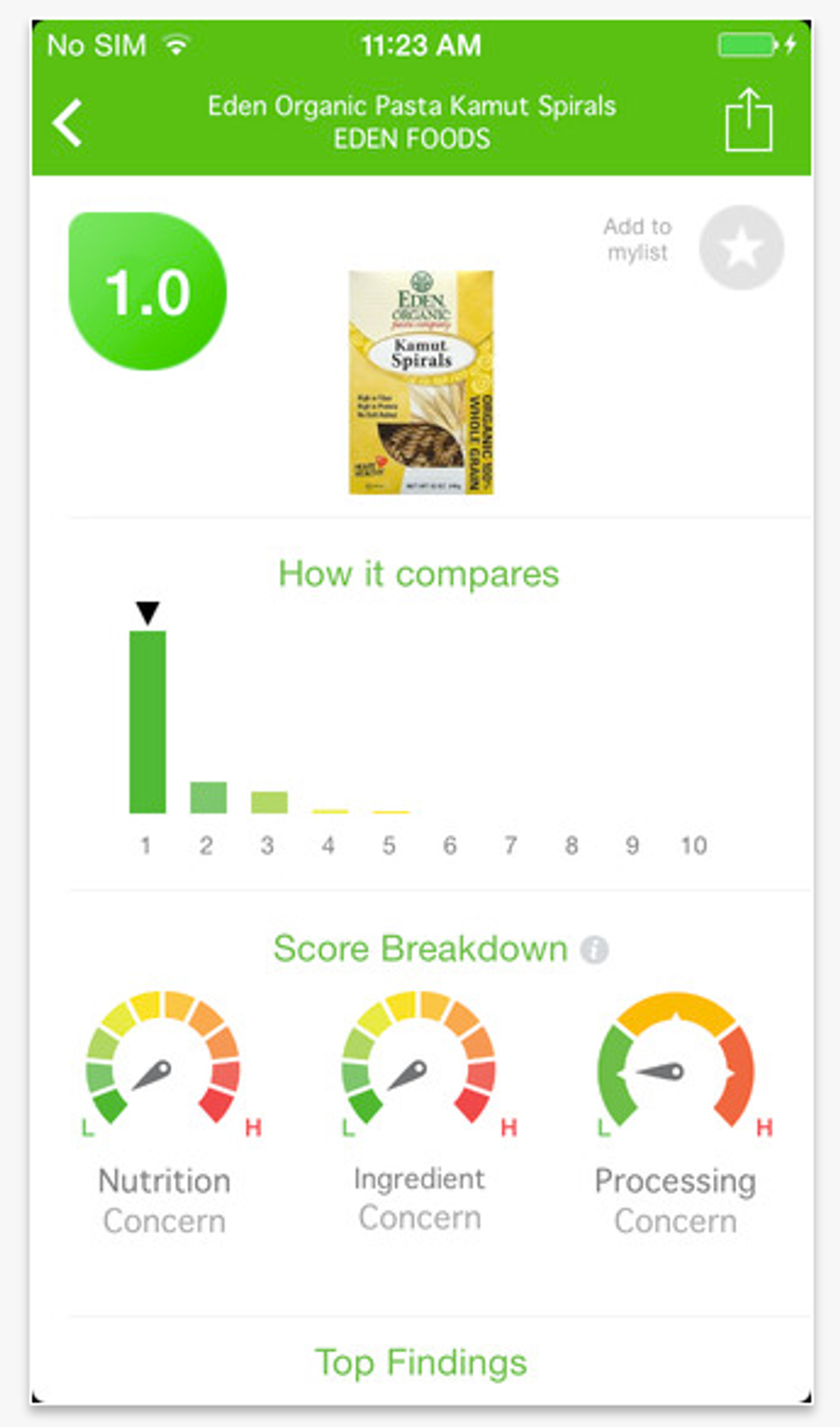 Choco-locate: The Choco-locate app helps you hunt down sweet treats by location and flavor preference but also allows users to filter based on products that meet fair trade ethical standards of production.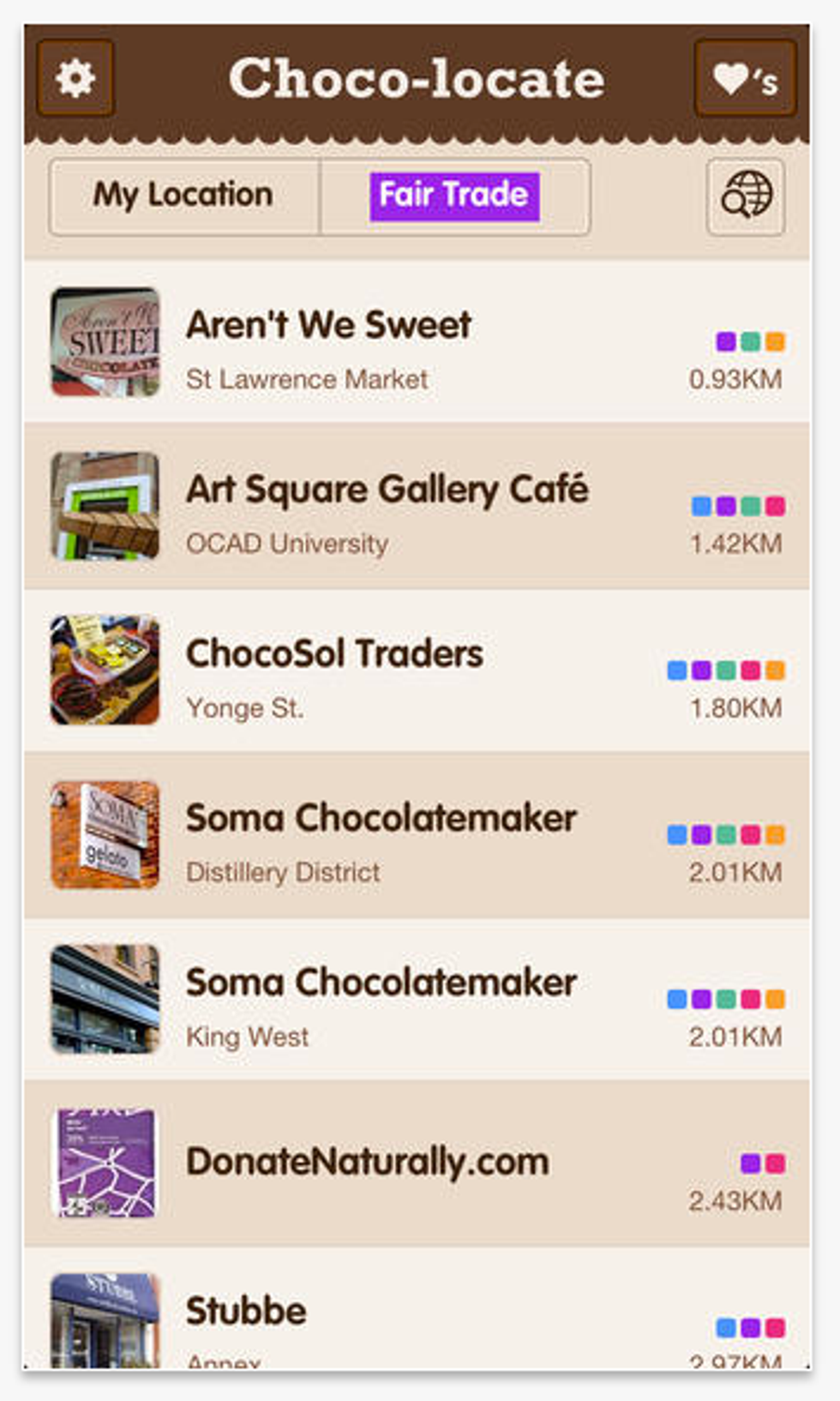 Good Fish Guide: Described as the definitive guide to sustainable seafood, this app created by the Marine Conservation Society shows consumers whether or not a fish comes from well managed sustainable farms or stocks.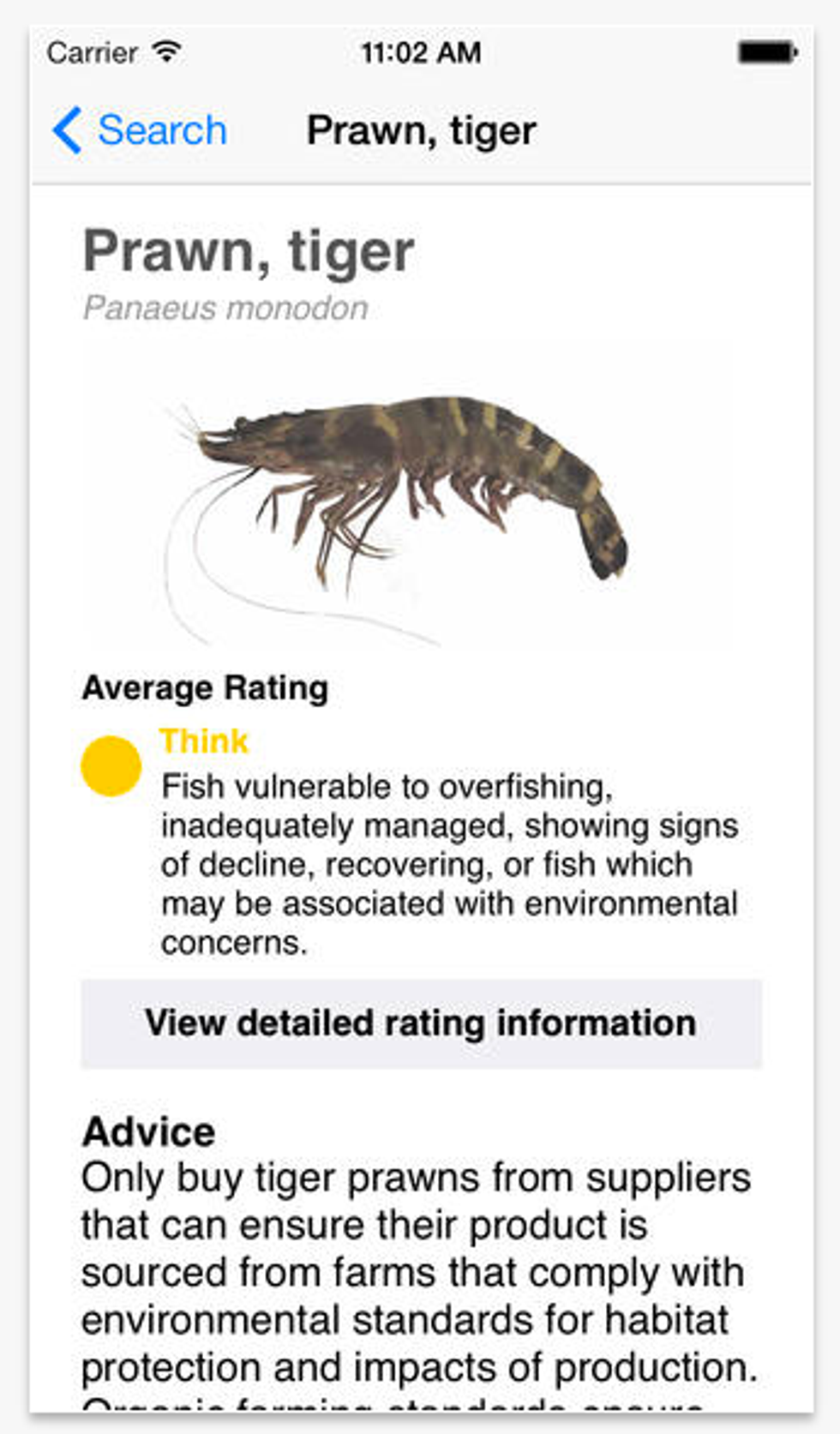 Certified Humane: This app helps consumers identify products and restaurants that uphold stringent Certified Humane® standards of farm animal treatment from birth to slaughter.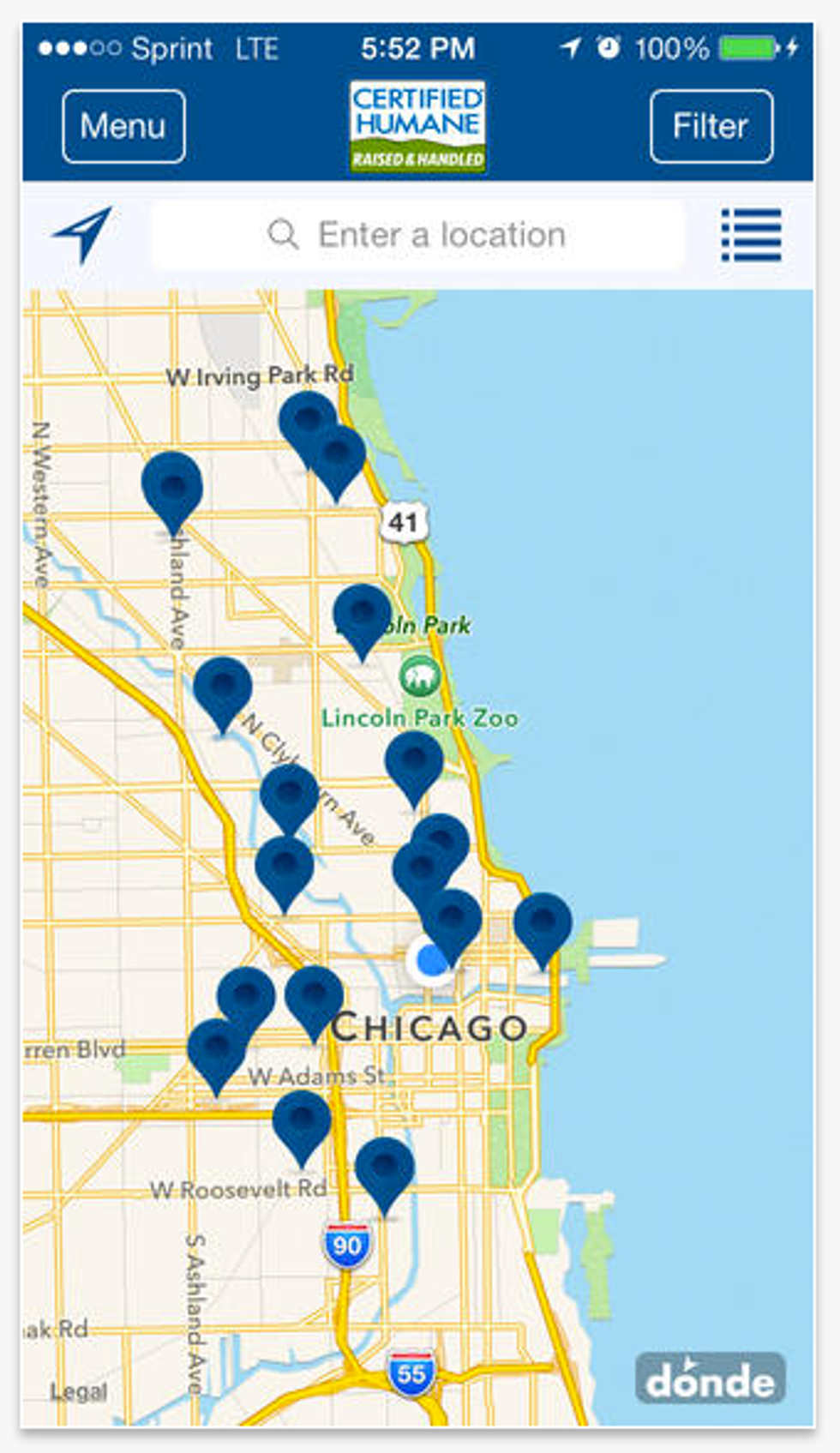 Buycott: This app encourages consumers to vote for social change with their wallets by joining campaigns to help a cause by avoiding those products that oppose its ethical standard.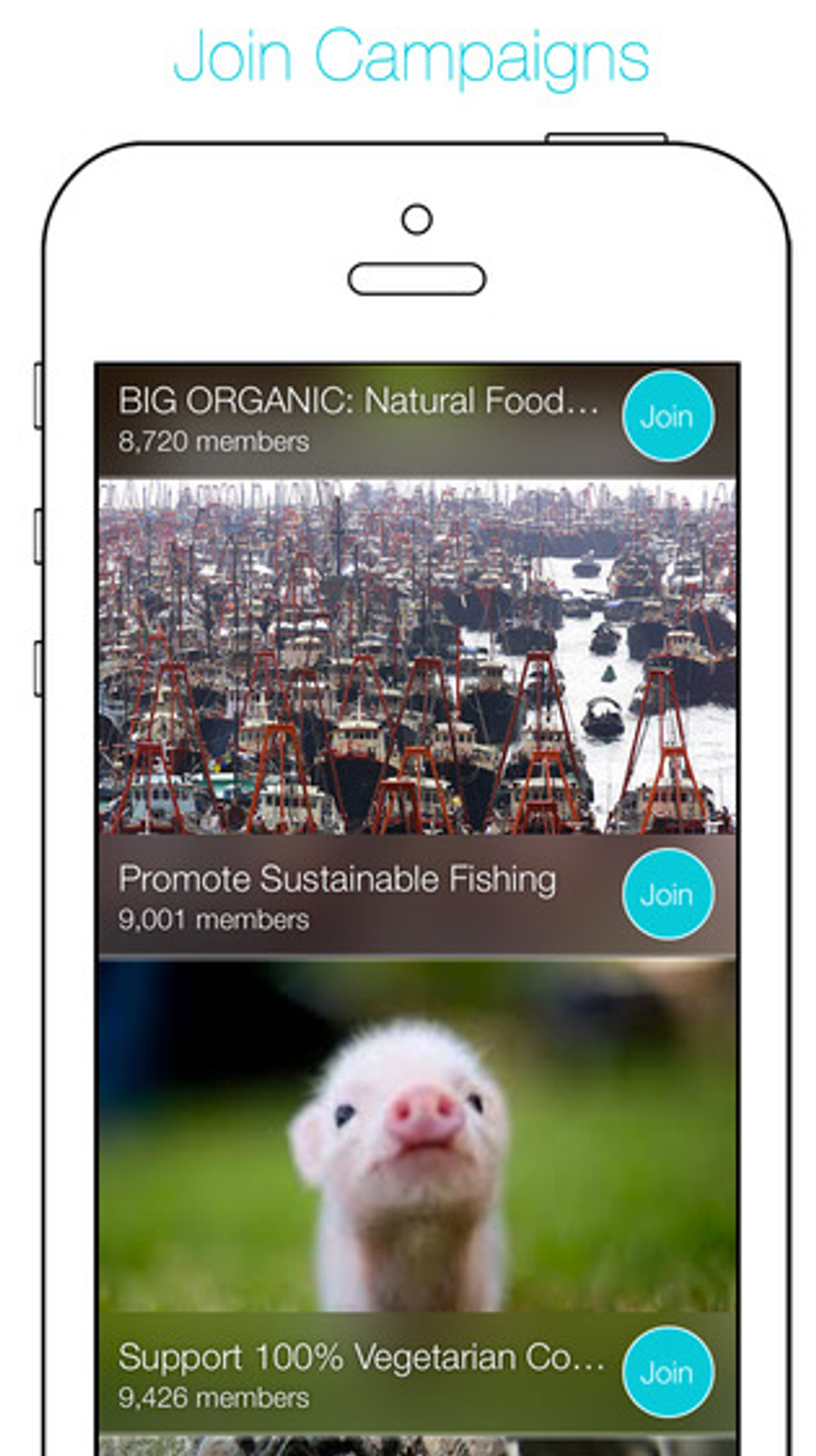 YOU MIGHT ALSO LIKE
Nestlé to Dump Artificial Colors and Flavors in U.S. Candy, Something It Did in Europe Years Ago
Organic Labeling: What You Need to Know