In a story released this week, Keurig K-cup inventor John Sylvan, who sold his shares of the company for $50,000 back in 1997, admits he regrets ever creating the disposable plastic coffee pods that built what is today a $4.7 billion business. With an estimated nine to 13 billion plastic K-cups hitting landfills last year, Sylvan admits, "I feel bad sometimes that I ever did it."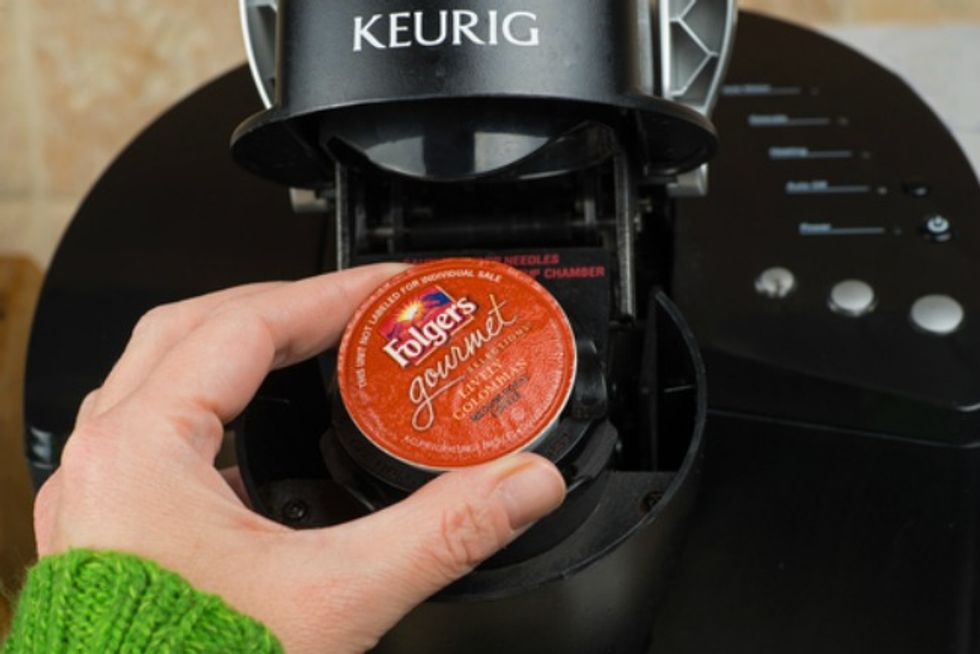 Photo credit: Shutterstock
Pod-based coffee makers like Keurig, designed to create customizable single-serve coffees from plastic pods filled with coffee grounds, can be found in one-third of American households. That pervasiveness is generating a lot of leftover pods that end up in landfills.
Keurig was acquired by eco-friendly coffee producer Green Mountain in 2006, combining names in 2014. While every spin-off coffee pod product produced since the merger (including Vue, Bolt and K-Carafe cups) is recyclable, the company's biggest seller, the original K-cup product made from plastic #7, is not.
When Keurig Green Mountain's design patent on the foil-topped plastic coffee pod expired in 2012, the market was flooded with competing options, many of which are biodegradable or reusable, raising the question: Why won't Keurig Green Mountain follow suit?
According to Keurig Green Mountain's Chief Sustainability Officer Monique Oxender, they're working on it. The company has committed to making all K-cups recyclable by 2020, but concerned citizens say it's not fast enough. A petition set up by the creators of the viral Kill the K-Cup video urges Keurig to expedite the development of their recycling program and has been signed by more than 20,000 people. According to Sylvan, it won't happen any time soon. "No matter what they say about recycling," he said, "those things will never be recyclable."
Supporters of pod-based coffee makers would argue that's not such a bad thing considering the machines require less electricity than traditional brew pots and extract coffee more efficiently from less grounds, saving on the resources required to produce the water-intensive crop.
Coffee is a staple in the American diet and won't be going away any time soon. It offers a slew of health benefits and, most importantly, the jolt of caffeine so many have come to rely on. So what's the most eco-friendly coffee brewing option? According to Murray Carpenter, author of Caffeinated, the answer is, unfortunately, instant coffee.
If abandoning the convenience of your single-serve Keurig for more sustainable instant coffee is out of the question, there are other options. Keurig Green Mountain's Grounds to Grow On program collects used pods turning the grounds into fertilizer and burning the cups for energy. Another company, Terracycle, sells zero-waste boxes where you can collect coffee pods to ship back for recycling.
As for Sylvan, he says he has a solution to Keurig's waste problem but that the company won't listen. As they embark on their own 2020 recycling initiative, he has started a new company Zonbak selling solar panels, in part to offset the negative environmental impact of his K-cup invention.
YOU MIGHT ALSO LIKE
Man Quits Job to Travel in Solar-Powered Home on Wheels
Reducing Food Waste Is Good for Economy and Climate, Report Says
World's First Plantable Coffee Cup to Replenish Rain Forests
EcoWatch Daily Newsletter
Going vegan is growing in popularity. Beyonce's vegan meal delivery service, James Cameron's vegan school and concerns about the impact animal agriculture has on our health and environmental sustainability is drawing main-stream media attention to the animal-free lifestyle.
With increased interest in and curiosity about going vegan, concerns are often raised about giving up foods like baked goods that traditionally rely on butter, eggs and milk for production. Reducing your intake of animal-based foods doesn't have to cramp your cookie consumption. It's actually really easy to make animal-free versions of your favorite cookies, cakes, muffins, brownies and more with some simple recipe substitutions. Here are three dairy substitutes to make yummy vegan desserts.
Milk
Dairy-free milk alternatives abound on grocery store shelves. You can purchase vegan milks made from almonds, cashews, soy, hemp, oats, quinoa, hazelnuts, coconut and other animal-free ingredients or, to avoid unnecessary additives, just make your own at home. Recipes calling for traditional dairy milk can be made vegan by using any non-dairy milk alternative. Note that if a recipe calls for whole milk or cream, it is best to use a higher-fat milk like coconut milk to best replicate the consistency. If you're making a savory recipe, be sure to use unsweetened non-dairy milk to avoid unnecessary added sugar.
Eggs
Eggs are used in baking to add structure, leavening, color and flavor to baked goods. Though it is difficult to replicate an egg's unique molecular structure and properties when baking without animal products, there are several suitable vegan options. Commercial egg replacers made from wheat gluten (like Bob's Red Mill) or tapioca flour (like Ener-G) are designed to substitute eggs in baked goods that require a leavening agent. Silken tofu is another vegan egg alternative with a quarter-cup of tofu replacing the equivalent of one egg. For a less processed whole food option at home, you can make a "flax egg" or "chia egg" by combining 1 tablespoon of ground flax seed (or 1 tablespoon of chia seeds) with 3 tablespoons of water to substitute one egg. The ground flax and chia seeds will absorb water some of the water giving it a gelatinous consistency like an egg white.
Butter
Butter is used to add fat and flavor to baked goods and can easily be swapped out for plant-based oils. Vegan butter-like spreads and sticks (such as EarthBalance) are readily available in most grocery stores and can be substituted for butter. A less processed option is to use coconut oil, which can be used solid at room temperature or melted into a liquid oil depending on what is required by the recipe.
MAXSHOT / iStock / Getty Images
Solar panels allow you to harness the sun's clean, renewable energy, potentially cutting your electric bills as well as your environmental footprint. But do solar panels work on cloudy days, or during seasons of less-than-optimal sun exposure? For homeowners who live outside of the Sun Belt, this is a critical question to consider before moving ahead with solar panel installation.
In this article, we'll go over how solar panels work on cloudy days, whether solar panels work at night, and how to ensure you always have accessible power — even when your panels aren't producing solar energy.
How Solar Panels Work on Cloudy Days
Photovoltaic (PV) solar panels can use both direct and indirect sunlight to generate electrical power. This means they can still be productive even when there is cloud coverage. With that said, solar panels are most efficient and productive when they are soaking up direct sunlight on sunny days.
While solar panels still work even when the light is reflected or partially obstructed by clouds, their energy production capacity will be diminished. On average, solar panels will generate 10 to 25% of their normal power output on days with heavy cloud coverage.
With clouds usually comes rain, and here's a fact that might surprise you: Rain actually helps solar panels work more effectively. That's because rain washes away any dirt or dust that has gathered on your panels so that they can more efficiently absorb sunlight.
Do Solar Panels Work at Night?
While solar panels can still function on cloudy days, they cannot work at night. The reason for this is simple: Solar panels work because of a scientific principle called the photovoltaic effect, wherein solar cells are activated by sunlight, generating electrical current. Without light, the photovoltaic effect cannot be triggered, and no electric power can be generated.
One way to tell if your panels are still producing energy is to look at public lights. As a general rule of thumb, if street lamps or other lights are turned off — whether on cloudy days or in the evening — your solar panels will be producing energy. If they're illuminated, it's likely too dark out for your solar panel system to work.
Storing Solar Energy to Use on Cloudy Days and at Night
During hours of peak sunlight, your solar panels may actually generate more power than you need. This surplus power can be used to provide extra electricity on cloudy days or at night.
But how do you store this energy for future use? There are a couple of options to consider:
You can store surplus energy in a solar battery.
When you add a solar battery to your residential solar installation, any excess electricity can be collected and used during hours of suboptimal sun exposure, including nighttime hours and during exceptionally cloudy weather.
Batteries may allow you to run your solar PV system all day long, though there are some drawbacks of battery storage to be aware of:
It's one more thing you need to install.
It adds to the total cost of your solar system.
Batteries will take up a bit of space.
You will likely need multiple batteries if you want electricity for more than a handful of hours. For example, Tesla solar installations require two Powerwall batteries if your system is over 13 kilowatts.
You can use a net metering program.
Net metering programs enable you to transmit any excess power your system produces into your municipal electric grid, receiving credits from your utility company. Those credits can be cashed in to offset any electrical costs you incur on overcast days or at night when you cannot power your home with solar energy alone.
Net metering can ultimately be a cost-effective option and can significantly lower your electricity bills, but there are a few drawbacks to consider, including:
You may not always break even.
In some cases, you may still owe some money to your utility provider.
Net metering programs are not offered in all areas and by all utility companies.
Is Residential Solar Right for You?
Now that you know solar panels can work even when the sun isn't directly shining and that there are ways to store your energy for times your panels aren't producing electricity, you may be more interested in installing your own system.
You can get started with a free, no-obligation quote from a top solar company in your area by filling out the 30-second form below.
FAQ: Do Solar Panels Work on Cloudy Days?

How efficient are solar panels on cloudy days?
It depends on the panels, but as a rule of thumb, you can expect your solar panels to work at 10 to 25% efficiency on cloudy days.
How do solar panels work when there is no sun?
If there is literally no sunlight (e.g., at night), then solar panels do not work. This is because the photovoltaic effect, which is the process through which panels convert sunlight into energy, requires there to be some light available to convert.
However, you can potentially use surplus solar power that you've stored in a battery. Also note that solar panels can work with indirect light, meaning they can function even when the sun is obscured by cloud coverage.
Do solar panels work on snowy days?
If there is cloud coverage and diminished sunlight, then solar panels will not work at their maximum efficiency level on snowy days. With that said, the snow itself is usually not a problem, particularly because a dusting of snow is easily whisked away by the wind.
Snow will only impede your solar panels if the snowfall is so extreme that the panels become completely buried, or if the weight of the snow compromises the integrity of your solar panel structures.
Will my solar panels generate electricity during cloudy, rainy or snowy days?
Cloudy days may limit your solar panel's efficiency, but you'll still be able to generate some electricity. Rainy days can actually help clean your panels, making them even more effective. And snowy days are only a problem if the snow is so extreme that the panels are totally submerged, without any part of them exposed to the sun.
A scientist in the Netherlands is turning plant waste into a potential substitute for environmentally unsustainable proteins like meat, dairy and soy. The Dutch government commissioned Peter Geerdink, a food scientist at TNO, to identify a use for the 3 million tons of beet sugar leaves produced each year and left to rot after the beets themselves are harvested. The result of his work is a vegan gluten-free plant-based protein extracted from the pressed green juice of sugar beet leaves that, according to Geedink, is as versatile as a chicken egg.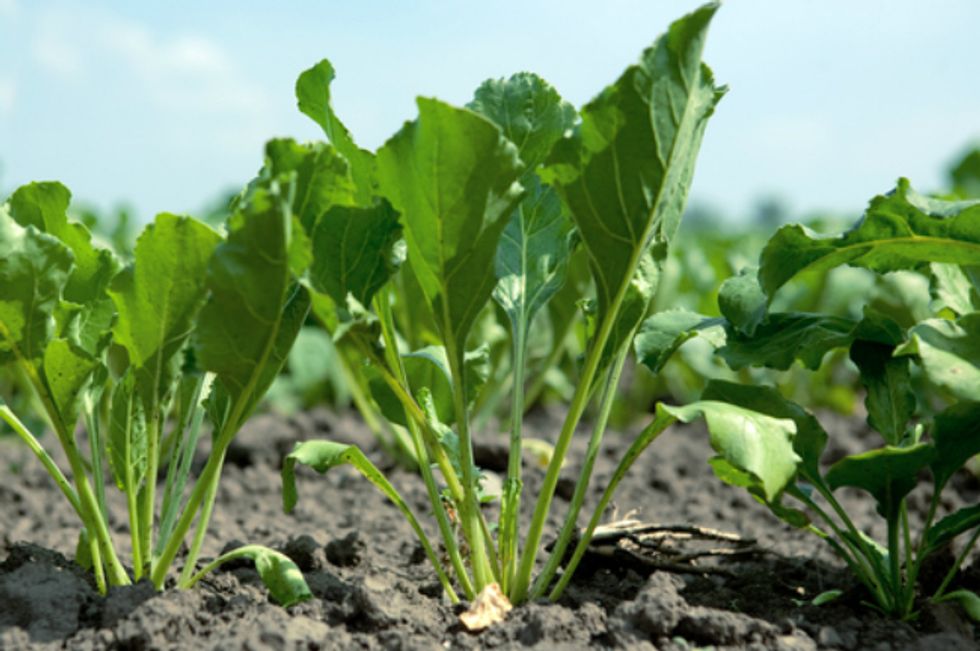 Photo credit: Shutterstock
The amount of land and water required to raise livestock puts a major strain on our air and water quality and ocean health by depleting resources and ramping up greenhouse gas emissions regionally and globally. In fact, eating less meat and dairy has been identified as a factor in curbing climate change.
Joining a number of meat and dairy alternatives on the market today, Geerdink's new sugar beet leaf protein could be processed in many ways as a substitute for animal proteins. "It can be used as a substitute for soy in veggie burgers, for example. But I've also made delicious cookies with it," he said. "There's not much flavor to the protein itself, but the protein adds a texture to veggie burgers that is lacking with soy, and which makes for a much beefier bite."
So will you be seeing sugar beet protein on store shelves in the U.S. any time soon? Geerdink thinks it's unlikely, saying it will be a few years before it even appears in supermarkets in the Netherlands.
What about sugar beets themselves? Here in the U.S. sugar beets are among the top genetically modified crops with 90 percent of sugar beet crops being GMO. While the Dutch sugar beet leaf protein scientist doubts sugar beets are fit for human consumption, they are processed into sugar sold in the U.S.
The highly controversial crop was introduced in 2005 with Monsanto's Roundup-Ready sugar beet seeds which were then banned in 2010 by U.S. District Judge Jeffrey S. White pending a U.S. Department of Agriculture (USDA) study on the potential consequences of the plants. The ban was lifted after Monsanto successful argued before the Supreme Court for the USDA to partially deregulate GMO sugar beets while the study is completed. In 2012, the USDA approved genetically modified sugar beets for agricultural use, and they account for more than half of all sugar production in the U.S. today.
YOU MIGHT ALSO LIKE
12 Fruits and Veggies You Should Avoid (If Buying Non-Organic)
3 Young Entrepreneurs Find Revolutionary Way to Cut Out Food Waste
Contrary to the old adage, an apple a day may not keep the doctor away. According to the Environmental Working Group's (EWG) 2015 Shopper's Guide to Pesticides in Produce, apples topped the list as the most pesticide-contaminated produce for the fifth year in a row. Peaches and nectarines round out the top three "dirtiest" foods while avocados, sweet corn and pineapples are among the cleanest. EWG's annual Dirty Dozen and Clean Fifteen lists rank fruits and vegetables according to pesticide residue levels reported by the U.S. Department of Agriculture (USDA).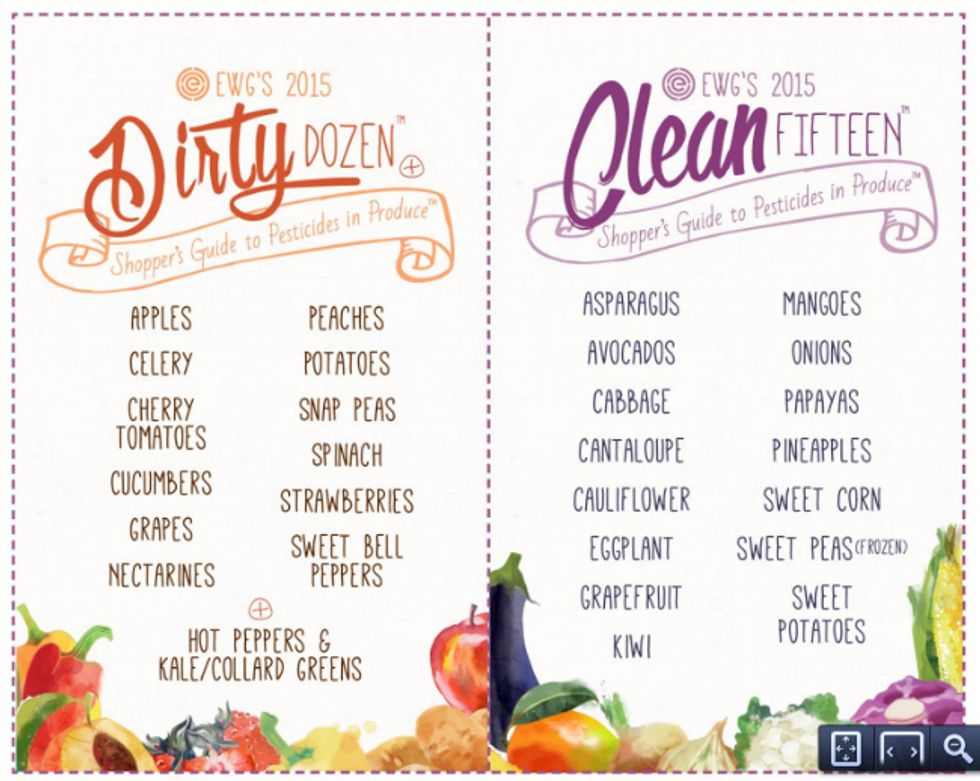 Despite growing consumer demand for pesticide-free fruits and vegetables evident in increased organic food sales, pesticides were found on nearly two-thirds of the 3,015 produce samples tested by the USDA, even in some cases after they had been washed and peeled.
"The bottom line is people do not want to eat pesticides with their fruits and vegetables," said Ken Cook, EWG's president and cofounder. "That's why we will continue telling shoppers about agricultural chemicals that turn up on their produce, and we hope we will inform, and ultimately, empower them to eat cleaner."
165 different pesticides were identified on the USDA food samples with 99 percent of apples, 98 percent of peaches and 97 percent of nectarines testing positive for at least one residue. Cherry tomatoes, grapes, snap peas and potatoes were also among the most contaminated with potatoes averaging more pesticides by weight than any other produce. For the third year in a row, EWG also expanded the Dirty Dozen list with a Plus category to include hot peppers and leafy greens that contain trace amounts of highly hazardous pesticides, including organophosphate and carbamate insecticides. Acephate, chlorpyrifos and oxamyl (highly toxic insecticides) are banned on some crops but still permitted on hot peppers. And although pesticides DDE and dieldrin were banned years ago, residue from agricultural soils is still found on leafy greens grown today.
Pesticides have been linked to a number of negative impacts on the environment and human health, including depression and suicide in farmers, decreasing bee populations and increased risk of Parkinson's disease. A recent study found lower pesticide levels in people who eat organic food, and EWG confirms that the best way for consumers to avoid pesticides in food is to purchase organic produce if possible. If food accessibility or financial restrictions limit access to organic foods, the Clean 15 list highlights produce with the lowest levels of pesticide exposure and is also a good option.
"We are saying, eat your fruits and vegetables," said Sonya Lunder, EWG's senior analyst. "But know which ones have the highest amounts of pesticides so you can opt for the organic versions, if available and affordable, or grab a snack off the Clean Fifteen."
YOU MIGHT ALSO LIKE
How to Get Your Kids to Eat Superfoods
New Dietary Guidelines Healthy for People and Planet
Ask anyone who eats organic food why they do it and they'll likely have a list of reasons: it's better for your body, better for the planet and arguably better tasting. And now, they'll have a new list to recite: the top 10 most organic cities in America.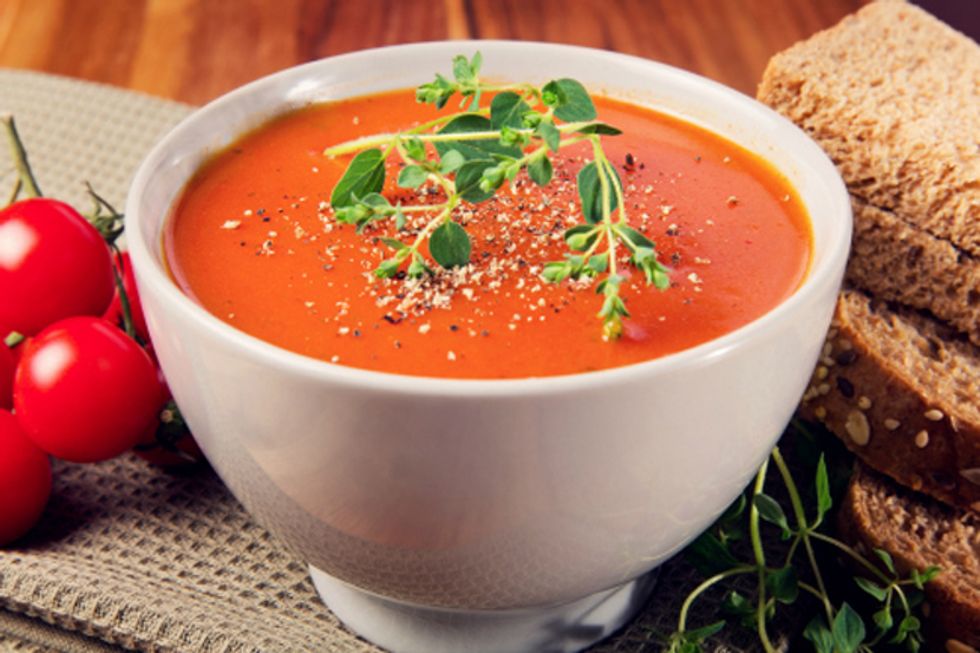 Photo credit: Shutterstock
Campbell Soup Company, in partnership with Sperling's Best Places, announced a list of the top 10 most organic cities in America to promote its new line of six organic soups. According to Dow Jones Business News, "Sluggish sales of canned and boxed foods" resulted in a 6 percent drop in sales for the company's ready-to-eat soups last year. And with 81 percent of American families buying organic foods at least sometimes, Campbell's new organic soup options represent a direct response to consumer demand.
"Organic eating is a priority for many Americans, and we want to make sure that those who choose to eat organic—no matter where they live—have options that are both authentic and delicious," said Leah Dunmore, vice president of soup at Campbell Soup Company. "We've combined high-quality ingredients with the delicious flavor people expect from our products to bring taste without compromise to soup aisles nationwide."
So where exactly is the highest demand for organic food around the country? If visions of vast farmland and amber waves of grain blowing through the heartland come to mind, think again. Eight of the 10 top cities for organic eating are located along the coasts.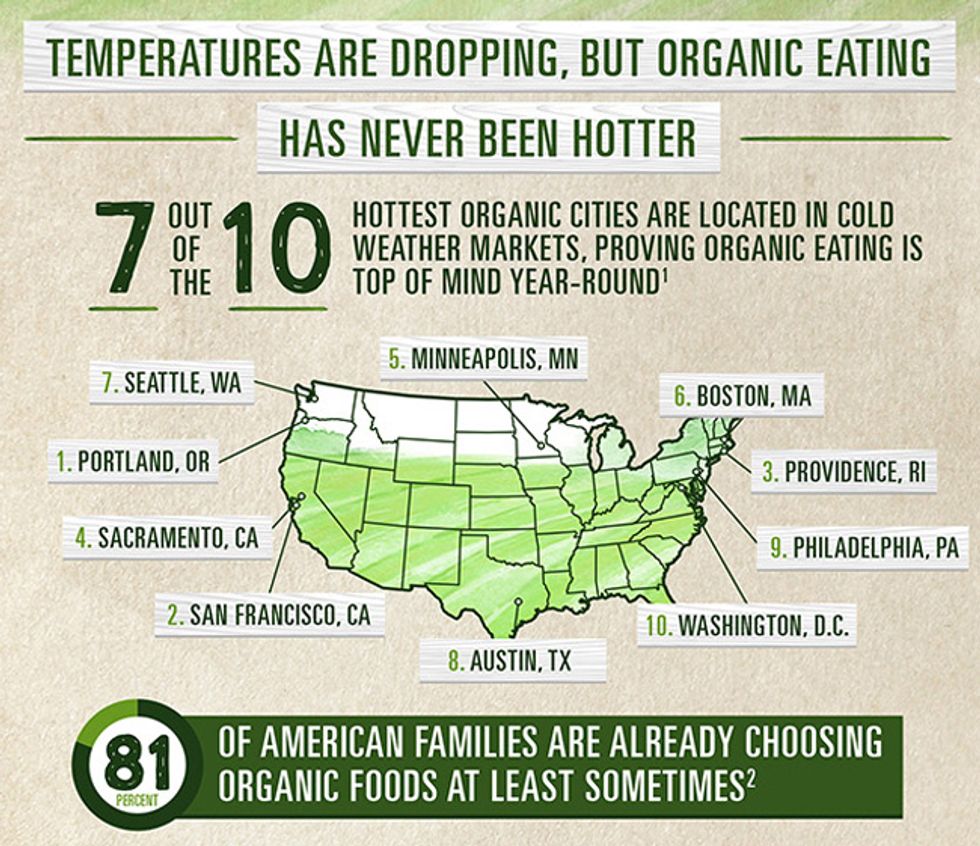 Campbell's used a marketing spin to point out that seven out of the 10 cities are (conveniently) located in cold-weather markets where hot organic soup will be in high demand, but it's also worth noting that half of the cities are listed among the richest cities in America—a reminder that financial restrictions limit access to organic foods.
So did your city make the cut? Here are the top 10 most organic cities in America:
Portland, OR

San Francisco, CA

Providence, RI

Sacramento, CA

Minneapolis, MN

Boston, MA

Seattle, WA

Austin, TX

Philadelphia, PA

Washington, DC
YOU MIGHT ALSO LIKE
6 Mobile Apps for Sustainable and Ethical Food Shopping
Students Compete to Develop Innovative Ways to Feed Future Cities
Study Finds Lower Pesticide Levels in People Who Eat Organic Produce