BlueOrigin.com
"Our vision is millions of people living and working in space and New Glenn is a very important step," said Jeff Bezos, unveiling this week his space travel company Blue Origin's giant rocket named after Astronaut John Glenn.
Of course there is also billionaire entrepreneur extraordinaire Elon Musk's SpaceX, Richard Branson's Virgin Galactic and Paul Allen's Vulcan Aerospace. Dream big, that's the spirit! The final frontier with limitless possibilities. Our boys and their toys. Great fun!
World's First Private Company Gets Approval to Land on the #Moon https://t.co/bCRNBHxzZW @MoonEx @elonmusk @BillNye #SpaceX

— EcoWatch (@EcoWatch)1470322541.0
Most of us sail at a lower orbit of course. Our games, our striving and exploration, our fun, takes place a little closer to Earth. My soul is nourished near and on the sea, so boats are my toys of choice. In my middle age, I have largely traded the competitive sailboat racing of my youth for a desire to "mess around" in relatively small, wooden boats in particular—sail and power—luxuriating in their handcrafted and poetic aesthetic.

As I've documented previously, large, ocean-going yachts are a whole different kettle of fish and pose a particularly grotesque challenge to any sense of a responsible carbon footprint, even if money is no object.
My "boat toy" desires are far more humble. Until a couple weeks ago, my "yachting" consisted of a high performance paddle board with a bamboo deck—sustainable right? In my future, I see a pretty day sailor, handcrafted in Maine out of local wood (I sold my prior sailboat since the kids preoccupied my free time) and a small motorboat to explore harbors (we call this "toodling around") and to make occasional short journeys around the southern New England coast where I live.
This summer, I visited the talented craftsman Doug Hylan and his partner Ellery Brown of Hylan & Associates in Brooklin, Maine to continue a conversation we've had on and off for over a year about building a small "green" powerboat. Same logic as a car or a house—energy, materials, etc. The challenge of making motorboats fuel-efficient is that it takes much more energy to push a boat through the water than to roll a car down a road. And a boat requires an exponential increment of power to push it faster than what's called "hull speed"—in other words to make it rise up and plane.
World's First Boat Powered by 100% #Renewables to Circle Globe https://t.co/f2RIHjy5KG @energy_observer @FuturePowerG @ClimateReality

— EcoWatch (@EcoWatch)1473702495.0
So the design challenge was to find the right shape (long, narrow and light), but stable enough for offshore conditions (wide and heavy is better) and with a highly efficient engine that would go "just fast enough." Doug has done some cutting edge work in this arena, with some updated versions of classic designs and power system innovations. But even with Doug's design ingenuity, latest technology and lightweight building techniques, he hasn't yet come up with a way to overcome those pesky laws of physics. Water is heavy and hydrostatic pressure is a bear.
As we were talking over the concept we had in mind, I sensed a distinct lack of enthusiasm for my vision of the first truly "green" picnic boat, locally crafted, that had the potential to redefine pleasure boating away from the unsustainable fiberglass that ends up on a junk heap and overwhelm Doug with new orders in the process. That's when he turned to me and said, "You know John, if you want to enjoy green, responsible boating, just slow down."
Doug's truth pierced Maine's stark summer beauty as we looked across the cove, silently absorbing the implications that ran far beyond boats. All the latest advances in design and technology couldn't come close to simply riding down the steeply sloped and physics determined energy curves he had showed me (slow down, use exponentially less energy).
I gave up on a new, high tech wooden boat and bought a classic bass boat that has been for sale all summer, built out of wood in 1969 and totally restored in 2009. For a fraction of what a new boat would cost I might add. Reuse, recycle!
And I'll be the guy going slow, at least most of the time. At hull speed (about 10 miles per hour), I'll burn less than a gallon of diesel per hour, a quarter of that when just calmly exploring a shoreline with friends in good conversation, going slow, enjoying the quiet. That's when the experience feeds the soul and relationships deepen, so it's not all sacrifice. Going "fast" when we "need to get somewhere" (about 22 miles per hour is tops in this case), I'll burn 8 gallons per hour with a guilty conscious.
In contrast, a yacht like I wrote about before will burn between 20 and 40 gallons per hour going 10 miles per hour. And a fast offshore fishing boat designed to get out to the shelf for the big fish and back in a day, burns 150 gallons per hour at the high speed necessary to be home for dinner—in other words, a 500 gallon a day toy.
My boat toy fetish makes me complicit, as does the rest of my lifestyle. But it's mostly the flying I do. As many have pointed out, we sustainability workers sure do fly around a lot. Flying kills a carbon budget fast. Physics again. No doubt we Americans have a big adjustment to make with our living. Much less flying and offshore fishing. More fly fishing. And more sailing, sailor. Not so bad.
Which brings us back to space travel. There certainly are real societal benefits from space exploration and some interesting space opportunities only these super-human entrepreneurs could ever dream up. But a little research suggests a frightening energy curve—based on those same pesky laws of physics—that we must confront (hopefully with Doug Hylan's wisdom hovering about).
Aside from the money issue, the amount of fuel for a one day (probably hour or less) zero gravity tourist experience in space you wonder? Well, according to my calculations based on one seemingly reliable source, it's 64,000 gallons of diesel equivalent.
Some fun. Sail on, Sail on, sailor.
EcoWatch Daily Newsletter
zstockphotos / iStock / Getty Images
With well over one million solar installations throughout the state, California has long been a leader in the U.S. solar industry. Recent legislation mandating that all new homes in the state must be built with solar panels likely leaves residents wondering about the cost of solar panels in California.
With ample sunshine, unnaturally high energy costs, ambitious climate goals and progressive leadership, California is ripe with solar potential. The preexisting availability of local solar providers in California allows solar customers the valuable opportunity to gather a large number of competing quotes, sometimes generating several thousand dollars worth of savings in the process.
You can start getting free, no-obligation quotes from top solar companies in your area by filling out the form below.
How Much Do Solar Panels Cost in California?
As of 2021, our market research and data from top brands shows the average cost of solar panels in California is around $2.73 per watt. This means a 5-kW system would cost around $10,101 after the federal solar tax credit is applied.
Here's how that price looks when applied to other system sizes:
| Size of Solar Panel System | California Solar Panel Cost | Cost After Federal Tax Credit |
| --- | --- | --- |
| 5kW | $13,650 | $10,101 |
| 6kW | $16,380 | $12,121 |
| 7kW | $19,110 | $14,141 |
| 8kW | $21,840 | $16,162 |
| 9kW | $24,570 | $18,182 |
| 10kW | $27,300 | $20,202 |
It may surprise some readers that the cost of solar in California isn't as low as in many other states, but keep in mind that the real value of solar comes relative to the price of energy in the state (and California's is the highest in the country). All in all, solar energy provides excellent value to California residents.
Knowing the average solar panel cost in California is $2.73 per watt, a savvy solar customer can compare quotes against this figure to ensure they receive the best value possible. You may find that popular national brands don't have the lowest prices.
What Determines Solar Panel Prices?
The cost of solar panel installations in California largely depends on a homeowner's location and energy needs. In most cases, areas with higher local electricity rates offer more value from solar panels. Here are other factors that influence installation costs.
Solar Equipment Costs
Similar to most modern technology, solar products and system costs vary greatly based on their quality, scale and included features. Some customers may be satisfied with a modest array of affordable solar panels and inverters, while others may prefer a system with premium panels, full-home backup power and an electric vehicle charger.
Solar Financing
The overall cost of solar depends significantly on whether a customer chooses to finance or purchase their system in cash. Paying upfront provides the best return on investment and fastest solar panel payback period, as there are no fees or interest charges associated with it.
The two most common solar financing options include taking out a loan and leasing solar panels. If paying with a solar loan, be careful of high interest rates and early repayment penalties and other fees. Homeowners who lease their panels or sign power purchase agreements (PPAs) enjoy little to no upfront costs, but solar leases provide the least amount of overall value.
Solar Installation Costs
With nearly 2,500 solar companies throughout California, prices can range significantly based on the installer. Larger solar providers like Sunrun offer the advantage of solar leases and quick installations. Local providers looking to get a leg up on their competition may offer lower prices to undercut the biggest names in the industry.
Solar Panel Cost After Incentives, Rebates and Tax Credits
California's progressive leadership has done good work in spurring investment in renewable energy. All homeowners are eligible for the federal solar tax credit, and the state offers several incentive programs and solar rebates aimed at further increasing access to reliable, affordable solar panels. However, given the state's ambitious climate targets and the energy burden on most of its population, it could probably do more.
Let's take a closer look at the solar incentives available to California residents.
Federal Solar Tax Credit
All California residents are eligible for the federal solar investment tax credit, or ITC, for installing PV solar panels and any other eligible solar equipment. Any reputable solar installer will assist in the process of claiming the ITC on your federal tax returns. Claiming the ITC deducts 26% of the total cost of your solar installation from the taxes you owe.
To be eligible for the solar tax credit, homeowners must own the solar energy system, either having paid for it in cash or by taking out a solar loan. Homeowners who lease solar panels are not eligible to claim the ITC.
California Net Metering Programs
Net energy metering (NEM), or net metering, allows customers to feed the surplus energy generated by their solar panels back to their local power grid in exchange for energy credits from their utility company. As most solar energy systems generate more energy than can be used during the day, this incentive provides homeowners additional savings on their electricity bills and lowers the demand for grid-supplied electricity in the region.
California currently offers a statewide net metering incentive for residents generating electricity with solar panels. Exact credit values will vary based on your utility company.
California Solar Tax Incentives and Rebate Programs
There are also a handful of California solar incentives to help lower the cost of solar for residents. Some of these include rebates, loans and property tax exemptions. Though any quality solar company will be knowledgeable about the local incentives in your area, it's always worth doing some independent research. We recommend using the DSIRE solar incentive database to find money-saving opportunities in your area.
FAQ: Average Cost of Solar Panels in California
Is it worth going solar in California?
One of the sunniest climates in the country makes California one of the best states in the U.S. for generating energy with solar power. The ample sunshine, generous net metering policies and pre-existing availability of solar installers provide a great deal of value for solar customers in California.
How much does it cost to install solar panels in California?
As of 2021, the average cost of solar panels in California is $2.73 per watt. This means a 5-kW system would cost around $10,100 after the solar tax credit. Heavy investment in renewable energy has lowered the cost of solar in the state significantly, and this cost offers great value relative to high local energy prices. The best way to assess how much solar would cost you is to consult local providers near you for free estimates.
Do solar panels increase home value in California?
Solar panels increase home value everywhere, but mostly in areas with generous net metering policies and solar rebates. As such, the areas in California where solar panels increase home value the most correspond with the areas that have the most solar-friendly policies. It's worth noting that even if your home's value increases, California has laws in place to ensure your property taxes don't rise as the result of a solar installation.
How much do solar panels cost for a 2,500-square-foot house?
Though knowing the size of a house is helpful in determining how many solar panels could fit on its roof, the energy use of the house is a more important factor in determining solar panel cost in California. The higher the energy costs in your home, the greater your cost of solar will be.
Karsten Neumeister is a writer and renewable energy specialist with a background in writing and the humanities. Before joining EcoWatch, Karsten worked in the energy sector of New Orleans, focusing on renewable energy policy and technology. A lover of music and the outdoors, Karsten might be found rock climbing, canoeing or writing songs when away from the workplace.
Ammon Bundy and his assault-rifle-packing militia took over the Malheur National Refuge in eastern Oregon to kick off the New Year. Their gripe appears to be the federal government's pesky grazing regulations interfering with their "right" to earn a profit off government land. Gonna' be a showdown at the last chance corral I guess.
Now I imagine Bundy and the boys don't take a liken' to Wall Street bankers any more than they do to the feds. But in this instance, the bankers could help Bundy a lot and maybe save his life.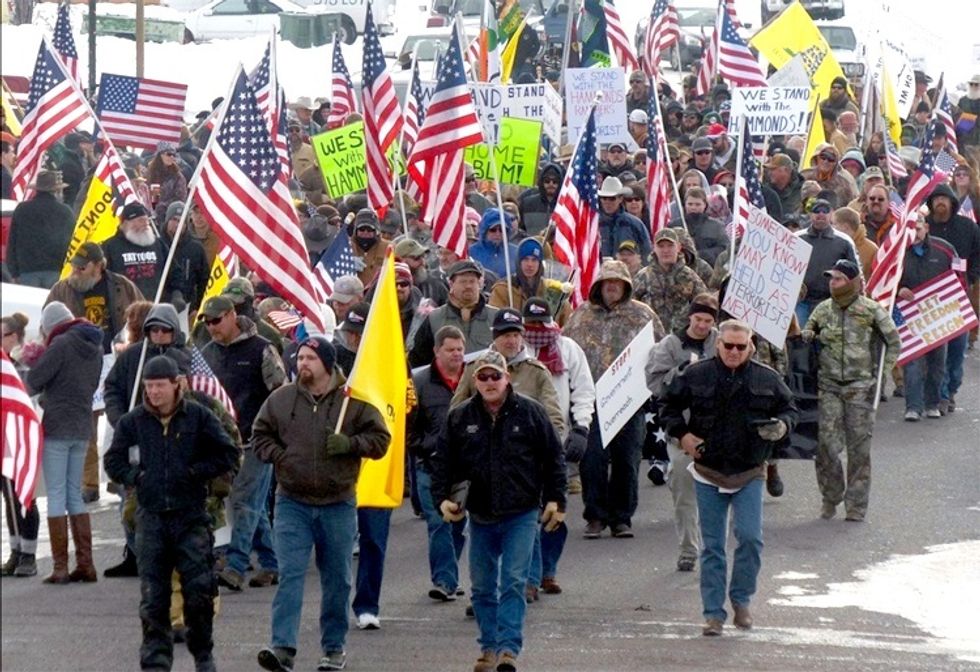 TransCanada, sponsor of the now dead Keystone XL pipeline and like Bundy no doubt, also dependent on preferred contractual access to public lands, shows the way. President Obama lobbed a final nail in the coffin by vetoing the pipeline and more recently by formally rejecting the project. But the deed was already done by the Saudis who killed it by unleashing a torrent of oil supply on the market, collapsing oil prices and ending the economic viability of Canada's grotesque tar sands and the need for the pipeline in the first place. In fact TransCanada had already withdrawn the plan from consideration.
However, that didn't stop TransCanada from now suing the U.S. for $15 billion in damages over Obama's decision that the Keystone XL pipeline was not in the interest of the U.S., including our "security, safety and environment."
"TransCanada has been unjustly deprived of the value of its multibillion-dollar investment by the U.S. administration's action," the company said in a statement after Obama formally rejected the planned pipeline prior to the Paris climate meeting, timed to bolster what he hopes will be his legacy as a leader on climate.
The Keystone XL pipeline decision was effected through a time-honored democratic process enshrined in the U.S. Constitution. Some agree with the decision, some don't. But that's not the point. The question is, on what basis can a foreign company sue the U.S. Government over a policy decision, putting American taxpayers at risk for $15 billion in this case?
The answer: by invoking the North American Free Trade Agreement (NAFTA) and its Investor-State Dispute Settlement (ISDS) clause. This clause, as I previously explained here and here, about the contentious Trans-Pacific Partnership (TPP) trade agreement now awaiting approval by Congress, amounts to a veritable "trading away of our sovereignty." The TransCanada suit proves the point and it's not the first such suit challenging a nation's sovereignty. TPP will open up this insanity to 13 countries and economic activity representing 40 percent of world GDP.
My advice to Bundy and his buddies holed up in Eastern Oregon facing a cold winter? Buy a ranch in Canada. Hire Goldman Sachs or JPMorgan to advise on a "tax inversion" in which using a legal slight of hand the Canadian ranch buys the Bundy ranch but Bundy remains in control of the combined operations (see the recent Pfizer inversion for details). Then sue the U.S. government for $15 billion under the ISDS mechanism of NAFTA claiming the Bureau of Land Management grazing regulations interfere with their right to make a profit on their investment. This gets the issue away from the annoying U.S. government and into the hands of a three-person extrajudicial tribunal to determine the outcome of the case. Sweet. In the meantime, stand down, holster your guns and thus, stay alive to fight another day. You can always ammo up later if the tribunal lets you down.
Oh and if Bundy doesn't have the cash to buy the Canadian ranch, no problem. There are a number of tougher than Bundy (no guns required) hedge funds that will be all too happy to lend money into a lawsuit and then corrupt the judicial process by bribing the lawmakers (sorry exercising their rights to free speech under Citizens United) to make a buck. For details, see the current battle in Puerto Rico where these hedge funds are using their campaign contribution derived power to influence legislators over the decision to refuse Puerto Rico access to the normal and civilized protections afforded other borrowers including Donald Trump—but not our children if they take out a student loan—under the bankruptcy code. No doubt these hedge funds will have some crafty ideas for how to swing a simple three-person tribunal. For a mere 20 percent of the profits plus expenses, it's a deal!
Insanity is the new normal in America.
YOU MIGHT ALSO LIKE
Fascinating Timeline: 30 Years of History of Climate and Energy in State of the Union Speeches
Arch Coal Files for Bankruptcy: Will Taxpayers Be Left Holding the Bag for Millions in Cleanup Costs?
3 Ways to Restore Power to the People
Porter Ranch Is Only Tip of the Iceberg Exposing Catastrophic Impacts of Natural Gas
I was floored by this Saturday's New York Times article, Seeing a Supersize Yacht as a Job Engine, Not a Self-Indulgence. I was amazed not only by how the subject of the article, Mr. Jones, rationalized his extraordinary consumption habits, but also by the mere fact that the article was published.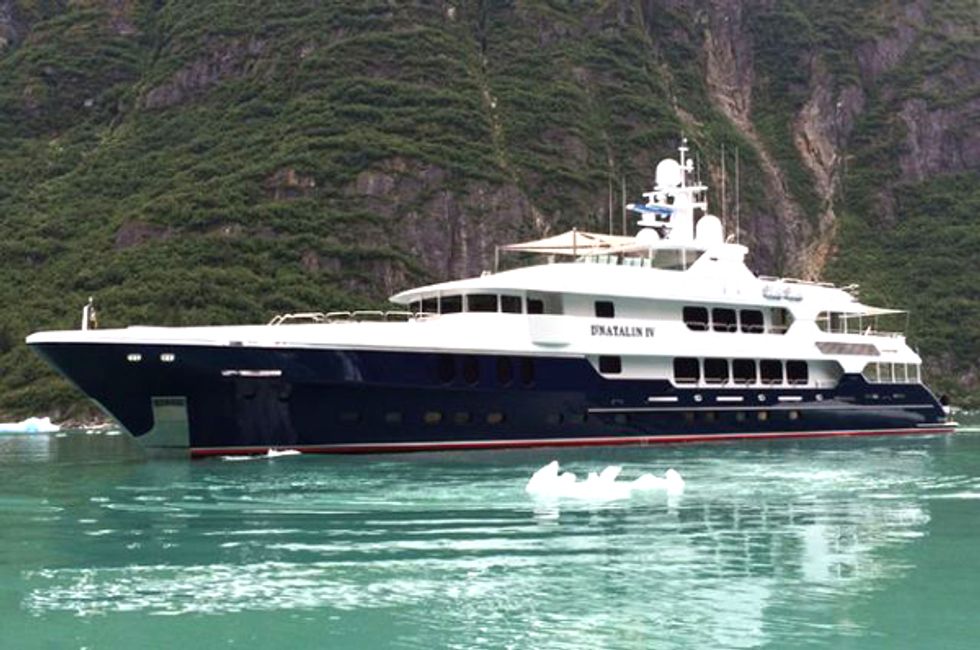 The $34 million that Dennis Jones paid for his yacht was equal to the $34 million he had donated to charity since 2000. Photo credit: Thomas Caradonna
Mr. Jones of St. Louis, we learn, is living the "American dream." Now in his mid 70s, still married to his high school sweetheart, and apparently a natural born salesman, he built Jones Pharma and sold it for $3.4 billion in 2000 (well done, and good timing). From an earlier 2010 article, it appears that Jones's personal take from the sale was about $500, of which he put 10 percent in a family foundation. I guess tithing is alive and well in St. Louis. With the remaining $450 million, the Joneses are living large in a 33,000- square-foot house in St. Louis, and with several other homes, a Gulfsteam V, and, the subject of the article, a $34 million, 164-foot, custom-built yacht.
To be fair, such a yacht is not extravagant by billionaire oligarch standards. Larry Ellison recently downsized, and sold his 452-foot Rising Sun to David Geffen, his second super yacht. Paul Allen's Octopus measures in at 414 feet—his second boat is only 300 feet. Who knew you needed two?
Mr. Jones sounds like a nice man. Charitable toward the underprivileged in St. Louis in particular, focused on education and the homeless. And he shares his good fortune with his old "pre-success" friends, inviting them on his jet and yacht all over the world. Nice.
What floored me was how he rationalized spending $34 million on his new yacht and how uncritically the author Paul Sullivan bought into that rationalization. According to Sullivan, "Mr. Jones said he wanted to encourage other wealthy people to think about how their opulent lifestyles could provide jobs just as their charity helps people in need." The story goes on to report how his $34 million purchase order in 2013 helped revive the North Western yacht manufacturer who had been forced, out of necessity, to diversify into manufacturing wind turbines and smaller vessels. I guess until Mr. Jones got his mojo back, the mega-yacht purchasing crowd was still laying low following the Wall Street-induced economic collapse. Now that's the leadership we've been waiting for!
Mr. Jones is, however, on to something. Both investment and consumption decisions have broad implications and multiplier effects, including the job creation that is at the heart of Mr. Jones's argument. But in the 21st century, a new and far more nuanced understanding of financial stewardship than Mr. Jones's is required of the very wealthy. And it can, and must, change the course of history. Let me explain:
As we know, inequality has reached levels not seen since feudal times in this country. History teaches that such highly unequal societies devolve into either a police state or revolution. This reality alone demands, among other things, "conspicuous under-consumption" by the wealthy, and vastly more strategically directed philanthropy.
We are in ecological overshoot, using up more nature every year than the earth regenerates on its own. This means excessive consumption "because they can" by the "most successful Americans" among us impedes others now and in the future from having access to a fair share of nature, including a safe climate to carry on life as we know it. Because of the scale of today's global economy, this is our new reality, and it is unlike anything we have encountered in the past.
Few things are more wasteful of our atmosphere's finite ability to absorb greenhouse gases than a large, fossil-fuel powered yacht. Mr. Jones's boat burns 3.75 gallons of diesel per nautical mile (not miles per gallon). The fuel tanks of Mr. Allen's Octopus cost $900,000 to fill up (in the U.S., twice that on the French Riviera) and burns a grotesque 28 gallons per nautical mile (more if it's in a hurry). Imagine a gluttonous man in a lifeboat dumping water over his head to keep cool knowing it would cause others to die of thirst later. Someday soon, this will not seem like a strained analogy.
Never in the history of civilization has there been such an investment imperative as the transition off our fossil-fuel energy system and onto renewables, estimated at $30 trillion over the next decades. This investment imperative, not consumption, is where we need leadership from the Mr. Joneses of the world.
Which leads to my final point. Mr. Jones missed a great opportunity. The shipyard had already diversified into wind turbine blades and smaller (more fuel efficient) boats. Imagine if he had opted for a smaller boat, perhaps crafted out of sustainably harvested wood rather than toxic and unrecyclable composites and with an innovative hybrid electric power system that needs price insensitive early adopters. Perhaps even a sailboat of all things! Either way, he could have put in an order for five of them, and shared them with all his friends so they could still go cruising together (and put them out for charter in the "sharing economy") while helping stimulate the vital transition of the cruising boat industry in the process. At the same time, he could have invested in the company and helped them accelerate their diversification into wind turbines as a second line of business and actually survive long-term, since manufacturing 160-foot yachts is likely a dead end in the real world. Think how much more valuable and empowering those jobs could have been if the company was at the vanguard of two industry transitions.
There are many entrepreneurs busy at work all around the world helping drive the transition to more regenerative economies supporting healthy and resilient livelihoods. Spencer Beebe, head of Ecotrust across the river from the shipyard in Portland, Oregon, is one such entrepreneur who writes in the latest issue of Commonplace magazine, "My forty years of conservation work has focused on practical ways to integrate ecology and economics, to promote conservation, while creating jobs."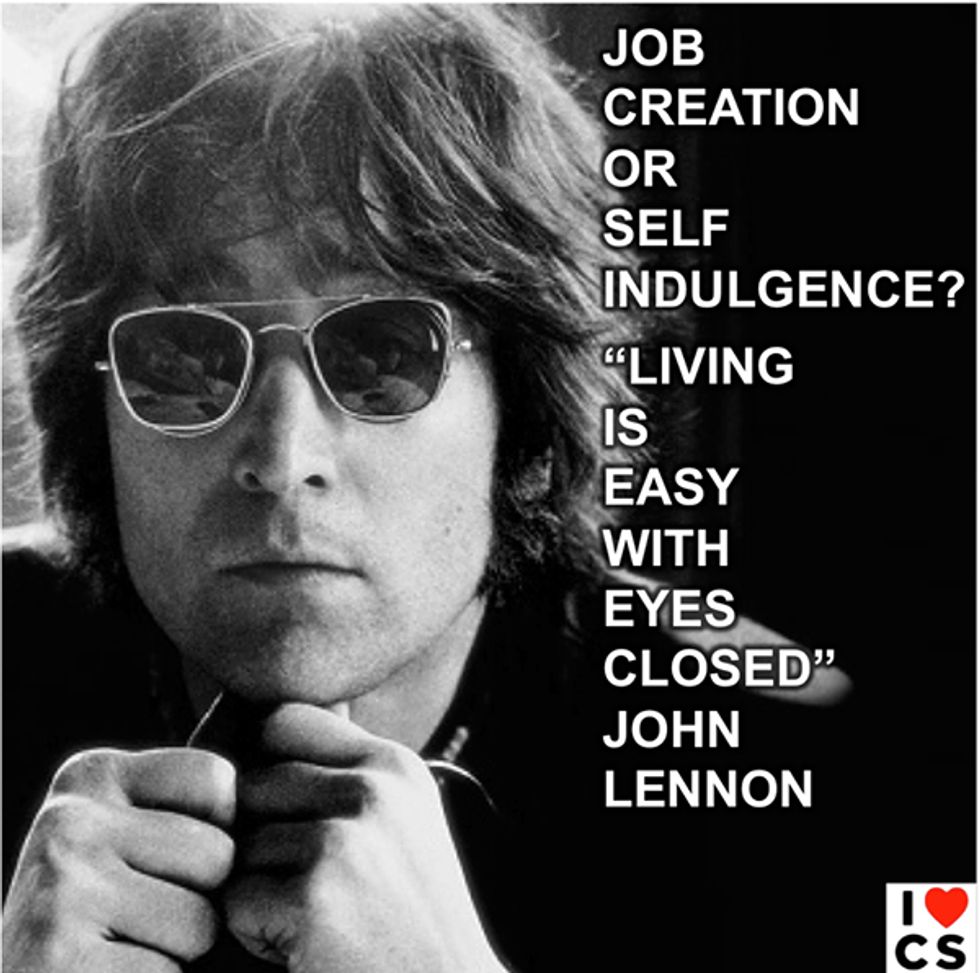 We need more such leadership and "job creation" that regenerates natural and social capital. And please save the rationalization of excessive consumption, which is just the example we don't need to admire at this time. I can't think of a better way to bring out the pitchforks than by burning that much fuel as a luxury in the carbon constrained world we are heading into, a world where we must figure out how not to burn 80 percent of the fossil fuel reserves we've already discovered if we are to avoid the worst consequences of climate change.
But it is not altogether fair to single out Mr. Jones as our whipping boy. We are all, in the developed world, complicit in a lifestyle that, when analyzed objectively, is immoral, given the carbon budget truth we must face up to, and the inequities of our current economic system. This truth hits harder as the assets we have the responsibility to steward grows. All outlets have inescapable consequences, whether the money is channeled into consumption, investment or philanthropy.
Welcome to the new meaning and awesome responsibility of financial stewardship in the 21st century.
You Might Also Like
Realities of Shifting to a Sustainable Economy
So You Want to Change the World? Better Read This First
The Central Contradiction of Capitalism that Piketty Overlooked
It is instructive to observe the reaction to the Piketty phenomenon—a 700-page treatise on political economy that became an overnight Amazon bestseller deserving, according to Larry Summers, of a Nobel Prize. It is similarly instructive to note the spectacle of the viral Russell Brand interview with the BBC's Jeremy Paxman in which Brand pretty much shreds Paxman and calls for revolution. I can't claim to have actually read Piketty's tome, but I've read a lot of the reviews, and I have watched the Russell Brand video. Regardless of where you come down on their arguments, the response to Piketty's book and the wide appeal of Brand's rant taken together tell us that trouble is brewing.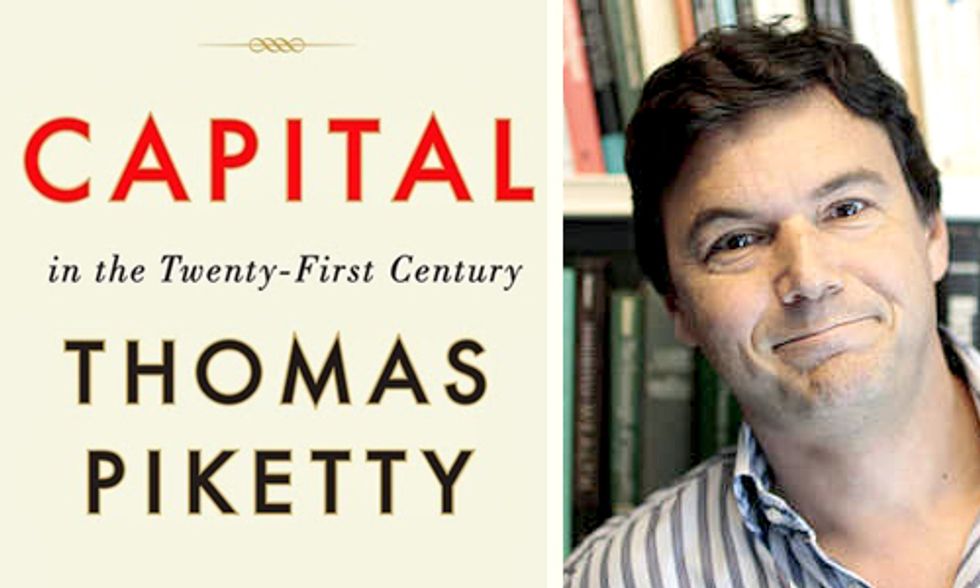 However, the trouble is far deeper than what the media is currently hyping. While it is true that the long-term dynamics of unequal wealth distribution are indeed unsustainable and unconscionable as Piketty highlights in Capital in the 21st Century, a reality much less obvious, and yet more "terrifying" (to use a Piketty expression) is buried in the data of those 700 pages.
In the concluding section of his book, Piketty calls r > g the "central contradiction of capitalism," where r is the return on capital invested and g is the economy's growth rate. The latter, Piketty suggests, is what determines wage growth rates. The central contradiction, he elaborates, is that since returns to capital exceed returns to labor is hard-wired into the system, so too is rising inequality, absent wars or depressions.
I for one fail to see how this is the "central contradiction of capitalism." Piketty's discovery, out of his exhaustive search and analysis of the data, is that Nobel prize winning economist Simon Kuznets and his hypothesis of a "Kuznets Curve" was wrong. Income inequality does not, Piketty asserts, first increase as a country develops and then reverse course and decline along some inverted U-shaped curve as Kuznets suggested.
Turns out "the rich just keep getting richer" after all.
Has this ever really been a subject for serious debate? Nothing in my adult experience on Wall Street and the decade since contradicts the "rich get richer" hypothesis. But the story goes beyond r > g. For example, Marisa Meyer's $200mm worth of stock options value (thank you, Dan Loeb, thank you, Alibaba, sorry Yahoo! shareholders) on no initial investment and little tangible progress turning around the operations of Yahoo! is another important part of the story.
I'm delighted to see Piketty reinvigorate the serious discussion on inequality that the Occupy Movement began but didn't know what to do with. But as is typical of mainstream economists of all political stripes, Piketty misses the true contradiction of capitalism (and socialism for that matter), which is the assumption that exponential growth can continue forever on a finite planet. It is an assumption that is based on the flawed theory, in direct conflict with the laws (not theories) of thermodynamics, that the economy is somehow separate and apart from the biosphere. How is it that we continue to ignore the expanding literature on this obvious contradiction, even as accelerating climate change events are now everyday front-page news?
Actually, Piketty unwittingly and indirectly helps to illuminate that fundamental contradiction in a chart that reports the concentration of "slave capital" in the south when slave labor was the "energy source" that powered that region's dominant agricultural economy.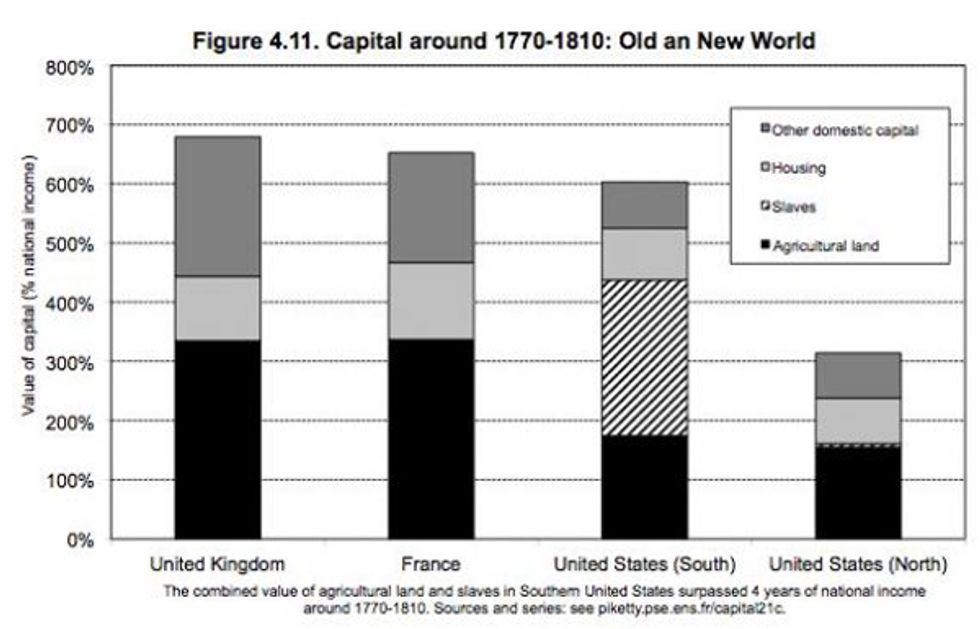 According to Piketty's data, it was neither land nor financial capital but slave capital that comprised the largest share of all wealth, a stunning 40 percent of it. Not surprisingly, that wealth was highly concentrated. If we ignore for the moment the obvious ethical implications of what Piketty's chart reveals—inequality driven to its most violent extreme—we see through to another deeply troubling revelation. Just as the growth of the South's agricultural economy rested on the exploitation of slave capital, as if there would be no negative consequences to the health of the whole, so our current economy's exponential growth depends upon our exploitation of fossil fuel assets and the over taxing of the Earth's resources and waste sinks as if there would be no consequences to the health of the whole. The former violated the requirements of a healthy social system; the latter violates the requirements of a healthy planet.
Fossil fuel assets, in particular, are the modern day equivalent of slave capital. Previously, I estimated that we are facing a $20 Trillion Big Choice, the ethical challenge of our era. The assumption of ever-expanding use and abuse of numerous material resources (including fossil-fuel-based energy), and the overuse and pollution of the Earth's natural waste sinks as the core operating characteristic of our economic system—this is the real central contradiction of our modern capitalist system.
Facing a loss of 40 percent of their "capital assets," the South fought a horrific Civil War. It took the immense courage of a moderate Republican president to see our nation through that moral and economic crisis.
Where is our modern day Abe Lincoln?
——–
YOU ALSO MIGHT LIKE
Realities of Shifting to a Sustainable Economy
Dark Money Documentary Exposes Koch Brothers' Spending Secrets
Harvard and Brown Fail Moral Leadership Exam
——–
"The true nature of the international system under which we were living was not realized until it failed." —Karl Polanyi
A transition to a sustainable economy requires not only population stabilization, breakthroughs in resource productivity and checks on material consumption, but also constraints on aggregate investment. Built into the DNA of finance is the goal of optimizing relatively short-term returns on investment, which, when successful, induces exponential growth in the aggregate stock of financial capital. When that expanding stock of financial capital is then reinvested, it spurs ever-increasing demands for natural resources and pressure on waste sinks. The contradiction between the finite scale of the biosphere and the endless growth of finance capital will be resolved either through crisis or, as advocated here, through foresight and remedial action. Shifting the economic system demands a fundamental transformation of finance, at least for the real investment decisions of the largest actors in the economy. We must view this profound shift as a critical national and global security priority that will require unprecedented intervention by governing institutions on the public's behalf.
Context
The egregious offenses of modern finance need little elaboration. The finance-induced Great Recession—still a depression in parts of the European Union—has been causing oppressive pain and suffering, with multi-generational consequences, including increased wealth inequality, cascading throughout the global economy. If we can peer beyond the human wreckage, we may glimpse a silver lining: the lingering economic crisis has provided even mainstream economists a reason to question as never before the very foundations of our finance-driven economic system. Just as dangerous as rogue banks too big to fail or to govern—and the predatory casino finance that has become their stock-in-trade—is the growth imperative that drives the modern economy beyond the resource and waste sink limits of the biosphere.
Finance's most important practical functions in the real economy are the transformation of savings into investment and the credit creation process of the banking system. The reorientation of the flow of real investment (not to be confused with financial asset speculation) is the bridge to, and the steering mechanism for, a Great Transition to an economy that serves people while respecting the ecosphere's physical limits. For now though, the same planetary boundaries that dictate limits to growth also imply limits to investment, since investment fuels growth. No economic system in the history of civilization has ever had to contemplate such a constraint. How much and where large economic actors like multinational corporations and nation-states invest will significantly determine the quality of the economic system of the future and, given present social and ecological stresses, our collective well-being and global security. As a consequence, real investment choices must become a central concern of global governance, notwithstanding the many failings of governing institutions.
The Impact of Investment
The economy, as measured by Gross National Product (GNP), includes consumption, investment, government spending and net exports, often rendered as a simple equation:
GNP = C + I + G + netX
Concern for sustainability has typically focused on consumption since it represents the largest share of the economy (70 percent in the U.S., less in emerging economies like China and India). However, capital investment has a disproportionately large impact because of the long-term implications it has on future consumption through "technology lock-in" and the embedded feedback loops of business enterprise. For example, if an automobile company constructs a factory to build SUVs, then its advertising and sales efforts will focus on increasing the demand for these SUVs.
Distinguishing between financial investment and real investment is critically important. The former has attracted considerable attention in the investment community: witness the debates about the impact of "SRI" (socially responsible investment) and related "ESG" factors (environmental, social and governance) on corporate behavior and investment performance. Yet financial investors and speculators—groups that increasingly blur together—are typically far removed from the real capital investment decisions of the large public corporations that, to a significant extent, drive and shape the material economy. Even some leading practitioners of ESG and sustainable investment acknowledge that ESG is primarily a risk mitigation strategy for financial investment portfolios, rather than a transformational strategy for the real economy.

The top 1,000 global corporations represent half of the total market value of the world's 60,000 public companies and, undoubtedly, an even greater share of capital investment budgets. What demands our attention, therefore, are the decades-long impacts of the capital expenditure decisions of these largest corporations, together with the impacts of large government capital expenditures like investments in infrastructure. Corporate reporting on social and environmental performance, however, tends to focus on supply chain impacts rather than the initiating impact of the capital expenditures that create these supply chains. To take one of the world's largest corporations as an example, Walmart's continued investment in new superstores matters much more than its subsequent efforts to green its supply chain, notwithstanding the importance of that work.
Shareholder engagement that focuses on capital investment decisions will inevitably confront pushback rooted in concerns about long-term growth, competitiveness, and share price. Corporations make their investment decisions using an internal rate of return framework that compares a project's expected financial return with the firm's cost of capital. Because of the way finance discounts the future, corporations approve capital expenditures that achieve financial return targets with time horizons that rarely exceed ten years and typically ignore "externalities," including those with serious long-term risks. Concerns about the systemic impact on social and natural capital rarely enter the analysis. They are "managed" afterward, if at all. This short-termism is compounded by the even shorter-term horizon of financial investors and speculators preoccupied with quarterly earnings and higher valuations in the stock market.
Policy responses, moreover, rarely occur until after enterprise investment decisions have already been made. A company is free to build a cigarette industry, and only afterwards does society respond with labeling and advertising policies that, at best, partially mitigate the damage. Today, unprecedented ecological risks make this reactive approach unacceptable. Many forward-thinking CEOs and policymakers fully understand this new reality yet feel powerless to change it.
From the Firm to the System
An adequate response to the challenge of a world at risk requires turning from the firm-level investment decisions to the economic system as a whole. Along with genuine contributions to human progress, our economic system has produced staggering growth in financial wealth. Financial assets in the U.S. have doubled as a percentage of GDP since 1980. This should give us pause, rather than reason for celebration.
The drive for exponential returns on financial capital pushed finance to shorter-term and more speculative activity at the same time as physical resource limits to growth began to impose constraints. This has come at an alarming cost. Of the twenty largest countries in the world, constituting nearly three-quarters of global GDP, all but Japan suffered per capita losses in their natural capital stocks between 1990 and 2008. Although natural capital can be eroded for decades, we already appear to have passed safe limits, most notably the atmosphere's limit to absorb carbon waste.

In the "full world" context in which we now find ourselves, quantitative limits to aggregate material growth logically imply limits to investment. Our challenge is now to determine where we invest and what we grow. Energy and material efficiency in the industrialized world and investments in support of healthy lives with dignity for the less developed economies are obvious top priorities. Investments in fossil fuel-hogging luxury yachts and indoor skiing in the Dubai desert are not.
Continuing the pursuit of exponential growth of financial capital by drawing down both social and natural capital is unsustainable. Simple arithmetic demands that it will eventually generate some combination of financial, social, or ecological collapse. With the Great Recession as a wake-up call, we can begin to seek ways to shift the growth trajectory of financial capital from an exponential curve to a more sustainable (sigmoidal) growth curve as found in natural systems.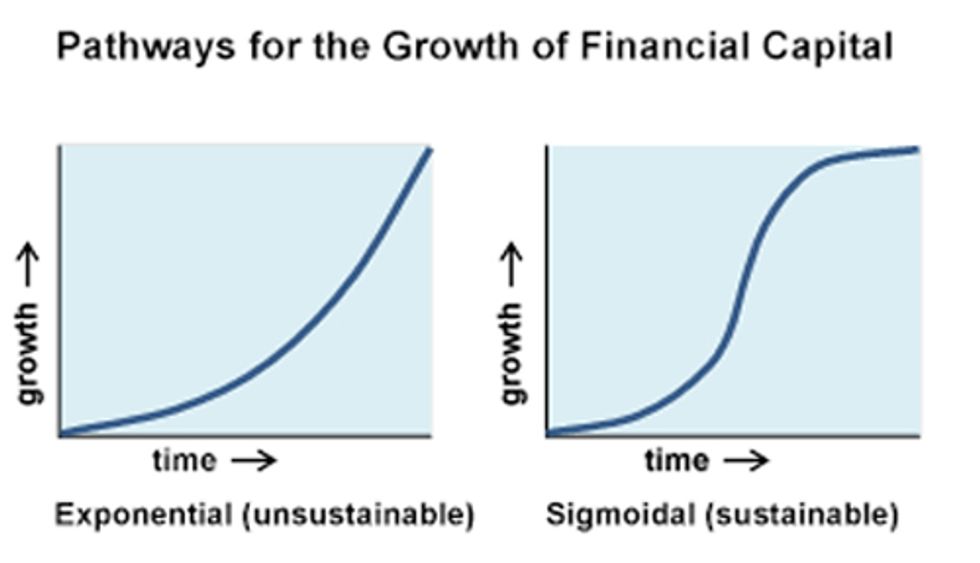 Thriving individual enterprises—particularly the ones needed to drive the economic transition—can and will continue to grow and deliver exponential returns to investors, at least for a while. However, even accounting for unanticipated efficiency gains in the energy and material intensity of the economy, the aggregate stock of financial capital will need to pass through a critical inflection point to declining rates of growth.8 This transition can occur through some combination of the following developments, many of which are already underway:
a declining aggregate rate of return on invested capital,
a systematic financial asset devaluation,
the debasing of currencies through inflation,
defaults leading to voluntary or involuntary debt extinguishment,
an unprecedented scale of private philanthropy to recycle financial capital back into social and natural capital,
a large-scale voluntary or policy-induced reinvestment of profits by the corporate sector into natural and social capital, and
an increase in taxation to allow the public sector to recycle financial capital back into natural and social capital on behalf of vital public security interests.
We can choose to lead this transition to reduced growth in the stock of financial capital, while augmenting the stocks of social and natural capital, or risk having it forced upon us by nature's limits, social upheaval, or—most likely—both at the same time.
The Way Forward
The scale and complexity of the required shift in understanding is unparalleled, and time is not on our side. Not only are we in ecological overshoot, drawing down our life-sustaining stock of natural capital and putting social cohesion at risk because of growing inequality and related social stresses, but we are no doubt in "financial overshoot" as well. Financial overshoot exists to the extent that financial assets—both stocks and bonds—are valued by a marketplace that has not yet fully accounted for the multi-decade adjustment process ahead in which honest pricing of externalities and the real resource constraints of planetary boundaries constrain aggregate growth rates. If this transition is left unmanaged, the feedback loops of financial asset valuation adjustments into the real economy could unleash chaos as we now know all too well.
Three interconnected solutions are apparent, all immensely challenging. First, we can work within the current neoliberal economic paradigm to shift the flow of investment by internalizing the costs of the externalities that we currently ignore. Second, business, government, and large pools of private capital can begin leading through enlightened real investment and integrated philanthropy even before a world of accurate accounting using honest pricing is realized. Third, the public can demand a new set of rules and regulations—some local, some regional, some global—to establish the necessary guardrails and mandates for the transition.
Getting prices right: Commercial enterprises must begin to pay the true social and environmental cost of their operations. Establishing sound measurement procedures and mandatory transparency is an essential first step, and many integrated reporting initiatives show promise despite difficulties in enforcement. Critically, however, the presumption that we can put a correct price on many of these costs is naïve and dangerous. Some costs represent harms that can be mitigated, while others represent wrongs that never can. The value of a life in a life insurance policy is certainly not the true value of that life. This same principle applies to the value of healthy ecosystem functioning—not "a life," but "life"—which is literally priceless. Getting prices "right" to the extent possible is a necessary, but insufficient, response.
Enlightened private behavior: Progress is underway as smart companies and communities are investing in resource productivity and alternative energy to save money and accelerate the shift to a regenerative economy. Experimentation with forms of enterprise that better align all stakeholder interests, from partnerships and cooperatives to "for-benefit" corporations (B Corps) and innovative forms of social enterprise, is accelerating. A small group of entrepreneurs and enlightened stewards of capital are leading the way, albeit at a pace too slow and a scale too small. Could a group of large actors including businesses, governments, sovereign wealth funds, pension funds, foundations and endowments, and high net worth families—unshackled from speculative capital markets no longer fit for purpose and using innovative investment methods—work collectively to alter the course and quality of the economy through their aggregate real investment decisions and approaches? Or will the emergent bottom-up, distributed innovation fueled by crowdsourcing scale to such a degree that it impacts the global economic system?
The answer remains unclear. On the one hand, climate stabilization demands that we not burn the vast majority of known fossil fuel reserves already sitting on company balance sheets, yet the energy industry continues to invest hundreds of billions of dollars per year in search of more. On the other hand, real progress is afoot within the most progressive corporations, without which meaningful and peaceful economic transition would be difficult, if not impossible. A growing community of wealthy families, foundations, and sovereign wealth funds are engaging in "impact investing" and philanthropy to harmonize ecological and social impact with financial returns. But the critical large-scale expansion of this integrated approach, particularly the recycling of financial capital back into natural capital, has yet to emerge.
Public policy responses: No realistic assessment of the transition ahead, even by the most steadfast advocates of technology-driven and market-based solutions, can fail to see the primacy of the public sector's role in catalyzing this unprecedented shift. We will need new regulatory frameworks and incentives to help steer an economic transition more profound than the Industrial Revolution. Economically obvious but politically difficult policies like carbon caps and/or taxes must contribute to a portfolio of tools for curbing greenhouse gas emissions along with expanded research and development in clean technology. Action to remove subsidies from fossil fuel-based energy and agriculture and shift them to drive improved resource productivity and accelerated growth of renewable energy and sustainable agriculture is long overdue.
However, a larger and more uncomfortable requirement looms. In the full world of the Anthropocene, our notions of freedom will need to adjust to new realities. Simply encouraging so-called "green investment" will not be enough if we do not curtail investment that has negative and even catastrophic impacts. Deciding the qualitative "what" and the absolute scale of investment must become a matter of the public interest. Logic then points to a fresh and expanded need for governance, even though our confidence in government at the moment is low (or nonexistent) because of valid concerns about competence and corruption. New and effective approaches to global and regional governance, likely using cities as the central nodes of coordinating power, are essential.
In the crises ahead, the impossible will become the inevitable. The belief in the unencumbered freedom of large corporations and other large economic actors to make investment decisions that may have catastrophic and irreversible consequences must now be challenged. Activists fighting deforestation in the Amazon and the construction of the Keystone XL pipeline are showing the way forward. We must begin to accept some form of public interest influence over both the scale and direction of private and public investment capital flows as vital to our national and global security interests.
Opponents will inevitably attack this idea as socialism or worse. But it addresses a profoundly different issue than concerns about the ownership of the means of production. Given the linkage between investment and material throughput of the economy, how we choose to invest will determine to a significant degree whether we follow a path to a Great Transition or continue on the present course to societal destabilization and environmental collapse.
We can look to the public utility sector's (imperfect) permitting process for precedents of regulatory engagement in capital investment decisions at regional scale. Numerous state and multilateral actors, such as the World Bank, already influence the course of investment capital flows globally, although not always in a positive direction. The idea is not new, but the potential scale and scope are, particularly in regard to the need to constrain certain investments like the unrestrained extraction of coal.
Central banks are obvious candidates for radical institutional reform to encompass this new imperative. Central banking in the Anthropocene might well entail qualitative mandates regarding investment and credit flows in addition to conventional inflation and full employment mandates. We must also tackle thorny questions regarding the public and private nature of banking institutions, the credit creation function which the banks now manage under a fractional reserve system, and the alignment of the mission of banks with public purpose rather than private speculation at public expense.
We will achieve our greatest impacts if we can rein in and influence the capital investment decisions of the largest corporations and the G-20 governments, as well as the credit decisions of the fifty largest global banks and financial intermediaries. Supporting public policies can achieve this while allowing more decentralized entrepreneurial energies to flourish at appropriate scale within a new macro framework. If mega-firms in the private sector fail to act in accordance with this overriding public interest, or prove to be ungovernable, we may have no alternative but to nationalize and manage them in the public interest, as Milton Friedman's revered teacher H.C. Simmons well understood in his own context. Although such a suggestion is fraught with huge challenges, we must look head-on at the scale and scope of the transformation we need, particularly in the fossil fuel, agriculture, and banking industries.
Can such unprecedented global oversight, even if limited to the most critical economic actors, be practical without harming the global economy? We have no choice but to try, for business-as-usual will lead to ecological and social collapse—and, of course, the collapse of the economy as well. There will inevitably be short-term efficiency and growth trade-offs in exchange for system resilience. The rich countries will need to find prosperity without growth in material resource throughput—in fact, with an immense increase in material efficiency.17 At the same time, the developing world will need to foster human and ecological well-being through more intelligent technology choices than currently deployed in the North.
The careful, holistic management and monitoring of aggregate real investment flows are an inevitable part of the economy of the future and the challenging transition to it. This will require new global oversight mechanisms, informed by the best scientific understanding of critical ecosystems and empowered by sovereign nation-states and global corporations, to define and enforce a "safe operating space" within which our innovation-driven, free-market system can thrive.18 Like the canvas for a painter, boundaries will provide the discipline that enhances creativity. The extreme degree of financial speculation that defines the financial landscape today has no place in such a future and must be curbed immediately.
Large-scale investment decisions simply must be considered a vital part of the public interest. The sooner we acknowledge the implications of this immense challenge the better.
This article originally ran on Tellus Institute's Great Transition Initiative website.
——–
YOU ALSO MIGHT LIKE
How Green Investing Improves the Environment and Your Pocketbook
Keystone XL Export Pipeline: Bad for Americans, Bad for the Economy
Wind Power at the Center of the New Energy Economy
——–
At a time when institutions of business and government continue to fail society, two of our leading academic institutions missed the opportunity to provide essential moral leadership on the most pressing challenge ever faced in the history of human civilization.
Harvard President Drew Faust issued her October statement first:
She and her colleagues on the Board do not believe "that university divestment from the fossil fuel industry is warranted or wise."
Brown President Christina Paxson followed three weeks later with her own statement:
"Our consideration of divestment [from coal] is over."
Both statements, read in their entirety, explain the careful and thorough deliberations that took place within their respective academic communities. That these institutions can both fail to see the stark moral implications of their decision after such extensive deliberation only reinforces the severity of the crisis facing civilization.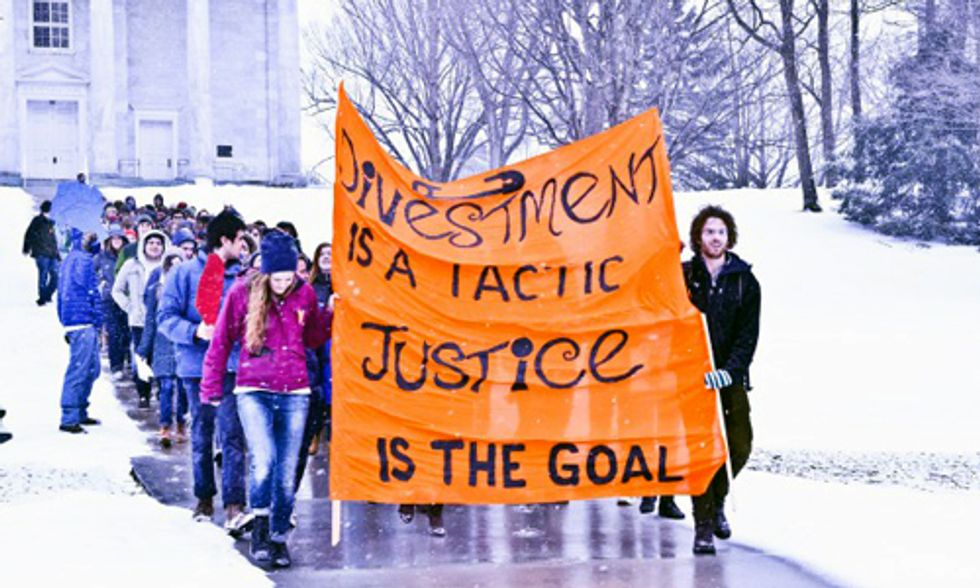 The Stakes
Before looking at the rationales of these decisions, let us remind ourselves of the unprecedented challenge before us. Thanks to a paper released in 2009 by the highly respected Potsdam Institute for Climate Impact Research, we have known for four years a staggering truth: if we are to avoid blowing through the 2 degree warming threshold and ushering in likely catastrophic climate change, we must leave the majority of the fossil fuels already discovered and on the books, beginning with coal, in the ground.
The Carbon Tracker Initiative brought this issue into common focus two years ago. At that time, we described a $20 trillion "Big Choice" facing society, anticipating OECD Secretary General Angel Gurria's recent statement: "The looming choice may be either stranding those assets or stranding the planet."
Beyond the shrinking lunatic fringe of climate change deniers, there is no apparent debate regarding this stark choice, only a judgment call around what is an acceptable degree of certainty we should shoot for in our quest not to destroy the planet for life as we know it. On this question, the scientific community is far too timid given all the non-linear risks they understand but shy away from talking forcefully about, on the pretext that such risks are by definition "uncertain." The financial crisis made us aware of the growing prevalence of Black Swan events and their consequences in complex systems. The global climate system is a complex system that makes finance appear simple in comparison. It's time to connect the dots.
Harvard's False Choice
With this as context, let us turn to the failures of moral leadership at Harvard and Brown. Harvard's decision rests on two arguments. First, Harvard is an academic institution and its endowment is held in trust to advance its academic mission. No argument. But then the rationale against divestment heads down its slippery slope by asserting a false choice between "the University as a political actor rather than an academic institution."
The toxic political climate in the U.S. has successfully defined climate change as a "political issue" pitting "business-friendly conservatives" against "wimpy green liberals" and both sides trapped in their worship at the alter of economic growth (no matter the costs). It is certainly conceivable that such lazy and reckless thinking has infected Harvard's own Corporation Board.
Let us be clear: climate change is a moral issue, not a political issue. Would the President of Harvard assert that the choice of the most prestigious University in the world is between being an academic institution or a moral actor (rather than a "political actor")?
After asserting its false choice between academics and politics, Harvard then reveals the crux of the matter. Divestment will come "at a substantial economic cost." It is reasonable to debate both the costs of divestment and the risks of not divesting (stranded asset risk), but that is not the point. Any hard moral choice by definition comes with very real costs. That is why it is so vital for us all as individuals, and certainly for our leading academic institutions, to be clear on issues of morality.
Brown's Deadly Rationalization
Brown University's decision was focused simply on divesting from coal, both mining and electricity generation from coal. The students who organized Brown Divest Coal apparently were trying to make it easier for the board, since divesting from coal and tar sands oil production are the relative "no brainers" from both a moral and an economic risk perspective.
One can feel Brown President Christina Paxson's struggle to explain her board's decision (which she tells us she "agrees with," although I have my doubts) as she delicately walks the reader through Brown's "guidelines for incorporating ethical and moral issues into investing." Those guidelines have supported previous divestiture decisions such as Brown's 2003 decision to divest from tobacco companies.
Unlike Harvard, Brown recognizes climate change as a moral issue, and Brown has "guidelines" for incorporating ethical and moral issues into investment decision-making. Brown is at least a decade ahead of Harvard it would appear in that regard; as part of their non-divestment decision the latter announced the hiring of their "first-ever vice president for sustainable investing."
Brown's failure lies not in recognizing climate change as a moral issue, but in how they consider whether the social harm caused by burning coal is "sufficiently grave" to warrant divestment. Tobacco passed that test because there were no offsetting benefits that tobacco enables. In considering coal divestment, Paxson writes, "Although the social harm is clear, this harm is moderated by the fact that coal is currently necessary for the functioning of the global economy."
Let's substitute "slavery" for "coal" in that statement and see how it reads.
As I have written in "Beyond Divestment" and elsewhere, divestment is no panacea and as a stand-alone strategy, not likely to be effective in changing the investment decisions and business models of the world's energy industry. But until we properly define climate change as the greatest moral challenge of all time, affecting not just our fellow man, but all of mankind now and forever, and all of life as we know it on planet Earth, which is our gift, we will not take the bold steps we need to take, now.
Consider the ongoing costs of what was our failed moral leadership for far too long on the "energy system" of slavery. Now, on the 150th anniversary of the Gettysburg Address, let us be inspired by the courage of Abraham Lincoln's leadership. He endured great costs personally and on behalf of the nation he led for a moral clarity devoid of convenient or self-serving rationalizations in the face of entrenched and wrong ideology.
Now consider November's climate injustice of Typhoon Haiyan with a 20-foot storm surge, nearly twice as high as what Hurricane Sandy delivered to the New York metropolitan area. Naderev Sano, the Philippines delegate to the U.N. Climate talks in Warsaw in November, in a desperate search for moral leadership, announced he would fast "until we stop this madness."
"Those who have the privilege to know, have the duty to act." – Albert Einstein
Harvard and Brown have let us down.
This article originally ran on Capital Institute's Future of Finance blog.
Visit EcoWatch's CLIMATE CHANGE page for more related news on this topic.