To put it simply, a food desert is a neighborhood far removed from grocery stores that sell healthy food.  
Subsequently, foods high in fat, calories and sugar are too abundant, which encourages unhealthy eating that can lead to obesity, diabetes and heart disease, according to a newly published Walk Score blog.  
To help you avoid such locales, Walk Score has developed an online program that helps people find the right neighborhoods where good food is within walking distance. 
In addition, the online database has developed a new ranking of the best and worst U.S. cities in terms of healthy food access.
The Best Cities for Food Access
The rankings measure access to healthy food by calculating the percent of people in a city who can walk to a grocery store in five minutes:
The Worst Cities for Food Access
The following cities have the lowest percentage of people who can walk to a grocery store within five minutes: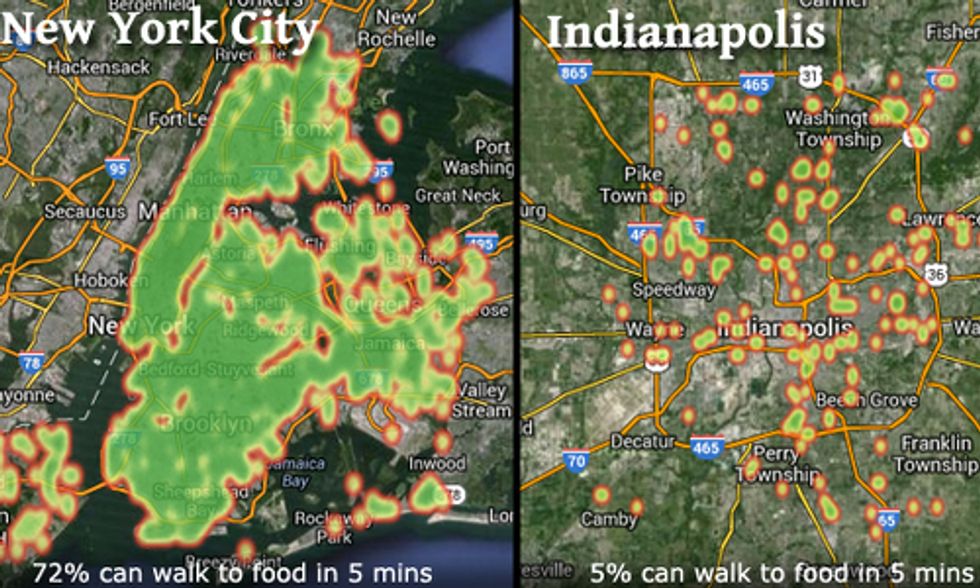 Areas in green indicate where you can walk to a grocery store in five minutes. Photo credit: Walk Score
The rankings are proximity-based and do not include the cost of food. The maps are designed to filter out convenient stores and try to only include grocery stores that sell produce.
Want to see how walkable your city is? Click here. 
--------
YOU MIGHT ALSO LIKE
Shopping Guide Helps Consumers Dodge Genetically-Engineered Foods
America Isn't Buying Its Food at Farmers's Markets, It's Doing it at Walmart
How to Avoid Factory Farmed Foods
--------
EcoWatch Daily Newsletter
On Friday, a federal appeals court ruled in favor of allowing labels on meat products that say where animals were born, raised and slaughtered, according to Food & Water Watch.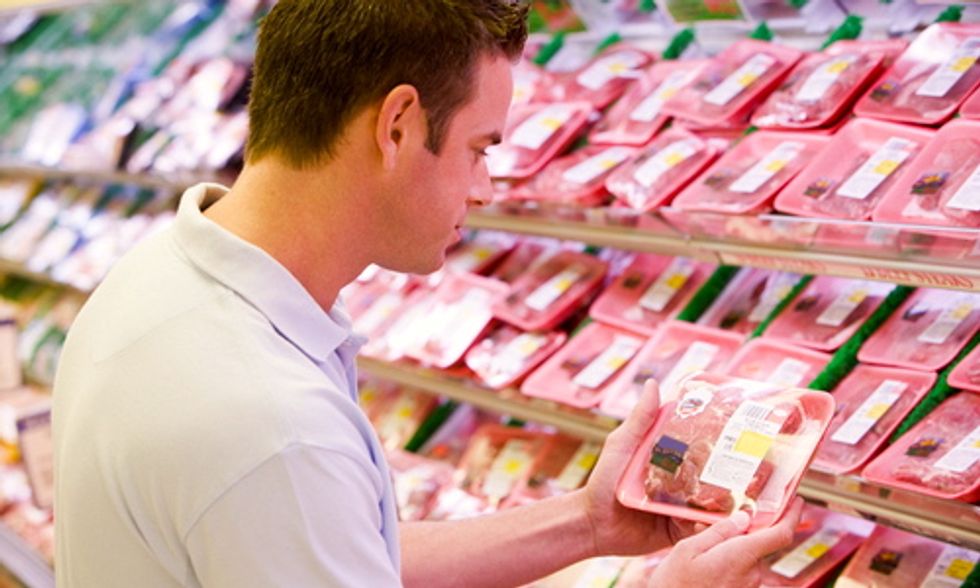 Photo courtesy of Shutterstock
The law took effect last year requiring steaks, ribs and other cuts of meat to include country of origin labeling (COOL), but the meat industry objected and attempted to block the rules in court.
The industry argued the labels were an overreach of what Congress intended when it wrote the law, and that they violated First Amendment rights to freedom of speech.
Yet the U.S. Court of Appeals for the District of Columbia sided with a lower federal court, ruled those allegations baseless and refused to block the labels.
"The Federal Appeals Court correctly affirmed the legitimate consumer interest in being able to make informed choices about the origin and safety of their meat products," said Food & Water Watch Executive Director Wenonah Hauter. "The court recognized that COOL labels should be transparent and informative enough for consumers to make these choices, including, as the court observed, the consumer, 'who believes that U.S. practices and regulation are better at assuring food safety than those of other countries, or indeed the reverse, to act on that premise.'"
COOL labels were deemed necessary because the more stops that meat makes on the way to your plate, the greater the risk of contamination. Industrial meat producers tend to bring in animals from other countries.
There are some notable exceptions to the new rules. Processed meat, such as bacon, organ meats and turkey are exempt.
Ground beef labels will only need to list the countries the processor might have procured it from in the last 60 days. 
Tyson Foods, Cargill Inc., Hormel, General Mills and the National Cattlemen's Beef Association are among dozens of meat and food processors that opposed the new rule, calling it unnecessarily costly and short-sighted and citing concerns the labels would shrink demand for imported meat. 
However, farmers, ranchers and COOL supporters disagreed. 
"Our cattle-producing members have worked hard to ensure that COOL is implemented in a way that allows them to highlight beef from their cattle that are born, raised and slaughtered in the U.S., and we are pleased the court has determined that we have the right to continue doing so," said Bob Fortune, president of the South Dakota Stockgrowers Association.
The U.S. Department of Agriculture estimates the meat industry may have to spend between $53 million and $192 million to comply with the new law.
"We believe the National Cattlemen's Beef Association and the American Meat Institute should honor this important court decision and cease their incessant attacks on our nation's COOL law in their efforts to hide the true origins of meat from U.S. consumers," said R-CALF USA CEO Bill Bullard. "COOL is needed so U.S. livestock producers can offer consumers a choice to buy U.S. beef that is produced by U.S. farmers and ranchers."
--------
YOU MIGHT ALSO LIKE
New Labels Show Where Your Meat Came From
Groups Take on Meatpacking Industry to Defend Country of Origin Labeling
Shopping Guide Helps Consumers Dodge Genetically-Engineered Foods
-------- 
waterlust.com / @tulasendlesssummer_sierra .
Each product featured here has been independently selected by the writer. If you make a purchase using the links included, we may earn commission.
The bright patterns and recognizable designs of Waterlust's activewear aren't just for show. In fact, they're meant to promote the conversation around sustainability and give back to the ocean science and conservation community.
Each design is paired with a research lab, nonprofit, or education organization that has high intellectual merit and the potential to move the needle in its respective field. For each product sold, Waterlust donates 10% of profits to these conservation partners.
Eye-Catching Designs Made from Recycled Plastic Bottles
waterlust.com / @abamabam
The company sells a range of eco-friendly items like leggings, rash guards, and board shorts that are made using recycled post-consumer plastic bottles. There are currently 16 causes represented by distinct marine-life patterns, from whale shark research and invasive lionfish removal to sockeye salmon monitoring and abalone restoration.

One such organization is Get Inspired, a nonprofit that specializes in ocean restoration and environmental education. Get Inspired founder, marine biologist Nancy Caruso, says supporting on-the-ground efforts is one thing that sets Waterlust apart, like their apparel line that supports Get Inspired abalone restoration programs.
"All of us [conservation partners] are doing something," Caruso said. "We're not putting up exhibits and talking about it — although that is important — we're in the field."
Waterlust not only helps its conservation partners financially so they can continue their important work. It also helps them get the word out about what they're doing, whether that's through social media spotlights, photo and video projects, or the informative note card that comes with each piece of apparel.
"They're doing their part for sure, pushing the information out across all of their channels, and I think that's what makes them so interesting," Caruso said.
And then there are the clothes, which speak for themselves.
Advocate Apparel to Start Conversations About Conservation
waterlust.com / @oceanraysphotography
Waterlust's concept of "advocate apparel" encourages people to see getting dressed every day as an opportunity to not only express their individuality and style, but also to advance the conversation around marine science. By infusing science into clothing, people can visually represent species and ecosystems in need of advocacy — something that, more often than not, leads to a teaching moment.

"When people wear Waterlust gear, it's just a matter of time before somebody asks them about the bright, funky designs," said Waterlust's CEO, Patrick Rynne. "That moment is incredibly special, because it creates an intimate opportunity for the wearer to share what they've learned with another."
The idea for the company came to Rynne when he was a Ph.D. student in marine science.
"I was surrounded by incredible people that were discovering fascinating things but noticed that often their work wasn't reaching the general public in creative and engaging ways," he said. "That seemed like a missed opportunity with big implications."
Waterlust initially focused on conventional media, like film and photography, to promote ocean science, but the team quickly realized engagement on social media didn't translate to action or even knowledge sharing offscreen.
Rynne also saw the "in one ear, out the other" issue in the classroom — if students didn't repeatedly engage with the topics they learned, they'd quickly forget them.
"We decided that if we truly wanted to achieve our goal of bringing science into people's lives and have it stick, it would need to be through a process that is frequently repeated, fun, and functional," Rynne said. "That's when we thought about clothing."
Support Marine Research and Sustainability in Style
To date, Waterlust has sold tens of thousands of pieces of apparel in over 100 countries, and the interactions its products have sparked have had clear implications for furthering science communication.
For Caruso alone, it's led to opportunities to share her abalone restoration methods with communities far and wide.
"It moves my small little world of what I'm doing here in Orange County, California, across the entire globe," she said. "That's one of the beautiful things about our partnership."
Check out all of the different eco-conscious apparel options available from Waterlust to help promote ocean conservation.
Melissa Smith is an avid writer, scuba diver, backpacker, and all-around outdoor enthusiast. She graduated from the University of Florida with degrees in journalism and sustainable studies. Before joining EcoWatch, Melissa worked as the managing editor of Scuba Diving magazine and the communications manager of The Ocean Agency, a non-profit that's featured in the Emmy award-winning documentary Chasing Coral.
The extent to which global demand for seafood is outpacing the sustainable yield of fisheries can be seen in shrinking fish stocks, declining catches and collapsing fisheries, according to the Earth Policy Institute.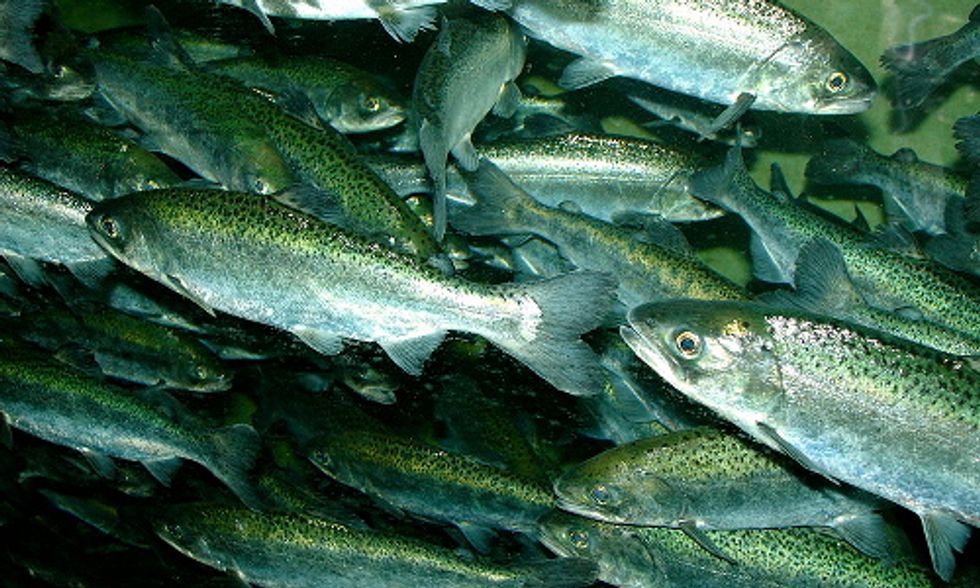 Given these alarming trends, here are some need-to-know facts compiled by Earth Policy Institute showing the state of fisheries and people's growing reliance on farmed fish:
Alarming Data
More than 80 percent of the world's fisheries are either considered fully exploited, with no room for safely increasing the catch, or they are already overfished and in need of rebuilding. 
Small forage fish account for more than half the food supply in 36 countries, including the Maldives, the Philippines and Ghana.
"It's not just the well-known predatory fish like the endangered bluefin tuna that need a break. Scientists recommend catch reductions of roughly 50 percent for many forage fish—small plankton-eaters such as sardines, anchovies, and herring that are staples for larger fish and other predators," said Earth Policy Institute Research Associate J. Matthew Roney.
Farmed Fish Production 
Wild fish play a large role in the production of meat, milk, eggs and farmed fish. Some 6 million tons of fishmeal and 1 million tons of fish oil are produced each year. Nearly all of the fishmeal is fed to farmed fish, pigs and poultry, and 74 percent of fish oil goes to fish farms. 
People will likely eat more fish from farms than from the wild in 2014, a historical milestone. As the world's oceans are fished to their limits, any increase in world fish consumption will come from farms.
Fish farming output is expected to increase 33 percent by 2021. 
In 2012, world farmed fish production topped beef production for the first time ever. 
China accounts for 60 percent of world farmed fish production. 
Scale Back and Rebuild
Some aquacultural producers are scaling back. Between 1995 and 2007, the fishmeal content in shrimp feed dropped from 28 percent to 18 percent. The drop was even more dramatic for salmon, from 45 percent to 24 percent.
Well-managed marine reserves, where fishing is off-limits, will help protect biodiversity and rebuild fish stocks. 
"The modern fishing industry that evolved to meet our ever-growing demand for fish and shellfish has created a situation where most fish stocks are maxed out or worse," said Roney. "It appears that there is little prospect for increasing the wild catch much further."
In fact, because widespread overfishing is already undermining oceanic food webs as well as the economic and food security of millions of people, it is clear that sharp catch reductions are needed for many fisheries. Leaving more fish in the ocean now to grow and breed is an investment that pays big dividends in future fisheries productivity."
--------
Related Content:
California Drought Forces Fisheries to Truck Salmon Smolts to Sea
Long-Awaited EPA Study on Pebble Mine Finds Potentially Catastrophic Impacts to Bristol Bay Salmon Fisheries
This month, rural women, indigenous communities and farmers in Chile found themselves on the winning end of a long-fought battle against a bill that had come to be known by many in this country as simply, the "Monsanto Law."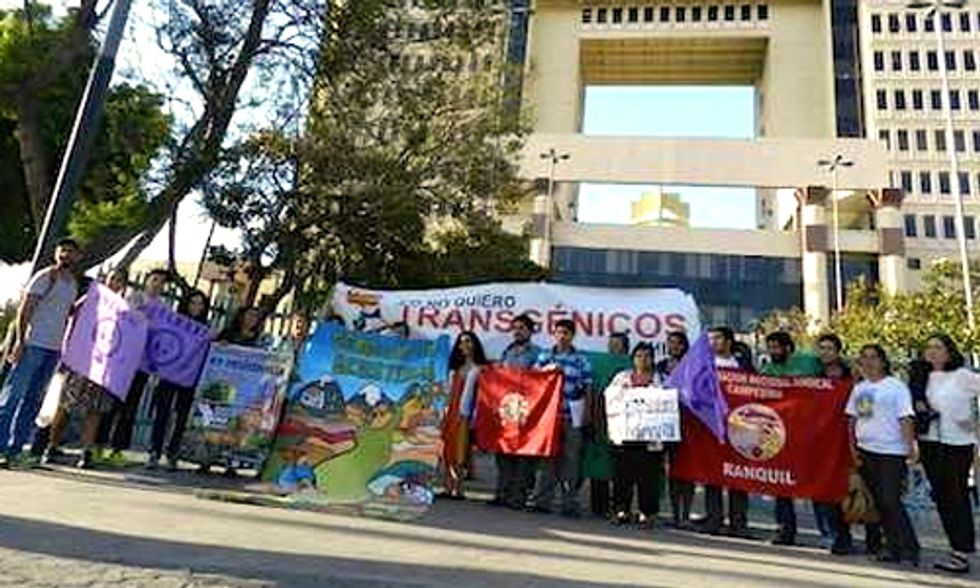 The bill, which would have given multinational agribusiness corporations the right to patent seeds they discover, develop or modify, was withdrawn by the Chilean government now controlled by newly elected members of the center-left coalition known as the New Majority, amid concerns that the law would bring harm to the country's small and mid-sized farmers. 
In making the announcement on March 17, new Secretary General Ximena Rincón pledged that the Chilean government will "analyze all that is known in our country and internationally about this issue in order to protect the rights of agricultural communities, small and medium-sized farmers, and the heritage of seeds in our country." 
Rincón has been a leading voice of opposition to the bill in the Chilean government, and part of a larger alliance of approximately fifteen organizations and elected officials across the country who have been lobbying and protesting its passage since the introduction of the bill four years ago. 
"We reject this law because it is a threat to family farms and to biodiversity," said Lucía Sepúlveda from the Alliance for a Better Quality of Life/Pesticide Action Network of Chile.
Last August, her organization and thousands of other Chileans took to the streets of cities across the country in mass protests against the law. 
Sepúlveda explained that the Monsanto Law—derived from the International Union for the Protection of New Varieties of Plants (UPOV) 1991 Act—would allow companies to register patents for the vast majority of seeds in Chile, and require small and medium producers to pay those companies for the right to use similar seeds. This, said Sepúlveda, would create a barrier for small and medium producers to use strains of seeds that have been developed and used by farmers and indigenous communities in Chile for generations. Producers would be faced with renewing their seed rights every year for a high price, or leaving agriculture all together. 
"We're left without farmers and without production," said Sepúlveda.
The steady decline of small and medium–scale agriculture is a growing problem for Chile. While the country is one of the world's most prolific fruit exporters, many Chileans complain that the main importers of their agricultural goods such as Japan and the United States, have more access to quality produce than Chileans do. Large multinational companies generally produce solely for export, whereas small and medium producers produce for the domestic market, selling their goods at local markets or ferias.
Alicia Muñoz, co-director of the National Association of Rural and Indigenous Women (Anamuri), visited parliament five times during the last year to convince senators to reject the law. Anamuri mobilized women across the country to take a stand for the sake of preserving "food sovereignty." She described the withdrawal of the bill as a great achievement: "All of the resistance that rural organizations, principally indigenous communities, led during these past years was a success. We were able to convey to the parliament how harmful the law would be for the indigenous communities and farmers who feed us all. Big agriculture, or agro-business is just that, a business. It doesn't feed our country."
Muñoz said that further privatization of seeds in Chile would harm the autonomy of small and medium producers. She said that, currently, "they (small farmers) don't have to depend on a Monsanto, Bayer or a Syngenta to get seeds," referring to other agri-business giants. The inability of smaller growers to use family-developed and shared strains of seeds, she said, would not only be a financial blow, but would erode what the non-profit organization GRAIN calls Chile's "genetic heritage." 
"It would erase the history of our grandparents, our ancestors who taught us how to care for and grow our seeds," explained Muñoz. 
Environmental groups joined the fight with organizations like Anamuri because of the bill's impact on biodiversity. Agri-business companies insisted that the bill would not allow for genetically modified organisms (GMOs), or foods, to be produced for the domestic market in Chile, but activists disagreed. "If the vast majority of seeds in Chile are registered, the traditional species of seeds will fall into disuse," said Sepúlveda. 
GMOs are controversial around the world as environmental and consumer protection groups say they harm biodiversity and violate consumer rights because of their potential health effects. And the long controversy over the Monsanto Law in Chile is just one example of the struggle across Latin America between campesinos, small farmers and the corporate leaders of the global food industry. In Colombia, a national agricultural strike rocked the countryside in 2013 as farmers protested the effects of their own Monsanto Law that was included in a free trade agreement with the United States in 2010. In Argentina, Venezuela and Mexico, seed patenting bills have similarly generated public uproar. 
The rejection of the law in Chile is being viewed as a triumph for rural and indigenous communities, yet for Chilean social and environmental activists, the struggle is not over.
"There are three possible scenarios that could occur now," explains Francisca Rodriguez of Anamuri and the Latin American Coordination of Rural Organizations (CLOC-Via Campesina). "The best would be that the president [Michelle Bachelet] agrees to permanently withdraw the bill." However, the government could also choose to set up a mixed commission to investigate its impact, which would mean consulting social and environmental organizations as well as corporate organizations. The third and worst option in the eyes of peasant and indigenous rights groups is that the bill could be rewritten and reintroduced by the Agricultural Commission. 
"The corporate lobby is large and powerful and they will try to reintroduce the bill," Rodriguez warns. Corporate stakeholders who seek to privatize seeds and facilitate the spread of GMO crops around the world face widespread resistance in Chile but continue to have the upper hand in terms of political power and wealth. 
If the seed patenting law does resurface in Chile, organized groups of women, peasants, and indigenous communities appear ready to continue to defend their rights to seeds and small-scale agriculture. 
"We need to keep insisting publically that the president withdraw it for good. We have to continue organizing," concluded Rodriguez.
--------
Related  Content:
Brazil Seeks Ban on Monsanto Herbicide Due to Alarming Toxicity Risks
Sri Lanka Bans Monsanto Herbicide After Report Suggests Link to Deadly Kidney Disease
France Stands Up to Monsanto, Bans Seed Giant's GMO Corn
The U.S. Food and Drug Administration (FDA) released a progress report this week on its voluntary approach to reducing the use of antibiotics in farm animals, which relies on collaboration with the pharmaceutical industry, according to the Natural Resources Defense Council (NRDC).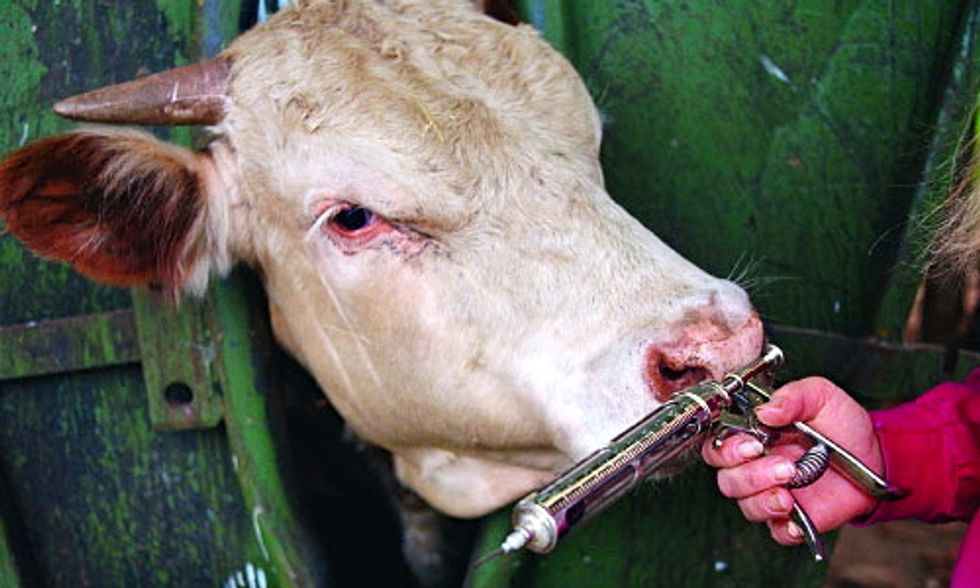 Advocacy groups said the FDA needs to go even further to curb animal antibiotics abuse, including limiting companies that use them for disease prevention when confining animals in crowded conditions. Photo credit: Organic Fitness
The news appeared to be encouraging as the FDA announced 25 major pharmaceutical companies had agreed to voluntarily phase out the use of antibiotics for growth promotion in animals processed for meat.
However, the NRDC publicly voiced its concerns saying the partnership won't do enough to curb antibiotics overuse or stem the spread of antibiotic-resistant germs known as "superbugs."
"There is still no evidence that the FDA's voluntary plan will do anything to limit the increase in the antibiotic-resistant bacteria that endanger all of us," said NRDC attorney Avinash Kar. "Animals will still be fed antibiotics daily even though they aren't sick. While it's good to see FDA and corporations coming to the table on this, their solution doesn't cut it. Fixing the problem means curbing the misuse of these drugs. This plan is likely to lead to label changes, not a reduction in use."
Kar explained that the FDA guidance does nothing to limit the routine use of antibiotics to compensate for crowded conditions.
"The FDA is just limiting antibiotic use for growth promotion, but the same animals are given the same antibiotics because of the crowded conditions," he said. "Current levels of antibiotic use are likely to continue, but just with a different justification and label. That won't do anything to protect human health. The bacteria don't care about the justifications."
"We don't add antibiotics to the cereal of kids to prevent diseases in daycare centers, and we shouldn't be doing this with animals. FDA needs to dramatically reduce antibiotic use in animals. Until that happens, the rest is just window dressing."
As it stands, about 80 percent of the antibiotics sold in the U.S. are for use in cows, chickens, pigs and other farm animals. 
Specific weaknesses in the FDA's Guidance 213 implementation plan include:
The plan relies on corporate goodwill to voluntarily eliminate growth promotion uses of antibiotics. Companies that have signed up to participate could still drop out at any point.
It fails to address the larger problem of reliance on these drugs to compensate for crowded conditions in lieu of healthier management practices. Antibiotics are often used to compensate for crowding, poor sanitation and stress, among other factors that increase disease risk.
As a result, antibiotic use in the feed of animals could continue unabated. In fact, several of the drug companies participating in the FDA's program have said they don't expect the guidance to affect their revenues.
"We are dismayed to discover that the FDA's voluntary guidance will do even less than we thought in slowing down the misuse of antibiotics on factory farms," said Food & Water Watch Executive Director Wenonah Hauter. "The public health community has been fighting for more than 30 years to get the FDA to do something about this public health crisis and a loophole like this is too serious to be ignored."
According to a 2013 National Centers for Disease Control report, antibiotic-resistant infections sicken at least 2 million Americans per year and kill more than 23,000.
The Associated Press reports the biggest risk to people are germs spread in hospitals, and it's not clear how much of the problem is related to the use of drugs in animals that become meat. Regardless, the FDA contends this is one step toward addressing the problem.
--------
Related Content:
Misuse of Antibiotics Fuels Fatal 'Superbug' Crisis
CDC Report Links Antibiotics in Agriculture to Rise of Superbugs
Cleveland Passes Resolution for Nationwide Ban on Misuse of Antibiotics on Factory Farms
Brazil's Federal Public Prosecutor has asked the country's justice department to suspend the use of glyphosate, which is the active ingredient in Monsanto's Roundup—the world's top-selling herbicide.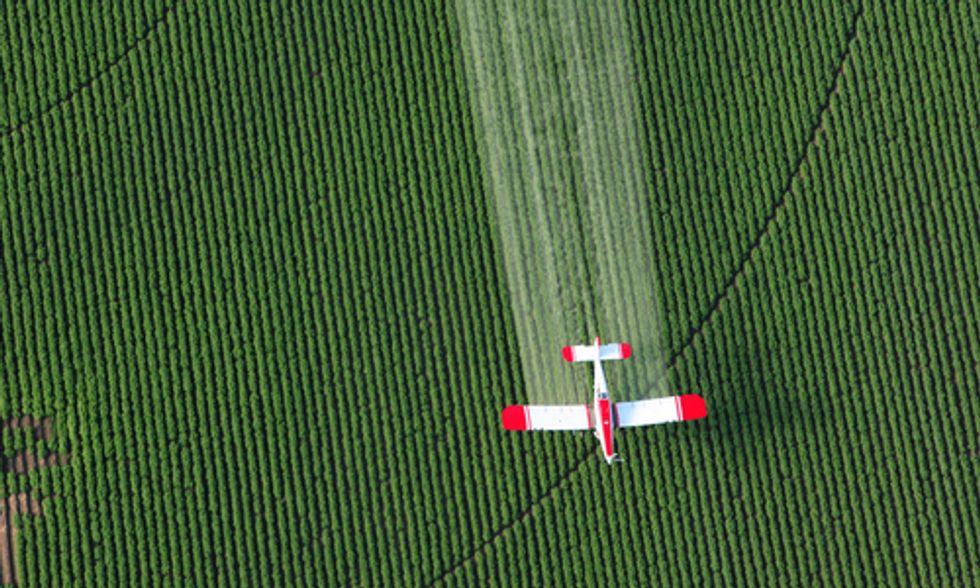 Photo courtesy of Shutterstock
In addition, the prosecutor has also targeted another herbicide known as 2,4-D and the active ingredients methyl parathion, lactofem, phorate, carbofuran, abamectin, tiram and paraquat, according to GMWatch.
Actions have already been filed within Brazil's court system, the first of which seeks to compel the National Health Surveillance Agency (ANVISA) to reevaluate the toxicity of the eight active ingredients suspected of causing damage to people's health and the environment.
The actions request a preliminary injunction which would allow the Ministry of Agriculture, Livestock and Supply to suspend the registration of the products until a final conclusion about their toxicity is reached by ANVISA.
Regarding 2,4-D, the prosecutor has asked that the National Biosafety Technical Commission prohibit the widespread sale of genetically engineered seeds resistant to the herbicide pending a final position by ANVISA.
The news comes as another huge blow to the biotech industry, following last week's unanimous ruling by Brazil's Federal Appeals Court that decided to cancel the cultivation of Bayer's Liberty Link GM Maize, according to Agro Link. 
Two weeks ago, Sri Lanka ordered a ban on glyphosate due to concerns the chemical may be linked to a mysterious kidney disease that has killed thousands of agricultural workers, according to the Center for Public Integrity.
[blackoutgallery id="327449"]
The legislature in El Salvador approved a ban on dozens of agrochemicals including glyphosate last September, but the proposal has so far not been signed into law.
--------
Related Content:
Sri Lanka Bans Monsanto Herbicide After Report Suggests Link to Deadly Kidney Disease
Monsanto Ad Banned in South Africa Due to Deceptive GMO Messaging
5 Reasons Monsanto's 'Science' Doesn't Add Up
Why are so many people convinced that dairy is the best source of calcium? A strategic marketing campaign from the dairy industry would have us believe that by drinking milk, we will be protected from bone crippling osteoporosis, but the opposite may be true.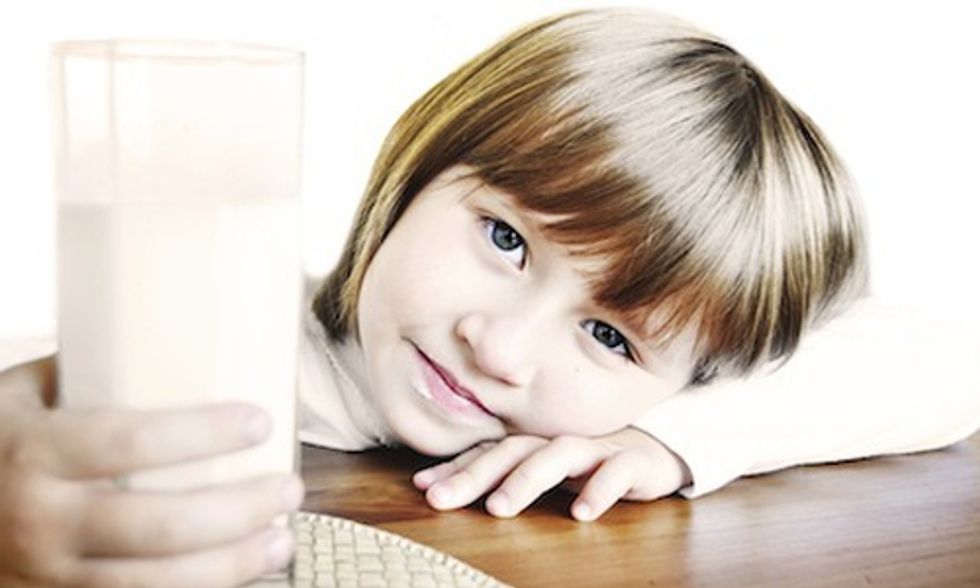 Starting them young: the dairy industry supplies school curriculum that teaches children about the "nutrition" in cow's milk. Also, most western doctors carry the "3 glasses of a milk a day for strong bones" message to their patients. So how has the dairy industry been so successful in spreading this misinformation campaign?
It might have something to do with the fact that over $8 million was spent in lobbying efforts in 2013 alone. Additionally, dairy program subsidies in the U.S. totaled $5.3 billion from 1995-2012, including $171,578,059 in "milk marketing fees." That's right, we're paying to be misled, and the hidden cost may be our impaired health.
So what is the misinformation in these campaigns? While dairy products from cows' milk does contain calcium, we don't absorb all of it. In order to absorb calcium, the body needs comparable amounts of another mineral element, magnesium. Milk and dairy products contain only small amounts of magnesium. Without the presence of magnesium, the body absorbs only 25 percent of the available dairy calcium content. Without magnesium, this excess calcium is utilized by the body in injurious ways.
Additionally, consumption of high protein dairy products like milk creates an acidic environment in the body, which triggers a release of calcium from the bones to bring the blood PH back into balance, and can cause a 50 percent loss of calcium in the urine. In other words, drinking milk leaches calcium from our bones and thereby creates a deficiency in calcium, the exact opposite of the the claims of the dairy industry.
This may explain why, as found in The China Study, the countries that are known to consume the highest levels of dairy also tend to have the highest incidence of osteoporosis.
Dr. T. Colin Campbell, the world's leading epidemiological researcher in the field of diet and health, who happened to be raised on a dairy farm, says, "The dairy folks, ever since the 1920s, have been enormously successful in cultivating an environment within virtually all segments of our society–from research and education to public relations and politics–to have us believing that cow's milk and its products are manna from heaven … Make no mistake about it; the dairy industry has been virtually in total control of any and all public health information that ever rises to the level of public scrutiny."
"The association between the intake of animal protein and fracture rates appears to be as strong as the association between cigarette smoking and lung cancer," he added.
Contrary to the dairy industry's clever marketing, there are some other reasons why dairy may not be the healthiest source of calcium. High saturated fat content of many dairy products is a risk factor for heart disease. According to Harvard, milk may also lead to an increased risk of ovarian cancer in women and a probable increased risk in prostate cancer in men.
As stated on their website, "Clearly, although more research is needed, we cannot be confident that high milk or calcium intake is safe." Another issue with milk for a lot of people, particularly those of non-Northern European descent, is lactose intolerance. For them, eating or drinking dairy products causes problems like cramping, bloating, gas and diarrhea.
Cows' milk is intended for baby cows, not humans. We are the only species that habitually drinks milk from other species, and into adulthood, no less. Dairy cows are kept continually pregnant, and their calves are separated from them upon birth, so the milk intended for them can be sold to us.
In the '40s, the average dairy cow produced less than 5,000 pounds of milk in its lifetime. Now, the average cow produces over 21,000 pounds of milk. That's with an increase of 15 percent in just the last 10 years. Cows are often genetically manipulated, artificially inseminated and drugged in order to force them to produce about four and a half times as much milk as they naturally would to feed their calves.
Factory farming has proven to be very profitable for the dairy industry, while harming air, land and water and causing needless suffering to millions of animals. Cows can live up to 25 years, but in the dairy industry cows are typically slaughtered for low-grade beef around their fifth birthday. Most male calves are slaughtered for veal, while most female calves are doomed to the same fate as their mothers.
Adequate, lifelong dietary calcium intake is necessary to reduce the risk of osteoporosis. Consuming adequate calcium and vitamin D and performing regular, weight-bearing exercise are also important to build maximum bone density and strength. With all the delicious substitutes for dairy products these days, one can easily omit dairy from their diet. According to the recommended guidelines for calcium, children ages 4 to 8 need 1000 mg; ages 9 to 13 need 1,300 mg; and adults, including lactating mothers, need 1,000 mg.
There is a long list of plant foods that supply plenty of calcium that is easily absorbed by the body: legumes, green leafy vegetables like kale, collards, mustard greens, turnip greens, bok choy, parsley, broccoli, cabbage, oats, beans, sesame seeds, almonds, asparagus, as well as fortified plant milks, fortified juices and firm tofu made with calcium-sulfate.
So when you next hear a dairy advertisement tell you that you need calcium for healthy bones, think about what they aren't telling you. There are alternatives that may not only be healthier for you, but also kinder to cows, calves and the environment.
--------
Related Content:
Europe Installs Raw Milk Vending Machines While U.S. Rules Unpasteurized Dairy Illegal
Alternatives to Factory Farmed Milk
Coalition Sues NY State for Putting Industrial Milk Production Before Clean Water
On Wednesday, the U.S. Department of Agriculture's Food Safety and Inspection Service (FSIS) published a final rule that will allow the Republic of Korea to begin exporting poultry products to the U.S.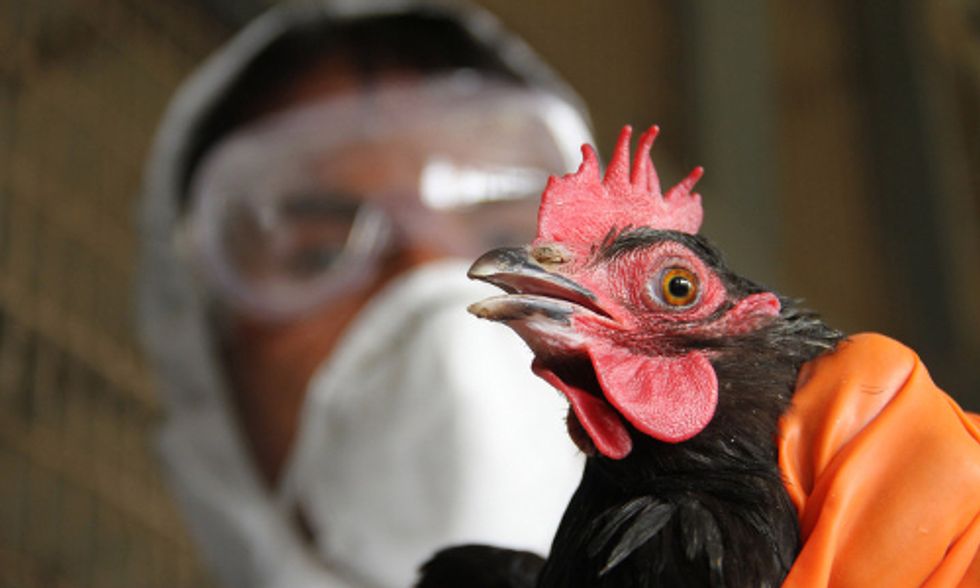 Most alarming is that Korean poultry flocks have become infected with various strains of avian influenza, prompting the Korean government to cull more than 11 million chickens and ducks in January in order to prevent the disease from spreading further. Recent reports have the disease afflicting other species and sickening dogs.
The rule becomes effective on May 27.
Food & Water Watch filed comments opposed to the rule when it was first proposed last January. In the comments, the environmental watchdog cited violations of U.S. food safety and inspection standards written by FSIS auditors who visited Korean poultry slaughter and processing facilities in 2008 and 2010.
In those audits, FSIS auditors found the following:
2008
Inspection activities were performed by company employees with no government oversight
Failure to implement and verify sanitation programs
Failure to implement and verify Hazard Analysis and Critical Control Points requirements within the food safety regulatory system
FSIS staff was unable to visit Korean government laboratory facilities that conducted chemical and microbiological analyses of poultry products
2010
The Republic of Korea food safety authority did not provide adequate control ...
for post-mortem inspection in the facilities that would be eligible to export to the U.S.
over the implementation of laboratory quality systems within its residue program.
over the implementation of laboratory control quality systems for its microbiological testing program for products destined for export to the U.S.
While the Republic of Korea acknowledged the deficiencies in the 2010 audit, there was no follow-up on-site verification conducted by FSIS to determine whether those issues had been properly addressed or not. Instead, FSIS relied on written assurances.
"We find the decision by FSIS to be irresponsible and surmise that it is trade related," said Food & Water Watch Executive Director Wenonah Hauter. "This final rule may by a little goodie that the U.S. is using to entice South Korea to join Trans Pacific Partnership talks. Once again, it may yet be another instance of the Obama Administration allowing trade to trump food safety."
--------
Related Content: 
Archer-Daniels-Midland Co. (ADM) and Bunge Ltd., two of the world's largest grain traders, are intent on increasing corn exports to China, however, U.S. farmers have plans of their own.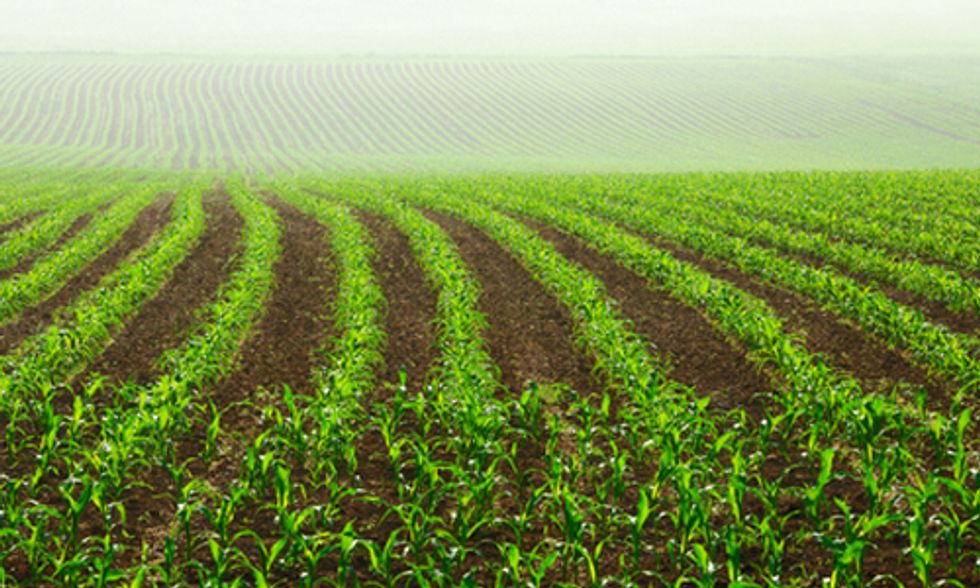 Photo courtesy of Shutterstock
Six months after China started rejecting shipments of corn made with genetically modified organisms (GMOs), Bunge stated it wouldn't accept deliveries of the variety developed by Switzerland's Syngenta AG, reports Bloomberg.
ADM plans on testing the GMO corn, and may end up rejecting it as well. Regardless, farmers will soon begin planting the crop this spring due to its high yield for the U.S. market. 
Bloomberg reports:
Exporters and farmers going in two different directions on GMO corn underscores a new set of challenges faced by international agricultural commodity traders. Even as demand continues to grow in line with the global population, China and other countries have been slower than the U.S. to approve new types of crops amid concerns about food safety and threats to biodiversity from [GMOs]. China's curbs on some modified corn threaten to block millions of tons of imports and in so doing cut into the profits of international trading houses.
"It's a significant issue for major North American traders," said Andrew Russell, a New York-based analyst for Macquarie Group who recommends buying ADM and Bunge shares. "Anything that puts Chinese growth potential at risk is a significant issue."
Traders rerouting shipments originally destined for China to other markets may lose $30 to $50 a ton, said Tim Burrack, an Iowa corn and soybean farmer who's also the former chairman of the U.S. Grains Council's trade committee.
Bunge isn't buying the Syngenta GMO corn, an insect-repelling variety known as Agrisure Viptera, or another modified variety from the Swiss company called Agrisure Duracade. On Feb. 21, ADM executives said they wouldn't accept Duracade until the GMO is approved by China and other major importers. The company also hasn't committed to Viptera.
The wide-scale planting of GMOs that aren't approved by key importing countries will chip away at the competitiveness of U.S. grain and feed exports. 
Corn containing Duracade will be planted on 250,000 to 300,000 acres this spring, which will be harvested in the autumn, according to Reuters. 
ADM shares have dropped 1.9 percent this year in New York while Bunge has fallen by 4.2 percent. Syngenta has seen a 4.6 percent decline in Zurich.
As China cuts back on GMO imports, U.S. growers are seeking to boost yields to counter a 34 percent plunge in corn prices over the last year. The U.S. Department of Agriculture has projected farm income will fall 27 percent over the course of 2014—a four-year low.
Since January, Syngenta has sold out of its Duracade variety, part of a broader trend toward modified crops.
However, that brings up another problem for farmers and traders. If different types of grain are not separated, then traders risk cross-contamination of non-GMO crops with crops containing modified organisms.
Even if farmers carefully separate their grain, such contamination can still occur in several ways, including inadvertent mixing and cross-pollination by bees or wind.
Ultimately, that's a risk many farmers have come to accept as they plant Viptera and other strains in hopes of increasing their yield for the U.S. market. 
"While American farmers search for imaginary yield gains from GMOs, they need to be mindful of the fact that contamination of their neighbor's organic and non-GMO fields will not be tolerated by our nation's trading partners or the American public," said Dave Murphy, founder and executive director of Food Democracy Now!.
--------
Related Content:
In new estimates released Tuesday, the World Health Organization (WHO) reported about 7 million people died as a result of air pollution exposure in 2012.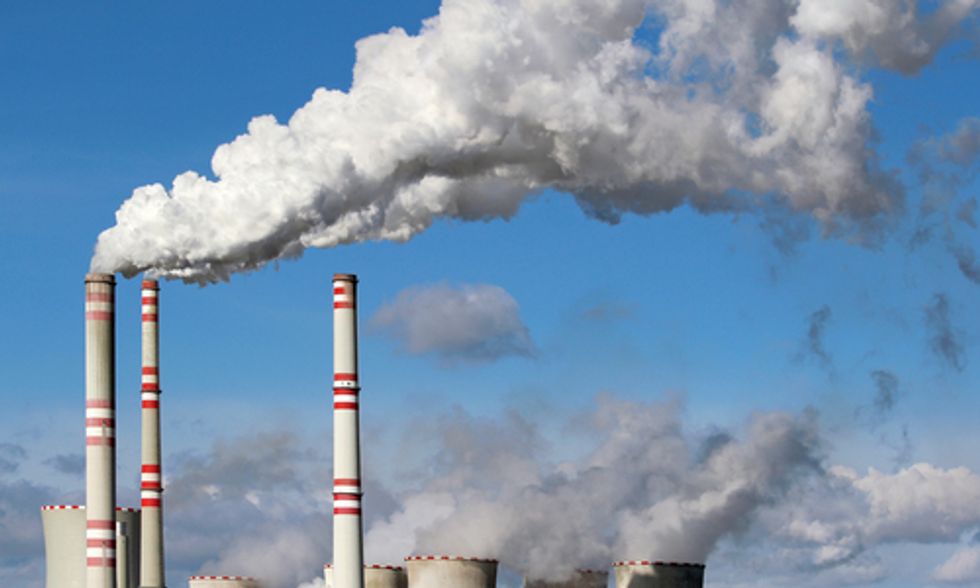 Photo courtesy of Shutterstock
This finding more than doubles previous estimates and confirms that air pollution is now the world's largest single environmental health risk as 1 in every 8 deaths is linked to it.
In particular, the new research reveals a stronger connection between both indoor and outdoor air pollution exposure and cardiovascular diseases, such as strokes and heart disease, as well as cancer. The report also found air pollution plays a role in the development of respiratory diseases, including acute respiratory infections and chronic obstructive pulmonary diseases.
The new estimates used improved measurements and technology, enabling scientists to make a more detailed analysis of health risks from a wider demographic spread that now includes both urban and rural areas.
Low- and middle-income countries in the WHO South-East Asia and Western Pacific Regions had the largest air pollution-related burden in 2012, with a total of 3.3 million deaths linked to indoor air pollution and 2.6 million deaths related to outdoor air pollution.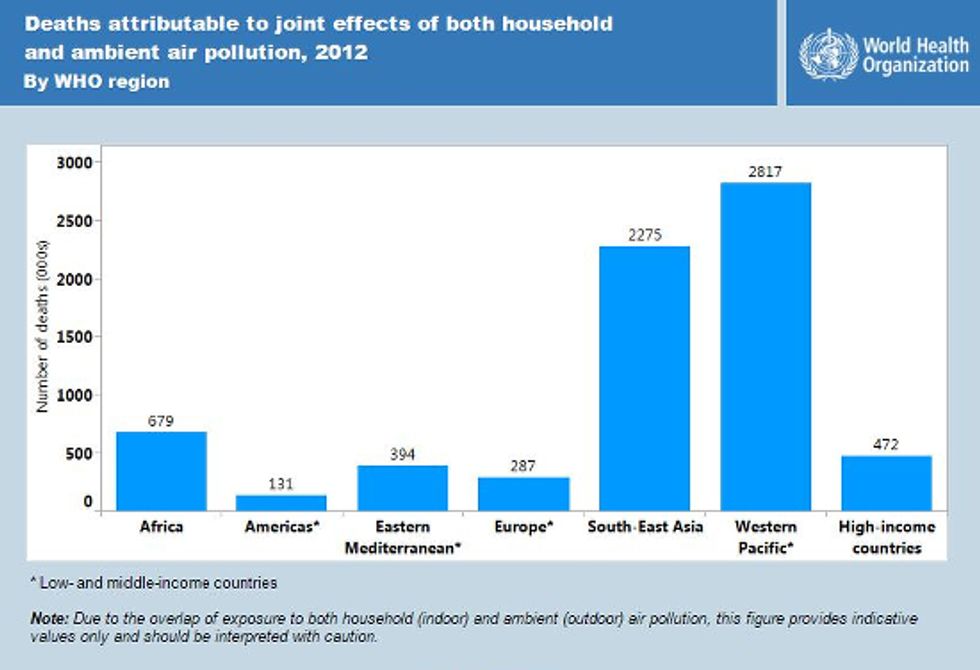 "Cleaning up the air we breathe prevents noncommunicable diseases as well as reduces disease risks among women and vulnerable groups, including children and the elderly," said Dr Flavia Bustreo, WHO assistant director of General Family, Women and Children's Health. "Poor women and children pay a heavy price from indoor air pollution since they spend more time at home breathing in smoke and soot from leaky coal and wood cook stoves."
Included in the assessment is a breakdown of deaths attributed to specific diseases, which shows the vast majority of air pollution deaths are tied to cardiovascular diseases.
Outdoor Air Pollution-Caused Deaths—Breakdown by Disease:
40 percent: Ischaemic heart disease
40 percent: Stroke
11 percent: Chronic obstructive pulmonary disease
6 percent: Lung cancer
3 percent: Acute lower respiratory infections in children
Indoor Air Pollution-caused deaths—Breakdown by Disease:
34 percent: Stroke
26 percent: Ischaemic heart disease
22 percent: Chronic obstructive pulmonary disease
12 percent: Acute lower respiratory infections in children
6 percent: Lung cancer
The estimates of people's exposure to outdoor air pollution in different parts of the world were tabulated using a new global data mapping system, which incorporated satellite data, ground-level monitoring measurements and data on pollution emissions from key sources, as well as modeling of how pollution drifts in the air.
Risk Factors Are Greater Than Expected
"The risks from air pollution are now far greater than previously thought or understood, particularly for heart disease and strokes," said Dr Maria Neira, director of WHO's Department for Public Health, Environmental and Social Determinants of Health. "Few risks have a greater impact on global health today than air pollution; the evidence signals the need for concerted action to clean up the air we all breathe."
WHO estimates indoor air pollution was linked to 4.3 million deaths in 2012 in households cooking over coal, wood and biomass stoves.
Regarding outdoor air pollution, WHO estimates there were 3.7 million deaths in 2012 from urban and rural sources worldwide.
"Excessive air pollution is often a by-product of unsustainable policies in sectors such as transport, energy, waste management and industry," said Dr Carlos Dora, WHO coordinator for Public Health, Environmental and Social Determinants of Health. "In most cases, healthier strategies will also be more economical in the long term due to healthcare cost savings as well as climate gains. WHO and health sectors have a unique role in translating scientific evidence on air pollution into policies that can deliver impact and improvements that will save lives." 
Later this year, WHO will release indoor air quality guidelines on household fuel combustion, as well as country data on outdoor and indoor air pollution exposures and related mortality, plus an update of air quality measurements in 1,600 cities from all regions of the world.
——–
Related Content:
Due to California's historic drought, a variance was issued by the U.S. Department of Agriculture (USDA) in February that enables applicable organic livestock farmers in the Golden State to temporarily disregard the feeding standards that allow them to stamp their product as organic.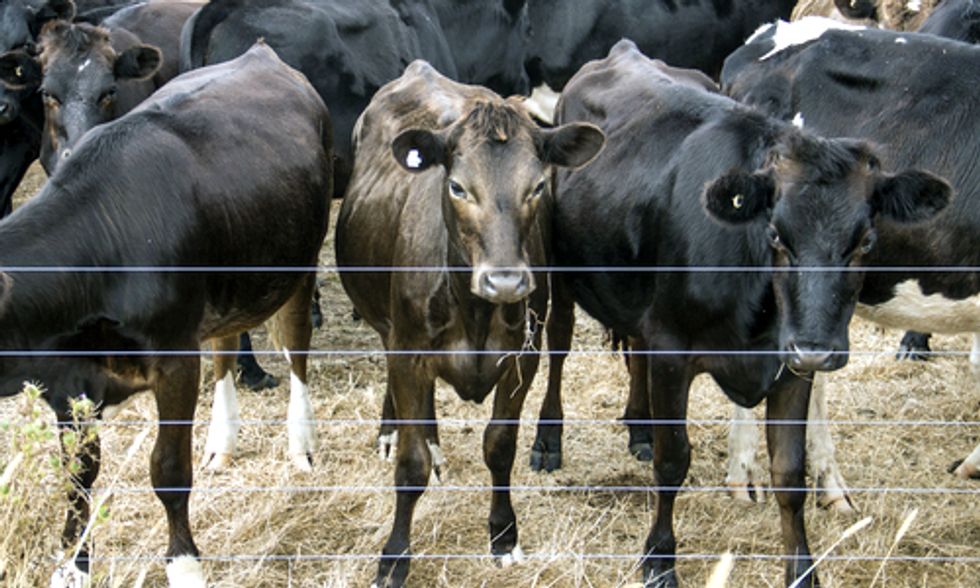 Organic producers are only allowed to substitute their livestock's grass diet with organic feed, but there is concern that this is not a long-term solution as it threatens established organic standards. Photo courtesy of Shutterstock
Farmers, whose grazing season include February and March, are not required to have their livestock grass-fed during those months given the absence of grass. Essentially, scores of cows will graze for only two months instead of four, which is the amount of time typically required to label livestock as organic.
During that time, "organic ruminant livestock producers … are not required to graze or provide dry matter intake from pasture during this time period," the variance states. "Producers may reduce their 2014 grazing season by the number of days that correspond to this time period in their grazing plan."
The USDA variance was approved after the federal agency received several requests from the California Certified Organic Farmers and Marin Organic Certified Agriculture, and it will only apply to farmers operating within the 53 out of 58 counties that have been deemed primary natural disaster areas, according to the The Huffington Post
"It's huge because we still don't have pasture for cows to graze on," Albert Straus of the Straus Family Creamery in Petaluma told The Guardian. "We lost at least a month to a month-and-a-half of pasture," he said, adding that the grass died out last December.
President Obama recently visited California to provide a $183 million aid package, but Straus said the government funding (which has topped $1.2 billion overall) will do little to fix the widespread problem. "As far as I know it's not fast enough or enough money to help the farmers," he added. "I don't think it will touch the losses that farmers will have."
According to the California Certified Organic Farmers, organic producers are only allowed to substitute their livestock's grass diet with organic feed, but there is concern that this is not a long-term solution as it threatens established organic standards.
"It's a necessary evil," Ronnie Cummins, national director of the Organic Consumers Association, told The Huffington Post. "We'll support this variance if that's the only alternative."
"Grass-fed dairy or beef has higher levels of Omega-3 and Omega-6, which is extremely important in human health," said Cummins. "There's no doubt that feeding grain to animals that aren't supposed to be eating grain is not good for them, not good for the environment and not good for consumers."
According to the USDA, the variance is temporary, but the timeline could be extended if the drought continues to devastate California's farming communities.
In January, after the state of California formally declared a drought emergency, Juliet Christian-Smith, climate scientist at the Union of Concerned Scientists, explained, "The current historically dry weather is a bellwether of what is to come in California, with increasing periods of drought expected with climate change."
The record breaking drought has taken a tremendous toll on the state of California. Below is a stunning photo essay compiled by Earthjustice,
[blackoutgallery id="322448"]
Visit EcoWatch's FOOD page for more related news on this topic.
Food and Drug Administration (FDA) scientists published a study in February finding that low-level exposure to the controversial plastic additive bisphenol A (BPA) is virtually harmless—a conclusion that stirred an uproar within academic circles.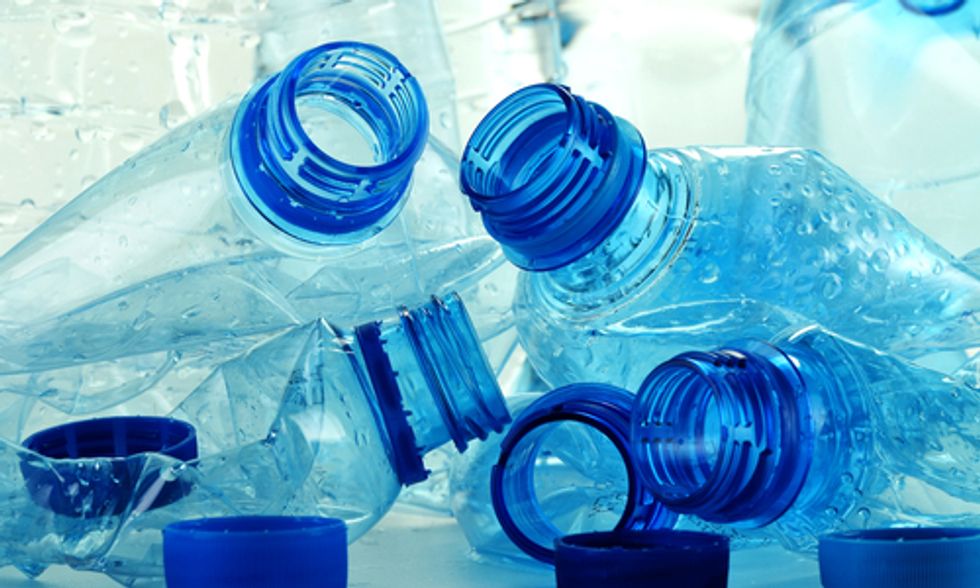 Photo courtesy of Shutterstock
The chemical industry at-large and the FDA used the research to combat persistent concerns over BPA and its severe side effects. But, according to Mother Jones, a group of leading academic scientists, who had been collaborating with the FDA on a related project, were infuriated the study was even released because they believed the agency had ​botched the experiment.
Mother Jones reports:
On a conference call the previous summer, officials from the FDA and the National Institutes of Health (NIH) had informed these researchers that the lab where the study was housed was contaminated. As a result, all of the animals—including the supposedly unexposed control group—had been exposed to BPA. The FDA made the case that this didn't affect the outcome, but their academic counterparts believed it cast serious doubt on the study's findings. "It's basic science," says Gail S. Prins, a professor of physiology at the University of Illinois at Chicago, who was on the call. "If your controls are contaminated, you've got a failed experiment and the data should be discarded. I'm baffled that any journal would even publish this."
Yet the FDA study glossed over this detail, which was buried near the end of the paper. Prins and her colleagues also complain that the paper omitted key information—including the fact that some of them had found dramatic effects in the same group of animals. "The way the FDA presented its findings is so disingenuous," says one scientist, who works closely with the agency. "It borders on scientific misconduct."
Standing in contrast to the FDA findings are countless studies that found BPA—an estrogenic chemical—was linked to serious health problems from asthma, cancer, miscarriages and low sperm count to genital deformity, heart disease, liver problems and Attention Deficit Hyperactivity Disorder. 
Moreover, studies also suggest that even BPA-free plastics can potentially cause harm to infants and toddlers. 
Avoiding BPA
Some easy starters for minimizing BPA exposure in your life are provided by Women's Voices for the Earth:
Opt for fresh or frozen foods instead of canned. A 2011 study by the Breast Cancer Fund showed that people decreased the amount of BPA in their bodies by 60 percent in just three days when they eliminated canned foods and food packaged in plastics from their diet. Another study found that eating one can of soup every day for five days increased the BPA in a body by 1,200 percent.
Look for products packaged in glass or lined cardboard instead of cans.
Store food in glass or ceramic containers instead of plastic.
Use stainless steel or glass water bottles instead of plastic bottles.
Refuse paper receipts when you don't need them. BPA rubs off easily onto hands, and then gets into mouths or eyes.
Store receipts you need in an envelope separate from your wallet or purse, and wash your hands after handling them.
Avoid plastic where possible or look for plastics with the recycle symbol #5, which signifies polypropylene, a safer plastic.
--------
Related Content: 
Non Toxic Alternatives to BPA and BPA-Free Bottles
Research Warns BPA-Free Plastic Still Toxic to Infants and Toddlers