To put it simply, a food desert is a neighborhood far removed from grocery stores that sell healthy food.  
Subsequently, foods high in fat, calories and sugar are too abundant, which encourages unhealthy eating that can lead to obesity, diabetes and heart disease, according to a newly published Walk Score blog.  
To help you avoid such locales, Walk Score has developed an online program that helps people find the right neighborhoods where good food is within walking distance. 
In addition, the online database has developed a new ranking of the best and worst U.S. cities in terms of healthy food access.
The Best Cities for Food Access
The rankings measure access to healthy food by calculating the percent of people in a city who can walk to a grocery store in five minutes:
The Worst Cities for Food Access
The following cities have the lowest percentage of people who can walk to a grocery store within five minutes: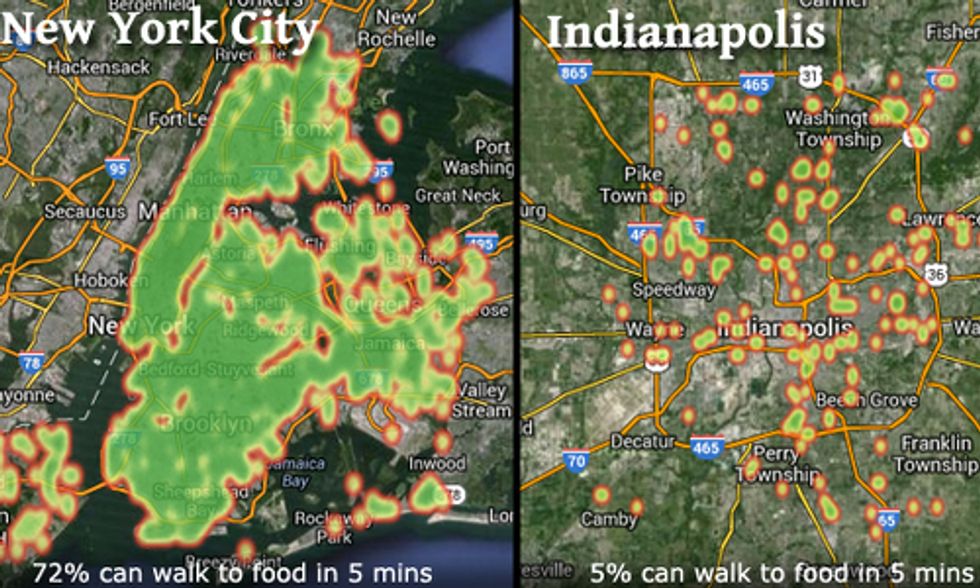 Areas in green indicate where you can walk to a grocery store in five minutes. Photo credit: Walk Score
The rankings are proximity-based and do not include the cost of food. The maps are designed to filter out convenient stores and try to only include grocery stores that sell produce.
Want to see how walkable your city is? Click here. 
--------
YOU MIGHT ALSO LIKE
Shopping Guide Helps Consumers Dodge Genetically-Engineered Foods
America Isn't Buying Its Food at Farmers's Markets, It's Doing it at Walmart
How to Avoid Factory Farmed Foods
--------
EcoWatch Daily Newsletter
The U.S. Food and Drug Administration (FDA) released a progress report this week on its voluntary approach to reducing the use of antibiotics in farm animals, which relies on collaboration with the pharmaceutical industry, according to the Natural Resources Defense Council (NRDC).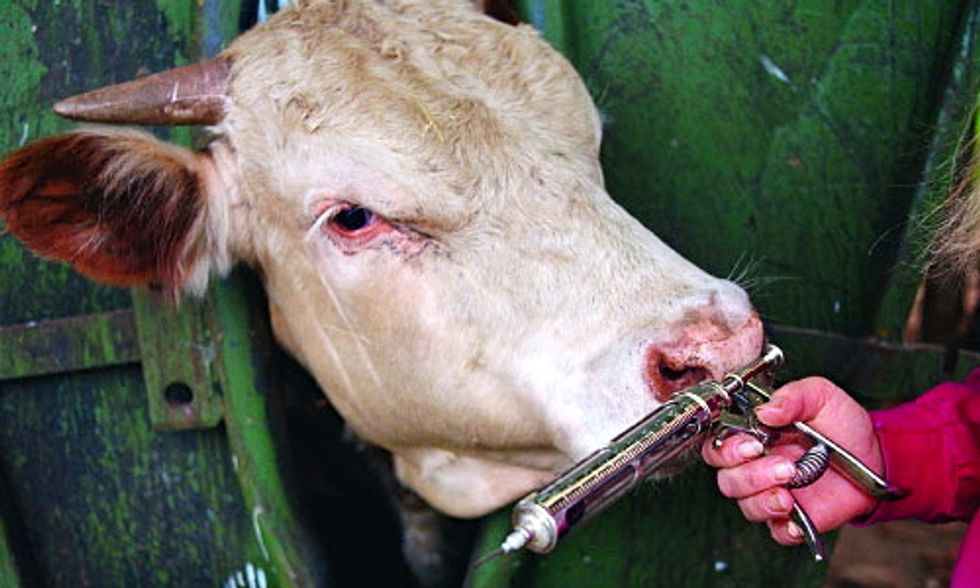 Advocacy groups said the FDA needs to go even further to curb animal antibiotics abuse, including limiting companies that use them for disease prevention when confining animals in crowded conditions. Photo credit: Organic Fitness
The news appeared to be encouraging as the FDA announced 25 major pharmaceutical companies had agreed to voluntarily phase out the use of antibiotics for growth promotion in animals processed for meat.
However, the NRDC publicly voiced its concerns saying the partnership won't do enough to curb antibiotics overuse or stem the spread of antibiotic-resistant germs known as "superbugs."
"There is still no evidence that the FDA's voluntary plan will do anything to limit the increase in the antibiotic-resistant bacteria that endanger all of us," said NRDC attorney Avinash Kar. "Animals will still be fed antibiotics daily even though they aren't sick. While it's good to see FDA and corporations coming to the table on this, their solution doesn't cut it. Fixing the problem means curbing the misuse of these drugs. This plan is likely to lead to label changes, not a reduction in use."
Kar explained that the FDA guidance does nothing to limit the routine use of antibiotics to compensate for crowded conditions.
"The FDA is just limiting antibiotic use for growth promotion, but the same animals are given the same antibiotics because of the crowded conditions," he said. "Current levels of antibiotic use are likely to continue, but just with a different justification and label. That won't do anything to protect human health. The bacteria don't care about the justifications."
"We don't add antibiotics to the cereal of kids to prevent diseases in daycare centers, and we shouldn't be doing this with animals. FDA needs to dramatically reduce antibiotic use in animals. Until that happens, the rest is just window dressing."
As it stands, about 80 percent of the antibiotics sold in the U.S. are for use in cows, chickens, pigs and other farm animals. 
Specific weaknesses in the FDA's Guidance 213 implementation plan include:
The plan relies on corporate goodwill to voluntarily eliminate growth promotion uses of antibiotics. Companies that have signed up to participate could still drop out at any point.
It fails to address the larger problem of reliance on these drugs to compensate for crowded conditions in lieu of healthier management practices. Antibiotics are often used to compensate for crowding, poor sanitation and stress, among other factors that increase disease risk.
As a result, antibiotic use in the feed of animals could continue unabated. In fact, several of the drug companies participating in the FDA's program have said they don't expect the guidance to affect their revenues.
"We are dismayed to discover that the FDA's voluntary guidance will do even less than we thought in slowing down the misuse of antibiotics on factory farms," said Food & Water Watch Executive Director Wenonah Hauter. "The public health community has been fighting for more than 30 years to get the FDA to do something about this public health crisis and a loophole like this is too serious to be ignored."
According to a 2013 National Centers for Disease Control report, antibiotic-resistant infections sicken at least 2 million Americans per year and kill more than 23,000.
The Associated Press reports the biggest risk to people are germs spread in hospitals, and it's not clear how much of the problem is related to the use of drugs in animals that become meat. Regardless, the FDA contends this is one step toward addressing the problem.
--------
Related Content:
Misuse of Antibiotics Fuels Fatal 'Superbug' Crisis
CDC Report Links Antibiotics in Agriculture to Rise of Superbugs
Cleveland Passes Resolution for Nationwide Ban on Misuse of Antibiotics on Factory Farms
JGI/Jamie Grill / Getty Images
When it comes to daily hygiene products, it's important to be comfortable with each ingredient in the bottle. Whether you have sensitive skin or if you're just tired of reading chemicals you can't pronounce, natural face washes can leave you with a clean and soft feel without the worries of unnecessary additives and irritants in the formula.
We've sorted through the best natural face cleansers on the market so you don't have to. In this article, we'll be discussing the benefits that organic face washes can give your skin as well as reviewing the top products in different categories.
Our Picks for the Top Natural Face Cleansers
Each product featured here has been independently selected by the writer. Learn more about our review methodology here. If you make a purchase using the links included, we may earn a commission.
Why Switch to Natural Face Wash?
Natural face wash isn't just beneficial to those with sensitive skin. Anyone can benefit from the fact that they don't contain toxic ingredients like sulfates and parabens that have been found in traditional skincare products. These synthetic materials are harsher on the skin and have been linked to triggering breakouts and irritations.
Even though additives such as artificial fragrances and color dyes make traditional face washes more palatable, they can create the possibility of worsening your skin over time and aren't necessary for a successful product. While some may think simple and natural skin care products don't work as well compared to harsher ones, natural face cleansers cut out possibly harmful ingredients and still maintain an effective formula that will keep your skin glowing and healthy.
7 Best Natural Face Washes
When choosing our top recommended natural face cleansers, we looked at factors including:
Ingredients: Harsh sulfates, parabens and unnecessary fragrances aren't needed in your cleansing routine. Natural ingredients such as lemon and jasmine oil are just as effective without the possible irritation.
Certifications: We've made sure the products listed below are honest in their missions and credible in their formulas, looking for certifications from the Environmental Working Group, MADE SAFE®, Credo and other certifying bodies.
Sustainability: The skincare companies listed below use recyclable packaging, non-toxic ingredients and continue to explore eco-friendly options in order to better their products and customers.
Customer reviews: We consider what verified customers have to say about the effectiveness of the skincare products and how they can help benefit you.
Frequently Asked Questions: Natural Face Wash
How should I clean my face naturally?
When looking for natural skincare, it's best to avoid ingredients such as sulfates, parabens, synthetic fragrances and dyes. If you wear makeup, it's important to include a makeup remover such as Farmacy's Green Clean Makeup Meltaway Cleansing Balm as the first step of your routine if your face wash isn't designed to break down cosmetics.
After using a natural face cleanser, make sure to always rinse with warm water and a non-abrasive cloth (we like reusable cotton rounds) unless directed otherwise by a product's label or a dermatologist. Following with a natural moisturizer like coconut oil and a reef-safe sunscreen will complete your routine.
Which is the best natural face wash?
There are many high-quality natural face washes on the market, but we recommend the Ursa Major Fantastic Face Wash because of its premium natural ingredients and its effectiveness for all skin types. When it comes to skincare, every person's skin reacts differently, so stick to an ingredient list you can trust and try different natural products until you find whatever works best for you.
Which is the best face wash without chemicals?
Natural skincare can be just as effective as traditional beauty products but without the risk of damaging your skin long-term. Face washes such as Kiss My Face Pure Olive Oil Vegan Bar Soap contain only plant-based oils and sea salt to clarify your skin without the worry of harsh chemicals.
Why are so many people convinced that dairy is the best source of calcium? A strategic marketing campaign from the dairy industry would have us believe that by drinking milk, we will be protected from bone crippling osteoporosis, but the opposite may be true.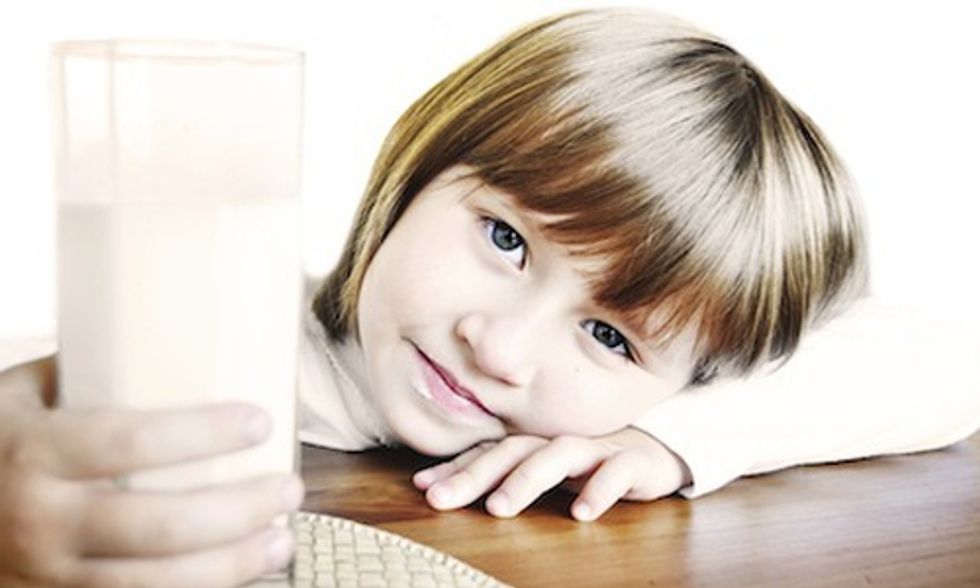 Starting them young: the dairy industry supplies school curriculum that teaches children about the "nutrition" in cow's milk. Also, most western doctors carry the "3 glasses of a milk a day for strong bones" message to their patients. So how has the dairy industry been so successful in spreading this misinformation campaign?
It might have something to do with the fact that over $8 million was spent in lobbying efforts in 2013 alone. Additionally, dairy program subsidies in the U.S. totaled $5.3 billion from 1995-2012, including $171,578,059 in "milk marketing fees." That's right, we're paying to be misled, and the hidden cost may be our impaired health.
So what is the misinformation in these campaigns? While dairy products from cows' milk does contain calcium, we don't absorb all of it. In order to absorb calcium, the body needs comparable amounts of another mineral element, magnesium. Milk and dairy products contain only small amounts of magnesium. Without the presence of magnesium, the body absorbs only 25 percent of the available dairy calcium content. Without magnesium, this excess calcium is utilized by the body in injurious ways.
Additionally, consumption of high protein dairy products like milk creates an acidic environment in the body, which triggers a release of calcium from the bones to bring the blood PH back into balance, and can cause a 50 percent loss of calcium in the urine. In other words, drinking milk leaches calcium from our bones and thereby creates a deficiency in calcium, the exact opposite of the the claims of the dairy industry.
This may explain why, as found in The China Study, the countries that are known to consume the highest levels of dairy also tend to have the highest incidence of osteoporosis.
Dr. T. Colin Campbell, the world's leading epidemiological researcher in the field of diet and health, who happened to be raised on a dairy farm, says, "The dairy folks, ever since the 1920s, have been enormously successful in cultivating an environment within virtually all segments of our society–from research and education to public relations and politics–to have us believing that cow's milk and its products are manna from heaven … Make no mistake about it; the dairy industry has been virtually in total control of any and all public health information that ever rises to the level of public scrutiny."
"The association between the intake of animal protein and fracture rates appears to be as strong as the association between cigarette smoking and lung cancer," he added.
Contrary to the dairy industry's clever marketing, there are some other reasons why dairy may not be the healthiest source of calcium. High saturated fat content of many dairy products is a risk factor for heart disease. According to Harvard, milk may also lead to an increased risk of ovarian cancer in women and a probable increased risk in prostate cancer in men.
As stated on their website, "Clearly, although more research is needed, we cannot be confident that high milk or calcium intake is safe." Another issue with milk for a lot of people, particularly those of non-Northern European descent, is lactose intolerance. For them, eating or drinking dairy products causes problems like cramping, bloating, gas and diarrhea.
Cows' milk is intended for baby cows, not humans. We are the only species that habitually drinks milk from other species, and into adulthood, no less. Dairy cows are kept continually pregnant, and their calves are separated from them upon birth, so the milk intended for them can be sold to us.
In the '40s, the average dairy cow produced less than 5,000 pounds of milk in its lifetime. Now, the average cow produces over 21,000 pounds of milk. That's with an increase of 15 percent in just the last 10 years. Cows are often genetically manipulated, artificially inseminated and drugged in order to force them to produce about four and a half times as much milk as they naturally would to feed their calves.
Factory farming has proven to be very profitable for the dairy industry, while harming air, land and water and causing needless suffering to millions of animals. Cows can live up to 25 years, but in the dairy industry cows are typically slaughtered for low-grade beef around their fifth birthday. Most male calves are slaughtered for veal, while most female calves are doomed to the same fate as their mothers.
Adequate, lifelong dietary calcium intake is necessary to reduce the risk of osteoporosis. Consuming adequate calcium and vitamin D and performing regular, weight-bearing exercise are also important to build maximum bone density and strength. With all the delicious substitutes for dairy products these days, one can easily omit dairy from their diet. According to the recommended guidelines for calcium, children ages 4 to 8 need 1000 mg; ages 9 to 13 need 1,300 mg; and adults, including lactating mothers, need 1,000 mg.
There is a long list of plant foods that supply plenty of calcium that is easily absorbed by the body: legumes, green leafy vegetables like kale, collards, mustard greens, turnip greens, bok choy, parsley, broccoli, cabbage, oats, beans, sesame seeds, almonds, asparagus, as well as fortified plant milks, fortified juices and firm tofu made with calcium-sulfate.
So when you next hear a dairy advertisement tell you that you need calcium for healthy bones, think about what they aren't telling you. There are alternatives that may not only be healthier for you, but also kinder to cows, calves and the environment.
--------
Related Content:
Europe Installs Raw Milk Vending Machines While U.S. Rules Unpasteurized Dairy Illegal
Alternatives to Factory Farmed Milk
Coalition Sues NY State for Putting Industrial Milk Production Before Clean Water
On Wednesday, the U.S. Department of Agriculture's Food Safety and Inspection Service (FSIS) published a final rule that will allow the Republic of Korea to begin exporting poultry products to the U.S.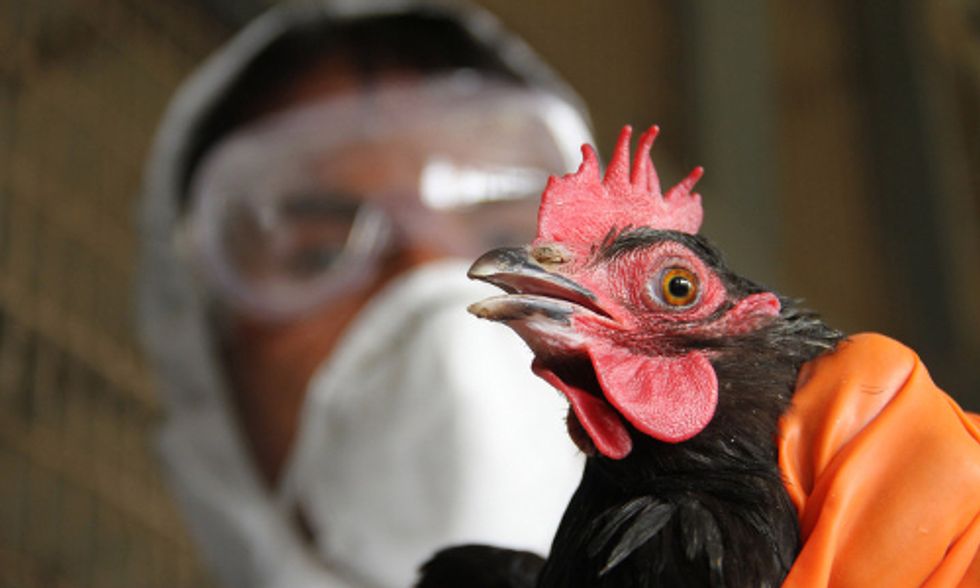 Most alarming is that Korean poultry flocks have become infected with various strains of avian influenza, prompting the Korean government to cull more than 11 million chickens and ducks in January in order to prevent the disease from spreading further. Recent reports have the disease afflicting other species and sickening dogs.
The rule becomes effective on May 27.
Food & Water Watch filed comments opposed to the rule when it was first proposed last January. In the comments, the environmental watchdog cited violations of U.S. food safety and inspection standards written by FSIS auditors who visited Korean poultry slaughter and processing facilities in 2008 and 2010.
In those audits, FSIS auditors found the following:
2008
Inspection activities were performed by company employees with no government oversight
Failure to implement and verify sanitation programs
Failure to implement and verify Hazard Analysis and Critical Control Points requirements within the food safety regulatory system
FSIS staff was unable to visit Korean government laboratory facilities that conducted chemical and microbiological analyses of poultry products
2010
The Republic of Korea food safety authority did not provide adequate control ...
for post-mortem inspection in the facilities that would be eligible to export to the U.S.
over the implementation of laboratory quality systems within its residue program.
over the implementation of laboratory control quality systems for its microbiological testing program for products destined for export to the U.S.
While the Republic of Korea acknowledged the deficiencies in the 2010 audit, there was no follow-up on-site verification conducted by FSIS to determine whether those issues had been properly addressed or not. Instead, FSIS relied on written assurances.
"We find the decision by FSIS to be irresponsible and surmise that it is trade related," said Food & Water Watch Executive Director Wenonah Hauter. "This final rule may by a little goodie that the U.S. is using to entice South Korea to join Trans Pacific Partnership talks. Once again, it may yet be another instance of the Obama Administration allowing trade to trump food safety."
--------
Related Content: 
In new estimates released Tuesday, the World Health Organization (WHO) reported about 7 million people died as a result of air pollution exposure in 2012.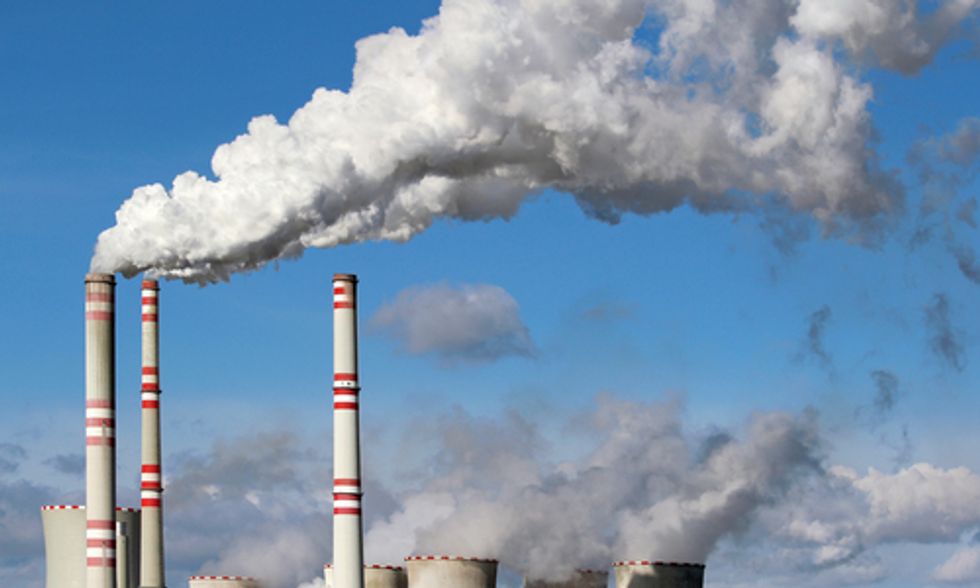 Photo courtesy of Shutterstock
This finding more than doubles previous estimates and confirms that air pollution is now the world's largest single environmental health risk as 1 in every 8 deaths is linked to it.
In particular, the new research reveals a stronger connection between both indoor and outdoor air pollution exposure and cardiovascular diseases, such as strokes and heart disease, as well as cancer. The report also found air pollution plays a role in the development of respiratory diseases, including acute respiratory infections and chronic obstructive pulmonary diseases.
The new estimates used improved measurements and technology, enabling scientists to make a more detailed analysis of health risks from a wider demographic spread that now includes both urban and rural areas.
Low- and middle-income countries in the WHO South-East Asia and Western Pacific Regions had the largest air pollution-related burden in 2012, with a total of 3.3 million deaths linked to indoor air pollution and 2.6 million deaths related to outdoor air pollution.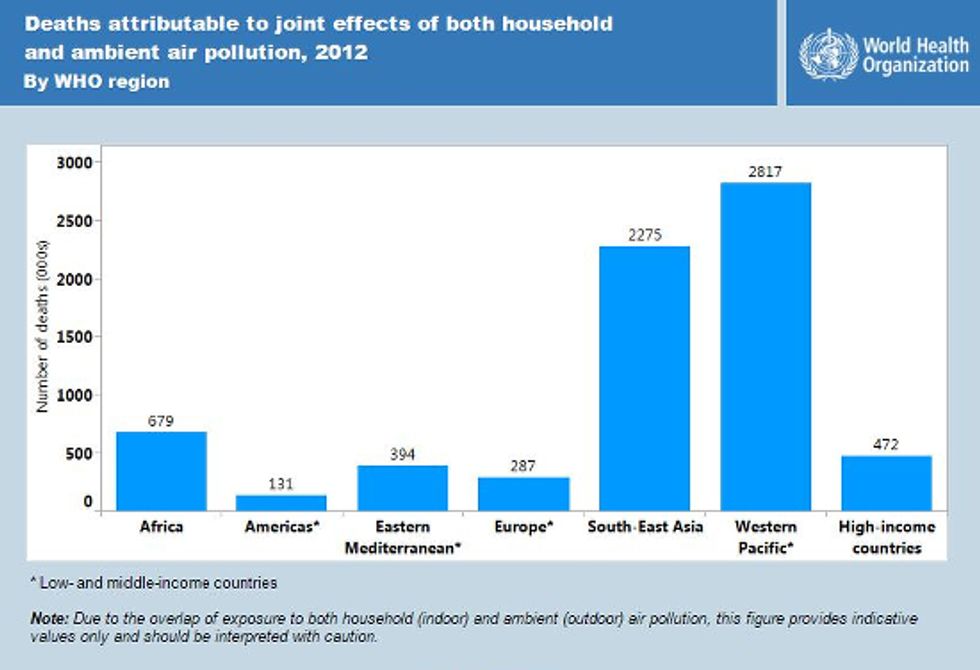 "Cleaning up the air we breathe prevents noncommunicable diseases as well as reduces disease risks among women and vulnerable groups, including children and the elderly," said Dr Flavia Bustreo, WHO assistant director of General Family, Women and Children's Health. "Poor women and children pay a heavy price from indoor air pollution since they spend more time at home breathing in smoke and soot from leaky coal and wood cook stoves."
Included in the assessment is a breakdown of deaths attributed to specific diseases, which shows the vast majority of air pollution deaths are tied to cardiovascular diseases.
Outdoor Air Pollution-Caused Deaths—Breakdown by Disease:
40 percent: Ischaemic heart disease
40 percent: Stroke
11 percent: Chronic obstructive pulmonary disease
6 percent: Lung cancer
3 percent: Acute lower respiratory infections in children
Indoor Air Pollution-caused deaths—Breakdown by Disease:
34 percent: Stroke
26 percent: Ischaemic heart disease
22 percent: Chronic obstructive pulmonary disease
12 percent: Acute lower respiratory infections in children
6 percent: Lung cancer
The estimates of people's exposure to outdoor air pollution in different parts of the world were tabulated using a new global data mapping system, which incorporated satellite data, ground-level monitoring measurements and data on pollution emissions from key sources, as well as modeling of how pollution drifts in the air.
Risk Factors Are Greater Than Expected
"The risks from air pollution are now far greater than previously thought or understood, particularly for heart disease and strokes," said Dr Maria Neira, director of WHO's Department for Public Health, Environmental and Social Determinants of Health. "Few risks have a greater impact on global health today than air pollution; the evidence signals the need for concerted action to clean up the air we all breathe."
WHO estimates indoor air pollution was linked to 4.3 million deaths in 2012 in households cooking over coal, wood and biomass stoves.
Regarding outdoor air pollution, WHO estimates there were 3.7 million deaths in 2012 from urban and rural sources worldwide.
"Excessive air pollution is often a by-product of unsustainable policies in sectors such as transport, energy, waste management and industry," said Dr Carlos Dora, WHO coordinator for Public Health, Environmental and Social Determinants of Health. "In most cases, healthier strategies will also be more economical in the long term due to healthcare cost savings as well as climate gains. WHO and health sectors have a unique role in translating scientific evidence on air pollution into policies that can deliver impact and improvements that will save lives." 
Later this year, WHO will release indoor air quality guidelines on household fuel combustion, as well as country data on outdoor and indoor air pollution exposures and related mortality, plus an update of air quality measurements in 1,600 cities from all regions of the world.
——–
Related Content:
An estimated 5 million hogs have died since the Porcine Epidemic Diarrhea Virus (PEDv) was discovered last May, and federal officials along with industry experts are scrambling to control the continued spread of the disease, reports Reuters. 
This slideshow exposes the reckless disposal practices of an industrialized swine facility in North Carolina hit with the PED virus. Warning: The slideshow contains graphic images that may be unsuitable for some viewers. 
[blackoutgallery id="323679"]
Confirmed PEDv cases increased by 296 during last week alone, bringing the total number to 4,757, according to data released on Thursday by the U.S. Department of Agriculture's National Animal Health Laboratory Network (NAHLN). The discrepancy between the relatively small amount of cases and the high death toll is that one case can represent an individual animal or an entire herd at one site.
To stem the spread, U.S. and Canadian hog industries recently developed partnerships to research whether feed or feed ingredients factored into the transmission of PEDv, the National Pork Board said this week. The report from NAHLN does not include test results from feed samples.
Even though the disease is spreading, the number of affected states remains at 27, the animal researchers said.
"Unfortunately it has spread rapidly this winter, especially here in Ohio," Duane Stateler, Ohio Pork Council president and hog producer, told Reuters. 
PEDv, which doesn't directly affect people and is not a food safety risk, causes diarrhea, vomiting and severe dehydration in pigs. While older pigs have a chance of survival, 80 to 100 percent of piglets die from the virus. 
"The smaller the pig the harder it is for them to recover and come back," added Stateler.
The spread of the virus has already decreased market ready hog supply in the Midwest and along the East Coast, forcing some pork packing plants to cut back their slaughter operations.
Midwest pork packing facilities are weighing several options of either cutting the work week, trimming daily operating hours or eliminating overtime in order to reduce overall production.
Last week, Smithfield Foods suspended hog slaughter at its Tar Heel, NC, plant, which has a high slaughter capacity, as PEDv has tightened hog supplies.
Last month, Waterkeeper Alliance and North Carolina Riverkeepers called on the state's Commissioner of Agriculture, Steve Troxler, to protect public and environmental health against the swine industry's handling of the PEDv outbreak. 
Burying dead pigs in mass graves is common practice in mass casualty events, and Waterkeepers has raised concerns that areas of the coastal plain, where most infected swine facilities are located, stand a high risk of shallow groundwater and nearby waterway contamination.
"While we understand that PED cannot be directly transmitted to humans, the massive numbers of pigs that have died from this virus pose a significant concern to the public health if not disposed of properly," said Gray Jernigan, North Carolina-based staff attorney for Waterkeeper Alliance. "There is currently little to no government oversight of carcass disposal in the midst of this epidemic, and we are calling on the state to take action as authorized by law to protect the citizens of North Carolina."
Visit EcoWatch's HEALTH pages for more related news on this topic.

North Carolina environmental regulators have cited Duke Energy for violating the conditions of a wastewater permit after it illegally dumped an estimated 61 million gallons of coal ash wastewater into a Cape Fear River tributary, according to Waterkeeper Alliance. 
The state's Department of Environment and Natural Resources (DENR) issued the citation on Thursday for the permit violations after state officials discovered the dumping during a March 11 inspection at Duke Energy's Cape Fear Steam Electric Plant.
[blackoutgallery id="326556"]
Regulators said the wastewater was flushed from two large, confined lagoons and into the on-site canal that empties in an unnamed tributary, which connects with the Cape Fear River. The state agency calculated its estimate based on log books Duke Energy maintained for the pumping activities.
"After more than a week of indecisiveness, DENR conceded that Duke's secret pumping was indeed illegal, but yet again, DENR's action only came after Waterkeeper Alliance and the Cape Fear Riverkeeper caught Duke in the act with aerial surveillance photos," said
Donna Lisenby
, Waterkeeper Alliance's global coal campaign coordinator. "Once again, citizens and shrewd investigative reporters had to work overtime to pick up the slack because DENR had failed to notice this egregious dumping for several months."
The pumps and attached hoses were set up in the pair of coal ash lagoons but were not in use when state officials visited the plant last week. The pumping equipment has since been removed.
The March 11 visit to the Cape Fear plant was part of DENR's inspections of all Duke Energy's facilities with coal ash lagoons.
The inspections were announced in the wake of the 
Feb. 2 coal ash spill
at the Dan River plant. The detailed information the state is gathering about each facility will factor into the state's future decision-making with regard to all of North Carolina's coal ash lagoons.
"Duke says it is 'accepting full responsibility' for the Dan River spill," said Cape Fear Riverkeeper Kemp Burdette. "How are we to believe them when they have been deliberately pumping their toxic waste into the Cape Fear River, including on the very same day millions more gallons of sludge were also spilling into the Dan River as a result of Duke's carelessness." 
State officials have notified cities downstream of the findings at the Cape Fear plant.
None of the downstream municipalities have reported problems meeting U.S. Environmental Protection Agency drinking water standards. However, DENR officials are collecting water samples in the Cape Fear River downstream from the plant to determine if surface water meets state water quality standards.
Duke Energy is permitted by the state to discharge treated wastewater from the ash ponds into the canal through vertical spillway pipes, known as risers. The coal ash lagoons and risers at the Cape Fear plant provide physical treatment that allows heavier, more concentrated ash residuals to settle to the bottom of the lagoons over time.
Yet the state's investigation revealed that the pumping activities bypassed the riser structures and accelerated the drawing down of the lagoons so much that they no longer properly functioned as treatment systems.
According to Duke Energy, the company was using a temporary pumping system to lower water levels in two basins at the Cape Fear plant to perform upcoming maintenance.
"We were notified by phone in August that Duke Energy intended to conduct routine maintenance work at these ash ponds," said Tom Reeder, director of the NC Division of Water Resources. "The state's investigation revealed that the pumping activities ongoing at this plant far exceeded what would reasonably be considered routine maintenance."
Prior to the March 11 inspection, staff with the Division of Water Resources inspected the Cape Fear plant on Dec. 6. During that visit, the state inspector noticed parts of disconnected pumping equipment on the berm next to one of the lagoons, but its levels did not appear to be lower.
Duke Energy did not mention to the inspector during the Dec. 6 inspection that pumping had been on-going in the months prior to the inspection. 
By law, the state agency can issue civil penalties for violations of state environmental laws but is required to give the company 10 days to respond to the notice of violation.
"Duke Energy has had such a cozy relationship with NC regulators and legislators for so long they don't even think twice about breaking the law with respect to their poisonous coal ash pollution," said Waterkeeper Alliance attorney Peter Harrison.

In a bid to increase awareness of the health, environmental and monetary benefits of tap water, Yarra Valley Water launched Be Smart. Choose Tap. To continue in its efforts, the Australian-based utility released a satirical video last October showing why tap is the logical solution over bottled water. 
The video went viral this week after it was posted on Upworthy, so we thought it worthy of sharing too.
"Sometimes in Australia we take our quality tap water for granted, we forget that more than a billion people worldwide do not have access to safe drinking water," said Goulburn Valley Water Managing Director Peter Quinn, whose company recently joined the water initiative. 
According to Hydrate Life, here are some of the most significant ways bottled water impacts the U.S.:
Bottled Water Uses a lot of Oil: Seventeen million barrels of oil are used in the production of plastic water bottles annually in the U.S., which is equivalent to fueling 1 million cars for a year. When considering all that goes into getting bottled water to stores and markets, this number can jump as high as 54 million barrels.
Bottled Water Creates Tons of Waste: Only one out of five plastic water bottles are recycled, contributing to the 3 billion pounds (or about 1.5 million tons) of plastic bottle waste each year. As a comparison, the Golden Gate Bridge in San Francisco, CA weighs 887,000 tons. Further, PET 1 bottles cannot be cleaned properly and over time can leech plastic components into the water, so it is not recommended that they be reused. PET bottles are highly resistant to biodegradation, and if they're incinerated, they release toxic fumes.
Visit EcoWatch's FOOD and GMO pages for more related news on this topic. 

In Ohio, Cleveland City Council passed a resolution Monday supporting a nationwide ban on the misuse of antibiotics on factory farms, with the support of Food & Water Watch and councilman Joe Cimperman.
On Monday, Food & Water Watch activists stand with Cleveland Councilman Joe Cimperman, Council President Kevin Kelly, Director of the Cleveland Department of Public Health Karen Butler and Cleveland Mayor Frank Jackson at Cleveland City Hall after Councilman Cimperman introduced a resolution calling for federal action on the issue of antibiotic overuse on factory farms. Photo credit: Food & Water Watch
"We applaud the Cleveland City Council for passing a resolution in support of a nationwide ban of the misuse of antibiotics on factory farms," said Food & Water Watch Ohio organizer Alison Auciello. "Factory farms feed low doses of antibiotics to livestock to promote unnatural growth and to compensate for filthy, crowded living conditions. As a result, we're entering an age in which these life-saving medicines are no longer working to treat infections in humans."
The widespread practice of giving low doses of antibiotics to healthy livestock on factory farms is contributing to an increase in antibiotic-resistant bacteria, which is a growing public health concern that's making antibiotics less effective in treating infections in both people and animals.
The Food and Drug Administration (FDA) released voluntary guidelines last December to address this issue known as nontherapeutic use. However, a Food & Water Watch analysis released earlier this month revealed that 89 percent of antibiotic drugs that the guidelines advises against using to speed growth can still be given to healthy animals for other reasons.
"Antibiotic resistant bacteria are a pressing public health issue," said Councilman Cimperman. "It is about time we educate the public and make changes in the regulation of the practices that cause these issues. To slow the growth of antibiotic resistant infections and improve the health of Americans, we must ban the nontherapeutic use of antibiotics on a state and national level."
In February, Clevelanders took part in a rally at the West Side Market to help educate consumers on the misuse of antibiotics on factory farms:
[blackoutgallery id="321677"]
To assess the overlap between growth promotion uses, which remain unchecked, the Food & Water Watch analyzed the FDA's list of more than 400 drug products affected by the federal guidelines.
The FDA's list includes 217 medically important antibiotic drugs that are known to accelerate animal growth. Of those drugs, 63 percent can also be applied to disease prevention, meaning the drugs can continue to be used nontherapeutically, which will continue to promote the development of antibiotic resistance.
Of the remaining antibiotics used for growth promotion, 59 can still be used for "disease control" in healthy animals. That leaves only 23 drugs—11 percent—with no approved nontherapeutic uses under full implementation of the guidelines.
Antibiotic-resistant infections, like staphylococcus aureus, sicken at least 2 million Americans per year and kill more than 23,000, according to a 2013 CDC report. Those infections can happen anywhere, but they're especially deadly when they're spread in hospitals, nursing homes or other health care centers.
Now the crisis is slowly worsening as drugmakers spend less time and money creating new antibiotics, even as more bacteria are becoming resistant to older drugs.
What You Can Do
Wash hands regularly
Only use antibiotic creams when necessary
Fight off mild to moderate colds yourself with doctor's approval
Don't use leftover drugs
Buy "no antibiotics" or "USDA organic" meat: Tests of turkey and chicken suggest that poultry raised without antibiotics may be less likely to carry resistant bacteria. Also, buying antibiotic-free meat supports farmers who keep livestock off unneeded drugs and helps sustain the desired effectiveness of antibiotics.
Visit EcoWatch's HEALTH page for more related news on this topic.

Thirty-three hair-straightening products have been recalled over the last three years in several countries due to high levels of formaldehyde, however, the U.S. has yet to pull the toxic products, according to new research from the national nonprofit Women's Voices for the Earth (WVE).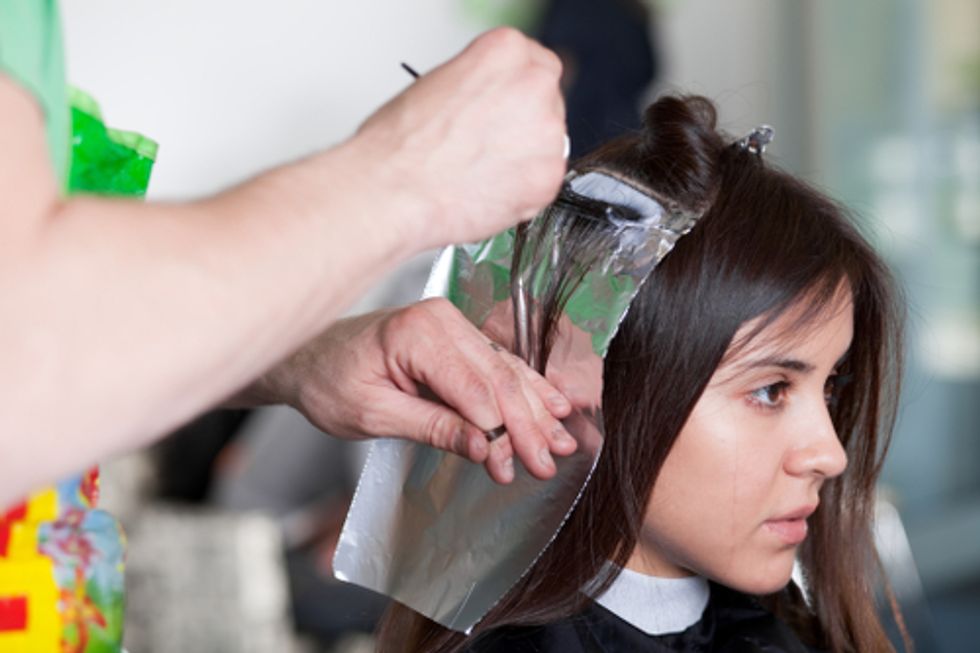 Read on to find out which toxic hair straighteners remain on the market, which have been banned or recalled and which are formaldehyde- free. Photo courtesy of Shutterstock
The issue has alarmed many consumers given that formaldehyde (also called methylene glycol) can cause severe eye, nose and throat irritation and increase cancer risks.
The increased risks to salon workers alone, who offer hair-straightening treatments, merits further investigation, said Alex Scranton, director of science and research at WVE.
"Based on sound science, other countries are taking strong measures to protect the health of salon workers and their customers from formaldehyde-containing products," said Scranton. "While U.S. government regulations continue to fall short, consumers deserve to know what's in their products in order to make safer decisions about their hair care."
Formaldehyde Effects
Natalija Josimov used to swear by hair-straightening treatments for her own coarse, frizzy hair. When she became a hair stylist in 2009, she said she was eager to offer the service to her clients. But just nine months after launching her career, she experienced chronic sinus and respiratory infections, painful blisters in her nose and heart palpitations—all caused by formaldehyde gas released during treatments.
"I think many stylists performing these treatments are under the mistaken impression that the Food and Drug Administration (FDA) would not allow these products on the market if they were dangerous," Josimov said. "It took me doing at least 100 treatments before I realized it was making me so ill, and I still have side effects from it."
Josimov is part of a growing number of stylists and consumers concerned about toxic chemicals in hair-straightening products and the double standard that allows formaldehyde-containing products to be sold in the U.S., despite being banned by the European Union Commission.
Stories like Josimov's led WVE to release a new fact sheet alerting stylists and customers to the international recalls of hair-straightening products.
The Cosmetic Ingredient Review (CIR), an industry-funded and operated panel that assesses the safety of cosmetic ingredients in the U.S., declared that formaldehyde was unsafe to be used in hair straightening products in March 2011.
The FDA lacks the authority to issue a mandatory recall of cosmetic products that have been found to cause health problems to consumers. In fact, the agency has yet to issue a voluntary recall of Brazilian Blowout, the first hair straightener found to contain high levels of formaldehyde. The original formula of Brazilian Blowout was ordered off the market in California by the California Attorney General in 2012 for violating California air pollution regulations.
See below which toxic hair straighteners remain on the market, which have been banned or recalled, and which are formaldehyde- free: 
International Recalls of Hair Straighteners

Products that have been recalled in other countries, but which are still for sale in the U. S.

This list is not exhaustive. There may also be other hair straightening products containing formaldehyde.

Brand/
Manufacturer

Product Name

Level/Range of Formaldehyde

Countries Where Recalled

BioNaza Cosmetics

KeraHair – Premiere Brazilian Keratin System

.7-2.5%

BioNaza Cosmetics

Choco Hair – Brazilian Keratin Chocolate

1.2-1.8%

BioNaza Cosmetics

Diamond – Premiere Brazilian Keratin System

0.8-1.7%

BioNaza Cosmetics

KeraVino Premiere Brazilian Keratin System

0.9-1.6%

Brazillian Blowout

Brazillian Blowout Acai Professional Smoothing Solution Brazillian Blowout Solution

6.4- 8.8%

Cadiveu

Brazillian Thermal Reconstruction

7%

Cocochoco Professional

Complex Brazilian Keratin Straightening Treatment

3%

Coppola/Copomon Enterprises LLC

Keratin Complex Smoothing Therapy

2%

Coppola/Copomon Enterprises LLC

Keratin Complex Express Blowout

>.2-1.7%

Coppola/Copomon Enterprises LLC

Keratin Complex Intense RX, Smoothing Therapy

0.5-0.8%

Global Keratin

Global Keratin Taming System with Juvexin Strawberry Resistant

4.40%

Global Keratin

Global Keratin Taming System Strawberry

3.00%

Global Keratin

Functional Keratin Hair Taming System Blond/Light Wave Colored "Chocolate"

1.7%

Global Keratin

Global Keratin Taming System with Juvexin Strawberry Light Wave

.2-1.4%

Global Keratin

Global Keratin Hair Taming System with Juvexin Light Wave/Curly

>.2%

Goleshlee

Goleshlee Keratin Hair Therapy

>0.6%

Hair Go Straight

Keratin Treatment

2.60%

I.B.S Beauty Inc.

Istraight Keratin Advanced Keratin Treatment

2.30%

Inoar

Moroccan Hair Treatment

2.84%-7%

KeraStraight

Treatment Original Formula

2%

La Brasiliana

Zero (apple)

0.76%

La Brasiliana

Veloce

0.35%

La Brasiliana

Spruzzi

> .2%

La Brasiliana

Domani

> .2%

La Brasiliana

Original

> .2%

Lazaros general trading LLC

TCQ Plus Phase 2 – Nano Hydra Keratin

2.30%

Marcia Teixeira – M & M International

Chocolate, extreme de-frizzing treatment

2%

Marcia Teixeira – M & M International

Advanced Brazilian Keratin Treatment

1.70%

Marcia Teixeira – M & M International

Brazilian Keratin Treatment, Marcia Teixeira

1.60%

R & L Trading Corp

Soft-Liss Intelligent Brush Morango Step 2

>0.2%

Rio Keratin

Brazilian Keratin Treatment Step 2 Grape Extract

3.50%

Royal Keratin Professional Line by Keratin Connection

Brazilian Keratin Treatment in Mint, Chocolate, Strawberry

1.54%

Tahe

Thermo Keratin No. 2 Active Treatment

>0.2%
Hair Straighteners High in Formaldehyde, Not Yet Recalled

Products that have been tested and found to contain formaldehyde higher than acceptable levels in other countries, but have not yet been subject to recall.

Brand/

Manufacturer

Product Name

Level/Range of Formaldehyde

Brazillian Gloss

Keratin Smoothing Gloss

7.30%

Kera Green

Keratin and Protein Hair Treatment

1.50%

Keratin Express

Keratin Express Brazilian Smoothing Treatment

1.2%

QOD

Max

3.52%

QOD
Gold Solution

2%

Simply Smooth / American Culture Hair
Brazilian Keratin Treatment

0.93%

Simply Smooth / American Culture Hair
Xtend Keratin Replenishing After Color Lock

0.55%
Formaldehyde-Free Hair Straighteners

The following products have been tested and found not to contain measurable levels of formaldehyde.

This list is not exhaustive. There may also be other hair straightening products which do not contain formaldehyde.

Brand/

Manufacturer

Product Name

Level/Range of Formaldehyde

JKS International

JKS Smoothing Treament

0%

Bio Ionic

Bio Ionic Kera Smooth Anti Frizz Treatment for Virgin Resistent Hair

0.01%

Pravana Naturceuticals

Pravana Naturceuticals Keratin Fusion

0.01%

 
Visit EcoWatch's HEALTH pages for more related news on this topic.

Looking for a more environmentally-friendly laundry routine, but can't find a good way to reduce static cling without using dryer sheets?
Separating oneself from these sheets, which are made with a dangerous assortment of carcinogenic chemicals, is not easy. Luckily, there are simple green alternatives that work just as well.
According to diy Natural, here are seven natural ways to reduce static in the laundry:
1. Hang Dry
The best natural way to eliminate static in laundry is to hang dry everything. Now that spring is approaching, it should be a little easier for most to take advantage of drying clothes outdoors or in front of an open window. When hung to dry, clothes are no longer rubbing together to create static electricity.
Whether hanging it outdoors or indoors, there are several options. Laundry enthusiasts can build their own outdoor clothesline, use a compact outdoor model that folds up (and can be taken out of the ground) when not in use or dry indoors using a large rack or a smaller model.
When hang drying isn't an option and a dryer must be used, there are still several natural methods for keeping static down.
2. Dry Synthetic Fabrics Separately
Synthetic fabrics like nylon and polyester are one of the main culprits of static cling. When dried separately, garments made from synthetic fabrics aren't given the opportunity to charge up all the other clothing. Consider pulling synthetic fabrics out of the wash and hanging them on an indoor or outdoor rack instead of throwing them in the dryer with everything else.
3. Reduce Drying Time
Another common cause of static in the laundry is over-drying. When items are completely dry and no moisture remains, this invites static electricity into the mix. Allow clothes to dry only until they're not wet anymore—tumbling around for excessive amounts of time in the dry heat increases static and increases energy costs.
4. Vinegar Fabric Softener
Diy Natural's homemade fabric softener is made with vinegar. It actually serves double duty as fabric softener and static reducer in the laundry. When used in the rinse cycle of the wash, most users will see a reduction in static cling after clothes go through the dryer. Even if planning to hang dry items, there's no need to worry about them smelling like vinegar. When items are completely dry the vinegar smell will completely vanish.
5. Wool Dryer Balls
Wool dryer balls are an excellent alternative to fabric softeners and dryer sheets. These little wool balls absorb moisture from clothing in the dryer, maintaining a more humid environment and, therefore, cutting down on static.
In addition to reducing static, they also reduce drying time and fluff clothes. Diy Natural recommends using six or more in the dryer for best results.
6. Vinegar in the Dryer
Using white vinegar in the dryer is another great trick for eliminating static. Simply spray a clean washcloth, sock, pre-cut piece of cloth or any other garment with vinegar. This item is then tossed into the dryer with everything else. The vinegar in the dryer will keep static down—and remember, the vinegar smell will be gone once things are dry.
7. Soap Nuts
Soap nuts can be used as a green alternative to commercial laundry detergents. They're actually a type of berry, and can be put in a muslin bag and tossed directly into the wash. (They can also be boiled down to make a liquid laundry soap). They already possess anti-static properties, so laundry that's washed with soap nuts doesn't require any other anti-static remedy.
Visit EcoWatch's HEALTH and pages for more related news on this topic.
Duke Energy, North Carolina's largest electric and gas supplier, announced Friday it would take the company more than two years to clean up February's massive coal ash spill that coated 70 miles of the Dan River with 60,000 tons of toxic sludge.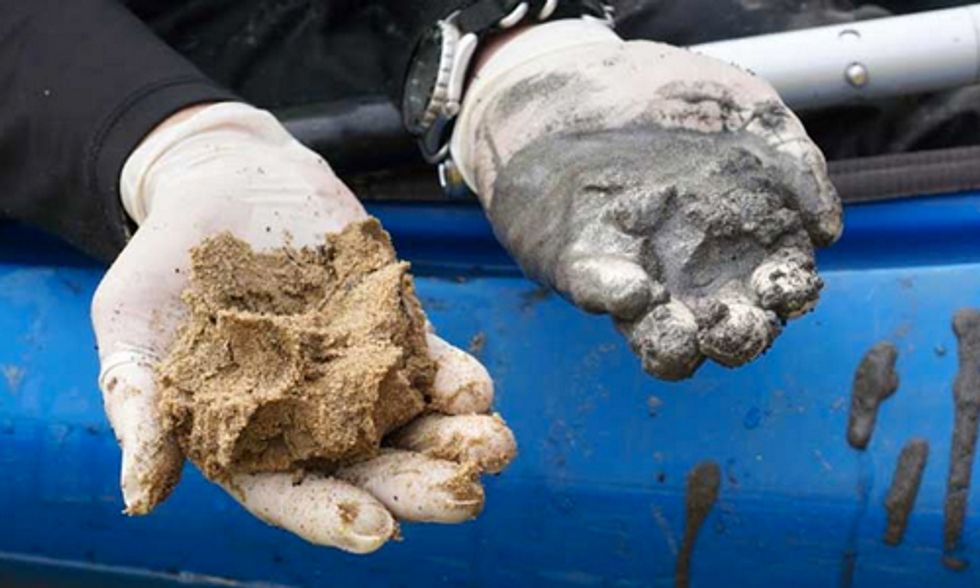 The cleanup is part of an effort that includes moving three leaky coal ash dumps away from waterways near Asheville, Charlotte and Danville, VA—a town located along the North Carolina border that uses the Dan River as a drinking water source, reports The Huffington Post. 
Part of the plan calls for moving millions of tons of the toxic sludge to Charlotte Douglas International Airport, according to the Charlotte Observer.
Duke asked Charlotte officials on Thursday to examine plans for storing the ash in fully lined, covered areas versus the open, unlined pits that currently house the coal ash. Duke estimated the coal ash transfer would take about five years. 
Duke President Lynn Good sent Department of Environment and Natural Resources (DENR) Secretary John Skvarla a letter with details, but Skvarla and other state regulators said Duke's plans fall short and don't address cleaning up the company's nearly three dozen coal ash dumps that are scattered across the state.
"There are far too many questions left unanswered, and Duke Energy should provide the information we originally requested, including the estimated costs of cleanup, plans for the future and a detailed timeline," said Skvarla.
However, despite the state's criticisms, both sides have now become embroiled in another scandal involving a lawsuit over the coal ash pits.
The New York Times reports:
Environmental regulators in North Carolina consulted Duke Energy last year before seeking to exclude citizen activists from talks to settle charges that the utility's coal ash ponds had polluted the state's groundwater, newly released email exchanges among the regulators indicated on Thursday.
Duke officials and the state later settled the charges by proposing a fine and a requirement that Duke study the potential for further pollution before offering solutions. That agreement collapsed in February after [the Dan River coal ash spill.]
Federal prosecutors have since opened a criminal investigation into the spill and the relationship between Duke and the state's environmental bureaucracy. Critics charge that environmental regulation has been hobbled by political interference since Gov. Pat McCrory, a Republican, a former mayor of Charlotte and a Duke Energy employee for 29 years, took office last year.
The scandal stems from a North Carolina judge ruling last week that Duke Energy had to take immediate action to eliminate the source of groundwater pollution at all of the company's coal ash dumps.
The ruling, made by Wake County Judge Paul Ridgeway, stems from legal action taken by the Southern Environmental Law Center (SELC) in 2012, according to Waterkeeper Alliance. 
The nonprofit advocacy organization asked the Environmental Management Commission to force Duke to take immediate corrective action when groundwater problems were discovered at the state's 32 ash dumps.
Yet the commission ruled against the environmental group in December 2012, leading the law center to file an appeal. 
While delivering his decision, Ridgeway called out state regulators, saying they had failed to properly apply the law.
The ruling clarifies North Carolina's authority under the North Carolina groundwater protection law to require Duke to stop the ponds from further contaminating groundwater, before it tackles the long term challenge of cleaning up the groundwater it has already polluted.
--------
Check out these three slideshows from the Duke Energy coal ash spill:
[blackoutgallery id="320474"]
[blackoutgallery id="321362"]
[blackoutgallery id="320266"]
Visit EcoWatch's COAL page for more related news on this topic.