EcoWatch Daily Newsletter
Could Iowa City one day join Copenhagen, Vancouver, Amsterdam, San Francisco and other climate action champions as one of the greenest cities in the world?
Declaring that cities must place "climate action as a central priority in strategic planning," Iowa City Mayor Jim Throgmorton issued a "Regenerative City Day" proclamation on Tuesday at the Iowa City council meeting.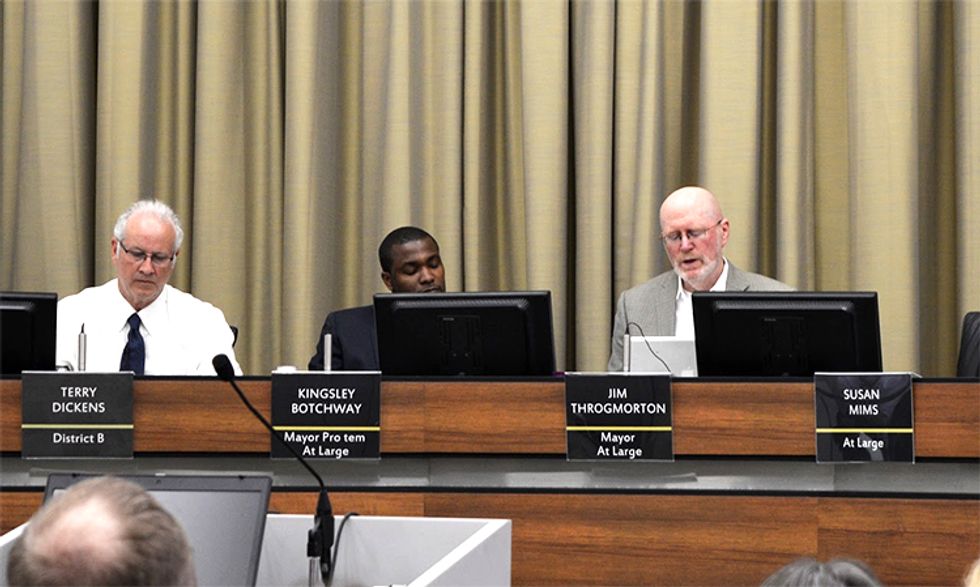 The breakthrough proclamation affirms that the city "must take decisive action" to "significantly reduce community-based greenhouse gas emissions" and recognizes the goals of a "regenerative city" to "replant native prairies and trees to store carbon in the soils; expand urban agriculture; to power our city and neighborhoods efficiently through green building designs and renewable energy; to expand city-wide recycling and composting through a zero waste ordinance; to make low-carbon transportation choices; to grow green jobs and support companies actively greening their operations."
Emerging out of 15 months of community discussions, concerts and "Ecopolis" forums in Iowa City and nearby cities in the region, the regenerative city framework calls for a rethinking of urban designs in an age of climate change, restoration of native habitats and a shift toward dramatically ramped-up urban agriculture, renewable energy and viable urban development, especially for the area's most vulnerable populations.
"We need to change the discussion from merely doing less bad to the environment to actively promoting environmental restoration, improving human health and quality of life by providing carbon free transportation choices and creating abundant sources of renewable energy," said city council member Rockne Cole, one of the co-founders of the Ecopolis Forum.
"Iowa City must lead by example in these areas. This proclamation provides an important first step to becoming the first Regenerative City in the United States. I am excited about the working with community members to make this happen."
The Proclamation was accepted in the city hall chambers by the popular Iowa City musical group, the Awful Purdies, who have played a key role in using the arts, music and storytelling in shaping community visioning events.
Often recognized in national surveys in the top 10 small cities for the arts, culture and education and notably a UNESCO "City of Literature," Iowa City has sometimes lagged behind on various green indicators in the past. (While scoring high on economic, social and infrastructure categories, Iowa City received only 40 out of 100 points for climate and energy benchmarks in a recent STAR Community Rating System).
"I have heard the Awful Purdies sing this song several times, but today with this Proclamation, the lyrics have a strong, tangible meaning: Stop waiting for someone to open the door, We are the ones we have been waiting for," said Miriam Alarcon, a co-founder of the Ecopolis Forums.
"I now look forward to the city releasing a request for proposals for solar energy power purchase agreements on municipal properties, like Johnson County," said Miriam Alarcon, a co-founder of the Ecopolis Forums, "and considering a proposal for solar energy and energy efficiency mandates for new developments in the Riverfront Crossings District, which is finally emerging after being hit by record flooding in 2008."
After a watershed election last fall, which brought in a progressive majority for the first time in nearly half a century, Iowa City recently signed on to the Compact of Mayors climate agreement and put forth a more ambitious strategic plan for sustainable development, especially in the areas of walkability and bicycling.
"Many city council members have expressed support for the vision of Iowa City as "Ecopolis," the Midwest's first regenerative city," Iowa City resident and Rhodes Scholar Jeffrey Ding wrote last winter, who applauded the proclamation's inclusion of a "zero waste" ordinance in the tradition of Oakland, California and Boulder, Colorado. "Recycling is an integral component of regeneration. I look forward to the city of Iowa City finally guaranteeing access to on-site recycling for all its residents."
Other Ecopolis forums on regenerative city initiatives have included discussions for a major overhaul of urban farm and food policies, the development of public orchards and regenerative agriculture, a commitment to pesticide-free parks and public spaces and a soil carbon sequestration initiative through a major tree planting and native prairie restoration campaign.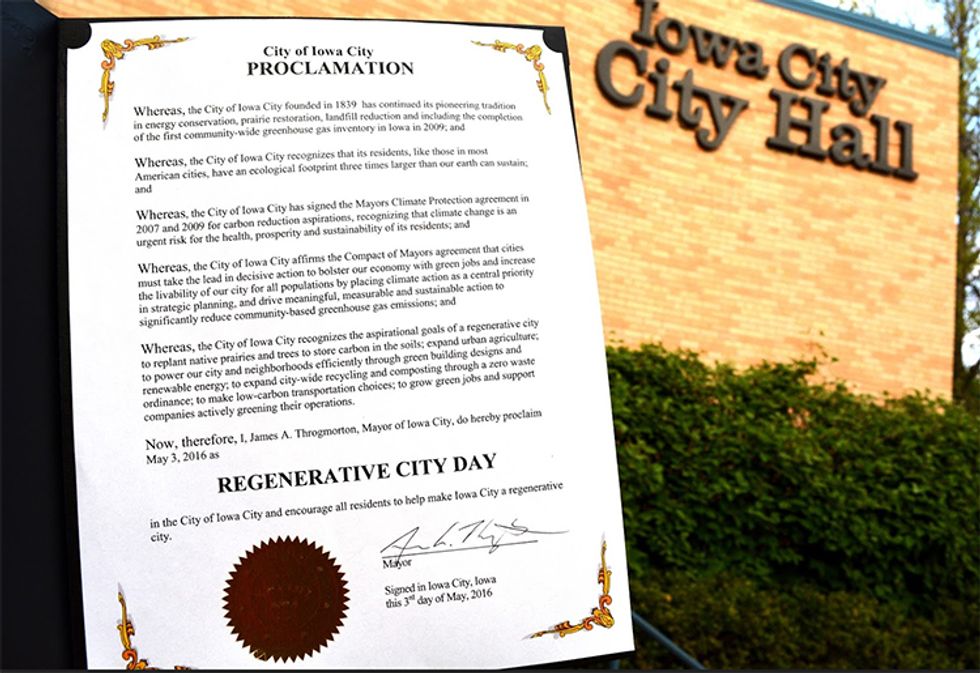 City of Iowa City:
Proclamation
Whereas, the City of Iowa City founded in 1839 has continued its pioneering tradition in energy conservation, prairie restoration, landfill reduction and including the completion of the first community-wide greenhouse gas inventory in Iowa in 2009; and
Whereas, the City of Iowa City recognizes that its residents, like those in most American cities, have an ecological footprint three times larger than our earth can sustain; and
Whereas, the City of Iowa City has signed the Mayors Climate Protection agreement in 2007 and 2009 for carbon reduction aspirations, recognizing that climate change is an urgent risk for the health, prosperity and sustainability of its residents; and
Whereas, the City of Iowa City affirms the Compact of Mayors agreement that cities must take the lead in decisive action to bolster our economy with green jobs and increase the livability of our city for all populations by placing climate action as a central priority in strategic planning, and drive meaningful, measurable and sustainable action to significantly reduce community-based greenhouse gas emissions; and
Whereas, the City of Iowa City recognizes the aspirational goals of a regenerative city to replant native prairies and trees to store carbon in the soils; expand urban agriculture; to power our city and neighborhoods efficiently through green building designs and renewable energy; to expand city-wide recycling and composting through a zero waste ordinance; to make low-carbon transportation choices; to grow green jobs and support companies actively greening their operations.
Now, therefore, I, James A. Throgmorton, Mayor of Iowa City, do hereby proclaim May 3, 2016, as regenerative city day in the City of Iowa City and encourage all residents to help make Iowa City a regenerative city.
YOU MIGHT ALSO LIKE
An Open Letter to Charles Koch: Join Us in the Push Toward a Clean Energy Economy
Mark Ruffalo: New York State Leading the Way on the Clean Energy Revolution
The Movement to Stop Fossil Fuel Development Is Winning
andresr / E+ / Getty Images
From bamboo utensils to bamboo toothbrushes, household products made from bamboo are becoming more popular every year. If you have allergies, neck pain or wake up constantly to flip your pillow to the cold side, bamboo pillows have the potential to help you sleep peacefully through the night.
In this article, we'll explain the benefits of bamboo pillows and how they can help you on your journey to better sleep. We'll also recommend a few of the best pillows on the market so you can choose new bedding that's right for you.
Our Picks for the Top Bamboo Pillows
Each product featured here has been independently selected by the writer. Learn more about our review methodology here. If you make a purchase using the links included, we may earn a commission.
Why Switch to Bamboo Pillows?
Bamboo may be thought of as a tree-like structure because of its resilience, but it's actually classified as grass, which can be spun and woven in a soft, spongy material much like cotton. The pillows are made with a bamboo-based outer sleeve and stuffed with foam pieces in order to mold to your head position. Bamboo is considered naturally hypoallergenic and doesn't attract pests, bacterias or other fungi like most other plants.
Bedding materials such as cotton and silk don't have the concise cellulose structure that bamboo does. The material's cell structure allows more oxygen circulation, which keeps it lightweight and breathable so your pillow stays cooler longer.
Other than the sleeping benefits of the pillows, bamboo is considered an extremely sustainable material through production. The adaptable plant works as a great renewable resource, as it can thrive in any soil type and it is considered one of the fastest-growing plants in the world. As the bamboo is grown, it produces more oxygen than its calculated carbon emissions. And the cultivation of bamboo doesn't require fertilizer or pesticides, so ecosystems around the bamboo farms can be left unharmed.
Although bamboo itself is a completely natural and sustainable material, it has to undergo a strong chemical process in order to become a textile. Bamboo viscose, which is a type of rayon, is controversial among environmentalists because of this process, but overall, bamboo derivatives still produce lower carbon emissions than traditional polyester bedding. New bamboo textile processes are also being developed to be much more eco-friendly.
Full Reviews of Our Top Picks
When choosing our top recommended bamboo pillows, we looked at factors including:
Comfort: Quality comes first when choosing bedding. The bamboo pillows chosen contain soft and snug adjustable filling to adapt to your preferred firmness.
Materials: Most traditional pillows are stuffed with synthetic foam that contains VOCs, also known as volatile organic compounds. We ensure both the bamboo fabric and foam used in our picks are toxin-free.
Cost: Bamboo pillows are usually a little more expensive than regular polyester or feather pillows because of their superior comfort and eco-friendly properties. It's important that the product you spend your money on is worth the cost and will hold up long-term.
Customer reviews: We look at real and verified reviews in order to make sure each product is genuinely beneficial to customers' sleep.
As Peabody Energy teeters on the brink of bankruptcy, edging toward a Chapter II reorganization that will most likely allow it to walk away from massive reclamation and mine worker commitments, a flurry of poetic musings and giddy celebrations over of the death of Big Coal has begun to flow.
Spare me your coal requiems.
We're long overdue for a reckoning in so-called coal country.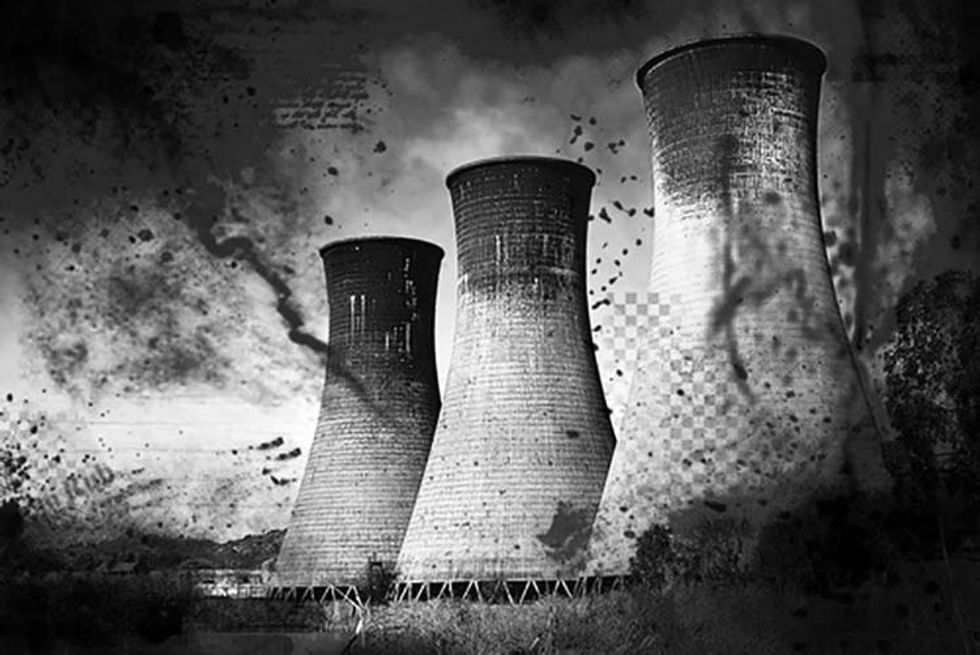 Fracking and natural gas may have brought Big Coal to its knees, but governmental complicity with the recklessness of the outlaw coal industry has left coal-mined regions like my native southern Illinois in utter ruin and despair.
Mr. Peabody and the rest of the Chapter 11 coal cats should be going to criminal court—not bankruptcy court. And their enablers in government service and their bankrolled political cheerleaders should be held accountable, as well.
While President Obama's proposed Power Plus Plan calls for millions in reclamation and reforestation projects, retraining programs for unemployed coal miners and bolstered pension plans for retired miners, it fails to take into account the huge reckoning coal-mined communities have paid with their health, lives and livelihoods.
Coal-mined communities don't need more flawed social programs that feed a failed system—they need to be on the front line of regeneration and revival, a showcase for new economies in renewable energy, energy efficiency and tech industries, local food and agriculture, underwritten by decades of sacrifice.
From Appalachia to Illinois to Black Mesa in Arizona to Montana and the 20 coal-mined states, a health and humanitarian crisis from the lethal fallout of decades of mining continues to rage under the auspices of flawed regulatory measures, blatant disregard for civil rights and media indifference.
Lung cancer, birth defects and heart problems will plague Appalachian communities for generations.
Huge toxic coal slurry impoundments, where the deadly refuge of coal processing hovers in the hills and forests like time bombs, will poison watersheds and threaten entire communities for years.
Black lung disease will still whittle away at the lives of workers for generations.
Underground fires will burn unabated for decades.
Streams and creeks contaminated by strip mine discharges will remain contaminated and without aquatic life.
Coal companies and barons who have openly flaunted workplace safety and environmental laws will walk away free.
Long controlled and owned as vassal colonies by absentee corporations—Mr. Peabody sank his first coal mine in southern Illinois 1895, more than a half century after slaves had been legally forced into first mines in the land of Lincoln—coal-mined communities have been denied any economic diversification development.
Unbelievably, in 2016, it's still that way.
And it ain't going away, even after Mr. Peabody packs up his last taxpayer-funded draglines and bulldozers and the parade of well-meaning environmentalists moves elsewhere. And it's not the first time our regions have been left with the wreckage: As my coal miner granddaddy reminded me, Mr. Peabody and the coal companies abandoned our southern Illinois region in the 1930s and left a picture of "almost unrelieved, utter economic devastation," according to the government report Seven Stranded Coal Towns. Despite churning out record amounts of coal and profits, southern Illinois remained one of the most depressed regions in the country, given over to "hopeless poverty."
Eight decades later, the requiems we write for coal uselessly parrot those headlines—unless we learn from our mistakes, atone for our regulatory disasters and hold coal mining outlaws accountable.
YOU MIGHT ALSO LIKE
World's Largest Coal Company Expected to File for Bankruptcy as Stock Price Tanks
As a game-changing "solar tree" public art initiative, the 100 Grannies for a Livable Future in Iowa City has galvanized a groundswell of support for a community-based, inclusive and environmentally focused alternative that could serve as a public art model for other American cities.
Incorporating the original purpose of the city's Black Hawk Mini Park to serve as "guardians of the land," and as a hands-on follow-up to Iowa City's recent commitment to the Compact of Mayor's climate agreement, the 100 Grannies' proposal is based on the globally acclaimed "Energy Tree" in Bristol, England's central Millennium Square, which combines "community collaboration, artistic excellence, and science in a public art installation and renewable power source designed to engage the public in energy issues and address social inequality."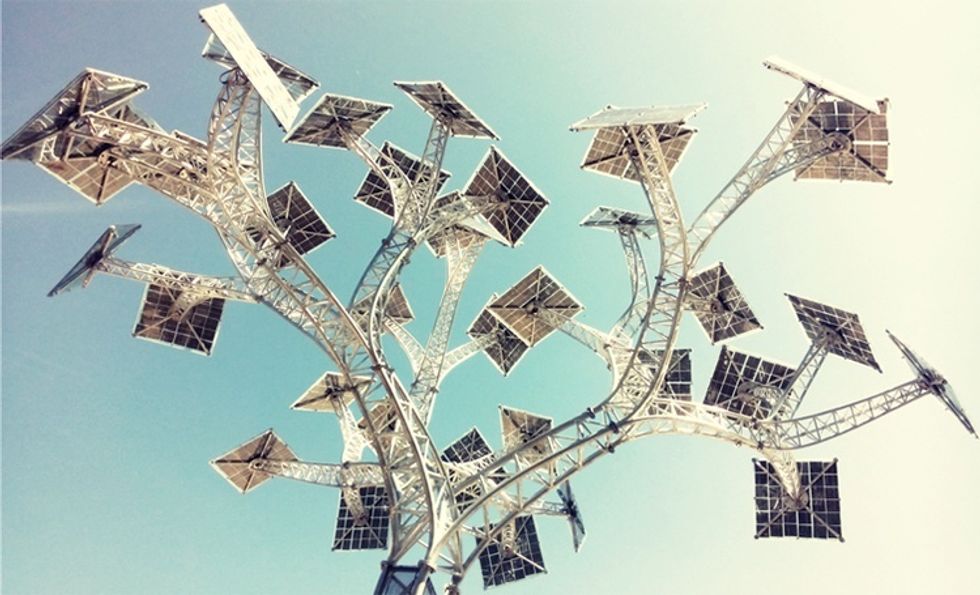 The Energy Tree soaking up rays in April 2015. Photo credit: Demand Energy Equality
"Iowa City has a golden opportunity to lead the way toward a livable future," said Miriam Kashia, a 100 Grannies member and nationally known climate activist. "Rather than the controversial, non-local, expensive 'Lens' sculpture, we can create a community inspired and beautiful 'Giving Energy Tree' that serves all of us and reminds us daily of the future we can believe in and work toward."
"All public art is a political statement," added Dianne Dillon-Ridgley, a long-time Iowa City resident and environmental justice leader. "As Helen Lewis says, 'The best marks a rich changing society.' Iowa City prides itself as a UNESCO City of Literature, a City of Culture with the history of being an early Capital of Iowa. I would hope such a major defining work of public art would speak to and honor Iowa's past (the Meskwakie and Black Hawk's Sauk) and aspire to Iowa City's future as a vibrant visionary community...a work in the service of the people, symbolic, narrative and aspiring of the future Iowa City, where we grow trees of knowledge, trees of literature, and living trees of sustainability!"
The 100 Grannies and other community members are proposing to use city funds to hire local artists and engineers or former University of Iowa solar artist Anthony Castronovo, whose nationally acclaimed "After Trillium" solar sculpture is on display at the Iowa River Landing, to work with students and at-risk youth, as part of a larger fundraising campaign that celebrates community-based public art in an age of climate change.
Energy Tree Video
According to John Packer, the designer and artist behind the Energy Tree in Bristol, "A tree is a metaphor, a playful metaphor—all trees are solar trees. Hopefully [the tree] can plant a seed-thought about where our energy comes from, and why we rely so much on fossil fuels."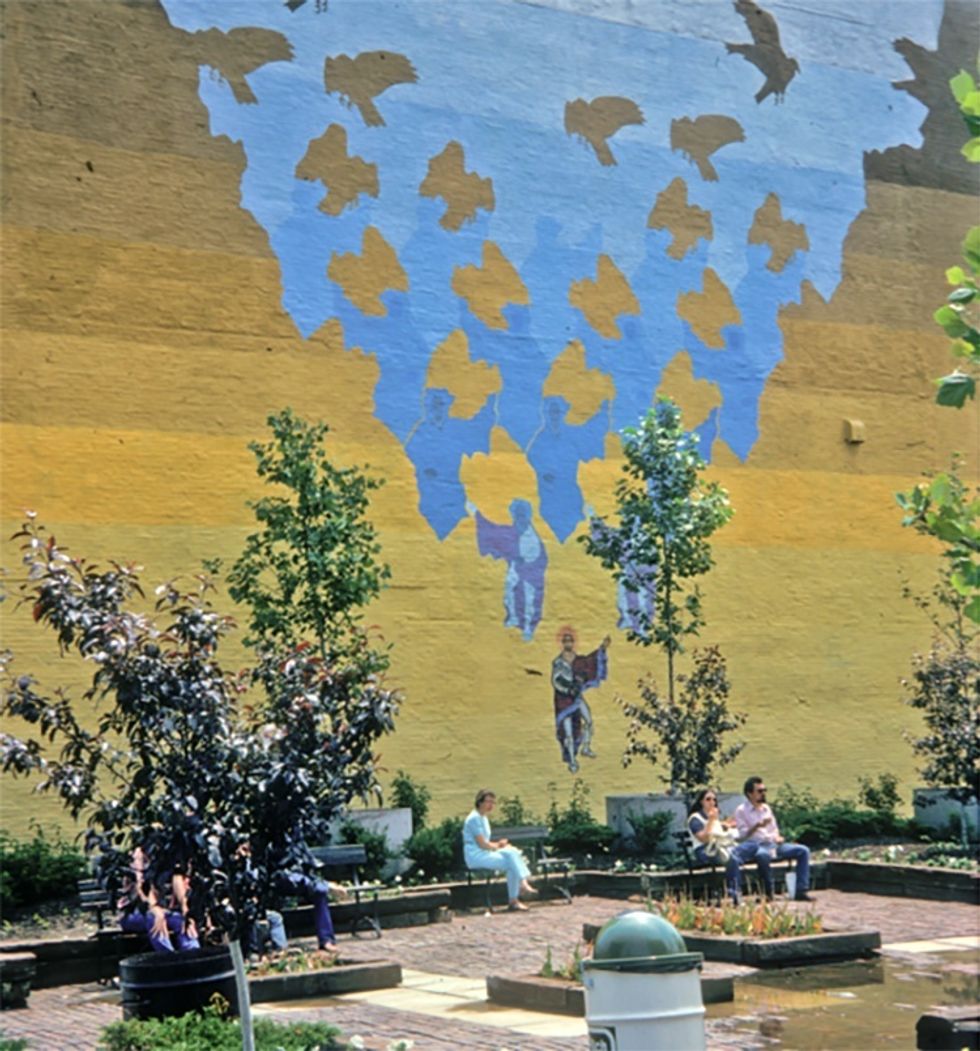 A founding member of 100Grannies for a Livable Future, Ann Christenson of Iowa City proposed the "Giving Energy Tree" alternative at Tuesday's Iowa City council meeting:
As Iowa City's leaders and many citizens are working hard to make our community a leader in sustainability, members of 100Grannies for a Livable Future are baffled that in the selection of an art piece for the Ped Mall, there seems to have been no environmental considerations.
$500,000 for The Lens, proposed for Black Hawk Mini Park, seems a considerable amount of money that could be put to better use, for instance in a project that reflects local values and creativity.
On behalf of 100Grannies, I am proposing, instead, the type of sculpture I saw in Bristol, England, a few weeks ago. It is a wonderful "Energy Tree," constructed with multi-directional solar panels for 'leaves' and eight 'roots' that enclose power points for recharging mobile phones. Bristol was the European Union's Green Capital City last year, the first with that designation in the UK.
The Bristol energy tree is described as "a public art installation and renewable power source designed to engage the public in energy issues." Its construction in Bristol's central Millennium Square (very similar to our Ped Mall but much larger) combined "community collaboration, artistic excellence, science and grass-roots energy activism in a unique project."
The community collaboration included recovering drug and alcohol abusers who learned in workshops to fabricate the solar panels. Besides free phone charging, the 20-foot tree offers wi-fi. The designer and builder of the tree was John Packer, a local artist.
The Energy Tree is a functional art piece that can be accomplished at far less cost than The Lens, probably well under $100,000.
The solar cells are made from recycled fragments of broken panels that would otherwise have gone to waste. Perhaps a design competition could be held. The winning design could become a UI engineering school project. Social services clients or at-risk youth taught by Kirkwood instructors could handle panel fabrication. School children could be involved through lessons on energy.
For more information on Bristol's Solar Tree, click here. The site includes a five-minute video on planning and construction.
YOU MIGHT ALSO LIKE
Leonardo DiCaprio Devotes Oscars Speech to Climate Change
Nation's First Vegan-Certified Farm Is Booming in Philly
Love the Oscars? You'll Love These 6 Eco-Films Too
David Suzuki: We Must Save the Honeybees and Here's How You Can Help
The road to my caucus location in Iowa on Monday will wind along an Iowa River valley littered with the reminders of record flooding and drought since the last election—and a sea change on voters' priorities on climate action since 2008.
Climate change, like the candidates' climate action plans, may have received scant attention in the presidential debates and media.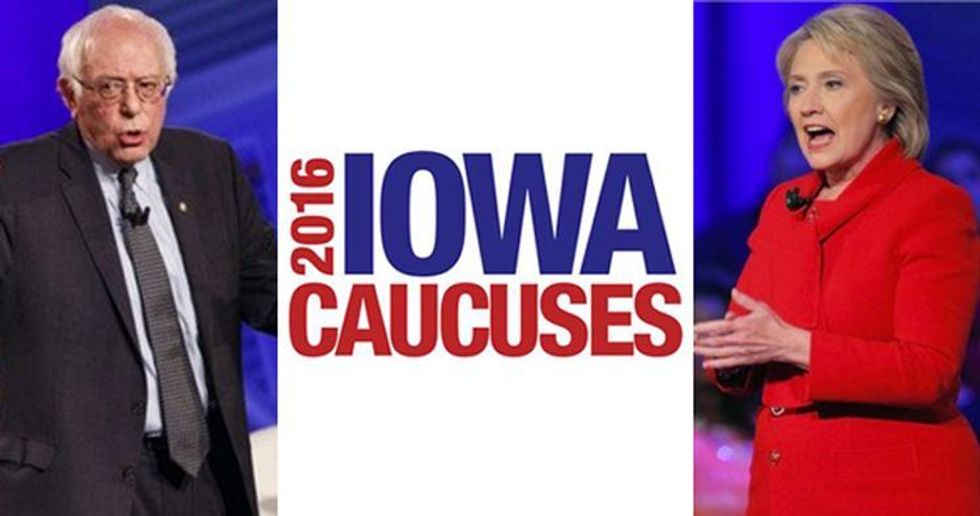 But in Iowa, a state that leads in wind energy production and faces severe economic and agricultural risks from extreme weather, Bernie Sanders' bold climate action plan and long-time track record to take on the fossil fuel lobby is uniting a new generation of Iowa farmers and clean energy entrepreneurs, inspiring a groundswell of student activism, and tapping into the real and urgent climate leadership emerging in cities like Des Moines, Dubuque and Iowa City.
As the only candidate standing up to the Bakken pipeline, fracking and the fossil fuel lobby, and laying out a plan for farmers and displaced workers to be part of a clean energy revolution, Sanders is not just Iowa's climate champion.
A Sanders victory in Iowa next Monday could place the urgency of climate action back to the forefront of national debate—and electrify a new coalition of clean energy voters across the country.
All Democrats, of course, have touted their clean energy and climate action bona fides. But there is a huge divide between Hillary Clinton's and Martin O'Malley's notable renewable energy plans, and Sanders' long-time track record of standing up to the fossil fuel lobby and calling for an end to huge fossil fuel subsidies, as well as extraction on public lands.
The controversy of the Bakken pipeline for Iowans, as seen in this ad, highlights Sanders' leadership:
As part of his plans to cut carbon pollution by 40 percent by 2030, Sanders—unlike Clinton—calls for a carbon tax on polluters, in order to "return billions of dollars to working families to ensure the fossil fuel companies don't subject Americans to unfair rate hikes" and "protect low-income and minority communities that are most impacted by the transformation of our energy system and protect the most vulnerable communities in the country suffering the ravages of climate change."
As rural Iowans hold off devastating frac sand mining operations in the northern part of the state, Sanders is the only candidate to campaign against hydraulic fracking and liquefied natural gas exports.
The challenge, Sanders writes, remains the fossil fuel lobby:
"The fossil fuel industry spends billions and billions of dollars lobbying and buying candidates to block virtually all progress on climate change. At the national level where companies have to report what they spend on lobbying and campaign contributions, the oil companies, coal companies and electric utilities spent a staggering $2.26 billion in federal lobbying since 2009 and another $330 million in federal campaign contributions."
Sanders stands alone in defiance of the stranglehold of the fossil fuel lobby in Washington, and in the Democratic Party.
In this respect, an Iowa victory for Sanders will determine any real debate and progress on climate action and a clean energy revolution in the future.
Follow Jeff Biggers on Twitter.
YOU MIGHT ALSO LIKE
Sanders vs. Clinton: Hard Hitting Final Pitches to Iowa Voters
Michael Bloomberg Considers a Run for President
5 Reasons Ted Cruz Is More Dangerous Than Donald Trump
15 Florida Mayors to Marco Rubio: We're Going Under, Take Climate Change Seriously
The landmark conviction of former Massey Energy CEO and coal baron Don Blankenship yesterday on a misdemeanor conspiracy charge to violate mine safety laws is a small, but historic first step in holding mining outlaws accountable for their reckless operations. For the first time in memory for those of us with friends, family, miners and loved ones living amid the toxic fallout of the coal industry, this conviction may only serve as a tiny reckoning of our nation's complacency with a continual state of violations, but it could begin a new era of justice and reconciliation in the devastated coal mining communities in Appalachia and around the nation.
With the most serious charges dropped, Blankenship's misdemeanor charge only carries up to one year in prison. Meanwhile, the trauma of loss for the Upper Big Branch mining families will endure among generations of families.
#Blankenship Verdict: GUILTY Count 1; NOT GUILTY Count 2; NOT GUILTY Count 3. @WVMetroNews https://t.co/iKzNRlTkOg

— Shauna Johnson (@Shauna Johnson)1449163900.0
The tragedy of spiraling black lung disease among coal miners will continue, notably part of the autopsies among 71 percent of the miners lost in the Upper Big Branch disaster.
The crime of cancer-linked mountaintop removal from Blankenship's violation-ridden former Massey Energy operations will continue; the potential disasters from coal slurry impoundments will still hang above the heads of residents.
"Either way there is no justice for the men that lost their lives in the Upper Big Branch Explosion," said Maria Gunnoe, a Goldman Prize recipient in West Virginia, "nor will there be justice for the families that lost so much more than just coal miners. The time has come that there is no other choice but to convict these obvious criminals. Don Blankenship's punishment will never match his crimes against the people of Appalachia."
"Don Blankenship's conviction doesn't feel like victory" added Bob Kincaid, president of Coal River Mountain Watch, "but in the grand scope of more than a century of the coal industry's abuse of the people of Appalachia, it may mark a stating place, but that is a only hope at the very most. My heart aches for all those who suffered and died under Blankenship's avaricious lash. The jury showed him more mercy than he has ever shown anyone in his entire existence on this planet. Even if he serves his one year slap-on-the-wrist, we know already that justice will not be done. His legacy of poisoning Appalachia will persist long after his name has been forgotten."
YOU MIGHT ALSO LIKE
Bill McKibben: 'Paris Summit is Missing One of the Great World Leaders on Climate' Because He's in Prison
James Hansen: Fracking is 'Screwing Your Children and Grandchildren'
Exxon Targets Journalists Who Exposed Massive Climate Cover Up
Obama: We Must Create a 'World That is Worthy of Our Children'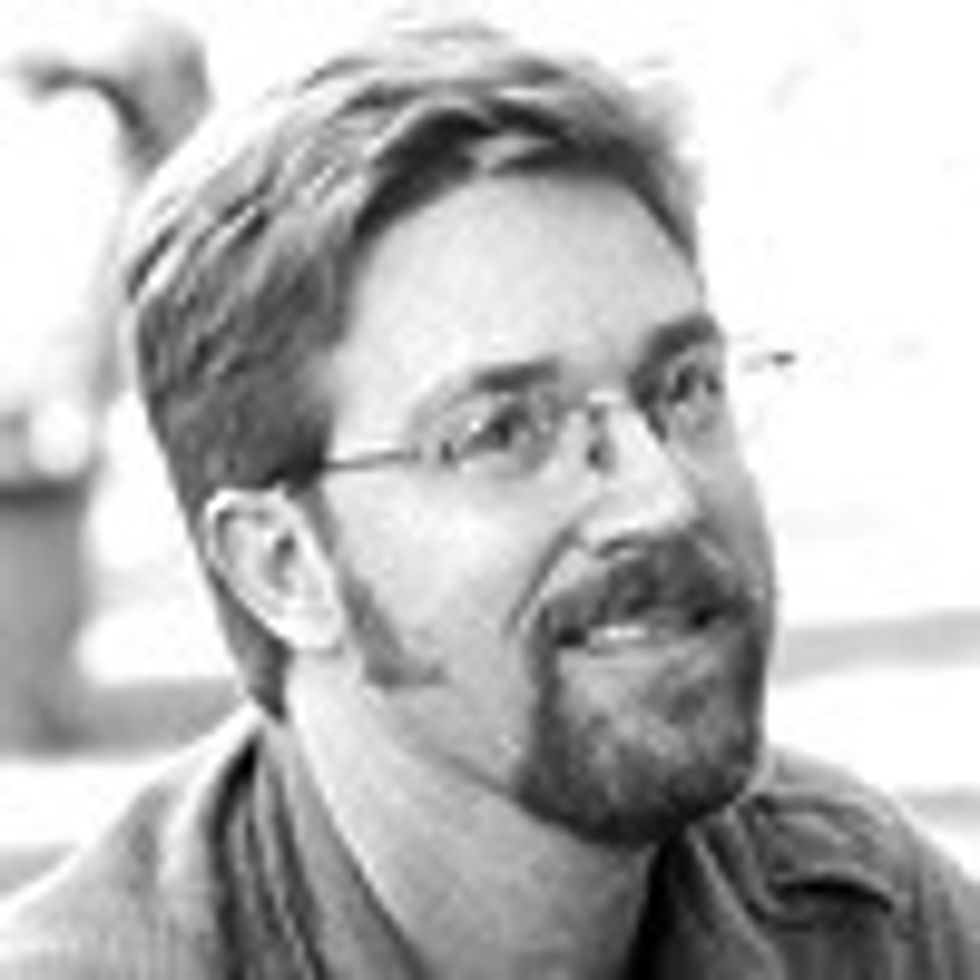 Signaling a watershed shift in recognizing the national health crisis from cancer-linked strip mining in central Appalachia, more than 200,000 people have signed historic CREDO Action and Earthjustice petitions, calling on Congress to pass the Appalachian Communities Health Emergency Act (H.R. 912) and enact a moratorium on new mountaintop removal coal mining (MTR).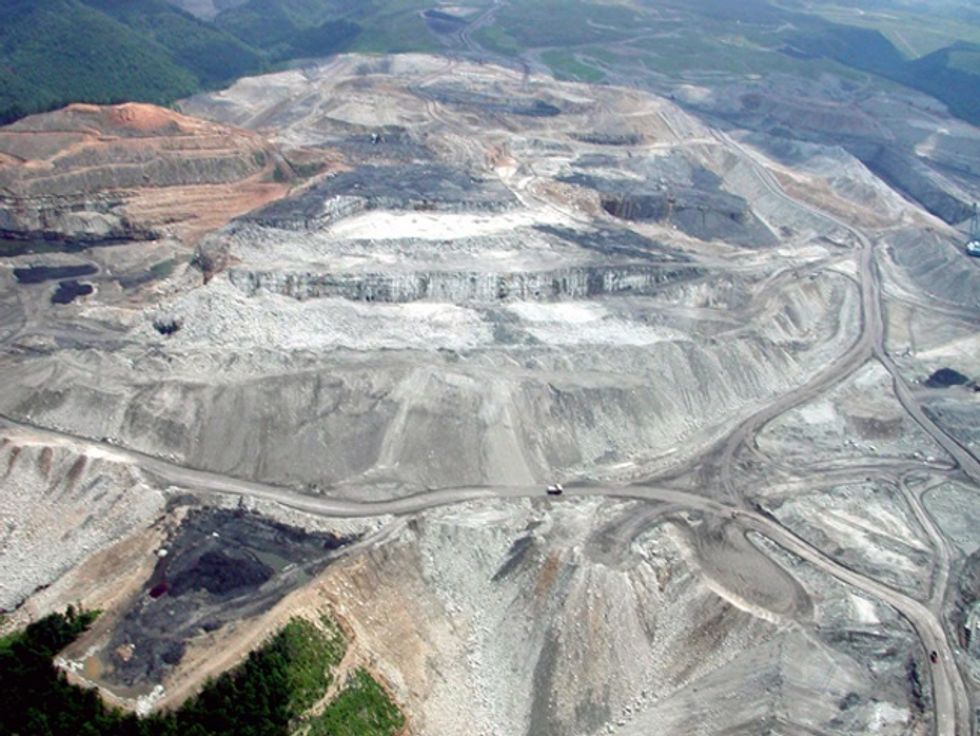 With the Appalachian coal industry in a tailspin and the global banking community pulling out of mountaintop removal financing, the extraordinary show of support for the ACHE Act campaign effectively acknowledges that the only defenders of the cancer-linked radical strip mining operations are a handful of absentee coal companies, indicted coal baron Don Blankenship, and their fringe supporters in Congress.
A New Appalachia is Rising
Fed up with the stranglehold of mountaintop removal mining blocking any economic future, residents are pushing a regeneration plan for a diversified economy, and calling for Abandoned Mine Land funds and investment from President Obama's Power Plan to counter the irreversible health and environmental damage from strip mining.
"The more health research we conduct on mountaintop removal the more truth we discover. We have already discovered enough truth that any reasonable thinking person understands we must take urgent action to stop any further MTR until it is proven that MTR is not a public health threat," said Bo Webb, who lives under a mining operation and co-founded the Appalachian Community Health Emergency Campaign. "Any politician, person, agency or organization that refuses to act quickly to protect our children from further exposure to mountaintop removal's toxic fallout is not serving The People well," Webb added.
The appeal to Congress on the basis of deadly and massive health costs sidesteps the Obama administration's flawed regulatory approach, which has hedged on any further crack down on the devastating mining process despite years of evidence and two dozen peer-reviewed health studies on the impacts of the extreme mining process.
The historic petitions, in fact, were delivered within days of the anniversary of the Surface Mining Control and Reclamation Act, which granted federal sanctioning to mountaintop removal mining in 1977 over objections by President Jimmy Carter.
Keep that date in mind: How do you ask a plundered coal mining community to be the last community to die for a mistake?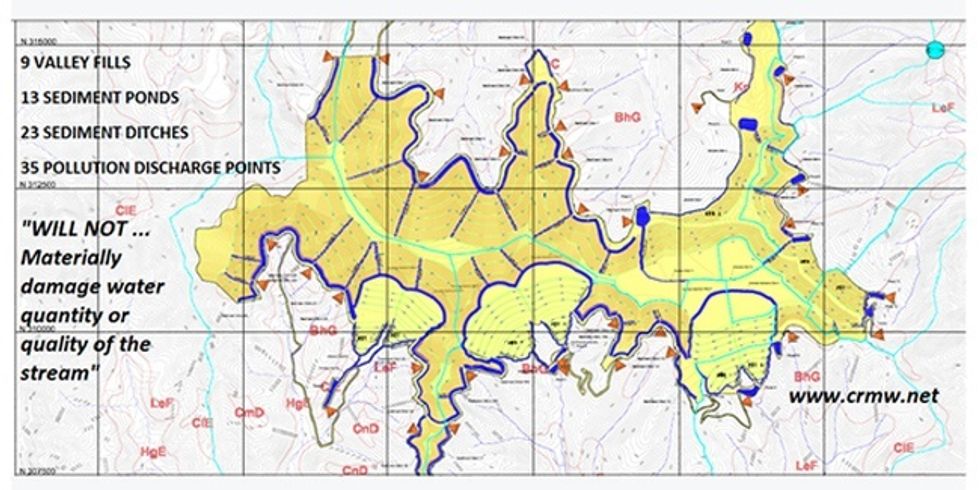 Despite recent news headlines that mountaintop removal mining has dropped more than 60 percent since 2008, according to an EIS assessment, residents living in strip mining areas in central Appalachia were quick to remind the news media that destructive mine blasting and its toxic fallout continued to flourish in close proximity to houses, schools and farms, even though they had not been registered as mountaintop removal operations.
"While some companies may claim that they no longer conduct mountaintop removal, the blasting methods and health consequences are the same regardless of what they call it," said Bob Kincaid, president of Coal River Mountain Watch. "Tonnage may be down in some places, but companies such as Alpha Natural Resources are still blasting above our communities and seeking new permits. Given the host of diseases associated with it among an innocent population, we can live without it far easier than with it."
Last week, in fact, on the same day the EIS assessment appeared, Coal River Mountain residents in West Virginia testified in opposition to a new 847-acre Alpha Natural Resources strip mine in their area.
"Mountaintop removal coal mining is a crime against Appalachia," said Josh Nelson, communications director with CREDO Action. "That's why grassroots activists around the country are demanding that Congress pass the Appalachian Community Health Emergency Act and put an end to this deadly and unnecessary practice."
"The coal industry is destroying Appalachia, detonating millions of pounds of diesel fuel and explosives daily to rip the top off of mountains for coal," said Marty Hayden, Earthjustice vice president of policy and legislation. "More than 22 peer-reviewed scientific studies have found that cancer, disease, and birth defect rates are significantly higher in these areas. It's high time for Congress to pass the Appalachian Community Health Emergency Act, which would place an immediate moratorium on new mountaintop removal mining permits."
YOU MIGHT ALSO LIKE 
Coal Is No Longer King in America, Says EIA Report
New Mapping Tool Shows Communities at Risk From Mountaintop Mining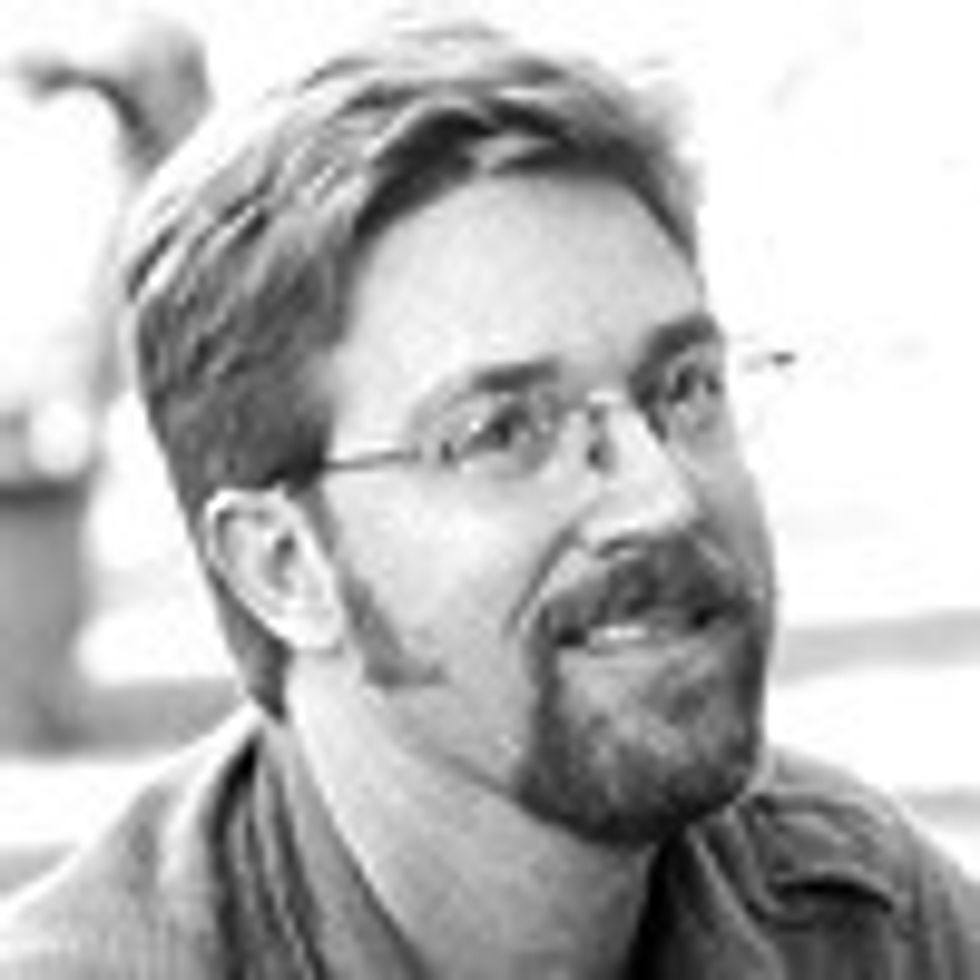 The Washington University Students Against Peabody Energy ruined my Earth Day. They sent me footage of a recent fact-finding trip to Saline County, Illinois, where some of my family members, friends and farmers are being blasted by nearby Peabody Energy strip-mining operations.
Regret to inform you: Coal blasting rages on in southern Illinois, along with cancer-linked mountaintop removal operations in central Appalachia, and mining across the West.
Let's get the narrative right: Coal is not dying, it's declining and shifting, and though mountaintop removal is on the ropes, the knockout still awaits federal action. U.S. coal mining production in 2015 is still set for 926 million tons, down from 996 millions tons, and estimated to rebound to 941 millions tons in 2016, according to the US Energy Information Administration. Thanks to the Appalachian decline, the Illinois Basin mined 104.9 million tons in 2014, up 4.6 percent.
Whether it's 996, 941 or 926 million tons of coal, that's still a lot of unprotected coal mine blasting now linked to cancer, and higher rates of birth defects and disease.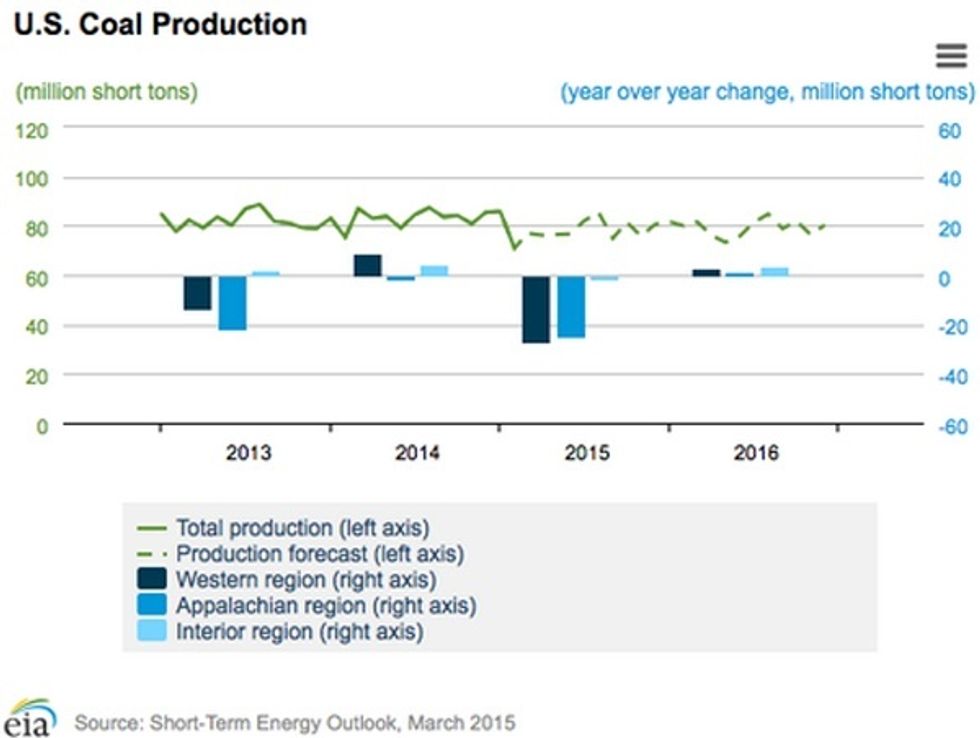 While I love to write about clean energy solutions, Appalachian transition and coalfield regeneration and the inspiring regenerative city movement, to ignore the deadly impacts of mountaintop removal and coal mining is a betrayal to the residents living on the front lines of coal mining mayhem today.
Thankfully, impacted residents and groups continue the fight, despite the odds: More than 80,000 people have recently signed CREDO's petition for a moratorium on the cancer-linked strip mining operations through the Appalachian Community Health Emergency Act.
Does a moratorium sound impossible? In Wales last week, the Assembly Members voted 30-0 after an informative debate to place a moratorium on open cast (strip) mining, similar to the ACHE Act, to study the impact of mining on residents.
It would be great to see such leadership in the US Congress, and among environmental groups based on Capitol Hill.
Earth Day has come and gone, but not the struggle to end mountaintop removal, which was launched in the same year: In 1970, an arsenal of explosives and draglines breached the ramparts of Bullpush Mountain in the Cannelton area of West Virginia, and blasted the first mountaintop removal mining operation.
Despite years of litigation, protests, education campaigns, public hearings and regulatory promises, the cancer-linked strip mine operations continue today in central Appalachia as the flip side of Earth Day's promise of restorative justice.
To celebrate Earth Day and not acknowledge the devastation of mountaintop removal, which provides only a small percentage of our national coal production, is to betray the origins of Earth Day itself.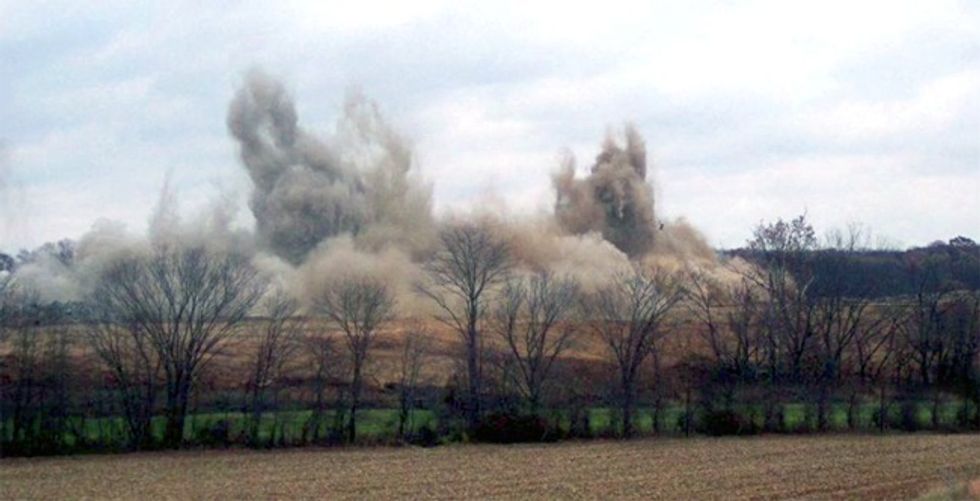 Few people may recall that one of inspirations of Earth Day emerged out of earlier Human Ecology Symposiums organized by public health professor Morton Hilbert, to address the impact of our footprint on the land and its inhabitants.
Our nation's collective inaction over the fallout from strip mining and mountaintop removal does not simply mock the goals of Earth Day co-founder and former Sen. Gaylord Nelson, for "an environment of decency, quality and mutual respect for all other human being and all living creatures."
The federal sanctioning of strip mining and such deadly mountaintop removal operations obliterates the very essence of Earth Day's purpose—and makes us all complicit to a crime against our earth and its Appalachian residents, as well as those dealing with strip mining in southern Illinois and the West.
So, let's be honest: The day after Earth Day is just another day of strip mine blasting in America—until we decide to take a stand like Wales, CREDO and the Washington University students and end it.
YOU MIGHT ALSO LIKE
Duke Energy Coal Ash Ponds Contaminate Wells, Residents Told Not to Drink the Water
Join the Movement to Ban Mountaintop Removal Coal Mining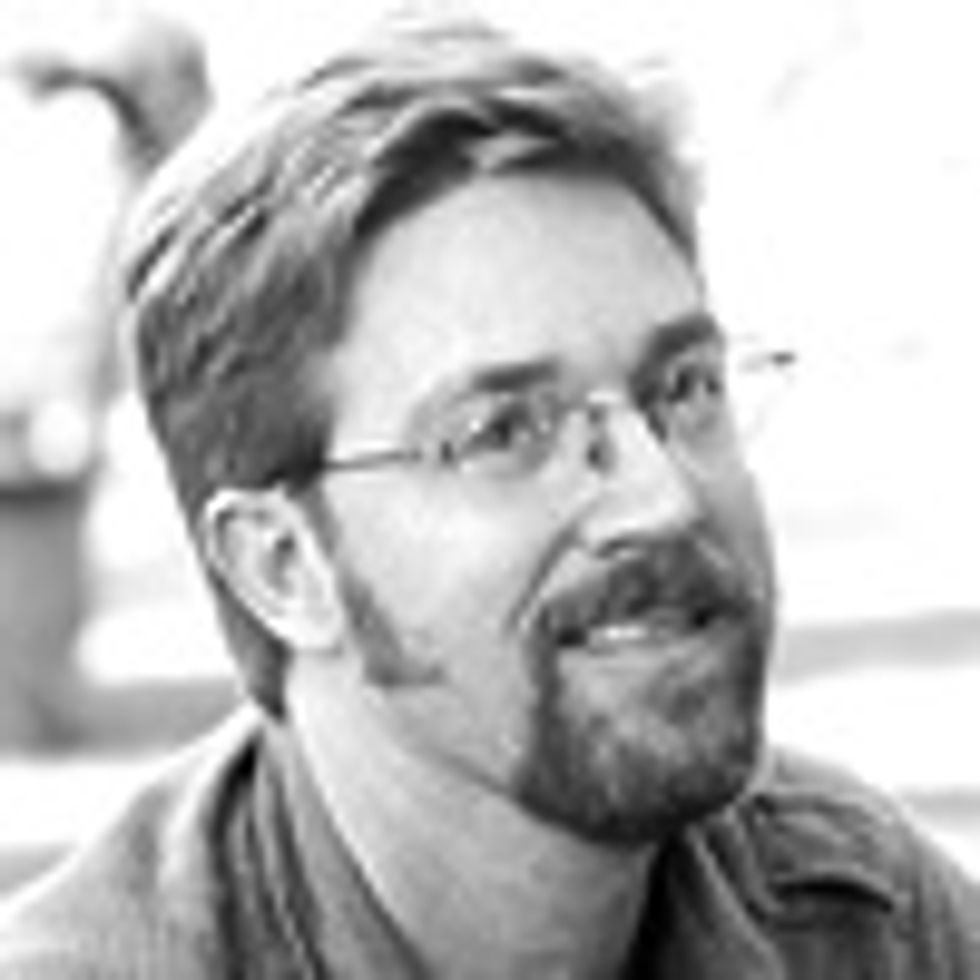 Calling for a "national, coordinated response to the humanitarian disaster of mountaintop removal mining," CREDO Action launched an extraordinary petition drive this past weekend for Congress to pass the Appalachian Community Health Emergency Act (ACHE Act) and place an immediate moratorium on "the deadliest and most destructive form of coal mining." Within 24 hours, more than 50,000 signatures had joined the campaign.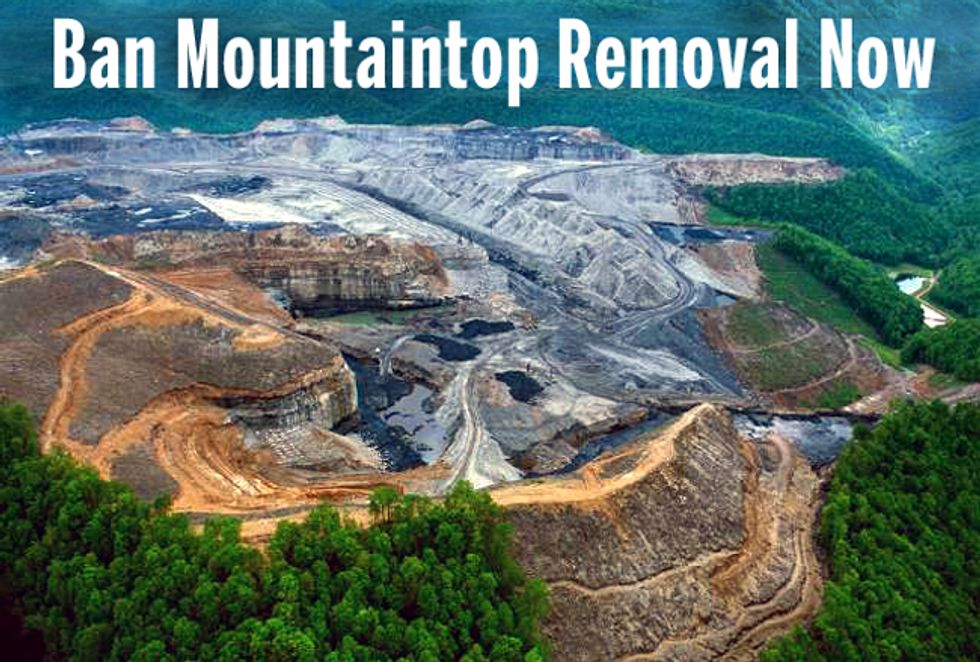 Only days after President Obama referred to climate change as a public health issue, presidential candidate Hillary Clinton declared a "child from the hills of Appalachia" should have the same chances as her granddaughter, and former Mayor Michael Bloomberg kicked in an additional $30 million to the Sierra Club's Beyond Coal Campaign, long-time Appalachian advocates hope the CREDO campaign to ban the cancer-linked mining operations will be ramped up with major resources from national public health and cancer organizations, as well as climate and environmental groups.
"With the national petition launch from CREDO in support of the Appalachian Community Health Emergency Act (ACHE Act), an all-hands-on-deck is being called to all regional and national organizations to get behind and support the ACHE Campaign to put an end to the public health threat of mountaintop removal," said Bo Webb, the Purpose Prize-winning West Virginia activist, whose family has lived under the fallout of mining operations. "Health science now confirms that children and people of all ages who are being exposed to air generated from mountaintop removal coal mining sites are at extreme high risk of incurring lung cancer."
As the last banks withdraw support, law suits mount and regulatory pressures grow, Appalachian groups see mountaintop removal on the ropes, and the timing right to "finish off" the outlaw industry ways, in the words of Goldman Prize recipient Judy Bonds, the godmother of the movement to end mountaintop removal, who died from cancer in 2011.
Let's be real: If we can't end mountaintop removal, a cancer-linked extreme form of mining that only provides a fraction of our national coal production, how can we expect to move forward on climate change and public health?
The CREDO campaign carries the moral imperative from the Appalachian front lines—the voices of the actual residents paying the ultimate price for our reckless mining policies—and cites new scientific "evidence that dust collected from residential areas near mountaintop removal (MTR) sites causes cancerous changes to human lung cells."
"Everyone must see mountaintop removal coal mining as inhumane and unnecessary," said Maria Gunnoe, a community organizer for the West Virginia-based Ohio Valley Environmental Coalition and recipient of the Goldman Prize, who also lives under the fallout of a mountaintop removal operation. "The killing of Appalachians for energy is no longer a dirty secret it is now the dirty truth. The ACHE Act enacts an immediate moratorium on the practice of blowing up the mountains over our homes because of the implications on human health."
CREDO calls the ACHE Act campaign "a smart approach for beginning to deal with a public health crisis Appalachian communities have faced for far too long—but it needs national grassroots support to gain traction in Congress." From the petition:
The coal industry is waging a war on Appalachia, detonating millions of pounds of diesel fuel and explosives daily to rip the top off of mountains and access seams of coal contained within.
Dozens of peer reviewed studies have documented the devastation mountaintop removal mining is wreaking on communities in West Virginia, Kentucky, Virginia and Tennessee in the form of elevated rates of birth defects and cancer rates nearly triple the national average. Stunning new research also shows a direct connection between the dust from mountaintop removal mining and lung cancer.
It is time for Congress to intervene by passing the Appalachian Community Health Emergency Act (ACHE Act), which would place an immediate moratorium on new mountaintop removal mining permits.
Sign the petition: Pass the ACHE Act and end mountaintop removal mining now.
Mountaintop removal is the deadliest and most destructive form of coal mining there is. Explosives are used to blow the tops off of mountains, sending fine particulates of silica, aluminum and molybdenum into nearby communities, and ultimately into the lungs of local residents.
New research from West Virginia University has for the first time shown a direct connection between the inhalation of this dust and cancer. As one of the study's authors Michael Hendryx explained, "with this study we now have solid evidence that dust collected from residential areas near MTR sites causes cancerous changes to human lung cells."
In the coming weeks, leaders in the fight to stop mountaintop removal meeting will bring the signatures on this petition to meetings with key congressional staff as they work to build support on Capitol Hill for the ACHE Act. Add your name to the petition today to join the growing campaign to put an end to the coal industry's war on Appalachia once and for all.
Tell Congress: Pass the ACHE Act and end mountaintop removal mining now.
We need a national, coordinated response to the humanitarian disaster of mountaintop removal mining. The ACHE Act, which is the preferred approach of Appalachian leaders who have been fighting mountaintop removal mining for decades, has three main provisions.
First, it would place an immediate, emergency moratorium on any new mountaintop removal mining permits and prohibit the expansion of any existing permits. Second, it would require the Department of Health and Human Services to launch a comprehensive, federal health study. No new permits will be allowed until and unless the U.S. Secretary of Health declares mountaintop removal does not present a harm to human health. Finally, it would require air and water monitoring at all existing mountaintop removal mining sites, with results reported to the Department of Health and Human Services.
It's a smart approach for beginning to deal with a public health crisis Appalachian communities have faced for far too long—but it needs national grassroots support to gain traction in Congress.
Tell Congress: Pass the ACHE Act and end mountaintop removal mining now.
YOU MIGHT ALSO LIKE
19 Students Arrested by Yale Police at Fossil Fuel Divestment Sit-In
How Hot Would It Get If We Burned All Our Fossil Fuels?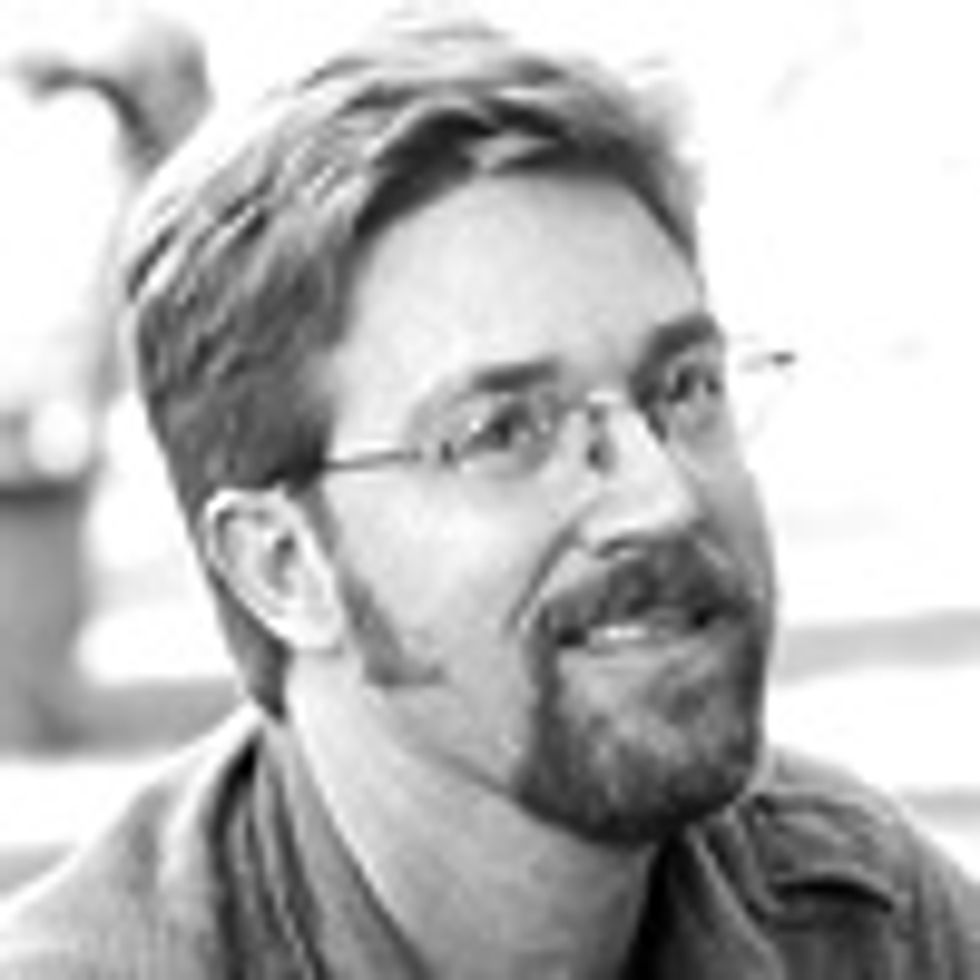 An escalating series of lawsuits, government rulings, banking decisions and breakthrough health studies has brought the fate of devastating mountaintop removal mining in central Appalachia to the doorstep of state and federal decision-makers this week.
Mountaintop removal is not just on the ropes—it's down for the count—and several fronts carry the same knockout message: Given the urgent health crisis from the reckless mining operation, the federal government and the states can no longer wait to act.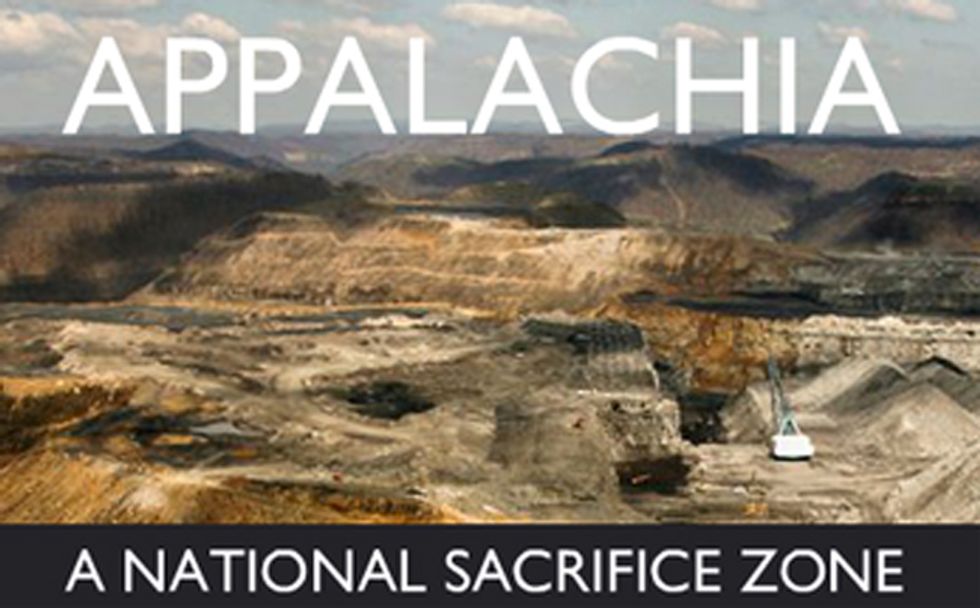 "Mountaintop removal is an immoral crime against nature and our citizenry, and it must be abolished, not regulated." — Jeff Biggers, author of The United States of Appalachia
"The situation here could not be more urgent," said Vivian Stockman, project coordinator at the Ohio Valley Environmental Coalition. "Under West Virginia's program, we've seen once-vibrant streams die, devastating floods, and loved ones exposed to toxic blasting dust take ill. Mountaintop removal coal mining has destroyed communities and threatens to destroy more. We need OSM to take action now."
First, after witnessing the mounting health crisis and death toll of friends, family members and miners, citizens living in the fallout of the massive strip mining movements have finally prodded West Virginia state officials to review the more than two dozen peered-reviewed health studies on the impacts of mountaintop removal operations, including a recent study that "shows that dust collected from MTR [mountaintop removal] communities promotes lung cancer."
Second, on the heels of a galvanized "People's Foot" movement rally at the West Virginia Department of Environmental Protection on Monday, a powerful notice of intent to sue the Obama administration was filed by attorney Patrick C. McGinley, a 40-year titan in coal safety laws and West Virginia University law professor, for its failure to prepare and implement a federal program for West Virginia's documented oversight and violations of required strip mining regulations.
While the Obama administration hedges on its required duty to takeover the mountain state's disastrous agency, McGinley's brief on behalf of several environmental groups reads like a spellbinding rap sheet of an incorrigible offender.
Third, the White House announced today its review of the Bush-era "stream buffer rule" is finally within sight, after years of regulatory banter and litigation.
Fourth, a renewed grassroots movement is returning to Washington DC to get Congress to pass the recently reintroduced Appalachian Community Health Emergency Act, which calls for a moratorium on mountaintop removal operations until a federal health study takes place.
And fifth, national environmental groups have recently filed an additional lawsuit against the Obama administration's Environmental Protection Agency for its failure to properly enforce the Clean Water Act on mountaintop removal operations.
Bottom line: Appalachia can't wait.
If we go back to the first mountaintop removal blast in Cannelton Hollow in Fayette County, West Virginia in 1970, an estimated 5.5 million pounds of explosives have been detonated on mountaintop removal operations in central Appalachian communities for 16,400 days.
"Citizens' groups have been forced to demand federal enforcement because the West Virginia Department of Environmental Protection has failed to do its job," said Vernon Haltom, executive director of Coal River Mountain Watch. "Our communities and health suffer because the state lets the mining industry get away with polluting at will."
It's time to bring this American tragedy to an end.
YOU MIGHT ALSO LIKE
Legendary Coal Miner Says We Must Stop the Insane Practice of Mountaintop Removal
PNC Bank Will Cease Investments in Mountaintop Removal Coal Mining
Clever Interactive Video Encourages Americans to Join Renewable Energy Revolution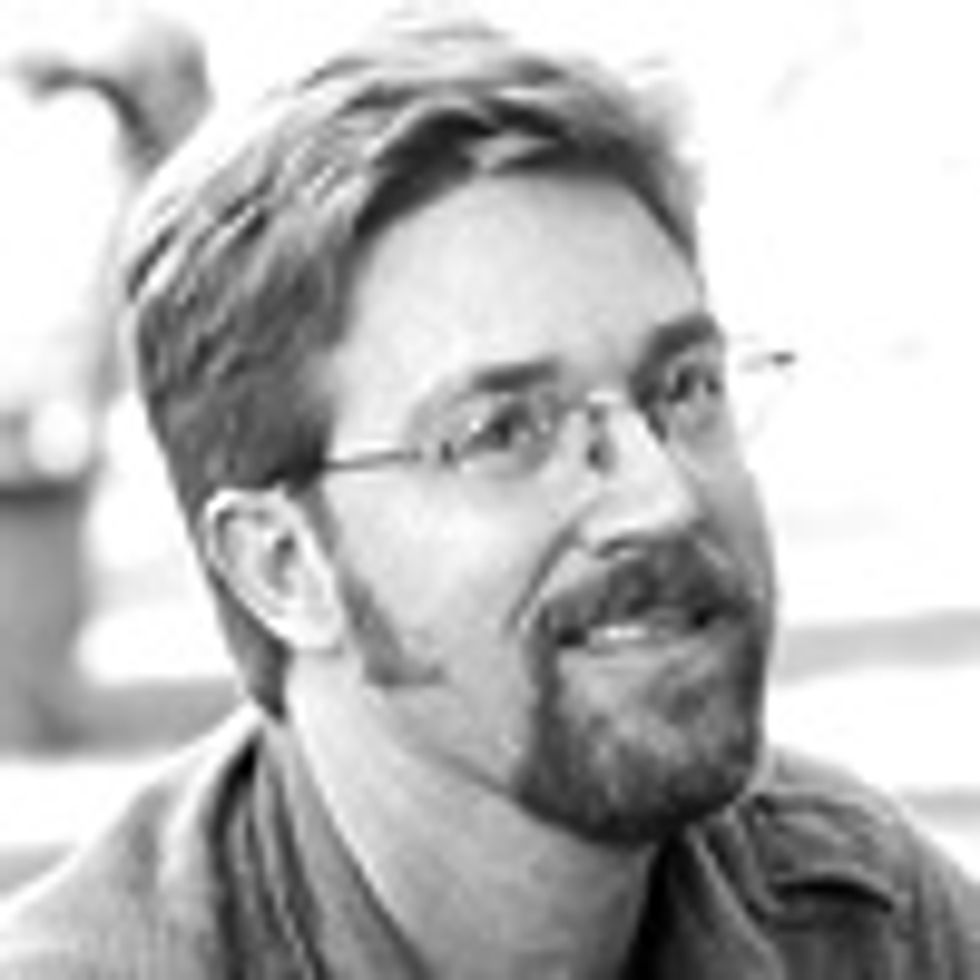 With mountaintop removal mining on the ropes, as the last bank financiers ditch lending support amid new scientific research that demonstrates "solid evidence that dust collected from residential areas near mountaintop removal sites causes cancerous changes to human lung cells," residents from across central Appalachia's coal country are converging today on the West Virginia Department of Environmental Protection headquarters in Charleston to demand an end to new permits.
A day of reckoning is arriving in Appalachia.

In the aftermath of last year's world attention on the state's handling of the coal chemical disaster on Elk River, and with the once invincible "dark lord" of mountaintop removal Don Blankenship facing criminal conspiracy charges, a renewed coalition of citizens groups called the People's Foot movement is confronting state and federal agencies directly for their complicity in ignoring the growing and indisputable evidence on health damages from mountaintop removal mining.
"Our politicians and all government agencies need to stop running from the truth that we are forced to live and die with everyday," said Maria Gunnoe, the Goldman Prize recipient and an organizer with the Ohio Valley Environmental Coalition in West Virginia. "The science shows that mountaintop removal kills people. Why is mountaintop removal still being permitted? Is it because we don't matter or is it because someone's financial status depends on us dying quietly one activist at a time?"
The writing is on the wall—and in two dozen peer-reviewed scientific studies: Newspapers will one day feature stories about "wrongful death settlements with the coal companies—such as last summer's $26 billion verdict against the tobacco companies for lung cancer—and criminal charges of negligent homicide by policymakers and politicians who have openly allowed such a health crisis to take place," as I've noted before.
No one knows this better than Stanley Sturgill, the legendary retired coal miner and mine inspector from Harlan County, Kentucky, who served 41 years in the mines.
"I'm traveling from Harlan County, Kentucky because I want to lend (100 percent) my hand in support of trying to stop the insane practice called mountaintop removal mining," Sturgill said. "This practice of coal mining is not only killing the folks down stream of these mines, but also the very miners that blast our mountains away. "
Now suffering with black lung disease, a preventable malady that still kills three coal miners daily, Sturgill has testified in hearings across the country, including the recent Climate March in New York City, occupied the Kentucky governor's office, and been arrested on Capitol Hill in Washington, DC for simply requesting a meeting with his member of Congress to discuss the devastating impact of mountaintop removal operations on his community, his fellow miners and the environment.
Sturgill's statement at today's People's Foot rally puts the state of West Virginia, and the nation, on notice:
Hello, my name is Stanley Sturgill and I am 69 years old. I'm a retired and very proud UMWA coal miner and federal coal mine inspector (MSHA) with 41 years of service to the coal industry.
I fully support all of our miners, I work for their health and safety every day, but in no way, do I support the mining method of MTR, whether it's scab or UMWA doing the mining. That's why I plan to attend the "People's Foot" rally in Charleston, WVA. I'm traveling from Harlan County, Kentucky because I want to lend (100 percent) my hand in support of trying to stop the insane practice called mountaintop removal mining. This practice of coal mining is not only killing the folks down stream of these mines, but also the very miners that blast our mountains away.
I know coal bought politicians and King Coal don't believe in science and scientific studies that prove mountaintop removal is killing people and they also refuse to stop this type of coal mining. So today I would like to let them know of one thing, there is no statutes of limitations on killing people, even the folks here in Appalachia.
YOU MIGHT ALSO LIKE
1,000 People Needed to End Mountaintop Removal
Mountaintop Removal Coal Mining Ends on March 16
Jon Stewart Hammers Gov. Christie Over Staggering Exxon Spill Settlement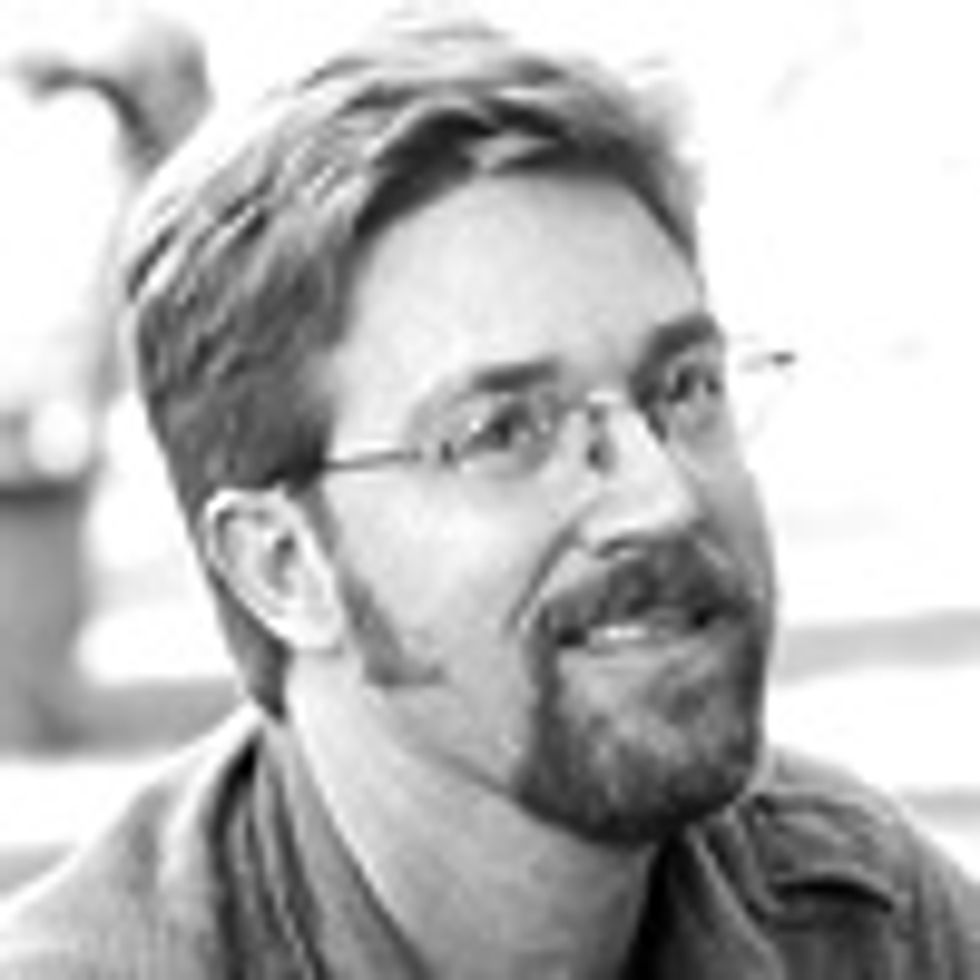 A reinvigorated "People's Foot" movement to end mountaintop removal is ramping up its efforts next week, as the last vestiges of outside support begin to abandon the nation's most egregious strip mining operations in central Appalachia.
"Mountaintop removal is on the ropes," said Bob Kincaid, with the Appalachian Community Health Emergency campaign and board president of Coal River Mountain Watch in West Virginia, "but we need 1,000 people to join us in the streets and in our campaign as subscribing members, contribute $5, $10, $100 and open the door to Appalachia's future."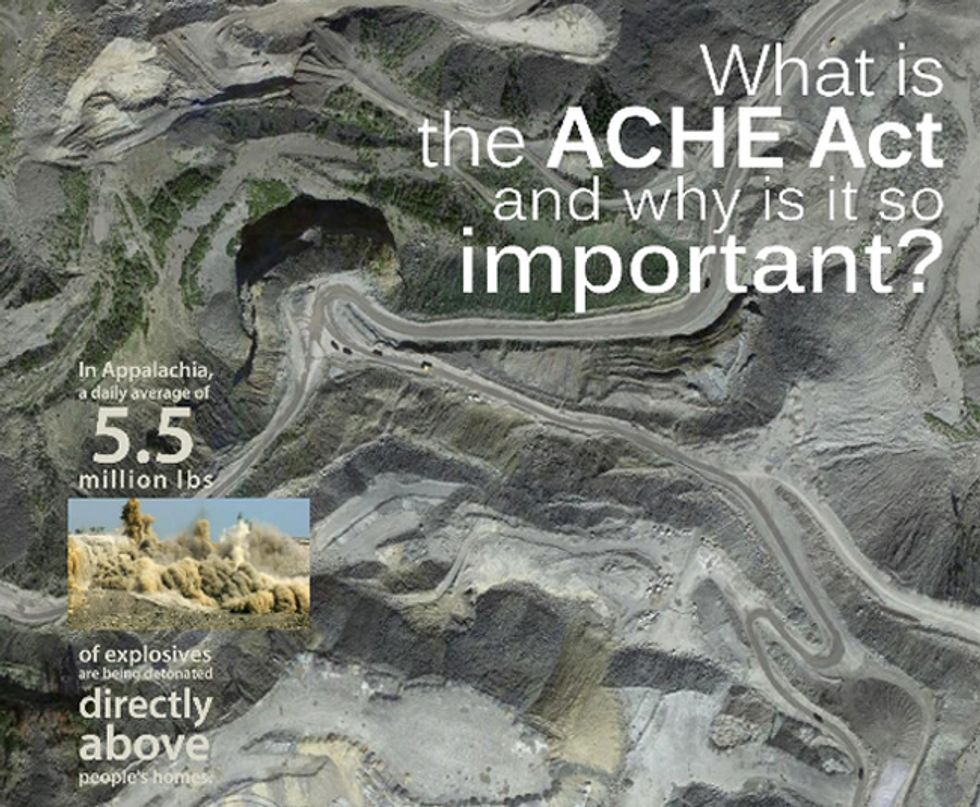 In the last days, in fact, support for mountaintop removal has appeared to collapse—the last banks are closing their doors and refusing to lend money to finance the devastating practice, former MTR coal companies like Patriot have thrown in the towel, the most notorious MTR coal baron Don Blankenship is in federal court for conspiracy charges, and for the first time ever state agencies officials are acknowledging the 25 peer-reviewed scientific studies on the links to high cancer rates, birth defects and serious health problems.
But as new applications and permits for mountaintop removal in West Virginia and the region continue to be issued, the "dying" Appalachian coal companies, as one Illinois coal industry CEO crowed recently, are not going to quit any time soon without a fight—and government intervention.
"We're asking Congress to do what it should have done a generation ago," said Kincaid, referring to the Appalachian Community Health Emergency Act, which was reintroduced last month by Kentucky Rep. John Yarmuth and eastern Kentucky-native Rep. Louise Slaughter, calling for a moratorium on mountaintop removal operations until a federal health study is conducted. "It should have never begun, but now we have the science to know that it must end immediately."
In effect, the ACHE Act corrects the disastrous loopholes of current strip mining regulations, which have allowed over 500 mountains and adjacent communities to be destroyed and polluted, and forced central Appalachian residents to endure a health disaster and mounting death toll from reckless strip mining over the past half century.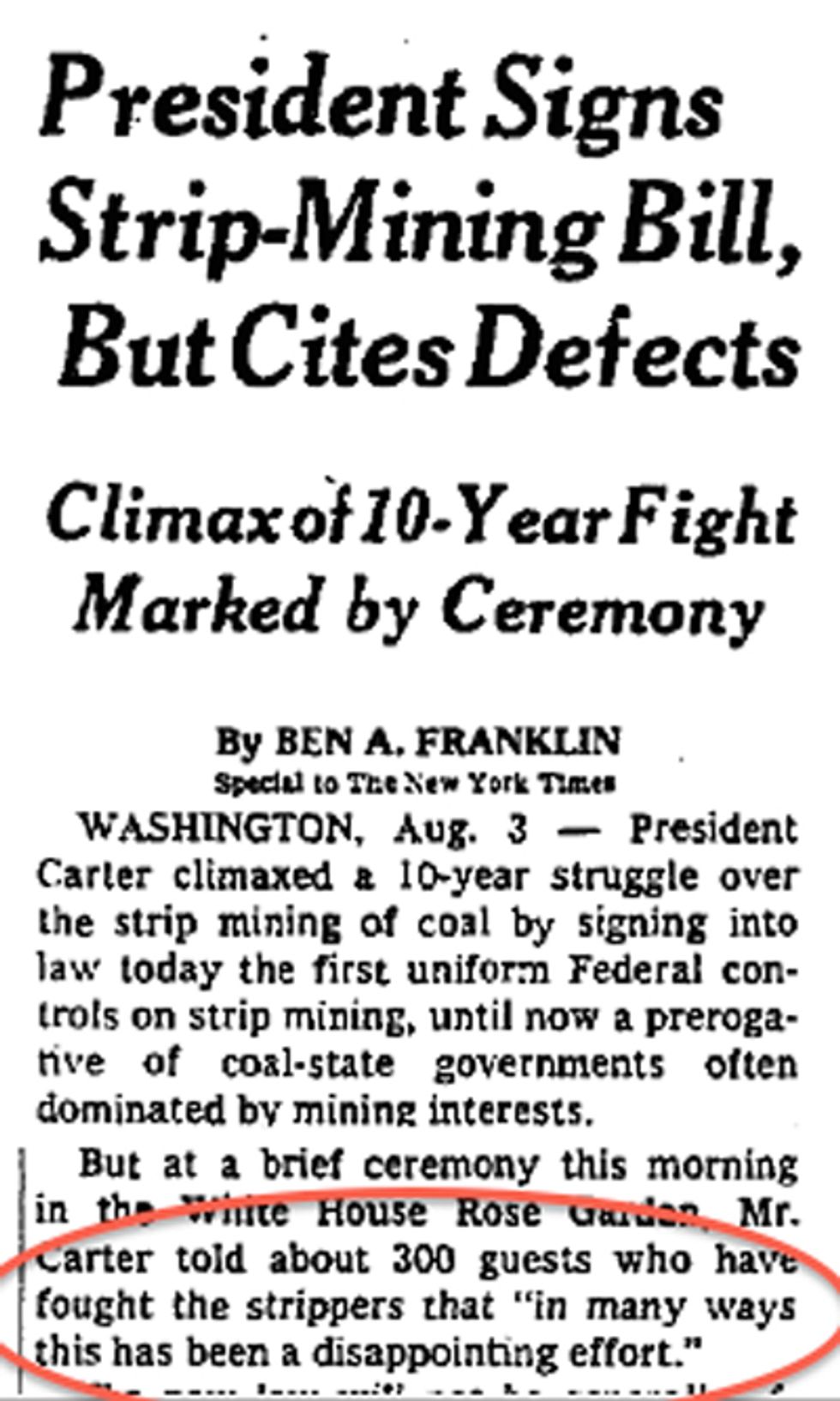 In 1977, after a decades-long battle to abolish strip mining operations, President Jimmy Carter reluctantly signed the "watered-down" Surface Mining Control and Reclamation Act, calling it a "disappointing effort," which effectively granted federal sanctioning of mountaintop removal mining. "The President's other main objection to the bill," wrote the New York Times, "is that it allows the mining companies to cut off the tops of Appalachian mountains to reach entire seams of coal."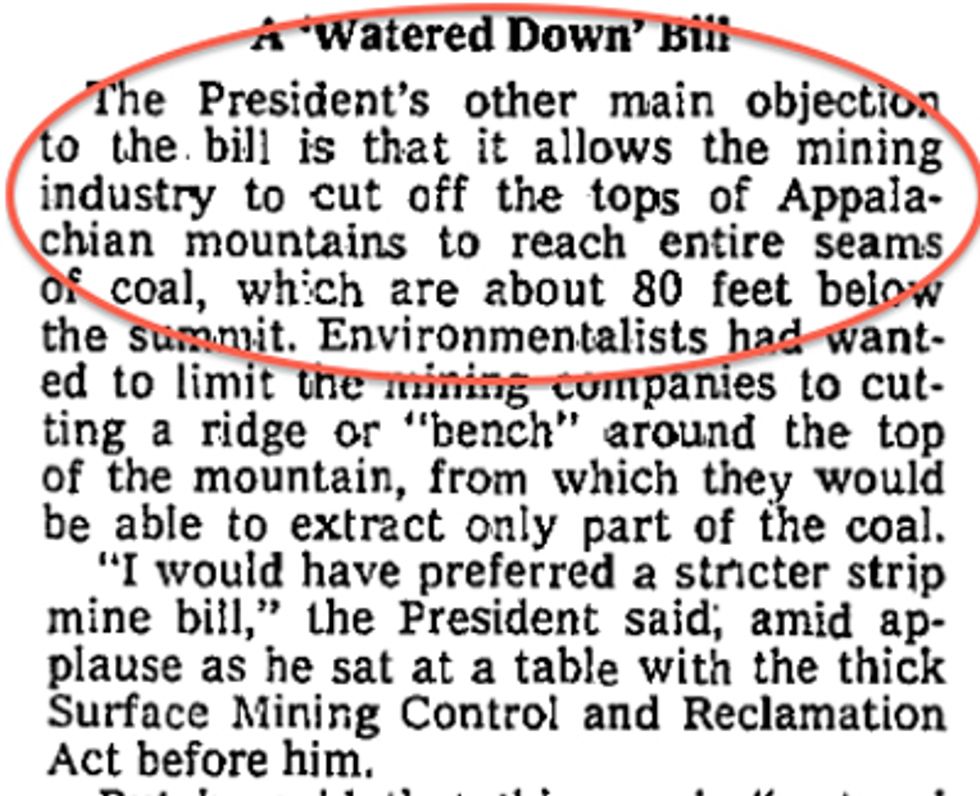 "The West Virginia Department of Environmental Protection continues to ignore the studies that show mountaintop removal is drastically harming our health and cutting our lives short," representatives with the ACHE Act said in a press release. "The most recent study, "Appalachian mountaintop mining particulate matter induces neoplastic transformation of human bronchial epithelial cells and promotes tumor formation," found a direct link between mountaintop removal dust and lung cancer. WV DEP Secretary Randy Huffman has finally admitted that the health studies should be considered, but has no plan for doing so. The DEP continues to issue mountaintop removal permits that allow the coal industry to blast West Virginia mountains with high explosives, unleashing fine particulates of silica, aluminum, and molybdenum dust. These dust particulates are proven to promote lung tumors. Time to put your foot down! No more mountaintop removal permits."
YOU MIGHT ALSO LIKE
Mountaintop Removal Coal Mining Ends on March 16
PNC Bank Will Cease Investments in Mountaintop Removal Coal Mining
Clever Interactive Video Encourages Americans to Join Renewable Energy Revolution