A boy gives an impromptu speech about him not wanting to die in the next 10 years during the protest on July 15. The Scottish wing of the Extinction Rebellion environmental group of Scotland locked down Glasgow's Trongate for 12 hours in protest of climate change. Stewart Kirby / SOPA Images / LightRocket / Getty Images
It's important to remember that one person can make a difference. From teenagers to world-renowned scientists, individuals are inspiring positive shifts around the world. Maybe you won't become a hard-core activist, but this list of people below can inspire simple ways to kickstart better habits. Here are seven people advocating for a better planet.
EcoWatch Daily Newsletter
Geneva Vanderzeil, A Pair & A Spare / Flickr / CC BY 2.0
Is your closet filled with clothes you don't wear (and probably don't like anymore)? Are you buying cheap and trendy clothing you only wear once or twice? What's up with all the excess? Shifting to a more Earth-conscious wardrobe can help simplify your life, as well as curb fast fashion's toll on people and the planet.
The fashion industry produces more greenhouse gas emissions per year than all international airline flights and maritime shipping trips combined. According to the documentary The True Cost, "Globally, we now consume about 80 billion new pieces of clothing every year — 400% more than we were consuming just two decades ago."
If you're looking for ways to transition out of the dirty cycle of fast fashion, check out the following five tips.
1. Shop Ethical and Eco-Friendly Brands
Thomas Barwick / Stone / Getty Images
When buying new clothing, ask yourself, "Is this brand sustainable or not?" Consider what brands you have been supporting up to this point.
Getting educated on which brands to support is an important step in curbing fast fashion. To find out if your go-to brand is eco-friendly, check out Conscious Life & Style blog, which has a list of more than 200 ethically driven brands.
2. Take a Minimalist Approach to Your Wardrobe
Svetlana Khokhlova / EyeEm / Getty Images
By 2050 the fashion industry is set to consume a quarter of the world's carbon budget. Consumer overconsumption is harming the planet. A 2016 McKinsey report found that three-fifths of all the clothes produced gets disposed within a year of being produced.
Transitioning to a wardrobe that reflects quality pieces that last a long time, instead of cheap trendy pieces, can help make getting ready in the morning easier and is less of a strain on the planet. A quality over quantity attitude can lead to a more sustainable wardrobe over time.
The YouTube channel Heal Your Living by Youheum is inspiring people to live a more minimalist lifestyle. Check out her video below and see how Youheum, a former shopaholic, manages to own just 15 pieces of clothing and two pairs of shoes.
Are you looking for more tips? Check out @theminimalistwardrobe on Instagram. With nearly 200,000 followers The Minimalist Wardrobe is contributing to the growing minimalist movement.
3 - 4. Mend and Repurpose Your Clothing
Pedro Venâncio / EyeEm / Getty Images
Before you spend, make sure you mend. Mending clothes is a great option, and you'll avoid wasting your time shopping.
If you don't know how to patch up your clothing, support a local tailor instead.

You can also get creative with your clothing. For a simple start, change a pair of old jeans into new summer shorts and add your favorite patch for a fresh look. Upcycling clothing can be a fun way to maintain a sustainable wardrobe.
Check out these Instagram accounts for more upcycle inspiration!
5. Host or Attend a Clothing Swap
AleksandarNakic / E+ / Getty Images
One person's trash is another person's treasure. Attending a clothing swap or taking the step to host one is a smart (and fun) way to recycle clothing and get a new wardrobe fast.
Want to host a clothing swap? Here's how to host the ultimate clothing swap.
Irma is the associate editor at EcoWatch. She graduated from Ohio University's E.W. Scripps School of Journalism in Athens, Ohio.
Chiradech / iStock / Getty Images
Portable generators allow you to power your devices and certain appliances, even away from home or when your primary power source is taken offline. These devices are also perfect for camping or outdoor adventures. A portable solar generator can give you the power you need with a smaller ecological footprint by using solar panels. In this article, we'll outline some of the top options available in 2021.

Our Picks for the Best Portable Solar Generators
Each product featured here has been independently selected by the writer. If you make a purchase using the links included, we may earn commission.
How We Reviewed Portable Solar Generators
A good portable generator will offer you backup power in a convenient and reliable way. We have reviewed some of the top models on the market today, and arrived at a few that we think stand out from the rest.
To rank the best solar generators, we considered the following criteria:
Size and weight. Smaller, more lightweight units offer much greater ease of use. We sought portable solar generators that aren't too challenging to lug around your home, or take with you when you go camping.
Battery storage capacity. While your generator absorbs light through a solar panel, that energy is ultimately stored in a battery. The battery storage capacity, measured in watt-hours (Wh) determines how long you can use the generator before it requires a recharge.
Inverter rating. Basically, inverter rating refers to the total number of watts that the solar generator can extract at any given time. Inverter rating, along with battery capacity, determine the wattage and power output of your generator.
Expandability. Some generators come with a predetermined number of solar panels, while some allow you to add more solar panels as needed. This is an important feature to consider when looking for generators.
Price point. Naturally, when looking for a new solar generator, staying on budget is always going to be a factor. We chose generators that are competitively priced.
The Best Portable Solar Generators
With these ranking factors in mind, here are our picks for the best portable solar generators available in 2021.
What Types of Batteries Do Solar Generators Use?

It's important to note that solar power generators may employ different kinds of batteries. The most common option is the lithium-ion battery. These tend to be more expensive than lead-acid batteries, at least on the front end. With that said, a lithium-ion battery will prove more durable, which usually makes it the smarter investment in the long run. Solar generators include charge controllers, which regulate the volts of energy coming from the solar panels to the battery to make sure the battery isn't overcharged and damaged.
The energy stored in the battery is converted from DC power into AC power using an inverter or adapter.
What Can You Power With a Portable Solar Generator?
There are different types of solar generators. A backup generator is primarily used to power your home, should your electricity go out. In this article, we focused on portable generators, which are mostly used for hiking and camping. With that said, a portable generator can also be really useful during power outages, potentially keeping your lights, electronic devices, and small devices or appliances on for several hours. Depending on the watts of power your solar system generator kit can support, you can use it to power things like phones, tablets, laptops, TVs, coffee makers, a mini-fridge, certain medical devices, and most anything you would plug into a car charger.
Some of the generators we've listed here can be charged by solar energy or via other sources, including vehicles and power outlets. These different charging solutions make a generator more versatile, though of course, solar energy is what you'll want to use if staying away from fossil fuels is your goal.
What are the Benefits of a Portable Solar Generator?
There are a number of reasons why you might consider a portable solar generator:
These units are ideally suited for camping and hiking. The ones on our list range in weight from under 10 pounds to over 50, but they are all fairly easy to cart around as needed, or to keep in your camper or RV.
Though they are not primarily intended to be emergency backup generators, they can certainly be used in that capacity. In particular, they can provide emergency power to important medical devices as well as phones and computers.
Unlike gas generators, portable solar generators offer power without making a lot of noise or creating a lot of fumes. This makes them much more appealing for campsites.
Portable solar generators are better for the environment, since they don't rely on gas or diesel fuel to run.
Using a solar generator is ultimately more cost-effective as you will never need to purchase fuel to recharge it.
Solar Power Can Take You Further
Solar power is one of the best options for dependable, renewable energy. Not only can it help power your house, but you can use these portable generators to carry that power with you, wherever you may go.
There are clearly lots of options on the market today. We hope our guide is helpful to you as you assess our own backup power needs, and as you determine which portable solar generator will give you the greatest value. Note that you can find many of these solar power options through third-party retailers like Amazon. Do your due diligence as you seek the perfect, portable solar solution for you and your family.
Josh Hurst is a journalist, critic, and essayist. He lives in Knoxville, TN, with his wife and three sons. He covers natural health, nutrition, supplements, and clean energy. His writing has appeared in Health, Shape, and Remedy Review.
SimonSkafar / E+ / Getty Images
A powerful documentary can help inform viewers and spark a more conscious lifestyle. Maybe you've thrown out rotting greens one too many times, or waste from online shopping has you feeling guilty. The following list of documentaries may inspire you to "green" your life a bit more just in time for spring.

From a Sir David Attenborough Netflix series to a food waste documentary produced by the late Anthony Bourdain, these five environmental documentaries are an absolute must-watch.
Irma is the managing editor at EcoWatch. She graduated from Ohio University's E.W. Scripps School of Journalism in Athens, Ohio.
It's that time, again!
EcoWatch is proud to be a media partner of the Cleveland International Film Festival (CIFF), now celebrating its 42nd year. This year, EcoWatch is honored to be sponsoring Anote's Ark. This documentary spotlights Kiribati, a small remote island facing devastating effects due to climate change.
From April 4 through April 15, CIFF will be showcasing 216 feature films, 253 short films, 14 virtual reality films and six interactive media projects, representing 72 countries.
Here's a synopsis of seven eco-related films being featured this year, courtesy of CIFF:

The Pacific island republic of Kiribati is home to more than 100,000 people. Despite being one of the most remote places on the planet, this little island is on the front lines of climate change. Scientists predict that Kiribati will become uninhabitable within this century due to rising sea levels. The nation has already experienced unprecedented flooding and changing storm patterns, factors that will inevitably leave its communities without viable land or fresh water.
Anote's Ark follows the people of Kiribati as they struggle to retain their culture, tradition and dignity, while preparing for an uncertain future. The film's focus is on the nation's president Anote Tong, as he travels around the world advocating for support from the international community. At this point, climate change is irreversible, but preparations for migration and adaptation must be made. The way we react now is important, as what is currently happening in Kiribati may soon be the fate for the rest of the world. — G.S.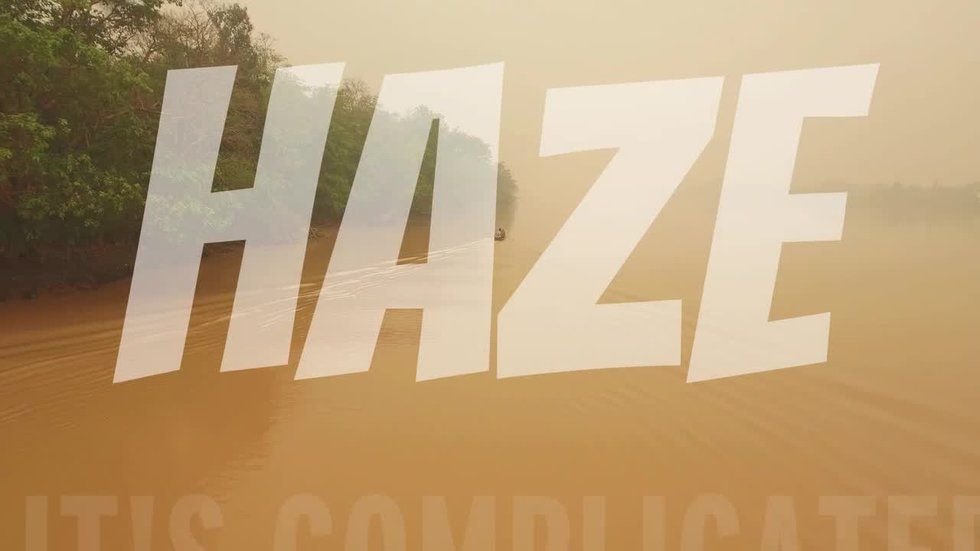 www.imdb.com
Palm oil farming has taken over many parts of Southeast Asia. It's raking in billions, and while locals don't see the bulk of that money, most of them are happy with the income it brings in. That's mainly because, before the palm oil boom, they were struggling to make ends meet in the declining rubber industry. But as the title of this documentary points out, the topic is extremely complex. Much of the region sits on peat, a dense, carbon-heavy substance made of organic matter and dead vegetation. In order to clear land for palm oil crops, many companies and farmers resort to the inexpensive option of setting fires. This method is extremely bad for the environment, contributing to a high percentage of carbon emissions. Because peatlands are dry and flammable, these fires spread quickly and are only contained by heavy rains.
Haze - It's Complicated ... does a terrific job of explaining the intricate science behind palm oil farming. Furthermore, it offers an intimate glimpse into the lives of those who are impacted—both positively and negatively—by its emerging presence. — E.F.

If the world can work together using innovation and technology to put a man on the moon, why can't we unite to solve climate change? To avoid the worst effects of global warming, we need a rapid, coordinated and global transition to renewable energy. Wind and solar energies have their flaws and limitations, and nuclear power is far too dangerous and costly ... or is it?
The New Fire is a documentary that explores the next generation of nuclear engineers and their work to create improved generators that address safety and waste issues, aspects of nuclear energy that have posed huge threats to its progress and sustainability. From reactors that can consume existing stockpiles of nuclear waste, to a plan for the mass production of small self-regulating plants, this film presents a variety of approaches to solving the biggest impending crisis of our time. The New Fire has a hopeful message that if we work together, we can change the future. No matter your current stance on nuclear energy, this film is definitely worth watching. — G.S.
Liberia is rich in valuable natural resources such as diamonds and timber, although the government has long allowed foreign companies to exploit these riches at the expense of the country's citizens. Enter activist Silas Siakor, who's determined not only to preserve Liberian land for residents, but also expose abuses of power and human rights violations. This gripping documentary follows Siakor as he and fellow activists document illegal logging operations and work tirelessly to chip away at the rampant corruption undermining political progress.
In some of the film's most touching moments, Silas also examines the toll this activism takes on Siakor's health and family life. And the film reveals the sobering differences between Liberia's international perception and what's actually happening in individual communities. Throughout the film, Siakor's resilience in the face of criticism and obstruction, as well as his selfless commitment to making Liberia a better place, is profoundly inspiring. The central takeaway of Silas is that one person does have the power to make a difference. — A.Z.
Janina Duszejko has retired to a mountain village on the Czech border. She is an astrology enthusiast and a passionate advocate of animal rights. Her village, filled with cruel and ruthless hunters, trappers and poachers, sees her as a harmless old eccentric—until the day her beloved dogs go missing, possibly murdered by hunters. Powerless against corrupt police and officials, Janina begins a one-woman crusade to fight for these helpless victims, warning that nature will retaliate. Suddenly, a series of bizarre deaths begins, and all the victims are hunters. Evidence suggests a serial killer and that it may even be Mother Nature herself, urging her woodland creatures to hunt the hunters. Have Janina's horoscopes foretold the vengeance of nature, or is the killer a villager hunting their own kind?
Spoor is a brilliantly twisted ecological parable that will thrill you with superb visuals and performances, while gleefully upending your moral core by what (or possibly who) it will have you cheering for. — C.R.
Spoor was selected as Poland's entry for Best Foreign Language Film for this year's Academy Awards®.
Nigeria is going through a serious electricity crisis. Though it's Africa's top energy producer, only 50 percent of Nigerians have access to electricity. For those who do, the service isn't all that great. Many receive electricity for just a few hours a day.
The documentary Take Light follows a charming electrician named Martins who remains optimistic, despite having one of the most dangerous and unpopular jobs in the country. At any given time, he's either risking his life to fix tangled high-voltage lines or trying to calm down angry mobs whose electricity has been cut-off due to nonpayment. The power company is fiercely vigilant in tracking down delinquent customers. Martins, who is just the middleman, does his best to be kind. The situation has gotten so bad that some have taken it upon themselves to illegally reconnect their own power, which can be deadly. Will this debacle be the catalyst for Nigeria to move towards renewable energy? With its oil-dependent economy failing, scarce fuel supplies, and the threat of militant attacks on oil and gas installations, substantial change is the only way forward. — E.F.

From her working-class beginnings to being made a Dame of the British Empire, Vivienne Westwood carved a life and a fashion empire unlike any other. Known throughout the world for her revolutionary and controversial clothing designs, Westwood followed nobody's advice and gleefully opposed decorum, public opinion and social norms. Westwood steers this brave documentary the way she steered her career: fearlessly, argumentatively, and in the face of reason and convention. The self-proclaimed creator of Punk, Westwood was always willing to translate her political passion into her design—an anarchist working the runways in Paris and happily weathering establishment derision.
Westwood: Punk, Icon, Activist sews together the wonderful, abrasive and culture-bending fabrics of her lifetime into a glittering archive to wrap yourself in. Here is a woman who skipped the opening of her New York store to write a thesis on climate change, a fiery and unsettled soul who turned political engagement into a crusade to dress the world for self-expression and action! — C.R.

Lorenzo Quinn
A vital message has risen up from the Grand Canal in Venice. Two, 5,000 pound hands appear to be gripping the walls of the historic Ca' Sagredo Hotel echoing the warning of experts that say "The Floating City" could sink in as little as 100 years.
Internationally renowned Italian artist Lorenzo Quinn unveiled his new sculpture, Support, to serve as a call to "protect our planet" and "our national heritage sites."
"Venice is a floating art city that has inspired cultures for centuries, but to continue to do so it needs the support of our generation and future ones, because it is threatened by climate change and time decay," Quinn said.

Experts say Venice and much of Italy's Adriatic coastline is at risk of disappearing from sea level rise. According to scientists from Italy and France, the Mediterranean will rise by up to five feet (140cm) before 2100, putting Venice and many other areas at risk.
The sculpture is in the shape of two childlike hands, modeled after his son's hands. Quinn hopes his installation will "speak to the people in a clear, simple and direct way through the innocent hands of a child" and send a powerful message that "united we can make a stand to curb climate change."
Quinn explained that he used hands to "symbolize tools that can both destroy the world, but also have the capacity to save it." The hands appear to be holding up the building, which draws attention to the fragile nature of the infrastructure and the impact climate change can have on the city.
Support was unveiled on May 13 and will be on view until Nov. 26.