Tuesday's announcement that the Three Mile Island Unit One nuclear plant will close unless it gets massive subsidies has vastly strengthened the case for a totally renewable energy future.
That future is rising in Buffalo, and comes in the form of Tesla's massive job-producing solar shingle factory which will create hundreds of jobs and operate for decades to come.
Three Mile Island, by contrast, joins a wave of commercially dead reactors whose owners are begging state legislatures for huge bailouts. Exelon, the nation's largest nuke owner, recently got nearly $2.5 billion from the Illinois legislature to keep three uncompetitive nukes there on line.
In Ohio, FirstEnergy is begging the legislature for $300 million per year for the money-losing Perry and Davis-Besse reactors, plagued with serious structural problems. That bailout faces an uphill battle in a surprisingly skeptical legislature. FirstEnergy is at the brink of bankruptcy, and says it will sell the reactors anyway.
To make matters worse, Ohio lawmakers have imposed unique spacing restrictions on the state's wind industry, blocking at least $1.6 billion in investments poised to build eight wind farms now waiting in the wings. Those turbine developments would go far in providing jobs to those who will inevitably lose them at FirstEnergy's uncompetitive nukes.
In New York, Gov. Andrew Cuomo wants a staggering $7.6 billion for four uncompetitive upstate reactors. That bailout is being challenged in court by environmental groups and by industrial players angry about unfair competition and soaring rates. Their owners concede these old nukes can't compete with renewables or gas, and have wanted to shut most or all of them.
Now, Three Mile Island's owners say without millions more in handouts from Pennsylvania rate payers, the reactor will close in 2019. A battle over the handout will be upcoming in the Pennsylvania legislature. Ironically, the Quad Cities plant in Illinois, which is in line for huge subsidies, could not compete with gas or renewables at a recent power auction, and may have to shut despite the handouts.
Meanwhile, coming on line this year, Tesla's Buffalo Billion gigafactory has the power to transform our entire national economy.
It's the core of a plan to fulfill America's direst needs—a reliable supply of safe, cheap energy, and a base of good long-term employment for the nation's battered working class.
Costing about $750 million, it will bang out solar roofing shingles by the end of this year. It will directly create at least 500 high-paying, clean, safe jobs that will last for decades and turn our energy economy green. Another 1,440 jobs are slated to come from spin-offs. Still more will be created by lowered electric rates and increased clean energy production.
The Buffalo factory joins Tesla's new plant outside Sparks, Nevada—housed in the biggest building in the world—now producing a new generation of batteries. They will bridge the green energy gap when "the sun doesn't shine and the wind doesn't blow."
These two job-producing powerhouses are at the core of the Solartopian revolution. Solar panels, solar shingles, wind turbines, high-efficiency LED lighting and advanced batteries are key to our global survival and prosperity. Along with the hardware needed for tidal energy, ocean thermal, geothermal, advanced conservation and other renewable industries, gigafactories producing these technologies will be the engine for the 21st century economy.
If Gov. Cuomo's $7.6 billion bailout ask went instead to build seven gigafactories like the Buffalo Billion, New York would gain thousands of jobs directly and thousands more through the industry powered by lower electric rates. They would be safe, secure, clean, good-paying jobs that could transform the state's energy and employment situation.
Cuomo's bailout plan, however, would raise rates on New Yorkers far outside their upstate service area. That even includes Long Island—hundreds of miles away—whose angry citizens rose up decades ago to kill the infamous failed $7 billion Shoreham reactor, which Cuomo's father Mario helped bury when he was governor.
Ferocious opposition to this bailout has arisen throughout New York. A critical court case will open on June 5. Support for this litigation can be sent to Rockland Environmental Group, LLC 75 North Middletown Road, Nanuet, NY 10954.
New developments at Sempra and other major electric utilities now make it possible for renewables to sustain a central grid 100 percent of the time, without the fluctuations critics claim make a green-powered future difficult to achieve.
So we can bail out Three Mile Island, Perry, Davis-Besse and a rising tide of our 99 obsolete, dangerously decayed atomic dinosaurs at a cost of untold billions? Do we want to escalate the risk of reactor disasters, create tons more radioactive wastes and temporarily preserve a few thousand dead-end jobs?
Or do we want to bang out these Buffalo Billion plants and join Germany, Switzerland, India and other major nations soaring to a Solartopian future.
Is there really a choice?
EcoWatch Daily Newsletter
SolarCity Gigafactory in Buffalo, New York. Photo credit: SolarCity
By Harvey Wasserman and Tim Judson
Elon Musk's SolarCity is completing the construction of its "Buffalo Billion" Gigafactory for photovoltaic (PV) cells near the Niagara River in Buffalo, New York. It will soon put 500 New Yorkers to work inside the 1.2 million-square-foot facility with another 700 nearby, ramping up to nearly 3,000 over the next few years.
The production of some 10,000 solar panels per day will put thousands of New Yorkers to work doing the installations. The panels will produce electricity cheaper, cleaner, more safely and more reliably than any fossil or nuclear source of power, including fracked gas, thus fueling a bright industrial future for the state.
With a little common sense from the governor, upstate New York could have many more of these massive factories, create many thousands of good, stable, high-paying jobs and solve its energy problems along the way.
3 More Gigafactories Coming Soon to 'Change the Way the World Uses Energy' https://t.co/ReNoVNymiW @LeoDiCaprio @elonmusk @TeslaMotors @350

— EcoWatch (@EcoWatch)1487882097.0
All he has to do is shift over the absurd, wrong-headed $7.6 billion hand-out he now wants to give the Illinois-based Exelon Corporation for continuing to run four extremely old and dangerous nuclear reactors.

Those four reactors employ a total of about 2,100 people. They came online in 1969, 1970, 1975 and 1988 respectively. Aside from being dangerously decrepit, they run the risk of early shutdown because of general mechanical deterioration, rising maintenance costs, a shortage of replacement parts and the likelihood of major component failures.
At some point all operating reactors will also face escalated safety standards certain to result from the next Fukushima-like disaster, an ever-more likely reality as the global nuke fleet ages and deteriorates. Because the nuclear industry is failing throughout the U.S. and Europe, there is an ever-narrowing pool of workers qualified to keep the plants going. Because the electricity they produce is so expensive, they will drain a huge pool of resources from a state-wide economy in desperate need of industrial rebirth.
By contrast, SolarCity's solar panel plant will be productive for decades. It's called the Gigafactory because it will produce a gigawatt's (1 million kilowatts) worth of solar panels every year, about the same as a nuclear reactor. (Depending on climate and sunlight, PV capacity produces electricity equivalent from about a half to a third of the capacity from an atomic reactor, assuming the reactor doesn't blow up, melt down or shut for other reasons).
The cells produced at "Buffalo Billion" will spread throughout New York and the nation, revolutionizing our energy system. The energy those cells will produce will create far more jobs than subsidized nukes and would emit no greenhouse gases. The nukes they'd replace currently emit billions of gallons of hot wastewater annually, a major contributor to climate chaos.
Should the money Gov. Cuomo has earmarked for those old Exelon nukes be shifted to solar, New York's economy would be revolutionized.

The template for such a plan has already been established by Pacific Gas & Electric at California's last two reactors. Surrounded by earthquake faults at an oceanfront site nine miles west of San Luis Obispo, the Diablo Canyon nukes are being phased out in an agreement between the state, the utility, environmental, labor and local government groups.
Pacific Gas & Electric has admitted that the power Diablo produces can be replaced with 100 percent renewables. The company has also agreed to retain the plant's 1,200 workers through the phase-out and retrain them for jobs in the renewables industry at when the plant shuts down. Surrounding communities will also be compensated for lost tax revenues.
Gov. Cuomo should take heed. The $7.6 billion he's earmarked for these four upstate nukes comes with a price tag of $3.64 million per retained job. But in the solar/efficiency field, the state is producing jobs manufacturing clean energy technology with far better long-term prospects for just $148,000 per job.
#Solar Growth Skyrockets as #Nuclear Power Fails to Compete https://t.co/1O35CZrzHQ @UCSUSA @greenpeaceusa @Greenpeace @nukes_of_hazard

— EcoWatch (@EcoWatch)1487516582.0
Rather than having all the jobs in the nuclear basket, that $7.6 billion could also help fund a diversity of facilities that have an actual future in a global economy experiencing a revolutionary green transformation.

SolarCity's Gigafactory in Buffalo will cost the state about $750 million to build. SolarCity is investing another $900 million for manufacturing equipment and build-out.
At full capacity, the PV Gigafactory and its local suppliers will employ 2,900 workers, almost 40 percent more than all four old nukes combined. It will support about 2,000 more jobs statewide. Thus the SolarCity facility will account for about 5,000 jobs—close to three times as many as at the four old reactors. Its cheaper, more reliable energy will fuel a far healthier economy, free of the worry of catastrophic melt-downs and explosions.
Right now some 8,000 New Yorkers work in the solar installation business. They are too often installing imported panels because China has made a huge investment in its PV export business. Panels made in Buffalo will keep that money in New York.
Meanwhile a plant making solar panel wafers in Rochester, built for about $700 million, employs about a 1,000 workers. The Soraa LED lightbulb plant in Syracuse has created 420 permanent local jobs.
Tesla is now pouring thousands of high-efficiency batteries out of its $3.5 billion state-of-the-art facility in Nevada. By mid-2017, it will employ 1,700 workers and about 6,500 when the plant is running at full capacity in 2020. Such a factory could easily be built in New York, again at a fraction the cost of Cuomo's nuke bailouts.
Worldwide, nuke power is in an advanced state of collapse. Westinghouse, the proud purveyor of the first electricity to come from Niagara Falls, has been bankrupted by its failed nuke construction projects and may take Toshiba down with it.
Those uninsurable old upstate nukes, three of them nearly a half-century old, could do the same to New York. The choice being made here is between a failed technology in the process of collapse or a 21st Century industry in the process of remaking the world.
If Gov. Cuomo wants to take New York forward, instead of locking it into a failed radioactive past, he'll follow California's lead. A small fraction of that $7.6 billion could retain and retrain the workers at those four upstate nukes and compensate the local communities and help them rebuild their economies and tax bases. As the results from a 2015 report by the Nuclear Information and Resource Service and Alliance for Green Economy show, supporting reactor communities and workers should cost far less than any bailouts.
The rest of those billions can then create tens of thousands of solid, state-of-the-art jobs producing cheap, clean, safe green energy components in factories and installation sites sure to guarantee New York state a modern, competitive industrial future.
It's an easy choice, Gov. Cuomo. Fund four dying nukes with 1,100 jobs or a prosperous Solartopian future for New York state with tens of thousands of permanent positions in a a booming sustainable economy.
What should you know about the up-and-coming company Blue Raven Solar?
Reviews
zstockphotos / E+ / Getty Images
Considering a solar energy system from Blue Raven Solar? Before you sign a contract, you may want to know more about the company's services, major pros and cons, and what Blue Raven Solar reviews say about the quality of service you can expect from this installer.
In this article, we'll discuss all that and more to help you figure out if Blue Raven Solar is the right choice for your home.
| | Blue Raven Solar Fast Facts |
| --- | --- |
| Year Started | 2014 |
| Service Areas | 17 states including CO, FL, GA, ID, IL, IN, KS, KY, MO, NC, NV, OH, OR, SC, TX, UT, VA |
| Service Types | Solar panel system installations and monitoring |
| Types of Panels Sold | Monocrystalline black-on-black panels between 315 and 335 watts from brands including Trina and Canadian Solar |
| Backup Battery Options | Not yet offered |
| Certifications | North American Board of Certified Energy Practitioners (NABCEP) technicians |
| Better Business Bureau (BBB) Rating | A+ with accreditation |
The best way to assess whether solar is a practical option is to get quotes from a local installer. To receive a free quote from Blue Raven Solar, or a similar provider in your area, fill out the 30-second form below.
Blue Raven Solar Overview
Founded in 2014, this young solar power provider boasts a stellar reputation anchored in exceptional customer service and an innovative solar financing model. Its mission is to make homeowners' lives better by reducing their utility bills, increasing their reliance on clean and abundant renewable energy and providing a world-class customer experience through a reliable sales process and speedy, high-quality installations.
Though Blue Raven Solar may not be a household name like some other top solar companies, the growing provider has expanded its service area to an impressive 17 states and has no plans of slowing. Solar giant SunPower recently acquired Blue Raven Solar for $165 million, a testament to its growth and potential in the residential solar market. As of now, it does not appear that Blue Raven's operations will be affected by the acquisition.
Blue Raven Solar Services and Installation
Blue Raven Solar installs residential solar panels with top-of-the-line products and inverters. It sells exclusively monocrystalline Tier 3 black-on-black solar panels (between 315 and 335 watts) to provide a seamless look on your rooftop. Brands used in Blue Raven installations typically include Trina and Canadian Solar, which are both known for their reliable, relatively affordable solar panels. Although Blue Raven Solar does not yet offer solar battery installations, it plans to soon.
Blue Raven strives to provide a world class customer experience through a reliable sales process, flexible solar financing and a speedy, high-quality installation. Here's what you can expect the solar panel installation process to look like with Blue Raven Solar.
Receive a free quote by providing some basic information like your address, average monthly energy bill and credit score.
If deemed eligible, Blue Raven Solar will conduct a site visit at your home to examine the type of roof you have as well as its quality and electrical status.
After the site visit, Blue Raven will work with you to draw up a maximum efficiency plan for your roof. It's at this stage that your solar consultant will be able to answer any questions you may have about the solar panel installation process, solar tax credits, state solar incentives and financing options.
Once all your questions have been answered and you feel confident in your decision, Blue Raven Solar will draw up your solar contract and apply for city permits. Blue Raven will handle all the paperwork, but expect this process to take a few weeks.
After applying for city permits, Blue Raven Solar will get in touch with your utility company to enroll you in its net metering program, if applicable. Incentives like net metering are important to understand prior to signing a contract.
Once all permits, agreements and plans are in order, Blue Raven Solar will install your solar energy system. This can be carried out in as little as one day depending on the complexity of your system.
Before you can turn the system on, you will need to pass inspections carried out by the city and the local utility companies. These are usually separate inspections and processes will vary depending on your location. Blue Raven will handle the logistics.
Solar Panel Warranty
Blue Raven Solar provides its customers with a 25-year product warranty, which will cover issues related to the manufacturing of the solar panels themselves. Routine maintenance, such as solar panel cleaning or snow removal, is the responsibility of the homeowner.
Like most solar panel installers, Blue Raven also provides a 10-year workmanship warranty that covers homeowners against faulty workmanship or errors by the installation team.
The company prides itself on customer satisfaction — and thousands of positive Blue Raven Solar reviews can tell you it's not just an advertising tactic. One nice perk of going with this company is that it will cover the cost to repair any solar system that is underperforming its expected rate. Note that this production guarantee only lasts for two years, so be sure to monitor your system closely after installation.
Blue Raven Solar Costs and Financing
The cost of solar is difficult to estimate by provider, as it can vary so widely depending on your state, roof and energy needs. However, Blue Raven sets itself apart from most competitors with its exclusive solar financing plan, BluePower+.
Financing Options Through Blue Raven Solar
BluePower+ is a financing option available only to Blue Raven Solar customers. Unlike most other solar loans, BluePower+ offers the unique advantages of a $0-upfront option for the first 18 months of a system's life, as well as a fixed repayment rate and the ability to pay the loan off at any time without penalty. The company claims this attractive financing option (when coupled with the federal tax credit) allows customers to pay off more than 33% of the overall cost of a system within the first 18 months after installation. This adjustment quickly accelerates the solar panel payback period for Blue Raven customers.
Blue Raven Solar does not offer solar leases or power purchase agreements (PPAs).
Blue Raven Solar Reviews
As Blue Raven Solar positions itself as a leader in customer experience and satisfaction, it's no surprise that it has received some standout feedback. Let's take a look at a few examples of positive and negative Blue Raven Solar reviews.
Positive Blue Raven Solar Reviews
Most satisfied customers post reviews similar to that below, praising Blue Raven's customer service:
"Blue Raven did an excellent job under-promising and over-delivering, contrary to most competitors. Install was completed quickly, correctly, and all inspections were tailored to my schedule. My power bill is completely gone, and my property value has increased at the same time. Strongly recommend it."
– Justin via Google Reviews
"Blue Raven Solar made this so easy. They got the permits, contacted my HOA, found a great roof company for my new roof and then installed my solar panels. The solar install team was so nice, on time, efficient and professional. If you are looking for solar, use Blue Raven Solar!"
– Cindy via BBB
Negative Blue Raven Solar Reviews
As with any young company, Blue Raven Solar has experienced some growing pains. Most negative Blue Raven Solar reviews involve difficulties in communication after a sale.
"Terrible experience. We have a $20,000+ solar package with this company that hasn't worked correctly for over a year. (All the while I've been paying for it.) Every time that we schedule to have it taken care of, the company finds some excuse to put it off."
– Joshua via BBB
Blue Raven Solar strives for exemplary service, so it has personally replied to most if not all of its negative feedback online. Much of Blue Raven Solar's growth is credited to its referral program, which serves as a testament to the overall satisfaction of its customers.
Final Thoughts on Blue Raven Solar
Blue Raven Solar's innovative financing model, exceptional customer experience, quality warranty and A+ rating from the BBB make it a safe and reliable choice for solar customers. Tackling financing and solar loan strategies can be a tough challenge for a new solar adopter, but Blue Raven sets itself apart from the competition with its straightforward financial solution that provides immediate returns.
Expanding with the speed and success of Blue Raven Solar would be a challenge for most solar providers, but Blue Raven is addressing these challenges head-on. The provider has delivered on customer expectations during a rapid stage of growth and is expanding offerings of backup batteries to provide further customization for its customers.

| Blue Raven Solar Pros | Blue Raven Solar Cons |
| --- | --- |
| Innovative financing options | No backup battery options |
| Exceptional service and customer satisfaction | Little customization |
| Energy monitoring service available | No solar lease or PPA option available |
| Quickly growing service areas | |
Based on our research, we recommend Blue Raven Solar to customers who are new to solar, don't need customization or don't have an advanced understanding of the technicalities behind a solar panel installation. Its straightforward financing, trusted sales staff and customer service make the process simple and easy to understand for a customer new to solar. Though an impressive young company, Blue Raven Solar may not provide the best services for those seeking a specific brand of panel, backup battery options or more custom features.
Solar Energy Provider Comparison
Unless you're handy enough to complete a DIY solar project, most homeowners considering solar will have to find a local installer to complete the design, permitting and installation of solar panels. But which is the right choice for your home?
Let's compare Blue Raven Solar to some of the other name-brand solar companies in the U.S: Sunrun and SunPower. Overall, Blue Raven Solar excels in customer satisfaction relative to its competitors, earning it a rank among the top national providers.
| | Blue Raven Solar | Sunpower | Sunrun |
| --- | --- | --- | --- |
| Year Started | 2014 | 1985 | 2007 |
| Services Offered | Solar panel installation, monitoring, maintenance | Solar panel installation, battery installation, monitoring | Solar panel installation, battery installation, monitoring, maintenance |
| Batteries Offered | No | Yes | Yes |
| Service Areas | CO, FL, GA, ID, IL, IN, KS, KY, MO, NC, NV, OH, OR, SC, TX, UT, VA | All 50 States | AZ, CA, CO, CT, FL, HI, IL, MD, MA, NV, NH, NJ, NM, NY, PA, RI, SC, TX, VT, WI, Puerto Rico and Washington D.C. |
| BBB Rating | A+ | A+ | B+ |
| Payment Options | Cash, in-house financing plans | Cash, loan, lease | Cash, loan, lease, PPA |
FAQ: Blue Raven Solar
How does Blue Raven Solar work?
Blue Raven Solar installs residential solar panels with top-of-the-line products and inverters across 17 states as of 2021. Complete with design, permitting, installation and custom financing of PV panels, Blue Solar offers comprehensive services for those looking for a solar panel array.
What kind of company is Blue Raven?
Blue Raven Solar is a regional residential solar panel provider and installer. It was recently acquired by national provider SunPower.
How long has Blue Raven Solar been around?
Blue Raven Solar was founded in 2014, which makes its service area of 17 states all the more impressive. Within seven years, Blue Raven Solar's staff has expanded from three to over 1,400 employees.
Is Blue Raven Solar a good place to work?
In 2021, Blue Raven Solar ranked in the top 20 Best Places to Work in Glassdoor's annual Employees' Choice Awards. Coupled with a 4.3 out of 5-star rating on Glassdoor, the award proves Blue Raven Solar is a good choice if employee satisfaction is an important factor in your employment decision.
Where is Blue Raven Solar available?
Blue Raven Solar offers service in 17 states including Colorado, Florida, Georgia, Idaho, Illinois, Indiana, Kansas, Kentucky, Missouri, Nevada, North Carolina, Ohio, Oregon, South Carolina, Texas, Utah and Virginia.
Karsten Neumeister is a writer and renewable energy specialist with a background in writing and the humanities. Before joining EcoWatch, Karsten worked in the energy sector of New Orleans, focusing on renewable energy policy and technology. A lover of music and the outdoors, Karsten might be found rock climbing, canoeing or writing songs when away from the workplace.
The New York Times published an astonishing article last week that blames green power for difficulties countries are facing to mitigate climate change.
The article by Eduardo Porter, How Renewable Energy is Blowing Climate Change Efforts Off Course, serves as a flagship for an on-going attack on the growth of renewables. It is so convoluted and inaccurate that it requires a detailed response.
Our planet is burning up from fossil fuels and being irradiated by decrepit money-losing reactors that blow up. Blaming renewable energy for all that is like blaming the peace movement for causing wars.
As Mark Jacobson, director of Atmosphere/Energy Program at Stanford University, pointed out to me via email:
The New York Times article "suffers from the inaccurate assumption that existing expensive nuclear that is shut down will be replaced by natural gas. This is impossible in California, for example, since gas is currently 60 percent of electricity supply but state law requires non-large-hydro clean renewables to be 50 percent by 2030. This means that, with the shuttering of Diablo Canyon nuclear facility be 2025, gas can by no greater than 35-44 percent of California supply since clean renewables will be at least 50 percent (and probably much more) and large hydro will be 6-15 percent. As such, gas must go down no matter what. In fact, 100 percent of all new electric power in Europe in 2015 was clean, renewable energy with no new net gas, and 70 percent of all new energy in the U.S. was clean and renewable, so the fact is nuclear is not being replaced by gas but by clean, renewable energy.
"Further, the article fails to consider the fact that the cost of keeping nuclear open is often much greater than the cost of replacing the nuclear with wind or solar. For example, three upstate New York nuclear plants require $7.6 billion in subsidies from the state to stay open 12 years. To stay open after that, they will need an additional $805 million/year at a minimum, or at least $17.7 billion from 2028-2050, or a total of $25.3 billion from 2016 to 2050. If, on the other hand, those three plants were replaced with wind today, the total cost between now and 2050 would be $11.9 billion. Thus, keeping the nuclear plants open 12 years costs an additional $7.6 billion; keeping it open 34 years costs and additional $25.3 billion, in both cases with zero additional climate benefit, in comparison with shuttering the three plants today and replacing them with onshore wind."
Gideon Forman, climate change and transportation policy analyst at David Suzuki Foundation, also shared his dismay on the Times piece:
"The notion that non-renewable power sources are necessary is questionable at best. Some scientists believe that, over the next few decades, renewables could provide all our power. One is Stanford Prof. Mark Jacobson. He has done modeling to show the U.S. could be entirely powered by renewables by 2050.
"Porter is wrong to claim that nuclear produces 'zero-carbon electricity.' If we look at the full nuclear cycle, including production of uranium fuel, we find it involves considerable carbon emissions. Jacobson and his co-author, Mark A. Delucchi, have written, 'Nuclear power results in up to 25 times more carbon emissions than wind energy, when reactor construction and uranium refining and transport are considered.'
"Porter says if American nuclear plants were replaced with gas-fired generators it would lead to 200 million tons of additional CO2 emissions annually. But it's wrong to suggest that nuclear could only be replaced by natural gas. A full suite of renewables—along with energy storage and conservation programs—could meet demand, certainly in the not very distant future.
"Porter suggests that nuclear power can 'stay on all the time.' But of course, nuclear plants, like all generators, are sometimes out of service for maintenance. This downtime can be considerable. For example, it is expected that from 2017 to 2021, Ontario's Pickering nuclear station will require back-up almost 30 percent of the time."
Karl Grossman, professor of journalism at State University of New York/College at Old Westbury, called the Times piece "outrageous." He told me:
"The Times piece continues the paper's long record of minimizing and downplaying—not recognizing and indeed often denying—the deadly impacts of nuclear power. It's been a shameful journalistic dysfunction. As Alden Whitman, a Times reporter for 25 years, told me, 'there certainly was never any effort made to do' in-depth or investigative reporting on nuclear power. 'I think there stupidity involved,' he said, and further, 'The Times regards itself as part of the establishment." Or as Anna Mayo of The Village Voice related: 'I built a full-time career on covering nuclear horror stories that the New York Times neglected.'"

So where do I stand on the Porter piece? Here are my eight biggest complaints:
1. Though viewed as the "journal of record," the Times has been consistently pro-nuclear. Its slanted coverage has served as an industry bulwark for decades. A long-time atomic beat reporter, Matt Wald, went straight from the Times to a job with the Nuclear Energy Institute, the primary public relations front for the reactor industry. The Times has a long history as a cheerleader for nuclear power dating back to the atomic bomb era, when it consistently denied health problems from radioactive fallout. It also denied health problems resulting from radiation releases at Three Mile Island, and much more. Now it has taken a major role in defending the nuclear industry from the renewable energy revolution that is driving it to bankruptcy while bringing a tsunami of reactor shut downs. It's these shut downs that now seem to worry the paper.
2. The primary technological transition in the world of electric power today is from fossil and nuclear fuels (King CONG: Coal, Oil, Nukes, Gas) to a Solartopian system based on green power. But there's a deeper shift going on: from centralized, grid-based corporate control to decentralized citizen-based community control. When nuclear power and its apologists defend continued operations at dangerously deteriorated reactors, they are more broadly defending the power and profits of huge corporations that are completely invested in a centralized grid. When they argue that renewables "can't do the job," they're in fact working to prolong the lives of the large generators that are the "base load" basis of a corporate grid-based supply system.
3. But that grid is now obsolete. What strikes the ultimate terror in utility boardrooms is the revolutionary reality of a decentralized power supply, free of large generators, comprised instead of millions of small photovoltaic (PV) panels owned by individuals. Industry sources have widely confirmed that this decentralized, post-grid model means the end of big utilities. Thus when they fight against PV and for nuclear power, they are fighting not for the life of the planet, but for the survival of their own corporate profits.
4. Some utilities do support some renewables, but primarily in the form of large centralized grid-based solar and wind turbine farms. Pacific Gas & Electric said it will replace the power from the Diablo Canyon nuke plant with solar energy. But PG&E is simultaneously fighting rooftop solar, which will allow individual homeowners to disconnect from the grid. Germany's transition from fossil-nukes to renewables has also been marked by conflict between large grid-based wind farms versus small community-based renewables.
5. PG&E and other major utilities are fighting against net metering and other programs that promote small-scale renewables. The Koch Brothers' American Legislature Exchange Council (ALEC) has spread a wide range of taxes and disincentives passed by the states to make it ever-harder to go solar. All this is being done to preserve the grid-based monopolies that own large fossil/nuclear facilities.
6. The idea that nuclear power might fight climate change, and that environmentalists might support it, is a recent concoction, a disgraceful, desperate load of utility hype meant to defend the status quo. Fukushima, unsolved waste problems and the plummeting price of renewables have solidified the environmental community's opposition to nuke power. These reactors are dirty and dangerous. They are not carbon-free and do emit huge quantities of heated water and steam into the ecosphere. The utility industry can't get private liability insurance for them, and relies on the 1957 Price-Anderson Act to protect them from liability in a major catastrophe. The industry continually complains about subsidies to renewable energy but never mentions this government protection program without which all reactors would close.
7. Not just nuke power but the entire centralized fossil/nuke-based grid system is now being undermined by the massive drops in the price of renewable energy, and massive rises in its efficiency and reliability. The critical missing link is battery technology. Because the sun and wind are intermittent, there needs to be energy storage to smooth out supply. Elon Musk's billion-dollar Tesla Gigafactory in Nevada and many other industrial ventures indicate major battery breakthroughs in storage is here today.
8. Porter's NY Times piece correctly says that the massive amounts of cheap, clean renewables flooding the grid in Europe and parts of the U.S. are driving nuclear power plants into bankruptcy. At least a dozen reactor shut downs have been announced in the U.S. since 2012 and many more are on their way. In Japan 52 of the 54 reactors online before the Fukushima disaster are now closed. And, Germany has pledged to shut all its reactors by 2022.
But Porter attacks this by complaining that those nukes were supplying base load power that must be otherwise—according to him—shored up with fossil burners. Here's his key line:
"Renewable sources are producing temporary power gluts from Australia to California, driving out other energy sources that are still necessary to maintain a stable supply of power."
But as all serious environmentalists understand, the choice has never been between nukes versus fossil fuels. It's between centralized fossil/nukes versus decentralized renewables.
Porter's article never mentions the word "battery" or the term "rooftop solar." But these are the two key parts in the green transition already very much in progress.
So here is what the Times obviously can't bring itself to say: "Cheap solar panels on rooftops are now making the grid obsolete." The key bridging element of battery back-up capability is on its way. Meanwhile there is absolutely no need for nuclear power plants, which at any rate have long since become far too expensive to operate.
Spending billions to prop up dying nuke reactors for "base load" generation is pure corporate theft at the public expense, both in straight financial terms and in the risk of running badly deteriorated reactors deep into the future until they inevitably melt down or blow up.
Those billions instead should go to accelerating battery production and distribution, and making it easier, rather than harder, to gain energy independence using the wind and the sun.
All this has serious real-world impacts. In Ohio, for example, a well-organized shift to wind and solar was derailed by the Koch-run legislature. Some $2 billion in wind-power investments and a $500 million solar farm were derailed. There are also serious legal barriers now in place to stop homeowners from putting solar shingles and panels on their rooftops.
Meanwhile, FirstEnergy strong-armed the Ohio Public Utilities Commission into approving a huge bailout to keep the seriously deteriorated Davis-Besse nuke operating, even though it cannot compete and is losing huge sums of money. Federal regulators have since put that bailout on hold.
Arizona and other Koch-owned legislatures have moved to tax solar panels, ban solar shingles and make it illegal to leave the grid without still paying tribute to the utilities who own it. Indeed, throughout the U.S. and much of the western world, corporate-owned governments are doing their best to slow the ability of people to use renewables to rid themselves of the corporate grid.
For an environmental movement serious about saving the Earth from climate change, this is a temporary barrier. The Times and its pro-nuke allies in the corporate media will continue to twist reality. But the Solartopian revolution is proceeding ahead of schedule and under budget. A renewable, decentralized energy system is very much in sight.
The only question is how long corporate nonsense like this latest NY Times screed can delay this vital transition. Our planet is burning up from fossil fuels and being irradiated by decrepit money-losing reactors that blow up. Blaming renewable energy for all that is like blaming the peace movement for causing wars.
The centralized King CONG grid and its obsolete owners are at the core of the problem. So are the corporate media outlets like the New York Times that try to hide that obvious reality.
Harvey Wasserman's SOLARTOPIA! OUR GREEN-POWERED EARTH is at www.solartopia.org, where his
AMERICA AT THE BRINK OF REBIRTH: THE ORGANIC SPIRAL OF US HISTORY is soon to arrive. He edits www.nukefree.org and hosts the Solartopia Green Power & Wellness Show at www.prn.fm.
As worldwide headlines have proclaimed, California's Pacific Gas & Electric (PG&E) says it will shut its giant Diablo Canyon reactors near San Luis Obispo, and that the power they've been producing will be replaced by renewable energy.
PG&E has also earmarked some $350 million to "retain and retrain" Diablo's workforce, whose union has signed on to the deal, which was crafted in large part by major environmental groups.
On a global scale, in many important ways, this marks the highest profile step yet towards the death of U.S. nuclear power and a national transition to a Solartopian green-powered planet.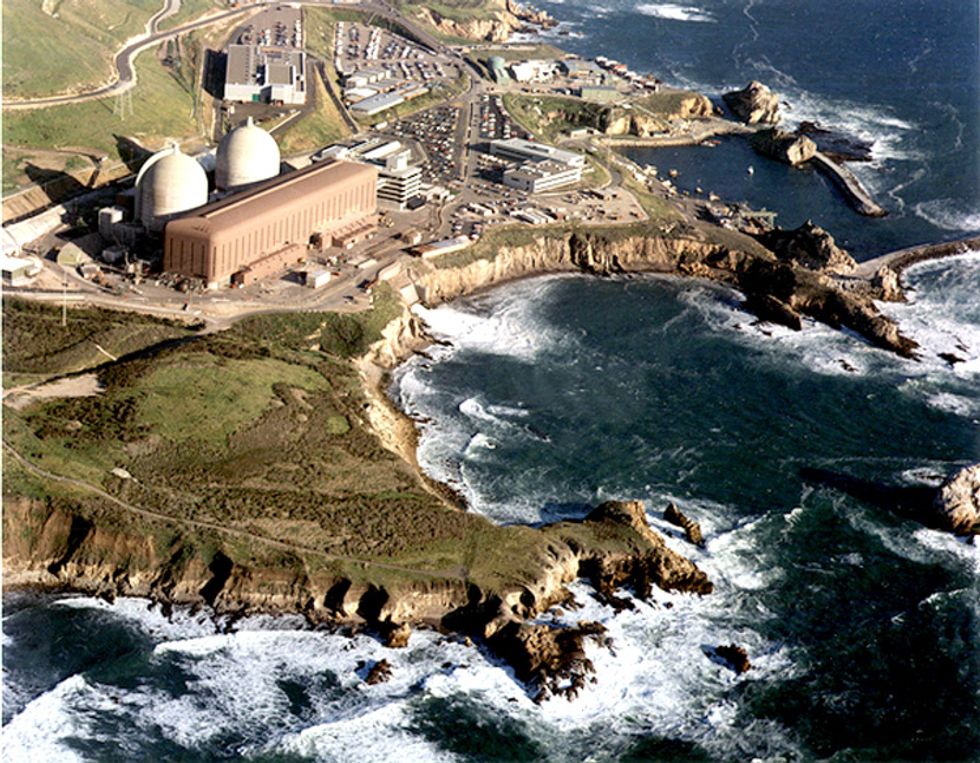 For Californians, as we shall see, there's an army of devils in the details, which cannot be ignored. But let's deal with the big picture first.
The three most important lines on nuke power's Diablo tombstone may be these:
1. A major U.S. utility has admitted that the energy from a nuke—one of the world's biggest—can be effectively replaced with renewables.
Over the past decade the nuke industry has spent more than $500,000,000 hyping an utterly failed "nuclear renaissance" partly on the premise that green power can't make up for the energy production lost by shutting reactors. One of the world's top nuclear utilities has now signed a major public document saying that this is not true.
2. A major union has approved an agreement that provides retraining for soon-to-be-displaced workers at a soon-to-be-shut nuke.
For years the International Brotherhood of Electrical Workers (IBEW) and other unions representing atomic workers have fought reactor shut-downs because of lost jobs. The IBEW's partnership in this agreement shows that with planning and funding, a smooth transition for displaced reactor workforces can be charted.
3. The agreement was crafted with leadership from two major national environmental organizations—Friends of the Earth (FOE) and the Natural Resources Defense Council (NRDC).
The corporate "nuclear renaissance" hype has conjured up a cadre of "environmentalists for nuclear power." Like clockwork the corporate media breathlessly reports from time to time that formerly green activists are now flocking like lemmings to the atomic sea.
Thus the Wall Street Journal recently published a major feature alleging a pro-nuke shift at the Sierra Club, which it then mutated into yet another re-run of the "greens for atoms" meme. The piece was sharply denounced by Sierra Club's executive director Michael Brune, who reaffirmed the club's staunch opposition to nuke power.
As environmental mainstays, FOE and NRDC's role in this Diablo agreement re-confirms the core stance of a green community whose "No Nukes" stance has deepened since Fukushima and with the rise of renewables. Greenpeace, the Abalone Alliance, Mothers for Peace, Alliance 4 Nuclear Responsibility, World Business Academy in Santa Barbara and many others hold more fiercely than ever to the anti-nuke/pro-renewables positions they've sustained for decades.
A tiny, top-down "greens for nukes" front group is currently shouting around California in support of Diablo. But this agreement renders the "atomic environmentalist" charade even more marginal.
Meanwhile corporate media outlets throughout U.S. have accepted this Diablo news as nuclear power's definitive death notice. The SFGate called it the "End of an Atomic Era." I saw it reported that way on a streaming news wire high above downtown Cleveland. What Linda Seeley, a multi-decade veteran of the San Luis Obispo Mothers for Peace, thought was a local radio interview went nationwide on NPR.
Closing Diablo will make our largest state nuke-free. The agreement embodies the sixth and seventh U.S. reactor shut-downs announced in the last month, the fifteenth and sixteenth since 2012. WPPSS2, the only other operating reactor on the west coast, is bleeding cash and may be among the next to go.
Safe energy activists can warmly embrace this announcement. More have been arrested at Diablo than any other U.S nuke. This would never have happened without citizen activism.
So all you tried and true "No Nukes" greenies … go out and have a party!
But ... then listen to the rest of the news, and get back to work.
• What PG&E has actually announced is something that's been expected for quite a while, which is that it won't pursue NRC re-licensing. The agreement thus predicts closures in 2024 and 2025, when Diablo's current licenses expire.
• But unlicensed operations continue at New York's Indian Point. Fail-proof legal safeguards are needed to make sure that doesn't happen at Diablo.
• The agreement comes just prior to a crucial June 28 hearing in front of the California State Lands Commission. PG&E wants the State Land Commission to renew leases issued in 1969 and 1970 that allow Diablo's cooling systems to pollute coastal territory. Just after that, then-Gov. Ronald Reagan signed the California Environmental Quality Act, imposing a wide range of requirements and reporting on state lands. Diablo can't meet those requirements, and PG&E doesn't want to do the studies.
At least two of the three commissioners have indicated they would expect PG&E to now comply with CEQA. But many fear this agreement might incline them to now let those requirements go unenforced until the alleged new shut-down date, rather than forcing the reactors to close in 2018 and 2019, when the leases expire. Grassroots activists are circulating petitions and exerting as much pressure as they can to make sure the commissioners hold the line.
• PG&E is now in what amounts to a federal murder trial, and may hope this agreement will soften the prosecution. Despite repeated warnings, in 2010 the company's badly maintained gas network blew up in San Bruno. It killed eight people through what amounts to criminal negligence. The usually docile California Public Utilities Commission has already fined the company $1.4 billion. PG&E executives may see this agreement as something of a federal plea bargain in an extremely serious prosecution.
• Worldwide studies show cancer and infant disease rates climb when reactors open, and decline when they shut. Such numbers have been confirmed at Diablo and at Rancho Seco in studies commissioned by the World Business Academy, which warns that the longer Diablo operates, the more the public health will suffer.
• Diablo is in clear violation of state and federal water quality laws. It daily sucks in 2.5 billion gallons of sea water which it returns far hotter (18-20 degrees Farenheit) than allowable. Regulatory hearings on the near horizon would tell whether PG&E will be forced to build cooling towers to spew the heat into the air instead of the water. Cooling tower cost estimates range from $2 billion to $14 billion. Should the towers be required, PG&E would face a wild melee over who'd pay for them. But faced with a shut-down date, regulators might just let Diablo continue in violation (as has been done at New Jersey's Oyster Creek).
• PG&E may be short hundreds of millions of dollars in funds necessary to decommission Diablo. Bitter disputes have already erupted over decommissioning San Onofre and other down U.S. reactors, including Vermont Yankee. Major technical problems, including serious leaks, have already emerged at Diablo and are certain to escalate in both confrontation and cost.
• PG&E and its fellow centralized utilities worldwide are terrified of home-owned roof-top solar panels, whose escalating spread could spell their doom. While hyping its entry into the solar world, PG&E will continue to assault net-metering and other essentials of the distributed generation revolution that threatens its core.
• The agreement includes no guarantee from Mother Nature that one of the dozen earthquake faults surrounding the plant won't go off before the reactors finally shut. Diablo is half the distance from the San Andreas that Fukushima was from the epicenter of the quake that destroyed it. The Nuclear Regulatory Commission's former resident inspector Dr. Michael Peck has warned PG&E has never proven Diablo could withstand such a shock.
• Tsunami expert Dr. Robert Sewell has also testified that a nearby undersea landslide could cause a wave capable of destroying Diablo, including its vulnerable intake pipes. His official report has been buried by the NRC for more than a decade.
There is more ...
But above all, no independent observer believes PG&E has signed this agreement out of love for the planet, its workers, the public well-being or the spirit of the law. It could mark a significant leap toward shutting Diablo Canyon, but it does not seal its fate. Indeed, unless accompanied with fierce activism, some fear it could offer PG&E political cover to prolong its operations.
Globally, this landmark treaty embodies a nuclear utility's admission that renewables can replace nukes, that union-endorsed provisions can ease the transition for workers at closing reactors and that a purported "green shift" to nuke power is mere industry hype.
None of which mitigates the reality Diablo Canyon could be melting as you read this. No matter what this agreement says, no matter when the anointed close-down date ... until those reactors at Diablo Canyon are dead, dismantled and somehow buried, we all live at the brink of a potential apocalypse.
Harvey Wasserman's SOLARTOPIA! OUR GREEN-POWERED EARTH is at www.solartopia.org, along with his upcoming AMERICA AT THE BRINK OF REBIRTH: THE ORGANIC SPIRAL OF US HISTORY. With Bob Fitrakis he has co-authored six books on election protection (www.freepress.org). He was arrested at Diablo Canyon in 1984.
YOU MIGHT ALSO LIKE
Diablo Canyon Nuclear Reactors to Be Replaced With 100% Renewable Energy
5 More U.S. Nukes to Close, Will Diablo Canyon Be Next?
Noam Chomsky: The Doomsday Clock Is Nearing Midnight
Nuclear Industry Worldwide Faces Escalating Battle to Keep Aging Reactors Running
A rising tsunami of U.S. nuke shut-downs may soon include California's infamous Diablo Canyon double reactors. But it depends on citizen action, including a statewide petition.
Five U.S. reactor closures have been announced within the past month. A green regulatory decision on California's environmental standards could push the number to seven.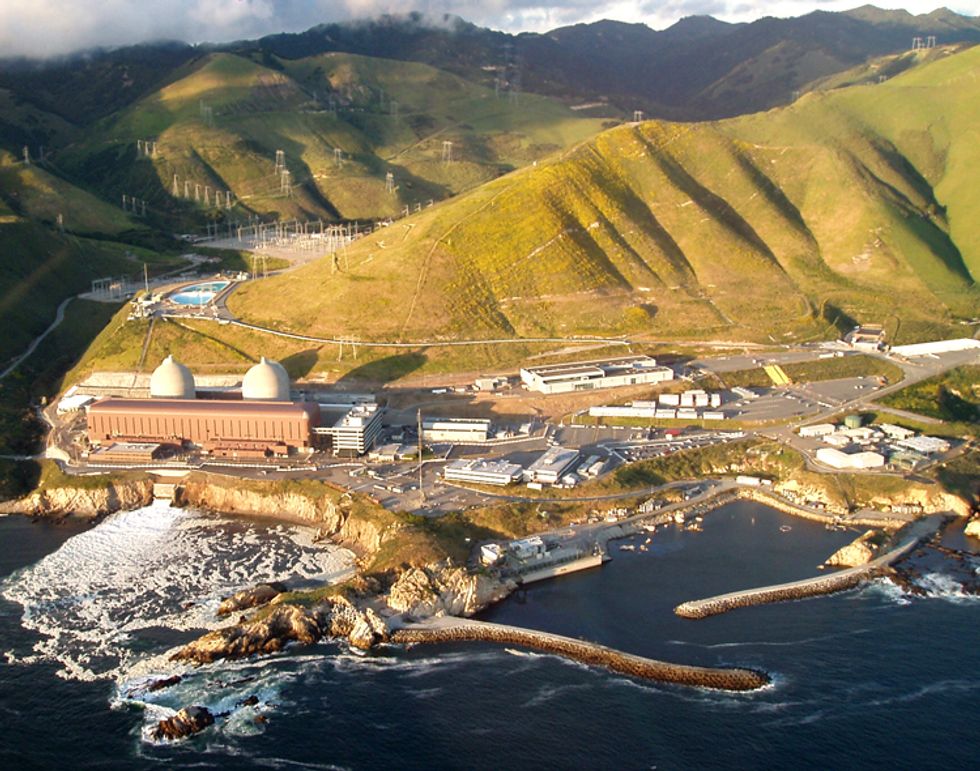 The focus is now on a critical June 28 California State Lands Commission meeting. Set for Sacramento, the hearing could help make the Golden State totally nuke free, ending the catastrophic radioactive and global warming impacts caused by these failing plants. A public simulcast of the Sacramento meeting is expected to gather a large crowd at the Morro Bay Community Center near the reactor site. The meeting starts at 10 a.m., but environmental groups will rally outside the community center starting at 9 a.m.
The three State Lands Commissioners will decide whether to require a legally-mandated Environmental Impact Report under the California Environmental Quality Act (CEQA). If ordered, a public scoping process will begin, allowing interested groups and individuals to weigh in on the environmental impacts of operation of two nuclear reactors on California's fragile coastline.
In 1969 and 1970 PG&E got state leases for tidewater acreage for Diablo's cooling system. These leases are set to expire in 2018 and 2019. If the State Lands Commission does not renew them, both reactors will be forced to shut down.
Signed in 1970 by then-Gov. Ronald Reagan, CEQA requires more extensive Environmental Impact Reports on such leases. Included among the issues to be evaluated are water quality, potential damage to human and other life forms, chemical and radiation releases, and impacts on threatened and endangered species. The commission will not decide whether Diablo will continue to operate, only whether it will now be required to meet CEQA standards.
Pro-nukers say PG&E is at the brink of shutting Diablo's reactors. They cannot economically compete with renewables or gas and are sustained by an intricate network of subsidies, liability protection and tax breaks. Many believe the cost of new environmental studies and of meeting updated standards would be a death blow. More protestors have been arrested at Diablo than any other American nuke, and the public pressure to finally shut it is intense.
One of the commissioners is Gavin Newsom, California's Lieutenant Governor, 2018's leading gubernatorial candidate. Newsom said he sees no long-term future for Diablo.
Another commissioner, state controller Betty Yee, is widely thought to favor the requirement.
State finance director Michael Cohen is the third commissioner. He generally votes as instructed by Gov. Jerry Brown. Brown opposed Diablo early in his career, but has recently waffled.
Among other things, Diablo dumps daily some 2.5 billion gallons of super-heated water into the ocean, killing vast quantities of marine life and worsening the global climate crisis. The project's chemical runoff infamously killed millions of abalone years before it operated.
Diablo may soon face regulatory challenges from other state and federal agencies that could, among other things, require cooling towers, at a cost of up to $14 billion. PG&E would then face a fierce public fight over who would pay for them.
Diablo is surrounded by a dozen earthquake faults. It is half the distance from the San Andreas as was Fukushima from the shock that destroyed it. The Nuclear Regulatory Commission's former resident inspector Dr. Michael Peck has warned Diablo might not survive a similar quake. Such a disaster would irradiate the Central Valley, which supplies much of the U.S. with its fruits, nuts and vegetables. It would send radioactive clouds into Los Angeles within about five hours, and across virtually the entire continental U.S.
Closing Diablo would make California entirely nuke-free. Grassroots activists, with help from U.S. Sen. Barbara Boxer and Friends of the Earth, recently shut two big reactors at San Onofre, between Los Angeles and San Diego. They also closed plants at Rancho Seco (near Sacramento) and Humboldt Bay, and stopped proposed projects at Bodega and Bakersfield.
Along with most nukes around the world, the only other remaining west coast reactor, WPPS2 on Washington's Hanford military reservation, is also losing massive amounts of money.
Because they can't evenly compete with renewable energy or gas, a tsunami of shut-downs has swept away a dozen U.S. reactors since October, 2012. Dozens more teeter at the brink, including two at Indian Point, just north of Manhattan, and Ohio's rapidly crumbling Davis-Besse reactor near Toledo.
In Japan, more than 40 reactors remain shut despite intense government pressure to reopen them in the wake of the Fukushima catastrophe. Germany's energiewende conversion to 100 percent renewables, which aims to shut all its reactors by 2022, is ahead of schedule and under budget. Much of the rest of Europe, including France, is now moving that way.
Should California follow suit at Diablo, its conversion to a wholly green-powered economy would accelerate, likely leading Los Angeles to become the world's first Solartopian megalopolis.
Ironically, with citizen action, a big push in that direction could now come from a state commission's decision to enforce environmental protections signed into law by California's most pro-nuke governor.
Harvey Wasserman's SOLARTOPIA! OUR GREEN-POWERED EARTH is atwww.solartopia.org, along with his upcoming AMERICA AT THE BRINK OF REBIRTH: THE ORGANIC SPIRAL OF U.S. HISTORY. He has co-written six books on election protection with Bob Fitrakis (www.freepress.org), and was arrested at Diablo Canyon in 1984.
YOU MIGHT ALSO LIKE
Nation's Largest Residential Solar Storage Project to Launch This Summer
NASA: Porter Ranch Gas Leak Was So Big It Could Be Seen From Space
Exxon Sues Massachusetts Attorney General to Block Climate Fraud Investigation
Toxic Chemicals Found in Residents Living Near Oil and Gas Operations in Pavillion, Wyoming
The two deadly, dangerous nuke reactors at Diablo Canyon may be on the brink of shut-down.
Citizen action is desperately needed on upcoming state regulatory decisions that could flip Diablo's off switch, but would a Bernie Sanders victory in the California primary speed the process?
A dozen earthquake faults surround this huge double reactor complex, which sits 9 miles west of San Luis Obispo, half-way down the coast from San Francisco to Los Angeles. A disaster there would spew radiation into the Central Valley, where much of the nation's winter produce is grown. Los Angeles would have just hours to evacuate in the wake of a Fukushima-type catastrophe.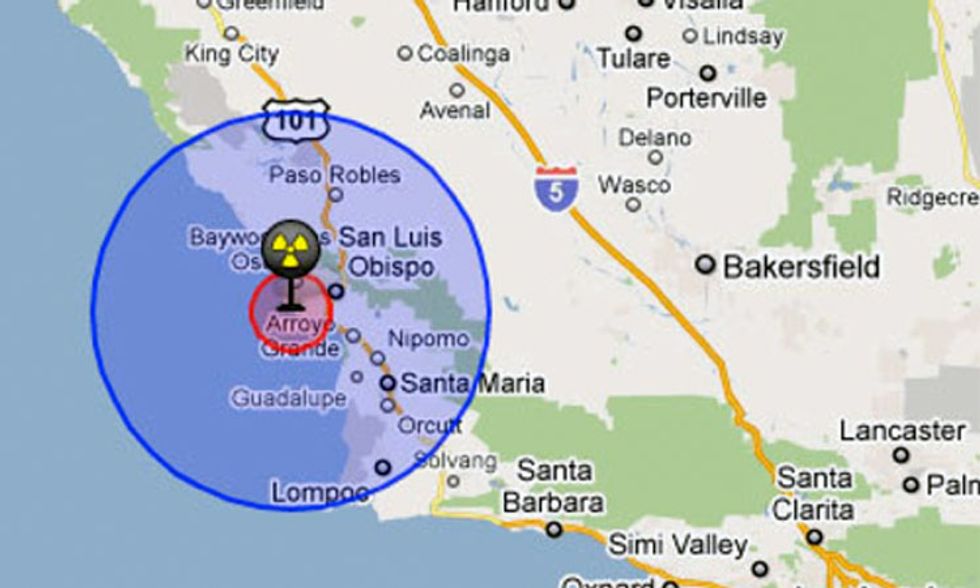 But these 30-year-old nukes cannot be guaranteed to safely withstand a likely seismic shock according to the Nuclear Regulatory Commission's (NRC) own Dr. Michael Peck. Peck served five years as the NRC's resident safety inspector at Diablo. He was transferred after he filed reports warning that required studies on Diablo's ability to withstand seismic shocks had not been completed.
Diablo's operating license should now be invalid. But the feds are letting it run anyway.
Would a President Sanders step in and force the reactors to shut until those studies were done? Would properly done studies then show that Diablo cannot, in fact, meet safe seismic standards and must be permanently closed?
On June 28, the California Lands Commission will meet in Sacramento to decide on a critical lease extension. The three-member commission includes Gavin Newsom, the likely Democratic front-runner in the 2018 race for the governor's seat being vacated by Jerry Brown.
The extension involves land leased by Pacific Gas & Electric for Diablo. Linda Seeley of the San Luis Obispo Mothers for Peace characterizes its deliberations like this:
It's whether or not a full California Environmental Quality Act (CEQA) review must be done, which would force an Environmental Impact Review. The CEQA review would be of the environmental impacts to the tidelands that are leased from the state. The environmental review would be of the intake and outfall water systems, diesel plant, harm to fish and endangered species (plants and animals), harm to air, possibly taking into account the health impacts of radiation releases, harm to indigenous lands and spaces, and other concerns that environmental groups and individuals might bring up in the scoping process.
It would require a preliminary EIR, time to review, and then a final EIR. All of this takes a lot of time. PG&E would have to mitigate for environmental harms, but for some of them there could be no mitigation. The whole process could take a long time, and the mitigations could cost PGE lots of dinero.
The California Coastal Commission and State Water Resources Board could also hang Diablo in regulatory requirements. Despite the hype that it "helps" with global warming, Diablo dumps more super-heated water into the ocean than any other California power plant. Should cooling towers be required, PG&E would have to get the California Public Utilities Commission (CPUC) to force rate payers to foot the bill, which could soar as high as $14 billion.
The CPUC recently approved a 15 cents/kwh tariff for solar-generated electricity, which, along with cheap gas has thrown Diablo's economics into chaos. In 2010 PG&E's negligence caused a natural gas explosion that killed eight people in San Bruno. It is under federal indictment for those deaths, and is being investigated for a cover-up. The CPUC fined PG&E $1.4 billion in the case.
None of that has deterred a desperate nuke power industry. Reactors are now at the brink in Massachusetts, New York, Nebraska, Ohio, Alabama and elsewhere. California "No Nukers" forced shut reactors at San Onofre, Rancho Seco and Humboldt, and stopped construction at Bodega and Bakersfield.
The industry is spending millions to keep our biggest state from going totally post-nuclear. Hugely funded pro-nukers have poured into San Luis Obispo to stage "grassroots" marches and rallies prior to the June 28 California State Lands Commission meeting. PG&E lawyers demand the CPUC be abolished for having fined the company, for supporting solar energy and possibly in anticipation of trying to force the public to pay for cooling towers.
Coming from Vermont, where grassroots action has shut the Yankee nuke, Candidate Sanders's official position is this:
Begin a moratorium on nuclear power plant license renewals in the United States. Sanders believes that solar, wind, geothermal power and energy efficiency are proven and more cost-effective than nuclear—even without tax incentives—and that the toxic waste byproducts of nuclear plants are not worth the risks of the technology's benefit. Especially in light of lessons learned from Japan's Fukushima meltdown, Sanders has also raised questions about why the federal government invests billions into federal subsidies for the nuclear industry. We can have an affordable carbon-free, nuclear-free energy system and we must work for a safe, healthy future for all Americans.
Since the Diablo license is soon up for renewal, and since its operations depend on federal subsidies (most importantly for liability insurance), a Sanders victory in Tuesday's California primary might mark a step toward shutting Diablo.
But far more important is that Sanders' supporters stick with the issue. To make a real difference, Sanders voters in California and elsewhere must escalate their activism after they cast their ballots.
The ultimate difference will be made by those who turn the tide June 28 at the California State Lands Commission, and at the Coastal Commission and CPUC hearings to come, and in the day-to-day organizing by which we shut these nukes.
In the weeks and months to come, it's the tangible activism beyond voting that must shut Diablo before it blows.
Harvey Wasserman was arrested at Diablo Canyon in 1984. His Solartopia! Our Green-Powered Earth is at Solartopia.org, along with The Strip & Flip Selection of 2016, written with Bob Fitrakis. His America at the Brink of Rebirth: The Organic Spiral of U.S. History is coming soon.
YOU MIGHT ALSO LIKE
Oil Train Derails in Columbia River Gorge, Rally Calls for Ban on 'Bomb Trains'
As California Goes, So Goes the Planet
Stephen Hawking: One Thing Threatens Us More Than Donald Trump … Climate Change
Student Abandons Economics Major at George Mason Over Koch 'Donations'
Michael Mariotte was a giant in the No Nukes movement. From the 1980s on he has been at the forefront of some of the great Solartopia campaigns, writing, strategizing and moving us all. He was a major factor in defeating reactors proposed for Calvert Cliffs, Maryland and a uranium facility in Louisiana among much much else.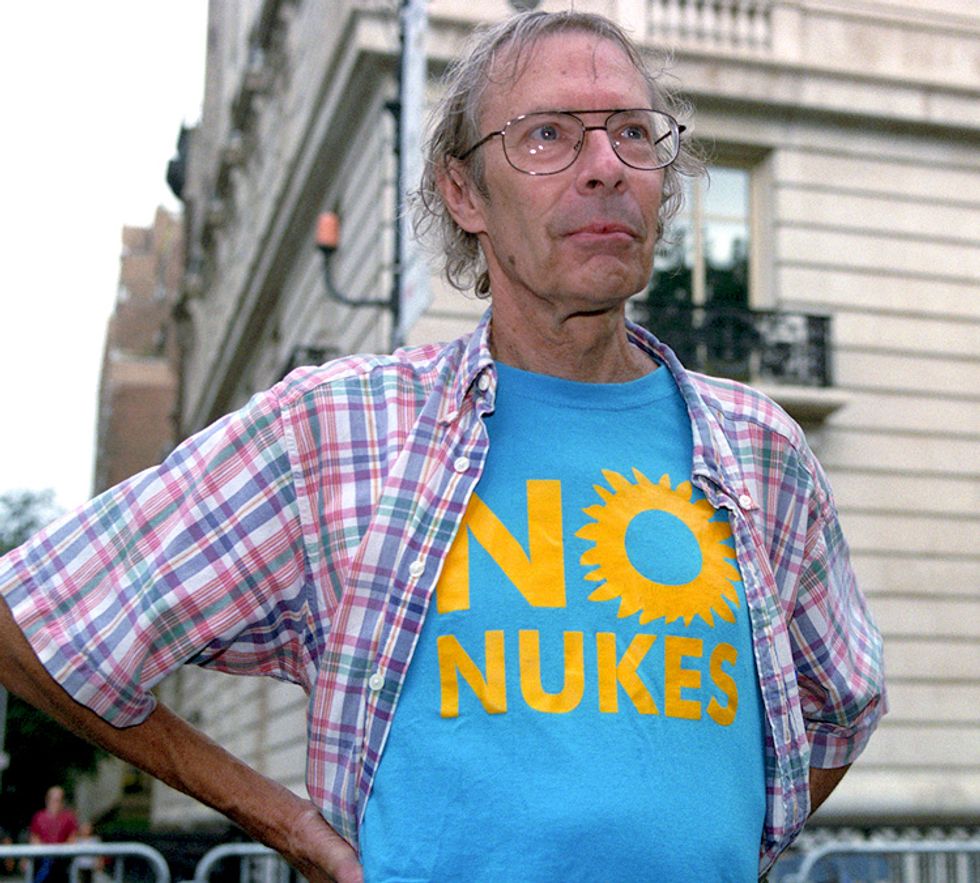 As head of the Nuclear Information and Resource Service, he fed a mighty stream of brilliant analysis, great strategy and beautiful sentiment. A great friend and an accomplished punk rock drummer, Michael was absolutely irreplaceable.
Father of four children and co-parent to a great social movement, Michael's brilliance and integrity remain a beacon to us all.
For a full hour on the Solartopia Green Power & Wellness show, we hear from his beloved friends, co-conspirators and fellow victorious activists sing his praises. Take a listen here.
YOU MIGHT ALSO LIKE
Noam Chomsky: Climate Change and Nuclear Proliferation Pose Worst Threat Ever Faced by Humans
Obama to Make Historic Visit to Hiroshima as U.S. Quietly Upgrades Nuclear Arsenal
Interactive Map Shows What Powers the World
Do the Koch Brothers Want to Mine the Grand Canyon for Uranium?
April 26 marks the 30th anniversary of the catastrophic explosion at the Chernobyl nuclear power plant.
It comes as Germany, which is phasing out all its reactors, has asked Belgium to shut two of its nukes because of the threat of terrorism.
It also comes as advancing efficiencies and plunging prices in renewable energy remind us that nukes stand in the way of solving our climate crisis.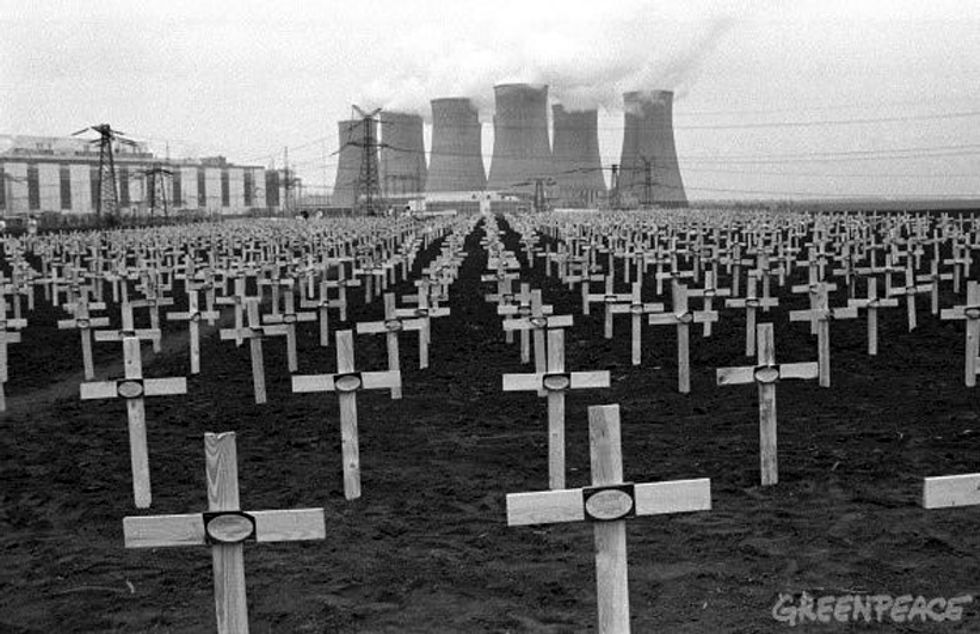 And it makes us remember the second and third biggest lies told us by the atomic power industry: that no commercial nuke could explode, and that no one would be harmed by reactor fallout.
Prior to the 1986 disaster at Chernobyl, there was at least one minor explosion (on March 28, 1979) at Three Mile Island (TMI) in Pennsylvania. Thankfully, TMI Unit 2's containment dome was uniquely solid. The site is in the flight path of the Harrisburg airport. Citizen activists had demanded Unit 2's containment be able to withstand a jet crash. So they forced construction upgrades that may have saved millions of lives when the reactor was stretched to its limits.
TMI's owners long denied there was a melt-down at all. But robot cameras later showed otherwise. The industry still denies anyone was harmed by TMI's fallout. But the Pennsylvania Department of Agriculture and the Baltimore News-American reported that downwind farm and wild animals died in horrifying droves. Parallel reports by researcher Tim Mousseau are now coming from areas downwind from Chernobyl.
Village Voice reporter Anna Mayo (recently deceased and greatly missed), photographer Bob Del Tredici and filmmaker Robbie Leppzer all documented TMI's immense human toll. In 1980, I interviewed dozens of local downwinders enduring radiation-related illnesses including cancer, emphysema, heart disease, stroke, sterility, birth defects and Down's Syndrome.
Recent studies by nuclear engineer Arnie Gundersen indicate TMI2's containment may have cracked, releasing far more radiation than generally suspected. Even now, nobody knows exactly how much did escape, what it consisted of, where it went or who was impacted. TMI's owners have quietly paid at least $15 million in damages to downwinder families, including at least some payments for Down's Syndrome.
By 1979 new reactor orders had already stopped due to the industry's horrific inefficiencies, bad economics and lack of answers for decommissioning and radioactive waste storage. The industry's biggest lie—that atomic power would be "too cheap to meter"—was already obvious.
But when Chernobyl blew up 30 years ago, it exposed lies number 2 and number 3: that a commercial reactor could not explode and that the industry's radiation would kill no one.
Here's a short list of 30 ways these two tragic flaws are killing us all. They are discussed with experts Joe Mangano and Dr. Janette Sherman on my recent Solartopia show.
1. According to studies by three top European scientists, first published in 2009, more than 985,000 people have died from Chernobyl's fallout.
2. Impactful radioactive contamination is still in evidence in soil throughout Ukraine, Belarus and as far away as Scotland.
3. By some estimates, children born throughout regions downwind of Chernobyl have suffered radiation-related diseases at rates affecting up to 80 percent of those born in critical areas.
4. Reindeer, sheep and other animals across northern Europe are still too heavily contaminated to be safely consumed.
5. Radioactive fallout from Chernobyl hit northern California within 10 days of the explosion, followed by a 60 percent drop in bird births recorded at the Pt. Reyes sanctuary north of San Francisco.
6. Epidemiological studies by Mangano, Sherman and others show that nearby infant death rates rise when commercial reactors open, and drop when they shut.
7. Epidemiological studies show direct links between reactor operations and cancer rates downwind, including a 70 percent excess of thyroid cancer in the four counties surrounding New York's Indian Point reactors as opposed to the nation as a whole.
8. When Chernobyl blew up, industry apologists emphasized that such a disaster at a Soviet reactor had nothing to do with American nukes. But on March 11, 2011, four General Electric reactors exploded at Fukushima (three melted, and their cores have yet to be found).
9. The explosions at Fukushima by estimates of at least one Japanese scientist have spewed at least 30 times as much Cesium 137 as was released by the atomic bombs at Hiroshima and Nagasaki.
10. The Fukushima disaster still dumps at least 300 tons of radioactive water into the Pacific Ocean every day.
11. Thousands of tons of contaminated water are being held in flimsy storage tanks at Fukushima, at least some of which are likely to give way; serious leaks of radioactive water are also on-going at Indian Point, Florida's Turkey Point, numerous other commercial reactor sites and at the Hanford (Washington) military reservation.
12. The Japanese government and Fukushima's owner (Tepco) are hinting strongly they would like to dump still more thousands of tons of radioactive water directly into the Pacific.
13. At least 7,000 clean-up workers are still being exposed to radiation at Fukushima every day.
14. It remains unclear exactly where the cores from Units 1, 2 and 3 might be, what can be done to contain them and exactly what kinds of long-term dangers they pose.
15. Thyroid abnormalities among children in the Fukushima area are far beyond normal.
16. Physicians for Social Responsibility predicts at least 68,000 downwinders will die from Fukushima's fallout. Dr. Chris Busby estimates additional cancers alone at more than 400,000. Arnie Gundersen estimates the ultimate toll on par with Chernobyl, of up to 1,000,000.
Thyroid #Cancer in Children Increases 30-Fold in #Fukushima, New Study Says http://t.co/k4iJ40ZXEw @BeyondNuclear http://t.co/YVd5L2Twhc

— EcoWatch (@EcoWatch)1444920210.0
17. Radioactive hot spots clearly linked to Fukushima are being found throughout Japan, some as far away as Tokyo.
18. Japanese activists have kept all but three of Japan's 54 reactors shut since Fukushima, but the pro-nuke Abe regime wants to stage some 2020 Olympic events near the stricken reactor site.
19. Some 11,000 highly radioactive fuel rods are still strewn around the Fukushima site with no prospects for safe long-term storage. Nowhere on earth has safe long-term storage of atomic wastes been proven.
20. Though the explosions at Fukushima have been linked to the tsunami that wiped out back-up generations, primary damage (especially at Unit 1) was caused by an earthquake whose epicenter was 120 kilometers distant, far further than many fault-lines near scores of other reactors around the world.
21. Two U.S. reactor sites (Perry in Ohio and North Anna in Virginia) have already suffered significant damage from earthquakes.
22. Among many others, reactors at Diablo Canyon, California and Indian Point, New York, are very near major fault lines, with the potential death tolls in downwind Los Angeles and New York City stretching into the millions.
23. Dr. Michael Peck, resident Nuclear Regulatory Commission (NRC) safety inspector at California's Diablo Canyon has warned that the two huge reactors there cannot withstand a likely earthquake delivered by any of the dozen seismic faultiness surround the site. Peck filed his report within the NRC but it was made public a year later by Friends of the Earth and other community groups. The NRC has dismissed Peck's warnings and he has been moved to the Commission's Chattanooga office.
24. As terrorists slaughtered innocent civilians in Brussels, the New York Times reported that Belgian authorities evacuated two reactors which they felt were vulnerable to attack. As mentioned above, Germany has now asked Belgium to shut these nukes down.
25. A wide range of reports dating back at least to the 1970s have confirmed that throughout the entire global nuclear industry, commercial reactors simply cannot be guaranteed to be safe from a concerted terrorist attack, making them all what Karl Grossman has called "pre-deployed weapons of mass destruction."
26. The technological basis for the 99 U.S. reactors now operating dates far back in the previous century, as the average age of an operating U.S. nuke American reactor is now roughly 35 years old, with Davis-Besse (near Toledo, Ohio) distinguished primarily by four major cuts into its containment dome, and a shield building that is literally crumbling.
27. Since Fukushima on March 11, 2011 significant safety advances advocated by the staff of the NRC and others have not been installed at U.S. nukes despite widespread warning of defects.
28. Seven top NRC engineers took the rare and daring step of filing a public 2.206 petition warning that 98 of 99 current US reactors have serious basic flaws in the electrical sector of their emergency core cooling systems, which are designed to protect the public from a major catastrophe.
7 Top #NRC Experts Break Ranks to Warn of Critical Danger at Aging #Nuke Plants https://t.co/mXbRn3RywP @riverkeeper https://t.co/5KgSg3aEbQ

— EcoWatch (@EcoWatch)1457542328.0
29. Former NRC expert David Lochbaum, now with the Union of Concerned Scientists, has warned that the inspectors' findings on the faulty cooling system wiring are quite serious, and could have been solved easily and cheaply several years ago, when they were first discovered.
30. The corrupt regulatory culture of the NRC is now in the process of re-licensing every American reactor, with projected lifetimes stretching to 60 years, two decades beyond original design capacity, guaranteeing that America's 99 remaining reactors will continue to dangerously decay, putting us all in harm's way. All the relicensing has proceeded without a requirement that the industry get private insurance, which is still unavailable after more than a half-century of operations.
There is much much more. The on-going radiation releases from these jalopy reactors impact our health and undermine our eco-systems every day, threatening our future on this planet, and standing in the way of the Solartopian Revolution in renewables and efficiency that must ultimately save our planet from ecological and economic ruin.
Harvey Wasserman's Organic Spiral of U.S. History will be published soon on www.solartopia.org. He edits www.nukefree.org and wrote Solartopia! Our Green-Powered Earth.
YOU MIGHT ALSO LIKE
15 Things You Didn't Know About Chernobyl
Watch: River Explodes Into Flames From Methane Coming From Nearby Fracking Sites
Is Fracking Causing the Epidemic of Horse Birth Defects at Breeding Farm?
Do the Koch Brothers Want to Mine the Grand Canyon for Uranium?
Seven top Nuclear Regulatory Commission (NRC) experts have taken the brave rare step of publicly filing an independent finding warning that nearly every U.S. atomic reactor has a generic safety flaw that could spark a disaster.
The warning mocks the latest industry push to keep America's remaining 99 nukes from being shut by popular demand, by their essential unprofitability, or, more seriously, by the kind of engineering collapse against which the NRC experts are now warning.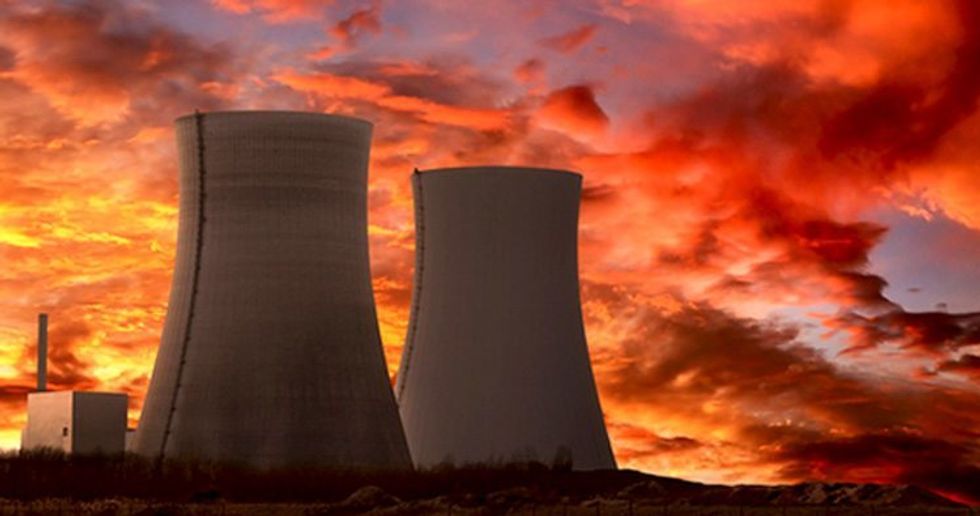 As of Jan. 1, the world has more installed wind capacity than nuke. More than $360 billion was invested last year in renewables, dwarfing new reactor investments.
A small but well-funded band of reactor proponents has been pushing nukes as a solution to climate change. That idea was buried at recent global climate talks in Paris, where a strong corporate pro-nuke push went nowhere.
So some key industry supporters have shifted their efforts to keeping the old reactors open, which is where it gets really dangerous.
Each of the 99 remaining U.S. reactors is in its own particular state of advanced decay. All are based on technology dating to the 1950s, and all but one are at least 30 years old.
Ohio's Davis-Besse has a shield wall that is literally crumbling.
The operating licenses have expired for two reactors at Indian Point, north of New York City, where tritium leaks, massive river pollution and a wide range of safety issues have prompted Gov. Andrew Cuomo to petition for their shut-down. Like numerous other U.S. reactors, Indian Point has been out of compliance with basic fire safety regulations for many years.
At California's Diablo Canyon, veteran NRC resident inspector Michael Peck was transferred after warning the commission that these two huge nukes could not withstand the shocks that might be delivered by the dozen earthquake faults near which they sit. Peck's report was ignored. It only became public after an intense independent investigation by Friends of the Earth and other green groups.
The NRC's income is based on revenues from operating reactors, meaning shutting one runs counter to its financial interests, though Congress seems always ready to pump in more money as long as the regulators don't regulate. President Obama referred to the NRC in 2007 as a "moribund agency."
Now, however, seven top NRC experts have gone public with a warning that 98 of the 99 nukes still operating in the U.S. suffer from a serious cooling system defect that threatens every one of them.
As reported by Reuters, the engineers filed a 2.206 petition usually used by public interest groups to raise safety and other concerns with the commission. That active NRC employees took this route indicates the engineers were concerned about official inaction.
According to Reuters, the engineers worry the flaw leaves U.S. reactors "vulnerable to so-called open-phase events in which an unbalanced voltage, such as an electrical short, could cause motors to burn out and reduce the ability of a reactor's emergency cooling system to function. If the motors are burned out, backup electricity systems would be of little help."
Such an event in 2012 forced the Byron 2 reactor in Illinois to shut for about a week. The engineers' petition says 13 such events have struck reactors worldwide in the past 14 years.
Nuclear expert David Lochbaum of the Union of Concerned Scientists said the commission could have dealt with the issue years ago, but instead "snatched defeat from the jaws of victory" by letting the reactors continue operating without correcting the problem. "Something is not right with the safety culture at the agency," Lochbaum told Reuters.
The NRC could have eased concerns years ago by forcing plants to take action, he said.
Instead, as with so many other unresolved safety issues, America's crumbling reactor fleet continue to put the nation at increasing risk.
Powered by the tsunami of a Solartopian revolution in green energy, the movement to an economy based on renewables and efficiency continues to gain momentum. Even though nearly all their capital costs have long since been underwritten by the public, more and more of the U.S. reactor fleet have become unprofitable to operate.
But as made clear by this latest filing, a vital question remains unanswered: Will the safe energy movement be able to shut all these decayed reactors down before one of these increasingly serious unresolved issues brings yet another radioactive disaster to our shores?
Harvey Wasserman edits www.nukefree.org and wrote SOLARTOPIA! OUR GREEN-POWERED EARTH. His next piece will discuss the corporate campaign to keep failing nukes from shutting.
YOU MIGHT ALSO LIKE
Robert F. Kennedy, Jr.: Syria, Another Pipeline War
5 Years After Fukushima, 'No End in Sight' to Ecological Fallout
Dear President Obama, The Clean Energy Revolution Is Now
Break Free: Stop Dirty Fossil Fuels, Expedite Transition to 100% Renewable Energy
Paul Gipe is one of the world's great Solartopian pioneers. His early work on wind power helped make the industry possible. His website publishes some of the most up-to-date and reliable information on the wind and solar industry. His books form the basic library for the progress of wind energy. His newest book, Wind Energy for the Rest of Us: A Comprehensive Gide to Wind Power and How to Use It, will be available in mid-2016.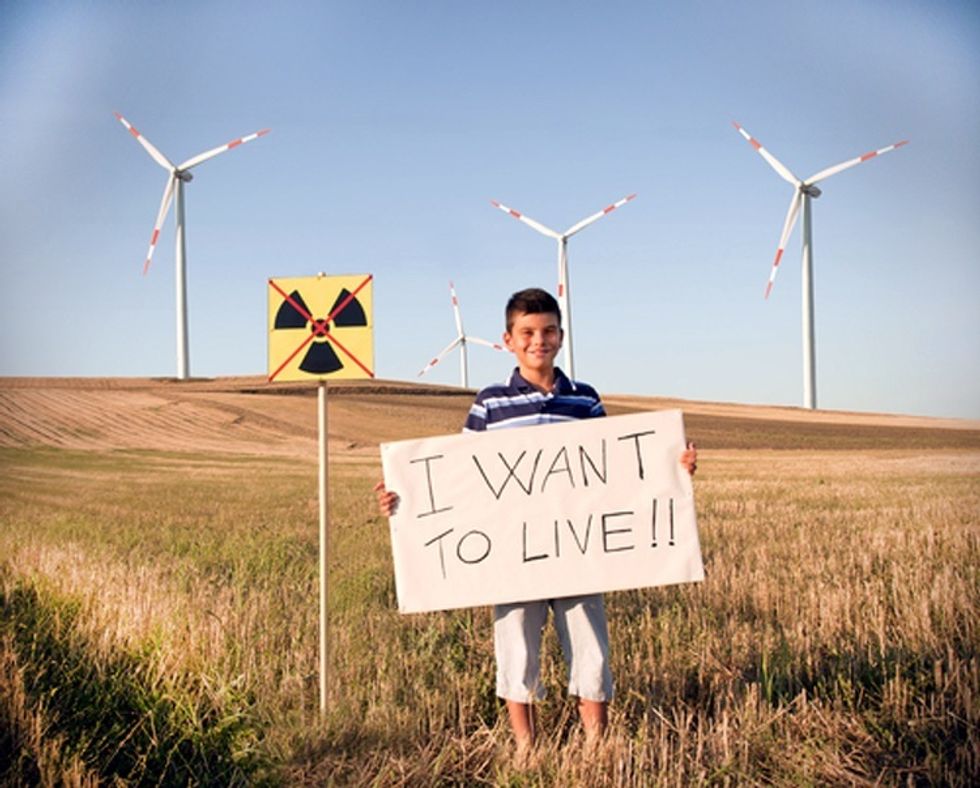 Photo credit: Shutterstock
Based in Bakersfield, California, Gipe is known throughout the business as a brash, independent straight shooter with an incorruptible vision of a green-powered economy and how to best get there.
So when I interviewed him recently on my Solartopia radio show, I was curious to hear his reactions to the Paris accord, since some time has passed to let the dust settle.
But Gipe's take on this landmark agreement comes from well outside the mainstream. Gipe is devoted to community-controlled energy and to the integrity of the green technologies that will take us there.
Gipe minces no words about the horrors of nuclear power. And recent reports of a rising death toll of "Nuclear Gypsies" being sacrificed at Fukushima have not made things any better.
But for Gipe, "Paris was a watershed event," especially with the failure of the nuclear industry to gain real traction there.
Gipe said:
"The world, for the first time, agreed there is a problem with climate change and that we should do something about it. This occurred despite two decades of a sophisticated campaign to downplay and even deny that climate change was occurring.
"Further, several states, regions and provinces agreed for the need to put a price on carbon and numerous cities announced plans to meet 100 percent of their energy needs with renewables.
"There appeared to be a consensus that renewable energy's time has come and that renewables are the future. Regardless of a massive lobbying effort by the nuclear industry there was a sentiment that nuclear is too little, too late and too expensive.
"Another indication of the success of Paris in drawing attention to climate change and need for action has been the shrill cry of right-wing shills for the fossil-fuel industry calling the event a 'sham' because COP 21 didn't include binding targets. They know what happened in Paris and like cornered beasts are reacting with tooth and claw to slow or stop progress toward our renewable future.
"Of course, Paris could have done much more, but considering the opposition of the most powerful corporations on Earth and the nations that profit from the burning of fossil fuels reaching agreement on the need for action is historic.
"Quickly on the heels of Paris, the U.S. Congress, where the party in power in both chambers publicly denies climate change, voted overwhelmingly to renew and extend the subsidies for solar and wind energy. While the wrong policy, the vote revealed that the party's rhetoric about its opposition to subsidies and subsidies particularly to renewable energy is simply a charade."
Gipe concluded though that there's ample room for skepticism. He said that there's no doubting which way the future is going. The Koch Brothers with their fossil/nuclear investments have a lot of clout. But time is not on their side. And when the GOP sides with the renewable energy industry, it's only because there's sufficient financial clout to drive it there.
"There's money to be made in renewables and a lot of it as the world moves toward renewable energy," Gipe said. "Even the Republican party sees that."
And if the Republican party is lining up even partially around renewables, the end for King CONG (Coal, Oil, Nukes & Gas) has surely drawn near.
Here's my interview with Gipe:
Harvey Wasserman hosts the Solartopia Green Power & Wellness Show at www.prn.fm. He edits www.nukefree.org and his America at the Brink of Rebirth: The Organic Spiral of U.S. History will be published soon.
YOU MIGHT ALSO LIKE
Mark Jacobson to James Hansen: Nukes Are Not Needed to Solve World's Climate Crisis
Renewable Energy Soars Amid Plummeting Fossil Fuel Prices
Paris Fails to Revive the Nuclear Dream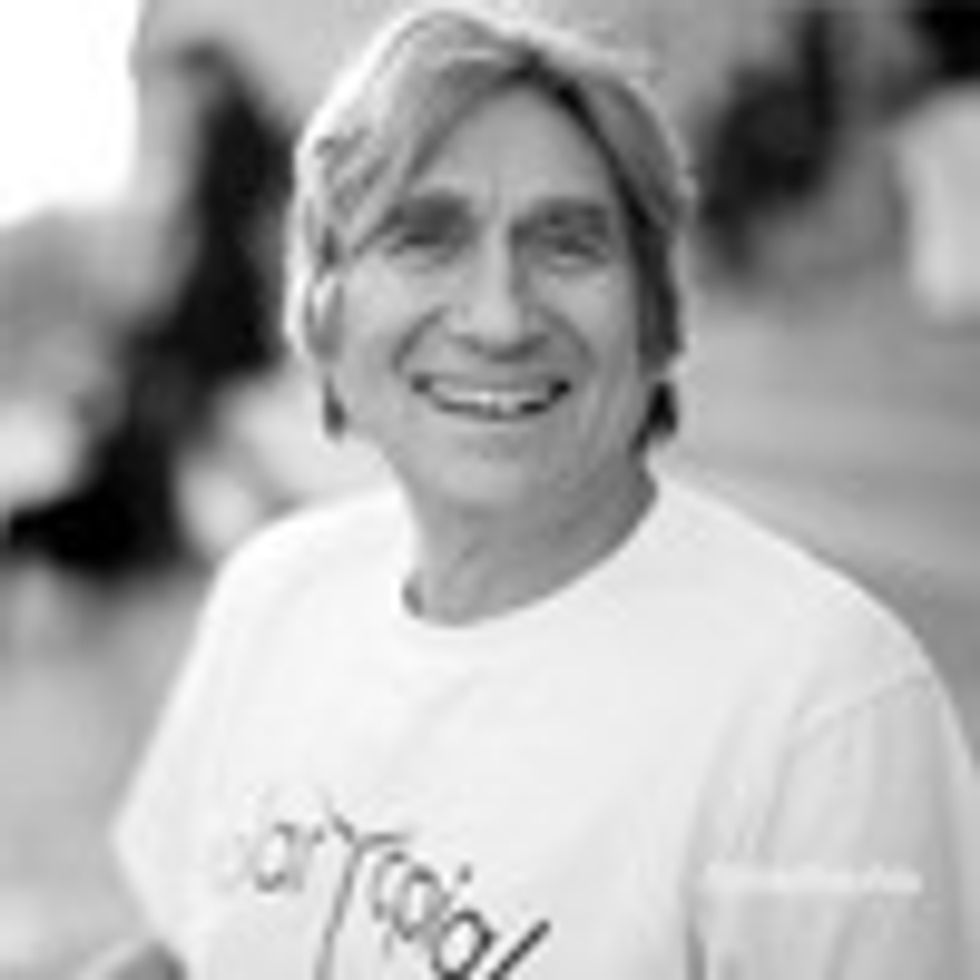 Dr. James Hansen has repeatedly billed himself as an advocate of nuclear power.
Yet sometimes things are so far removed from reality as to not be what they appear to be.
Hansen published an article with three co-writers Thursday in The Guardian. It advocates nukes as a solution to global warming. All have impressive resumes in the fight to save the Earth. But their argument for nukes makes sense only as parody.
James Hansen et al: Nuclear power paves the only viable path forward on climate change https://t.co/xDbwuvjjN3 https://t.co/NheGKreNSo

— Svein T veitdal (@Svein T veitdal)1449216128.0
Consider this direct quote: "A build rate of 61 new reactors per year could entirely replace current fossil fuel electricity generation by 2050."
61 new reactors per year! But that's just for starters.
Another 54 new reactors per year must cover "population growth and development in poorer countries."
So "this makes a total requirement of 115 reactors per year to 2050 to entirely decarbonize the global electricity system in this illustrative scenario," the authors said in The Guardian article.
"We know that this is technically achievable because France and Sweden were able to ramp up nuclear power to high levels in just 15-20 years," they said.
Yikes! Breathe deep! Or be awestruck by the brilliance of the parody.
Right now less than 440 commercial reactors more or less operate worldwide, depending on how one counts those shut since Fukushima.
Now multiply 115 new reactors a year from now until 2050. Can you do it with a straight face?
Team Hansen provides no calculations on the cost, size or reliability of these projected nukes.
We do hear about "next-generation nuclear power with a closed fuel cycle."
But none exist today.
None could be designed, financed or built in time to save us from climate chaos. All would drain the on-going boom in wind and solar.
And, what about: Raw materials? Construction capacity? Siting? Regulation? (think China) Insurance? Ecological impacts? Heat emissions? Terror threats? (think ISIS) Decommissioning?
How about cooling water? Massive marine die-offs and ecological imbalance are standard wherever nukes operate. On a warming planet, is there really enough cold water to cool all these thermal monsters? Is creating these gargantuan quantities of waste heat really how we want to fight global warming? Where are the out-take pipes on solar panels and wind mills?
How goes it with reactors currently under construction, like Finland, Flamanville, Vogtle and VC Summer?
Does Dr. Hansen embrace current reactor designs?
If so, what do we do about: California's Diablo Canyon (surrounded by earthquake faults), Ohio's Davis-Besse (crumbling) and New York's Indian Point (unlicensed and uninsured)?
Consider that the Ohio Public Utilities Commission staff has just recommended a $3.9 billion ratepayer bailout to keep both Davis-Besse and several ancient coal burners online for at least eight more years. What do we do about that?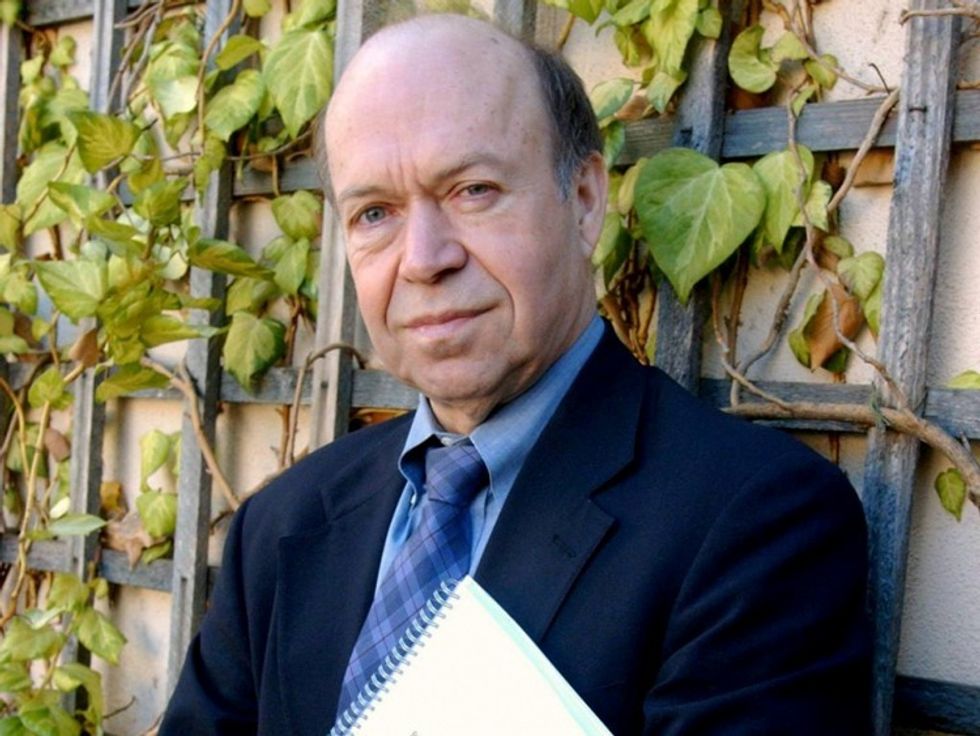 The Guardian article likes the "ramp-up" in Sweden and France. But both are now ramping down.
Nuke waste "does pose unique safety and proliferation concerns that must be addressed with strong and binding international standards and safeguards." But we're assured that "technical means to dispose of this small amount of waste safely" do exist.
Really? Where are the prototypes? The track records? How is Yucca Mountain doing?
We're told those who advocate a 100 percent renewable solution to power our world "ignore the intermittency issue." We Solartopians make "unrealistic technical assumptions" and want a mix that "can contain high levels of biomass and hydroelectric power."
Yet the paradigm shift is everywhere.
Prices for wind and solar plummet while nuke costs soar. Installed wind and solar capacities soar while nuke projections wallow in delay and debt.
Germany's masterful Energiewende and the startling rise of rooftop solar and next generation wind are just the tip of an iceberg. Only decentralized renewables and increased efficiency can save us.
And then there are the batteries. And the revolution in demand management.
The case Team Hansen makes for nukes demands at least three blind eyes: one to current reactor realities (catastrophic), another to the timeline necessary to solve climate chaos (desperate), a third to what's really happening in renewables and efficiency (spectacular).
We certainly are indebted to Dr. Hansen and his co-authors for their years of service to the environment and waking up the world to the devastating impacts of global warming.
Now we are thankful again for this latest thorough and convincing argument that the atomic fiasco must end.
Harvey Wasserman wrote SOLARTOPIA! OUR GREEN-POWERED EARTH and edits NukeFree.org. His AMERICA AT THE BRINK OF REBIRTH: THE ORGANIC SPIRAL OF US HISTORY is coming soon.
10 Cities Win C40 Award for Leading the Fight Against Climate Change
Elon Musk: We Must Put a Price on Carbon to Expedite Transition to Renewables
Bill Nye: Paris Terrorist Attacks Linked to Climate Change
Bill McKibben: 'Paris Summit is Missing One of the Great World Leaders on Climate' Because He's in Prison