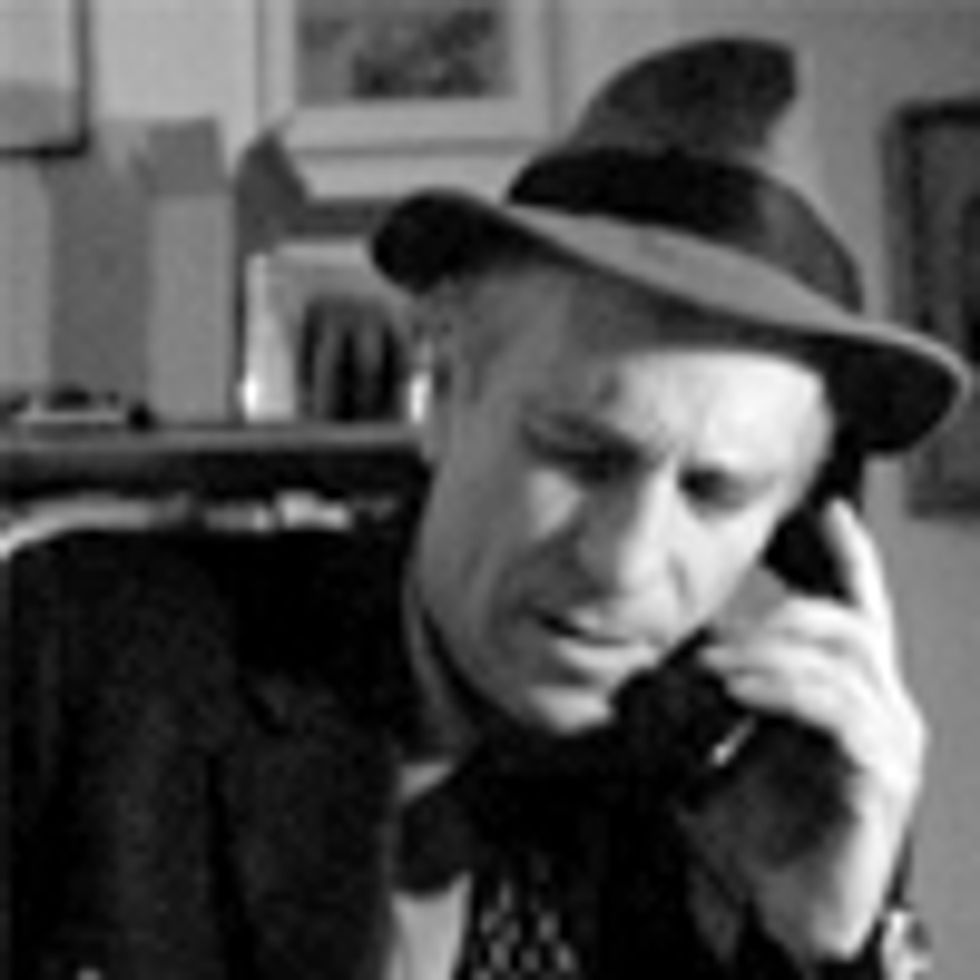 Evidence now implicates top BP executives as well as its partners Chevron and Exxon and the Bush Administration in the deadly cover-up—which included falsifying a report to the Securities Exchange Commission. 
Yesterday, Ecowatch.org revealed that, in September 2008, nearly two years before the Deepwater Horizon explosion in the Gulf of Mexico, another BP rig had blown out in the Caspian Sea—which BP concealed from U.S. regulators and Congress.
Had BP, Chevron, Exxon or the Bush State Department revealed the facts of the earlier blow-out, it is likely that the Deepwater Horizon disaster would have been prevented.
Days after the Deepwater Horizon blow-out, a message came in to our offices in New York from an industry insider floating on a ship in the Caspian Sea. He stated there had been a blow-out, just like the one in the Gulf, and BP had covered it up.
To confirm this shocking accusation, I flew with my team to the Islamic republic of Azerbaijan. Outside the capital, Baku, near the giant BP terminal, we found workers, though too frightened to give their names, who did confirm that they were evacuated from the BP offshore platform as it filled with explosive methane gas.
Before we could get them on camera, my crew and I were arrested and the witnesses disappeared.
Expelled from Azerbaijan, we still obtained the ultimate corroboration: a secret cable from the U.S. Embassy to the State Department in Washington laying out the whole story of the 2008 Caspian blow-out.
The source of the cable, classified "SECRET," was a disaffected U.S. soldier, Private Bradley Manning who, through WikiLeaks.org, provided hot smoking guns to The Guardian.
The information found in the U.S. embassy cables is a block-buster. 
The cables confirmed what BP will not admit to this day: there was a serious blow-out and its cause was the same as in the Gulf disaster two years later—the cement ("mud") used to cap the well had failed.
Bill Schrader, President of BP-Azerbaijan, revealed the truth to our embassy about the Caspian disaster:
"Schrader said that the September 17shutdown of the Central Azeri (CA) platform…was the largest such emergency evacuation in BP's history.  Given the explosive potential, BP was quite fortunate to have been able to evacuate everyone safely and to prevent any gas ignition. … Due to the blowout of a gas-injection well there was 'a lot of mud' on the platform."
From other sources, we discovered the cement which failed had been mixed with nitrogen as a way to speed up drying, a risky process that was repeated on the Deepwater Horizon.
Robert F. Kennedy Jr., president of Waterkeeper Alliance and senior attorney for Natural Resources Defense Council, calls the concealment of this information, "criminal. We have laws that make it illegal to hide this."
The cables also reveal that BP's oil-company partners knew about the blow-out but they too concealed the information from Congress, regulators and the Securities Exchange Commission. BP's major U.S. partners in the Caspian Sea drilling operation were Chevron and Exxon.
The State Department got involved in the matter because BP's U.S. partners and the Azerbaijani government were losing more than $50 million per day due to the platform's shutdown. The Embassy cabled Washington:
"BP's ACG partners are similarly upset with BP's performance in this episode, as they claim BP has sought to limit information flow about this event even to its ACG partners."
Kennedy is concerned about the silent collusion of Chevron, Exxon and the Azerbaijani government. "The only reason the public doesn't know about it is because the Azerbaijani government conspired with them to disappear the people who saw it happen and then to act in concert, in collusion, in cahoots with BP, with Exxon, with Chevron to conceal this event from the American public."
Kennedy's particular concern goes to the connivance of the State Department, then headed by Secretary of State Condoleezza Rice, in the cover-up and deception. Chevron, noted Kennedy, named an oil tanker after Rice who had served on the oil company's board of directors. "BP felt comfortable—and Chevron and Exxon—in informing the Bush State Department, which was run by Condoleezza Rice," he said, "and they felt comfortable that that wasn't going to come out."
The U.S. Securities Exchange Commission requires companies to report "material" events. BP filed a "20-F" report in 2009 stating, "a subsurface gas release occurred below the Central Azeri platform," suggesting a naturally occurring crack in the seafloor, not a blow-out. This contradicted the statements of three eyewitnesses and the secret statement of BP's Azerbaijan President in then WikiLeaks cable.
"The three big actors, Chevron, Exxon and BP all concealed this from the American public," concludes Kennedy. "This is a criminal activity."
And why would the Azerbaijan government cover up a disaster costing it $40 million to $50 million a day? According to another insider, Les Abrahams, it has to do with at least $75 million in bribes that he paid to Azeri officials in Baku. 
Abrahams was a BP executive in Baku in the 1990s working simultaneously, at BP's insistence, with MI6, British intelligence. We met with Abrahams in London who told us he was joined in his payoff runs by BP's CEO and Chairman Lord Browne who insisted on handing over a "sweetener" himself.
BP refused to be interviewed for this investigation, but did answer our questions in writing. The company will neither confirm nor deny the 2008 Caspian Sea blow-out. As to the failure to tell Congress and US regulators and the SEC about the blow-out, BP states only that it informed the government and regulators of Azerbaijan.  However, the company does implicate its partners (Chevron and Exxon). BP states it, "shared the facts of its investigation with the Azerbaijan government, regulators, partners and within BP."
In response to further questions, BP does not deny the payment of bribes to Azerbaijan officials by company executives.  It should be noted that at the time, that, unlike under U.S. law, Britain had not made bribery of foreign officials a crime.
--------
Re-prints permitted with credit to EcoWatch.org and the author.
Greg Palast is the author of Vultures' Picnic (Penguin 2011), which centers on his investigation of BP, bribery and corruption in the oil industry. Palast, whose reports are seen on BBC-TV and Britain's Channel 4, will be providing investigative reports for EcoWatch.org.
EcoWatch Daily Newsletter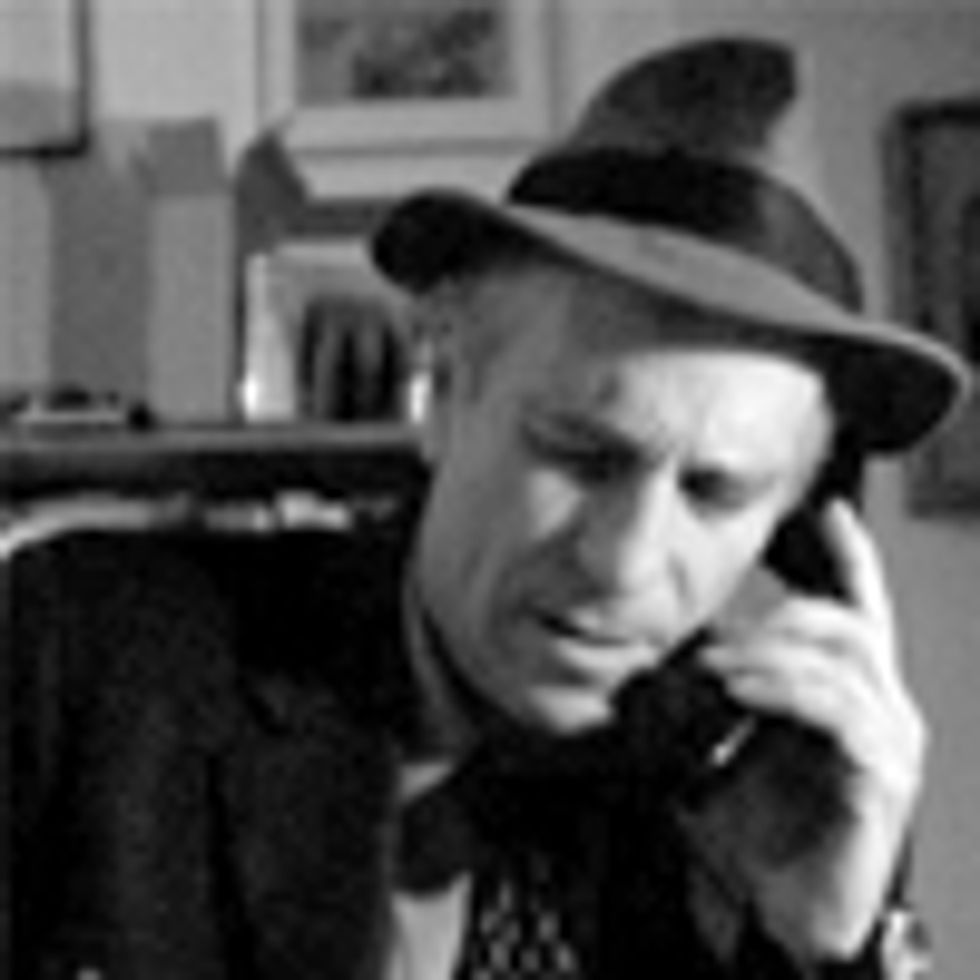 Two years before the Deepwater Horizon blow-out in the Gulf of Mexico, another BP off-shore rig suffered a nearly identical blow-out, but BP concealed the first one from the U.S. regulators and Congress.
This week, EcoWatch.org located an eyewitness with devastating new information about the Caspian Sea oil-rig blow-out which BP had concealed from government and the industry.
The witness, whose story is backed up by rig workers who were evacuated from BP's Caspian platform, said that had BP revealed the full story as required by industry practice, the eleven Gulf of Mexico workers "could have had a chance" of survival. But BP's insistence on using methods proven faulty sealed their fate.
One cause of the blow-outs was the same in both cases:  the use of a money-saving technique—plugging holes with "quick-dry" cement.
By hiding the disastrous failure of its penny-pinching cement process in 2008, BP was able to continue to use the dangerous methods in the Gulf of Mexico—causing the worst oil spill in U.S. history. April 20 marks the second anniversary of the Gulf oil disaster.
There were several failures in common to the two incidents identified by the eyewitness. He is an industry insider whose identity and expertise we have confirmed. His name and that of other witnesses we contacted must be withheld for their safety.
The failures revolve around the use of "quick-dry" cement, the uselessness of blow-out preventers, "mayhem" in evacuation procedures and an atmosphere of fear which prevents workers from blowing the whistle on safety problems.
Robert F. Kennedy Jr., president of Waterkeeper Alliance and senior attorney for Natural Resources Defense Council, said, "We have laws that make it illegal to hide this kind of information. At the very least, these are lies by omission. When you juxtapose their knowledge of this incident upon the oil companies constant and persistent assurances of safety to regulators, investigators and shareholders, you have all the elements to prove that their concealment of the information was criminal."
The first blow-out occurred on a BP rig in the Caspian Sea off the coast of Baku, Azerbaijan, in September 2008. BP was able to conceal such an extraordinary event with the help of the ruling regime of Azerbaijan, other oil companies and, our investigators learned, the Bush Administration.
Our investigation began just days after the explosion and sinking of BP's Deepwater Horizon oil rig on April 20, 2010 when this reporter received an extraordinary message from a terrified witness—from a ship floating in the Caspian Sea:
        "I know how .... Would not be wise for me to communicate via [official] IT system, ...."
When the insider was contacted on a secure line, he stated that he witnessed a blow-out and the panicked evacuation of the giant BP "ACG" drilling platform.
To confirm the witness' story, British television's premier investigative program, Dispatches, sent this reporter under cover into Baku, Azerbaijan, with a cameraman. While approaching the BP oil terminal, the Islamic republic's Security Ministry arrested the crew.
To avoid diplomatic difficulties, we were quickly released. However, two new witnesses suddenly vanished, all communication lost with them, after they confirmed the facts of the 2008 blow-out. Both told us they had been evacuated from the BP off-shore platform as it filled with methane.
Furthermore, witnesses confirmed that, "there was mud (drill-pipe cement) blown out all over the platform." It appears the cement cap failed to hold back high-pressure gases which, "engulfed the entire platform in methane gas," which is highly explosive.
In both cases, the insider told us, BP had used "quick-dry" cement to cap their well bores and the cost-saving procedure failed catastrophically.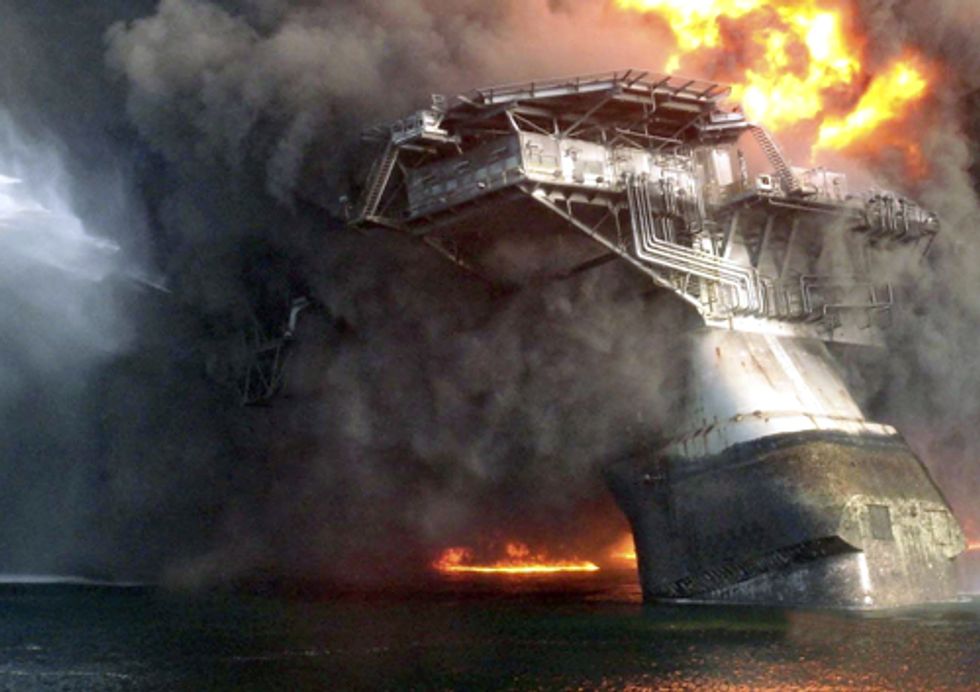 We have learned this week that BP failed to notify the International Association of Drilling Contractors (IADC) about the failure of the cement. (British companies report incidents as minor as a hammer dropped.) Notification would have alerted Gulf cement contractor Halliburton that the process of adding nitrogen to cement posed unforeseen dangers.
In fact, this past December, BP attempted to place the blame and costs of the Gulf disaster on Halliburton, the oil services company that injected quick-dry cement into the well under the Deepwater Horizon. BP told a federal court that Halliburton concealed a computer model that would show that, under certain conditions, the cement could fail disastrously. 
Following the Deepwater Horizon explosion, it became clear that nitrogen-laced mud can leave "channels" in the cement, allowing gas to escape and blow out the well-bore cap. However, that would have become clearer, and risks better assessed, had Halliburton and regulators known of the particulars of the Caspian blow-out.
We have also just learned that the cement casing itself appears to have cracked apart in the Caspian Sea. The sea, we were told, "was bubbling all around [from boiling methane]. You're even scared to launch a life boat, it may sink."
This exposed another problem with deepwater drilling. BP had promoted Blow-Out Preventers (BOPs) as a last line of defense in case of a blow-out. But if the casing shatters, the BOPs could be useless.
BP has gone to extraordinary lengths to conceal the story of the first blow-out, and for good reason:  If the company deliberately withheld the information that it knew "quick-dry" cement had failed yet continued to use it, the 11 deaths on its Gulf rig were not an unexpected accident but could be considered negligent homicide.
Kennedy told me, "This is a critical piece of information. The entire government is basing its policy on the assurances of this company that this process can be done safely and it never failed before. This is what they were telling everybody. Yet, the whole time they knew that this was a process that had failed disastrously in the Caspian Sea."
Why haven't these stories come out before? This week our witness explained that in Azerbaijan, "People disappear on a regular basis. It's a police state." 
But even in the U.S. and Europe, BP and other industry workers are afraid to complain for fear their files will be marked "NRB," for Not Required Back­­—which will end a workers' offshore career. Jake Malloy, head of the Offshore Oil Workers Union, reached in Aberdeen, Scotland, independently confirmed statements of the whistleblowers. He noted that companies create an atmosphere of fear for one's job with the "NRB" system and its latest variants, which discourage reports on safety problems.
BP refused an interview for this investigation, though the company responded to our written questions regarding the Caspian blow-out. Notably, the company does not deny that the blow-out occurred, nor even that it concealed the information from U.S. and UK regulators. Rather, the company says there was a "gas release"—a common and benign event, not a blow-out. As to the accusation of concealment, BP states:
"BP has shared findings from its investigation into the incident with the Azerbaijan government, [Azerbaijan] regulators, its partners and within BP."
While BP says it issued a press release at the time of the September 2008 Caspian blow-out, the company did not tell the whole truth as reported by workers and witnesses. 
The BP press release of that day admitted only that, "a gas leak was discovered in the area of" the platform when, in fact, it was an explosion of cement and methane, say our witnesses, "which engulfed the platform."
BP later stated that all operations on the platform were suspended as a "precautionary measure," suggesting a distant, natural leak. In fact, the workers themselves said that, like the workers on the Deepwater Horizon, they were one spark away from death, with frightened minutes to escape.
While BP called the evacuation a by-the-textbook procedure, in fact, said our witness, "It was total mayhem," and that a lifeboat rammed a rescue ship in the chaos. U.S. government investigators in the Gulf cite BP's confused and chaotic evacuation procedures for possibly adding to the Deepwater Horizon's death toll. Information about the 2008 blow-out should have led to improved procedures and possibly could have saved lives.
More seriously, BP PLC's official filing to the U.S. Securities Exchange Commission, which requires reporting of all "material" events in company operations, again talked about a "subsurface release," concealing that the methane blew out through its drilling stack.
Both the safety of quick-dry cement (which some drillers won't use) and deep water drilling itself were in contention before the April 20, 2010 Gulf blow-out. In fact, the U.S. Department of Interior was refusing BP, Chevron and Exxon the right to expand the area of their deep water drilling in the Gulf over safety questions.
However, BP and the industry conducted a successful lobbying campaign to expand deep water drilling. BP's Vice-President for operations in the Gulf, David Rainey, testified before Congress in November 2009, five months before the Deepwater Horizon explosion that, "Releases from oil and gas operations are rare." Rainey assured Congressmen that reliable "well control techniques" such as cement caps will prevent a deep water disaster.
Rainey made no mention to Congress of the blow-out in the Caspian Sea which occurred a year before his testimony.
BP itself states that if not for Halliburton's quick-dry cement failures, the Deepwater Horizon would never have blown out.  Halliburton defends itself by saying that BP's methods created air channels in the cement that caused it to fail.
Notably, BP's court Motion states, "Halliburton has deprived the Court and parties of uniquely relevant evidence." BP claims that hiding the information about problems with the cement caused the loss of lives.
Kennedy suggests that if Halliburton's withholding evidence was deadly, so was BP's concealment of the cement failure in the Caspian.
Stefanie Penn Spear, editor of EcoWatch.org, says that BP's hiding evidence ultimately led to, "The biggest oil spill in U.S. history. It entirely turned the Gulf Coast economy upside down and threatened—and continues to threaten—the health and livelihoods of the people in the Gulf region."
How is it that a major oil disaster, a blow-out that shut down one of the world's biggest oil fields and required the emergency evacuation of 211 rig workers could be covered up, hidden from U.S. regulators and Congress?
The answer:  pay-offs, threats, political muscle and the connivance of the Bush Administration's State Department, Exxon and Chevron.
For that story, read Part 2 of Greg Palast's investigation BP Covers up Blow-Out—Bush, Big Oil and WikiLeaks on EcoWatch.org on April 20.

--------
Re-prints permitted with credit to EcoWatch.org and the author.
Greg Palast is the author of Vultures' Picnic (Penguin 2011), which centers on his investigation of BP, bribery and corruption in the oil industry. Palast, whose reports are seen on BBC-TV and Britain's Channel 4, will be providing investigative reports for EcoWatch.org.
What should you know about the up-and-coming company Blue Raven Solar?
Reviews
zstockphotos / E+ / Getty Images
Considering a solar energy system from Blue Raven Solar? Before you sign a contract, you may want to know more about the company's services, major pros and cons, and what Blue Raven Solar reviews say about the quality of service you can expect from this installer.
In this article, we'll discuss all that and more to help you figure out if Blue Raven Solar is the right choice for your home.
| | Blue Raven Solar Fast Facts |
| --- | --- |
| Year Started | 2014 |
| Service Areas | 17 states including CO, FL, GA, ID, IL, IN, KS, KY, MO, NC, NV, OH, OR, SC, TX, UT, VA |
| Service Types | Solar panel system installations and monitoring |
| Types of Panels Sold | Monocrystalline black-on-black panels between 315 and 335 watts from brands including Trina and Canadian Solar |
| Backup Battery Options | Not yet offered |
| Certifications | North American Board of Certified Energy Practitioners (NABCEP) technicians |
| Better Business Bureau (BBB) Rating | A+ with accreditation |
The best way to assess whether solar is a practical option is to get quotes from a local installer. To receive a free quote from Blue Raven Solar, or a similar provider in your area, fill out the 30-second form below.
Blue Raven Solar Overview
Founded in 2014, this young solar power provider boasts a stellar reputation anchored in exceptional customer service and an innovative solar financing model. Its mission is to make homeowners' lives better by reducing their utility bills, increasing their reliance on clean and abundant renewable energy and providing a world-class customer experience through a reliable sales process and speedy, high-quality installations.
Though Blue Raven Solar may not be a household name like some other top solar companies, the growing provider has expanded its service area to an impressive 17 states and has no plans of slowing. Solar giant SunPower recently acquired Blue Raven Solar for $165 million, a testament to its growth and potential in the residential solar market. As of now, it does not appear that Blue Raven's operations will be affected by the acquisition.
Blue Raven Solar Services and Installation
Blue Raven Solar installs residential solar panels with top-of-the-line products and inverters. It sells exclusively monocrystalline Tier 3 black-on-black solar panels (between 315 and 335 watts) to provide a seamless look on your rooftop. Brands used in Blue Raven installations typically include Trina and Canadian Solar, which are both known for their reliable, relatively affordable solar panels. Although Blue Raven Solar does not yet offer solar battery installations, it plans to soon.
Blue Raven strives to provide a world class customer experience through a reliable sales process, flexible solar financing and a speedy, high-quality installation. Here's what you can expect the solar panel installation process to look like with Blue Raven Solar.
Receive a free quote by providing some basic information like your address, average monthly energy bill and credit score.
If deemed eligible, Blue Raven Solar will conduct a site visit at your home to examine the type of roof you have as well as its quality and electrical status.
After the site visit, Blue Raven will work with you to draw up a maximum efficiency plan for your roof. It's at this stage that your solar consultant will be able to answer any questions you may have about the solar panel installation process, solar tax credits, state solar incentives and financing options.
Once all your questions have been answered and you feel confident in your decision, Blue Raven Solar will draw up your solar contract and apply for city permits. Blue Raven will handle all the paperwork, but expect this process to take a few weeks.
After applying for city permits, Blue Raven Solar will get in touch with your utility company to enroll you in its net metering program, if applicable. Incentives like net metering are important to understand prior to signing a contract.
Once all permits, agreements and plans are in order, Blue Raven Solar will install your solar energy system. This can be carried out in as little as one day depending on the complexity of your system.
Before you can turn the system on, you will need to pass inspections carried out by the city and the local utility companies. These are usually separate inspections and processes will vary depending on your location. Blue Raven will handle the logistics.
Solar Panel Warranty
Blue Raven Solar provides its customers with a 25-year product warranty, which will cover issues related to the manufacturing of the solar panels themselves. Routine maintenance, such as solar panel cleaning or snow removal, is the responsibility of the homeowner.
Like most solar panel installers, Blue Raven also provides a 10-year workmanship warranty that covers homeowners against faulty workmanship or errors by the installation team.
The company prides itself on customer satisfaction — and thousands of positive Blue Raven Solar reviews can tell you it's not just an advertising tactic. One nice perk of going with this company is that it will cover the cost to repair any solar system that is underperforming its expected rate. Note that this production guarantee only lasts for two years, so be sure to monitor your system closely after installation.
Blue Raven Solar Costs and Financing
The cost of solar is difficult to estimate by provider, as it can vary so widely depending on your state, roof and energy needs. However, Blue Raven sets itself apart from most competitors with its exclusive solar financing plan, BluePower+.
Financing Options Through Blue Raven Solar
BluePower+ is a financing option available only to Blue Raven Solar customers. Unlike most other solar loans, BluePower+ offers the unique advantages of a $0-upfront option for the first 18 months of a system's life, as well as a fixed repayment rate and the ability to pay the loan off at any time without penalty. The company claims this attractive financing option (when coupled with the federal tax credit) allows customers to pay off more than 33% of the overall cost of a system within the first 18 months after installation. This adjustment quickly accelerates the solar panel payback period for Blue Raven customers.
Blue Raven Solar does not offer solar leases or power purchase agreements (PPAs).
Blue Raven Solar Reviews
As Blue Raven Solar positions itself as a leader in customer experience and satisfaction, it's no surprise that it has received some standout feedback. Let's take a look at a few examples of positive and negative Blue Raven Solar reviews.
Positive Blue Raven Solar Reviews
Most satisfied customers post reviews similar to that below, praising Blue Raven's customer service:
"Blue Raven did an excellent job under-promising and over-delivering, contrary to most competitors. Install was completed quickly, correctly, and all inspections were tailored to my schedule. My power bill is completely gone, and my property value has increased at the same time. Strongly recommend it."
– Justin via Google Reviews
"Blue Raven Solar made this so easy. They got the permits, contacted my HOA, found a great roof company for my new roof and then installed my solar panels. The solar install team was so nice, on time, efficient and professional. If you are looking for solar, use Blue Raven Solar!"
– Cindy via BBB
Negative Blue Raven Solar Reviews
As with any young company, Blue Raven Solar has experienced some growing pains. Most negative Blue Raven Solar reviews involve difficulties in communication after a sale.
"Terrible experience. We have a $20,000+ solar package with this company that hasn't worked correctly for over a year. (All the while I've been paying for it.) Every time that we schedule to have it taken care of, the company finds some excuse to put it off."
– Joshua via BBB
Blue Raven Solar strives for exemplary service, so it has personally replied to most if not all of its negative feedback online. Much of Blue Raven Solar's growth is credited to its referral program, which serves as a testament to the overall satisfaction of its customers.
Final Thoughts on Blue Raven Solar
Blue Raven Solar's innovative financing model, exceptional customer experience, quality warranty and A+ rating from the BBB make it a safe and reliable choice for solar customers. Tackling financing and solar loan strategies can be a tough challenge for a new solar adopter, but Blue Raven sets itself apart from the competition with its straightforward financial solution that provides immediate returns.
Expanding with the speed and success of Blue Raven Solar would be a challenge for most solar providers, but Blue Raven is addressing these challenges head-on. The provider has delivered on customer expectations during a rapid stage of growth and is expanding offerings of backup batteries to provide further customization for its customers.

| Blue Raven Solar Pros | Blue Raven Solar Cons |
| --- | --- |
| Innovative financing options | No backup battery options |
| Exceptional service and customer satisfaction | Little customization |
| Energy monitoring service available | No solar lease or PPA option available |
| Quickly growing service areas | |
Based on our research, we recommend Blue Raven Solar to customers who are new to solar, don't need customization or don't have an advanced understanding of the technicalities behind a solar panel installation. Its straightforward financing, trusted sales staff and customer service make the process simple and easy to understand for a customer new to solar. Though an impressive young company, Blue Raven Solar may not provide the best services for those seeking a specific brand of panel, backup battery options or more custom features.
Solar Energy Provider Comparison
Unless you're handy enough to complete a DIY solar project, most homeowners considering solar will have to find a local installer to complete the design, permitting and installation of solar panels. But which is the right choice for your home?
Let's compare Blue Raven Solar to some of the other name-brand solar companies in the U.S: Sunrun and SunPower. Overall, Blue Raven Solar excels in customer satisfaction relative to its competitors, earning it a rank among the top national providers.
| | Blue Raven Solar | Sunpower | Sunrun |
| --- | --- | --- | --- |
| Year Started | 2014 | 1985 | 2007 |
| Services Offered | Solar panel installation, monitoring, maintenance | Solar panel installation, battery installation, monitoring | Solar panel installation, battery installation, monitoring, maintenance |
| Batteries Offered | No | Yes | Yes |
| Service Areas | CO, FL, GA, ID, IL, IN, KS, KY, MO, NC, NV, OH, OR, SC, TX, UT, VA | All 50 States | AZ, CA, CO, CT, FL, HI, IL, MD, MA, NV, NH, NJ, NM, NY, PA, RI, SC, TX, VT, WI, Puerto Rico and Washington D.C. |
| BBB Rating | A+ | A+ | B+ |
| Payment Options | Cash, in-house financing plans | Cash, loan, lease | Cash, loan, lease, PPA |
FAQ: Blue Raven Solar
How does Blue Raven Solar work?
Blue Raven Solar installs residential solar panels with top-of-the-line products and inverters across 17 states as of 2021. Complete with design, permitting, installation and custom financing of PV panels, Blue Solar offers comprehensive services for those looking for a solar panel array.
What kind of company is Blue Raven?
Blue Raven Solar is a regional residential solar panel provider and installer. It was recently acquired by national provider SunPower.
How long has Blue Raven Solar been around?
Blue Raven Solar was founded in 2014, which makes its service area of 17 states all the more impressive. Within seven years, Blue Raven Solar's staff has expanded from three to over 1,400 employees.
Is Blue Raven Solar a good place to work?
In 2021, Blue Raven Solar ranked in the top 20 Best Places to Work in Glassdoor's annual Employees' Choice Awards. Coupled with a 4.3 out of 5-star rating on Glassdoor, the award proves Blue Raven Solar is a good choice if employee satisfaction is an important factor in your employment decision.
Where is Blue Raven Solar available?
Blue Raven Solar offers service in 17 states including Colorado, Florida, Georgia, Idaho, Illinois, Indiana, Kansas, Kentucky, Missouri, Nevada, North Carolina, Ohio, Oregon, South Carolina, Texas, Utah and Virginia.
Karsten Neumeister is a writer and renewable energy specialist with a background in writing and the humanities. Before joining EcoWatch, Karsten worked in the energy sector of New Orleans, focusing on renewable energy policy and technology. A lover of music and the outdoors, Karsten might be found rock climbing, canoeing or writing songs when away from the workplace.
Following the Deepwater Horizon explosion, Greg Palast led a four-continent investigation of BP PLC for Britain's television series Dispatches. From 1989-91, Palast directed the investigation of fraud charges in the Exxon Valdez grounding for Alaska Native villages.
Some deal. BP gets the gold mine and the public gets the shaft.
On Friday night, the lawyers for 120,000 victims of the Deepwater Horizon blow-out cut a deal with oil company BP PLC which will save the oil giant billions of dollars. It will also save the company the threat of a trial that could expose the true and very ugly story of the Gulf of Mexico oil platform blow-out.
I have been to the Gulf and seen the damage—and the oil that BP says is gone. Miles of it.  As an economist who calculated damages for plaintiffs in the Exxon Valdez oil spill case, I can tell you right now that there is no way, no how, that the $7.8 billion BP says it will spend on this settlement will cover that damage, the lost incomes, homes, businesses and boats, let alone the lost lives—from cancers, fetal deformities, miscarriages, and lung and skin diseases.
Two years ago, President Barack Obama forced BP to set aside at least $20 billion for the oil spill's victims. This week's settlement will add exactly ZERO to that fund. Indeed, BP is crowing that, adding in the sums already paid out, the company will still have spent less than the amount committed to the Obama fund.
There's so much corrosion, mendacity and evil covered up by this settlement deal that I hardly know where to begin.
So, let's start with punitive damages.
I was stunned that there is no provision, as was expected, for a punishment fee to by paid by BP for it's willful negligence. In the Exxon Valdez trial, a jury awarded us $5 billion in punitives—and BP's action, and the damage caused in the Gulf, is far, far worse.
BP now has to pay no more than proven damages. It's like telling a bank robber, "Hey, just put back the money in the vault and all's forgiven."
This case screamed for punitive damages. Here's just a couple of facts that should have been presented to a jury:
For example, the only reason six hundred miles of Gulf coastline has been slimed by oil was that BP failed to have emergency oil spill containment equipment ready to roll when the Deepwater Horizon blew out. BP had promised the equipment's readiness in writing and under oath.
And here's the sick, sick part. This is exactly the same thing BP did in the Exxon Valdez case. It was BP, not Exxon, that was responsible for stopping the spread of oil in Alaska in 1989. In Alaska, decades ago, BP told federal regulators it would have oil spill "boom" (the rubber that corrals the spreading stuff) ready to roll out if a tanker hit. When the Exxon Valdez struck Bligh Reef, BP's promised equipment wasn't there: BP had lied.
And in 2010, BP did it again. Instead of getting the oil contained in five hours as promised as a condition of drilling, it took five days to get the equipment in place (and that was done by the US Navy on orders of the President).
This was more than negligence: it was fraud, and by a repeat offender. Now BP is laughing all the way to the bank.
And there's more. BP mixed nitrogen into the cement which capped the well-head below the Deepwater Horizon. BP claimed to be shocked and horrified when the cement failed, releasing methane gas that blew apart the rig. BP accused the cement's seller, Halliburton, of hiding the fact that this "quick-set" cement can blow out in deep water.
But, in an investigation that took me to Central Asia, I discovered that BP knew the quick-set cement could fail - because it had failed already in an earlier blow-out which BP covered up with the help of an Asian dictatorship.
The lack of promised equipment, the prior blow-out—it all could have, should have, come out in trial.
Think about it: BP knew the cement could fail but continued to use it to save money. Over time, the savings to BP of its life-threatening methods added up to billions of dollars worldwide. BP will get to keep that savings bought at the cost of eleven men's lives.
Other investigators have uncovered more penny-pinching, life-threatening failures by BP and its drilling buck-buddies, Halliburton and TransOcean. These include bogus "blow-out preventers" and a managerial system that could be called, "We-Don't-Care Chaos."
BP partners and contractors will have to pay $5.4 billion as part of the deal—and BP, not the victims, will keep the entire $5.4 billion. If TransOcean and Halliburton follow suit, BP could walk without paying another dime to victims.
BP had no choice but to pay proven damages and conceded as much. I have learned from inside the plaintiffs' legal team that this judge was just not going to allow punitive damages; and the Bush-burdened US Supreme Court is just as hostile. (The Supremes cut the Exxon Valdez punitive award by 90 percent.)
So BP walks without the civil punishment that tort law should provide and justice demands, grinning and ready to do it again: drill on the cheap with the price paid by its workers and the public.
But stopping a trial denies the public more than the full payment due: it denies us the truth, the whole truth and nothing but the truth. There are 72 million pages of evidence from inside BP and industry files obtained by legal discovery in the case which are now likely to follow the rig to the bottom of the sea.
That's not good. We need the real story.
The lawyers for plaintiffs got all they could get for their clients given the rightward march of the law. Also, there is no doubt that the control of the "$20-billion" spill fund by Kenneth Feinberg, known here in New York as "The Reptile," the back room choice of Obama and BP, shafted victims by the thousands. Getting the Fund out of his saurian hands is probably the best part of the settlement deal.
But we need to widen the idea of "victim" to beyond those measurably harmed individuals. We are all BP's victims: because of BP's and the industry's addiction to safety fakery from Alaska to the Caspian.
The President has just opened up the arctic waters of Alaska for drilling, has reopened the Gulf to deepwater platforms, and is fiddling with the idea of allowing the XL Pipeline to slice America in half.
So we need to know: Can we trust this industry?
The states of Louisiana and Mississippi could still haul BP into court. Fageddaboudit: neither Louisiana's Governor Bobby Jindal nor Mississippi's Phil Bryant, both of the Grand Oil Party, will expose BP. The Obama Administration must be pushed to bring the case to trail in the public interest. Though the history of federal complicity and Obama's fear of looking like a whale-hugging drill buster suggests a sell-out is in the offing.
Without a trial in the Deepwater Horizon case, we may never get the answer, never get the full story of the prior blow-outs, the fakery in the spill response system, and other profits-first kill-later trickery that bloats the bottom line of BP and the entire drill-baby-drill industry.
--------
For more on Palast's worldwide investigation of BP and the industry in Central Asia, the Gulf, Alaska and the Amazon, read Palast's new book, Vultures' Picnic: In Pursuit of Petroleum Pigs, Power Pirates and High-Finance Carnivores at www.VulturesPicnic.org.
You can read Vultures' Picnic, "Chapter 1: Goldfinger," or download it, at no charge: click here.