EcoWatch Daily Newsletter
In the past few months, Detroit got flooded by unusually heavy rains. Washington State wrapped up one of its most destructive fires seasons on record. And California remains in the grip of extreme drought, with major reservoirs holding just 43 percent of normal levels. Joe Muzzi, a California farmer, said, "If it doesn't rain this winter we are out of business." Already 17,100 jobs have been lost due to the drought.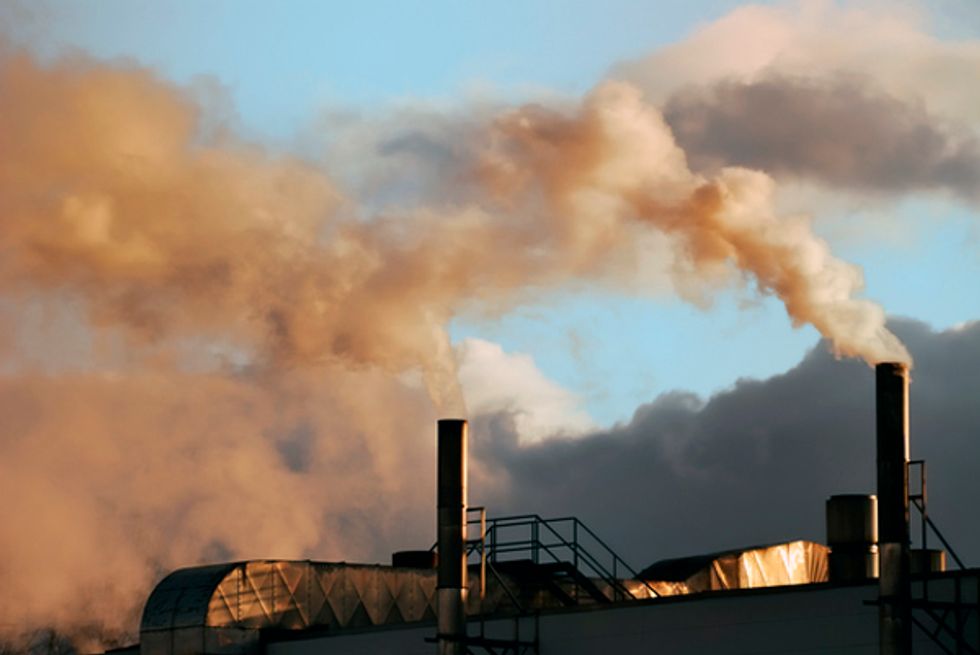 Climate change is hurting American communities right now. It will take an even greater toll on future generations if we don't confront it.
Fortunately, the U.S. Environmental Protection Agency (EPA) is taking action.
Yesterday was the deadline for filing comments on the EPA's proposed limits on carbon pollution from power plants. The National Resources Defense Council (NRDC) submitted detailed comments, because we know the EPA's plan is the most important step the U.S. can take to address climate change right now.
Carbon pollution is the biggest driver of climate change, and 40 percent of all carbon pollution in this country comes from power plants. Yet, astonishingly, there are no national limits on how much carbon pollution these plants can dump into our atmosphere. That's not right, and it's time to fix it.
Americans have filed more than 8 million comments in favor of the EPA's plans to limit carbon pollution from new and existing power plants—the most ever received by the agency. This comes as no surprise given numerous polls. An ABC/Washington Post survey, for instance, found that 7 in 10 Americans view climate change as a serious problem and support federal action to reduce greenhouse gases.
People want to shield their families from extreme weather. And they want to breathe cleaner air and expand the economy. NRDC's analysis confirms that the EPA's carbon limits will deliver those benefits.
Here is how it works. In June, President Obama released a Clean Power Plan calling on the EPA to cut carbon pollution from power plants by 26 percent in 2020 and 30 percent by 2030. States and power companies will develop their own pathways to hit the targets, and energy efficiency and renewable power offer the most cost-effective ways to do it.
This shift toward cleaner energy would save the average American family $103 a year on electricity bills, according to recent analysis.
Strong carbon limits could also create more than 274,000 jobs in energy-efficiency alone in 2020. That's on top of new jobs in the fast-growing renewable power sector. There are already almost 200,000 Americans working to get more power from the sun and the wind. The president's plan will expand those opportunities.
In the comments NRDC filed today, we celebrated the many benefits of the EPA's proposed carbon limits. We also suggested three ways to make a good plan better. Here is what we urged the EPA to do:
1. Recognize the Full Contribution of Efficiency and Renewable Power.
Technology and market advances have improved that picture since the EPA made its initial calculations. As a result, the EPA's figures underestimate the potential for renewable generation in 2020 by at least 40 percent. Similarly, the EPA's projections underestimate what's possible through energy efficiency. Updating those calculations will show we can cut more carbon, at less cost and create even more jobs than the agency's own analysis has shown.
2. Cut Carbon Pollution Even More.
The rapid performance improvements and price cuts in energy efficiency and renewable power make clear that we can do better than the EPA's initial goal. NRDC analysis shows we can readily exceed a 40 percent reduction by 2030. America should commit to that target and show that we're serious about protecting future generations from the dangers of climate change.
3. Set Verifiable and Enforceable Interim Targets for Reducing Pollution.
Right now, the EPA has proposed that carbon pollution cuts be averaged in over a ten-year period between 2020 and 2029. Sharpening our focus with two five-year compliance periods will help states and power companies keep their eye on the ball, step up the pace of progress on efficiency, renewable power and other clean-energy advances and improve our ability to measure and monitor our gains.
Strong limits on carbon pollution will save Americans money, create jobs, improve our health, and help defuse climate change. Republican leaders in Congress, however, have vowed to block the EPA from moving forward—despite the enormous public support for climate action.
YOU MIGHT ALSO LIKE
3 Key Issues Governments Must Agree On at Lima Climate Talks
Low-Carbon Economies Most Promising Pathway to Meaningful Global Climate Agreement
Howard Kingsnorth / iStock / Getty Images
When you think about solar energy, you probably tend to think about places in the Sun Belt — Southern California, Arizona, Texas, North Carolina and places in between. It might surprise you to learn that New Jersey actually gets ample sun exposure, making it one of the top states for solar installation. In fact, the Solar Energy Industries Association notes that New Jersey ranks No. 7 in the nation for total solar installations.
Of course, some parts of New Jersey rank higher than others for overall solar adoption. In this article, we'll take a closer look at the top cities for solar in New Jersey.
Top 10 Cities for Solar in New Jersey
To rank the top cities for solar in New Jersey, the EcoWatch team took into account reports furnished by the SEIA, the National Renewable Energy Laboratory's solar irradiance maps and GIS data from the New Jersey Department of Environmental Protection, among other data points.
Based on our research, we rank these as the top cities for solar in New Jersey:
Newark
Trenton
Middletown Township
Edison
Woodbridge
Long Branch
Lakewood
Cherry Hill
Paterson
Camden
Newark

Newark is one of New Jersey's most significant centers for the arts and culture. It's also a city with a growing reliance on solar energy, helping homeowners keep their utility expenses manageable. In fact, the latest Shining Cities report from Environment America shows Newark is one of the top 20 cities in the country for per-capita solar installation.
Trenton
New Jersey's capital city has made an admirable investment in solar energy. There are a number of top solar companies operating in the area that enable homeowners to easily make the jump to clean, renewable energy. This is helping the city become a leader in offsetting high electric costs.
Middletown Township
Middletown Township is a coastal area due south of Staten Island, New York. It's located in Monmouth County, which is one of three New Jersey counties that has over 300,000 kW of solar capacity installed.
Edison
Just an hour outside of Manhattan, Edison is a growing bedroom suburb of New York City. Because of its proximity to the Big Apple, Edison has a consistently high population. It also has a steady commitment to solar energy that's matched by many surrounding cities in Middlesex County.
Woodbridge
Another part of the broader NYC metropolitan area, Woodridge gets a decent amount of sunlight. Spend any amount of time in the town and you'll notice at least a few rooftops retrofitted with different types of solar panels. You'll probably also see a number of commercial buildings with solar arrays, as Middlesex County has the most non-residential solar installations of any county in New Jersey.
Long Branch
Long Branch, also in Monmouth County, has plenty of access to beaches and shorelines — and with it, ample exposure to the sun's natural rays. It's a great place to invest in solar power; according to NREL maps, Long Branch has one of the highest residential roof-mount potentials in the state and over 20,000 identified buildings that are suitable for solar.
Lakewood
A growing New York City bedroom community, Lakewood has many rooftops that are in prime position for solar power. It's located in Ocean County, which has New Jersey's highest percentage of residential solar installations according to the NJDEP.
Cherry Hill
Cherry Hill gets enough sunlight that solar energy is a very viable proposition for local home and business owners. NREL maps show Cherry Hill has an above-average number of buildings suitable for solar installation and good potential for energy generation, making it one of the top cities for solar in New Jersey.
Paterson
New Jersey's third most populous city has a growing solar scene, and a number of local installers who are eager to help homeowners capitalize on clean, renewable energy. Like Long Branch, Patterson has a very high residential roof-mount potential and over 20,000 buildings suitable for solar installations.
Camden
Located just across the Delaware River from Philadelphia, Camden offers homeowners enough access to sunlight to make it very viable for solar power. It rounds out our list of the top cities for solar in New Jersey thanks to its potential for annual solar power generation and number of buildings fit for solar, plus the capacity the city has already installed.
Where Solar Panels Work Best
In considering the top cities for solar in New Jersey, it's worth pointing out a couple of common denominators. For one, the best cities for solar tend to be places that get lots of sunlight throughout the year. This often makes beach towns especially prime solar locations, and the Garden State has a lot of coastline.
Average New Jersey Electricity Costs
Additionally, cities with higher utility costs tend to be advantageous places to invest in solar power. As a rule of thumb, if your electric costs are high, it means you'll see more benefits from investing in solar panels.
According to the Energy Information Administration, the average monthly energy consumption in New Jersey is 663 kWh, which is actually quite a bit more than in New York but less than in Pennsylvania. The average monthly electric cost is a little more than $105, which is comparable with surrounding states.
New Jersey Solar Tax Incentives
One reason New Jersey has exceptional solar installation rates (even though it's not in the Sun Belt) is that the state has some of the best solar incentives in the entire country. These greatly reduce the overall cost of solar panels for residents.
For example, take the net metering program. Through net metering, if your residential solar system generates more electricity than you actually need, you can funnel that surplus energy back into the eclectic grid and get credits from local utility providers. In other words, New Jersey creates an easy way to sell your excess solar power. To learn more about net metering opportunities, check with participating utility providers, including Jersey Central Power & Light (JCP&L) and Public Service Enterprise Group (PSEG).
New Jersey also offers a sales tax exemption on solar products; when you buy solar panels and other necessary equipment, you won't need to pay the state's 7% sales tax. This makes the initial solar investment considerably more affordable.
The state also offers property tax exemptions: Your residential solar system may increase the value of your property, but it won't make property taxes increase in kind.
Federal Solar Tax Credits
In addition to these state-level incentives, New Jersey homeowners can also take advantage of a federal tax credit, which is available to all Americans. The current credit will reduce the initial cost of your residential solar system by 26% if installed prior to 2022 and 22% if installed in 2023. It is scheduled to drop off for residential solar panel installations in 2024.
New Jersey Solar Regulations
The state's net metering programs and other incentives make solar more attractive, but there are some additional local regulations that New Jersey homeowners should know about as they prepare to make a solar energy investment. Some of the most essential examples include:
The Solar Act of 2012, which mandates that a little more than 4% of all New Jersey energy sales will come from solar by the year 2028. This was later amended to be a little more than 5%.
The Community Solar Energy Pilot Program Rule allows certain homeowners to "participate in a solar energy project that is remotely located from their property." The applications for this program are currently closed.
Final Thoughts: Top Cities for Solar in New Jersey
If your city didn't make our top list of the top cities for solar in New Jersey, there are a few ways to raise your area's solar profile. These include installing a solar panel system on your roof and contacting elected officials at both the local and state levels to push for ambitious solar energy goals. By doing these things, you can play a big part in New Jersey's pivot toward clean energy.
On Tuesday, the Senate will vote on a bill forcing President Obama to green light the Keystone XL pipeline for dirty tar sands oil. The Keystone XL threatens our air and water and would intensify the climate change already pounding our communities. The bill is a gift to the oil and gas industry, but if it passes, the American people will be stuck paying the price.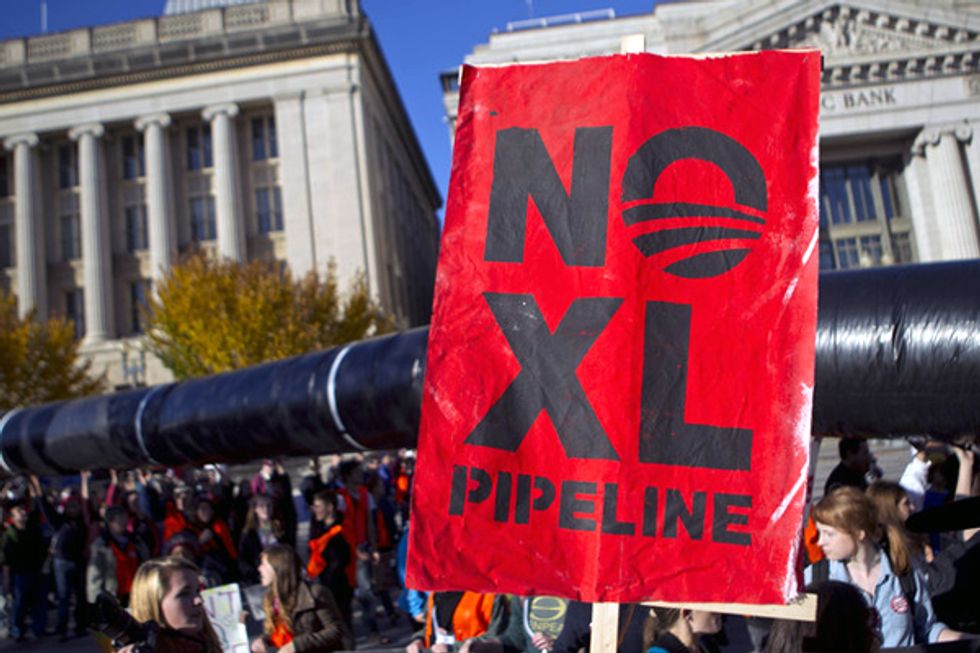 This bill would bypass essential reviews, skip safety assessments, and fast track a dangerous project. This has sweeping implications for future generations. And yet it is entangled in the politics of the moment.
In its first major vote after the midterm elections, the House passed a bill forcing the approval of the tar sands oil pipeline. Now Democratic Senator Mary Landrieu, caught in a runoff election, is pushing a similar bill in the Senate.
When we take the politics out of the equation and ask the single question before the President—is this in the national interest of the U.S.—the answer is a resounding no.
The President himself outlined some of the problems with the project on Friday, saying, "Understand what this project is: It is providing the ability of Canada to pump their oil, send it through our land, down to the Gulf, where it will be sold everywhere else. It doesn't have an impact on U.S. gas prices."
Here are five reasons the Senate should reject the Keystone XL pipeline:
Total Jobs: 35
TransCanada, the company behind the pipeline, told the U.S. State Department the pipeline would create 35 permanent jobs. There will be temporary jobs for 1,950 construction workers for the two years. Then they'll be gone. Clean energy companies, meanwhile, announced more than 18,000 new jobs in more than 20 states in just the past three months.
17 Percent More Carbon Pollution
Tar sands oil is the dirtiest fuel on earth. Because producing it consumes so much energy, a gallon of tar sands crude generates 17 percent more carbon pollution than conventional crude oil. The State Department calculated that the incremental carbon pollution from the tar sands pipeline would be as much as putting up to 5.7 million additional cars on the road.
Without Keystone, Less Tar Sands Oil and Less Pollution
Industry analysts and energy executives say that without Keystone, they have few options for getting their landlocked product to port. Other pipeline proposals have failed to make headway, and investors are pulling back on expansion plans. Statoil announced in September it was postponing an enormous tar sands project due to rising costs and a lack of pipeline space. That's the third major cancellation this year, preventing significant amounts of pollution from entering the environment, at least temporarily.
Major Threat to America's Breadbasket and Water
The pipeline would cut through Montana, South Dakota, and Nebraska—states where ranches and farms produced $41.6 billion worth of food in 2012. The pipeline would cross 1,073 rivers, lakes and streams and national recognized water resources, such as the Ogallala aquifer, threatening them with a spill of tar sands crude, which has proven more difficult to clean up than conventional oil.
Tar Sands Oil Spills Harder to Clean Up
Much of Michigan's Kalamazoo River is still suffering from a tar sands pipeline blowout that contaminated 38 miles of water in 2011. In Mayflower, Arkansas, more than 200,000 gallons of tar sands crude polluted backyards and neighborhoods when a pipeline blew in 2013. Rare accidents? Hardly. TransCanada's Keystone I pipeline through the Midwest had 14 leaks in its first year of operation.
The Keystone XL pipeline is a threat to our nation. It would increase pollution and intensify climate change for generations to come. We must raise our voices and demand our leaders reject this dirty scheme.
YOU MIGHT ALSO LIKE
'Keystone XL Clone' to Pump Tar Sands Oil Starting Next Year
Public Opposition Costs Tar Sands Industry a Staggering $17B
Willie Nelson and Neil Young Play Sold-Out Concert Protesting Keystone XL Pipeline
Concerns about the economy and heath care may have dominated the midterms, but the election results have unleashed a major threat to our children's health and the environment. The Senate is now in the control of a handful of GOP leaders who promise to trash clean air and water, and allow unlimited climate change pollution.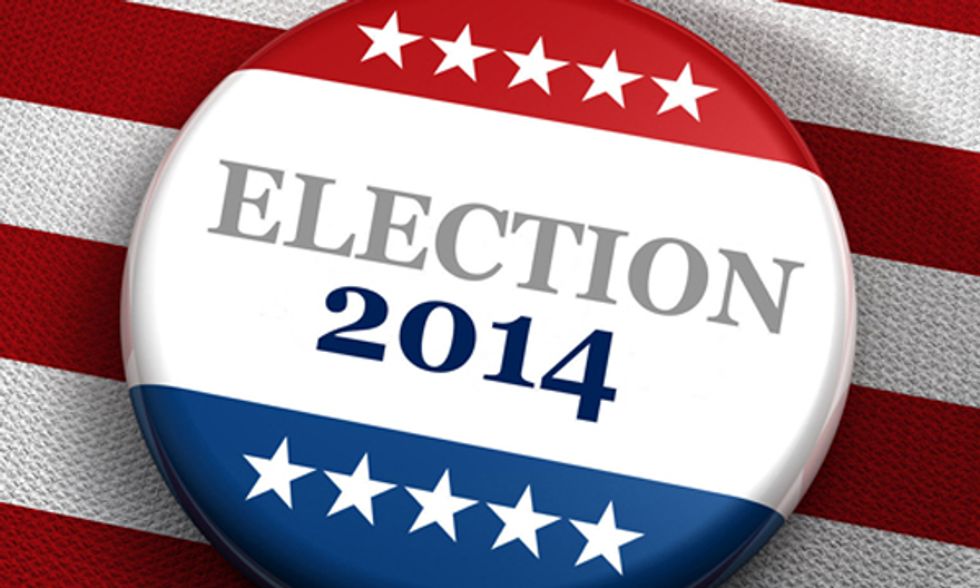 This pro-polluter agenda is not what the majority of Americans want. Poll after poll shows strong support for environmental protection. An ABC/Washington Post survey, for instance, found that 7 in 10 Americans view climate change as a serious problem and support federal action to reduce carbon pollution. Candidates who led on climate issues in Congress or the campaign trail won in Michigan, New Hampshire and Maine.
Yet incoming Senator Majority Leader Mitch McConnell and House Speaker John Boehner ignore these views. They have laid out a plan that would threaten our children's health and hamstring our ability to protect future generations from climate change.
We can prevent this onslaught if we raise our voices and hold lawmakers accountable.
I know because we've done it before. We did it when we broke former House Speaker Newt Gingrich's Contract on America. We did it when we prevented more than 500 anti-environmental votes in the House from creating rollbacks to environmental law over the past four years. And we will do it again.
Now is the time to act, before the GOP's pro-polluter plan takes hold. It would halt progress on environmental protections and strip away long-standing safeguards. This is a radical effort to dismantle bedrock laws that have stood firm for decades. And in pursuit of this agenda, Republican leaders have threatened to push America to the brink of another government shutdown.
Here's some of what GOP leaders have said they would do to America:
Block the U.S. Environmental Protection Agency (EPA) from limiting dangerous carbon pollution from power plants—the most important step we can take to curb climate-changing carbon pollution.
Stop an EPA proposal to restore protections to streams and wetlands that feed into the drinking water supplies of 117 million Americans.
Prevent the EPA from even proposing new safeguards for smog-causing ozone; scientists have found current standards are too lax, forcing people to breathe air that is unhealthy and even fatal for children and adults with asthma and other lung problems.
Take away the ability of scientists and experts to set health and environmental standards and give politicians the power to decide what is safe for our families using the so-called REINS Act—a law that would require Congressional approval for every new standard and gut our nation's time-tested method of review.
There are many more: forcing approval of the disastrous Keystone XL pipeline, opening our coastal waters and the Arctic Refuge to risky oil drilling, blocking federal efforts to protect drinking water from oil and gas "fracking" activity, and opening our national forests to loggers, to name just a few.
These extreme actions would put people and places at risk. They would also endanger an entire system of environmental protection that generations of Americans have relied upon.
Over the past four decades, our nation's laws have made our air safer to breathe and our water cleaner to drink. Many of these laws were passed with broad bipartisan support and signed by Republican presidents. By calling for a radical overhaul of this tradition, current GOP leaders reveal how out of step they are with Americans. Natural Resources Defense Council (NRDC) is willing to work with Republicans who want to move forward on environmental protection, but so far leaders are only taking extreme positions, calling for rollbacks and promoting climate denial.
Republican leader Newt Gingrich overreached in a similar way with his Contract on America. NRDC helped stop him from gutting environmental safeguards, because we mobilized people to raise their voices. We will do the same with the McConnell-Boehner Contract with America. We will call on lawmakers to protect our children's health and shield future generations from climate change.
YOU MIGHT ALSO LIKE
Fracking Bans Pass in Denton, Texas, Two California Counties and One Ohio Town
Watch Americans Share #IVoted on Twitter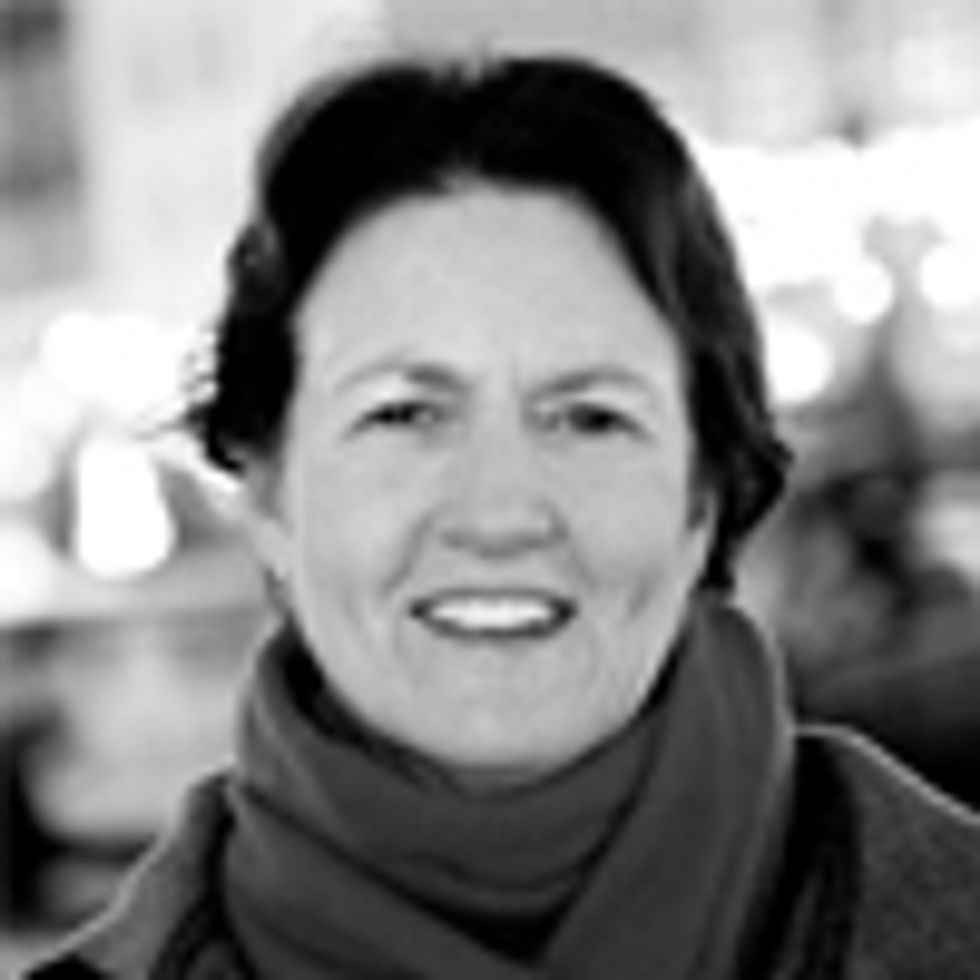 This week the U.S. Environmental Protection Agency (EPA) will host four public hearings on its plan to reduce climate change pollution from power plants. The speakers list is already filling up. Physicians will outline the health hazards linked to climate change. Farmers will talk about the challenges of raising crops in the face of extreme weather. And governors and mayors will describe the benefits of attracting clean energy investment to their communities.
Many people will testify in favor of the EPA's Clean Power Plan. This should come as no surprise considering 7 in 10 Americans view global warming as a serious problem and want the federal government to reduce the pollution that causes it, according to a recent ABC News poll.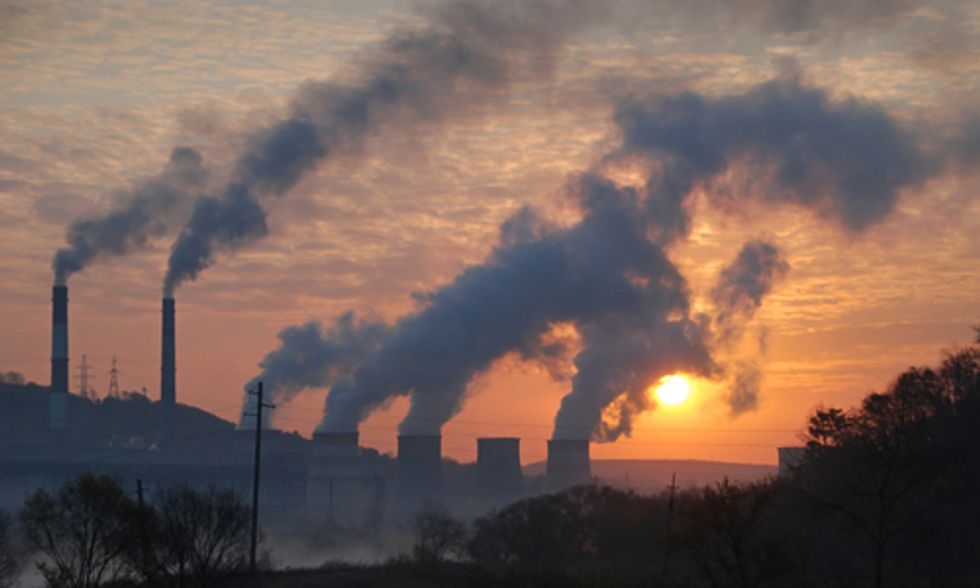 The truth of the matter is that the EPA's plan will unleash innovation and clean up the air. Photo courtesy of Shutterstock
But the hearings will also attract another group of speakers: representatives from the American Coal Council, Americans for Prosperity and other dirty industries.  
These big polluters oppose the EPA's effort to rein in the largest source of carbon pollution in our nation. They would rather protect the carbon loophole than do what it takes to safeguard public health and stabilize the climate.
And some will resort to overblown claims that reducing pollution will lead to mass shutdowns and skyrocketing costs. How do I know? Because I've heard these claims over and over again. And every time, polluters were proven wrong.
Back when the EPA proposed phasing out ozone-depleting CFCs, the chemical industry howled that refrigerators would fail in America's supermarkets, hospitals and schools. In fact, the phase-out happened five years ahead of schedule and cost 30 percent of what industry predicted. Our ozone layer is healing, preventing nearly 300 million cases of non melanoma skin cancer in America alone.
Getting toxic lead out of gasoline, the oil industry shouted, would cost a dollar a gallon. It turned out to cost just a penny a gallon to protect hundreds of thousands of kids from lead-induced brain damage.
And when the EPA decided to reduce acid rain pollution, utilities leaders called it a "tragic mistake." Yet thanks to innovations, the cost of reducing acid rain pollution turned out to be about 80 percent lower than predicted. Meanwhile, the acid rain program generates $80 billion in health benefits every year and saves nearly 19,000 lives annually.
Now that our nation is finally holding dirty industries accountable for the worst pollution in America—pollution that increases the risk of asthma attacks, heart disease, lung cancer and causes climate change—big emitters are using the same Chicken Little playbook. And their claims are just as false.
The National Mining Association (NMA), for instance, is running ads saying home electric bills will "nearly double" if "extreme new power plant regulations take effect." In fact, the EPA estimates that the carbon limits would decrease consumer electric bills by eight percent on average. The NMA assertions were so off the mark the Washington Post fact check called the ads "bogus" and assigned them "four pinocchios." The U.S. Chamber of Commerce isn't faring much better. It released a report claiming carbon limits would cost $50 billion and kill 224,000 jobs, and Politi-Fact.com said it should be "taken with a rock-sized grain of salt."
The truth of the matter is that the EPA's plan will unleash innovation and clean up the air—just like previous public health standards. It will accelerate the move to a modern, clean energy system, and it could save U.S. families and businesses more than $37 billion on their electricity bills by 2020. It will also protect our health, air, water and communities in the process.
Big polluters are trying to drown those facts out. They have the money to spend on disinformation, but we have the people: the vast majority of Americans want the EPA to limit carbon pollution. Now we must raise our voices above the industry din. Click here to tell the EPA you support the strongest carbon limits possible.
You Might Also Like
National Conversation on Climate Change Has Shifted
Obama Plan Helps Communities Prepare for Extreme Weather Brought on by Climate Change
U.S. Senator Delivers 50 Speeches in 50 Weeks Calling for Action on Climate Change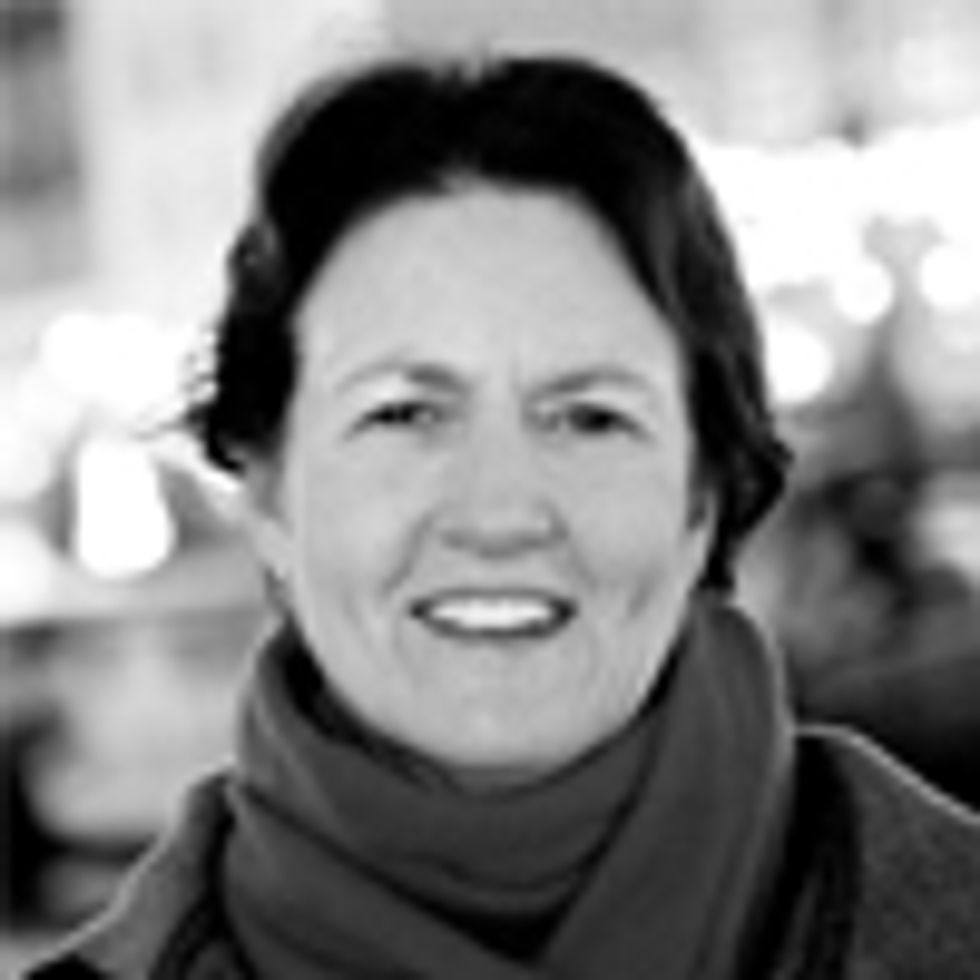 Matt Russell recently declared that "we are already experiencing the effects of climate change." Russell isn't a pundit or scientist or government official. He is a fifth-generation farmer from Lacona, IA, and he is trying to raise crops in the face of extreme weather. "Scientists have been telling us what climate change looks like. As farmers, we're living it," Russell said.
The climate conversation has changed in this country.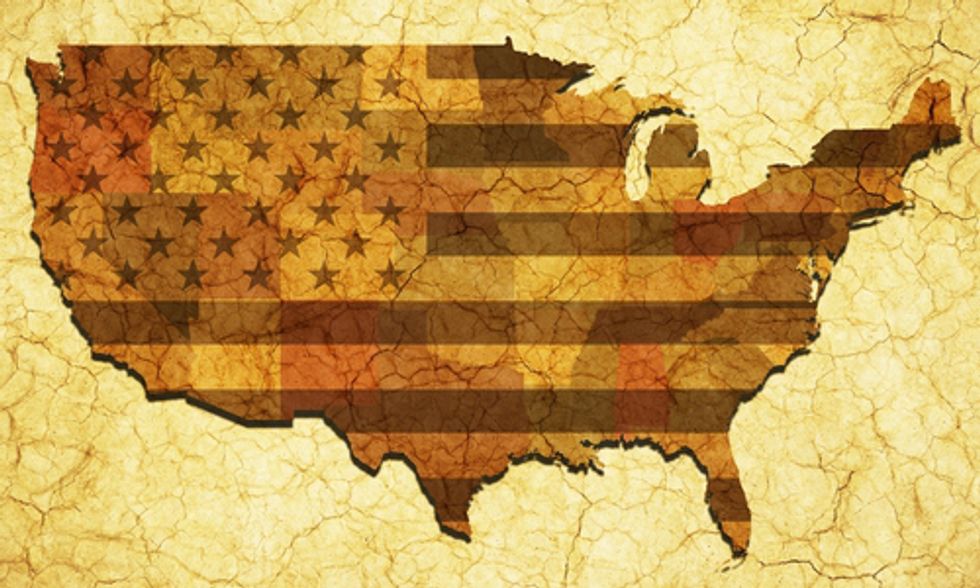 Photo courtesy of Shutterstock
When I started working to combat climate change two decades ago, it was a topic largely for environmentalists and scientists. Now business leaders, former Republican officials, public health experts, religious groups and farmers have joined in. 
Indeed, after reams of scientific evidence have appeared in the news and countless extreme weather events have landed in our communities, the issue has gone mainstream. The vast majority of Americans are no longer debating climate change; they are looking for solutions.
Seventy percent of Americans view climate change as a serious problem and support federal efforts to reduce global warming pollution, according to a recent ABC/Washington Post poll.
Support runs deep and wide. More than two-thirds of residents in 11 purple states including Georgia, Louisiana and Arkansas say the U.S. Environmental Protection Agency (EPA) should limit carbon pollution from power plants. That includes 53 percent of Republicans, 63 percent of independents and 87 percent of Democrats, according to a poll conducted by Harstad Strategic Research.
The past few weeks alone reveal the diversity of voices calling for climate action.
Henry Paulson, former treasury secretary under President George W. Bush, wrote an op ed comparing climate change to the housing bubble. "We're staring down a climate bubble that poses enormous risks to both our environment and economy. The warning signs are clear and growing more urgent as the risks go unchecked."
Paulson launched a climate initiative called Risky Business with former Mayor Michael Bloomberg and former senior managing member of Farallon Capital Management Tom Steyer. Two weeks ago the group released a report concluding that "the American economy could face significant and widespread disruptions from climate change unless U.S. businesses and policymakers take immediate action to reduce climate risk."
Military experts have also been speaking out about climate risk. Retired Rear Admiral David Titley wrote in the Pittsburgh Post Gazette two weeks ago that he "used to be a something of a skeptic about climate change," but later he went on to launch the Navy's Task Force on Climate Change.
What sparked the shift? Titley said, "Over the years, scientific findings on climate change have built to the point where we simply cannot afford to ignore them. And this is true no matter what your politics might be. The climate doesn't care about politics."
Seven Montana veterans cited similar themes when they framed climate action as form of patriotism. Writing in the Ravalli Republic last week, they said it was Americans' shared duty to keep our nation safe and to reduce pollution that causes climate change.
That same current runs through most calls for action: a desire to shield people from harm. Whether it is the four EPA administrators who served under Presidents Bush and Reagan or the Evangelical minister from Pennsylvania's coal country, Americans from all walks of life recognize the need to protect our communities from the hazards of climate change.
The EPA's new Clean Power Plan will help us do that. It will establish limits on our nation's biggest source of carbon pollution: power plants. These are steps most Americans support. Click here to tell the EPA you support them too.
Together we are poised to make real progress against the threat of climate change—now that the age of denial and inaction are over.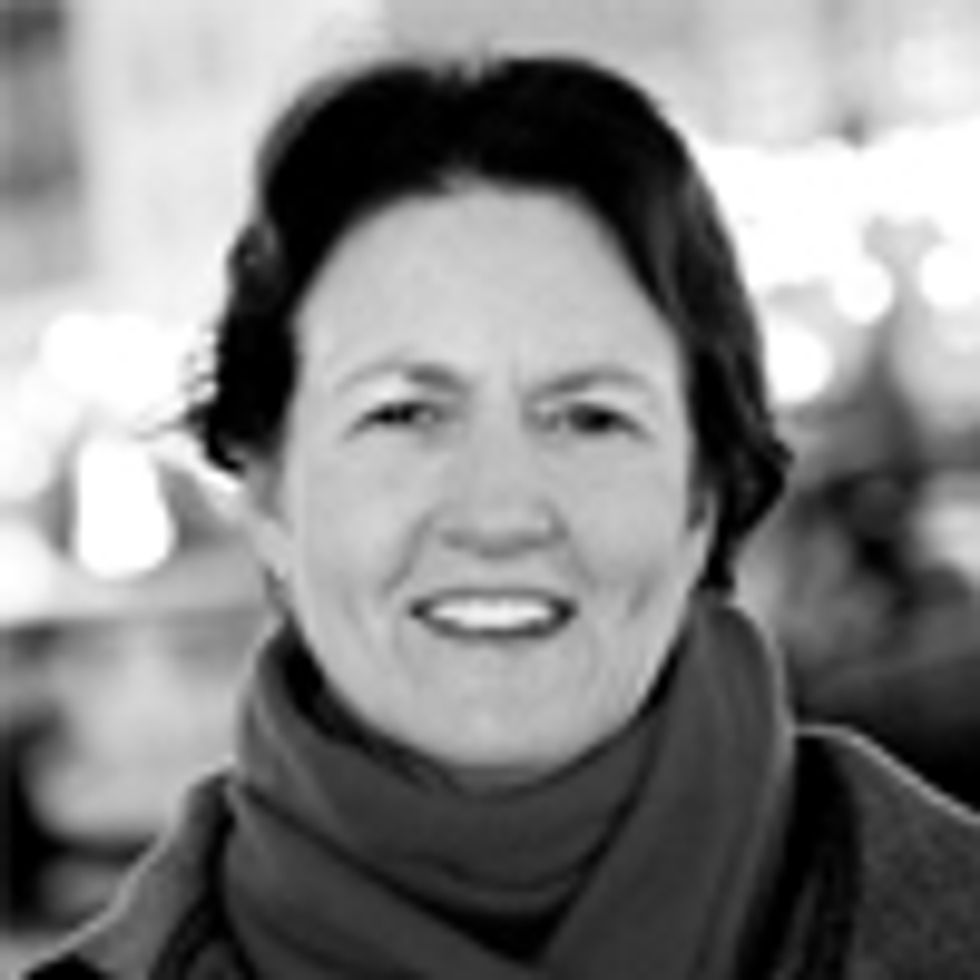 New Yorkers remember all too well the alarm we felt as Superstorm Sandy pounded our city. Apartment buildings and hospitals were swamped, and entire neighborhoods went without power for days. People who lost their homes or businesses spent months trying to pick up the pieces. And city officials and residents wondered: will we be ready next time?
For in the age of climate change, there will be a next time. There will be more intense storms in my hometown of New York, and more extreme flooding, heat waves and drought in communities around the nation. There will also be many ways to make our towns and cities more resilient in the face of these changes.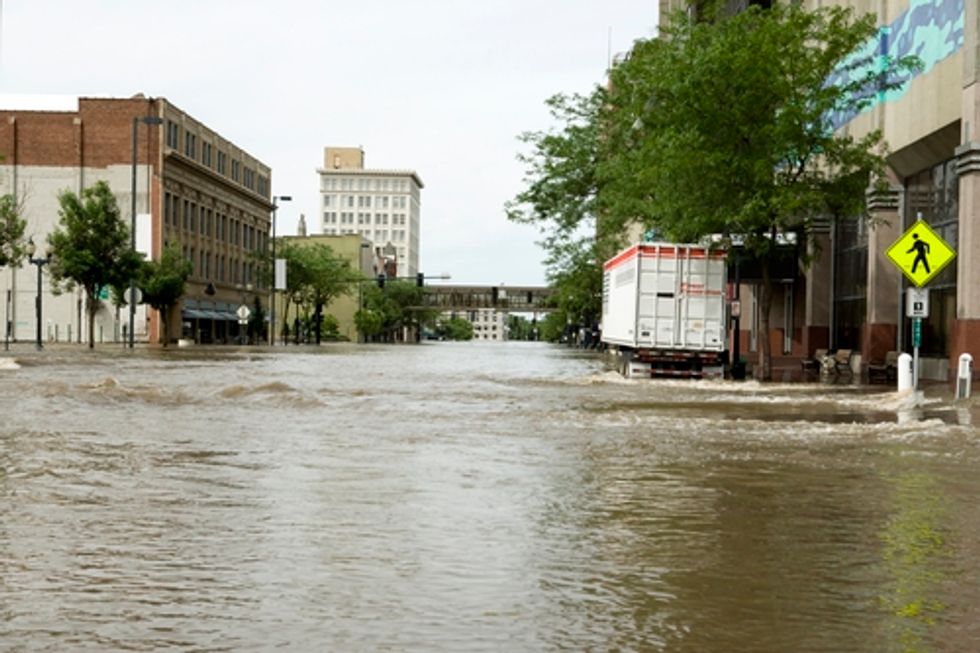 On Wednesday, the Obama Administration made it easier to embrace those solutions.
The President announced a series of initiatives that will help communities maintain power supplies during intense storms and heat waves, prepare for flooding and sea level rise, safeguard rural drinking water supplies affected by the West Coast drought and fund natural disaster response.
The measures arose out of the President's State, Local and Tribal Leaders Task Force on Climate Preparedness and Resilience. The group includes governors, mayors and tribal chairmen who have seen firsthand how climate change undermines public safety and local economies. They also know what solutions work on the ground. 
The resulting measures reflect several important insights.
Extreme weather doesn't just threaten our infrastructure. It also endangers our health. Intense heat, for instance, makes air pollution worse and contributes to asthma attacks and other respiratory problems. Powerful storms can foul drinking water and raise the risk of drowning. The Obama Administration's preparedness initiative includes a new tool from the Centers for Disease Control that helps communities identify climate-related health risks and determine if their hospitals, early warning systems and public outreach efforts are ready to respond to shifting hazards.
The Obama Administration's plan also recognizes the role the Federal Emergency Management Agency (FEMA) can play in helping communities assess climate threats. Every five years, states and local governments submit plans to FEMA for reducing vulnerability to storms, heat waves, wildfires and droughts. Yet the agency hasn't asked them to factor in climate change when assessing the risk of future hazards. Now as part of the administration's new measures, FEMA will require states to incorporate climate change into these plans—a move Natural Resources Defense Council (NRDC) has urged. This will help states invest their money more wisely and protect more people, homes and businesses from extreme weather.
Wednesday's announcement also calls for expanding one of the most effective solutions for reducing flood risk: green infrastructure. Towns and cities across the East and Midwest will experience more intense rainfalls, causing local flooding, overwhelming stormwater systems, and often sending raw sewage into waterways.
Green infrastructure—things like pocket parks, sidewalk plantings and permeable pavement—has been proven to capture rain where it falls and cut down on flooding. It also costs less than most traditional approaches to stormwater and raises property values. The administration's plan offers incentives to spread these benefits to more cities and towns. NRDC is also encouraging states to expand support for green infrastructure as well.
In the end, the most important thing we can do to shield our communities from climate change is to reduce the pollution that causes it in the first place. The Obama Administration has released a Clean Power Plan that will help America slash dangerous carbon pollution. But even as our nation shifts to cleaner energy, we must help communities brace for the climate impacts that are already unfolding. The administration's preparedness measures will make us stronger and more resilient.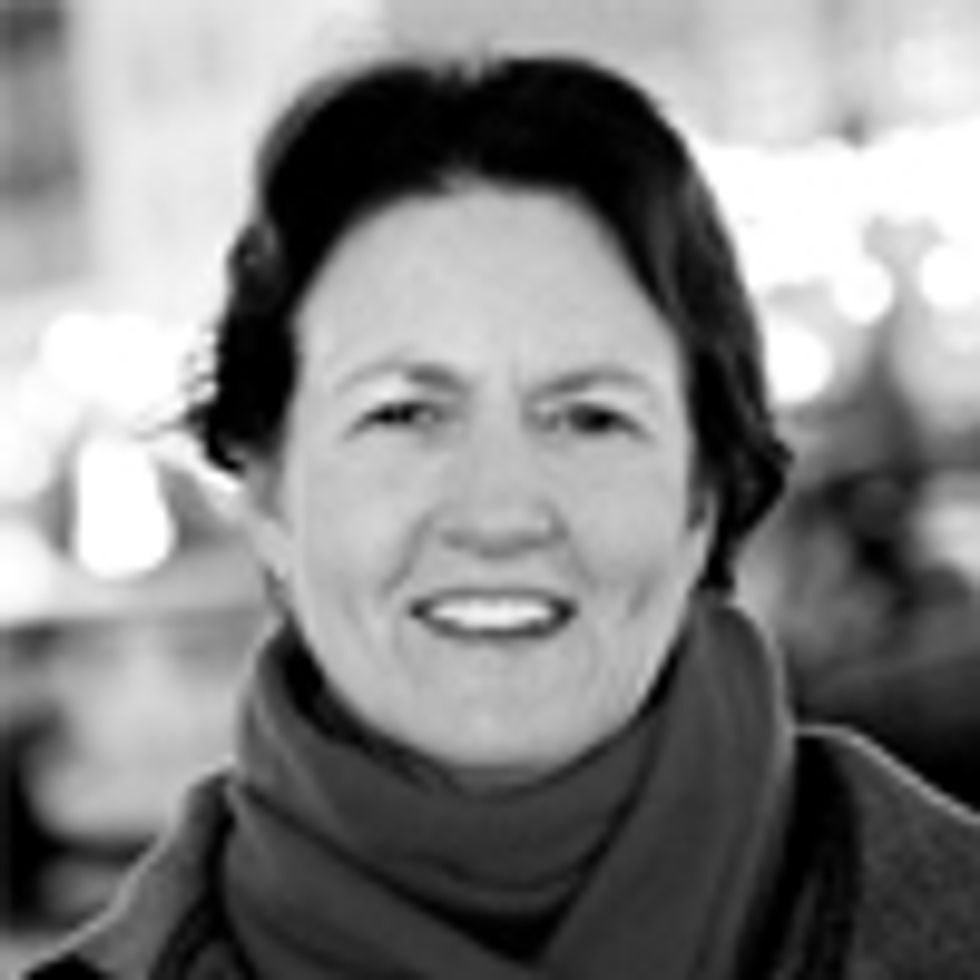 Republican leaders in the Senate took America one step closer to another government shutdown this week, foreshadowing a possible replay at the end of September. Instead of voting on straightforward bills to fund government operations, GOP lawmakers held the appropriation bills hostage with unrelated amendments. These riders would block the U.S. Environmental Protection Agency (EPA) from addressing climate change and keeping pollution out of our water.
The Republican Party is bending over backward to politicize what has historically been a routine process. Making sure the government has the funds to function is one of the most basic responsibilities of Congress. Yet in recent years, Republican lawmakers have hijacked this process to score ideological points and take aim at popular public health and environmental protections.
This fervor drove them to shutdown the government for three weeks last year. Parks were barricaded, workers were furloughed and our economy took a $24 billion hit. The GOP, meanwhile, got a beating in the court of public opinion.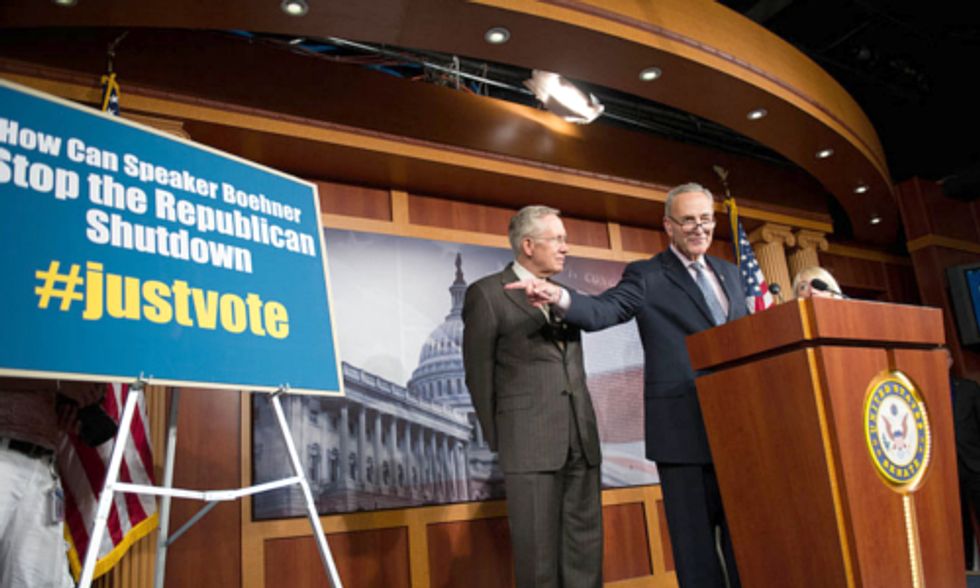 You would think they'd learn from that fiasco, but they are at it again. Now they are saying they will only uphold their Congressional responsibility if Americans accept dirtier air, polluted waters and unchecked climate change.
That deal would endanger our families' health and our economy. And it's not what people want.
Access to safe, clean water tops is always at the top of the list for Americans' environmental priorities. Poll after poll has also confirmed strong support for tackling climate change. A recent NBC News/Wall Street Journal poll, for instance, found that 67 percent of Americans favor the EPA's Clean Power Plan to reduce carbon pollution from power plants. A full 57 percent support it even if it raises utilities bills—which the Natural Resources Defense Council has shown is unlikely.
Republican voters are among those who back the EPA's climate action. Fifty-three percent of Republicans—and 63 percent of Independents and 87 percent of Democrats—in 11 battleground states agree the EPA should limit carbon pollution from power plants, according to a March poll by Harstad Strategic Research for the NRDC Action Fund.
And this week, four former EPA administrators—all appointed by Republican presidents—testified before Congress that the time for climate action is now. 
The EPA's plan for reducing carbon pollution would get America moving forward. It is a flexible, common-sense way for America to address the climate crisis. Even if GOP lawmakers don't agree with every aspect of it, they should come to the table to discuss it. They shouldn't bog down vitally important and totally unrelated spending bills with their policy differences.
Most Americans want to Congress to keep the government functioning and to keep our air and water clean. GOP lawmakers should give the people what they want and start working together to build a cleaner, safer future for all Americans.
Americans are worried about pollution—oil trains running through their towns, fracking in their neighborhoods, coal dust in their air. They're worried about what the future will look like for their children if carbon pollution continues unchecked.
Wall Street is worried about it too. Under pressure from a growing movement of people who want their money out of fossil fuels, universities, pension investors and foundations are looking to exclude coal, oil and gas stocks from their portfolios. Until now, it could be hard to figure out if investments were free of fossil fuels: Large portfolios like retirement funds invest in multiple companies at once and might put money in oil, gas, or coal. As a result, well-meaning investors might find themselves holding so-called "passive" investments in the very companies they wanted to avoid.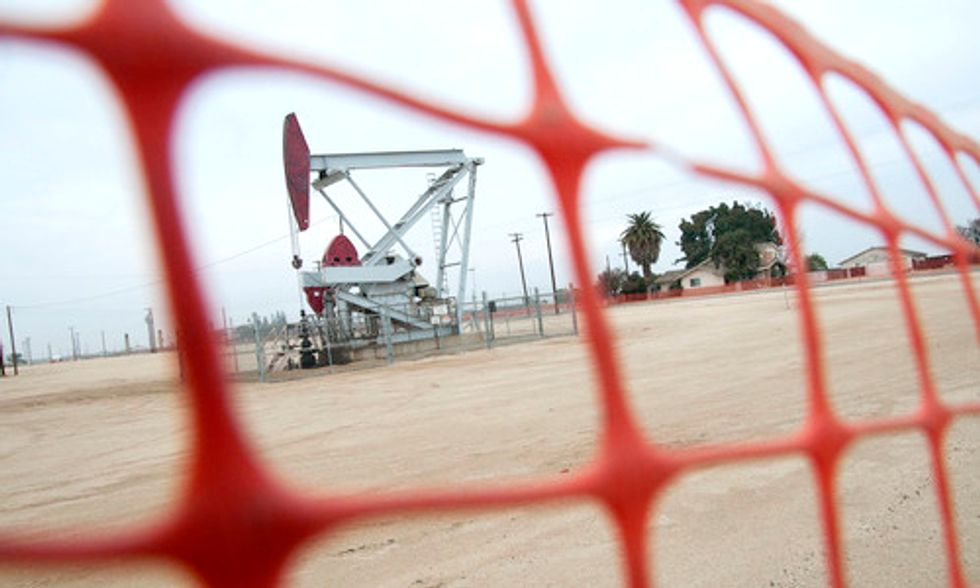 For decades, NRDC has created and supported policies that will ultimately end our reliance on fossil fuels. Today, we are proud to announce that we are working to accelerate that change by helping to create an innovative investment solution that will aid investors who want to keep their money out of fossil fuel companies.
Over the last year, NRDC has partnered with BlackRock and FTSE Group, the global index provider, to launch the first stock market index to exclude fossil fuel companies—a new tool that will help ensure that climate-conscious investors can match their financial interests with their values.
A stock market index helps investors track the performance of a group of stocks. NRDC worked with FTSE to develop comprehensive and transparent methodologies that screen out companies linked to owning, exploring, or extracting fossil fuels. Now, investment companies like BlackRock will use the FTSE index to create low-cost portfolios for customers who don't want to invest their money in fossil fuel companies.
It's a critical need. Foundations, universities, pension groups, and other major organizations that have wanted to get out of fossil fuel investments have a responsible path to do so—one that will allow them to continue to make money for their clients, but not at the expense of our air, water and climate.
Over the past six months, 80 percent of new electricity installed in the U.S. came from renewable energy. We are beginning to replace fossil fuels that endanger our health and climate.
Now, we need others to join us in the fight for a clean energy future. Demonstrating market demand for this index and related investment solutions will help support the growing movement to shift investments away from dirty fuels.
You can help: Tell your university, your company's pension advisors, your place of worship: It is time to invest in a clean energy future. It is time to invest in our children's future and do the work we must do to leave them the world they deserve.
——–
YOU ALSO MIGHT LIKE
New IPCC Report: Fossil Fuel Divestment Must Start Now
Climate Leaders Tell Bill Moyers About The Need For Global Fossil Fuel Divestment
Bloomberg Launches First Tool to Measure Risk of Carbon Assets Still in Ground
——–
Nearly every week, Sen. Whitehouse (D-RI) rises on the Senate floor and delivers an impassioned speech about the need to confront climate change. Wednesday marked his fiftieth climate address, but he is not stopping there. He will continue beating the drum for climate action, because he knows this crisis cannot be ignored.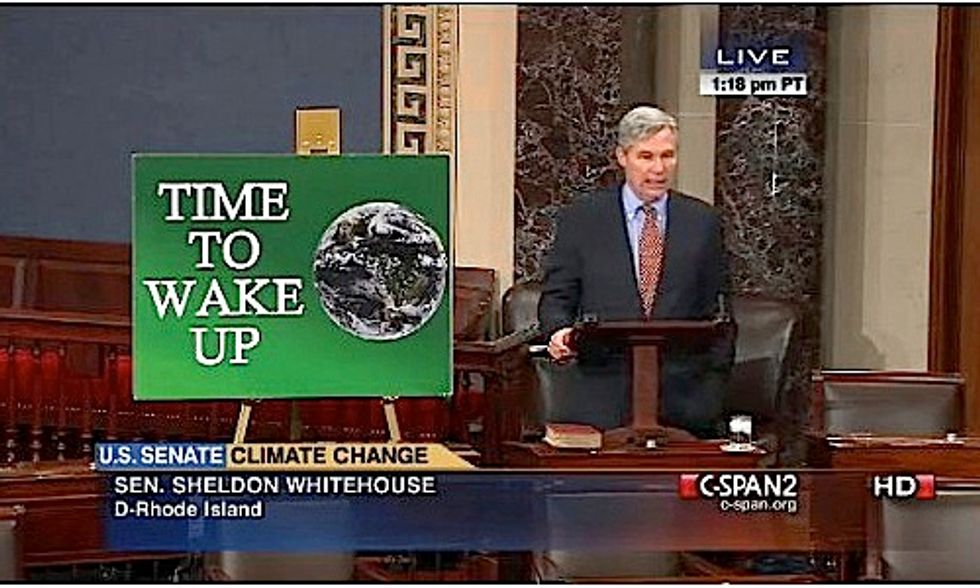 There are times in history when people must stand for what is right. This is one of those times, and Sen. Sheldon Whitehouse is one of the leaders calling for change.
He gives voice to the countless Americans living on the frontlines of global warming—from the Texans dealing with years of drought to the New Yorkers rebuilding after Superstorm Sandy to the Rhode Islanders coping with sea level rise. And he reminds Congress we have a moral obligation to protect our children from more devastating climate impacts.
I just returned from Hong Kong, about 900 miles from the destruction caused by Typhoon Haiyan. More than 9.5 million people have been affected by the storm and many have lost their homes and loved ones. Families have been torn apart and entire towns flattened, and now survivors are struggling to find food to eat and water safe enough to drink. It will take years to recover from the damage.
The storm packed unprecedented strength, and it offers a sign of things to come if we fail to curb global warming pollution. Climate change is making our oceans warmer and warmer seas mean more violent storms. MIT scientist Kerry Emanuel explains, "As you warm the climate, you basically raise the speed limit on hurricanes."
We can't let careening disasters threaten our children's future. We must act now. And more and more Americans are demanding it. Natural Resources Defence Council released a survey conducted by Public Policy Polling released on Tuesday reporting that most residents of Arkansas, Illinois, Louisiana and New Hampshire want the U.S. Environmental Protection Agency (EPA) to limit dangerous carbon pollution from power plants. And a recent poll conducted by Stanford University found similar results spread across 40 states.
President Obama has directed the EPA to reduce carbon pollution from power plants, and the agency is moving forward. But it will take a lot of work to finalize these standards, and leaders like Sen. Whitehouse are great allies in the effort. Week in and week out, he calls for action—even when Congress is caught in gridlock and even when the political focus has fallen elsewhere—because the climate threat cannot be denied. 
In his speech on Wednesday, Senator Whitehouse said:
I give these speeches because climate change is real, because the campaign of denial is as poisonous to our democracy as carbon pollution is to our atmosphere and oceans, and because I am confident. I am confident that we can do this. We can strengthen our economy, we can redirect our future, we can protect our democracy and we can do our duty to the generations that will follow us. But we have to pay attention. We have to wake up.
This was originally posted on NRDC's Switchboard.
Visit EcoWatch's CLIMATE CHANGE page for more related news on this topic.

After 16 long days, the government shutdown has finally come to an end. It is relief to know that hundreds of thousands public servants can return to work and that critical programs protecting our health and the environment will fully function once again. But any sense of reassurance is tempered by two simple facts: we never should have been here in the first place, and we could easily be in the same position again in January.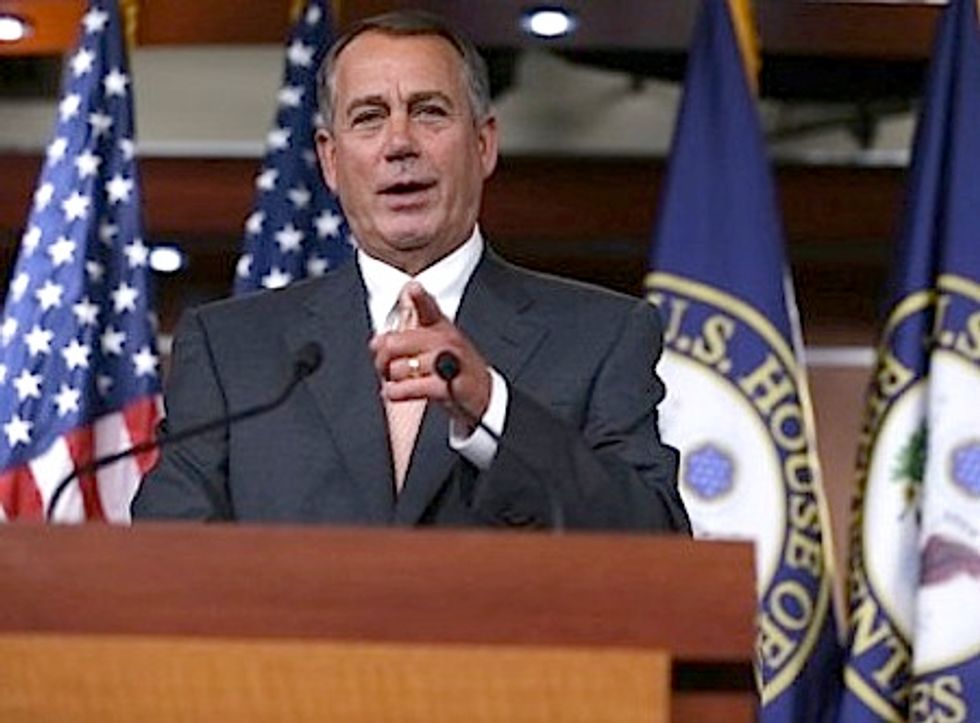 Political extremists pushed our nation to the brink out of sheer obstinance. House Speaker Boehner (R-OH) could have ended this days ago by simply letting the full House vote on reopening the government. Instead, he declared himself a willing hostage to the radical wing of his party. The shutdown caused real damage. It undermined critical efforts to protect the air we breathe, the water we drink and the places we love.
The reopening of the government and avoiding default are obviously good news. But the deal that allowed it to happen should be a signal to the environmental community to gird for the battles ahead.
The deal puts off the big fights for just a couple of months. House Republicans had a long list of anti-environmental provisions they threatened to add to the debt limit before the Affordable Care Act became their single-minded focus, and they could be part of the brinksmanship next time around. These destructive riders include approving the Keystone XL pipeline for dirty tar sands oil and requiring all coastal waters to be leased for offshore drilling. There's also the proposal to destroy the regulatory system by requiring Congressional approval for all new environmental and other safeguards.
We could also face another battle over spending. House Republicans have voted this year for draconian cuts in environmental programs and for continuing the "sequester" that eats away at the capabilities of all agencies. GOP lawmakers are likely to push these bad ideas going into the upcoming budget talks. The federal budget should not be balanced by slashing the services the public depends upon.
People who care about health and the environment must be vigilant in the coming months. We have to let lawmakers know how much we value government programs that safeguard the air we breathe, the water we drink and the places we love.
The past 16 days revealed just how critical those efforts are and how quickly they can be undermined. Here is a brief list how the government shutdown eroded environmental protection.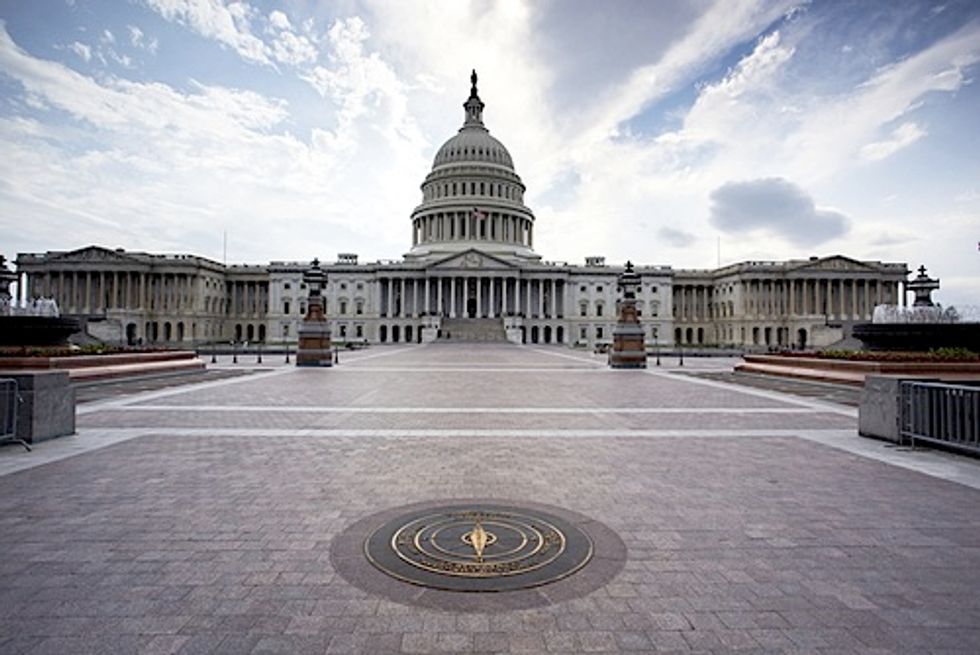 Photo courtesy of Shutterstock
Tainted Chickens Come Home to Roost
One week into the shutdown, the government issued an alert that a major salmonella outbreak that had already struck nearly 300 people in 18 states. While the Agriculture Department's Food Safety and Inspection Service remained largely on the job, furloughs hit the national foodborne detection services at the Centers for Disease Control and Prevention (CDC) hard. Indeed, CDC experts had to be called back to cope with the outbreak. At the Food and Drug Administration, all inspections of imported food stopped during the shutdown, despite the fact that the U.S. imports about 80 percent of the seafood and more than 20 percent of produce Americans eat.
Cleanup of Toxic Chemicals at Superfund Sites Halted
Cleanup work on many of the 800 contaminated federal Superfund sites stopped during the shutdown. Now countless people will have to put up with toxic waste longer. People like those living in Lockport, NY, where the U.S. Environmental Protection Agency (EPA) is finalizing a plan to relocate homeowners because of PCB, lead and other contaminants. Or Doylestown, PA, where residents are waiting for soil excavation to begin at the contaminated ChemFab property, which polluted nearby well water with TCE, a chemical linked to liver, kidney and lung cancer.
National Parks and Wildlife Refuges Put Off Limits
The shutdown prevented Americans from visiting our public lands in parks and refuges across the country. It will be easy to reopen those iconic places, but it will be nearly impossible to recover the ruined family vacations, the once-in-a-lifetime rafting trips down the Colorado River and the lost economic activity from hundreds of thousands of tourists, hunters and fishermen. Visitors typically spent $13 billion a year within 60 miles of the national parks, but gateway communities got very little business during the shutdown—which for many fell right during their peak season.
Nuclear Safety Personnel Furloughed; What Could Go Wrong?
The Nuclear Regulatory Commission (NRC), had to send all but about 300 of its 3,900 workers home. It cancelled all emergency preparedness exercises and routine inspections of nuclear materials and waste licensees, among many functions. Among the ongoing projects put on hold by the shutdown: the NRC's oversight of safety upgrades to nuclear power plants that were ordered after the 2011 nuclear disaster in Fukushima, Japan. That accident involved meltdowns and radioactive releases from multiple reactors that are similar in design to many U.S. reactors.
Shutdown Forced the EPA to Hit the Brakes
The agency charged with keeping pollution out of our air and water nearly ground to a halt when about 94 percent of its staff was furloughed. That meant permits couldn't be issued, no one was checking to ensure environmental laws are being followed at factories and other industrial facilities, and work on safeguards came to a standstill.

The Intergovernmental Panel on Climate Change (IPCC) has released its latest assessment of what science is telling us about the state of our planet. Researchers are more certain than ever before that humans are causing climate change and that some of its most dangerous impacts are accelerating faster than expected.
Many Americans already know this to be true. We have seen our own communities pummeled by more intense and more frequent heat waves, droughts and storms. But even as we witness one record-breaking event after another, we count on scientists to interpret the larger trends. The IPCC is the most authoritative group in the business. 
More than 600 researchers from 32 countries reviewed more than 9,000 peer-reviewed studies for this report. They produced 2,000 pages of scientific analysis and worked through 56,000 comments. The assessment they produced is sweeping, comprehensive and inescapable.
The science is clear: we are gambling with the well-being of our kids and future generations.



Pollution from human activities is changing the Earth's climate. We see the damage that a disrupted climate can do: on our coasts, our farms, forests, mountains and cities. Those impacts will grow more severe unless we start reducing global warming pollution now.
The IPCC panel noted, for instance, that seas could rise by three feet by the end of this century if we don't rein in dangerous carbon pollution. Imagine what this could mean. Children born today might witness Miami becoming part of the Everglades, New Orleans sinking underwater and parts of New York looking more like Venice.
Some naysayers have pounced on reports that the rise in surface temperature was slower in the past 15 years than over the past 50 years. They leap from this to an unscientific claim that global warming is no longer a threat. The world's scientists know this is nonsense.
Researchers will continue to refine the details of the interplay between natural cooling cycles and human-caused warming. But here is what we already know: the planet has not cooled. It has continued to warm, and the last decade was the hottest on record since 1850—even with two cooling cycles of La Niña.
Treating a temporary slowdown as a miracle that will save us from climate disruption would be the height of folly. The science tells us that if we fail to reduce global warming pollution, global temperatures will rise to dangerous levels and unleash devastating extreme weather events and accelerate destructive sea level rise. A few years of steady temperatures at record high levels won't prevent the collision that awaits us.
Regardless of whether our car is speeding at 90 miles an hour or 85 miles an hour, we are still in the danger zone. The time has come to put on the brakes.
The single most important thing we can do to protect our communities from climate change is to reduce dangerous carbon pollution. Here in the U.S., power plants account for the largest source of these emissions—40 percent—yet plants are free to pump as much carbon as they want into the atmosphere. We owe it to our children and grandchildren to end the era of unlimited carbon now.
The Obama administration has begun this process. Last week it proposed the first-ever carbon limits for new power plants. Now it is preparing similar limits for existing power plants. States and utilities will likely have a great deal of flexibility in how they meet the standards for existing plants, including investing in energy efficiency, renewable power and carbon capture technology. Natural Resources Defense Council's analysis shows that this approach can cut fleet-wide carbon pollution 26 percent by 2020 and save people money on their monthly electricity bills. It could also create a net increase of 210,000 jobs in 2020. That's a great investment for today and tomorrow.
As we chart our path forward, we must always use science as our guide. Right now the evidence is sending a clear and resounding signal: act now to reduce carbon pollution and ensure our children inherit a more stable climate.
Visit EcoWatch's CLIMATE CHANGE page for more related news on this topic.
———