A first round of motions was passed Tuesday by the 1,300 government and civil society members of the International Union for the Conservation of Nature (IUCN) at its World Conservation Congress taking place in Hawaii. These include a ban on gillnet fishing in Mexico that threatens the vaquita porpoise and also restrictions on the illegal trade of pangolins.
Among the 85 motions like these that are up for a vote this week are some involving the direct and urgent needs of people too, including indigenous people whose sacred sites and lands face destructive forces. One need only look at the Dakota Access Pipeline battle here in the U.S., which would disturb sacred sites as well as water sources of the Standing Rock Sioux, to imagine that this sort of injustice happens to indigenous groups everywhere.
That's why many representatives from such groups are in Hawaii lobbying IUCN delegates to support Motion 26, which would declare their sacred natural sites to be "no go zones" for developers. As a resolution, it would be non-binding on governments, but would be one more tool for groups to use in pushing for policy changes at a local and national level. It is due for a vote by the delegates, probably on the last day of the Congress, which ends Sept. 10.
From left to right: Leila Salazar-López, Paty Gualinga, Osprey Orielle Lake, Aura Tegría, Sônia Bone Guajajara and Atossa Soltani.
NGOs have also lined up strongly in support of the motion (the progress of which can be followed on Twitter via the hashtags #Motion26 and #VoteForIUCNMotion26), including Women's Earth and Climate Action Network and also Amazon Watch, whose Andrew Miller, when asked why, said:

"Motion 26 reflects a call that indigenous peoples the world over have been making for decades. Colombia's U'wa kicked Occidental Petroleum out in 2002. In the Ecuadorian Amazon, Sarayaku similarly fought and beat Argentinian oil company CGC in the mid 2000s. Look at the inspiring No Dakota Access Pipeline actions happening right now. Indigenous peoples are going to vigorously defend their sacred territories from extraction whether or not Motion 26 passes. But adoption of the measure would blow wind into the sails of indigenous campaigns for territorial defense and would offer a tool to help strengthen national level protected area norms to include sacred natural sites."
One of the indigenous representatives here in Hawaii is Aura Tegria, a member of the U'wa in Colombia who acts as her group's legal advisor. She was a panelist for a high level discussion of these issues on Sept. 3 alongside other experts including the UN Special Rapporteur on the Rights of Indigenous Peoples, Victoria Tauli-Corpuz.
Aura Tegrias speaking at the high level discussion on Sept. 3. Amazon Watch
This was Ms. Tegria's powerful statement:

The U'wa Nation is found between five Colombian departments: Boyacá, Santander, Norte de Santander, Arauca and Casanare, along the eastern mountain range near the border with Venezuela.
From our ancestral and cultural worldview, we maintain a relationship in harmony with our territory (called Kajka-Ika), who is conceived as our mother through ancestral wisdom. From her we human beings receive everything necessary to survive and to her we should reciprocate with respect and care. This is how the father creator—Sira (God) established the world, as a mandate written in the hearts of our wise Werjayas, for us to maintain the natural and spiritual balance.
Within the cosmovision U'wa, it is said that Mt. Zizuma (within the El Cocuy National Natural Park) is home to our existential beings, a site of knowledge that is in permanent communication with other indigenous peoples who have snow-capped mountains, a communication that is controlled by our traditional authorities, the Werjayas. The snow-capped peak is a biological, spiritual and natural corridor that guarantees human existence and permanence.
Our sacred Mt. Zizuma is threatened by ecotourism, which brings serious consequences like contamination of our sources of freshwater, pollution of our sacred areas with solid waste trash, deforestation, cultural and spiritual impacts which break our relationship with our spiritual beings, disrespect and indignation within our People because of acts like the soccer game that was played up on Zizuma's peak.
It is also threatened by the presence of energy mining projects within U'wa territory, which accelerate climate change and violate our mandate to protect, take care of and safeguard our Mother Earth, carrying us toward a physical and cultural extermination as was expressed by the Colombian Constitutional Court in their Decision 004.
Over the last 6 months our indigenous Nation alongside our Riowa (non-indigenous people) through the Masas Political Movement of Central-Eastern Colombia have carried out a Collective Nonviolent Action, exercising control of our territory through the U'wa Indigenous Guard and demanding respect for our sacred sites and compliance with agreements signed between the U'wa and national government in 2014, as the only guarantee for our ancestral people. This action ultimately led to the establishment of a Dialogue Table and new negotiations between the U'wa Nation and Colombian Government. As an indigenous nation we demanded that the National Parks Service as an environmental authority suspend eco-tourism in the El Cocuy Park and up on Mt. Zizuma while an impact study is carried out, which will allow the U'wa Nation to inform others as to our cosmovision and to offer elements that permit the true protection of Mt. Zizuma. However, this progress is currently being threatened by the recent declarations of Colombia's Environment Minister, who never participated in the negotiations but is now saying that El Cocuy will be reopened to tourism via presidential order. This would be a clear lack of compliance with the agreements by the Government and would run over the rights of our people. Faced with this, the U'wa Nation makes clear that we would continue in our peaceful grassroots mobilization.
We appreciate the fundamental role of international observation of the processes of dialogue with the Colombian State, such as the UN High Commissioner for Human Rights and their representative Todd Howland. Additionally, we appreciate the report of the Special Rapporteur for the Rights of Indigenous Peoples, Vicky Tauli-Corpuz, who has brought forth an issue that is currently very relevant, in which they included the issue of Mt. Zizuma. As the U'wa Nation, we say that it is necessary to coexist in harmony and balance with our Mother Earth and this only happens when we recognize and respect the existence of all beings, both material and spiritual.
I would underscore the recommendations of the Special Rapporteur to the governments, such as guaranteeing the recognition and respect for ancestral knowledge. In the case of the Colombian government, they should guarantee full participation for indigenous peoples and adopt all normative, judicial and administrative norms necessary to recognize our rights over our ancestral territories and indigenous reserves.

Through autonomous spaces amongst indigenous peoples in Colombia, we have analyzed our concerns around the imposition of protected areas within our territories, ignoring the spiritual significance of such. Responding to this dynamic, we would like to offer some additional elements:
1. Recognize that prior to the establishment of protected areas, we have our spiritual relationship with our sacred areas, as guardians and protectors of these lands because this is our mandate handed down from our Original Law, the law of Sira, which is immutable.
2. Recognize that from time immemorial we have conserved our territories through our traditional uses and customs, maintaining the harmony between the spiritual and material worlds. In the Colombian case the government still has not recognized this fundamental role of our indigenous traditional authorities as legitimate environmental authorities.
Follow the progress of Motion 26 on Twitter via the hashtags #Motion26 or #VoteForIUCNMotion26.

EcoWatch Daily Newsletter
Mint Images - Tim Robbins / Mint Images RF / Getty Images
While solar energy has plenty of benefits, there are also high upfront costs associated with installing a home renewable energy system. So, at the end of the day, are solar panels worth it?
If you want to minimize your ecological impact while reducing or even eliminating monthly utility bills, solar panels may be well worth the money. But they may not be the best solution for every home. In this article, we'll review solar panel costs, longevity and return on investment to help you decide whether they're right for you.
Each product featured here has been independently selected by the writer. If you make a purchase using the links included, we may earn commission.

How Much Do Solar Panels Cost?
The first thing to be aware of is that installing a residential solar system is always going to be expensive. Yes, saving money on your monthly utility bills can help balance that startup expense, and you can get some incentives to help undercut the cost of solar panels (more on that in a moment). But ultimately, there's no way around it: Investing in a residential solar system can be pricey.
How pricey, exactly? Your total solar energy system cost will depend on a myriad of factors, including the type of solar panels you choose, the number of panels required for your home, and the specific solar panel installation company you hire.
With that said, according to Sunrun, the average cost of installing solar panels in 2021 is between $16,200 to $21,400. And it's worth noting that this actually represents a significant drop in the price tag for solar panels. Solar installation is becoming more and more affordable, even if the startup price remains a little daunting.
Offsetting the Cost of Solar Panels
Something else to be aware of is that, over the past decade or so, both the federal government and many state governments have unveiled programs to provide financial incentives for solar installation. These programs include local and federal tax credits and other rebates. Top solar companies are usually able to help you identify and apply to any programs you are eligible for.
The current federal solar tax credit, called an Investment Tax Credit (ITC) provides a 26% credit for systems installed between 2020 and 2022. State incentives can be added on top for even more savings. However, even with numerous solar incentives, pricing and solar panel installation costs can still be steep.
How Long Do Solar Panels Last?
As you think about the initial startup investment in solar panels, another question to consider is system longevity. After you buy solar panels, how long do they last? Will they function long enough for you to get your money's worth?
Again, the answer can vary slightly depending on the specific type of solar panels you choose. As a rule of thumb, however, most residential solar systems last between 20 and 30 years and require only the most minimal maintenance and upkeep. Most of the best solar panels come backed with fairly rigorous warranties, ensuring your system holds up for at least two decades. Of course, when purchasing a solar panel system, you'll want to take a close look at the warranty information offered.
The longevity of your solar panel system can also add to the value of your home. According to the U.S. Department of Energy, buyers nationwide have been willing to pay an average premium of about $15,000 for a home with a solar array. In many cases, that alone can cover most of all of your solar investment.
How Much Money Will You Save With Solar Panels?
Related to the question of panel longevity is the question of a solar power system's return on investment, or ROI. How much power is a home solar system going to generate? How much money will it save you? Will month-to-month electric bill savings mean that your solar system "pays for itself" after a few years?
The amount of money you save on your monthly utility costs can vary depending on the efficiency and power of your solar panels, as well as your household energy consumption habits. Keep in mind that your savings will be greater if you live in an area where electricity rates are higher; by contrast, if you live somewhere with a lower cost of electricity, the money you save from going solar may be comparatively meager.
EnergySage notes that, over the lifespan of your solar system, you're likely to save anywhere from $10,000 to $30,000 on utility costs. This may or may not be enough for the unit to "pay for itself," though an upside of solar power ROI is that it's fairly instantaneous. Once your system is installed, you'll be able to start saving money right away.
Free Quote: See How Solar Panels Would Cost for Your Home
Fill out this 30-second form to get a quote from one of the best solar energy companies in your area. You could an average of $2,500 each year on your electric bills and receive a tax rebate.
Are Solar Panels Worth It for Your House?

Ultimately, whether solar panels are worth it will need to be evaluated on a case-by-case and home-by-home basis. Simply put, solar power is a smarter option for some than for others. The question is, how can you tell whether you're a good candidate for solar panels?
Best Candidates for Solar Power
Solar panels tend to be a better investment for homeowners who meet the following criteria:
Ample exposure to sun: If you live in a part of the country that gets lots of exposure to sunlight throughout the year, then you'll probably get more mileage out of your solar panels. It's little wonder that solar power is most popular in places like Arizona, Texas, California and even North Carolina.
Accommodating roof space: A good solar system will require plenty of surface area on your roof, unobstructed by skylights, chimneys or other fixtures. With a smaller roof, you can still potentially install a system, but you'll need to find the most efficient solar panels (which are often more expensive) to maximize your limited space.
High electricity bills: The amount of money you save by going solar will be directly proportional to the amount you spend each month on electrical costs. So, if you live in a community where the price of electricity is pretty high, you stand to achieve greater savings when you go solar.
Who's Not a Good Candidate for Solar Power?
By contrast, some homes may not be as well-positioned to reap a high solar power ROI.
Homes without much sun exposure: If you know anything about how solar panels work, it won't be a surprise that darker areas benefit less from this renewable energy source. In a place where there tends to be a lot of cloud coverage or more limited solar exposure for good chunks of the year, the jump to solar may not be as advantageous.
Homes with too much shade: Similarly, if your roof tends to be shaded for long stretches of the day (for example, if your home is in the shadow of a larger building or a lot of dense trees), then your solar panels may not get the sun exposure they need to generate a solid ROI.
You pay lower costs for electricity: If your electrical bills are already fairly minimal, then installing a residential solar system will yield more modest and measured savings.
You don't have the right kind of roof: Certain types of roofs just aren't as well-suited for solar power installation. For example, older or historic homes that have particular kinds of tiled roofs and homes that have larger skylights may not be good matches for solar energy.
How to Determine Your Solar Power ROI
Is solar worth it for you and your household? There are a few steps you can take to weigh solar energy pros and cons and make an informed decision.
One option is to consult with a solar panel installation company that can assess your roof and your positioning in relation to the sun, then supply you with a basic estimate of how much money you could save by installing solar panels. Reputable installers can also provide greater detail about the different types of solar panels that are available and recommend the technology you'll need to realize a significant solar power ROI for your home.
Even before you take the initial step and meet with a solar installer, a number of solar companies offer online calculators, which you can use to estimate your monthly utility savings. We'll stress that these calculators only give a very rough estimate and should be taken lightly, but they can still create a basic sense of whether solar panels are worth it for your home.
So, Are Solar Panels Worth It? It All Depends...
The bottom line for homeowners: Solar energy represents one of the best ways to reduce your dependence on traditional utility companies. And for many homeowners, solar power ROI will be well worth it. With that said, the startup cost can be prohibitive, and not every homeowner will achieve the same bang for their buck.
As you consider whether solar panels are a sound investment for your home, make sure you take into account cost, warranty, longevity and overall efficiency, all while seeking guidance from qualified solar experts.
A petite woman from Peru has been honored with a huge award, the 2016 Goldman Environmental Prize, for years of principled resistance to the Colorado-based gold-seeking conglomerate Newmont Mining Company.
"During my struggle I felt very sad, like I was alone, but now I know I am not alone," Máxima Acuña de Chaupe told a small group at a pre-ceremony reception Saturday night in San Francisco's historic Mission District. Nearby her grandson Maximo squealed and chased a miniature soccer ball in happy ignorance of the seriousness of the subject.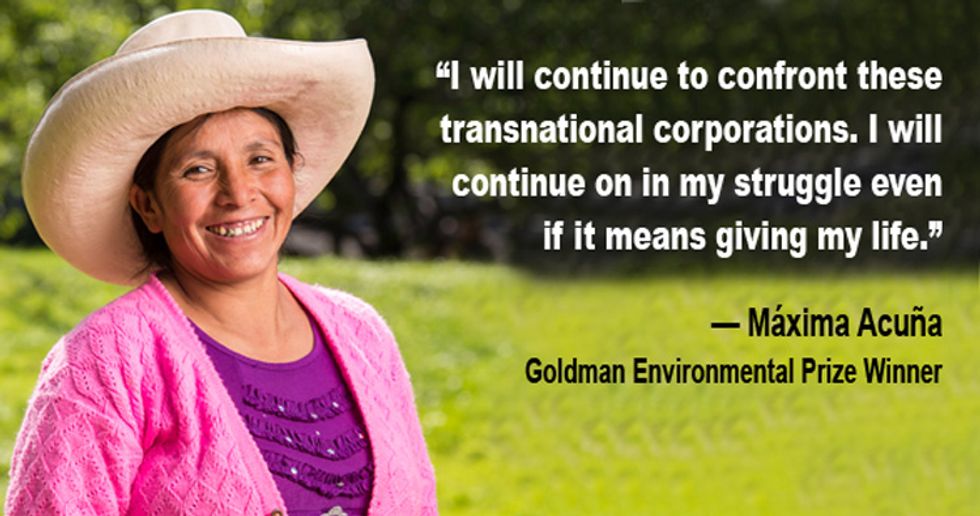 Clearly emotional and a bit overwhelmed by the attention of so many people in a bustling city thousands of miles from her highland home, upon which Newmont has staked a claim on a very large gold deposit, her tone hardened as she finished her thought: "People are becoming aware and understand what I'm fighting for: the land, water and life, not only my own, but the population in general."
Celebrated globally for her courageous refusal to sell or cede the land her family uses to raise animals and vegetables to Newmont for its proposed Conga gold mine, Acuña de Chaupe and her family have survived lawsuits filed by the company and endured harassment and beatings at the hands of a security force alleged to be on the company payroll.
Adam Shapiro of Ireland-based human rights NGO Front Line Defenders has been following and documenting these events and said this week that when he was visiting the area recently, there was another incident. "The security company hired by the mine operator arranged for locals from nearby villages to come and tear up vegetables that had been planted by Máxima's son. This was part of a pattern of such attacks against the family," he said. "The security company maintains a presence allowing for 24 hour surveillance of the home and the farm and there are always guards watching as well as controlling traffic on the road."
Under such circumstances, Máxima is not alone. In the short time that Shapiro was there, he reported that a land rights defender in a nearby town received death threats.
This pattern is playing out across South and Central America, where environmentalists and land rights defenders challenging mining companies and other megaprojects put themselves at risk. The example foremost in conversations at the Saturday reception was 2015 Goldman Prize winner Berta Cáceres, murdered last month apparently for opposing a dam project in Honduras.
Another NGO that has been tracking developments in Peru closely is Earthworks, whose Mining Program Director, Payal Sampat, stated that the award is further proof that this lamentable state of affairs is finally changing. "Mining companies cannot ride roughshod over community wishes—such bad behavior may have been standard operating practice 20 years ago, but is not something that communities will tolerate or that shareholders will turn a blind eye to," she said. "Trampling community wishes comes with consequences to the bottom line."
For evidence, Sampat pointed to the idling of the Conga proposal for years due to the resistance of Acuña de Chaupe and her community and the fact that Newmont appears to have now taken it off their list of current assets, as outlined in a press release her group just released: "The world's second largest gold mining company, Denver-based Newmont's 2016 10-K SEC filing declared: "Under the current social and political environment, the company does not anticipate being able to develop Conga for the foreseeable future." Newmont will hold its annual shareholders' meeting in Delaware on April 20."
While a spokesman for the company, Omar Jabara, countered that that the Goldman Prize "does not have balanced or complete information about the land dispute," despite Newmont losing in court three times, including the country's Supreme Court according to Acuña de Chaupe's lawyer, Mirtha Vasquez, he confirmed the company's recent statement about the project's idle status, which in light of this week's news will probably be a topic of conversation when the company's investors meet again soon.
For her part, Máxima says that she does not know what to expect when she returns to Peru, but that she remains steadfast in her stance and knows the world will be watching. So as the sun set over San Francisco this past weekend, she closed her statements by saying, "I will continue to confront these transnational corporations. I will continue on in my struggle even if it means giving my life."
THANK YOU for making the the 27th #GoldmanPrize ceremony extraordinary! https://t.co/Xm9lgFEE7q https://t.co/VPwmjtr5ko

— Goldman Prize (@Goldman Prize)1461080808.0
YOU MIGHT ALSO LIKE
Meet the 2016 Goldman Environmental Prize Winners
300+ Arrested in Mass Civil Disobedience Protests at the Nation's Capitol
Dalai Lama, Archbishop Tutu Among 250 Faith Leaders Urging Immediate Action on Climate Change
Danger, Will Robinson: Oil Industry Knew CO2-Climate Link in '68
You wouldn't suspect that a guy who builds things for a living would become the architect of a hugely popular symbol against the building of something else, but Will Elwell and his community of Ashfield, Massachusetts, have stumbled on just such a symbol. They are against the building of the Northeast Energy Direct pipeline, which energy company Kinder Morgan subsidiary Tennessee Gas Pipeline Company wants to trench through New York and Massachusetts to carry gas from the fracking fields of Pennsylvania to the coast.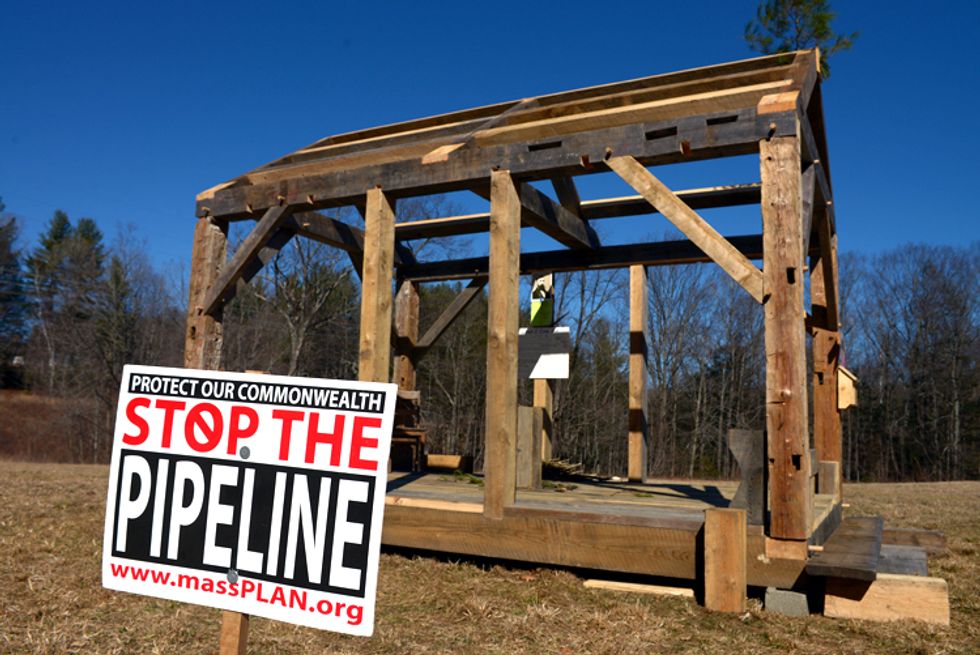 Residents of this proud New England town (where also I live) and many others around it strongly object to the notion of a corporation "taking" private and public land for this giant project, including state forestland and parcels conserved in perpetuity by land trusts, and have repeatedly denied company requests to survey their properties and farms, which has slowed the proposal's progress. Meanwhile citizen groups are preparing for civil disobedience alongside an effective grassroots education campaign that has won the support of many local, state and federal politicians.
That emphasis on civil disobedience, and wondering what more he could do for the cause, is what really rang a bell in Will Elwell's head. A skilled timber framer, he offered to create a direct reference to beloved Massachusetts figure and father of this style of resistance, Henry David Thoreau, by erecting a replica of the great writer's cabin on the hayfield of his neighbor, which itself is directly in the path of the proposed pipeline. Some of the beams were even salvaged from an 1800s-era Massachusetts barn, making the historic figure and new structure contemporaries of sorts.
As noted widely in the progressive press (Democracy Now and Common Dreams) and international media (RT), an enthusiastic group of 30 neighbors, activists and even local politicians turned out to help Elwell raise the beams on a recent weekday, culminating in a picturesque symbol of defiance. In the coming weeks, a roof, walls, and wood stove will be added, but for now, the key components are a sign board and journal that visitors have been using daily to share their frustrations, fears and hopes for the future of this place without a pipeline.
"I wanted to do something that would show my discontent with the proposed pipeline," Elwell told me, "but in a creative and beautiful way. And I wanted to occupy the proposed pipeline pathway and stop the project. This is an important and tangible symbol, and represents a place of resistance which many, many, people can now identify and help occupy."
Here's the replica of Thoreau's cabin being built in the path of Kinder-Morgan's #fracked gas pipeline. Beautiful! https://t.co/1ORbNOEDXa

— Bill McKibben (@Bill McKibben)1458317092.0
As far as ideas to rally around go, it's certainly an effective one. But how practical it is in real pipeline-pausing terms is a bigger question. One way that Elwell has answered that was by getting a building permit:
"A building permit is not required for any outbuilding that is less than 200 square feet, but we wanted it to be registered and on record, because in order to move or demolish it, that would require its own permit. That would help raise awareness of the intent, and we could prepare to occupy the cabin (before its possible demolition)."
Fellow Ashfield pipeline resistance organizer Jim Cutler hopes to use the cabin as a rallying point for further activism and envisions it as a space that will host speakers that are eloquent on the issues.
Elwell thinks this one cabin is not a big enough symbol, however, and hopes to see more of these local rallying points pop up along the pipeline's possible path. "I would like to see a structure at every intersection along the proposed route," he said.
YOU MIGHT ALSO LIKE
7 Arrested at 'Pancakes Not Pipelines' Protest at FERC
The Wall Street Journal, Climate Change Denial and the Galileo Gambit
Bill McKibben: Fracking Has Turned Out to Be a Costly Detour
Love winter? Like to skate? Then you need to know about Ottawa's Rideau Canal Skateway, a four mile frozen canal system that connects suburbs to the heart of the Canadian capital. Dubbed "the world's largest skating rink," it's a cultural attraction and also an emissions-free mode of transport for outdoors-loving Ottawans, who can often be seen commuting on blades to work at downtown offices and to classes at the university.
Last year my wife and I spent an exhilarating weekend there during a brutal February cold snap. It was skate-able for a record 59 days in 2015, a good long season, but alas, the Skateway hasn't been fully open for much in 2016 due to freakishly warm temperatures brought on by El Nino and climate change, which has caused many high temperature records to fall. After opening most of its length by late January as usual, it was then closed again due to thin ice.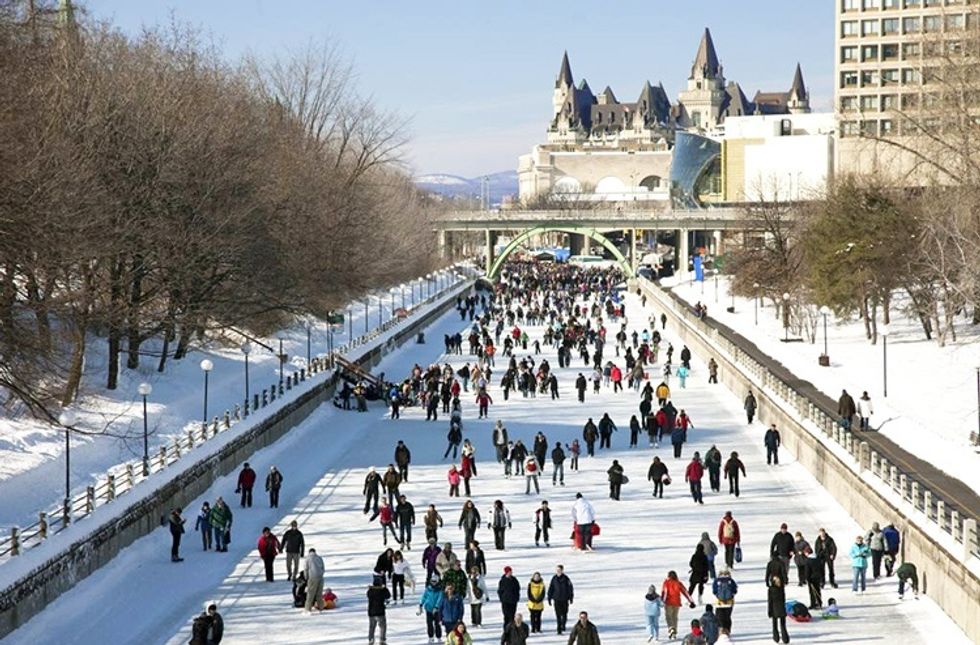 On weekends during normal winters, the ice is mobbed with courting couples, hockey games and families of multiple generations. One can rent skates and also big Santa-style sleds, into which are loaded anyone who can't skate, like babies and grandparents, so their families can push them along, often at a good clip. Hot drinks, food and the ubiquitous "bear claw" sweets are hawked by vendors whose stalls are towed out on the ice. There are even ATMs out there on skids for those low on cash.
To celebrate this popular local asset and UNESCO World Heritage Site, the city grooms the ice all winter and also puts on what it calls "Winterlude," a 3-week canal-side celebration from late January to mid February with events day and night, from ice sculpture competitions to late night reggae shows in sub zero temperatures. This year's thin ice problem led during its brief closure to the unfortunate moniker "Waterlude," however.
The El Nino winter is surely a disappointment to the many Ottawans who love this institution—each year it enjoys 900,000+ visitors, including many foreigners who love to skate. So many folks use the Skateway daily that ice conditions are even announced on local radio stations as part of the traffic report.
Happily, the Canal is almost fully open again (check here for conditions) and many people will come for the many Winterlude events happening between now and Feb. 15. In fact, the warmer temps have probably led to greater attendance at outdoor events, organizers have noted with some irony.
YOU MIGHT ALSO LIKE
Kelly Slater: World's 'Best Man-Made Wave' Is Powered 100% by the Sun
Threat of Sea Level Rise Intensifies as Antarctica's Melting Ice Sheet at 'Point of No Return'
The Super Bowl Doritos Commercial You Didn't Get to See
Climate Change Poses Threat to Key Ingredient in Beer, NOAA Warns
During this week's edition of the hit TV reality show Top Chef, the contestants were asked to cook with a technology they'd never used before: the sun. Deep in the Palm Springs desert, the chefs cooked with one of two industry-leading solar stove designs manufactured in the U.S., the SolSource and the GoSun. Of the SolSource, one chef called it "the coolest stove I've ever used," and cooking with the latter's innovative vacuum tube design was described by another as "light saber action."
TONIGHT: @BravoTopChef @ChefJoseAndres Challenges Contestants to Cook With #Solar Stoves https://t.co/KfilP7Iwk2 https://t.co/VP54ik11nN

— EcoWatch (@EcoWatch)1450369413.0
Chef Jose Andres was the guest judge for this since he's so well known as a booster of solar cooking for the energy-impoverished—he brought solar stoves to Haiti after the earthquake to lend some relief to people whose normal cooking fuel options were rendered unavailable.
And lack of access to such clean cooking options is a huge issue globally: 3 billion people cook their daily meals over smoky biomass fires every day causing more than 4 million annual mortalities, mostly women and children, from smoke inhalation related diseases. Not only is it a human health issue, but forests and the climate suffer: most households that rely on smoky stoves burn 2 tons of biomass per year, about 730 million tons globally, which releases about a billion tons of carbon dioxide. The resulting particulate matter also traps heat in the atmosphere.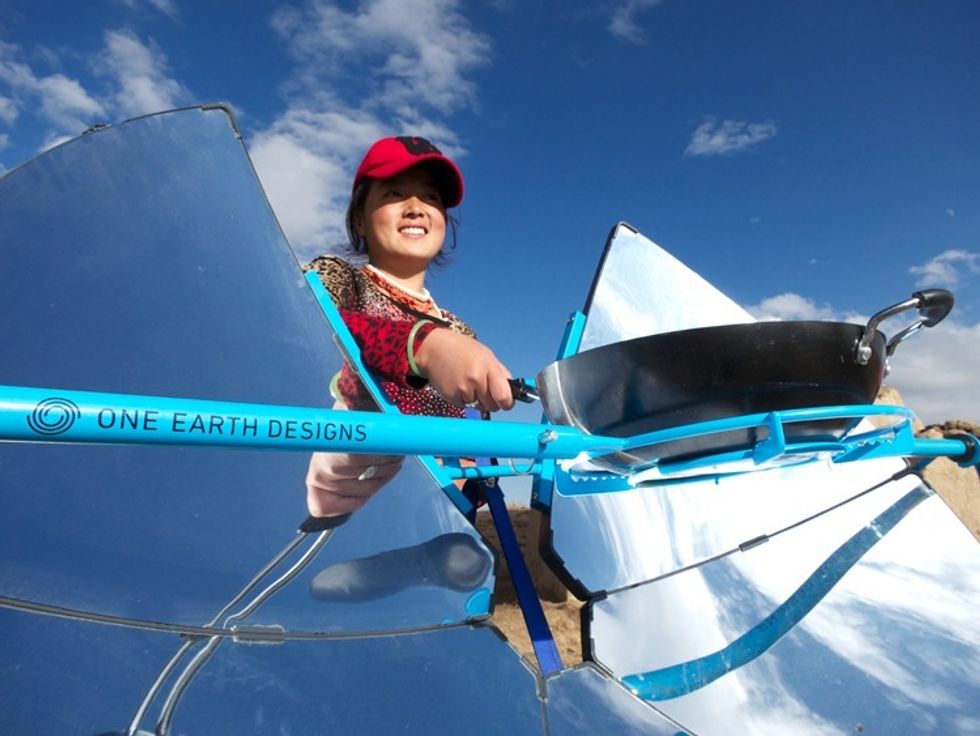 While there's a massive global underway led by the Global Alliance for Clean Cookstoves to get less smoky and biomass-intense options into the hands of people who need them, emission- and fuel-free solar stoves are routinely ignored by such efforts in favor of designs that still emit smoke. But events like this one just might boost its acceptance among NGOs and eco-conscious backyard cooks in the U.S. alike.
Both of the stove designs used by the show have great applicability in the developing world, especially in those countries which enjoy lots of sun. GoSun in particular is bullish about supplying cooks all over the world with smoke-free options, as I reported in The Guardian this fall.
Despite one contestant blowing up a GoSun because she added water to the vacuum tube, the stoves worked great and the contestants were overall pleased with the results despite having never used them, saying things like "The stove worked great," and "I thought it was awesome and would love to do it again."
Gourmet dishes of couscous, halibut, steak, cornbread and more were prepared in just 30 minutes with sunlight, and the winner was thrilled with his first experience cooking with the sun. But he wasn't the only winner: solar cooking got a big boost in visibility, and Chef Andres's humanitarian organization World Central Kitchen received a $10,000 donation on behalf of the winner.
YOU MIGHT ALSO LIKE
Starbucks, Wake Up and Smell the Coffee: Palm Oil Is Destroying Our Planet
Europe's Dirty Little Secret: Moroccan Slaves and a 'Sea of Plastic'
Aziz Ansari Blasts Factory Farming for Cruelty to Chickens
Tom Colicchio is a busy guy, what with all the time he spends hosting his TV show Best New Restaurant, to wearing the MSNBC food correspondent hat while talking the politics of food with the likes of Rachel Maddow, plus being the straight-shooting head judge on Bravo's hit show Top Chef. And yet despite also expanding a successful group of restaurants while serving on the board of Food Policy Action, an advocacy organization that he cofounded in 2012, he still makes time to fish every year.
The overlap between his fine food expertise and desire to see the world eat better while leaving the planet in better shape makes for an interesting perspective on menus and angling ethics. Here's what he had to say, when I had the chance to interview him:
Q. You're an avid fisherman, so sustainability of the oceans must be on your radar. Are there species you won't fish for because their stocks are depleted?
A. Bluefin tuna. I will fish for them, but I will not kill them. I don't kill many fish except the occasional bluefish or mahi mahi and yellowfin tuna, which are plentiful right now. A lot of these stocks bounce back if we allow them—I'm not against fishing the ocean, I think it's a great food source—but we've got to change the way we do it.
Look at swordfish, they were nearly endangered and then a nursery was found off of Florida, so we got the long-line fishermen out of there, and the stocks came back. They were catching swordfish during the day in Florida. What'd we do then? We allowed long-liners back in for "exploratory purposes," when we already knew the program worked!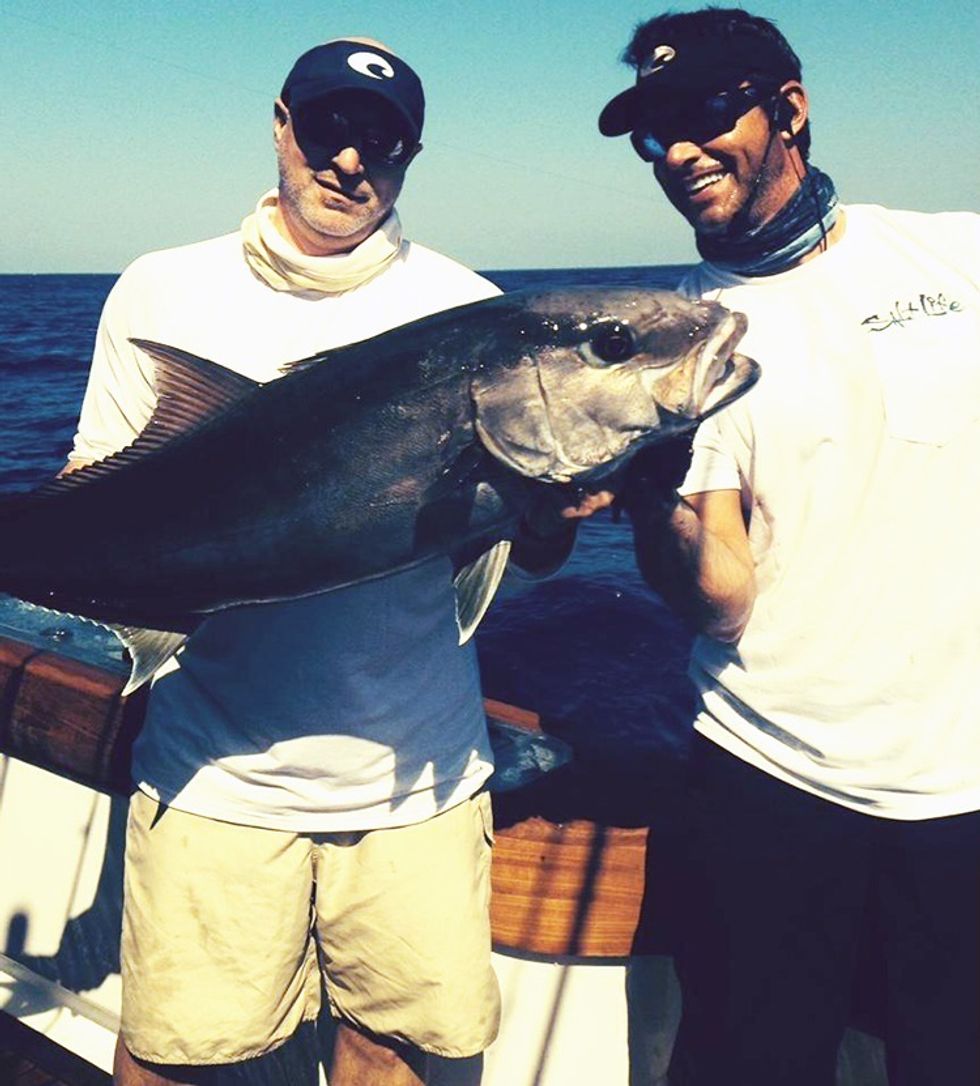 Celebrity chef Tom Colicchio (left) is also an avid fisherman.
Q. What kinds of marine fisheries policy do you support?
A. We need policies that protect fishermen but also the resource. Striped bass for instance came back in a big way because one of their main spawning grounds in the Hudson was heavily polluted with PCBs, and people were told not to eat them, so the fishery was commercially unviable. Then we cleaned up the Hudson, the fish bounced back and were safe to eat, but now we're back where the population is on the decline. We could have protected that industry by creating slot limits, instead we allow the catching of all the big ones, the best breeders with the best genetics.
Q. What species do your restaurants avoid serving?
A. Bluefin tuna, I will not serve it. Haven't even seen Orange Roughy in ages, and I've never served Chilean sea bass.
Q. How about farmed salmon? Ocean advocates and researchers say that open net salmon pens harm ecosystems.
A. They do, the density on those farms needs to be looked at. We have served it, but don't sell a lot of it. We typically serve wild salmon when they're running.
Q. Beside the impacts, the farmed kind doesn't taste as good. I find it really fatty.
A. It doesn't, and it's not because it's fatty, it's just a different kind of fat that's not marbled through the meat, but rather on the outside edge toward the skin. It's because they don't move enough, so the fat's distributed differently and doesn't taste near like a wild salmon. There's no comparison.
Q. What's your approach to serving wild fish in your restaurants?
A. I try to serve wild fish, but it's often a tough call. One of the best choices is small white albacore on the West Coast, that's a great fishery, it's managed well and there's very little mercury in those fish.
YOU MIGHT ALSO LIKE
3 Companies Say 'No' to GMO Arctic Apples
Inside the Nation's Largest Organic Vertical Farm
50 Ways You Can Help Save the Earth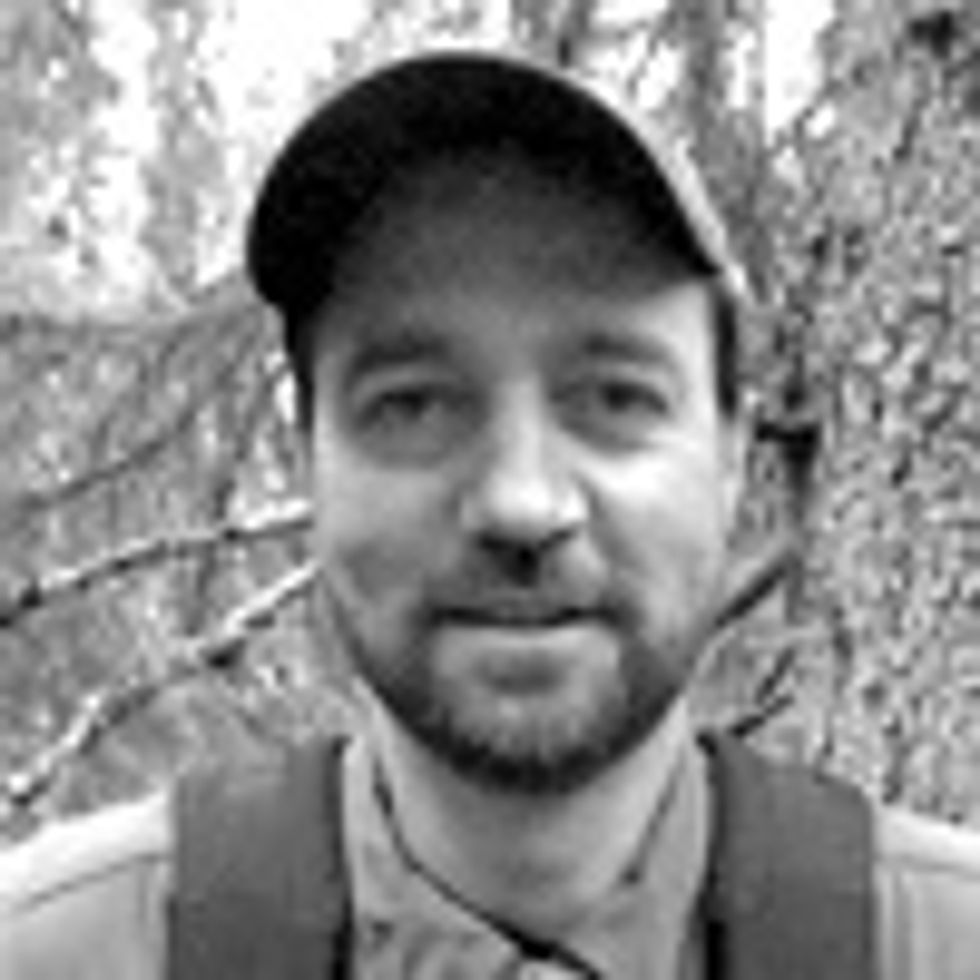 An innovative renewable energy cooperative in the Northeast is racing toward a June 1 deadline to finish the financing needed to build Northeast Biodiesel, a refinery that will make liquid fuel from waste vegetable oil collected from area restaurants and institutions.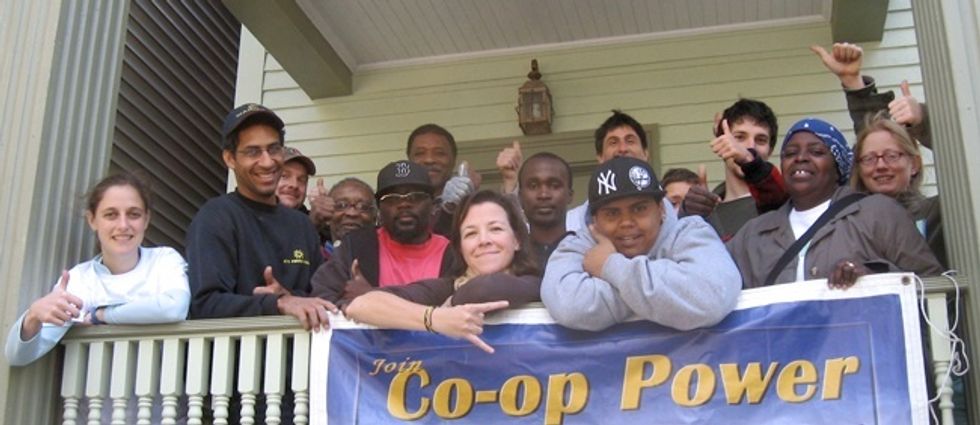 Co-op Power is a member-owned cooperative that helps launch renewable and energy efficiency businesses that are owned in part by its 475 members (in full disclosure, I'm one) from five states in the Northeast. Its clever hack of the cooperative structure has given rise to a dozen plus such businesses in the last 10 years, from large solar arrays on food coops to crews of workers who tighten up homes and businesses against the elements, creating over 100 new green jobs in the region to date.
Its business model that roots equity in local economies has been written up widely and highlighted by authors like Michael Shuman in his great Local Dollars, Local Sense and in the community-owned power manual Power from the People by Greg Pahl (both essential reading published by Chelsea Green). Groups around the nation have since taken up the coop's blueprint that leverages member equity with grants, loans and other financial instruments to create member and community-owned renewable energy assets.
The keystone project for Co-op Power is certainly the biodiesel refinery, which will make diesel and home heating oil from recycled vegetable oil collected in the area.

As reported this week, the coop "has raised and spent more than $2 million to date for the land, site work, foundation and building, installed tanks, equipment and a biodiesel processor. The group has received a building permit to complete construction. In the past few months, Co-op Power has hired a general manager and has completed final engineering designs and received construction bids. Once funds have been secured, final plans will be submitted to the town for the final permit."
It needs a final $850,000 to close that deal, which itself is a case study in 'patient capital.' Originally projected to be operational in 2006 or 2007, the Wall Street-generated economic crash of 2008 set the bio-refinery plans back by many years when grassroots supporters lacked cash to invest and traditional partners like banks became allergic to new ideas.
Refusing offers of venture capital and its attendant loss of ownership, the coop has soldiered on in grassroots fashion, raising the needed funds largely from members, friends and angel investors. With a startup capacity of 5,000 gallons of biodiesel a day created from used cooking oil, Northeast Biodiesel will sell to the transportation and home heating markets (the fuel is identical to home heating oil and can be blended to a high degree with its fossil-based counterpart). Once operational, the plant should be able to add a second processor within a year, for a total capacity of 3.5 million gallons a year.
Now Co-op Power is looking for new members and partners as it brings its signature project to the next level. While I feel that one shouldn't use overuse the term 'amazing,' this project and the huge community effort it's taken to get it to this point certainly is.
YOU MIGHT ALSO LIKE
This Company Is Leading the Charge to Expedite Renewable Energy
4 Climate Surprises From Al Gore in Iowa
Thrilling Ted Talk Looks at the First 21 Days of a Bee's Life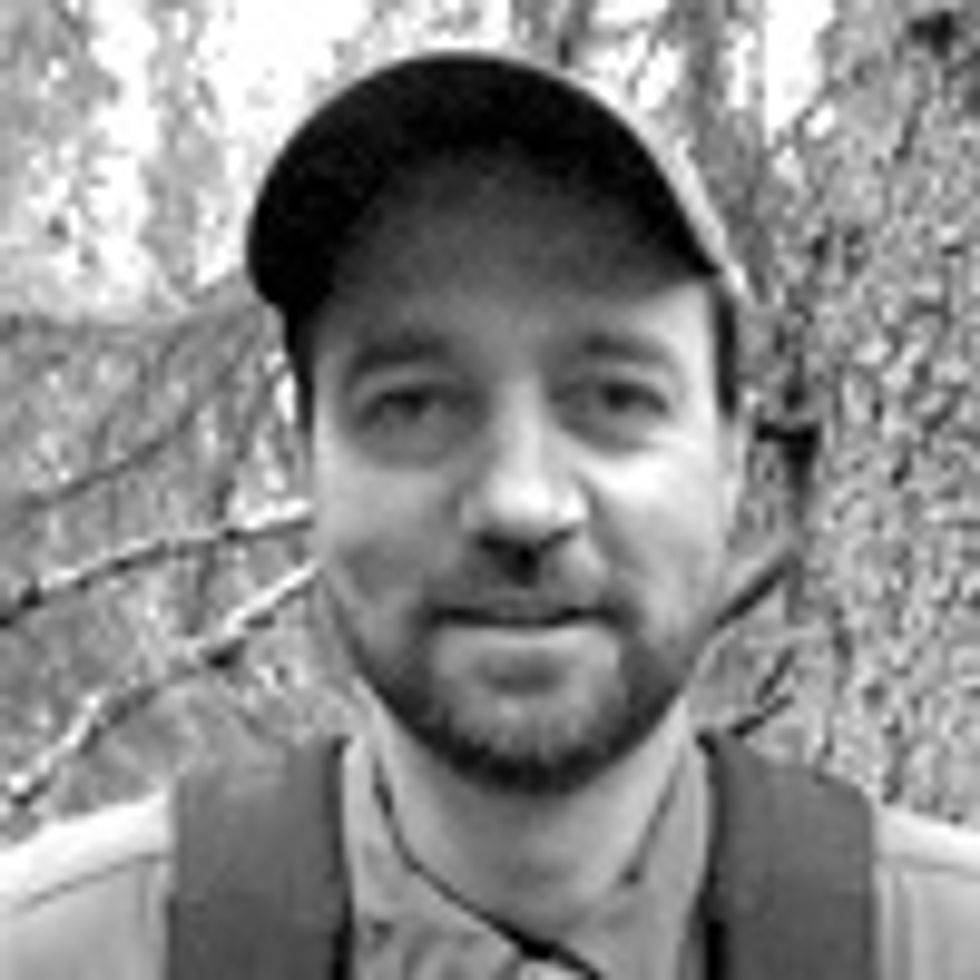 Community activists from Cajamarca, Peru appeared at the annual shareholders' meeting of Denver-based Newmont Mining Corporation this week to deliver a petition bearing 150,000 signatures protesting the company's practices in the region, and demanded that it live up to its own goals for human rights and sustainability.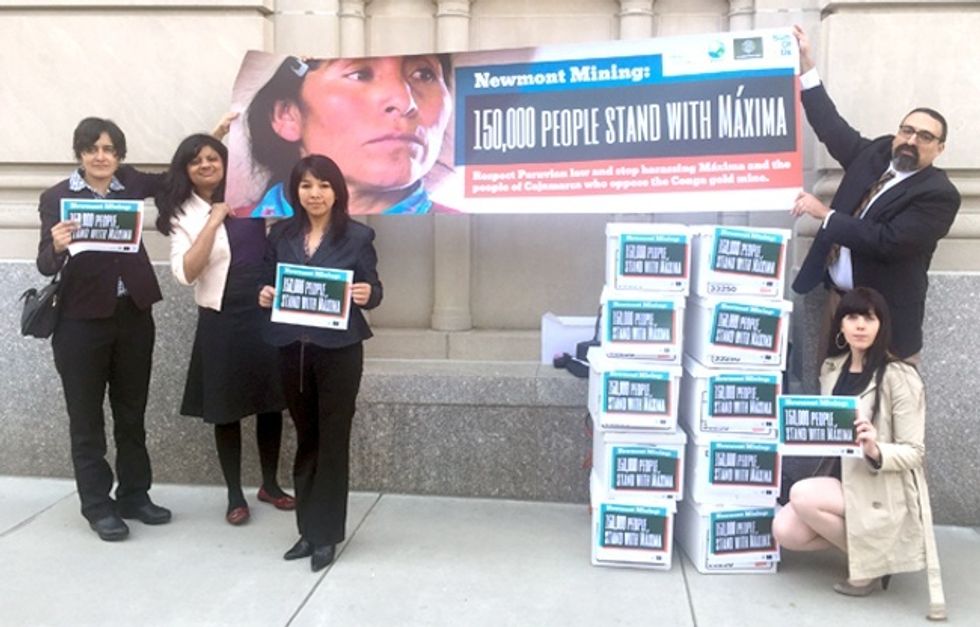 Representatives of Earthworks, EarthRights and Grufides delivered over 150,000 signatures to the Newmont annual shareholders' meeting. Photo credit: EarthRights International
Newmont is majority owner of the massive Peruvian gold mine Yanacocha, the second largest gold mine in the world, and its planned Conga gold and copper mine nearby would be even larger, requiring a farming community to move and the four lakes they rely on for irrigation to be drained.
But the community has so far refused to relinquish its treasured land and lakes, and in response activists say the company has reacted with intimidation and harassment.
One person particularly in the company's cross-hairs is Máxima Acuña de Chaupe, says activist Mirtha Vásquez, a Peruvian lawyer at Wednesday's meeting. Acuña de Chaupe's land abuts one of the four lakes but after de Chaupe refused to sell her land in 2011, nongovernmental organizations (NGOs) like Earthworks reported that her family became the target of harassment and violence in the form of beatings and destruction of the family home. Then Newmont sued her for "land invasion" and violent retaliation, which it lost on appeal in December 2014.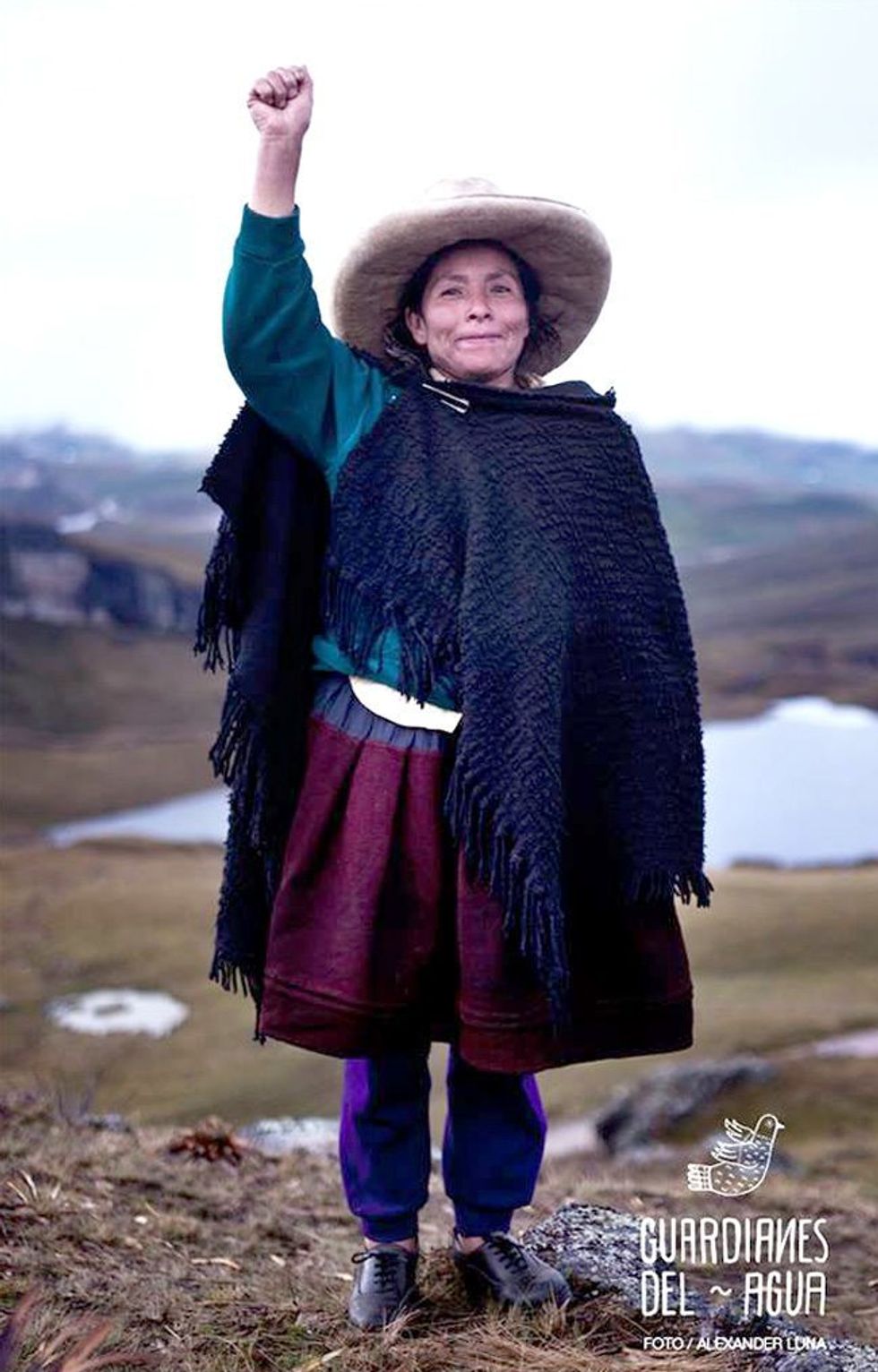 Despite this legal victory, activists say that intimidation and threats against Acuña de Chaupe have continued, reporting that the family's home was demolished again in February 2015, this time by a group of 200 armed men.
"Newmont's leadership must publicly renounce its harassment of Máxima Acuña de Chaupe and other Cajamarca residents who oppose the Conga mine," said Vásquez in a prepared statement. "Otherwise Newmont will become globally infamous for discarding their commitments to human rights and community engagement as soon as they become inconvenient." A Cajamarca resident, Vásquez is director of a local NGO called Grufides and is also legal counsel to Acuña de Chaupe, who declined to travel to the U.S. citing fears of what would happen to her farm and family in her absence.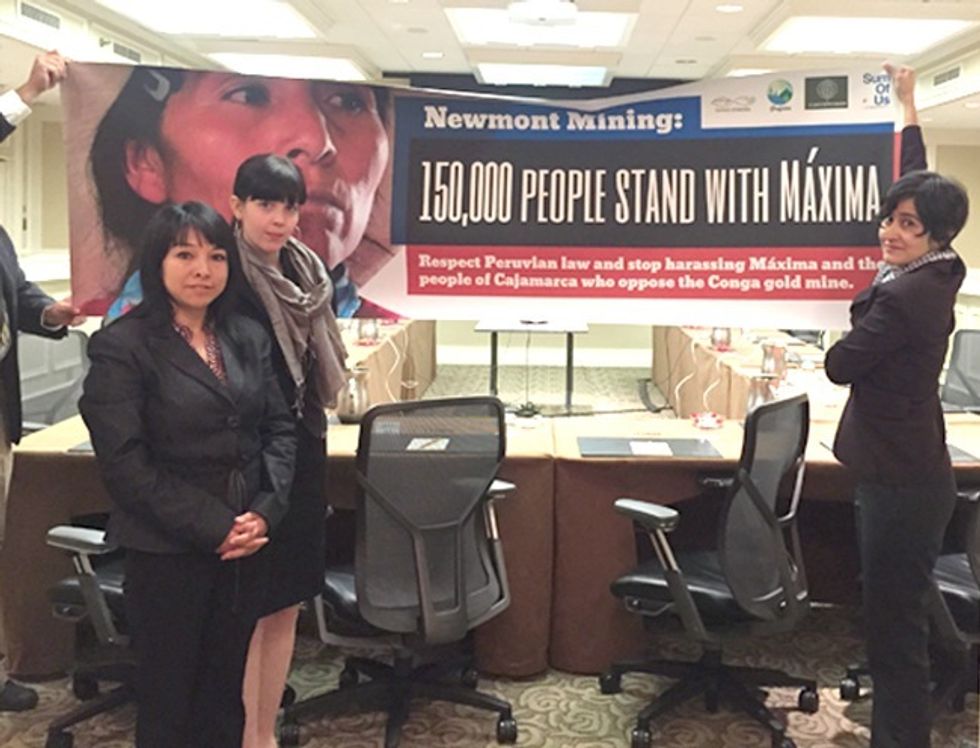 Mirtha Vásquez, left, inside the Hotel Dupont in Wilmington, Delaware before addressing Newmont's shareholder meeting. Photo credit: EarthRights International
Keith Slack, manager of Oxfam America's global extractive industries team, which tracks the impacts of mines on local communities, agreed with Vásquez. "The company needs to listen to the local population and not move forward with the Conga mine. It should find ways to address Máxima's situation that are conciliatory and don't rely on brute force. From the beginning there's been an unwillingness to listen and take measures that build trust."
For its part, Newmont maintains that it and Yanacocha always strive to be respectful of neighboring communities, and that they will not proceed without clear social acceptance. But in the case of Acuña de Chaupe, spokesman Omar Jabara continued to maintain that the family is illegally squatting on the company's land. "On many occasions, the company has tried to resolve the dispute through direct dialogue, and remains open and willing to doing so. In the meantime," he said by email, "Yanacocha is obliged to continue pursuing judicial avenues to re-establish its legal right to the property, while making every effort to reduce tensions and minimize conflict."
However, Earthworks International Program Director Payal Sampat maintains that it's too late to build bridges or reduce tensions. "The community of Cajamarca has said loud and clear—and repeatedly—that they reject the Conga mine. Instead of listening to the community and respecting their wishes, Newmont has employed security forces to intimidate and harass those who oppose them. This 'scorched earth' approach is hurting not only the people of Cajamarca, but Newmont's reputation and business as well."
Whether or not Newmont's shareholders agreed with her on Wednesday, actions like it will continue to educate the world on the incredibly high cost of gold mining for both people and planet in places like Cajamarca.
YOU MIGHT ALSO LIKE
14-Year-Old 'Kid Warrior' Rallies Youth Around the World to Protect the Planet
Every 20 Minutes an Elephant Is Killed for Its Tusks
Duke Energy Coal Ash Ponds Contaminate Wells, Residents Told Not to Drink the Water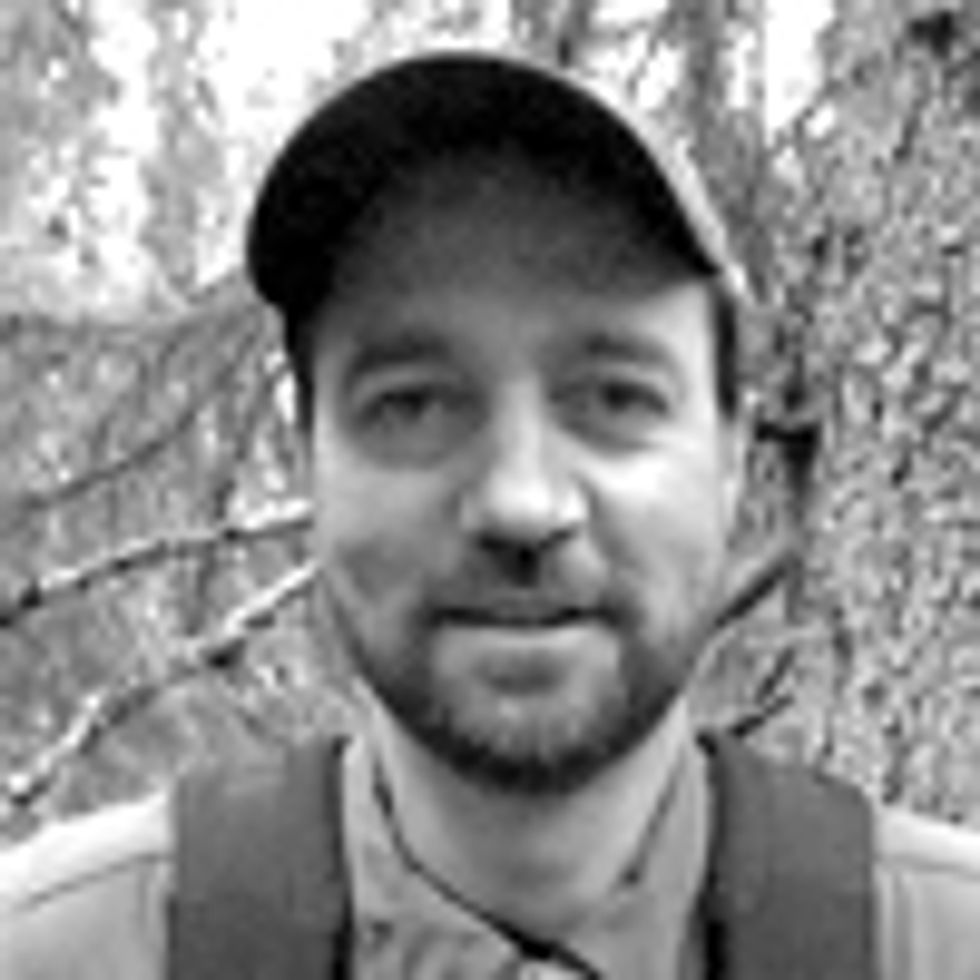 I had the chance last week to interview Stephanie Flack, executive director of the Environmental Film Festival. The festival runs from March 17-29 in Washington, DC. Now in its 23rd year, it's the nation's largest and longest-running environmental film festival, which will screen more than 160 films on a wide range of environmental issues, and 96 of those films will either be DC, U.S. or world premieres.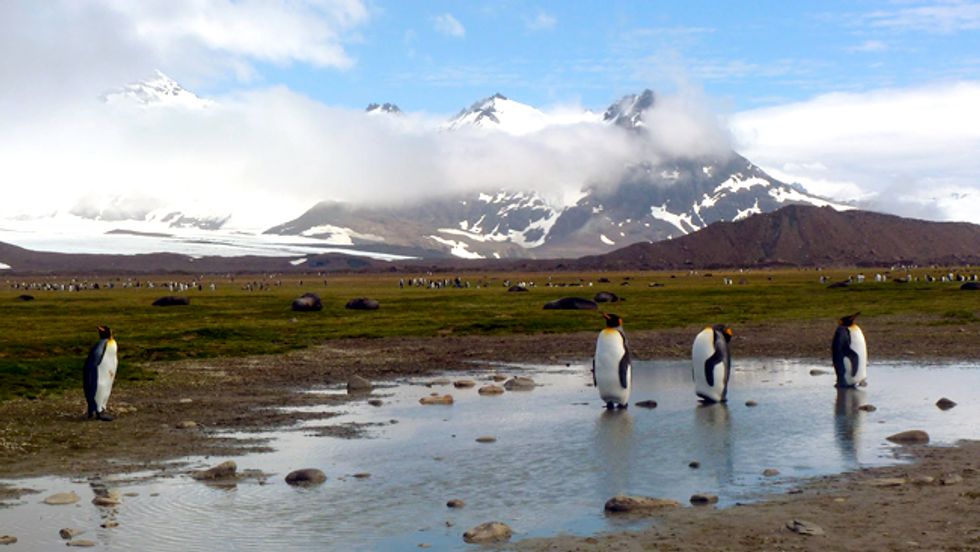 Q. Is there a theme for the 2015 Festival?
A. Our theme for around one-quarter of our 160+ films this year is "Climate Connections," exploring the impact of climate change on our world. Two of our films highlighting this subject are "Ice & Sky," Oscar-winning filmmaker Luc Jacquet's work-in-progress about French glaciologist Claude Lorius' 60-year study of climate change in glaciers and "Penguin Counters," examining how penguins in Antarctica are coping with their changing climate—and the implications for humans. We are also presenting a panel discussion with The Climate Reality Project, "Climate Connections: Filmmakers as Catalysts for Change," considering how storytelling and film can effectively address the climate crisis and a special evening of film and discussion celebrating Earth Hour with World Wildlife Fund.
Q. Why is it important to keep offering this event in Washington, DC?
A. Washington, DC, our national capital, is an ideal place to present the Environmental Film Festival because it has perhaps the greatest concentration of national and global decision makers and thought leaders in the world. It also has experts on many of the topics featured in the films we show. By presenting our films here, we can reach people in government, NGOs and a wide variety of other organizations who shape national and global environmental policy. I think it's more important than ever to keep doing the festival as environmental challenges intensify in severity and scope, and documentary films illuminate these vital topics. Our focus on climate change is especially timely this year, shining a light on the global climate imperative prior to the Paris United Nations Climate Conference in December.
Q. Orion's current issue has a special section on Cuba, so I was glad to see the festival's own focus on the island nation. What will the Cuba program tackle?
A. In our program, "Frozen in Time: Cuba's Pristine Coral Reefs and Their Future After the Embargo," marine biologist Dr. David E. Guggenheim, who visits Cuba often, will explore its vibrant coral reefs and consider the impact that lifting the U.S. embargo could have on the country's environment. Guggenheim will also show clips of healthy coral reefs in Cuba's National Park, Gardens of the Queen and from the film, "Cuba: The Accidental Eden," showcasing Cuba's virtually untouched wild landscapes. He will discuss lessons the rest of the world can learn from Cuba's protection of its environment.
Q. What life experiences prepared you to run this massive, independent arts event? I know you love film since you've watched the AFI top 100.
A. The festival truly is a massive and impressive undertaking. I've attended it casually as an audience member for 20 years, and appreciated the films and discussions without a full understanding of the incredible work and organization that went into identifying, selecting and securing the films—not to mention coordinating with the 55+ venue partners and many more collaborating partner organizations that help to host and present the festival.
I worked in conservation for 20 years before moving to the festival. During those years, I managed large teams from my organization and partner organization to meet shared objectives—in many cases, teams over whom I had no direct authority—so I had to define and help steer the teams towards meeting shared objectives. One of these collaborative, multi-partner projects won an award from the Department of Interior as a great example of a public-private partnership. Plus, I am a mother of three children ages 10 and younger, so I have some experience keeping a bunch of balls in the air.
And to answer your second question: the AFI Top 100 is a list of the Top 100 films of the first 100 years of moviemaking. The list was determined by the American Film Institute from a poll of more than 1,500 artists and leaders in the film industry who chose from a list of 400 nominated movies. I have always loved film, it has been my interest and hobby beyond my professional focus throughout my career in conservation, so the Environmental Film Festival has been a perfect marrying up of my professional and formerly personal interests.
Q. What are you most looking forward to at this year's festival?
A. This year, I am most looking forward to our opening night festival kick-off with "Bikes vs Cars" on March 17; our closing night and Advocacy Award screening presentation of "Racing Extinction" on March 29; and our three other award evenings: presenting the Eric Moe Sustainability Film Award for a short film in sustainability to "Silent River;" screening George Butler's new film "Tiger Tiger," which will win our new William W. Warner Beautiful Swimmers Award for a film reflecting a spirit of reverence for nature; and showing Sturla Gunnarsson's new film "Monsoon," which will win our Polly Krakora Award for Artistry in Film. In addition, we have two great Saturday nights lined up: Jean-Michel Cousteau's Secret Ocean 3D on March 21 at the National Museum of Natural History, and the new film "Planetary" in association with the annual celebration of Earth Hour with World Wildlife Fund on March 28 at the National Geographic Society.
YOU MIGHT ALSO LIKE
HBO's Award-Winning VICE Exposes Climate Deniers and the Dire Consequences of Sea Level Rise
Are There More Oil and Gas Wells in LA Than Movie Stars?
10 People Found Not Guilty in Flood Wall Street Protest, Judge Takes Judicial Notice of Climate Change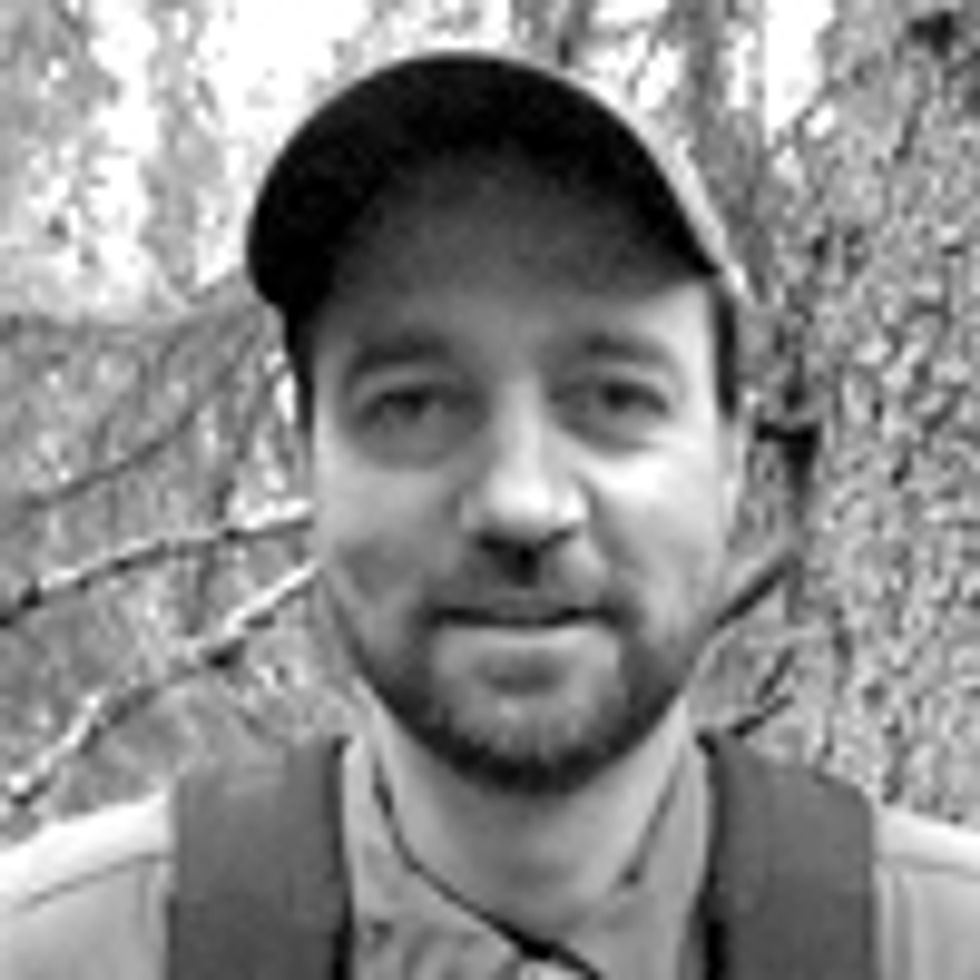 I'm going to D.C. soon to share ideas for a better food system.
And that system needs a good bit of tweaking: many have been working on that for decades admirably, and I try to be on all their email lists. One relative newcomer to the scene is Food Tank: The Food Think Tank, which is only just two years old but has quickly become an important voice for change. And it's their emails I tend to open first.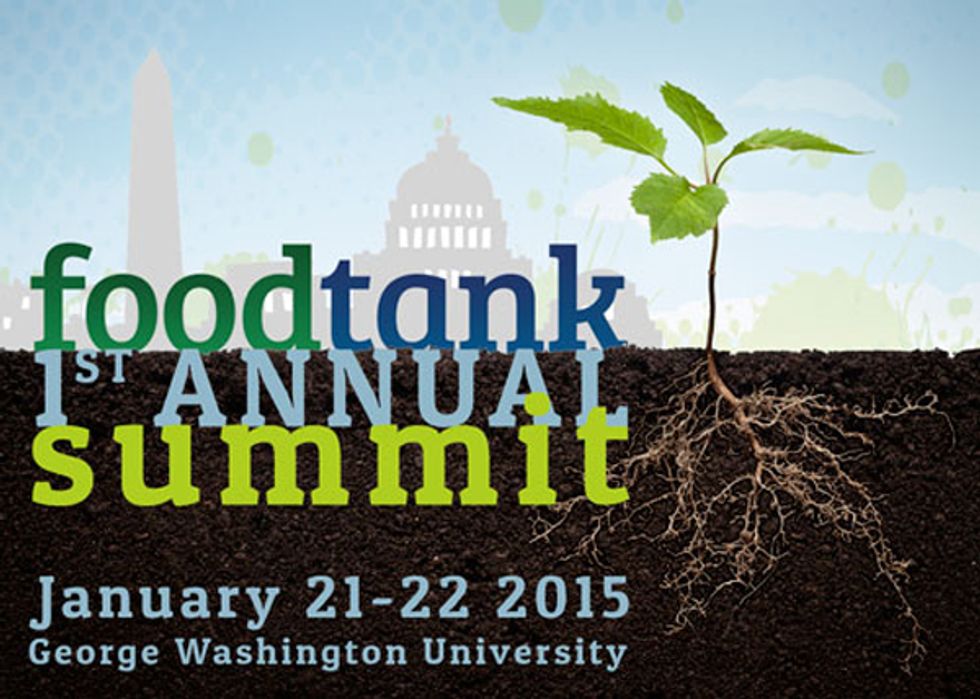 The open forum Food Tanks has been developing has now gathered enough momentum that they announced the 1st Annual Food Tank Summit on Jan. 21 - 22, with 75 different speakers from the food and agriculture field, folks like researchers, farmers, chefs, policy makers, government officials, students and writers like myself who will gather to discuss farming, food waste, urban agriculture and such; all topics that serve their mission of building a global community with access to safe and healthy food. Food Tank talks about everything from agroforestry to food deserts: anything this fresh that's in pursuit of solutions that are environmentally, socially and economically sustainable ways of alleviating hunger, obesity and poverty always grabs my attention.
The plan is to have two days of open discussions led by lively panels (see program here), and even more enticingly, without any Powerpoint presentations. This is what I plan to talk about vis a vis my role at Orion and my food system freelancing for a panel called Telling the Story of Food, alongside Sam Fromartz of Food and Environment Reporting Network, author Vicki Robin, NPR's Allison Aubrey, and others.
Though it's been sold out since mid November, like most good conferences these days it will be livestreamed so that folks all over the world can join in. It's going to be a fascinating forum hosted at sponsor George Washington University's Jack Morton Auditorium (former home of CNN's Crossfire, interestingly).
I'm also looking forward to seeing Food Tank's President Danielle Nierenberg speak. She's something of a dynamo and seems to burst with ideas stemming from an array of experiences including two years in the Peace Corps and two years canvassing the world to document great agricultural and food system practices that help alleviate hunger and poverty while protecting the environment.
Both Nierenberg and I were guests on this week's Agroinnovations Podcast episode and discussed the summit with host Frank Aragona. As she says during the broadcast, it's set to be an open forum and everyone's encouraged to use #foodtank on Twitter or the Food Tank Facebook page to be part of the conversation whether you are in DC or watching live via foodtank.com. The purpose is to share solutions but not to strive to provide answers. It's more important to surface the most important questions, as she says on the show: "We realize that we'll be coming away with more questions, and that's the whole point. To really get people thinking and talking and coming up with ideas and sharing them with others."
After listening to her further thoughts on Agroinnovations, you're sure to be inspired to tune in for the livestream. Hope you can join us.
YOU MIGHT ALSO LIKE
How Regenerative Organic Agriculture Can Save the Planet
Watch Vandana Shiva: 'We Are All Seeds'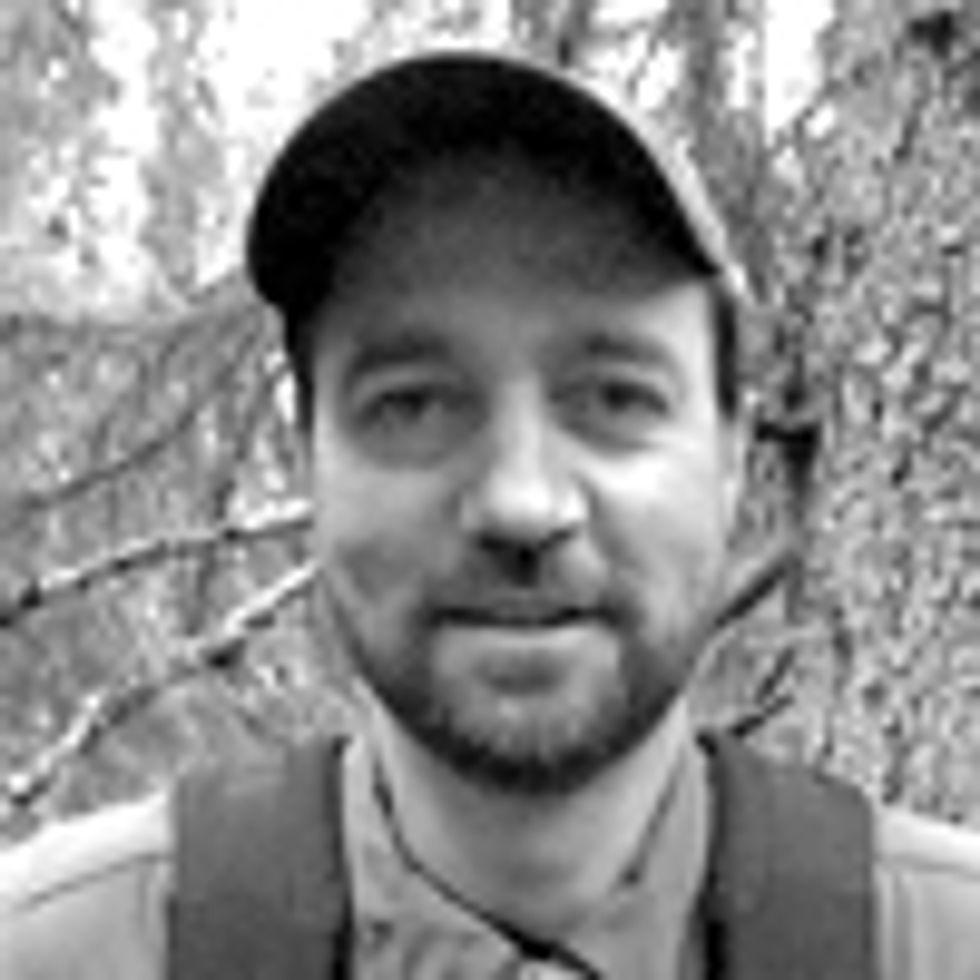 Of all my natural history obsessions, mycology is probably the least pure. Unlike related pursuits, I allow myself to be prejudiced by paying attention only to certain charismatic species. And this time of year, with the doors of winter coming down exactly when oyster mushrooms bloom luxuriously on roadside sugar maples and hen-of-the-woods are growing on oak in clusters that can weigh in above 100 pounds, I lose my interest in taxonomy entirely.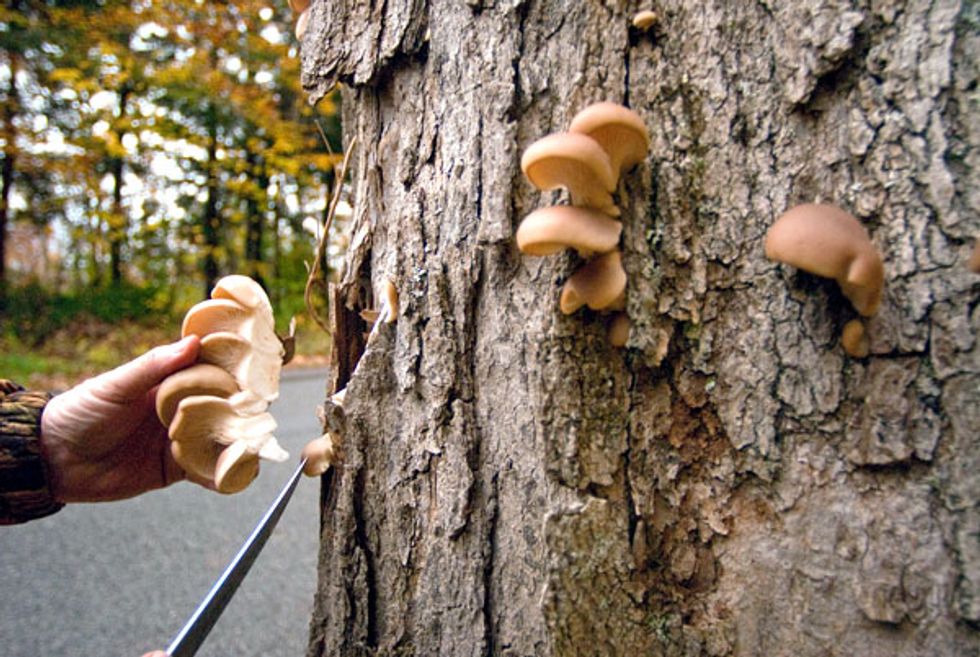 Photo credit: Erik Hoffner
The pejorative for people like me among serious mycologists is 'pot hunter,' having nothing to do with a certain illegal drug or the vile habit of looting ancient ruins in the Southwest, but rather describing a person interested largely in filling a skillet or soup pot with edible, delicious and often medicinal wild mushrooms.
In my own defense, my brain is already pretty full with the names, growth habits and behavior of everything from birds to wildflowers and trees. I can ID northeastern trees of all kinds and in all seasons by their bark, tell almost all of our birds apart by ear and accurately survey the Atlantic coast's underwater gardens from behind the lens of a dive mask.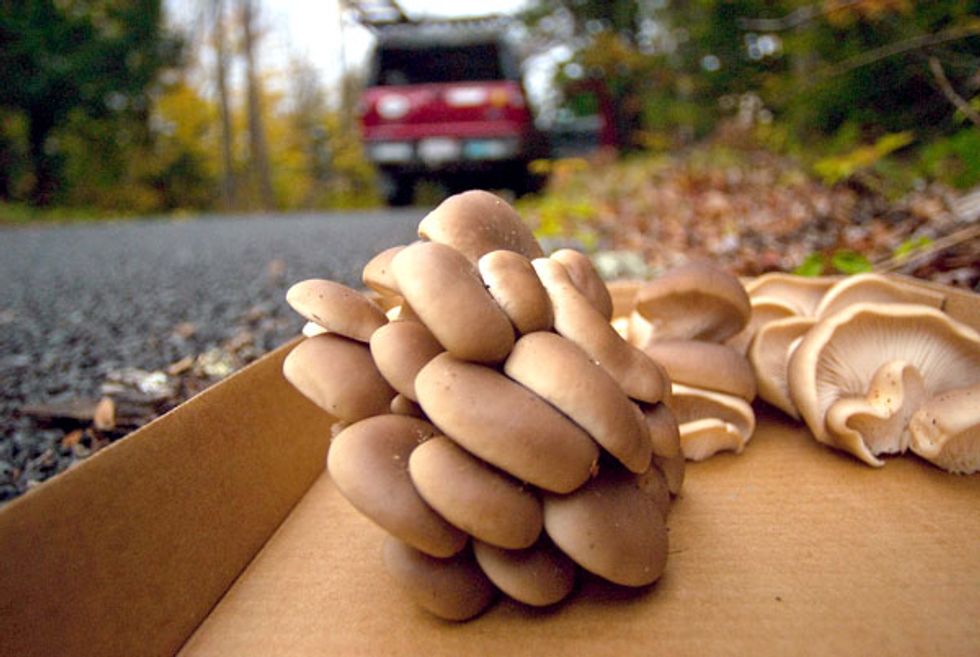 Photo credit: Erik Hoffner
But mushrooms provide a whole new challenge, a stunning diversity and distribution which remains about as uncharted as the sea itself—it's estimated that we've only described about 10 percent of the fungal kingdom. Their way of life is largely mysterious and new amazements are constantly unearthed, like the finding that some fungi actively pursue and eat animals, and by extension, so do trees like white pine that collaborate symbiotically with those fungi.
As a field, mycology presents probably the best avenue, even better than entomology, for a citizen scientist to make a contribution to biology (and perhaps name a novel species after his or her mom). The best way to get started is to locate a local mycology society and join one of their upcoming forays, but more generally, citizen science itself is of growing importance, as Sharman Apt Russell points out in Orion magazine:
"The sheer number of citizen scientists, combined with new technology, is changing how certain research gets done. Over a half million people have participated in Galaxy Zoo, an online program in which volunteers catalogue the shape of galaxies. A quarter million play the video game Foldit, helping biochemists synthesize new proteins. In the S'Cool Project, school-aged citizen scientists report their observations of clouds to help validate the accuracy of NASA satellites, timing their cloud-watching to the very moment a weather instrument is passing over and measuring the same clouds. Two hundred thousand volunteers help the Cornell Lab of Ornithology track birds, and these birders are working hard; a million observations are reported each month on the lab's online checklist."
(And, it must be said, this is an essay during which the author actually increases society's knowledge of tiger beetles through a simple observational experiment).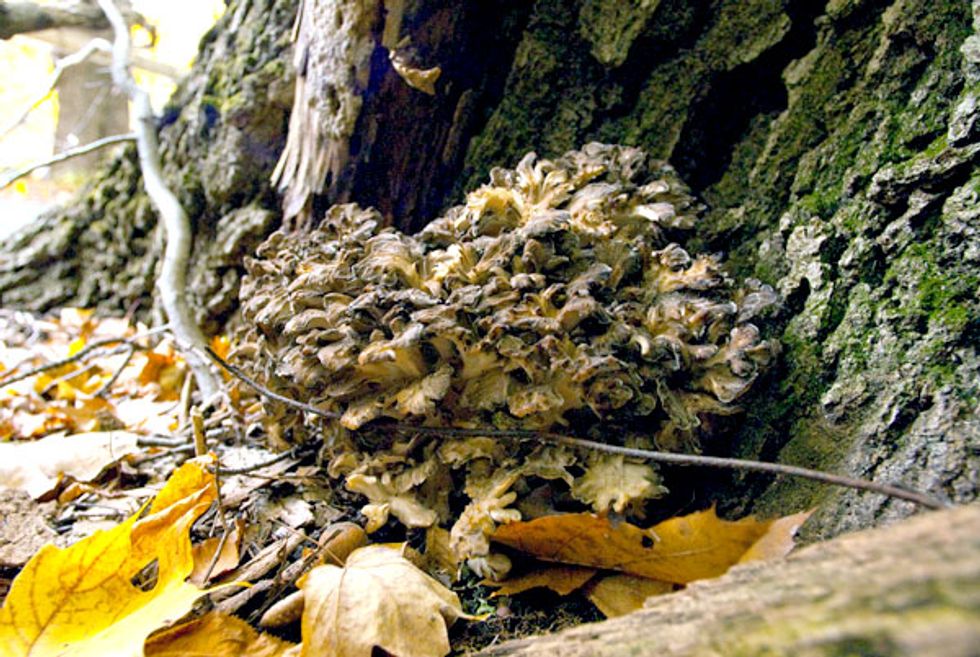 Photo credit: Erik Hoffner
As I find more time, I'll delve deeper into mycology and for many reasons, including the fact that many species are anti-viral, anti-fungal, anti-tumor and overall offer a boost to the immune system of anything that devours them, like people. Some of these species are even able to be harvested while our world is devoured by deep snow, so their detection and harvest provides a healthy side pursuit while out tracking animals deep into the winter.
So to all my fellow pot hunters, I wish you a fine end to your season (or beginning, hopefully, there on the western side of the country), and offer you a mild challenge to learn more of the ancillary, if less edible members of the tribe. It will do us all well.
YOU MIGHT ALSO LIKE
Health Benefits of Eating Mushrooms