This website uses cookies to ensure you get the best experience while browsing it. By clicking 'Got It' you're accepting these terms.
Environmental Investigation Agency
Environmental Investigation Agency's investigations are a trademark of our work around the world, but we tackle environmental crime and defend the natural world strategically, operating in a number of different ways.
AAron Ontiveroz / Denver Post / Getty Images
However, the infiltration of plastics into our daily lives goes much deeper, making it hard to avoid this polluting material which will remain in our ecosystems for centuries to come.
Otsuchi, in northern Japan, is the focal point of the hand harpoon hunt which has claimed up to 15,000 Dall's porpoises in previous years.
In the most recent hunting seasons for which information is available, Japan allocated itself a quota of 13,493 Dall's porpoises in 2013/14, 12,928 in 2014/15 and 12,364 in 2015/16. The catch, however, has been significantly less than the quota for many years. In 2016, just over a thousand porpoises were killed.
EcoWatch Daily Newsletter
Iceland's multi-millionaire rogue whaler Kristján Loftsson and his company Hvalur hf have resumed their slaughter of endangered fin whales in blunt defiance of the international ban on commercial whaling.
The hunt is Iceland's first in three years and marks the start of a whaling season that could see as many as 239 of these majestic creatures killed.
Benjamin Drummond
The UK supermarket Iceland has announced it will remove palm oil from all its own brand products by the end of the year due to the belief there is no such thing as "sustainable" palm oil.
By Debbie Banks
I recently had the privilege of being one of the preliminary judges for the International Big Cats Film Festival, the winners of which will be announced on March 2. What a luxury—to indulge my passion for big cats and watch hours and hours of some of the most amazing footage of tigers, snow leopards, jaguars and lions in the wild, coupled with stories of extraordinary courage, tenacity and innovation from those seeking to protect them.
It was truly inspiring and an absolute celebration of these magnificent animals.
EIAimage
EIA campaigners were at the 69th meeting of the CITES Standing Committee (SC69) in Geneva, Switzerland, last week.
A packed agenda saw a wide range of issues raised for discussion, from tiger farms and domestic ivory markets to management of seized timber stocks and guidance for demand reduction programs. Throughout the meeting, EIA were busy preparing and making interventions, lobbying delegates and coordinating with other NGOs, trying hard to maximize the effectiveness of CITES in preventing over-exploitation of wildlife worldwide.
Pixabay
Today is International Snow Leopard Day, a global observance commemorating the signing of the Bishkek Declaration on the conservation of snow leopards in 2013.
The snow leopard has been listed on the IUCN Red List as "Endangered" since 1986, although it recently had its threat status downgraded to "Vulnerable."
The world's last remaining tigers are living under severe threat of extinction, having lost 93 percent of their historical range and suffered a population crash of 95 percent during the past century.
The major threat to their continued existence on Earth is poaching to meet the high demand in Asia for their parts and derivatives.
Virginia-based company Lumber Liquidators was sentenced today to $13.2 million in fines and forfeitures for importing illegal wood and submitting false declarations under the Lacey Act, a conservation law that makes it a crime to import plants and animals taken in violation of state and foreign law. In addition, the company has been placed on a five-year probation, during which it must implement a strict environmental compliance plan.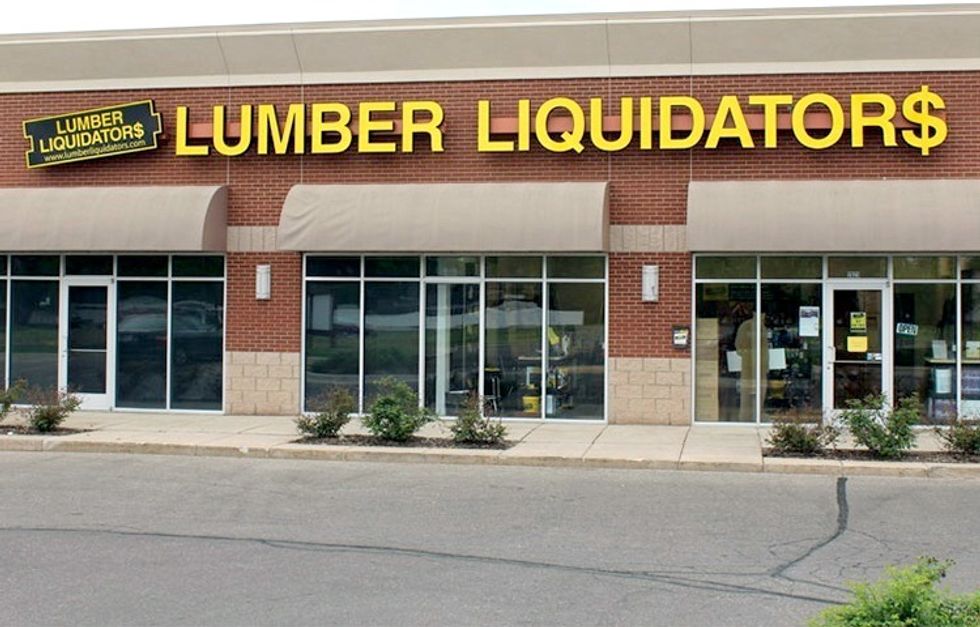 In October 2015, after a two-year investigation by the Department of Justice (DOJ) and U.S. Fish & Wildlife Service, the flooring retailer pleaded guilty to smuggling illegal wood, including one criminal felony of entry of goods by means of false statements and four misdemeanor counts of violating the Lacey Act.
Lumber Liquidators had imported flooring manufactured in China, made from wood that was illegally harvested in the forests of the Russian Far East, the habitat of the world's last remaining wild Siberian tigers.
Environmental Investigation Agency (EIA) first documented Lumber Liquidators' illegal activities in its 2013 report, Liquidating the Forests. Posing as timber buyers, EIA investigators went undercover to expose the illegal timber harvesting and trade in the Russian Far East and traced the wood through China to a company that admitted to illegal logging and paying bribes. The EIA investigation revealed that Lumber Liquidators was the single biggest trading partner of this Chinese company. The subsequent investigation by the DOJ found that Lumber Liquidators committed systemic fraud and sourced illegal timber not only from the Russian Far East but also from Burma.
"This historic criminal sentence against a major U.S. company in relation to the Lacey Act is setting an important precedent: Illegal wood is no longer tolerated in the U.S.," EIA Executive Director Alexander von Bismarck said. "U.S. consumers need to be protected from unknowingly supporting organized crime and the destruction of the world's last virgin forests."
The penalties for Lumber Liquidators' crimes include $7.8 million in criminal fines, $1.23 million Community Service payments, $969,175 in forfeited proceeds and more than $3.15 million in cash through a related civil forfeiture. In order to put in place the mandatory environmental compliance plan, under which all wood imports need to be verified back to the source of harvesting, the company will have to fundamentally transform its sourcing practices and submit itself to government-approved audits.
"The real cost to the company will come from having to forego cheap, stolen wood in its supply chain while the Department of Justice looks over its shoulder," von Bismarck said. "This case sets an important example for the rest of the industry, the business model of buying cheap wood from shady sources doesn't pay anymore."
YOU MIGHT ALSO LIKE
Huge Victory for Environmentalists: Offshore Fracking Moratorium Now in Effect Off California's Coast
The Inside Story of How a University Professor Quietly Collaborated With Monsanto
Michael Moore: 10 Things They Won't Tell You About the Flint Water Tragedy, But I Will
Judge Says Lawsuit Can Move Forward for Lucky the Elephant Who Was Captured From the Wild 53 Years Ago