AAron Ontiveroz / Denver Post / Getty Images
However, the infiltration of plastics into our daily lives goes much deeper, making it hard to avoid this polluting material which will remain in our ecosystems for centuries to come.
It's high time that corporates and governments step up to stem the tide of plastic, taking action to eliminate all but the most essential single-use plastic items.
1. Beer
Even the beer you drink may very well contain traces of plastic as a result of tap water contamination.
Earlier this year, scientists in the U.S. analyzed 12 beer brands from breweries which sourced water from the Laurentian Great Lakes and detected microplastic fragments (pieces of plastic smaller than 5mm) in every single one. A similar study conducted in Germany detected microplastic fragments in all 24 beer brands analyzed.
It is still unclear whether there are any risks to human health due to ingesting microplastics at these levels.
2. Drink Cans
Aluminium drinks cans are actually lined with a plastic resin. Composed mainly of epoxy, this coating is required to prevent the drink itself from corroding the aluminium of the can. While drink cans are recyclable (the plastic lining is burned off during the recycling process), they are certainly not plastic free.
3. Paper Cups
Disposable coffee cups, although largely made of paper, actually contain a thin lining of polyethylene plastic to make them waterproof so they can contain liquid without leaking.
Unfortunately, this makes them very difficult to recycle in anything other than a specialist plant (currently more than 99 percent of used paper cups in the UK are not recycled as a result).
4. Sunscreen
Besides potentially containing chemicals harmful to the environment, the sunscreen you use may also contain plastic.
A ban on the use of microbeads in various cosmetics was put in place by the UK government earlier this year but this is limited to so-called "rinse-off" products such as face scrubs and shower gels.
Sunscreen, classified as a "leave-on" product together with goods such as lipstick and mascara, is not covered by the ban and, as a result, several brands of sunscreen still contain microplastic ingredients such as polyethylene or polyacrylate.
5. Teabags
Teabags can contain plastic fibers and may not be 100 percent biodegradable as a result.

For several of the largest tea brands on the market, heat-resistant polypropylene fibers are incorporated into teabags during the manufacturing process to help seal them for subsequent transport.
Certain brands do produce teabags which are sealed without the use of plastic—using cotton thread, for example—and these are fully compostable.
From Your Site Articles
Related Articles Around the Web
EcoWatch Daily Newsletter
Otsuchi, in northern Japan, is the focal point of the hand harpoon hunt which has claimed up to 15,000 Dall's porpoises in previous years.
In the most recent hunting seasons for which information is available, Japan allocated itself a quota of 13,493 Dall's porpoises in 2013/14, 12,928 in 2014/15 and 12,364 in 2015/16. The catch, however, has been significantly less than the quota for many years. In 2016, just over a thousand porpoises were killed.
The Dall's porpoise hunts, along with dolphin hunts at the notorious cove in Taiji, continue to supply Japanese consumers with cetacean meat loaded with dangerous pollutants, including mercury and polychlorinated biphenyls (PCBs).

Eight Dall's porpoise blubber products analyzed by Japanese scientists, commissioned by us, revealed high PCB levels, with one product purchased in Shizuoka, near Tokyo, having a concentration of 4ppm, a startling eight times higher than the regulatory level of 0.5ppm.
Once landed, porpoises and dolphins are processed and sold in supermarkets and fish markets throughout the country, sometimes illegally mislabelled as "whale meat" to increase the value of the meat.
Landed Dall's porpoises, Otsuchi, Japan
We have been documenting the annual Dall's porpoise hunts for some 20 years, to raise awareness of the hunts themselves and their negative impact on marine conservation, taking our findings to meetings of the International Whaling Commission (IWC) and leading to several resolutions being adopted calling on Japan to stop the hunt.

We have also striven to let Japan's consumers know that they are purchasing contaminated products with potentially very serious impacts on human health.
"The vast majority of Japanese citizens are kept in ignorance of the Dall's hunt, of dangers posed by the toxic meats the government is allowing them to purchase and even, in many cases, of the actual species they are eating," said Clare Perry, ocean campaigns leader.
"Almost 190,000 Dall's porpoises have been slaughtered in the past two decades—and all to produce products for which there is barely any demand and sparking repeated condemnation from the IWC."
Since catch records began in the early 1960s, more than half a million Dall's porpoises have been deliberately killed in Japan's coastal waters.
From Your Site Articles
Related Articles Around the Web
Installing solar panels is a great option for homeowners who want to reduce their power bills, and the payback period can be just a handful of years with favorable conditions. However, renters and apartment owners cannot use a typical solar power system due to the lack of space, and renters in particular must also negotiate with their landlords. A miniature solar system that is portable and easy to install can be a better option in these cases.
Rooftop solar systems can greatly reduce your electric bills, and you can add solar batteries to store solar energy for use at night. However, because most systems are tied to the power local grid, you must meet many technical requirements and get a permit to put solar on your property. The initial investment and paperwork are not a problem when installing solar panels in a home you own, but they're a limiting factor for renters.
If you don't own your home or apartment, you may have little incentive to invest in improving someone else's property. Even if your landlord gives you permission to install solar panels, the decision only makes sense financially if you plan to rent for a very long time — longer than the solar payback period. Also, consider the following factors:
When your lease ends, your landlord may not be willing to purchase the solar panels you installed.
Moving rooftop solar panels to another home is difficult, and you will need a professional installation and another permit for the new property.
There are many types of miniature solar systems that can be installed without the complex requirements and permitting procedures of more permanent structures. These systems are an excellent option for renters, since taking them to another property is as simple as relocating your TV.
Solar Benefits for Non-Homeowners
Solar panel systems offer a common benefit, regardless of their size: they generate electricity from sunlight, reducing the amount of electricity you must pay your utility company for each month. Solar power also lowers the environmental footprint of your home, especially if you live in a region where most of the grid electricity comes from fossil fuels.
Homeowners get a few extra benefits when they install a traditional solar system, including:
Their property becomes more valuable, and many states don't charge increased property taxes for the portion of home value that corresponds to solar panels.
Homeowners also qualify for the 26% federal solar tax credit as well as any additional incentives from state governments or utility companies.
There are permitting and grid connection requirements to meet, but once the solar PV system starts operating, it provides electricity for decades with minimal maintenance.
While mini solar panel systems may not be eligible for these perks, they have their benefits compared with rooftop systems. For example, they are much easier to install, with no permitting involved, and any maintenance is much simpler. Small-scale solar systems also have a lower price, and they are easily relocated.
The power bill savings achieved by a rooftop solar system are much higher, but that's because they're much larger. Many homeowners use solar PV systems that have capacities at or above 6 kW (6,000 W), while miniature systems often only generate up to 100 W. As you might expect, the corresponding cost of solar panels is very different: A 6 kW solar system can cost around $18,000 (before incentives) to install, while a miniature 100 W system might cost less than $300. However, each dollar invested is earned back multiple times over in both cases.
How to Utilize Solar Energy When You Rent
There are several options for renters who want to use solar power. These include:
Plug-in mini solar systems
Off-grid solar and battery systems
Portable solar panels
DIY solar setups
Appliance-specific solar panels
Plug-in mini solar systems work exactly like rooftop PV systems — they connect to your residence's wiring and synchronize with the voltage and frequency of your grid power — just at a smaller scale. The power generated by a plug-in mini system is usually enough to power several electronic devices and LED bulbs, but not high-power devices like air conditioners and washing machines.
Here are some things to consider when deciding whether a solar plug-in mini system is right for your rental property:
Plug-and-play solar panels are not subject to the permitting requirements and interconnection procedures of a traditional rooftop installation, and they can be simply connected to a suitable power outlet.
NOTE: When using plug-in solar panels, you must make sure that the power outlet used has a circuit with enough capacity to carry the current, as well as an adequate breaker. Otherwise, you can cause an electrical fault.
Because this type of panel connects to the electrical system of the property, you should ask your landlord for permission before investing in one. You should also ask an electrician to check the power outlet you plan on plugging the panels into to make sure it has adequate capacity.
Off-grid solar panels and solar battery systems are completely disconnected from the grid, which makes them a popular option for remote or rural sites with no electric service. In these types of systems, one or more solar panels are used to charge a battery or solar generator with USB charging sockets and power outlets for small appliances. These off-grid systems are also a viable option for renters, because they are entirely self-contained and don't connect to the utility grid.
Portable solar panels are popular for camping, but they can also be used by renters to power small devices. These are some of the smallest solar panels available, and they only have a few watts of capacity. Their main purpose is charging smartphones, tablets and other tiny USB devices, and many of them have built-in LED flashlights.
DIY solar panel setups are also an option. You can shop online for compatible solar panels, inverters, batteries and solar charge controllers, and then build a custom system according to your needs. However, keep in mind that you must have at least basic knowledge about electricity to safely and successfully install a homemade solar system.
Appliance-specific solar panels are also a viable option for renters. You can find many devices with built-in solar panels, which don't depend on a power outlet to operate. For example, you can install solar-powered outdoor lights for your backyard or balcony, or use a solar air conditioning unit or fan to provide extra ventilation during the hottest hours of the day.
Pros and Cons of Small Solar Units
Miniature solar systems have advantages and limitations like any device. They have a lower cost than traditional rooftop systems, plus they are easier to install and relocate. Just keep in mind that they can't power larger appliances, which means their power bill savings are small.
The following table summarizes the pros and cons of the most common types of miniature solar systems:
Renter-Friendly Solar System
Pros
Cons
Typical Price
Plug-in solar system
- Easy to install
- Can be plugged into a normal power outlet

- Can only operate when connected to the grid
- You need a dedicated circuit and breaker of adequate capacity

$1,500 for a 600 W solar system
Off-grid solar system
- Can charge batteries or generators to be used after sunset
- Fully independent from the grid

- Batteries increase the system cost significantly if you want a high energy storage capacity
$400 for a 100 W solar panel with a 24,000 mAh battery
Portable
- Easy to carry
- Can be used for camping and other trips

- Limited use: Charging smartphones and other small devices
$100 or less for a foldable 30 W panel
DIY Solar
- You can create a custom system that meets your needs
- Basic electrical knowledge is needed to set up a safe system
Variable, depending on the components used.
Appliance-specific
- Easy to install
- The solar panel is often included with the price of the device

- You can only use the solar panel to power one appliance or device
Variable, depending on the appliance
Miniature solar power systems are designed for small, low-power devices such as LED bulbs and electronic gadgets. If you're a renter and would like to increase your savings beyond what is possible with small solar kits, you can consider joining a community solar project near you.
These projects normally have two membership options: purchasing a share or paying a monthly subscription.
In both cases, you will be entitled to a portion of the kilowatt-hours produced by the system, and this portion will be subtracted from your bill.
Another advantage of community solar is that you can move freely to another apartment or home. Since the solar panels are not physically located where you live, you can usually re-assign the electricity savings to your new address.
Products to Help Renters Maximize Solar
There are many brands of miniature solar kits, but you should look for a reliable provider like Sunboxlabs. Since you're dealing with electricity, purchasing high-quality products is strongly advised to avoid accidents. Before purchasing any solar panel or a related component, make sure it has an electrical certification mark such as:
UL (Underwriters Laboratories)
ETL (Intertek)
CSA (Canadian Standards Association)
CE (Conformité Européenne)
You can look for a solar kit that includes all components, such as this WindyNation 100 Watt Solar Panel Kit. Alternatively, you can buy compatible parts separately, and build your own system. The following are some recommendations:
Keep in mind that you will also need wiring to connect all components together, and make sure you read all instructions carefully to ensure safety.
Iceland's multi-millionaire rogue whaler Kristján Loftsson and his company Hvalur hf have resumed their slaughter of endangered fin whales in blunt defiance of the international ban on commercial whaling.
The hunt is Iceland's first in three years and marks the start of a whaling season that could see as many as 239 of these majestic creatures killed.
A 67-foot fin whale—landed overnight at the whaling station in Hvalfjörður, Iceland—became the first kill of the new season.
Hvalur CEO Loftsson recently sparked outrage when he announced plans to resume his hunt of the second largest animal on the planet and to market fin whale meat, blubber and bones for iron supplements and other medicinal or food products.
For the first time since it resumed commercial whaling in 2006, Iceland's self-allocated fin whaling quota allows whalers to expand their hunt to waters east of the country.
Fin whale meat is not popular in Iceland; the major market is Japan. Since 2008, more than 8,800 tonnes of whale meat and blubber have been shipped to Japan, despite the ban on international trade in whale meat under the Convention on International Trade in Endangered Species of Wild Fauna and Flora (CITES).
"It is unfathomable in this day and age that a country so well known for its nature tourism is tarnishing its image by allowing commercial whaling to continue in the face of growing domestic and international opposition," said ocean campaigns leader Clare Perry.
"We are urging the Icelandic Government to recognize that this unnecessary and unsustainable industry brings no real benefits to Iceland's economy and to refuse further whaling quotas."
According to recent tax filings, Hvalur's whaling has not made a profit for some time. It is the company's indirect shareholdings in other corporations that allow whaling to continue. Hvalur draws profits from well-known Icelandic corporations, such as IT firm Origo hf. and fishing gear giant, Hampiðjan.
At the same time, public support for fin whaling is plummeting. A 2018 survey by Icelandic polling company MMR found only 34 percent of Icelanders support whaling, a 26 percent drop from 2013; 34 percent of the population actively oppose whaling, compared to 18 percent in 2013.
How You Can Help Save the #Whales by Eating the Right Fish https://t.co/qxi4JKFgOg @NRDC @greenpeace @greenpeaceusa https://t.co/8pPk3wbQSS

— EcoWatch (@EcoWatch)1457876380.0
From Your Site Articles
Related Articles Around the Web
Benjamin Drummond
The UK supermarket Iceland has announced it will remove palm oil from all its own brand products by the end of the year due to the belief there is no such thing as "sustainable" palm oil.
Increasing demand for palm oil is still having devastating effects on wildlife, habitats and people where it is grown, and sustainable palm oil schemes are failing to mitigate these impacts.
The supermarket is the first major UK supermarket to make such a move. Currently more than half of Iceland's products contain palm oil–130 products in total–ranging from biscuits to soap. Iceland has already stated it has managed to find alternative recipes for more than half of the products.
While other UK supermarket chains, including Tesco, Sainsbury's, Morrisons and Waitrose, have pledged to only source sustainable palm oil certified by the Roundtable on Sustainable Palm Oil (RSPO) in their own brand products, Iceland has gone one step further by totally removing it. It states that it cannot guarantee palm oil is not causing rainforest destruction and believes that there is no such thing as "sustainable" palm oil. Earlier this year, researchers documented that 100,000 orangutans have been in lost in 16 years, partly due to land conversion to oil palm plantations.
There has been increasing criticism of sustainable palm oil certification schemes, such as the RSPO and Indonesian Sustainable Palm Oil (ISPO). In February, we reported on how the Indonesian government has not taken the opportunity to fully strengthen the ISPO, meaning that the ISPO in its current new draft form will not further limit deforestation nor work toward enhancing and supporting human rights.
We have been instrumental in revealing critical failures in the RSPO that undermine its credibility, and has continued to call for serious reforms to the RSPO to ensure it conserves critical habitats, endangered species and the rights of indigenous peoples.
This announcement by Iceland recognizes that certified sustainable palm oil is not delivering and cannot be said to be deforestation-free. It highlights that a more regulatory approach may be needed, like due diligence regulations requiring importers to avoid palm oil produced through deforestation. The European Commission recently outlined that such measures were feasible and it is anticipated that it will take action to combat deforestation more.
However, until sustainable palm oil schemes improve their standards and credibility, it seems they may not be able to reassure retailers that "sustainable" palm oil does not cause forest destruction.
From Your Site Articles
Related Articles Around the Web
By Debbie Banks
I recently had the privilege of being one of the preliminary judges for the International Big Cats Film Festival, the winners of which will be announced on March 2. What a luxury—to indulge my passion for big cats and watch hours and hours of some of the most amazing footage of tigers, snow leopards, jaguars and lions in the wild, coupled with stories of extraordinary courage, tenacity and innovation from those seeking to protect them.
It was truly inspiring and an absolute celebration of these magnificent animals.
Moreover, it made up for the regular onslaught of bad news to which we are often subjected at EIA, bombarded with poaching news from the field, with images and video of parts and products of tigers, leopards, snow leopards, clouded leopards, lions and jaguar—either seized in trade, offered for sale in well-publicized but persistent trade hubs or offered for sale on social media.
paul bass / Flickr
The end uses for these big cats are more or less the same in the melting pot of an unchecked and growing demand in Asia, primarily among Chinese consumers in China, Laos and Myanmar and among Vietnamese consumers.

Skins are used as luxury home décor, taxidermy and in some cases clothing, purchased by those with disposable income for themselves or as non-financial bribes. The skins of the different cats are easy to differentiate and have a different market price from each other based on perceived value, and depending on market location.
It is a different story when it comes to big cat canine teeth and claws, which are easy to conceal and command increasing sums as they are set in silver and gold, worn as pendants and sold as status symbols. The ease with which big cat teeth and claws are advertised for sale and displayed by wearers via social media suggests a lack of fear of enforcement.
Worryingly, in the absence of sustained enforcement or targeted demand reduction campaigns, there appears to be a casual social acceptability of the use of teeth and claws. Since it is not so easy for consumers to tell the teeth and claws of the big cats apart, even jaguars are being poached on commission by Chinese traders in Latin America.

Big cat bones are used to make "bone strengthening wine," sold variously as a virility product or a general health tonic. Huge volumes of African lion bone are being marketed as tiger in Asia, along with the bones of captive-bred tigers. Far from relieving pressure on wild populations, consumers of bone used in traditional Chinese medicine have a preference for wild tiger bone—so wild tigers and leopards in Asia are still being poached for their bones.
In addition to the need for increased investment in intelligence-led enforcement to disrupt the criminal networks profiting from demand and illegal trade in big cats, there is an urgent need for far greater action from world leaders to eliminate the market for big cat parts and products.
While China's President Xi has taken steps to ban domestic ivory trade, there has not been an equally high level of attention on more endangered species such as tigers. If he is serious about the fight against illegal wildlife trade, he will launch a campaign calling for an end to all trade, in all tiger and other big cat parts and products, from all sources, wild and captive-bred.
Additionally, President Xi will ensure this is reinforced through law reform to phase out tiger farming and trade in captive-bred tiger parts, the destruction of stockpiles of tiger and other big cat parts, effective cooperation with law enforcers in source and transit countries and by working with other governments to invest in demand-reduction campaigns that address all uses of big cat parts and products.
This World Wildlife Day, you can help to get the big cats on President Xi's agenda. Write to your country's prime minister or president and urge them to call upon President Xi and the government of China to end demand and trade in tigers and other big cats.
After a Half-Century, Tigers May Return to Kazakhstan https://t.co/VFPSKvOaec @environmentca @ImageOfWildlife

— EcoWatch (@EcoWatch)1508205004.0
Debbie Banks is the campaign leader for tigers and wildlife crime at the Environmental Investigation Agency.
From Your Site Articles
Related Articles Around the Web
EIAimage
EIA campaigners were at the 69th meeting of the CITES Standing Committee (SC69) in Geneva, Switzerland, last week.
A packed agenda saw a wide range of issues raised for discussion, from tiger farms and domestic ivory markets to management of seized timber stocks and guidance for demand reduction programs. Throughout the meeting, EIA were busy preparing and making interventions, lobbying delegates and coordinating with other NGOs, trying hard to maximize the effectiveness of CITES in preventing over-exploitation of wildlife worldwide.
Below is a short summary of some of the key issues EIA was working on, along with some major wins, losses and indications of high-stakes debates due up at the 18th Conference of the Parties (CoP18) in Sri Lanka in 2019.

While we wanted to see Japan and Singapore commit to more robust actions to address their role in the ivory trade, we were happy to see that they continue to remain under the spotlight at CITES. Both countries will have to report on actions taken to reduce their role in ivory trade for the next CITES Standing Committee meeting in October 2018. In the coming months, we need to keep up the pressure to encourage Japan to close its domestic ivory market and for Singapore to take action against the individuals and businesses that use its port as a major transit point in the illegal ivory trade chain.
Netsuke, ivory ornaments and jewelery on sale in Tokyo, Japan EIAimage
Several CITES Parties, including Kenya, the EU and the U.S., stressed the need to continue to prioritize the fight to combat ivory trade in light of the high levels of poaching and ivory trafficking that remain a serious threat to elephants. The EU called on all parties to submit timely samples from large-scale ivory seizures for forensic analysis so it is possible to identify the source of the ivory concerned.
We are pleased about the adoption of a proposal submitted by African elephant range states calling on CITES Parties to report to the next standing committee on efforts to close their domestic ivory markets. EIA and other NGOs jointly made an intervention highlighting our expectation that by this time the UK and the EU would have adopted stringent action to close their own ivory markets. More information on how you can contribute to the ongoing public consultation on the closure of the UK ivory market is available here.
Tigers
At CITES CoP17 last year, several Decisions were adopted directing the secretariat to work with parties and other members of the International Consortium on Combating Wildlife Crime (ICCWC) to scrutinize illegal trade in Asian big cats, including in captive-bred animals. Implementation of those decisions is in large part dependent on funding for consultants to undertake reviews and analysis and for the secretariat to undertake special missions. The desired outcome will be a report to the next standing committee presenting a series of time-bound, country-specific recommendations.
At SC69, the official documents clearly illustrated that there hasn't been any real progress in initiating those reviews. There was no official information of substance to discuss so no working group was established. Instead, parties and NGOs made interventions from the floor, expressing concern at the lack of urgency with which this issue is being addressed.
The EU has provided funding for the review and missions to examine tiger and other Asian big cat farming, and urged other parties to provide funding for the wider review of Asian big cat conservation and illegal trade. EIA and others echoed the comments of India, the EU and the U.S., which noted there is sufficient information already available in previous CITES reports. We pointed out that NGOs have sufficient information on tiger farming and trade for the secretariat to easily identify countries of concern.
We also drew attention to the fact that trade in farmed tigers is not just sustaining and stimulating demand for wild tigers but is driving poaching and trade in leopards, snow leopards, clouded leopards and, increasingly, jaguars and African lions.
It was encouraging to hear that not just India but Thailand and Russia have also been collating stripe pattern profile images of tigers using camera traps and, in Thailand, of captive tigers—all the more reason for any and all parties that have seized tiger skins to share images with these countries. Since India's database holds camera trap images dating back to 2006, images from historical seizures should be shared. We were disappointed that despite this being recommended by the Global Tiger Forum and NGOs, SC69 did not adopt such a practical measure.
We and every other organization that has information on illegal trade in Asian big cats, including farmed specimens, and information on trade in jaguar and African lion entering the same physical and online markets (where they are often sold as tiger) should ensure the secretariat has all the evidence it needs to make some hard-hitting calls to action ahead of the next standing committee.
EIA had also prepared a CITES Appendix I Asian big cat pocket guide on behalf of the CITES secretariat, which was distributed to parties only at the meeting. The guide offers a quick reference to distinguish the different cat skins and other body parts from fakes, as well as quick reference checklists for officials dealing with poaching and trafficking incidents.
Totoaba
EIA was initially frustrated by the lack of teeth in recommendations to tackle illegal fishing and trade in totoaba, which is responsible for the imminent extinction of the vaquita. On behalf of nine NGOs, we called for a high-level mission to be conducted, with timebound actions to be enacted by the U.S., Mexico and China.
Totoaba maws openly on sale in Guangzhou, China EIAimage
In the final moments of the meeting, there was a turn in the tide when the Mexican delegation supported EIA's intervention. We will be closely following the high-level mission in February 2018, working to ensure it includes meaningful actions to fully protect the last remaining handful of vaquita. Read more about this last-minute glimmer of hope here.
Whales
A heated debate on Monday saw Japan criticized for hunting sei whales, an endangered species listed on CITES Appendix I. Taking Appendix I species from the high seas for commercial benefit is prohibited, but since 2002 Japan's 'scientific' whaling program has repeatedly been exposed as a commercial operation, with a government-endorsed program to boost demand for whale meat.
While many parties and NGOs noted there was already enough evidence to take action on the grounds of non-compliance, SC69 ultimately decided more information is needed and requested that Japan invite CITES to undertake a technical mission to gain more insight into the situation.
Pangolins
International commercial trade in all eight pangolin species was banned by CoP17 last year following proposals submitted by 18 pangolin range states. However, a controversial document presented to SC69 implied the possibility of continued international trade in stockpiles of pangolin, a situation which would seriously undermine the ban and goes against both resolutions adopted by previous CoPs and a long-standing CITES precedent.
Live pangolin outside restaurant, Kings Romans complex, Laos EIAimage
While the vast majority of countries opposed this possibility, including several African pangolin range states which spoke passionately in opposition, China pushed hard to keep the option open. An amended document, which clarified that stockpiles cannot be traded, was ultimately adopted by vote, with China, Russia and Kuwait voting against.

EIA was disappointed to see China acting against the express wishes of the CITES community to undermine the ban, strong enforcement of which is sorely needed to save the world's most trafficked mammal.
Compliance measures
The government of Laos has been under suspensions of trade in particular species for several years, but despite this there has been little progress from the government in addressing the corruption and governance issue that have left the country a wildlife criminal's paradise.
At SC69, Laos' non-compliance was the subject of a working group in which EIA and other NGOs participated. The U.S. called for Laos to face full trade suspensions now, while the EU favored a warning and a time-bound process for specific remedial action to ensure Laos sets up proper CITES authorities and takes action to stop trade in parts and products of tigers (including farmed tigers), elephants, rhinos, pangolins and other wildlife.
Laos' representatives agreed to a schedule that requires them to submit a time-bound action plan with indicators to implement the CITES recommendations by June 30, 2018. If there is no substantive progress, the secretariat has been given the mandate by the standing committee to recommend trade suspensions across the board.
With all the millions of dollars of aid flowing into Laos, and the steady flow of information from EIA and other NGOs regarding illegal wildlife trade, there is now little excuse for no further progress.
Pixabay
Today is International Snow Leopard Day, a global observance commemorating the signing of the Bishkek Declaration on the conservation of snow leopards in 2013.
The snow leopard has been listed on the IUCN Red List as "Endangered" since 1986, although it recently had its threat status downgraded to "Vulnerable."
Despite this shift, snow leopards remain threatened by the same consumer demand which is driving the poaching and trafficking of tigers and leopards across Asia.
Its skins are used for luxury home décor, as rugs, seat covers and taxidermy specimens. Bones are used in traditional Chinese medicine products, including well-known Chinese brands that have been seized and tested in Australia, while teeth are sold as increasingly expensive jewelry items.
Snow leopard skin found for sale in China.Environmental Investigation Agency investigators
Records are incomplete but the body parts of at least 270 snow leopards have been seized since 2000 and hundreds more were observed for sale. Snow leopard skins have been among the assets seized in anti-corruption cases in China.

Organized criminal networks are still involved in the trafficking of snow leopard parts and only last October, the skins of 20 snow leopards and snow leopard meat were seized in a single consignment along with two tiger skins, two leopard skins and other illegal wildlife parts in Lhasa.
While tiger skins, bones and teeth are bought by China's business, political and military elite, snow leopard parts are much more affordable to middle income buyers.
There is an urgent need for China's leadership to issue a strong message of zero tolerance against any trade, in any Asian big cat parts and products, including from captive-bred specimens.
Snow leopard skin for sale in China, prepared for taxidermy.Environmental Investigation Agency
You can find more information on snow leopards in trade and explore Environmental Investigation Agency's interactive map of illegal trade seizures here.
The world's last remaining tigers are living under severe threat of extinction, having lost 93 percent of their historical range and suffered a population crash of 95 percent during the past century.
The major threat to their continued existence on Earth is poaching to meet the high demand in Asia for their parts and derivatives.
This demand is exacerbated by the legal trade in lion bone, so it was with dismay that the Environmental Investigation Agency witnessed the Convention on International Trade in Endangered Species (CITES) 17th Conference of the Parties last year decide to allow South Africa to export up to 800 lion skeletons a year—as long as the lions were sourced from captive breeding facilities in South Africa.
Ahead of next week's 29th meeting of the CITES Animals Committee, in Geneva, Switzerland, the Environmental Investigation Agency has produced the detailed briefing The Lion's Share: South Africa's trade exacerbates demand for tiger parts and derivatives outlining the threat.
Any quota for a trade in captive-bred lions is of major concern. Not only is it likely this decision will negatively impact wild lion populations but it will also adversely impact on other large big cat species, especially the endangered tiger.

South Africa currently has up to 200 facilities breeding lions, with as many as 8,000 captive lions dwarfing the estimated 3,490 free-roaming lions found in the country.
Tigers are also being commercially bred in South Africa. In 2015, there were a known 44 facilities with at least 280 tigers being bred for trophy hunting and trade—in direct contravention of a CITES decision.
Legal exports of lion skeletons and parts from South Africa have increased markedly since 2008; exports of bodies and skeletons alone during this time period account for more than 4,200 lions.
The main destination countries for skeletons, bodies, claws and teeth are within Asia—Vietnam and Laos alone imported 755 bodies, 5.87.5kg of bones (equivalent to 65 lions), 54 claws, 3,125 skeletons, 67 skulls and 90 teeth, all commercial purposes.

Exports of lion parts from South Africa undermines enforcement efforts to end illegal tiger trade since without DNA analysis it is very difficult to distinguish between tiger and lion bone, teeth and claws. Exports also stimulate demand for tiger parts and derivatives since large amounts of lion bone and derivatives are marketed as tiger and offered for sale in China and South-East Asia. For example, in May last year a Vietnamese national was arrested with 680 tiger claws in their possession although DNA testing showed they were in fact lion claws.
Discerning consumers preferring wild-sourced tiger parts desire proof that purported tiger bones and their derivatives are genuine, requesting the display of skins and/or carcasses as evidence. Such demand drives the poaching of wild tigers. Since 2000, globally more than 950 tiger skins have been either seized or observed in the illegal trade; more than 270 carcasses, 1,800kg of bones and 12,000 bottles of tiger bone wine have also been seized.
It is clear that a legal trade in captive lion parts is unworkable. The government of South Africa must adopt urgent action to end this trade which feeds a market not only consuming captive-bred lions but also wild tigers.
The Environmental Investigation Agency urges the South African Government to stop all commercial exports of lion parts and derivatives, to implement CITES decisions applicable to tigers (amending legislation if required to do so) and to undertake targeted intelligence-led enforcement operations in cooperation with main demand countries to dismantle criminal networks facilitating the lion and tiger trade.
Virginia-based company Lumber Liquidators was sentenced today to $13.2 million in fines and forfeitures for importing illegal wood and submitting false declarations under the Lacey Act, a conservation law that makes it a crime to import plants and animals taken in violation of state and foreign law. In addition, the company has been placed on a five-year probation, during which it must implement a strict environmental compliance plan.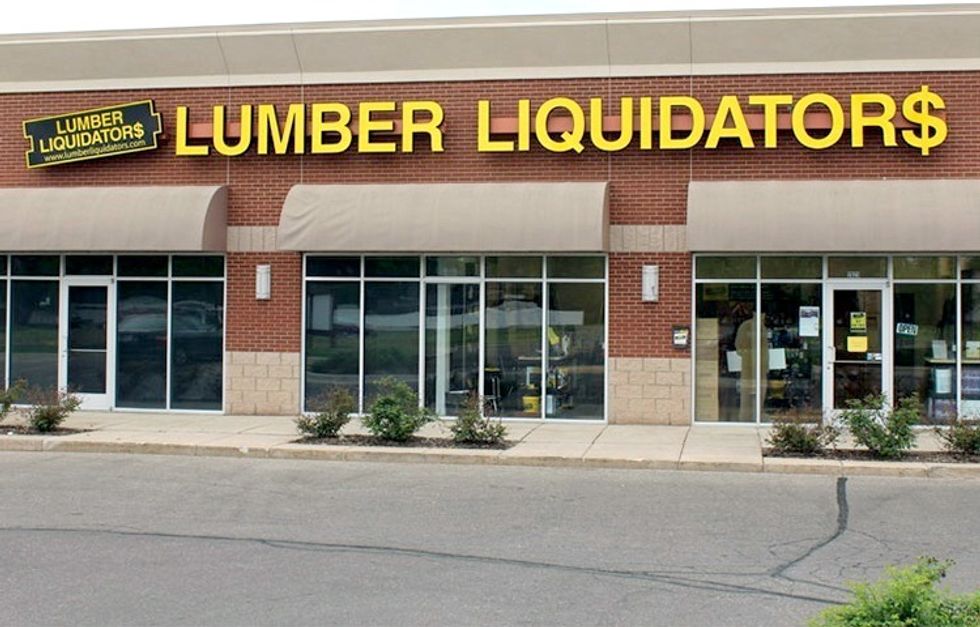 In October 2015, after a two-year investigation by the Department of Justice (DOJ) and U.S. Fish & Wildlife Service, the flooring retailer pleaded guilty to smuggling illegal wood, including one criminal felony of entry of goods by means of false statements and four misdemeanor counts of violating the Lacey Act.
Lumber Liquidators had imported flooring manufactured in China, made from wood that was illegally harvested in the forests of the Russian Far East, the habitat of the world's last remaining wild Siberian tigers.
Environmental Investigation Agency (EIA) first documented Lumber Liquidators' illegal activities in its 2013 report, Liquidating the Forests. Posing as timber buyers, EIA investigators went undercover to expose the illegal timber harvesting and trade in the Russian Far East and traced the wood through China to a company that admitted to illegal logging and paying bribes. The EIA investigation revealed that Lumber Liquidators was the single biggest trading partner of this Chinese company. The subsequent investigation by the DOJ found that Lumber Liquidators committed systemic fraud and sourced illegal timber not only from the Russian Far East but also from Burma.
"This historic criminal sentence against a major U.S. company in relation to the Lacey Act is setting an important precedent: Illegal wood is no longer tolerated in the U.S.," EIA Executive Director Alexander von Bismarck said. "U.S. consumers need to be protected from unknowingly supporting organized crime and the destruction of the world's last virgin forests."
The penalties for Lumber Liquidators' crimes include $7.8 million in criminal fines, $1.23 million Community Service payments, $969,175 in forfeited proceeds and more than $3.15 million in cash through a related civil forfeiture. In order to put in place the mandatory environmental compliance plan, under which all wood imports need to be verified back to the source of harvesting, the company will have to fundamentally transform its sourcing practices and submit itself to government-approved audits.
"The real cost to the company will come from having to forego cheap, stolen wood in its supply chain while the Department of Justice looks over its shoulder," von Bismarck said. "This case sets an important example for the rest of the industry, the business model of buying cheap wood from shady sources doesn't pay anymore."
YOU MIGHT ALSO LIKE
Huge Victory for Environmentalists: Offshore Fracking Moratorium Now in Effect Off California's Coast
The Inside Story of How a University Professor Quietly Collaborated With Monsanto
Michael Moore: 10 Things They Won't Tell You About the Flint Water Tragedy, But I Will
Judge Says Lawsuit Can Move Forward for Lucky the Elephant Who Was Captured From the Wild 53 Years Ago