The 2018 Ford Transit, one of Ford's 15 showcased models at the DC Auto Show, gets an estimated 23 mpg according to fueleconomy.gov. washingtonautoshow.com
This week, tens of thousands of people will attend the Washington Auto Show to see the latest that the industry has to offer. However, instead of moving toward a cleaner transportation future, Ford Motor Company and other automakers are working to take us backward: They are lobbying the Trump administration to weaken clean car standards, which curb pollution, save consumers money and protect health.
"After a year of the worst climate change-fueled extreme weather we've ever seen, it's clear that we need to hit the brakes on global warming pollution, and one of our best programs to cut emissions are the clean car standards," said Andrea McGimsey, global warming solutions program director at Environment America. "If Ford is serious about committing to a clean, electric, zero-emission future, it needs to step up and publicly support the clean car standards."

While Ford largely supported stronger fuel efficiency and emissions standards enacted during the Obama administration, it has taken a different approach since the election of Donald Trump.
"Ford may be trying to put on a good show, but behind closed doors, it has been working with Donald Trump and Scott Pruitt to roll back our single biggest defense against dangerous climate pollution," said Sierra Club's deputy legislative director, Andrew Linhardt. "Ford's claims of sustainability in its advertising and here at the auto show are nothing more than greenwashing. If Ford wants to back up its claims, it would be arguing to put clean car standards in the fast lane, strengthening them to protect our health and our climate rather than undermining them."

In 2011, automakers, labor groups and environmentalists stood beside President Barack Obama as he announced the new clean car standards.The rules already are delivering benefits, already having saved Americans more than $53 billion and, if enforced as written, will ensure that:
Greenpeace USA
. "Ford's feel-good PR statements about their commitment to fight climate change will not distract us from the fact that the company is fighting a standard that would help them do just that."
"Making clean vehicles is auto mechanics, not rocket science: Ford can save drivers gas and slash air pollution," said Dan Becker, director of the
Safe Climate Campaign
. "Instead, Ford announced that it will make more gas-guzzling SUVs and other trucks while it works with President Trump to roll back clean car standards."
Despite a recent announcement to invest in
electric vehicles
, Ford isn't showcasing any of its electric models at the auto show.
Madeline Page, campaign coordinator with
Public Citizen
said, "Search the Washington auto show website to see what electric vehicles will be on display this week, and you'll get this message: 'Sorry, the search criteria returned 0 results.' It's further evidence that Ford's desperate attempts to flex its green credentials in the media is just that, talk. It may be too late to pack the convention center with clean vehicles, but we will continue to call out Ford's hypocrisy and push the company to halt efforts to roll back the clean car standards."
The rules are popular. A
Natural Resources Defense Council poll
found that 79 percent of Americans want the government to increase standards. Moreover, a 2016 technical assessment by the
U.S. Environmental Protection Agency
, the National Highway Traffic Safety Administration and the California Air Resources Board shows that automakers are meeting the standards more affordably and faster than predicted.
Corporate Fleets Making the Switch to #ElectricVehicles https://t.co/1E1dKROBvA @elonmusk @Tesla @SierraClub #EVs #cleanenergy @IKEAUSA

— EcoWatch (@EcoWatch)1508520601.0
From Your Site Articles
Related Articles Around the Web
EcoWatch Daily Newsletter
NPR
Environment America released its 2017 Environmental Scorecard on Thursday, tracking how the U.S. Congress voted on bills that could protect our air, water, landscapes and the health of the planet. Absences count against a member's score.
Environment America's Washington, DC office director Anna Aurilio said the following:
Sadly, Democrats and Republicans don't agree on much these days, including the need to protect our environment. It shouldn't be this way, it didn't used to be and we're doing all we can to make sure it's not this way in the future.
But, as we release our environmental scorecard for 2017, we want to not only applaud the Democrats who scored 100 percent, but also cheer on those members of both parties who boldly stood up for our planet this year.
Overall, the U.S. Senate had a score of 47 percent and the U.S. House of Representatives scored 45 percent, which does not bode well for our air or water.
The good news is that 139 members from the two branches voted with us 100 percent of the time, which means our planet and our families are represented by a lot of real environmental champs.
And on a number of issues, the environment received bipartisan support. In particular, a cadre of Republicans in the U.S. House supported funding to make public transit available and to ensure that the EPA had enough money to do its job protecting our air and water. In the Senate, limiting methane pollution was the big bipartisan winner.
Unfortunately, with 145 of our federal decision-makers scoring 0 percent, it's obvious we have a lot more work to do to make sure our elected officials represent the majority of Americans who want to see a cleaner, greener, healthier planet for future generations.
Vagengeym_Elena / iStock / Getty Images
With a growing market for vegan makeup and cruelty-free cosmetics, more and more beauty brands are ditching animal ingredients and animal testing. While many luxe animal-friendly companies have high prices, there are a number of cruelty-free makeup brands producing affordable personal care products as well.
In this article, we'll recommend 11 essential beauty products that have drugstore price tags and cruelty-free certifications. An easy switch to make in your day-to-day makeup and skincare routine is to invest in cruelty-free cosmetics that work to protect the most vulnerable among us — animals.
Our Picks for Best Cruelty-free Makeup Products
Each product featured here has been independently selected by the writer. Learn more about our review methodology here. If you make a purchase using the links included, we may earn a commission.
What to Know About Cruelty-Free Makeup
While vegan products are great for the environment, they aren't always cruelty-free — nor are cruelty-free products always vegan. "Vegan" means that the product's formula doesn't contain any animal-derived ingredients, while "cruelty-free" means that it was developed without animal testing.
No product we recommend in this article is tested on animals at any point during the production process. They come from ethical, cruelty-free makeup brands, which can be hard to find in the massive beauty industry.
Full Reviews of Our Top Picks
FAQ: Cruelty-Free Makeup Brands
Is L'Oréal cruelty-free?
L'Oréal is not cruelty-free. Its products are sold in China, where the government requires animal testing for foreign cosmetics.
Is Maybelline cruelty-free?
Like its parent company L'Oréal, Maybelline is not cruelty-free. Its products are sold in China, where the government requires animal testing for foreign cosmetics.
Is Kylie Cosmetics cruelty-free?
Kylie Cosmetics products are not tested on animals, but the brand's parent company,Coty, Inc, is not cruelty-free.
What makeup doesn't test on animals?
There are plenty of makeup brands that don't test on animals. When looking for products, keep an eye out for cruelty-free signals such as Leaping Bunny Certified or PETA Beauty Without Bunnies logos.
Is "cruelty-free" makeup really cruelty-free?
The term "cruelty-free" is currently not regulated by the U.S. government, so you can't trust every product or company that advertises this. Some brands contract other companies to do their animal testing but claim to "not test on animals" because they are not doing the testing themselves. The best way to be certain a company or product is actually cruelty-free is to look for certifications such as Leaping Bunny or PETA Beauty Without Bunnies.
Environment America
While nearly 9 in 10 Americans support the development of more solar energy, electric utilities and fossil fuel-backed special interests are trying to hold off the inevitable renewable-energy future by promoting policies that would make rooftop solar harder to obtain.
A new report released Thursday by Environment America Research & Policy Center documents 20 entities, across 12 states, who sought to roll back key policies driving solar power over the past year.

"It's completely clear that Americans want more solar power, for the good of our environment, our health and our local economies," said Bret Fanshaw, solar program coordinator with Environment America and report co-author. "We cannot allow for a narrow set of interests to block the ability of everyday citizens to tap into clean and renewable solar power on the roofs of our homes and businesses."
Fueled by strong public policies, solar energy is growing by leaps and bounds, with enough solar capacity installed in the U.S. to power 1 in 14 American homes. The American public has demanded solar power because it is clean and increasingly affordable, with costs down two-thirds over the past decade.
The "Blocking the Sun" report shows, however, that electric utilities and special interests are actively undermining access to solar energy across the country.
According to a Frontier Group analysis of the most recent N.C. Clean Energy Technology Center '50 States of Solar' report, at least 90 policy actions in U.S. states could affect the growth of rooftop solar generation as of mid-2017. They include limits on net metering or new utility fees that make solar power less affordable.
"We're seeing a continued, concerted effort to knock down some of the best solar policies out there by some of the most powerful state utilities and fossil fuel actors" said Hye-Jin Kim, policy associate at Frontier Group and report co-author. "We've done this study three years in a row, and despite overwhelming public approval of solar power, the industry attacks on pro-solar policies continue."
Often operating in dense regulatory proceedings, electric utilities like Duke Energy, Rocky Mountain Power and Arizona Public Service have urged state officials to lower credits to solar users, add special charges to rooftop solar owners and force customers into rate plans that would reduce the benefits rooftop solar can provide on your electricity bill.
Efforts by electric utilities to stall solar progress have been coupled with, and in some cases, orchestrated by, fossil fuel front groups such as the Consumer Energy Alliance and utility trade groups such as the Edison Electric Institute.
In many cases, it's working. The Indiana Energy Association, an industry group, successfully lobbied on behalf of the state's biggest electric utilities to phase out Indiana's key rooftop solar program this year, replacing it instead with a new policy that limits compensation for generating rooftop power.
The Trump administration has appointed allies of the electric utilities and fossil fuel companies to key positions within the Department of Energy and other federal agencies. Those appointees are making a concerted effort to undermine solar power at the national level. Studies put forth by Energy Sec. Rick Perry question the value of rooftop solar and attempt to justify support for coal and nuclear plants over renewable energy.

The "Blocking the Sun" report recommends state and national decision-makers resist utility and fossil fuel industry attempts to reduce the economic viability of distributed solar energy, and reject policies to limit the use of this clean, renewable and increasingly economical source of power.
"To meet our major environmental challenges and reach 100 percent renewable energy, we must harness the power of the sun on exponentially more rooftops across America," said Fanshaw. "The people want this to happen—it's up to our public officials to stand up to powerful interests and make going solar easier, not harder."
Environment America / Twitter
The sun is rising on a newer, cleaner era of American energy use.
The U.S. generates nearly eight times as much electricity from the sun and the wind than it did in 2007—enough to power more than 25 million homes—and the average American uses 10 percent less energy than he or she did 10 years ago, according to a new report by Environment America Research and Policy Center.
The report, Renewables on the Rise: A Decade of Progress Toward a Clean Energy Future, also cites a 20-fold increase in battery storage of electricity and the meteoric rise in sales of electric cars—from virtually none in 2007 to nearly 160,000 last year—as evidence that despite attempted rollbacks in Washington, a clean energy revolution is under way across the U.S.
"Despite anti-science, anti-clean energy rhetoric coming from the Trump administration and many in Congress, the science is clear—fossil fuels pollute our air, water and land, threatening our health and changing our climate even faster than scientists predicted," said Rob Sargent, energy program director for Environment America Research and Policy Center. "The good news is that the progress we've made in the last decade on renewable energy, energy savings and technologies such as battery storage and electric cars should give us the confidence that renewable energy can be America's energy choice."
The new report, authored by Environment America Research & Policy Center and Frontier Group; analyzes the growth of key technologies needed to power the nation with clean, renewable energy; including wind, solar, energy efficiency, energy storage and electric vehicles. Beyond a national assessment, the report provides state by state rankings on how effectively each state is adopting these crucial technologies.
W/ @FrontierGroupUS, thrilled to release Renewables on the Rise report! Renewables have made huge progress in 10yrs… https://t.co/CU56W5uIKh

— Environment America (@Environment America)1501078517.0
"Key clean energy technologies are improving rapidly and getting cheaper seemingly every day," said Gideon Weissman of Frontier Group, report co-author. "These and other advances open up new opportunities to end our dependence on fossil fuels and embrace a future built on clean, renewable energy."
The report describes the factors that have contributed to the rapid growth in each category, including improved technologies and plummeting costs. Citing a survey by the U.S. Department of Energy, the report says that between 2008 to 2015, the cost of land-based wind energy fell by 41 percent; the cost of onsite and rooftop solar photovoltaics (PV) by 54 percent; the cost of utility-scale PV by 64 percent; the cost of home energy storage batteries by 73 percent; and the cost of LED light bulbs fell by 94 percent.

"Every day, we see more evidence that an economy powered by renewable energy is within our reach," said Sargent. "We need to seize the moment and lean into a future powered by clean, renewable energy."
The report comes as a growing number of U.S. cities, states, corporations and institutions consider commitments to 100 percent renewable energy. Currently, 37 cities have committed to that goal. Nearly 100 major companies, including Apple, Walmart and LEGO have as well. Hawaii is committed to 100 percent renewable electricity by 2045. California and Massachusetts are currently considering similar legislation. And, in Washington, bills to commit the nation to 100 percent renewable energy have been introduced in both houses of Congress.
118 U.S. Mayors Endorse 100% #RenewableEnergy Goals https://t.co/P9bdx9xh5D @newsenergy @SierraClub @MayorLevine @slcmayor @Kevin_Faulconer

— EcoWatch (@EcoWatch)1498242057.0
"Given the environmental benefits, clean, renewable energy should be the go-to option for businesses, utilities, governments and households across the country," said Sargent. "It won't be easy. But we have no choice. Every day the urgency of our environmental challenges becomes clearer. That's why we're ready to work to move America to a future powered with clean, renewable energy."

Clean energy supporters in Massachusetts announced legislation Monday, backed by more than a quarter of the state legislature, committing Massachusetts to get 100 percent of its energy needs from clean and renewable sources by mid-century.

Which States Make It Easy for the Advancement of Renewable Energy? https://t.co/WddHJ7mF2F @emilygosden @Cleantechmag

— EcoWatch (@EcoWatch)1484448605.0
The legislation, introduced in the House of Representatives by Rep. Sean Garballey and Marjorie Decker and in the Senate by Sen. Jamie Eldridge, establishes targets for Massachusetts to meet its electricity needs from renewable energy by 2035 and all of its energy needs, including heating and transportation, from renewable sources by 2050.
"The supporters of this bill have joined the growing number of stakeholders and leaders who recognize the need for rapid transition to clean, renewable energy to tackle our environmental challenges," Rob Sargent said. "With a can-do attitude, powering our state entirely with clean, renewable energy is as feasible as it is necessary."

A combination of environmental concerns and declining costs for renewable energy have made it the "go-to" option for many communities and businesses, in part because it is pollution-free, but also because it requires no fuel costs. As a result, dozens of major corporations from Google to General Motors to Walmart have already committed to a complete shift to renewable energy. Similarly, dozens of local governments including San Diego, California, St. Petersburg, Florida and Georgetown, Texas, have plans to go 100 percent renewable.
"The federal government is moving backwards on clean energy. So, the states must lead," said S. David Freeman, a long-time utility executive at Los Angeles Department of Water and Power, the New York Power Authority and the Tennessee Valley Authority. "Massachusetts can show the way by enacting the 100 percent renewable bills and by so doing save consumers millions of dollars in the future with a free fuel energy supply."

Given the considerable resistance renewables are likely to face in Congress and the Trump administration, clean energy proponents are looking to state and local governments, businesses and institutions to ensure continued progress. In addition to the campaign in Massachusetts, Environment America and its partners are planning campaigns to get other states to go 100 percent renewable. And, today they will launch an effort to persuade America's colleges and universities to make similar commitments.
Renewables Dominated New U.S. Power Generation in 2016: Exceeded Gas, Coal, Oil and Nuclear Combined https://t.co/yHmY0MWPXL @RenewableUK

— EcoWatch (@EcoWatch)1486125619.0
"Despite tremendous progress on renewable energy in the past decade, we've got much more to do and leaders in Washington who want to take us backward," Sargent said. "That's why we're counting on our local and state governments, along with businesses, colleges and universities and other institutions to lead the way by setting their sights on 100 percent renewable energy."
More than 650,000 kindergarten through 12th grade children in nine states attend school within one mile of a fracked oil or gas well, putting them at increased risk of health impacts from dangerous chemicals and air pollution.
Moms Clean Air Force
The finding comes from a new study by Environment America Research & Policy Center that exposes the proximity of fracking near schools, hospitals, day care centers and nursing homes, risking the health of our children and other vulnerable populations.

"Schools and day care centers should be safe places for kids to play and learn," said Rachel Richardson, director of Environment America's Stop Drilling program and co-author of the report. "Unfortunately, our research shows far too many kids may be exposed to dirty air and toxic chemicals from fracking right next door."
Using data provided by the oil and gas industry and state regulators, Dangerous and Close—Fracking Puts the Nation's Most Vulnerable People at Risk, found that:

1,947 child care facilities, 1,376 schools, 236 nursing care providers and 103 hospitals are within a one-mile radius of fracked wells in the nine states examined.
More than 650,000 kindergarten through 12th grade children attend school within one mile of a fracked well.
The highest percentage of children attending school close to fracked wells is in West Virginia, where 8 percent of children spend their school days within one mile of a fracked well.
Texas has the largest number of children attending school close to a well, with 437,000 kindergarten through 12th grade students attending public or private school within one mile of a fracked well.
The report included data from nine states total including Arkansas, California, Colorado, New Mexico, North Dakota, Ohio, Pennsylvania, Texas and West Virginia.
Hospitals, nursing homes, schools and day care facilities within one mile of a fracked well, 2005 through early 2016, in Arkansas, California, Colorado, New Mexico, North Dakota, Ohio, Pennsylvania, Texas and West Virginia.Environment America
"American society aspires to protect children, the sick and the elderly," said Elizabeth Ridlington, policy analyst with Frontier Group and co-author of the report. "This report shows that we're violating that ideal because of our overwhelming dependence on fossil fuels. We've sunk to putting vulnerable populations at risk instead of making the wholesale shift to conservation and renewable energy."

Fracking creates a range of threats to our health, including creating toxic air pollution that can reduce lung function even among healthy people, trigger asthma attacks and has been linked to premature death. Children and the elderly are especially vulnerable to fracking's health risks. Children's immune systems are more susceptible to damage from toxic chemicals while older adults have weaker immune systems and more difficulty breaking down toxics chemicals in the body.
New Fracking Study Finds Children at Greater Risk of Respiratory Health Problems https://t.co/9khQK6xBHn @POTUS @GovernorTomWolf @EcoWatch

— Frack Action (@Frack Action)1463075434.0
Studies show that the closer you are to fracking, the more susceptible you are to suffering negative health effects. In Colorado, residents living within one-half mile of fracked wells were exposed to pollutants that increased their risk of illness. Researchers at University of Pennsylvania and Columbia University found that in Pennsylvania hospitalizations rates increase near fracking sites.
Health Dangers of #Fracking Revealed in Johns Hopkins Study https://t.co/XN2bg4eVhO @foodandwater @MarkRuffalo @JoshFoxFilm @ssteingraber1

— EcoWatch (@EcoWatch)1472148801.0
"Fracking is an inherently dangerous threat to public health and should not be where vulnerable children and families live," said Dr. Walter Tsou, president of Philadelphia Physicians for Social Responsibility.

"It is an unavoidable fact that as fracking operations have spread across the U.S., significant damage to our health and our environment has occurred," said Laura Burns, parent of two and field organizer for Mom's Clean Air Force in Ohio. "Our children are our future. And for the sake of our future, we need to be seeking clean, renewable energy solutions."
Given the scale and severity of fracking's impacts, fracking should be prohibited wherever possible and existing wells should be shut down beginning with those near institutions that serve our most vulnerable populations.
To better protect communities already on the front lines of drilling, stricter regulations should be adopted and federal fracking loopholes should be closed to hold the oil and gas industry to the same standards as other industry. Currently, oil and gas companies are exempt from key provisions in the Safe Drinking Water Act, the Clean Air Act, the Clean Water Act, and the Resource Conservation and Recovery Act.
"Our children's health and safety should be non-negotiable," Richardson said. "Ultimately, the only solution to this toxic health threat is to ban fracking entirely and move toward 100 percent renewable energy as swiftly as possible."
Surrounded by monstrous blades and tower sections on the docks of the Port of Providence, Gov. Gina Raimondo was joined by local elected leaders and clean energy advocates Monday to celebrate the final stages of construction of the nation's first offshore wind farm.
Fred. Olsen Windcarrier
As soon as next week, the company Deepwater Wind will begin installing the turbine towers and blades for the project, located three miles southeast of Block Island, Rhode Island and east of Long Island, New York.

With the potential to supply all of Block Island with clean power, the 30 MW wind farm could jumpstart the nation's efforts to finally capture the immense pollution-free resource off our coasts, advocates say.
"We're poised to tap the tremendous energy resource provided by the winds that blow off our shores," Rob Sargent, Environment America's Energy Program director and among those celebrating the project today in Providence, said. "Rhode Island deserves tremendous credit for being the first, but it certainly won't be the last."
Located in a renewable energy zone designated by Rhode Island state officials several years ago, the Block Island project will reduce carbon dioxide emissions over the next 20 years in amounts equivalent to taking 150,000 cars off the road, create more than 300 jobs and save local residents up to 40 percent on their energy bills.
Other projects off the Atlantic Coast could provide similar benefits. A 2014 report showed that the 1.5 million acres designated for wind energy off the Atlantic Coast could support enough electricity to power more than 5 million homes, offsetting dirty fossil fuel energy sources and creating local jobs.
Advocates urged other Atlantic Coast states to follow Rhode Island's lead and pressed federal decision makers to continue to do their part to support offshore wind.
"If we're serious about tackling pollution from fossil fuels and helping our local economy, we should commit ourselves to meeting all our energy needs with clean, renewable energy sources such as offshore wind," Sargent said.
"That's why we need bold commitments from governors and state leaders, we need Congress to extend offshore wind tax incentives and we need federal officials to continue leading the way through programs like the Smart from the Start Initiative. With the right support, Block Island will be just the beginning."
A truck full of dead bees made its final stop at a rally outside the headquarters of the U.S. Environmental Protection Agency (EPA) Wednesday, culminating a coast-to-coast tour to raise awareness about recent massive declines in pollinators.
While the millions of dead bees stayed in the truck, advocates and beekeepers delivered more than 4 million signatures urging an immediate ban on bee-killing pesticides.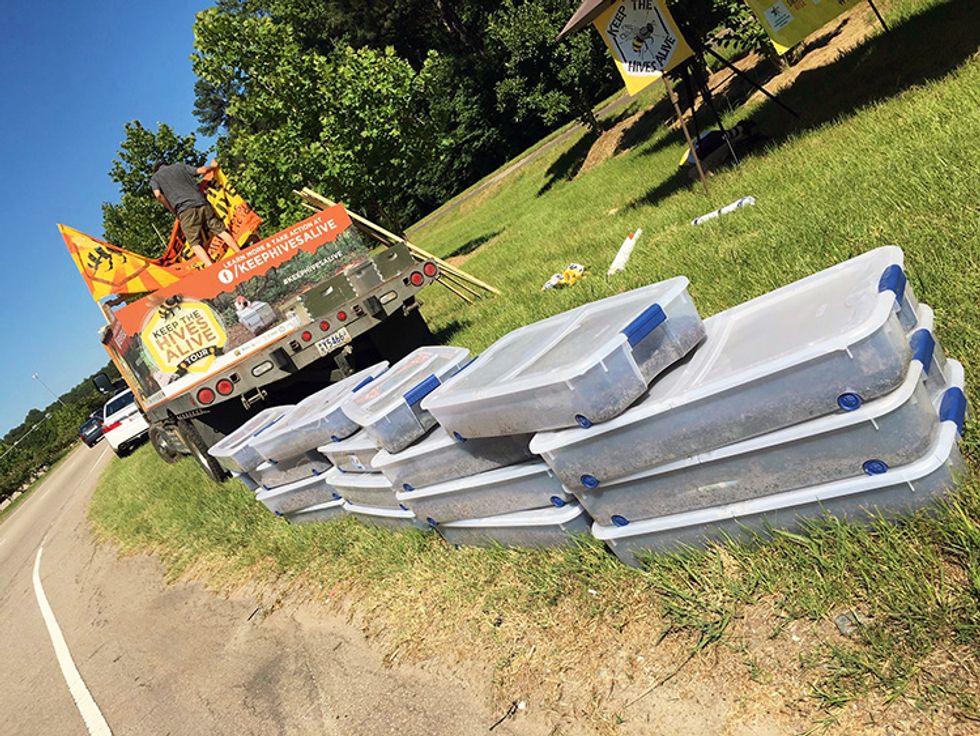 "In the five years since I started keeping bees, I've seen many hives killed by pesticides," said James Cook, a Minnesota-based beekeeper who has been driving the truck across the country since last Monday. "If some fundamental things don't change, it's going to be really hard for beekeepers to adapt to the environment around us."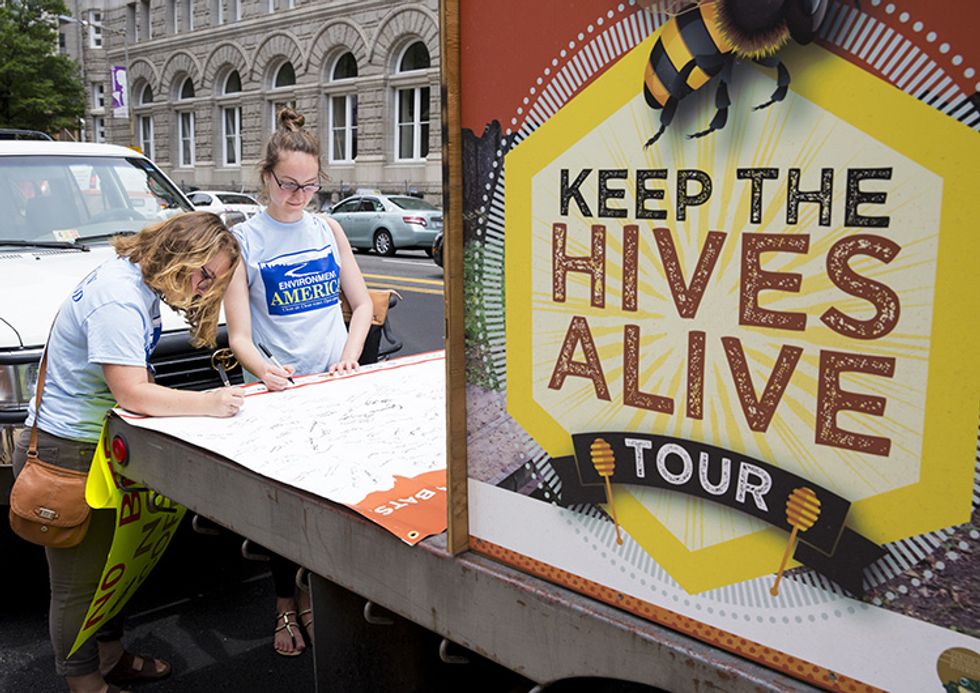 Bees pollinate most of the world's most common crops, including summer favorites like peaches and watermelon. But more than 40 percent of U.S. honeybee hives die each year, costing the farming and beekeeping industry more than $2 billion annually.
One culprit in the bee die-off is the widely-used class of pesticides called neonicotinoids or neonics. Last spring the EPA began a process to assess four types of neonics and their impacts on pollinators. In January the agency acknowledged that imidacloprid could indeed harm bees, but the remaining assessments are still outstanding.
"Given the facts we have at hand about the links between neonics and bee die-offs, officials should move boldly and swiftly to stop any and all uses of these dangerous chemicals," said Anna Aurilio, the director of the Washington, DC, office of Environment America.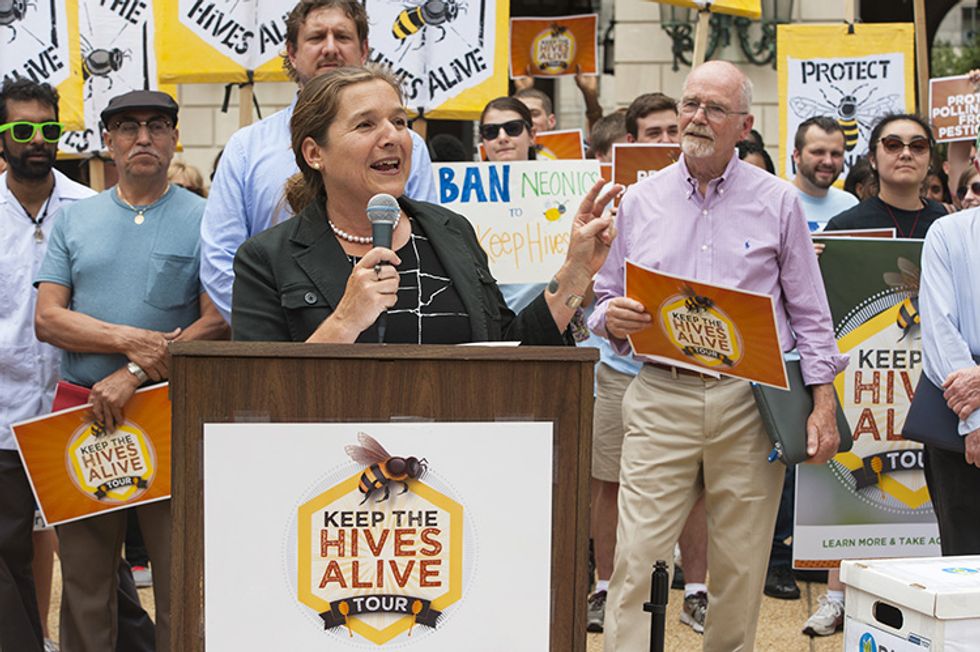 To wrap up their Keep the Hives Alive Tour, farmers, beekeepers and food advocates met Wednesday with officials from the EPA, members of Congress and representatives from the U.S. Department of Agriculture, delivering letters from nearly 200 businesses and organizations urging action on bee-killing pesticides and support for sustainable agriculture.
"The science is clear and convincing. To be truly effective, we need a nationwide policy to protect our pollinators before the crisis gets completely out of control," said Del. Anne Healey, sponsor of Maryland's Pollinator Protection Act, the first bill passed in the U.S. to eliminate consumer use of neonics.
Over the past two weeks Keep the Hives Alive has made stops in California, South Dakota, Minnesota, Michigan, Pennsylvania and North Carolina. It came to a close during National Pollinator Week, at a rally drawing hundreds of people, where environmental advocates, farmers, restaurant owners and others joined beekeepers to call for action.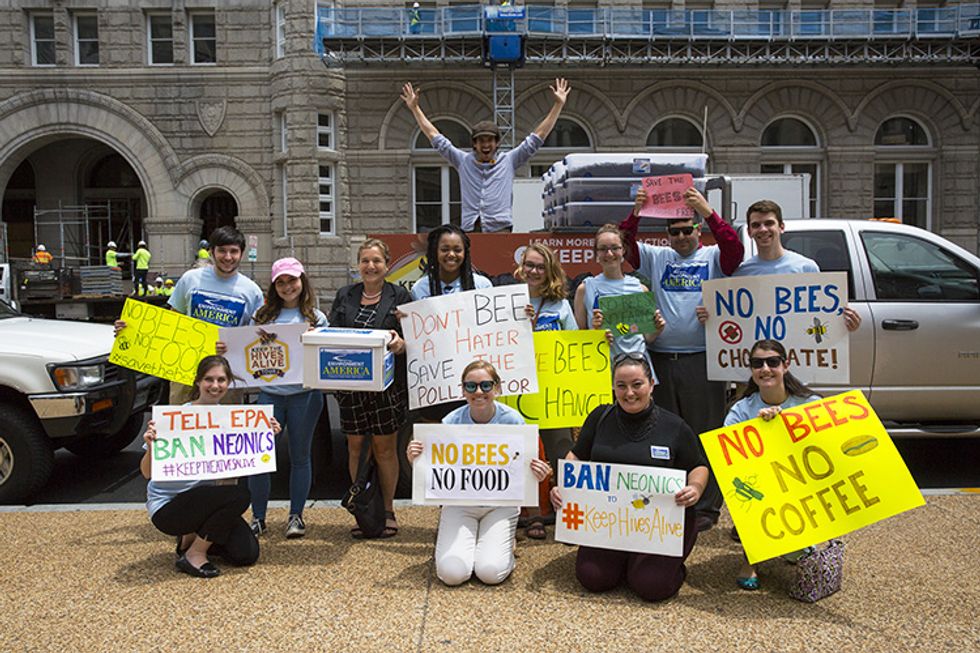 "What's happening today to pollinators is no different than what happened 50 years ago with the collapse of the osprey, bald eagle and other bird and aquatic animal populations due to the use of DDT," said Scott Nash, CEO of Mom's Organic Market. "If we allow the chemical agribusiness industry to continue these short-sighted practices, food costs will increase as food supplies diminish."
Watch here for more information:
YOU MIGHT ALSO LIKE
Interactive Map Shows How 6,500 Factory Farms Put North Carolinians at Risk
It's Not Just Crimes Against Nature, It's Crimes Against People
World's Largest Food Distributor Commits to Source 100% Cage-Free Eggs
Buzz Kill: How the Pesticide Industry Blocks Bee Protections Nationwide
The U.S. Environmental Protection Agency (EPA) has banned fracking wastewater from public sewage plants, citing the inability of these plants to handle toxic and radioactive pollutants.
Clean water and public health advocates, along with more than 30,000 Americans, had submitted comments in favor of the EPA rule, finalized earlier this week.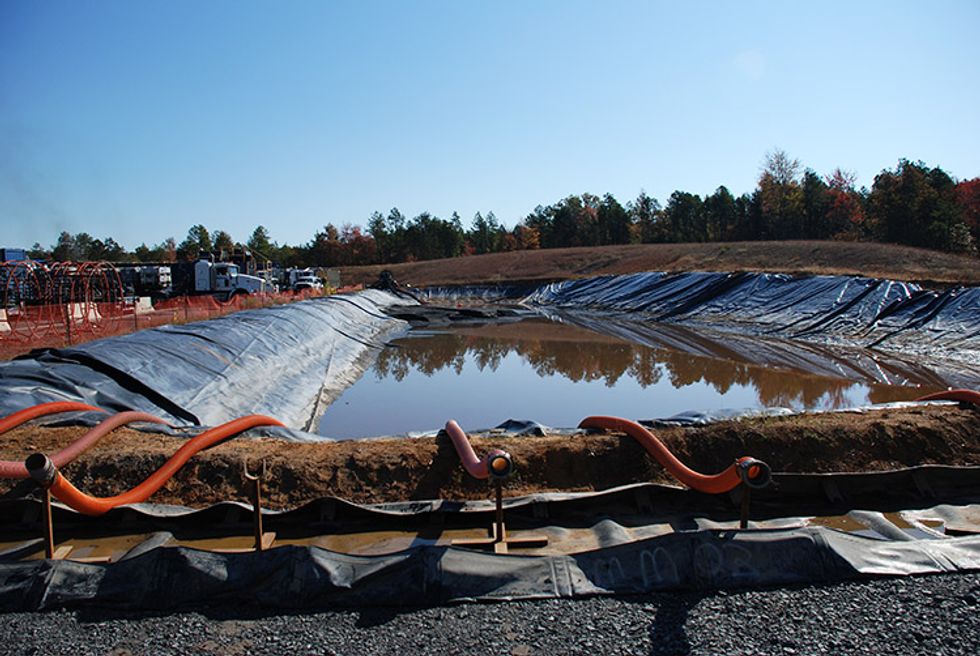 "Allowing toxic, radioactive wastewater to be treated at the same place as dirty bathwater defies all logic," Rachel Richardson, Stop Drilling Program director for Environment America, said. "This is a commonsense step to help protect our water and our health from the dangers of fracking."
The final rule formalizes a practice in place since 2011, when fracking chemicals were detected in some Pennsylvania rivers and officials ordered 15 treatment plants to stop accepting and treating fracking waste.
Fracking or hydraulic fracturing, is the process by which large volumes of water along with sand and toxic chemicals are injected underground to extract shale gas. Much of this fracking fluid mixture returns to the surface as toxic wastewater, often with radioactive elements.
Municipal water treatment plants, which treat waste and then release it into drinking water supplies, aren't suited to treat such hazards. The mixture of bromides in wastewater and the chlorine used at sewage treatments plants also can produce a toxin linked to bladder cancer, miscarriages and still-births.
Even under the rule issued this week, fracking wastewater disposal still presents a conundrum for public health and safety. Plants designed to treat fracking waste are far from foolproof, as Duke University researchers found in Pennsylvania. Waste often spills into rivers and streams during storage and shipment. And studies show injecting the waste deep underground is likely causing earthquakes.
While no known municipal treatment plants currently accept fracking waste, the option could have become more attractive to drillers as standards tightened on other waste disposal methods.
"Fracking wastewater is a big problem for which there is simply no adequate solution," Richardson said. "We applaud EPA for taking this step to protect families on the frontlines of fracking. To fully protect our drinking water and the health of our families, we need to ban this practice altogether and transition to 100 percent clean energy."
YOU MIGHT ALSO LIKE
Exxon Sues Massachusetts Attorney General to Block Climate Fraud Investigation
NASA: Porter Ranch Gas Leak Was So Big It Could Be Seen From Space
TransCanada Wins Bid for Underwater Gas Pipeline Across Gulf of Mexico
Toxic Chemicals Found in Residents Living Near Oil and Gas Operations in Pavillion, Wyoming
In a single year, fracking wells across the country released at least 5.3 billion pounds of the potent greenhouse gas methane, as much global warming pollution as 22 coal-fired power plants.
The statistic is one of many in a new study by Environment America Research & Policy Center that quantifies the environmental harm caused by more 137,000 fracking wells permitted since 2005.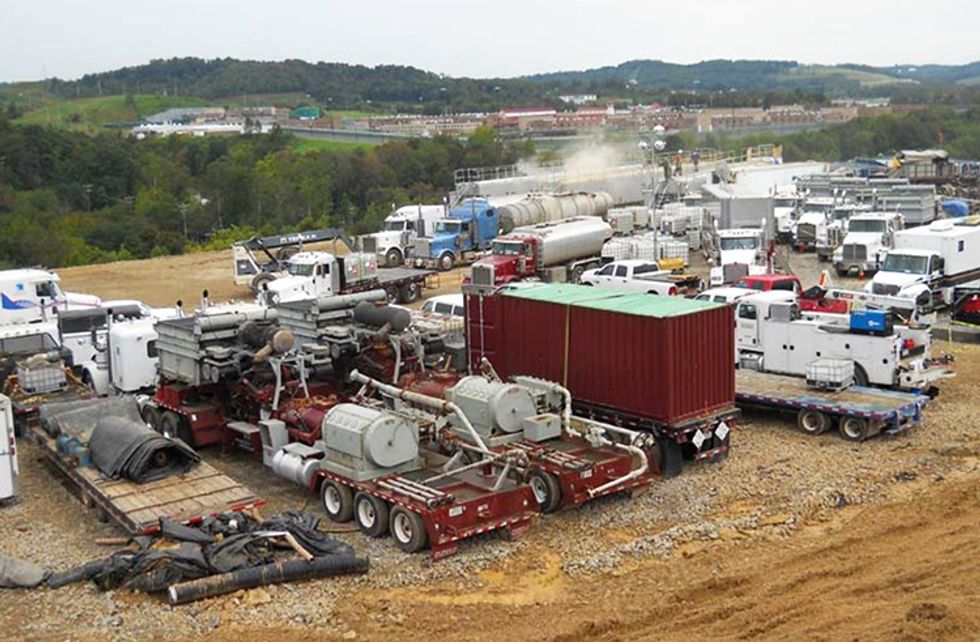 "The numbers in this report don't lie," Rachel Richardson, director of Environment America's Stop Drilling program and co-author of the report, said. "For the past decade, fracking has been a nightmare for our drinking water, our open lands and our climate."
Today's analysis, an update of a similar 2013 study, paints a frightening picture of fracking's harms in addition to its global warming pollution—including toxic chemical use and destroyed land.
"In just the last two and a half years, the number of fracked oil and gas wells has increased by 55,000," Elizabeth Ridlington, policy analyst with Frontier Group and co-author of the report, said. "That growth in fracked wells means more polluted water, more toxic chemicals and more communities at risk."
The major findings of Fracking by the Numbers: The Damage to Our Air, Water and Climate from a Decade of Dirty Drilling include:
During well completion alone, fracking released 5.3 billion pounds of methane in 2014, a pollutant 86 times more powerful than carbon dioxide over the course of 20 years.
Fracking wells produced at least 14 billion gallons of wastewater in 2014. Fracking wastewater has leaked from retention ponds, been dumped into streams and escaped from faulty disposal wells, putting drinking water at risk. Wastewater from fracked wells includes not only the toxic chemicals injected into the well but also can bring naturally occurring radioactive materials to the surface.
Between 2005 and 2015, fracking used at least 23 billion pounds of toxic chemicals. Fracking uses of vast quantities of chemicals known to harm human health. People living or working nearby can be exposed to these chemicals if they enter drinking water after a spill or if they become airborne.
At least 239 billion gallons of water have been used in fracking since 2005, an average of 3 million gallons per well. Fracking requires huge volumes of water for each well—water that is often needed for other uses or to maintain healthy aquatic ecosystems.
Infrastructure to support fracking has directly damaged at least 675,000 acres of land since 2005, an area only slightly smaller than Yosemite National Park. Well pads, new access roads, pipelines and other infrastructure built for fracking turn forests and rural landscapes into industrial zones.
Given the scale and severity of fracking's impacts, the report says fracking should be prohibited wherever possible and stricter regulations should be enacted to better protect communities already on the frontlines of drilling.
The report also gives lift to the effort to convince President Obama to end new fracking and drilling leases on public lands and in public waters, in order to keep upwards of 450 billion tons of global warming pollution out of the atmosphere.
"From contaminated water, to marred landscapes, to increased global warming pollution, fracking has been an environmental disaster," said Richardson. "The best way to protect our health and climate from this dirty drilling is to ban it altogether and keep fossil fuels safely in the ground."
YOU MIGHT ALSO LIKE
Peabody's Bankruptcy: A Giant Falls, But Its Obligations Remain
Renowned Turkish Photographer Asks: Will My Country Lock-In a 'Smoky Future' or Break Free?
Maryland's Prince George's County Bans Fracking
In a win for clean water and public health, the U.S. Coast Guard quietly dropped its proposal today to allow barges on the nation's rivers and inter coastal waterways to transport toxic fracking wastewater.
"Shipping thousands of barrels of toxic wastewater down the rivers we drink from was a recipe for disaster," said Rachel Richardson, director of Environment America's stop drilling program. "For the sake of our drinking water and our safety, we're glad to see this bad idea put to rest."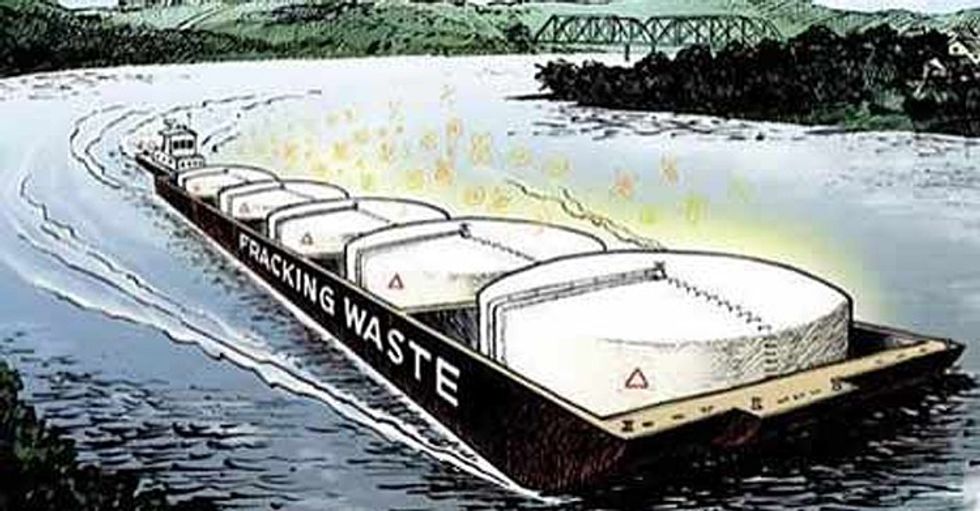 Fracking—the controversial drilling technique by which large volumes of water, sand and chemicals are injected underground—creates vast quantities of toxic wastewater often laced with cancer causing chemicals and even radioactive material.
An Environment America Research & Policy Center report found that fracking operations produced 280 billion gallons of such wastewater in a single year—enough to cover DC in a 22-feet deep cesspool.
Despite its often dangerous contents, fracking wastewater is not considered hazardous by the federal government, and its transport, treatment and disposal is governed by a patchwork of federal and state regulations.
The October 2013 U.S. Coast Guard proposal came in response to a specific request by a tank barge, and was immediately met with widespread criticism. More than 98 percent of the 70,000 public comments submitted on the plan—including more than 29,000 collected from Environment America—were opposed. More than 100 organizations also called on the Coast Guard to drop its proposed policy.
While shipments of fracking waste could still be approved on a case-by-case basis, no such approval has ever been granted. Clean water advocates said they would remain vigilant and advocate against future applications that would ship fracking waste by barge.
"Until we ban fracking altogether, we need to limit Americans' exposure to its harmful pollution every way we can," said Richardson. "We'll continue to work with our allies to keep fracking waste off barges and rivers altogether."
This piece was updated Feb. 24 to clarify that fracking waste could still be shipped by barge on a case-by-case basis.
YOU MIGHT ALSO LIKE
Sea Levels Rising at Fastest Rate in 3,000 Years
The Biggest Oil Leak You've Never Heard Of, Still Leaking After 12 Years
Massive Methane Leaks From Texas Fracking Sites Even More Significant Than Infamous Porter Ranch Gas Leak
Stanford Scientist Finds People Living Near Shallow Fracking Wells at Risk of Drinking Water Contaminated With Methane
Solar energy is expanding rapidly across the U.S.—increasing more than 100-fold over the past decade. But, there are still many untapped opportunities to harness the nation's nearly limitless solar potential. The U.S. has the technical potential to produce more than 100 times as much electricity from solar photovoltaic and concentrating solar power installations as the nation consumes each year. Given our abundant solar resources, America must take advantage of untapped opportunities to install solar technologies—like using rooftops of large superstores and "big box" retail stores as hosts for clean electricity generation.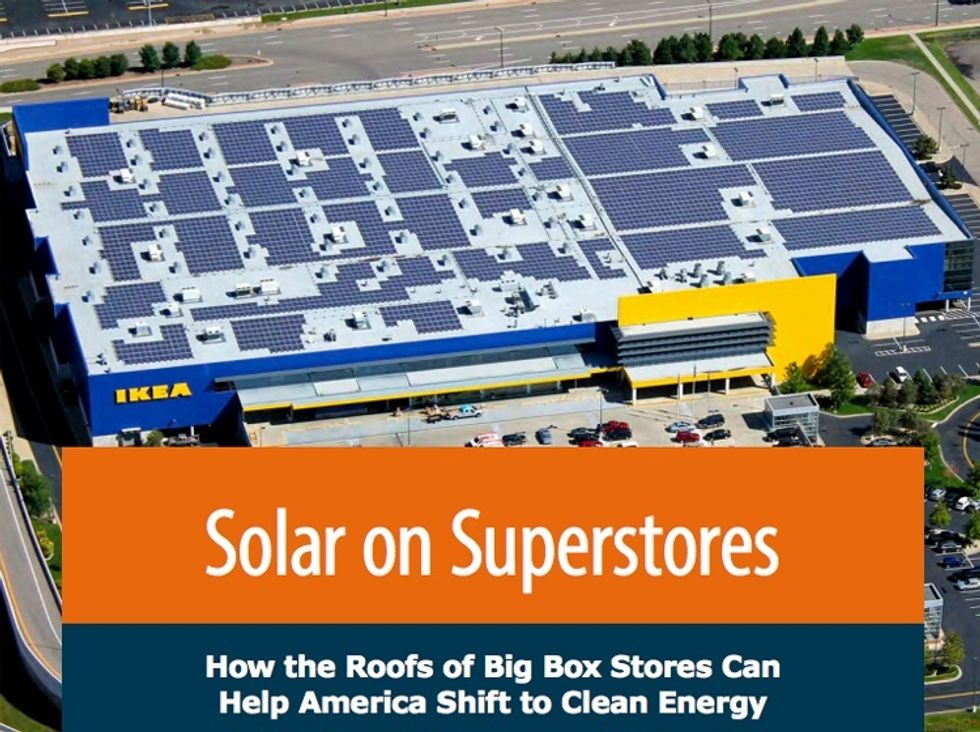 The roofs of these large stores are perfect locations for solar panels—they are largely flat and vacant and almost always fully exposed to the sun. The big box stores, large grocery stores and malls considered in this report account for 5 percent of electricity use in the U.S. Solar panels produce energy that can offset this large electricity demand while contributing to a cleaner grid. Rooftop solar power also brings benefits to the communities in which it is situated. By producing electricity close to its final point of use, distributed rooftop power reduces costs and energy losses associated with electricity transmission and distribution.
According to the National Renewable Energy Laboratory, the U.S. has the technical potential to generate enough electricity from rooftop solar installations alone to meet nearly a quarter of the nation's electricity demand. The U.S. has more than 102,000 big box retail stores, supercenters, large grocery stores and malls with more than 4.5 billion cumulative square feet of available rooftop space on which solar panels could be installed.
The rooftops of America's big box stores and shopping centers could host 62.3 gigawatts (GW) of solar photovoltaic capacity, equivalent to the amount of electricity used by more than 7 million average U.S. homes or more than 7,500 average Walmart stores and more than triple the solar photovoltaic capacity that has been installed in the U.S. to date.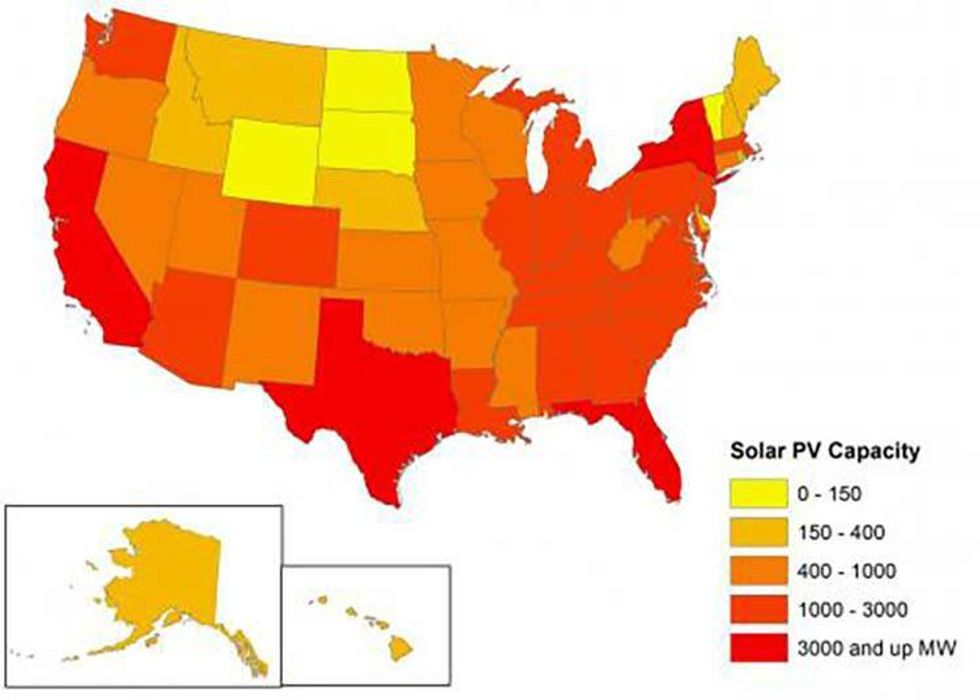 Putting solar panels on the nation's big box grocery and retail stores creates unique benefits for the environment, electricity customers and the large commercial businesses themselves.
Generating clean electricity from rooftop solar panels on existing commercial buildings is good for the environment. Installing 62.3 GW of clean solar power on America's big box stores and shopping centers would reduce global warming pollution by nearly 57 million metric tons annually—equivalent to taking nearly 12 million passenger vehicles off the road.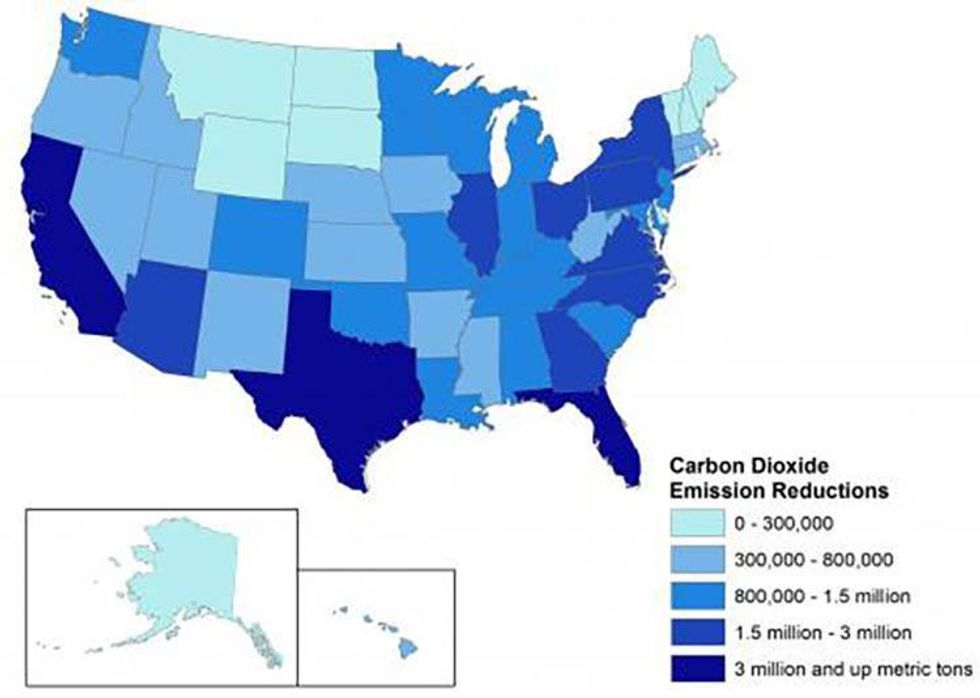 Rooftop solar power is good for the grid and electricity consumers. Producing electricity on rooftops, close to where the electricity will be used, reduces losses that happen during electricity transmission—losses that totaled an estimated 203 million megawatt-hours or 5 percent of electricity sales in 2012. Solar power also reduces costs by producing the most electricity during the sunniest parts of the day, which are often when demand for electricity peaks. This helps utilities avoid firing up expensive, peaking power plants to meet the temporary rise in demand.
Putting solar panels on the roofs of big box stores is good for business. Electricity produced by rooftop panels on big box stores and shopping centers could offset the annual electricity use of these buildings by 42 percent, saving these businesses $8.2 billion annually on their electricity bills.
Many big box retail stores are already reaping the benefits of installing solar power on their rooftops.
Of the businesses evaluated by the Solar Energy Industries Association, Walmart, Costco, Kohl's, IKEA and Macy's were the retail giants with the most solar capacity installed as of the end of 2015. Walmart has at least 142 MW of total on-site installed solar capacity.
From the same survey, the top 25 companies have installed a total of 1,462 solar energy systems at business locations across the U.S.
The 10 big box companies with the largest amount of retail space in the U.S.—Walmart, Target, Home Depot, Lowe's, Sears Holdings (including Sears and KMart), Macy's, J.C. Penney, Kohl's, Costco and TJX (including Marshall's and TJMaxx)—have enough rooftop space to host approximately 17 GW of solar capacity on their retail stores or nearly three quarters of the U.S.' current solar PV capacity.
Solar-powered businesses are saving money on their electricity bills and contributing to a cleaner and more resilient electricity grid. By installing solar panels on two California stores, Costco reported savings of $300 per day on average over three months.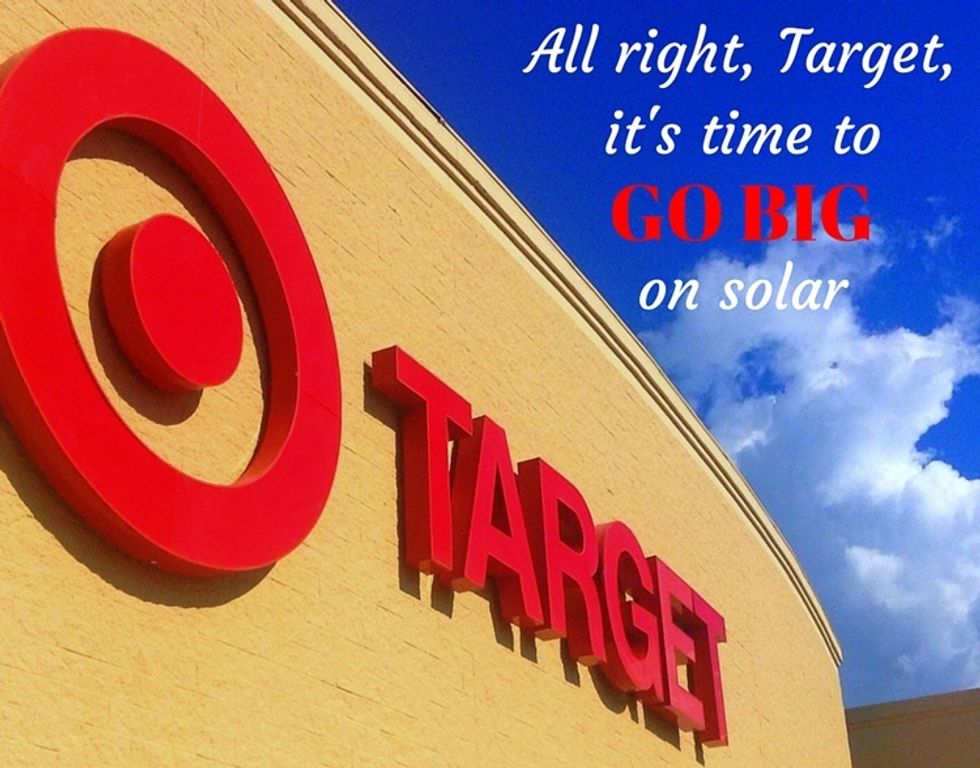 Implementing local, state and federal policies that promote the growth of rooftop solar power—like net metering, third-party financing, community solar power programs, streamlined solar permitting and interconnection and tax credits and incentive programs for new solar energy markets—can spur the development of rooftop solar power on America's big box stores and help America reach its solar potential. Officials at all levels of government should implement solar-friendly policies that help to accelerate adoption of solar energy by America's businesses.
YOU MIGHT ALSO LIKE
Warning to Fossil Fuel Investors: Coal and LNG Markets Shrinking Due to Competition From Renewables