Norway's central bank announced on Wednesday that the Norwegian Government's Pension Fund, worth $900 billion, will no longer invest in Duke Energy.
This decision is the result of an investigation by the Council on Ethics for the pension fund, which found that Duke Energy's failure to adequately respond to its leaking coal ash impoundments in North Carolina constituted "an unacceptable risk of severe environmental damage."
Duke Energy coal ash spill into the Dan River near Eden, North Carolina in February 2014. The spill was the third largest coal ash spill in U.S. history.Waterkeeper Alliance
Based on its assessment, the council recommended that Duke Energy be excluded from the fund on ethical grounds. Nearly 4.7 million Duke shares and bonds, valued at $545 million, have been sold by the Norwegian Pension Fund.
In May 2015, I presented data and information to the Norwegian Parliament and Council on Ethics about the extensive and ongoing water pollution from Duke Energy coal ash ponds, advocating that they sell Duke Energy stocks for ethical reasons.
Waterkeeper recently sent a data packet to Norway emphasizing that Duke had not stopped ongoing leaks of heavy metals into drinking water supplies and plans to leave 70 percent of its coal ash in leaking ponds in North Carolina.
I am thrilled that the Council on Ethics determined that Duke's abysmal performance and severe environmental risk still posed by Duke Energy's leaking ash ponds warranted a special divestiture.
Duke Energy Coal Ash Ponds Contaminate Wells, Residents Told Not to Drink the Water http://t.co/9wN7W69hE3 @BeyondCoal @dirtyenergy

— EcoWatch (@EcoWatch)1429840207.0
Duke Energy joins the list of many companies whose performance is so unacceptable to the Council of Ethics that they are black-listed as unsuitable for investment by one of the world's largest sovereign wealth funds.
Waterkeeper Alliance will continue to present to major institutional shareholders of coal companies to inform them of the unacceptable environmental risk of leaking ash ponds into drinking water supplies. Until this industry finally stops its recalcitrant and illegal behavior, we will continue to advocate for divestment from these major polluters all over the world.
EcoWatch Daily Newsletter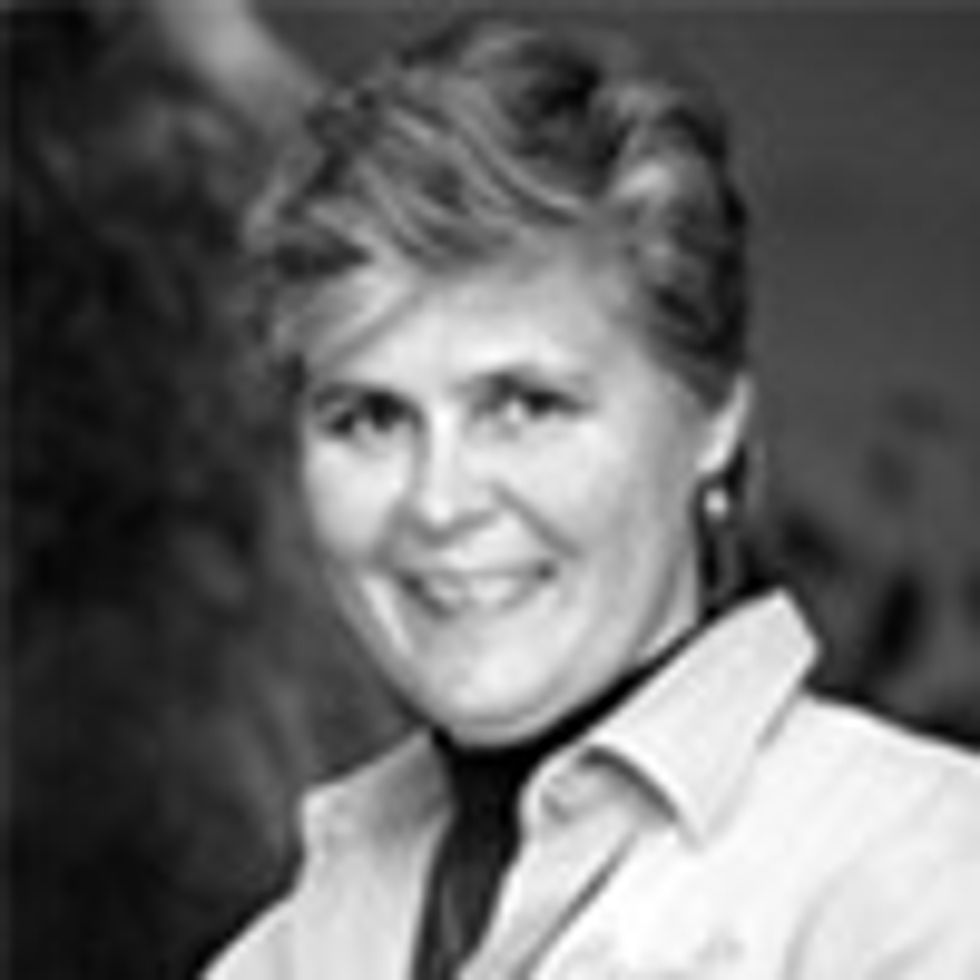 Oh dear. Peabody Energy is foolishly going after the famous John Prine song, "Paradise" in federal court and asking a judge to strike song lyrics from federal court filings.
Here are the lyrics that cite Peabody's role in strip mining Muhlenberg County in western Kentucky.
"And Daddy won't you take me back to Muhlenberg County
"Down by the Green River where paradise lay?"
"Well, I'm sorry my son, but you're too late in asking
Mister Peabody's coal train has hauled it away"
Peabody is picking on a great folk singer and a song that was released in 1971. The song has been covered by John Denver, Jimmy Buffet, John Fogerty and many others. Peabody's stock price is down more than 85 percent over the last year, selling at less than $2 a share. It has been kicked out of the stock exchange because its stock has slumped so low. But apparently they have plenty of money to demand removal of John Prine song lyrics in federal court.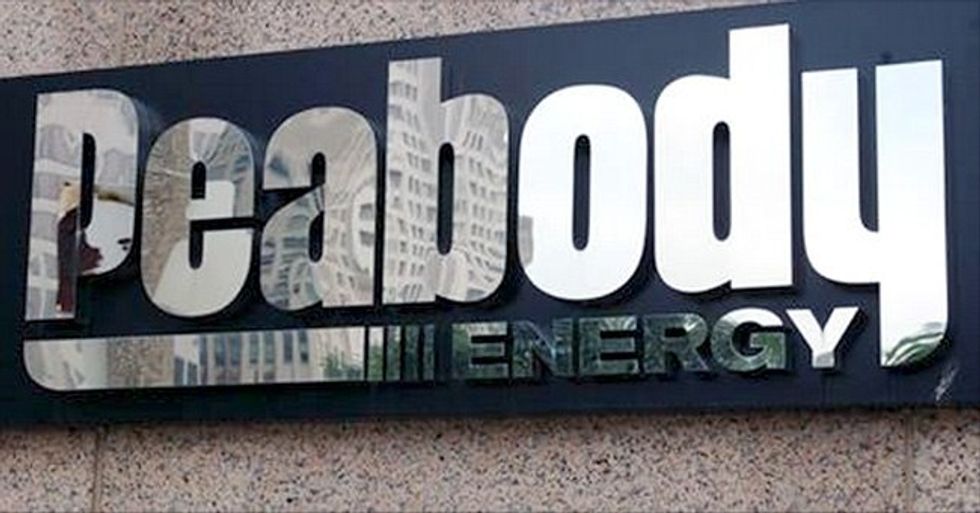 Have you ever seen a company better at demonstrating why they are very poor business managers? What a terrible way to spend the money of the few investors they have left. Share this unbelievable news if you are a big fan of Mr. Prine and support freedom of speech through the respected art of folk music.
YOU MIGHT ALSO LIKE
Coal Is No Longer King in America, Says EIA Report
Jon Stewart Slams Conservatives and Supreme Court for Letting Big Business Win Again
waterlust.com / @tulasendlesssummer_sierra .
Each product featured here has been independently selected by the writer. If you make a purchase using the links included, we may earn commission.
The bright patterns and recognizable designs of Waterlust's activewear aren't just for show. In fact, they're meant to promote the conversation around sustainability and give back to the ocean science and conservation community.
Each design is paired with a research lab, nonprofit, or education organization that has high intellectual merit and the potential to move the needle in its respective field. For each product sold, Waterlust donates 10% of profits to these conservation partners.
Eye-Catching Designs Made from Recycled Plastic Bottles
waterlust.com / @abamabam
The company sells a range of eco-friendly items like leggings, rash guards, and board shorts that are made using recycled post-consumer plastic bottles. There are currently 16 causes represented by distinct marine-life patterns, from whale shark research and invasive lionfish removal to sockeye salmon monitoring and abalone restoration.

One such organization is Get Inspired, a nonprofit that specializes in ocean restoration and environmental education. Get Inspired founder, marine biologist Nancy Caruso, says supporting on-the-ground efforts is one thing that sets Waterlust apart, like their apparel line that supports Get Inspired abalone restoration programs.
"All of us [conservation partners] are doing something," Caruso said. "We're not putting up exhibits and talking about it — although that is important — we're in the field."
Waterlust not only helps its conservation partners financially so they can continue their important work. It also helps them get the word out about what they're doing, whether that's through social media spotlights, photo and video projects, or the informative note card that comes with each piece of apparel.
"They're doing their part for sure, pushing the information out across all of their channels, and I think that's what makes them so interesting," Caruso said.
And then there are the clothes, which speak for themselves.
Advocate Apparel to Start Conversations About Conservation
waterlust.com / @oceanraysphotography
Waterlust's concept of "advocate apparel" encourages people to see getting dressed every day as an opportunity to not only express their individuality and style, but also to advance the conversation around marine science. By infusing science into clothing, people can visually represent species and ecosystems in need of advocacy — something that, more often than not, leads to a teaching moment.

"When people wear Waterlust gear, it's just a matter of time before somebody asks them about the bright, funky designs," said Waterlust's CEO, Patrick Rynne. "That moment is incredibly special, because it creates an intimate opportunity for the wearer to share what they've learned with another."
The idea for the company came to Rynne when he was a Ph.D. student in marine science.
"I was surrounded by incredible people that were discovering fascinating things but noticed that often their work wasn't reaching the general public in creative and engaging ways," he said. "That seemed like a missed opportunity with big implications."
Waterlust initially focused on conventional media, like film and photography, to promote ocean science, but the team quickly realized engagement on social media didn't translate to action or even knowledge sharing offscreen.
Rynne also saw the "in one ear, out the other" issue in the classroom — if students didn't repeatedly engage with the topics they learned, they'd quickly forget them.
"We decided that if we truly wanted to achieve our goal of bringing science into people's lives and have it stick, it would need to be through a process that is frequently repeated, fun, and functional," Rynne said. "That's when we thought about clothing."
Support Marine Research and Sustainability in Style
To date, Waterlust has sold tens of thousands of pieces of apparel in over 100 countries, and the interactions its products have sparked have had clear implications for furthering science communication.
For Caruso alone, it's led to opportunities to share her abalone restoration methods with communities far and wide.
"It moves my small little world of what I'm doing here in Orange County, California, across the entire globe," she said. "That's one of the beautiful things about our partnership."
Check out all of the different eco-conscious apparel options available from Waterlust to help promote ocean conservation.
Melissa Smith is an avid writer, scuba diver, backpacker, and all-around outdoor enthusiast. She graduated from the University of Florida with degrees in journalism and sustainable studies. Before joining EcoWatch, Melissa worked as the managing editor of Scuba Diving magazine and the communications manager of The Ocean Agency, a non-profit that's featured in the Emmy award-winning documentary Chasing Coral.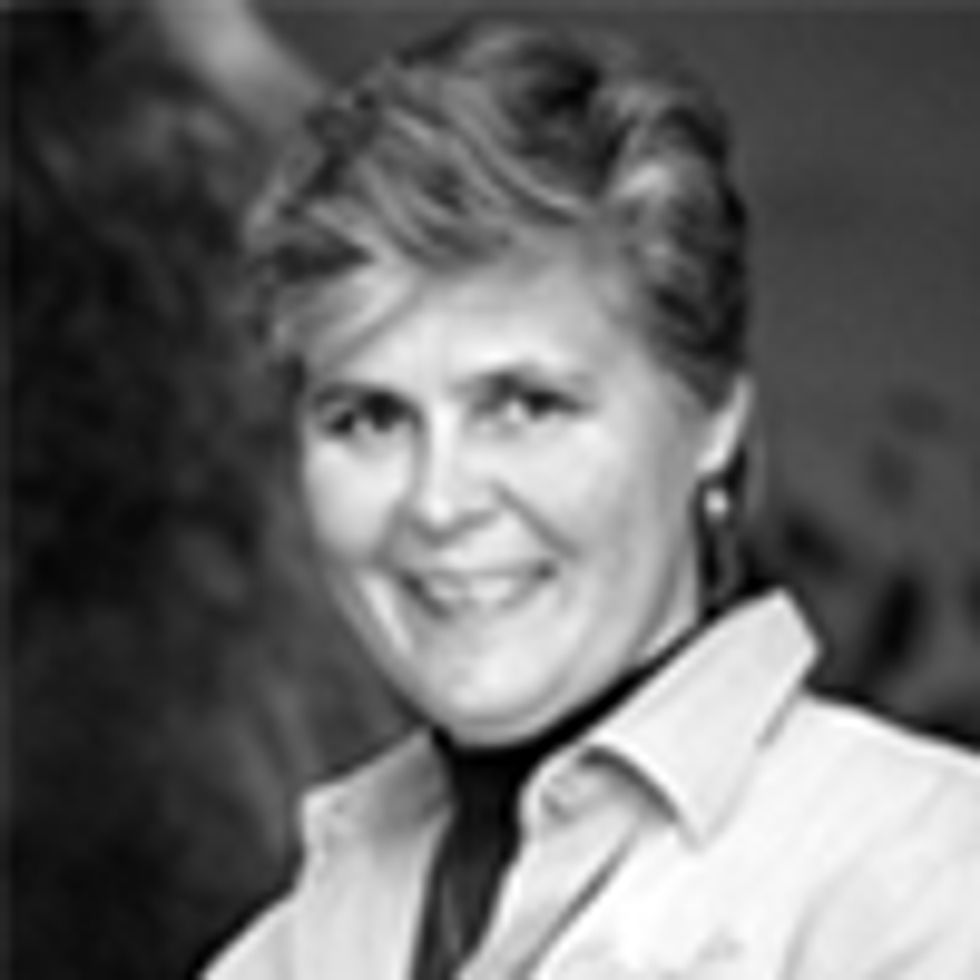 I landed in China safely. Shortly after I arrived in Nanjing, we went sight seeing at a site with a coal plant, a coking plant and a cement factory all next door to each other and along the Yangtze River. The air and the water surrounding the site was not very pleasant.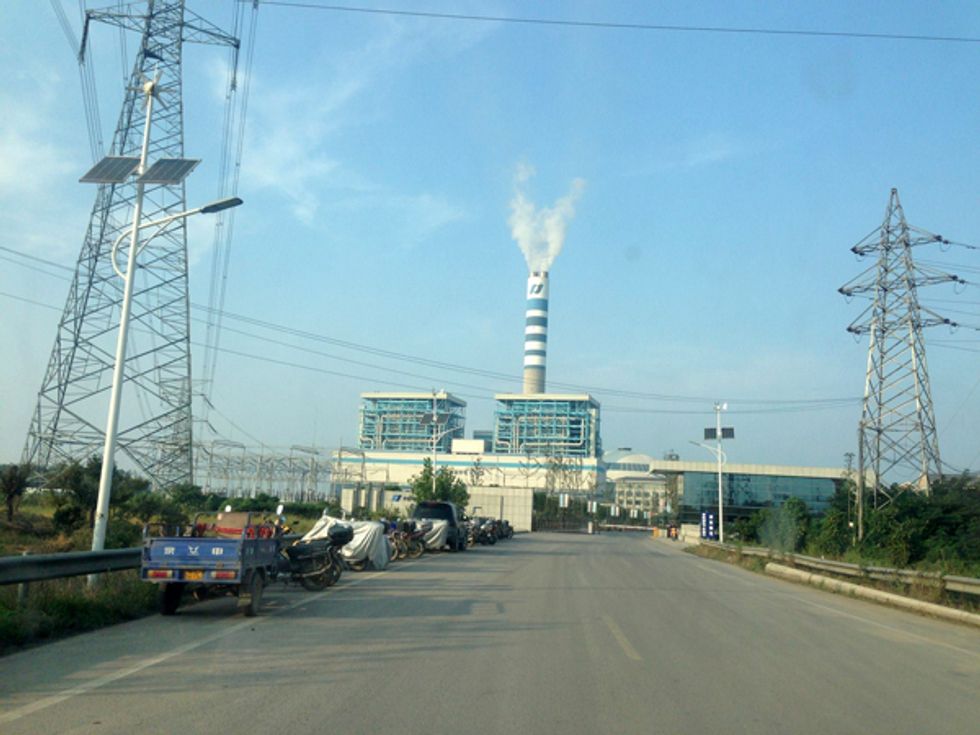 The next day, Hao, Qingwei and I spoke at a school and then later we gave a presentation to a group of people living in a gated multi-million dollar green development. Sixty percent of the property was wooded. It had forests, ponds and trails. The least expensive house was about 3 million dollars.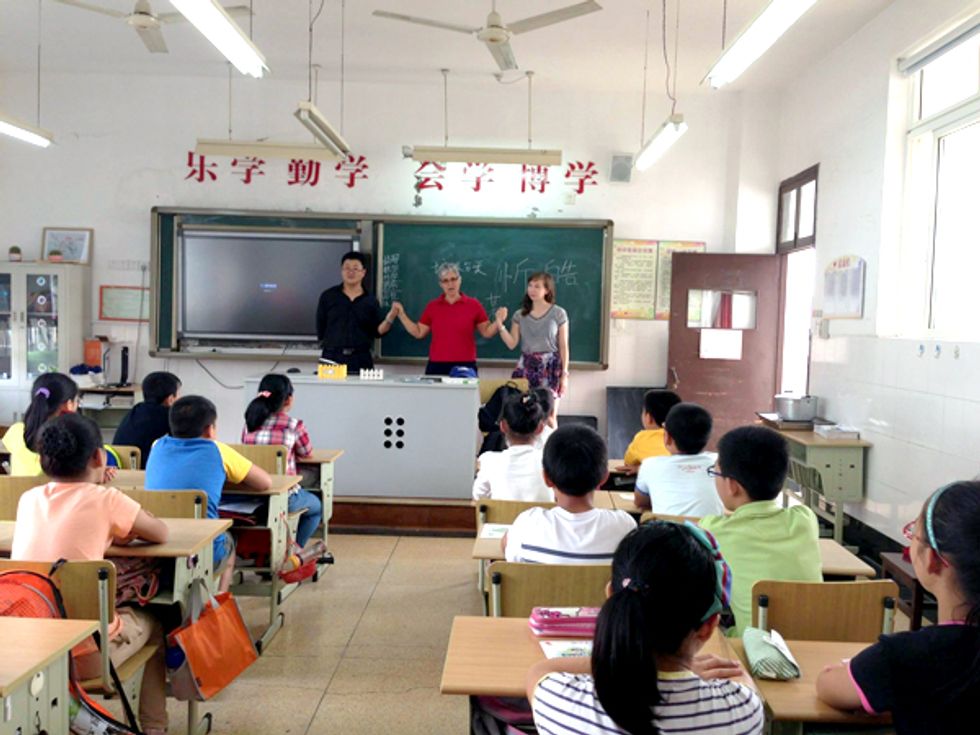 In China, only the very rich can afford to live in "green" developments. Clean water and slightly cleaner air is something you have to pay a lot of money to get. They are selling points and treated like amenities for marketing purposes. I felt like I was a character in a dystopian novel. I started my travels in the poisoned air, land and and water of the coal facilities—a horrifically ugly, toxic industrial wasteland. From there I went to a school where 6th graders were learning about environmental stewardship in a country that doesn't do that very well—a little sea of hope for the future. And then to the rich green development where the elite have their own little 600 acre green reserve all to themselves.
The uniformed guards at the gates snapping to attention to salute all who enter and keep those out who can't pay the price to have trees, clean air and water. Only it wasn't a novel. It was just two days in my real life as a warrior for our only planet home.
As I sit here this morning at a desk in the office of our Qiantang River Waterkeeper, I find myself wishing I could speak Chinese so I could talk to the people who are not rich and who can't afford access to a green enclave. I want to ask them whether this is the future they want for their children. Where the haves and the have nots are segregated into those who get trees, clean air and water, and those who are slowly and systemically poisoned.
YOU MIGHT ALSO LIKE
How Cheap China-Manufactured Goods Impact U.S. Air Quality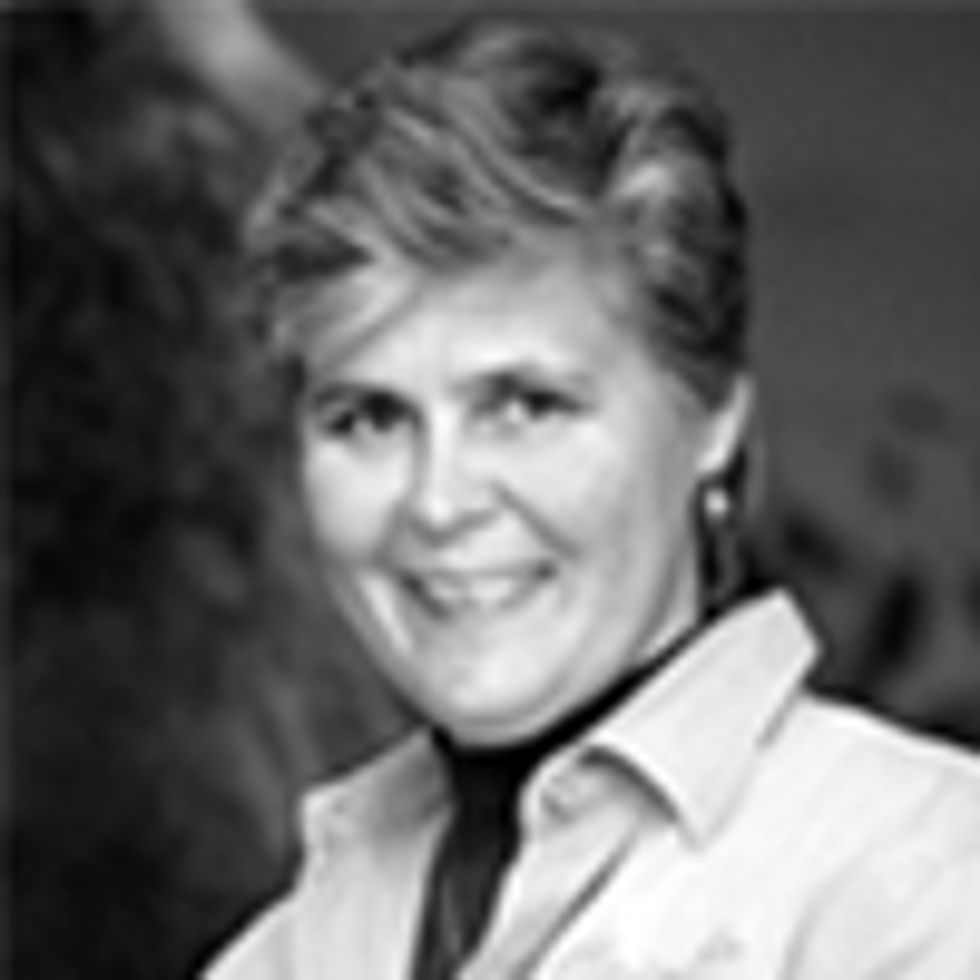 This video provides the best explanation I have ever heard of how increasing carbon in the atmosphere changes the weather. It helped me understand the carbon-climate connection at an all new level. It also explains why the release of arctic methane is an important tipping point.
For those of you who enjoy learning from the world's top scientists about something that will change your life and the future of your children and grandchildren, this is an important video to watch. Please watch it and then share it with others.
Scientists featured in the film include:
Jennifer Francis, PhD. Atmospheric Sciences
Institute of Marine and Coastal Sciences, Rutgers University.
Ron Prinn, PhD. Chemistry
TEPCO Professor of Atmospheric Science, Massachusetts Institute of Technology.
Natalia Shakhova, PhD. Marine Geology
International Arctic Research Center, University of Alaska-Fairbanks.
Kevin Schaefer, PhD.
Research Scientist, National Snow and Ice Data Center.
Stephen J. Vavrus, PhD. Atmospheric Sciences
Center for Climatic Research, University of Wisconsin-Madison
Nikita Zimov
Northeast Science Station, Russian Academy of Sciences
Jorien Vonk, PhD. Applied Environmental Sciences
Faculty of Geosciences, Utrecht University
Jeff Masters, PhD. Meteorology
Director, Weather Underground
You Might Also Like
Methane Blow-Holes Sign of Runaway Climate Change?
10 Biggest Threats to Human Existence
Groundwater Disappearing Much Faster Than Lake Mead in Colorado River Basin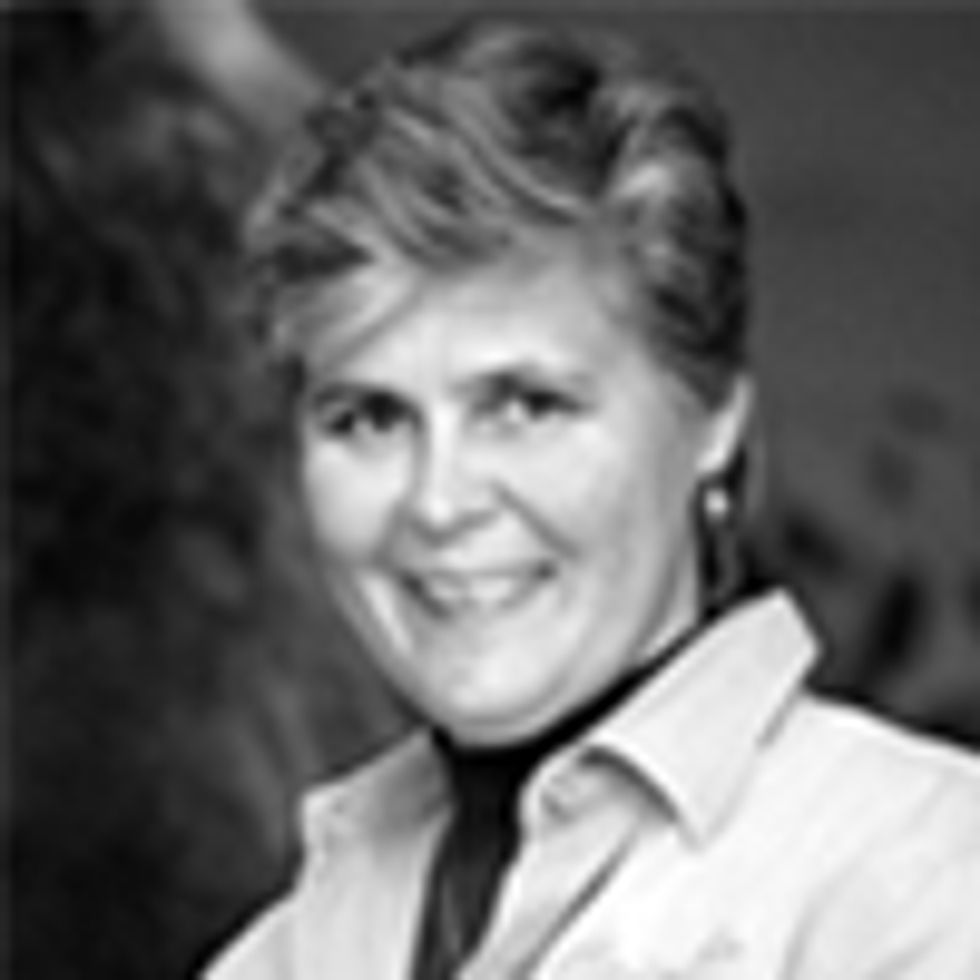 Scientists think this mysterious crater may be a giant methane blow-hole that signals the beginning of runaway climate change.
They are calling the point when frozen arctic methane in Canada, Alaska and Russia starts erupting into the atmosphere dragon burps.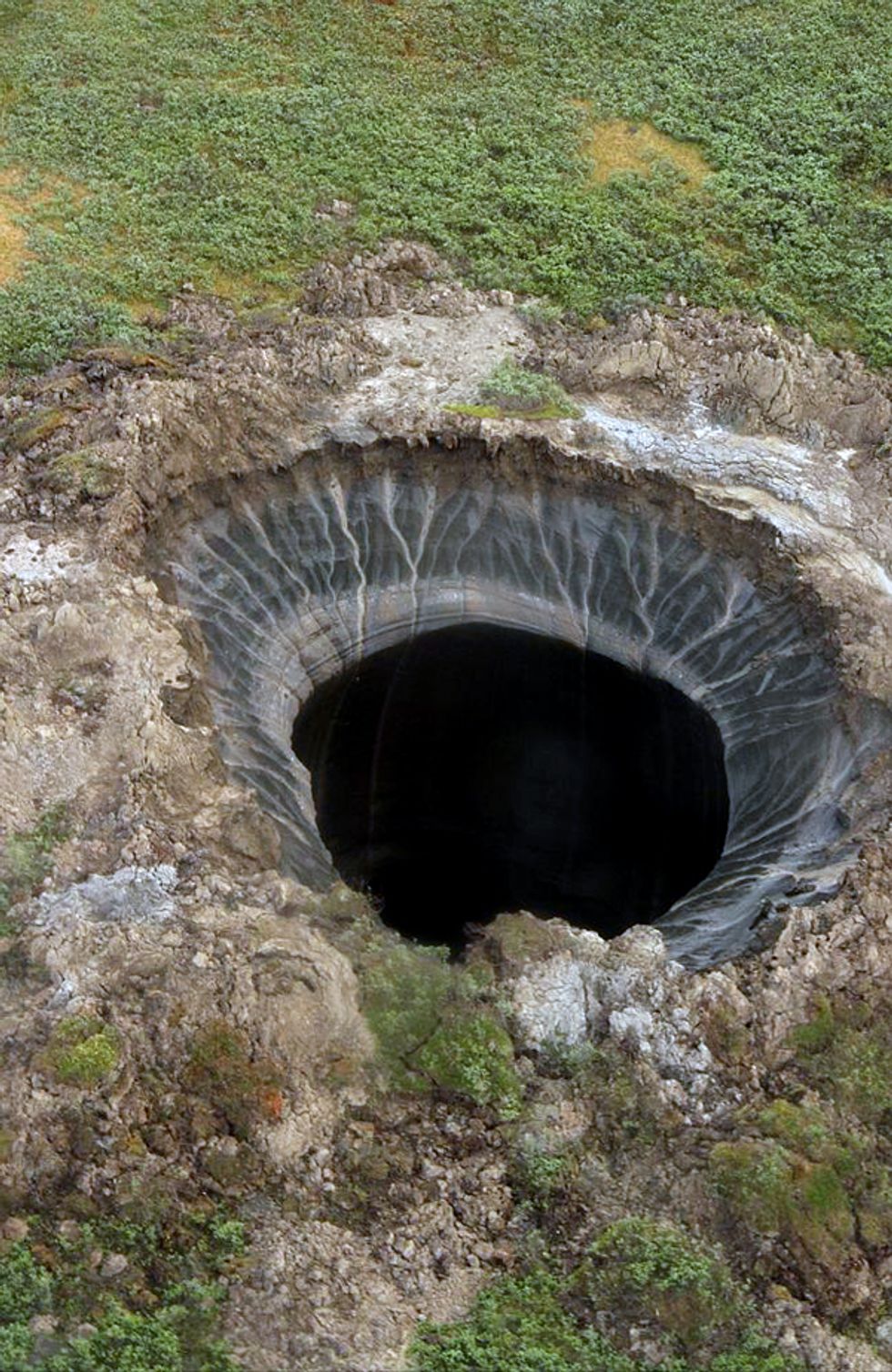 Check out this story that contains graphs showing such elevated methane levels that they labeled them WTF.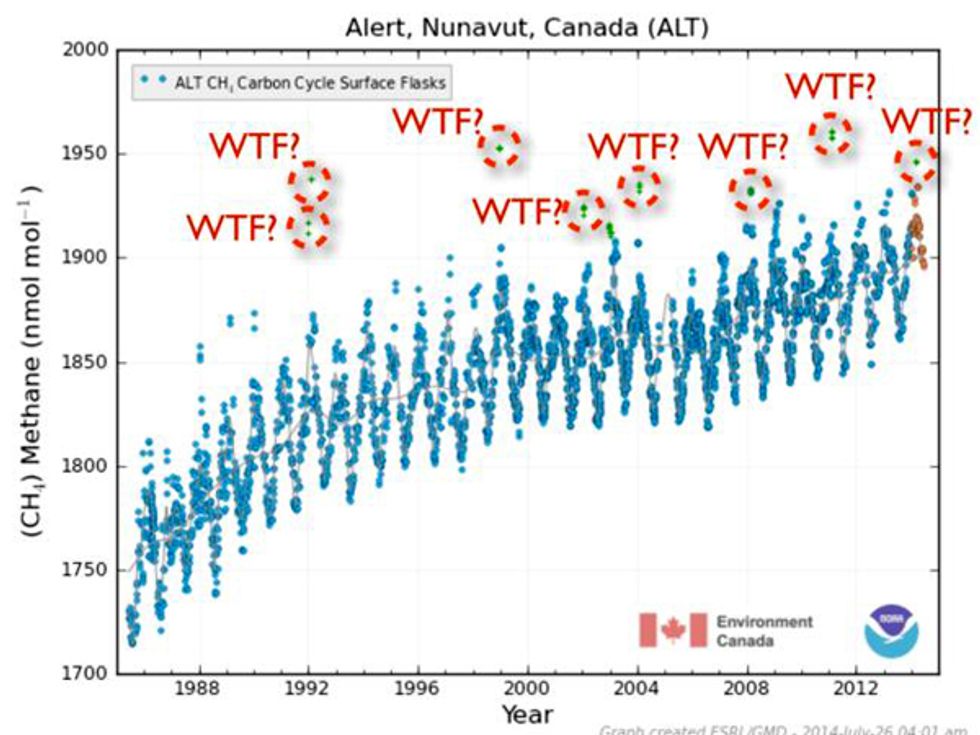 If you have ever wondered whether you might see the end of the world as we know it in your life time, you probably should NOT read this story nor study the graphs or look at the pictures of methane blow holes aka dragon burps.
I think Dr. Jason Box, who has highlighted the appearance of dangerous spikes in methane above Siberia, sums it up best, "If we don't get atmospheric carbon down and cool the Arctic, the climate physics and recent observations tell me we will probably trigger the release of these vast carbon stores, dooming our kids' to a hothouse Earth."
You Might Also Like
Fracking Makes California's Drought Worse
10 Biggest Threats to Human Existence
Groundwater Disappearing Much Faster Than Lake Mead in Colorado River Basin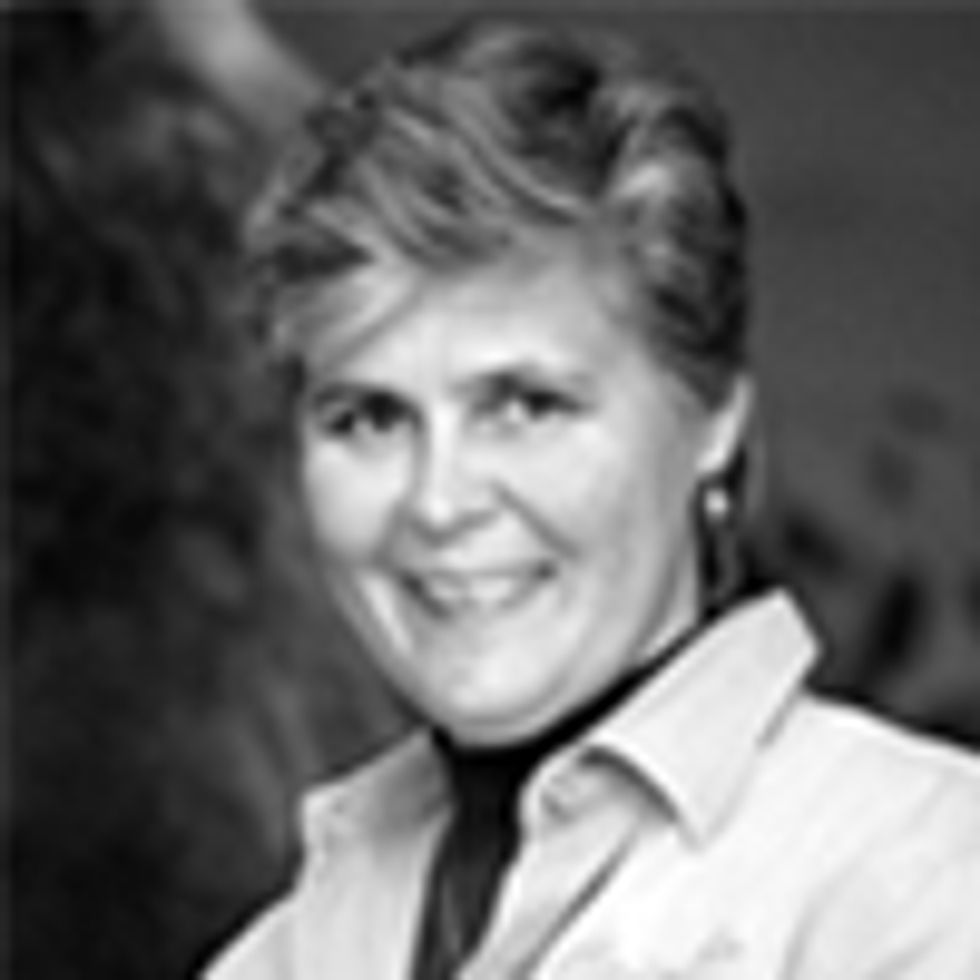 For four years, Waterkeeper Alliance and our North Carolina Riverkeepers have been locked in a pitched battle with Duke Energy to force the irresponsible company to clean up its dangerous, illegally polluting ash ponds which we call toxic ash holes. In 2009, I traveled to Raleigh to meet with the Aquifer Protection Section of the North Carolina Department of Natural Resources (DENR). My hope was to find an ally who had a plan to address the 14 coal ash ponds sites in NC. Every one of these coal ash ponds were contaminating ground water at levels that exceeded state standards. I was hopeful that DENR would be an ally and work with us.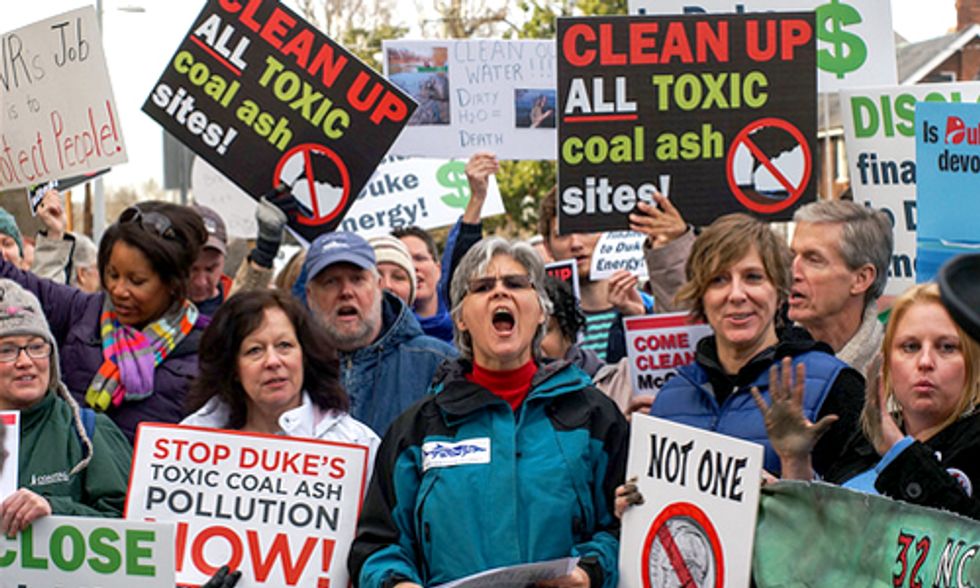 Waterkeeper Alliance was at the Governor's Mansion in Raleigh, NC on Wednesday March 5, with a whole lot of North Carolina voters and tax payers to demand clean up of Duke Energy's toxic ash holes. Photo Credit: Pete Harrison, Waterkeeper Alliance
In meetings with Ted Bush, Debra Watts, Betty Wilcox and others at DENR about their plans to require clean up of toxic ash holes; I asked them about specific provisions in North Carolina groundwater law which required Duke and Progress Energy to:
immediately notify the division of the activity that has resulted in the increase and the contaminant concentration levels;
take immediate action to eliminate the source or sources of 
contamination;
submit a report to the director assessing the cause, 
significance and extent of the violation; and
implement an approved corrective action plan for restoration 
of the groundwater quality in accordance with a schedule 9
After I left the meeting I knew that on all four counts, DENR had failed to require the utilities to do what was mandated by North Carolina law. There were no plans for immediate action to eliminate the source of contamination even though DENR knew the toxic ash holes had been contaminating ground water for years. There were no reports and no corrective action plans. DENR just blithely ignored the law and had no plans to make either Duke or Progress clean up the problem. My hopes for DENR as an ally for justice, were totally quashed at this point.
So Waterkeeper Alliance and the North Carolina Riverkeepers got busy educating the people of North Carolina that Duke and Progress Energy's toxic ash holes were contaminating North Carolina water from the mountains to the sea. My first sampling trip to quantify the extent of the contamination was in 2010 with French Broad Riverkeeper Hartwell Carson. Our testing found water, sediment and fish contaminated with coal ash toxins in the French Broad River right below the Asheville coal ash pond discharge. Then our Catawba Riverkeeper, Sam Perkins began sampling illegal leaks from the Riverbend's toxic ash holes. A short while later, I spent two days with Kemp Burdette, our Cape Fear Riverkeeper sampling Sutton Lake for coal ash contamination.
By October of 2012 we had gathered enough evidence to know for certain that Duke's toxic ash holes were contaminating both groundwater and surface water across the state. We also knew DENR was not going to do its job of protecting the people and waterways of NC from that contamination. Therefore we asked the Southern Environmental Law Center (SELC) to represent us and begin filing legal challenges under both state and federal law to compel Duke and DENR to clean up the contamination. 
DJ Gerken was the first SELC lawyer to answer our call. He and his colleagues in the Asheville SELC office undertook a comprehensive review of the very same groundwater law I reviewed with DENR in 2009. They came to the same conclusion I did. North Carolina law plainly said that immediate action to eliminate the source of contamination was required; so on Oct. 10, 2012, DJ Gerken and the Southern Environmental Law Center filed a petition on behalf of Waterkeeper Alliance, French Broad Riverkeeper, Cape Fear Riverkeeper and the Sierra Club asking the North Carolina Environmental Management Commission to direct DENR to do its job and compel Duke and Progress Energy to clean up their toxic ash holes.
Our first North Carolina coal ash legal action was met with unified opposition by Duke Energy and DENR. They teamed up against us and argued before the EMC and later in front of Judge Ridgeway in 2013 under the McCrory administration that our interpretation of North Carolina law was wrong. Duke's spokesperson, Erin Culbert repeatedly attempted to denigrate the data we collected and our use of Duke's own ground water monitoring data as emotion. Specifically she said, "These special interest groups rely on emotion, not facts, to advance their mission to phase out coal. They will not be satisfied with anything less than a complete excavation of ash from our sites."
When Duke Energy could not deny the fact that their illegally leaking ash holes were contaminating North Carolina ground water and surface water with a whole stew of toxic heavy metals, they used the despicable tactic of shooting the messenger. They accused us of using "emotion, not facts" even though for four years Waterkeepers had been consistently presenting facts to DENR, news reporters and the public.
Yesterday, Duke and DENR's four year failure to do what is required by North Carolina law and ignoring the unified voice of the all the Waterkeepers in North Carolina finally hit a brick wall. Judge Ridgway looked at facts and the law, not emotion. In a landmark decision, he agreed with the Waterkeepers, Sierra Club and the Southern Environmental Law Center.
He found that both DENR and EMC were wrong to shield Duke Energy from immediate action to clean up their toxic ash holes and that they "erred as a matter of law." Specifically he said, "It is plainly erroneous and inconsistent with the regulation for the EMC to interpret the 2L Rule to require or permit anything other than 'immediate action to eliminate the source or sources of contamination.'"
Waterkeeper Alliance calls on Duke Energy and DENR to stop wasting time and do what we have asked you to do over and over again for the last four years—take immediate action to clean up all 37 of North Carolina's leaking coal ash ponds. Four years of whining, making excuses and doing nothing is enough. It is past time for you take responsibility and clean up all the illegal, water polluting ash holes before we have another catastrophe like the Dan River disaster.
Check out these three galleries giving a photographic overview of the Duke Energy coal ash spill: 
[blackoutgallery id="320474"]
[blackoutgallery id="321362"]
[blackoutgallery id="320266"]
Visit EcoWatch's COAL and WATER pages for more related news on this topic.

[This is the second article in a four-part series. Read part one, read part three, read part four.]
In the wake of what may be the third largest coal ash spill in U.S. history, Waterkeeper Alliance deployed a disaster response team to assess the damage and monitor remediation efforts by Duke Energy and the of North Carolina Department of Environment and Natural Resources.
The team, which included staff from Waterkeeper Alliance, Yadkin Riverkeeper and Catawba Riverkeeper, took to the air, land and water to track the situation at the spill site and downstream on the Dan River. Paddling in kayaks to the spill site, team members collected samples of water that are being analyzed for heavy metals and other pollutants found in coal ash.
The spill began the afternoon of Sunday, Feb. 2 when a stormwater pipe broke underneath the 27-acre primary pond and drained to the Dan River. Although state regulators and Duke Energy scrambled to get the spill under control on Sunday, they waited more than 24 hours before notifying the public of the spill on Monday evening. By then, an estimated 82,000 tons of coal ash and 27 million gallons of contaminated water had dumped into the Dan River, a public drinking water supply for downstream communities like Danville, VA. Tuesday late afternoon, more than 48 hours after the spill was discovered, thick, dark gray toxic coal ash sludge continued to flow out of the pipe into the river.

Toxic coal ash sludge continued to flow out of the pipe Tuesday afternoon, more than 48 hours after the spill was discovered:
Paddling in kayaks to the spill site, team members collected samples of water that are being analyzed for heavy metals and other pollutants found in coal ash:
Stormwater pipe spewing coal ash into the Dan River:
On Tuesday afternoon, the Waterkeeper team discovered that the Dan River had turned completely gray as it mixed with the spilled coal ash waste. The pollution plume continues to move downstream into Virginia where public drinking water providers are "treating" the water drawn from the river to remove the pollutants before piping it to families and businesses. In what would appear to be a premature moment of celebration, Danville Utilities issued a press release Monday evening with the headline "Danville Utilities successfully treats ash spill into Dan River." On Tuesday evening, however, the utility had changed its tone, updating its statement and admitting that it had not even received water sample results until Tuesday evening.
As rain began to fall on Tuesday evening in the area of the spill, Waterkeeper's aerial and marine investigations discovered that Duke has still not constructed any containment systems to stop more ash from entering the river. Duke initially reported the spill volumes of 50,000 to 82,000 tons and up to 27 million gallons.
After Waterkeepers initiated enforcement actions for illegal coal ash water pollution at two Duke Energy coal plants in North Carolina last year, the state filed lawsuits accusing Duke of illegal pollution discharges from leaks in its coal ash ponds at all 14 of its coal-fired power plants in the state of North Carolina. This includes Duke's Dan River Steam Station in Eden, NC, about 30 miles north of Greensboro. Duke stopped generating electricity at the coal plant in 2012, however the ash remains impounded at the site.
While Duke continues to drag its feet and the state of North Carolina declines to require meaningful action, utilities in South Carolina have settled enforcement actions by Waterkeepers to clean up these dangerous ponds. "Why should South Carolinians receive better water protection than North Carolinians?" asked Catawba Riverkeeper Sam Perkins.
Water samples taken from the Dan River are at the lab. Check back with EcoWatch as Waterkeeper Alliance provides the results of those tests.
[This is the first article in a four-part series. Read part two, read part three, read part four.]
Yesterday afternoon, Duke Energy reported that it spilled between 50,000 to 82,000 tons of coal ash into the Dan River near Eden, NC. To put the volume in perspective, the spill is the equivalent of 413 to 677 rail cars of wet coal ash poured into a public drinking water source. The spill is located on a stretch of the Dan River between Eden, NC and Danville, VA. An estimated 22 million gallons of coal ash could already be in the Dan River moving downstream.

Equally disturbing is that neither Duke Energy nor any of the government regulators issued a press release and informed the public about this massive spill until 24 hours after it was discovered. If a freight train full of this toxic waste had derailed, there would have been immediate notification and quick news coverage in order to inform and protect the public. The delay in reporting this spill is inexcusable.
A security guard who noticed unusually low water in the ash pond at the shuttered coal plant led to the discovery of the spill. This means most of the water had escaped and contaminated the river before anyone at Duke noticed.
Upon investigation, Duke discovered that a 48-inch stormwater pipe underneath the unlined 27-acre, 155-million-gallon ash pond broke Sunday afternoon and drained tens of thousands of tons of coal ash and water into the Dan River.
How could they have missed such a large volume of waste spewing out of their ash pond? Especially since the town of Danville, VA withdraws drinking water just 6 miles downstream.
This coal ash spill appears to be the third-largest in U.S. history. In 2008, a billion gallons of ash slurry spilled at a Tennessee Valley Authority power plant in Tennessee.
In 2009, Duke Energy was warned by the Environmental Protection Agency (EPA) that its 53-year old Dan River ash pond dams were a high hazard. EPA inspections in September of 2009 found them leaking and sloughing sizable sections off the dam.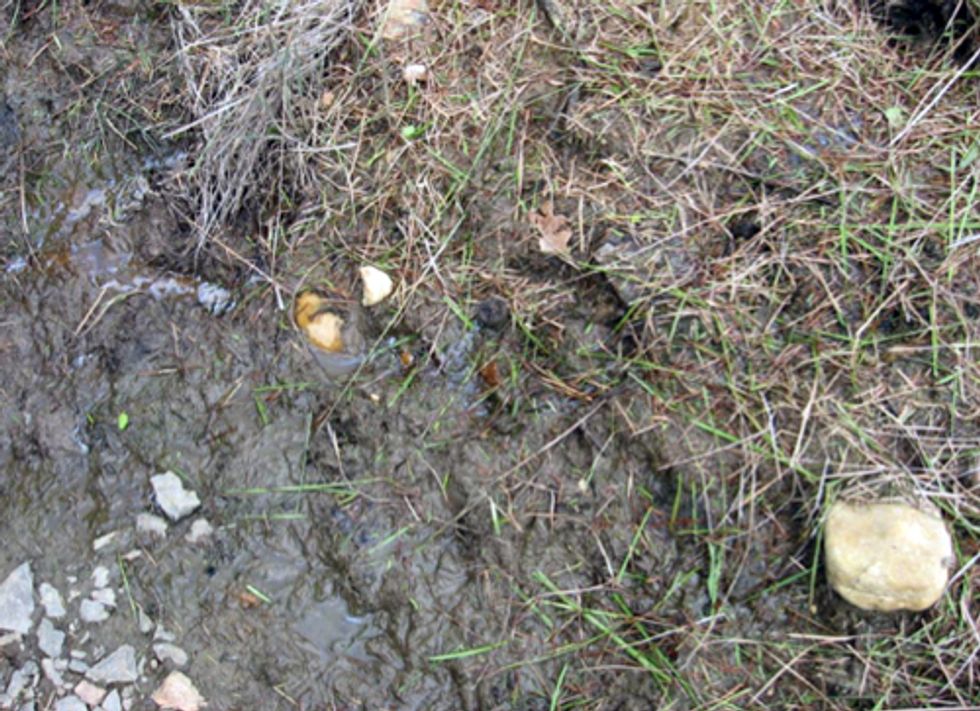 But that's not all the EPA inspectors found at the Dan River plant. They also found these mangled, dilapidated and poorly maintained storm water pipes with chain link fence falling down on top of them.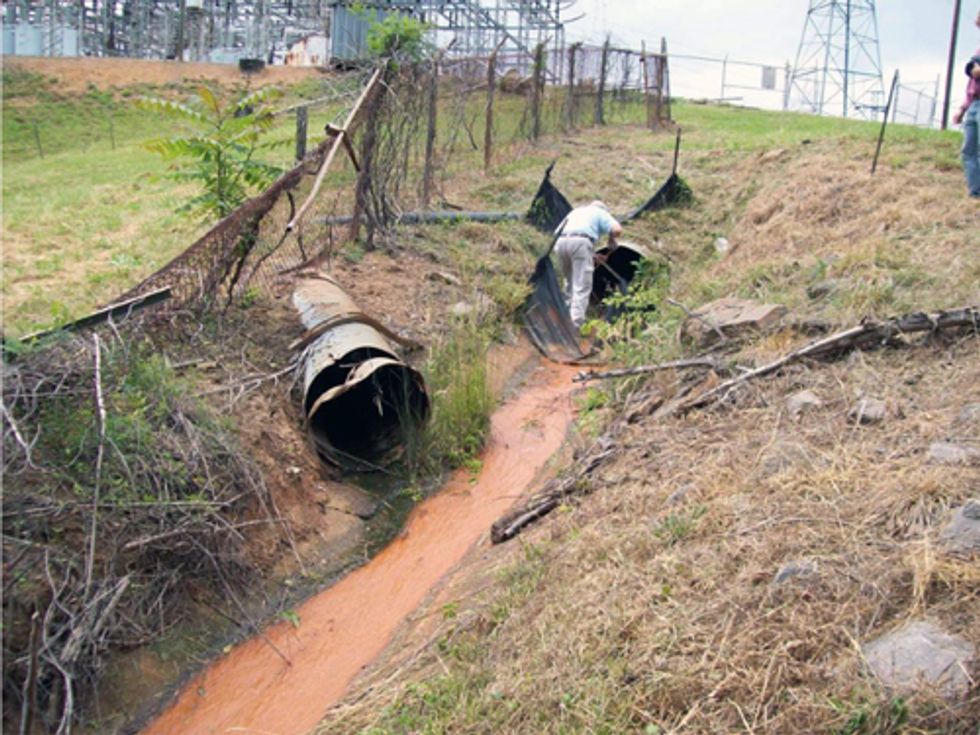 And some stumps in the ash pond dams where they are prone to rot and allow coal ash to leak: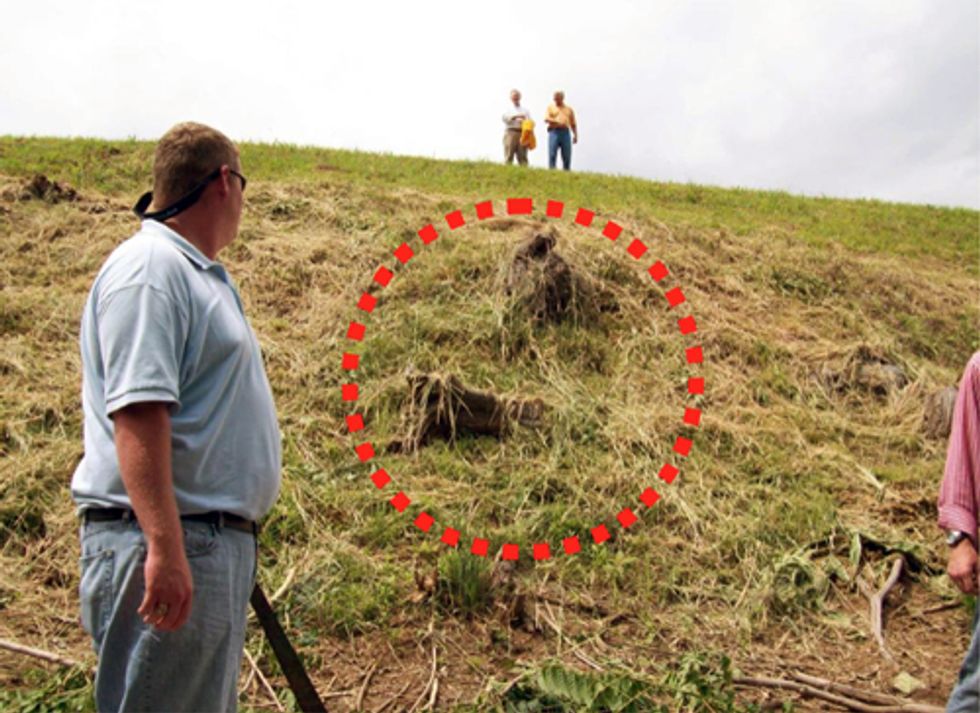 Given this history at the site, should we be surprised that a trainload of waste suddenly cascaded through an old storm drain before anyone at Duke Energy even noticed?
Waterkeeper Alliance and our local Waterkeepers in North Carolina have filed legal action against Duke Energy over leaking coal ash ponds, which have been poisoning groundwater and surface water across the Tar Heel state for decades. The state of North Carolina then sued Duke over ash handling at all of its North Carolina coal plants.
While utilities in South Carolina have settled Waterkeeper lawsuits and started cleaning up their leaking ash ponds, Duke has refused to responsibly address their ongoing contamination of public water supplies. Now their epic failure to do the right thing for the integrity and safety of public water has reached an all-time low. If Duke would step up and close all their ash ponds, many downstream communities would be safer. Waterkeeper Alliance urges Duke to put the safety of the public and our waterways first.
The Dan River coal ash spill is the latest in a series of wake-up calls about this mounting public health and environmental crisis.
Visit EcoWatch's COAL and WATER pages for more related news on this topic.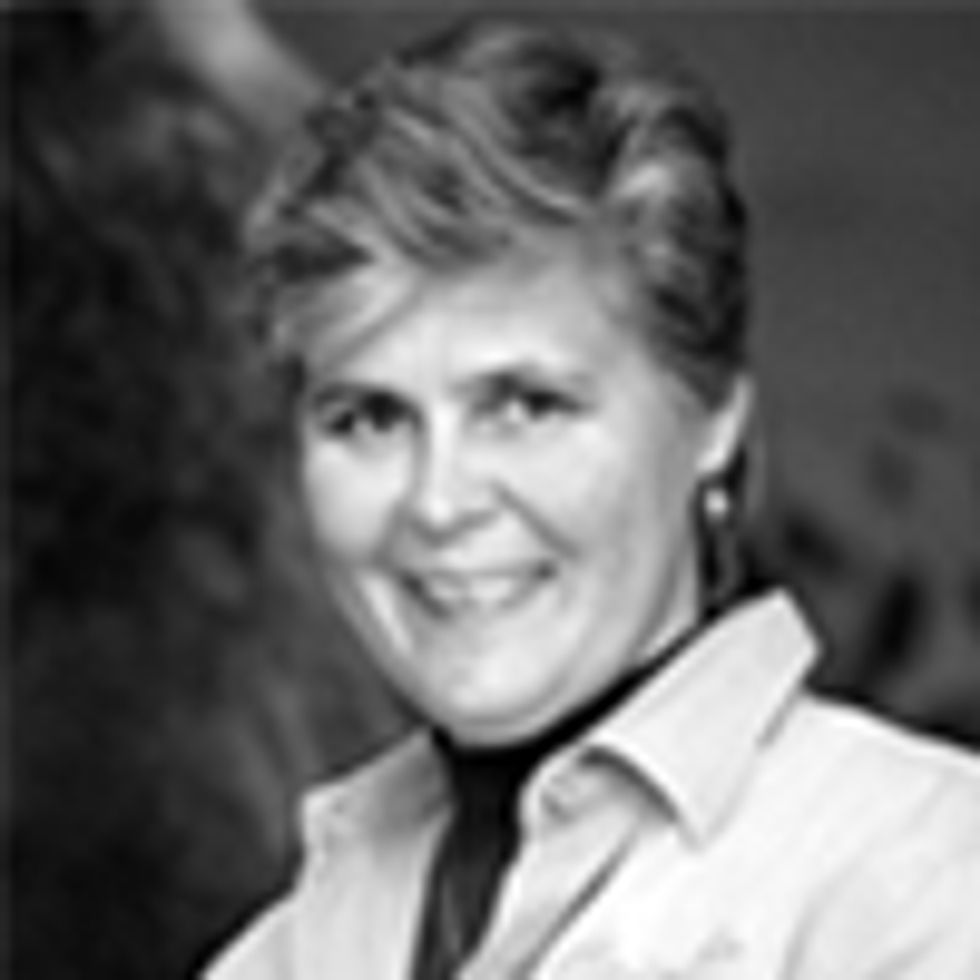 Do you take sugar in your morning coffee? How about 4-methylcyclohexane methanol? 
A large spill of a chemicals used to remove impurities from coal occurred Thursday in Charleston, WV, contaminating the Elk River less than a mile upstream of the intake for the state's largest drinking water treatment plant. As many as 300,000 West Virginia residents in nine counties have been told not to bathe, cook or wash clothes using their tap water, and numerous schools, hospitals and nursing homes, restaurants and other businesses are without water. President Obama and West Virginia Gov. Earl Ray Tomblin declared a state of emergency today.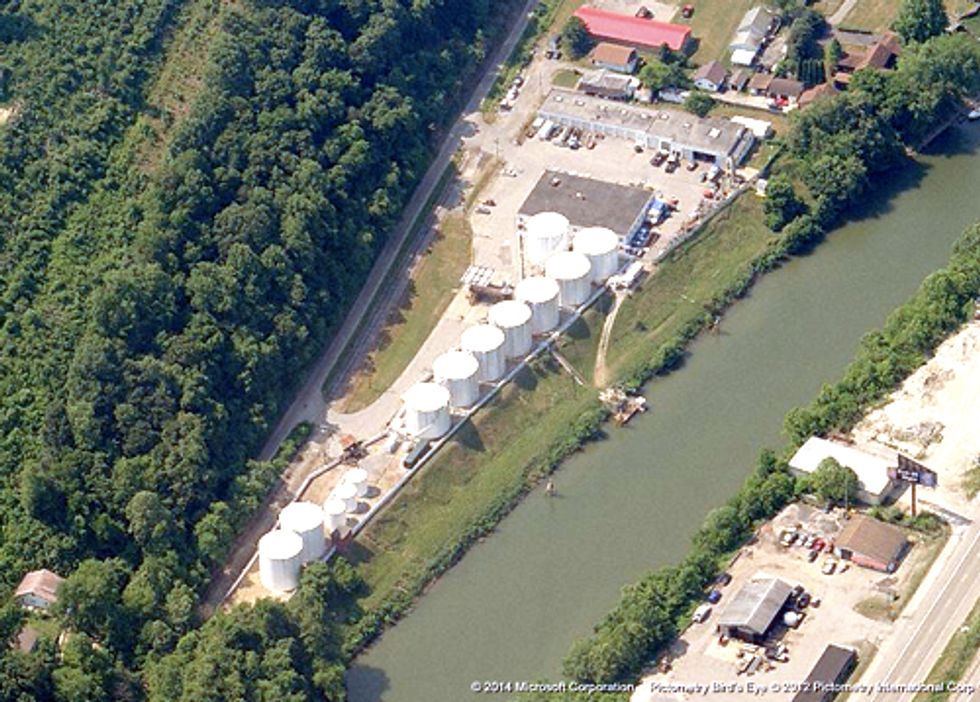 For some, the warnings may have come too late. The Charleston Area Medical Center reported this morning that it had already begun to treat people complaining of contamination-related illnesses. By late Friday, The Guardian reported that 671 people were so ill that they called into the poison control center with reports of vomiting, dizziness, nausea, headaches, diarrhea, reddening skin, itches and rashes. 
Responding to citizen reports about a licorice odor in downtown Charleston, staff from the West Virginia Department of Environmental Protection's Division of Air Quality discovered the foaming agent 4-methylcyclohexane methanol, or MCHM, leaking from a 35,000-gallon storage tank into the Elk River. The facility is owned by Freedom Industries a subsidiary of Etowah River Terminal, LLC. The spill had not been reported by the company. It's still unclear how much of the chemical spilled into the river or how long the advisory will last.
Convenience and grocery stores have sold out of water. After reports that people had begun looting bottled water, armed National Guard troops had to escort and stand guard over a truck carrying clean water to a distribution point set up in the Charleston Civic Center.
"It's like a zombie apocalypse here," said Charleston resident Barbara Paxton. "The scary thing is at 10:30 a.m. yesterday, I read online that there was a smell in the area, and they were 'investigating.' I did not know until 5 in the evening that I was not supposed to use the water."
According to Cindy Rank, West Virginia Headwaters Waterkeeper:
"[w]hat is … astounding is that the chemicals leaking from this facility are used in the coal washing process at sites throughout West Virginia—sites where nearby communities which depend on local sources of surface and ground water are frequently told the chemicals being used are harmless, or [no worse than] commonly used household products. People in these communities live in fear that accidental releases of such chemicals will destroy the water in wells and springs they use daily and it appears their fears are well founded. This situation unacceptable."
"Clean water is essential for life. We cannot cut corners in ensuring that our drinking water supply is protected," said Angie Rosser, executive director of the West Virginia Rivers Coalition. "There is too much at stake—our health, our economic stability, our confidence in water security. We hope that once the immediate crisis phase is over, serious thought will go into meaningful reforms and investment in protecting our rivers and streams that are our lifeline."
The question remains, who will foot the bill for the cleanup and the economic losses caused by the spill?
Residents are being told that they are at risk, but solutions seem limited to allowing the river to "flush" the chemical out of the area.
"It's in my hot water tank. Am I going to have an extremely large water bill because I've got to let everything run? And if it does run, is there going to be residue in my pipes?," asked Paxton. She is not only concerned for her community, but for what may be happening downstream. "My concern is that it's the Elk River, Ohio River, Mississippi River, ocean. What are they telling people downstream?"
Our continuing dependence on fossil fuels as a source of "cheap" energy has many costs that are not reflected in our power bills and prices at the pump. In addition to billions of dollars in environmental damage, the Charleston spill illustrates another example of the coal industry imposing the costs of its inherently dirty practices on Americans, not to mention poisoning the water supplies of hundreds of thousands of people. This spill demonstrates yet again that "clean coal" is a dirty lie.
"At times like these assurances that public water supplies are guaranteed safer and cleaner than the local streams, springs and wells many of us rely on daily sound as empty as the wind whistling through the trees," said Rank.
Visit EcoWatch's COAL and WATER pages for more related news on this topic.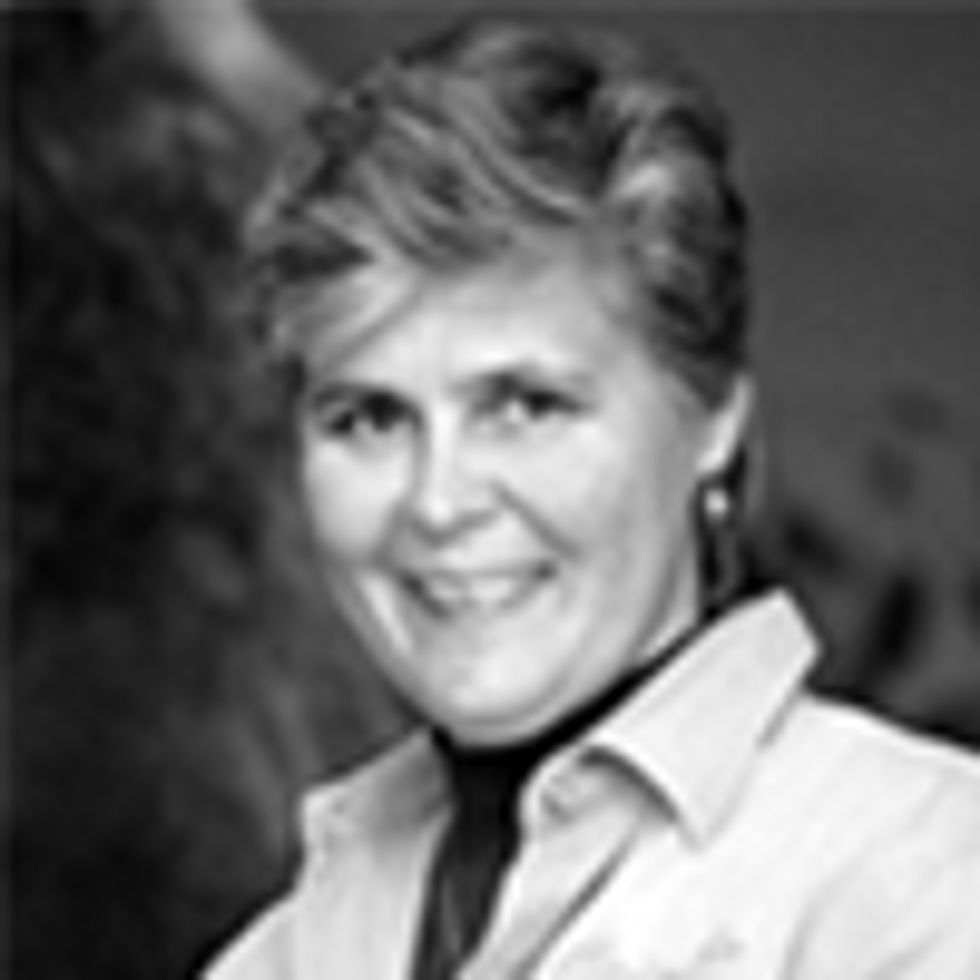 Will a death toll of 900,000 be the body count it takes for the public to finally say enough, already? Or will it also take another set of grisly photographs of maimed bodies, deformed skulls, misshapen mouths and twisted spines?
The breaking news out of Wilmington, NC today has both.
Unfortunately, this latest episode is not a single, isolated incident. It is but the latest attack by a serial killer that has taken thousands of lives all across the country, on what has become a nearly 30-year killing spree. The culprit is notorious; the whodunit was solved decades ago. Yet, authorities allow the mayhem to go on, so the death and destruction continues unabated.
A new study confirms that Duke Energy's toxic coal ash pollution is killing more than 900,000 fish and deforming thousands more each year in Lake Sutton, a popular fishing destination just outside of Wilmington, NC. Dr. Dennis Lemly, Research Associate Professor of Biology at Wake Forest University and a leading expert on selenium poisoning conducted the study. He analyzed more than 1,400 fish from the lake and found disturbing mutations of the heads, mouths, spines and tails in several species of fish. Here are just seven of the 18 photos of deformed fish that were included in the study report.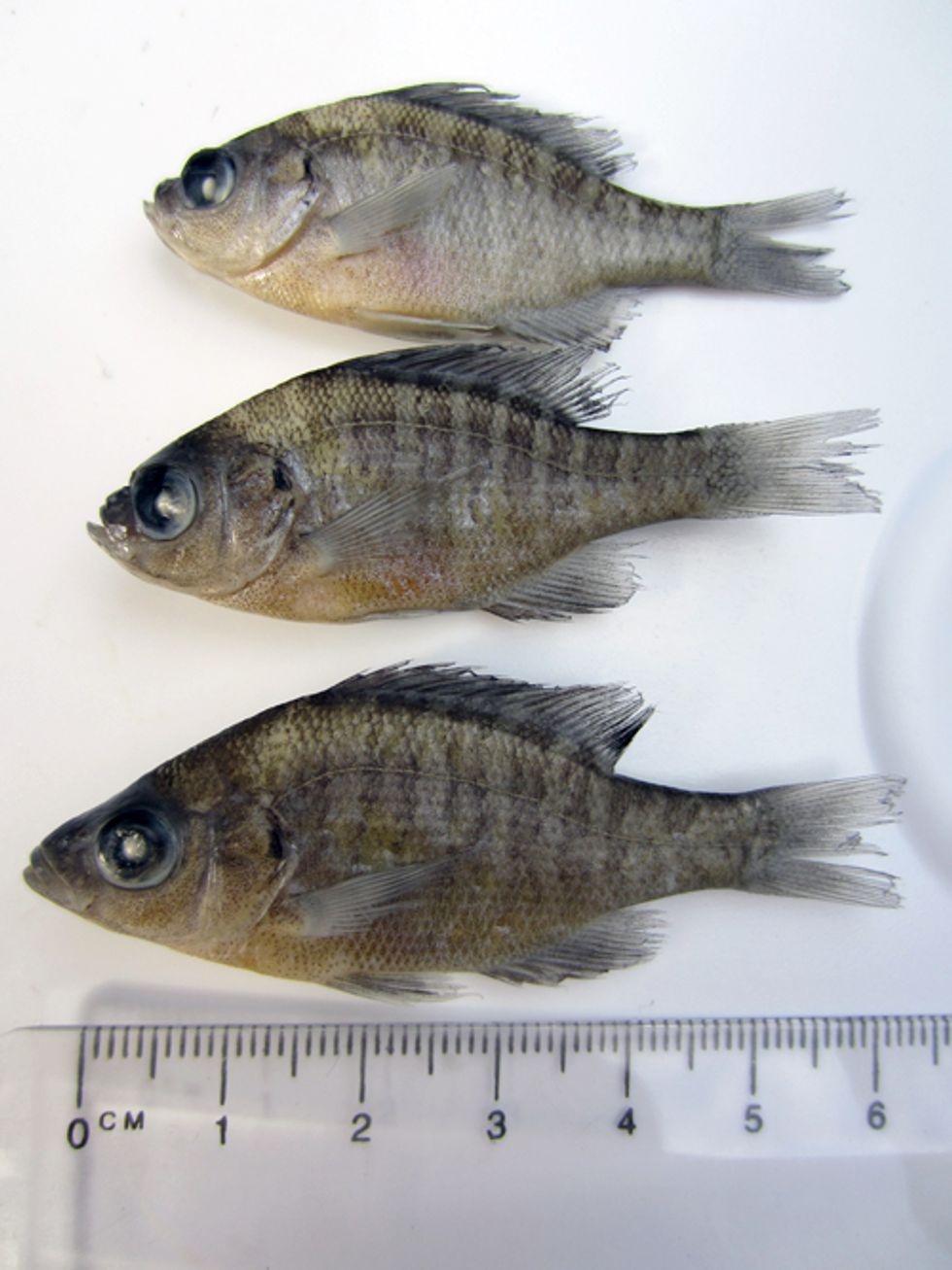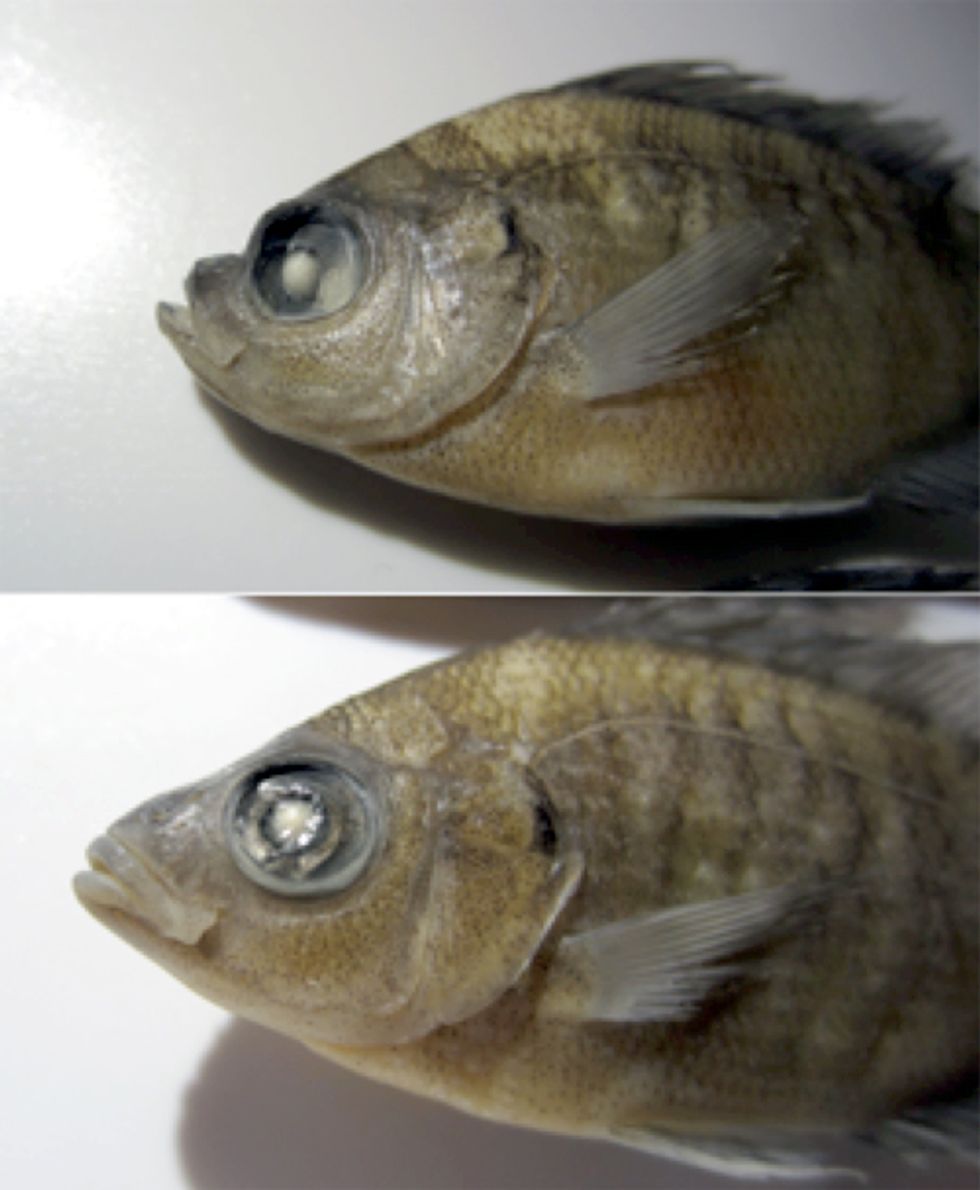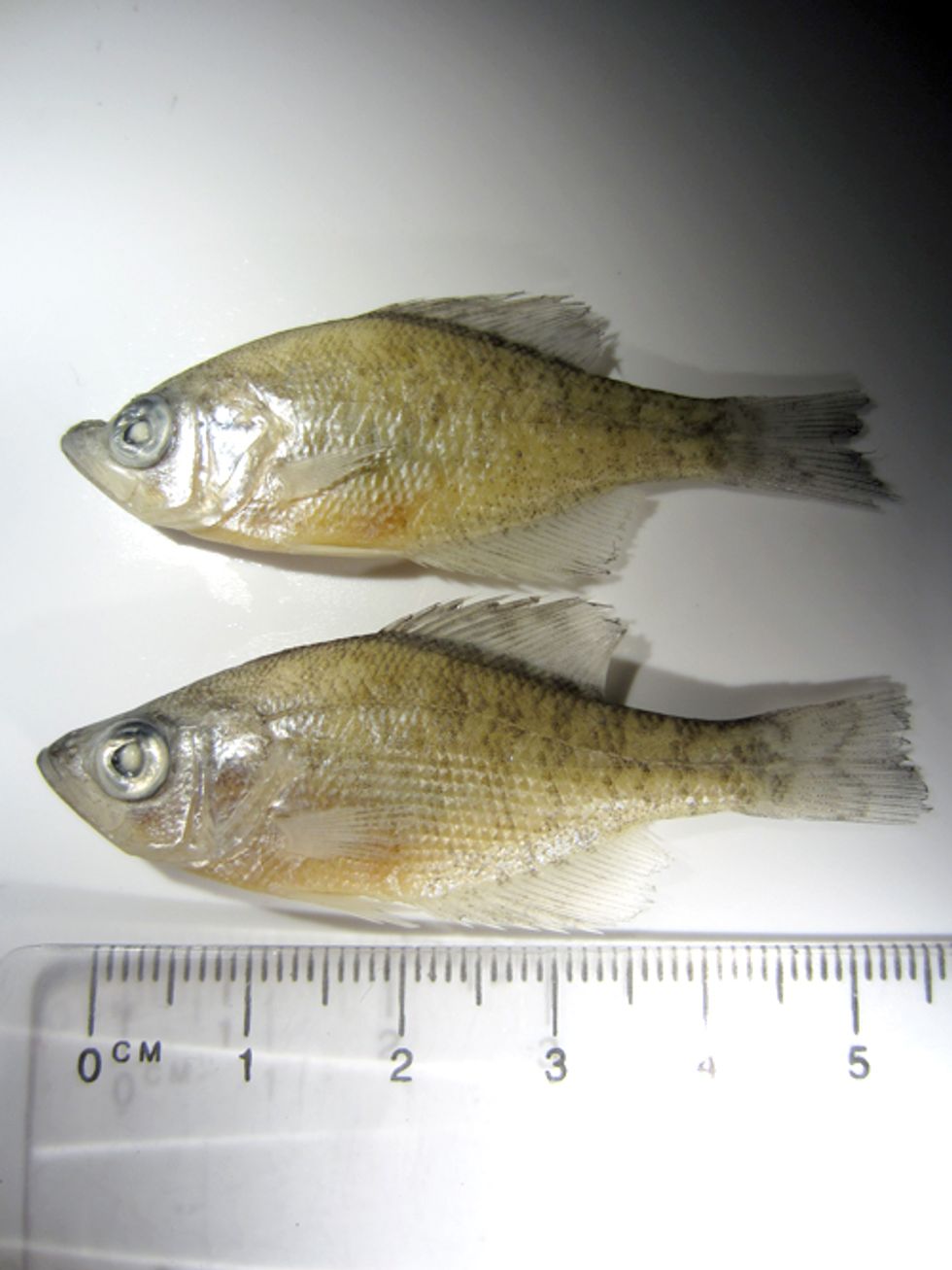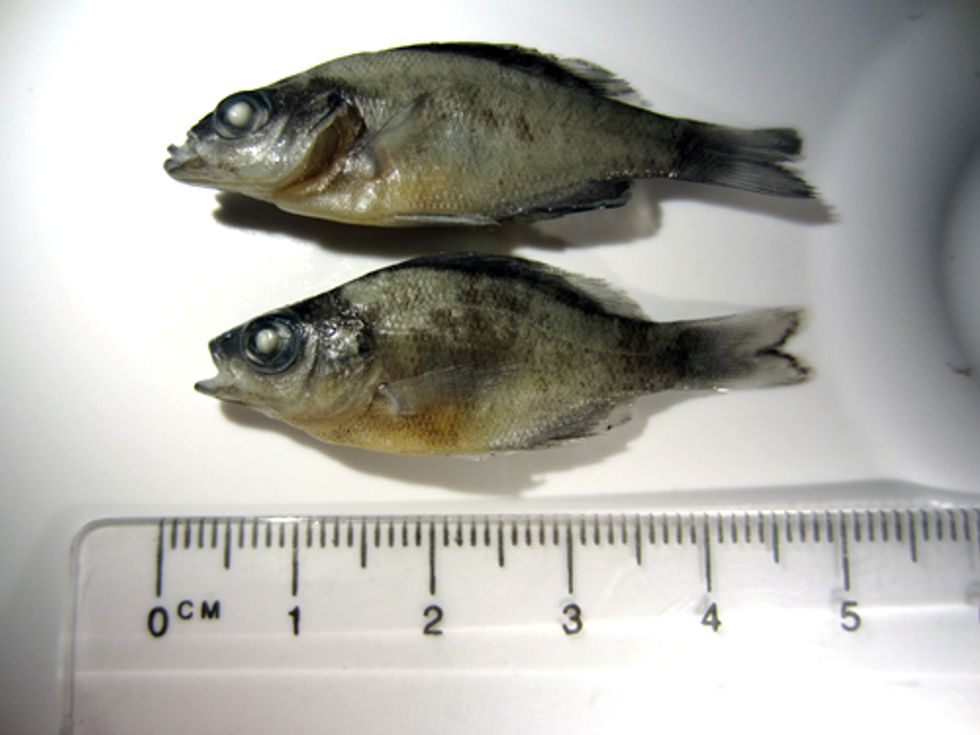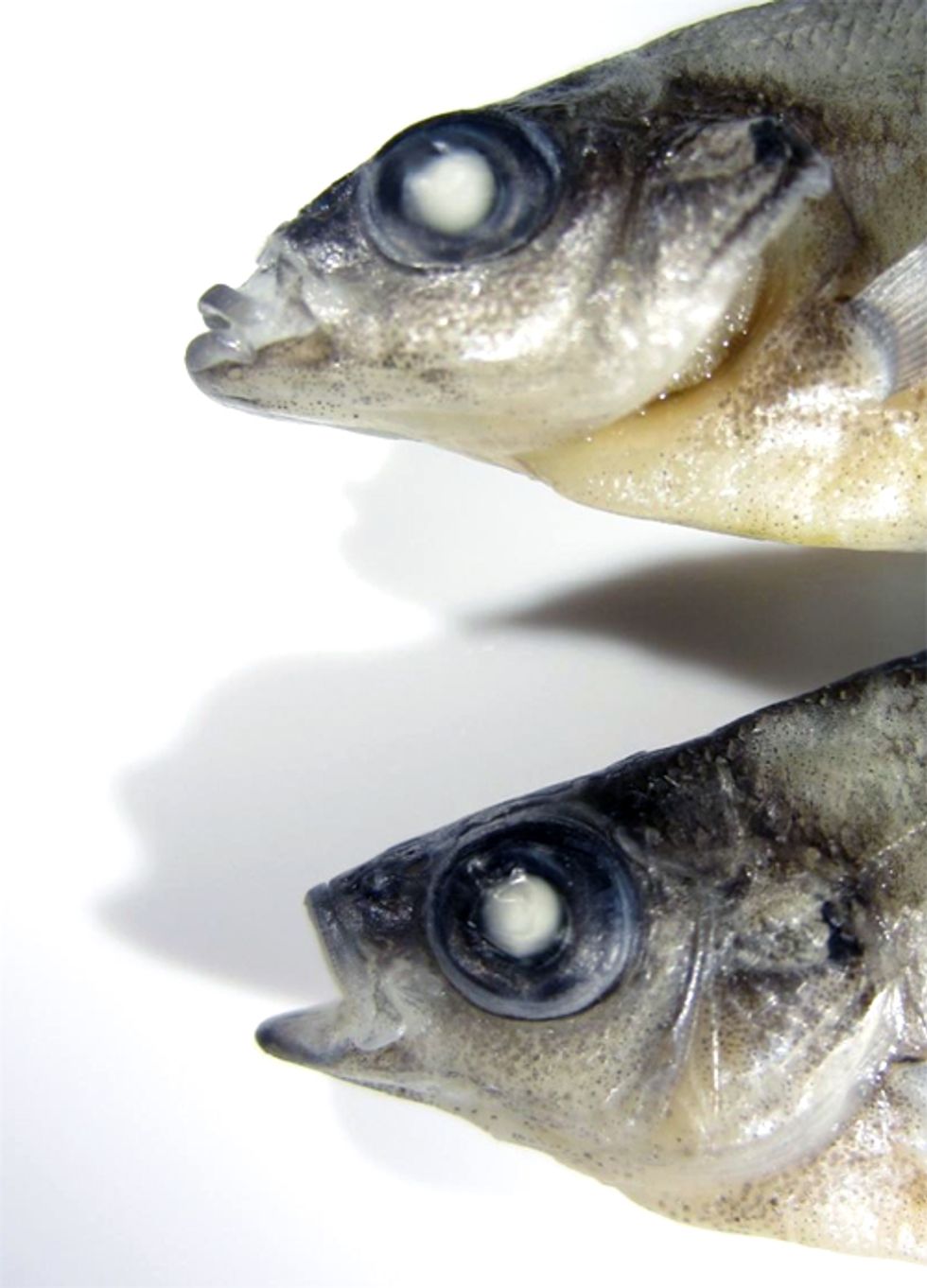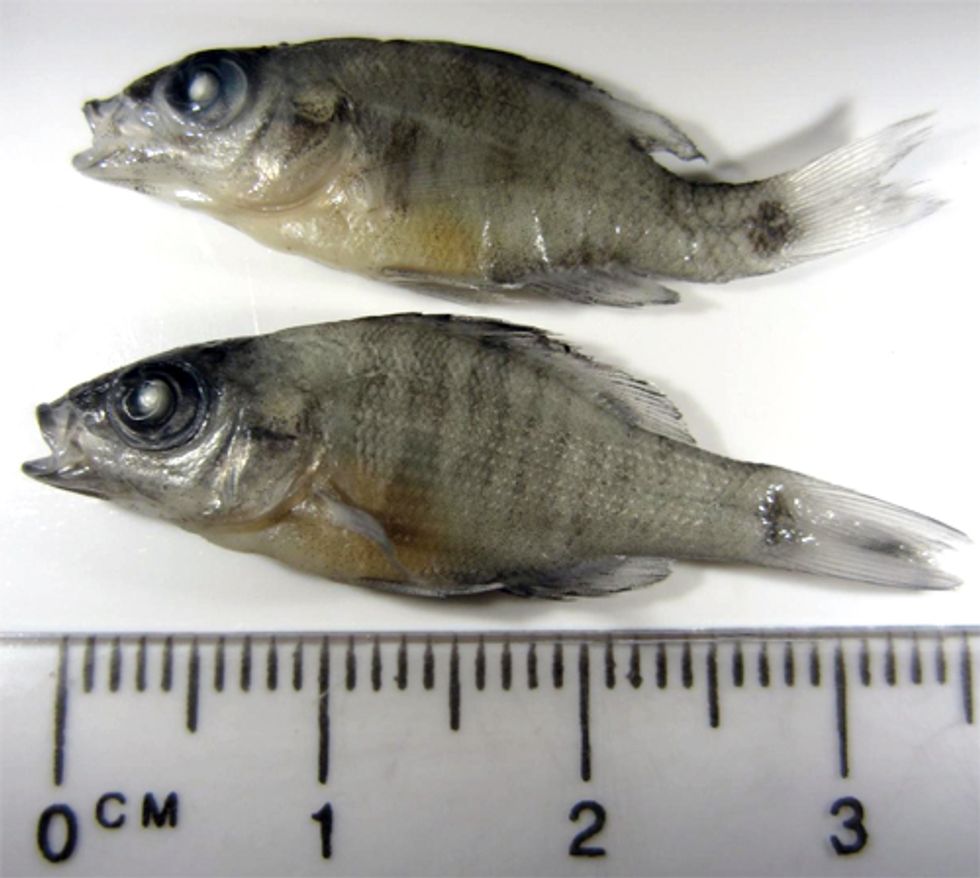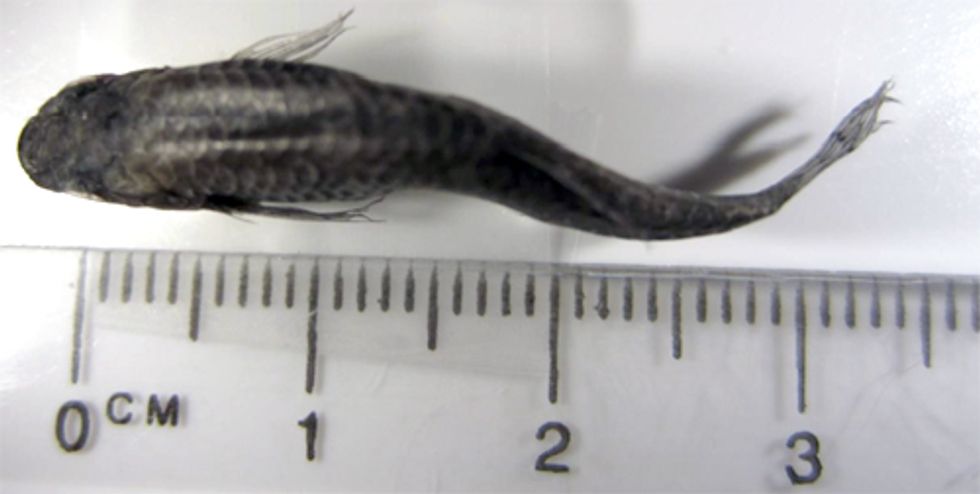 Facial and spinal deformities in baby fish affect their ability to eat and swim. Many young fish die before reaching maturity; long before someone trying to put supper on the table can catch them. One of the many jaw-dropping revelations in the study was the fact that no juvenile largemouth bass (less than 3 inches long) were found in two separate collection events at Lake Sutton. In contrast, many young bass were found in a single collection event at the non-contaminated reference lake that served as a baseline for the study. The most recent fish population assessment of Lake Sutton by the North Carolina Wildlife Resources Commission noted that largemouth bass were in "poor condition," declining 50 percent in both abundance and size between 2008 and 2010.
The value of lost natural resources at Lake Sutton goes well into the millions of dollars each year. The replacement cost of the lost fish is more than $4.5 million per year according to the study. If North Carolina replaced all fish killed by selenium pollution over the last 25 years in Lake Sutton, taxpayers would face a bill of more than $112 million. Duke Energy owned coal plants have been among the most notorious and prolific fish killers in the U.S. since 1976. See table below.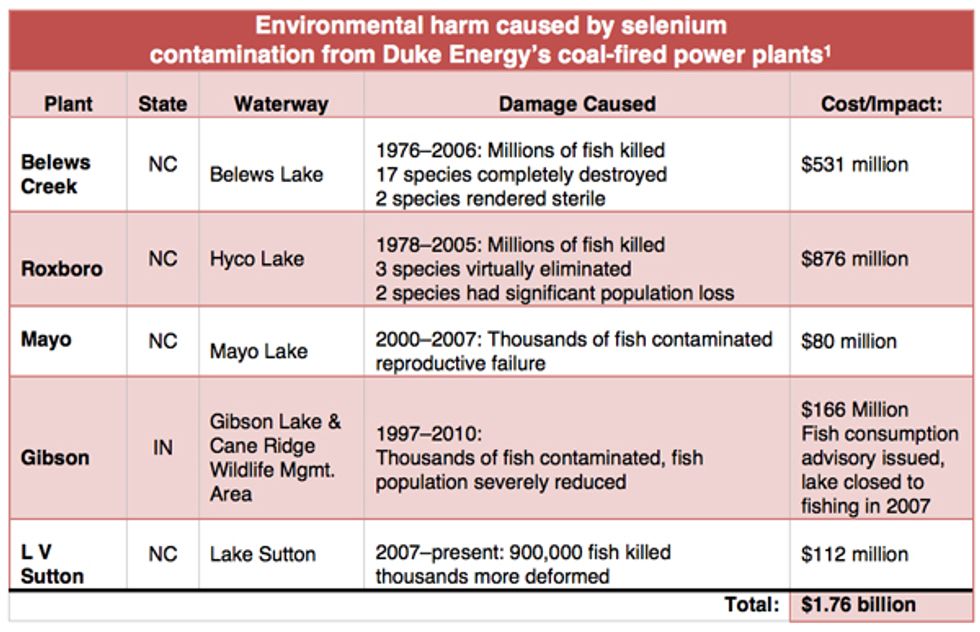 The U.S. Enviromental Protection Agency (EPA), the North Carolina Department of Environment and Natural Resources (DENR) and Duke Energy have known for decades that selenium contamination from coal-fired power plants is a monumental fish killer. Nationwide, there are 22 other cases where coal-fired power plants caused severe damage to fisheries in Texas, Ohio, Pennsylvania, South Carolina, Tennessee, Virginia, Michigan, Georgia, West Virginia, Wisconsin and Wyoming. The total estimated cost of all these fishery damage cases is $ 2.32 billion.
After Duke obliterated 17 species of fish in Belews Lake in the 1970's, steps should have been taken to prevent selenium poisoning from killing more fish. Sadly, that didn't happen and once coal-fired power plants operators saw Duke get away with it, the copycat serial killing of fish continued year after year.
Fortunately, the EPA has proposed two long overdue regulatory updates that could go a long way to addressing this serious problem, if the final rules are sufficiently strong. They are the stalled coal ash rule that was proposed 3 years ago and the coal power plant toxic water pollution rule that was just proposed earlier this year. It is important to note that both rules propose weaker options that will not fix the selenium fish kill problem. Only option 5 of the coal water pollution rule and the hazardous waste classification in the coal ash rule will have any chance of making the killing stop.
Lake Sutton is the 23rd public fishery to be severely damaged by toxic discharges from a coal-fired power plant. If you want to put your foot down and say: enough, already, we won't allow this egregious toxic pollution any more, then take action here.
Tell U.S. EPA Administrator Gina McCarthy to move forward with the strongest coal ash and coal water pollution rules possible because it is time to put an end to serial killing coal-fired power plants.
Visit EcoWatch's COAL and WATER pages for more related news on this topic.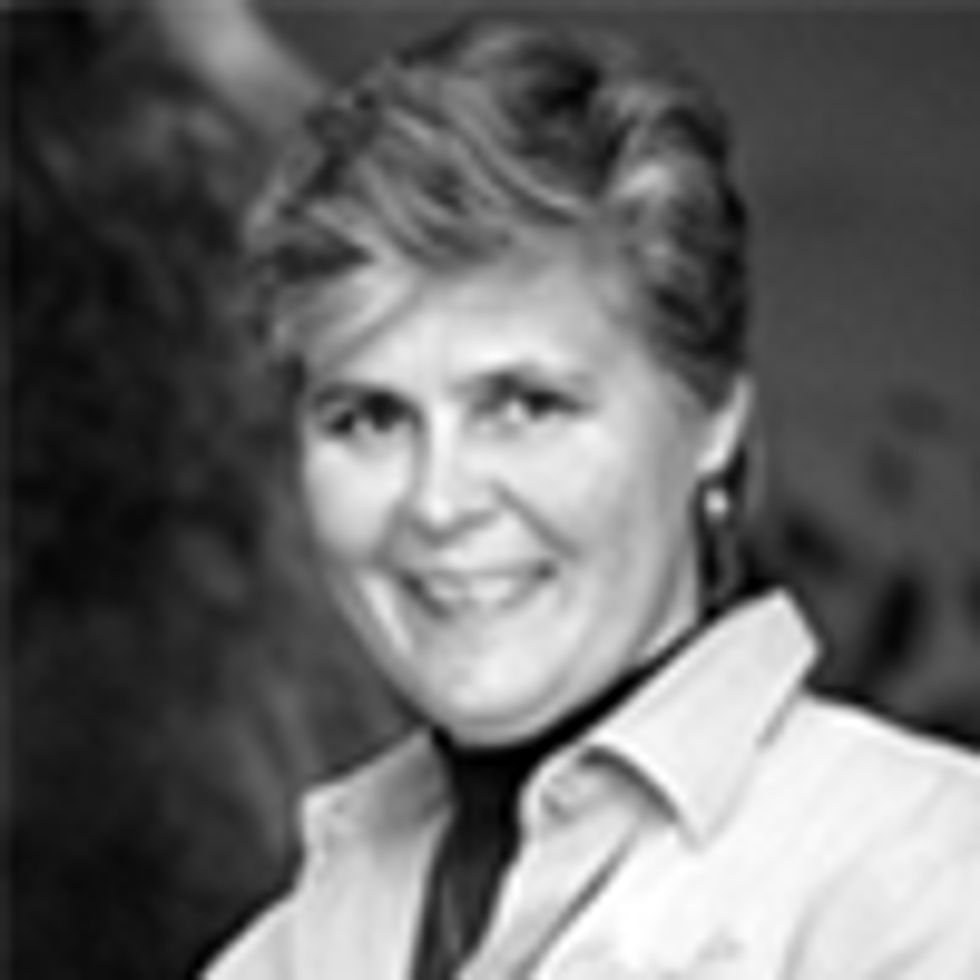 Imagine for a minute that for generations, you and your family lived on ancestral lands abundant with wildlife and a beautiful river running through it. Like every youngster born in your family, one of your elders took you out to the river and patiently taught you how to swim and fish in the warm summer sun. As a teenager you escaped to the river with your friends to eat junk food, drink your first beer and do cannonballs off the dock. When you met that someone special you took them to the overlook with the full moon shining on the gently rippling water to propose. Then when your youngsters were old enough, you took them to the river and the cycle started all over again. Until finally you grew old and spent your last years in a misty fog reliving the happy memories from a lifetime of experiences spent with friends, family and the river.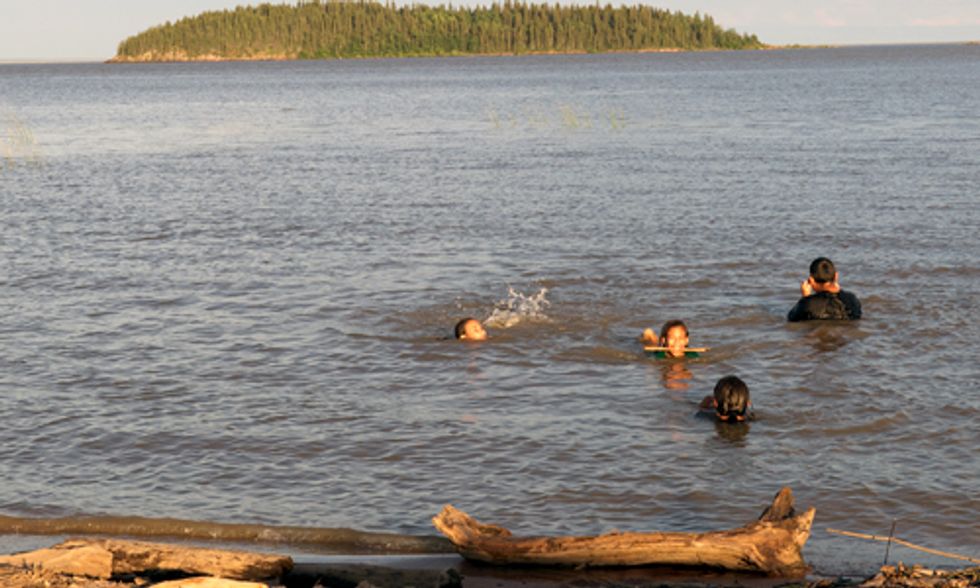 Photo Credit: Dot Griffith
Then imagine a big international coal company hundreds of kilometers away ruined the possibility of those traditions being continued by your grandchildren. They took away the very heritage and customs that united your family through eons because they let one of their giant coal slurry dams full of arsenic, cadmium, lead, mercury and selenium fail. Instead of stopping the dam from breaking, they allowed a 1 billion liter toxic tidal wave of black slurry to poison your ancestral river. Then imagine that your government failed to tell you about the disaster and compounded that failure by waiting 19 days before they ordered the coal company to clean it up.
Unfortunately, this is not an imaginary nightmare for the Athabasca Chipewyan First Nation. This is now the devastating reality they face in the wake of Canada's largest coal slurry spill at the hands of Sherritt International. It should come as no surprise to anyone that the First Nation is rightfully furious. The loss they are facing as Sherritt's toxic coal plume moves inexorably to Fort Chipewyan is much more than the loss of the ability to fish or swim with their children. It is the loss of their heritage. How can anyone put a value on that or mitigate it? Yesterday they issued this press release calling for Minister McQueen and Gerry Protti to be fired for failing to do their job:
That Athabasca Chipewyan First Nation (ACFN) are seriously concerned with government inaction regarding the Sheritt Coal slurry spill that occurred on Oct. 31 resulting in close to a billion litres of contaminant entering tributaries of the Athabasca River and eventually the Athabasca River itself. The Alberta government and the Alberta Energy Regulator waited three weeks to issue a clean up order and release information about the contents of the spill.
"We are furious with the Alberta Energy Regulator and governments for the lack of response for the largest spill in Canadian history. We are asking for the resignation of Minister McQueen and Gerry Protti for failing to do their job. For three weeks we have been living in uncertainty about the safety and level of contamination of our water systems. For us, it's not just about our drinking water, it's about our rights and culture," stated Chief Allan Adam of the Athabasca Chipewyan First Nation.
The Wood Buffalo Regional Municipality in Fort Chipewyan decided only yesterday they would shut down the water intake at the water treatment facility and work with Sheritt to deliver clean, safe potable water to members of communities along the path of the plume.
Bruce Maclean from Maclean Environmental Consulting, a company that works with local First Nations, raised some serious concerns and stated, "Water quality data from the first days of the spill indicate many contaminants of concern to be above CCME guidelines, some 70 times above the guidelines. This includes PAHs, cadmium, arsenic, lead, selenium, silver, thallium and even uranium. These numbers and contaminants represent real danger to human health and associated drinking water."
Maclean also commented on the long term impacts of the settling of this sediment load and associated contaminants on fall spawning fish. "It will be difficult to assess without some serious sampling efforts, some of which may need to take place in the spring. We can assume that survival of fish eggs in the path of the plume will be compromised."
The Nation asserts that the government failure to protect and safeguard the Athabasca river, the environment and eco-systems, equates to a failure to uphold the Canadian Constitution and Treaty and Aboriginal rights in the region. Treaty and Aboriginal rights to hunting, fishing, trapping and gathering rights are uniquely protected under the Canadian constitution.
"Government and industry continually ignore that our rights, our culture and our people rely on safe, clean eco-systems and waterways to continue our way of life," stated Lorraine Hoffman, councillor for the Athabasca Chipewyan First Nation. "We can't keep the moose, caribou, bison and fish from the contaminated plume as it travels downstream. This spill is just another example of both Alberta and Canada's failure to protect the interests of not only First Nations, but the interests of all Canadians. Water is life, no matter who you are or where you are."
Last year the federal government made sweeping changes to numerous environmental protection acts, however the Athabasca River was one of few rivers, lakes and oceans that maintained federal protected under the Navigable Protection Act. The ACFN is now questioning why the federal and provincial governments are allowing the continued abuse of this river system. To date there has been no contact with federal agencies about the implications of this spill.
"We have been raising concerns about the lack of safety and protection of the river and environment for years. This summer Dr. Timoney released a report Environmental Incidents in Northeastern Alberta's Bitumen Sands Region outlining 9,262 industry incidents on the Athabasca river and how the government is failing to enforce environmental regulations. Now, the Athabasca is subject to the largest coal mine spill in Canadian history and it has taken governments three weeks to show any concern. Where is the federal protection? Something is seriously wrong with this picture," stated Chief Adam. 
In light of the new data, the Nation feels that a formal review of the official communication protocols around environmental disasters is needed. The huge lag time in reporting and overall lack of transparency and leadership has led the ACFN to take matters into their own hands. The ACFN will be launching their own sampling before, during and after the plume passes through their community. 
For more information please contact Eriel Deranger, ACFN Communications Coordinator 780-903-6598
If you stand in solidarity with the Athabasca Chipewyan First Nation, you can join their call to action by contacting Alberta Premier Alison Redford at [email protected] via email. Or by phone:
Calling from metro-Edmonton: 780-427-2251
Calling long-distance in Alberta: dial 310-0000 toll-free
Calling from outside Alberta: 780-427-2711 connects you to the Government of Alberta Call Centre
Or by mail: Office of the Premier Room 307, Legislature Building 10800-97 Avenue Edmonton, Alberta T5K 2B6.
Visit EcoWatch's COAL and WATER page for more related news on this topic.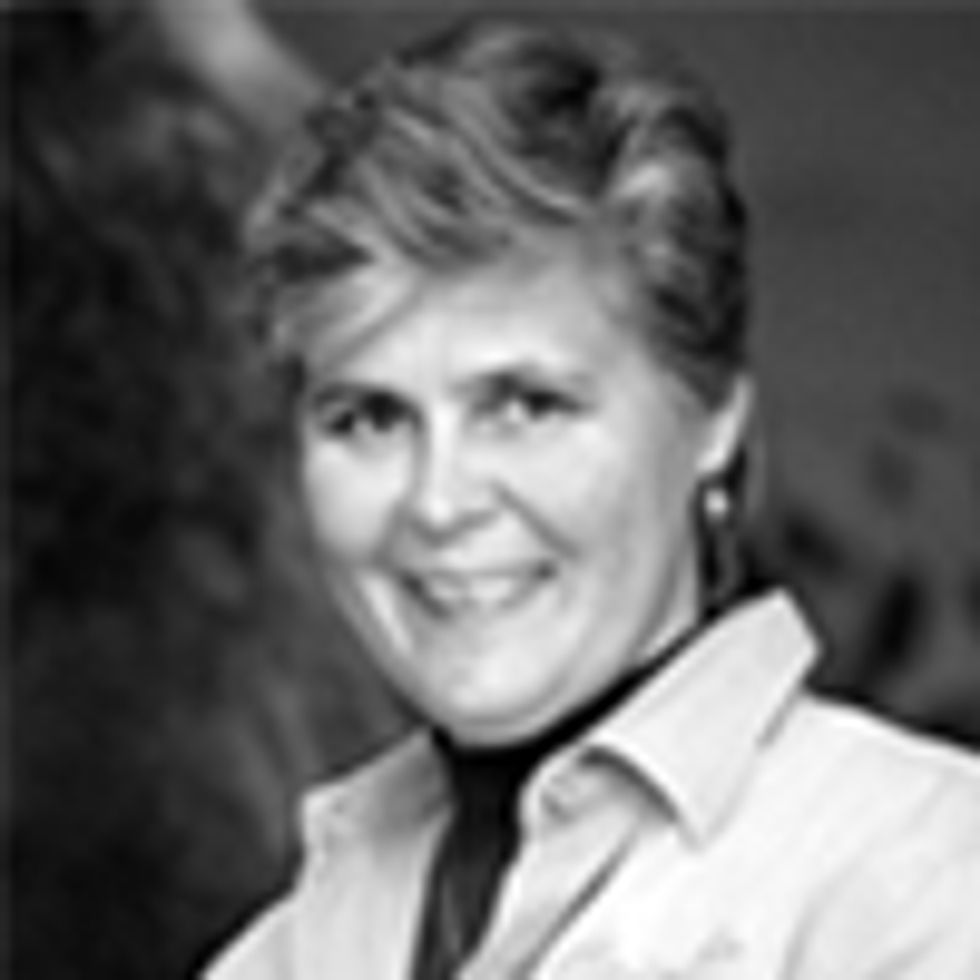 Thank goodness for Dr. James Talbot, Alberta's chief medical officer of health. After 14 days of stonewalling by the Alberta Government, he released some of the water test results from the gigantic 1 billion litre coal slurry spill into the Athabasca River from the Obed Mountain coal mine near Hinton, Alberta. Paula Simons of the Edmonton Journal started her incredible breaking news story on Nov. 14 with the following:
"Mercury levels nine times higher than normal. Levels of cancer-causing polycyclic aromatic hydrocarbons four times the allowed standard for Canadian drinking water. Those are the kinds of disturbing test results Dr. James Talbot, Alberta's chief medical officer of health, is seeing as he monitors a huge plume of coal mine waste water currently oozing down the Athabasca River. Our overriding concern is the safety of the drinking water, says Talbot. We're advising people, 'Don't draw water as the plume is going by.'"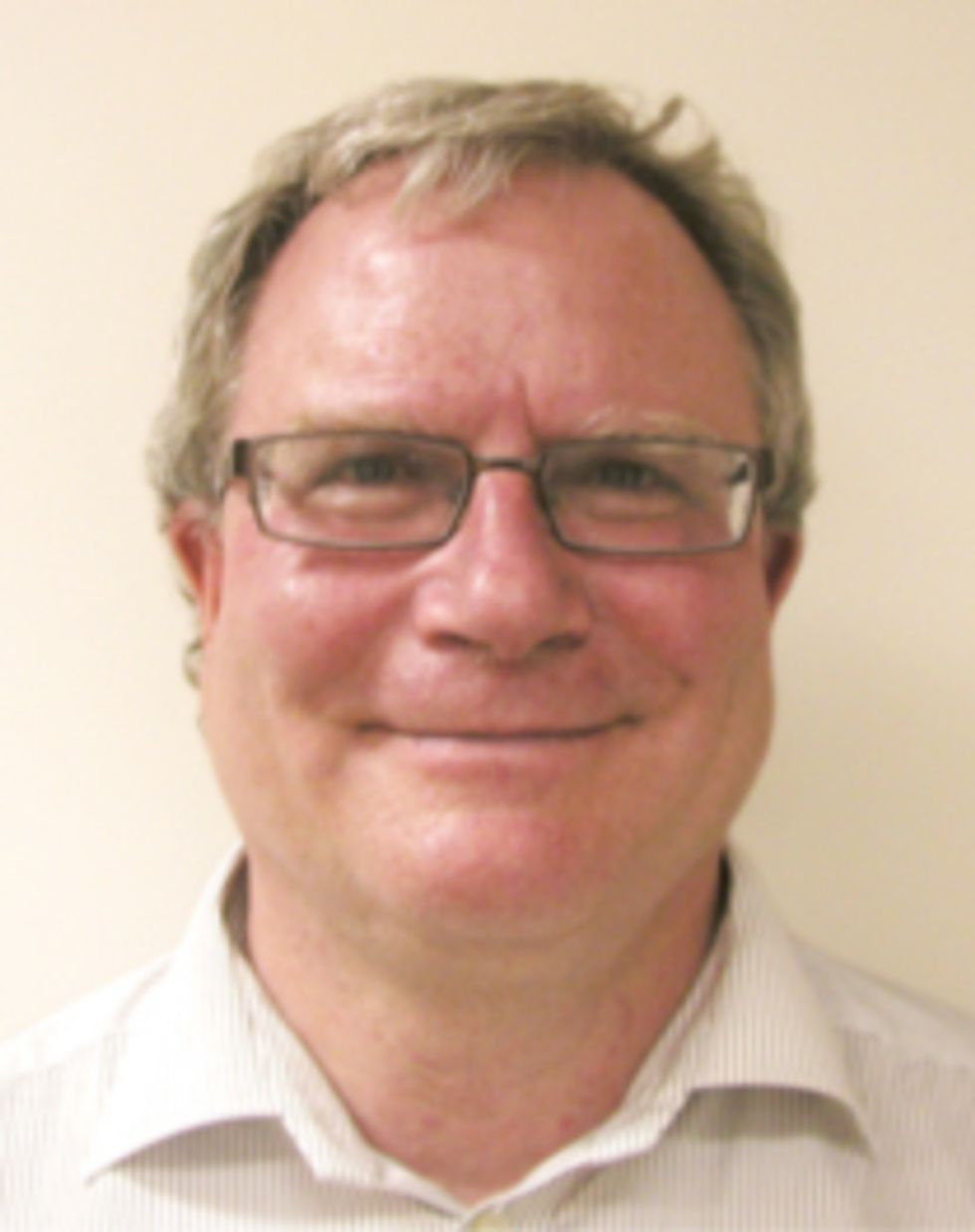 The information provided by Dr. Talbot stands in stark contrast to previous statements by the Alberta Government and Sherritt International, who owns the mine. The headlines in statements issued by the Alberta Government on Nov. 2 and Nov. 4 called Canada's largest coal slurry spill a "sediment release." The Nov. 4 statement went on to say, "Sediment was released from an onsite water storage pond. The pond contains high levels of suspended solids, which include such things as clay, mud, shale and coal particles." Neither release mentioned the presence of toxic mercury or cancer-causing polycyclic aromatic hydrocarbons. In fact, the Nov. 4 statement went out of its way to mention that "…water sample tests do not indicate any health risks."
How long did Alberta Environment think they would get away with their failure to disclose critical information about toxics? Especially when you consider that the Canadian National Pollutant Release Inventory (NPRI) contains public records that list tons of toxic waste dumped at the Obed Mine site. Mining Watch Canada reports that alarming amounts of arsenic, cadmium, lead, manganese, mercury, zinc and PAH were reportedly dumped into Obed Mine's containment ponds and provided this table of NPRI reported information: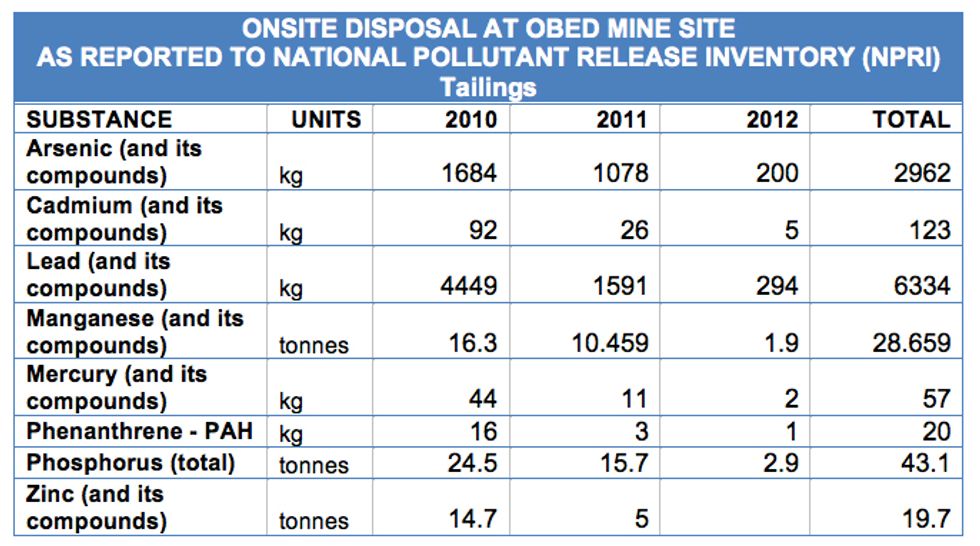 When provided with the table of these pollutants, Dr. Greg Goss, an environmental toxicology professor and researcher at the University of Alberta, said:
"The coal slurry spill will be devastating to streams in the area for a long time. I am outraged that we have heard nothing from the federal Department of Fisheries and Oceans (DFO). They are responsible for enforcing the Fisheries Act. Despite the recently stripped down Fisheries Act, this is a clear situation where the act still applies and we should expect a response from the DFO. There are cut-throat trout and native bull trout in the streams that were impacted by the spill. These are species that fall under the new recreational, commercial and aboriginal interest designation of the Fisheries Act."
Jule Asterisk, a director of the Keepers of the Athabasca, said:
"It is unbelievable in this day and age, with the known pressures of growth requiring constant vigilance and monitoring, that a containment pond was allowed to fail so dramatically. The Obed coal mine was 'suspended' just last year for remediation. In any closure/suspension/remediation plan, there is an inspection schedule for the facility. Where were the inspectors? Both Sherritt International and Alberta Environment and Sustainable Resource Development have failed their due diligence in this case. The pond had a complete failure. One billion litres was allowed to blast 25 kilometres through trout streams to the Athabasca River before anyone noticed? Now, after being told the release was non-toxic, we are finding out differently. The government of Alberta and that of Canada now has another black eye in international opinion. Have we become a developing country that has no control of our environmental protection? Environmental care is not just about shutting down facilities, environmental care is about keeping people and our environment safe, one of the main reasons governments exist. From now on, we must have careful monitoring and full disclosure of industrial hazards."
"We are not surprised to learn of the toxic nature of coal tailings spills," says environmental lawyer and Lake Ontario Waterkeeper Mark Mattson. "The lack of reporting outlines our disappointment with how government and industry handled this major spill. We now expect the full force of the law will be brought to bear on the polluter to ensure our waters and communities are protected."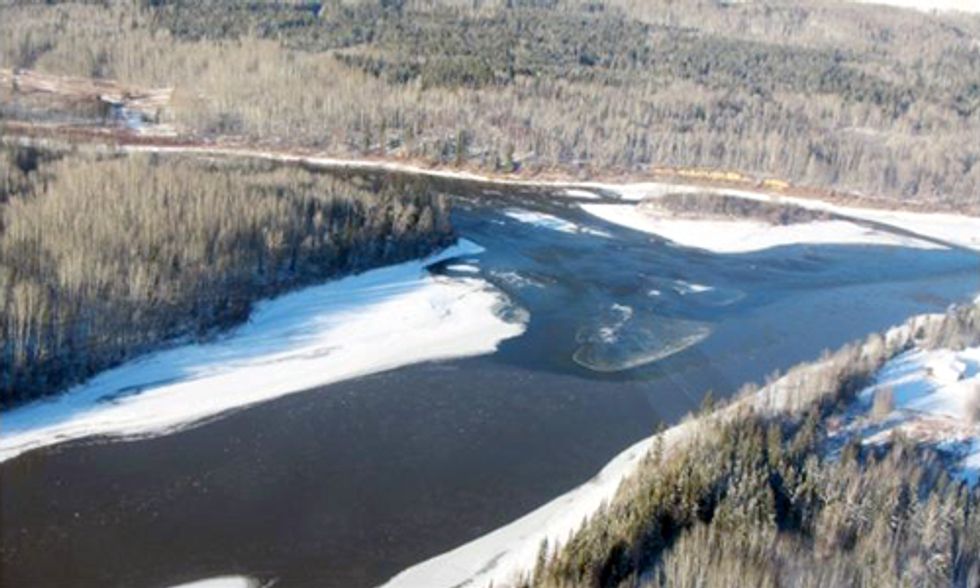 Photo credit: Alberta Environment
"Albertans have entrusted our government to protect our waters and public health. This needs to happen with actions not words," says Glenn Isaac, North Saskatchewan Riverkeeper.
The Keepers of the Athabasca, Waterkeepers Canada and Waterkeeper Alliance are renewing our request to Alberta Environment to release all the water test results related to the Obed Mountain coal slurry spill. The Alberta government is 12 days overdue on its Nov. 2 promise to release these test results to the public. If you think it is high time for all the water test results to be released, you can make your own appeal by contacting Jessica Potter with Alberta Environment and Sustainable Resource Development at [email protected] or 780-427-8636 and toll free within Alberta at 310-0000.
Visit EcoWatch's COAL and WATER page for more related news on this topic.