Students from Florida and Cocodrilo engage in environmental projects during an Ocean Doctor-led exchange.
Columbus' ships were leaking, their provisions spoiling. It was clear that they would have to turn back. Yet, anchored off Cuba's southwestern coast near a large, mountainous pine-covered island during his second voyage, Columbus had seen enough. He was convinced Cuba was part of Asia and that return to Spain by land would be possible from the main Cuban island. He ordered each member of the crew sign an affidavit testifying to this, and their signature bound them to have their tongue cut out should they ever contradict their signed statement.
The next day, June 13, 1494, they landed on the nearby island. Columbus named it Evangelista. Over the centuries since, it bore the names Isla de Cotorras (Isle of Parrots), Isla de Tesoros (Treasure Island), Isla de Pinos (Isle of Pines), and finally, Isla de la Juventud (Isle of Youth). While Cuba claimed its sovereignty from Spain in 1898, the fate of the Isle of Pines would not be settled until more than 25 years when it officially became part of Cuba, though by then most of it was controlled by U.S. interests.
Waves break along Isle of Youth's southern coast.David Guggenheim
The 80,000 residents of the island often feel invisible, forgotten and disconnected from the rest of Cuba, an "island within an island." Dwarfed by the massive main island of Cuba, the world is barely aware of its very existence, despite the fact that it is the seventh largest island in the Caribbean, larger than St. Lucia, Barbados, Grenada, Bonaire, St. Croix, St. Thomas, St. John, Aruba, St. Barts, Saba, Terre-de-Haut, Isla Mujeres and Key West combined. The island has struggled for decades, with limited economic opportunities for its residents, mostly in agriculture and fishing. It has long since been forgotten as an international tourist destination.
Location of the community of Cocodrilo on the southern tip of Cuba's Isle of Youth.
The Cuban government has repeatedly tried to infuse life into the island. In 1978, Fidel Castro changed the name to Isle of Youth as part of an effort to bring new opportunity and meaning to the island. An initiative was launched to build a world-class international network of schools on the island, attracting students from Africa, Asia and beyond. Thirty years later, in 2008, Hurricane Gustav, with sustained winds of 155 mph, decimated the island, laying to waste the international schools and that chapter of the island's struggle.
In 2015, Ocean Doctor led an expedition of Cuban and American scientists to visit the protected waters of the Isle of Youth; most of the southern half of the island is protected, part of Cuba's massive system of protected areas. Over our 16 years of working in Cuba, we have found the country as a beacon of hope, where many coral reef ecosystems thrive in sharp contrast to the dead and dying corals elsewhere in the Caribbean.
OMG I Thought You Were Dead! http://t.co/3GLosFHHh5 via @ecowatch ##givingtuesday #cuba

— David E. Guggenheim (@David E. Guggenheim)1417531064.0
It is estimated that 50 percent of the coral cover in the Caribbean has vanished since 1970. As we dove among the coral reefs in the Punta Frances protected area, we indeed found some of Cuba's treasured coral reefs, gleaming and healthy. But we also found reefs in stress—some bleached white, some covered in slimy green algae, the telltale signs of a reef beginning to die.
Our Cuban colleagues were surprised. This was something new that they hadn't seen just two to three years earlier. We saw no sharks, no groupers and virtually no large, predatory fish, a sure sign of overfishing which contributes to a reef's decline. Although on paper the area is protected—it has the same level of protection as Cuba's better-known Gardens of the Queen—there is virtually no enforcement and the area is fished illegally.
Conor Kennedy: 500 Years After Columbus, Cuba's Gardens of the Queen Still Pristine http://t.co/TlAA8flwmi @OceanDoctor @ExplorersClub

— EcoWatch (@EcoWatch)1413464477.0
EcoWatch Daily Newsletter
Our captain watched with some consternation as an unidentified vessel, gray with no markings, headed straight toward our vessel, anchored more than 50 miles off Cuba's southern coast. Others in the crew speculated nervously about the approaching boat, never previously seen in these parts. The boat pulled alongside and two imposing figures boarded, both in olive military uniforms. A mustachioed representative of the Ministry of Interior stood beside his taller colleague whose uniform, like the boat that carried him, bore no markings at all. A sidearm hung imposingly from his belt. He turned to the captain and requested to meet with Robert F. Kennedy, Jr.
Robert F. Kennedy, Jr. makes a journal entry aboard ship during The Explorers Club's expedition to document unexplored waters off southern Cuba in 2014.David E. Guggenheim
At that moment, Kennedy—a leading environmental activist, president of Waterkeeper Alliance and son of the late Senator Robert F. Kennedy—was 90 feet below the surface with the rest of our group, observing a dozen or so Caribbean reef sharks tracing mesmerizing circles about us. We were carrying the flag of The Explorers Club, visiting and documenting previously unexplored coral reef ecosystems in Cuba's southern waters.
Conor Kennedy: 500 Years After Columbus, Cuba's Gardens of the Queen Still Pristine http://t.co/TlAA8flwmi @OceanDoctor @ExplorersClub

— EcoWatch (@EcoWatch)1413464477.0
After returning to the boat, the mission of our mysterious guests was revealed. We had been visited by a representative of former Cuban president Fidel Castro's personal guard who had a letter from the Comandante for Kennedy. Mission complete, they posed for a quick photo and departed on the 50-mile journey back to shore and the six-hour drive back to Havana. They had traveled an incredible distance to find us and hand-deliver a letter. We were obviously quite curious as to its contents.
Our captain, Arjel, and the two soldiers that delivered the letter from El Comandante to our vessel.David E. Guggenheim
A few days earlier, Kennedy, Jr. and his family had visited with Castro, who welcomed them warmly. Nearly 52 years prior, Robert Kennedy, serving as U.S. Attorney General, and his brother, President John F. Kennedy, were within a whisker of war with Cuba and the Soviet Union during the Cuban Missile Crisis. The quiet Castro-Kennedy, Jr. meeting was historical. Relations between Cuba and the U.S. were warming, though the dramatic announcement of normalization of diplomatic relations would not occur for another six months.
Kennedy, Jr. shared the letter with me, a polite set of Castro's reflections on the meeting and kind words for Kennedy and his family. What I found especially significant in the letter was his discussion about oceans:
"For many years I was a passionate spearfisherman without the proper awareness of the beauty and value of coral reefs. Through this I knew some of the experiences of Jacques-Yves Cousteau, who in such a way fell in love with the sea that ended up becoming one of the most famous defenders of the life and the value of the seas. Today it is known that the sea is one of the largest and varied sources of protein foods. These factors helped me understand the importance of the services you have rendered to the people of the United States and other nations of the world in their struggle to protect the environment."
The influence of Cousteau on Castro has been a recurring theme I have heard from Cuban colleagues during my many years working in Cuba. Castro read and was influenced by Cousteau's books and, in 1985 when Cousteau visited the island to make a documentary, the two finally met and shared a special friendship. Castro granted Cousteau with rare privilege during his visits. Cousteau and his team became the first non-Cubans to pass through the gate of the U.S. Navy's Guantanamo Bay installation since 1962. He is reported to have freed dozens of political prisoners at Cousteau's request. And Castro spent a great deal of time with Cousteau, dining with him aboard his vessel, Calypso.
Jacques-Yves Cousteau's Vessel, Calypso, in Havana Bay (1985)Cousteau Society
In the late nineties, aboard another research vessel visiting from the U.S., Castro reflected on his friendship with Cousteau and said, "You know, he loved exploring Cuban waters because of our protection." In the Cousteau documentary, Cuba: Waters of Destiny, Cousteau is clearly taken with what he observes in Cuba: "My first dive in the waters of Cuba serves as a moment of truth…around me, large fish among flourishing coral, a reef more rich than any I have seen in years," a stunning reminder that even 30 years ago, the unraveling of coral reef ecosystems in the Caribbean was well underway. Today it is estimated that the Caribbean has lost half of its coral cover. Spared in part by a history that has caused Cuba to develop profoundly differently than the rest of the Caribbean, coupled with world-class environmental laws, many of Cuba's coral reef ecosystems have been spared the demise observed throughout the Caribbean.
Before allowing the Calypso to depart Cuba's waters, Castro challenged Cousteau, asking him why he didn't have a Cuban scientist aboard. Consequently, Cousteau later welcomed Dr. Gaspar Gonzalez Sansón, former vice director of the University of Havana's Center for Marine Research, to serve as a visiting scientist aboard Calypso in New Zealand. Years later, Dr. Gonzalez would become our co-principal investigator for a decade of expeditions off Cuba's northwestern coast and regaled us with hilarious tales of a Cuban among Frenchmen aboard Calypso.
Captain Jacques-Yves Cousteau (left) and Dr. Gaspar Gonzalez Sansón (right) on the bow of the Calypso in New Zealand. At the request of Fidel Castro, Dr. Gonzalez served as a visiting scientist during Cousteau's "Rediscovery of the World" expedition.
The friendship of Cousteau and Castro continued and strengthened in environmental solidarity at the Rio Earth Summit in 1992 where Castro delivered a sharply-worded and uncharacteristically brief address, imploring the developed world to "stop transferring to the Third World lifestyles and consumer habits that ruin the environment. Make human life more rational." In early 1998, less than six months after Cousteau passed away, Castro fondly remembers a playful encounter with Cousteau at the Rio Earth Summit: "They have all the heads of state lined up for a 'photo op' in Rio, and I pulled him [Cousteau] up with me, and say, 'Captain, join this picture in the 'photo op' because most people here know nothing about the environment. And he came up and was in the 'photo op' with all of us."
President Fidel Castro and Captain Jacques-Yves Cousteau in a playful exchange at the Rio Earth Summit in 1992.
In July 1997, Cuba enacted Law 81, the Law of the Environment, a truly impressive set of laws and regulations meant to reverse the environmental damage from prior decades and chart a path of sustainability. Within a decade, Cuba banned the destructive fishing practice of bottom trawling from its waters. Today, Cuba has nearly met its goal of protecting 25 percent of its marine waters in marine protected areas, one of the largest percentages in the world. (In comparison, the world average is currently 2-3 percent). Many Cubans attribute Law 81 and Cuba's ongoing commitment to the environment to Castro's environmental ethic, which the Comandante, in part, attributes to Cousteau.
With the passing of Castro and a possible retreat on Cuba relations by an incoming Trump Administration, there is a growing uneasiness about Cuba's uncertain future. Facing profound economic need and unprecedented growth pressure, especially in response to plans more than triple tourism by 2030, Cuba will be put to the test in the months and years ahead. For now, Cuba remains a green, unspoiled jewel in the Caribbean. It is a place where policy is still informed by science and fact, and decisions governed by its laws.
By 2014, it had been some time since Castro had last donned a mask and personally explored Cuba's waters, but it was clear that his passion and curiosity for the sea was as strong as ever. In his letter, Castro made a simple but urgent request of Kennedy, Jr: "Today, I beg you, if you have a few minutes, tell me about the general impression of what you have seen on the bottom..." Several weeks later, Kennedy complied and assured the Comandante that for now, Cuba's marine ecosystems were still healthy and spectacular.
MAXSHOT / iStock / Getty Images
Solar panels allow you to harness the sun's clean, renewable energy, potentially cutting your electric bills as well as your environmental footprint. But do solar panels work on cloudy days, or during seasons of less-than-optimal sun exposure? For homeowners who live outside of the Sun Belt, this is a critical question to consider before moving ahead with solar panel installation.
In this article, we'll go over how solar panels work on cloudy days, whether solar panels work at night, and how to ensure you always have accessible power — even when your panels aren't producing solar energy.
How Solar Panels Work on Cloudy Days
Photovoltaic (PV) solar panels can use both direct and indirect sunlight to generate electrical power. This means they can still be productive even when there is cloud coverage. With that said, solar panels are most efficient and productive when they are soaking up direct sunlight on sunny days.
While solar panels still work even when the light is reflected or partially obstructed by clouds, their energy production capacity will be diminished. On average, solar panels will generate 10 to 25% of their normal power output on days with heavy cloud coverage.
With clouds usually comes rain, and here's a fact that might surprise you: Rain actually helps solar panels work more effectively. That's because rain washes away any dirt or dust that has gathered on your panels so that they can more efficiently absorb sunlight.
Do Solar Panels Work at Night?
While solar panels can still function on cloudy days, they cannot work at night. The reason for this is simple: Solar panels work because of a scientific principle called the photovoltaic effect, wherein solar cells are activated by sunlight, generating electrical current. Without light, the photovoltaic effect cannot be triggered, and no electric power can be generated.
One way to tell if your panels are still producing energy is to look at public lights. As a general rule of thumb, if street lamps or other lights are turned off — whether on cloudy days or in the evening — your solar panels will be producing energy. If they're illuminated, it's likely too dark out for your solar panel system to work.
Storing Solar Energy to Use on Cloudy Days and at Night
During hours of peak sunlight, your solar panels may actually generate more power than you need. This surplus power can be used to provide extra electricity on cloudy days or at night.
But how do you store this energy for future use? There are a couple of options to consider:
You can store surplus energy in a solar battery.
When you add a solar battery to your residential solar installation, any excess electricity can be collected and used during hours of suboptimal sun exposure, including nighttime hours and during exceptionally cloudy weather.
Batteries may allow you to run your solar PV system all day long, though there are some drawbacks of battery storage to be aware of:
It's one more thing you need to install.
It adds to the total cost of your solar system.
Batteries will take up a bit of space.
You will likely need multiple batteries if you want electricity for more than a handful of hours. For example, Tesla solar installations require two Powerwall batteries if your system is over 13 kilowatts.
You can use a net metering program.
Net metering programs enable you to transmit any excess power your system produces into your municipal electric grid, receiving credits from your utility company. Those credits can be cashed in to offset any electrical costs you incur on overcast days or at night when you cannot power your home with solar energy alone.
Net metering can ultimately be a cost-effective option and can significantly lower your electricity bills, but there are a few drawbacks to consider, including:
You may not always break even.
In some cases, you may still owe some money to your utility provider.
Net metering programs are not offered in all areas and by all utility companies.
Is Residential Solar Right for You?
Now that you know solar panels can work even when the sun isn't directly shining and that there are ways to store your energy for times your panels aren't producing electricity, you may be more interested in installing your own system.
You can get started with a free, no-obligation quote from a top solar company in your area by filling out the 30-second form below.
FAQ: Do Solar Panels Work on Cloudy Days?

How efficient are solar panels on cloudy days?
It depends on the panels, but as a rule of thumb, you can expect your solar panels to work at 10 to 25% efficiency on cloudy days.
How do solar panels work when there is no sun?
If there is literally no sunlight (e.g., at night), then solar panels do not work. This is because the photovoltaic effect, which is the process through which panels convert sunlight into energy, requires there to be some light available to convert.
However, you can potentially use surplus solar power that you've stored in a battery. Also note that solar panels can work with indirect light, meaning they can function even when the sun is obscured by cloud coverage.
Do solar panels work on snowy days?
If there is cloud coverage and diminished sunlight, then solar panels will not work at their maximum efficiency level on snowy days. With that said, the snow itself is usually not a problem, particularly because a dusting of snow is easily whisked away by the wind.
Snow will only impede your solar panels if the snowfall is so extreme that the panels become completely buried, or if the weight of the snow compromises the integrity of your solar panel structures.
Will my solar panels generate electricity during cloudy, rainy or snowy days?
Cloudy days may limit your solar panel's efficiency, but you'll still be able to generate some electricity. Rainy days can actually help clean your panels, making them even more effective. And snowy days are only a problem if the snow is so extreme that the panels are totally submerged, without any part of them exposed to the sun.
The National Oceanic and Atmospheric Administration (NOAA) and the National Park Service (NPS) signed a Memorandum of Understanding (MOU) with Cuba's Ministry of Science, Technology and Environment (CITMA) yesterday. The agreement will facilitate collaboration in marine science, stewardship and management of Marine Protected Areas (MPAs). The MOU also aims to promote education and outreach initiatives in both countries.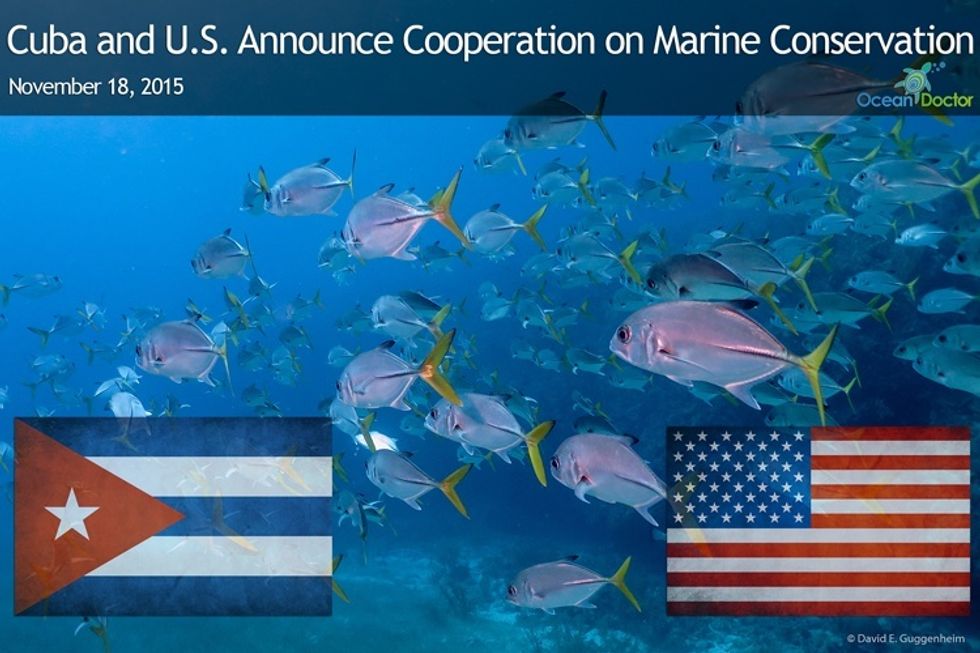 The effort will focus on Guanahacabibes National Park in Cuba, a biosphere reserve. Also included are the waters of Banco San Antonio that lie off Cuba's northwestern coast, the Flower Garden Banks and Florida Keys National Marine Sanctuaries, the Dry Tortugas national park and Biscayne national park.
The MOU builds upon the work led by a number of U.S. nongovernmental organizations (NGOs), including Ocean Doctor, Center for International Policy and Environmental Defense Fund, which have worked for more than 15 years to elevate collaboration in marine science and conservation in Cuba during a period with no diplomatic relations and limited government-to-government dialogue. Marine conservation is recognized as one of the most successful areas of collaboration between Cuba and the U.S. during the years without formal diplomatic relations.
I co-led a decade of research expeditions with the University of Havana's Center for Marine Research to create the first ecosystem maps of Cuba's northwestern coast, until then its most unexplored waters. Banco San Antonio, the key Cuban component of today's agreement, was part of those expeditions. In the process, this research helped train the next generation of Cuban marine scientists who today are in positions of leadership in Cuba.
Ocean Doctor works in Cuba, housed by its Cuba Conservancy Program. It has advanced beyond basic scientific research to comprehensive conservation efforts, including:
Coral Reef Health and Resilience: Ocean Doctor is leading research efforts focused on the health and resilience of Cuba's coral reefs along Cuba's southwestern coast, including the Isle of Youth. This research will help ensure the ongoing protection of these reefs and may help provide insights to protecting coral reefs throughout the Caribbean.
The Cuba-U.S. Sustainability Partnership (CUSP): In collaboration with the Center for International Policy, CUSP was announced earlier this year. It aims to help Cuba prepare for the immense wave of tourism and foreign investment from the U.S., and also to prevent it from following the path of other regions in the Caribbean that have lost their culture and natural ecosystems, such as Cancún.
Valuing Cuba's Ecosystems: In collaboration with World Resources Institute, University of Colorado Boulder, the Cuban Center for Coastal Ecosystem Research and other partners, Ocean Doctor is working to apply the tools of environmental economics to Cuba's natural ecosystems to support sound decision making. This effort is focused on a proposal to expand the protection of one of Cuba's most important marine protected areas.
Cuba Environmental Film Festival: In partnership with the Antonio Nuñez Jimenez Foundation for Humanity and Nature and the Global Foundation for Democracy and Development (Dominican Republic), Ocean Doctor is leading efforts to launch Cuba's first environmental film festival in October 2016. The festival will feature renowned filmmakers and environmentalists from around the world as well as Cuba, and through film presentations and round tables, will serve to foster dialogue in Cuban communities about environmental issues.
YOU MIGHT ALSO LIKE
Palau Creates One of the World's Largest Marine Sanctuaries
Cuban Embassy Opens in DC After 54 Years: Will Cuba Remain the 'Green Jewel' of the Caribbean?
Why Cuba-U.S. Collaboration Is More Important Than Ever
500 Years After Columbus, Cuba's Gardens of the Queen Still Pristine
With each tug of the rope by Cuban Foreign Minister Bruno Rodriguez, the Cuban flag inched upward, finding a slight breeze and proudly showed off its brilliant colors of red, white and blue to the 500 or so onlookers. The Cubans and Cuban-Americans—never known for their silence at public events—beamed with national pride and shouted with joy as the flag inched up, "Fidel, Fidel!" Countless eyes filled with tears. Many embraced. The world was changing before us. The Cuban flag flew in Washington, DC for the first time in 54 years, signaling the reopening of the Cuban Embassy and normalization of relations with the U.S.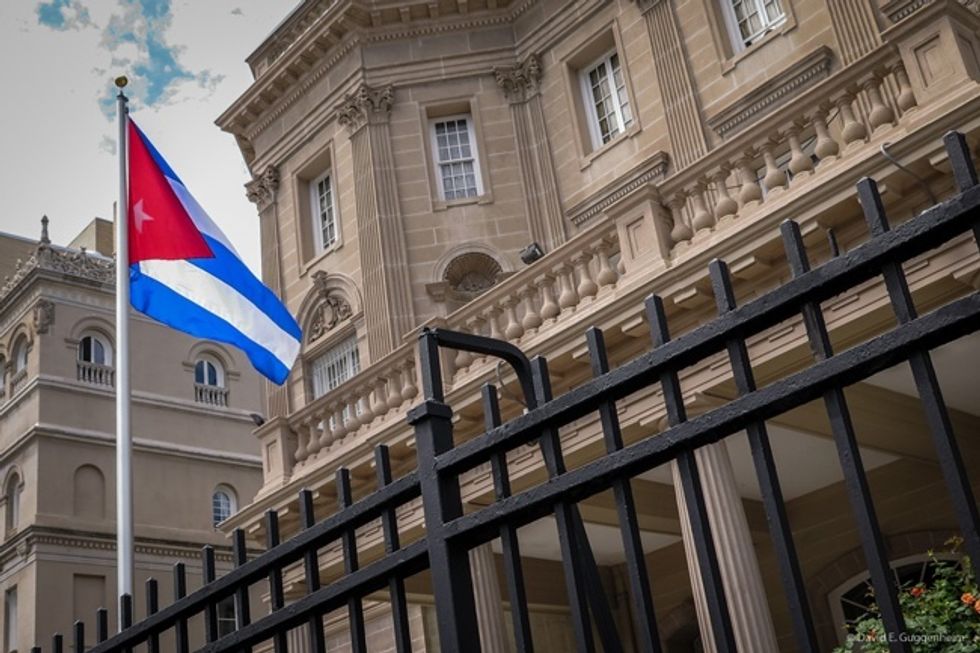 Inside at the embassy at the reception that followed, we hoisted mojitos and exchanged congratulations. But a number of us have long anticipated this moment with both joy and worry, realizing that the U.S. could become a greater threat to Cuba as its friend than it ever was as its enemy.
Many of us have heard a common refrain from acquaintances, "I want to get to Cuba before the Americans ruin it." Indeed, there is a great fear that Cuba could end up like Cancun and many other places in the Caribbean that have destroyed their coral reefs and lost their culture and identity in the process. A 2014 study found that half of the Caribbean's coral cover has been lost since 1970 due primarily to human impacts. Many seasoned scuba divers scoff at the notion of diving in the Caribbean, having long since abandoned the region for healthier reefs in the Indo-Pacific.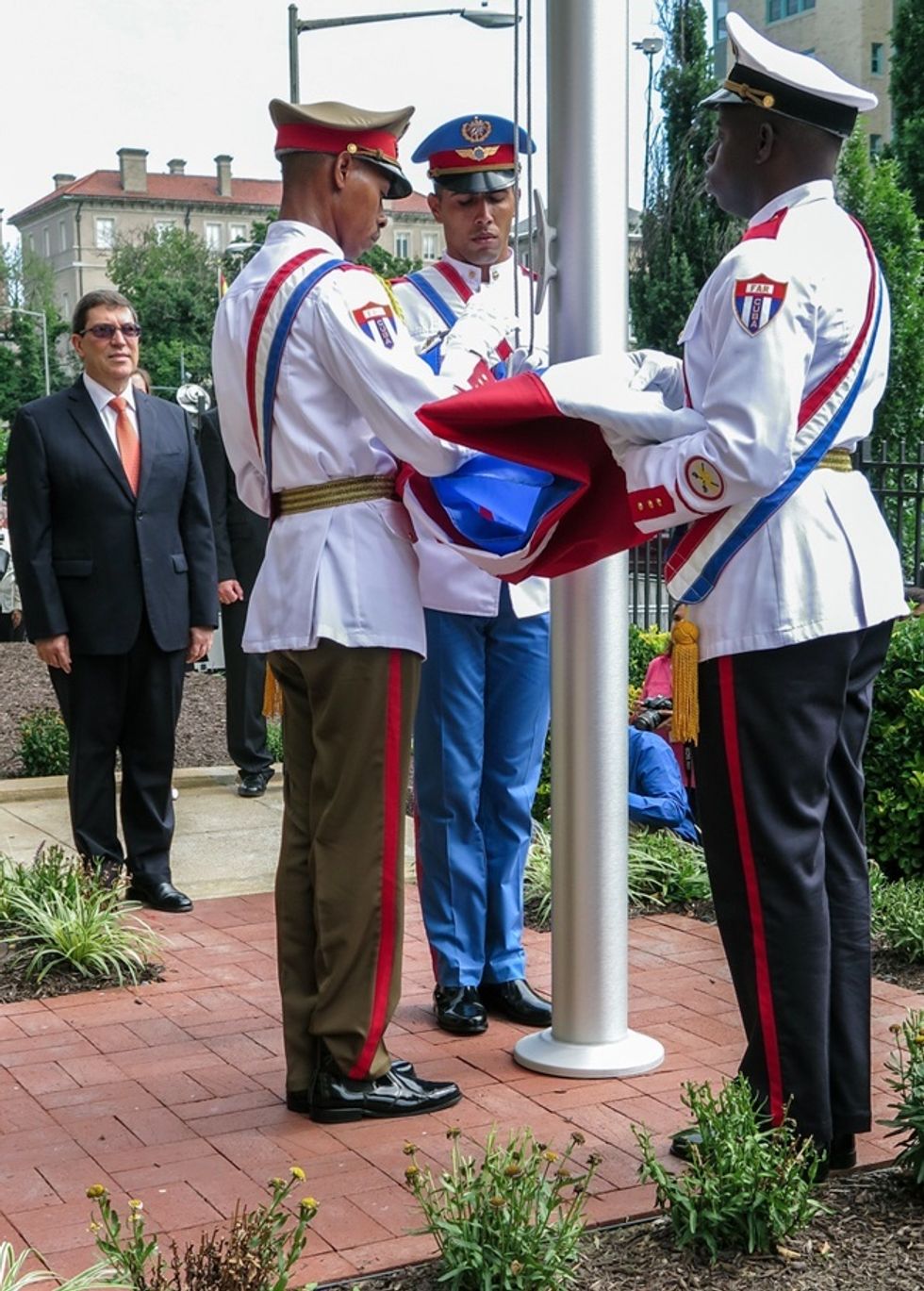 By not developing like the rest of the Caribbean, Cuba has spared its natural ecosystems, including its coral reefs, the same fate we have seen in so many places. However, a flood of tourism and business development from the U.S. could undermine Cuba's natural heritage and culture. Tourism is already up more than 35 percent since December. Twelve new golf course resorts have been announced to serve growing U.S. tourism demand, and a major U.S. cruise ship line has announced plans to bring Americans to Cuba beginning next year.
The Cuban Ministry of Tourism's slogan is: "Autentica Cuba," Authentic Cuba. Travelers are willing to pay a premium for a truly authentic experience—a healthy, vibrant natural environment and rich culture. There's no need to go the path of Cancun and remake the Cuban landscape and communities to serve tourism. What's special about Cuba is its unapologetic authenticity.
A few of my Cuban colleagues have pointed out that Cuba has strong environmental laws, strong foreign investment laws and has been open to the rest of the world for many years. Surely they are ready for the Americans. There's truth in that position and Cuba deserves praise for its strong, science-based environmental laws. However, the onslaught of millions of American tourists and the promise of billions in foreign investment will surely create unprecedented pressures. It may not happen overnight, but if the rest of the Caribbean is a guide, the unraveling of ecosystems and communities is a disaster that insidiously plays out over decades and many of our Cuban colleagues share our concern.
Now it's a race to work with our colleagues in Cuba and together help chart a sustainable course for the future as relations normalize with the U.S. and the end of the 50-year-old economic embargo nears. To take advantage of this unique moment in history, Ocean Doctor and the Center for International Policy have partnered to create the Cuba-U.S. Sustainability Partnership or CUSP, bringing together Americans and Cubans from the private sector, investors, nonprofit organizations and others to develop guiding principles and best practices for sustainable development in Cuba.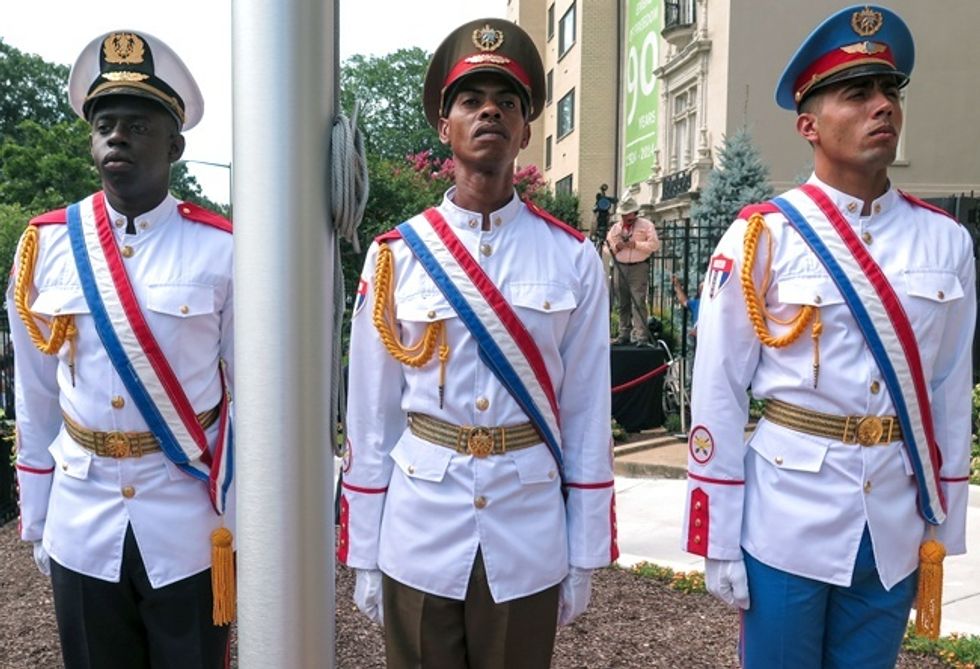 CUSP is focused not only on environmental sustainability, but also on protection of Cuba´s culture, architecture and communities. Together we are bringing the best minds together to develop innovative solutions focused on balancing economic development and environmental and cultural conservation, and most importantly, learn from the mistakes made elsewhere in the Caribbean. We are also working within Cuban communities to engage a new generation of Cuban entrepreneurs and train them in sustainable business practices.
Through the afternoon a steady stream of onlookers snaps selfies and revels in the new sight of the Cuban flag high above 16th Street Northwest. In their eyes one can see curiosity and a sense of possibility. Among the new opportunities now before us is the chance to work together, as neighbors who share common waters in a beautiful corner of the Caribbean, to help Cuba continue to be the "green jewel" of the Caribbean, a model of sustainability in our hemisphere.
YOU MIGHT ALSO LIKE
What Becomes of Cuba After the Embargo Is Lifted?
For more than half a century, the Straits of Florida, the thin band of blue water that courses northeastward between the U.S. and Cuba, have been invoked in political discourse to underscore the seemly insurmountable divide between our countries. But dunk your head underwater and you'll see that, in fact, these warm, rich waters inextricably unite us.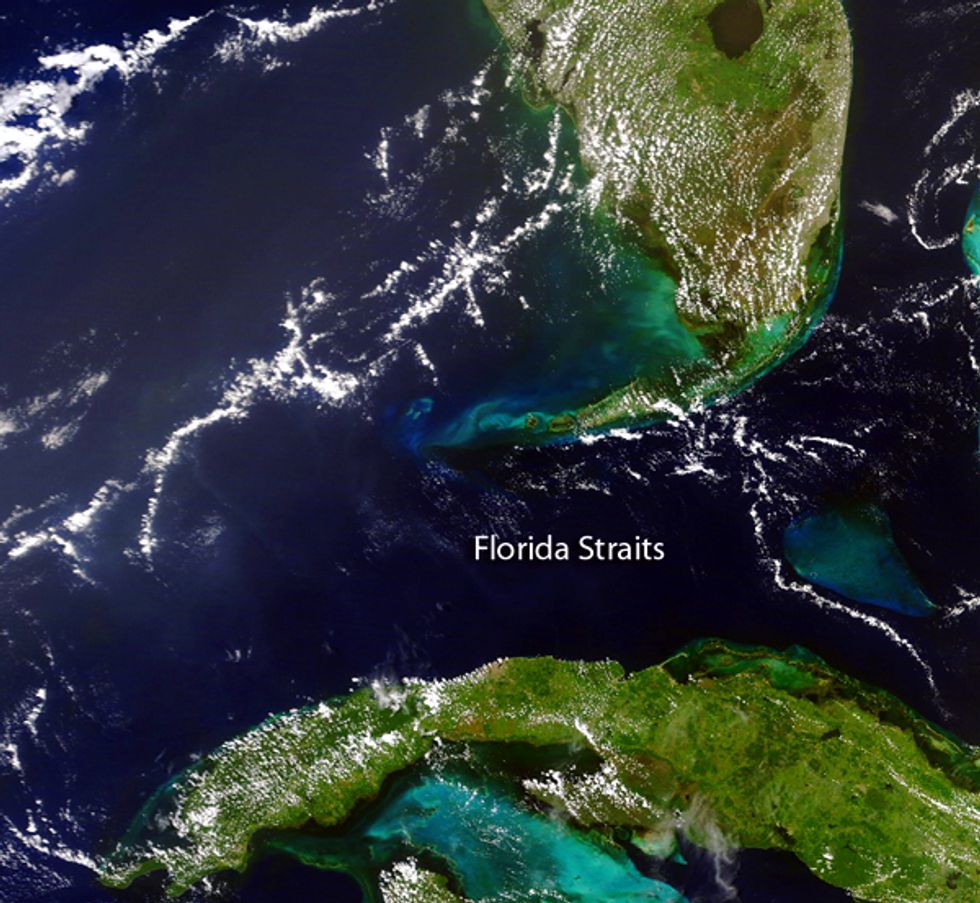 Many of the beloved sea turtles that nest on U.S. beaches forage in Cuban waters and vice versa. Sharks, whales and other migratory species regularly cross our respective borders. And Cuban fish grow up to become American fish. Studies show that larvae from grouper and snapper in Cuba hitch a ride in the swiftly moving currents into Florida's waters where they become adults.
The simple fact is that the U.S. and Cuba share a rich marine ecosystem that both nations depend upon. If we are to understand and protect this shared ecosystem, we must work together. Sometimes neighbors don't get along, but when something goes wrong in the neighborhood, they must rise above their differences and find a way to work together.
Unfortunately, something has gone very wrong in our neighborhood. A major report released in 2014 from the International Union for the Conservation of Nature (IUCN) reveals an average decline of coral cover in the Caribbean of more than 50 percent since 1970. Corals are dying from a deadly combination of factors. Nutrient pollution, carrying fertilizers from farms and back yards, is fueling the growth of coral-smothering algae. Overfishing is removing parrotfish and other fish that graze on algae, keeping it in check. Thanks to a warming climate, corals are being pushed to the brink of their thermal limits.
The reefs I delighted in as a teenager in the Florida Keys are unrecognizable today. The Caribbean's most iconic coral species, elkhorn coral, is now estimated to be 95 percent extinct from Caribbean waters. The IUCN report, the most comprehensive to date, offers the somber prognosis that without swift and meaningful action, "Caribbean coral reefs and their associated resources will virtually disappear within just a few decades…"
Many in the conservation community abandoned hope for the Caribbean. I had nearly lost hope myself. But several years ago, I started seeing something strange in Cuban waters: Cuban coral reefs were healthy -- strikingly so. In Cuba's Gardens of the Queen National Park, an archipelago 50 miles off Cuba's southern coast, I beheld magnificent stands of healthy elkhorn coral, teeming with colorful grunts, snappers and angelfish, a stand that I later learned was part of a barrier reef system that extends for more than 30 miles. I came face-to-face with Goliath groupers, a critically-endangered species, more than triple my weight. I found myself surrounded by dozens of healthy Caribbean reef sharks, silky sharks, tarpon and myriads of other vibrant fish and corals. And just as Cuba is often described as frozen in time, I felt I was immersed in a living time machine evidencing none of the decay and disease the rest of the Caribbean had suffered over the past half century.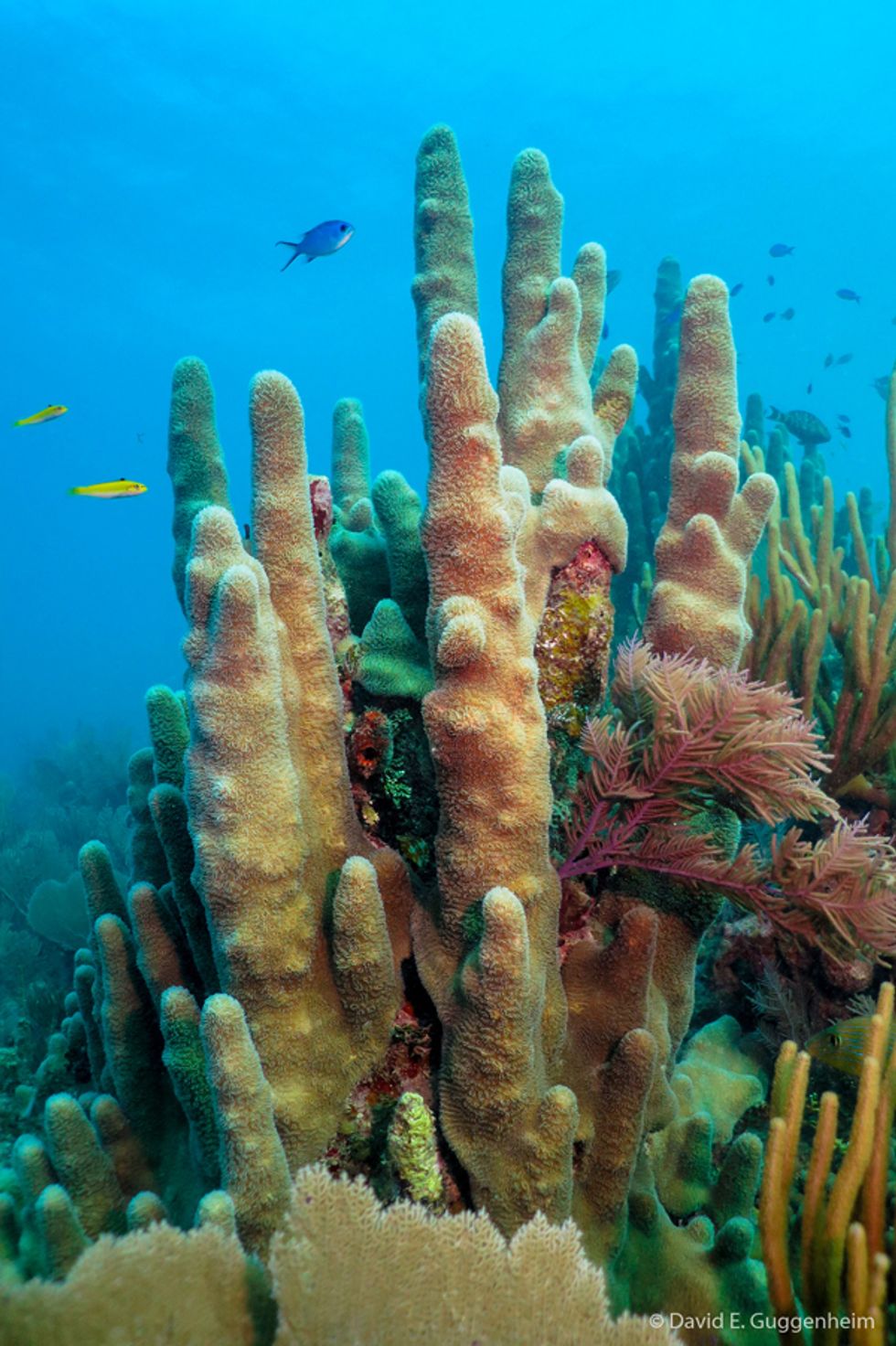 Cuba's reefs are likely so healthy in part because the island has developed so differently from the rest of the Caribbean. But it's also because Cuba has taken meaningful actions to protect its reefs. Cuba's Gardens of the Queen is the country's first marine protected area (MPA) established in 1996. At nearly 1,000 square kilometers, it is the largest fully-protected MPA in the Caribbean. Cuba has made a national commitment to protecting 25 percent of its marine waters, a world-leading figure compared to the worldwide average of 1 percent.
Thanks to Cuba, many of us are now filled with hope for the Caribbean. If we can study this living laboratory to fully understand what is keeping the coral reef ecosystems so healthy and resilient, we can gain insights that can guide coral reef restoration efforts throughout the Caribbean. Working with our Cuban colleagues, we are preparing an international scientific workshop with this very purpose, to learn from one of the last living coral reef laboratories, to understand what a healthy coral reef ecosystem is supposed to look like and how we can best protect it.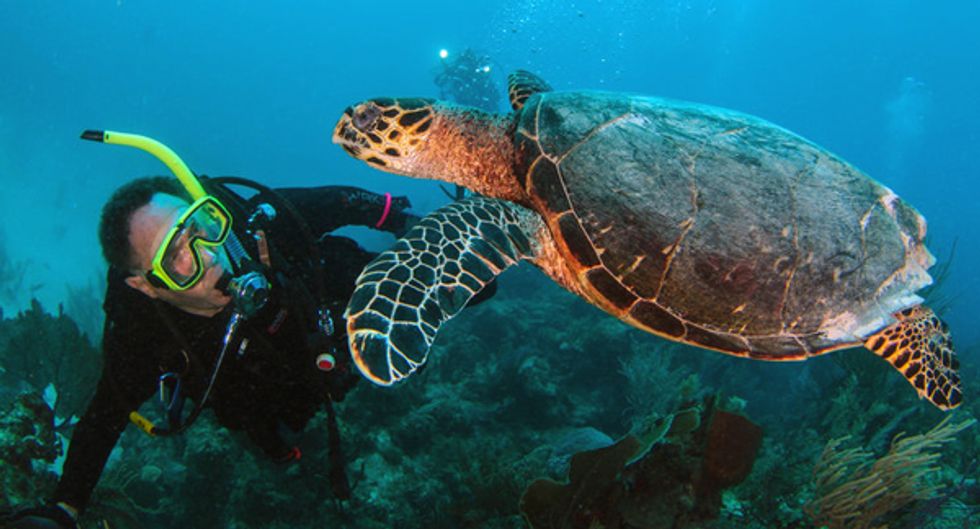 As an American, working in Cuba has been exceedingly difficult. Restoring diplomatic relations represents an important step forward and may finally allow government-to-government collaboration in marine science and conservation, something we have been trying to encourage for years. Removing Cuba from the "State Sponsors of Terrorism" list (and ultimately, lifting the trade embargo) will make it possible for us to export equipment critical for our work, currently prohibited or restricted by regulations.
Long before the 1959 revolution and the subsequent severing of diplomatic relations, the U.S. and Cuba shared a fruitful history of scientific collaboration stretching from the mid-19th century. Today, more than ever, our futures, and perhaps that of the Caribbean, depend upon such collaboration, to study, manage and protect our common resources, to learn from one another, and to teach the next generation about the wonders of its natural heritage. We have a beautiful neighborhood to care for. And neither of us can do it alone.
YOU MIGHT ALSO LIKE
What Becomes of Cuba After the Embargo Is Lifted?
500 Years After Columbus, Cuba's Gardens of the Queen Still Pristine
When a foreigner sets foot in Cuba, it immediately becomes clear that this magical island is profoundly unique and has developed drastically differently than any other country in Latin America and the Caribbean. And for those who venture into its verdant mountains or below its aquamarine waves, a striking revelation awaits: Just as the fifties-era Chevys and horse-drawn buggies portray an island seemingly frozen in time, so, too, do its exceptionally healthy and vibrant ecosystems illustrate that Cuba may have picked the perfect time in history not to follow the path of its neighbors. Indeed the past half century has seen a tragic and unprecedented decline in Caribbean coastal and marine ecosystems.
Elkhorn coral, one of the Caribbean's most iconic and important species, is estimated by the National Oceanic and Atmospheric Administration (NOAA) to be 95 extinct from Caribbean waters today. But in Cuba's Gardens of the Queen National Park—which includes Cuba's first "no-take" marine reserve, the largest in the Caribbean—a barrier reef of healthy and magnificent elkhorn stretches across more than thirty miles as part of a barrier reef, brimming with snapper, grunt, eagle rays and sea turtles, leaving one scratching their head and wondering how in a world of corals dead and dying that such a sight is possible today.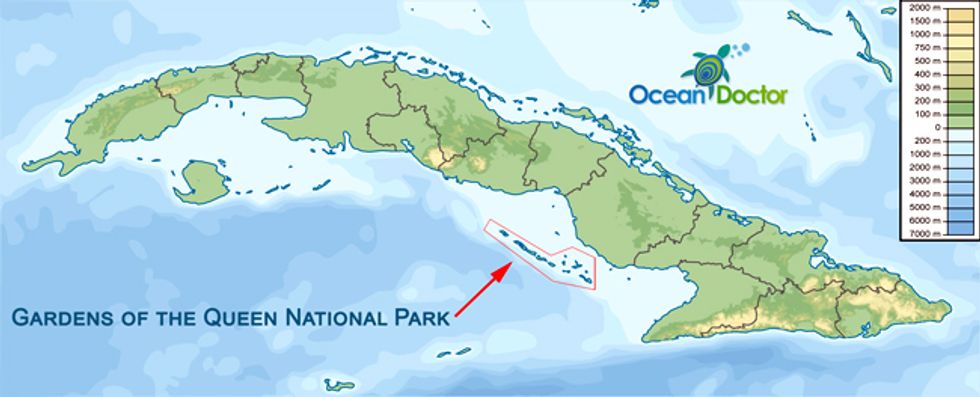 The health of Cuba's environment is partially an accident of history and the unique way Cuba has developed—or not developed as the case may be. The U.S. economic embargo, which was imposed on Cuba 54 years ago today, has no doubt kept millions of would-be tourists from Cuban shores and the consequent development of the resorts and golf courses that might have accommodated them. However, an important part of the story lies with the Cubans themselves who have placed strong environmental laws in place along with a comprehensive national system of protected areas. Its national commitment to protect 25 percent of its marine waters in protected areas is world-leading. In comparison, the global average is only one percent.
At a time when we reflect on the embargo, it is critical to consider what becomes of Cuba's environmental achievements in a post-embargo world. Given the uncertainty in Cuba's future—including a burgeoning privatization movement and the possibility of an end to the U.S. economic embargo and massive influx of tourism and business—it is important to anticipate dramatically increasing pressures on Cuba's natural resources. A team of Cuban and American scientists believes that placing an economic value on Cuba's natural resources will be essential to ensure the long-term protection of Cuba's ecosystems and the "future-proofing" of its environmental laws.
By the 1960s it became clear that traditional economics failed to take into account important factors, such as social welfare and the environment. Environmental economics seeks to measure the environmental impacts or costs of economic decisions, helping to address the shortfalls of policies based on traditional economics which often treat environmental impacts as externalities without economic consequence.
Had we placed an economic value on keeping our natural ecosystems intact, there is no doubt that many decisions would have been made much differently. For example, had we adequately considered the value of the Everglades to the economy of South Florida we might not be engaged today in the largest environmental restoration project in history to try to save them.
In September 2014, Ocean Doctor and the Cuban Center for Coastal Ecosystem Research led a workshop in Cuba with representatives of the Cuban Ministry of Science, Technology and the Environment and the Cuban National Center for Protected Areas, along with U.S. partners including University of California, Santa Barbara's Bren School of Environmental Science and Management, University of Colorado, Boulder, World Resources Institute and Washington and Lee University, to kick off a major new initiative to develop and implement a national strategy for the application of environmental economics to Cuba's marine and coastal areas.
Interestingly, Cuba's "Law of the Environment" requires that its environmental ministry "… direct actions intended to promote the economic evaluation of biological diversity." Cuba has a handful of dedicated environmental economists who have had to adapt to an ever-shifting economic landscape that is comprised of dizzying combinations of socialist and capitalist elements. The work of one Cuban environmental economist, Tamara Figueredo, helped support the Cuban government's decision to establish Gardens of the Queen as a national park in 2010. Our team is now working with Tamara to perform an economic assessment focused on the possible expansion of the marine reserve within Gardens of the Queen National Park.
We believe that helping Cuba apply the principles of environmental economics will serve to "future-proof" the country's strong environmental legacy against future economic pressures by providing it with the tools and information necessary to demonstrate the economic value of its resources in their natural state. Such studies, though limited in Cuba, have already demonstrated that protecting large marine areas can be more valuable to the economy than commercial fishing, thanks to Cuba's growing ecotourism sector.
Just over the horizon lies the first day of Cuba's post-embargo existence. It is our fervent hope that on that day and those that follow, Cuba avoids the well-worn path that too many nations followed over the past half century, at the expense of too many of their environmental treasures. By considering the economic and cultural value of some of the last remaining vibrant marine ecosystems in the Caribbean, Cuba has a unique opportunity to continue on a truly sustainable path. In a country where boundless Cuban ingenuity keeps Chevys running for more than 60 years, we have faith that Cuba's people will find a way to ensure that their pristine ocean ecosystems endure for centuries to come.
YOU MIGHT ALSO LIKE
500 Years After Columbus, Cuba's Gardens of the Queen Still Pristine