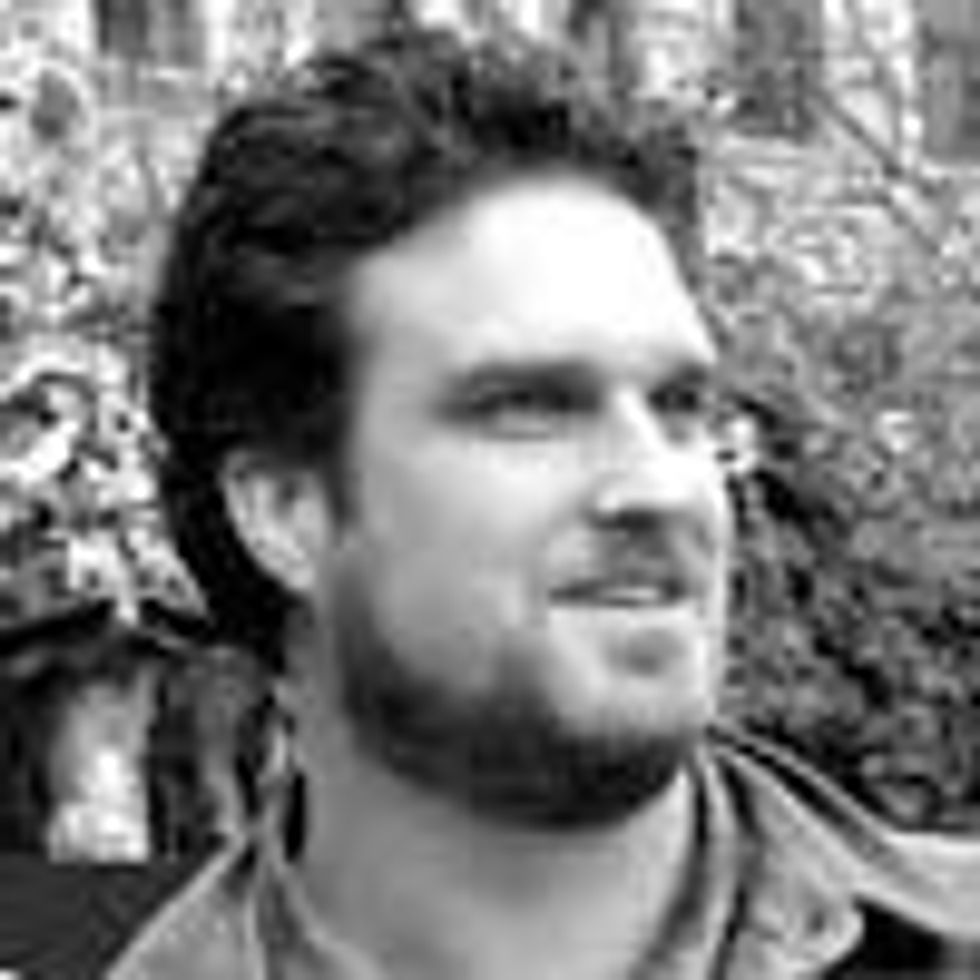 In a little under a week, Iowa caucus goers will gather in small rooms across the state and talk amongst themselves to select the next leader of the free world. With warnings of terrorist attacks around the globe and talk of a possible economic downturn amidst growing inequity, the stakes couldn't be higher. Today's candidates are in the final sprint to win the Iowa caucus goers votes and Hillary Clinton, Donald Trump, Marco Rubio, Jeb Bush and Bernie Sanders may want to take a look at how a one-term Senator from Illinois with little experience managed to take the prize the last time around.
It was a little more than 8 years ago that Barack Obama walked on stage in a hotel ballroom in downtown Des Moines in front of 500 Iowa farmers, environmentalists and rural political activists to make his case for why he should be the next president of the U.S.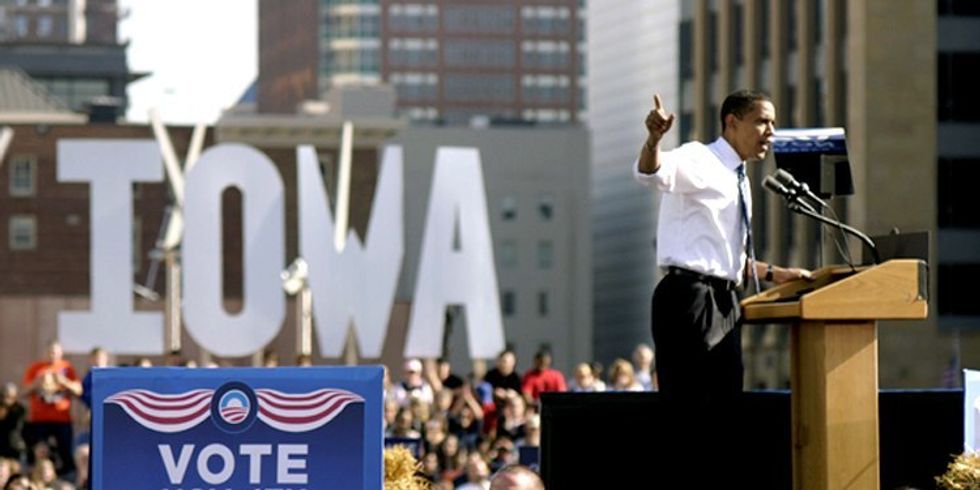 That morning, as then Sen. Obama took the stage, his ultimate victory was a long shot. If you can even fathom thinking back to the realities of the late fall in 2007, Obama was considered a rising star in the Senate, but was still a distant third place in the polls in Iowa. On Nov. 10, 2007, when Obama walked to the podium, the media was still salivating over how Hillary Clinton would be the inevitable winner and John Edwards was most likely a lock for second place in Iowa. So much for polls and conventional wisdom.
By the time the day would end however, Obama's stardom among Iowa Democrats would be launched into the stratosphere after he gave his now famous speech later that evening at the Jefferson Jackson Dinner, which campaign adviser David Axelrod called "the seminal event" for Obama on the ground in Iowa during the 2007 caucus.
As someone who witnessed Obama's famous 2007 Jefferson Jackson speech, I can promise you that his speech that night in front of Iowa's most active Democrats was what finally helped cinch my vote for him. I'd spent months following all the other candidates and working with each of their staff to promote sustainable food and agricultural policies to their campaigns and like many Iowans, I was still uncertain at that point, less than two months away from the Iowa caucus.
But my support for Obama that year finally came about because of the promises he made to Iowa farmers earlier that same day at an event that I organized called the 2007 Food and Family Farm Presidential Summit, hosted by the Iowa Farmers Union and the National Farmers Union, two progressive farm organizations that tried to provide a much needed counter balance to the political muscle of agribusiness front groups like Farm Bureau, National Corn Growers Association, National Pork Producers etc. that all pretended to work in farmers' interests, but in reality represented the worst corporate abusers that rigged public policies against real family farmers and were slowly and inevitably working to grind them out of business forever.
Many of the farmers in the audience planted GMO crops or used chemical fertilizers and pesticides on conventional non-GMO hybrids, but they were fiercely opposed to the ever increasing consolidation in the food and agricultural sectors, which not only creates a massively unjust economic playing field for small and mid-sized family farmers, but also the growing trend of factory farms, which had sprung up across Iowa in the previous decade by the thousands and had already resulted in the loss of more than 72 percent of the state's hog farms, which had until only very recently served as economic backbone of rural Iowa.
After barely surviving the Farm Crisis of the 1980s, these farmers were rushed headlong into the buzz saw of industrial agriculture as a result of bad public policies, that consolidated power and economic market share during the 20 years of the Bush and Clinton administrations, which mirrored the consolidation of power of corporate America, where small coffee shops, book stores and corner stores disappeared only to be replaced by Wal-Mart, the Death Star of rural America and other big box giants.
In many ways, Obama really was the first major politician to talk about the food, farm and environmental movements in a cohesive and meaningful way. He not only knew the dangers of industrial agriculture, but he wanted to chart a different path. It was clear to everyone in the room, that while Bill Clinton might have felt their pain, Obama knew exactly what caused it.
And Obama immediately had every farmer's attention when he opened his speech with what can only be considered political manna with a pledge to be a different kind of politician from the type who made big promises during the campaign but shut them out once they got their vote—something Iowa farmers are all too familiar with.
"Because for far too long, you've had to listen to politicians tell you one thing out on the campaign trail and then close the door and do another thing in Washington when they make rural policy. You're sending your message, but sometimes you can't get through because there's a lobbyist who's already in line," pledged candidate Obama.
Obama's promise that day fell on welcome ears, especially for the farmers and environmentalists in the room who had fought against Farm Bureau and the Pork Producers for the past 15 plus years and were tired of watching elected officials from both parties abandon them when it came time to pass a law to protect Iowa's family farmers, their drinking water and the environment.
"So when I hear other candidates say they'll stand up to the special interests on the issues that matter to you —like CAFO's —I'm reminded that the test of leadership isn't what you say, it's what you do. Voting records matter. And unlike other candidates who have changed their position on CAFO's, I look at this issue as a matter of principle, not politics," candidate Obama said.
Obama's statement was a not so subtle jab at both John Edwards, who had voted with agribusiness and against a Packer Ban on livestock ownership by giant meat cartels during his one term in the U.S. Senate and Hillary Clinton, whose ties to Tyson Foods, the factory farm chicken giant from Arkansas, which were well known by all Iowa farmers and environmentalists.
But Obama really won Iowa not only because he promised a different kind of politics, but his campaign also took the time to listen to the concerns of average Iowan farmers and make them a part of his campaign platform. And for a farmer, what matters more to them than anything is making sure that as they work to grow food for other people, they can also make a living to put food on their own family's table as well.
"For an expensive steak, a small farmer gets less than a dollar. For a loaf of bread, it's a dime. That's what happens when rural policy gets made in backrooms with lobbyists in Washington.
That's what I'll fight to change from my first day in office. And that's what my rural agenda is all about. Leadership that finally works for rural Americans, not well-connected lobbyists."
Obama's lede in here couldn't be more perfect, honing in on the economic betrayals farmers had faced in the marketplace and state capitols over and over again, setting the stage of betrayal in DC (only by his opponents of course) and then letting these farmers know what he was really ready to do if he was actually elected president.
"Here's what I'll do as President. I'll immediately implement Country of Origin Labeling because Americans should know where their food comes from. And we'll let folks know whether their food has been genetically modified because Americans should know what they're buying. And I'll use the bully pulpit to encourage folks to buy local because it's better for the environment, it's better for our farmers and it's healthier for Americans. And we'll stand up against conglomeration in the farm industry. That's what I'm doing today by supporting the Packer Ban."
Ironically, Obama received the biggest round of applause that day when he promised to honor the need for transparency in the food supply. And while the issue of Country of Origin Labeling or COOL was a hot topic at the time due to the 2007 Farm Bill fight, labeling genetically engineered food was not on any political radar at the time like it is now just 8 years later.
Today the politics of labeling GMOs is a white hot political issue, which has been pounded into a fever pitch with four ballot initiatives in the past 3 years, including California, Washington, Colorado and Oregon and the passage of three bills in Maine, Connecticut and Vermont and is currently boiling over with a major fight against biotech, chemical and America's major food companies in Washington DC, who have for the past year been trying to pass a bill that would preempt state's rights to label genetically engineered foods, something they already done in 64 other countries around the world.
For the most part, the White House has been mum on the issue, but I've been assured they're well aware of the 1-minute clip of Obama's 2007 campaign promise to label GMOs that I released at Food Democracy Now! in 2011 to support a Center for Food Safety petition to the Food and Drug Administration to require mandatory disclosure of GMOs in America's food supply.
In reality, Obama's speech that day 8 years ago and the progressive food and farming Rural Agenda that he pledged to Iowan farmers during the 2008 Iowa caucus launched the birth of the modern GMO labeling movement and catapulted the rise of the food movement during the past 7 years of his administration.
Today, I'm releasing this never before seen 14 minute video to help remind this administration of the pledges Obama made to Iowa farmers on the road to his remarkable 2008 Iowa caucus victory and in the hopes that it can inform our next president and their staff about what is really at stake in this election for America's farmers and rural America and all our nation's consumers no matter where they live.
Yeah, that's right, Barack Obama promised to label GMOs in front of Iowa farmers and he won the Iowa caucus! This might be a time for other candidates to step up their game to stand for what's good for the average American voter versus what's good for corporate agribusiness's bottom line. History is littered with candidates who can't connect on the issues that really matter. I certainly hope there are some smart campaign staff talking sense to The Donald, Rubio, Cruz, Hillary and Bernie before caucus night, because Iowa voters have heard it all before and they have a pretty good sense of who might actually be able to make those campaign promises come a reality.
They say all politics is local, well there's nothing more local than your stomach or the politics of food. Today's politicians better realize that the food movement is coming for them, whether they realize it or not.
YOU MIGHT ALSO LIKE
Monsanto Slammed for Violating European Patent Law for GMO Melon
Josh Fox: 'We Are Not drowning, We Are Fighting'
Sanders vs. Clinton: Hard Hitting Final Pitches to Iowa Voters
EcoWatch Daily Newsletter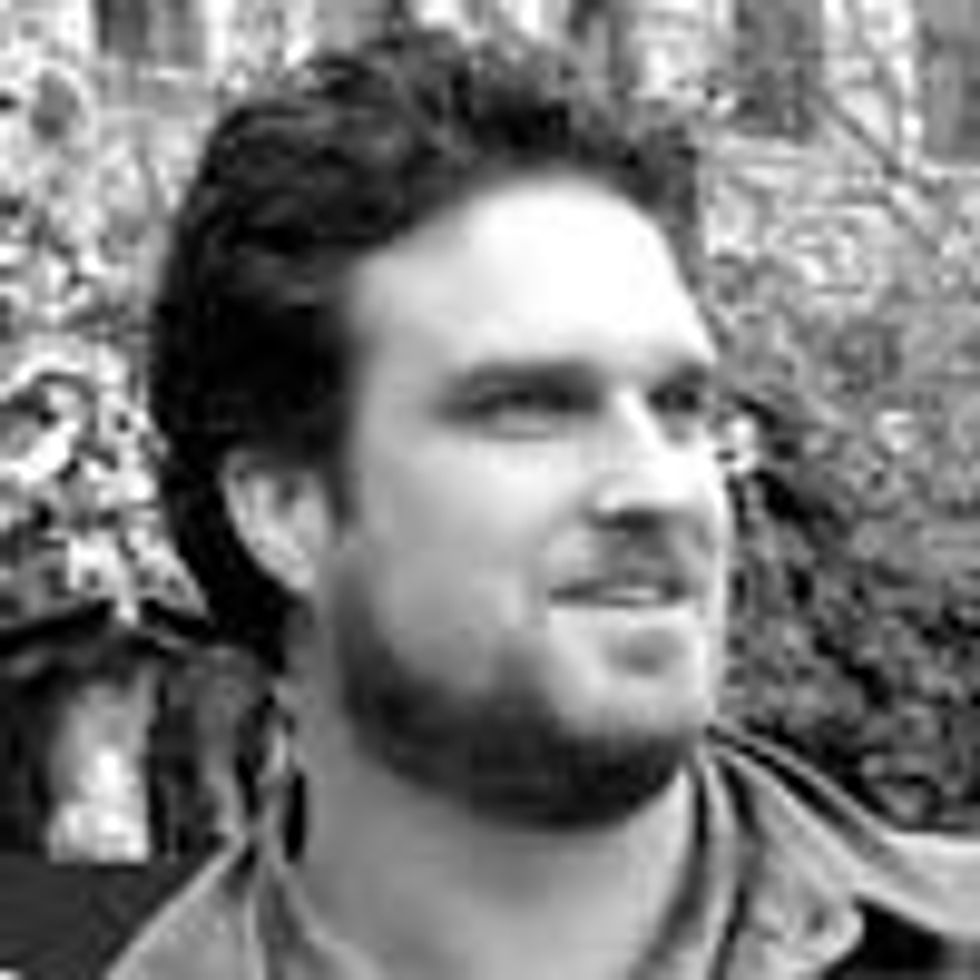 What happens when a private company with a long history of producing some of the most toxic chemicals on the planet and now produces our food starts facing public pressure from a growing national grassroots movement to label their products to conform with basic principles of democracy and transparency?
Well, if the company in question is Monsanto, then you take a page out of Big Tobacco's playbook and hatch a secret plan to enlist public university scientists to bury the potential harm of your genetically engineered crops by whitewashing negative studies and systematically demonizing your opponents in the media to mislead elected officials and the American public about the safety of GMOs (genetically modified organisms) and their accompanying toxic pesticides.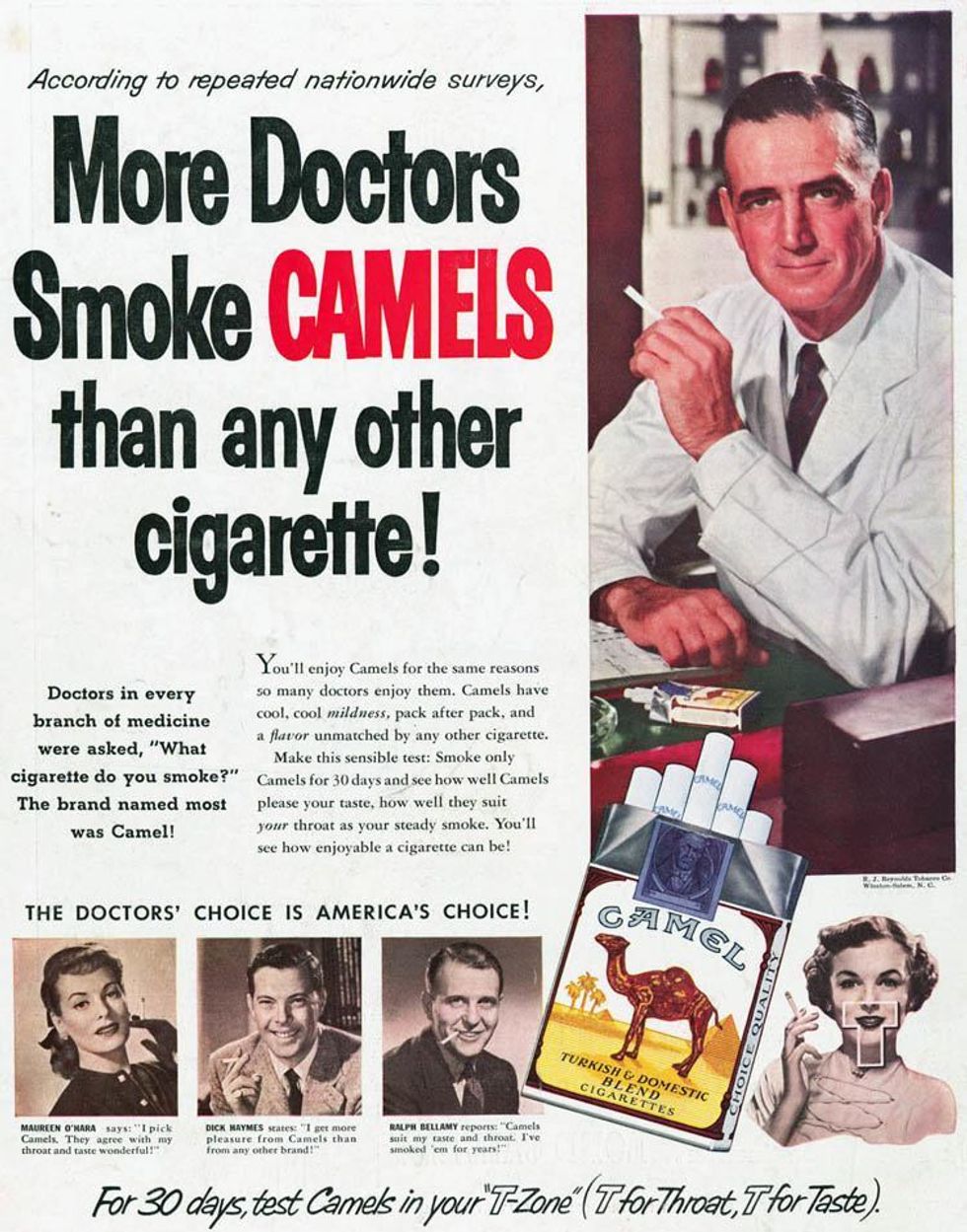 Here's a little history lesson, in the 1940s, tobacco companies ran ads with doctors proclaiming smoking cigarettes were perfectly safe. In 1946, the RJ Reynolds Tobacco Company ran a now infamous campaign called "More Doctors" recommend Camels after "surveying" more than 113,597 doctors "from every branch of medicine." In reality, the tobacco company's advertising agency employees questioned doctors at medical conferences and their offices and used these fake results to deceive a generation of smokers.
Today, Monsanto and the biotech industry are copying the same tactics, this time hiding behind the façade of public university scientists and hiring major PR firms to promote GMOs and the toxic weedkiller glyphosate, the main chemical ingredient in Roundup, which some scientists are offering to drink on Twitter and in front of classrooms of students to "prove" its safety and hide the fact that it is harmful to humans and the environment.
Last weekend, the New York Times released a stunning expose of how Monsanto and the biotech industry enlisted allegedly independent public university scientists in a deceptive campaign to lobby state legislators in Pennsylvania, interfere with ballot initiatives in Oregon and Colorado and paper over risks of high pesticide usage on the Hawaiian island of Kauai.
According to New York Times investigative reporter Eric Lipton, as the GMO labeling debate was coming to a boil in America in the past three years, Monsanto and their "industry partners retooled their lobbying and public relations strategy to spotlight a rarefied group of advocates: academics, brought in for the gloss of impartiality and weight of authority that come with a professor's pedigree."
And why would Monsanto want to do this? Because independent scientist from public university come with a major halo effect, something that Monsanto's top lobbyists mention repeatedly in the recently released emails to public university scientists.
Shining a Light on Monsanto and the Corruption of Public University Scientists
Lipton's story details how a University of Illinois professor and longtime GMO promoter Bruce Chassy used his Monsanto connections to lobby the Environmental Protection Agency to abandon its efforts to tighten regulations on insecticidal GMO seeds. If you take a dive into the emails, you can see how Chassy enlisted the help of former advisor to George W. Bush and Hillary Clinton, Nina Federoff in his efforts to influence the EPA's policies.
In the emails, Chassy's efforts to lobby the EPA for looser regulations were encouraged by a Monsanto lobbyist even as Chassy was negotiating the release of his grant from the company.
For background on how this current story originally broke, you have to go back to Aug. 6, when the international science journal Nature reported that more than 4,600 pages of emails from University of Florida plant scientist Kevin Folta "reveal his close ties to the agriculture giant Monsanto … and other biotechnology-industry interests."
The Nature article set off a minor firestorm on social media, when University of Florida professor and Monsanto promoter Kevin Folta's emails were leaked to Nature's Keith Kloor for damage control.
While Folta has not yet been charged with scientific misconduct or wrongdoing, these emails reveal a close relationship and financial ties to Monsanto for the first time publicly. The new reports of financial ties and Folta's regular communication with Monsanto executives and lobbyists contradict Folta's previous repeated denials of any relationship or conflict of interest with the St. Louis, Missouri based biotech seed and chemical giant responsible for mass producing such toxic cancer-causing chemicals as PCBs, Agent Orange, dioxin and now 80 percent of the genetically engineered crops that appear in our food supply.
"The documents show that Monsanto paid for Folta's travel to speak to U.S. students, farmers, politicians and the media," according to Nature's Keith Kloor. As reported, Folta received a $25,000 "unrestricted" grant from Monsanto in 2014, which a Monsanto representative stated could be used by Folta at his "discretion in support of your research and outreach projects."
The information regarding Monsanto's $25,000 donation only became public as a result of a Freedom of Information Act (FOIA) request by the public advocacy group U.S. Right to Know, who made the request after noticing Folta's frequent responses on a pro-GMO industry run website, which is funded by the members of The Council for Biotechnology Information and includes BASF, Bayer CropScience, Dow AgroSciences, DuPont, Monsanto and Syngenta.
According to the emails released by the New York Times, Kevin Folta appears eager to please Monsanto's executives, telling them, "I'm glad to sign on to whatever you like, or write whatever you like" and, in order to get his $25,000 check cleared Folta claims, "I am grateful for this opportunity and promise a solid return on the investment." What kind of investment was Monsanto really making?
Two days later, Monsanto confirmed payment to Kevin Folta in an official letter.
In addition, the emails reveal a near constant communication between Kevin Folta, Monsanto's top lobbyists, the crisis public relations firm Ketchum and a handful of U.S. scientists working behind the scenes to manipulate public perception on the safety of GMOs and Monsanto's flagship herbicide Roundup dating back to at least 2013.
The emails between Folta, Monsanto and Ketchum PR are especially damning as they indicate that agents from the New York crisis management PR firm wrote answers specifically for Folta that he then cut and paste and posted on the GMO Answers website under his own name. A quick search of Folta's public responses on the industry run website show that he began responding to questions about GMO technology on the website in July of 2013.
GMO Answers, lists Folta as an "Independent Expert" and a professor and chairman of the Horticultural Sciences Department at the University of Florida. One wonders what Professor Folta or the University of Florida would do if they caught Monsanto and Ketchum PR agents writing papers or scientific studies for their students which they submitted under their own names. In most cases this would result in plagiarism charges for the students and a potential dismissal from the university, but for Kevin Folta posting canned PR responses resulted in Monsanto writing a $25,000 check for what Folta claims is for his personal "science communication" fund.
For the past several years, Kevin Folta has made repeated claims that he was not linked, in any way, to Monsanto and he has made vicious attacks on anyone who insinuated otherwise on social media. But the content of these emails reveals otherwise.
Folta's Deceptive Claims of No Relationship with Monsanto Do Not Add Up
In a recent June 4 interview with actor/comedian Joe Rogan, Folta was so bold as to claim "I have nothing to do with Monsanto" and "I am not a shill," which produced a hearty chuckle from Rogan and a knowing grin from Folta himself.
By this time, Folta had been in close communication with Monsanto's top lobbyists and executives for more than 3 years and had already started spending the $25,000 "unrestricted grant" from Monsanto. So why the cover-up?
Why Monsanto's Hidden Conflict of Interest with Public University Scientists Harms Science and Open Discourse
While Folta proclaims independence, his public comments exactly mirror Monsanto talking points. This past spring, when the World Health Organization's International Agency for Research on Cancer (IARC) declared glyphosate, the main chemical ingredient in Monsanto's Roundup, to be "probably carcinogenic to humans," Monsanto immediately called this new report "junk science".
Rather than look at the new report objectively, Kevin Folta sneeringly dismissed it and then offered to drink a pint of glyphosate in front of a class of students at Iowa State University that he was supposedly educating with his "science communication" skills. As an Iowan, I'm pretty sure that the ISU students were too smart to fall for this stupid stunt.
According to the British watchdog group GMWatch, which has documented Folta's repeated attacks on GMO critics and false statements his claims about the safety of glyphosate are simply dead wrong.
This wouldn't be such a big deal if Folta was just another self-promoting blowhard on the Internet, but with Monsanto's backing and close ties to a PR firm like Ketchum, these compromised public university scientists now have big media access and are being used as pawns to promote the safety of Monsanto and the biotechnology industry's products.
For the first time now, with these public records requests, Americans concerned about how their food is produced are getting a firsthand look at the secret tactics of how corporations like Monsanto use PR firms and public university scientists to put a deceptive spin on potential safety issues of GMOs and pesticides.
In reality, this recently revealed collusion between Monsanto and public university scientists poisons the public dialogue and puts the health and safety of the American public at risk by using tobacco industry tactics.
In 1994, seven tobacco executives testified in front of Congress denying they manipulated their brand's formula to make cigarettes addicting and mislead members of Congress about the scientific evidence linking their products to cancer. Exactly twenty years later, on December 10, 2014, a group of biotech industry apologists followed the same script while testifying in Congress to try to block reasonable and common sense GMO labeling laws, which more than 90 percent of Americans regularly support in public opinion polls.
Make no doubt about it, Monsanto's current efforts to recruit public university scientists are not about communicating science, but to manipulate public opinion just like the tobacco industry.
The tragedy of this scenario is that taxpayers are indirectly helping fund a public disinformation campaign that is ultimately bent on denying them their basic right to know what's in their food and derail the national movement to label genetically engineered foods. One wonders how much longer Big Tobacco would have been able to deceive Congress and the American public with a few more "independent scientists" like Chassy and Folta on hand.
Dave Murphy is the founder and executive director of Food Democracy Now!, a grassroots movement of more than 650,000 American farmers and citizens dedicated to reforming policies relating to food, agriculture and the environment.
YOU MIGHT ALSO LIKE
Koch Brothers: Apocalyptical Forces of Ignorance and Greed, Says RFK Jr.
French Court Finds Monsanto Guilty of Chemical Poisoning
This Law Would Make It Illegal for Any State to Mandate GMO Labeling
California Becomes First State to Label Monsanto's Roundup as a Carcinogen
waterlust.com / @tulasendlesssummer_sierra .
Each product featured here has been independently selected by the writer. If you make a purchase using the links included, we may earn commission.
The bright patterns and recognizable designs of Waterlust's activewear aren't just for show. In fact, they're meant to promote the conversation around sustainability and give back to the ocean science and conservation community.
Each design is paired with a research lab, nonprofit, or education organization that has high intellectual merit and the potential to move the needle in its respective field. For each product sold, Waterlust donates 10% of profits to these conservation partners.
Eye-Catching Designs Made from Recycled Plastic Bottles
waterlust.com / @abamabam
The company sells a range of eco-friendly items like leggings, rash guards, and board shorts that are made using recycled post-consumer plastic bottles. There are currently 16 causes represented by distinct marine-life patterns, from whale shark research and invasive lionfish removal to sockeye salmon monitoring and abalone restoration.

One such organization is Get Inspired, a nonprofit that specializes in ocean restoration and environmental education. Get Inspired founder, marine biologist Nancy Caruso, says supporting on-the-ground efforts is one thing that sets Waterlust apart, like their apparel line that supports Get Inspired abalone restoration programs.
"All of us [conservation partners] are doing something," Caruso said. "We're not putting up exhibits and talking about it — although that is important — we're in the field."
Waterlust not only helps its conservation partners financially so they can continue their important work. It also helps them get the word out about what they're doing, whether that's through social media spotlights, photo and video projects, or the informative note card that comes with each piece of apparel.
"They're doing their part for sure, pushing the information out across all of their channels, and I think that's what makes them so interesting," Caruso said.
And then there are the clothes, which speak for themselves.
Advocate Apparel to Start Conversations About Conservation
waterlust.com / @oceanraysphotography
Waterlust's concept of "advocate apparel" encourages people to see getting dressed every day as an opportunity to not only express their individuality and style, but also to advance the conversation around marine science. By infusing science into clothing, people can visually represent species and ecosystems in need of advocacy — something that, more often than not, leads to a teaching moment.

"When people wear Waterlust gear, it's just a matter of time before somebody asks them about the bright, funky designs," said Waterlust's CEO, Patrick Rynne. "That moment is incredibly special, because it creates an intimate opportunity for the wearer to share what they've learned with another."
The idea for the company came to Rynne when he was a Ph.D. student in marine science.
"I was surrounded by incredible people that were discovering fascinating things but noticed that often their work wasn't reaching the general public in creative and engaging ways," he said. "That seemed like a missed opportunity with big implications."
Waterlust initially focused on conventional media, like film and photography, to promote ocean science, but the team quickly realized engagement on social media didn't translate to action or even knowledge sharing offscreen.
Rynne also saw the "in one ear, out the other" issue in the classroom — if students didn't repeatedly engage with the topics they learned, they'd quickly forget them.
"We decided that if we truly wanted to achieve our goal of bringing science into people's lives and have it stick, it would need to be through a process that is frequently repeated, fun, and functional," Rynne said. "That's when we thought about clothing."
Support Marine Research and Sustainability in Style
To date, Waterlust has sold tens of thousands of pieces of apparel in over 100 countries, and the interactions its products have sparked have had clear implications for furthering science communication.
For Caruso alone, it's led to opportunities to share her abalone restoration methods with communities far and wide.
"It moves my small little world of what I'm doing here in Orange County, California, across the entire globe," she said. "That's one of the beautiful things about our partnership."
Check out all of the different eco-conscious apparel options available from Waterlust to help promote ocean conservation.
Melissa Smith is an avid writer, scuba diver, backpacker, and all-around outdoor enthusiast. She graduated from the University of Florida with degrees in journalism and sustainable studies. Before joining EcoWatch, Melissa worked as the managing editor of Scuba Diving magazine and the communications manager of The Ocean Agency, a non-profit that's featured in the Emmy award-winning documentary Chasing Coral.