[Editor's note: Conor Kennedy traveled this summer to Cuba to dive the Gardens of the Queen, one of the most pristine marine environments in the Caribbean, to conduct ecological assessments of the coral reef ecosystem with Ocean Doctor. This is the last of a five-part series. Read Part I, Part II, Part III and Part IV.]
Cuba claims a larger landmass than all the other islands of the Greater Antilles together. The island occupies the intersection between the Atlantic, Caribbean and Gulf of Mexico. As such, it is a crossroads of high value ecosystems and a hot spot for endemism and biodiversity. The island and its waterways provide nursery, breeding and migratory staging habitat to fishes, birds and animals that populate and enrich waterways from Venezuela to Florida. We talked to Anmari Alvarez Aleman, a Cuban marine mammal expert. She explained that scientists have tracked Florida manatees to feeding habitats in Cuba!
In one sense Cuba's political and economic isolation has given it the opportunity to make good long-term decisions about its environment. Instead of responding to market pressures and the corrupting influence of corporate money and campaign contributions to sprout hotels and resorts on every spit of sand and open water, Cuba's beaches and reefs have been largely protected. When the embargo ends, tens of thousands of pleasure and charter boats from Miami will descend and likely destroy this last piece of paradise.
Aidan and RFK, Jr. targeting invasive reef destroying Lionfish. Photo credit: Noel Lopez
Fidel Castro's personal guards aboard Avalon II with its captain, Arjel (left). They delivered a letter from the former president to RFK, Jr. Photo credit: David E. Guggenheim
Dr. David E. Guggenheim takes photos to document the findings of the expedition. Photo credit: Noel Lopez

Policy choices made by Cuba's government today will determine whether these reefs will survive that onslaught or if they will instead bleach and die under economic and human pressure as they have across the Caribbean. "We need to lock these policies in place today," a foreign ministry official told us. He promised that "Cuba's government is determined to implement binding rules that will allow us to avoid the kind of reckless development that has impoverished the people and the environment on other Caribbean Islands."
I, myself, have seen, elsewhere in the Caribbean, how the sale of the best beaches and reef locations to for-profit multinational companies strands the poorest island inhabitants depriving them of access to their own coasts. The population becomes trapped in sweltering cities and towns inland between the forbidding skylines of giant foreign-owned hotels. That development model cuts people off from their beaches, reefs, fisheries and the patrimony of the commons. Hopefully, Cuba will try a different strategy.
Back in Havana, I went with my new friends from The Explorers Club to the Tropicana where we all participated in the highly competitive dance contest. My Dad took Aidan to night church which they reported was crowded with congregants worshipping and dancing to the rhythms of loud rock music and evangelical dancers. Everything in Cuba seems to be lively and colorful.
A final word about the embargo: Cuba is still a dictatorship. The Cuban government restricts basic freedoms like the freedom of speech and assembly. The government owns the media. During periodic crackdowns the Cuban government fills Cuban jails with political prisoners. Elections, as in most old-school communist countries, offer limited options. Still, I think most Americans of my generation ought to look deeper into the justification for our longstanding embargo against this tiny island.
There are real tyrants in the world, with whom America has made close allies and many governments with much worse human rights records than Cuba—Azerbaijan, for example, whose president Ilham Aliyev boils his opponents in oil, Saudi Arabia, Jordan, China, Bahrain, Tajikistan, Uzbekistan and many others where torture, enforced disappearances, religious intolerance, suppression of speech and assembly, medieval oppression of women, sham elections and non-judicial executions are all government practices.
Despite its poverty, Cuba has managed some impressive accomplishments. Cuba's government boasts the highest literacy rates for its population of any nation in the hemisphere. Cuba claims its citizens enjoy universal access to health care and more doctors per capita than any other nation in the Americas. Cuba's doctors, reportedly, have high quality medical training. Unlike other Caribbean islands where poverty means starvation, every Cuban, receives a monthly food ration book that provides their basic necessities. Even Cuban government officials admit that the economy is smothered by the inefficiencies of Marxism. However they also argue that the principal cause of the island's economic woes is the strangling impacts of the 60 year old trade embargo.
It is clear to everyone that the embargo first implemented during the Eisenhower Administration in October 1960, unfairly punishes regular Cubans. Mostly due to the embargo, Cubans suffer a cataclysmic lack of medicine and medical equipment, and long lines outside their pharmacies. We saw some Cuban hospitals that looked like dilapidated ghettos. The embargo impedes economic development by making virtually every commodity and every species of equipment both cataclysmically expensive and difficult to obtain.
Worst of all, instead of punishing the regime for their human rights restrictions, the embargo has fortified the dictatorship by justifying oppression. It provides every Cuban visible evidence of the boogeyman that every dictator requires—an outside enemy to justify an authoritarian national security state. The embargo has also given Cuban leaders a plausible bugaboo upon which to blame Cuba's poverty by loaning credence to the Cuban government's argument that the U.S., not Marxism, has caused the island's economic distress.
The embargo allows the regime to portray America as a bully and themselves as courageous leaders standing up to threats, intimidation and economic warfare by history's greatest military superpower. It perpetually reminds the proud Cuban people that our powerful nation, which has staged invasions of their island and plotted for decades to assassinate their leaders and sabotaged their industry, continues an aggressive campaign to ruin their economy.
Perhaps the best argument for lifting the embargo is that it doesn't work. Our 60-plus year embargo against Cuba is the longest in history and yet the Castro regime has remained in power during its entire duration. Instead of lifting the embargo, different U.S. administrations, including the Kennedy administration, have strengthened it without result. It seems silly to pursue a U.S. foreign policy by repeating a strategy that has proved a monumental failure for six decades.
The embargo clearly discredits U.S. foreign policy, not only across Latin America, but also with Europe and other regions. For more than 20 years, the UN General Assembly has called for lifting the embargo. Last year the vote was 188 in favor and two against (U.S. and Israel). The Inter American Commission on Human Rights (the main human rights bodies of the Americas) has also called for lifting the embargo. The African Union, the same.
One reason that it diminishes our global prestige and moral authority is that the entire embargo enterprise only emphasizes our distorted relationship with Cuba. That relationship is historically freighted with powerful ironies that make the U.S. look hypocritical to the rest of the world. Most recently, while we fault Cuba for jailing and mistreating political prisoners, we have simultaneously been subjecting prisoners, many of them innocent by the Pentagon's own admission, to torture—including waterboarding and illegal detention and imprisonment without trial, in Cuban prison cells in Guantanamo Bay. While we blame Cuba for not allowing their citizens to travel freely to the U.S., we restrict our own citizens from traveling freely to Cuba.
In that sense, the embargo seems particularly anti-American. Why does my passport say that I can't visit Cuba? Why can't I go where I want to go? The Cuba trip was a wonderful education for my brother and me since we got to see communism with all its warts and faults up close. Why doesn't our government trust Americans to see for themselves the ravages of dictatorship?
President Kennedy told Castro, through intermediaries, that the U.S. would end the embargo when Cuba stopped exporting violent revolutionists to Latin America's Alliance for Progress nations—a policy that mainly ended with Che Guevara's death in 1967 and when Castro stopped allowing the Soviets to use the island as a base for the expansion of Soviet power in the hemisphere. Well, the Soviets have been gone since 1991—more than 20 years, but the U.S.-led embargo continues to choke Cuba's economy. If the objective of our foreign policy in Cuba is to promote freedom for the subdued citizens, we should be opening ourselves up to them, not shutting them out.
We have so much to learn from Cuba—from its successes in some areas, and failures in others. As I walked through the streets of Havana, Model-T's chugged by and Che's soaring effigy hung in wrought iron above the street. I could feel the weight of sixty years of Cuban history, a history so deeply intertwined with that of my own country. Now, as Havana crumbles and the Gardens of the Queen thrive, I hope that in sixty years every American will have the chance to see the ocean as it is in Cuba, and as it should be back home.
YOU MIGHT ALSO LIKE
Gardens of the Queen: Caribbean's Last Pristine Coral Reefs
Crossing Cuba in a Chinese Bus
500 Years After Columbus, Cuba's Gardens of the Queen Still Pristine
EcoWatch Daily Newsletter
[Editor's note: Conor Kennedy traveled this summer to Cuba to dive the Gardens of the Queen, one of the most pristine marine environments in the Caribbean, to conduct ecological assessments of the coral reef ecosystem with Ocean Doctor. This is Part IV of a five-part series. Read Part I, Part II and Part III and Part V.]
We spent three days exploring rich, varied undersea bottom topography with its mélange of deep canyons, steep cliffs, coral ledges and lofty pillars rising from sandy bottoms 60 feet deep. At each dive site the skiff would drop us at one point and we would swim to the bottom and travel about a quarter of a mile underwater to our take-out, moving with the current under spectacular overhanging ledges, through caves and catacombed buttresses, many of them housing cleaning stations where larger fish would stop to have their teeth brushed by tiny gobies. Since these waters had not been fished for nearly 20 years, thick schools of curious reef sharks, many of them more than 8 feet long, and 300 pound Goliath groupers—mostly extinct elsewhere in the Caribbean—followed and occasionally nuzzled us like friendly Saint Bernards.
Dive Day 1: El Quebrado
Near the end of our first dive at a site called El Quebrado, we moved back into shallow waters around 40 feet in depth, where we floated, captivated, above vast forests of vibrant, towering Elkhorn coral. Our dive master Noel Lopéz Rodriguez told us that we were seeing the best living example of this species remaining in the world. During later dives at Octopus Cave and Finca de Pepe, we saw Hawksbill and green turtles swimming over crowded groves of sponges and brain coral, sea cucumber and thick forests of hard and soft coral tubes. I was excited to see tangled webs of black coral in great abundance in just 20 feet of water. In the rest of the Caribbean that species is rare in waters shallower than 90 feet, having been plucked and cut by divers to feed the jewelry trade. Over the next few days we made a dozen similarly spectacular dives.
Dive Day 2: Cabezo de la Cubera
On the second morning we dove Cabezo de la Cubera, a site dropping from a bustling shallow reef down a 50-foot wall accompanied by our ubiquitous posse of sharks and Goliath groupers to find a shipwreck housing giant green and spotted moray eels. A glistening cloud of tarpon, shiny as mirrors, surrounded, and then enveloped us in their school. Living organisms occupied every inch of space on the busy reef. I recognized live brain, staghorn and sheet corals, and basket and vase sponges beneath the bushy expanses of waving sea fans. The reef was alive with colorful aquarium fishes like sergeant majors, purple and yellow fairy basslets and bluehead wrasse, along with multi-colored micro lichens, sea urchins, tiny iridescent shrimp and long legged arrow shrimp that looked like daddy long-leg spiders with blue bodies and shiny yellow claws. We watched blue and peacock colored parrot fish, brilliant red file fish, triggerfish and angel fish grazing on the coral while squirrel fish and spode fish hid on their sides in the crevices, holes and under ledges.
Dive Day 3: Five Seas
During an early morning dive we followed schools of tarpon along the sandy bottom below the cliff base, past caves and over hanging rocks covering the sandy bottom below the towering bluff. As usual, there was too much to see and my brother Aidan and I ran short on air. In a hurry to surface, we exited upward through a steep coral chimney, chasing a giant barracuda that loped warily above us while a large reef shark pursued us from behind, then suddenly rose up between us; close enough to brush us both with his sandpaper skin as he passed.
Back at the Avalon II, to pick up fresh tanks, we found two uniformed officials from a Cuban government vessel who had arrived during our absence with a letter from Castro thanking us for visiting his beloved Gardens of the Queen and encouraging us to report back to him on the conditions of the reef ecosystem and how the reserve has responded to government protection.
After our second dive at a site called Five Seas, we stopped for a picnic lunch at an island named Boca de Predra. The moment we beached our skiffs, we were mobbed by what seemed to be a pack of Cocker Spaniels in the shape of rats. They turned out to be giant rodents known as "jutias" who rushed from the mangroves to greet us on the shore. As friendly as kittens, they stood on their hind feet begging for food. Aidan gave them pineapple from our lunch box. Dad fed them watermelon from his mouth until he got scratched on the face and bled. Encouraged by our generosity to the rats, waves of iguanas and hermit crabs followed the jutias out of the mangrove. Soon the beach was crowded with rodents, reptiles, crustaceans and humans, all just searching for food and friendship.
Dive Day 4: Luisa's Reef, Los Mogotes and Cayo Alcatraz
During early morning dives at Luisa's Reef and Los Mogotes we dropped over a 60 foot ledge carpeted by healthy coral and found an amphitheater encircling a shrine of standing coral pillars each laden with multiple cleaning stations. Among the living columns we found Nassau grouper, goliath, tiger and black grouper, tarpon, barracuda, jacks and sharks. Then, at Noon, we lit out for unexplored regions motoring west 27 miles to Cayo Alcatraz to explore new frontiers near the edge of the marine reserve. We moored next to a mangrove island adjacent to a frigate bird rookery called Cinco Ballas, where thousands of baby frigate birds and egrets begged for food from nests a few feet off the sand.
The Cuban government has done an excellent job preserving the Gardens of the Queen and we hope our survey of these remote reefs will help bolster Cuba's enthusiasm for marine protection and provide data to support an economic justification to enlarge the reserve. The government requires that any jobs lost by fishermen be replaced by jobs in tourism, fishing, diving or in outfitting expeditions. For example, many of Avalon's staff of safety divers and skiff pilots and chefs were former fishermen. The Cuban government must make delicate calculations that preserve jobs, protect the reef and limit tourism to sustainable numbers. The Explorers Club scientists and conservation experts believe it's possible to extend marine protection to the new zones with sustainable eco-tourism as an economic driver to protect existing jobs and create new ones.
Dive Day 5: Cayo Pedra de Pitoto Nino
During a shallow snorkel dive at Cayo Pedra de Pitoto Nino we found a massive heap of tightly meshed dead corals, possibly pulverized by tropical storms and hurricanes over time. Wave currents and tides had since pressed and woven the skeletal mound into a consolidated pile nearly an acre in size. The marine biologists and scientists in our group were ecstatic to find new, living brain, stag, elkhorn, fire coral and sea fans sprouting from the skeletal stack. The newly rejuvenated reef is a sign for hope elsewhere. Duke University marine biologist and professor Rebecca Vidra told us that this was an exciting discovery for the world's marine biologists, many of whom are struggling with the problems of reef restoration around the globe. To her knowledge, it was the first example of obliterated reef rejuvenating itself in this way. Man-made efforts to resurrect reefs damaged by ship strikes or pollution have, sadly, been largely unsuccessful. It is believed that local fishermen have named this submarine feature the "floating reef" because it appears to move unanchored about the sandy bottom posing a navigational hazard.
That night, violent storms lit up the evening sky. In the morning a three-foot iguana swam up to our boat and climbed aboard, with my dad's help. The lizard demonstrated its gratitude by trying to bite his nose.
Dive Day 6: Los Mogotes
At Los Mogotes, we had the best dive of the trip—and of my life. At around 70 feet at the base of a steep escarpment we found a sandy bottom bristling with an exotic living geology of coral towers catacombed with caves, holes and chimneys. We explored vibrant coral cliffs cut with deep crevasses and steep buttes where every tiny crevice and cranny was occupied by giant coral crabs, squirrel fish, sergeant majors, porcupine fish, stone crabs and moray eel. In the larger caverns, we found metropolis of spiny lobster, some of them quite massive. A giant porcupine fish hid in a thick grove of stag coral. Above wide coral prairies, a pair of reef sharks cut innocuously through a school of jack crevalle and then herded the jacks into a rolling fish ball and pushed it through the water column, keeping pace with us as we swam with the current.
Individual jacks peeled away from the school to pursue the sharks and rub their skin against the sharks' sandpaper hides, a maneuver that clearly annoyed the giant predators. We watched rivers of yellow tailed snapper cascading over the palisades to school in the middle of the water column followed by gleaming strata of tarpon that pooled above them mingling there with Jack Crevalle, horse-eye jack, yellow jack, big cubera snappers and sleek cero. A few large barracuda and a half dozen species of grouper, hugged the bottom just above the reef.
It felt like Grand Central Station at rush hour as thick aggregations of fish commuted to and from work with tarpon above, grouper below and the snapper schools in between. Only the giant southern sting rays seemed to have missed the wake-up call, snoozing on the sandy bottom between coral ledges surrounded by gargantuan conch moving glacially. Aidan and I took time to stroke the long scythe-like tail of a nine foot nurse shark hiding in a shallow cave. He wagged his tail to scold us away.
That night Ocean Doctor President Dr. David E. Guggenheim confided that those aggregations were the biggest fish highways he'd seen in 40 years of diving. On the way to our take-out, we followed 120-pound snapper loping lazily through a canyon as Aidan shot voracious reef killing lion fish with a tiny Hawaiian sling as part of an experimental study program to try to teach local predators—groupers and shark—to eat this spiny exotic.
Seeing this living reef with almost no visible bleaching—all teeming with robust reef fish and pelagic fish populations, made many of us feel like we had made a journey back in time. To me, the ocean looked the way it does in the old Jacques Cousteau films—with every part of the reef and surrounding sea crowded with bustling populations of living corals and fishes. We were especially excited to think that we might have been the first humans to see this particular underwater paradise.
YOU MIGHT ALSO LIKE
Gardens of the Queen: Caribbean's Last Pristine Coral Reefs
Did you see the new Tesla?
It has autopilot that can park the car in your garage for you, with you out of the car. It observes speed limits and curves, puts a defensive cocoon of sensors around you to avoid incoming obstacles, switches lanes automatically and allows you to summon the car to the curb. You can sync the car with your calendar so it pulls the car to the front of the house every morning at a certain time with your music preferences ready to go.
They just set up a buy back program for the Model S all-wheel drive sedan so you can sell it back to them after three years for 50 percent of the original price of $69,000. Then they sell the used Tesla for $35,000 for no profit. And, the all-electric car gets 275 miles on a full battery, which is as much as any petrol. Oh and 0-60 in 3.2, faster than any four-door sedan ever built.
Check out this Tesla Model S auto-pilot demo:
YOU MIGHT ALSO LIKE
Elon Musk Tells Stephen Colbert Why He Released Tesla Patents to the EV Market
Tesla Announces Huge Renewable Energy-Fueled Battery Factory Near Reno
How Much Money Can You Save By Switching to an Electric Car?
[Editor's note: Conor Kennedy traveled this summer to Cuba to dive the Gardens of the Queen, one of the most pristine marine environments in the Caribbean, to conduct ecological assessments of the coral reef ecosystem with Ocean Doctor. This is Part III of a five-part series. Read Part I, Part II, Part IV and Part V.]
On June 21, we rode a Chinese manufactured bus the six-hour, 200-mile ride to Porto Jucaro, on Cuba's southern mid-coast. From Havana we travelled southeast on the Autopista Nacional, a six-lane tarmac highway with rutted red dirt tributaries cutting through towns and forests and crossing meandering rivers. We passed cooperative farms of corn and tobacco. Farmers wielding machetes battled hefty cane stalks in endless sugar cane fields shadowed by the smoking chimneys of sugar mills. Ruler-straight royal palms, massive flowering orange flamboyant trees and spreading acacias with brilliant yellow flowers, shaded grass-thatched huts nestled among banana groves, and orchards of papaya, mango, chirimolla, plantain and mamey, a fruit the Cubans use to make milkshakes.

Just as in Havana, the highways carried cars from the 1940s and 1950s and motorcycles with sidecars, and horse and buggies. Roadside stands selling coconuts and fruit juice marked the incursion of Cuba's new entrepreneurial capitalism. At the town of Tagnasco, we stopped for sandwiches at a thatched-roof government restaurant where we browsed through a library of books, propaganda and postcards for sale about Che Guevara and the other heroes of the Cuban Revolution. My dad caught a turquoise colored Cuban anole. Then we turned onto the Artery Central and proceeded south to Porto Jucaro through open savannah dotted with ranches where ubiquitous cowboys straddling fat ponies herded goats and Brahman cattle, until the flatlands rose into mountains as we approached the coast.

At the small port of Jucaro, we boarded the 125-foot Avalon II for the forty-mile cruise south to the thousand-island archipelago that constitutes Gardens of the Queen National Park. The island chain that has been protected for 18 years is renowned among divers and scientists as the most pristine reef system in the Western Hemisphere. We moored in a narrow channel between two mangrove-fringed islands: Cayo Anclitas and Cayo Caballones.
Avalon, an Italian Company that maintains a partnership with the Cuban government, has an exclusive license to operate two large dive boats in the Gardens of the Queen. Avalon and its founder, Giuseppe "Pepe" Omnega, played a key role in working with the Cuban government to establish this marine reserve and continues to play an important role in supporting research and conservation efforts there.
Each vessel carries up to 20 divers on one-week tours of the 40-mile island chain. In order to protect the reefs, the Cuban government limits visits to 1,000 divers per year. Elsewhere in the Caribbean, some dive sites a fraction of this size can see as many divers in a single day. Cuba also permits 500 fishermen annually to fly-fish the flats, mangroves and reefs for tarpon, permit, snook and bonefish. The fishery, of course, is catch and release. The only extractive fishery belongs to local fishermen who use tiny traps called "casitas" to harvest a small number of live lobsters.
The moment the Avalon II's engines quit at the mooring site, Aidan executed a flip and what appeared to be a spectacularly painful starfish belly flop, from a rail forty feet above the turquoise waters. He managed a stoic smile as I swam past him toward shore against the strong tidal current. I climbed out onto the untouched white sand beach tripping over meandering armies of live conch grazing in the near-shore eel grass. They could not have been more numerous on the day Columbus named the Gardens of the Queen. I compared in my mind this cornucopia to the relatively barren waters I have seen and explored elsewhere in the Gulf—from the Bahamas to Puerto Rico to Mexico. "This," I thought to myself, "is what the ocean is supposed to look like."
After our swim we found our bunks, stowed our duffels and headed to the galley for dinner with 13 members of The Explorer's Club expedition team and explorer, author and TV host, Josh Bernstein, all assembled by our host, Dr. David Guggenheim of Ocean Doctor, a nonprofit organization based in Washington, D.C., which arranges legal educational visits to Cuba under the U.S. Department of Treasury's so called "people to people" licensing program. During our on-board briefing over delicious Cuban fish, pork and chicken that evening, the trip manager and divemaster, Tony Cardenas, 32, a charming Cuban and well educated marine biologist, told us that we would make 15 dives over six days. The first four days we would see known dive sites. During the last two days we would investigate new sites in remote regions of the reserve or on its margins. Some of these had never before been dived. Tony, who speaks perfect English with buoyant humor, would guide Team 1 in one skiff while Josh Bernstein and his photographer, J.P., were relegated to dive with us.
Our dive master was Noel Lopéz Rodriguez, a beefy mustachioed 53-year-old Cuban marine photographer. Noel told us that he was born in the city of Camaguey and began diving when he was 18, spear fishing the reefs on Cuba's north coast. His love for marine life and characteristic Cuban ingenuity led him to reconstruct a black-market Russian double scuba tank and refit a rusty, East German compressor. He built his own homemade camera housing from pieces of Plexiglas discarded by Soviet bloc tourists.

Back in the day, Noel spent three days in prison under police questioning when local authorities suspected his strange equipment was part of another CIA plot against the island. Tony was also briefly detained on the beach when a low level police officer believed that he might be using a similarly reconstructed montage of scuba equipment to escape the island, unnoticed by swimming underwater to the U.S.
YOU MIGHT ALSO LIKE
Gardens of the Queen: Caribbean's Last Pristine Coral Reefs
[Editor's note: Conor Kennedy traveled this summer to Cuba to dive the Gardens of the Queen, one of the most pristine marine environments in the Caribbean, to conduct ecological assessments of the coral reef ecosystem with Ocean Doctor. This is Part II of a five-part series. Read Part I, Part III, Part IV and Part V.]
Castro told us that for many years he had fished and scuba dived Cuba's coastal waters without understanding either the biological importance or the fragility of the coral reefs. In fact, his machismo as a sportsman was notorious, and we later met fishermen on Cuba's south coast who remembered Castro as a deadly spear fisherman. Castro told us that his encounter with Jacques Cousteau—the undersea explorer, conservationist and inventor of the aqualung—had changed his perspective, transforming him into a fierce environmentalist.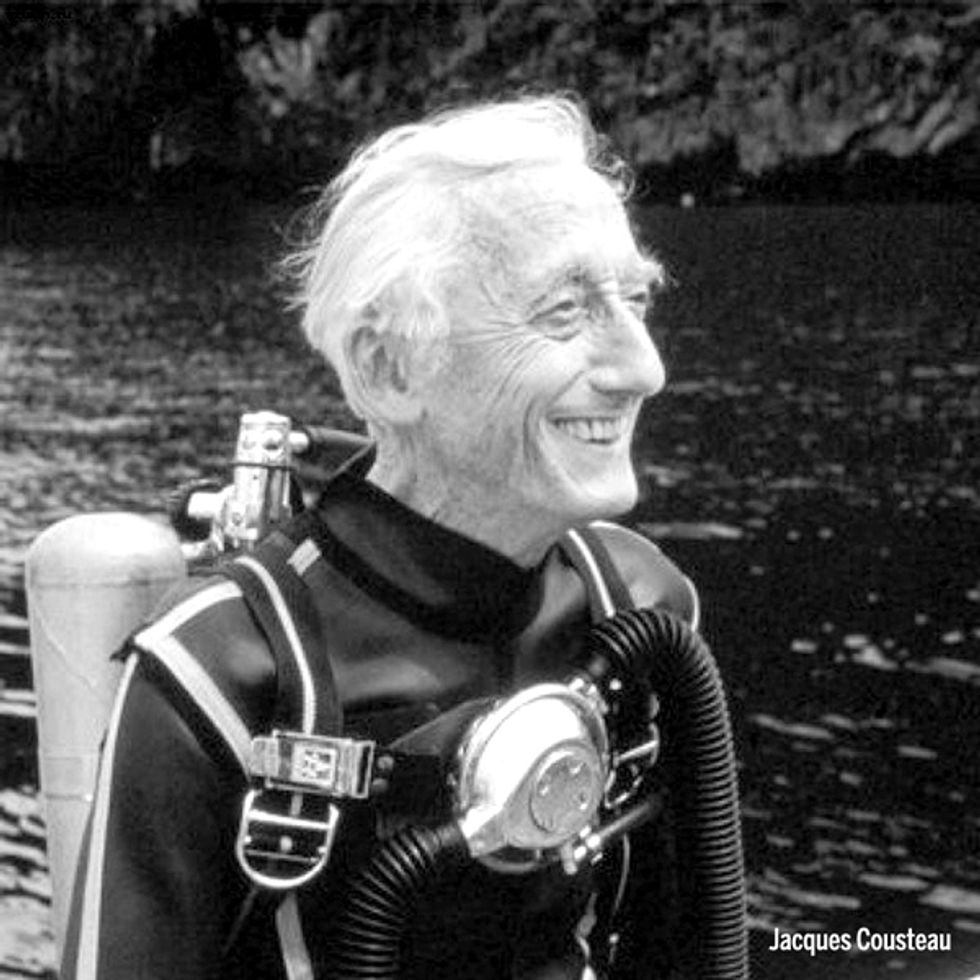 Inspired by Cousteau, Castro launched Cuba on one of the most aggressive reef and fishery preservation efforts of any nation in the world. Cuba's aim is to permanently protect 25 percent of its coastal waters as marine reserves. Compare that to less than two percent of the U.S. coastal zones and a worldwide average of only around one percent. But the jewel in Cuba's crown of marine conservation is the "Gardens of the Queen," the nearly perfectly preserved reef that we had come to the island to dive.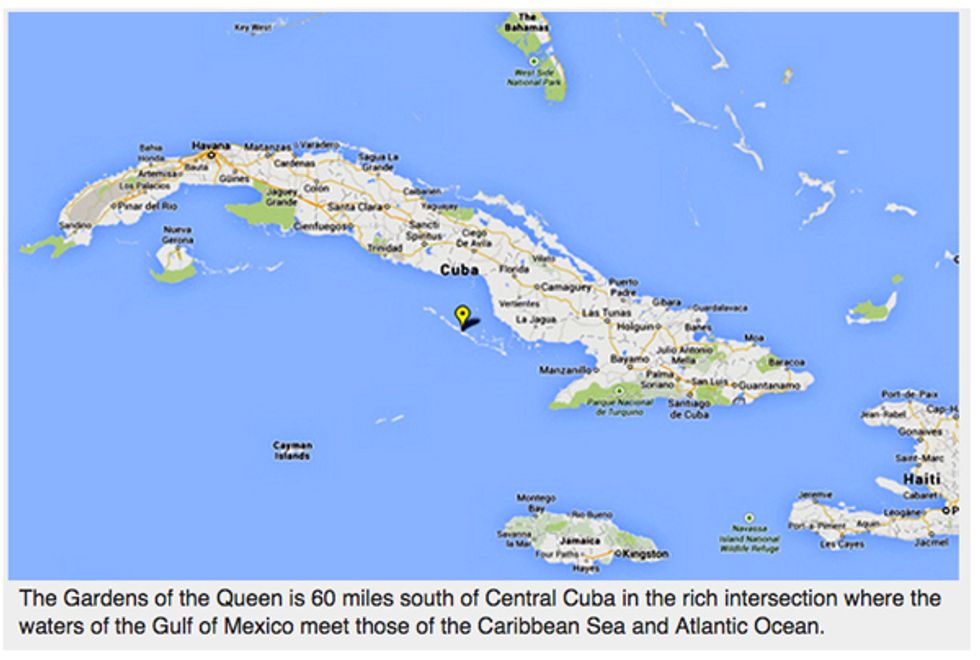 Castro spoke passionately about many other things—the ability of LED bulbs to save energy and the great potential for diesel dependent Caribbean islands to invest in wave, tidal and solar energy. He soliloquized about space junk, the constellations and the painful rigors of a Jesuit education. He told us that he spends hours each day reading information from the Internet. "You wouldn't believe," he said in astonishment, "how much information is on the Internet." He warned of the danger of nuclear weapons and the fact that a nuclear exchange during the 1962 missile crisis could have destroyed human life on our planet. He remarked that even today, an accidental exchange, given the power of nuclear weapons after World War II, could destroy humanity and our civilization, "which required 4 billion years to develop since the birth of the universe."
My 12-year-old brother, Aidan, asked Castro about Fulgencio Batista, the dictator whom he overthrew in 1959. Aidan asked which side Batista's ancestors had taken during Cuba's War of Independence from Spain in 1898. Castro had told us that his own father came to Cuba to fight on the side of the anti-colonial revolutionaries and stayed on as a contractor for the universally despised United Fruit Company. Castro answered that Batista's father had fought for independence on the side of Jose Marti and Cuba's patriots. Afterward Castro wrote a letter containing a more detailed description of the Batista family history for Aidan, which he sent us by courier. At the end of our meeting, Castro walked us to our car.
Although the residents of Havana are poor, Cuba boasts that it has the lowest crime rate in the Americas. Even Aidan felt safe walking the streets to visit Havana's markets and restaurants even late at night. Small entrepreneurs, many of them using money from American relatives to finance their enterprises, have opened new businesses—ice cream parlors, cigar stores, restaurants and barber shops—on nearly every street in Havana. Nearly all of Havana's famous taxis are perfectly preserved vintage 1940s and 1950s Chevys, Buicks and Cadillacs. We rode to the bazaar market—a former locomotive factory—and visited, Jose Marti Park, the Museum of the Revolution and other landmarks, including Ernest Hemingway's favorite restaurants and bars, in a 100-year-old Model T.
The centerpiece of the Museum of The Revolution is the Granma, the decrepit wooden yacht upon which Castro and 81 revolutionaries traveled from their exile in Veracruz, Mexico in 1956 to launch their revolution against Batista from the Sierra Maestra Mountains. Castro told us that by that time he already "had a Marxist background" but that many of his fellow fighters were simple idealists who despised corruption and tyranny and wanted to fight for democracy and justice.

In selecting 81 fighters for the journey from the much larger roster of revolutionaries who wanted a space on board, Castro told us that he looked for men of small size rather than ideological purity in order to cram aboard the tiny vessel as many guerrilla fighters as possible. We also saw the wreckage of the American U-2 piloted by U.S. Air Force Lt. Rudolph Anderson who died when Cuban and Russian soldiers launched a SAM surface missile against the American spy plane during the Cuban Missile Crisis in 1962. Anderson's downing precipitated the most perilous days in human history by bringing the world to the brink of nuclear war.
The Internet is largely inaccessible in Havana and too expensive for the average Cuban and U.S. cell phones don't work. Few Cubans can afford air conditioners. In the evening, people sit on stoops or on chairs on the sidewalk playing dominoes, or on couches or chairs in their salons watching black and white T.V., their doors and windows wide open to the street. Or they gather by the hundreds in couples or small groups on the sea wall along Havana's famous boulevard, the Malecon, and just talk. Aidan often said that he loves Havana more than any place he has ever been. He said he thought it was a good way to live—without computers, screens, iPhones and Xbox's, although I didn't hear him swear off any of his screens back home.
On every street corner we found Cubans anxious to talk with us. We chatted with cab drivers, waiters, musicians and young and old people we met in the street. We even visited a police station in a fifteenth century fort when a street vendor tried to overcharge us for a haircut. We made our case before the police captain, who quickly vindicated us. We considered the episode a good adventure with Cuban justice. Most people were happy to learn that we were from the U.S. They all wanted to know when our country would end the embargo.
We visited the Plaza of the Revolution, posed in front of the statue of Jose Marti and passed a special park built to accommodate anti-Bush protesters during the George W. Bush administration. Bush's policies in Iraq and Guantanamo were especially unpopular in Cuba. While most Cubans seem proud at having stood up to half a century of U.S. corporate and military power, they still admire America for our country's historic ideals. A bronze statue of Abraham Lincoln dominates Havana's principal park on the Avenida de los Presidentes and another Lincoln statue stands in front of Cuba's Capital, a perfect replica of the U.S. Capitol building, built at a time when Cuba-U.S. relations were strong.
We were equally surprised how often Cubans from every background expressed affection for Miami's Cubans—many of whom the Cuban government has traditionally considered to be enemies and traitors. "We all have a cousin in Miami," many Cubans told us. One Cuban explained that after the Soviet Bloc collapsed in 1991, Cuba's trade partners and generous Russian assistance programs all disappeared. The cataclysmic financial crash that subsequently hit Cuba sent throngs of economic refugees to Miami. These migrants lacked the anti-Castro animus that characterized the Cuban political refugees of yesteryear.
A tour guide later told us the money that Miami Cubans send home to family and relatives provide a critical boost to the Cuban economy. A Cuban official spoke affectionately of the Miami Cubans, "They are our brothers and sisters." Still many Cubans remain wary of knee-jerk anti-Cuban sentiment within the U.S. government. On our way to see Castro, one Cuban told us that the Netflix series, House of Cards, has become the obsession of many Cubans. "We say to ourselves, 'If even 10 percent of this is true, we are all screwed.'"
[Editor's note: Conor Kennedy traveled this summer to Cuba to dive the Gardens of the Queen, one of the most pristine marine environments in the Caribbean, to conduct ecological assessments of the coral reef ecosystem with Ocean Doctor. This is Part I of a five-part series. Read Part II, Part III, Part IV and Part V.]
I'm in Havana getting ready for an early morning trip to the Gardens of the Queen, the archipelago and reef complex 60 miles south of Central Cuba in the rich intersection where the waters of the Gulf of Mexico meet those of the Caribbean Sea and the Atlantic Ocean. The expedition sponsors are Ocean Doctor and The Explorers Club. Our mission is to gather data on the Caribbean's last pristine reef system.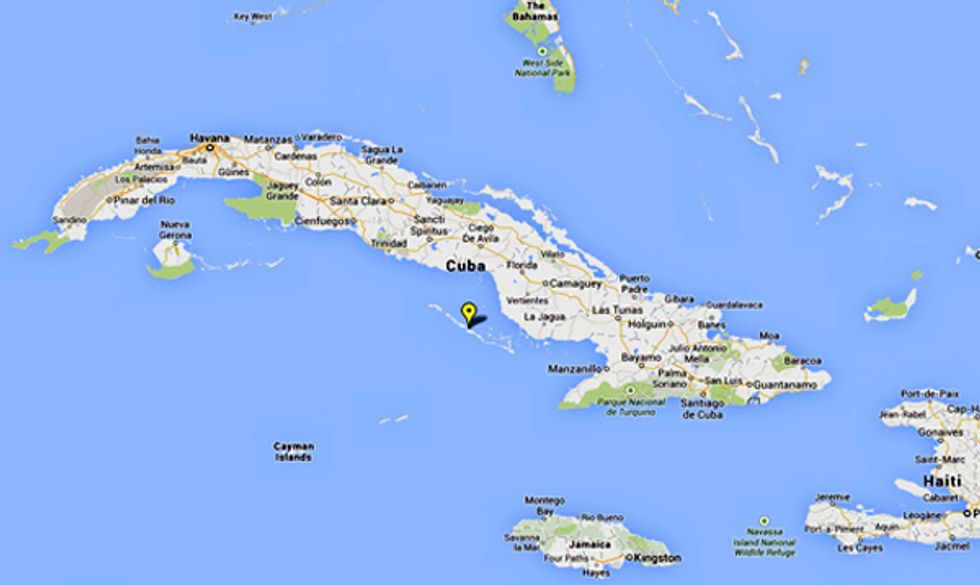 Today we met with former President Fidel Castro, who was an early and passionate advocate for protecting the reef. Castro told us that he had fished and dove the extraordinary reef over its entire 60 mile length. He began by telling us the history of a famous battle that took place on the reef in the War of Independence against Spain when an entire Spanish fleet was sunk by armored American war ships. His father came to Cuba as a Spanish soldier during that conflict.
He also told us about his personal evolution as an environmentalist. He began as an avid marlin and spear fisherman who slaughtered many marine species on the reef, assuming the oceans were infinite and could never be depleted. He next told us of an island rookery covered with Central American pigeons called torcaso palomas which he slaughtered with a shotgun and ate with great relish until he almost died after being poisoned by the toxic bark of the trees in which these pigeons roosted. Shortly after killing the doves he met with marine conservationist Jacques Cousteau. That meeting helped transform Castro into a committed environmentalist. He has committed to preserve 25 percent of Cuba's waters from extractive fishing as Marine Preserves, while the U.S. lags, preserving less than 2 percent of our coastal waters.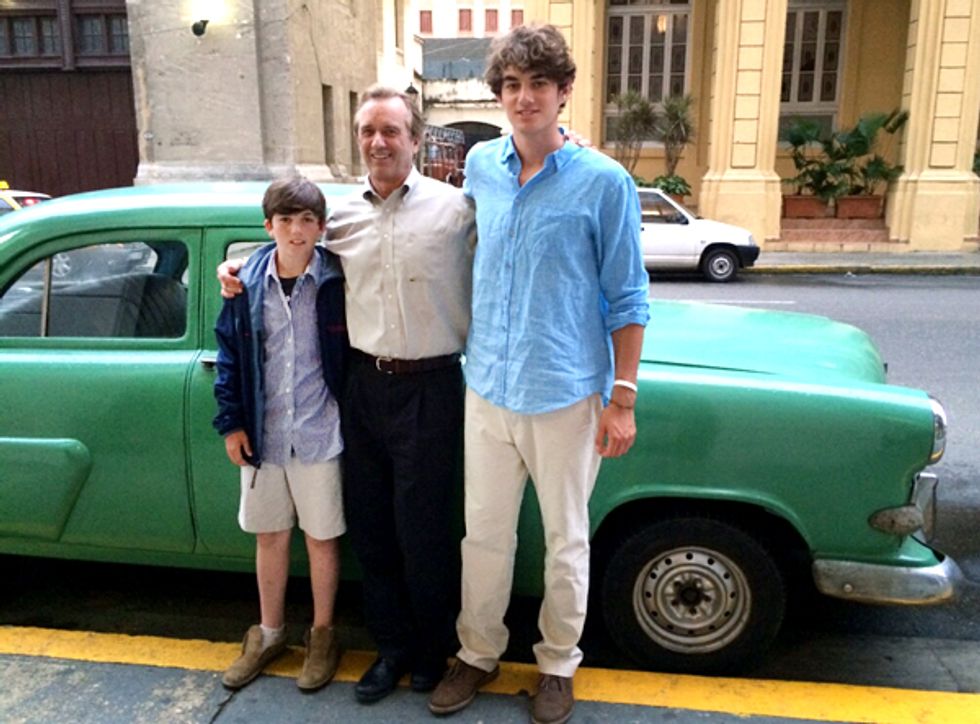 Tomorrow we leave for a week on the waters of the Gardens of the Queen with no internet. More to come when we return.
You Might Also Like
NOAA: Ocean Acidification Rises, Marine Economy Sinks
Sea Shepherd Founder to Bill Maher: 'If Oceans Die, We Die'
World Meteorological Organization: Ocean Acidification and Greenhouse Gas Emissions Hit Record Levels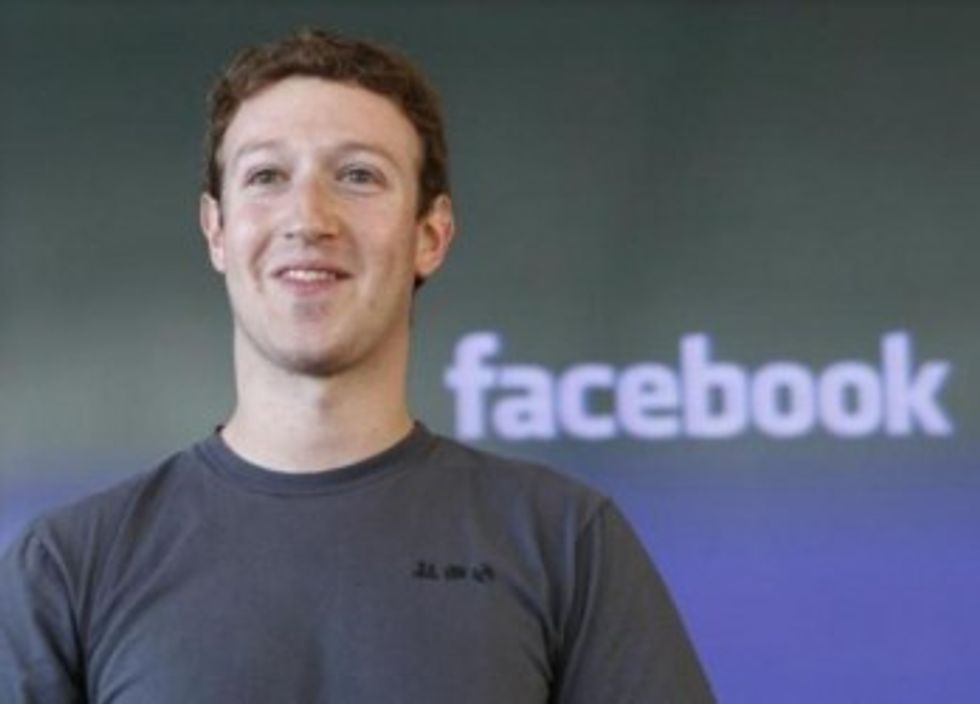 Mark Zuckerberg has not yet issued any response to public criticism that his political action group, FWD.us, is funding advertisements supporting construction of the Keystone XL tar sands pipeline, and oil drilling in the Arctic National Wildlife Refuge and the Gulf of Mexico. FWD.us, co-founded by Zuckerberg with additional donations from a host of his fellow Silicon Valley superstars, has right-wing and left-wing subsidiaries working on parallel tracks to pass bipartisan immigration legislation.
Those subsidiaries run advertisements for vulnerable Republicans and Democrats pledged to support that legislation. The ads generally don't mention immigration reform—which is politically unpopular among conservatives—and some of them include ringing endorsements for Big Oil's pet projects including Keystone XL. While immigration reform is an important cause, many Americans, particularly those of my generation, are uneasy with a strategy that seems to advocate sacrificing our planet's future as an iffy wager for the bill's passage.
Mr. Zuckerberg—a hero to many young people—has in the past been eloquent in his support for transitioning from fossil fuels to knowledge-powered and new energy economies. Now that his financial ties to the pro-tar sands advertisements are public knowledge, many of us who want a brighter, cleaner future for America and who admire his other accomplishments hope Mr. Zuckerberg will disassociate himself from their dubious content.
There are already enough billionaires advocating for Keystone XL and Big Oil's other criminal enterprises. Anti-Keystone XL activists have written a million letters to President Obama, appeared 40,000 strong to demonstrate against Keystone XL in Washington, D.C. and engaged in peaceful civil disobedience by the thousands in locales from Texas to the White House gate. It's disheartening to see all the billionaires, including leaders of my own generation, lined up against us.
It's our great and only hope that President Obama will listen to the voice of democracy and—acting as a trustee for future generations—kill the pipeline. He promised in his rousing inaugural address, to make the battle to save the planet from climate chaos the centerpiece of his second administration. The Keystone XL decision is one of the few climate change issues solely under his control. To plug Keystone, President Obama needn't genuflect to a Congress awash in democracy polluting oil money. He can do it while sitting alone in the Oval Office. The concern is that President Obama, instead, will simply count the fat cats and weigh their furor—or their indifference—rather than reading his mail.
Americans who want to stop the Keystone XL pipeline may outnumber those who favor the pipeline but we will never out-money them—particularly when Mr. Zuckerberg and his legions of 21st century technology moguls take the side of Big Oil's 19th century robber barons. Without some disavowed, young clean energy advocates who regard Mr. Zuckerberg as an iconic leader of our generation are apt to view his investment in the opposition to be not only disheartening, but treacherous.
Visit EcoWatch's KEYSTONE XL page for more related news on this topic.
On Monday, the federal Environmental Protection Agency (EPA) told the State Department that the information in the State Department's Environmental Impact Statement (EIS) on the Keystone XL pipeline is "insufficient." Among EPA's many concerns was the State Department's failure to adequately address the pipeline's impacts on climate change. EPA raised a host of other issues. In fact, the State Department's EIS is not useful for answering some of the most basic questions about Keystone XL.
Ever since Feb. 13, when I chained myself to the White House fence with 47 other protestors urging President Obama to kill the Keystone pipeline, people have asked me why I felt strongly enough about the issue to endure arrest. Many of them have the same questions that should have been asked in the State Department's EIS. If we don't build the pipeline through the American prairie, won't the oil companies just route it through British Columbia by rail, tank trucks or pipelines and sell their oil to Asia? Won't the Keystone XL pipeline give America energy security and the U.S. jobs? Won't the pipeline lower the price of gasoline at the pump? Haven't the oil industry and government regulators given us adequate assurances that Keystone is safe? Don't the oil and pipeline companies have their own incentives to make sure the Keystone pipeline doesn't leak?
Here are the answers:
1) Is the Keystone XL Pipeline safe? Anyone who watched the oil industry and its regulators scramble to point fingers and dodge responsibility during the BP oil spill should be skeptical about industry claims of pipeline safety. Tar sands oil, sometimes known as bitumen, is extraordinarily corrosive and the industry has not figured out how to stop it from bursting even the most fortified pipelines. On March 31, an Exxon pipe carrying 95,000 barrels per day of Alberta tar sands oil from Illinois to Texas refineries burst and flooded an upscale suburb in Mayflower, Arkansas beneath an ocean of toxic heavy bitumen and lighter dilutents, added by oil companies to help the gelatinous bitumen move through the pipe. Arkansas taxpayers were shocked to learn that thanks to a loophole artfully created by the industry's political allies, they—not the oil companies—will have to pay for the cleanup.
That same week a burst Minnesota pipeline vomited 15,000 gallons of Alberta crude. In 2010, an Exxon pipeline in Michigan spewed a million gallons of dilbit into the Kalamazoo River, causing the worst and most expensive pipeline-based oil spill in U.S. history. Experts are still scratching their heads trying to figure out how to clean up the Kalamazoo spill which received little coverage from the mainstream corporate media. Clean-up crews commonly collect aquatic oil spills using floatable booms. As it turns out, tar sands oil doesn't float. Instead, it tarred and coated the Kalamazoo River bottom, which is the foundation of the aquatic ecosystem. In fact, oil and gas companies even shipping conventional oil, experience thousands of oil spills each year. In June, an Exxon pipe that runs parallel to the proposed route of the Keystone XL pipeline burst, spilling between 750 and 1,000 barrels, at a crossing on the iconic Yellowstone River and killed life in that blue ribbon trout fishery and national treasure for 25 miles.
Given the industry's abysmal record, it's safe to say that Keystone XL will experience a major spill and, due to its planned route, that spill will almost certainly contaminate the Ogallala aquifer, the sole water supply for millions of middle state Americans as well as the breadbasket of American agriculture and the ranching industries in seven states.
2) Keystone XL will not create significant American jobs. According to the State Department's study, Keystone will provide only 35 full time jobs following the construction period. We could more beneficially create permanent jobs by incentivizing solar and wind development which, even with the current anemic federal incentives, are creating each year, more new generation capacity than all the incumbents (oil, gas, coal and nuke) combined. According to the Bureau of Labor Statistics, there are already 93,000 jobs in solar and 85,000 in wind, and those numbers are growing exponentially.
3) Keystone XL will neither improve energy security nor lower gasoline prices. Virtually all of Keystone's Alberta tar sands oil is destined for Asian markets. Canadian and mostly non-U.S. owned oil services companies, the Koch Brothers, and Asian plutocrats will profit from the pipeline but there will be little value to the U.S. in terms of security or lower oil prices. In fact, U.S. oil prices will actually increase as the result of Keystone because U.S. oil prices are dictated not by world market prices but by refinery capacity in this country. Since tar sands oil destined for Asian markets will first be refined in U.S. refineries, tar sands will compete for limited refinery space and therefore drive up the price of oil. The State Department estimates that the average cost of American gasoline will actually rise upward of 7¢ per gallon if Keystone is constructed. The Pipeline will hurt the U.S. economy, not help it.
4) Why are environmentalists mad at Obama? Why have they made this the political line in the sand for his carbon legacy? Because this issue is one of the few issues that is solely under Obama's control. President Obama doesn't need to go to a Congress awash in democracy polluting oil money. He can pull the plug on Keystone XL while sitting alone in Oval Office. If we cannot win this issue with Obama, what hope do we have with other environment issues where he has to work with Senate Republicans?
5) If we don't build Keystone, the oil companies will just haul their tar sands out by rail and truck, generating more carbon and more spills. The $7 billion Keystone pipeline will transport 1.1 million barrels each day—far more than could be transported economically by rail and truck traffic. If we stop Keystone, we lock most of this carbon permanently underground.
6) If we kill Keystone, the oil companies will not build a pipeline elsewhere in Canada. The oil industry will not build an alternative pipeline elsewhere in Canada. Resistance among Canadians in British Columbia, especially salmon-dependent First Nations, is even greater than here in the United States.
7) We don't need oil-based fossil fuels while we ramp up renewables like Solar and Wind. Renewables are proven and market ready technologies. Their widespread deployment is only being impeded by multibillion dollar annual subsidies to oil and gas. In any case, the Keystone XL Pipeline is not a stop gap measure. Instead the pipeline will entrench our use of fossil fuels.
8) Keystone XL will have a catastrophic impact on climate change. The amount of carbon in the tar sands is equivalent to all the carbon in all the oil ever removed from Saudi Arabia. Burning the vast oceans of oil beneath Saudi Arabia has gotten us where we are today; ice caps melting, glaciers retreating on every continent, water supplies drying up, continent wide droughts disrupting agriculture and global food supplies, acidified oceans and rising sea levels, and climate chaos flooding our greatest cities. According to a new study published last week by Oil Change International, "Cooking the Books: How the State Department Analysis Ignores the True Climate Impact of the Keystone XL Pipeline," the pipeline will emit 181 methane tons of carbon every year—the equivalent of 37.7 million cars or 51 new coal plants. There are 561 tons of carbon locked in Alberta's tar sands. More than twice the amount, according to former Goddard scientist James Hansen, then have been released by all the oil and combustion in the history of mankind. We can double that sum by burning Alberta's tar sands, but what genocidal politician or oilman, would want to do that to future generations? We could better solve our energy problems by scuttling the pipeline, investing in renewables, and putting the greedy megalomaniacs from Koch oil and Exxon's puppets in the U.S. Capitol in jail, where they belong.
Visit EcoWatch's KEYSTONE XL page for more related news on this topic.