Connect4Climate
[Editor's note: I'm still in shock after hearing the news that Lucia Grenna passed away in her sleep last week. When we first met in April of 2014 at a Copenhagen hotel, I was immediately taken by here powerful presence. We spent the next couple days participating in a Sustainia climate change event where Lucia presented her audacious plans to connect people to the climate issue. I had the chance to partner with Lucia on several other projects throughout the years and work with her incredible Connect4Climate team. I was always in awe of her ability to "make the impossible possible." Her spirit will live on forever. — Stefanie Spear]
It is with a heavy heart that Connect4Climate announces the passing of its founder and leading light, Lucia Grenna. Lucia passed peacefully in her sleep on June 15, well before her time. We remember her for her leadership and extraordinary ability to motivate people to take on some of the greatest challenges of our time, not least climate change.
With her extensive experience in development communication, Lucia realized that communication for climate action would be key to advancing the climate movement, promoting the solutions necessary and motivating the political leadership needed to build a low-carbon, resilient and sustainable future. She made it her mission to build a social movement for climate action by raising awareness of the impact of climate change and promoting the solutions for addressing it. She worked with partners across the globe to reach the greatest audience possible, especially young people.
In 2009 she convinced the World Bank and the Italian Ministry of Environment that climate communication was critical and well worth supporting and established the Communication for Climate Change Multi-Donor Trust Fund of the World Bank Group. In 2011 the flagship global partnership program Connect4Climate was born. It quickly took hold, gathering half a million Facebook followers and forging ties with leaders in popular culture—including music, film and fashion icons—to reach the generations of the future while at the same time helping scientists, politicians, and administrators raise awareness and prompt action.
The World Bank Group's Connect4Climate global partnership program received a Green Oscar.
Lucia was a unique and influential presence who could mix with anyone, anywhere, gain their attention and advance proposals for seemingly impossible, but magnificent and celebratory initiatives. Who but Lucia could have brought together an unusual group of partners to orchestrate the projection of massive climate-related images on the front of the Vatican, reminding a worldwide audience of our responsibility to protecting the Planet? We remember her for "making the impossible possible."
In His eyes the powerful message of hope for #OurCommonHome that we share with brothers and sisters - regardless of… https://t.co/0Z3LExAWqb

— lucia grenna (@lucia grenna) 1486551428.0
For Lucia and the Connect4Climate program, the operative word has been to "connect." This sentiment was Lucia through and through. She was passionate about finding ways for people and organizations to interact together and did her utmost to create and grow lasting connections. Connect4Climate now interacts with hundreds of partners, reaches millions online and engages with global audiences through competitions, events, and education to support the movement for climate action and to end poverty.Lucia's ideas would never stay on paper but would lead to tangible outcomes that engaged partners and energized audiences worldwide. She was a leader driven to find the most impactful communications, and in doing so inspired and advocated for a sustainable development pathway.
As Lucia would always say, "let's get busy and make this happen!"
EcoWatch Daily Newsletter
Although we don't always realize it, climate change envelopes us it completely surrounds us all the time. What better subject therefore to become the basis for the World Bank group's first virtual reality experience. The People's March for Earth, organized by Earth Day Italia and the World Bank group's Connect4Climate initiative, took place in Rome last November to underscore the feelings and desires of many that wanted to express the need for more immediate and substantial action on climate change and to send a strong message to the United Nations Conference on Climate Change that was just about to take place in Paris.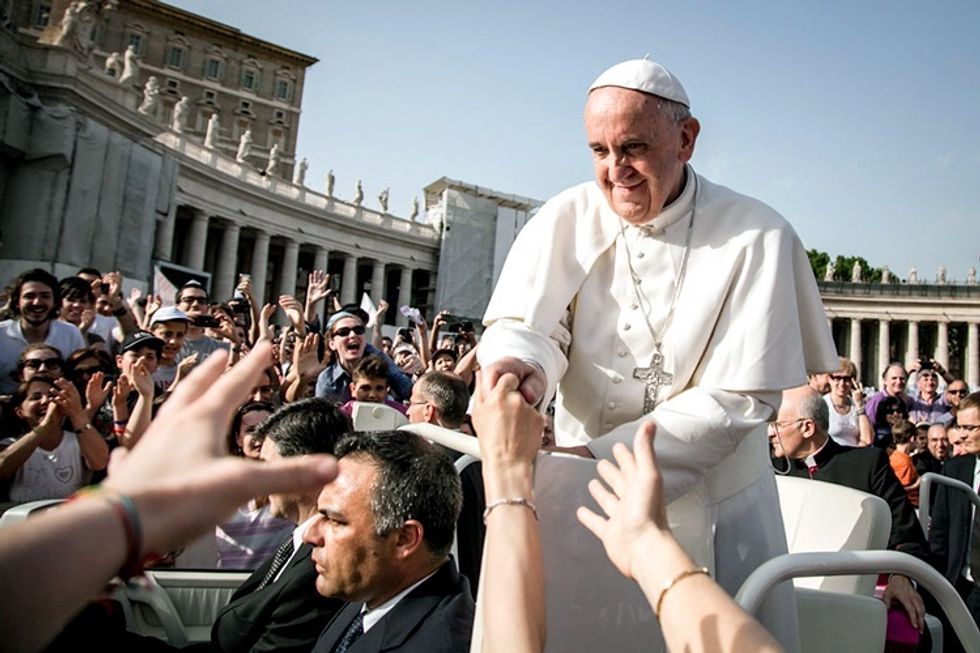 The People's March for Earth, starting at the Colosseum and progressing through the wide avenues of Rome to later arrive at St. Peter's Square where Pope Francis would greet and bless the gathering, reflected the history of the eternal city and indicated both the advances in civilization but also the toil that humanity has taken on our natural world. These rich concepts inspired the creation of a Virtual Reality experience so many more people could feel the same impact and energy that the marchers felt, long after the final participants had left.
The World Bank and Connect4Climate partnered with RYOT to produce a truly immersive film. RYOT is one of the leading content studios creating documentary-style virtual reality films. Anglo-Italian actress Greta Scacchi kindly gave her talents to produce a powerful narrative fully evocative of both the location and the cause.
Immersive experiences are getting great traction in many industries such as entertainment and gaming. But this product illustrates perfectly how it can be used to convey messages that are both intensely personal and of worldwide importance. The medium gives extra and immediate impact to the very real issues that impact both individuals, institutions, governments and regions alike. At their best such initiatives can help humans connect through creating a unique collective empathy which ultimately can inspire others to take action and contribute to find real solutions.
Watch here:
YOU MIGHT ALSO LIKE
Sea Levels Rising at Fastest Rate in 3,000 Years
Horrible! This Guy Drags Shark From Sea Just to Pose for Photos
Warren Buffett Wages Quiet War on Solar in the West
Pamela Anderson: If Louisiana Prisons Go Vegan, I'll Come Cook and Serve Lunch to the Inmates
Lorena Canals
Rugs add a cozy aesthetic to the home, but they can also contribute to toxin exposure if you're not careful when shopping around. How do you find the best sustainable rugs in a world where almost everything is mass produced with questionable chemicals involved?
There is a lot to consider in the search for a nontoxic rug you hope was ethically made. That's especially true in a time where we are reevaluating our environmental impact every day. We rounded up four of the best sustainable rugs for any area of your home, from your living room to your outdoor space. Read on to learn more.
Best Sustainable Rugs: Our Recommendations
Each product featured here has been independently selected by the writer. Learn more about our review methodology here. If you make a purchase using the links included, we may earn a commission.
Why Switch to a Sustainable, Nontoxic Rug?
Many people want to secure an area rug in the most affordable, fastest and easiest way. However, that often leaves your choices limited to rugs that are most likely not sustainably or ethically made.
Most ordinary new rugs and carpets contain harmful chemicals called volatile organic compounds, or VOCs. They can off-gas for up to five years, emitting VOCs in your home and causing short- and long-term health issues including headaches, dizziness, liver and kidney damage, and even cancer in animals and humans. An eco-friendly rug choice avoids these adverse health effects.
You may also wonder why you need a special cleaner filled with questionable chemicals for a rug. In some ways, you end up spending more money over time on a synthetic rug that ends up in the landfill.
By choosing home decor products made from sustainable materials, you can make a positive impact and promote a kinder and healthier planet.
Full Reviews of Our Top Picks
How to Choose the Best Sustainable Rug

There are a few factors to consider when purchasing the best sustainable rug for your home:
Natural fibers: What material is the rug made out of? When looking for nontoxic rugs, choose natural fibers like organic cotton, jute, wool and sisal. Agave sisalana is the botanical name for sisal, which is native to southern Mexico. Many fruit plants also make cozy natural textile materials in place of genetically modified cotton.
Material harvesting and manufacturing: Was the material ethically harvested? Was the rug sustainably made? Is it an ethically made rug? Was the rug treated with any chemicals?
Cost: A handmade rug understandably costs more than a mass-produced one. However, you should also shop around and stay within budget.
Style: Many natural fiber and sustainable rugs are varied and unique in design. Have a look in mind when shopping for an organic rug to ensure you will be happy with the aesthetic.
Note that some natural fibers, like jute, can shed and may tend to unravel lightly in some areas over time. That's the nature of the material.
Frequently Asked Questions: Best Nontoxic Rugs
How do you know if a rug is toxic?
A rug's surface can consist of natural fibers. However, many don't consider that the rug's backing and underlay padding could contain toxic materials. All parts of the rug should be produced with natural materials. Unfortunately, you may also find hidden toxins in the form of formaldehyde, stain deterrent treatments and flame retardants on the surface of the rug.
Are jute rugs environmentally friendly?
Yes, jute rugs can be very environmentally friendly. Jute is a sturdy natural fiber that many consider to be one of the most eco-conscious materials out there. Jute comes from a tropical plant and is both recyclable and biodegradable. Jute fibers are spun into durable threads to create such products as twine, mats and rugs.
Are handwoven rugs ethical and sustainable?
It is ethical to purchase from a craftsperson who used their skills and traditional practices to thoughtfully make a beautiful and sustainable rug. However, many products that are labeled "sustainable" can still be produced unethically and illegally via child labor and human rights violations. A good resource to check is Amnesty.org, which recently discovered human rights violations by larger U.S. companies in the production of "sustainable" palm oil.
Research each product and manufacturer across various platforms, always checking reviews and non-biased news sources. Where possible, purchase ethical rugs from craftspeople directly. Local maker collectives and arts organizations are great places to start.
How do you clean a natural fiber rug?
Drenching a natural fiber rug with wet shampoo or steam can cause damage and discoloration. Spot-clean natural fiber rugs with a mild detergent, or use club soda for acidic stains.
Routinely sweep or vacuum your rugs lightly, using a rug beater as appropriate. You can also buy a dry cleaning powder that is compatible with natural fiber rugs. Simply sprinkle this powder on the rug and vacuum it up. Take more heavily soiled rugs to a green dry cleaner if care instructions allow.
With fair labor practices and ethical standards in place, a rug made of natural fibers is a much more eco-friendly option than a rug made with toxic chemicals. Be wary of companies that greenwash their marketing with sustainability claims they fail to deliver on.
Where possible, consider handcrafted rugs when shopping for a rug for your home. It's much easier to verify sustainability, and you support a talented individual and the local economy with your purchase.
A coalition convened by the World Bank Group's Connect4Climate initiative presented a gift of contemporary public art, Fiat Lux: Illuminating our Common Home, to Pope Francis on the opening day of the Extraordinary Jubilee of Mercy in December 2015, to galvanize action and drive global attention to the importance of preserving our natural environment and tackling climate change.
Watch the full show of the breathtaking art projection at the Vatican, on St. Peter's Basilica:
The coalition comprised of Paul G. Allen's Vulcan Inc., the Li Ka Shing Foundation and Okeanos, in partnership with The Oceanic Preservation Society and Obscura Digital, worked under the auspices of Connect4Climate, the World Bank's global partnership program dedicated to driving global action on climate change.
At this unprecedented and historic event, beautiful images of our shared natural world were projected onto the facade of St. Peter's Basilica in a contemporary work of public art that tells the visual story of the interdependency of humans and life on Earth with the planet, in order to educate and inspire change around the climate crisis across generations, cultures, languages, religions and class.
"We are honored to be working with the Vatican to raise awareness of an issue so critical to our shared goal of ending extreme poverty," World Bank Group President Jim Yong Kim said. "The poorest people in the world are disproportionately affected by the effects of a warming climate and are most vulnerable to natural disasters and extreme weather. This impressive initiative will draw global attention to the urgency of tackling climate change for the sake of people and our planet."
The large-scale architectural public art installation was inspired by the themes of climate change, human dignity and the Earth's living creatures in the Encyclical "Laudato Si'" of Pope Francis. Programed to coincide not only with the Jubilee, but also with COP21 in Paris, the historic occasion called on citizens of the world to join a global movement to protect our common home.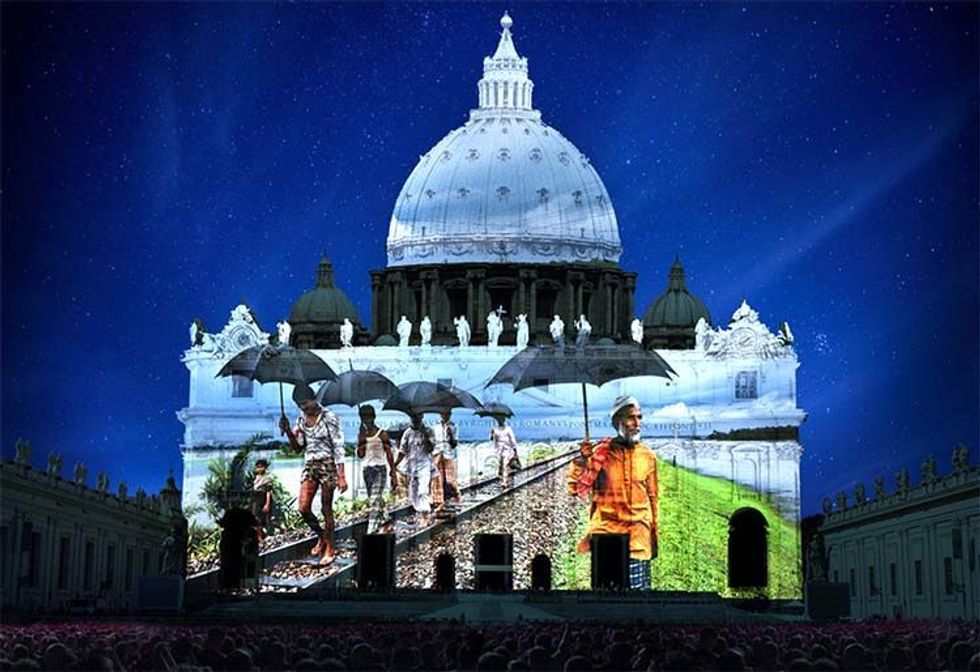 "The fight against climate change invokes each of us in a battle for civilization and democracy," Italy's Minister for the Environment, Land and Sea Gianluca Galletti said. "This was explained by the Holy Father in his extraordinary encyclical Laudato Si: respect to the environment is the condition to reaffirm universal rights and defend human dignity, to guarantee global security, to build a fairer world ... Intercultural dialogue is our most important objective and the most efficient tool for peace."
The cinematic event featured the work of some of the world's most notable humanistic and nature photographers and filmmakers, including Sebastião Salgado (Genesi and Contrasto), Joel Sartore (National Geographic Photo Ark), Yann Arthus Bertrand (Human), David Doubilet, Ron Fricke and Mark Magidson (Samsara), Howard Hall, Shawn Heinrichs, Greg Huglin, Chris Jordan, Steve McCurry, Paul Nicklen and Louie Schwartzberg. The projection was curated by Louie Psihoyos and Travis Threlkel, and produced by Obscura Digital. Francesco Carrozzini curated the creative direction for Connect4Climate.
"We are proud to support the realization of this gift of art to Pope Francis and to work with our creative partners to highlight the biggest issues facing mankind: poverty and climate change," Lucia Grenna, program manager of the World Bank Group's Connect4Climate global partnership program, added. "This artistic display will tell a powerful visual story of the interdependency of all life on earth with our environment and we hope inspire the teams in Paris to push for the most ambitious deal possible."
Share a Short Recap Video:
YOU MIGHT ALSO LIKE
Fascinating Timeline: 30 Years of History of Climate and Energy in State of the Union Speeches
Leonardo DiCaprio: 'Revenant' Drove Home Need to Take Climate Action
3 Ways to Restore Power to the People