Connect4Climate
[Editor's note: I'm still in shock after hearing the news that Lucia Grenna passed away in her sleep last week. When we first met in April of 2014 at a Copenhagen hotel, I was immediately taken by here powerful presence. We spent the next couple days participating in a Sustainia climate change event where Lucia presented her audacious plans to connect people to the climate issue. I had the chance to partner with Lucia on several other projects throughout the years and work with her incredible Connect4Climate team. I was always in awe of her ability to "make the impossible possible." Her spirit will live on forever. — Stefanie Spear]
It is with a heavy heart that Connect4Climate announces the passing of its founder and leading light, Lucia Grenna. Lucia passed peacefully in her sleep on June 15, well before her time. We remember her for her leadership and extraordinary ability to motivate people to take on some of the greatest challenges of our time, not least climate change.
With her extensive experience in development communication, Lucia realized that communication for climate action would be key to advancing the climate movement, promoting the solutions necessary and motivating the political leadership needed to build a low-carbon, resilient and sustainable future. She made it her mission to build a social movement for climate action by raising awareness of the impact of climate change and promoting the solutions for addressing it. She worked with partners across the globe to reach the greatest audience possible, especially young people.
In 2009 she convinced the World Bank and the Italian Ministry of Environment that climate communication was critical and well worth supporting and established the Communication for Climate Change Multi-Donor Trust Fund of the World Bank Group. In 2011 the flagship global partnership program Connect4Climate was born. It quickly took hold, gathering half a million Facebook followers and forging ties with leaders in popular culture—including music, film and fashion icons—to reach the generations of the future while at the same time helping scientists, politicians, and administrators raise awareness and prompt action.
The World Bank Group's Connect4Climate global partnership program received a Green Oscar.
Lucia was a unique and influential presence who could mix with anyone, anywhere, gain their attention and advance proposals for seemingly impossible, but magnificent and celebratory initiatives. Who but Lucia could have brought together an unusual group of partners to orchestrate the projection of massive climate-related images on the front of the Vatican, reminding a worldwide audience of our responsibility to protecting the Planet? We remember her for "making the impossible possible."
In His eyes the powerful message of hope for #OurCommonHome that we share with brothers and sisters - regardless of… https://t.co/0Z3LExAWqb

— lucia grenna (@lucia grenna)1486551428.0
For Lucia and the Connect4Climate program, the operative word has been to "connect." This sentiment was Lucia through and through. She was passionate about finding ways for people and organizations to interact together and did her utmost to create and grow lasting connections. Connect4Climate now interacts with hundreds of partners, reaches millions online and engages with global audiences through competitions, events, and education to support the movement for climate action and to end poverty.Lucia's ideas would never stay on paper but would lead to tangible outcomes that engaged partners and energized audiences worldwide. She was a leader driven to find the most impactful communications, and in doing so inspired and advocated for a sustainable development pathway.
As Lucia would always say, "let's get busy and make this happen!"
EcoWatch Daily Newsletter
Although we don't always realize it, climate change envelopes us it completely surrounds us all the time. What better subject therefore to become the basis for the World Bank group's first virtual reality experience. The People's March for Earth, organized by Earth Day Italia and the World Bank group's Connect4Climate initiative, took place in Rome last November to underscore the feelings and desires of many that wanted to express the need for more immediate and substantial action on climate change and to send a strong message to the United Nations Conference on Climate Change that was just about to take place in Paris.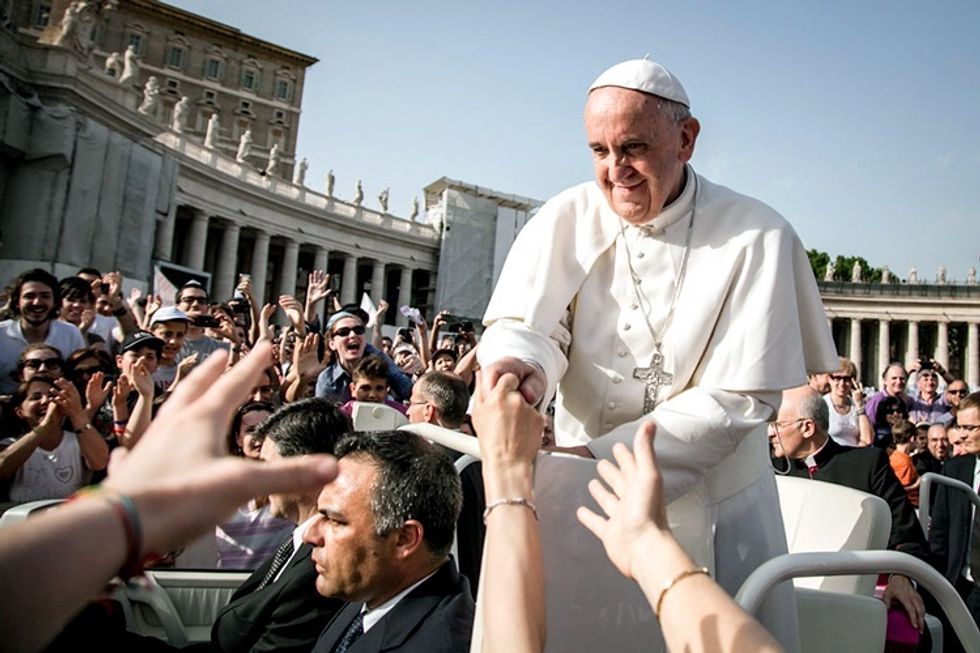 The People's March for Earth, starting at the Colosseum and progressing through the wide avenues of Rome to later arrive at St. Peter's Square where Pope Francis would greet and bless the gathering, reflected the history of the eternal city and indicated both the advances in civilization but also the toil that humanity has taken on our natural world. These rich concepts inspired the creation of a Virtual Reality experience so many more people could feel the same impact and energy that the marchers felt, long after the final participants had left.
The World Bank and Connect4Climate partnered with RYOT to produce a truly immersive film. RYOT is one of the leading content studios creating documentary-style virtual reality films. Anglo-Italian actress Greta Scacchi kindly gave her talents to produce a powerful narrative fully evocative of both the location and the cause.
Immersive experiences are getting great traction in many industries such as entertainment and gaming. But this product illustrates perfectly how it can be used to convey messages that are both intensely personal and of worldwide importance. The medium gives extra and immediate impact to the very real issues that impact both individuals, institutions, governments and regions alike. At their best such initiatives can help humans connect through creating a unique collective empathy which ultimately can inspire others to take action and contribute to find real solutions.
Watch here:
YOU MIGHT ALSO LIKE
Sea Levels Rising at Fastest Rate in 3,000 Years
Horrible! This Guy Drags Shark From Sea Just to Pose for Photos
Warren Buffett Wages Quiet War on Solar in the West
Pamela Anderson: If Louisiana Prisons Go Vegan, I'll Come Cook and Serve Lunch to the Inmates
There are many different CBD oil brands in today's market. But, figuring out which brand is the best and which brand has the strongest oil might feel challenging and confusing. Our simple guide to the strongest CBD oils for pain, anxiety, and sleep will point you in the right direction.
More and more people are looking to boost their health with CBD oil. The rise in CBD's popularity shows that many people are experiencing positive outcomes through the regular use of CBD to help control and improve difficult health issues.
Our guide to the strongest CBD oils will help to point you in the right direction so that you can choose the best, most potent oil for your needs. We will also educate you about the best CBD oils along the way, while also discussing how we chose our top brands and why.
Does Strength of CBD Oil Matter?
The strength of an oil does matter. The more potent a CBD oil is, the stronger effects it will create. To that end, full spectrum oils are the best oils to go with because CBD isolates do not have all of the other vitamins, terpenes, compounds, and phytonutrients that full spectrum oils have. So, not only will you be getting all the positive effects that a strong oil has to offer, you'll also be able to receive the vast therapeutic benefits that the many compounds, terpenes, and phytonutrients bring to the table.
The strength or concentration of a CBD oil is measured in milligrams of CBD, both per bottle and per serving. For many brands, a serving is considered 1 mL of the oil tincture. The best way to evaluate the strength of a CBD oil by how many milligrams of CBD you will get with each 1 mL dropper.
6 Strongest CBD Oil Brands of 2021
Each product featured here has been independently selected by the writer. You can learn more about our review methodology here. If you make a purchase using the links included, we may earn commission.
How We Chose the Strongest CBD Oil Brands
When it comes to choosing a CBD oil brand, you need to take the time and put in the research to ensure that you are getting the strongest, and best quality product you can purchase.
We've put the time and effort into selecting the top brands that we feel have the strongest CBD oil, the best reputation, and the cleanest, most effective products. When it came to selecting our top strongest CBD oils, we looked at six key categories:
Type of CBD - We looked to see whether the CBD oil was full spectrum, broad spectrum, or CBD isolate.
Strength - We compared the oil strength and purity versus other available options. All of our recommendations offer a concentration of at least 50 mg of CBD per serving.
Source - Where does the brand source its hemp from, and is it grown organically?
Flavor - We looked for oil flavors and the ingredients used in the oil.
Transparency - A key consideration is whether a third-party lab was used to test the products and if those results are easy for customers to find
Customer experience - We also read verified customer reviews to see what actual users had to say.
Based on these factors, here are the brands that made our list of strongest CBD oils.
6 Strongest CBD Oils of 2021
Research on CBD Oil and Potency
CBD oil is created when cannabidiol, or CBD, is infused into a fat-based carrier oil such as hempseed oil, coconut oil, grapeseed oil, or olive oil. Carrier oils are usually medium-chain triglycerides that are easily digested by the body. The very basic oils will only have CBD and the carrier oil, however, some can also contain other compounds such as tetrahydrocannabinol, or THC, flavonoids, phytonutrients, and terpenes. Some brands will also infuse various natural flavors or essential oils into the final products.
CBD oil can vary in color, flavor, and consistency depending on its makeup. Likewise, the strength also depends on the oil's formulation. CBD oils can be isolates, broad spectrum, or full spectrum. In CBD isolates, only pure CBD is used. These oils are usually 99 percent pure. CBD isolates are typically made solely from the hemp plant.
Broad spectrum and full spectrum oils, on the other hand, are typically sourced from the cannabis plant and have had minimal processing and purification. These oils have a large amount of cannabinoids, terpenes, nutrients, vitamins, and phytonutrients. The difference between the two is that broad spectrum CBD products contain zero THC.
Along with CBD, one of the main compounds in full spectrum oils is THC. In large amounts, THC causes feelings of euphoria. However, legally, all CBD crafted and sold within the United States must contain less than 0.3% THC. When CBD and THC are combined, an entourage effect occurs. In the entourage effect, the compounds work together to dampen each other's negative side effects while amplifying each other's best qualities. For example, too much THC can cause feelings of nausea or dizziness. However, when THC is combined with CBD, the THC enables those with sleep issues to finally get some rest, and helps those with extreme nausea, due to cancer treatment, finally get some much-needed nourishment by increasing appetite. Put simply, the cannabinoids bind with cell receptors in the human endocannabinoid system to create therapeutic effects.
How to Choose the Right CBD Oil and Potency for You
There are several key factors to take into consideration when choosing the strongest CBD oil for pain, sleep, or anxiety. One of the first things to look at is the concentration of CBD within the product. Next, take a look at the milligrams of CBD that are in a single serving. The best quality products clearly have all the facts and information laid out on their labels. In reading the labels, you should be able to tell exactly how much CBD you are getting per serving. How much CBD you need to be taking depends on how your body reacts to the product over time.
What to Look For
Here are the primary things to look for when comparing the strongest CBD oil options.
CBD Spectrum - Make sure you know whether you are getting a full spectrum, broad spectrum, or CBD isolate oil. This is especially important if you are concerned about THC content.
Concentration - When looking for the strongest CBD oils, you need to be certain of how many milligrams of CBD are contained in each bottle and each 1 mL serving.
Lab Testing - For any CBD product, it's vital that you look for brands who ensure their CBD undergoes independent third-party lab testing for purity and safety.
How to Read Labels
Make sure that you know what to look for on the label of any CBD oil or product. Here are the key things to know.
Type of CBD - The label should clearly indicate the spectrum of CBD in the oil. If it is a broad spectrum or CBD isolate, it will usually say that it is "THC-Free."
Dosage Guide - Some brands include a dosage guide on the label to help you measure the appropriate amount of CBD per serving. This is important with higher potency oils.
Test Results - Look for proof that the CBD has undergone third-party lab testing. Many brands include a QR code or link on the label to the test results for that product.
How to Use
Everyone's body is different, so what works well for one person might not work for another. Smaller individuals might need less CBD than larger individuals based on body size and overall mass. Along with body size, the reason you are taking CBD is another consideration in purchasing strong CBD oil.
Whatever oil strength you choose, you should first start low and go slow when it comes to dosing. For example, begin by taking half of a serving of CBD once a day for one week. If you are not feeling any benefits, then go ahead and take half a dose twice a day. Continue increasing the dosage slowly until you are achieving the desired effects. Always check in with yourself to see how you are feeling along the way. This will help you to determine if you should increase the dosage at all. As with any other medication or holistic supplement, your body will need adequate time to get used to a new CBD dosage, and CBD typically works best as it builds up in your system over time.
Safety & Side Effects
There are very few minor side effects associated with CBD. To date, a great number of studies have been done on CBD showing that it is generally well-tolerated and safe for adults.
Some of the most common side effects associated with CBD include:
Dry mouth
Dizziness
Nausea
Changes in weight
Diarrhea
Drowsiness
Changes in appetite
CBD may also interact with certain prescription medications. If you are on any prescription drugs, or have questions about CBD and your health, be sure to consult with your doctor before taking CBD.
Takeaway
Those suffering from chronic pain or increased stress may benefit from stronger CBD oil tinctures that can provide a more potent dose of cannabinoids. CBD oil can be a great addition to any natural healthcare routine. Just make sure you are putting in the time and effort to find the product and the brand that is best suited to your own unique needs, condition, and lifestyle.
A coalition convened by the World Bank Group's Connect4Climate initiative presented a gift of contemporary public art, Fiat Lux: Illuminating our Common Home, to Pope Francis on the opening day of the Extraordinary Jubilee of Mercy in December 2015, to galvanize action and drive global attention to the importance of preserving our natural environment and tackling climate change.
Watch the full show of the breathtaking art projection at the Vatican, on St. Peter's Basilica:
The coalition comprised of Paul G. Allen's Vulcan Inc., the Li Ka Shing Foundation and Okeanos, in partnership with The Oceanic Preservation Society and Obscura Digital, worked under the auspices of Connect4Climate, the World Bank's global partnership program dedicated to driving global action on climate change.
At this unprecedented and historic event, beautiful images of our shared natural world were projected onto the facade of St. Peter's Basilica in a contemporary work of public art that tells the visual story of the interdependency of humans and life on Earth with the planet, in order to educate and inspire change around the climate crisis across generations, cultures, languages, religions and class.
"We are honored to be working with the Vatican to raise awareness of an issue so critical to our shared goal of ending extreme poverty," World Bank Group President Jim Yong Kim said. "The poorest people in the world are disproportionately affected by the effects of a warming climate and are most vulnerable to natural disasters and extreme weather. This impressive initiative will draw global attention to the urgency of tackling climate change for the sake of people and our planet."
The large-scale architectural public art installation was inspired by the themes of climate change, human dignity and the Earth's living creatures in the Encyclical "Laudato Si'" of Pope Francis. Programed to coincide not only with the Jubilee, but also with COP21 in Paris, the historic occasion called on citizens of the world to join a global movement to protect our common home.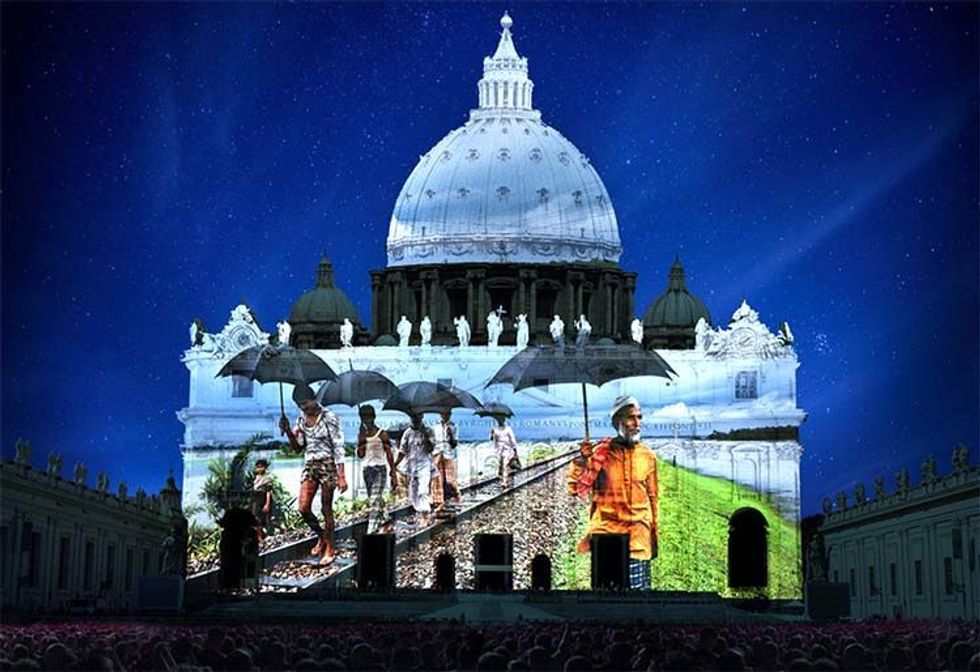 "The fight against climate change invokes each of us in a battle for civilization and democracy," Italy's Minister for the Environment, Land and Sea Gianluca Galletti said. "This was explained by the Holy Father in his extraordinary encyclical Laudato Si: respect to the environment is the condition to reaffirm universal rights and defend human dignity, to guarantee global security, to build a fairer world ... Intercultural dialogue is our most important objective and the most efficient tool for peace."
The cinematic event featured the work of some of the world's most notable humanistic and nature photographers and filmmakers, including Sebastião Salgado (Genesi and Contrasto), Joel Sartore (National Geographic Photo Ark), Yann Arthus Bertrand (Human), David Doubilet, Ron Fricke and Mark Magidson (Samsara), Howard Hall, Shawn Heinrichs, Greg Huglin, Chris Jordan, Steve McCurry, Paul Nicklen and Louie Schwartzberg. The projection was curated by Louie Psihoyos and Travis Threlkel, and produced by Obscura Digital. Francesco Carrozzini curated the creative direction for Connect4Climate.
"We are proud to support the realization of this gift of art to Pope Francis and to work with our creative partners to highlight the biggest issues facing mankind: poverty and climate change," Lucia Grenna, program manager of the World Bank Group's Connect4Climate global partnership program, added. "This artistic display will tell a powerful visual story of the interdependency of all life on earth with our environment and we hope inspire the teams in Paris to push for the most ambitious deal possible."
Share a Short Recap Video:
YOU MIGHT ALSO LIKE
Fascinating Timeline: 30 Years of History of Climate and Energy in State of the Union Speeches
Leonardo DiCaprio: 'Revenant' Drove Home Need to Take Climate Action
3 Ways to Restore Power to the People