EcoWatch Daily Newsletter
News that Chipotle pulled pork from many of its menus, due to an issue with one of their supplier's animal welfare practices, has been blowing up all over the news and social media. The Washington Post and others believe that the company's high standards for animal welfare are laudable, but at this point a real problem.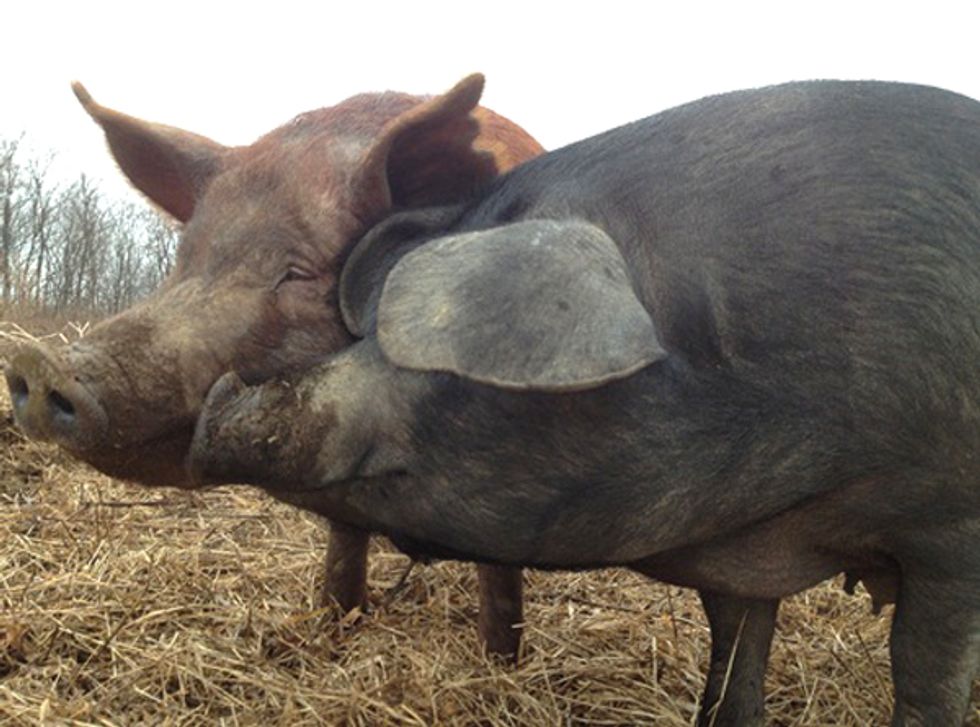 In my mind, this is a good problem.
I applaud Chipotle for holding their farmers to high standards. Chipotle seeks out farmers who raise hogs according to strict animal welfare practices. And I thank them for not compromising their principles, and for pushing production to be more humane.
So this "pork problem" is not a problem at all.
It's an opportunity for farmers to get ahead of the curve and work with restaurateurs and grocers who demand healthy, humanely raised organic products for their customers.
There are not enough organic farmers in the U.S. At Rodale Institute, we're working to change that. On our 333 acre organic farm in Kutztown, Pennsylvania we have a robust organic pork operation that is setting the standard for best practices in raising hogs.
In developing our hog operation, we learned a few things …
Organic hogs, including breeding stock, are difficult to source.
Demand for humanely raised organic pork exceeds current supply.
Farmers can profitably raise organic pork on underutilized, marginal land.
Just this week, we put the roof on a new facility for our hogs that will revolutionize the way we raise pastured pork in the U.S. The beauty of this facility is that it can be scaled up for farmers who wish to have a large-scale operation, but also scaled down for farmers who wish to have just a few animals.
How do we do this? Our hogs are raised on pasture in a facility that offers them shelter, but also open access to the outdoors. We focus on heritage breed animals that thrive on pasture. We plant crops for them to forage, cutting down on feed costs, while also managing our land effectively.
Our goal is to help farmers transition to organic or begin farming organically. Restaurants like Chipotle, which hold as their mission to serve "food with integrity," are experiencing explosive growth.
Now, the farming community needs to catch up and make Chipotle's "pork problem" no problem.
YOU MIGHT ALSO LIKE
How Regenerative Organic Agriculture Can Save the Planet
12 Ways to Rid the Planet of GMOs and Monsanto's Roundup
We narrow down the best installers in the Empire State.
Reviews
When you think of New York, it's doubtful you'd picture solar panels lining the tops of urban buildings, but the Empire State is actually a top state for solar energy in the U.S. If you're thinking about going solar, the best first step to make is to find the best solar companies in New York and compare quotes.
It may surprise you to learn that the state of New York actually has more solar companies than Texas, the number two state for solar. Progressive leadership has laid the foundation for a market very encouraging of solar's growth, and a large number of top solar companies are looking to capitalize on it.
For most home or business owners considering solar power, the choice of which company to choose often comes down to costs. To start getting quotes from the best solar companies in New York, you can use this tool or fill out the form below.
Our Picks for Top New York Solar Installers
SunPower
SUNation Solar Systems
EmPower Solar
Tesla
Kasselman Solar
Momentum Solar
Harvest Power Solar
Brooklyn SolarWorks
SunCommon
Plug PV
Comparing the 10 Best Solar Companies in New York
How We Chose the Best Solar Companies in New York
We researched the product portfolios, solar services, financing options, customer feedback and industry reputations of every major New York solar installer. Using this methodology, we rated and ranked each company to narrow down and rank our picks for the top solar companies in New York.
Choosing the Best Solar Installer for Your Home
Everyone's needs are different when it comes to solar, so what may be the best solar company for your neighbor might not be right for you. Give these factors some thought and place more emphasis on what will meet your home's needs when choosing the best company for your installation:
Services Offered
To start, due to the unique range of needs of home and business owners in New York, a variety of solar installers focus on different services. For instance, Brooklyn SolarWorks focuses more exclusively on downtown roofs, which are typically flat and have needs different than a larger home in Long Island. Think about what makes your home or business unique — and find a company that prioritizes those needs. Other things to consider might be whether you need electrical upgrades, EV chargers or backup power.
Installation Process
Before you sign any paperwork, make sure you're confident in knowing how the installation process will look. How long before the installation day will happen? How many days will it take? What is my utility company's net metering policy? Permitting and interconnection can vary from city to city, so it's best to be sure you're familiar with the process.
Solar Pricing and Financing
Solar energy systems are a great investment — one that takes planning and time to mature. Think about whether you might need special financing options if your budget is tight. Any of the best solar companies in New York should be able to assist you in applying for the federal solar tax credit, but specific financing options and flexibility will vary from provider to provider.
Industry Affiliations
We generally recommend hiring a company that maintains industry credentials, such as membership in the Solar Energy Industries Association (SEIA), a B Corp certification or affiliation with other professional associations. Memberships and certifications are a great indicator of the company's professionalism, workmanship, reputation and reliability.
Types of Panels
Some types of solar panels are better than others, and each company will offer a slightly different product portfolio. Small homes in more dense cities will likely need high-efficiency solar panels, while homes with more space might opt for a sleek design. It can't hurt to ask what brands of panels your company has available, and why they might recommend each. Certifications from some of the best solar panel brands like Panasonic, LG or SunPower might also be a good indicator of legitimacy.
Incentives, Rebates and Tax Credits
New York State has a variety of solar incentives that can vary by city, county and utility. Though effective, these incentives can be complex, and finding a solar installer that knows the ins and outs of local policy may provide the best overall value in the long run. It's best to think locally here. Does the company you're looking at have plenty of experience in your community? This will be important.
Warranty
Finally, we recommend finding an installer that offers a good warranty. Solar panels are incredibly tough, but things happen. The best warranties will last 25 years and cover the equipment, workmanship and performance of your installation.
Cost of Solar in New York
As of 2022, our market research and data from top brands show the average cost of solar panels in New York is around $2.95 per watt. This means a 5-kW system would cost around $10,927 after the federal solar tax credit is applied. Keep in mind that a 5-kW system is about the minimum size for most homes.
New York State also offers a variety of solar incentives to help offset the cost of your system. These incentives have spurred the growth of solar in New York to new highs in 2021, pushing to over $7 billion of total investment. Under the right circumstances, New York's solar incentives are capable of offsetting nearly half of the aggregate system installation costs.
| | |
| --- | --- |
| New York Solar Incentive | Incentive Description |
| NY-Sun Megawatt Block Incentive | This statewide incentive provides direct financial incentives for solar installations on a per-watt basis, meaning the larger your installation, the more financial support you'll receive. |
| Solar Energy System Equipment Credit | New York residents are entitled to claim a tax credit equal to 25% of your qualified solar energy system equipment expenditure (limited to $5,000). |
| Sales Tax Exemption | New York residents don't have to pay the state's 4% sales tax on qualified solar equipment. |
| Net Metering | Standard net metering is available to most New York residents through 2022. Throughout 2022, New York will begin enrolling its solar customers in a net metering alternative aimed at easing utility costs. |
How to Find the Best Solar Installer in New York
Sorting through the large number of New York solar installers can seem challenging, but this actually presents a great opportunity for New York home and business owners. Unlike a number of other states, solar customers are far more likely to find a company that tailors to their local needs.
The large number of solar companies in New York also gives solar customers the opportunity to shop competing offers against each other, sometimes securing thousands of dollars during the process. Remember, these companies are competing for you.
To start getting free quotes from the best solar companies in New York, use this tool or fill out the form below.
Best Solar Companies New York: FAQs
Who is the most reputable solar company in New York?
The most reputable solar company in New York will depend heavily on your individual needs. New York may be the toughest state to answer this question in due to the wide variety of unique needs stemming from metropolitan, suburban and rural areas of the state.
Is solar in New York worth it?
As long as you have the right roof, solar in New York is typically well worth it. Rather than the sunshine being the main factor behind solar's value, in New York, solar incentives are what make the switch worth it. Between the Megawatt Block incentive, federal tax credit and solar energy system equipment credit, New York homeowners can offset nearly 50% of their project costs.
How do I find a reputable solar company in New York?
One of the best ways to find a reputable solar company in New York is to compare free quotes from a number of installers. When comparing these quotes, or getting on-site consultations, you can find the best offer for your needs. Refer to our guide on finding local solar installers near you to learn more about reading and interpreting solar proposals.
Karsten Neumeister is a writer and renewable energy specialist with a background in writing and the humanities. Before joining EcoWatch, Karsten worked in the energy sector of New Orleans, focusing on renewable energy policy and technology. A lover of music and the outdoors, Karsten might be found rock climbing, canoeing or writing songs when away from the workplace.
Over the last 14 days, I have been on a walk. A walk that, I hope, will change the way that we look a climate change and think about how we can reverse this disastrous phenomenon.
Each day I walk ten miles, on a journey from the Rodale Institute in Kutztown, PA to Washington, DC. Along the way, I have had the honor of meeting with farmers, local public officials, community members, students and activists. Every person I meet is impacted by the effects of climate change. From the disastrous hail storm that occurred in Reading, PA in May to the local fisherman and their concern that Atrazine was found in spawning beds of small mouth bass in the Susquehanna River. Climate change affects us all and the impact and destruction caused by catastrophic weather events is more noticeable with each passing year.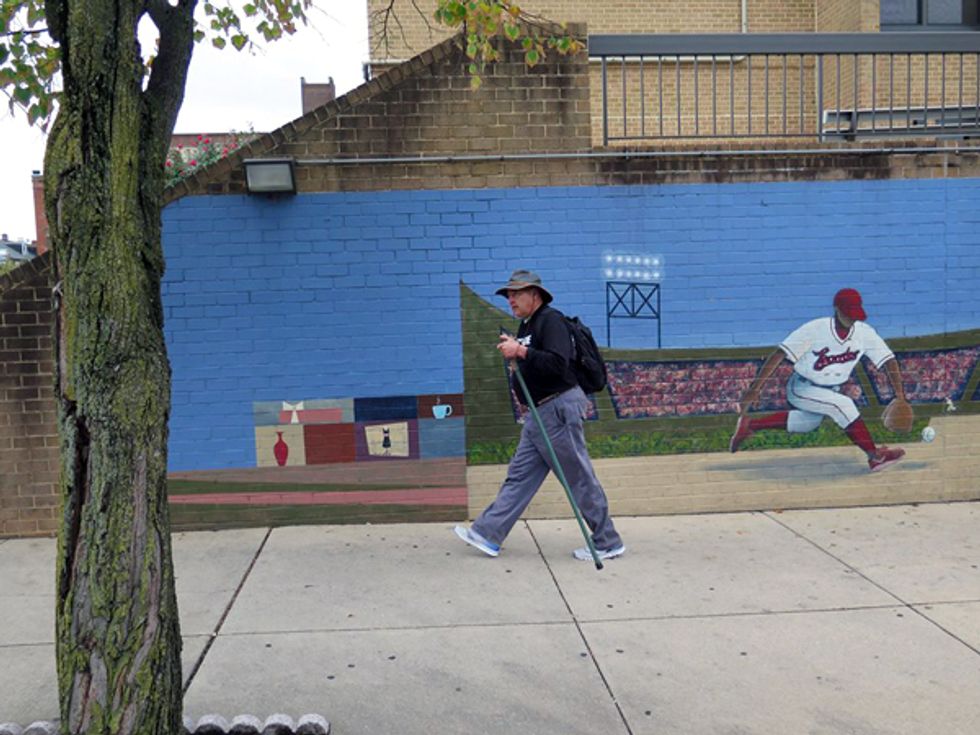 Along the way, I continue to tell people that climate change is a gift. This is Mother Nature's way of letting us know that she is sick. We have broken our ecological systems and only we can fix it. I have data that proves that a global transition to regenerative organic agriculture can reverse climate change.
The process is actually quite simple—we work with nature to use photosynthesis and healthy soil biology to draw down greenhouse gases.
There are four steps to the process:
Photosynthesis: The process plants use to change carbon dioxide from the atmosphere into oxygen and carbon-based sugars.
Nutrient Exchange: Carbon-based sugars ooze out of the plant's roots to feed micro-organisms, mostly bacteria and fungi, living in the soil nearby. Microorganisms transform organic matter and soil minerals into plant-available nutrients.
Capturing carbon: Temporary root sugars and dead organic materials (e.g. plant debris and compost) are eaten by microorganisms and converted into more stable materials to store carbon in the soil for decades to centuries.
Restoring balance, reversing climate change: More photosynthesis means more sugars, which means microorganisms will thrive. Healthy micro-organisms create abundant nutrients for plants. Building healthy soil and eliminating the use of toxic agricultural chemicals and practices brings carbon levels back into balance, reversing climate change.
On Oct. 16—two days from now—I will arrive in Washington, DC and will hand deliver this research to our elected officials.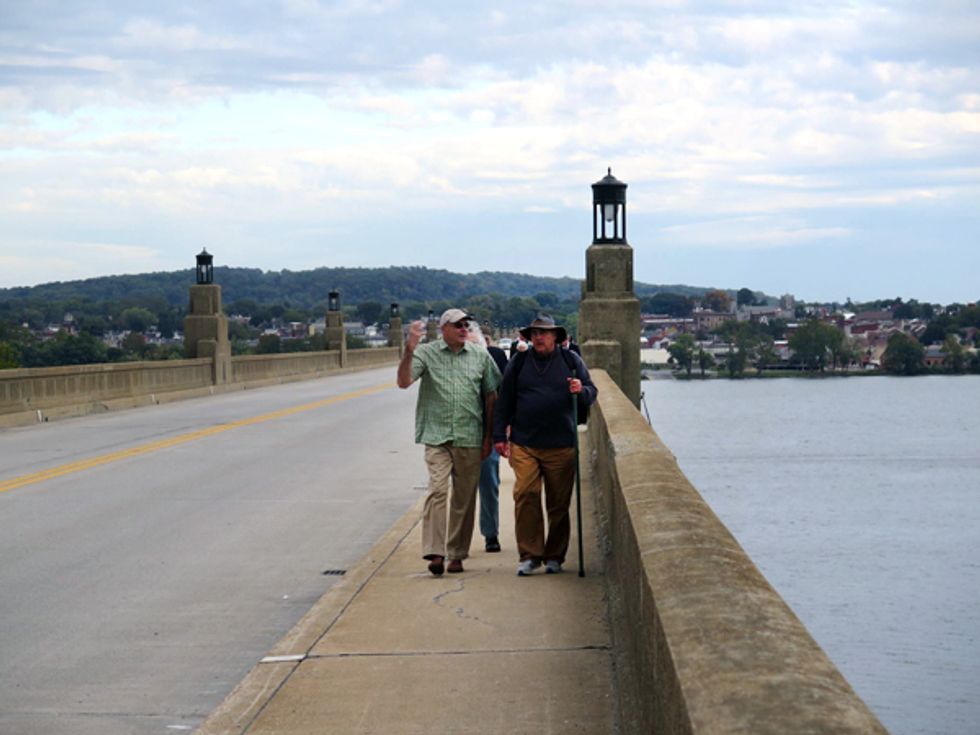 We must bring awareness to this research and encourage the U.S. Department of Agriculture and Congress to create legislation that supports organic farmers. Only organic farming can stop the chaos that we have created—chaos that is deeply impacting our environment on so many levels.
I need your help to make sure that our voices are heard when we arrive in Washington, DC. Please, get involved. Make sure this message about the powerful, positive impact of regenerative organic agriculture is known.
Follow us on Facebook, Twitter and Instagram for daily updates on the walk. Share these update with your network of friends, family and colleagues.
Join our 'Organic Planet'twitter chat tonight, Oct. 14, at 8 p.m. ET with Only Organic using the hashtag,#organicplanet
Go to www.crowdrise.com/organicplanet and make a donation to support our work with organic farmers. Donations of every amount are welcome and appreciated.
I know that, together, we can make sure that our voices are heard. We can encourage congress to create legislation that supports organic farmers and incentivizes conventional farmer to transition. Together, we can truly regenerate our planet—creating a better environment for our children and grandchildren to grow, live and thrive.
Along the route, I spoke to a reporter who said, "Reversing climate change through organic agriculture? This just sounds too good to be true."
Well, I'm happy to say that is good and it is true.
YOU MIGHT ALSO LIKE
Food as Medicine: How One Hospital Is Using Organic Produce to Help Heal Patients
To Get Out of Climate Debt, the U.S. Needs a CO2 Savings Account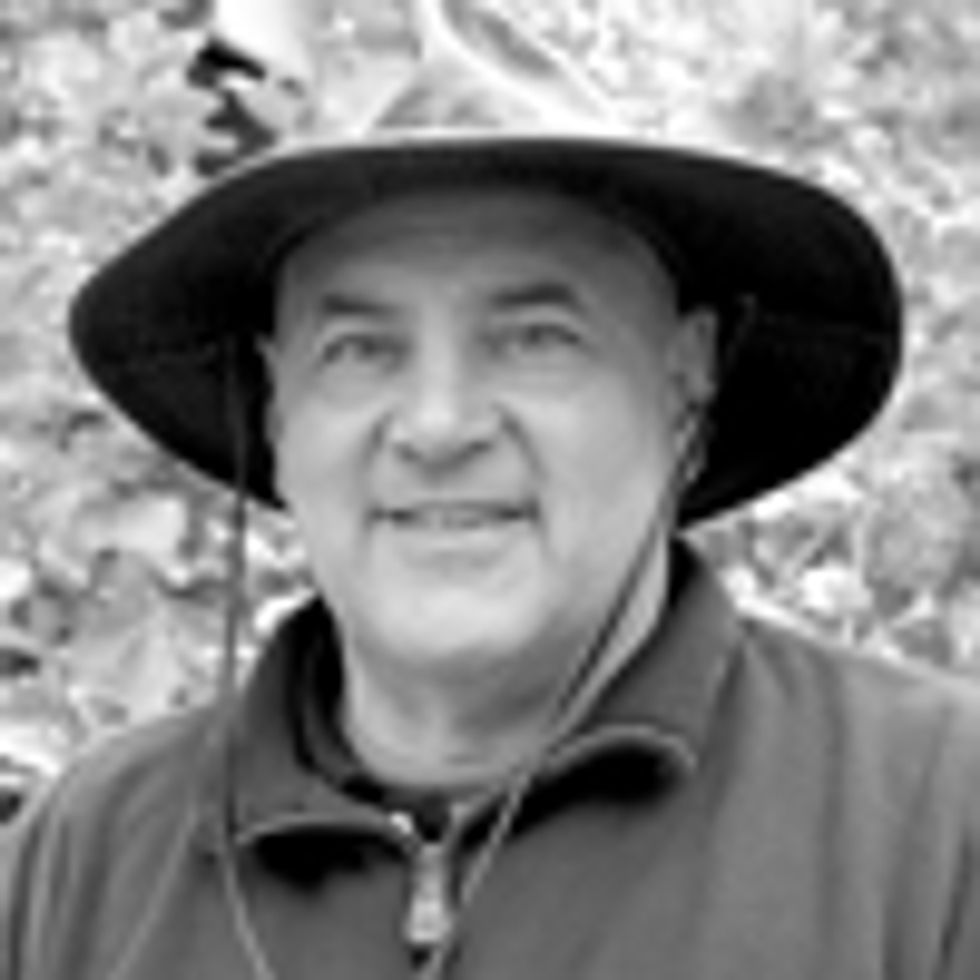 This Earth Day we saw a global community in crisis. A terrifying climate trend that has the American people … yawning? A recent poll shows people nearly across the board rate climate change near the bottom of their lists of problems facing the nation. Why? Climate is big, intangible and hard to wrap our brains around. We can't hold it in our hands or look it in the eye. Or can we?
Climate change, or more accurately climate chaos, hits each and every one of us in an incredibly intimate way—right in the stomach. From the global breadbasket to our nation's farm fields to pantries everywhere, our food supply is at risk. Climate chaos isn't just an environmental issue. It is a grocery store issue, a dinner plate issue, a filling-our-bellies issue.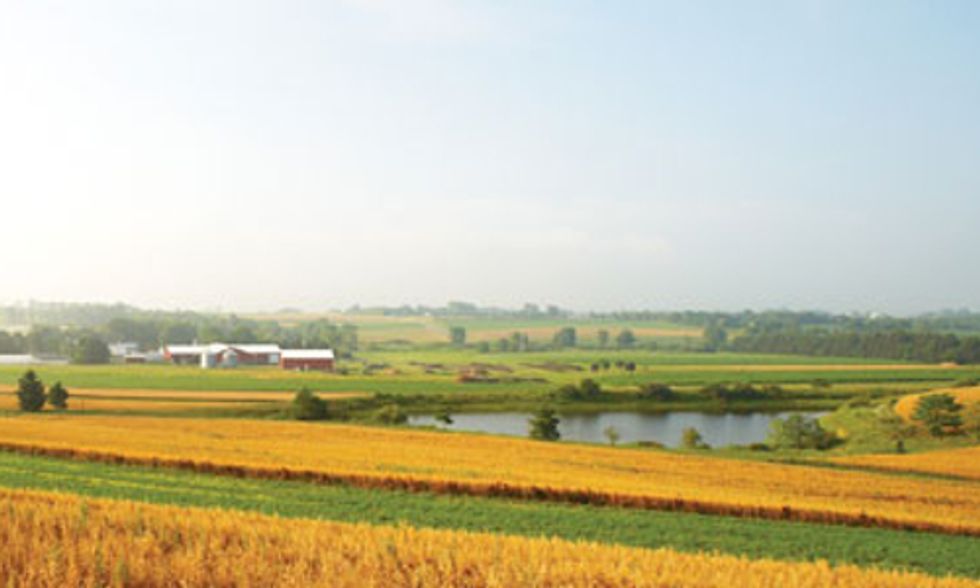 Rodale Institute farm.
Instead of picturing graphs and thermometers and melting ice caps when we think about climate chaos, we should be seeing rolling fields of grain, vines of succulent tomatoes, lazily grazing livestock, and the faces of our neighbor farmers, both rural and urban alike, struggling and failing due to droughts, floods, super weeds and other extreme consequences of a changing climate.
There is hope and we're standing on it. Our food supply and our farmers, both in the eye of the storm and so often contributors to climate change, could also be our salvation.
Changing the way we farm can reverse climate change.
Researchers have called it biological, ecological, progressive, pro-soil and carbon farming, among others. Add these terms on top of organic, local, free-range, sustainable, natural, fair trade, etc. and you have a recipe for mental overload.
There is one thing farms that fight climate chaos have in common. There is one sure thing that turns a farm from a contributor to climate change into a solution: Healthy soil.
At the Rodale Institute we were organic before it had a definition and, back then, soil was at the very heart of what we did. Robert Rodale called it regenerative agriculture.
Regenerative organic agriculture starts with the soil. It improves the resources it uses, rather than destroying or depleting them. It is a holistic approach to growing food that encourages continual on-farm innovation for environmental, social, economic and spiritual well being. It is an umbrella that includes practices that often fall separately under certified organic, fair trade, local, etc. and aims to continuously improve soil, food, human health, communities and the wider world.
Today we know that healthy soil is the key to climate change, food security and more. We could capture more than 100 percent of current annual carbon dioxide emissions with a switch to widely available and inexpensive regenerative organic management practices.
Climate chaos seems overwhelming and unsolvable, but we can begin reversing the destructive trend today. The answer is farming. Not just business-as-usual industrial farming, but farming like the Earth matters. Farming like water and soil and land matter. Farming like clean air matters. Farming like human health, animal health and ecosystem health matters. Farming in a way that restores and even improves our land. This kind of farming is called regenerative organic agriculture and it is the short-term solution to climate change we need to implement today.
Simply put, if we make the soil healthy, we can reverse climate change.
——–
YOU ALSO MIGHT LIKE
Stop Feeding the Beast and Start Feeding the People
How Organic Farming Can Reverse Climate Change
How Buying Local Food Grows Local Economies
——–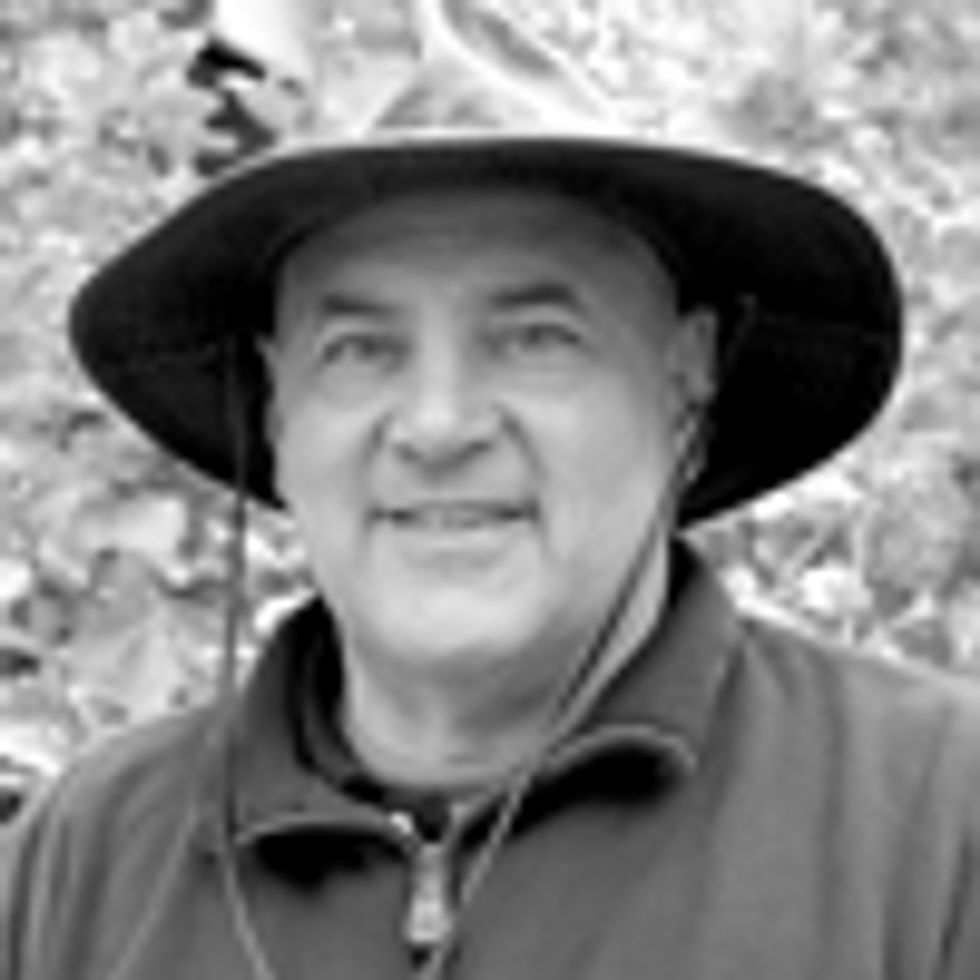 Have you ever wondered how anyone makes any money on a $2 bag of nacho-cheese flavored corn chips or a .25¢ apple? Economists and policy wonks have been talking about how we privatize profits and socialize loss here in the U.S. for at least a decade. If your eyes glazed over when you read that, you're not alone. Unfortunately, we can't afford to ignore how this big picture idea affects each and every one of us. What does it mean for Main Street America?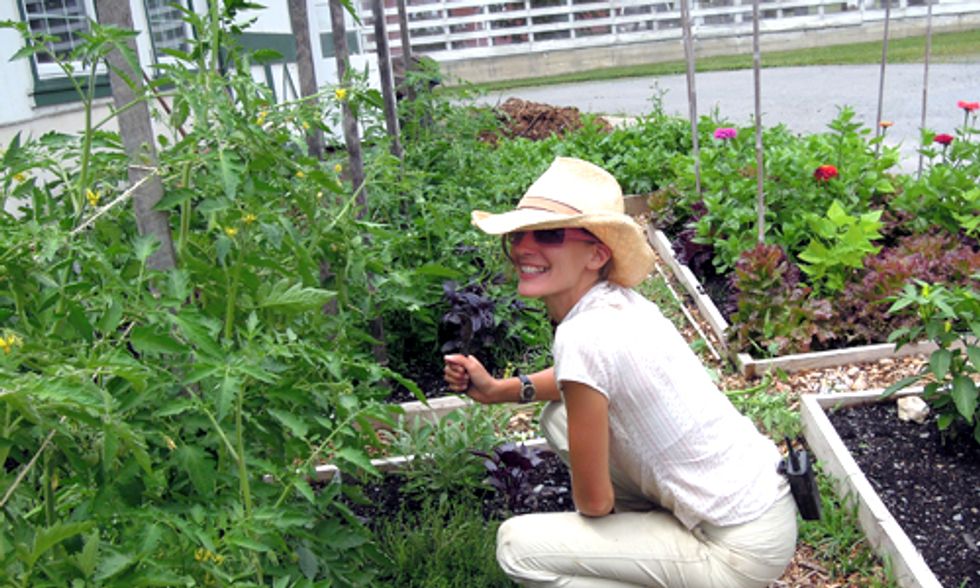 How we grow our nation's food is the perfect snapshot. Organic activists and locavores have also been talking about the same concept for just as long, if not longer: The hidden costs of cheap, industrial food.
We have a system of predatory agriculture in which corporations (aka Big Ag) pursue private gain relentlessly regardless of the social consequences. To bring it closer to home, social consequences can be defined as anything from polluting our water, land and air to impacting the health of our families to making the business of farming economically unsustainable.
Costs such as environmental degradation, declining health and economic insecurity aren't reflected in the price tag because they aren't included in corporate budgets. This is one big reason why there are plenty of profits to be made in toxic agricultural chemicals, junk food and GMOs. But these costs are a burden on us all. Like every parent tries to teach their children: Actions have consequences.
All the garbage that allows Big Ag to make obscene profits is left to our communities to clean up. Take, for example, the Chesapeake Bay and Gulf of Mexico dead zones. Although caused in part by the overuse of synthetic fertilizers and poorly-timed applications of raw manures and biosolids, the negative effects and the "bill" for clean-up go to the American public.
We are what we eat, and we are carrying the costs of corporate greed. In the private profit/social loss equation farmers lose, consumers lose and communities lose.
But life cycle or true cost accounting when it comes to our food system is a numbers nightmare. How do we weigh and measure things like erosion, chemical leaching and run-off, and loss of pollinators like the honeybee and other biodiversity? How do we make a solid connection between food production/consumption and the insidious health impacts of chronic, low-dose exposure to agricultural chemicals and our obesity epidemic?
In a global summit last December whose goal was to "investigate why our current economic system makes it more profitable to produce food in ways that damage the environment and human health, instead of rewarding methods of production that deliver benefits," world leaders recognized that not all agricultural systems are created equal. Farming that not only sustains status quo, but creates a healthier environment is possible. "Some farming methods have public benefit," wrote Dan Imhoff in his coverage of the summit.
Luckily, it doesn't take a global summit or a panel of researchers to figure out what to do: We need to support the organic farmers who are creating a public benefit. It isn't just about growing more, bigger, faster. It is about nourishing ourselves, our families, our communities and the farmers who choose to feed us rather than feeding the corporate beast.
Visit EcoWatch's FOOD page for more related news on this topic.