This website uses cookies to ensure you get the best experience while browsing it. By clicking 'Got It' you're accepting these terms.
Protestors marched outside the Prudential Center in Newark, New Jersey on Monday, August 26, during the MTV Video and Music Awards to bring attention to the water crisis currently gripping the city. Karla Ann Cote / NurPhoto / Getty Images
By Will Sarni
It is far too easy to view scarcity and poor quality of water as issues solely affecting emerging economies. While the images of women and children fetching water in Africa and a lack of access to water in India are deeply disturbing, this is not the complete picture.
A lake in Rocky Mountain National Park. Brett Walton / Circle of Blue
By Brett Walton
When Greg Wetherbee sat in front of the microscope recently, he was looking for fragments of metals or coal, particles that might indicate the source of airborne nitrogen pollution in Rocky Mountain National Park. What caught his eye, though, were the plastics.
EcoWatch Daily Newsletter
Irina Vodneva / iStock / Getty Images Plus
By the Numbers

5: Priority recommendations that the U.S. Environmental Protection Agency (EPA) has implemented since March 2018. Those actions relate to chemical standards, nonpoint water pollution and water pollution assessment. There are, however, 14 priority recommendations that the agency has not acted on. (Government Accountability Office)
Monitoring wells stand as silent sentinels on the grounds of a fire training site at Wurtsmith Air Force Base. Chemicals used at the site have contaminated nearby groundwater, rivers and lakes. Brett Walton / Circle of Blue
By Brett Walton
Anthony Spaniola knew something was off with his town's water. He read accounts in the Detroit Free Press and attended community meetings hosted by state health and environment agencies. Until last summer Spaniola was concerned but didn't think the situation was out of control.
Then he saw foam on Van Etten Lake.
A truck hauling potable water arrives at the entrance to Al Azraq refugee camp. Randall Hackley
Behind barbed-wire fences at this camp in northern Jordan, about 33,000 Syrians—half of them children—exist uneasily, housed in rows of rudimentary shelters that barely protect them from the winter cold.
Drinking water must be brought in daily by dozens of tanker trucks or pumped from desert boreholes that overexploit Jordan's largest groundwater basin.
By Brett Walton
State of the State speeches are where governors sketch their legislative priorities and report on the overall health of their dominions. The state of the state is almost always "strong" and water issues are occasionally mentioned.
Below are summaries of the governors' references to water, climate and the environment.
By Brett Walton
The head of the U.S. Environmental Protection Agency (EPA) pledged that lead regulations will be a prominent feature of the agency's work in 2018—but that work will take longer than anticipated.
The agency expects that a revision to federal rules that are designed to reduce the risk of lead in drinking water will be published in draft form in August 2018, a seven-month delay from a timetable announced this summer.
Officials test sediment samples at the San Jacinto Waste Pits Superfund site after Hurricane Harvey hit the region in Texas. EPA
The U.S. Environmental Protection Agency (EPA) confirmed that Hurricane Harvey damaged a protective cap at a Superfund site along the San Jacinto River, near Houston, and caused a spike in chemical levels in the water.
Water samples from one of 14 monitoring sites at the San Jacinto waste pits indicated levels of dioxin above 70,000 parts per trillion, more than 2,000 times higher than the site's cleanup goal of 30 parts per trillion. Dioxin is a cancer-causing chemical that stays in the environment for hundreds of years before breaking down.
By Codi Kozacek
A year after the most intense bloom of toxic algae on record engulfed Lake Erie, the lake is set to get a reprieve this summer. Federal forecasters at the National Oceanic and Atmospheric Administration predict this year's bloom will register a 5.5 in severity, about half the level recorded last year and significantly less than the bloom in 2014 that shut down water supplies for nearly half a million people in Toledo, Ohio.
A satellite image captured on July 15, 2016 shows the beginning of an algal bloom. Forecasters predict this summer's bloom will be much smaller than the record-setting bloom last year.MODIS / NOAA CoastWatch
Still, work to rid the shallowest Great Lake from the annual blooms that contaminate drinking water, close beaches and create aquatic "dead zones" is far from over, warned researchers and water managers gathered at Ohio State University's Stone Laboratory last week. Hundreds of metric tons of phosphorus, a nutrient contained in fertilizer, manure and sewage, continue to wash down the Maumee River each year into Lake Erie's western basin, where the influx fuels the bloom of blue-green algae.
The small size predicted for this year's bloom is more a function of dry weather in the Maumee Basin rather than big reductions in phosphorus. Just as record rains in the basin last year triggered a massive bloom, dry conditions this spring meant less water to carry phosphorus off the land and into the lake. As a result, total "loads" of the type of phosphorus that can be used by algae are expected to be about one-third the amount washed into the lake last year.
"The reality is that rain is really driving our loads at this point in time," said Laura Johnson, director of the National Center for Water Quality Research at Heidelberg University, which tracks the nutrients flowing into Lake Erie.
That means one dry year with a small algal bloom does not indicate the problem is solved. It will take a 40 percent reduction in the amount of phosphorus flowing down the Maumee and other Lake Erie tributaries to control the blooms in the long-run, according to new targets adopted in February by the U.S. and Canada. Further, the blooms in Lake Erie are just one facet of the burgeoning nutrient pollution problem across the nation and the globe. Attention this year is focused on the noxious blooms along Florida's Treasure Coast, where the state's governor declared a state of emergency in June. But blooms also plague Green Bay in Lake Michigan, Lake Taihu in China and the Murray-Darling River in Australia. The oxygen-depleted aquatic dead zones created when blooms die regularly form in Lake Erie, the Gulf of Mexico and the Baltic Sea.

Spurred by the poisoning of Toledo's drinking water supply in 2014—and a history of algal blooms dating to the mid-20th century—the research and management efforts being implemented in the Lake Erie watershed to curb phosphorus runoff are an important guidepost for these other systems.
"This is a state, country and global issue," said Chris Winslow, interim director of Stone Laboratory. "We're at the cutting edge of many of these studies right now. A lot of this is going to inform what a lot of people do throughout the country."
A Plan for Lake Erie
Over the past year and following decades of study, the Great Lakes states and provinces took their first concrete steps toward curbing phosphorus pollution and algal blooms in Lake Erie. An agreement signed between the premier of Ontario and the governors of Ohio and Michigan last June set an ambitious goal to cut phosphorus flowing into western Lake Erie by 40 percent by 2025. It also set the interim goal of a 20 percent reduction by 2020. The state-level commitment was followed by the adoption in February of 40 percent reduction targets under the Great Lakes Water Quality Agreement (GLWQA). While there is no timeline under the GLWQA, it does require the U.S. and Canada to develop domestic action plans by 2018 outlining how they will make the phosphorus cuts.
To meet those goals, land and water managers will need to focus on reducing runoff from farms in the Maumee River Basin, according to a study led by researchers at the University of Michigan. While stormwater runoff, discharges from municipal wastewater plants and septic systems can all contribute phosphorus, scientists estimate nearly 85 percent of the phosphorus flowing into Lake Erie from the Maumee comes from farm fertilizers and manure.
The study, released in April, analyzed a variety of agricultural management scenarios using watershed models to estimate how the practices would affect phosphorus discharges. In general, it found that agricultural practices meant to trap phosphorus on land will need to be widely adopted and that better results occur when those practices are targeted on land that currently releases high levels of phosphorus.
University of Michigan
Specifically, only two scenarios achieved the new targets outlined under the GLWQA. The first would require the conversion of 50 percent of cropland to uncultivated grassland and is considered highly unrealistic.
The second would require the subsurface application of phosphorus fertilizers on half of the cropland that currently loses the most phosphorus. That prevents the fertilizer from sitting on top of the soil, where it can be washed off by rain. The scenario also calls for the use of rye cover crops and the installation of "medium quality" buffer strips on 50 percent more cropland than implements these practices now. Cover crops store the phosphorus in their roots and leaves, keeping it out of the soil so it cannot wash away, while "buffer" strips of vegetation slow the rain running off of fields, filtering out phosphorus before it reaches streams. As of 2013, approximately 8 percent of farms in the Maumee watershed used a rye cover crop and 35 percent of farms used buffer strips.
In a demonstration of agriculture's important role in reducing phosphorus, the study also examined a scenario in which all point sources of phosphorus—those that come out of a pipe, such as from a municipal wastewater plant—were eliminated completely. In that scenario, total phosphorus was reduced by just 5 percent and dissolved reactive phosphorus—the kind most usable by algae—was reduced by 10 percent.
"The 40 percent [target] is doable, but it's going to be a heavy lift," said Gail Hesse, director of the National Wildlife Federation's Great Lakes Water Program, speaking at the Stone Laboratory event. "It's going to need a steep investment and a steep ramp-up in our efforts to reach that target."
Codi Kozacek is a news correspondent for Circle of Blue based out of Hawaii. She writes The Stream, Circle of Blue's daily digest of international water news trends. Her interests include food security, ecology and the Great Lakes.
This article was reposted with permission from our media associate Circle of Blue.

By Codi Kozacek
On Tuesday, residents of Flint, Michigan were invited to bring their children to a local elementary school for a "Lead Testing and Family Fun Night." Combining a school carnival with medical tests to check children's blood for abnormally high levels of lead, the event was an example of the bizarre circumstances that families are contending with in Flint, Michigan's seventh largest city.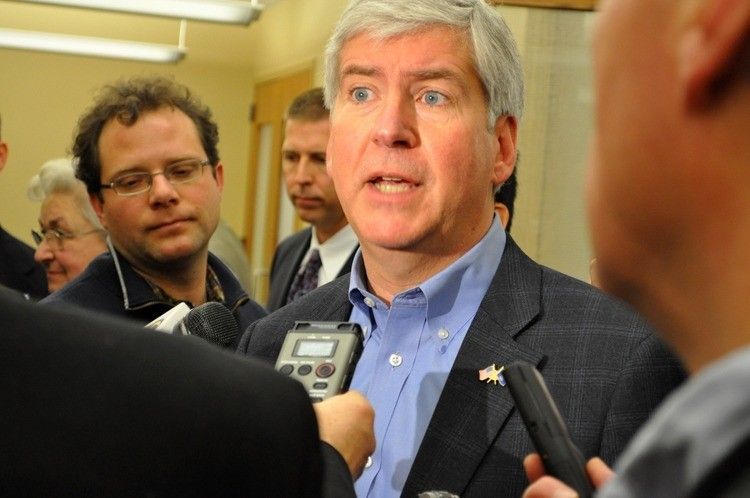 A series of public decisions, driven by misguided management practices and ideological principles that backfired, converged during the past 20 months to poison the city's drinking water and cause one of the most severe public health threats in the U.S. The extent of the risk to Flint's residents is not clear.
Flint's crisis is the third time during the administration of Republican Gov. Rick Snyder that decisions about water supply and water quality at the most senior levels of state government have put state residents in harm's way. In 2014, again as a result of the governor's decision to appoint an emergency manager in Detroit, drinking water services were cut off for thousands of city residents said to be in arrears on their water bills. But water services for many of the city's largest commercial water consumers, which owed the city water department millions of dollars in unpaid charges, were not halted.
The Snyder administration, according to business owners and residents in northern Michigan, has been slow to respond to the threat of a major Great Lakes oil spill from two 63-year-old pipelines that transport 540,000 barrels of oil a day across the Straits of Mackinac at the top of Lake Michigan. An environmental law group in Traverse City, For the Love of Water, has argued that other existing onshore pipelines are available to transport oil to Great Lakes refineries and that Gov. Snyder has the legal authority to shut down Line 5 and prevent what the group called an "imminent risk."
Flint's Water Unravels
Flint's water troubles began in April 2014, when the city of 102,000 residents in southeastern Michigan began sourcing its water from the nearby Flint River instead of receiving Lake Huron water from its longtime water supplier, the Detroit city water department. The move, made by emergency managers appointed by the state to bring an economically ailing Flint back to fiscal health, was estimated to save the city $US 5 million while it awaited the construction of a new pipeline to Lake Huron.
The plan, which was strong on the value of "cost-saving," but received scant evaluation for its technical feasibility, quickly unraveled. Over the next year and a half, a series of public announcements and troubling disclosures, many of them first reported by investigative journalist Curt Guyette, described Flint's deteriorating water quality and growing public dismay.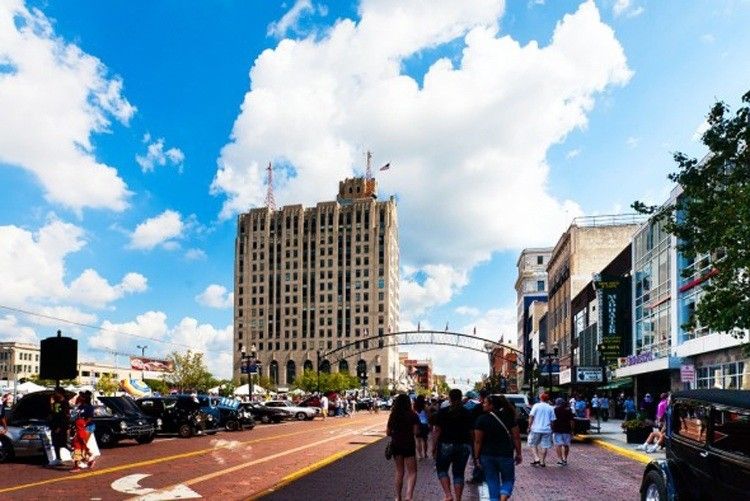 First, the city issued several boil water advisories in the summer of 2014. Then, in January 2015, Flint violated the U.S. Safe Drinking Water Act because its water contained high levels of total trihalomethanes or THM, byproducts of the water treatment process that, over time, can increase the risk of cancer and cause health problems of the liver, kidneys and central nervous system. Finally, two research studies in the fall of 2015 found that the new water source was corroding aging water pipes, leaching lead into the system and very likely causing a spike in lead levels in the blood of Flint's children. Lead exposure can impair both mental and physical development in children, sometimes causing "profound and permanent adverse health effects," according to the World Health Organization.
State Slow to Respond
Throughout the crisis, Gov. Snyder appeared indifferent while state officials defended the emergency manager's actions and repeatedly rejected claims that there was anything wrong with Flint's water. As evidence of serious contamination mounted, the Snyder administration insisted the city's water was safe to drink.
Gov. Snyder did not acknowledge the unsafe condition of the city's water problems until Sept. 30, 2015.
"In terms of a mistake, we found there are probably things that weren't as fully understood when that switch was made," Snyder told reporters, according to MLive. "Again, we're looking at making sure they're within safe limits according to the federal government."
The governor apologized to the city in December.
"I want the Flint community to know how very sorry I am that this has happened," Snyder said in a statement. "And I want all Michigan citizens to know that we will learn from this experience, because Flint is not the only city that has an aging infrastructure."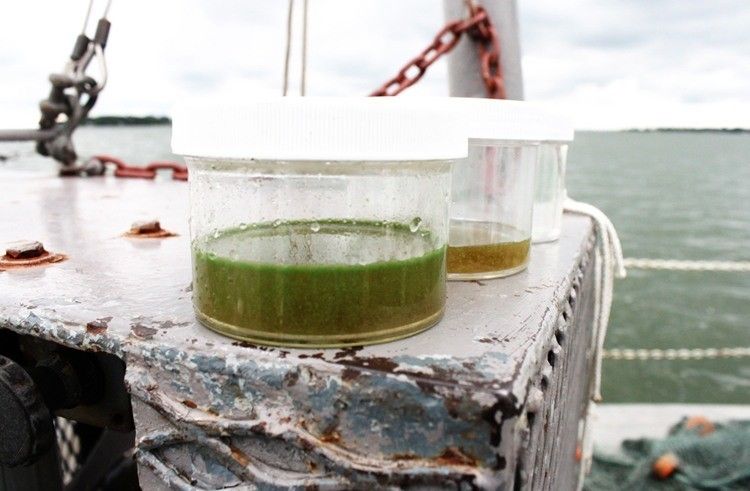 The same day, the governor accepted the resignation of Dan Wyant, the director of the Michigan Department of Environmental Quality. Both Snyder's apology and Wyant's resignation came on the heels of a letter to the governor from the state-appointed Flint Water Advisory Task Force. The task force blatantly blamed Michigan Department of Environmental Quality for Flint's water problems, MLive reported, writing to the governor, "We believe the primary responsibility for what happened in Flint rests with the Michigan Department of Environmental Quality."
In October, the state authorized Flint to switch back to the Detroit water system. The city also began adding phosphates to its water in December to help rebuild a protective coating inside pipes damaged by the corrosive Flint River. Meanwhile, state and city programs are providing residents with water filters, bottled water and lead testing to help ensure safe water.
Cost-Saving Move Backfires
Critics of the Snyder administration's management of Flint's fiscal and public health turmoil note that the cost to the city and the state of the administration's "cost-saving" strategy is likely to be considerable. The state has allocated $US10 million to "test the water, distribute water filters and help in other ways." The money comes on top of the $US6 million price tag to switch Flint back to the Detroit water system.
Personal and class action lawsuits brought by plaintiffs seeking compensation for health damages could be inordinately expensive. The reasons: blood tests revealed elevated concentrations of lead in the tissues of many residents. And a bevy of documents uncovered by Guyette, other reporters and researchers indicate that state officials knew of serious problems much sooner, but failed to act.
"In their short-sighted effort to save a buck, the leaders who were supposed to be protecting Flint's citizens instead left them exposed to dangerously high levels of lead contamination," Michael Steinberg, legal director for the American Civil Liberties Union of Michigan, said in a November press release announcing an intent to sue state and city officials over the water crisis.
Echoes of Flint Around the World
Flint's story of water dangers fostered by ideology, neglect and indifference is, in many ways, a central national and global challenge of the 21st century.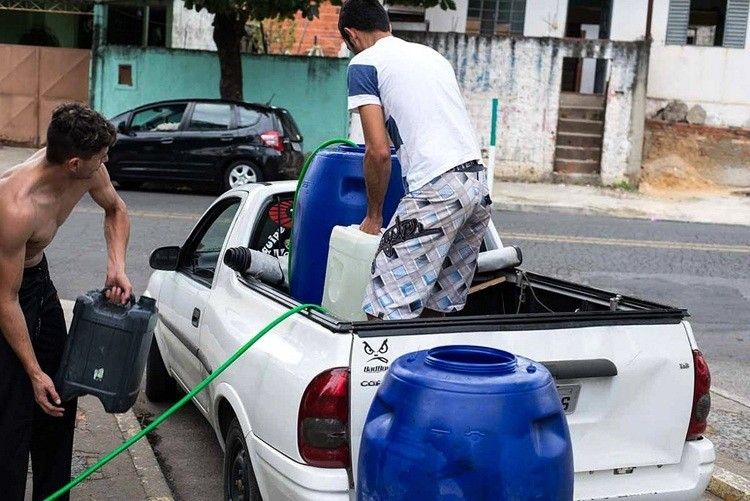 Governments are forgoing investments in critical infrastructure or failing to take changing markets and fast-changing environmental conditions into account. The result, in places like Flint or Sao Paulo, Johannesburg and Mumbai, is decrepit, inadequate water systems that leave residents with unsafe water—or no water at all. In the Midwest U.S. and in India, it is depleted aquifers that threaten food production. In Lake Erie and Lake Taihu, it is runaway nutrient pollution that fuels toxic algae blooms. On a global scale, the collective procrastination on climate action means countries must now make drastic cuts in their carbon emissions to avoid environmental collapse.
The fallout when water systems break down is swift and unrelenting. A severe, two-year drought in Brazil nearly spelled disaster for Sao Paulo last year. The city contemplated the daunting prospect of 20 million residents without water. Inadequate, leaky infrastructure compounded the problem.
Millions of people living in Wuxi, China could not use their tap water for days in 2007 due to a toxic algae bloom in Lake Taihu.
And then there is Flint, which had no water problem until the state governor, driven by ideological principles of reducing taxes and administrative costs, appointed an emergency manager who decided to save $US5 million, a relative pittance in big city budgets, without carefully evaluating the consequences. That misguided and unnecessary decision affecting a major public service put people in danger and resulted in economic costs that already are three times higher than what the emergency manager expected to save.
An Expensive Problem
In the case of Flint and other cities with aging infrastructure and no source of revenue from a U.S. Congress devoted to the same principles of tax reduction and disinvestment, the outlook is disturbing. The U.S. Environmental Protection Agency estimates that utilities in the U.S. need to spend $US633 billion over the next two decades to supply water and to treat sewage. A 2012 report by the American Water Works Association said restoring and expanding water systems over the next 25 years could cost $US1 trillion.
Growing infrastructure repair bills and inadequate financial support from the federal government mean cities are raising water rates that inhibit the ability of some citizens to pay and could affect economic competitiveness.
"This shouldn't have to be Americans' fate. Once upon a time, this country dreamed of big and ambitious interventions to help its residents live safe, secure and comfortable lives," Guyette wrote in The Nation in July 2015. He added, "Getting Congress to come up with the cash is a decidedly tough task in an era when lawmakers eschew any form of tax hike, focusing instead on attempts to rein in the federal budget by hacking away at established programs."
YOU MIGHT ALSO LIKE
Geologists: Humans' Mark on the Earth Will Be Detectable Millions of Years From Now
Note to Self: Don't Park Car Next to Lake Erie When It's Freezing Out
Porter Ranch Is Only Tip of the Iceberg Exposing Catastrophic Impacts of Natural Gas
Groundbreaking Study Says Asian Carp Could Make Up One-Third of Lake Erie Biomass
The City of Toledo has issued a "Do Not Drink" advisory for residents served by Toledo Water after chemical tests confirmed the presence of unsafe levels of the algal toxin Microcystin in the drinking water plant's finished water. The advisory, spanning three counties in Ohio and one in Michigan, leaves more than 400,000 people in the Toledo area without drinking water.
"Do not drink the water," Melanie Amato, public information officer for the Ohio Department of Health," told Circle of Blue. "You can shower in it, bathe in it, but do not try to ingest it. That means no washing dishes; you can brush your teeth with it as long as you don't swallow any water, but we recommend using bottled water for that as well."
The Toledo advisory was posted at 2 a.m. Saturday morning. Ohio governor John Kasich soon announced a state of emergency to mobilize more resources for the city.
Other emergency measures also became apparent across northwest Ohio:
Stores sold out of bottled water, sending residents into neighboring cities and Michigan to find supplies.
Local restaurants, universities and public libraries closed.
Several nearby municipalities that have not been affected by the toxin are offering water to Toledo residents free of charge.
The National Guard is charged with delivering 300 cases of bottled water from Akron, Ohio, as well as Meals Ready to Eat (MRE's) for distribution to homeless shelters and other vulnerable populations who are unable to cook with their water.
Humanitarian organizations like the American Red Cross are responding, manning water distribution centers and providing water delivery assistance to homebound residents.
Microcystin is a toxin produced by blooms of freshwater algae, which are a vast and growing problem in Lake Erie—Toledo's drinking water source. Microcystin can cause nausea, vomiting and liver damage if ingested, and it has been known to kill dogs and livestock that drink contaminated water. Skin contact with the toxin can also cause irritation and rashes, though levels in treated water are not high enough at this time to warrant a complete ban on water use, Amato said.
Microcystin appears to be a growing public health problem in the western portions of Lake Erie. Almost a year ago, in September 2013, Carroll Township near Toledo detected dangerous levels of Microcystin in its water supply, shut down its water treatment plant, and simultaneously alerted the community's 2,000 residents not to drink the water.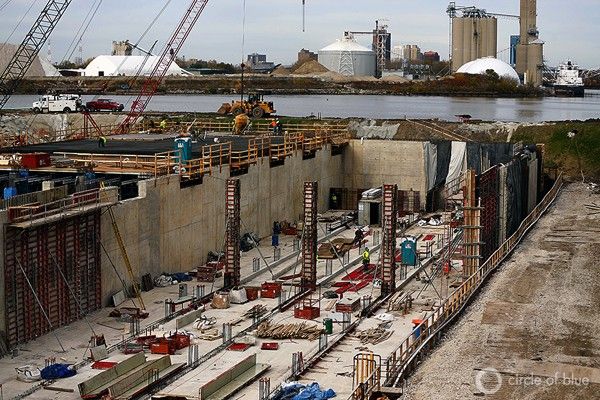 Toledo is the first major city in the Great Lakes region to fall victim to Microcystin contamination, despite testing and treatment for the toxin. The city allocated $US 4 million for water treatment chemicals last year—double what it spent in 2010. The spending increase is largely due to concerns about algal toxins. City water managers were especially worried after the Carroll Township crisis, which was alleviated by the township's ability to connect to an outside water supply while it flushed the toxin from its own system. It is unclear if Toledo has similar options available. The city's Facebook page states:
"It is understandable that there is a huge degree of public concern, but we would advise everyone to remain calm, an alternative water supply and a distribution system will be announced as quickly as possible."
Algal Bloom Small, But Concentrated
The culprit behind Toledo's drinking water problems is a toxic algal bloom in Lake Erie's Maumee Bay. The bloom is not very large compared to past blooms, and Microcystin levels, though high, are not out of the range of those previously seen on the lake.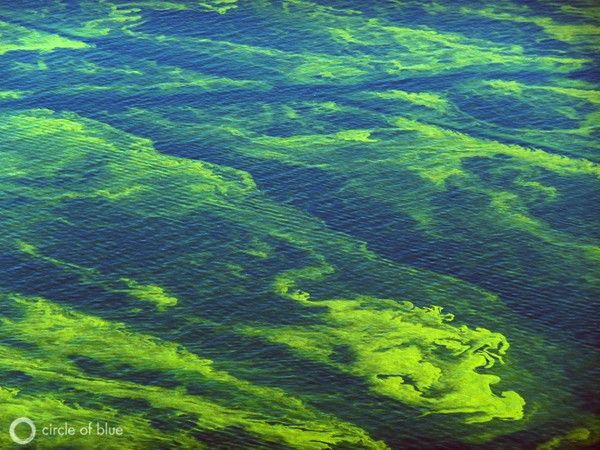 "The bloom right now isn't big in terms of spatial coverage, but it is pretty dense in Maumee bay and that area of western Lake Erie," Justin Chaffin, a senior researcher at The Ohio State University's Stone Laboratory in Put-in-Bay, Ohio, told Circle of Blue. "It is pretty much surrounding where the Toledo water intake pipes are."
The bloom in that area is very concentrated and thick, he added.
"I'm not sure what levels they were seeing coming in through their pipes, but we were out there sampling on Wednesday and we got Microcystin levels around 10 to 20 parts per billion."
The acceptable level of Microcystin in drinking water is 1 part per billion, according to the World Health Organization. Typically, the city of Toledo is able to chemically treat their drinking water to bring Microcystin levels below that threshold, even if the intakes receive high levels of the toxin. Chaffin said that there was likely a mixing event—such as a storm or strong wind—that forced the toxic algae, which normally floats on top of the water, down to the bottom where the intakes are located.
The city is now hurrying to test water samples drawn from throughout the treatment and distribution system to track the Microcystin concentrations. Testing a batch of samples takes approximately three to four hours once the test is started, according to Chaffin.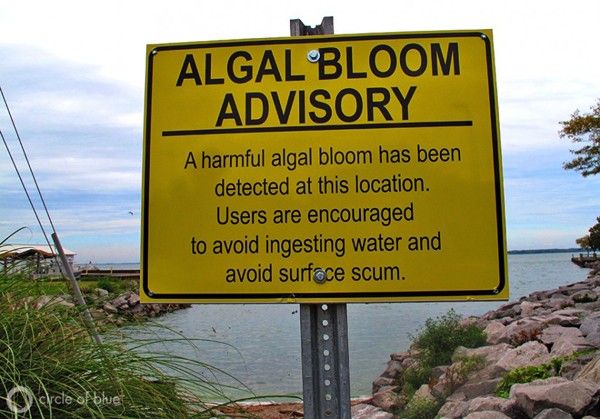 "They are running water samples from hospitals, really from all over Toledo," he said. "Everyone that does Microcystin sampling in the Toledo area is either sending their [test] kits to the Oregon [Ohio] treatment plant or the city of Toledo's treatment plant. They are just swamped with samples and they were running out of kits."
Toledo is also sending water samples to labs in Cincinnati to undergo a more complete analysis. There are approximately 80 different kinds of Microcystin-producing cyanobacteria, Chaffin said. Although all are toxic, their level of toxicity varies. The more extensive tests will help to determine a more accurate level of the toxin in the water.
Algal Blooms a Growing Problem
Commonplace in Lake Erie in the 1960s, toxic algal blooms disappeared from the lake following international, national and state efforts to reduce the phosphorus pollution that drives them. The federal Clean Water Act of 1972 was especially important for reducing phosphorus from city sewage plants and other "point" sources that discharged pollutants from a pipe. The CWA, however, did little to address phosphorus runoff from farms and lawns, known as "nonpoint" sources. Researchers have shown that a rise in phosphorus levels—particularly a form of the nutrient that is readily available to promote algae growth—has coincided with renewed blooms in Lake Erie, and international agencies have called for a reduction in phosphorus to alleviate problematic blooms in Lake Erie and elsewhere in the Great Lakes. The largest bloom ever recorded on the lake occurred in 2011. Scientists and environmental groups say addressing agriculture is particularly important for reducing the blooms.
"I have every confidence in the water treatment plant to figure out how to make the drinking water safe," Adam Rissien, director of agricultural and water policy at the Ohio Environmental Council, told Circle of Blue."Unfortunately, the options available to them are costly and that means a rate increase—there's no way around it. Until we reduce phosphorus and address harmful algal blooms, I'm afraid it's going to come on the ratepayers' backs. And that's not fair."