By Brooke Barton
A majority of Americans value strong federal protections for clean air and water, which provide both environmental and economic benefits.
But they should be very worried that the basic human expectations of healthy air and safe water will quickly turn cloudy if the new U.S. Environmental Protection Agency (EPA) administrator's pledge to regulate through "cooperative federalism" becomes a reality.
Cooperative federalism, at its most benign, is about allowing each state to tailor its own approach to enforcing environmental rules. At its worst, it's about the federal government turning a blind eye to states that shirk the nation's environmental laws or that simply don't have the coffers to pay for monitoring and enforcement.
"Process, rule of law and cooperative federalism, that is going to be the heart of how we do business at the EPA," said EPA Administrator Scott Pruitt, who has promised to follow the Trump administration's will to slash EPA's budget and soften its rules.

To see how cooperative federalism erodes environmental protection, look no further than the 2015 Waters of the United States rule. President Trump issued an executive order last week announcing plans to undo the rule, which clarifies the federal government's authority to limit pollution in bodies of water not explicitly covered by the Clean Water Act.
Interactive Map Shows if Your Drinking Water Is at Risk From Trump's Executive Order https://t.co/tnV4CwKmaq (via @EcoWatch @ewg)

— Sierra Club (@Sierra Club)1488724203.0
Those smaller bodies of water—typically streams, wetlands and rivers, which account for more than half of the nation's freshwater resources—feed into larger water bodies that provide key drinking water and recreational opportunities for the public, as well as water supplies for business. Keeping them clean is vital for the nation's health and economic prosperity.

The executive order, coupled with the administration's penchant for cooperative federalism, send a strong message that if states choose not to protect smaller streams and wetlands, they won't get pushback from the federal government.
And as state environmental budgets shrink, many simply don't have the resources to ensure healthy streams and clean drinking water on their own, even if they wanted to. Forty state environmental agencies have reduced staff in recent years, with the biggest cuts being in North Carolina, Florida, Michigan, New York, Illinois and Arizona, according to a fall 2016 report by the Center for Public Integrity.
Center for Public Integrity
Pruitt's home state, Oklahoma, for example, spends a paltry $13 million on environmental protection. Compare that to Connecticut, which has an environmental budget twice the size of Oklahoma's but less than one-tenth the land mass or with neighboring Arkansas, with a budget nearly triple the size of Oklahoma's.

Water pollution from industrial-sized poultry farms operating in the northeast corner of Oklahoma and in neighboring Arkansas, has been a source of huge controversy, health concerns and lawsuits for more than 25 years. Phosphorus, the primary pollutant in poultry manure, can trigger toxic algae blooms, threatening rivers, lakes and other waterways that feed into the Illinois River.
Algae bloom in Florida.
Cooperative federalism gives Oklahoma and Arkansas more opportunity to turn a blind eye to manure runoff and other untreated pollution in waterways covered by the Waters of the United States rule.

Similarly, though the U.S. Geological Survey has linked oil and gas hydraulic fracturing drilling to groundwater and surface water pollution, Oklahoma has yet to identify whether its surface waters face pollution threats from fracking activity. J.D. Strong, executive director of the Oklahoma Water Resources Board said that Oklahoma does not have the budget for widespread testing in the state.
These same challenges can be found in states across the country.
North Carolina has a long history of water pollution from coal ash spills and manure lagoons—a legacy that gained national prominence last fall when Hurricane Matthew triggered massive flooding and pollution overflows from thousands of hog farms. At the same time, contentious political battles in that state have contributed to a dramatic decrease in its environmental budget, from $126 million in 2011 to just $81 million in 2015.
Aerial Photos Document Massive Flooding of 36 Factory Farms https://t.co/jL4v1dvixx @TheCCoalition @OccupySandy

— EcoWatch (@EcoWatch)1478308507.0
Even states with larger environmental budgets may struggle to protect smaller waterways under cooperative federalism because of political fights that play out at the state level.

In Kentucky, regulators and utilities are pushing to loosen regulations on the state's coal ash ponds and landfills. Yet over the past six years, arsenic and selenium have been found to be leaching from a coal ash pond at a major power station into groundwater and directly into Herrington Lake. Despite remedial measures taken by Louisville Gas & Electric and Kentucky Utilities, the pollution persists and is poisoning fish in the lake.
In Florida, Gov. Rick Scott has gutted the state environmental agency—earning him a scathing "environmental disaster" editorial in the Tampa Bay Tribune. In addition to cutting support for clean water and conservation programs, state-driven enforcement has disappeared nearly altogether—enforcement cases fell by 81 percent from 2010 to 2015.
Pruitt's cooperative federalism mantra, where states should see us as "partners, not adversaries," sends us down a perilous path of continued diminishment of precious natural resources across the country.
Leaving states on their own to protect the nation's vital water resources, without holding them to minimum standards or supporting them financially, is a slippery slope indeed towards a dirtier America—an America that the vast majority does not want.
Brooke Barton is the senior program director of Ceres' water and food programs.
EcoWatch Daily Newsletter
More than 365 businesses and investors, from more than a dozen Fortune 500 firms to small, family-owned businesses across more than 35 states, sent a strong message today to President Barack Obama, President-elect Donald Trump and other elected U.S. and global leaders, reaffirming their support for the historic Paris climate agreement and the need to accelerate the transition to a low-carbon economy at home and around the world.
"Implementing the Paris climate agreement will enable and encourage businesses and investors to turn the billions of dollars in existing low-carbon investments into the trillions of dollars the world needs to bring clean energy prosperity to all," wrote the powerful business group, in a statement of support at a press conference at the COP22 climate negotiations in Marrakech, Morocco. "Failure to build a low-carbon economy puts American prosperity at risk."

Among the diverse and iconic large and small U.S. businesses signing the statement are DuPont, Gap Inc., General Mills, Hewlett Packard Enterprise, Hilton, HP Inc., Kellogg Company, Levi Strauss & Co., L'Oreal USA, NIKE, Mars Incorporated, Schneider Electric, Starbucks, VF Corporation and Unilever.
"Now more than ever, Levi Strauss & Co. believes it is important to reaffirm our commitment to address climate change by supporting the Paris climate agreement," Michael Kobori, vice president of sustainability at Levi Strauss & Co., said. "Building an energy-efficient economy in the U.S., powered by low-carbon energy will ensure our nation's competitiveness and position U.S. companies as leaders in the global market—all while doing the right thing for our planet."
The U.S., China, India, Brazil, European Union and more than 100 other nations representing more than three-fourths of global emissions formally ratified or joined the agreement, and it entered into legal force on Nov. 4. The agreement is the first-ever global, legally binding framework to tackle climate change.
It's Official: Paris Agreement Becomes International Law https://t.co/0JubgSBBM0 @zerocarbonworld @Climate_Rescue

— EcoWatch (@EcoWatch)1478337908.0
In the statement, the large and small businesses pledged to do their part, in their own operations and beyond, to realize the Paris climate agreement's commitment of a global economy that limits global temperature rise to well below two-degrees Celsius.

They are calling on elected U.S. leaders to strongly support:
Continuation of low-carbon policies in order to allow the U.S. to meet or exceed its promised national commitments.
Investment in the low-carbon economy at home and abroad in order to give financial decision-makers clarity and boost investor confidence.
Continued U.S. participation in the Paris climate agreement in order to provide the long-term direction needed to limit global warming.
"The enormous momentum generated by the business and investment community to address climate change cannot be reversed and cannot be ignored by the Trump administration. That train has left the station and to stand in its way is folly," Matt Patsky, CEO of Trillium Asset Management, said.
Amy Goodman: What Would It Take for #Trump to Pull Out of Paris #Climate Deal? https://t.co/sk9D34sfi3 @democracynow @ClimateNexus @NRDC

— EcoWatch (@EcoWatch)1479240652.0
"Nevertheless, we know that now is the time to remind the incoming administration that virtually every company in the Fortune 500 and over $100 trillion in investor assets has acknowledged the reality of climate change and the need to address it head on," Patsky concluded.
Installing solar panels is a great option for homeowners who want to reduce their power bills, and the payback period can be just a handful of years with favorable conditions. However, renters and apartment owners cannot use a typical solar power system due to the lack of space, and renters in particular must also negotiate with their landlords. A miniature solar system that is portable and easy to install can be a better option in these cases.
Rooftop solar systems can greatly reduce your electric bills, and you can add solar batteries to store solar energy for use at night. However, because most systems are tied to the power local grid, you must meet many technical requirements and get a permit to put solar on your property. The initial investment and paperwork are not a problem when installing solar panels in a home you own, but they're a limiting factor for renters.
If you don't own your home or apartment, you may have little incentive to invest in improving someone else's property. Even if your landlord gives you permission to install solar panels, the decision only makes sense financially if you plan to rent for a very long time — longer than the solar payback period. Also, consider the following factors:
When your lease ends, your landlord may not be willing to purchase the solar panels you installed.
Moving rooftop solar panels to another home is difficult, and you will need a professional installation and another permit for the new property.
There are many types of miniature solar systems that can be installed without the complex requirements and permitting procedures of more permanent structures. These systems are an excellent option for renters, since taking them to another property is as simple as relocating your TV.
Solar Benefits for Non-Homeowners
Solar panel systems offer a common benefit, regardless of their size: they generate electricity from sunlight, reducing the amount of electricity you must pay your utility company for each month. Solar power also lowers the environmental footprint of your home, especially if you live in a region where most of the grid electricity comes from fossil fuels.
Homeowners get a few extra benefits when they install a traditional solar system, including:
Their property becomes more valuable, and many states don't charge increased property taxes for the portion of home value that corresponds to solar panels.
Homeowners also qualify for the 26% federal solar tax credit as well as any additional incentives from state governments or utility companies.
There are permitting and grid connection requirements to meet, but once the solar PV system starts operating, it provides electricity for decades with minimal maintenance.
While mini solar panel systems may not be eligible for these perks, they have their benefits compared with rooftop systems. For example, they are much easier to install, with no permitting involved, and any maintenance is much simpler. Small-scale solar systems also have a lower price, and they are easily relocated.
The power bill savings achieved by a rooftop solar system are much higher, but that's because they're much larger. Many homeowners use solar PV systems that have capacities at or above 6 kW (6,000 W), while miniature systems often only generate up to 100 W. As you might expect, the corresponding cost of solar panels is very different: A 6 kW solar system can cost around $18,000 (before incentives) to install, while a miniature 100 W system might cost less than $300. However, each dollar invested is earned back multiple times over in both cases.
How to Utilize Solar Energy When You Rent
There are several options for renters who want to use solar power. These include:
Plug-in mini solar systems
Off-grid solar and battery systems
Portable solar panels
DIY solar setups
Appliance-specific solar panels
Plug-in mini solar systems work exactly like rooftop PV systems — they connect to your residence's wiring and synchronize with the voltage and frequency of your grid power — just at a smaller scale. The power generated by a plug-in mini system is usually enough to power several electronic devices and LED bulbs, but not high-power devices like air conditioners and washing machines.
Here are some things to consider when deciding whether a solar plug-in mini system is right for your rental property:
Plug-and-play solar panels are not subject to the permitting requirements and interconnection procedures of a traditional rooftop installation, and they can be simply connected to a suitable power outlet.
NOTE: When using plug-in solar panels, you must make sure that the power outlet used has a circuit with enough capacity to carry the current, as well as an adequate breaker. Otherwise, you can cause an electrical fault.
Because this type of panel connects to the electrical system of the property, you should ask your landlord for permission before investing in one. You should also ask an electrician to check the power outlet you plan on plugging the panels into to make sure it has adequate capacity.
Off-grid solar panels and solar battery systems are completely disconnected from the grid, which makes them a popular option for remote or rural sites with no electric service. In these types of systems, one or more solar panels are used to charge a battery or solar generator with USB charging sockets and power outlets for small appliances. These off-grid systems are also a viable option for renters, because they are entirely self-contained and don't connect to the utility grid.
Portable solar panels are popular for camping, but they can also be used by renters to power small devices. These are some of the smallest solar panels available, and they only have a few watts of capacity. Their main purpose is charging smartphones, tablets and other tiny USB devices, and many of them have built-in LED flashlights.
DIY solar panel setups are also an option. You can shop online for compatible solar panels, inverters, batteries and solar charge controllers, and then build a custom system according to your needs. However, keep in mind that you must have at least basic knowledge about electricity to safely and successfully install a homemade solar system.
Appliance-specific solar panels are also a viable option for renters. You can find many devices with built-in solar panels, which don't depend on a power outlet to operate. For example, you can install solar-powered outdoor lights for your backyard or balcony, or use a solar air conditioning unit or fan to provide extra ventilation during the hottest hours of the day.
Pros and Cons of Small Solar Units
Miniature solar systems have advantages and limitations like any device. They have a lower cost than traditional rooftop systems, plus they are easier to install and relocate. Just keep in mind that they can't power larger appliances, which means their power bill savings are small.
The following table summarizes the pros and cons of the most common types of miniature solar systems:
Renter-Friendly Solar System
Pros
Cons
Typical Price
Plug-in solar system
- Easy to install
- Can be plugged into a normal power outlet

- Can only operate when connected to the grid
- You need a dedicated circuit and breaker of adequate capacity

$1,500 for a 600 W solar system
Off-grid solar system
- Can charge batteries or generators to be used after sunset
- Fully independent from the grid

- Batteries increase the system cost significantly if you want a high energy storage capacity
$400 for a 100 W solar panel with a 24,000 mAh battery
Portable
- Easy to carry
- Can be used for camping and other trips

- Limited use: Charging smartphones and other small devices
$100 or less for a foldable 30 W panel
DIY Solar
- You can create a custom system that meets your needs
- Basic electrical knowledge is needed to set up a safe system
Variable, depending on the components used.
Appliance-specific
- Easy to install
- The solar panel is often included with the price of the device

- You can only use the solar panel to power one appliance or device
Variable, depending on the appliance
Miniature solar power systems are designed for small, low-power devices such as LED bulbs and electronic gadgets. If you're a renter and would like to increase your savings beyond what is possible with small solar kits, you can consider joining a community solar project near you.
These projects normally have two membership options: purchasing a share or paying a monthly subscription.
In both cases, you will be entitled to a portion of the kilowatt-hours produced by the system, and this portion will be subtracted from your bill.
Another advantage of community solar is that you can move freely to another apartment or home. Since the solar panels are not physically located where you live, you can usually re-assign the electricity savings to your new address.
Products to Help Renters Maximize Solar
There are many brands of miniature solar kits, but you should look for a reliable provider like Sunboxlabs. Since you're dealing with electricity, purchasing high-quality products is strongly advised to avoid accidents. Before purchasing any solar panel or a related component, make sure it has an electrical certification mark such as:
UL (Underwriters Laboratories)
ETL (Intertek)
CSA (Canadian Standards Association)
CE (Conformité Européenne)
You can look for a solar kit that includes all components, such as this WindyNation 100 Watt Solar Panel Kit. Alternatively, you can buy compatible parts separately, and build your own system. The following are some recommendations:
Keep in mind that you will also need wiring to connect all components together, and make sure you read all instructions carefully to ensure safety.
By Meg Wilcox
Just north of Denver lies Colorado's most productive agricultural region, Weld County. Its rolling hills, grasslands and South Platte River system provide fertile ground for dairy cows, beef cattle, corn, sugar beets and forage crops.
But Weld County also sits on top of the Niobrara (DJ Basin) shale formation and that makes it the number one hotspot in the U.S. for new hydraulic fracturing activity. Over the past five years, close to 7,000 wells were drilled within its 3,996 square-mile area.
Among the myriad impacts of fracking on county residents is stress on their water supply. To recover the natural gas unevenly distributed throughout the shale formation, the hydraulic fracturing process blasts large volumes of water, fine sand and chemicals into the ground to crack open the formations.
Weld County's nearly 7,000 fracking wells, in fact, used 16 billion gallons of water over the past five years, more than any other county in the U.S., according to new research by Ceres. And that's a concern because Weld County is a region with extremely high water stress, according to the World Resources Institute Aqueduct Map. Extremely high water stress means that more than 80 percent of the county's available water resources are already allocated for municipal, industrial and agricultural uses.

Ceres
Weld County is not alone. Fracking activity throughout the arid south and west is placing increasing pressure on ever-tighter water supplies, with Colorado and Texas being ground zero.
Ceres researchers mapped water use in hydraulic fracturing across the U.S., using data from FracFocus.org and the World Resources Institute, and found that 57 percent of hydraulically fractured oil and gas wells between Jan. 1, 2011 and Jan. 1, 2016 were in regions of high water competition.
Our newly released interactive map shows water use by shale play and operator. Check it out:
Click on the interactive map to explore. Ceres
Among our key findings:

The top three shale plays by water use were the Eagle Ford in Texas, Marcellus in Pennsylvania and Midland Plays in Texas, with the Eagle Ford and Midland Plays being of particular concern given both their high water use and exposure to high water stress, drought and declining groundwater supplies.
Chesapeake, EOG Resources and Anadarko Petroleum were the biggest water users overall, while Pioneer Natural Resources and Encana were especially active in regions with extremely high water stress.
A total of 358 billion gallons of water was used for hydraulic fracturing over the 5-year timeframe, equivalent to the annual water needs of 200 mid-sized cities.
While overall fracking-related water use peaked in 2014 along with the slowdown in oil and gas production and plummeting prices, average water use per well doubled since 2013, from 2.6 million gallons per well to 5.3 million gallons per well at the end of Jan. 2016. This is likely due to modifications in drill site activity.
Even though oil and gas production have slowed, local communities at the epicenter of fracking—many in the country's most water-stressed regions—still face significant long-term water sourcing risks.
Our research found that, in seven of the top 10 counties for fracking activity, annual water use for hydraulic fracturing reached more than 100 percent of each county's domestic water use.
That high level of demand for water from shale production companies can potentially drive up the price of water for everyone else, or make supplies harder to come by.
Several years ago, for example, Kent Peppler, a fourth-generation Weld County farmer, told The Associated Press that he was fallowing some of his corn fields that year because he couldn't afford to irrigate the land for the full growing season, in part because energy companies were driving up the price of water.
"There is a new player for water, which is oil and gas," Peppler said. "And certainly they are in a position to pay a whole lot more than we are."
Local communities also face the issue of wastewater disposal, with its potential impacts on drinking water supplies and earthquake activity. The enormous volumes of wastewater produced by hydraulic fracturing are disposed of in underground deep well injection sites, which has been linked to both surface and groundwater contamination and to earthquakes.
It's Official: Injection of Fracking Wastewater Caused Kansas' Biggest Earthquake https://t.co/nvk4stRwC0 @Frack_Off @Peter_Seeger

— EcoWatch (@EcoWatch)1476566116.0
But the companies themselves face long-term water sourcing risks in these regions with high water stress, as well as an emerging regulatory risk related to wastewater disposal. Oklahoma, for example recently ordered the shut down of 37 wastewater disposal wells after a 5.6-magnitude earthquake struck the state.
Investors with oil and gas companies in their portfolios are taking note. As Steven Heim, managing director for Boston Common Asset Management, recently put it, "Hydraulic fracturing for oil and gas extraction, which used to be 'unconventional,' is now a part of most conventional energy company portfolios in the U.S. and Canada. This has made water management a critical liability or competitive advantage for companies and their investors."

There are certain operational practices and other steps that oil and gas companies can take to lessen their water impacts and lower their risks. For example, shale operators can consult with local communities on water needs and wastewater plans before starting operations, collaborate with industry peers and other industries on local water sourcing challenges and develop local source water protection plans. You can find a full list of our recommendations here.
By Diane Shohet
Earlier this month, Indonesian officials sounded the alarm that "haze" from forest fires was making its way towards neighboring Malaysia and Singapore.
Haze is a benign word for the toxic smog that swamps the region every year between August and October when smallholder farmers in Indonesia clear their old oil palm crops using traditional slash and burn methods.
A 10M hectare palm oil plantation in Borneo.
Hearing the news took me back to last year's fires, which were unlike anything the region had ever seen before and which I experienced first-hand, while living in Malaysia.
In 2015, dry El Nino conditions and drained peat bogs fueled these crop fires, causing them to quickly spread. From July to November, 2.6 million hectares of forest, peat and other land on the Indonesian islands Kalimantan (Borneo) and western Sumatra burned and a thick, toxic haze engulfed Indonesia, Singapore and Malaysia.
By the time the worst of the fires were contained, financial damage to the region's economy was estimated to be as high as $47bn. The human cost: an estimated 500,000 cases of respiratory tract infections and potentially more than 100,000 premature deaths. The 2015 Indonesian fires quietly became one of the largest ecological disasters in recent times and were labeled a "crime against humanity" by many.
A Personal Story
In 2013, my family moved from Boston, Massachusetts, to Penang, Malaysia. Before living in the area, we had little awareness of palm oil production. Our early drives through Malaysia provided our first glimpse: forests gone, hilltops cleared and dotted with new plantings, and hundreds of miles of palm oil plantations. A family trip to Borneo in search of its dense jungles and orangutans yielded an even more sobering reality: a five-hour drive across the interior of Borneo with only palm oil plantations to view.
In July 2015, we had been in the U.S., but returned to Penang in August. Visibility was low as haze from the fires in Indonesia descended on the city. Many people wore cotton masks that offered little protection from the fine particulate pollution. Our eyes watered and stung. The smell of smoke was everywhere. The Air Quality Index (AQI), a measure of pollution levels, was at an Unhealthy 150.
By mid-October, the AQI was a Very Unhealthy 250. During the previous weeks, millions of school children were unable to go outside. And finally, as AQI readings neared a Hazardous 300, schools throughout Malaysia were cancelled. Many businesses temporarily closed as they are located in open-air structures, the mainstay of tropical climates. Airports shut down or restricted flights.
During the third week of October, I was forced to go to the hospital. Unable to breathe, I was put on a nebulizer, an inhaler and other drugs. A 45-year old doctor who had lived her entire life in Penang and who had been seeing an influx of respitory infections, stated, "I have never seen the haze as bad as it is."
In Riau, Indonesia, during this same week in October, the AQI in the region rose above 1,000 for over a week while visibility fell below 100 meters. All babies under six months of age were evacuated.
Like millions of other mothers throughout Indonesia, Singapore and Malaysia, I now wonder about the health of my child. How will exposure to months of toxic pollution affect him? And, how can we keep this type of environmental disaster from happening again?

First, some background on the drivers of this disaster.
The Palm Oil Story
Globally, we crave palm oil. It is found in 1 in 10 food products and up to 50 percent of household products in countries like the U.S. and Canada. It is used for soaps, cosmetics, plastics, detergents, biofuels and much more. In 2013, 58 million tons of palm oil was produced.
Almost all the world's palm oil—85 percent—is produced from the fruit of the oil palm in just two countries: Indonesia and Malaysia. Currently, in Indonesia, 10 million hectares of palm are under cultivation and that is projected to grow to 13 million by 2020. Between 2009-2011, 25 percent of all forestland in Indonesia was cleared to plant oil palms. While restrictions on deforestation exist, Indonesia is clearing its forests faster than any other tropical nation.

And it is not just tropical forest being cleared, peat land forest is being cleared and drained. When each hectare of peat land is cleared for oil palm production, 3,750-5,400 tons of carbon dioxide is released over 25 years, making Indonesia the third largest greenhouse gas emitter after China and the U.S., before the 2015 fires.
On many days in September and October 2015, in fact, the CO2 emissions from the fires in Indonesia exceeded the daily average emitted by the U.S. In fact, in those two months alone, the fires released more CO2 than what Germany emits in a year.
The Indonesian government is stepping up efforts to control the spread of the fires this year, but what can we do to get to the root of the problem?
The Future

Efforts to stop the deforestation include the Roundtable on Sustainable Palm Oil (RSPO), a multi-stakeholder organization founded in 2004, that provides third-party certification of sustainable palm oil production. Some major brands and investors don't think it goes far enough, however, and have urged RSPO to adopt stricter guidelines and more robust enforcement protocols. In 2013, in fact, a wave of companies adopted groundbreaking "no deforestation, no peat, no exploitation" commitments to supplement the certification scheme.
Indonesia has also placed a moratorium on issuing new clearing permits until 2017; however, previous moratoriums only slightly slowed deforestation.
There are key barriers to sustainability: Government corruption is rampant in Indonesia and corporate corruption can flourish when there is little regulation or oversight. Add to that a lack of support for smallholder farmers who often continue to rely on slash-and-burn farming techniques.
Many rely on palm oil for their livelihoods in Indonesia where 28.6 million still live below the poverty line and approximately 40 percent of all people live just above the national poverty line. So, this story needs to end with sustainable palm production, and that means supporting livelihoods in Indonesia and protecting the environment in the context of growing international demand for palm oil.
By Kirsten James
Despite recent news that drought-ridden California is sitting on top of large reserves of previously unrecognized, deep groundwater resources, the state still faces significant water challenges.
Located at depths up to 10,000 feet below the surface, the newly identified groundwater in the state's Central Valley is likely to be salty and may have been contaminated by oil and gas drilling. Pumping and cleaning the water from such extreme depths could also be costly—more costly than turning to water sources we know we can "tap," like treated wastewater.
Everyday an estimated 1.5 billion gallons of treated water are flushed into the ocean in California. But what if these billions of gallons of wastewater collected from kitchens, bathrooms and laundry rooms—and treated by municipal wastewater facilities—were further purified and put to use to supplement California's water supplies?
Recycled wastewater, highly purified, is a resource the state should be tapping. And some California companies are already doing it.
Take Sierra Nevada, the nation's third largest craft brewer. Headquartered in Chico, California, the company has long been ahead of the curve when it comes to sustainability, setting and achieving goals for waste, energy, water and transportation.
Solar covers every inch of the brewery's roof, providing 20 percent of its energy and combined heat and power provide much of the rest. Among its many other initiatives, 99.8 percent of its waste is diverted from the landfill and its onsite composting facility recycles spent hops, grains and food scraps to fertilize the garden that supplies fresh produce for its onsite restaurant.
Solar covers every inch of Sierra Nevada's brewery in Chico, California. Now the sustainably-oriented business plans to recycle and reuse its brewery process water to cut its water use in the drought-stricken state.
"It's how Ken [Sierra Nevada's CEO] wants to run the business," said Cheri Chastain, the company's sustainability manager. "There's a lot you can do on the sustainability front that has a reasonable payback with a moderate ROI."
Cheri Chastain, Sierra Nevada's sustainability manager, says, "There's a lot you can do on the sustainability front that has a reasonable payback with a moderate ROI."
Now the brewery plans to recycle an estimated 75,000 gallons of process water that it produces daily at its California brewery and reuse that water for its cooling towers and boilers. Eventually Sierra Nevada would like to use the remainder of the treated process water to recharge groundwater aquifers in Chico, thereby helping all water users in the basin, but that will take a slew of approvals from local and state authorities.
Craft breweries use a lot of water, anywhere from 3 to 7 gallons for every gallon of beer produced and Sierra Nevada's plans will help the company achieve deeper water savings. Already it's been able to improve its water efficiency through small steps, such as by fine tuning rinses and fixing leaks and simply through economies of scale as the beer company has grown larger. It now uses 4.25 gallons of water for every gallon of beer it produces, a statistic that makes Chastain proud.
But as Sierra Nevada projects future growth in a water-constrained state, it recognizes the need to become more self-sufficient regarding water.
Genentech, a biotechnology company, based in South San Francisco, has reached a similar conclusion. Water is a critical ingredient for production and for the precision cleaning that's required in the manufacturing of life-saving medicines. And in California, ensuring a consistent supply of high quality water is becoming increasingly more difficult.
Genentech has implemented a suite of water saving initiatives since 2009, such as for outdoor water use and now plans to install a centralized gray water recycling system that could help the company's South San Francisco campus achieve close to 20 percent savings in absolute water use.
That's why in 2015, the company publicly committed to a 20 percent absolute reduction in water use by 2020 from a 2010 baseline.
It's been implementing a suite of initiatives to increase its water efficiency since 2009, cutting water use over five years by a whopping 87 percent per unit of product at its South San Francisco facility. But to get to absolute water reductions, the company needs to take bolder steps.
One such step the company is planning is the installation of a centralized gray water system that could cut its water use by approximately 60 million gallons of water per year. The system would recycle process water for reuse in cooling, irrigation and toilets.
Then there's Fetzer Vineyards, a Mendocino County winery, which has taken an entirely different approach to recycling its wastewater. Fetzer is building an innovative biological wastewater treatment system that will use the digestive power of red worms and microbes to recycle 100 percent of its wastewater.
That's right—worms! And billions of them.
Fetzer Vineyards estimates the system will treat 15 million gallons of water annually, which the winery will re-use for vineyard and landscape irrigation. The system accrues energy savings up to 85 percent over current wastewater treatment technologies and produces worm castings, which enhance fertilizer applied to vineyards.
Fetzer Vineyards has already reduced water used in its winery by employing a cleaning product that saves 200,000 gallons annually, but the new wastewater treatment system takes its water efficiency up a notch.
These three companies, which are doing their part to create a more sustainable water future in California, share a few commonalities. First, their leadership recognizes the value of embedding sustainability across all aspects of their operations and decision-making.
Second, they have all joined Ceres' Connect the Drops campaign, an effort to elevate the voice of business leaders in advocating sustainable water policies in California. Each of the campaign's two-dozen members are implementing their own initiatives to preserve the state's precious water supplies while lending their voices to critical conversations ongoing in Sacramento about the state's water future.
One such conversation involves clarifying the rules and regulations that will make it easier for companies and municipalities to recycle their wastewater and achieve big water savings.
"Connect the Drops is about connecting like-minded companies," said Chastain. "And it's about bringing our voice to legislative decisions. The more we can do that the more successful we're going to be."
And the more likely we won't need to pay greater sums of money to tap the deep, possibly contaminated groundwater resources that Stanford researchers announced to the world last week.
A new analysis released today by Ceres shows that many of the nation's largest electric utilities and their local subsidiaries are moving toward lower carbon fuel sources and that ambitious state policies and strong corporate demand for renewable energy are key drivers of this trend.
The 2016 Benchmarking Utility Clean Energy analysis ranks the 30 largest electric utility holding companies and their 119 subsidiary companies, which collectively account for about 60 percent of U.S. retail electricity sales. The results show overall advances on renewable energy and energy efficiency in 2014, the latest year for which data is available, with some utilities producing 25 to 35 percent of their electricity from wind, solar and other renewables.
Wide disparities in the utilities' clean energy performance remain, however, underscoring the need for swift implementation of the U.S. Environmental Protection Agency's Clean Power Plan. The plan reduces carbon emissions from electric power plants by 32 percent by 2030.

"Renewable energy and energy efficiency, key building blocks of the Clean Power Plan, are increasingly cost-effective options for electric utilities looking to lower their carbon emissions," said Dan Bakal, director of electric power programs at Ceres, a nonprofit sustainability advocacy organization.
"Our analysis shows that the U.S. electric sector is in the midst of an unprecedented shift toward clean energy resources and that state policies are critical for continued progress in achieving national and international climate goals."
Utilities with the strongest results were typically in states with strong clean energy policies, such as Colorado, Minnesota, Massachusetts and California. The lowest-ranked utilities were mostly in southeast states, such as Alabama and Mississippi, which have weak state policies.
Top and Bottom Ranked U.S. Investor-Owned Electric Utilities on Clean Energy Deployment
Among the 30 holding companies, Sempra, PG&E, Edison International and Xcel ranked the highest for renewable energy sales, accounting for more than half of the total sales. Renewable resources made up more than 20 percent and in Sempra's case, nearly 36 percent, of the companies' sales in 2014. FPL, American Electric Power, ConEdison and PPL Corp ranked at the bottom, with renewable energy sales accounting for less than two percent of their total retail electricity sales.

Sempra Energy's renewable energy sales grew by more than 55 percent between 2013 and 2014 alone and Pinnacle West's grew by nearly 50 percent, while Eversource and DTE Energy demonstrated growth of more than 25 percent.
"Xcel Energy's positive ranking results from more than a decade of working with our states on clean energy policies," said Frank Prager, vice president, policy and federal affairs for Xcel Energy. "We continue to focus on our customers' growing desire for clean, renewable energy while demonstrating that we can successfully integrate these resources reliably and at a reasonable cost. It's an approach that is significantly reducing emissions and ensuring a more sustainable energy future for our communities."
"Californians care a lot about clean energy and we want to be an active partner in making the transition to a low-carbon economy as quickly as possible," said Melissa Lavinson, chief sustainability officer and vice president of federal affairs for PG&E. "Our showing in the Ceres rankings reflects our commitment to addressing the urgent challenge of climate change, while also helping our customers to use less energy and save money."
Energy efficiency top performers among the holding companies include Eversource Energy, PG&E, Portland General Electric, National Grid and Pinnacle West. Each achieved annual savings of at least 1.5 percent of their total retail electric sales, while also helping their customers save on their energy bills. Dominion Resources, FPL, Entergy and Southern Co and OGE Energywere among the weakest performers.
"Continued investment in energy efficiency and zero-carbon energy is central to Exelon's effort to build the next generation energy grid and drive the transition to clean energy," said Chris Gould, Exelon's senior vice president, corporate strategy and chief innovation and sustainability officer. "Exelon continuously works to identify new innovations and smart technologies to give customers greater access to clean energy and tools to help them use energy more efficiently."
Among the report's other key findings:
The Clean Power Plan's key approaches to compliance, energy efficiency and renewable energy, are increasingly economically feasible options for electric utilities. Energy efficiency is the lowest-cost energy resource and renewable energy costs continues to decline dramatically.
State policies are no longer the only driver of utility clean energy deployment. Companies with ambitious renewable energy sourcing goals are using their voice as major energy users to encourage utilities to offer more renewable energy. A consortium of major companies pledged not only to promote 60 gigawatts of new renewables development, but also to help overcome the barriers that complicate clean energy procurement. Companies are sourcing ever-greater amounts of clean energy directly from utilities.
Performance is not the only measure of clean energy leadership, which should include utility support for clean energy policies. For example, National Grid and PG&E have been outspoken supporters of energy efficiency, while FirstEnergy has been a vocal critic of Ohio's energy efficiency policy and supported efforts to freeze the state's goals.
"Seeing the leaps the renewable energy leaders have made in just two years has been amazing," said Ron Pernick, managing director of Clean Edge, a clean-tech research and advisory firm, which co-authored the report with Ceres. "Governments, corporations and individual customers continue to demand clean, efficient energy and some utilities are answering that call."
YOU MIGHT ALSO LIKE
'Three Amigos' Vow to Get Half Their Electricity From Clean Power by 2025
DNC Platform Calls for Fossil Fuel Investigations, 100% Renewable Energy
TransCanada Files NAFTA Suit Demanding More Than $15 Billion for Keystone XL Rejection
By Peyton Fleming
Sierra Leone dropping import duties on household solar appliances. Foundations putting up millions of dollars to kick start India's ambitious renewable energy efforts. Iconic brand companies committing to 100 percent clean energy at facilities worldwide.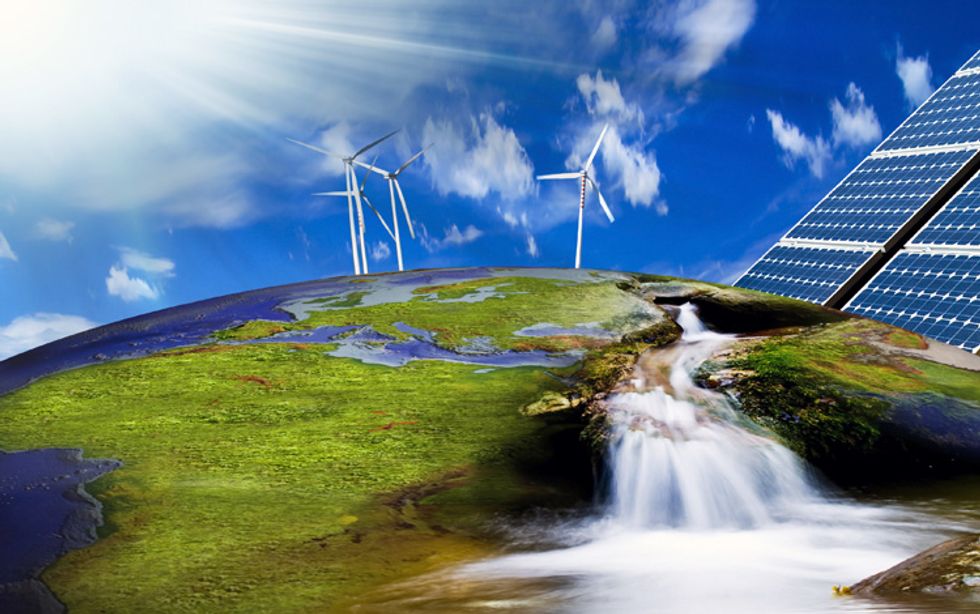 When Sustainable Energy for All CEO Rachel Kyte addressed the seventh Clean Energy Ministerial this month in San Francisco, she called on everyone to shout out their recent success stories. "Good news doesn't travel," said Kyte, whose group aims to bring affordable, renewable energy to more than 1 billion people who have no access to any electricity today.
The stories were everywhere. During the two-day meeting, which brought together energy leaders from 23 countries and the European Union, I heard wide-ranging examples of the low-carbon future taking stronger hold, especially in developing countries which face a dual challenge of modernizing their economies and limiting carbon emissions at the same time.
Some of the most compelling stories came from Africa, the world's fastest growing continent and a key front in the Paris climate agreement's quest to limit the global temperature rise to below two degrees Celsius.
Morocco, which is hosting the global climate talks in November, recently turned on what will be the world's largest concentrated solar power plant in the Sahara Desert and in March, it announced the lowest ever bids—a stunning 3 cents per kilowatt-hour—for an 850-megawatt wind project.
South Africa, which attracted a record $4.5 billion in clean energy investment last year, has dozens of sizable wind and solar projects in various stages of development. Most are being built under a government program that encourages independent power producers to submit competitive bids for large-scale renewable energy projects.
Tanzania is focusing on smaller-scale solar projects through companies like Off Grid Electric, which allows homes and small businesses to install solar systems that they pay for via mobile-phone payments. The company is currently installing more than 10,000 solar units every month in Tanzania and Rwanda and recently raised $70 million from DBL Partners and other investors to help it hire more staff and massively expand operations across East Africa.
Other African countries are trying to learn from Tanzania's success.
"We've seen big increases in household solar, especially in Kenya and Tanzania, but in the rest of Africa it's been slow. Why is that?" Gemma May, a sustainable energy expert at the UK's Department for International Development, said. She works with Energy Africa, an NGO dedicated to removing policy barriers for household solar in over a dozen African countries. Last month, the group persuaded Sierra Leone's government to eliminate import duties and sales taxes on certain solar products.
While Africa is going green one household at a time, iconic global brands are greening their entire businesses. At the energy event here, a half-dozen major companies, including TD Bank and Interface, joined RE100, a coalition of businesses that are switching to 100 percent renewable electricity.
"It's great for our bottom line," said John Woolard, vice president of energy at Google, which has signed contracts to purchase more than 2,200 megawatts of wind and solar in the U.S. and abroad. Woolard pointed to the effect of supportive state policies—such as North Carolina's green tariffs—which are enabling more companies to buy renewable energy directly from their local utilities.
Michael Liebreich, founder of Bloomberg New Energy Finance, outlined many of the positive effects that have come from last year's record $329 billion in global clean energy investments. He pointed to the proliferation of electric vehicles sales and noted that clean energy investments in developing countries are outpacing those in developed countries for the first time. But the $329 billion figure is still several-fold lower than the additional $1 trillion of investment that will be needed every year through 2050—what Ceres calls the Clean Trillion—to achieve the Paris agreement's two-degree goal.
India will be a key player in closing this gap. It has set a goal of developing 175 gigawatts of wind and solar power by 2022, a marker that will require an estimated $200 billion in investment, much of which will need to come from institutional investors (pension funds, insurance companies, etc.), which are still largely on the sidelines in investing in emerging market clean energy projects. Last year's clean energy investments in India totaled $10.9 billion.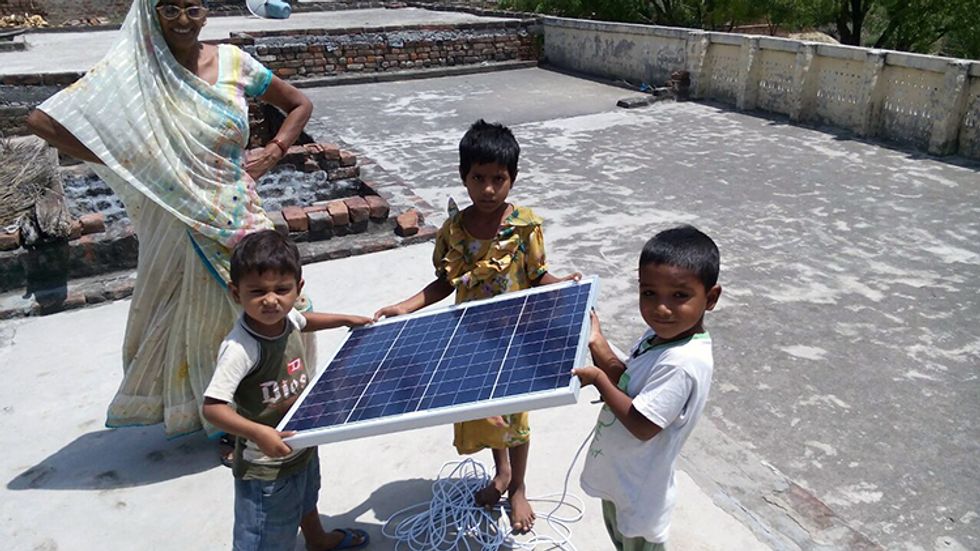 Many players are working to change this picture. During Prime Minister Narendra Modi's visit to Washington this month, a group of foundations put up $30 million to help advance the country's clean energy efforts. The money, matched by India's government, will fund a project to make solar power projects "finance-ready," basically clearing red tape in the form of feasibility studies, land surveys and due diligence so that large investors can jump right in with critical funding for the projects. Prime Minister Modi and President Obama also announced plans for expediting investor capital flows to support off-grid renewable projects in India.
All of these actions are positive steps in the right direction. But they are only small steps given the colossal clean-energy transition that is needed globally.
Liebreich likened the challenge to climbing Mount Everest. "We've just reached base camp," he said.
Peyton Fleming is a senior director at Ceres, a nonprofit sustainability advocacy group. Follow Fleming on Twitter @PeytonCeres.
YOU MIGHT ALSO LIKE
Help Put an End to Coal Mining on Public Lands
Here's How We Get to 100% Renewable Energy
Stockholm Divests From Coal, Oil and Gas
David Suzuki: Feed-In Tariffs Accelerate the Renewable Energy Revolution
By Peyton Fleming
The same day global leaders were gathering at the United Nations in New York to sign an historic climate agreement, my family and I stood in front of a tiny solar-powered trailer on the side of a dusty, dirt-packed road in southern Ethiopia.
The tiny SolarKiosk, nestled near traditional thatched huts and surrounded by cows and goats, sells different-sized solar lanterns, as well as power for mobile phones and bottles of Fanta.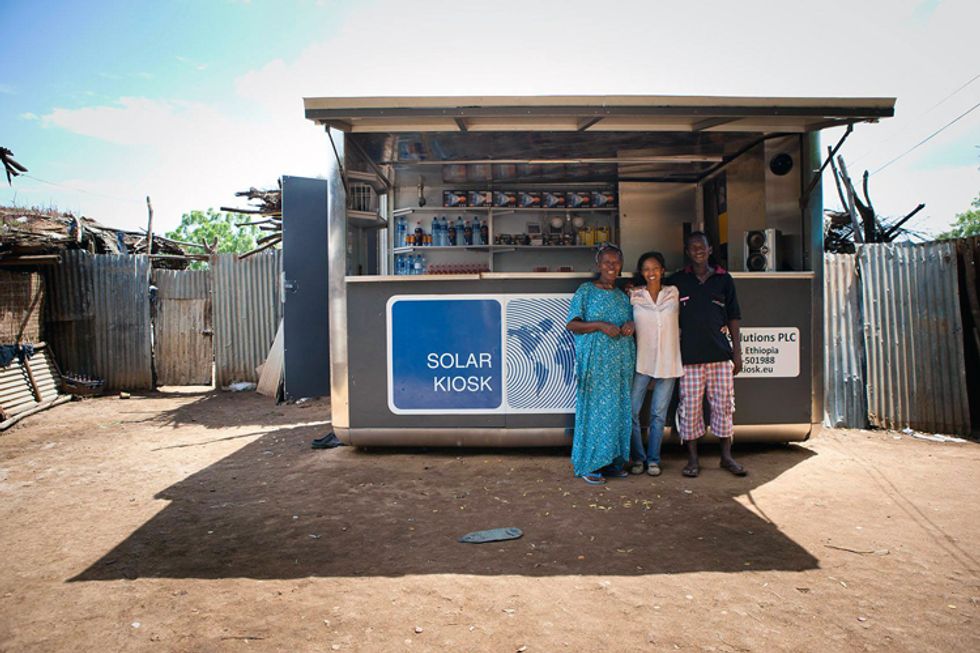 The Omorate SolarKiosk operator, Masresha (right), with his mother (left). He has worked as a local guide and speaks five languages. Photo credit: © Georg Schaumberger / SolarKiosk
The people we met here were not thinking about global climate deals brokered in Paris. But villages, such as Bulbula, and countries, such as Ethiopia, are surely in the minds of government leaders assembling at the UN to ink a 32-page document that is our last great hope for curbing global carbon pollution at the levels needed to avoid dangerous climate change.
The Paris agreement is undoubtedly big on ambition; more than 170 countries signed the accord last week and most, including Ethiopia, have also committed to their own carbon pollution reduction plans. The big question is whether countries such as Ethiopia, India, China and even the U.S. can deliver on their promises so that the agreement can achieve its ultimate goal of limiting global temperature rise to well below two degrees Celsius.
While Ethiopia's current carbon footprint is tiny compared to developed countries, what happens down the road, as its economy grows, is a big question. The country's commitment—to be carbon neutral, even as its lifts 25 million people out of poverty, by 2025—is wildly ambitious. The fact that its population is soaring and that most rural communities still lack electricity—and need it—only adds to the challenge.
Six days of dusty, bumpy driving in southern Ethiopia makes clear that the country's economy is booming. Construction is everywhere: most of it in the form of partially built paved roads and concrete building shells with the ubiquitous eucalyptus-tree scaffolding. Further back from the roads, there are dozens of vast flower greenhouses and garment factories—key reasons why exports and the overall economy are growing at double-digit rates every year.
But it wasn't until day seven, roughly 1,200 kilometers in our trip, that we saw our first sign of clean energy. Just north of Lake Langano we came across the SolarKiosk. Within seconds of pulling over, we were surrounded by dozens of villagers who were eager to talk about the solar shop's offerings, especially its portable lanterns that have transformed their lives.
The solar-powered kiosk, operated by a German firm and one of 31 in Ethiopia, provides power for solar lighting, mobile phones, batteries and even computers. It also sells a few varieties of solar lanterns, starting as low as $12 (basic lamp) and $25 (a lantern with a USB charger) up to as high as $150. Most villagers are using the small lamps, with a hand-sized solar panel, which provides six hours of light after every charge.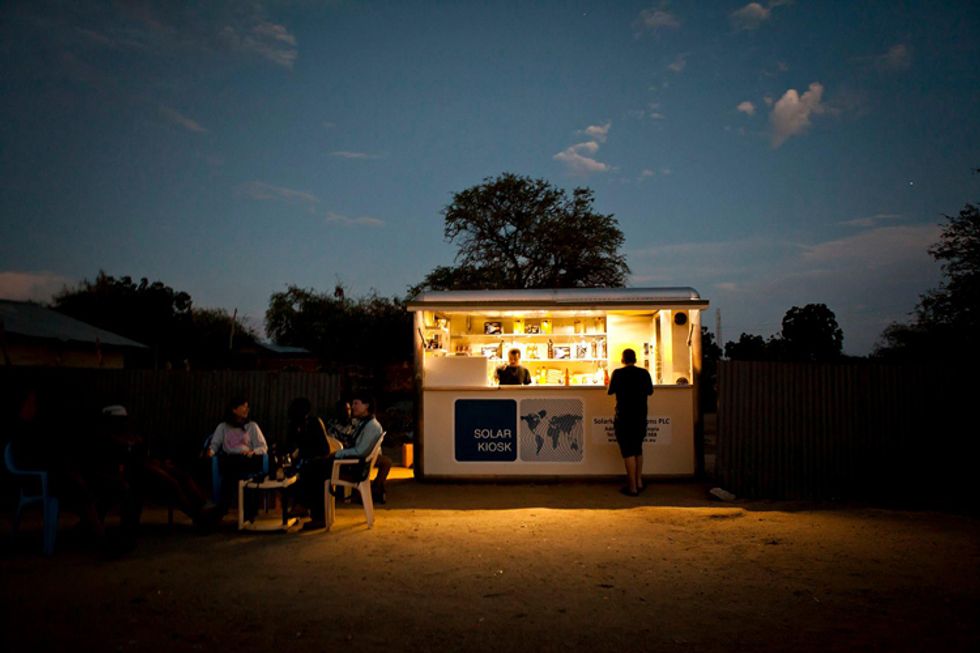 The SolarKiosk provides the rare source of light once the dusk starts setting in. This Solarkiosk is in Turmi, Gamo Gofa, Ethiopia. Photo credit: © Georg Schaumberger / SolarKiosk
Midhasso Hordofa, a subsistence farmer, has been using a small lamp for the past two years and the biggest benefit he mentions is charging his mobile phone.
Alima Badhsoo, whose husband runs the kiosk, has two lamps and she cites wide-ranging perks, including nighttime light so her oldest son can study and being able to "chase away hyenas" when they get too close.
The kiosk was the first in what is now more than 150 solar stands SolarKiosk is operating across Africa, most of them in rural areas where electric grids do not exist, says the company's general manager Roger Sobotker.
"We're playing a crucial role in addressing energy challenges in off-grid areas," said Sobotker, in an email exchange. "We're also replacing the existing use of unclean fuels."
While Sobotker could not cite exact sales figures in Africa, he says the response has been strong, with many customers "graduating" to bigger solar systems which can charge even computers and TVs. "We bring a bouquet of services—entertainment, access to the Internet, new products—which undoubtedly assist in arresting the migration of people to the city," he said.
SolarKiosks are an important contribution, for sure, but larger-scale solutions will obviously be needed, too, for Ethiopia to achieve its carbon-neutral commitment. Indeed, utility-scale projects—especially hydroelectricity and geothermal—are taking hold in many parts of the country—the most noteworthy being the Grand Renaissance Dam and hydro project near the headwaters of the Blue Nile River which flows to Egypt. Slated for completion next year, it will be Africa's largest hydro project, providing 6,000 megawatts.
During the time of our visit, in fact, an Icelandic company announced an MOU with the Ethiopian government to generate 1,000 megawatts from geothermal reserves near the southern Ethiopian town of Shashemene. The developer, Reykjavic Geothermal, plans to invest $4 billion in the project and signed the first power purchasing agreement in Ethiopia's history.
The agreement was made possible by a new—and hugely important—national law allowing private developers to generate and sell power to Ethiopian electric utilities.
We can only hope to see progress on more of these projects the next time we visit Ethiopia.
YOU MIGHT ALSO LIKE
Massive Victory for 7 Kids in Climate Change Lawsuit in Washington State
Kenya to Burn Biggest Ever Stockpile of Illegal Ivory
Neil Young's New Album EARTH Breaks All the Rules
Watch Susan Sarandon Share on Colbert Why She Broke Up With Hillary Clinton
By Ryan Martel
Last week Tesla unveiled the Model 3, a mass market, affordable electric vehicle with a starting price of $35,000 and a two hundred mile range.
In just over five days, more than 276,000 people put down $1,000 to reserve their own Model 3, signaling that American appetite for electric vehicles (EVs) is on the rise.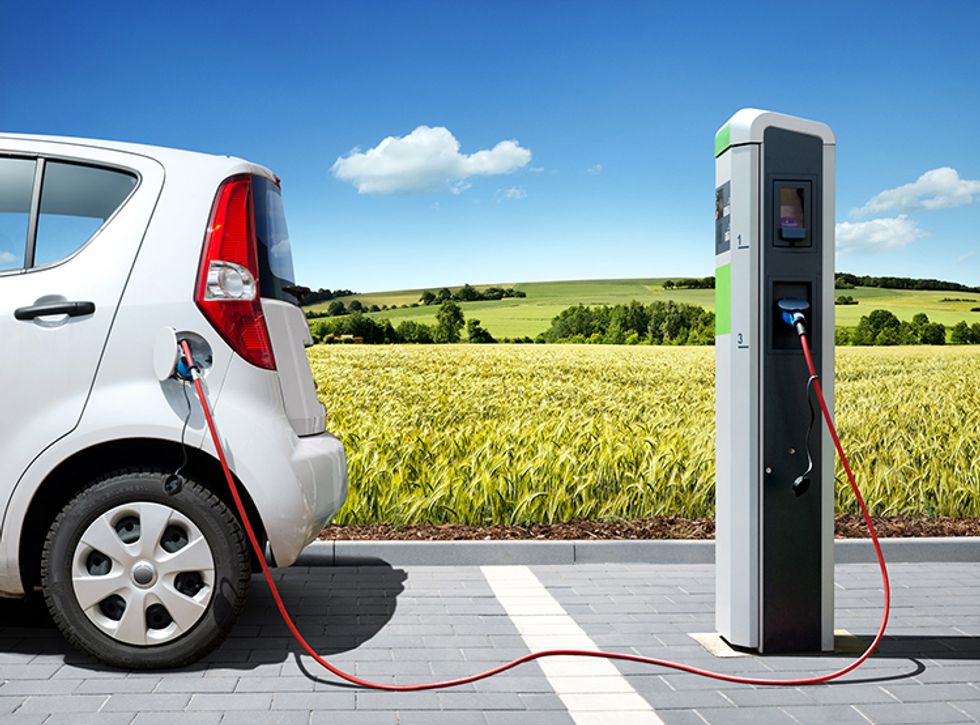 That's good news because greenhouse gas emissions from transportation are growing faster than in any other sector in the U.S. and account for about 30 percent of the total. A major shift to electrified vehicles in the transportation sector is necessary to give us a fighting chance to meet our climate goals.
Yet, just as EVs are poised for growth, oil industry interests are sharpening their knives. Energy companies, including Koch Industries, are increasing their public opposition to electric vehicles because they are realizing the significant potential impacts of EVs on oil demand.
Recently, for example, Jim Mahoney, board member of Koch Industries, penned an oped in Fortune about opposing government subsidies that favor one form of energy over another. "Koch opposes all market-distorting policies, including subsidies and mandates—even if they may benefit the company," he wrote.
What Mahoney was really taking aim at were incentives offered to the small but growing electric vehicle market in the U.S.
His op-ed was mum on fossil fuel subsidies—which the International Monetary Fund pegs at $5.3 trillion. And he certainly didn't mention the 11 fossil fuel federal tax subsidies identified by the Department of Treasury that cost U.S. taxpayers $4.7 billion per year—some of which have been in place for more than 100 years. Or the numerous public lands leasing and royalty breaks for oil and gas production.
Mahoney singles out the electric vehicle tax credit because electric vehicles are a threat to oil, which is mainly used for transportation and his op-ed is part of a broader attempt to roll back tax credits that support advanced vehicles.
If you doubt that the tiny but growing electric vehicle market could threaten big oil, consider this: Bloomberg New Energy Finance (BNEF) projects that oil displacement as a result of increased electric vehicle deployment could lead to an oil crash by 2023. BNEF flags battery prices and strong policies as important drivers of EV growth. In fact, battery costs have dropped dramatically—falling by 65 percent since 2010. By 2030 they are estimated to fall from $350 per kilowatt-hour (kWh) to below $120 per kWh.
To-date, oil producers have underestimated the competitiveness of electric vehicles, but they are seeing the threat to their market share and are taking aim at the EV industry. Because they can't do much to improve the environmental profile of their own core products, we can expect a growing effort by the oil industry to undermine the electric vehicle sector. It's no surprise that Koch Industries is leading the way.
To thwart electric vehicle progress, Mahoney's op-ed trots out tired arguments against clean energy subsidies, even though the Department of Energy Loan Guarantee Program has earned American taxpayers a net of $30 million as of 2014.
He further claims that EV tax incentives are "welfare for the wealthy," because—as he would have it—only rich people buy electric cars. This may have been true in the past, but not now. He conveniently fails to mention the forthcoming affordable long range EVs like the Chevy Bolt, which will drive 200 miles on a single charge and sell for about $30,000 (after using the $7500 federal tax credit) or Tesla's new Model 3, which will sell below the average price that Americans are paying for new cars.
Indeed, the sticker price of many other electric vehicles before government incentives is at or under the average new car price—like the Chevy Spark EV at $25,750 or the Nissan Leaf at $29,000. And of course the sticker price doesn't take into account the much lower fuel and maintenance costs of EVs.
Beyond cutting transportation emissions, a shift to vehicle electrification will also promote grid reliability and renewable energy generation by providing flexible storage options. The past several years have seen profound shifts in the electricity sector fuel mix, smart grid and storage technologies, as well as comprehensive federal regulations to aggressively reduce emissions—making EVs even cleaner.
While the U.S. Environmental Protection Agency has promulgated greenhouse gas and fuel economy rules for cars, the current federal rules don't anticipate more than 2 percent penetration of EVs. In order to realize the many benefits of electrification of the transportation sector, we need to provide critical early support, such as through tax incentives and efforts to build out charging infrastructure.
We should also recognize that while the EV sector shows promise, the playing field is still tilted towards traditional gas-fueled vehicles. It's critical that we simultaneously preserve policies like the federal fuel economy standards, which make all vehicles more fuel efficient, as well as those that promote EVs, while opposing self-serving efforts to maximize polluter profits.
Mahoney of course never once mentions the central reason that this conversation matters: pollution.
And given the chance, Americans will always choose, clean air, clean water and a healthy world for their children over a world fouled by unnecessary and unwanted pollution. EVs have the potential to advance all of these objectives as part of a clean energy future.
YOU MIGHT ALSO LIKE
Will Elon Musk's Tesla Model 3 Recharge the U.S. Electric Vehicle Market?
Elon Musk Unveils Tesla Model 3: Accelerating Sustainable Transport Is 'Important for the Future of the World'
Keystone Pipeline Shut Down After Oil Spill in South Dakota
By Kirsten James
Long before the California drought became a national crisis, multinational berry company Driscoll's knew it had to organize a solution to the water problem its grower partners were facing.
Groundwater was being over-pumped in its major California growing region in the Pajaro Valley, and as a result saltwater was seeping into farmers' wells from nearby Monterey Bay, threatening berry growers and other farmers in the valley.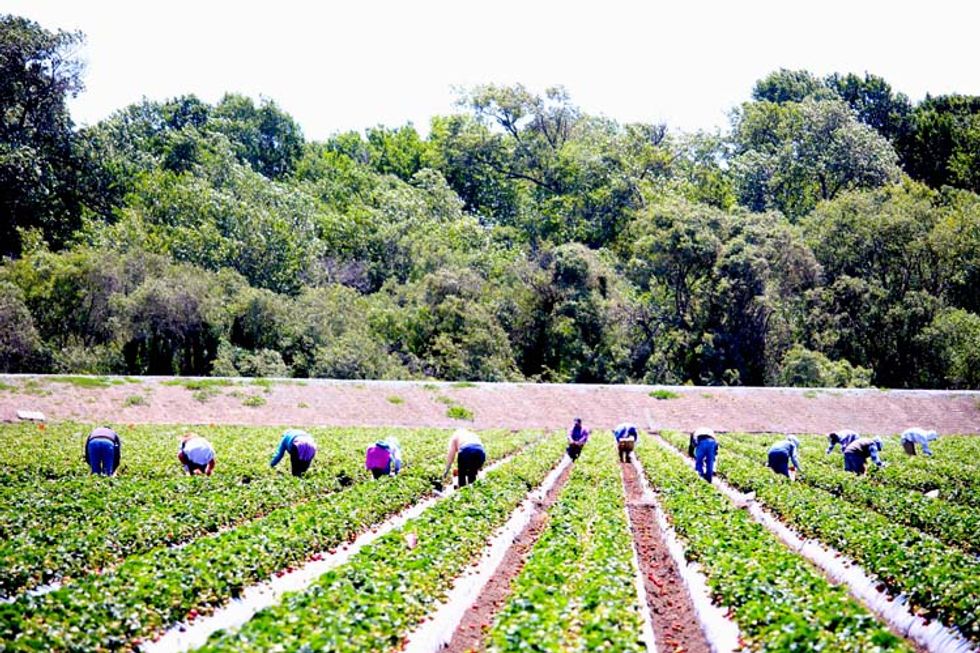 Finding another sourcing region was not an option for Driscoll's, even though the company represents community growers in 21 countries around the world.
"There's a very specific climate for strawberries," said Driscoll's then-CEO Miles Reiter at a drought forum last year. "… and none of the growing environments is quite as perfect as California. That means we need to fix the water situation."
And that's what Driscoll's set out to do. In 2010, it launched the Community Water Dialogue, a bold public/private partnership with local landowners, growers and the Resource Conservation District of Santa Cruz. The dialogue brought disparate and often competing factions together to forge collaborative efforts to solve the valley's water woes.
Driscoll's is one of a growing number of companies with large water footprints that are striving to be part of the solution in solving local and global water scarcity challenges. They're beginning to collaborate at the watershed level in their sourcing regions. They're enlisting their employees, supply chains and consumers in their conservation efforts, and they're even stepping into the policy arena to advocate resilient water solutions, such as through Ceres' Connect the Drops campaign in California.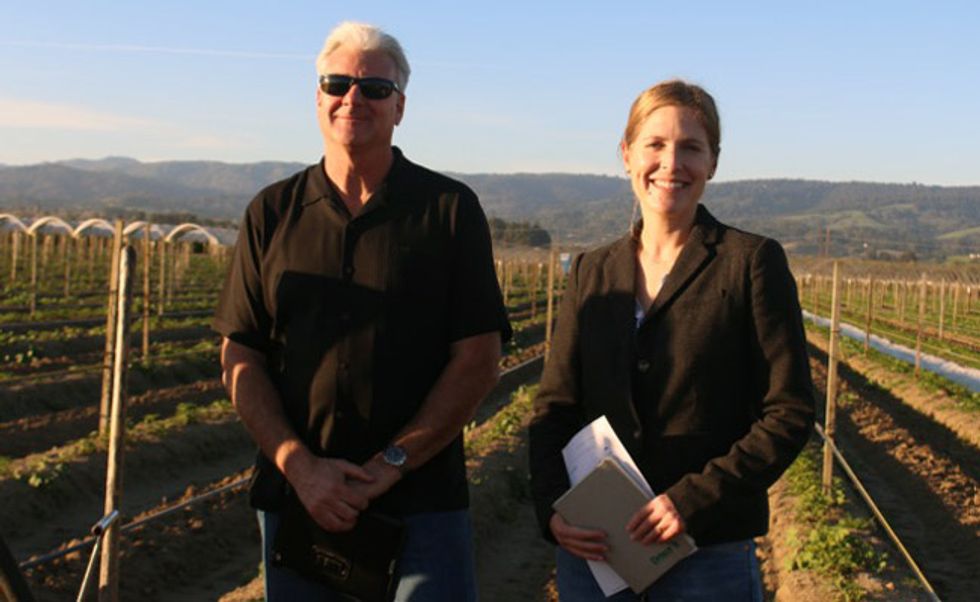 Today, at a World Water Day Summit, the White House is recognizing Connect the Drops and its five newest members—Anheuser-Bush InBev, Annie's, Eileen Fisher, Kellogg Company and Xylem—for their contributions toward building a sustainable water future in California and beyond.
Like Driscoll's, Anheuser-Bush InBev, whose brands include Budweiser and Stella Artois, is collaborating with stakeholders in the communities where it operates. The beer giant has worked to improve its water efficiency and management, reducing its water usage rate by 23 percent from 2009 through 2015 in the U.S. resulting in water savings of more than 2.5 billion gallons.
Among its many water saving initiatives, it reuses its effluent, reclaimed water, in auxiliary operations to reduce needs from local sources in many breweries such as its Los Angeles brewery, and supplies its effluent to local communities at nearly 40 of its breweries globally for agricultural irrigation, watering public parks and soccer fields, street cleaning, fire-fighting and other community needs replacing the fresh water that would otherwise be used.
Other companies, like Levi Strauss & Co., are engaging their peers in water cutting initiatives. Today the iconic jeans brand is making its innovative Water<Less finishing techniques publicly available to spur water conservation across the apparel industry. The techniques reduce water use in garment finishing by up to 96 percent and have helped the company save more than one billion liters of water since 2011—or the equivalent to 10.56 million 10-minute showers.
Levi Strauss & Co. also engages it consumers in water conservation because its water footprint analyses show that of the nearly 3,800 liters of water used in the lifecycle of a pair of jeans, consumer care has the second-highest impact on consumption, after cotton. In order to help consumers better understand their environmental impact, LS&Co. created the "Are You Ready to Come Clean" quiz.
But are the collective actions and policy advocacy of these companies making a difference in California?
Steven Moore, a member of the California State Water Resources Control Board, thinks so. "Businesses have a unique bully pulpit to put pressure on policy makers," he said. "More and more we need that voice at the table as we contemplate sustainable water policy."
In 2014, for example when Driscoll's Reiter spoke out in favor of California's historic Sustainable Groundwater Management Act, it helped to break the logjam in the state to pass the critical bill.
Looking ahead, there are still a number of critical policies that California needs to put in place in order to right many years of unsustainable water use.
One such policy is removing perceived barriers created by Prop 218 to implementing tiered water pricing, a system for charging water guzzlers increasingly higher prices at higher volumes of water use. Tiered pricing can be very effective at incentivizing water conservation.
Another is AB 1755, which proposes to bring California closer to having good water data, and being able to act on it. The proposed legislation would create an online water data information system that could set the stage for a well-functioning water market in California.
And for California's critical groundwater reform to move forward, sustainability plans must be developed at the sub-basin level. Food companies that source from California's fertile agricultural lands can and should help to develop and implement those plans, following Driscoll's lead in the Pajaro Valley.
As increasingly more companies realize the critical role the can and must play in the effort to create a sustainable water future, I believe that we will make great strides. As General Mill's Ellen Silva put it, "We firmly believe that in order for Californian citizens, businesses, farmers and the ecosystem to thrive, we must all work together to manage the water supply sustainably."
Kirsten James oversees the California policy program at Ceres, a nonprofit sustainability advocacy organization. She directs Connect the Drops, a network of California businesses seeking smart policies and solutions to ensure a sustainable water future in California and is former science and policy director at the Santa Monica-based environmental group, Heal the Bay.
YOU MIGHT ALSO LIKE
Photo Ark: One Man's Journey to Save the World's Most Endangered Species
Eating Less Meat Could Save 5 Million Lives, Cut Carbon Emissions by 33%
Exclusive Interview: Pro Surfer Cyrus Sutton Develops Sunblock Safe for People and the Planet
Dramatic Images Show Worst Coral Bleaching Event to Ever Hit Most Pristine Part of Great Barrier Reef
By Peyton Fleming
Some of the ingredients for catalyzing clean energy investments in Asia, Africa and other emerging markets have their own unique nomenclature—"blend 2.0," "de-risking" and "national investment catalogues." Yet there is a more straightforward recipe: A mix of national clean energy policies with the needs of institutional investors looking for opportunities that are safe and relatively profitable.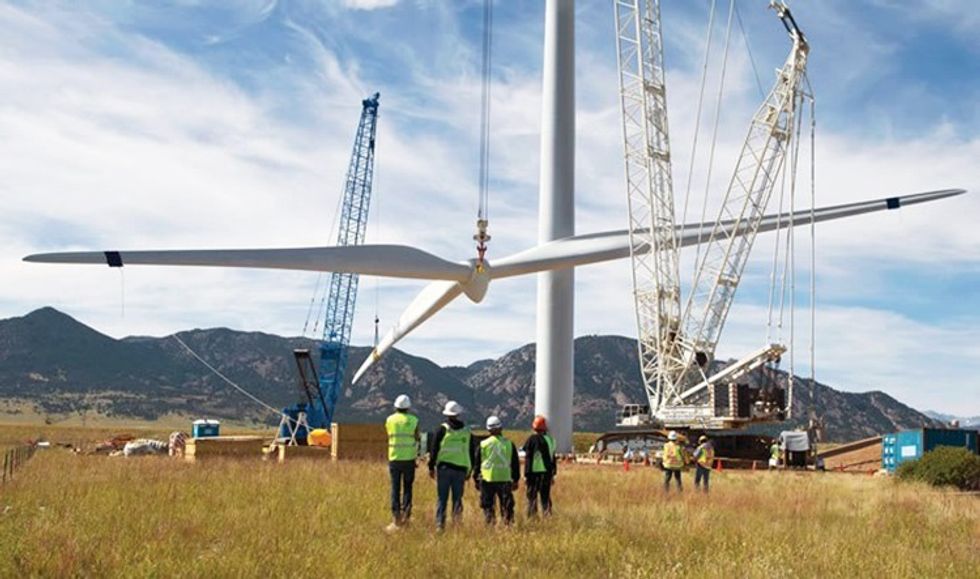 To date, creating this relatively simple blend has been largely elusive. While clean energy investments in developing countries are growing at a rapid clip, it has been done with minimal help from pension funds, insurers and other institutional investors who manage enormous amounts of capital—tens of trillions of dollars among U.S. institutional investors alone.
But the momentum could be changing as clean energy environments are ripening worldwide.
On the heels of another year of record high temperatures and a historic global climate agreement in Paris, investors are opening their eyes to the urgency of shifting significantly more capital to clean energy in developed and developing countries. Developing countries, whether in Asia, Africa or Latin America, are especially in need of capital because their economies, populations and overall carbon footprints are growing far more quickly compared to Europe, the U.S. and other industrialized countries.
Barring major changes, energy-related pollution in developing countries will be more than double that from developed countries by 2040, according to the U.S. Energy Information Administration. The fact that these countries are also working feverishly to provide electricity to the more than one billion people who have no access to power today further exacerbates the challenge.
"If you don't have access to energy, you're not going to see economic growth," said Rachel Kyte, CEO of Sustainable Energy for All, speaking to 500 global investors at the Investor Summit on Climate Risk: Advancing the Clean Trillion, last month at the United Nations. "This has to be a just energy transition where everyone can imagine they will prosper."
At the Investor Summit on Climate Risk at the United Nations headquarters this week, investors .. https://t.co/amZpMHmwpk #Disrupt

— disrupt (@disrupt)1454918767.0
For institutional investors, the opportunities are especially enormous after the recent climate accord in Paris, which aims to limit average global temperature rise to well below 2 degrees Celsius. The linchpin of the agreement is the carbon reducing commitments of 187 countries and their pledge to ratchet up those efforts in the years ahead.
But which of these countries have the necessary policy frameworks in place that will induce institutional investors to open their wallets? Is India truly ready to attract the sizeable investment flows it will need to become a solar super power by 2022? To what extent are Sub-Sahara African countries open for business to ever-cheaper wind and solar power over costly, high-polluting diesel generators?
Investors and other speakers at last month's summit, organized by Ceres and the United Nations Foundation, did not mince their words in answering these questions.
For all of Prime Minister Narendra Modi's enthusiasm about developing a mind-boggling 100,000 megawatts of solar by 2022, India's clean energy investment environment faces key hurdles, the biggest being exorbitant capital costs and high currency risks.
"In India, the costs of financing are at least twice as high as they are in the U.S. That means the power is twice as expensive in the places that can least afford it," Dr. Ion Yadigaroglu, partner and managing principal at the Capricorn Investment Group, said.
Still, India is working hard to open its doors. Uday Khemka, vice chairman of the SUN Group, outlined government efforts to "de-bottleneck" investment barriers, citing transparent bidding processes for projects, the use of partial credit guarantees and opening up large swaths of land for "plug-and-play solar parks." Plummeting solar and wind power costs are helping enormously, too, he said.
While India's changes are encouraging, its neighbor, China, "is the rock star of clean energy investment," concluded Bloomberg New Energy Finance (BNEF) founder Michael Liebreich. China was the dominant leader of BNEF's latest annual tally of global clean energy investments, accounting for $110 billion of a record $329 billion in global investments in 2015. The reasons are multifold, including clear, long-term government policies, a relatively stable liquid currency and a wealth of government-controlled sovereign funds to finance projects.
#FossilFuels Are A Terrible Investment, And They're Only Going To Get Worse https://t.co/nu9jeua5WD #InvestorSummit https://t.co/pLaEBCWvlz

— Ceres (@Ceres)1454092992.0
Yet, according to Dr. Guo Peiyuan, co-founder and general manager of SynTao Co., there are big opportunities for institutional investors, especially in green bonds. Dr. Guo said China's newly formed Green Finance Committee will require 2 to 4 trillion yuan of green financing every year ($325 billion to $625 billion), with only 15 percent being covered by the government, the rest by institutional investors. Green bonds will surely be a big part of this gargantuan effort. China's carbon emissions trading system, which is set to go nationwide in 2017, is another opportunity.
While China and India get most of the attention, investors should also be paying attention to smaller emerging markets.
Kyte praised Chile, South Africa and Morocco for putting the necessary policy frameworks in place to catalyze projects and attract capital. Each of these saw healthy double-digit jumps in clean energy investments last year, compared to 2014.
Island nations in the Caribbean are moving aggressively to attract investors for solar grids, geothermal and other clean energy projects. A few months ago, St. Kitts and Nevis signed a power purchase agreement to develop 10 megawatts of geothermal energy as an alternative to relying on costly, high-polluting diesel fuel. A second phase of the project will boost the facility's output to 150 megawatts. Other Caribbean islands are building solar grids for the same reason.
The 1,200 islands that make up the Maldives in the Indian Ocean are also putting strong renewable energy programs in place. Among those taking advantage is the Danish pension fund, Pension Danmark, which has invested $25 million in a project that will use solar power to turn salt water into freshwater.
"It's a small investment, but it's very scalable (for islands)," Pension Danmark Director Jens-Christian Stougaard said, which is also investing in a 300-megawatt wind farm in Kenya through the Danish Climate Investment Fund, which is focused entirely on climate investing in developing economies.
No doubt, there is a special sauce to tapping clean energy opportunities in emerging markets. In its simplest form, countries and institutional investors must be willing to work together.
"Having that local engagement, that local connection, is pivotal to have success," Stougaard said. "When we invest together with government entities, we have much better protection of regulatory and political risks."
YOU MIGHT ALSO LIKE
Kelly Slater: World's 'Best Man-Made Wave' Is Powered 100% by the Sun
World's Largest Offshore Wind Farm Will Power More Than 1 Million Homes
Morocco Flips Switch on First Phase of World's Largest Solar Plant
This School District Could Save Millions by Switching to 100% Solar
The Paris climate agreement adopted by 195 nations last month provides fresh momentum for achieving the Clean Trillion campaign goal of mobilizing an additional $1 trillion investment per year in clean energy in order to stabilize the climate.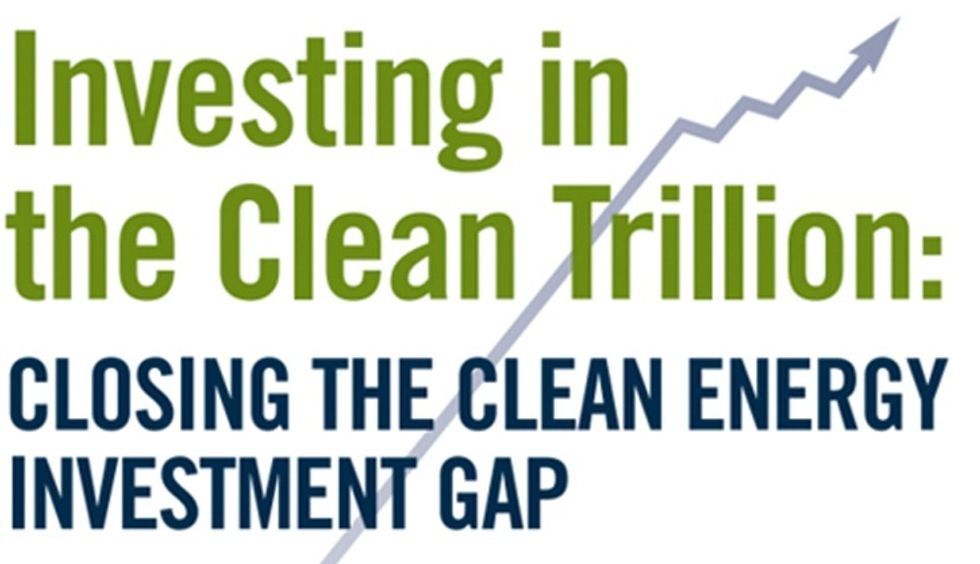 On Dec. 12, 2015, the world's governments agreed to a universal, legally-binding agreement that sets out ambitious goals to tackle climate change, including:
Holding the increase in the global average temperature to well below 2 C above pre-industrial levels and pursuing efforts to limit temperature increase to no more than 1.5 C
Reducing net greenhouse gas emissions to zero in the second half of this century
While there are many challenges ahead to achieving these objectives, the Paris agreement provides a critical shot in the arm for clean energy investment globally. As UN Secretary-General Ban Ki-moon noted at the end of the climate talks, "Markets now have the clear signal they need to unleash the full force of human ingenuity and scale up investments that will generate low emissions and resilient growth."
Three outcomes of the Paris climate talks are particularly significant to expanding global investment in clean energy:
First, 187 nations, representing 98 percent of the world's greenhouse gas emissions, have now submitted national climate commitments. Actualizing these commitments and limiting warming to below 2 degrees Celsius will create a multi-trillion dollar clean energy investment opportunity; the International Energy Agency has estimated the figure at $16.5 trillion. Over the next several years, governments will take steps to translate their national climate commitments into specific policies that will catalyze the necessary investments. For example, the U.S. Environment Protection Agency's (EPA) Clean Power Plan, vehicle efficiency standards, and tax credits for wind and solar that were extended last month are all key measures that will help accelerate the shift to clean energy.
It's important to keep in mind that the national commitments submitted in Paris create a floor, not a ceiling: the agreement includes a one-way ratchet, with nations required to update and elevate their climate commitments every five years.
Second, the Paris agreement calls for "finance flows consistent with a pathway towards low greenhouse gas emissions and climate resilient development." Specifically, governments have agreed to mobilize at least $100 billion in public and private finance for clean energy and climate resilience projects from 2020 to 2025 and agreed to go beyond this level after 2025. (See this helpful World Resources Institute summary for more details). Deployment of these funds help leverage more opportunities for private clean energy and climate financing.
Third, the Paris climate talks recognize that national government actions need to be buttressed by bold private sector action. In advance and during the climate talks, hundreds of global investors, businesses and capital market actors made new announcements on climate change and clean energy. Three examples:
Bill Gates and other business icons announced the Breakthrough Energy Coalition to accelerate and expand R&D investment aimed at scaling up clean energy.
The Financial Stability Board announced it was establishing an industry-led disclosure task force on climate-related financial risks under the chairmanship of Michael Bloomberg. The Task Force on Climate-related Financial Disclosures is charged with developing voluntary, consistent climate-related financial risk disclosures for use by companies in providing information to lenders, insurers, investors and other stakeholders.
New York State Comptroller Tom DiNapoli announced an additional $1.5 billion commitment to sustainable investments and the launch of a new $2 billion low-carbon index fund in coordination with Goldman Sachs. (See summary of other COP21-Paris Finance Day announcements here).
Reaction to the Paris agreement has also been strongly positive. "The ambitious agreement contains many of the market signals that investors have been calling for and what investors need to accelerate the transition to a thriving, clean energy economy," Anne Stausboll, CEO of CalPERS, the nation's largest public pension fund, said.
Michael Liebreich of Bloomberg New Energy Finance put it even more bluntly: "Paris is the world's economy serving divorce papers" to the fossil fuel industry. "Which sensible businessperson or investor can ignore the clear signal?" Good question!
My Ceres colleagues and I welcome your thoughts and questions on Ceres' Clean Trillion campaign. Please feel free to connect with me at [email protected] or on twitter @ChristopherNFox and follow Clean Trillion on twitter @CleanTrillion.
YOU MIGHT ALSO LIKE
Paris Fails to Revive the Nuclear Dream
Mark Ruffalo: The Renewable Energy Race Is On
The People Win Over Shell in Fracking Water Withdrawal Case
The Future of Hydropower Looks Dim as Heat and Drought Intensify