Bison await shipment to slaughter after being processed and tested for brucellosis by Park Service employees at the Stephens Creek facility, located at the northern edge of Yellowstone National Park. Photo credit: Michelle McCarron
Under continued pressure from Montana livestock interests, Yellowstone National Park is sending hundreds of America's last wild buffalo—the National Mammal of the U.S.—to slaughter.
Since Feb. 8, approximately 45 wild Yellowstone buffalo have been shipped from the park's Stephens Creek buffalo trap to a slaughterhouse. With recent captures of at least 600 buffalo, more than 500 wild buffalo remain captive inside Yellowstone National Park's trap. The government intends to slaughter even more. Upwards of 400 more wild bison have also been killed by hunters along Yellowstone National Park's boundary.
WARNING ... This Video Will Break Your Heart: 150 Wild Buffalo Captured at Yellowstone https://t.co/eXw5e3J7d7 @ALDF https://t.co/RsyHSghv6r

— EcoWatch (@EcoWatch)1458220288.0
The country's last wild bison are in the crosshairs of MCA 81-2-120, a state law that puts the Montana Department of Livestock in charge of the migratory species.
"The unfounded threats and discredited fears of brucellosis do not justify Montana Department of Livestock management of Montana's one and only wild buffalo population," said Buffalo Field Campaign media coordinator Stephany Seay.
Yellowstone National Park is slaughtering wild buffalo under the highly controversial Interagency Bison Management Plan, the Montana Governor approved plan under MCA 81-2-120.

"This senseless slaughter of our National Mammal can come to an end by managing wild buffalo like wild elk in Montana," said Buffalo Field Campaign co-founder Mike Mease. "Governor Steve Bullock and Yellowstone National Park Superintendent Dan Wenk need to show leadership and end government slaughter. "
Buffalo Field Campaign's alternative plan to manage wild buffalo like wild elk in Montana can be found here.
"Montana can restore wild buffalo while saving dollars and making sense: repeal MCA 81-2-120 and manage wild bison like wild elk in Montana," said Seay. "It really is that simple."
The Yellowstone buffalo are America's last wild, migratory herds and the most important bison population that exists. They are the last to identify as a wildlife species and they are ecologically extinct throughout their native range. They've been added to the International Union for Conservation of Nature's Red List for being "threatened with near extinction" and even Montana designates the species "in greatest conservation need," with conditions "making [bison] vulnerable to global extinction."
EcoWatch Daily Newsletter
By Stephany Seay
Last week's report and photos about what we, and the buffalo, experienced during the two-day media tour of Yellowstone's bison trap could barely scratch the surface of the horrible things we witnessed. This video footage will bring you much closer.
On March 8 and March 9, Yellowstone National Park organized a media tour of their Stephens Creek bison trap, where 150 wild buffalo were being held captive for slaughter and potentially quarantine. All of what you see taking place here is paid for with your federal tax dollars. Some of the footage was shot by Buffalo Field Campaign's Mike Mease and some was captured by the park service's GoPro cameras.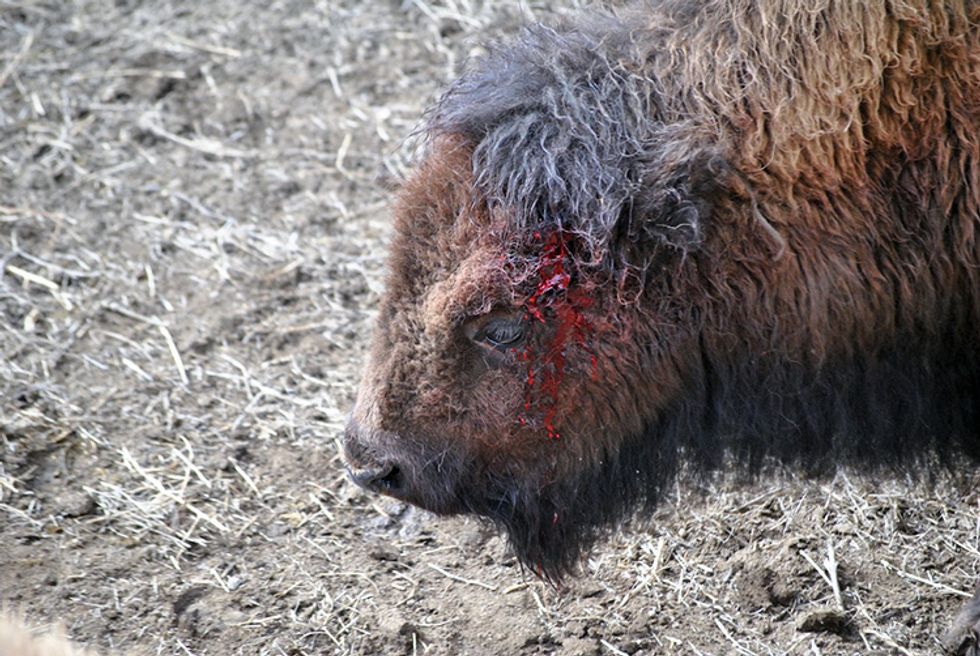 One hundred fifty of America's last wild buffalo were run through the gauntlet of Yellowstone's Stephens Creek capture facility; 93 buffalo were shipped to slaughter by the InterTribal Buffalo Council and the Confederated Salish & Kootenai Tribes, both of which are signatories to the Interagency Bison Management Plan. Another 57 buffalo—all orphaned calves and yearlings—are still being held in the trap.
Every person working at the trap is employed by Yellowstone National Park. The Montana Department of Livestock has Yellowstone trained so well, that the department isn't even present except when escorting buffalo to the slaughterhouses. These acts by Yellowstone National Park are horrific and criminal. There should not even be such a facility inside the world's first national park, much less anywhere else. There is no justification for the park service to commit these atrocities.
Yellowstone justifies its actions under the banner of the Interagency Bison Management Plan, which it could pull out of anytime. They may face a lawsuit by livestock interests if they did so, but, so what? So much new information has come to light, so much change has come to the landscape and such a groundswell of public support has emerged for wild, migratory buffalo, that a lawsuit might be hugely beneficial. The callous behavior of Yellowstone park rangers and biologists who are harming the buffalo reveals the gross disconnect that these people have from the sacred beings whom they are charged with protecting, and how wantonly they are willing to betray, not only their mission, but the sacred buffalo that the whole world expects them to protect.
WARNING: This video will break your heart. After watching it, you'll want to do something. Here are a few suggestions: Share this video with everyone you know, send it to your local and regional media, and share it with the White House and your members of Congress. Tell them to visit Buffalo Field Campaign to learn more.
Many thanks to the Animal Legal Defense Fund and the rest of our stellar legal team who made this media tour possible by representing journalist Christopher Ketcham and me in a lawsuit to gain full access to the trap. Showing the world even this brief glimpse of what Yellowstone is doing to the beloved buffalo—in service of Montana cattle ranchers—will bring us that much closer to putting an end to this madness, and bringing this trap down.
YOU MIGHT ALSO LIKE
Rescued Chimp Who Lived Alone for 18 Years Won't Stop Holding Hands With New Friend
Want to Swim With Dolphins? Read This First
Love Wildlife? Check Out These 11 Stunning Photos From Yellowstone National Park
PavloBaliukh / iStock / Getty Images
Through net metering programs, homeowners who have installed solar energy systems can get utility credits for any electricity their panels generate during the day that isn't used to power home systems. These credits can be "cashed in" to offset the cost of any grid electricity used at night.
Where net metering is available, solar panels have a shorter payback period and yield a higher return on investment. Without this benefit, you only save on power bills when using solar energy directly, and surplus generation is lost unless you store it in a solar battery. However, net metering gives you the option of selling any excess electricity that is not consumed within your home.
Generally, you will see more home solar systems in places with favorable net metering laws. With this benefit, going solar becomes an attractive investment even for properties with minimal daytime consumption. Homeowners can turn their roofs into miniature power plants during the day, and that generation is subtracted from their nighttime consumption.
What Is Net Metering?
Net metering is a billing arrangement in which surplus energy production from solar panels is tracked by your electricity provider and subtracted from your monthly utility bill. When your solar power system produces more kilowatt-hours of electricity than your home is consuming, the excess generation is fed back into the grid.
For homeowners with solar panels, the benefits of net metering include higher monthly savings and a shorter payback period. Utility companies also benefit, since the excess solar electricity can be supplied to other buildings on the same electric grid.
If a power grid relies on fossil fuels, net metering also increases the environmental benefits of solar power. Even if a building does not have an adequate area for rooftop solar panels, it can reduce its emissions by using the surplus clean energy from other properties.
How Net Metering Works
There are two general ways net metering programs work:
The surplus energy produced by your solar panels is measured by your utility company, and a credit is posted to your account that can be applied to future power bills.
The surplus energy produced by your solar panels is measured by your home's electricity meter. Modern power meters can measure electricity flow in both directions, so they tick up when you pull from the grid at night and count down when your solar panels are producing an excess amount of electricity.
In either scenario, at the end of the billing period, you will only pay for your net consumption — the difference between total consumption and generation. This is where the term "net metering" comes from.
How Does Net Metering Affect Your Utility Bill?

Net metering makes solar power systems more valuable for homeowners, as you can "sell" any extra energy production to your utility company. However, it's important to understand how charges and credits are managed:
You can earn credits for your surplus electricity, but utility companies will not cut you a check for the power you provide. Instead, they will subtract the credits from your power bills.
If your net metering credit during the billing period is higher than your consumption, the difference is rolled over to the next month.
Some power companies will roll over your credit indefinitely, but many have a yearly expiration date that resets your credit balance.
With all of this in mind, it is possible to reduce your annual electricity cost to zero. You can accumulate credit with surplus generation during the sunny summer months, and use it during winter when solar generation decreases.
You will achieve the best results when your solar power system has just the right capacity to cover your annual home consumption. Oversizing your solar array is not recommended, as you will simply accumulate a large unused credit each year. In other words, you cannot overproduce and charge your power company each month.
Some power companies will let you pick the expiration date of your annual net metering credits. If you have this option, it's wise to set the date after winter has ended. This way, you can use all the renewable energy credits you accumulated during the summer.
Is Net Metering Available Near You?
Net metering offers a valuable incentive for homeowners to switch to solar power, but these types of programs are not available everywhere. Net metering laws can change depending on where you live.
In the U.S., there are mandatory net metering laws in 38 states and Washington, D.C. Most states without a mandate have power companies that voluntarily offer the benefit in their service areas. South Dakota and Tennessee are the only two states with no version of net metering or similar programs.
If net metering is available in your area, you will be credited for your surplus energy in one of two ways:
Net metering at retail price: You get full credit for each kilowatt-hour sent to the grid. For example, if you're charged 16 cents per kWh consumed, you'll get a credit of 16 cents per kWh exported. This type of net metering is required by law in 29 states.
Net metering at a reduced feed-in tariff: Surplus electricity sent to the grid is credited at a lower rate. For example, you may be charged 16 cents per kWh for consumption but paid 10 cents per kWh exported. Feed-in tariffs and other alternative programs are used in 17 of the states where retail-rate net metering is not mandatory.
Note: This is just a simplified example — the exact kWh retail price and solar feed-in tariff will depend on your electricity plan.
The Database of State Incentives for Renewables & Efficiency (DSIRE) is an excellent resource if you want to learn more about net metering and other solar power incentives in your state. You can also look for information about solar incentives by visiting the official websites of your state government and utility company.
Other Financial Incentives for Going Solar

Net metering policies are one of the most effective incentives for solar power. However, there are other financial incentives that can be combined with net metering to improve your ROI:
The federal solar tax credit lets you claim 26% of your solar installation costs as a tax deduction. For example, if your solar installation had a cost of $10,000, you can claim $2,600 on your next tax declaration. This benefit is available everywhere in the U.S.
State tax credits may also be available depending on where you live, and they can be claimed in addition to the federal incentive.
Solar rebates are offered by some state governments and utility companies. These are upfront cash incentives subtracted directly from the cost of your solar PV system.
In addition to seeking out solar incentives available to you, you should compare quotes from multiple installers before signing a solar contract. This will ensure you're getting the best deal available and help you avoid overpriced offers and underpriced, low-quality installations. You can start getting quotes from top solar companies near you by filling out the 30-second form below.
Frequently Asked Questions: Solar Net Metering

Why is net metering bad?
When managed correctly, net metering is beneficial for electricity consumers and power companies. There have been cases in which power grids lack the capacity to handle large amounts of power coming from homes and businesses. However, this is an infrastructure issue, not a negative aspect of net metering itself.

In places with a high percentage of homes and businesses using solar panels, surplus generation on sunny days can saturate the grid. This can be managed by modernizing the grid to handle distributed solar power more effectively with load management and energy storage systems.

How does net metering work?
With net metering, any electricity your solar panels produce that isn't used to power your home is fed into your local power grid. Your utility company will pay you for this power production through credits that can be applied to your monthly energy bills.
Can you make money net metering?
You can reduce your power bills with net metering, using surplus solar generation to compensate for your consumption when you can't generate solar power at night and on cloudy days. However, most power companies will not pay you for surplus production once your power bill has dropped to $0. Normally, that credit will be rolled over, to be used in months where your solar panels are less productive.
On very rare occasions, you may be paid for the accumulated balance over a year. However, this benefit is offered by very few electric companies and is subject to limitations.
By Stephany Seay
Addressing our relationship with the buffalo, Buffalo Field Campaign co-founder Lakota Elder Rosalie Littler Thunder once said, "human beings have forgotten their purpose." Indeed, those who work for Yellowstone National Park have certainly forgotten theirs: to preserve [wild buffalo], unimpaired, for present and future generations."
One hundred and fifty of America's last wild buffalo were certainly "impaired" this week, having endured the hells of Yellowstone's Stephens Creek capture facility. For some, this nightmare journey is still underway.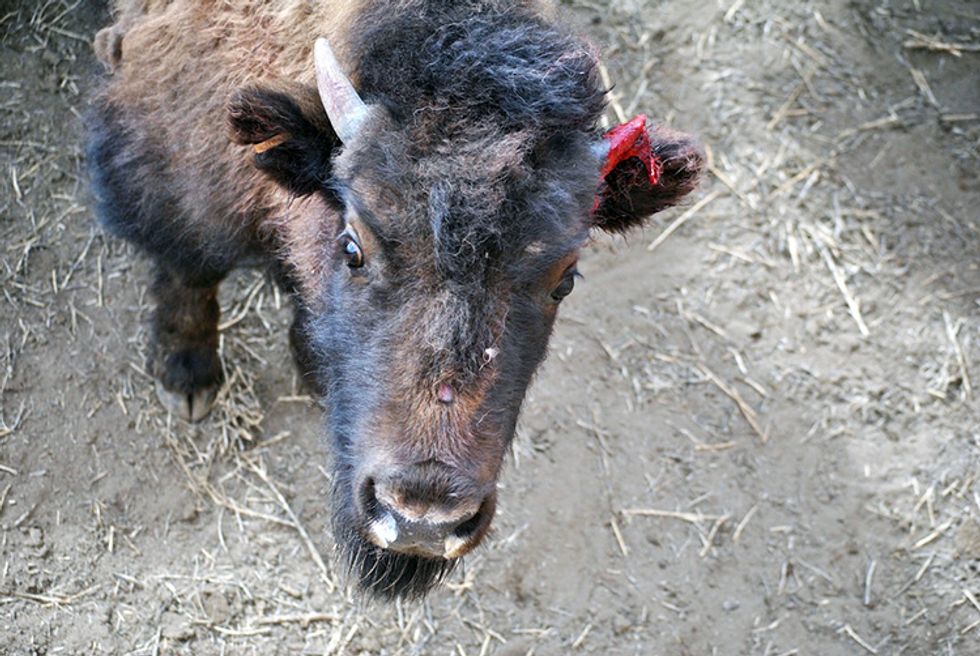 On Tuesday and Wednesday, in response to a public access lawsuit, Yellowstone National Park granted a media tour of their Stephens Creek trap. Mike Mease and I attended on behalf of the Buffalo Field Campaign. What we saw will give us nightmares, but it is critical for us to be here to get a brief glimpse of what goes on in this area Yellowstone hides from the public.
Captive buffalo were run through the gauntlet of a fortified livestock corral, "worked" in a squeeze chute called the "Silencer," where their blood was drawn, their teeth were checked for age and where they were weighed, tagged and "released" to flee down a long, dusty corridor where they were separated by age and sex and forever torn from their families. As you read this they are in the process of being shipped to slaughter.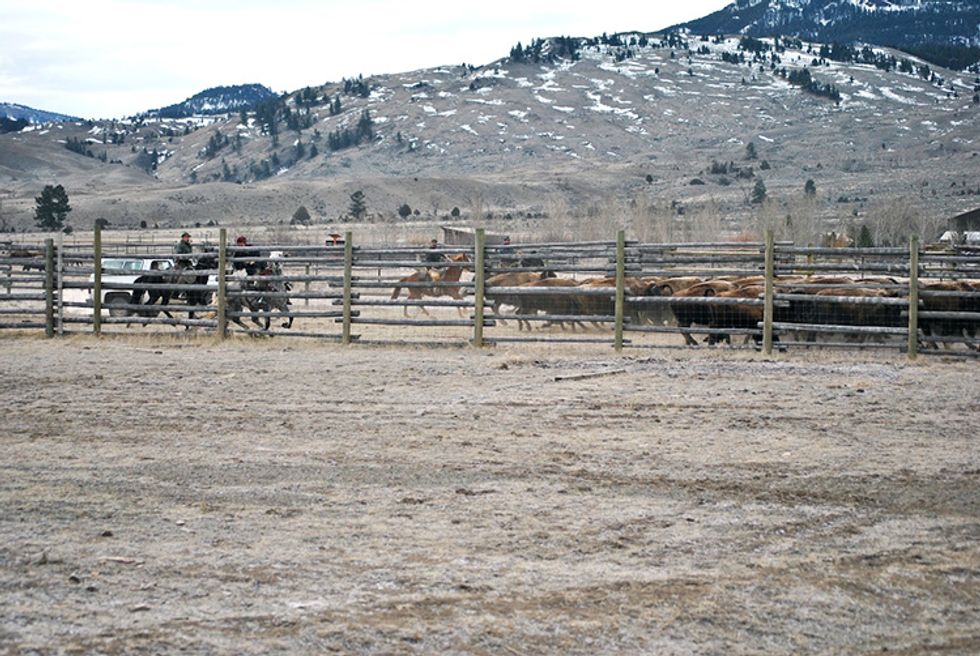 Tuesday morning, beginning at the break of dawn, 75 frightened and confused wild buffalo were run through this house of horrors; early Wednesday morning 30 female buffalo from this group were crammed onto two livestock trailers hired by the InterTribal Buffalo Council and shipped to the slaughterhouse. Later that same morning, the remaining 75 buffalo endured the same mistreatment. On Thursday morning, 63 more buffalo went to slaughter, with another 75 calves and yearlings are being held "just in case" Yellowstone's 50 bison quarantine plan is approved.
The noise in the trap was deafening. Buffalo were slamming against the walls, ramming into each other and bellowing in fear or to find family members. The sounds they made with their voices and their bodies took over everything. They were crammed into the trap's "bull pen," where park wranglers on catwalks—silent for the media tour, but normally "yipping" and hollering—jabbed and prodded them from above, forcing them to move to desired locations and where pushed into "the Silencer."
This squeeze chute is Yellowstone's new machine which they claim to be more humane, but tell that to the wee calf we saw who had both of her horns broken off in that "kinder, gentler" apparatus. Every buffalo put up the fight of their lives, like the warriors they are. The little calves gave extra effort to escape with tenacious determination. They would jump, buck, thrust, kick and rear up, trying everything they could to break free. But they can't. Sometimes they would jump too far, too fast and the squeeze chute would close on their mid section or their horns. They were so scared and tried so hard to get out. Their tails were curled into "nines"—the most unmistakable sign that a buffalo is in serious distress.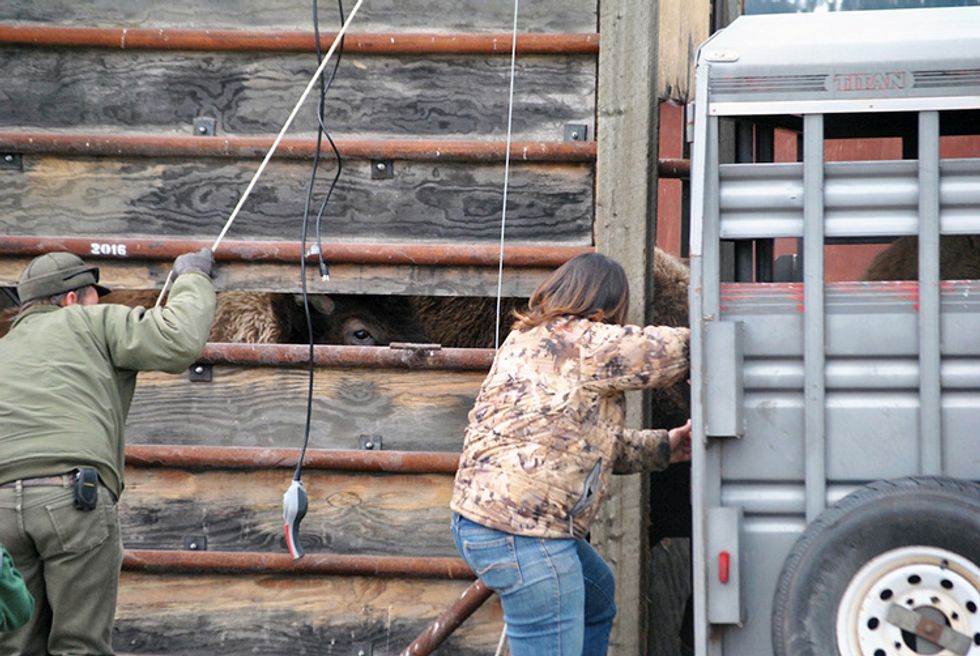 on Wednesday morning by the InterTribal Buffalo Council. Approximately seventy more will suffer the same fate this morning. Photos credit: Stephany Seay / Buffalo Field Campaign.
From the squeeze chute, they were funneled down a corridor and into a sorting pen where they joined others of the same age and/or sex. During the media tour, we were only allowed up on the catwalks one at a time, briefly. We were only allowed to see into two of the sorting pens, though there were many more. Of the two we saw, the buffalo were looking up at us, as if asking why? What did I do wrong? Where's my mom? Where's my baby?
Through tears and promises, Mike and I talked to them. We told them we loved them, that not all humans are so mindless and cruel, that we and many others are fighting and praying for them. It was awful. They were banging around, running in circles, standing there looking forlorn. All we could do for them was document, promise their story would be told in our never-ending effort to cease this slaughter once and for all.
Our hearts are bruised and broken and what little we were allowed to see showed how important it is for us to get full access. This media tour was a token gesture, a mockery of real access.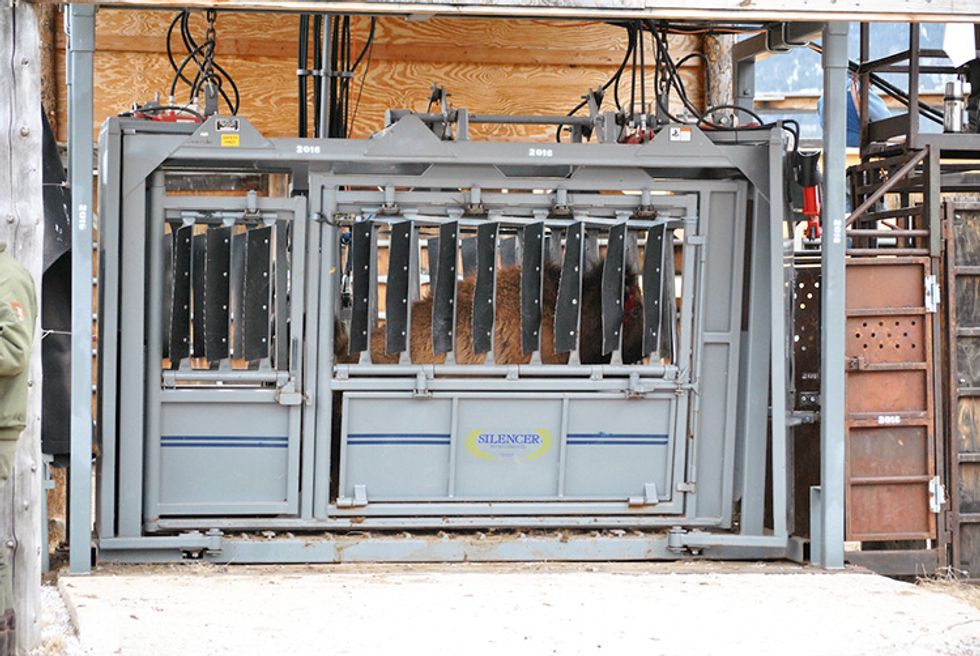 To make a false impression on the media and members of the public, the park service trap wanglers tapered their vulgar behavior, which we know from years of viewing and hearing activities at the trap from over a mile away is thick with cowboy culture. The park rangers, biologists and other employees hid their humanity. The buffalo were just objects moving through a process. They showed neither emotion, relationship with the buffalo, nor remorse for the atrocities they were committing.
And how could they? If they let themselves feel, they would not be able to do what they do to these sacred beings. It was a well-oiled government buffalo slaughtering machine. What we were shown was not the truth of how these capture operations take place when out of public view. They had their behavior in check as they put on a show for the media. But the buffalo are honest. They were the only ones telling the truth as the park service shelved compassion and spun their lies to serve industry and intolerance. The audio coming from the buffalo, imprisoned and violated in the trap, was the stuff of nightmares. No matter how well park employees talk themselves into thinking what they are doing is beneficial, the buffalo tell a different truth. Their lives are as important to them as yours or mine is to us.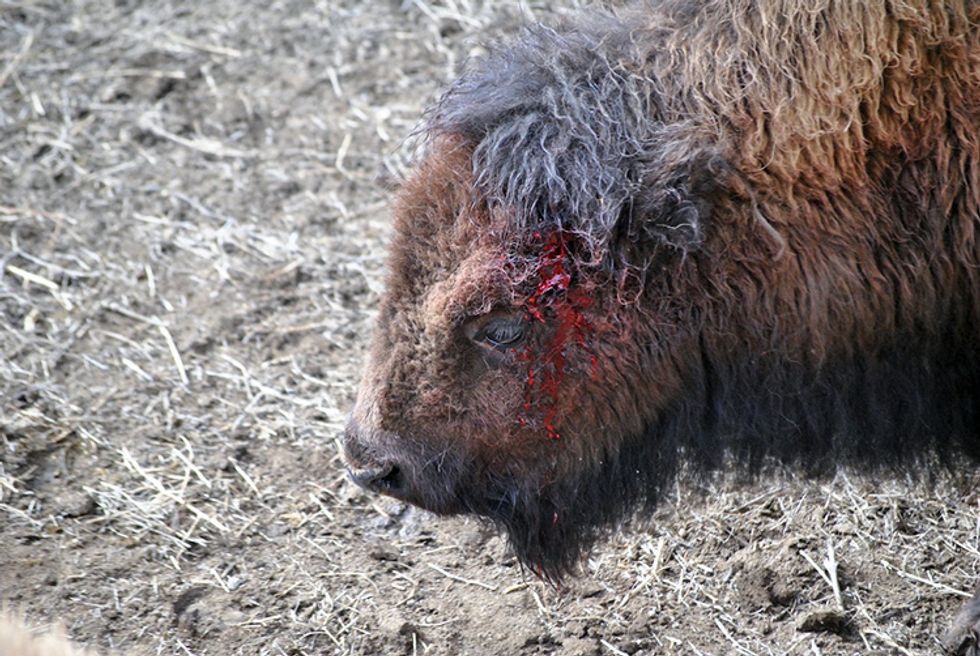 We will be haunted forever by this experience, but our pain is nothing compared to what the buffalo are going through. There is no such thing as "humanely" trapping, tormenting, tearing families apart and shipping buffalo to slaughter. Science does not supports this. Public opinion doesn't support this. The park's own mission and mandate runs contrary to these cruel and unnecessary actions.
But this will not last. The trap walls will come down.
YOU MIGHT ALSO LIKE
Grizzly Bears at Risk of Being Hunted for the First Time in Decades
One of the Lucky Ones: Seal Pup Released Back Into the Ocean After Severe Injuries From Marine Debris
[Editor's note: For an update on this story, click here.]
Park rangers have begun capturing wild bison in the Stephens Creek trap within Yellowstone National Park. Since Feb. 20, approximately 150 of America's last wild buffalo have been trapped. According to park officials, all are destined for slaughter.
"Yellowstone's slaughter of wild bison is as lacking in scientific reason as it is in public support," said Buffalo Field Campaign's Stephany Seay.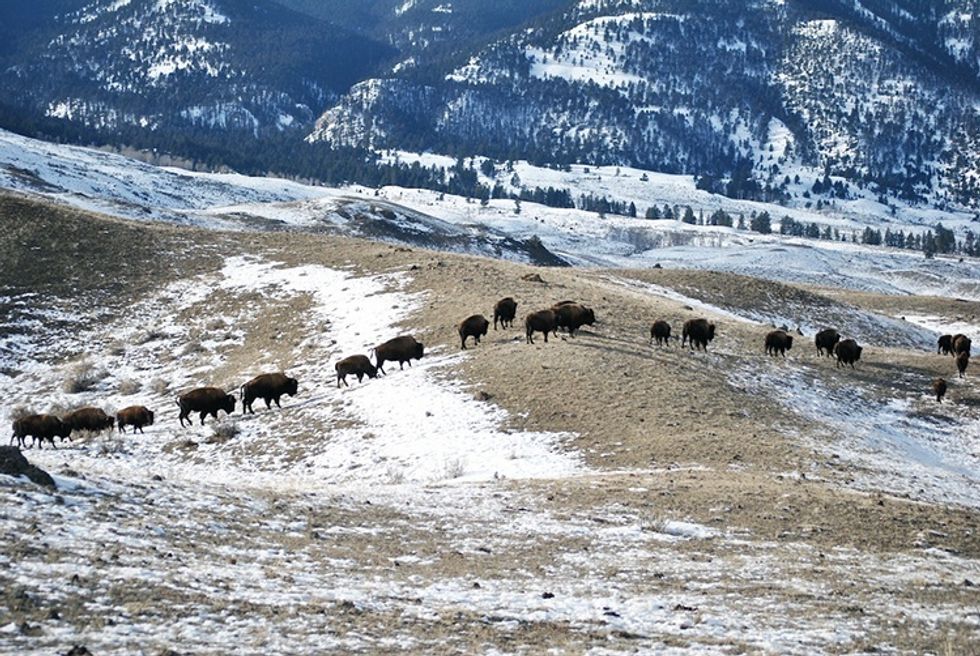 The National Park Service claims that they are reducing the wild bison population due to the threat of brucellosis, a livestock disease originally brought to North America by Eurasian cattle. There has never been a documented case of wild bison transmitting brucellosis to livestock. Elk, who also carry brucellosis and have transmitted the disease to livestock numerous times in Idaho, Montana and Wyoming, are free to migrate from Yellowstone and are managed by hunting based on sustainable populations in available habitat in Montana.
Buffalo Field Campaign habitat coordinator Darrell Geist says the state of Montana and Yellowstone National Park refuse to manage wild buffalo like wild elk, an alternative that would put the government out of the buffalo capture for slaughter business.
"Montana is blessed with an abundance of public lands but cursed by a statute that stands in the way of managing migratory buffalo as a wildlife species," said Geist. "Few people know that MCA 81-2-120 is almost entirely funded by the U.S. Department of Agriculture to back Department of Livestock management of wild buffalo. Without American taxpayer funding, Montana and Yellowstone National Park would have to changes their ways."
Yellowstone and the other Interagency Bison Management Plan (IMBP) partners have stated that they want up to 900 wild bison killed this year. More than 400 have already been killed by hunters. The agencies aim to kill hundreds of wild bison every year until they drive the population—now estimated at 4,400—down to just 3,000 animals. This population target is a result of livestock industry pressure to address unfounded brucellosis fears and Yellowstone's false premise that there are "surplus" wild bison.
Buffalo Field Campaign executive director Dan Brister questions the faulty science that Yellowstone and IBMP partners are operating under.
"There is no such thing as 'surplus' wild bison," said Brister. "Yellowstone's target population cap of 3,000 animals is nothing more than a politically derived number that has nothing to do with carrying capacity."
Yellowstone's capture for slaughter operations adversely impact the wild population's natural immunity to introduced diseases, including brucellosis and increases the risk of more virulent and persistent strains arising in the wild population. Cumulative impacts of management actions pose a significant threat to the viability of wild buffalo remaining in Yellowstone.
Under the voluntarily agreed to IBMP, Yellowstone National Park and the other IBMP agencies continue to operate under faulty assumptions and outdated information, in contravention of the agency's mandate to use the best available science to inform decision makers and the public.
YOU MIGHT ALSO LIKE
Young Humpback Whale Found Dead, Exposes Devastating Impacts of Ocean Trash
Victory: Alaska's Polar Bears Win Their Day in Court
Elephants Being Slaughtered for Ivory Faster Than They Can Reproduce