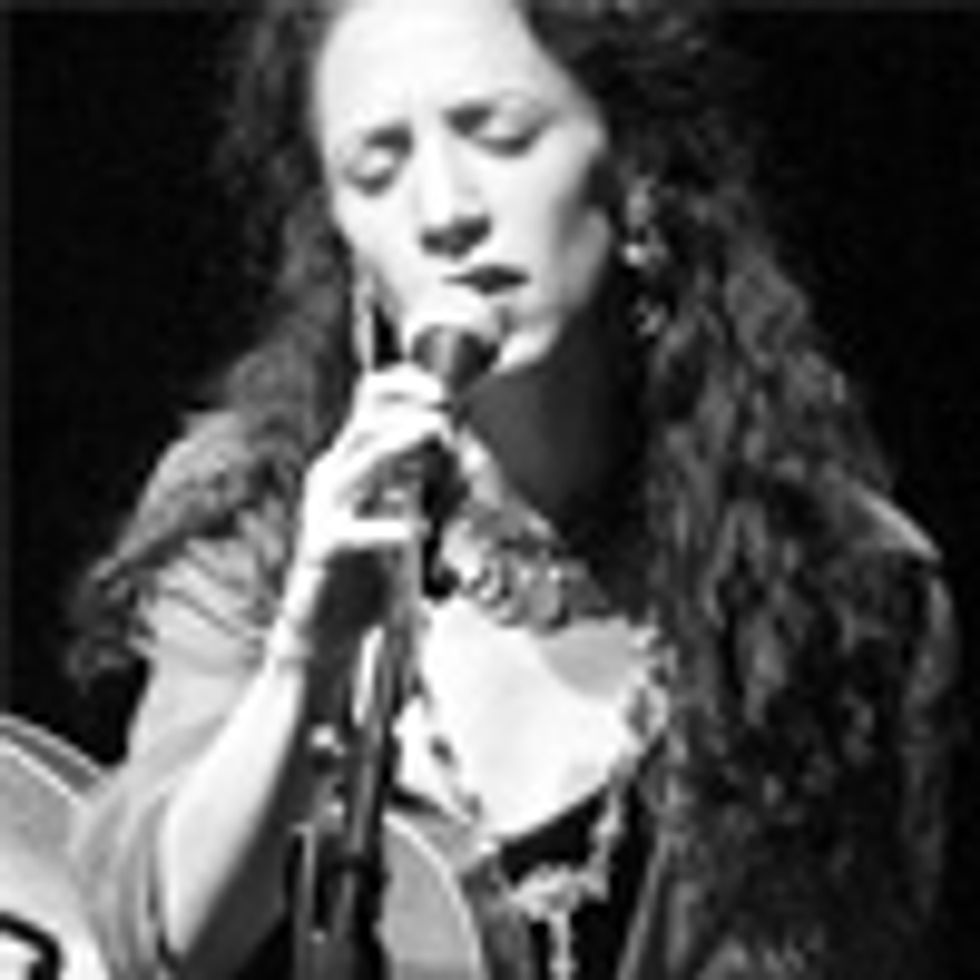 I am actually on a plane back to New York right now, returning from an extraordinary meeting in Ecuador. I was at Finca Sagrada, a biodynamic farming community an hour outside the town of Vilcamamba—down a long winding mountain pass into a bright green valley along the Inca trail, circled by a ring of sacred fire sites on the ridges all around.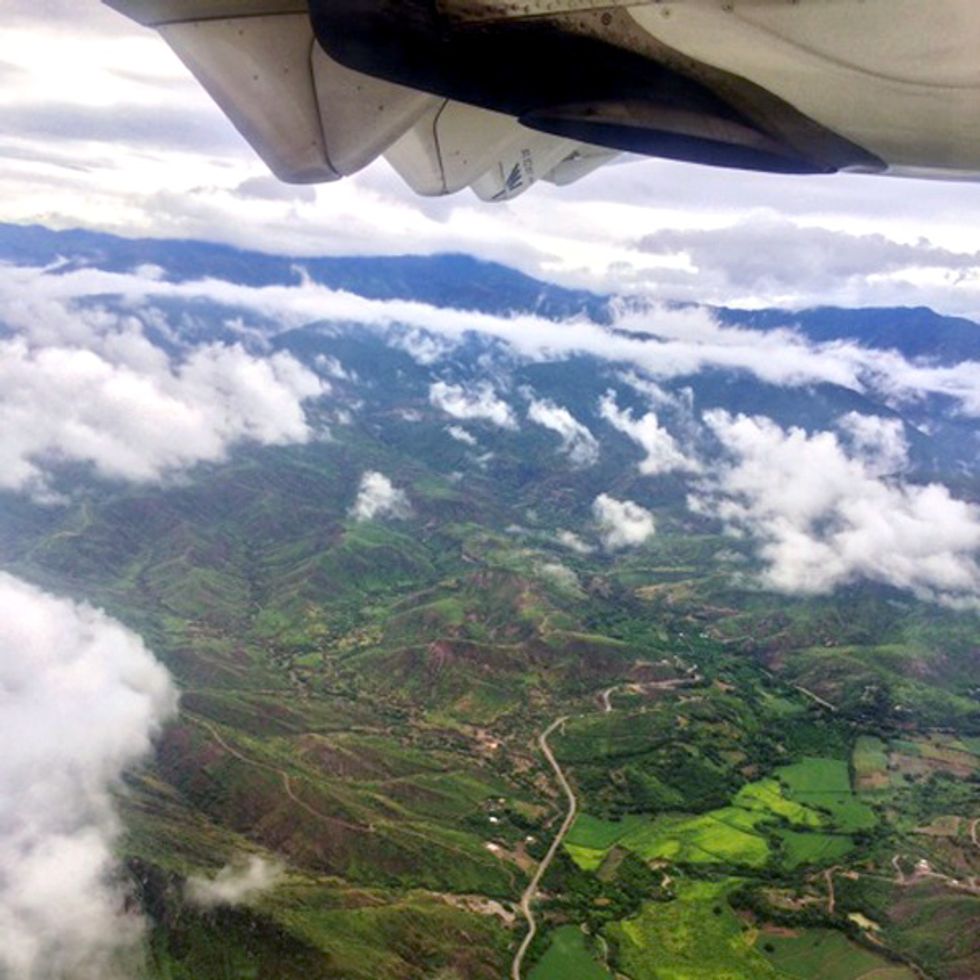 There we met with indigenous elders from the Four Tribes of Sierras of Colombia (known by many outsiders as the Kogi People), whose high priests, called Mamos, live in caves for up to 18 years, never seeing the light of day until they complete their training as seers. Through ceremonial consultation, they learn to speak directly to the Mother, who has instructed them to come down from the mountains and deliver the message that we are killing the Earth ... and we must all unite to stop the destruction that will end our existence.
Just before the People of La Sierra came to meet us, they took a "living relic" out into the light of day for the first time since the beginning of time. When they took her out, the Earth shook ... and then she delivered her urgent message that we are running out of time, and it is urgent that  they spread her message to the entire world. Then the Earth shook again as they put the living relic away, confirming her message. All of this was as it has been told in their prophecies and consultations with the Mother.
The message is this: The sacred sites of the indigenous peoples of the world form a network of spiritual communication around the globe. As these sacred sites are destroyed, and as the people who have cared for these sites are removed and assimilated, this communication network has been broken. The spiritual fabric of the Earth has been torn to shreds and the people who hold the ceremonies that keep the Earth in balance cannot correct things anymore. The non-native nations, who the Four Tribes of La Sierra call "little brother," are out of control and have gone too far. It is too late for us, as humans, to correct this on our own. If we do not re-activate the sacred sites and re-activate the higher beings who can help us restore order to the world, we will not be able to re-weave the spiritual fabric of the Earth. The mother is crying. She is weeping for her children. She is in pain, and will speak with her voice of wind, water and fire ... louder and louder ... unless we begin to speak for her and do what she is asking.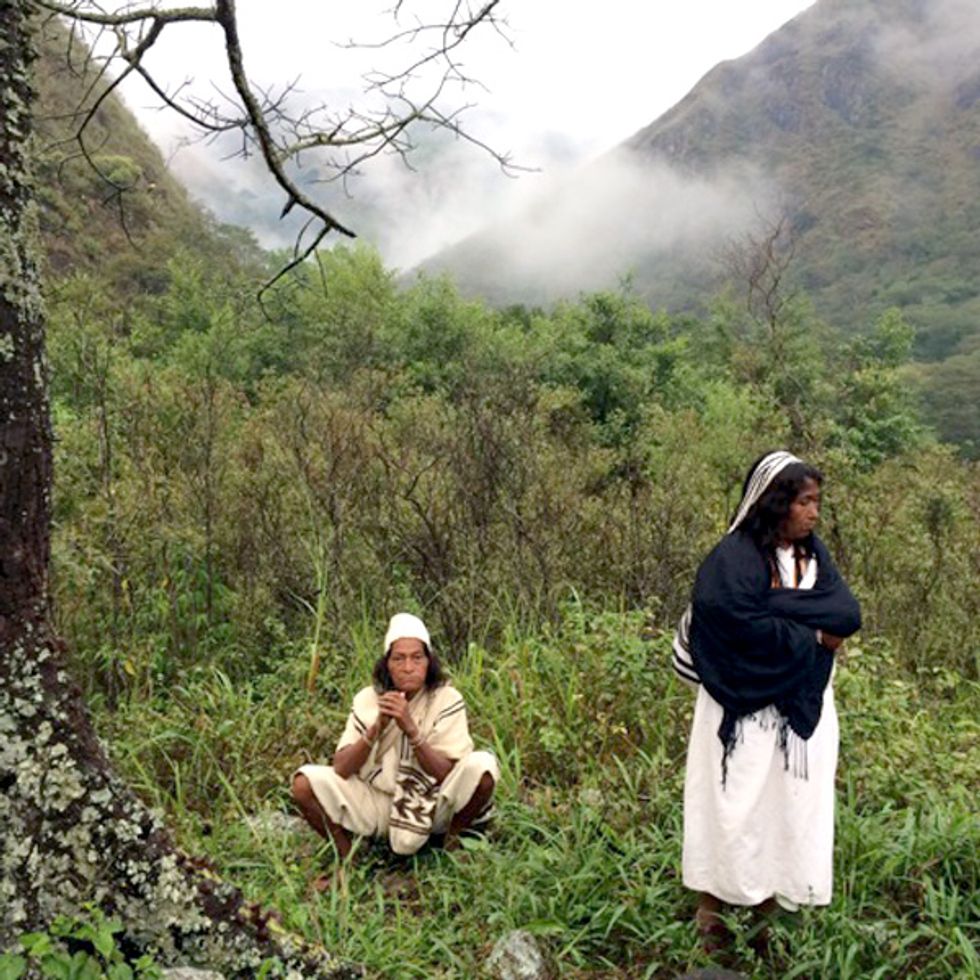 The mountains of Vilcabamba, Ecuador. Saga Carmen (right) and Mamo Miguel (left), who is one of the caretakers of the living relic. This was the Mamo's first trip outside of La Sierras. He was specifically sent by the Mother to activate a ring of sacred fire circles.
The Tribes of the Sierra have begun a unification process for the awareness of the life originating principles, called IKWASHENDWNA, which in two words is the urgent call to internal order the Mother makes to humanity. It is a call for all peoples to UNITE in the efforts to stop "little brother" in his plunder. We must also unite in our efforts to return the sacred sites to their original guardians, so that the proper ceremonies can be carried out and the activations can be completed. We must continue to march, to speak, to be active ourselves ... but without the help of the higher beings we are tilting at the windmills of destruction that we ourselves have created.
Luntana Nacoggí, one of the younger Mamos travelling internationally to deliver this message, wrote to me recently and said, "This process of Unification will generate a consciousness in regard to our Mother Earth. Our current level of awareness is deficient, and it is precipitating the end of life for both humans and the Earth. The clock is ticking on the stopwatch the Mother herself has activated, and we know that we only have a short time left to act. We must take advantage of this Unification process so that we can begin to cooperate following the principles of our "pre-ancient" rights for the protection of all life."
This is a message that the Kogi began to speak about 30 years ago, but the living relic conveyed an urgency that has reached fever pitch, and they have begun a mission to find those who still hold the original ceremonies and ritual knowledge to help re-activate sacred sites all over the globe.
So .... with all this being said we have begun a series of meetings with them and others to help in this mission for our existence ... On Sept. 13-14, we are planning a UNITY CONCERT in the Black Hills of South Dakota, which is known as the "Heart of Everything That Is" by the Lakota Nation. The concert/gathering will begin with a traditional sacred rite to clear away the pain of the past so that we can stand together—the black, red, white and yellow nations—for our Mother Earth. We are asking that the Black Hills be returned to the Great Sioux Nation, to their guardianship, so that the heart of our OWN nation, of America, can be re-activated. The feeling is that when the Black Hills are returned  that this will have a catalytic effect on the return of sacred sites all over the world. (Our contacts in DC and Obama himself has signaled that he is willing to meet with the Great Sioux Nation about the Black Hills, the first U.S. president willing to do so).
In their consultations, the tribes of La Sierra have been told that this time, beginning in September of this year, will be a watershed moment across the planet. The BLACK HILLS UNITY CONCERT is a crucial step of spiritually grounding this next wave of the climate movement and this MISSION FOR OUR EXISTENCE.
There is a lot to do in a very short amount of time, but it is wrapped in the prayers of our ancestors for the next seven generations.
YOU MIGHT ALSO LIKE
Unity Concert: Return Black Hills to the Great Sioux Nation
Native Americans Launch 'Love Water Not Oil' Ride To Protest Fracking Pipeline
EcoWatch Daily Newsletter
PavloBaliukh / iStock / Getty Images
Through net metering programs, homeowners who have installed solar energy systems can get utility credits for any electricity their panels generate during the day that isn't used to power home systems. These credits can be "cashed in" to offset the cost of any grid electricity used at night.
Where net metering is available, solar panels have a shorter payback period and yield a higher return on investment. Without this benefit, you only save on power bills when using solar energy directly, and surplus generation is lost unless you store it in a solar battery. However, net metering gives you the option of selling any excess electricity that is not consumed within your home.
Generally, you will see more home solar systems in places with favorable net metering laws. With this benefit, going solar becomes an attractive investment even for properties with minimal daytime consumption. Homeowners can turn their roofs into miniature power plants during the day, and that generation is subtracted from their nighttime consumption.
What Is Net Metering?
Net metering is a billing arrangement in which surplus energy production from solar panels is tracked by your electricity provider and subtracted from your monthly utility bill. When your solar power system produces more kilowatt-hours of electricity than your home is consuming, the excess generation is fed back into the grid.
For homeowners with solar panels, the benefits of net metering include higher monthly savings and a shorter payback period. Utility companies also benefit, since the excess solar electricity can be supplied to other buildings on the same electric grid.
If a power grid relies on fossil fuels, net metering also increases the environmental benefits of solar power. Even if a building does not have an adequate area for rooftop solar panels, it can reduce its emissions by using the surplus clean energy from other properties.
How Net Metering Works
There are two general ways net metering programs work:
The surplus energy produced by your solar panels is measured by your utility company, and a credit is posted to your account that can be applied to future power bills.
The surplus energy produced by your solar panels is measured by your home's electricity meter. Modern power meters can measure electricity flow in both directions, so they tick up when you pull from the grid at night and count down when your solar panels are producing an excess amount of electricity.
In either scenario, at the end of the billing period, you will only pay for your net consumption — the difference between total consumption and generation. This is where the term "net metering" comes from.
How Does Net Metering Affect Your Utility Bill?

Net metering makes solar power systems more valuable for homeowners, as you can "sell" any extra energy production to your utility company. However, it's important to understand how charges and credits are managed:
You can earn credits for your surplus electricity, but utility companies will not cut you a check for the power you provide. Instead, they will subtract the credits from your power bills.
If your net metering credit during the billing period is higher than your consumption, the difference is rolled over to the next month.
Some power companies will roll over your credit indefinitely, but many have a yearly expiration date that resets your credit balance.
With all of this in mind, it is possible to reduce your annual electricity cost to zero. You can accumulate credit with surplus generation during the sunny summer months, and use it during winter when solar generation decreases.
You will achieve the best results when your solar power system has just the right capacity to cover your annual home consumption. Oversizing your solar array is not recommended, as you will simply accumulate a large unused credit each year. In other words, you cannot overproduce and charge your power company each month.
Some power companies will let you pick the expiration date of your annual net metering credits. If you have this option, it's wise to set the date after winter has ended. This way, you can use all the renewable energy credits you accumulated during the summer.
Is Net Metering Available Near You?
Net metering offers a valuable incentive for homeowners to switch to solar power, but these types of programs are not available everywhere. Net metering laws can change depending on where you live.
In the U.S., there are mandatory net metering laws in 38 states and Washington, D.C. Most states without a mandate have power companies that voluntarily offer the benefit in their service areas. South Dakota and Tennessee are the only two states with no version of net metering or similar programs.
If net metering is available in your area, you will be credited for your surplus energy in one of two ways:
Net metering at retail price: You get full credit for each kilowatt-hour sent to the grid. For example, if you're charged 16 cents per kWh consumed, you'll get a credit of 16 cents per kWh exported. This type of net metering is required by law in 29 states.
Net metering at a reduced feed-in tariff: Surplus electricity sent to the grid is credited at a lower rate. For example, you may be charged 16 cents per kWh for consumption but paid 10 cents per kWh exported. Feed-in tariffs and other alternative programs are used in 17 of the states where retail-rate net metering is not mandatory.
Note: This is just a simplified example — the exact kWh retail price and solar feed-in tariff will depend on your electricity plan.
The Database of State Incentives for Renewables & Efficiency (DSIRE) is an excellent resource if you want to learn more about net metering and other solar power incentives in your state. You can also look for information about solar incentives by visiting the official websites of your state government and utility company.
Other Financial Incentives for Going Solar

Net metering policies are one of the most effective incentives for solar power. However, there are other financial incentives that can be combined with net metering to improve your ROI:
The federal solar tax credit lets you claim 26% of your solar installation costs as a tax deduction. For example, if your solar installation had a cost of $10,000, you can claim $2,600 on your next tax declaration. This benefit is available everywhere in the U.S.
State tax credits may also be available depending on where you live, and they can be claimed in addition to the federal incentive.
Solar rebates are offered by some state governments and utility companies. These are upfront cash incentives subtracted directly from the cost of your solar PV system.
In addition to seeking out solar incentives available to you, you should compare quotes from multiple installers before signing a solar contract. This will ensure you're getting the best deal available and help you avoid overpriced offers and underpriced, low-quality installations. You can start getting quotes from top solar companies near you by filling out the 30-second form below.
Frequently Asked Questions: Solar Net Metering

Why is net metering bad?
When managed correctly, net metering is beneficial for electricity consumers and power companies. There have been cases in which power grids lack the capacity to handle large amounts of power coming from homes and businesses. However, this is an infrastructure issue, not a negative aspect of net metering itself.

In places with a high percentage of homes and businesses using solar panels, surplus generation on sunny days can saturate the grid. This can be managed by modernizing the grid to handle distributed solar power more effectively with load management and energy storage systems.

How does net metering work?
With net metering, any electricity your solar panels produce that isn't used to power your home is fed into your local power grid. Your utility company will pay you for this power production through credits that can be applied to your monthly energy bills.
Can you make money net metering?
You can reduce your power bills with net metering, using surplus solar generation to compensate for your consumption when you can't generate solar power at night and on cloudy days. However, most power companies will not pay you for surplus production once your power bill has dropped to $0. Normally, that credit will be rolled over, to be used in months where your solar panels are less productive.
On very rare occasions, you may be paid for the accumulated balance over a year. However, this benefit is offered by very few electric companies and is subject to limitations.