Water protectors and state security personnel face-off across a fence near the pipeline construction site. Rob Wilson / Facebook

In the past days we have seen new desperate attempts by corporate bullies to criminalize protests and spark unfounded fear of community protectors. Greenpeace is committed to standing up not only for our planet but for everyone's right to speak out and peacefully protest. If we don't all stand together against this intimidation, we might be facing a truly dystopian future.

On Tuesday, members of Congress called for individuals and environmental activists protesting pipelines to be prosecuted as terrorists. Today, the fossil fuel echo chamber is repeating both the call for prosecution and the false allegations. Energy Transfer Partners and its cronies in the Trump administration are trying to rewrite the history of Standing Rock in real time. This is shameful.
Washington, DC special interest groups like Energy Builders are just as eager as their Congressional allies to silence dissent however they can. This database is especially absurd in light of the fact that Standing Rock camp security identified infiltrators who were gathering information to inflate security threats at the time of the protests, information later confirmed by internal documents of TigerSwan, the paramilitary contractor, and personal accounts of former TigerSwan personnel.
Greenpeace campaigns for a green and peaceful planet and for the right of free people to speak without fear. This is more fear-mongering by a corporate bully hoping to see what it can get away with in Trump's America. These pipelines threaten human and sovereign rights, compromise drinking water that millions of people rely on, potentially contaminate people's land and livelihoods, and create more climate-charged superstorms affecting vulnerable communities around the world.
EcoWatch Daily Newsletter
The 2,000 water protectors who have gathered to oppose the pipeline's construction were met today by the Morton County Sheriff Department, who removed people and their camping gear.
Heavily armed authorities pushed through a supply area for the Water Protectors blockade Thursday. The public witnessed a new level of escalation that day in the Native struggle at Standing Rock, as police swept through an encampment in the direct path of the Dakota Access pipeline. The resulting standoff with the National Guard, and police officers from various states, led to 141 arrests. Advancing authorities attacked Water Protectors with flash grenades, bean bag launchers, pepper spray and Long Range Acoustic Devices. It is crucial that people recognize that Standing Rock is part of an ongoing struggle against colonial violence. The Dakota Access pipeline is a front of struggle in a long-erased war against Native peoples—a war that has been active since first contact, and waged without interruption.

Greenpeace stands in solidarity with and lends full support to the water protectors at Standing Rock, and we recognize the rights and sovereignty of the Standing Rock Sioux, accorded by the Fort Laramie Treaties of 1851 and 1868. We call on President Obama to use his executive power to revoke the permits for construction of the Dakota Access Pipeline immediately. And we reject the actions of North Dakota law enforcement in favoring the interests of Energy Transfer Partners and the fossil fuel industry over the rights of this land's inhabitants. We join in proclaiming the sacred power of water and the responsibility we have to protect it at all costs. And we urge our government to respect the sovereignty of the Standing Rock Sioux, whose constitutional right to peacefully protest has been unjustly met by a militarized police force.
URGENT: Here's how you can show solidarity in the #NoDAPL fight >> https://t.co/0nlbYQU5mr #WorldWaterOne… https://t.co/E0dHAzIYul

— Greenpeace USA (@Greenpeace USA)1477687027.0
The Dakota Access Pipeline is a direct threat to the life, rights and water of the Standing Rock Sioux. It is unconscionable that a militarized force was deployed to serve a massive pipeline to move dirty, fracked oil that would threaten our climate and the life-sustaining water of the Missouri River. And, despite law enforcement's effort to jam video feeds coming out of the camps today, seeing those forces moving against Indigenous people will only galvanize the public rejection of the Dakota Access Pipeline and all it stands for.
PavloBaliukh / iStock / Getty Images
Through net metering programs, homeowners who have installed solar energy systems can get utility credits for any electricity their panels generate during the day that isn't used to power home systems. These credits can be "cashed in" to offset the cost of any grid electricity used at night.
Where net metering is available, solar panels have a shorter payback period and yield a higher return on investment. Without this benefit, you only save on power bills when using solar energy directly, and surplus generation is lost unless you store it in a solar battery. However, net metering gives you the option of selling any excess electricity that is not consumed within your home.
Generally, you will see more home solar systems in places with favorable net metering laws. With this benefit, going solar becomes an attractive investment even for properties with minimal daytime consumption. Homeowners can turn their roofs into miniature power plants during the day, and that generation is subtracted from their nighttime consumption.
What Is Net Metering?
Net metering is a billing arrangement in which surplus energy production from solar panels is tracked by your electricity provider and subtracted from your monthly utility bill. When your solar power system produces more kilowatt-hours of electricity than your home is consuming, the excess generation is fed back into the grid.
For homeowners with solar panels, the benefits of net metering include higher monthly savings and a shorter payback period. Utility companies also benefit, since the excess solar electricity can be supplied to other buildings on the same electric grid.
If a power grid relies on fossil fuels, net metering also increases the environmental benefits of solar power. Even if a building does not have an adequate area for rooftop solar panels, it can reduce its emissions by using the surplus clean energy from other properties.
How Net Metering Works
There are two general ways net metering programs work:
The surplus energy produced by your solar panels is measured by your utility company, and a credit is posted to your account that can be applied to future power bills.
The surplus energy produced by your solar panels is measured by your home's electricity meter. Modern power meters can measure electricity flow in both directions, so they tick up when you pull from the grid at night and count down when your solar panels are producing an excess amount of electricity.
In either scenario, at the end of the billing period, you will only pay for your net consumption — the difference between total consumption and generation. This is where the term "net metering" comes from.
How Does Net Metering Affect Your Utility Bill?

Net metering makes solar power systems more valuable for homeowners, as you can "sell" any extra energy production to your utility company. However, it's important to understand how charges and credits are managed:
You can earn credits for your surplus electricity, but utility companies will not cut you a check for the power you provide. Instead, they will subtract the credits from your power bills.
If your net metering credit during the billing period is higher than your consumption, the difference is rolled over to the next month.
Some power companies will roll over your credit indefinitely, but many have a yearly expiration date that resets your credit balance.
With all of this in mind, it is possible to reduce your annual electricity cost to zero. You can accumulate credit with surplus generation during the sunny summer months, and use it during winter when solar generation decreases.
You will achieve the best results when your solar power system has just the right capacity to cover your annual home consumption. Oversizing your solar array is not recommended, as you will simply accumulate a large unused credit each year. In other words, you cannot overproduce and charge your power company each month.
Some power companies will let you pick the expiration date of your annual net metering credits. If you have this option, it's wise to set the date after winter has ended. This way, you can use all the renewable energy credits you accumulated during the summer.
Is Net Metering Available Near You?
Net metering offers a valuable incentive for homeowners to switch to solar power, but these types of programs are not available everywhere. Net metering laws can change depending on where you live.
In the U.S., there are mandatory net metering laws in 38 states and Washington, D.C. Most states without a mandate have power companies that voluntarily offer the benefit in their service areas. South Dakota and Tennessee are the only two states with no version of net metering or similar programs.
If net metering is available in your area, you will be credited for your surplus energy in one of two ways:
Net metering at retail price: You get full credit for each kilowatt-hour sent to the grid. For example, if you're charged 16 cents per kWh consumed, you'll get a credit of 16 cents per kWh exported. This type of net metering is required by law in 29 states.
Net metering at a reduced feed-in tariff: Surplus electricity sent to the grid is credited at a lower rate. For example, you may be charged 16 cents per kWh for consumption but paid 10 cents per kWh exported. Feed-in tariffs and other alternative programs are used in 17 of the states where retail-rate net metering is not mandatory.
Note: This is just a simplified example — the exact kWh retail price and solar feed-in tariff will depend on your electricity plan.
The Database of State Incentives for Renewables & Efficiency (DSIRE) is an excellent resource if you want to learn more about net metering and other solar power incentives in your state. You can also look for information about solar incentives by visiting the official websites of your state government and utility company.
Other Financial Incentives for Going Solar

Net metering policies are one of the most effective incentives for solar power. However, there are other financial incentives that can be combined with net metering to improve your ROI:
The federal solar tax credit lets you claim 26% of your solar installation costs as a tax deduction. For example, if your solar installation had a cost of $10,000, you can claim $2,600 on your next tax declaration. This benefit is available everywhere in the U.S.
State tax credits may also be available depending on where you live, and they can be claimed in addition to the federal incentive.
Solar rebates are offered by some state governments and utility companies. These are upfront cash incentives subtracted directly from the cost of your solar PV system.
In addition to seeking out solar incentives available to you, you should compare quotes from multiple installers before signing a solar contract. This will ensure you're getting the best deal available and help you avoid overpriced offers and underpriced, low-quality installations. You can start getting quotes from top solar companies near you by filling out the 30-second form below.
Frequently Asked Questions: Solar Net Metering

Why is net metering bad?
When managed correctly, net metering is beneficial for electricity consumers and power companies. There have been cases in which power grids lack the capacity to handle large amounts of power coming from homes and businesses. However, this is an infrastructure issue, not a negative aspect of net metering itself.

In places with a high percentage of homes and businesses using solar panels, surplus generation on sunny days can saturate the grid. This can be managed by modernizing the grid to handle distributed solar power more effectively with load management and energy storage systems.

How does net metering work?
With net metering, any electricity your solar panels produce that isn't used to power your home is fed into your local power grid. Your utility company will pay you for this power production through credits that can be applied to your monthly energy bills.
Can you make money net metering?
You can reduce your power bills with net metering, using surplus solar generation to compensate for your consumption when you can't generate solar power at night and on cloudy days. However, most power companies will not pay you for surplus production once your power bill has dropped to $0. Normally, that credit will be rolled over, to be used in months where your solar panels are less productive.
On very rare occasions, you may be paid for the accumulated balance over a year. However, this benefit is offered by very few electric companies and is subject to limitations.
Wednesday started the last 100 days of Obama's presidency. So rather than speculate on who our next leader will be, let's focus on what our current one still has the power to do on behalf of our climate.
With an election season as inconceivable as this one's turning out to be, it's easy to forget that Barack Obama is actually still our president—and he still holds the power to take the bold action on climate change we need.
There's no question President Obama has moved the needle when it comes to taking action on climate change.Flickr / Creative Commons
There's no question President Obama has moved the needle when it comes to taking action on climate change. More so than any other U.S. president to date, he has pushed for political solutions to carbon pollution at home with the Clean Power Plan (though that now has to fight its way through legal challenges).

On the global stage he has pushed for consensus among world leaders that we all need to deal with our addiction to fossil fuels, helping to broker the Paris climate accord and a landmark deal with China.
U.S., China Formally Join Paris Climate Agreement - EcoWatch https://t.co/DE9BVuroEe @carbonbrief @Climate_Rescue

— EcoWatch (@EcoWatch)1473240019.0
This would be a strong legacy, if it weren't for the stark reality that even developing the oil, gas and coal in fields and mines that already exist would take us beyond 2 C of warming into climate chaos territory, let alone if we frack, drill or otherwise dig up fossil fuels from new sites, of which there are plenty of companies hoping to do just that. (If you want to know more about the math behind our planet's climate boundaries for energy production and use, check out Oil Change International's brilliant but scary new analysis).

Faced with this reality, we need President Obama to do everything in his power to keep fossil fuels in the ground.
Specifically, in the next 100 days, the president needs to use his executive power in the U.S. to put a stop to new oil and gas drilling and fracking projects on our public lands and waters, just as his administration did earlier this year when it imposed a moratorium on new coal mining. Since President Obama took office, more than 10 million acres of public lands across the U.S. and more than 15 million acres of public offshore waters in the gulf have been turned over to energy corporations for fossil fuel extraction.
And there's plenty more where that came from.
Mark Ruffalo: President Obama, You Still Have Time to Ban Fracking https://t.co/TIjRoF0TPe @greenwatchdogNY @FrackAction

— EcoWatch (@EcoWatch)1476394813.0
Taking public lands off the table when it comes to fossil fuel developers would not only be an important step towards safeguarding our climate, but would also protect the many communities whose land, air and water are being poisoned. From the Gulf Coast, to Colorado, to North Dakota, to Alaska, the way that fossil fuels are extracted, processed and transported pose grave threats to public health, people's livelihoods and ancestral lands and waters. Protecting these spaces would send a clear message that America wants a just transition away from fossil fuels, not an abusive relationship where we're beholden to them, however much they hurt us.

When tThe New York Times interviewed President Obama recently, the reporter observed that "He believes that his efforts to slow the warming of the planet will be the most consequential legacy of his presidency." Studies have shown that by ending fossil fuel extraction on federal lands and waters, Obama can significantly reduce global emissions and make progress towards his Paris commitments.
So with 100 days still as the leader of the free world and the ability to stop fossil fuel extraction on our public lands and waters, the president doesn't have to just believe in his climate legacy, he can take action that makes it real.
Join us in telling President Obama: Protect our communities and our climate. End new fossil fuel leasing today.
On Wednesday, 13 House Representatives sitting on the Science, Space and Technology Committee sent letters to 17 state attorneys general and eight non-governmental organizations, including Greenpeace USA. These letters come as a reaction to the announcement by the attorneys general to coordinate efforts around climate change related actions, following the NGOs' revelations that ExxonMobil implemented a colossal climate denial operation to deceive its shareholders and the public for decades.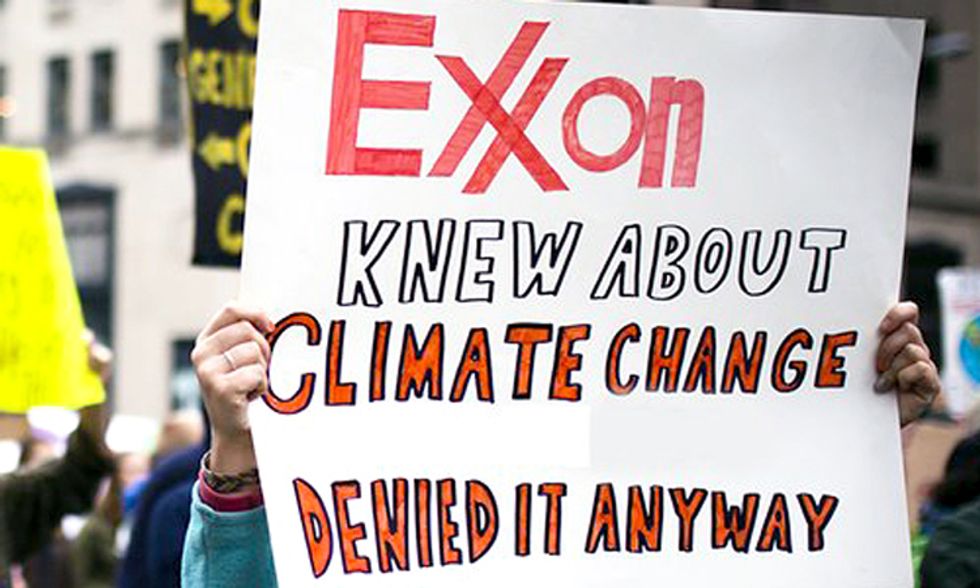 America's least-respected politicians have now courageously stepped up to defend one of America's most-hated corporations from scrutiny. If these representatives, who have historically low approval ratings, think they're somehow helping Exxon's public image with this nonsense, then they need to take some time away from lobbyist mixers and meet the people. American citizens believe in climate change and want a better future. Exxon knows now and has known for decades that its work has contributed to catastrophic climate change. The issue here is whether or not it lied to its shareholders and the public.
If Exxon knew its work made climate change worse and hid this information for profit, it should be held accountable, not protected by elected officials who are there to represent the American people, not corporations. Since 1999, these 13 elected officials have been paid millions in campaign contributions from coal, oil and gas companies, so this letter is more proof that the system works—for corporations.
The list of groups that received the letter includes 350.org, Climate Accountability Institute, Climate Reality Project, Greenpeace USA, Pawa Law Group PC, Rockefeller Brothers Fund, Rockefeller Family Fund and the Union of Concerned Scientists. The 17 attorneys general are the elected officials of California, Connecticut, District of Columbia, Iowa, Illinois, Massachusetts, Maryland, Maine, Minnesota, New Mexico, New York, Oregon, Rhode Island, U.S. Virgin Islands, Virginia, Vermont and Washington State.
YOU MIGHT ALSO LIKE
Al Gore's Groundbreaking Film … 10 Years Later
Noam Chomsky: Climate Change and Nuclear Proliferation Pose Worst Threat Ever Faced by Humans
Trump Chooses Climate Skeptic as New Energy Adviser
Tens of Thousands Take Part in Global Actions Targeting World's Most Dangerous Fossil Fuel Projects
With the presidential campaign dominating the news cycle, it's easy to get distracted from what our current administration is doing—and not doing—to tackle climate change. We can't afford to wait and see what the election brings. That's why communities from the Gulf South to Alaska and around the globe are uniting in an incredible wave of resistance to fossil fuels this week.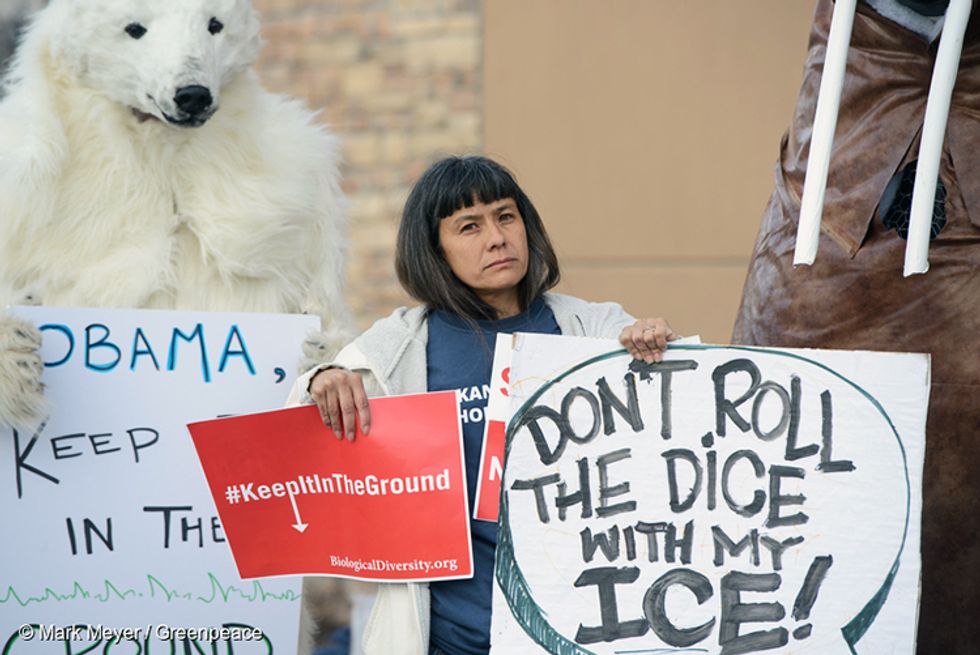 Here's why taking action matters:
1. Business as usual for the fossil fuel industry cannot continue.
The consequences of our reliance on dirty energy are no secret, but that hasn't stopped fossil fuel companies from going to extremes to protect their bottom lines.
Exxon, for one, knew the climate impacts of burning fossil fuels 40 years ago. But instead of acting in the interest of humanity, the company campaigned in secret to cover up climate science so it could continue to plunder and pollute in search of more oil to burn.
"[#ExxonKnew] poses the biggest existential threat the company has faced in decades." https://t.co/GlgEL0PppW https://t.co/mVjTRi2CoA

— 350 dot org (@350 dot org)1462804050.0
Not to be outdone, Shell spent three years and $7 billion trying to drill in U.S. Arctic waters, a campaign that ended in a very public, ego-bruising failure in 2015. But the company is still clinging to its Arctic drilling hopes by a thread, relinquishing all but one of its Alaskan leases on Tuesday.
What do these two stories have in common? People power winning out over corporate greed. Thanks to tireless activism, Exxon is finally taking its scandal seriously, deploying the full force of its lawyers and lobbyists. And the movement that pressured Shell to leave the Arctic also prompted President Obama to protect Alaska from offshore drilling through 2017 and make the Atlantic off limits through 2022.
2. The path to a sustainable future does not include fossil fuels.
The science is clear: to avoid the worst effects of #climatechange, we need to keep fossil fuels in the ground. https://t.co/I2XqukBNzO

— Greenpeace USA (@Greenpeace USA)1462658765.0
If we have any hope of preventing runaway climate change, we need to keep fossil fuels in the ground—starting now.
A 2015 study in the journal Nature revealed that we need to leave at least 80 percent of the world's known remaining fossil fuel reserves untouched, including more than 90 percent of U.S. coal reserves and a whopping 100 percent of Arctic oil and gas.
In the U.S. alone, keeping publicly owned fossil fuels in the ground would cut greenhouse gas emissions by 100 million metric tons per year.
Of course, communities on the frontlines of the fight against fossil fuels have known this for years, but policymakers are just starting to catch up.
3. Actions speak louder than words.
If last year's Paris climate talks showed us anything, it's that the world's political leaders are ready to talk the talk on climate action.
But are they ready to walk the walk? So far, the answer is no.
President Obama, for example, said last year, "As long as I am president, America will lead the world to meet this threat [climate change] before it's too late."
But his actions aren't on pace with the change we need. He's failed to protect the U.S. Arctic and the Gulf of Mexico from offshore drilling and his Interior Department Secretary Sally Jewell called the keep it in the ground movement "naive" in a recent speech.
#keepitintheground isn't just a slogan, it's a scientifically proven necessity. Details here https://t.co/EpfpmHlnix https://t.co/OvyTeop99B

— Annie Leonard (@Annie Leonard)1462563011.0
If you think it's "naive" to preach climate action one minute then turn around and sell our public land to the highest bidder the next, then it's time to speak up!
4. Momentum for a clean energy revolution is on our side.
Breaking free from fossil fuels won't happen overnight, but we're far beyond square one. People power has already stopped major projects like the Keystone XL pipeline and forced Shell to abandon immediate Arctic drilling plans.
And we didn't stop there.
Canceled. Rejected. Delayed: 20 fossil fuel projects halted in the wake of KXL rejection https://t.co/AZOcWTfMZN https://t.co/DVGrYr0VBc

— InsideClimate News (@InsideClimate News)1462561545.0
This series of wins is no accident—it's because people like you and me are uniting around one clear message. We only have one choice to protect our future: keep fossil fuels in the ground.
From financial stress to increased pressure from people like you, the fossil fuel industry is reeling. Right now is our best chance to turn up the heat and make 2016 a tipping point in the journey towards a clean, just, renewable energy future.
Communities all over the country—from Alaska to the Gulf South—have already pushed us closer and closer to this tipping point. Now it's time to build on their actions and break free from fossil fuels for good.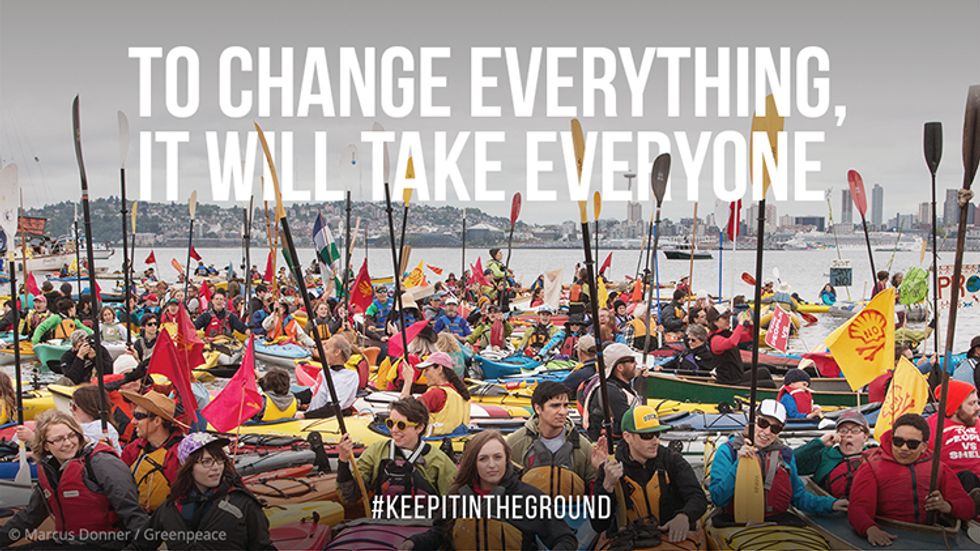 Sound like a movement you want to be a part of? Find a Break Free action near you and get involved.
YOU MIGHT ALSO LIKE
Leonardo DiCaprio Stands With Great Sioux Nation to Stop Dakota Access Pipeline
Carbon Emissions Fall as U.S. Economy Grows
Army Corps Denies Permits for Biggest Proposed Coal Export Terminal in North America
It started with the founding fathers. In America's very first election, in 1788, the government officially barred all women, all people of color and any man without land from voting.
This was American democracy in the 18th century.
Almost 90 years later, the 15th amendment officially removed "race, color or history of servitude" as a barrier to the vote, but women remained wholly disenfranchised.
This was American democracy in the 19th century.
Then, 50 years after that, the 19th amendment gave women the right to vote, but poll taxes, literacy tests and other calculated means kept the unofficially disenfranchised from exercising their rights as citizens.
This was American democracy in the 20th century.
And now, what is American democracy in the 21st century?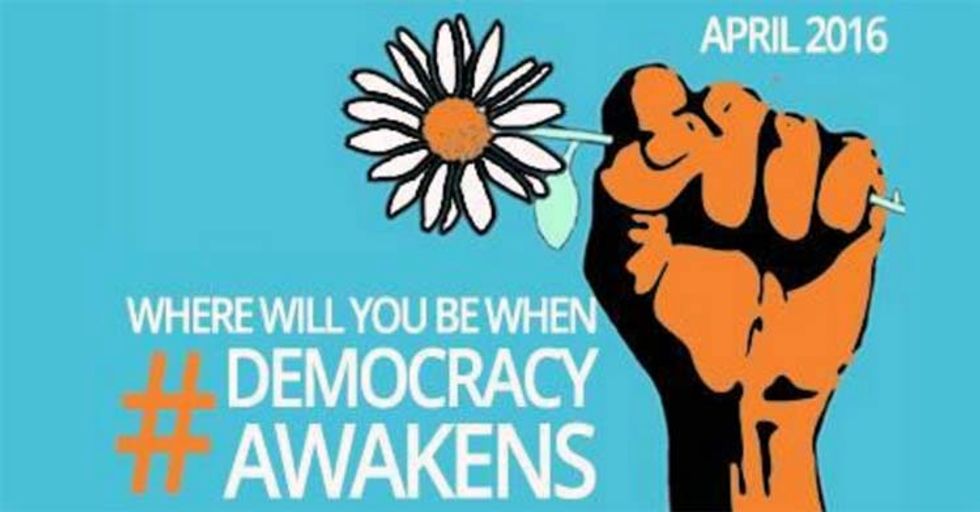 2016 will be the first American presidential election since 1965 with major new voting restrictions—photo identification requirements, cuts to early voting and the elimination of same day voting registration are just a few of the roadblocks thrown up by special interests in 15 states. Not only that, but once voters overcome these obstacles to actually vote, the candidates they have to choose from will be largely self-selected from the economic elites, looking out for banks like Goldman Sachs instead of everyday people. Rather than a government of the people, by the people and for the people, we have a government of super-PACs and dark money, by the 1% and for corporate interests.
From the Flint water crisis to inaction on climate change, from gun control to massive student loan debt, we see the will of the people distorted by a government that does not represent us. And in a year when so many Americans—especially people of color, the LGBTQ community, immigrants and women—face urgent issues that need governmental action, it's shockingly even harder to vote for some groups than it was 50 years ago.
This is not progress. This is not democracy. It's no wonder that Princeton scholars who studied more than 1,800 different policy initiatives from 1981 to 2002 found that the United States can no longer plausibly be called a democracy. "Elites prevail." Oligarchy.
But once again in American history, an incredible movement is rising across the country to overcome this corruption, to demand a fair and just system for everyone. We have in 2016 a chance to begin building a truly representative government. But it's going to take commitment.
We know what democracy looks like—residents rising up in Flint to demand accountability, kayaktivists in the Pacific Northwest saying no to fossil fuels, moms and dads and cousins and brothers standing up across the country to say black lives matter. We can see the future of democracy. Now, we just have to work together to make it happen.
Next month, thousands of people and more than 170 organizations will join together in Washington, DC, to demand that our lawmakers and political leaders take action to fix our democracy. Called the Democracy Awakening, this event reflects an unprecedented movement to demand a democracy that works for all Americans, one in which everyone has an equal voice and elected officials are accountable to the people, not corporate interests or the wealthy.
The Democracy Awakening will use the tools of nonviolent direct action that so many who have fought for social, economic and environmental justice have used before us from Civil Rights leaders to the women's suffrage movement to the fight for marriage equality.
The challenge to build a better democracy has always been there. This isn't hearkening back to some better age; this is a new beginning, and your voice is crucial. Now is the time to claim our democracy from the 1% and corporate power, and finally make American democracy in the 21st century a reality.
This op-ed was originally published in TIME.
YOU MIGHT ALSO LIKE
7 Arrested at 'Pancakes Not Pipelines' Protest at FERC
Rockefeller Fund Divests From Fossil Fuels, Slams Exxon
Bill McKibben: Fracking Has Turned Out to Be a Costly Detour
James Hansen: Dangerous Sea Level Rise Will Occur in Decades, Not Centuries
President Obama has taken a major step to move us away from coal and accelerate the transition to clean, renewable energy and we applaud his leadership.
The federal coal program has undermined President Obama's efforts to address climate change by giving away our coal at subsidized rates, propping up this outdated energy source without regard for the damage done to communities or our climate. An honest, comprehensive review will show that we don't need to prop up desperate and outdated coal companies with any more giveaways and instead should keep coal in the ground.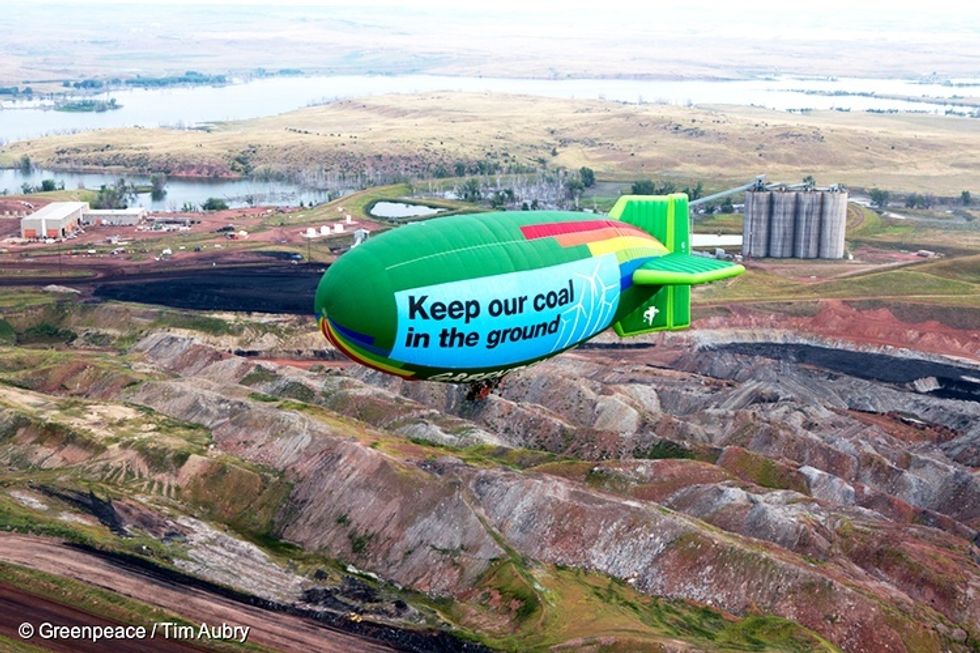 We hope to see elected officials at all levels support a just transition to renewable energy, which includes keeping all fossil fuels in the ground and taking care of the miners and communities that will need the most support along the way.
A Greenpeace report in 2014 calculated that on average, federal coal has recently been sold for only $1.03 per ton, while each ton will cause damages estimated at between $22 and $237, using the federal government's social cost of carbon estimates.
Several organizations wrote to Interior Sec. Jewell on her first day on the job calling for a moratorium on new coal leasing, and a comprehensive review of the federal coal leasing program.
Reforming the federal coal program = good for taxpayers & the planet 🌎 https://t.co/5oGb1HdLWG https://t.co/Csj51LmNCO

— US Dept of Interior (@US Dept of Interior)1452878669.0
YOU MIGHT ALSO LIKE
'Another Nail in the Coffin': Obama Pauses New Coal Leasing on Public Lands
Stunning Images of One of Nature's Most Incredible Phenomena
Jane Goodall: Power of Corporations Is Destroying World's Rainforests
Banning Fracking Isn't Enough: How We Fight to Stop Pipelines, Compressor Stations and Gas Plants
So here we are in 2016! Whether you're an aspiring political pundit following the campaign trail, an Olympics fan ready to wave your flag or a Downton Abbey devotee waiting to see what the final season brings, 2016 is bound to be a roller coaster.
For me, there's no question that a big year lies ahead and I'd love to give you a sneak preview of some of the issues I plan to focus on in the next year. I hope you feel as energized by this work as I do, because we're going to need all hands on deck!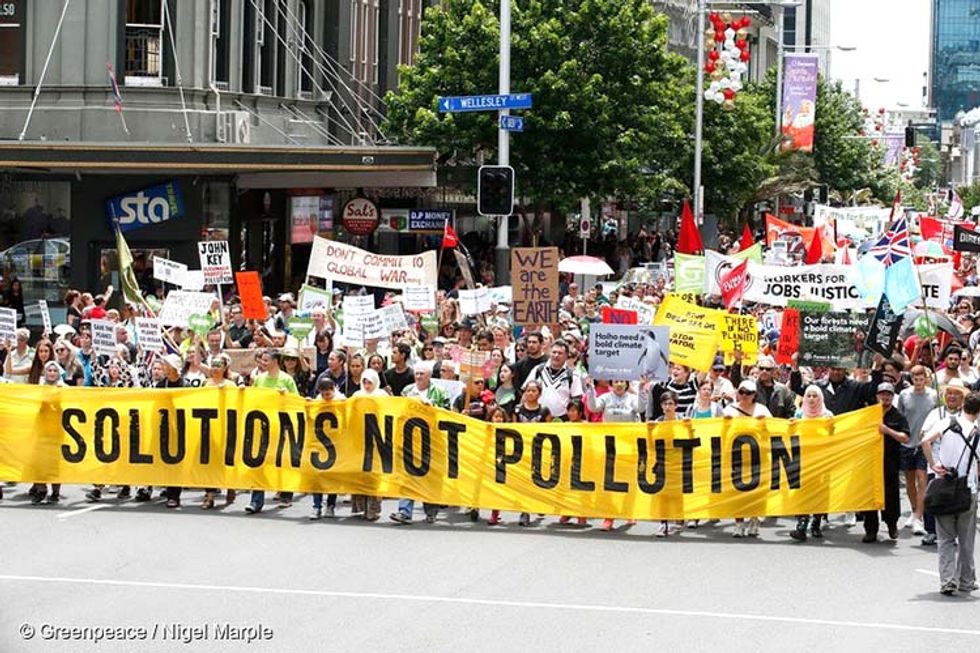 Holding President Obama to His Climate Promises
President Obama has just 12 months left in the White House. It's been refreshing to have a president that walks the walk by rejecting the Keystone XL pipeline on climate grounds, by establishing the Clean Power Plan and by stopping Arctic drilling for the immediate future. But our planet is still warming and fossil fuel companies are still lining their pockets while pumping out pollution. We don't have time to just wait and see what our next president does.
We need to keep fossil fuels in the ground, now and for good.
What does that mean in practice? Well, we got Shell out of the Arctic but that doesn't stop oil companies eyeing the Atlantic and the Gulf for their disastrous drilling plans. We need to make these off limits. The Powder River Basin in Wyoming and Montana holds some of North America's largest coal deposits—coal that actually belongs to the American people—and is being leased to mining companies for a fraction of what it's worth. This crazy coal giveaway incentivizes more mining. One Interior Department proposal said it expected to lease more than 10 billion tons of this coal in the coming years, which would unlock nearly 17 billion tons of carbon pollution—astonishing.
Before he leaves office, there's a number of significant moves President Obama can take to stop life-threatening oil and coal from ever seeing the light of day. Watch this space in the coming months for ways that you can help make that happen.
Getting Dirty Money Out of U.S. Politics
For too long, polluters have had a completely unwarranted influence over the politics of our country, bought by their dirty dollars. Just look at Koch Industries and the Koch family, who spend millions on lobbyists to fight climate and energy legislation, millions more on politicians and still more millions on organizations denying climate change science.
This election season, I want to see political candidates actively uphold a people-powered democracy by publicly refusing fossil fuel money and supporting voter's rights. We'll be working with partners from the Democracy Initiative to get money out and people into our democracy and there'll be lots for you to do to take part.
This is just the tip of the iceberg of what we need to do in 2016.
But it feels like the movement is getting more dedicated and diverse every day. If you're still mulling over some New Year's resolutions, why not take a few minutes to reflect on how you'd like to show up for the movement this year?
There's plenty of folks on our Greenwire platform that would be keen to brainstorm with you.
YOU MIGHT ALSO LIKE
10 Reasons Wall Street Hates Bernie Sanders
Mark Jacobson to James Hansen: Nukes Are Not Needed to Solve World's Climate Crisis
12 Earthquakes Hit Frack-Happy Oklahoma in Less Than a Week
© Greenpeace / Alex Hofford
Thursday was Use Less Stuff Day. It was created to inspire us to rethink the stuff we use. All our stuff—cell phones, clothes, cars, disposable chopsticks, and on and on—comes from somewhere and has to go somewhere when we throw it out. That takes a big toll on the planet, so thinking about how to use less is an excellent idea.
I've written a bunch about the real need to re-think our approach to the holidays and the mad shopping frenzy that comes with them.
When it comes to how we do spend our dollars, the product that jumps immediately to mind as obscenely wasteful, expensive and easily preventable is bottled water.
Let's dig a bit deeper into this. It's true that in some parts of the world the water quality is so poor that it's unsafe for people to drink. There are definitely some places in the U.S. where fracking or petrochemical plants have ruined the local water supply, but even then there are better solutions than forcing the community to buy bottled water! For the most part, tap water in the U.S. is clean, readily available and thousands of times cheaper than the bottled stuff.
A four-year review of the bottled water industry in the U.S. and the safety standards that govern it, including independent testing of over 1,000 bottles of water found that there is no assurance that just because water comes out of a bottle it is any cleaner or safer than water from the tap. In fact tap water is tested more frequently than bottled water.
Where does bottled water come from?
If you take the million-dollar marketing at face value, you'd be forgiven for believing that $2 buys you glacier water from a pristine stream somewhere virtually untouched. In fact, a lot of the bottled water sold in the U.S. is just treated water from our municipal water systems; the same place our tap water comes from.
If that doesn't strike you as ridiculous, here's a really shocking example of where bottled water comes from.
While California's in the middle of a historic drought, Nestle—the largest bottler of water in the world—is drawing millions of gallons of water a year from public lands in the San Bernardino National Forest of Southern California. Using a permit that actually expired in 1988, Nestle is able to take huge amounts of water off public lands while paying the Forest Service just $524 a year. So while California's Governor has proclaimed a state of emergency because of water shortages, Nestle's profiting from the little that's left. Does that make sense to you?
As for the plastic containers that bottled water comes in, plastic's made from oil and there's nothing good about drilling that stuff up. To avoid more drilling, ideally all plastic would get recycled over and over, but that's not what happens.
Less than one-third of plastic bottles in the U.S. currently get recycled. Litter, runoff from poorly managed landfills, and other sources mean that plastic bottles often end up out at sea or polluting our coastlines. This is where some really depressing problems start. Plastic doesn't break down like natural materials—it doesn't go away, it just goes from being a floating bottle to tiny plastic particles that are easily eaten by fish and other marine species or simply spread even further afield. A single one-liter bottle could break down into enough small fragments to put one on every mile of beach in the entire world. Ten to 20 million tons of plastic end up in the ocean each year.
Bottled water is just one example of heavily marketed stuff that we could just as easily do without.
As you're planning your holidays with friends or family in the coming week, please try to think before you buy. Will this really make me happier? Could I borrow or share someone else's? Is there a less packaged or non-disposable version of this? Or perhaps I could just do without it altogether?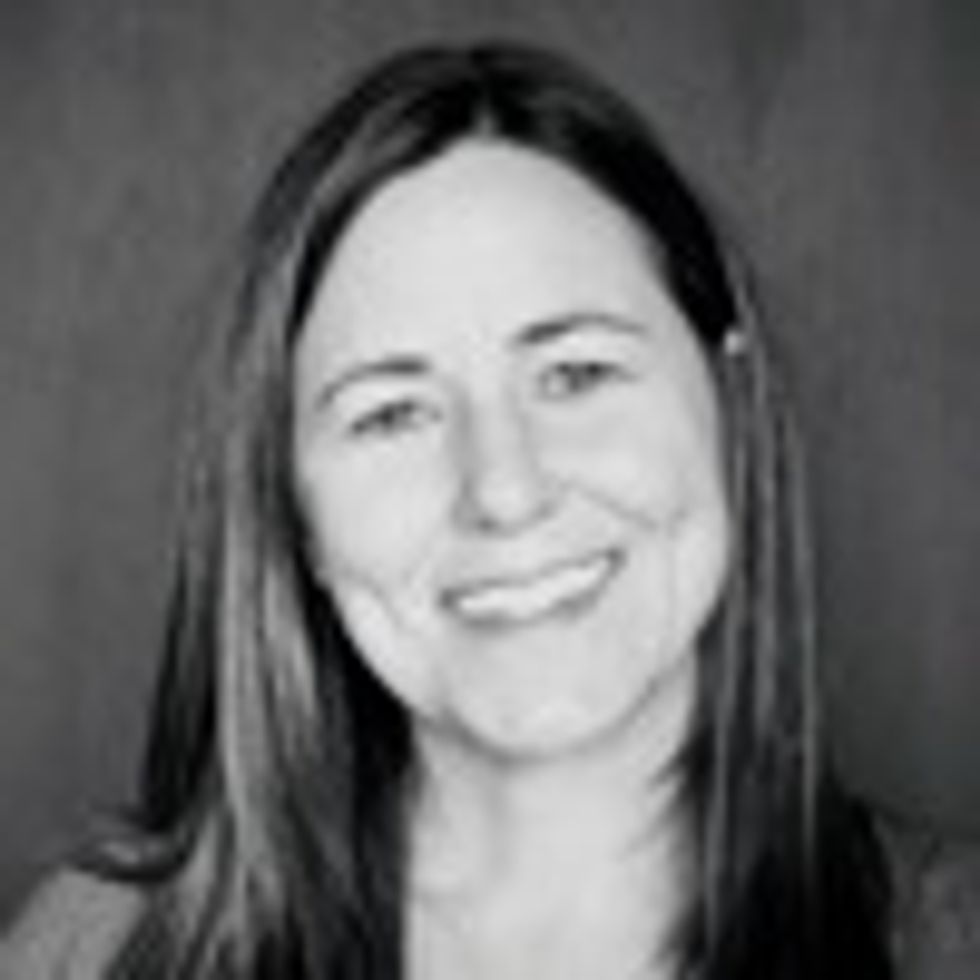 This letter to the future by Annie Leonard is part of the Letters to the Future campaign, a national effort to encourage people from all walks of life to write six generations into the future about climate change. The campaign puts a spotlight on the importance of world leaders agreeing to a global climate treaty at COP21 in Paris. Now it's your turn to write a letter to the future.

It's hard to imagine writing to the granddaughter of my own daughter, but if you're anything like her—strong, smart, occasionally a little stubborn—then I have no doubt the world is in good hands.
By now your school should have taught you about climate change, and how humans helped to bring it about with our big cars, big homes, big appetites and an endless desire for more stuff. But what the teachers and textbooks may not have passed on are the stories of incredible people that helped make sure the planet remained beautiful and livable for you.
These are stories of everyday people doing courageous things, because they couldn't stand by and watch communities poisoned by pollution, the Arctic melt, or California die of fire and drought. They couldn't bear to think of New Orleans under water again, or New York lost to a superstorm. Right now, as politicians weigh up options and opinion polls, people are organizing and uprising. It's amazing to see and be a part of.
In the year that led up to the 2015 meeting of global leaders on climate change in Paris, kayakers took to the water to stop oil rigs. Nurses, musicians, grannies, preachers and even beekeepers, took to the streets. The message was loud and clear: "We want clean, safe, renewable energy now!"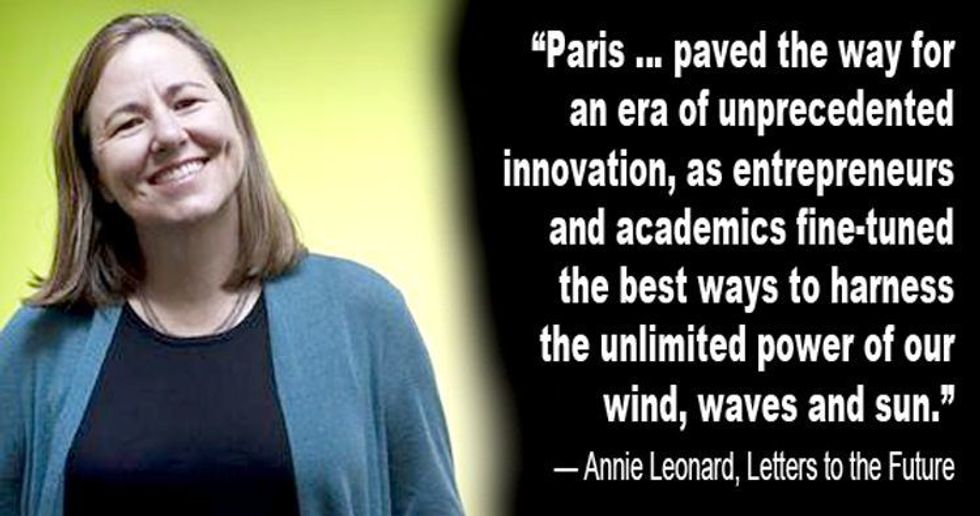 Were it not for this glorious rainbow of people power, I don't know whether President Obama would have stepped up and cancelled oil drilling in the Alaskan Arctic or the sale of 10 billion tons of American coal, that were set to tip the planet towards climate chaos. But he did. This paved the way for an era of unprecedented innovation, as entrepreneurs and academics fine-tuned the best ways to harness the unlimited power of our wind, waves and sun, and make it available to everyone. We've just seen the first ever oceanic crossing by a solar plane and I can only imagine what incredible inventions have grown in your time from the seeds planted in this energy revolution we're experiencing right now.
I want to tell you about this because there was a time we didn't think any of it was possible. And there may be times when you face similar challenges. Generations before you have taken acts of great courage to make sure you too have all the joys and gifts of the natural world—hiking in forests, swimming in clean water, breathing fresh air. If you need to be a little stubborn to make sure things stay that way, so be it.
Currently the executive director of Greenpeace USA, Annie Leonard created the 2007 film, The Story of Stuff, which has been viewed over 40 million times. She wrote the 2010 New York Times bestseller The Story of Stuff and is on the board of Ben & Jerry's, Wallace Global Fund and Story of Stuff.
YOU MIGHT ALSO LIKE
Tim DeChristopher: Don't Back Down in Paris
COP21 Must Go On and Offer Hope for Paris
Why Fossil Fuel Stocks Are Doomed
Bernie Sanders Refuses to Back Down on Climate-Terrorism Connection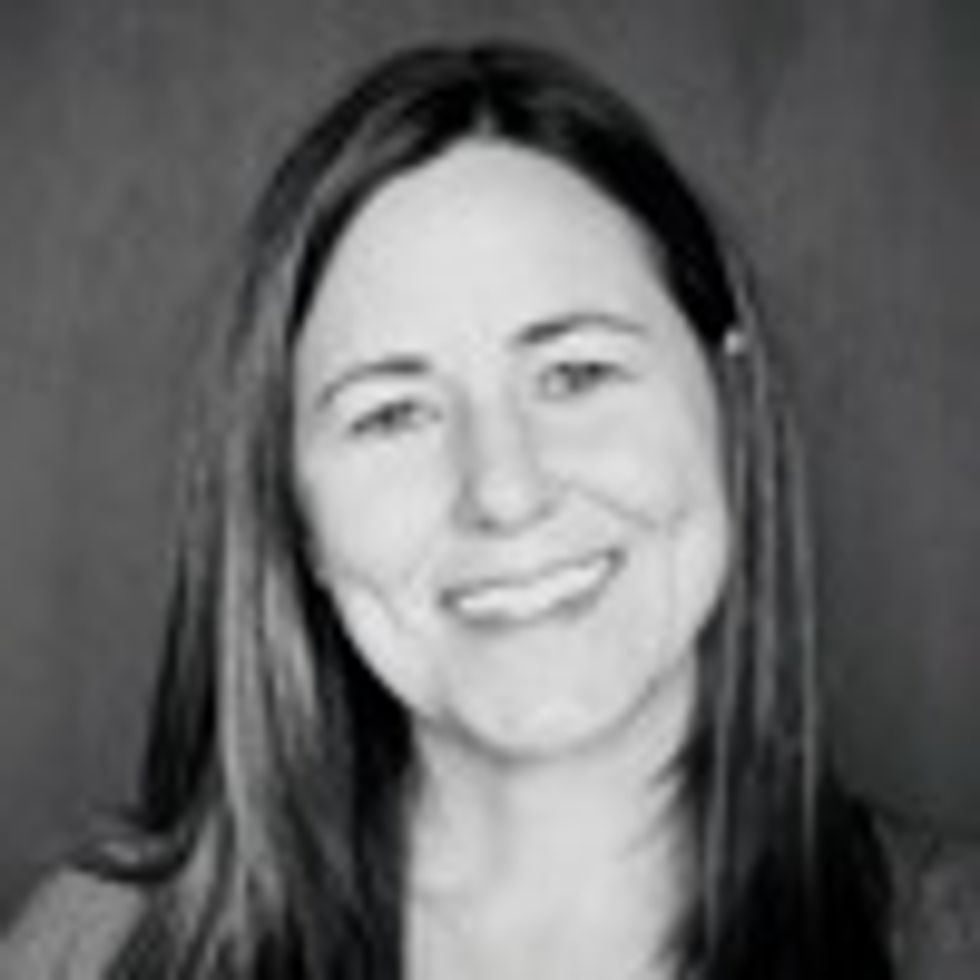 I find it really interesting how news stories and social media reporting on Pope Francis' visit to the U.S. have responded to his taking a strong stand on climate change. So often, people seem to feel the need to categorize and label one another—by their religion, political stance, gender or profession—as if that should immediately determine the relationship of those people with the natural world.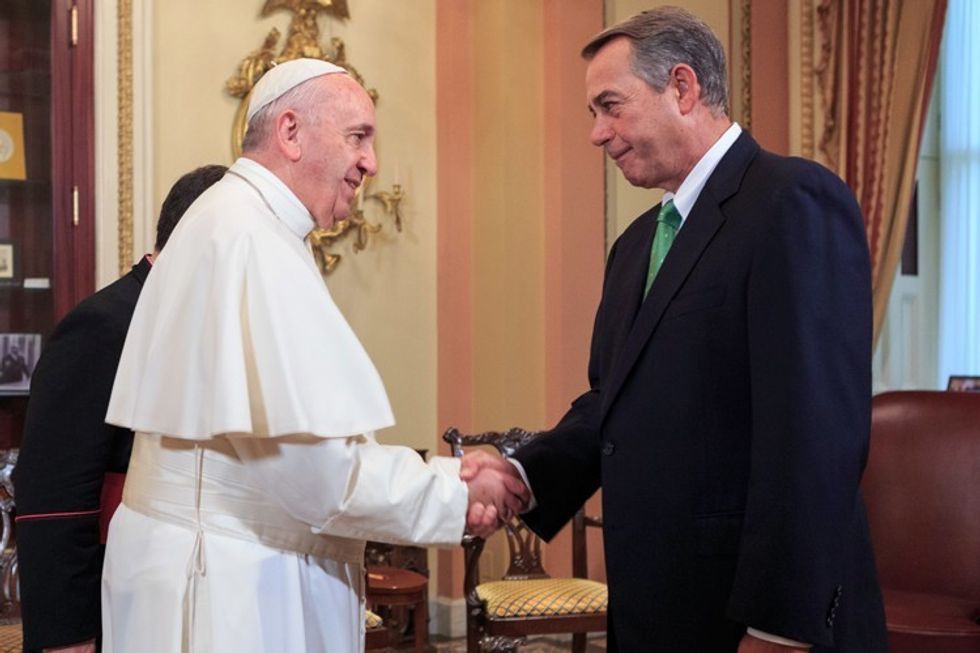 Surely, we all have many elements of our identities? Does being a mom mean I can't be an activist? Or does being an economist mean someone can't speak up for the environment? Definitely not. Faith-based communities are a prime example of people who shouldn't be pigeonholed, which is why Story of Stuff developed several programs to help Christian and Jewish teenagers explore the relationship between their consumption, their faith and the health of the planet.
This culture of labeling and prejudging people has helped make climate change such a politicized issue in the U.S., to the point where our elected representatives are no longer able to act in a way that their moral compass and human compassion would naturally send them. Pope Francis' words to Congress today are a rallying call for everybody to set aside partisan politics, and focus instead on what unites us: we all share the same planet, the responsibility for taking care of it and the duty to care for those less fortunate than ourselves. His repeated emphasis on dialogue is a reminder to us all that the problems facing our common home can only be solved through an open and inclusive approach.
I spent many of the most formative years of my life living and working in some of the first places where climate change became a reality, rather than a political platform or belief system. As the Pope reminded us earlier this summer "the gravest effects of all attacks on the environment are suffered by the poorest."
In Bangladesh and India, where I worked with communities being poisoned by toxic pollution, the rising sea levels and extreme heatwaves now threaten the survival of families who often didn't have very much to begin with. Back home in the U.S. no one understands the devastating effects of human appetite for fossil fuels better than the low income communities being polluted by coal, fracking and oil production, or living in the wake of droughts, wildfires and hurricanes.
One of the main ways we'll achieve climate justice for all of these communities, is to keep fossil fuels in the ground, and use the clean power of the sun, wind and water instead. For those who question whether that's realistic, a new report out this week shows that a 100 percent renewable-powered planet is totally doable, affordable and could create 20 million new jobs.
Equally important is the need for Congress to give President Obama their support for bold action on climate issues, so that he can go to the international climate talks in Paris this fall with a genuine mandate to lead.
I try to begin every day feeling positive about the work we need to do to protect our planet. Today I feel motivated by the Pope's declaration that "now is the time for courageous actions and strategies." This is a challenge to Congress and President Obama to show real courage and move beyond what is politically possible to what is scientifically necessary. And it's a challenge to all of us to overcome the labeling that seeks to divide us, and focus on what we can achieve together.
To connect and collaborate with people in your area on environmental issues, check out Greenwire.
YOU MIGHT ALSO LIKE
Obama, Sanders, Kennedy Praise Pope's Call to Action on Climate Change
Robert F. Kennedy Jr: Pope's Call to Tackle Climate Change 'Is a Moral Imperative'
Leonardo DiCaprio Pledges to Divest From Fossil Fuels as Movement Grows 50-Fold in One Year
96 Cities That Are Quitting Fossil Fuels and Moving Toward 100% Renewable Energy