Audubon Society of Portland
The Animal Legal Defense Fund, the nation's preeminent legal advocacy organization for animals, is offering a $5,000 reward for information leading to the arrest and conviction of the person or people responsible for shooting a male bald eagle near Gaston, Oregon in late June. Total reward, including the Audubon Society of Portland's $1,500 reward offer for a conviction, now totals $6,500.
The eagle was first spotted injured the third week of June, but was unable to be caught. Continued searches led to his rescue on June 28.
The eagle's condition when initially treated was grim: complications from the gunshot wound to his shoulder were feared fatal. The eagle has since improved, though it is doubtful he will be able to return to the wild or ever enjoy the freedom of flight again. Compounding this tragedy, the Audubon Society of Portland—that is providing the eagle's care—believes he was half of a nesting pair. How the eagle's mate or their eaglets fared following his injury is unknown.
The eagle's shooting is under investigation by the U.S. Fish & Wildlife Service and Oregon State Police. Bald eagles are federally protected under the Migratory Bird Treaty Act and the Bald and Golden Eagle Protection Act, the latter of which makes hunting, capturing, shooting, injuring or killing a bald eagle a crime punishable by up to a $5,000 fine and a year in jail for first offenses. It is also a violation of Oregon state law to hunt bald eagles—which could result in additional charges under the state anticruelty law.
"Though the shooting of a bald eagle is a tragedy no matter when it occurs, the timing of this crime is bitterly ironic. This living symbol of the United States spent the Fourth of July fighting for his life because of the shooter's cruel act," said Animal Legal Defense Fund Executive Director Stephen Wells. "The Animal Legal Defense Fund thanks the U.S. Fish and Wildlife Services and Oregon State Police for their efforts to hold the perpetrator accountable, and offers our full support in getting justice for this eagle."
If you have information related to this incident, please contact the U.S. Fish and Wildlife Service's Oregon Office at 503-682-6131.
EcoWatch Daily Newsletter
The Animal Legal Defense Fund filed a complaint last week on behalf of a Wyoming resident in an attempt to stop an upcoming coyote-killing contest. The "Wyoming Best of the Best" involves teams of hunters vying to kill as many coyotes as possible from sunup to sundown.
Non-hunting participants place bets on the teams they think will kill the most coyotes. The complaint alleges the event constitutes a nuisance in the form of illegal gambling, since participants wager money and the outcome is based predominantly on chance. Illegal gambling is a violation of the state nuisance statute, designed to prevent activities that put the moral integrity and safety of the community at risk.
The Rock Springs event is scheduled for this coming weekend, Feb. 3 – 4. The rules encourage people of all ages and experience to enter, including children.
Wyoming Best of the Best involves betting opportunities for most coyotes killed, biggest coyote killed, littlest coyote killed, a rifle raffle and a Calcutta—a form of betting pool where participants pick winners and the pool of funds is distributed according to a prearranged scale of percentages, to those who selected winners. Hunting participants wager $50 per person for the chance to win cash prizes and advance to the state championship for killing the most coyotes. Teams may also wager an extra $20 per team to enter the "Big Dog/Little Dog" contests, for the chance to win extra cash prizes for killing the biggest and/or littlest coyote.
OMG! #Trump Sons Auctioning Off $1 Million #Hunting Trip to Celebrate Inauguration https://t.co/05pOgnH1JS @CenterForBioDiv @PETA @NWF @NRDC

— EcoWatch (@EcoWatch)1482243854.0
The killing contest is not regulated by any government agency, hunting licenses are not required in Wyoming to kill coyotes and there is no limit on the number of coyotes a hunter may slaughter. The plaintiff worries the influx of hunters, whose goal is to win cash prizes for the indiscriminate and uncontrolled killing of coyotes, will negatively impact Sweetwater County's wildlife.
The contest also causes a serious disruption in the ecosystem leading to an unbalanced and unhealthy natural system. When coyote populations are disrupted by lethal means, younger pups have no adults to help them acquire food. This in turn causes many pups to prey on sheep and livestock. The disruption can also affect smaller predator populations by destabilizing entire ecosystems.
"Killing contests are simply blood sports," said Animal Legal Defense Fund Executive Director Stephen Wells. "They are completely inconsistent with appropriate conservation goals or effective wildlife management. Coyotes are essential members of healthy ecosystems, not targets to be killed for 'fun.'"
What are the best solar installers in the Garden State?
Reviews
nattrass / E+ / Getty Images
New Jersey may not jump off the page as a top state for solar energy, but its attractive solar-related financial incentives have prompted over $10 billion in solar investments statewide. If you're a homeowner looking to take advantage of the many benefits of solar in the Garden State, read on to see our top 10 picks for the best solar companies in New Jersey.
Our Top Picks for New Jersey Solar Installers
SunPower
Green Power Energy
New Jersey Solar Power
Solar Energy World
Impact Solar, LLC
Green Sun Energy Services
Trinity Solar
PlugPV
Cape Fear Solar Systems
Solar Me
For many residents of New Jersey, the cost of solar is the biggest factor in choosing an installer. We recommend shopping around to get multiple quotes and comparing them to find the best installer for your home. To get started with free, no-pressure quotes from pre-screened solar panel companies in your area, fill out the form below.
10 Best Solar Companies in New Jersey
In a state with such effective solar incentives, it's important to choose a solar provider that knows the ins and outs of local energy policies. This way, you can make sure you get the most value out of your investment in solar. With this in mind, here are our choices for the best solar companies in New Jersey:
Choosing the Best Solar Installer for Your Home

Now that you have an idea of some of the best solar New Jersey solar installers, you may be wondering how to narrow down which one is right for you. Here are some key considerations to keep in mind when picking a solar energy company:
Services Offered
Of course, all solar companies can install solar panels on your roof. However, beyond this, there are a number of services you may be interested in. For example, do you want home energy monitoring, backup battery services, included routine maintenance or an EV charger installed with your panels? Some companies offer these services, and others do not.
Installation Process
Ask about the solar installation process during your initial consultation with a company. Be sure to get details about things like customization, whether a company uses subcontractors or in-house technicians and whether the company will be filing permits on your behalf. The answers you receive can help you gauge how knowledgeable and helpful your installer will be throughout the process.
Service Areas
With its effective incentive programs, New Jersey has become one of the best states for solar energy. As a result, many small local companies are breaking into the industry. One easy way to find the best solar installer near you is to use a zip code-specific quote tool, which will only show you results from your area.
Solar Costs and Financing
Cost, for many homeowners, is a deciding factor in the decision to hire one solar installer over another. We recommend comparing free quotes from a few companies and looking out for any available discounts. By getting multiple quotes, you may be able to save thousands of dollars on your installation — especially if the company you really want to work with has a price-match guarantee.
Another thing to consider is whether the company has the financing options you need, such as in-house solar loans or a solar leasing or power purchase agreement (PPA) program.
Solar Industry Affiliations
When choosing the best solar installer near you, look for certifications that show trustworthiness and a reputable status within the industry. For example, employing NABCEP-certified technicians or holding membership in the Solar Energy Industries Association (SEIA) are good signs of a reliable company.
Types of Panels
In your search for the best solar company, it helps to familiarize yourself with the different types of panels and products you want. If you have a smaller roof, finding a company with high-efficiency panels may be a good idea. If you have a specific solar panel or energy storage system in mind, you'll also want to ensure you pick a company that's certified to install that brand.
Solar Incentives and Rebates
Make sure to ask your solar provider about any and all solar rebates, tax credits and incentives available in your area. Any of the best solar providers will offer assistance in applying for the federal solar tax credit and net metering, but some may have more expertise in how to take full advantage of solar rebates, tax credits or other incentives available in your area.
Warranty
Solar panels have an average lifespan of about 25, and it's important that your installer ensures your system will continue to work efficiently through the years. Many solar providers offer a 25-year technology and workmanship warranty, but some warranties can be shorter. Ask about this on the front end so you're not stuck with defective panels down the road.
Cost of Solar in New Jersey
Based on market research and data from top solar panel brands, we found the average current cost of solar in New Jersey to be around $2.77 per watt. Using this average, we can calculate that after applying the federal solar tax credit, a 5-kW solar panel system would cost around $10,249 and a 10-kW system would cost around $20,498.
Any of the best solar companies in New Jersey will be able to advise you on incentives and solar tax exemptions to reduce your overall project costs. However, it's a good idea to be familiar with these on your own, too. Here's a rundown of New Jersey solar incentives:

New Jersey Solar Incentive
New Jersey Solar Incentive Overview
Net Metering
New Jersey offers a robust net metering program that gives solar panel owners credits for the unused electricity generated by their panels. These credits can be used to pay for energy you pull from the grid at night.
Solar Sales
Tax Exemption
New Jersey residents do not have to pay the state's 6.625% sales tax on solar panels or other eligible solar equipment.
Solar Property
Tax Exemption
Installing solar panels boosts your property value in New Jersey, but the state doesn't require you to pay any additional taxes that would typically come with home add-ons.
Transition Renewable Energy Certificates (TRECs)
TRECs allow homeowners to receive cash payments or utility bill credits for all renewable energy their panels generate.
Final Thoughts
If you're a New Jersey homeowner interested in solar, you're in luck. New Jersey has served as a model for most other states in its use of effective incentives to foster the growth of clean energy. But with solar's popularity in the state, it can be tough to sift through growing lists of providers looking to capitalize on the solar industry's growth.
This is why we recommend you get quotes from several competing New Jersey solar companies. Not only can you see what costs and benefits each will offer in its proposals, but you can ensure you receive the maximum value for your purchase. Solar is a significant investment, but one of the best you can make.
To start getting free quotes from the best solar companies in New Jersey, fill out the 30-second form below.
Karsten Neumeister is a writer and renewable energy specialist with a background in writing and the humanities. Before joining EcoWatch, Karsten worked in the energy sector of New Orleans, focusing on renewable energy policy and technology. A lover of music and the outdoors, Karsten might be found rock climbing, canoeing or writing songs when away from the workplace.
By Stephen Wells
"Progressive Farming. Family Style." It sounds like the slogan of a brand you could trust to adopt a forward thinking business style and embrace the public's growing consideration of animal welfare in animal agriculture, but a new undercover investigation blows that idyllic family farm image out of the water.
The tagline belongs to The Maschhoffs, which is the third largest pig producer in the U.S. and enjoys business from Hormel Foods, one of its largest customers. One of the company's Nebraska big breeding facilities is at the center of newly released undercover footage from the Animal Legal Defense Fund, the nation's leading legal animal protection organization. The footage is sickening.
Mother pigs and piglets alike are shown suffering and dying from a wide array of gruesome ailments. Undercover investigators documented pigs suffering for days or weeks with extreme prolapsed rectums, intestinal ruptures, large open wounds and huge, bloody ruptured cysts. The investigation also revealed that the pigs are left to go long stretches of time—up to three days—without food as the result of a failure of the electronic feeding mechanism. The footage reveals that The Maschhoffs workers were aware of the malfunction but still did not pursue alternate ways to feed the pigs.
The footage includes particularly haunting images of "thumping," a practice considered to be industry standard. Thumping is a method of killing piglets deemed sickly or too small. Their skulls are "thumped," i.e., smashed against the floor. It's a brutal act to watch and it's even more difficult to watch the aftermath—many piglets don't die immediately. The footage shows piglets conscious and looking around frantically or moving and convulsing—dying slowly.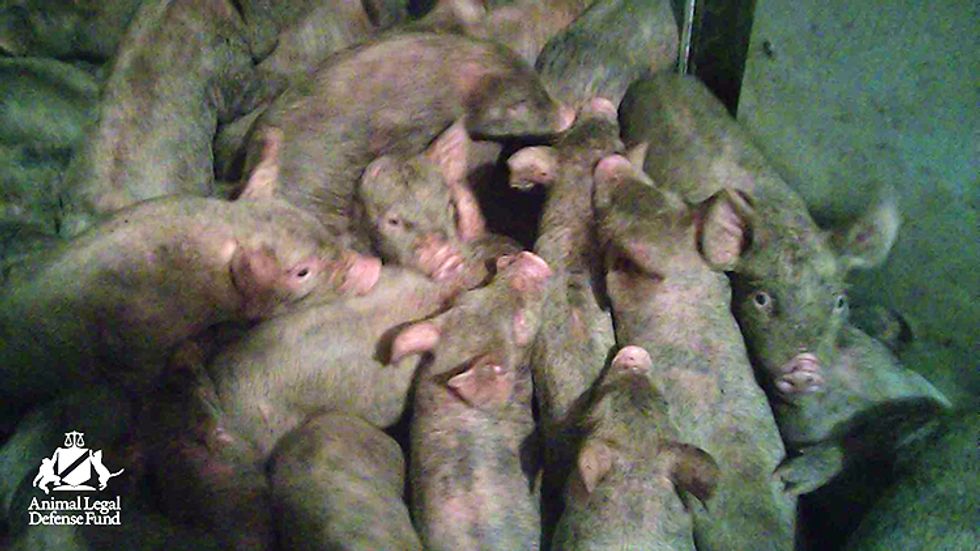 Watching the footage, it starts to seem that slow, painful deaths are also standard at the facility. Pigs are marked with green paint to signify that they need to be killed, but many are left to languish for days, weeks, even months before they are "euthanized." Some of the pigs die on their own, but those who are still alive when their time comes are shot in the head, but it doesn't always work. The Animal Legal Defense Fund's footage shows a mother pig still alive after the first shot. It took multiple shots and many minutes of suffering before she finally died.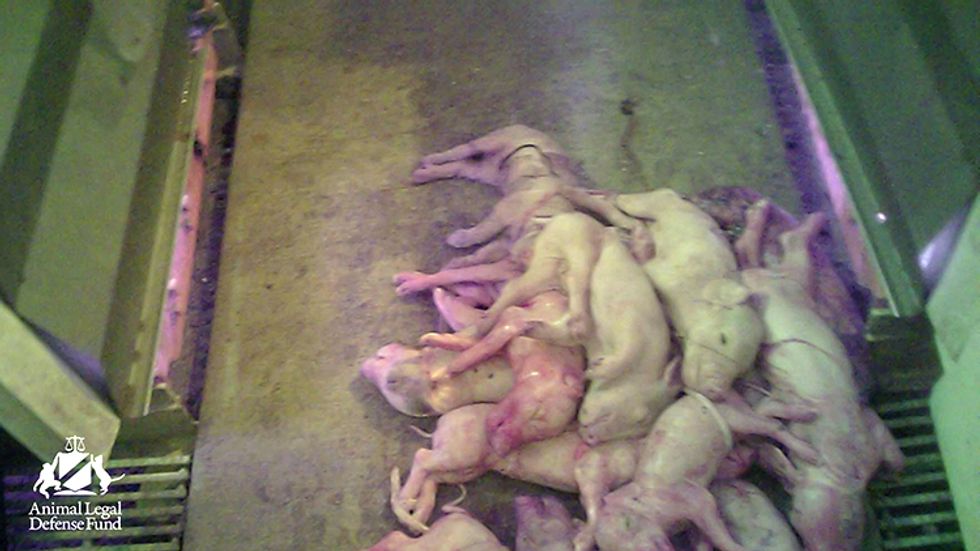 All this hardly seems like "the highest level of animal care" that The Maschhoffs claim on the Animal Welfare tab of their website. That means that when consumers consider their options at the grocery store and choose a product from The Maschhoffs or one of their customers, they are not getting what they paid for. The Maschhoffs work hard to promote the image of a friendly family farm because more and more Americans are thinking about animal welfare when they make their food choices. Customers simply would not be interested in the product if the company were honest about their practices, which seem to put profit over animal welfare and the law.
The Animal Legal Defense Fund is using the results of its undercover investigation to educate the public about what happens behind closed doors and to urge real change through the legal system. The organization has filed complaints with the Attorneys General of Nebraska and Illinois, where The Maschhoffs headquarters is located. The complaints allege that the company's business practices are unfair due to the apparent neglect of denying food and proper veterinary care, and deceptive due to the company's own advertising that it is committed to "humane animal handling" and providing the "best possible environment" for the animals.
Watch the uncover investigation video here:
For more information about the Animal Legal Defense Fund's investigation, visit www.aldf.org/protectpigs.
YOU MIGHT ALSO LIKE
Ground-Breaking Agreement Marks First Voluntarily Limits to Industrial Fishing in Arctic
How Carbon Farming Can Reverse Climate Change
How Changing Livestock Feed Can Mitigate Climate Change
Journalist Chris Ketcham and media coordinator with Buffalo Field Campaign Stephany Seay will have their first day in court Friday when the U.S. District Court in Casper, Wyoming, hears arguments for a preliminary injunction to halt the planned Yellowstone National Park bison cull. The capture and kill operation is scheduled to start Feb. 15.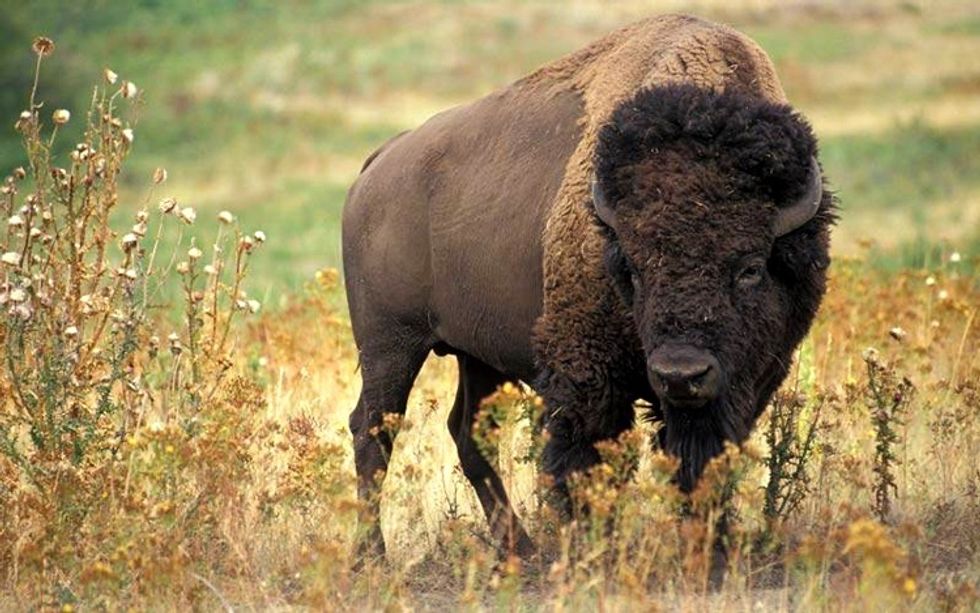 Ketcham and Seay are seeking access to the controversial bison trapping operations that lead to the slaughter of hundreds of bison. During the capture and kill operation, the park service closes parts of the park to public access. The lawsuit, filed last week, argues that the First Amendment guarantees citizens and journalists reasonable, non-disruptive access to the publicly funded national park. The court will decide their First Amendment claims separately.
"This court order is necessary to protect Stephany's and Chris's constitutional rights while the case is pending or until full and reasonable access to observe the cull can be granted," Animal Legal Defense Fund attorney Stefanie Wilson said. "Given accounts of brutality during past culls, it is the public's right to know what is happening to the cherished Yellowstone bison."
YOU MIGHT ALSO LIKE
Lumber Liquidators Sentenced to $13.2 Million for Smuggling Illegal Wood Into the U.S.
Judge Says Lawsuit Can Move Forward for Lucky the Elephant Who Was Captured From the Wild 53 Years Ago
Palm Oil Industry Is Destroying Habitat of Critically Endangered Animals: Find Out How You Can Help
Leonardo DiCaprio and Nicole Kidman to Attend Torching of Largest Ever Ivory Stockpile to Help Put an End to Poaching
The Animal Legal Defense Fund (ALDF), the nation's preeminent legal advocacy organization for animals, learned Thursday that its Endangered Species Act (ESA) lawsuit on behalf of Lucky the Elephant against the San Antonio Zoo would move forward as planned.
Judge Xavier Rodriguez of the U.S. District Court for the Western District of Texas denied the zoo's efforts to evade jurisdiction, finding that the plaintiffs had properly filed suit under the ESA and not, as the zoo had misleadingly argued in its motion to dismiss, under the federal Animal Welfare Act.
Free Lucky the #elephant! @ALDF lawsuit moves forward: https://t.co/eYiM556pxU #litigatetoliberate https://t.co/3kjpzkWjLt

— ALDF (@ALDF)1454021475.0
ALDF, with pro bono support from Dentons LLP and local Attorney Melissa Lesniak, represents three San Antonio residents who oppose the zoo's unlawful confinement of Lucky. The suit alleges that she is being "harmed" and "harassed" in violation of the ESA because the zoo confines Lucky alone, without another Asian elephant companion, in an enclosure too small to meet her needs, with little to no shelter from the sun and on a hard, species-inappropriate substrate.
As a consequence of the judge's ruling, the lawsuit will proceed to discovery, during which ALDF will seek access to records of the zoo's elephant-keeping program and to conduct independent veterinary and site-specific analyses of Lucky and her enclosure.
Lucky, an endangered Asian elephant, was captured from the wilds of Thailand before her first birthday. She has spent the last 53 years at the San Antonio Zoo and has been entirely alone for the past three. Scientists assert that Asian elephants are emotionally, socially and psychologically complex animals, who recognize themselves in a mirror and exhibit higher order emotions like mourning and altruistic behavior; experts agree that elephants cannot thrive in captivity, especially when held in forced solitude.
ALDF's lawsuit seeks to end the zoo's unlawful confinement of Lucky and asks the court to order her retirement to sanctuary, where she can socialize with other elephants and enjoy a much larger, species-appropriate habitat.
"Lucky has served her time entertaining the residents of San Antonio," Stephen Wells, executive director of the Animal Legal Defense Fund, said, "and deserves a happy and healthy retirement. We want her to live out her life living as an elephant should—with other elephants in as natural an environment as possible."
YOU MIGHT ALSO LIKE
Palm Oil Industry Is Destroying Habitat of Critically Endangered Animals: Find Out How You Can Help
Leonardo DiCaprio and Nicole Kidman to Attend Torching of Largest Ever Ivory Stockpile to Help Put an End to Poaching
Slaughter of Up to 900 Wild Bison at Yellowstone Park Sparks Federal Lawsuit to Protect First Amendment Rights
The Animal Legal Defense Fund (ALDF), Jamie M. Woolsey of the law firm Fuller, Sandefer & Associates and two constitutional law professors filed a federal lawsuit Tuesday on behalf of journalist Christopher Ketcham and wild bison advocate Stephany Seay, who are seeking access to Yellowstone Park's controversial bison trapping operations that lead to the slaughter of hundreds of bison. The lawsuit argues that the First Amendment guarantees citizens and journalists reasonable, non-disruptive access to the publicly funded national park.
The National Park Service is scheduled to capture and facilitate the killing of up to 900 bison inside Yellowstone Park starting on Feb. 15, 2016. Photo credit: Yellowstone National Park
The National Park Service is scheduled to capture and facilitate the killing of up to 900 bison inside Yellowstone Park starting on Feb. 15. During the capture and kill operation, the park service closes parts of the park to public access.
"It's ironic that to benefit Montana ranchers grazing their cattle—an invasive species—Yellowstone Park has agreed to facilitate the capture and killing of 900 American bison, an iconic, native species," Law Professor and ALDF Attorney Justin Marceau said.
Past accounts of similar bison killing operations have provided evidence of brutal treatment of the animals. The centerpiece of the park's role in the slaughter is the Stephens Creek Capture Facility, which is located entirely within the national park. The bison are driven into the facility, held in pens, tested and eventually forced into trucks and transported to slaughter. In recent years, the park service reversed its previous policy that allowed members of the public to witness and document the operation—the park service itself shot video and photographs—and now proposes to offer only three supervised tours, including one when the trap facility at Stephens Creek was not in operation.
Yellowstone's public information office also used to offer information on how many bison were captured, shipped to slaughter or injured each day. During the past two bison kills, however, the park delayed release of that information for two weeks.
"If the First Amendment right of access is to mean anything," Marceau went on to say, "it means that citizens and journalists should have reasonable, non-disruptive access to their publicly-funded national park to observe and memorialize one of the most controversial uses of national park land imaginable."
"No one wants their federal tax dollars to be used by park service rangers to abuse and kill the very animals the service is responsible for protecting," Seay said. "The park service doesn't want the public to see these shameful activities."
Ketcham has written about the bison controversy for VICE, Harper's and other magazines and websites. "I want full access to the operations," he said, "so I can effectively report on the issue. I want to be able to see the suffering of these animals up close and thus bring readers up close."
Although there were once tens of millions of bison throughout most of North America, today wild bison are ecologically extinct throughout their native range, with fewer than 5,000 living in and around Yellowstone National Park, the last continuously wild, migratory herds left in the nation. The animals are currently managed under the controversial Interagency Bison Management Plan; thousands of bison have been abused and killed through hazing, hunting, scientific experiments and capture-for-slaughter operations.
The purported reason for the enactment of the plan is that bison threaten to infect local cattle populations with brucellosis, a non-fatal disease originally brought to North America by European cows. Wild bison, however, have never transmitted the disease to cattle. In fact, no transmission from bison to cattle has ever occurred outside of a laboratory setting.
"Denying access to the park during this controversial publicly-funded wildlife slaughter campaign is very similar to the intent of ag-gag laws," ALDF Executive Director Stephen Wells said. "Such laws 'gag' would-be whistleblowers, journalists and activists by making it illegal to record and disseminate photos or footage taken in agricultural operations. ALDF has successfully proven ag-gag laws are unconstitutional under the First Amendment and we are confident we will do the same in this case."
The coalition of law professors, non-profit lawyers and private attorneys are joined by a team of top law students at the University of Denver and they are all eager to aggressively litigate the free speech rights of journalists seeking to document the trapping of bison within national park lands.
YOU MIGHT ALSO LIKE
Sri Lanka Is First Country in the World to Apologize for Its Role in Illegal Ivory Trade
Huge Victory: U.S. Supreme Court Rules in Favor of Demand Response
300 Sea Turtles Found Dead on Indian Beach
By PETA, Center for Food Safety, Animal Legal Defense Fund, Farm Sanctuary, Food & Water Watch and Government Accountability Project
A coalition of animal protection, consumer rights, food safety and whistleblower protection organizations filed a federal lawsuit today challenging the constitutionality of a North Carolina law designed to deter whistleblowers and undercover investigators from publicizing information about corporate misconduct.
The state legislature overrode a veto of the bill by Gov. Pat McCrory in June 2015 and the law took effect on Jan. 1. Under the law, organizations and journalists who conduct undercover investigations and individuals who expose improper or criminal conduct by North Carolina employers, are susceptible to suit and substantial damages if they make such evidence available to the public or the press.
Coalition sues NC over constitutionality of #AgGag law of investigations of #animalfactories https://t.co/F7YDnuLEVD https://t.co/iC2ekZY4D2

— Center 4 Food Safety (@Center 4 Food Safety)1452708738.0
According to the complaint filed today, the law's purpose is to punish those "who set out to investigate employers and property owners' conduct because they believe there is value in exposing employers and property owners' unethical or illegal behavior to the disinfecting sunlight of public scrutiny."
The plaintiffs, People for the Ethical Treatment of Animals (PETA), Center for Food Safety, Animal Legal Defense Fund, Farm Sanctuary, Food & Water Watch and the Government Accountability Project, said today that they are taking legal action because North Carolina's law "blatantly violates our rights to free speech, to a free press and to petition our government and violates the Equal Protection Clause. It places the safety of our families, our food supply and animals at risk."
The North Carolina law is part of a growing number of so-called "ag-gag laws" passed by state legislators across the country. The bills, which are pushed by lobbyists for corporate agriculture companies, are an attempt to escape scrutiny over unsafe practices and animal abuses by threatening liability for those who expose these improper and, in many cases, illegal practices. North Carolina's version is written so broadly that it would also ban undercover investigations of all private entities, including nursing homes and daycare centers. The North Carolina law threatens to silence conscientious employees who witness and wish to report wrongdoing.
Today's legal challenge is the first in the nation to make claims under both the U.S. Constitution and a state constitution. Last year, a federal court overturned Idaho's ag-gag law on the basis that it violated the First and Fourteenth Amendments and in late December a federal judge ruled that a challenge to Wyoming's law must go forward, citing "serious concerns" about that law's constitutionality.
New #aggag lawsuit in #NC! https://t.co/CeL5Nm0vJK https://t.co/Pl70zoyYTU

— ALDF (@ALDF)1452708579.0
The plaintiffs' joint statement in full says:
"North Carolina's Anti-Sunshine Law seriously hinders North Carolinians' ability to know the truth about misconduct, mistreatment and corruption happening in virtually every industry, including nursing homes, factory farms, financial institutions, daycare centers and more. It's an extreme law forced on citizens over a governor's veto by lawmakers who bowed to pressure from corporate lobbyists. This law blatantly violates citizens' rights to free speech, a free press and to petition their government and violates the Equal Protection Clause. It places the safety of our families, our food supply and animals at risk and it attempts to bully and threaten those working for transparency, free speech and the public good. Our lawsuit is being brought for the sake of the health and safety of all citizens of North Carolina. We are confident the law will be found unconstitutional and that a victory in North Carolina will deter other state legislatures from repeating North Carolina's mistake."
YOU MIGHT ALSO LIKE
Obama to Climate Deniers in SOTU: Go Ahead 'Dispute the Science', But 'You'll Be Pretty Lonely'
Oklahoma Residents Sue 12 'Reckless' Fracking Companies for Earthquake Damage
1,000 People Attend Hearing on Proposal for Nation's Largest Oil-by-Rail Terminal