Illustration of Vineyard Wind's proposal to construct a wind energy project off the coast of Massachusetts. Vineyward Wind
By Hannah Hunt
Extreme weather events offer an opportunity to take stock of our power system—how well will it withstand days of prolonged stress? Earlier this year, the eastern half of the U.S. faced one of these trials, as the "Bomb Cyclone" blasted the region with frigid air for a number of days.
The result: no major power plant outages, and a power system that held strong in the face of challenging weather conditions. And wind power made an important contribution to a resilient energy mix, helping to keep the lights on for American families and businesses.
As was the case during the 2014 Polar Vortex event and the Texas 2011 cold snap, wind output was well above average when the power system needed it most. Across the Mid-Atlantic and the Northeast throughout the Bomb Cyclone event, wind production surpassed both average winter and average annual output.
Let's first look at PJM, the grid operator serving 13 states and Washington, DC. From Jan. 3 through Jan. 7, wind output in PJM was 55 percent higher than average wind output in 2017. During the highest demand periods on January 3-5, wind output was consistently three to five times greater than the level PJM plans for and compensates wind for in its capacity market. Wind's capacity factor exceeded 50 percent multiple times during the three-day period.
In New England, wind output was also well above average throughout most of the event, and more than twice its normal level during some of the most challenging periods on Jan. 5 and 6, as shown below. Wind output surpassed the region's coal generation on those days.

Grid Operator Studies Show Values of Renewables for Resilience
In January, the New England grid operator released a report examining resilience to extreme winter weather under a range of different electric generation mixes for the mid-2020s. While initial reporting focused on scenarios that did not perform as well, a number of scenarios with higher shares of renewable generation proved to be more reliable and resilient than the current power system. In fact, three of the four of the most reliable portfolios were high renewable scenarios.

PJM's 2017 resilience analysis also found that scenarios with very high levels of renewables were among the most resilient. PJM's study discussed a range of other events that can cause outages at conventional power plants as well, like flooding, drought, high temperatures, and coal barge and rail congestion. Renewable resources like wind and solar PV are generally resilient to such disruptions because they are not dependent on deliveries of fuel or cooling water.
Previous studies have found that more than 96 percent of customer electric outage hours happen because of severe weather, rather than disruptions of electricity generation. High winds, falling trees and other factors knock out power lines, causing lost power. Such was the case in Puerto Rico, where the island is still recovering. The main issue wasn't damage to its power plants, but rather the complete decimation of its transmission system. That demonstrates that building a resilient electric grid requires a diverse generation mix, as well as transmission and infrastructure upgrades.
Further analysis of the "Bomb Cyclone" can be found here.
'Bomb Cyclone' Brings Freezing Weather as Grid Debate Intensifies https://t.co/C89WOLRGzo

— Robert F. Kennedy Jr (@Robert F. Kennedy Jr)1515101190.0
From Your Site Articles
Related Articles Around the Web
EcoWatch Daily Newsletter
By Greg Alvarez
Last week I predicted it wouldn't be long before we had more news on Fortune 500 wind power purchases. Well, a whole seven days passed before there were new deals to report.
Wind Powers the Open Road for GM
General Motors (GM) just announced wind power purchase agreements with projects in Ohio and Illinois. The automaker is buying enough wind-generated electricity to power the Ohio and Indiana factories that build the Chevrolet Cruze and Silverado, and the GMC Sierra.
GM plants that build @Chevrolet & @ThisIsGMC vehicles will meet electricity needs through 100% renewable energy:… https://t.co/mwfpXtOHCd

— General Motors (@General Motors)1505842706.0
"Technology is driving solutions for mobility and safety in our vehicles, as well as the new energy solutions that build them," said Gerald Johnson, GMNA vice president of manufacturing and labor. "This is the way we do business: offering vehicles that serve our customers' lifestyle needs while providing sustainable solutions that improve our communities."

GM already has plans to soon power 100 percent of its Arlington, Texas, plant using wind, where more than 100,000 SUV's are made every year. Wind's low cost, down 66 percent since 2009, has made it an attractive option for GM as it works toward meeting its 100 percent renewable goal.
Other Buyers Jump on the Bandwagon
GM isn't alone in the headlines this week. Kimberly-Clark, maker of products like Kleenex and Huggies, also announced a new wind deal in recent days. The company will soon source about 33 percent of its electricity needs from wind farms in Oklahoma and Texas.
"It's a powerful demonstration of sustainability initiatives having both great environmental and business benefits," said Lisa Morden, Kimberly-Clark's global head of sustainability.
We have a commitment to purchase 1,000,000 MwH of renewable wind energy to help power our US mills!… https://t.co/P1BdPfwjW3

— Kimberly-Clark Corp. (@Kimberly-Clark Corp.)1505397661.0
Why Wind Power Makes Sense for the Fortune 500
Two recent reports looked at why companies like GM and Kimberly-Clark are pouncing on wind power.
David Gardiner and Associates examined the recent trend of manufacturers committing to buying renewables in a new report entitled "The Growing Demand for Renewable Energy among Major U.S. and Global Manufacturers."
David Gardiner and Associates surveyed 160 large U.S. manufacturers, finding that 40 currently have a renewable energy goal in place, and 18 of those 40 have 100 percent renewable targets.
The following 10 states host the most factories for those 18 companies: California, Texas, Ohio, Missouri, Illinois, Michigan, Oregon, Pennsylvania, Tennessee and North Carolina.
The report adds that manufacturers invest in renewable energy to lower energy costs, secure stable, low-risk energy prices and demonstrate corporate leadership. GM CEO Mary Barra confirms that "pursuit of renewable energy benefits our customers and communities through cleaner air while strengthening our business through lower and more stable energy costs."
Meanwhile, Greentech Media and Apex Clean Energy surveyed 153 large corporate buyers to see what motivates companies to invest in wind.
Eighty-four percent of respondents plan to actively pursue or consider directly buying renewables over the next five to 10 years, and 43 percent plan to be more aggressive in the next 24 months. Sixty-five percent report price as a leading factor in determining purchases.
So yet again, expect to hear more on this trend before long.
MAXSHOT / iStock / Getty Images
Solar panels allow you to harness the sun's clean, renewable energy, potentially cutting your electric bills as well as your environmental footprint. But do solar panels work on cloudy days, or during seasons of less-than-optimal sun exposure? For homeowners who live outside of the Sun Belt, this is a critical question to consider before moving ahead with solar panel installation.
In this article, we'll go over how solar panels work on cloudy days, whether solar panels work at night, and how to ensure you always have accessible power — even when your panels aren't producing solar energy.
How Solar Panels Work on Cloudy Days
Photovoltaic (PV) solar panels can use both direct and indirect sunlight to generate electrical power. This means they can still be productive even when there is cloud coverage. With that said, solar panels are most efficient and productive when they are soaking up direct sunlight on sunny days.
While solar panels still work even when the light is reflected or partially obstructed by clouds, their energy production capacity will be diminished. On average, solar panels will generate 10 to 25% of their normal power output on days with heavy cloud coverage.
With clouds usually comes rain, and here's a fact that might surprise you: Rain actually helps solar panels work more effectively. That's because rain washes away any dirt or dust that has gathered on your panels so that they can more efficiently absorb sunlight.
Do Solar Panels Work at Night?
While solar panels can still function on cloudy days, they cannot work at night. The reason for this is simple: Solar panels work because of a scientific principle called the photovoltaic effect, wherein solar cells are activated by sunlight, generating electrical current. Without light, the photovoltaic effect cannot be triggered, and no electric power can be generated.
One way to tell if your panels are still producing energy is to look at public lights. As a general rule of thumb, if street lamps or other lights are turned off — whether on cloudy days or in the evening — your solar panels will be producing energy. If they're illuminated, it's likely too dark out for your solar panel system to work.
Storing Solar Energy to Use on Cloudy Days and at Night
During hours of peak sunlight, your solar panels may actually generate more power than you need. This surplus power can be used to provide extra electricity on cloudy days or at night.
But how do you store this energy for future use? There are a couple of options to consider:
You can store surplus energy in a solar battery.
When you add a solar battery to your residential solar installation, any excess electricity can be collected and used during hours of suboptimal sun exposure, including nighttime hours and during exceptionally cloudy weather.
Batteries may allow you to run your solar PV system all day long, though there are some drawbacks of battery storage to be aware of:
It's one more thing you need to install.
It adds to the total cost of your solar system.
Batteries will take up a bit of space.
You will likely need multiple batteries if you want electricity for more than a handful of hours. For example, Tesla solar installations require two Powerwall batteries if your system is over 13 kilowatts.
You can use a net metering program.
Net metering programs enable you to transmit any excess power your system produces into your municipal electric grid, receiving credits from your utility company. Those credits can be cashed in to offset any electrical costs you incur on overcast days or at night when you cannot power your home with solar energy alone.
Net metering can ultimately be a cost-effective option and can significantly lower your electricity bills, but there are a few drawbacks to consider, including:
You may not always break even.
In some cases, you may still owe some money to your utility provider.
Net metering programs are not offered in all areas and by all utility companies.
Is Residential Solar Right for You?
Now that you know solar panels can work even when the sun isn't directly shining and that there are ways to store your energy for times your panels aren't producing electricity, you may be more interested in installing your own system.
You can get started with a free, no-obligation quote from a top solar company in your area by filling out the 30-second form below.
FAQ: Do Solar Panels Work on Cloudy Days?

How efficient are solar panels on cloudy days?
It depends on the panels, but as a rule of thumb, you can expect your solar panels to work at 10 to 25% efficiency on cloudy days.
How do solar panels work when there is no sun?
If there is literally no sunlight (e.g., at night), then solar panels do not work. This is because the photovoltaic effect, which is the process through which panels convert sunlight into energy, requires there to be some light available to convert.
However, you can potentially use surplus solar power that you've stored in a battery. Also note that solar panels can work with indirect light, meaning they can function even when the sun is obscured by cloud coverage.
Do solar panels work on snowy days?
If there is cloud coverage and diminished sunlight, then solar panels will not work at their maximum efficiency level on snowy days. With that said, the snow itself is usually not a problem, particularly because a dusting of snow is easily whisked away by the wind.
Snow will only impede your solar panels if the snowfall is so extreme that the panels become completely buried, or if the weight of the snow compromises the integrity of your solar panel structures.
Will my solar panels generate electricity during cloudy, rainy or snowy days?
Cloudy days may limit your solar panel's efficiency, but you'll still be able to generate some electricity. Rainy days can actually help clean your panels, making them even more effective. And snowy days are only a problem if the snow is so extreme that the panels are totally submerged, without any part of them exposed to the sun.
By John Hensley
Fresh off the first-ever American Wind Week, the Department of Energy (DOE) National Renewable Energy Laboratory (NREL) released a new report finding wind energy cost reductions of 50 percent are possible by 2030. That's on top of the 66 percent cost reduction since 2009.
Envisioning the wind plant of the near-future—a "collection of intelligent and innovative machines operating in a highly coordinated way"—NREL expects advancements in wind turbine design, materials and controls to unlock major performance improvements and cost reductions.
Advanced turbines will produce significantly more electricity, allowing wind to provide the lowest-cost form of electricity in many states and regions, without any policy incentives. NREL's findings demonstrate how the federal wind Production Tax Credit (PTC) is successfully driving economies of scale and efficiency improvements, and address concerns that wind power deployment will drop as the PTC phases down.
Wind Cost Projections
Prior to NREL's report, the most recent evidence foreshadowing further wind power cost reduction came from a 2016 study funded by the DOE. Surveying experts around the world, that study found anticipated cost reductions ranged from 24 to 30 percent by 2030. Under more aggressive circumstances, experts predicted cost reductions as high as 40 percent as research and development programs and technology learning lead to additional efficiencies, as shown below.
Lawrence Berkley National Laboratory
Building on these projections, NREL predicts a "SMART" wind plant of the future will be able to achieve even further cost reductions—up to 50 percent by 2030. The wind turbine of the future will be much larger, sit atop a taller tower, use next generation blades, and incorporate intelligent controls and remote monitors. Towers reaching 135 meters will access more consistent wind resources, while next-generation blades stretching more than 70 meters will help the wind turbine capture more of that resource as efficiently as possible. This will enable capacity factors more than 50 percent, all while the installed cost per kilowatt falls and plant life expectancy grows.
On an unsubsidized basis, these improvements and cost reductions will drive the levelized cost of wind energy from roughly $55/megawatt hour (MWh) in 2015 to $31/MWh in 2030.

Capital Stack Shifts to Enable Further Cost Reductions
Improvements in wind project financing structures will enable further cost reductions. Shifting away from equity to debt and using innovative financing mechanisms like yieldcos will reduce financing costs and the bottom-line cost of wind energy.
Recognizing this eventual shift to higher debt-to-equity rations, NREL estimates that the cheaper capital stack will unlock a further $8/MWh reduction in wind energy costs (falling from $31/MWh to $23/MWh on an unsubsidized basis) by 2030, as indicated below.
Comparison to Other Findings

A number of presentations and market analyses this year confirm that the cost reductions NREL projects are achievable—and, in a few cases, too conservative.
Let's begin with the Goldman Sachs Group Inc. In a recent report, the investment bank concludes that "the U.S. power sector already appears in the early stages of a technological mix revolution given a combination of political, technological and now social tailwinds driving improved economics and demand for renewables." Goldman predicts new wind and solar capacity of more than 200 gigawatts (GW) by 2030, primarily driven by economics.
Confirming the economic tailwinds for wind energy, Pattern Energy CEO Mike Garland forecasts wind energy prices will settle between $30-$40/MWh as the PTC phases out and into the long term. The company is already seeing significant improvements in energy production and cost for wind projects the company is bidding for delivery post-2020.
Most tellingly, NextEra Energy Resources anticipates even more aggressive wind cost reductions. The largest owner of wind power capacity in the U.S. expects wind power to be the lowest cost energy resource in the post-2020 period on an unsubsidized basis, ranging from $20-$30/MWh.
This aggressive cost trajectory is consistent with the industry's history of beating even the most aggressive cost projections. In 2008, DOE predicted (page 148, converted to 2016 dollars) that the U.S. wind industry could reduce wind costs to $1,850/kW by 2030. By 2016, the industry had already beaten that projection and driven costs down to $1,587/kW. That 2008 DOE study also estimated that the best wind sites could reach capacity factors of 36 percent by 2015 and 38 percent by 2030. Wind projects installed in 2014 and 2015 have an average capacity factor of 42.6 percent, beating DOE's 2030 target by a wide margin 15 years early.

Conclusion
Progress towards the wind power plant of the future is predicted to unlock substantial additional cost reductions. In 2030, NREL expects unsubsidized LCOEs to range from $19/MWh to $32/MWh, with the central expectation at $23/MWh. At these cost levels, wind energy will be competitive with all other energy sources across much of the U.S., providing a win-win for consumers and public health.
American Wind Energy Association
"Wind power has become a vital part of the U.S. economy, drawing billions of dollars in capital investment to rural communities each year and supporting over 100,000 U.S. jobs across all 50 states," said John Hensley, deputy director of industry data and analysis for AWEA. "I'm pleased this new map tool helps Americans visualize how world-class U.S. wind resources are being put to work in all parts of the county."
A time-lapse feature built into the map shows the progress of wind power development across the country. Starting from 1981 in the passes of California where the first modern wind energy projects were completed, users can see the story of American wind power unfold across heartland states like Texas, Iowa, Oklahoma and Kansas, and eventually to the first U.S. offshore wind project completed off Rhode Island in 2016.
The map also features markers for the more than 500 wind-related manufacturing facilities in the U.S. today. These factories support 25,000 U.S. manufacturing jobs across 41 states.
AWEA's new map utilizes only a small percentage of the full wind project and manufacturing data available to AWEA members through Market Database Pro, a comprehensive, interactive database of all online, under construction and advanced development wind projects, and all active wind-related manufacturing facilities. More than 50 data points are provided at both the project and turbine level, with advanced interactive mapping services including filtered search capabilities, summary maps and political boundaries.
This week is the inaugural #AmericanWindWeek, dedicated to U.S. leadership in wind power. Wind is the largest source of American renewable energy capacity, supporting more than 100,000 U.S. jobs across all 50 states, with nearly 85,000 MW of installed capacity at the end of the second quarter of 2017.
www.youtube.com
By Greg Alvarez
Ohio lawmakers are currently considering a measure that could transform the state's rural communities, and last week they heard powerful testimony from those who will be directly impacted.
Fixing Ohio's wind turbine setbacks
Let's go back to 2014. That year, the state legislature adopted onerous wind energy setbacks, without accepting public comment or having any public debate, before adopting them. The new regulations were among the country's strictest siting requirements and have essentially functioned as a wind energy ban ever since.
Ohio has only three utility-scale wind farms, despite high energy demand and adequate wind resources. To get a sense of how the current setbacks have affected the state's wind development, look to its neighbors:
This means Ohio's rural communities have missed out on millions of dollars in lease payments and added tax revenue, not to mention billions in project investments.
To help state lawmakers understand exactly what's at stake, Gary Baldosser, a fourth-generation farmer who raises corn, soybeans and wheat, testified before a panel last week. A wind farm has been proposed in Baldosser's town but has yet to be built because of Ohio's unnecessary setback requirements. Watch the video above to learn what the wind farm would mean for his family.
Putting a number on the benefits of Ohio setback reform
Baldosser's story isn't unique. John Hensley, American Wind Energy Association's deputy director of industry and data analysis, also offered testimony last week to quantify the benefits of fixing Ohio's setbacks. Here are some highlights:
For years, Ohio has largely missed out on economic development opportunities from the U.S. wind industry. Currently, Ohio contains just three utility-scale wind projects, significantly less than neighboring states. As a result, Ohio wind projects represent just $1.1 billion of capital investments, significantly lagging neighboring states. In comparison, the U.S. wind industry has invested three times as much in Michigan and Pennsylvania, four times as much in Indiana, and eight times as much in Illinois.
Based on Ohio siting applications and company records, developers have plans to build over 3,300 MW of new wind projects in the state. If built, these projects are estimated to provide over $4.2 billion in local economic activity over their life, including capital investment, operational expenditures, tax payments, and lease payments to landowners. And that does not account for the induced benefits resulting from wind project developers staying in hotels, eating at restaurant, buying fuel, going to the movies, or whatever else they may do while designing, building, and working at the project.
Despite the economic potential of these wind projects, most are at risk of not being built due to the siting requirements in the state.
Economic modeling based on the National Renewable Energy Laboratory's Jobs and Economic Development Impact (JEDI) model and empirical data relating to Payment in Lieu of Taxes (PILOT) agreements for existing wind projects shows that the current pipeline of projects proposed in Ohio would generate $4.2 billion in local economic activity. This includes: $2 billion in local capital investment; over $1 billion in lifetime operational expenditures in the state; $660 million in PILOT payments to local schools and governments; over $440 million in land lease payments to landowners; and the need for 13,000 full-time equivalent (FTE) jobs.
Aside from the potential economic loss directly from wind projects, the lack of wind power development is impeding Ohio's ability to compete for new businesses. Large companies like Amazon, Google, and Apple are constantly looking to expand their existing facilities, while meeting their ambitious clean energy requirements. By constraining wind energy development, Ohio risks losing major business investment to nearby states that are embracing clean, local sources of energy. For example, in 2015, Facebook chose Texas over Ohio to host a billion dollar data center, citing the inability to secure renewable energy for the facility.
Changing Ohio's setbacks will bring new opportunities for prosperity to rural communities throughout the state. We know this because the vision Baldosser shared in his testimony has already become a reality in the few towns where wind development has been allowed to occur. For example, consider the case of Van Wert County:
Ohio lawmakers should ensure more of their constituents have more of these opportunities, not less of them. Now they have the chance to do that by correcting a mistake made back in 2014. Ohio should reset the wind turbine property line setback requirements to 1.1 times the height of the turbine from base to vertical blade tip. Doing so will unlock billions of economic benefits for the Buckeye state.
iStock
By Greg Alvarez
The Oklahoman recently took a look at what the Sooner State's growing wind industry has meant for rural school districts.
Its findings: Wind power has made a big difference.
Oklahoma has faced steep cuts to its state education budget in recent years, but wind payments have helped bridge the gap for many small-town districts.
"We would probably be right there screaming with everyone else about the budget if it wasn't for those (turbines)," said Rob Friesen, superintendent of Okarche Public Schools. The Okarche school system recently added a new gym, built a new elementary school and art center, and a constructed an agricultural and technology building.
"It increases the amount of money you can go out and bond," Friesen said. "Without it, we wouldn't be doing all these projects," Friesen said. "Without it, we would have to pick just one of these projects."
Meanwhile, Robert Trammell, superintendent of Cheyenne Public schools, said wind revenue makes up 10 percent of his district's budget, and wind development helped the Minco public school system build a new high school.
In rural districts short on resources, wind farm revenue can clearly make a huge difference. In fact, researchers from Oklahoma State University recently found wind farms would pay in-state schools more than a billion dollars during the course of their lifetimes.
To learn more about how wind helps small towns improve educational opportunities for students, check out this video:
America's wind power workforce installed 908 utility-scale turbines in the first quarter of 2017, totaling 2,000 megawatts (MW) of capacity. This is the wind industry's strongest start in eight years, according to a new report released Tuesday by the American Wind Energy Association (AWEA).
"We switched on more megawatts in the first quarter than in the first three quarters of last year combined," said Tom Kiernan, CEO of AWEA, in releasing the U.S. Wind Industry First Quarter 2017 Market Report. "Each new modern wind turbine supports 44 years of full-time employment over its lifespan, so the turbines we installed in just these three months represent nearly 40,000 job years for American workers."
The early burst of activity reflects how 500 factories in America's wind power supply chain and more than 100,000 wind workers are putting stable, multi-year federal policy to work. The industry is now in year three of a five-year phase-down of the Production Tax Credit, and Navigant Consulting recently forecast a strong 2017 for wind power, similar to 2015 and 2016.
New wind turbine installations in the first quarter spanned the U.S. from Rhode Island and North Carolina to Oregon and Hawaii. Great Plains states Texas (724 MW) and Kansas (481 MW) led the pack.
Texas continues as the overall national leader for wind power capacity, with 21,000 MW installed, enough to power more than five million average homes. North Carolina became the 41st state to harness wind power, bringing online the first wind farm to be built in the Southeast in 12 years.
Horace Pritchard, one of nearly 60 landowners associated with the North Carolina project, explained what it means to him and his neighbors: "Farms have been growing corn, soybeans and wheat for a long time here, and the wind farm revenue means a lot of families are protected from pricing swings, floods or droughts going forward. We're just adding another locally-grown crop to our fields, with very little ground taken out of production, and the improved roads really help with access. So it's a great fit here."
Expanding wind farms continue to benefit rural America, since more than 99 percent of wind farms are built in rural communities. According to AWEA's recently released 2016 Annual Market Report, wind now pays more than $245 million per year in land-lease payments to local landowners, many of them farmers and ranchers.
Along with rural benefits, American wind manufacturing facilities remain busy in the first quarter as projects continue to be built. With 4,466 MW in new construction and advanced development announcements recorded in the first quarter, the near-term pipeline has reached 20,977 MW of wind capacity. That's about as much as the entire Texas wind fleet's existing capacity.
Demand remained strong in the first quarter. There were 1,781 MW signed in long-term contracts for wind energy, the most in a first quarter since 2013. Utilities and Fortune 500 brands frequently use these long-term contracts, called Power Purchase Agreements (PPAs), to purchase wind energy. Home Depot and Intuit, maker of TurboTax, both signed up for wind power this quarter, joining a host of Fortune 500 companies like GM, Walmart, and Microsoft that are buying wind energy for its low, stable cost.
In addition to leading brands, low-cost wind power reliably supplies a growing number of cities, universities, and other organizations—including the Department of Defense. This quarter, a Texas wind farm came online to supply a PPA with the U.S. Army. Powering a military facility demonstrates that wind power is ready to reliably serve our most vital electricity needs, boosting American energy security in more ways than one.
That finally changed this week.
Apple announced this week it has signed a power purchase agreement to buy wind energy from a soon-to-be-built Oregon wind farm. It will power an in-state data center about 130 miles away from the wind farm and Apple said the project is its largest renewable energy investment to date.
Apple plans to hit its 100 percent renewable energy goal by sourcing renewables through a combination of direct project ownership and long-term contracts with new renewable energy projects and preferably from projects in the same state as their facilities. When it can't do either of those, it procures renewable energy from "newer projects in nearby markets … through available utility green energy programs … or [through] strong renewable energy credits (RECs) tied to recently constructed renewable energy projects."
In 2016, Fortune 500 companies and other non-utility customers signed 39 percent of the capacity contracted through wind power purchase agreements and their strong interest in wind has continued into 2017.
Companies like Apple choose to power their operations using renewables like wind not just because it's good for the environment, but also because it helps their bottom lines.

"This pursuit of renewable energy benefits our customers and communities through cleaner air while strengthening our business through lower and more stable energy costs," said GM Chairwoman and CEO Mary Barra, speaking about her company's 100 percent renewable pledge.
Check out this video to hear straight from the source about why some of the world's largest companies want to make more of their products using wind power:
Wind power became the largest source of renewable generating capacity and supplied record amounts of wind energy to many parts of the country. Strong wind project construction, a growing manufacturing sector and the increasing need for wind turbine technicians and operators allowed the industry to add jobs at a rate nine times faster than the overall job market, as wind employment grew to a record 102,500.
Technology advances resulted in more productive turbines, with recent generations achieving average capacity factors more than 40 percent, all while costs continued to fall. And the industry saw the installation of the country's first offshore wind project off the coast of Rhode Island.
Here are the top 11 wind industry trends in 2016:
1. Record Wind Jobs
For the first time in history, there are more than 100,000 Americans employed in the U.S. wind energy industry. Strong wind construction activity throughout the year, combined with a strengthening wind manufacturing sector and growing need for personnel to operate and maintain more than 52,000 wind turbines, allowed the industry to add nearly 15,000 full-time equivalent jobs in 2016.
That brings total U.S. wind industry jobs to 102,500. Impressively, the U.S. wind industry added jobs more than nine times faster than the overall economy. Strong wind project installation, construction, and development activity, combined with strong wind-related manufacturing activity, and over 52,000 wind turbines to operate and maintain, led wind jobs to grow 16.5 percent. That's compared to 1.8 percent for the overall U.S. job market.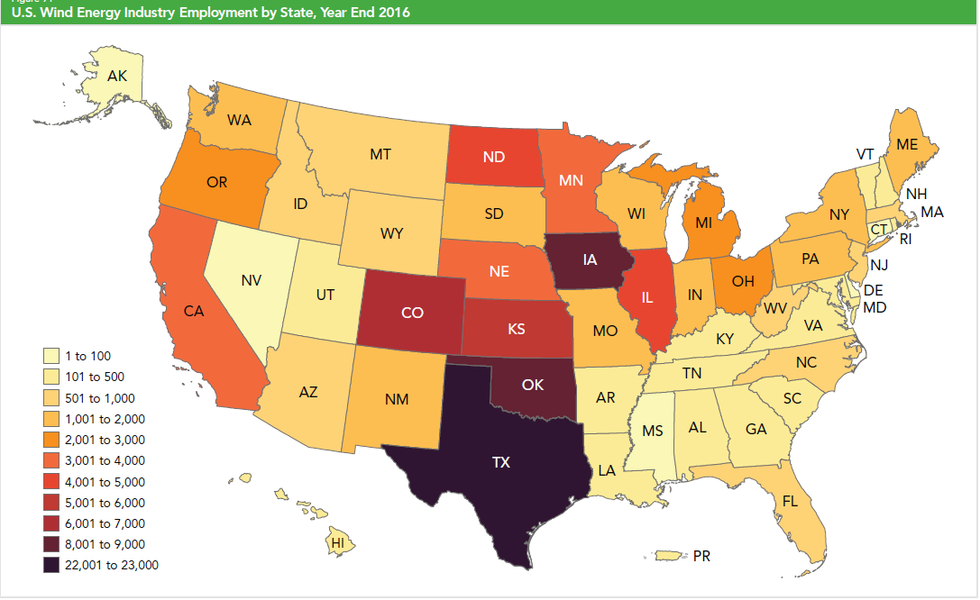 2. Wind #1 Source of Renewable Generating Capacity

Wind energy passed hydroelectric power to become the number one source of renewable generating capacity in 2016. With federal policy stability secured, the U.S. wind industry installed 8,203 megawatts (MW) in 2016 and the industry now has 82,143 MW installed overall, enough wind power for the equivalent of 24 million American homes.

3. Generation Records Set
Wind energy delivered more than 30 percent of the electricity produced in Iowa and South Dakota in 2016. Kansas, Oklahoma and North Dakota generated more than 20 percent of their electricity from wind, while 20 states now produce more than five percent of their electricity from wind energy. ERCOT, the main grid operator for most of Texas, and SPP, which operates across parts of 14 states, competed for new wind power penetration records throughout 2016, both topping 50 percent wind energy on several occasions.
4. U.S. Manufacturing Sector Growth
Wind energy continues to fuel the domestic manufacturing sector, with more than 500 factories across 41 states producing components for the U.S. wind industry in 2016. Domestic wind-related manufacturing jobs grew 17 percent to more than 25,000 as three new factories began supplying the wind industry and five plants expanded production.
5. Technology Boosts Productivity
Technological advances allow wind turbines to reach stronger, steadier winds, and more sophisticated control systems are increasing the amount of electricity modern wind turbines generate. Wind turbines built in 2014 and 2015 achieved capacity factors more than 40 percent during 2016. At the same time, the cost of wind energy dropped more than 66 percent between 2009 and 2016.
6. Corporations and Utilities Want Wind
Fortune 500 companies, electric utilities and others signed 47 power purchase agreements totaling more than 4,000 MW during 2016. In doing so, they cited the declining costs and stable price of wind power as factors. Utilities submitted Integrated Resource Plans detailing at least 14,000 MW in wind power additions in the past two years.
7. Record Wind Enters Queue
67 gigawatts of newly proposed wind projects were added to interconnection queues in 2016, the largest since the addition of 67.3 GW in 2009. This brings total wind capacity in the queues to 136.8 GW, the highest level in five years.
8. Improving the Transmission Grid
Transmission expansion to serve wind continues, particularly in MISO and SPP. A number of proposed interregional Direct Current transmission lines have now also cleared final permitting hurdles. In total, transmission projects that could support the delivery of nearly 52,000 MW of wind energy over the next five years are currently under development, though not all are likely to be built.
9. Wind Benefits Every State
More than 74 percent of U.S. congressional districts have operational wind energy projects or active wind-related manufacturing facilities, including 77 percent of Republican districts and 69 percent of Democratic districts. The industry invested more than $14.1 billion in new wind projects and supported 102,500 jobs across all 50 states.
10. Wind Reduces Emissions and Saves Water
Operational wind projects avoided 393 million pounds of sulfur dioxide and 243 million pounds of nitrogen oxide. These pollutants create smog and trigger asthma attacks, so reducing them saved $7.4 billion in public health costs last year. Meanwhile, operating wind projects avoided the consumption of 87 billion gallons of water, equivalent to 266 gallons per person in the U.S.
11. Offshore Wind Debut
The
first offshore wind project
in the U.S. began operating in late 2016. The five turbine, 30 MW Block Island wind farm is located three miles off the coast of Rhode Island, near Block Island.
Chicago Mayor Rahm Emanuel atop Shedd Aquarium.
That's no small feat: With more than 900 city-owned buildings—including public schools and colleges, park district fieldhouses and buildings owned by the Chicago Housing Authority—Chicago has the country's largest fleet of public buildings. Last year, they accounted for eight percent of all electricity use in Chicago.
Chicago Mayor Rahm Emanuel said the city will meet its goal by acquiring renewable energy credits, purchasing utility-supplied renewable energy through the state's renewable portfolio standard and increasing on-site generation by installing more wind turbines and solar panels.
If going 100 percent is a challenge, wind is up to the task: It already supplies 5.7 percent of Illinois's electricity needs. That's enough to power more than 982,000 homes and Illinois ranks as the seventh highest state in installed wind generating capacity.
"By committing the energy used to power our public buildings to wind and solar energy, we are sending a clear signal that we remain committed to building a 21st-century economy here in Chicago," Emanuel said.
Illinois already reaps the economic benefits of wind: The industry employs more than 4,000 people in the state, gives over $10 million annually in land-lease payments to farmers and ranchers hosting turbines and has brought $8.4 billion in investment into Illinois's economy.
Across the U.S., there is a clear trend of cities large and small committing to go big on clean energy and using wind power to get there: Greensburg, Kansas gets 100 percent of its electricity from wind and Georgetown, Texas became 100 percent renewable earlier this year, using 50 percent wind energy.
By committing to powering all of its public buildings with clean energy, Chicago has become America's next and biggest city to take a giant step towards becoming 100 percent renewable.
Shutterstock
By Greg Alvarez, American Wind Energy Association
All of the new wind farms built over the past few years are making an impact: New data from the U.S. Energy Information Administration finds the country generated more than 5.5 percent of its electricity using wind in 2016.
That comes on the heels of a recent announcement that wind is now the country's largest source of installed renewable generating capacity. All told, the U.S. now has enough wind to power 24 million American homes.
#Wind Power Becomes America's Largest Renewable Resource https://t.co/yGpS78RPqU @AWEA @mzjacobson @ClimateNexus @ClimateReality @NRDC @350

— EcoWatch (@EcoWatch)1486740143.0
Even More Impressive Results at the State Level

At the state level is where things get really exciting. Iowa, Kansas, North Dakota, South Dakota and Oklahoma all generated at least 20 percent of their electricity with wind last year. Overall, wind supplies at least 10 percent of the electricity in 14 states.
Most impressive among those rising up the wind energy chart is New Mexico, which increased its total annual wind generation by 73 percent over 2015 levels. Wind reliably supplies just under 11 percent of the state's electricity.
Growing Wind Creates a Better Tomorrow
All of this growth boosts rural American economies. Wind has attracted more than $140 billion into the U.S. economy over the last decade and billions more are on the way. It also offers farmers and ranchers a new cash crop—these landowners are paid $245 million every year for hosting wind turbines.
"Wind power is cheap, clean and infinite and it saves Oklahomans hundreds of dollars annually on their utility bills," said Brad Raven, District One commissioner for Beaver County Oklahoma. "When you consider that landowners receive millions in annual royalties from wind projects, you have an energy sector that is literally saving rural Oklahoma."
Oklahoma Governor Seeks to Set Nation's Highest Tax on Wind https://t.co/P6Ijz1Z5qT @WindPow @ewea

— EcoWatch (@EcoWatch)1486679415.0
More Progress is Possible

Wind remains on track to supply 10 percent of the country's electricity by 2020 and grid operators increasingly find integrating more of it doesn't pose a problem. The Southwest Power Pool recently set a new record, with wind exceeding 50 percent grid penetration last month. And much more can be done:
"Ten years ago we thought hitting even a 25 percent wind-penetration level would be extremely challenging and any more than that would pose serious threats to reliability," said Bruce Rew, Southwest Power Pool's vice president of operations. "Now we have the ability to reliably manage greater than 50 percent. It's not even our ceiling."
Elsewhere, the National Renewable Energy Laboratory found 30 percent renewable energy integration was possible in the Eastern Interconnection, the grid serving most of the Eastern U.S., without any further technological advances necessary.
For more information on how wind is reliably and affordably helping the U.S. move toward energy independence, check out this video: